When to comes to styling a traditional outfit, necklaces come by handy! they have the ability to lif and charm any of your outfits. Women cannot imagine their silk sarees without a beautiful necklace. And in this blog, we have put together 5 necklace designs that you should consider having in your collection.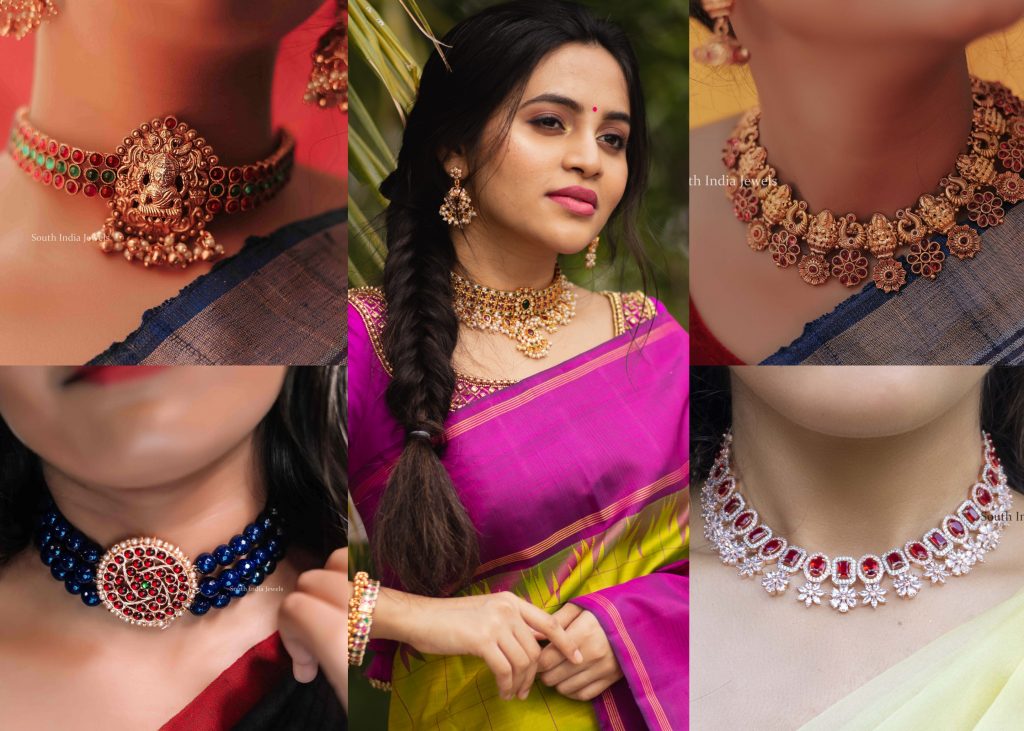 Temple Necklace
Do you love traditional jewellery? Get yourself a temple necklace like the one in the pictures. It goes impeccably with any silk saree. They flatter your look and oomph it up with ultimate charm and grace.
AD Stone Necklace
AD stone necklaces have a delicate elegance to them. They can be perfect for office parties, small gatherings, and work impeccably with all traditional outfits. You can opt between the stone colors and experiment with its grace.
Kemp Necklace
What is more traditional than the authentic South Indian kemp stones? These green and red kundan stones studded in traditional design look extraordinary! They go with everything and add a touch of authentic style to your look. Wear these necklaces with a silk kanjeevaram saree and be a head-turner!
Coin Necklace
Give a chic vibe to your traditional silk saree by wearing a coin necklace. Coin necklaces are often known as Kasumalai in South India, which literally means necklace with coins. They have Lakshmi imprints embossed on them and look beyond stunning.
Guttapusalu Necklace
Guttapusalu necklace is a must-have for those who have a soft spot for silk sarees. And these beautiful Guttapusalu necklaces are one hot trend these days. They instantly add grandeur to your look and are a perfect way to style sarees and dresses.
Loved these stunning necklace designs? Click here to shop for them!
Also Read:
Shop Unbelievably Stunning Silver Dangler Earrings Here!
These Traditional South Indian Bangles Are Back In Trend!