Jhumka, the single most accessory you need to own if you happen to reside in the Indian sub continent.
Irrespective of age, race, culture, jhumkas continues to fascinate women of all age in our country.  A pair of beautiful jhumka is something that Indian women can't resist.
It was worn by our great grandmother, grandmother, our mother and would most definitely be coveted by our daughter too. This classic creation is going to stand tall and win the test of time.
Besides, jhumka can be a flattering accessory to try with any ethnic outfit. From sarees to salwars, from lehengas to ethnic gowns, you can nail your look with an apt jhumka earring.
If you are planning to shop one for yourself, wait and here us out.
All jhumkas are not same. There are different styles and patters each crafted to bring out the true charm of the women who possess it.
For instance an emerald jhumka would look dashing on a green silk saree and so is a pearl jhumka on a white salwar. A diamond jhumka would look ethereal on a brocade lehenga and finally a silver jhumka can elevate your cotton saree look.
As you see, there are plenty of jhumka designs, surfacing each day on the jewellery trend.  When you shop one, take time and look around. Select the best that suits your need.
To give you an idea on the beautiful jhumka designs that are selling hot this year, we have curated all the best models below. Scroll down and take a look.
[Note: Each jhumka design will have a seller name on the description. To reach the seller, contact details are given at the end of the post. If the picture has no seller details, it means the image is just for reference purpose.]
Elegant temple jhumka embossed with goddess lakshmi motifs. The clustered pearls and kemp stones makes this jhumka so divine.
A trendy dull toned jhumka highlighted with rubies, emeralds and south sea pearls. You can wear this with kurthas, salwars and other day to day outfits.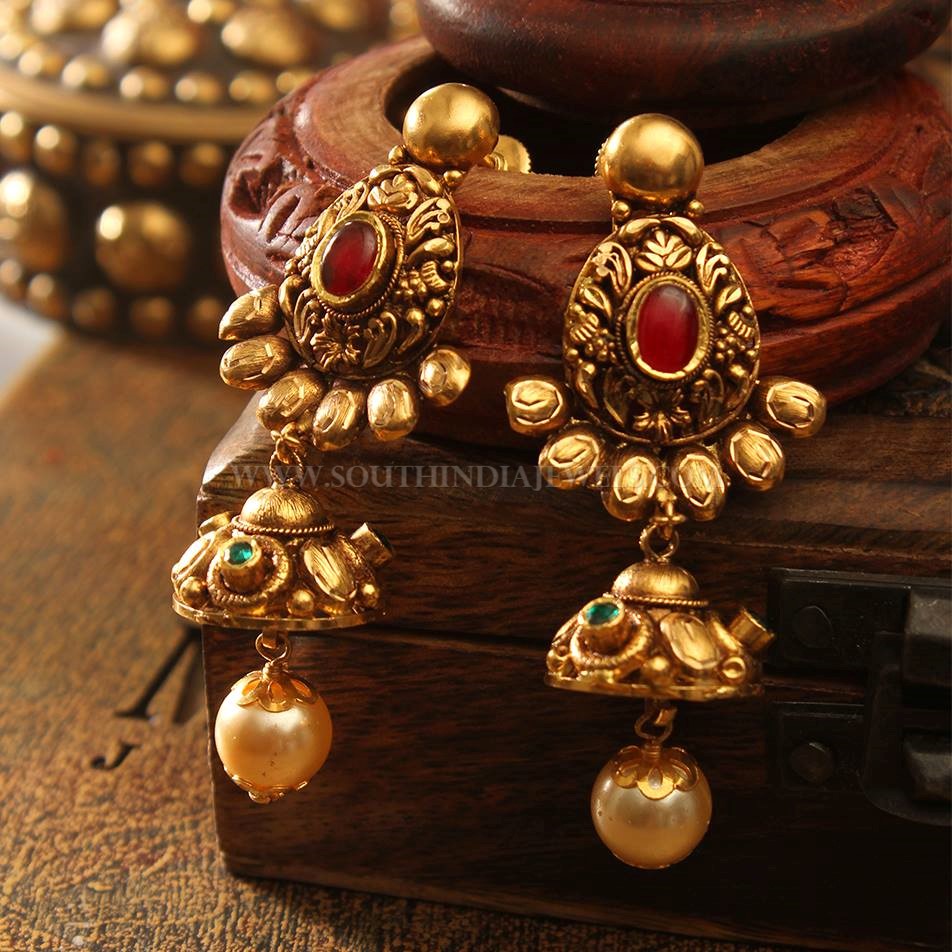 Bold plain jhumka embellished with a row of pearls. Wear this with your plain sarees and see how it attracts all the attention.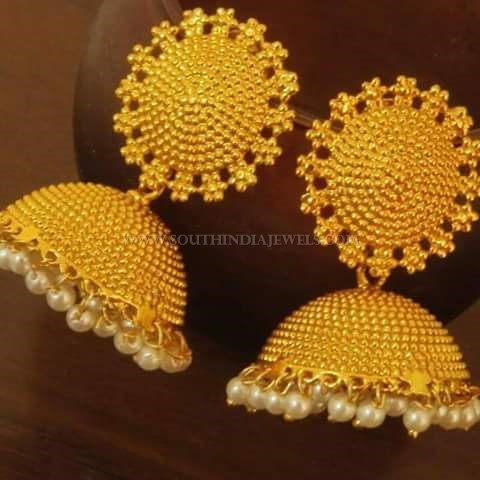 Want a chic jhumka that you can wear with light weight silk sarees? Consider this style of plain jhumka with kemp stone studded base. We love how the pearl highlight looks lovely on this.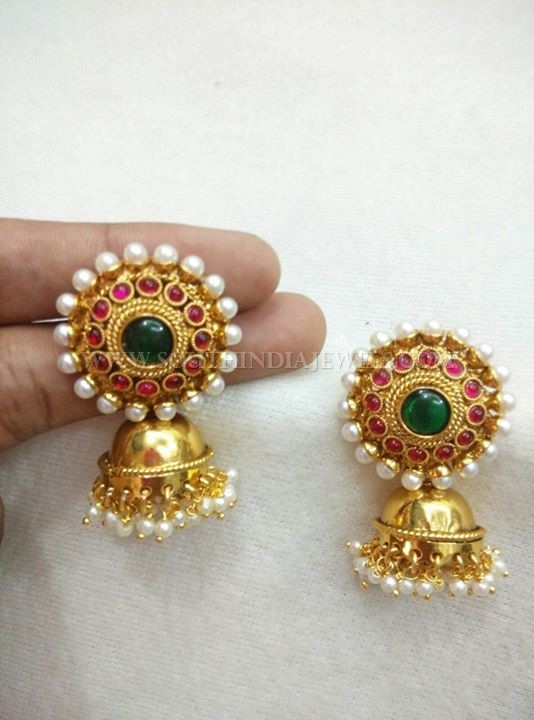 For an authentic traditional saree look, you need a classic design that brings the memories of our past era. This diamond antique jhumka from VBJ is just timeless.
Rubies and pearls can make your antique jhumka look gorgeous.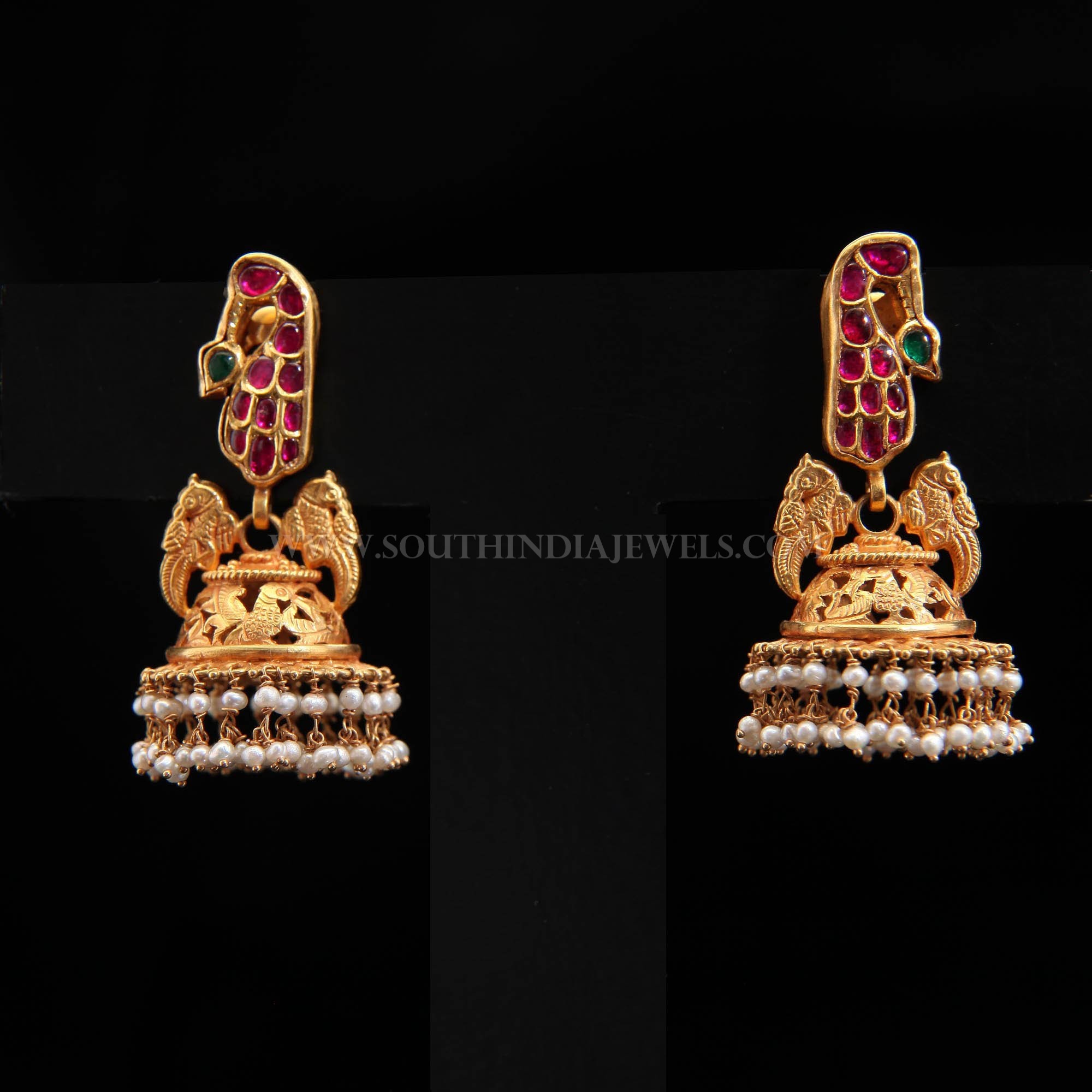 Here is a creative hook jhumka stringed with emerald beads and pearls. You can wear this even with fusion wears.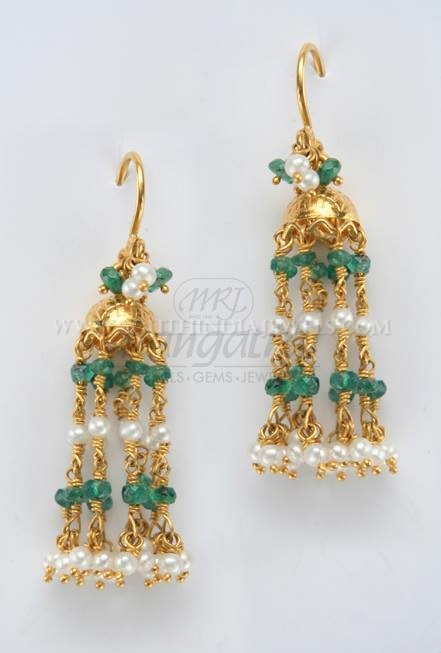 Corals can make your jhumka look exciting. This peacock earring is a proof for that.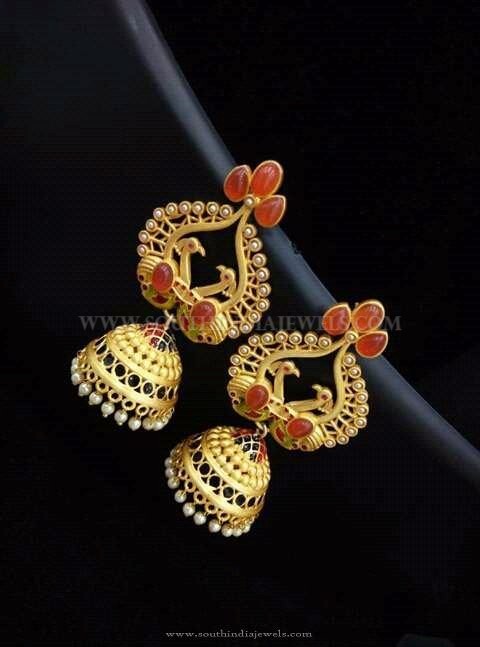 CZ stones are taking all the limelight this year. Shop a sparking CZ stone jhumka like the one below and wear with all dresses that need a dose of glitter.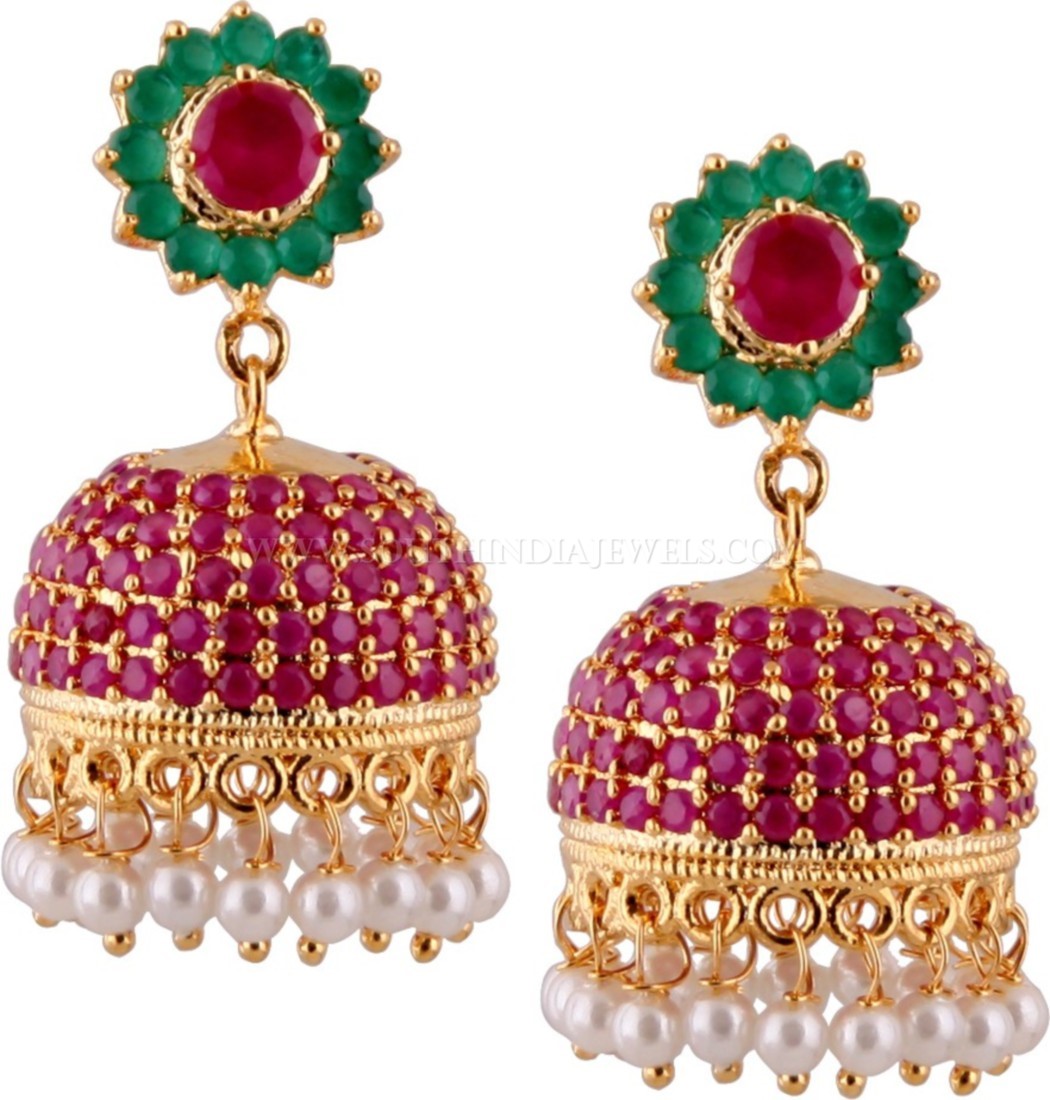 Pearls and corals are another interesting combination that can make a jhumka look regal.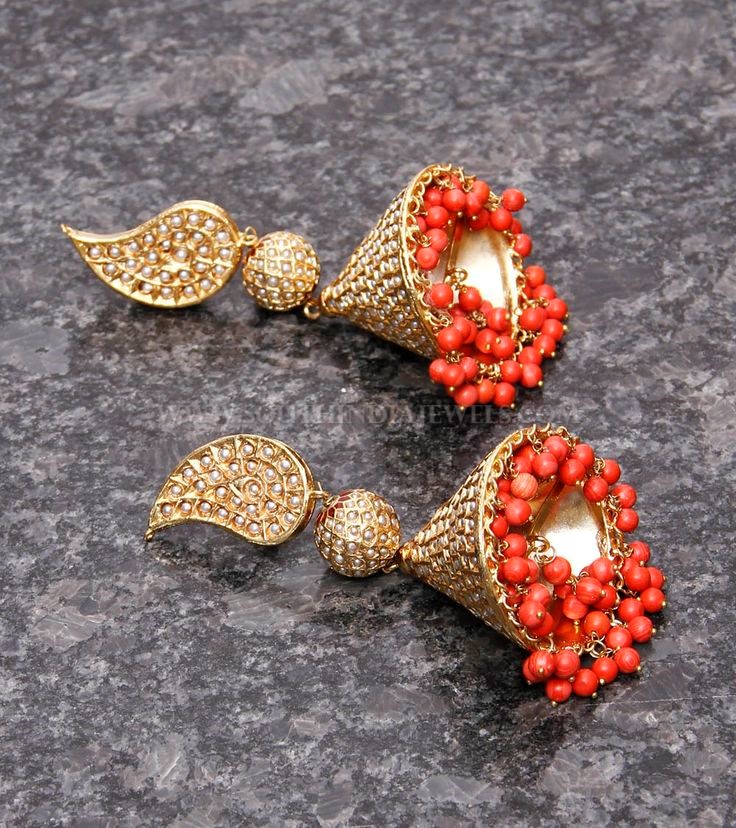 The pearl cluster makes this stone jhumka look super pretty.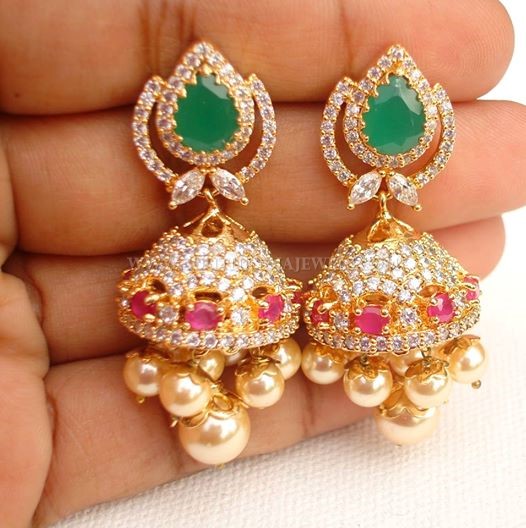 This navarathna jhumka can be worn with any saree of any shade. It is a versatile design to own.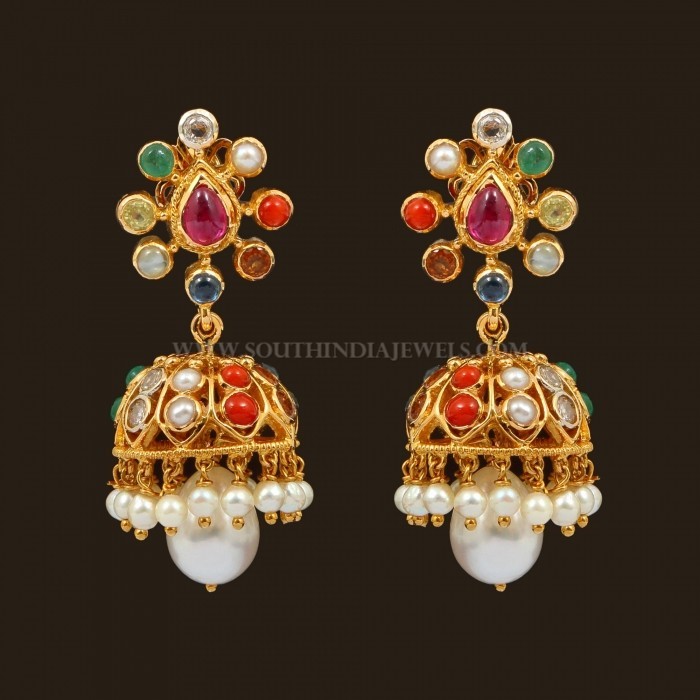 This trendier hook jhumka can be worn with all your stylish party wears.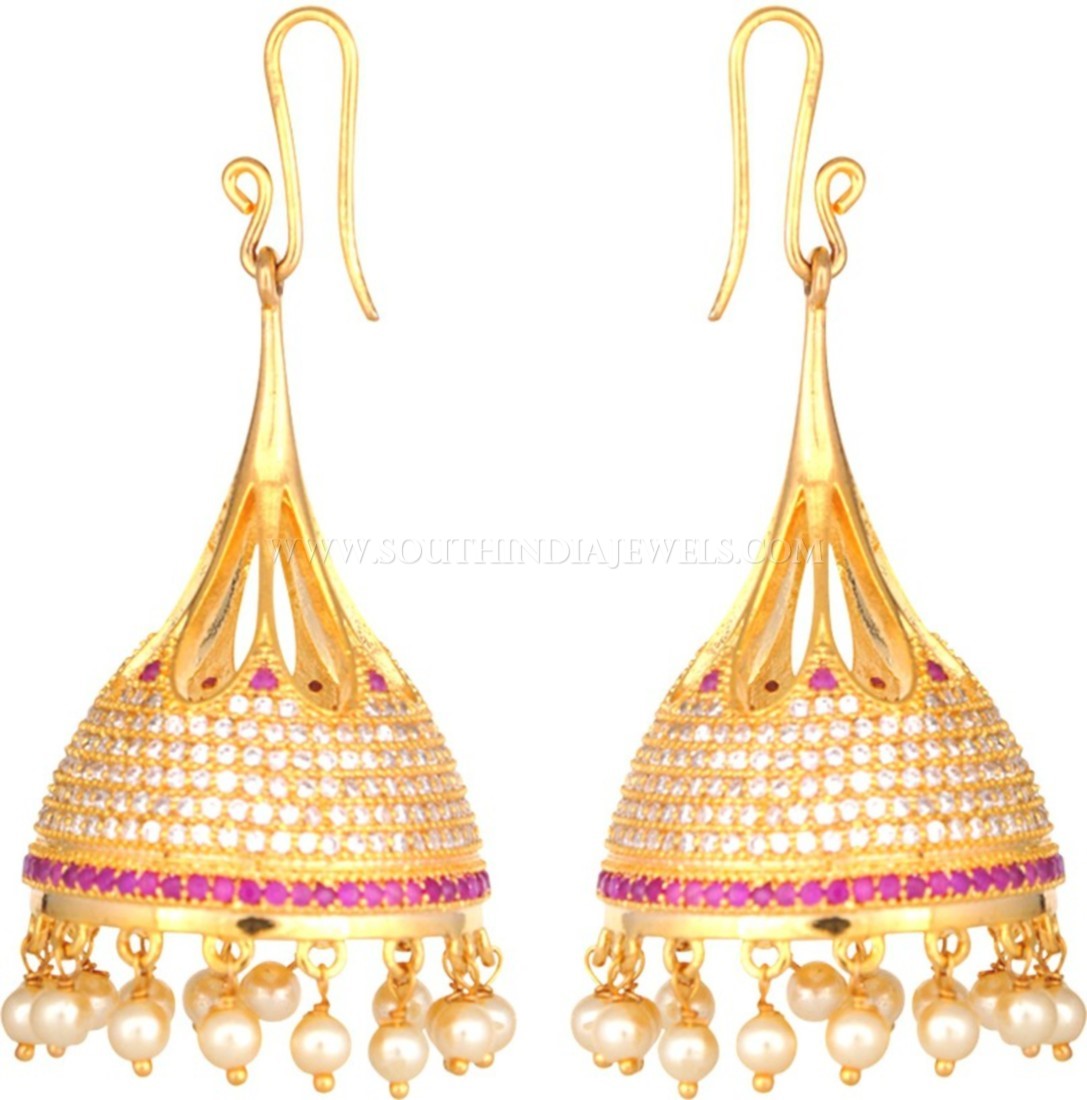 If you like to shop a jhumka for your baby daughter, consider this model.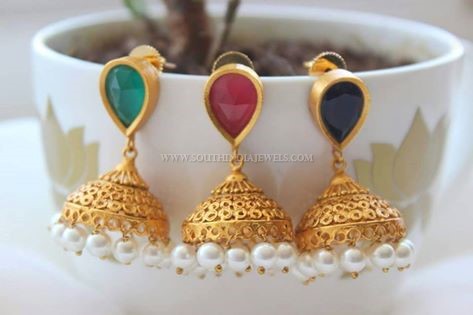 This is another pearl jhumka that we can't stop staring at.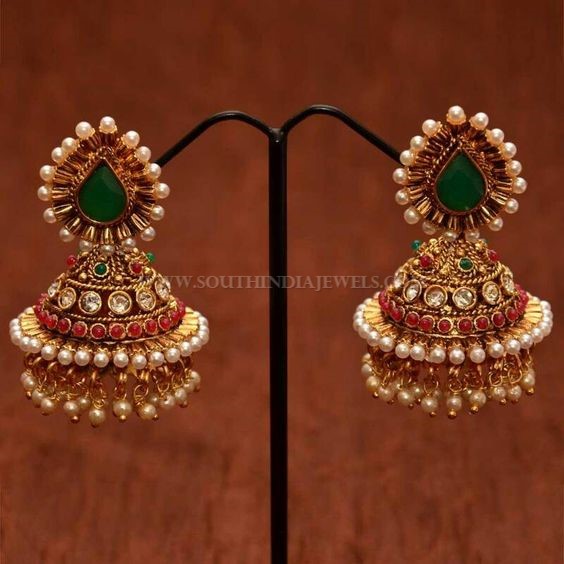 A gold antique jhumka with intricate details and colorful beads.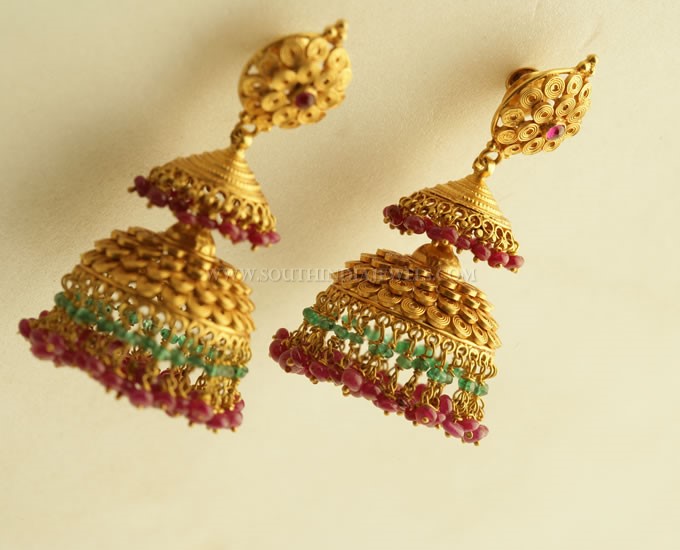 Dual toned jhumkas are taking a strong hold this season. Get this one if you like to stay in trend.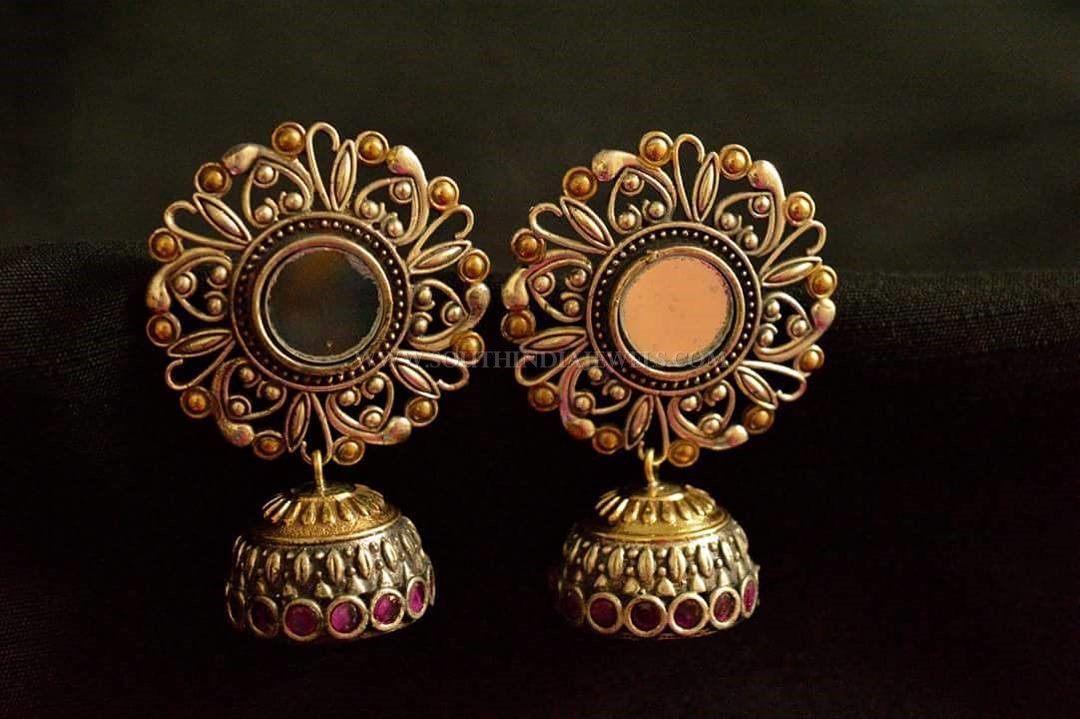 This is the best ruby jhumka we have ever spotted.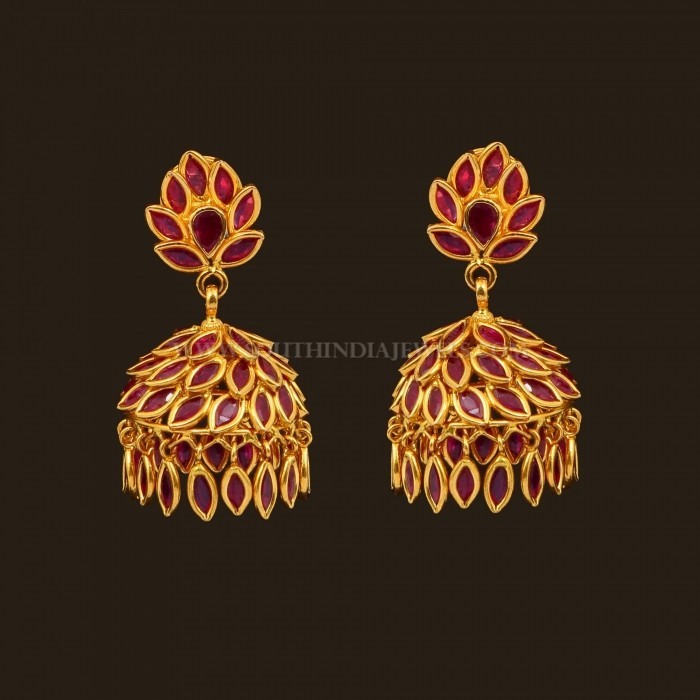 A beautiful antique silver jhumka that can make you look classy in any ethnic dress.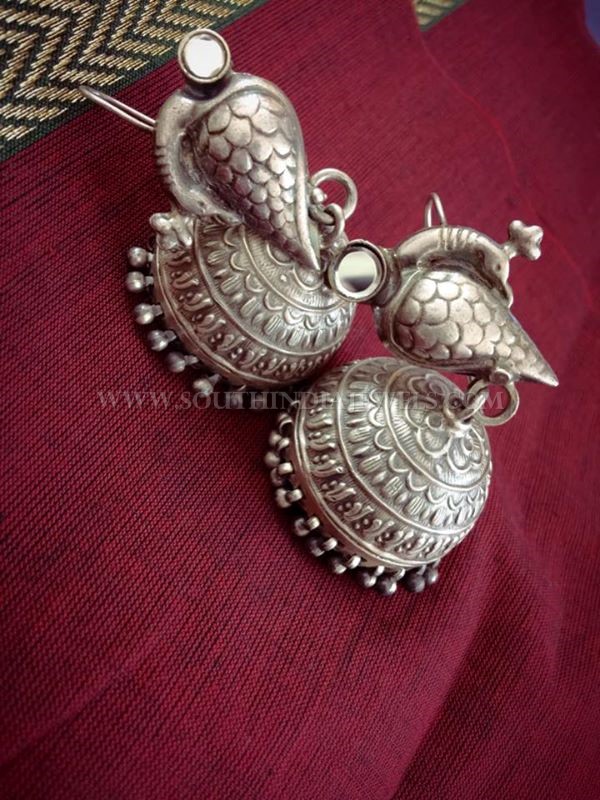 Here is the perfect jhumka for the brides.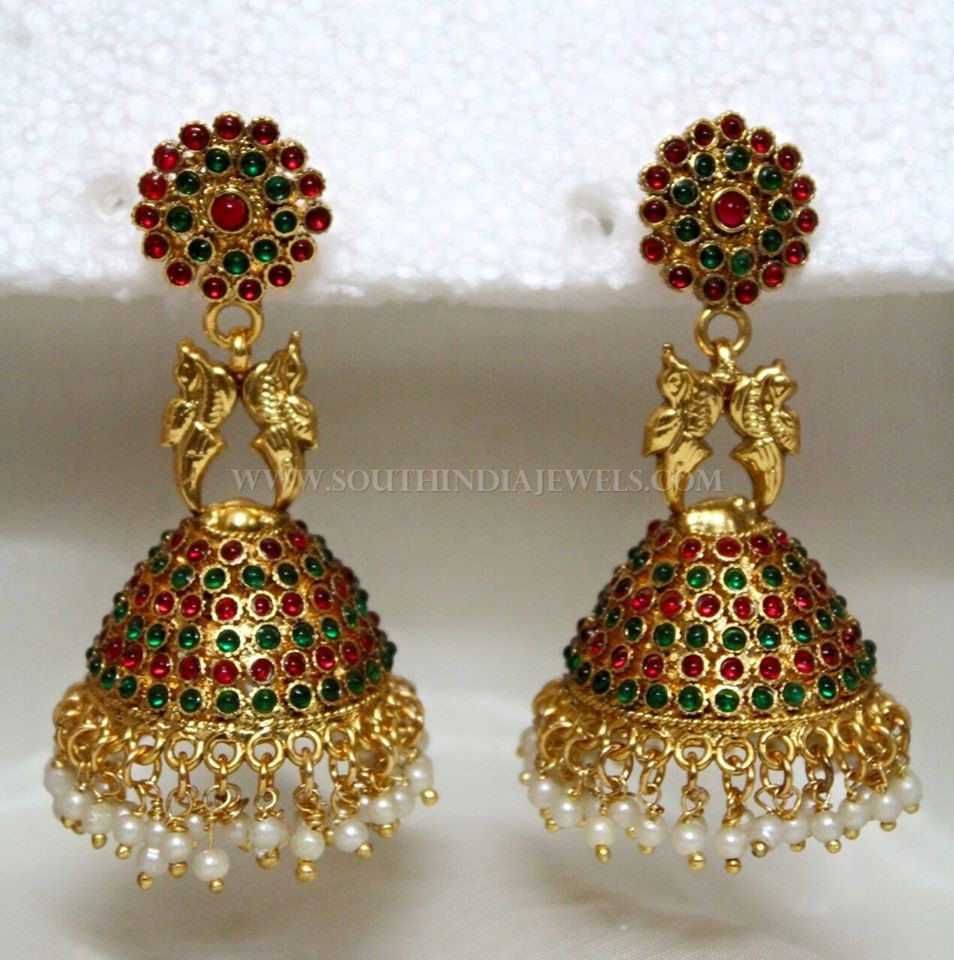 This is fashionable temple jhumka with catchy pearl embellishment.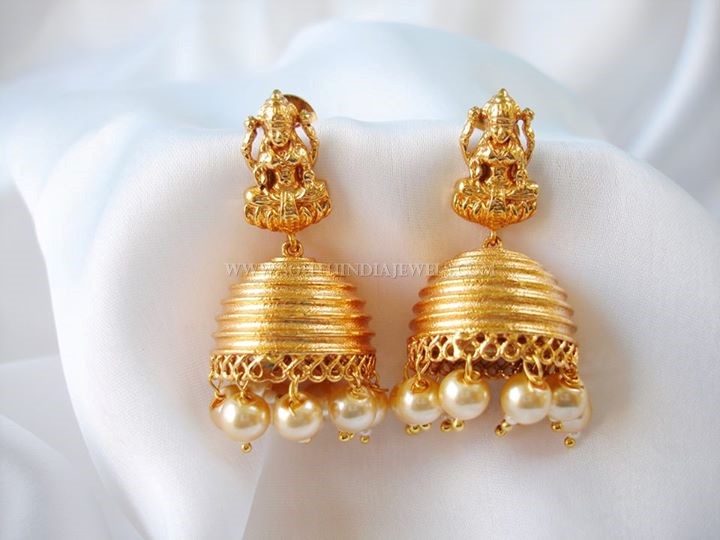 Plain antique peacock jhumka that you can wear every day.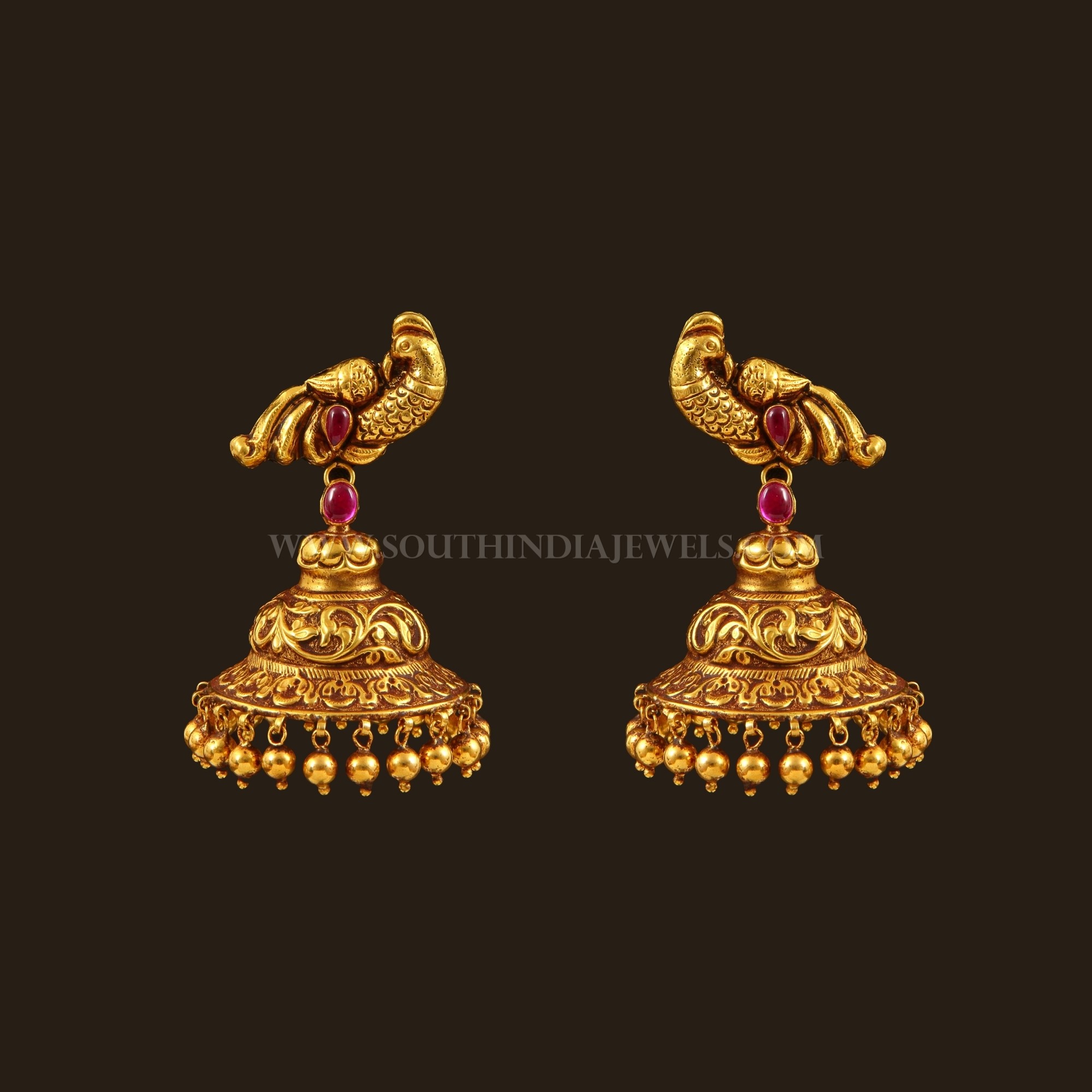 These are some of the gorgeous jhumka designs we have spotted lately. When you shop the earrings, don't rush and regret later for the purchase. Take your time, plan ahead and select the one that suits your style. Then invest your hard earned money on it.
There are plenty of imitations and gold plated jhumkas available now that are less expensive than the gold jhumkas. So test your hands on these first before you shop your gold one.
Seller Details
Seller Name : Vummidi Bangaru Jewellers
Address : AB 149, 3rd Main Road, Anna Nagar, Chennai, Tamil Nadu 600040
Rani Seethai Hall, First Floor, 603, Anna Salai,Chennai – 600 006.
Contact No : 044 – 2829 2003, 2829 2004, 044 – 49033355
Website : http://www.vummidi.com/
Seller Name : D.A.R Jewellery
Contact No : +91 422 4220916 , +91 99524 33386
Email : sales@darjewellery.com, info@darjewellery.com
Skype : DAR.SHOP, SHOP.DAR
Website : http://darjewellery.com/
Seller Name : Manubhai Jewellers
Contact No : 022 28992042 / 8 lines
Website : www.manubhai.in
Facebook : https://www.facebook.com/Manubhai.Jewelers
Instagram :https://www.instagram.com/manubhaijewels/