A women's love for jhumkas is never going to stop! You would have probably noticed that even your mom and grand ma savoring their favorite classic jhumkas safely tucked inside their jewel box.
Without age barriers, this one piece of jewellery is must-have accessory any time. Besides the fact it is utterly gorgeous, jhumkas also goes well with any Indian outfits.
From sarees to salwars, lehengas to anarkalis, you can trust a pair of jhumka and nail your ethnic look with such ease.
Of course just like any other thing, jhumkas has also evolved over the period of years. And today the fashion radar is filled with more modern version of classic pearl jhumkas, antique jhumks, CZ stone jhumkas and the ever charming diamond jhumkas.
However in spite of other style invading the jhumkas space, the current trend is relying more on bold antique style either embossed with god image or studded lavishly with kemp ruby and emerald stones.
These antique versions are by no means new to the game. But somehow the craze for these classic style jhumkas has suddenly picked up and we are just seeing them everywhere.
Finally seeing its fame, we have to conclude that these antique jhumkas will not retire any time soon and would continue to fascinate women in the coming years as well
Which means, it's high time you get your own bold statement antique jhumkas NOW. That's why we wanted to feature 30 jhumka styles that would help you to choose the most trending design without wasting time.
Scroll ahead to see 30+ gorgeous antique gold jhumkas and incase if you like to shop them, the contact details of the seller are given at the end of the post.
A matt finish antique jhumkas with ruby base and plain bottom. Small antique balls are used for embellishment.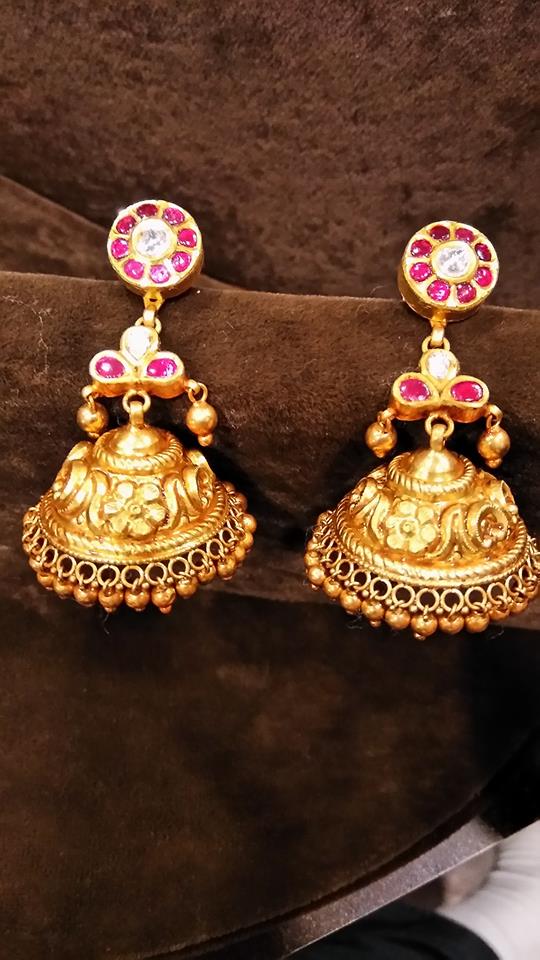 A simple short antique jhumka with the gorgeous base highlighted with kundan stones and emeralds.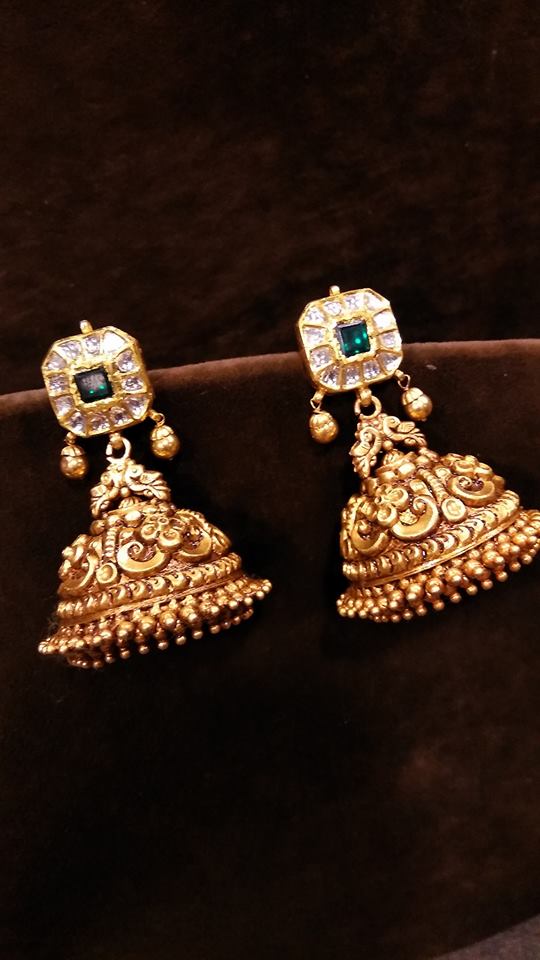 A structured ruby jhumka embellished with antique balls and tiny pearls.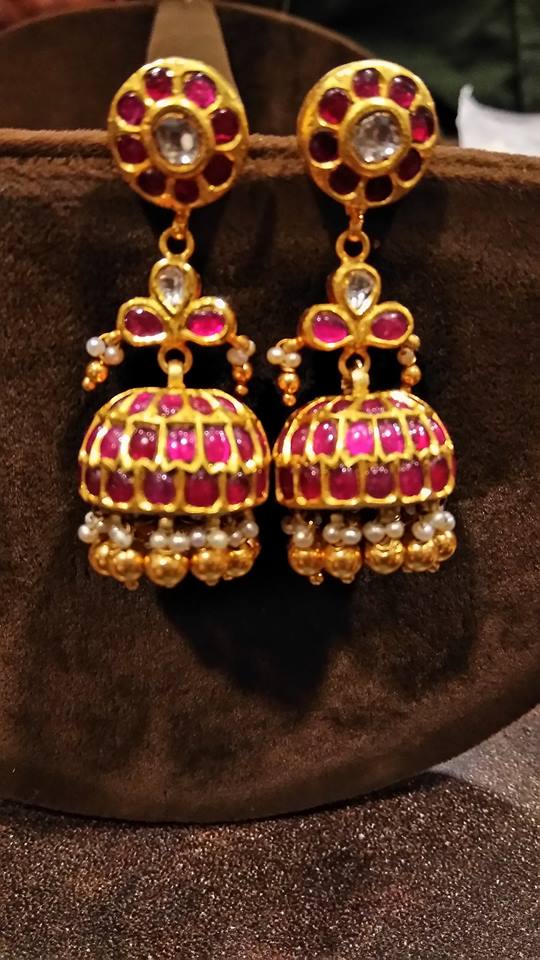 A Kerala style emerald jhumka with bold antique balls adorning the base.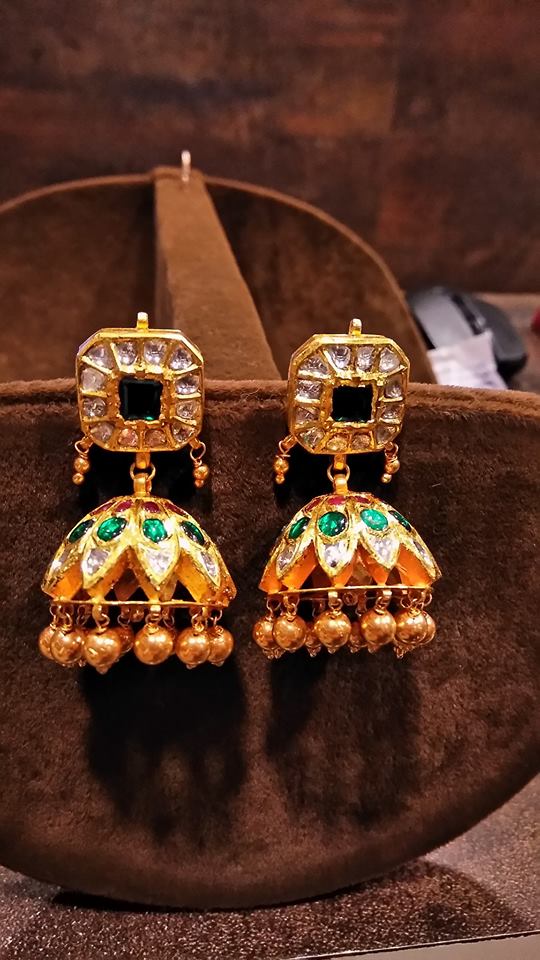 A half moon jhumka with pearl adornments. The touch of catching rubies and emeralds makes this a statement earring.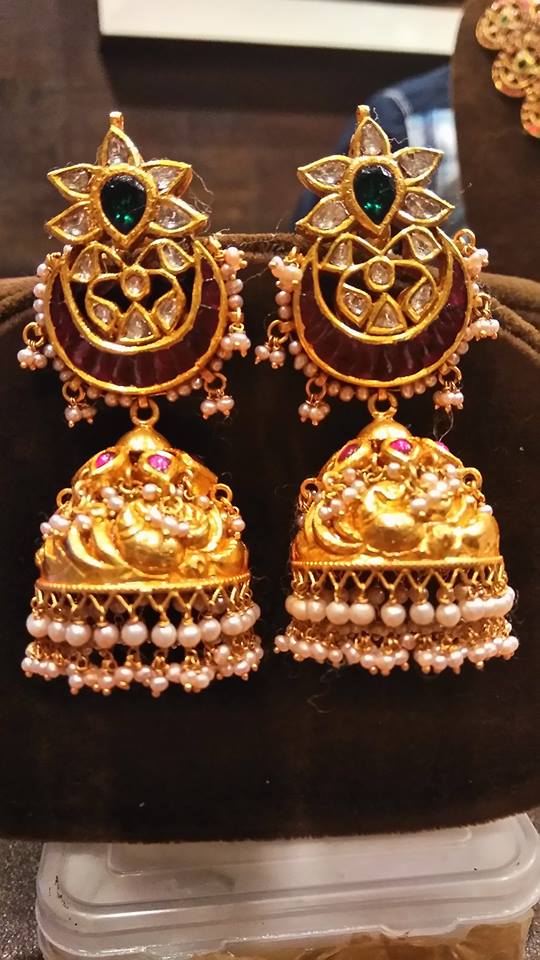 A ruby half moon ruby jhumka made to look spectacular with those shiny gold balls at the bottom.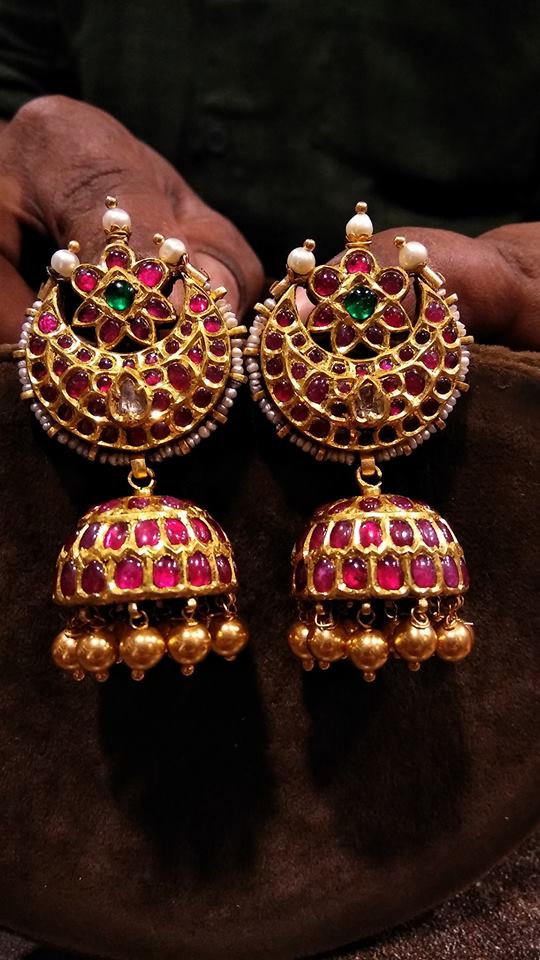 A small ruby jhumka like this should be in your daughter's jewel box.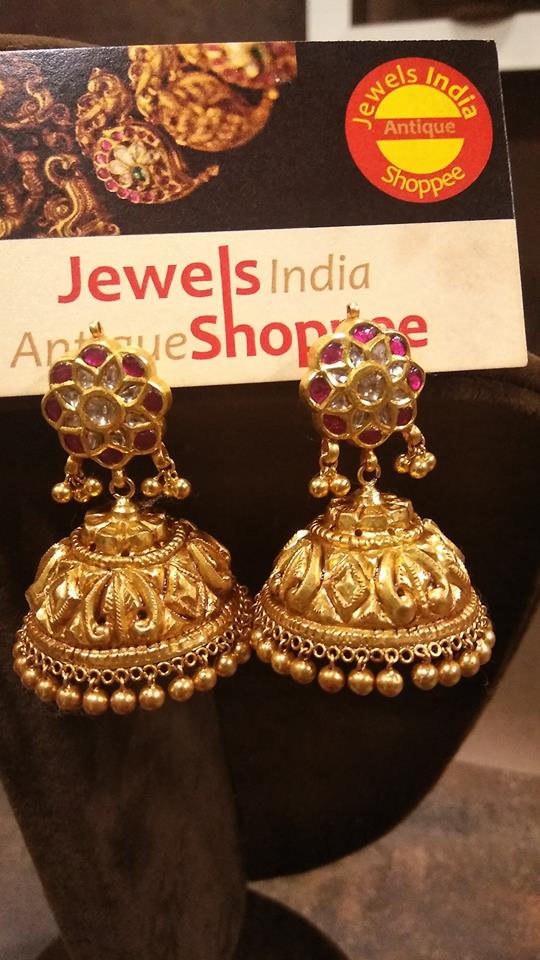 A daring matt finish jhumka with a solid kemp ruby base.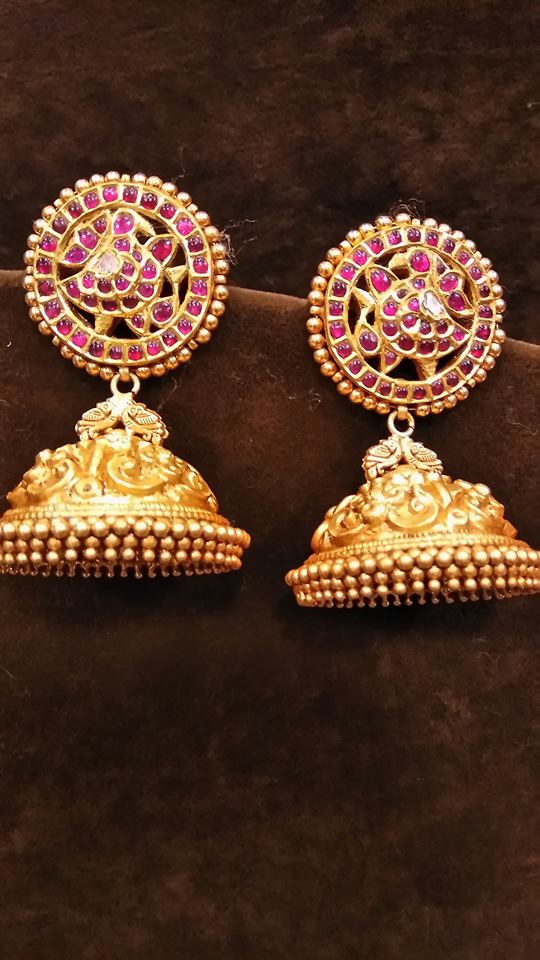 An emerald half moon jhumka highlighted with pearls.
A designer kundan jhumka with lots of pearls and colorful stones. You can even wear this with your indo western dresses and fusion outfits.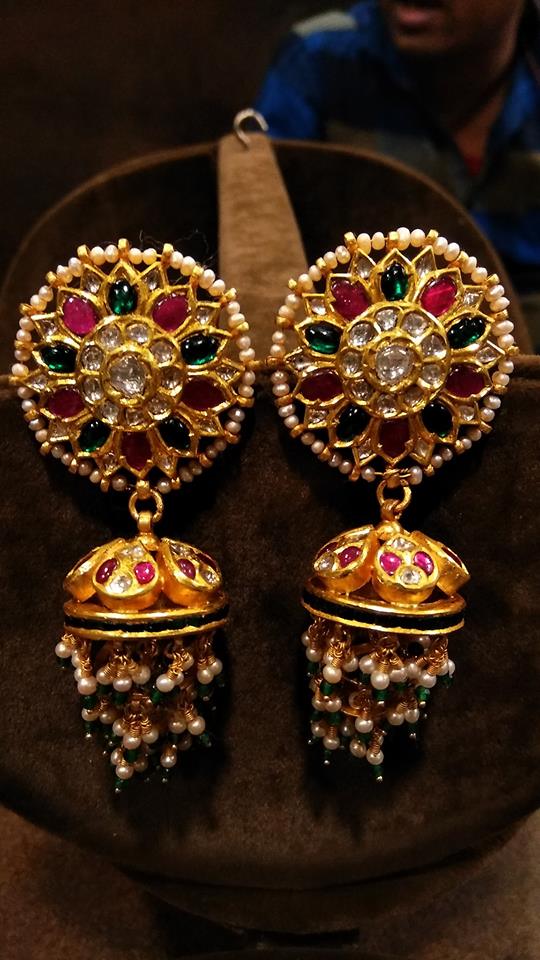 A mind blowing peacock jhumka graced with fine rubies, emeralds and pearls.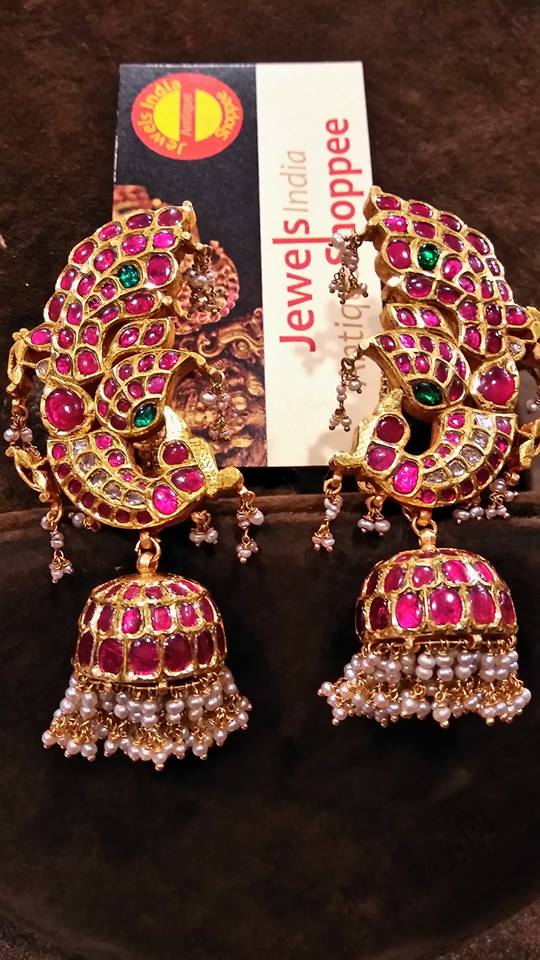 A classic gold jhumka with oval bottom and defined base.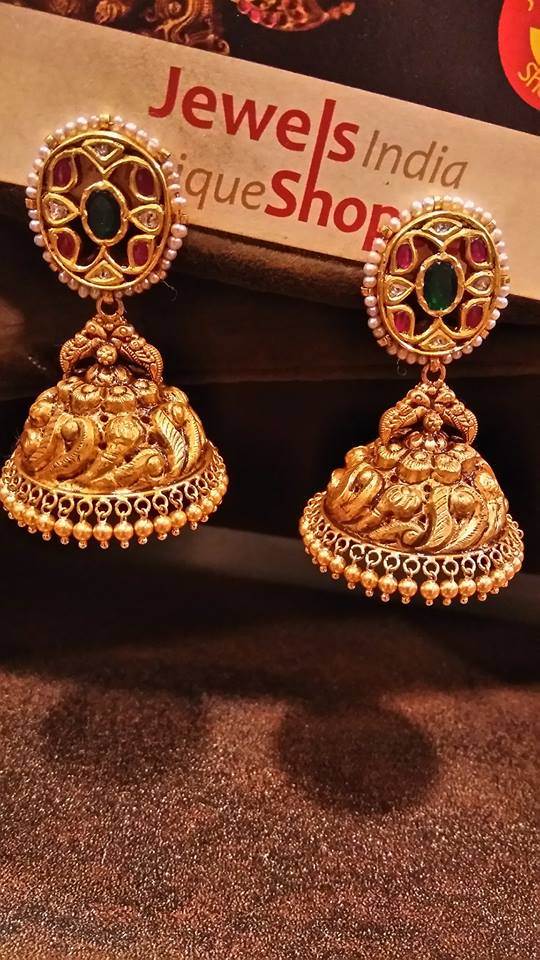 This modern interpretation of peacock jhumka would be loved by anyone!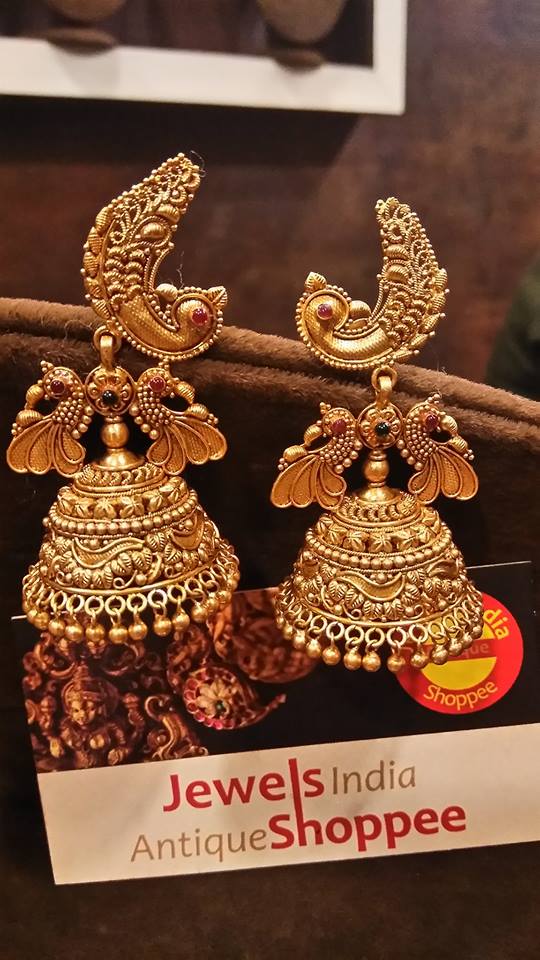 A gorgeous plain jhumka with intricate detailing in the bottom and antique balls adorning the edges.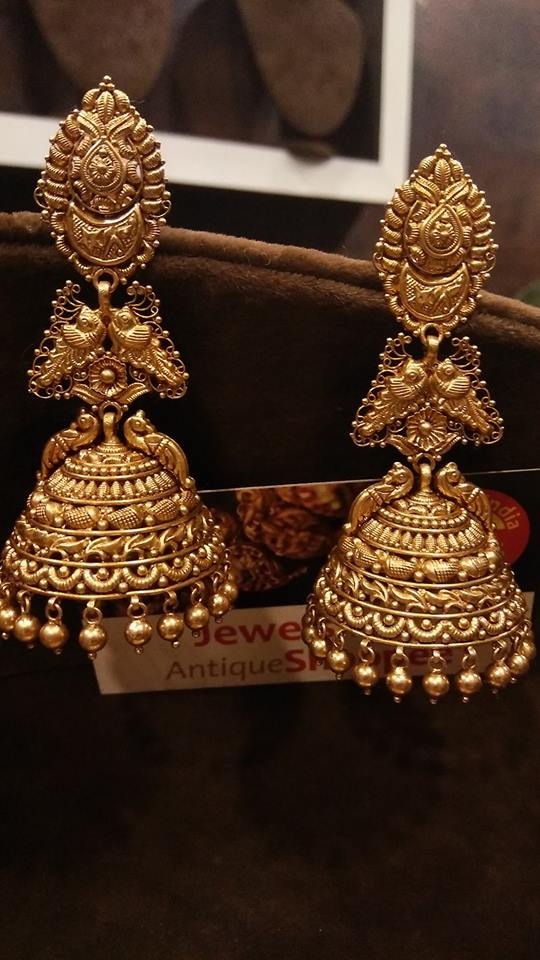 A finely crafted peacock base and traditional style bottom.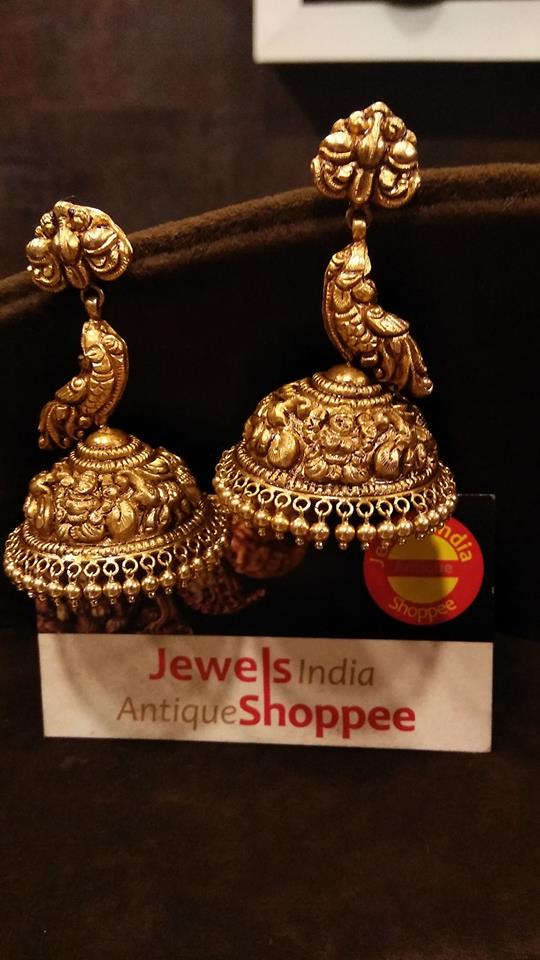 Here is an exotic peacock jhumka that is both traditional and stylish.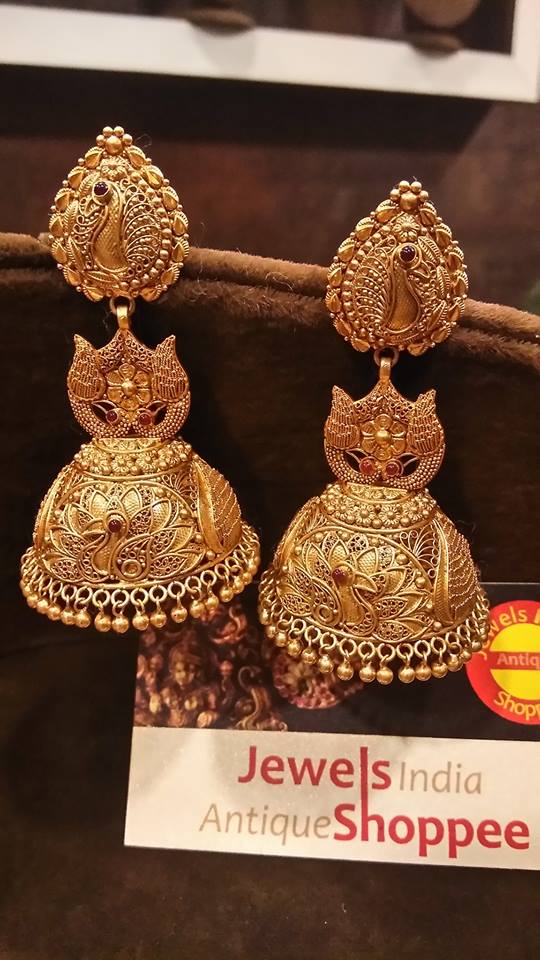 Jhumka with creative base and structured bottom.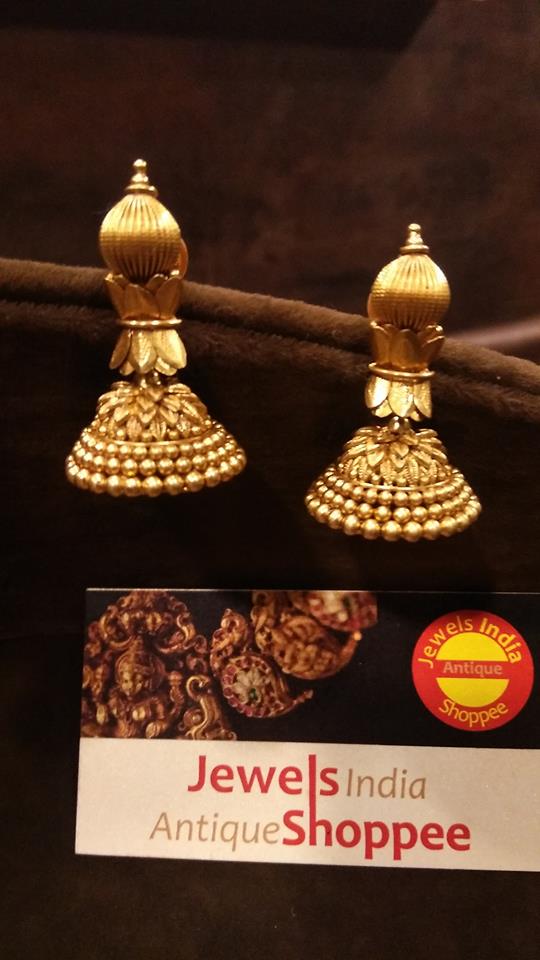 Your ethnic salwar and skirts needs an authentic design like to this to nail the look.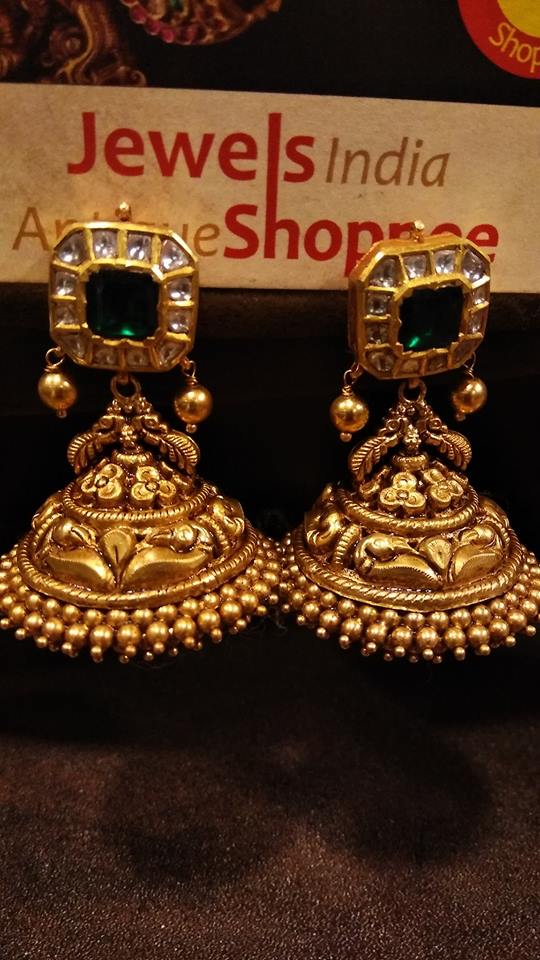 If you are the bride, then you have found out your wedding Jhumka here.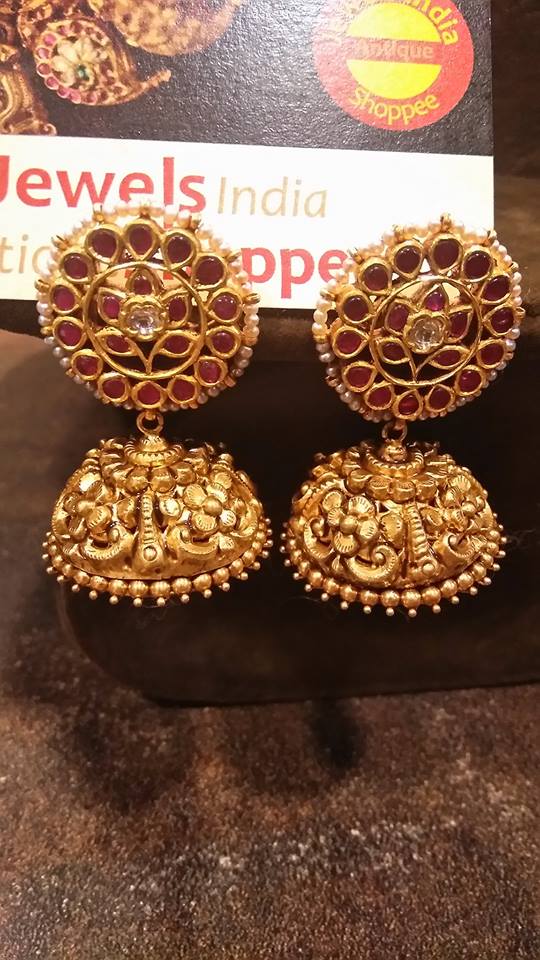 Imagine wearing this with a Kerala style kasavu saree and deep green blouse!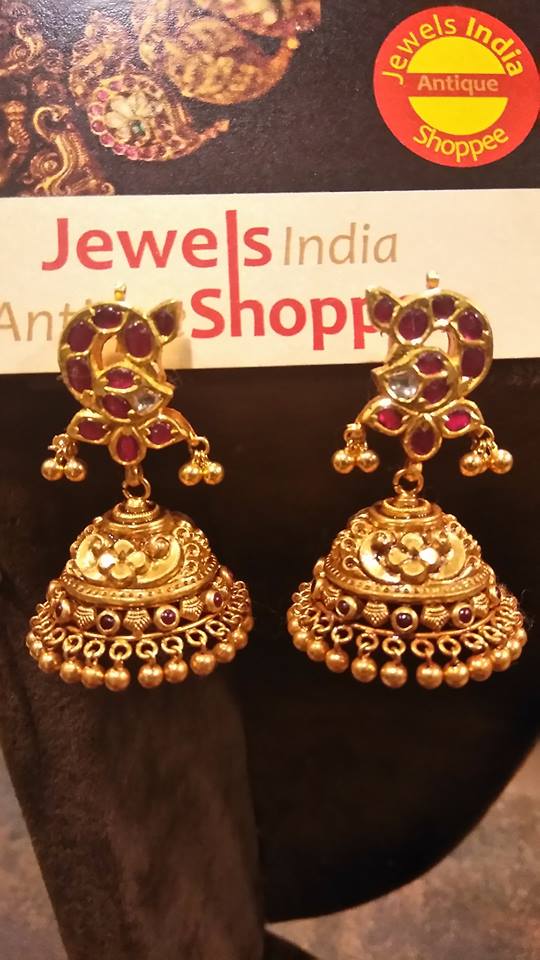 A classic model that would look spellbinding on a simple red silk saree.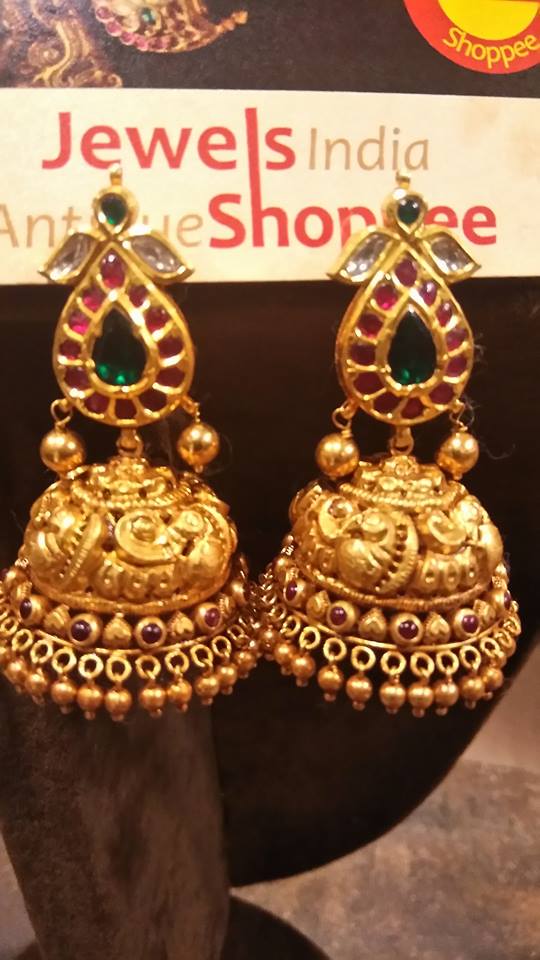 A kind of jhumka that both you and your daughter can wear for all the coming years.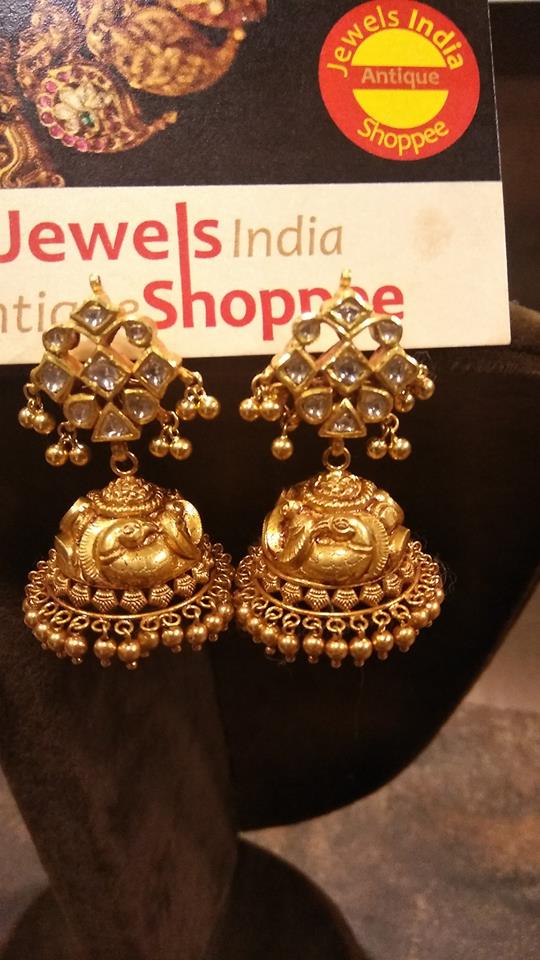 A half moon jhumka with adorable spike bottom.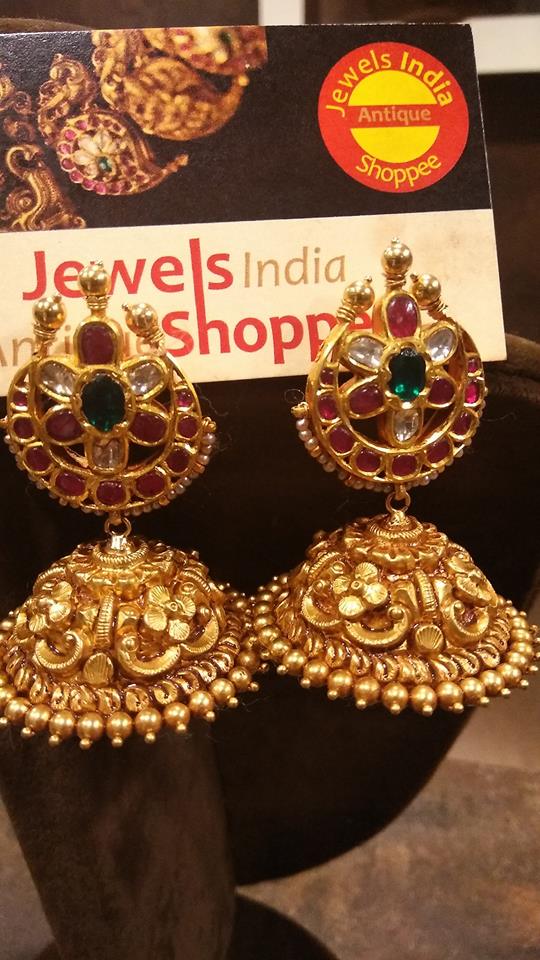 This universal jhumka would flatter outfit of any color.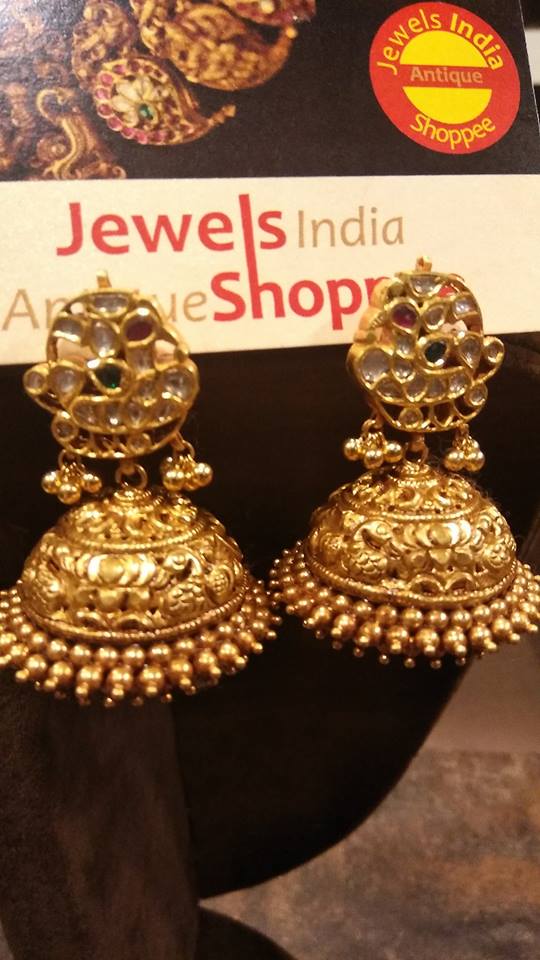 The most simple, yet striking version of temple lakshmi jhumka.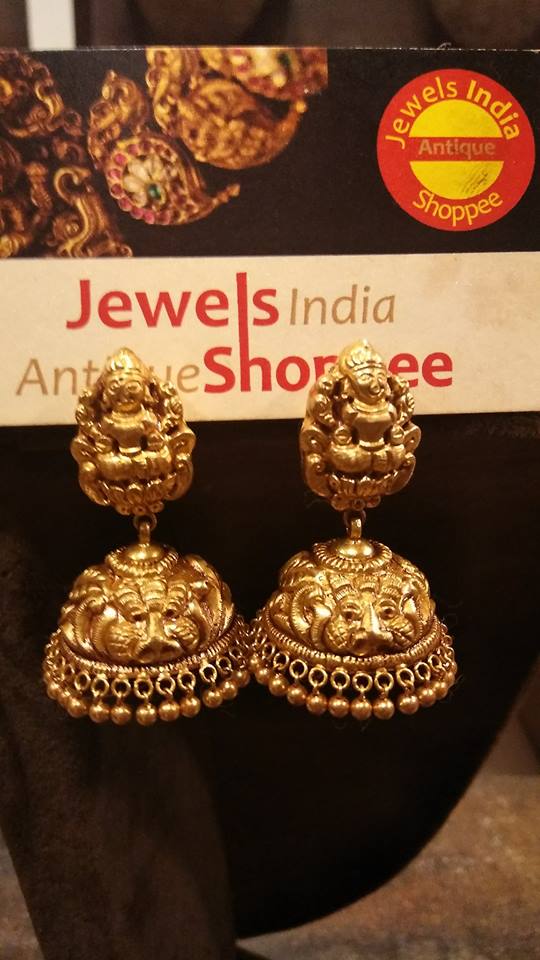 It wouldn't hurt to see one more version of peacock jhumka.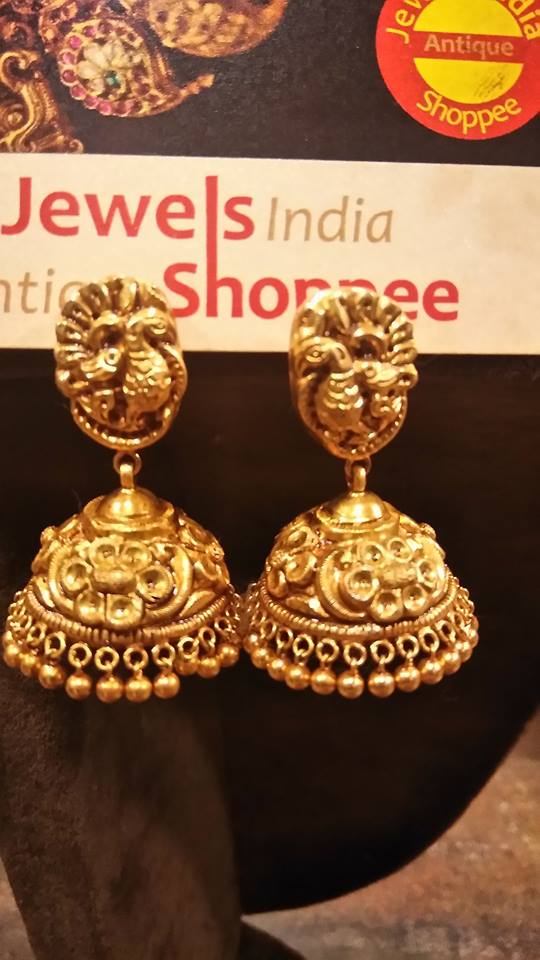 When you wear a jhumka like this, you are bound to get lots of questions on where did you get.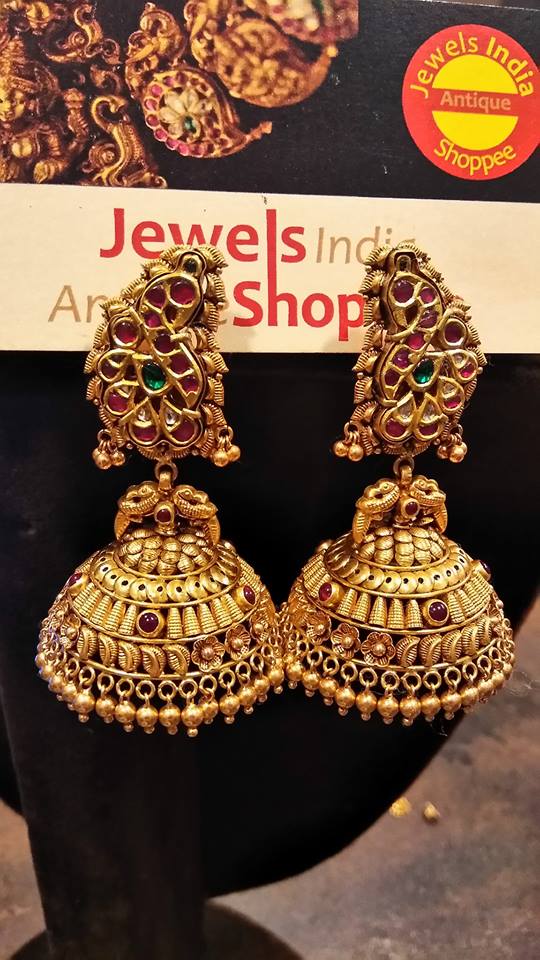 The most exciting floral base for a plain jhumka bottom.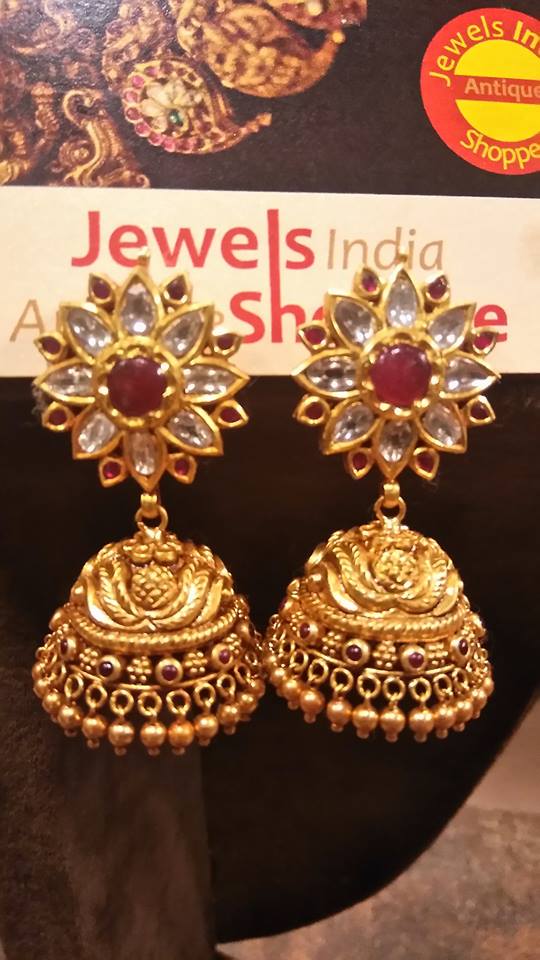 Okay…Enough of our jhumkas parade. Hope you liked all the latest antique jhumkas designs. If you like to inquire about them, then do reach the seller below.
Seller Name : Jewels Indian Antique
Contact : +91 80 4125 2333, 9980965091
Email : jewelsindiaantiqueshoppee@gmail.com
Facebook : https://www.facebook.com/jewelsindiaantique/
Jhumka is just an all purpose earring that can look graceful on any of your traditional dresses. Do invest on a best model and look stunning on that.