This season is all about Antique gold jewellery! If you have been following us, we have featured some mind blowing South Indian style antique pieces from various different sellers across the country. This is mostly due to the fact that it is trending hot this year and for some reason women can't seem to have enough of it.
So we see all leading jewellers have come up with exclusive antique collections and we must say that these new designs have in fact made us go weak all over again.
While forgetting to take our eyes off from the latest collections, we spotted a seller who is solely selling just the antique jewelleries.
Yes, in most of the prominent jewellery brand, while antique models are just a part of the overall collections, the brand which we are going to feature here today handles just the antique designs. So their collections are top-notch and impeccable to catch anywhere else.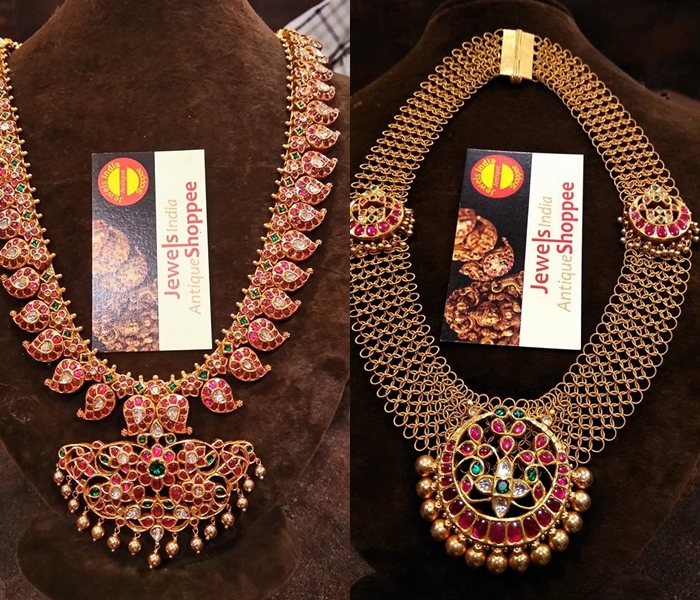 The brand in talk is 'Jewels India Antique Shoppee '. They are leading wholesaler in South Indian antique gold jewellery collections. Their facebook page has some mind-blowing collections which would sweep off any women who love jewellery. Now scroll ahead and take a look on their designs. If you like to inquire this seller, then do find the contact details at the end of the post.
A gorgeous antique jhumka, with matt finish and intricately designed bottom. The jhumkas has a bold base studded with white stones, rubies and embellished with antique balls. This is a perfect classic style jhumkas that would go well with all your sarees.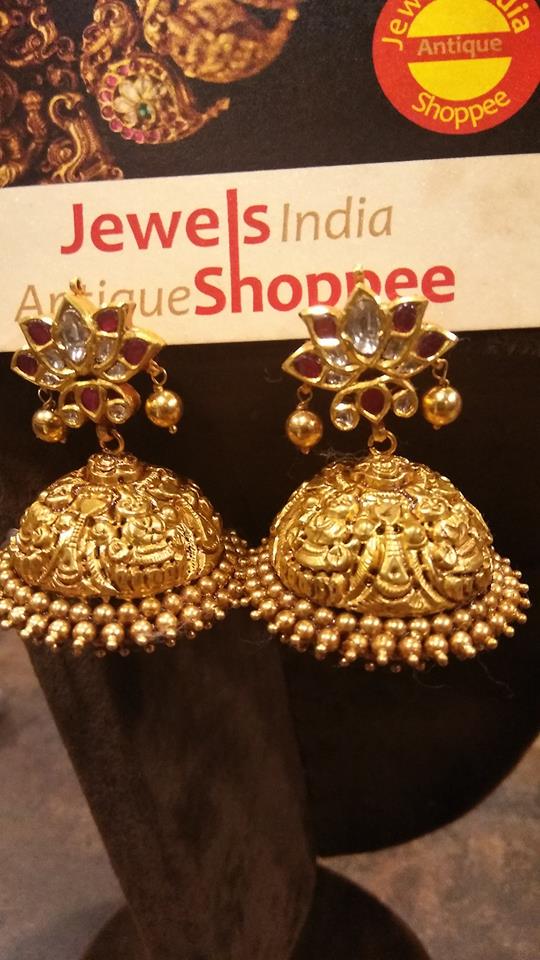 A bold chandbali style earring studded with white stones, kemp rubies, emeralds and highlighted with graceful pearls. All your salwars and lehengas need a statement earring like this one.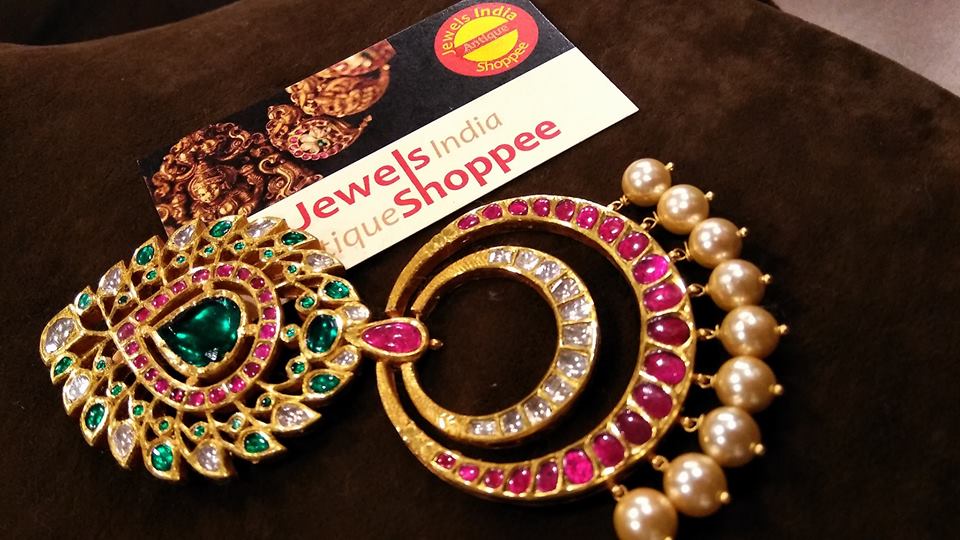 A bold gold attigai necklace studded with oval shaped rubies and emeralds. The necklace pendant is made to look fabulous with an addition of little antique gold balls. The necklace comes with matching screw earrings.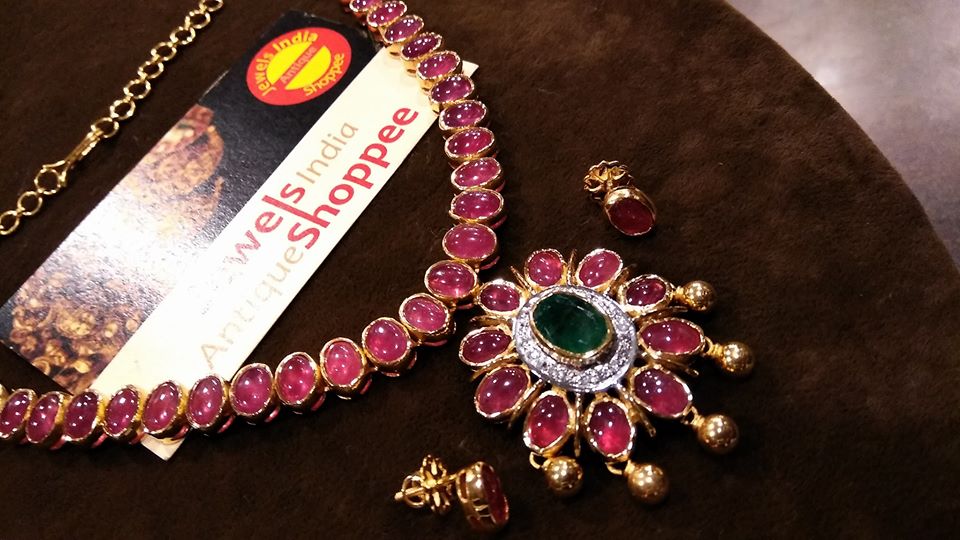 Here is an antique lakshmi pendant with nakshi work. The bold temple pendant is studded with diamonds and highlighted with rubies and pearls.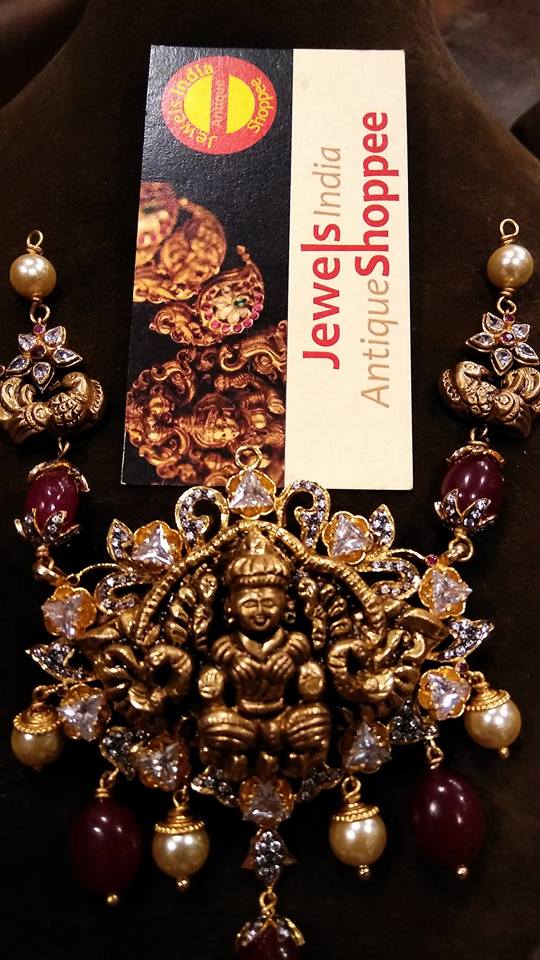 This is a creative antique gold necklace with fine artistic work and matching jhumka. The necklace and earrings are highlighted with rubies all over.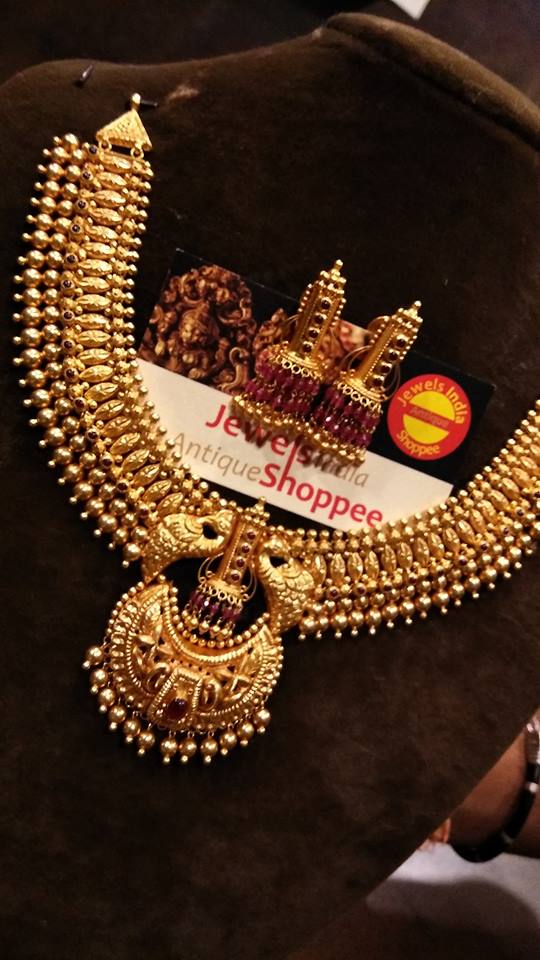 This is a gorgeous wide mesh chain necklace with ruby pendant and side locket. This is one of the most spellbinding antique model, that is sure to attract lots of attention when worn with sarees.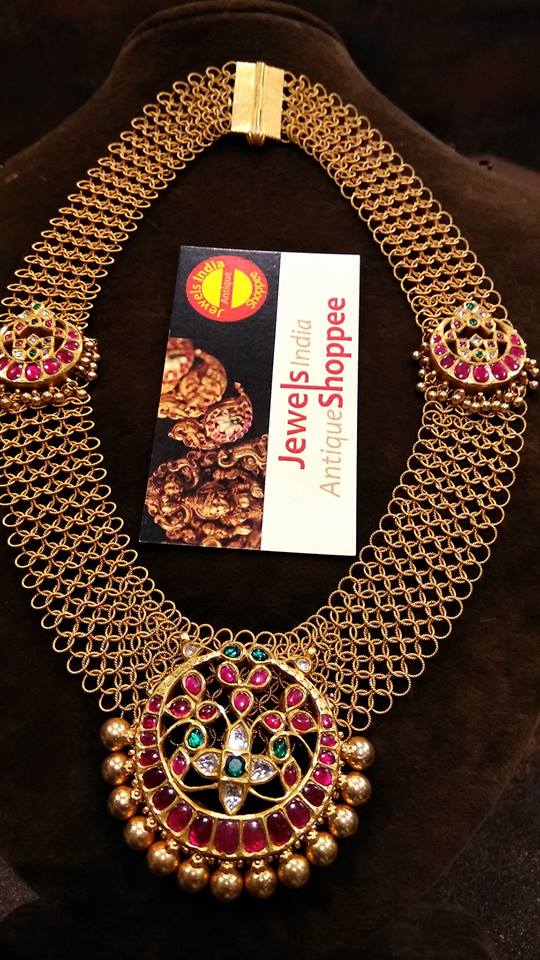 A stunning gold antique guttapusalu necklace studded with rubies, emeralds and highlighted with pearl clusters.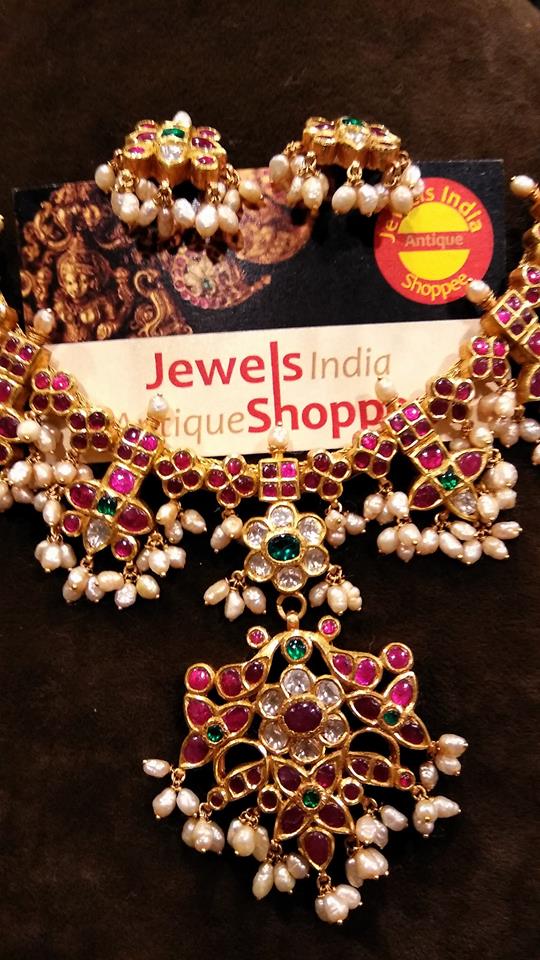 This is a bold antique temple bangle embossed with goddess image all over it and highlighted with kemp rubies.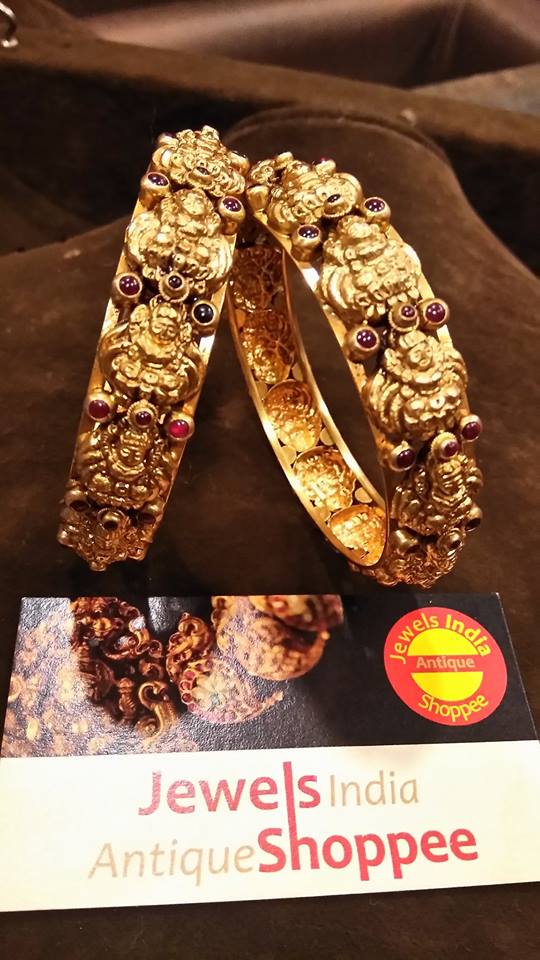 A royal gold attigai necklace studded with white kundans, rubies, emeralds, and adorned with bold antique balls.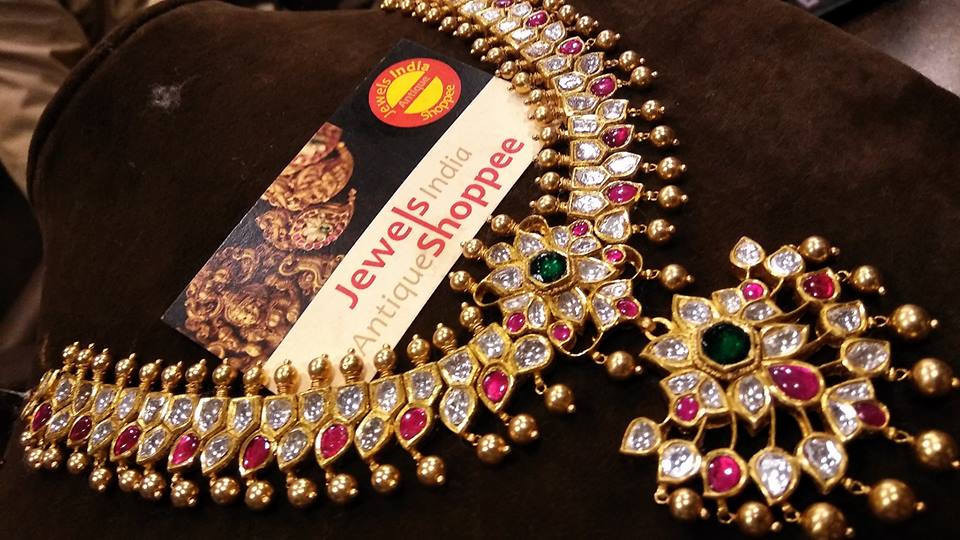 A fine bridal jewellery set consisting of short mango temple necklace and matching long mango haram. This is a best bet for brides who have been looking for antique temple jewellery for their D-day.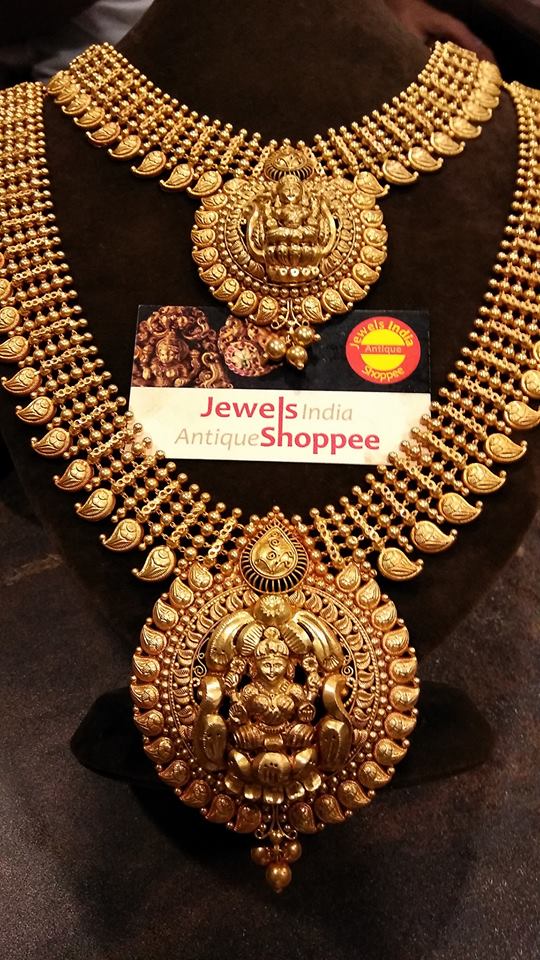 This is the classic traditional coin necklace with ruby temple pendant. The pendant has goddess lakshmi image embossed on it and has huge antique balls for embellishment.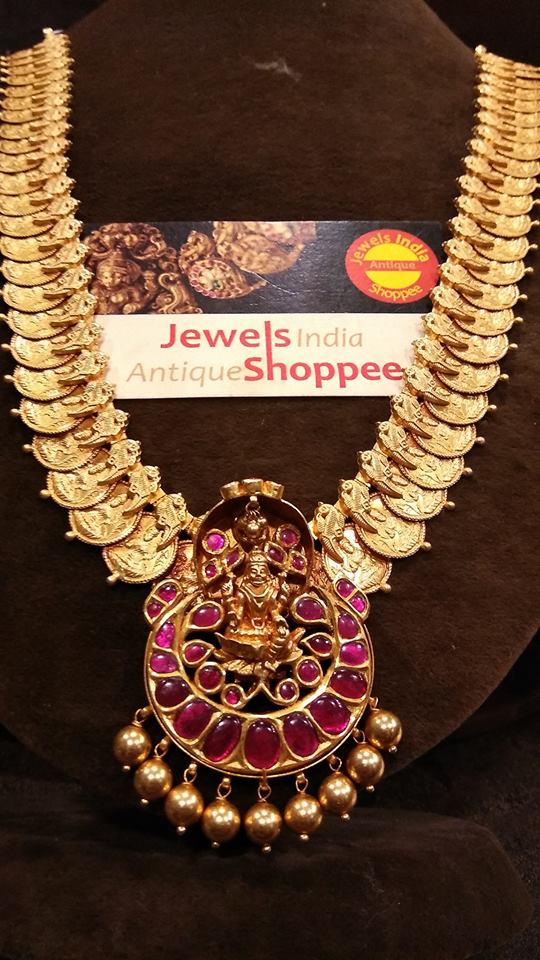 Here below is a statement antique ear stud with emeralds and diamonds to grace it.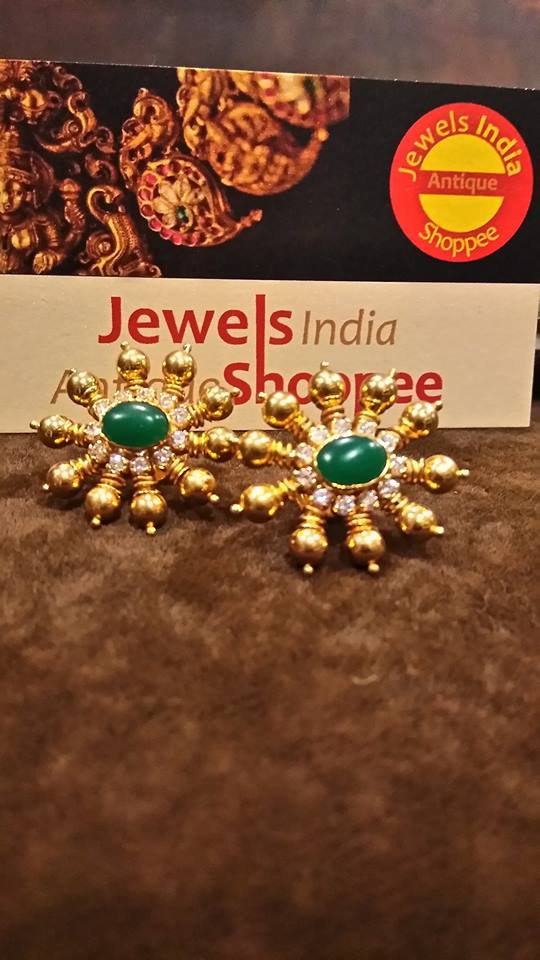 Here is an antique hair accessory (aka gold jada) that would make any bride jump in joy!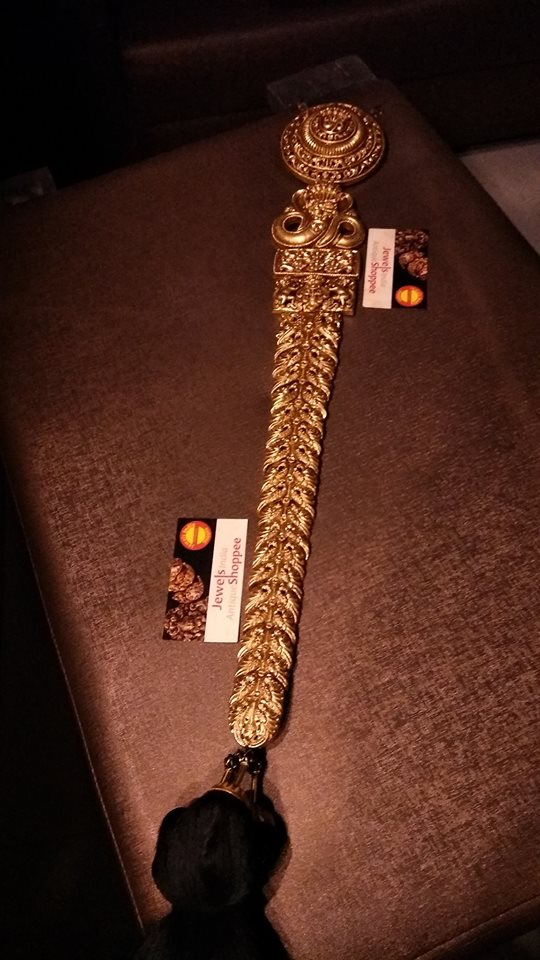 A finely crafted jhumkas and matching ear chains to look a bit more traditional on your ethnic dresses.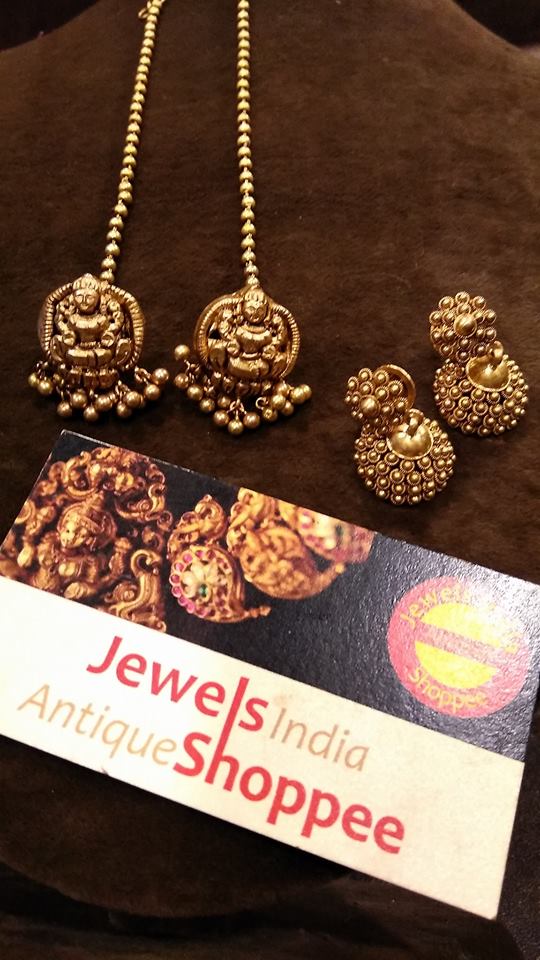 Another classic kasumalai with antique ruby pendant, and pearl clustered earrings.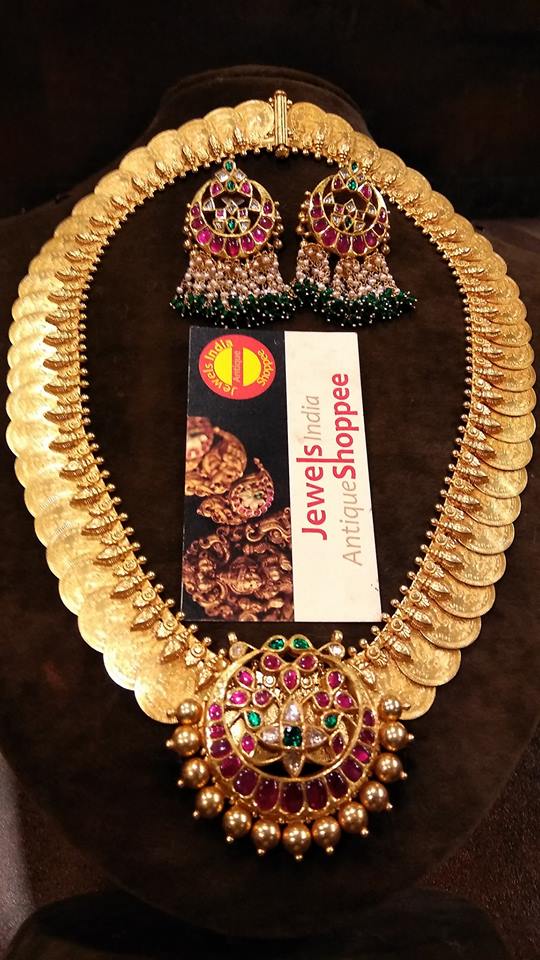 This is a massive bridal vadanam designed with peacock motifs and studded with rubies for a vibrant look.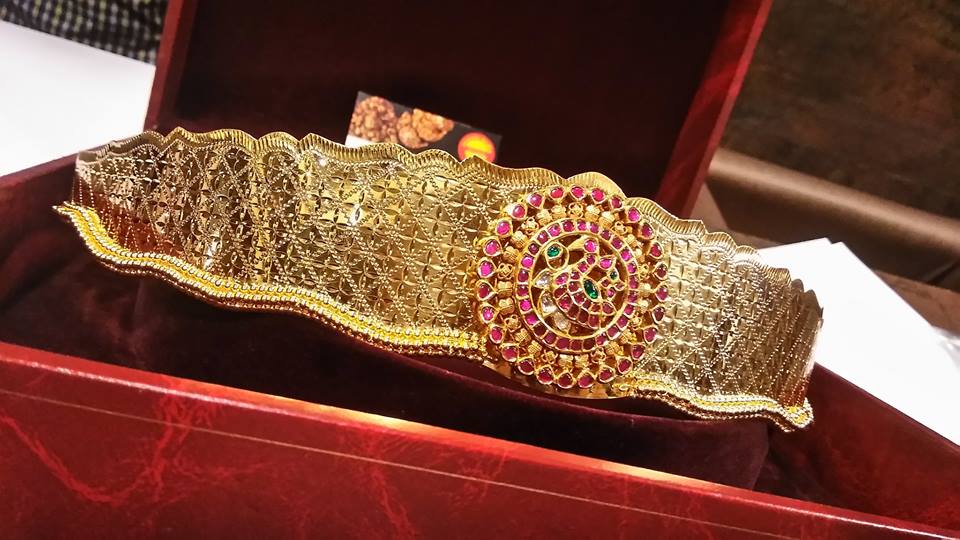 A traditional and stylish antique bangle, with catchy ruby stone work.
A massive peacock long necklace studded with rubies and embellished with gold balls at the bottom of the pendant.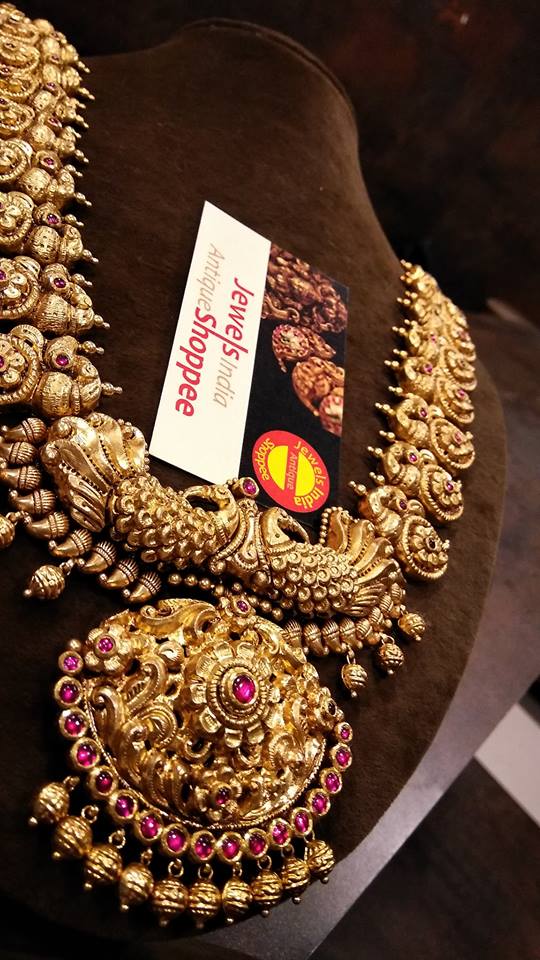 A majestic long haram with bold side locket and pendant to make everyone glued to it. This huge necklace is studded with rubies, white kundans, emeralds, and dangled with antique balls.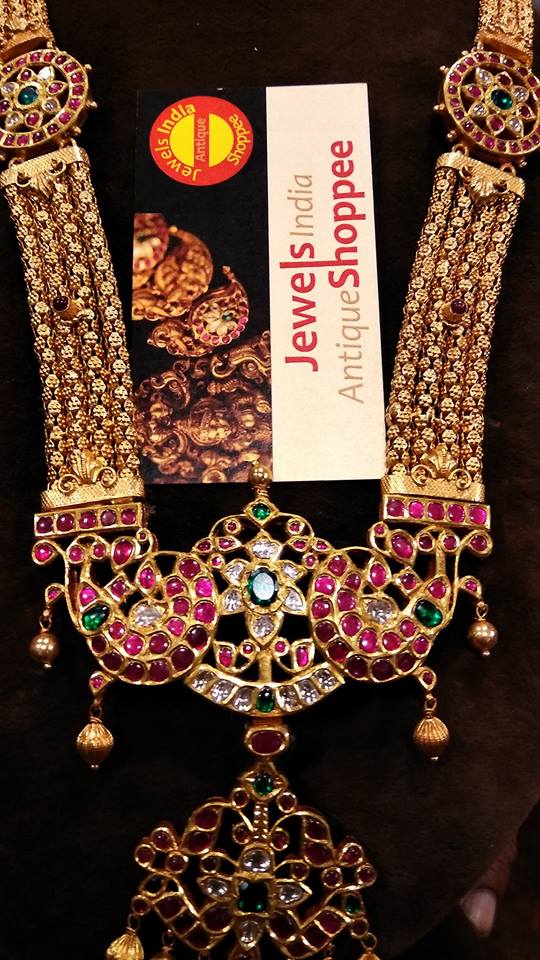 This is a traditional mango necklace with lord Krishna pendant adorned with colorful rubies, emeralds and pearls.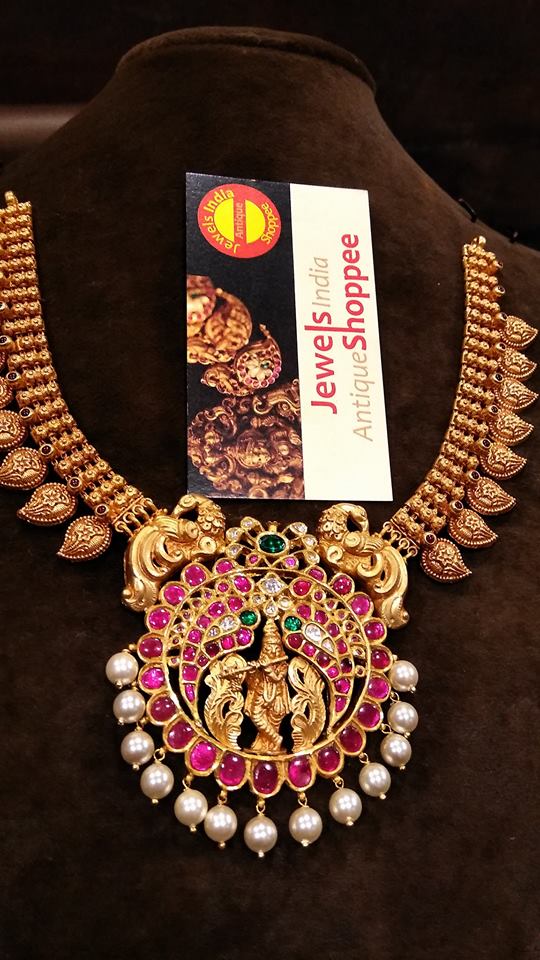 A simple yet royal attigai necklace, with a glistening diamond pendant. This is the kind of heritage piece that you can pass on to coming generations!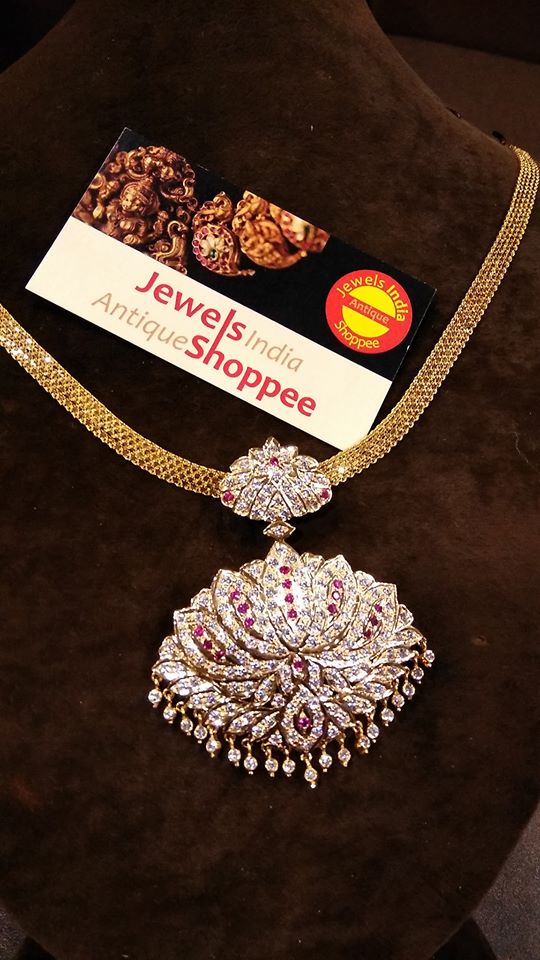 A huge gold antique kada style bangle with creative detailing, and bold rubies to garner all the attention here.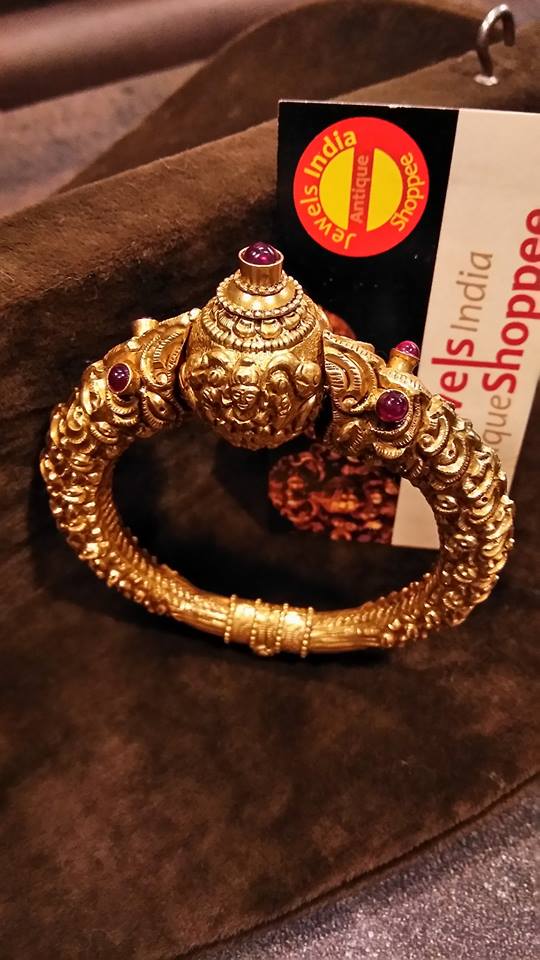 Another bold classic kasu necklace with ruby studded peacock pendant. We just love how the polished antique balls add a nice touch here.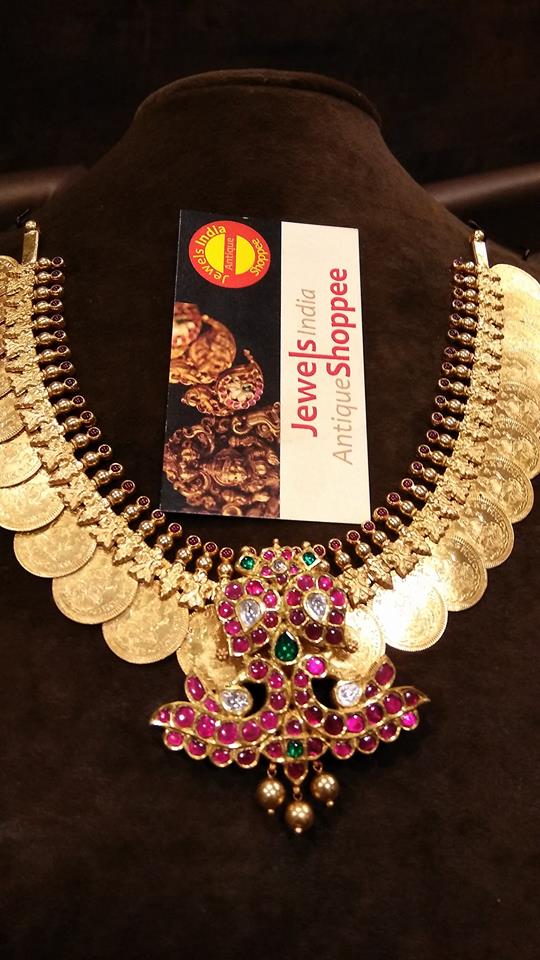 A regal mango necklace with a heavy pendant, all studded with kemp rubies, emeralds and kudan stones. A big shout out for brides to take a look on this exclusive bridal piece.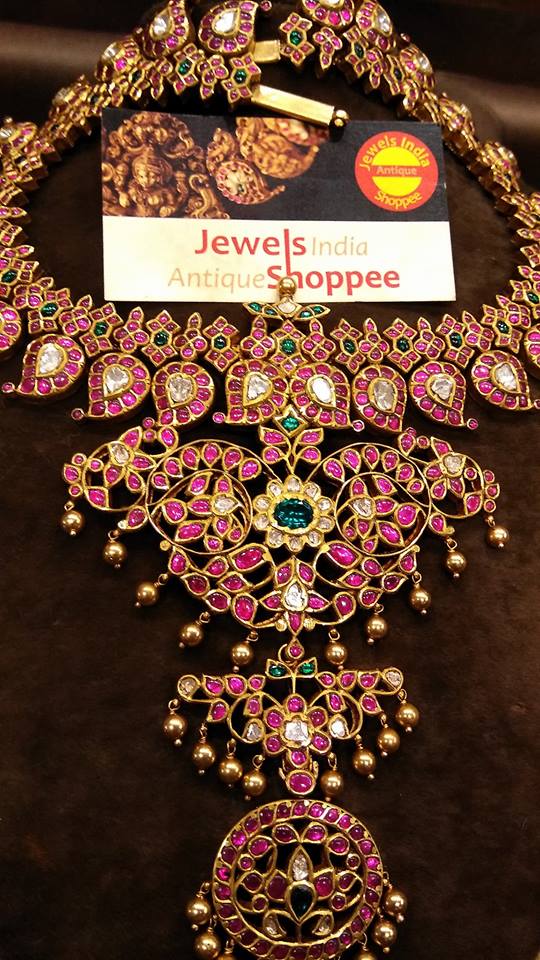 22k gold matt finish hair accessory that you will find very hard to shop anywhere else.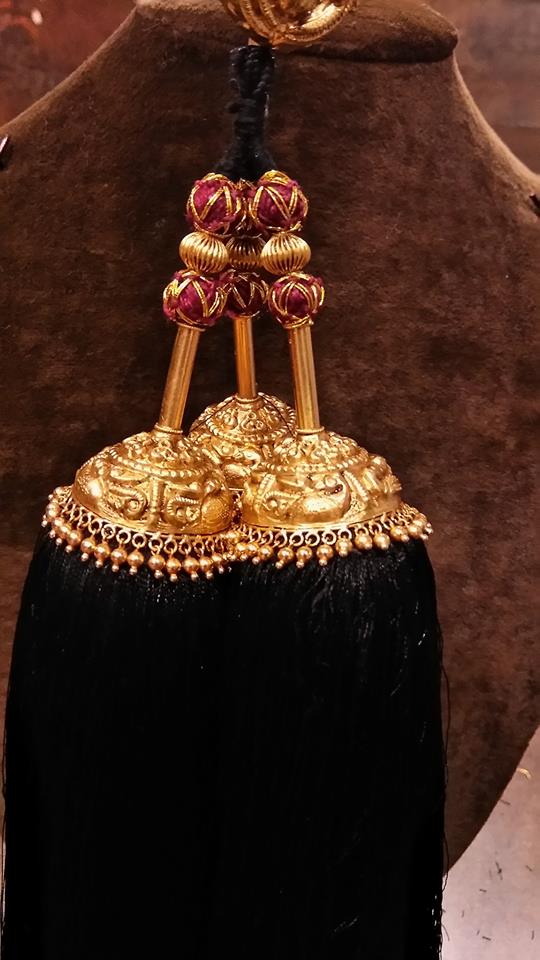 Another lovely peacock necklace with so much of intricate work and fine placement of stones for adornments.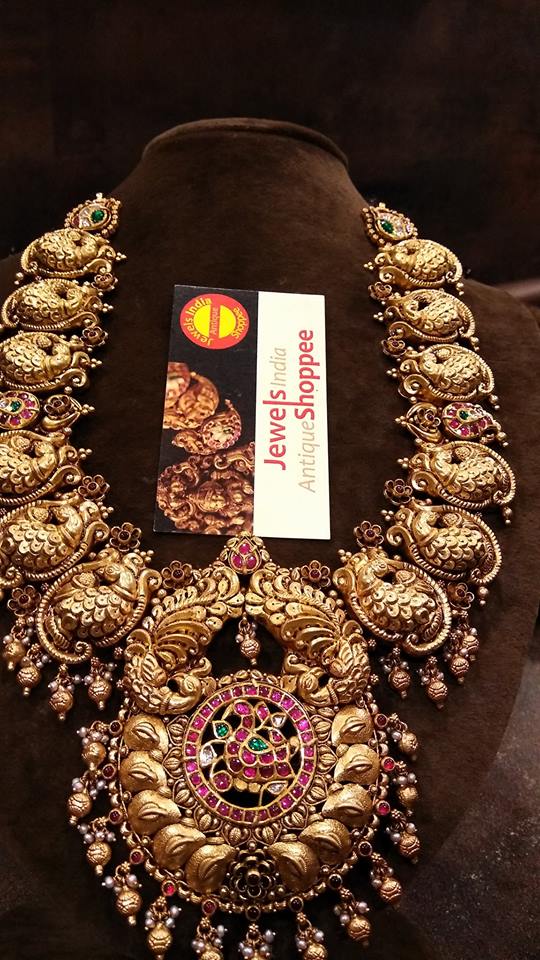 A loud haram with peacock and floral details. The long necklace is studded with kemp rubies, emeralds and kundan stones.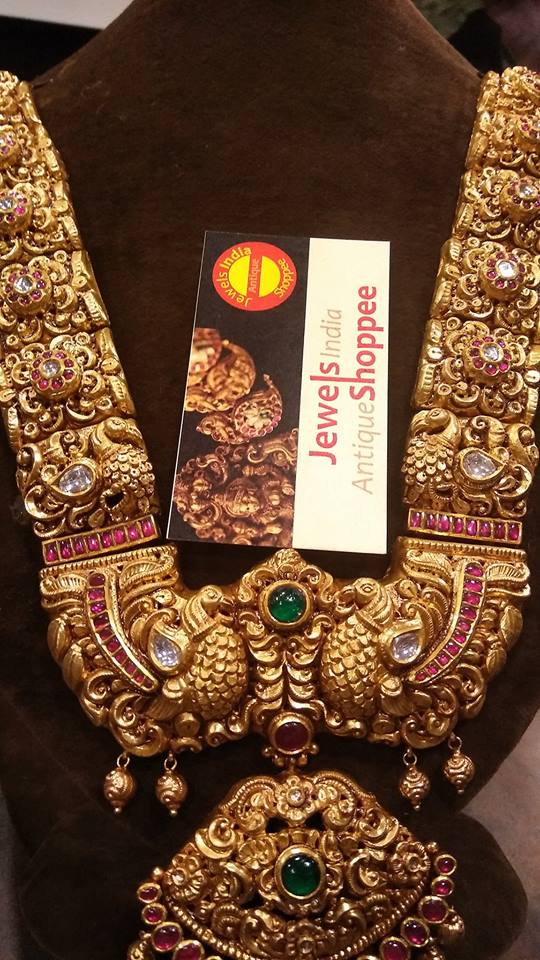 A gold kemp mango haram studded with rubies, emeralds and adorned with gold balls.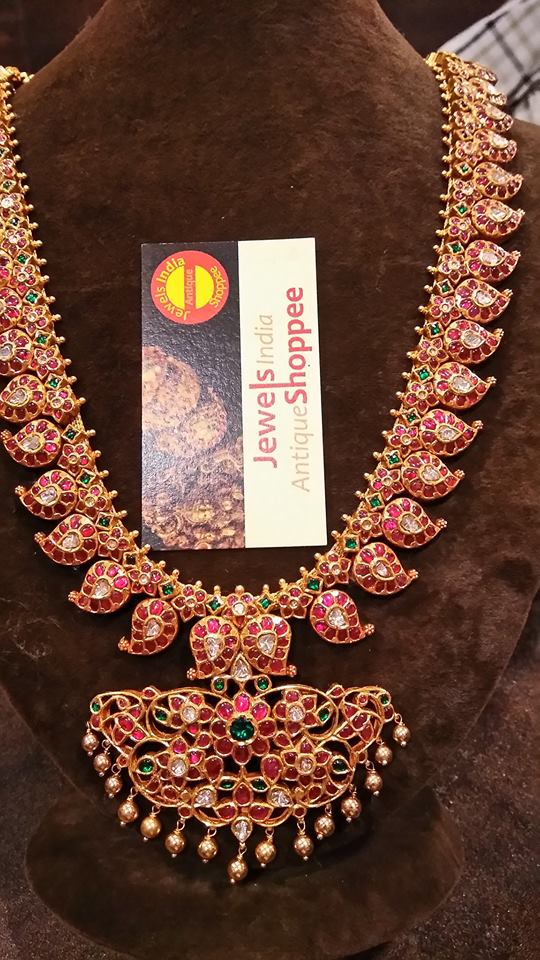 A beautiful antique gold peacock pendant that you can wear as attigai, by pairing it with any gold mesh chain.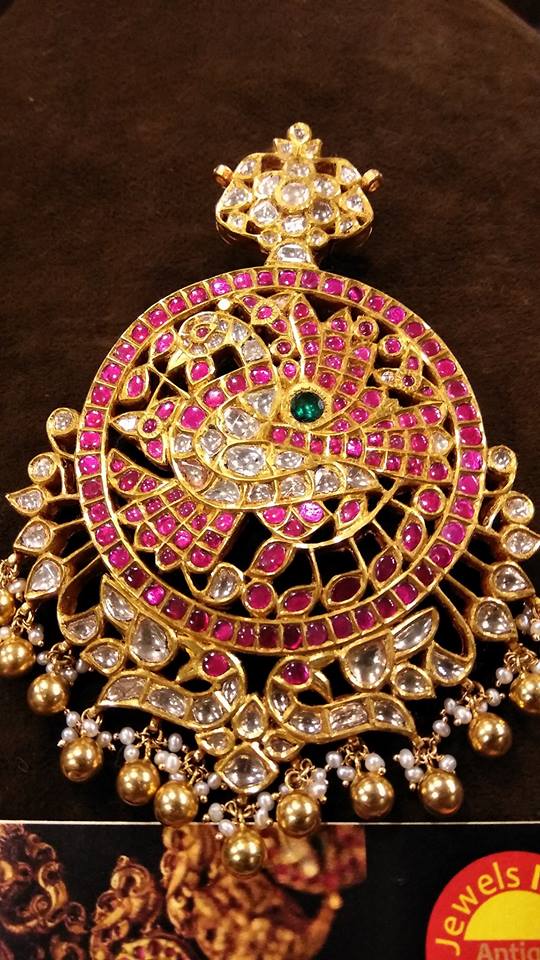 And finally a royal looking diamond puligore pendant.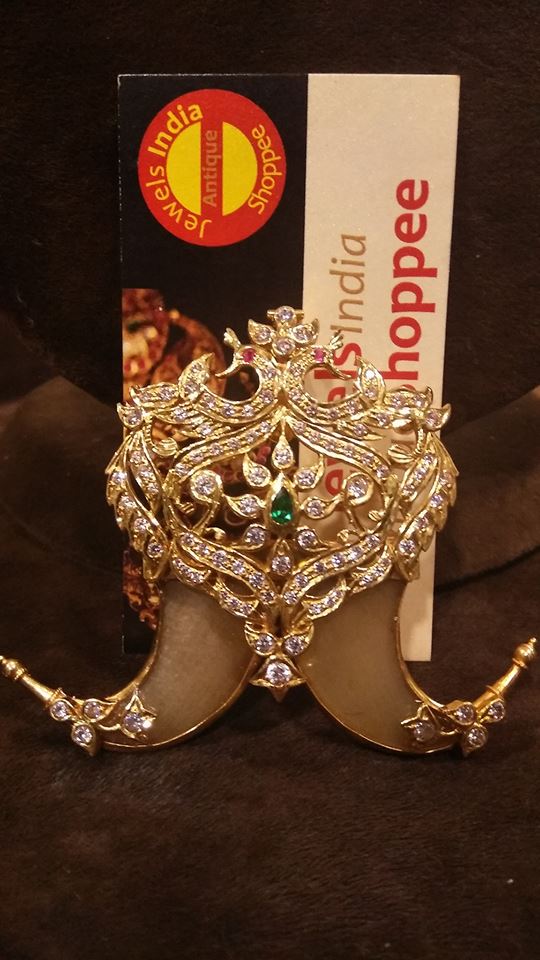 So do you like the collections from this brand? If you like to make any inquiries, please find the contact details below. This seller is a blessing for those who want a stand out antique gold jewellery models for their collections. Do check them out for sure , because their facebook page is being updated with their latest designs frequently.
Seller Name : Jewels Indian Antique
Contact : +91 80 4125 2333, 9980965091
Email : je***********************@gm***.com
Facebook : https://www.facebook.com/jewelsindiaantique/
Happy Shopping!
Also Read : 30+ Antique Jhumka Designs For Women of Any Age!