When it comes to a traditional outfit, all women love to accessorize. We all know that finding the perfect ornaments that blend in completely well with the attire is a pretty tiring and time-consuming task.
Although there are some who are very natural at picking just the right stuff, there are many others who need help. If you're one among the latter group then you are definitely in luck.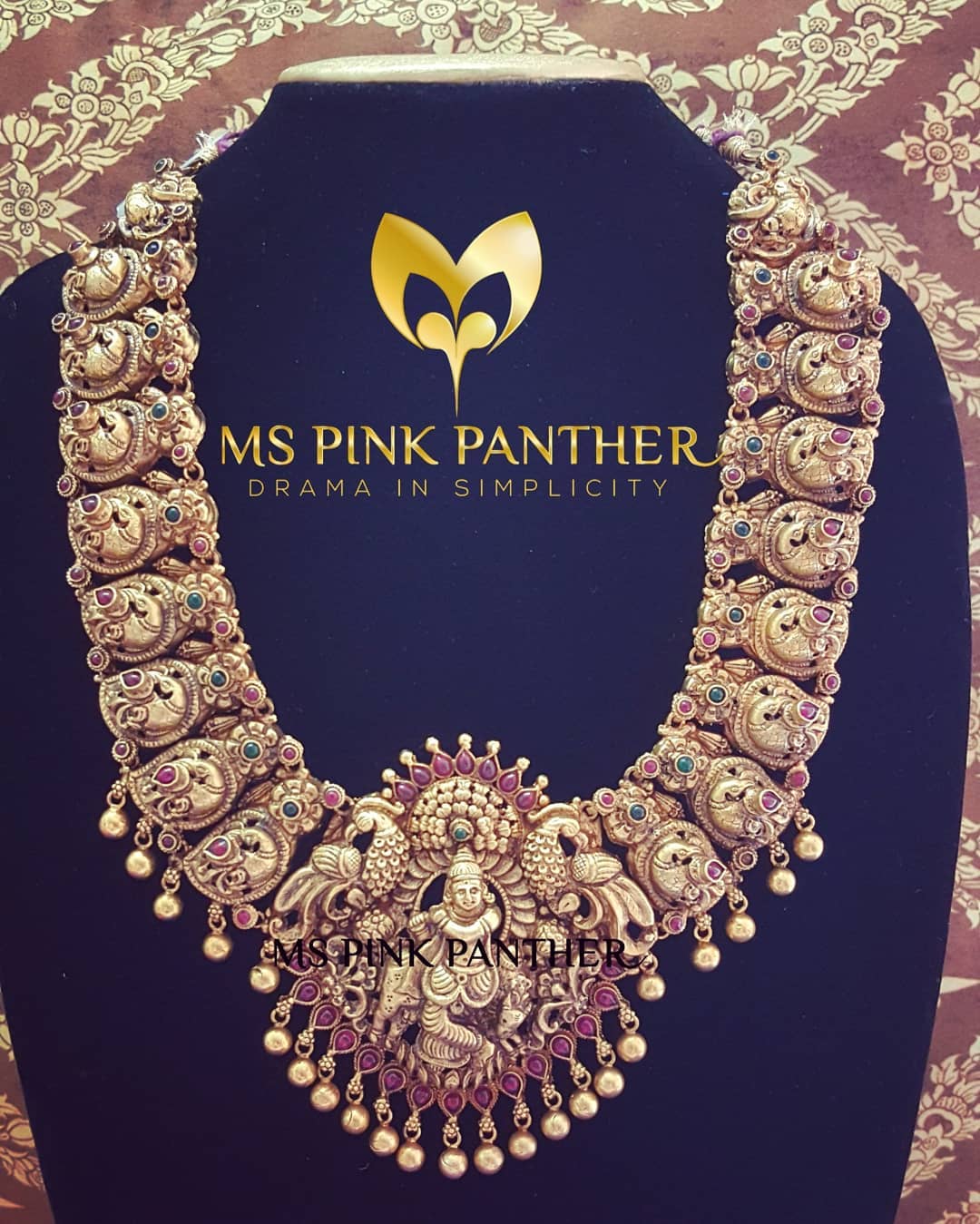 Ornaments are one of the major factors in beautifying an outfit. Long necklaces are in trend recently and hence, it is necessary that you have such necklaces.However, you need not stress over it because we're here to help you with the best long necklace designs that would go well with your traditional outfits and where to shop them.
Double Layered Beauty
Stone studded necklaces always make you stand out in a crowd. It is one of the must-haves if you are a fashionable woman, keeping up with the latest trends. The double layer with a great color combination is perfect to fit in with your outfit.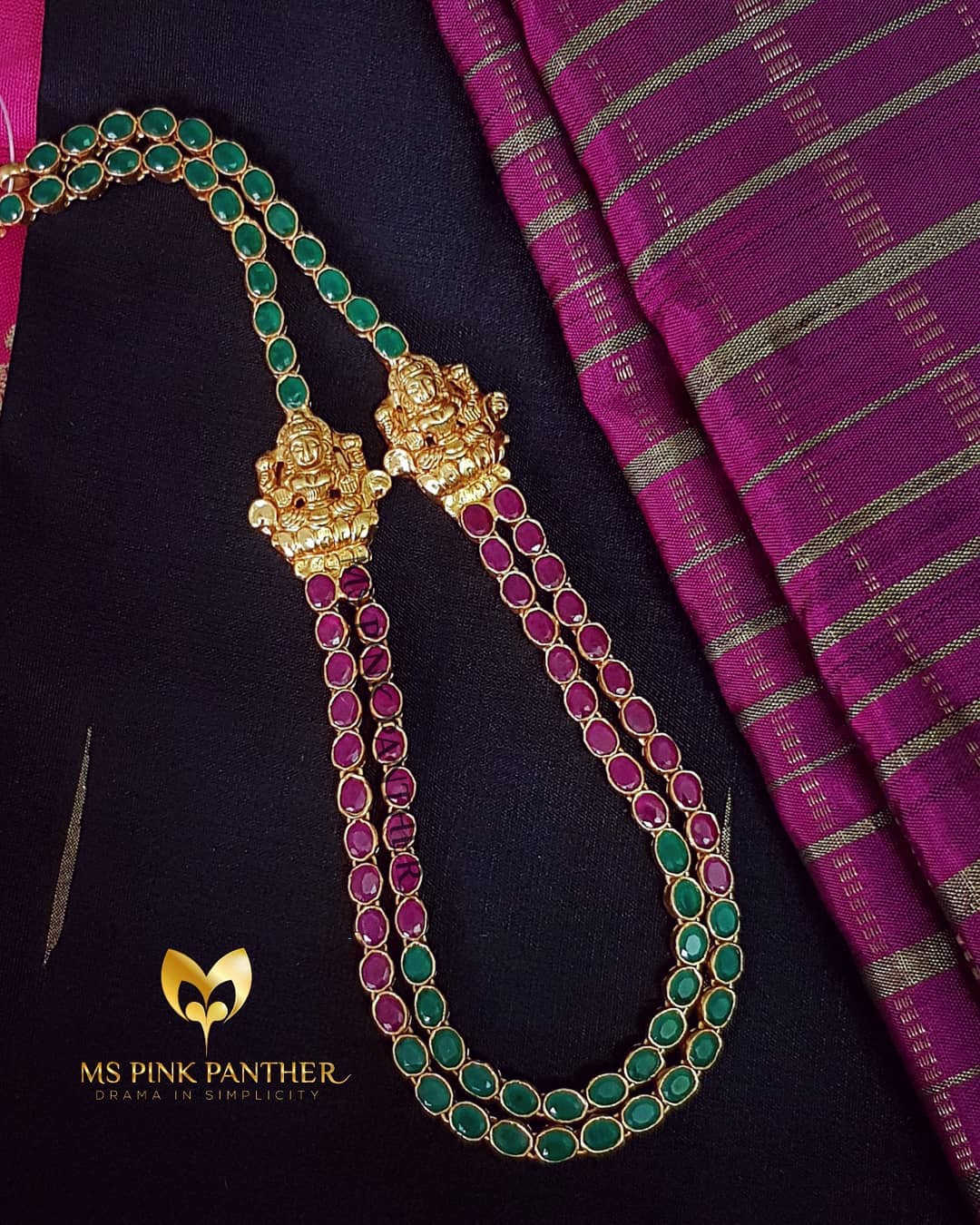 The Majestic Look
This design flaunts the beauty of symmetry. The heavy pendant is the essence of the necklace and is flawless. You would definitely love this design in you believe in minimalistic elegance.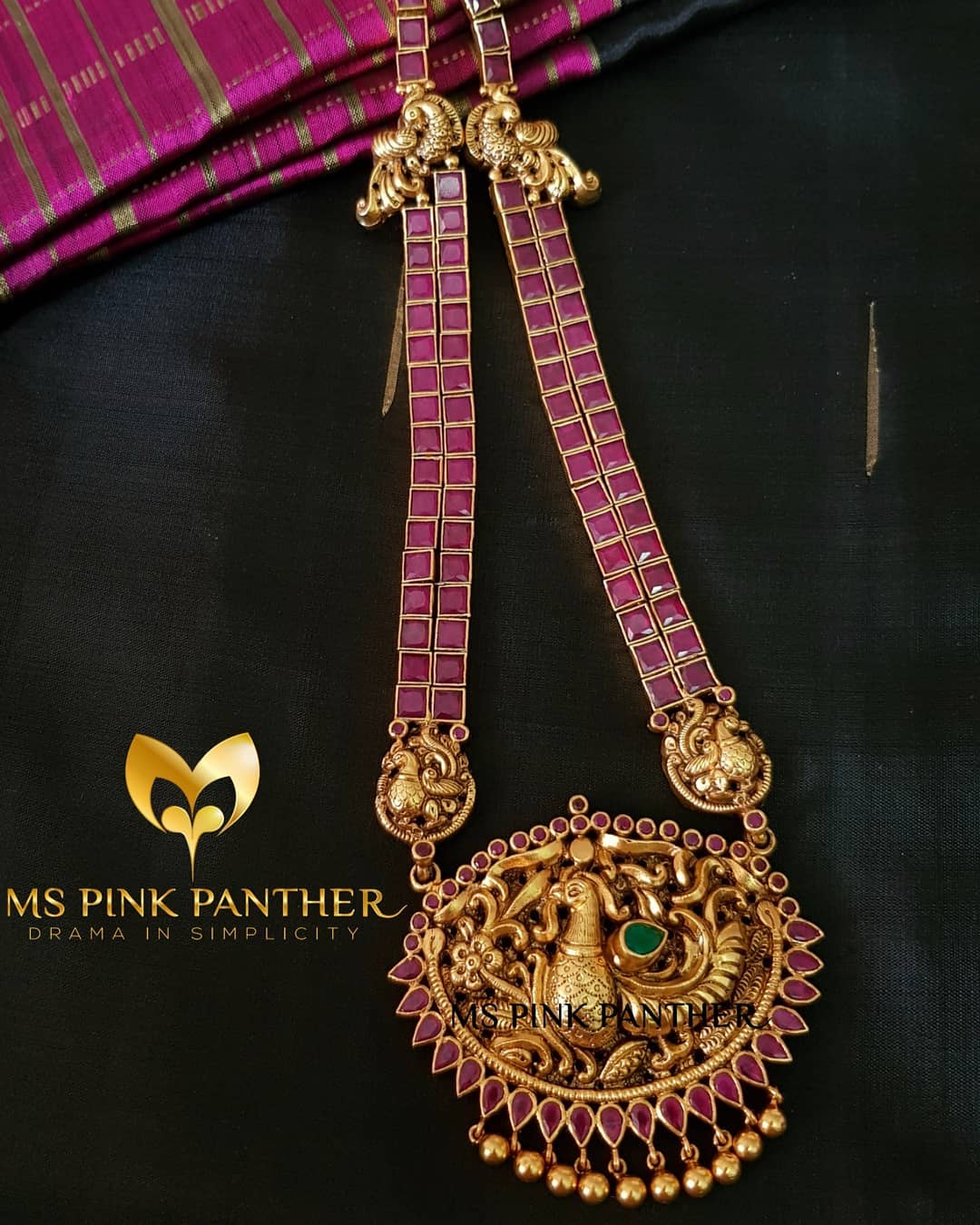 Simple yet Heavy
This design has simple round beads as its chain. You might even wonder that it is good enough but, the bottom of the chain completes the look and make it dramatic. It looks heavy and gives a royal feeling.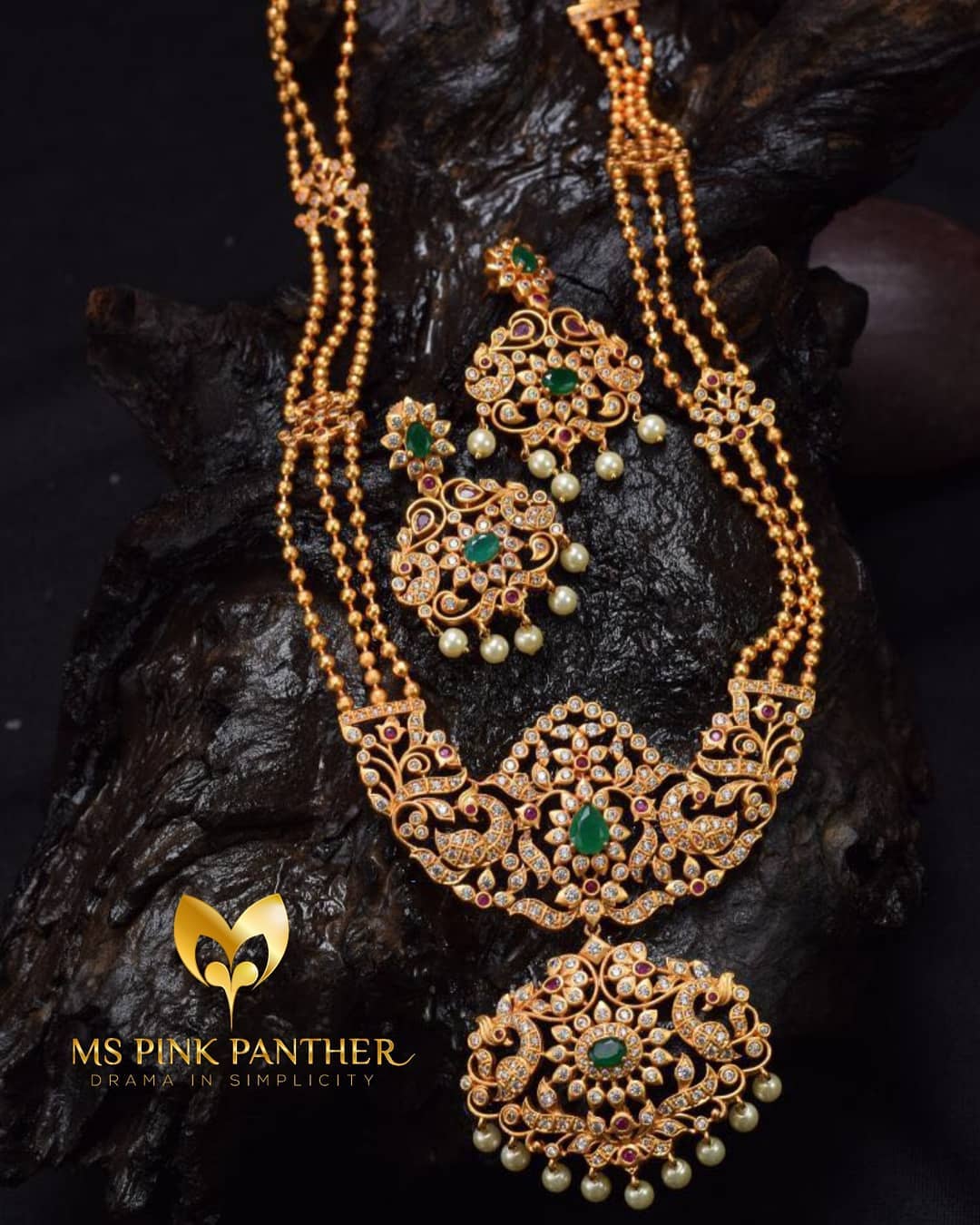 Coined divinity
Circular coined chains are one of the most divine looking designs one could ever fall for. They are totally simple yet, they somehow manage to complete your attire flawlessly.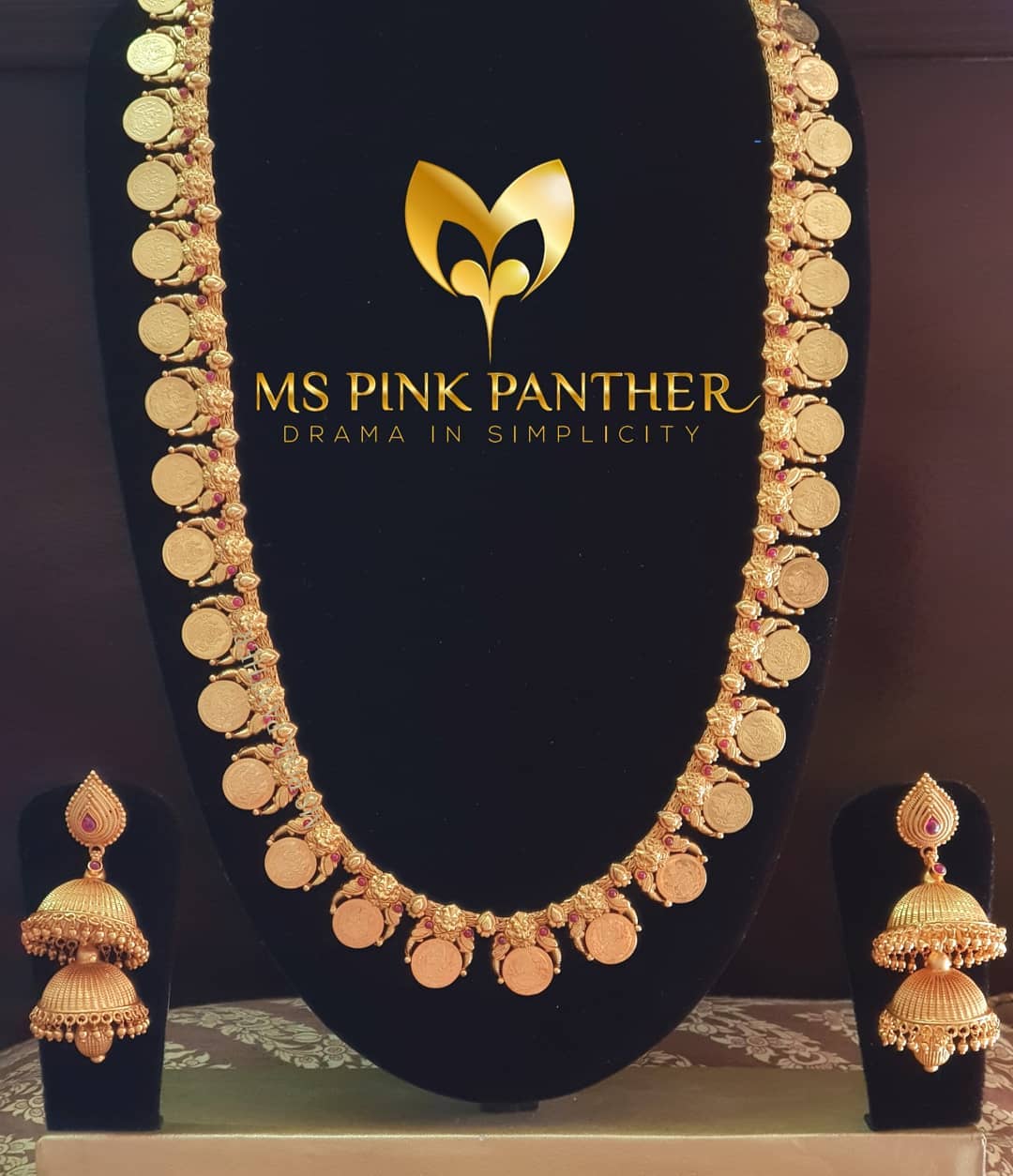 Double Locket Bliss
What could be better than a necklace that looks like two necklaces? This design has two pendants and a stone chain that makes the overall look simply admirable. It can be paired up with any outfit as it would blend in with ease with any attire.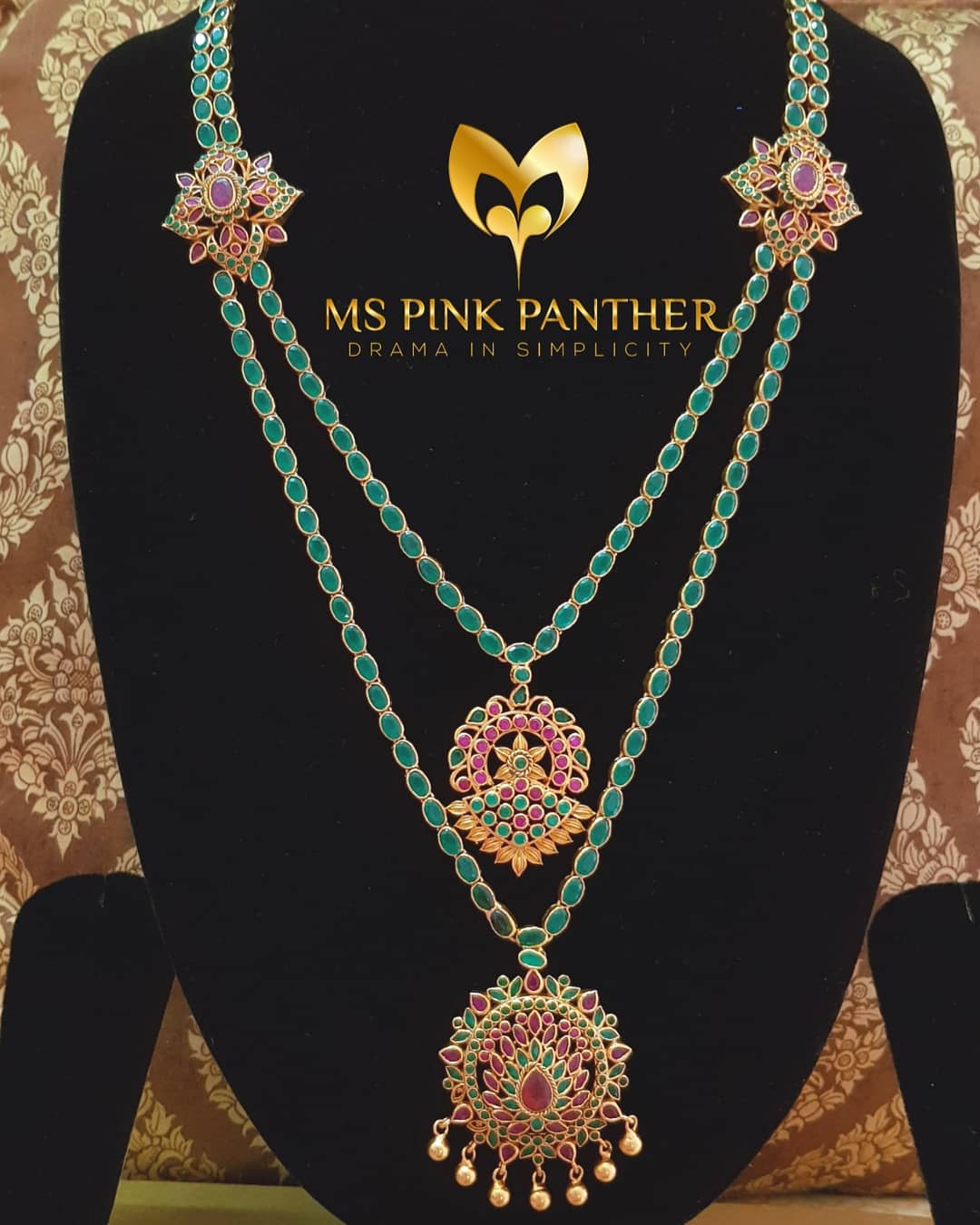 Stone Enhancement
Stone necklaces are so much in fashion that it is unbelievable how astounding they look. This design has a top of gold with studded stones whereas the bottom part is completely made of stones. Flaunt this with your silk sarees for a whole new saree look.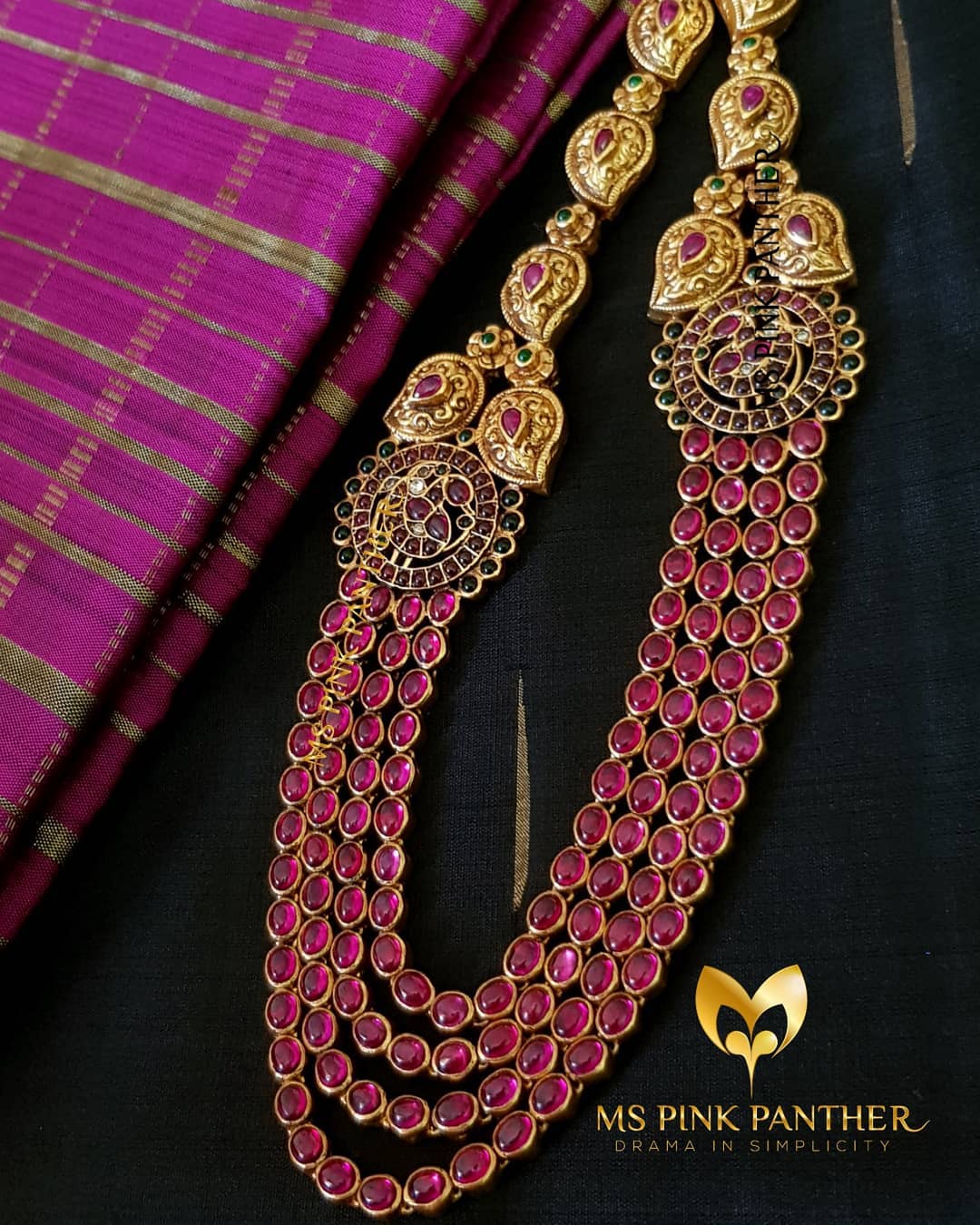 Regular and Plain
This simple long stone necklace is just right for you in case you are looking for a formal accessory. It is neither too showy nor too subtle. It is just right and can be worn without any efforts.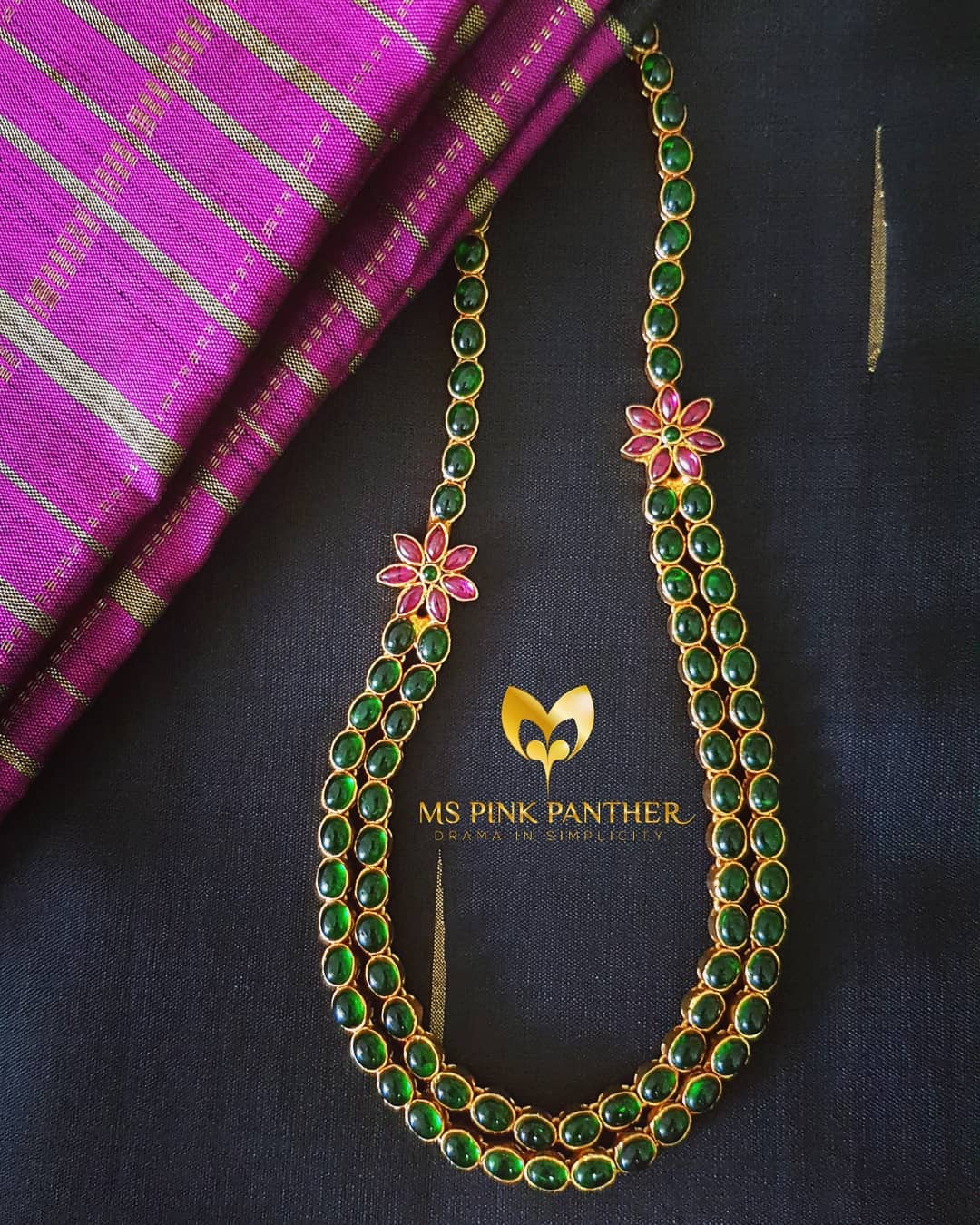 The Heavy Look
We all know that coined chains are just perfect. However, this design is heavy-looking irrespective of its simplicity. The tiny spiky edges on the inner part of the necklace adds a completely new look.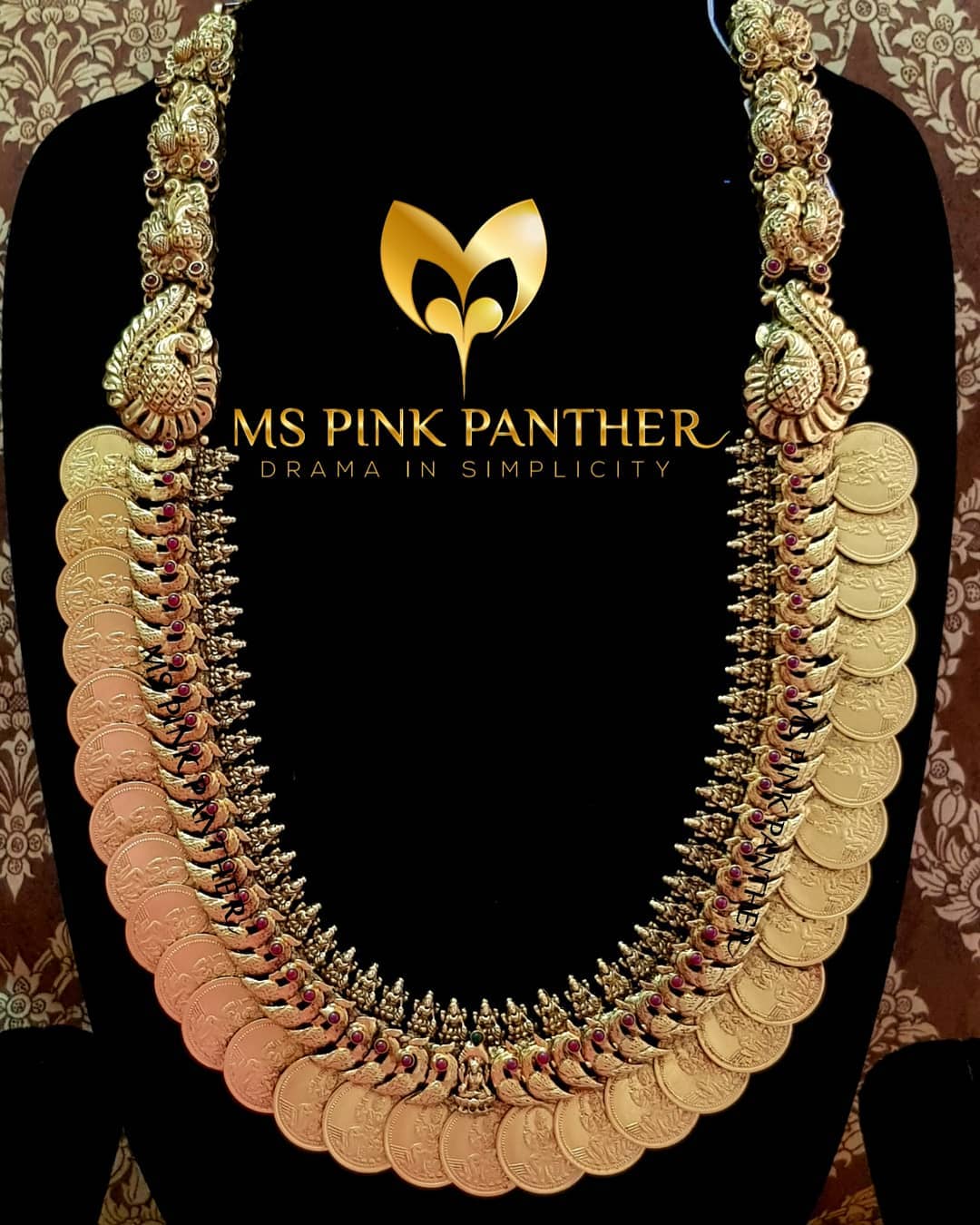 Modest and Elegant
This necklace has a boxy look that sets it apart from all the other designs. The pendant is quite heavy and hence, it is the right pick if you have a simple blouse. It can enhance the outfit completely.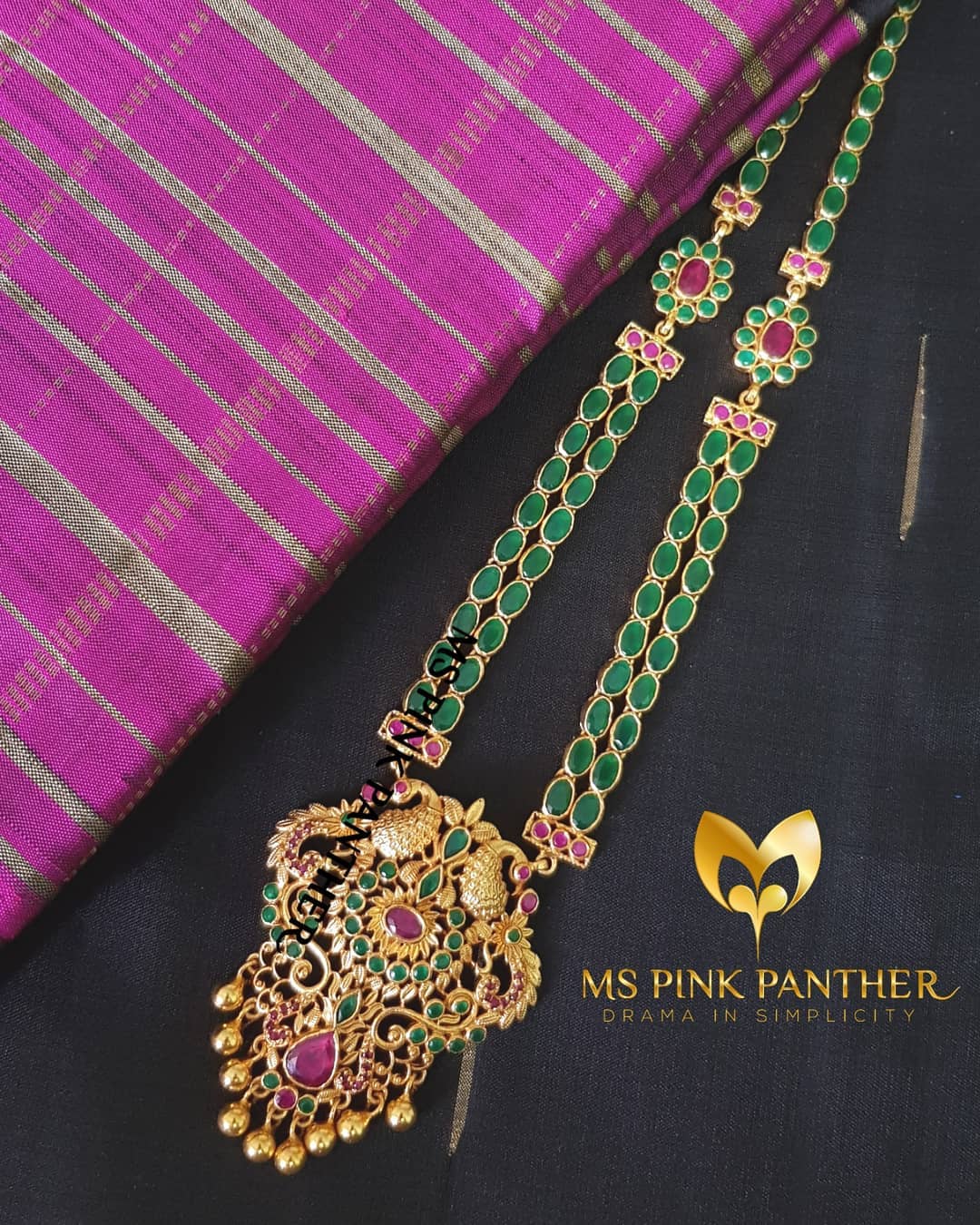 The hefty Pendant
If you are looking for a simple necklace with a heavy pendant then, your search ends here. The pendant is simply artistic and can go amazingly well with similar as well as contrasting colors.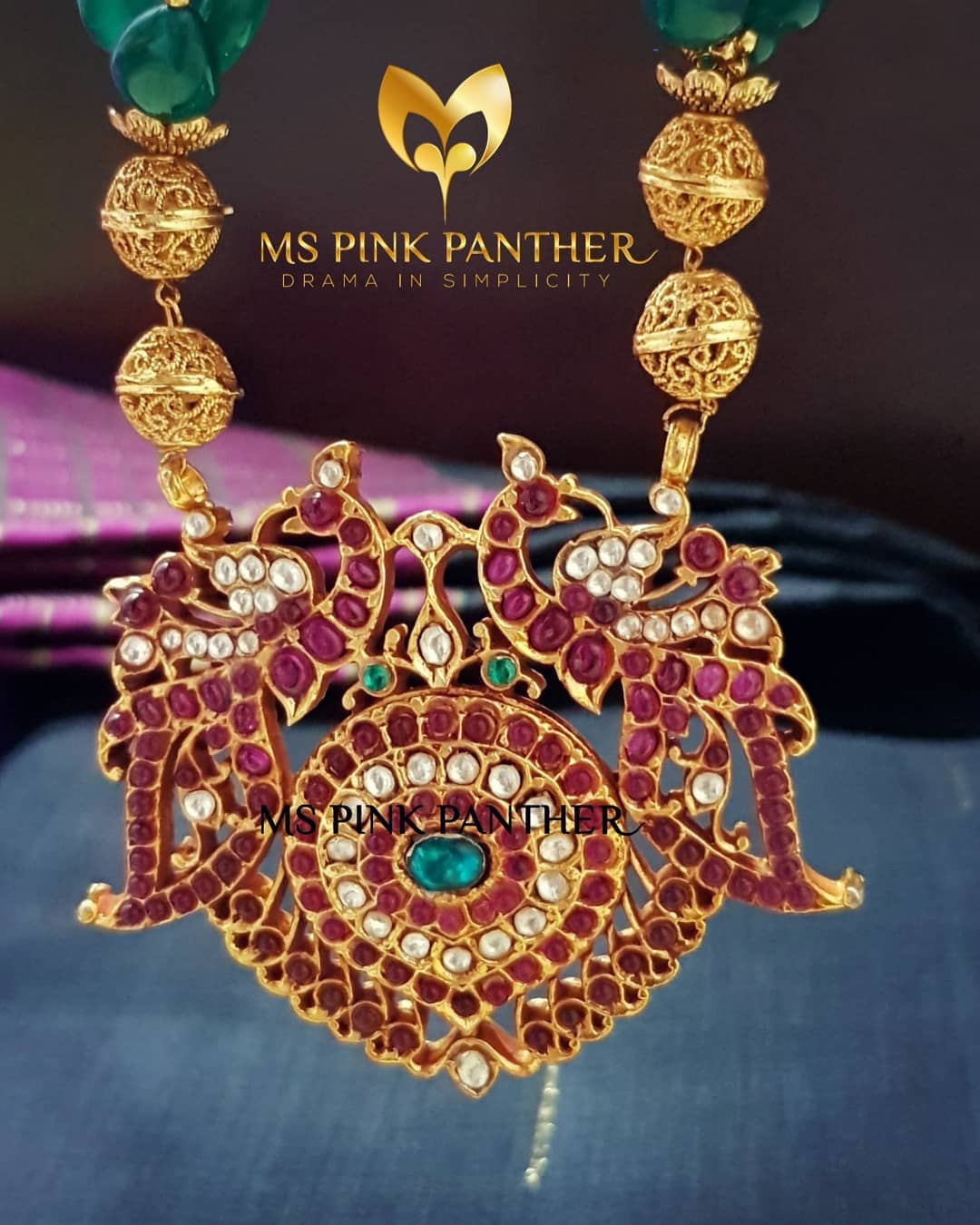 Lakshmi Coins
The intricate goddess Lakshmi carved on the coins is perfect if you have an eye for detailing. When paired with ruby stones, the look is instantly taken to an all new level.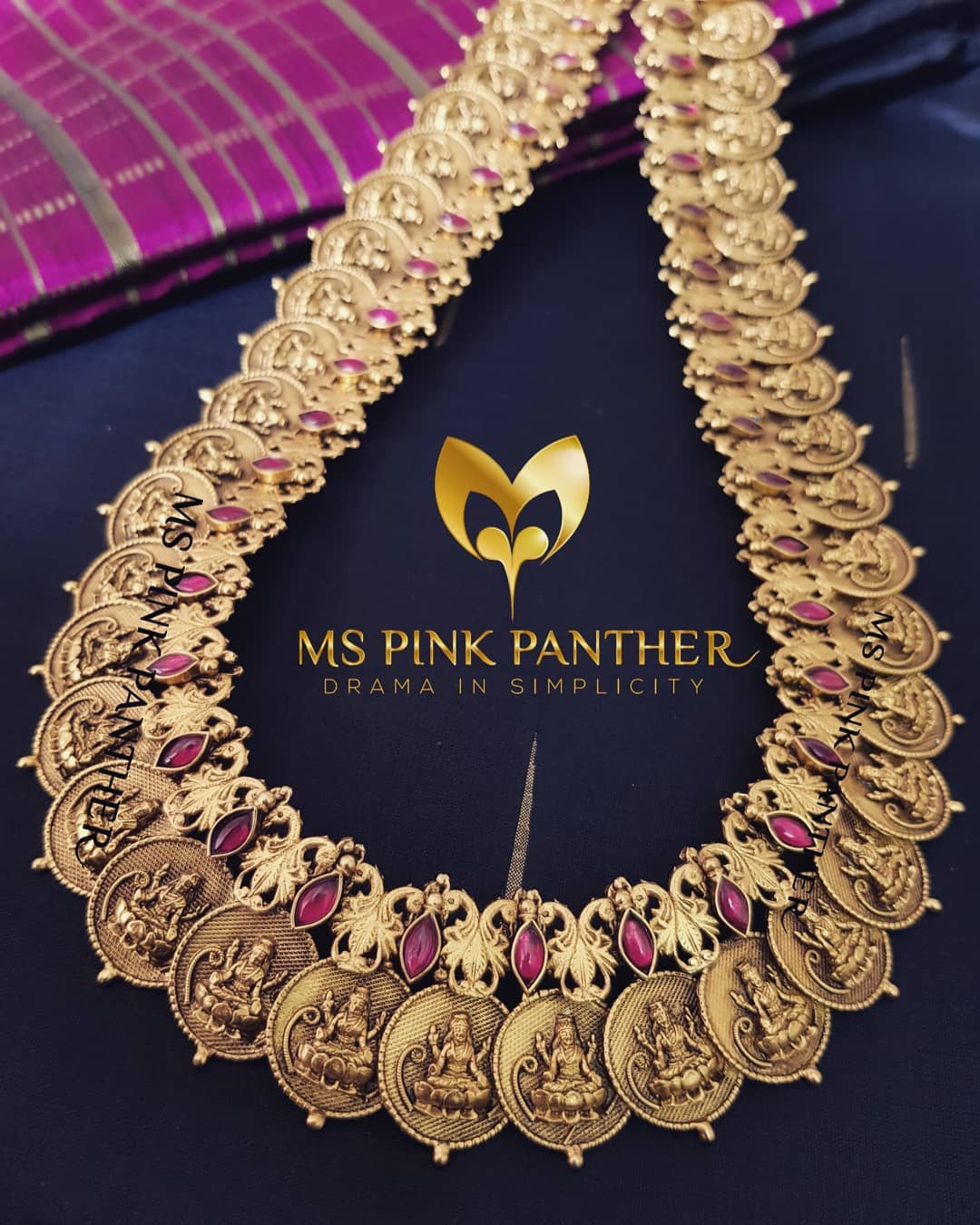 Strands of Beads
This design has four strands of antique beads which are further attached to gold and white stone figurines. The tiny beads steal all the attention and are a perfect pick for any occasion.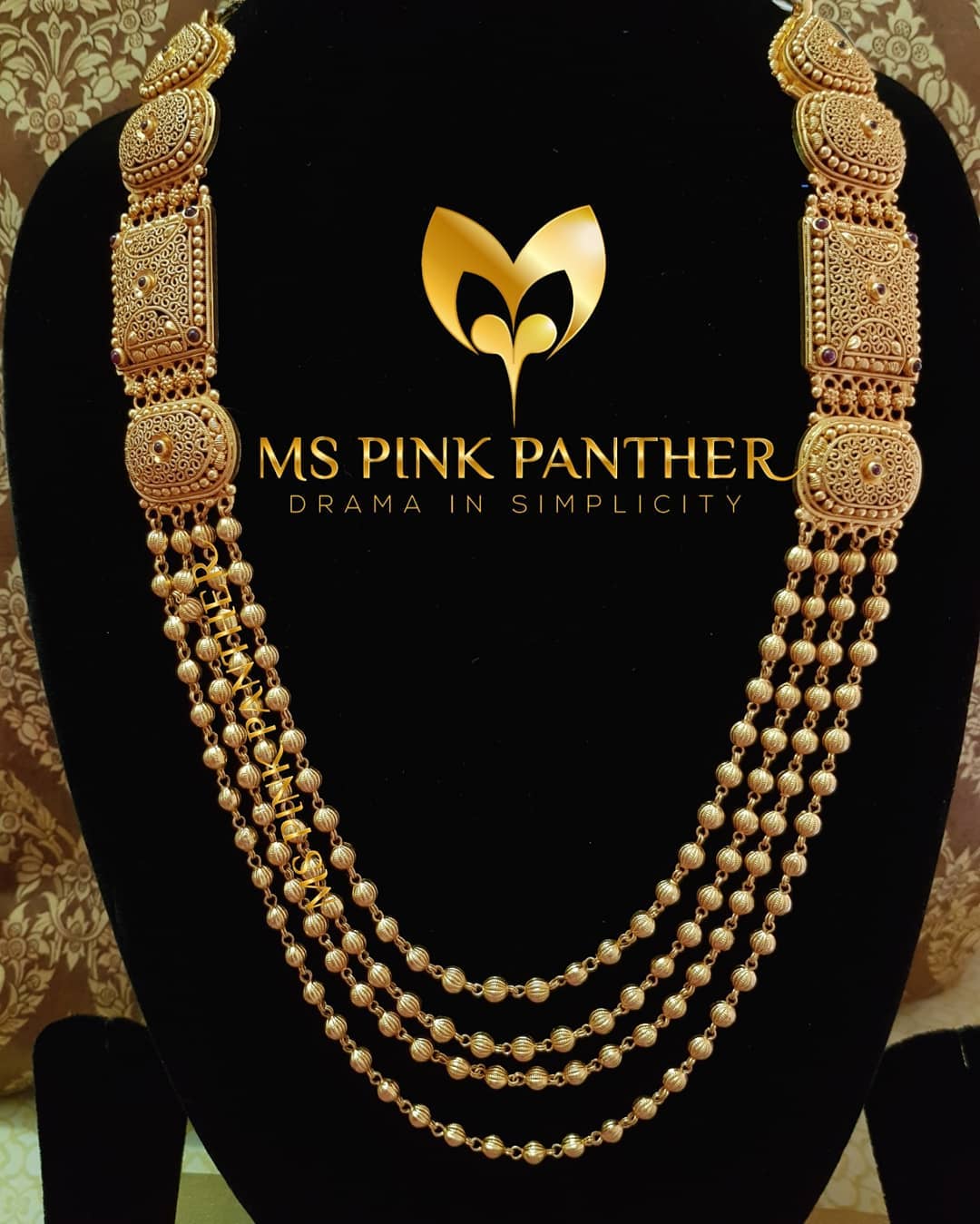 Artistic and Royal
This design stands out from the rest since it has a unique look. The spherical studs on the chain are a great addition to the peacock design at the bottom. This design will definitely hook you up with a feel of traditionalism.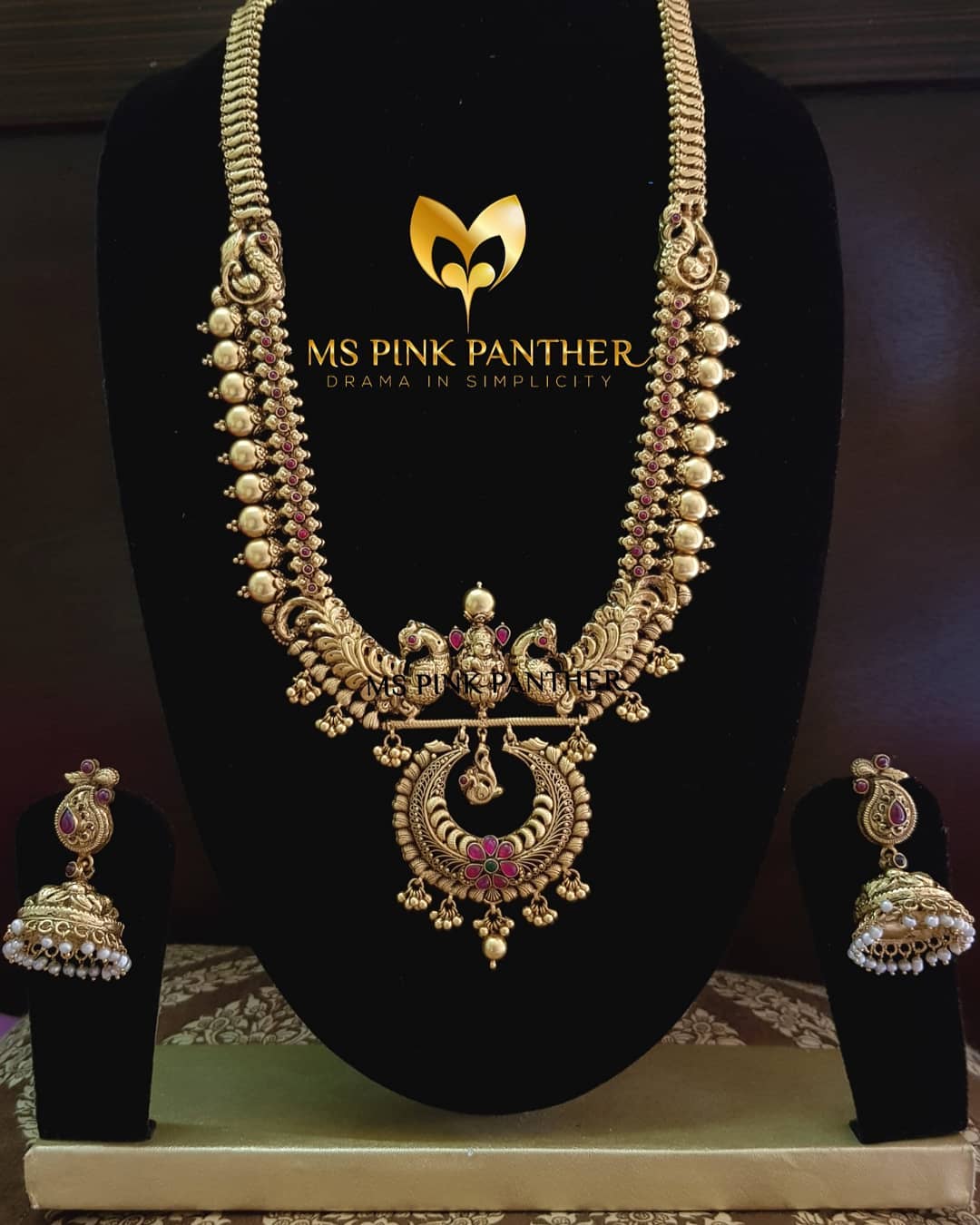 Bold Bridal Set
This bridal set has the classic long necklace but in addition, it has a pretty choker necklace as well. This is definitely the right choice if you are looking to fuse between ethnicity and modernity.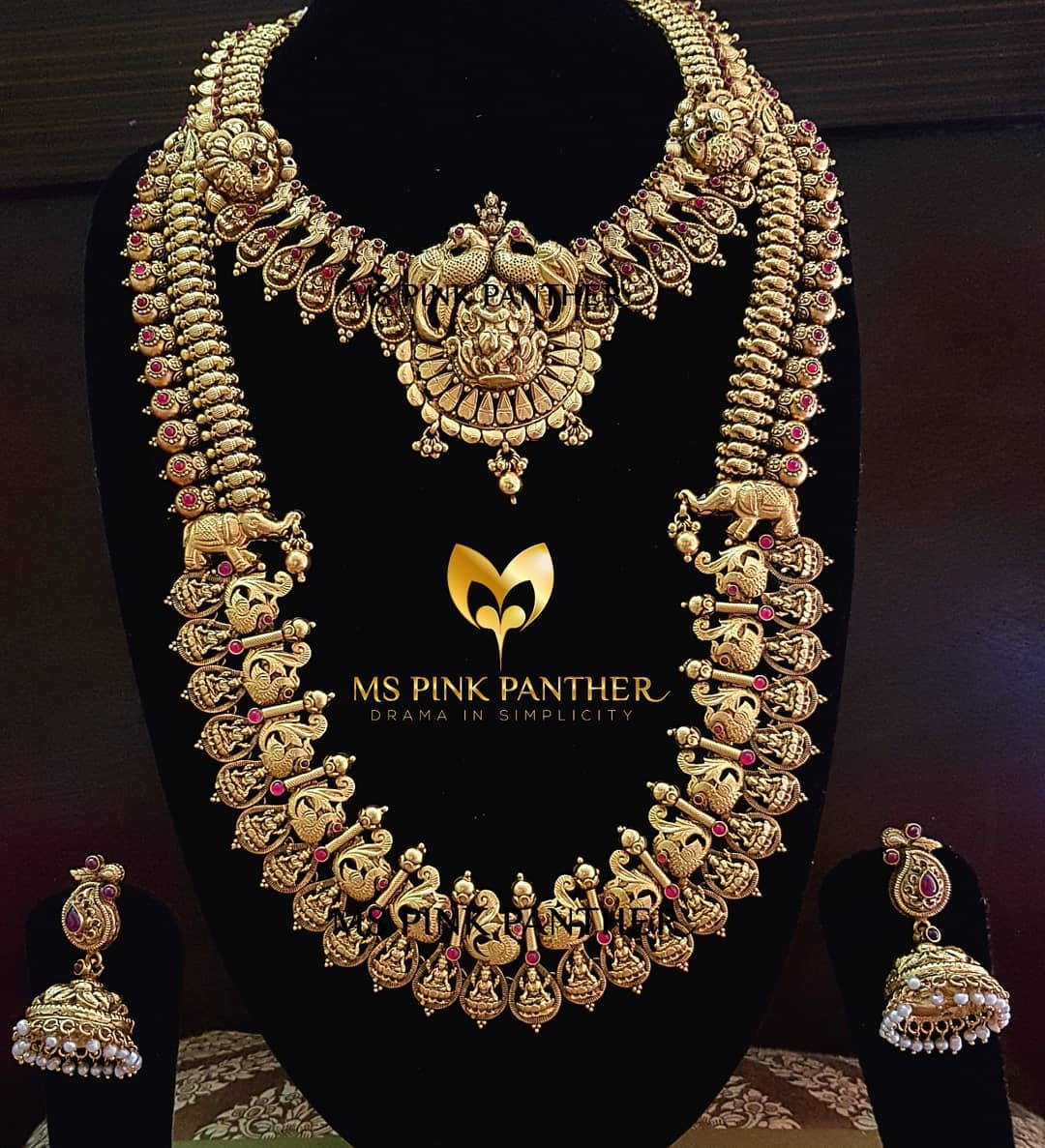 Regal Impression
A gold necklace reaches its ultimate level of beauty when paired along with white stone, ruby and emeralds. The intricate detailing of this set is simply fabulous and is sure to steal attention of all those around you.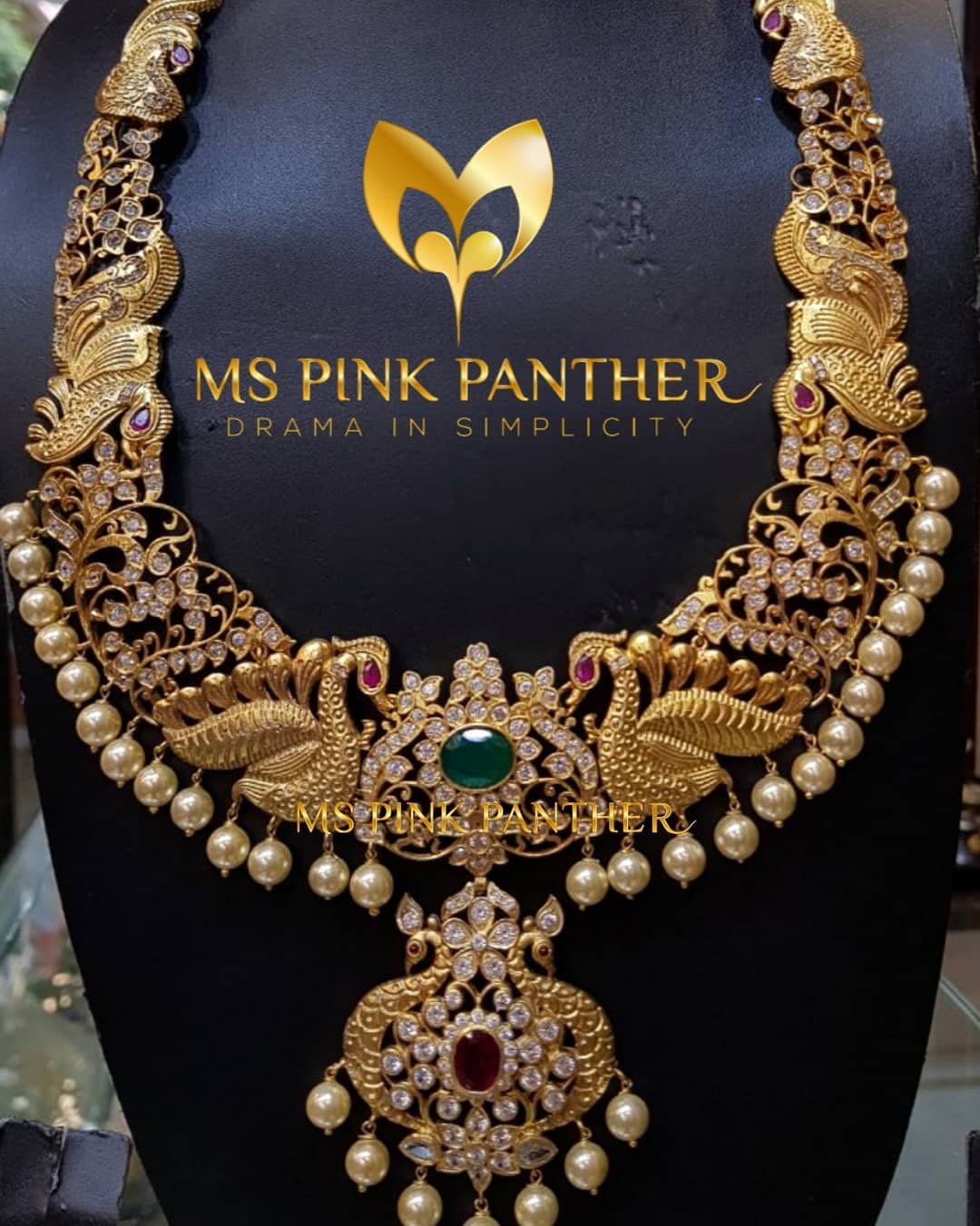 Triumphant Elephants
All of us know that elephants are a great part of the Indian tradition. The beaded triple layer is simply astonishing and one would not be able to stop admiring your beauty because of this long necklace.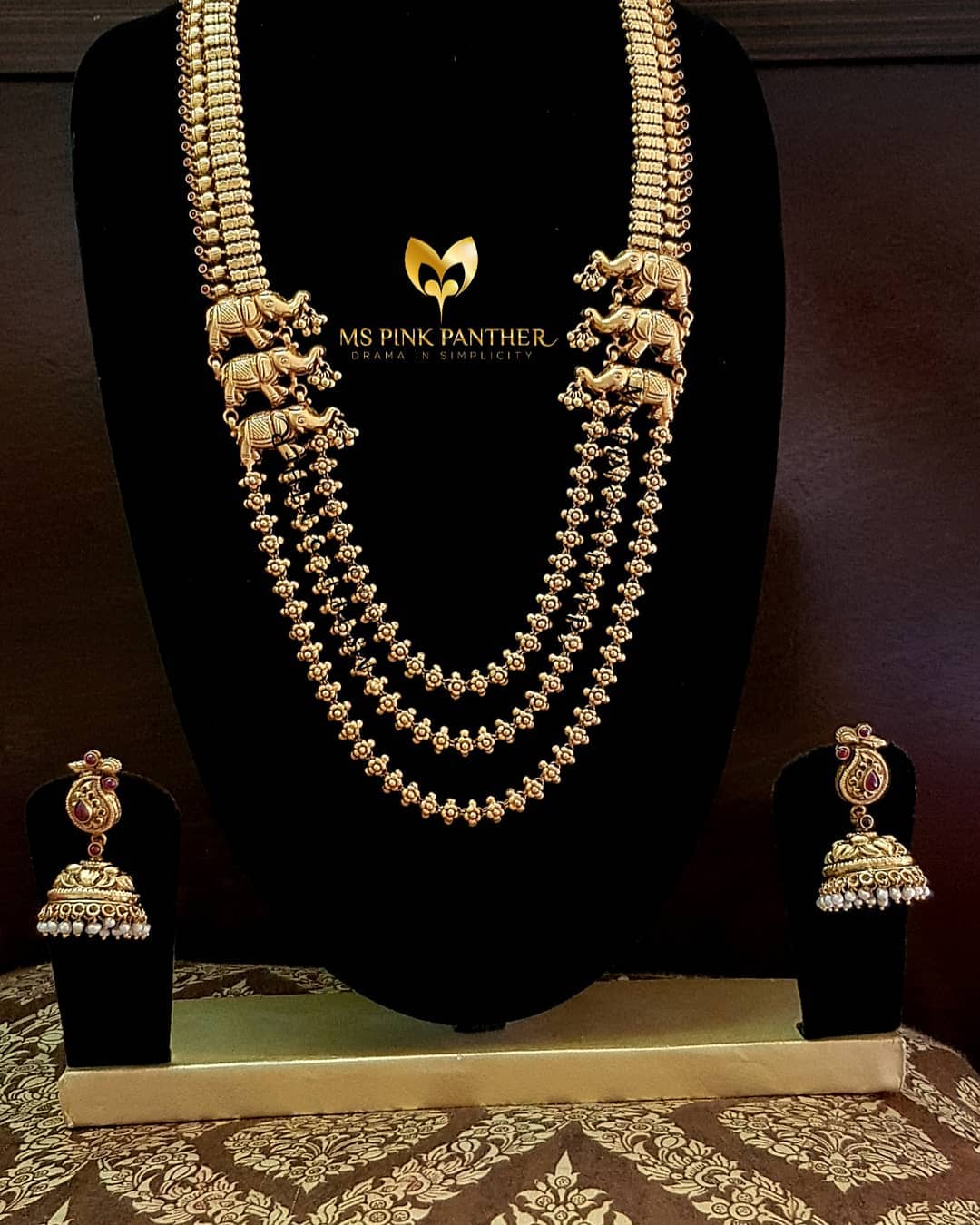 Dense Chain with Studs
The thick chain of this necklace is the best among all regular designs. This chain flaunts the fact that it is a long necklace and is a perfect pick if you want to feel a bit showy.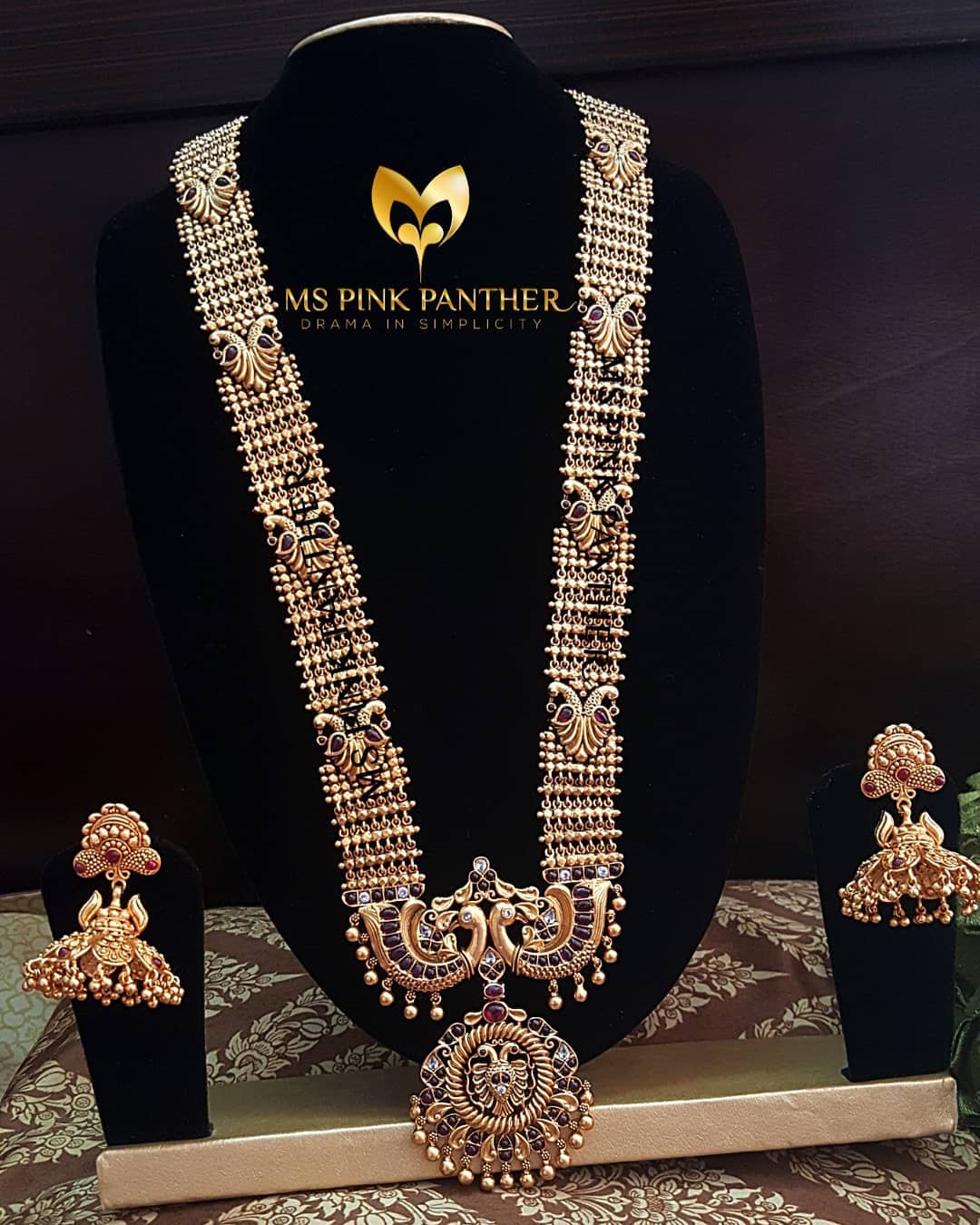 Detailing is the Key
If you like elaborate detailing in your accessories then; you would surely love this necklace. The swirly designing on the chain adds a new look and the pendant gives a sense of culture and spirituality.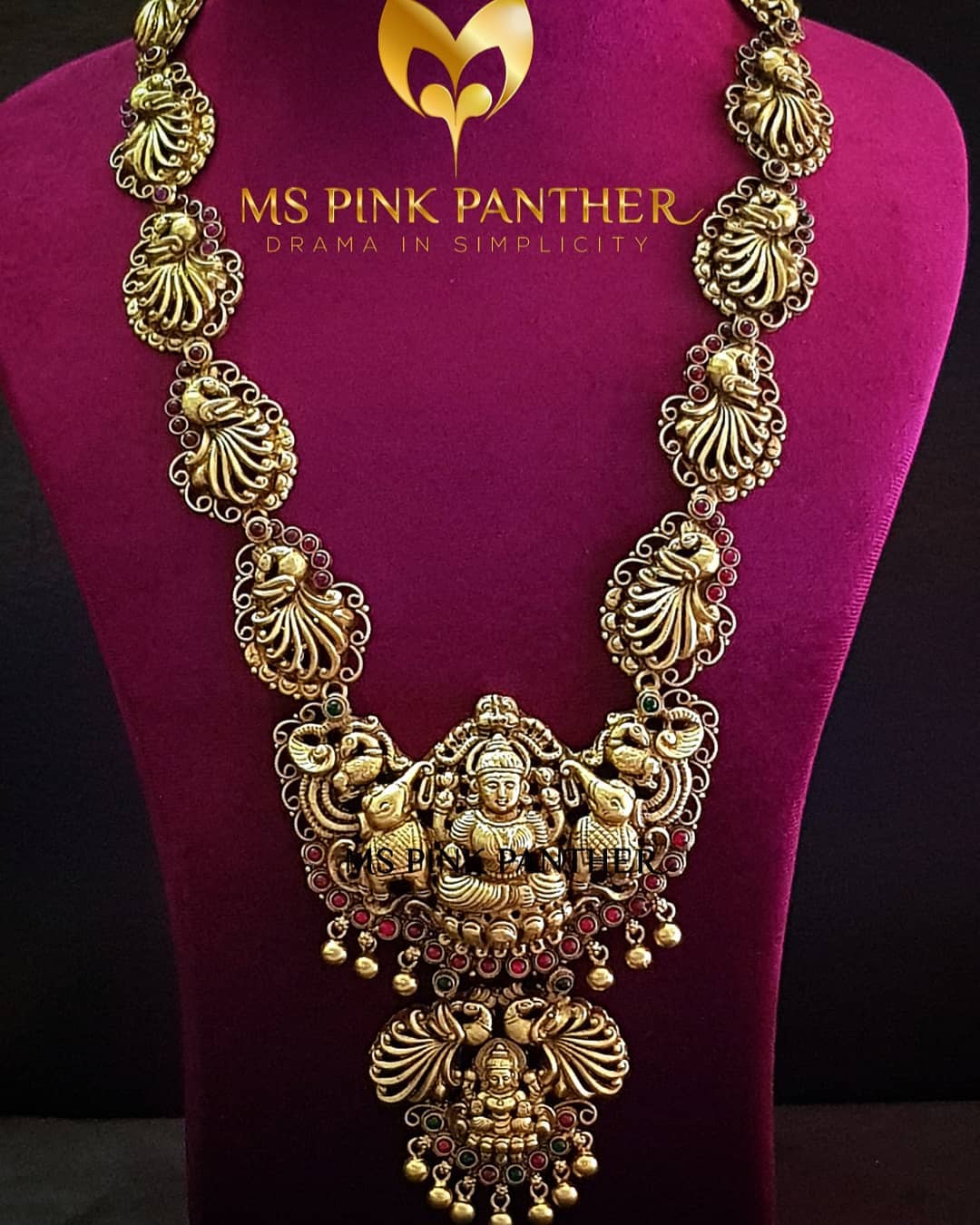 Solid Spherical Blobs
The chain is made up of spherical droplets which have intense carving all over them. The pendant is surprisingly dominant and is sure to turn all eyes towards you.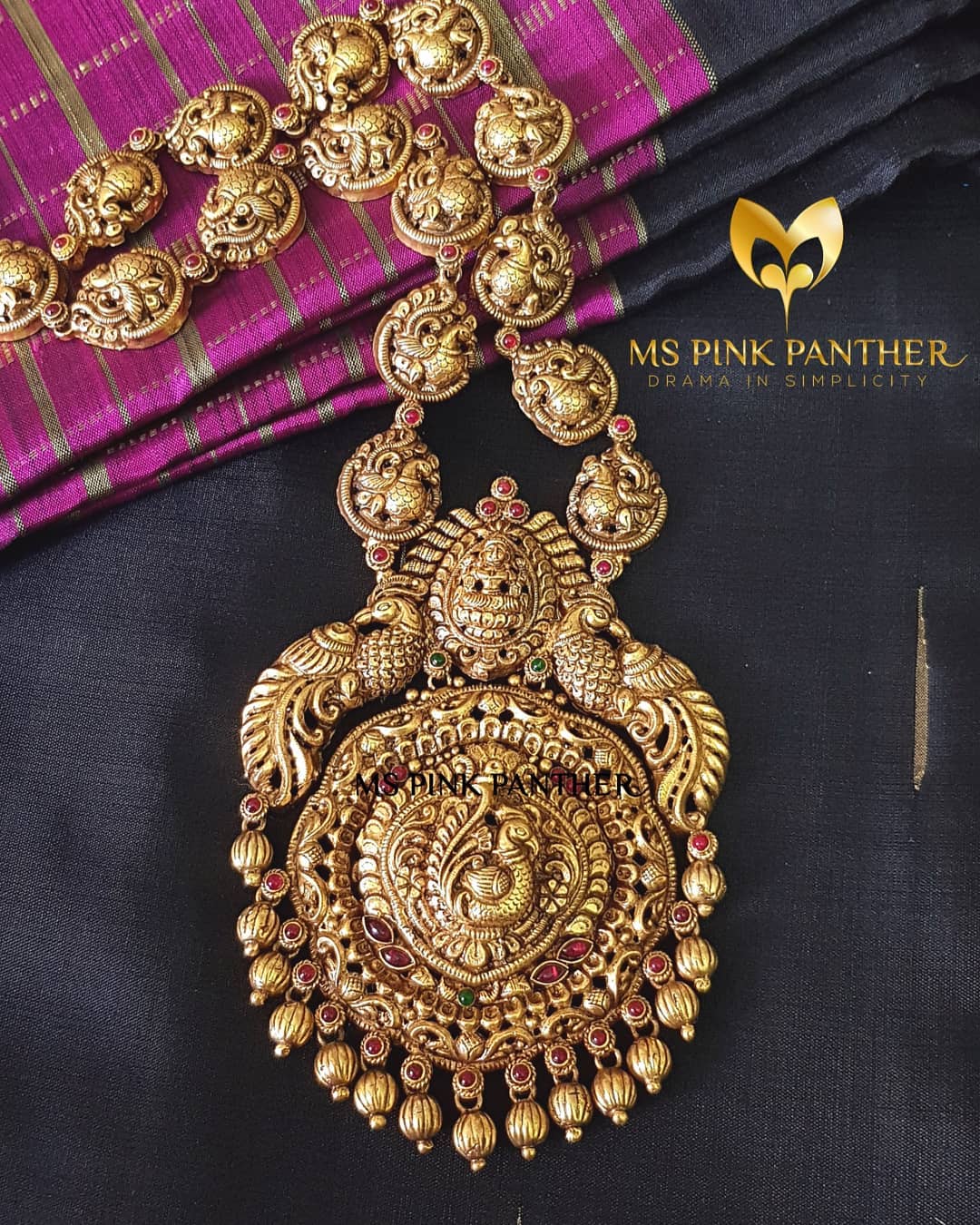 Tempting Temple Necklace
The necklace is filled with engraving all around it. It has the detailing of various goddesses and other divinity related objects. It can definitely add a great new effect to the traditionalism of the attire.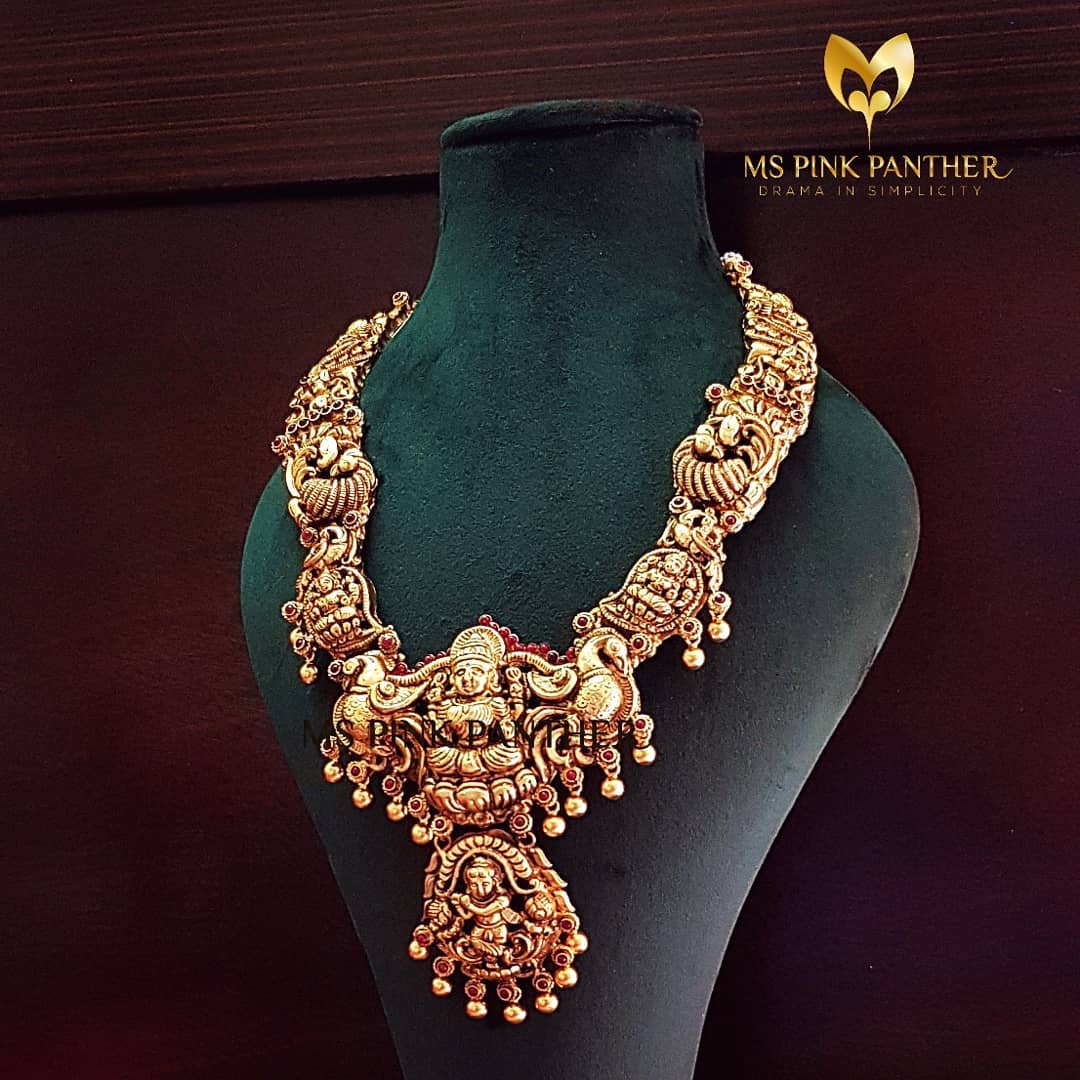 Side Stud Modesty
Stone set necklace with a peacock stud on one side and a drop-shaped emerald on the other definitely sets the necklace apart. The detailing on the peacock is worth engaging and hence, would catch attention of all those around you.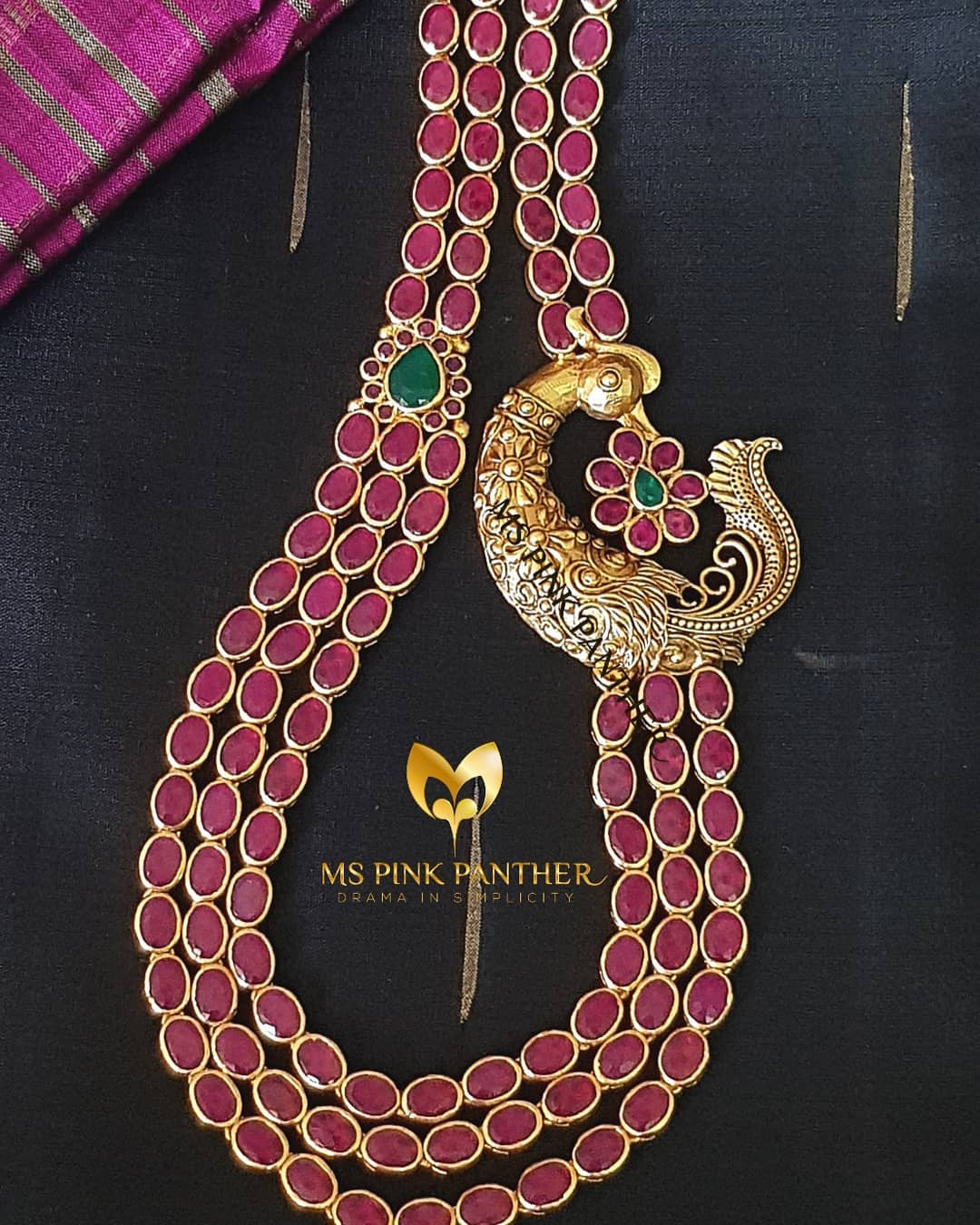 Gold plated long necklaces are in trend and work as a great new way of uplifting the attire. They are so affordable compared to gold ones. Go on, pick the design you can most relate to and you'll find just the right accessory for yourself.
To shop the above designs, please check the seller details below.
Seller Name : Ms Pink Panther
Facebook : https://www.facebook.com/MISSPINKPANTHERJEWELLERY/
Contact : +91 95855 95689
Instagram : https://www.instagram.com/mspinkpantherjewel/
Website : http://www.mspinkpanther.com/
Also Read : 21 Stone Necklace Designs You Can Wear For Any Occasion