Occasions take up a lot of your time and, getting ready for one is even more time-consuming. Whether you need to buy accessories or gift them, a stone necklace set is a perfect choice. The colors, the cuts, the designs and patterns of the set play quite an important role in choosing the best set.
A perfect set can instantly add a new essence to any attire. Stone necklaces are a lot more in trend now than they were ever before. And they're here to stay for a long time. Hence, it is the perfect time to buy in a stone necklace set with the best designs which you can wear around for any occasion.
However, choosing the right stone set that you can pair up easily with any outfit could be tiresome. To help you out, below is a collection of some of the latest and trending stone necklace designs that you can wear for any occasion.
This collar type look is one of the most classic designs of a necklace. The pendant is quite exquisite and gives off a mystic vibe. The white stones along with gold and a bit of ruby and emerald are just the perfect choice to attain a modern touch to traditionalism.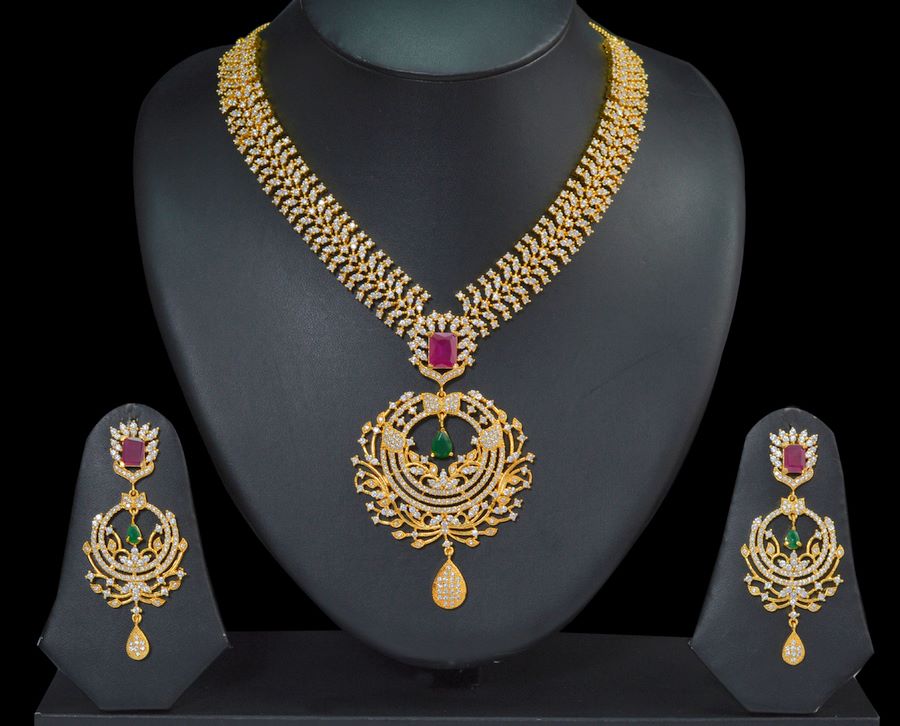 Heavy necklaces are attractive but, simple and elegant ones have their own unmatched essence. The delicate drop-shaped emerald at the end with crafty little white stones completes the look.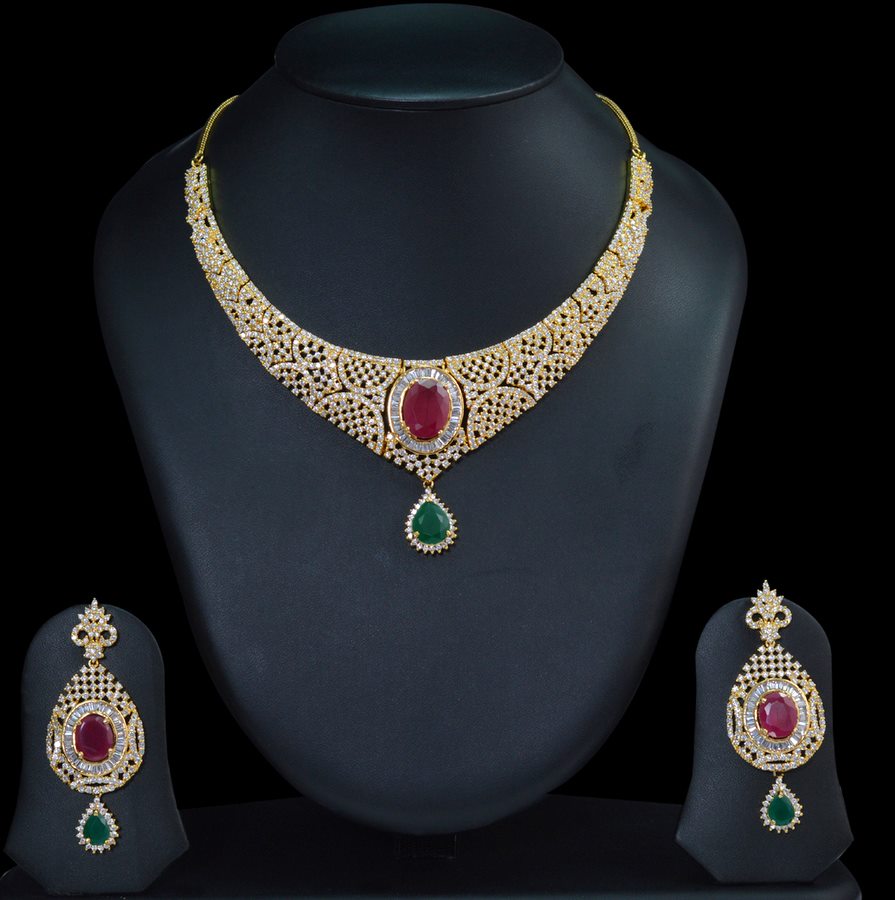 This chained type necklace with pearl dangling is perfect for a bold look. It is unique from every other general necklace and the opal colored stones adds a great sense of serenity. The necklace is not full of stones and can be worn by women of all age.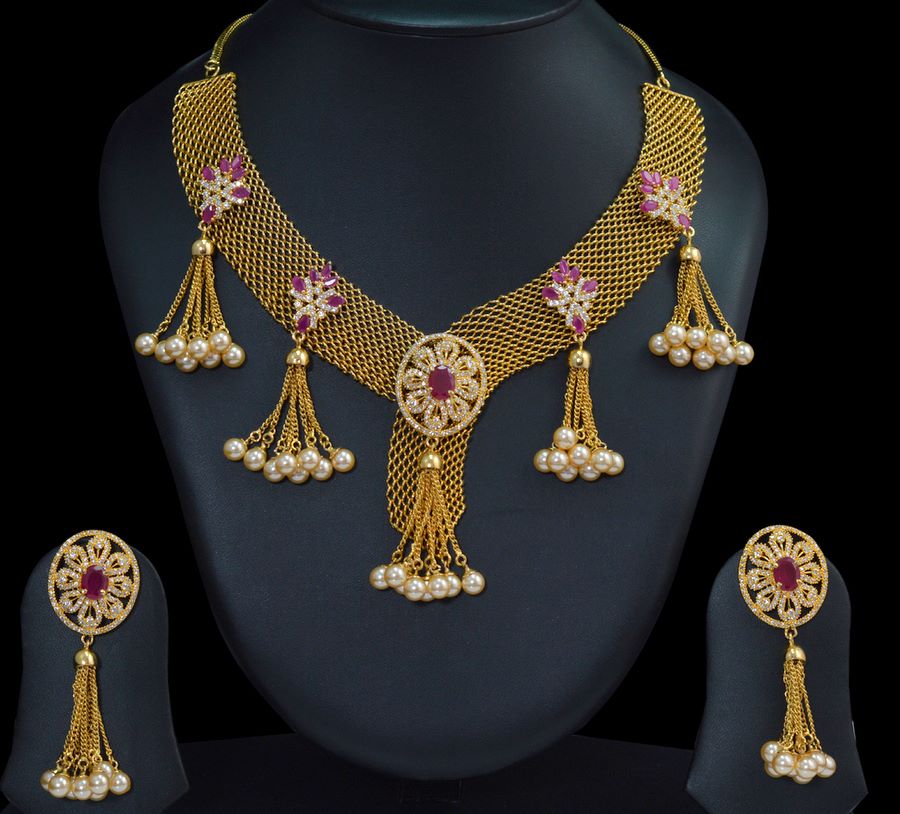 This simple necklace is perfect for a mild look. It isn't heavy and can be great for small necklines. The color combination of stones too is mesmerizing and can go well with green and pink attire.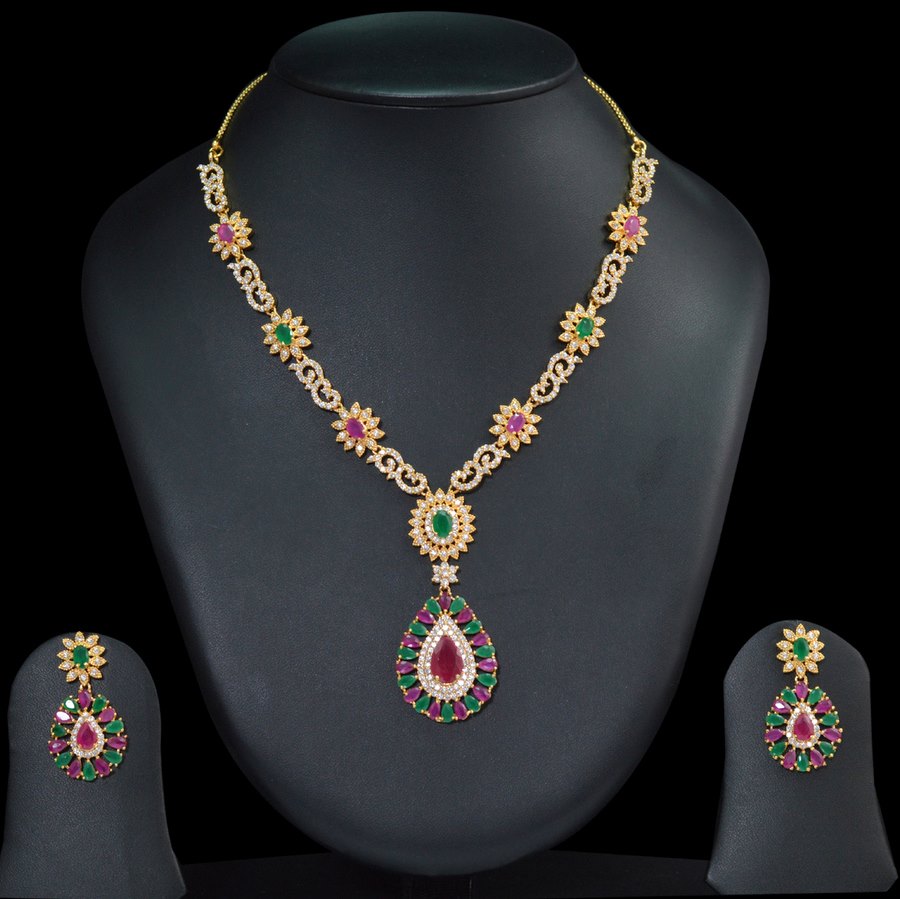 Edgy chain necklaces look great especially for a formal occasion. Its simplicity steals all the attention and can be paired up with other sets if required. The peacock look of the pendant at the end gives quite a sophisticated feel.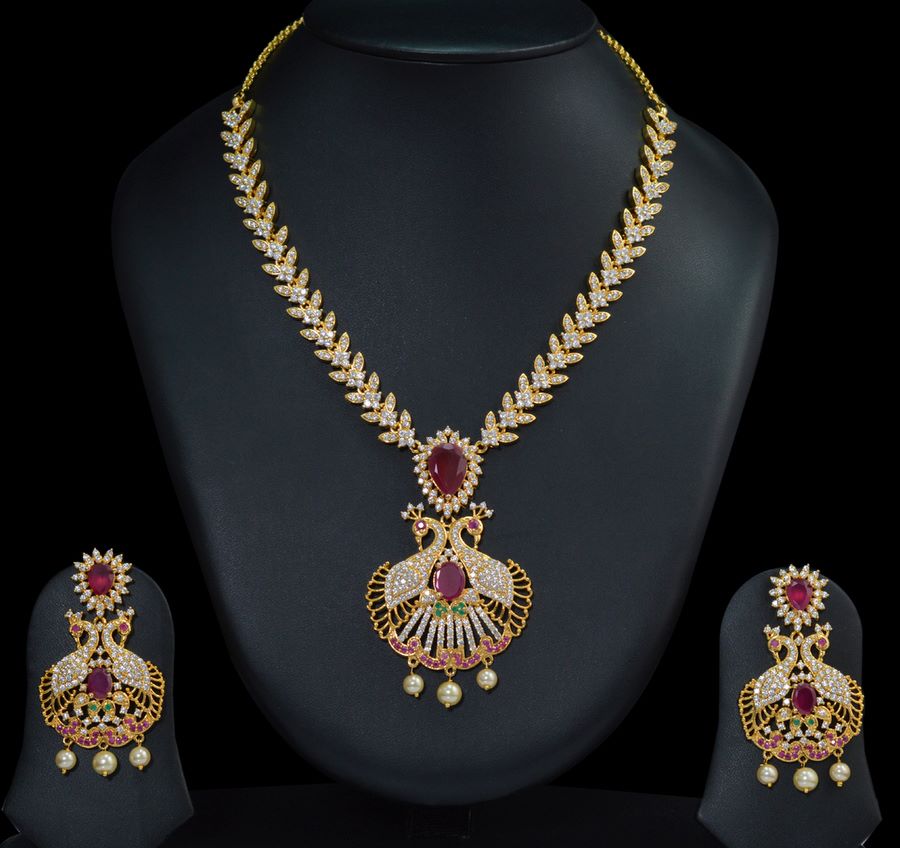 Asymmetrical neck pieces are a great go-to for any attire and occasion. They ramp up the complete outfit to an all new level. It is simple yet striking at the same time.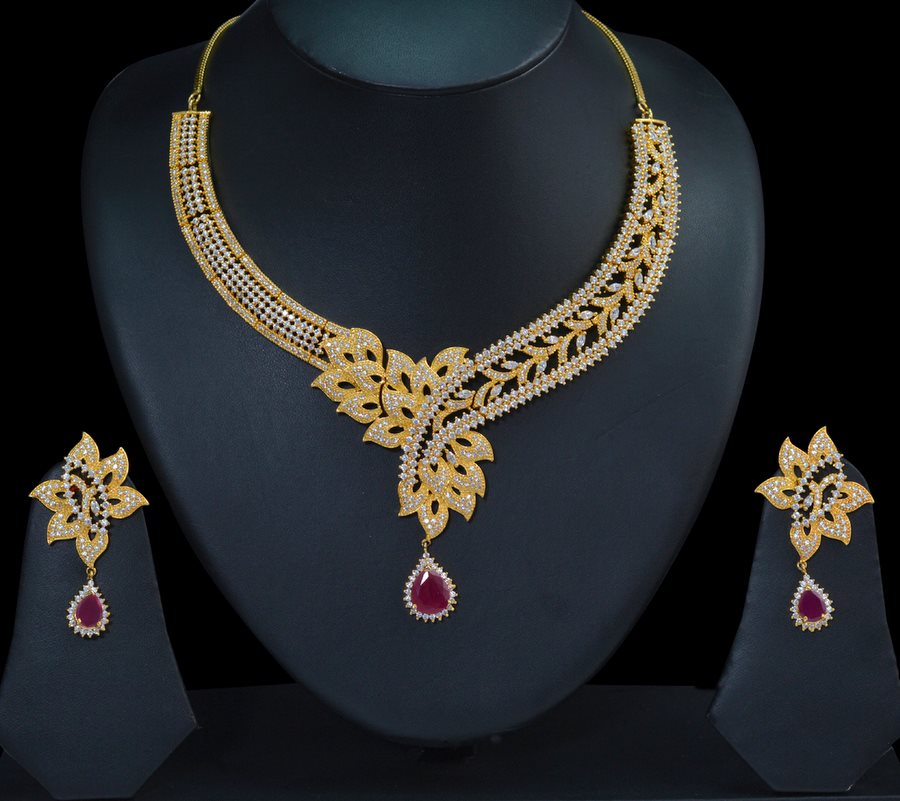 Pearls are always the best compliment to any stones. The white stones paired with purple, green and gold is a perfect pick for any traditional saree. The uneven design reaching out to the pendant is quite magnificent.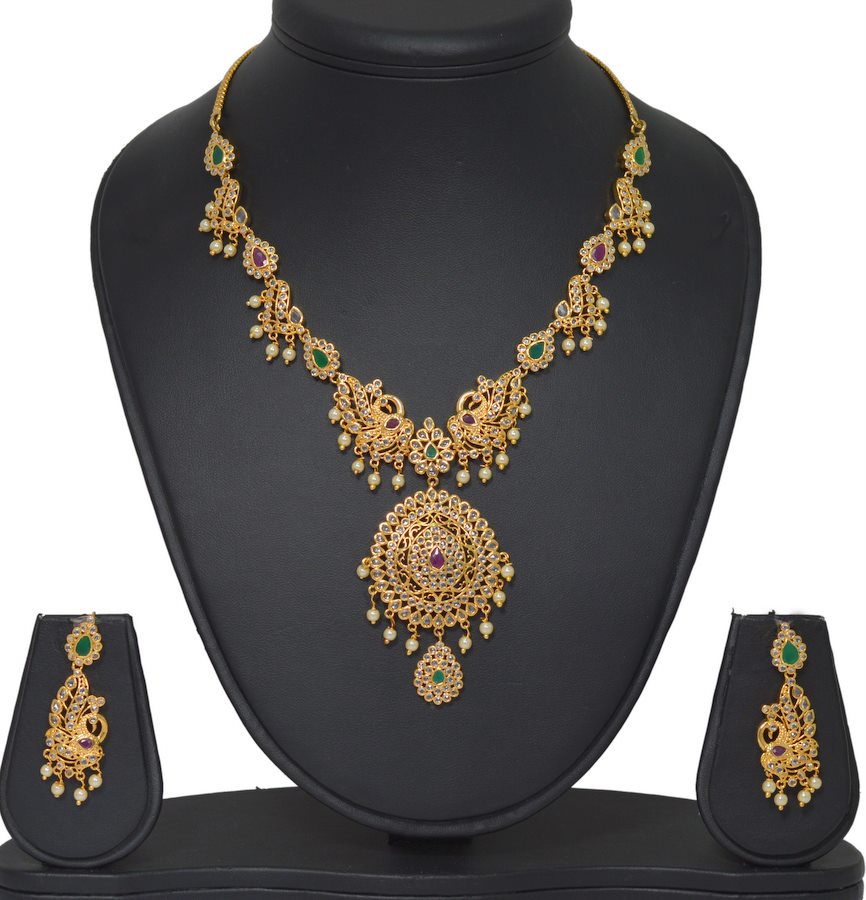 Irrespective of how good asymmetrical necklaces look, symmetrically patterned necklace is a must-have as well. It simply blends into the attire as though it was meant to be and can be worn to any occasion with ease.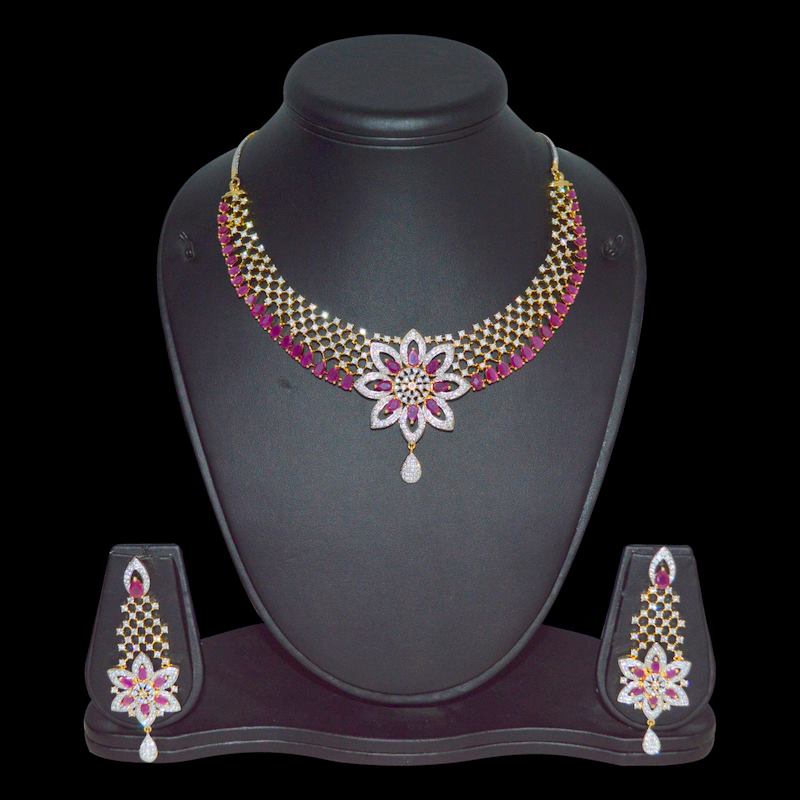 Yellow gold gives a lot more extraordinary look as compared to normal gold. When paired with simple off-white pearls with bits of ruby and emerald, this neckpiece is just perfect for any mild occasion.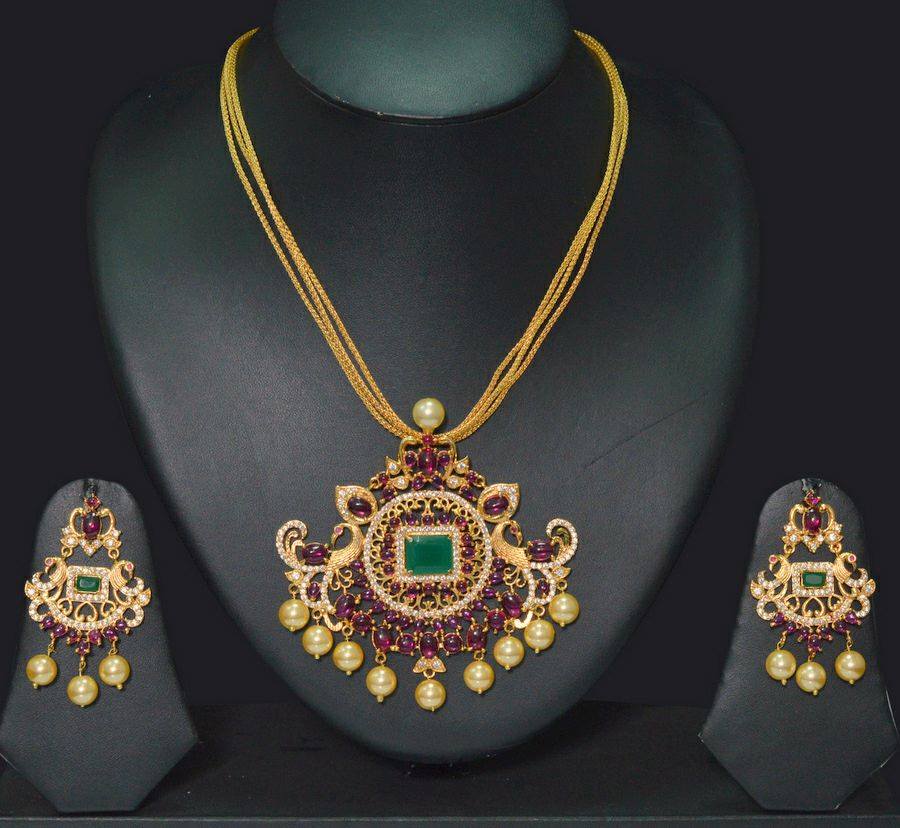 The beauty of a green saree is eye appealing, which reaches a topnotch level when accessorized with a white and green neck piece. The pattern provides a sense of satisfaction and is perfect for any occasion.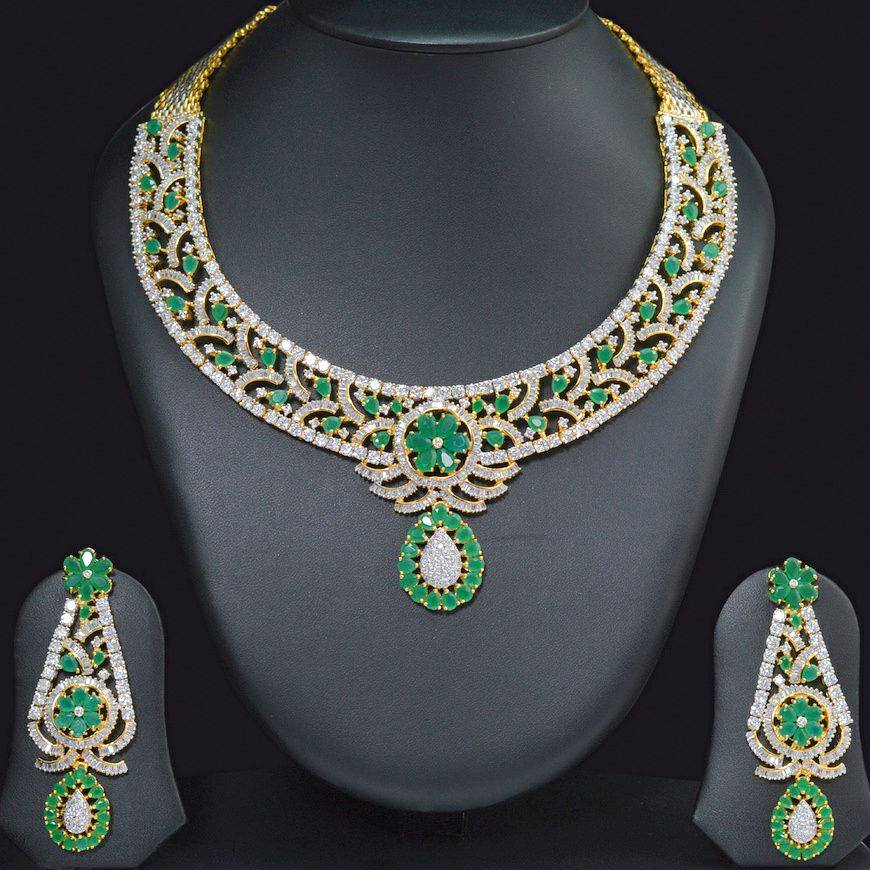 Pearls are a great way to show off your wardrobe. This set can be paired up with almost any outfit and still look exquisite. The gold branching adds its own essence to the necklace there but, completing the look.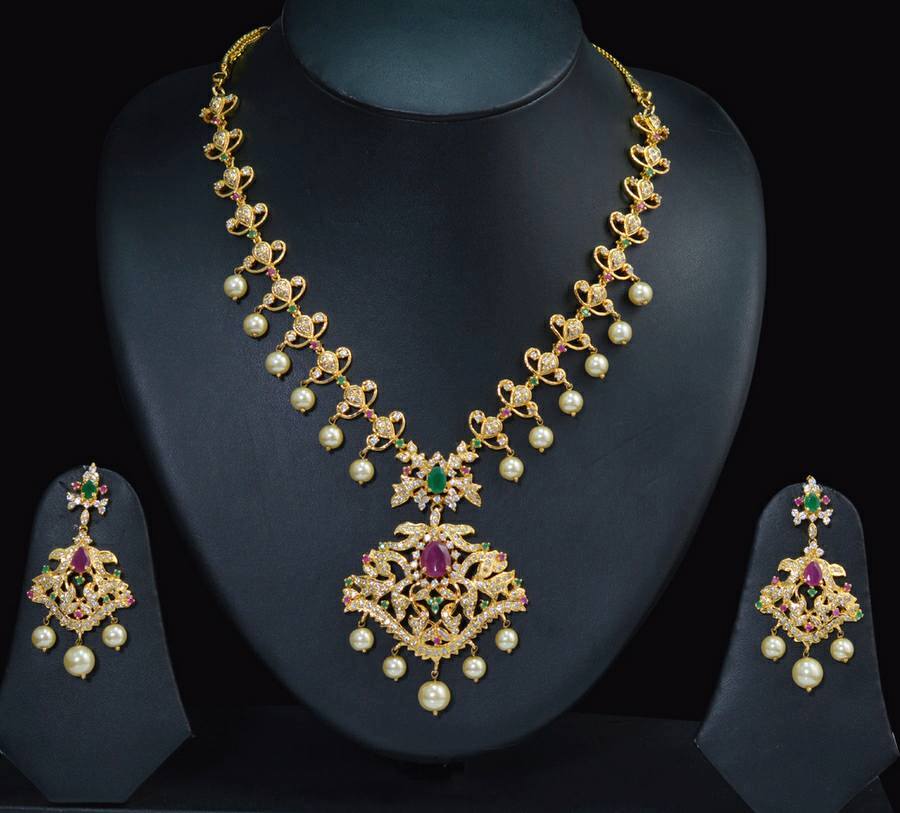 A heavy pendant with a lightly patterned chain is a great fit for any occasion. The pearl dangling at the bottom adds to the overall look. The tiny purple stones go perfectly well with the white stone and gold combination.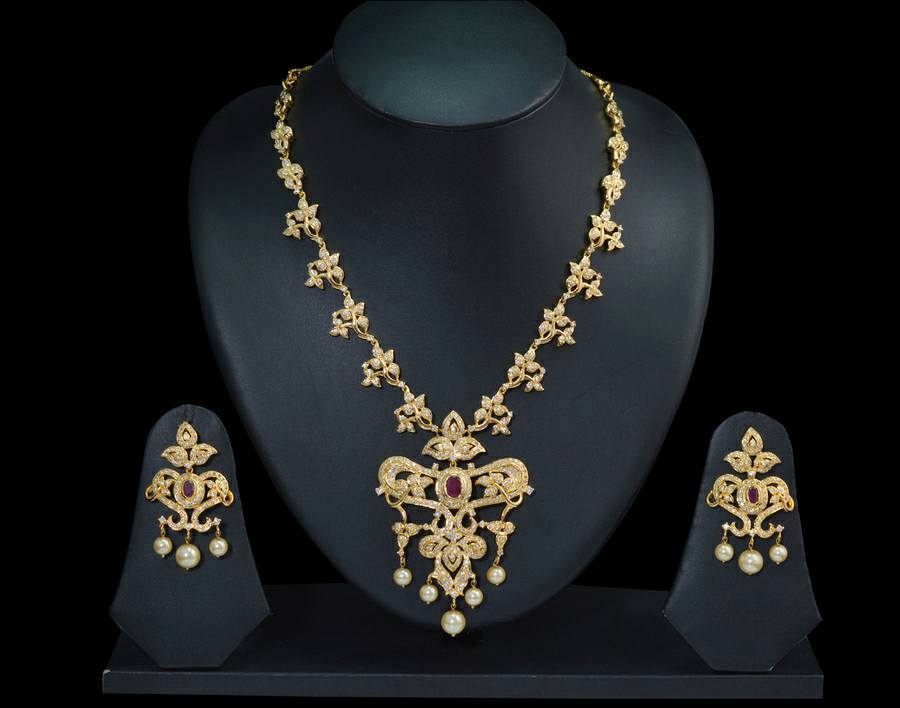 This necklace is a classic piece and can be worn to any occasion. The pendant is small yet perfect and goes great when paired with the edgy chain. The color combination too is simply great to match your outfit.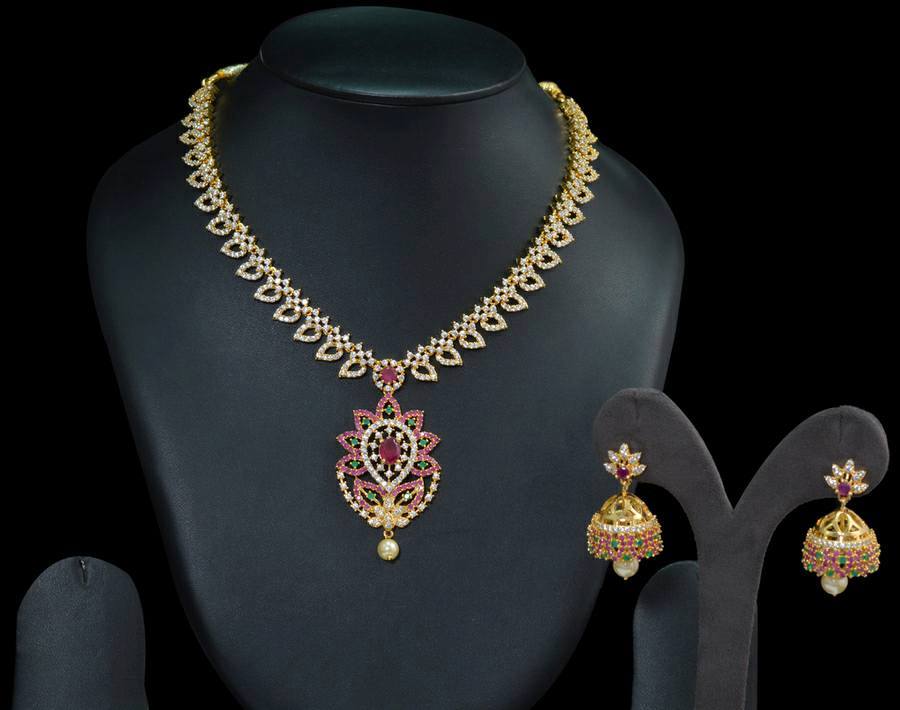 Irrespective of how great a stone filled necklace looks, there is something special about a simple gold necklace with stones arranged in a pattern. This set is a perfect example of simplicity filled with elegance.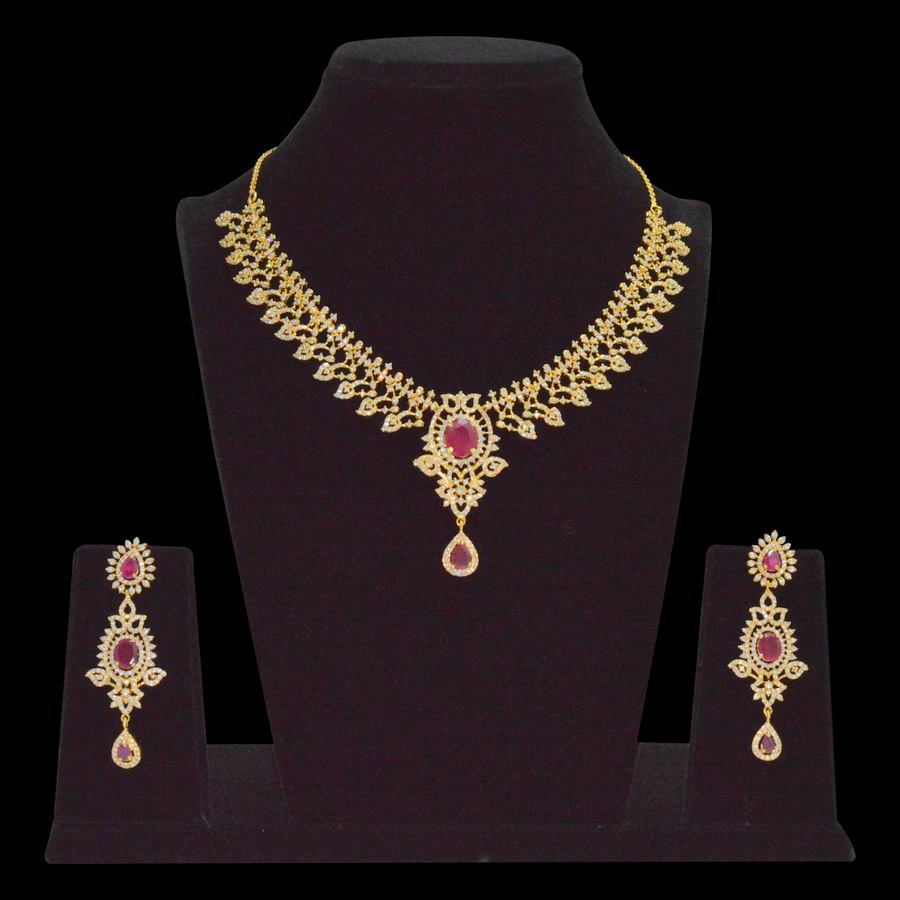 This block necklace is just the right pick if you're looking for something trendy and different. The white stones complement the ruby at the end and the twirled design adds an altogether new look.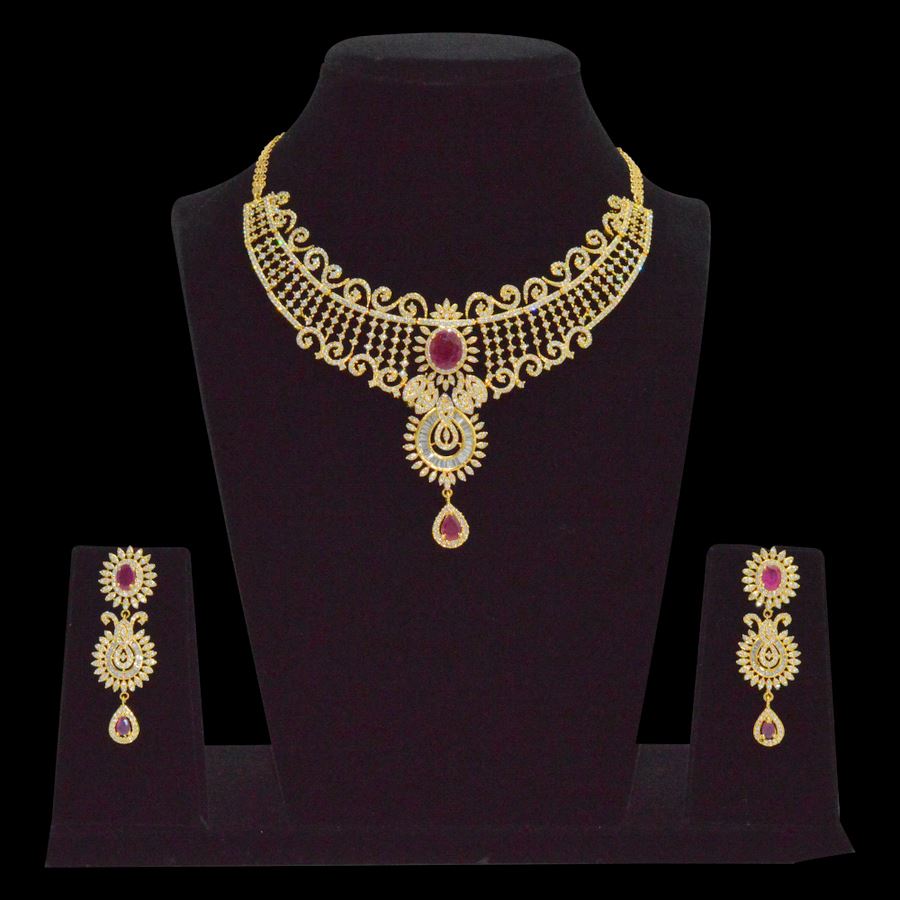 A classic design, filled all over with white stone and garnished with green and purple rubies. The pendant looks like a snowflake and is just the right pick for a trendy occasion.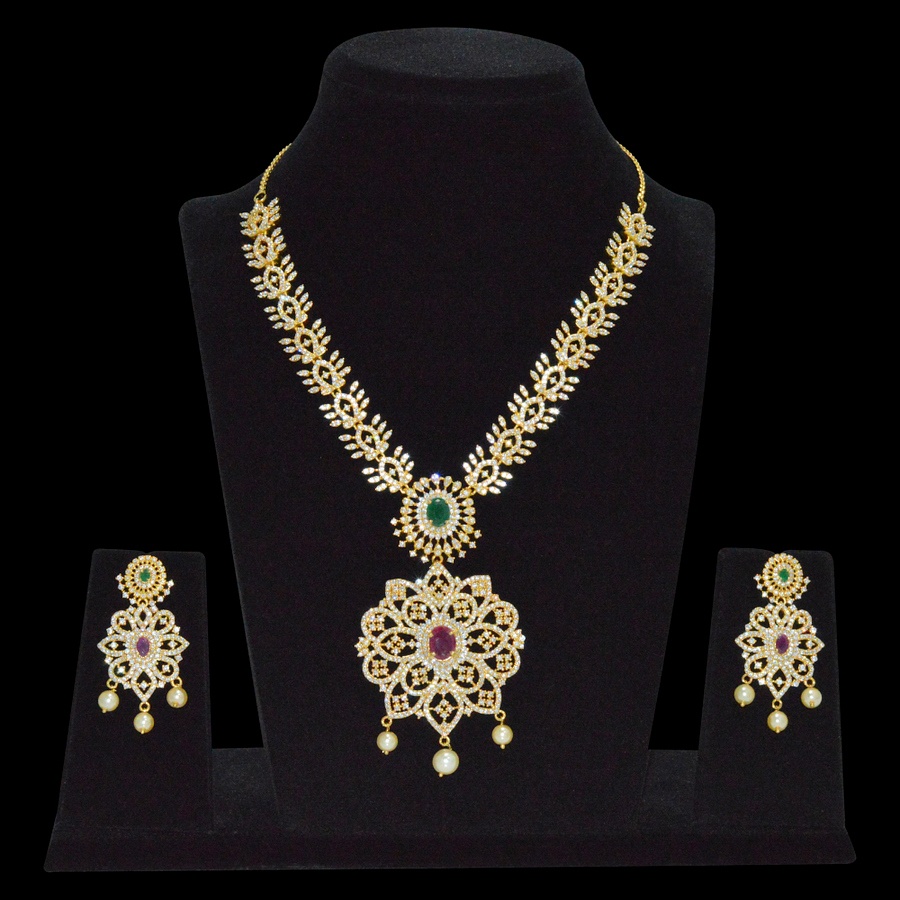 Since chokers are so much in trend, why not a choker necklace too. This necklace sits perfectly on the neck and can be worn around with complete ease. The little pearls at the end complete the look perfectly.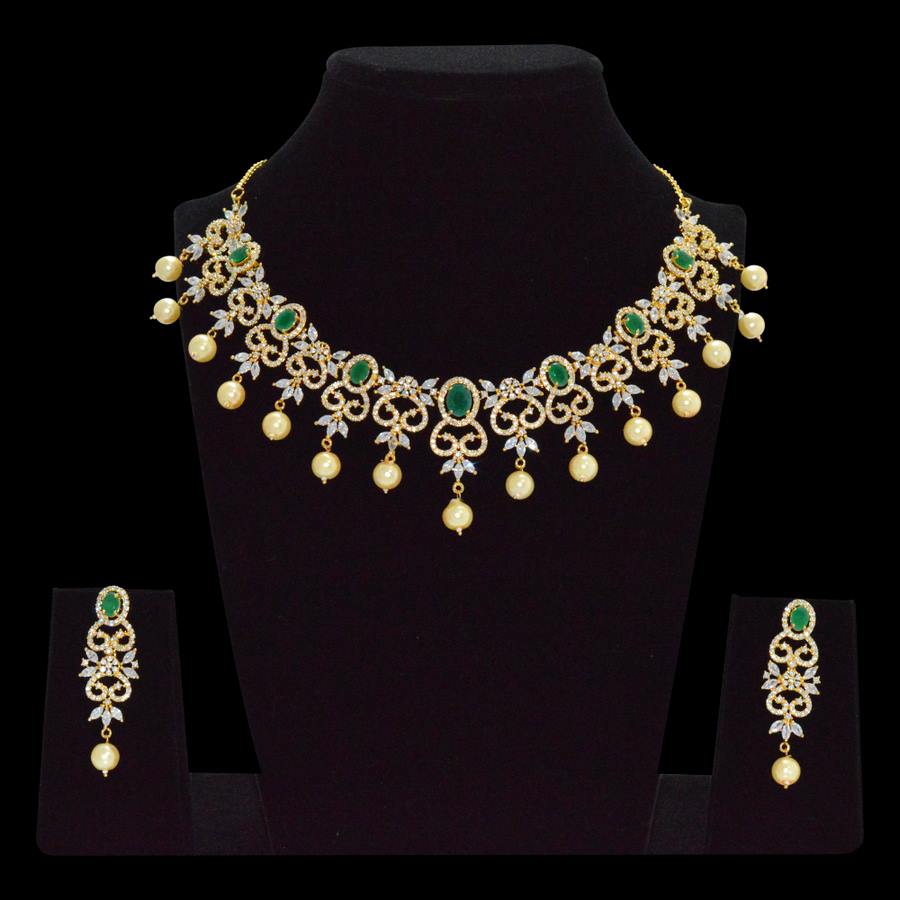 This set is quite unique and is perfect for a simplistic look. The white gold kind of look is quite extraordinary. The little colored stones add a great new look to the necklace and hence, the overall outfit.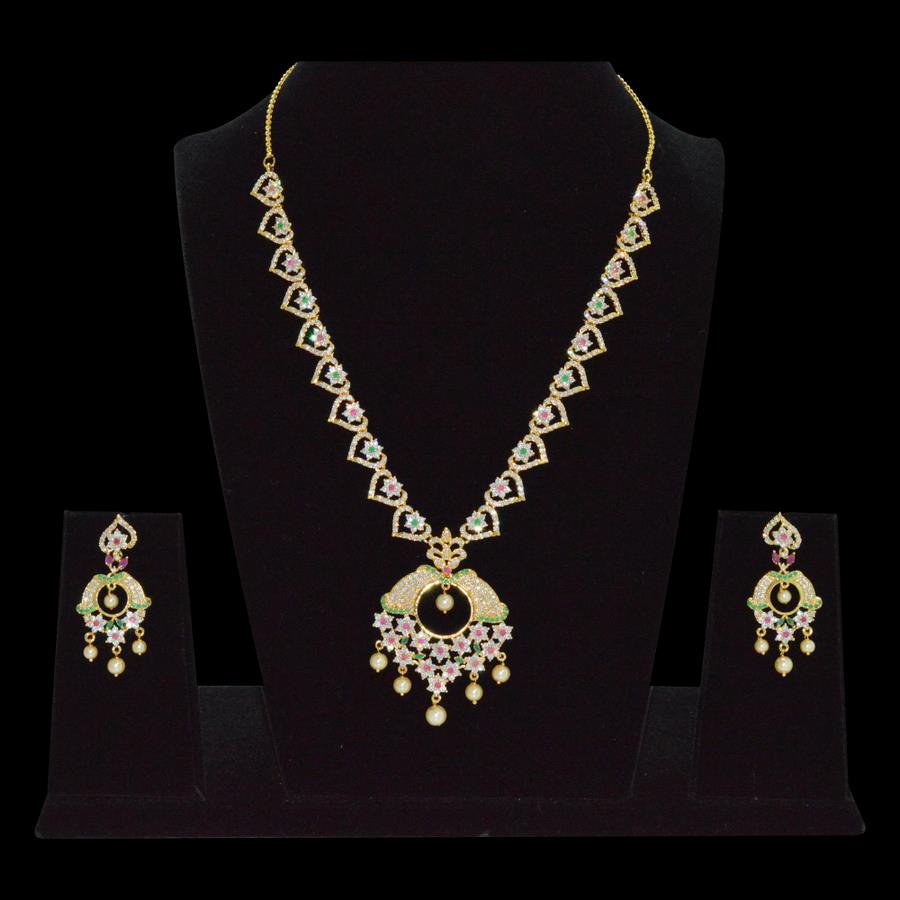 Although a little delicate, twirled design necklaces is always a go-to. The necklace can ramp up any outfit perfectly and the pattern is quite mesmerizing.
This necklace gives the most royal look. It can go well with traditional outfits as well as modern dresses. The pattern is astounding and could definitely steal anyone's attention.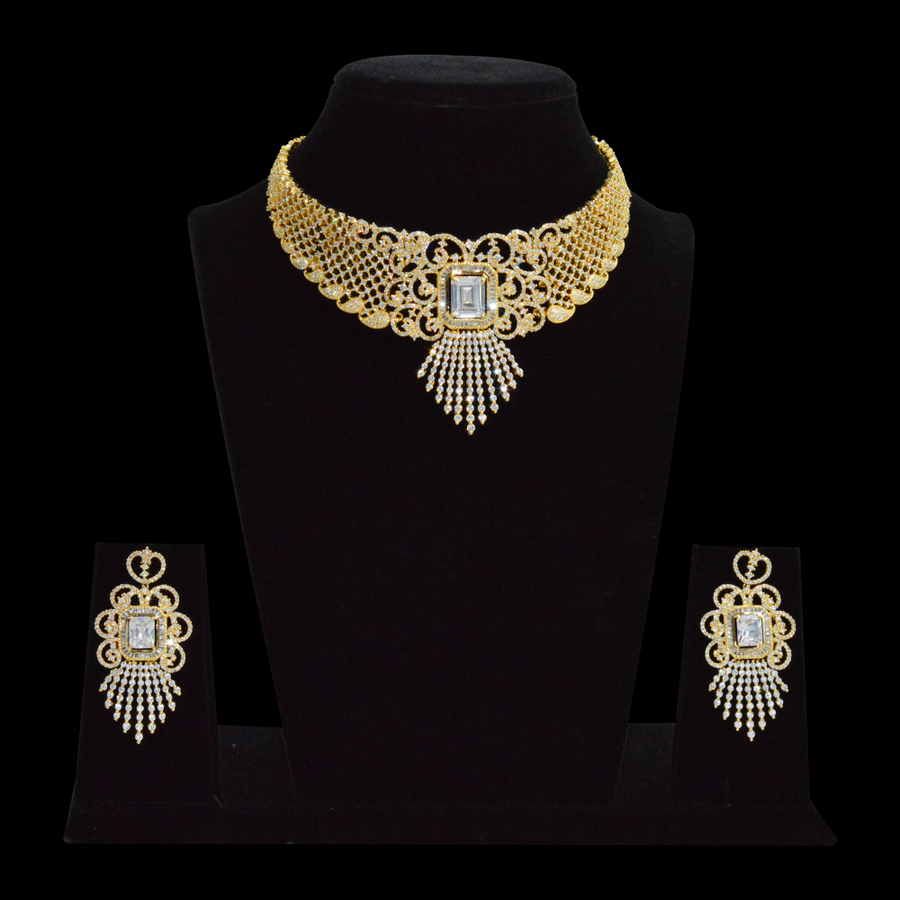 Another choker design necklace with the most symmetrical pattern. It is great for formal and semi-formal occasions. This is a perfect pick when you do not want to overdo the accessorizing.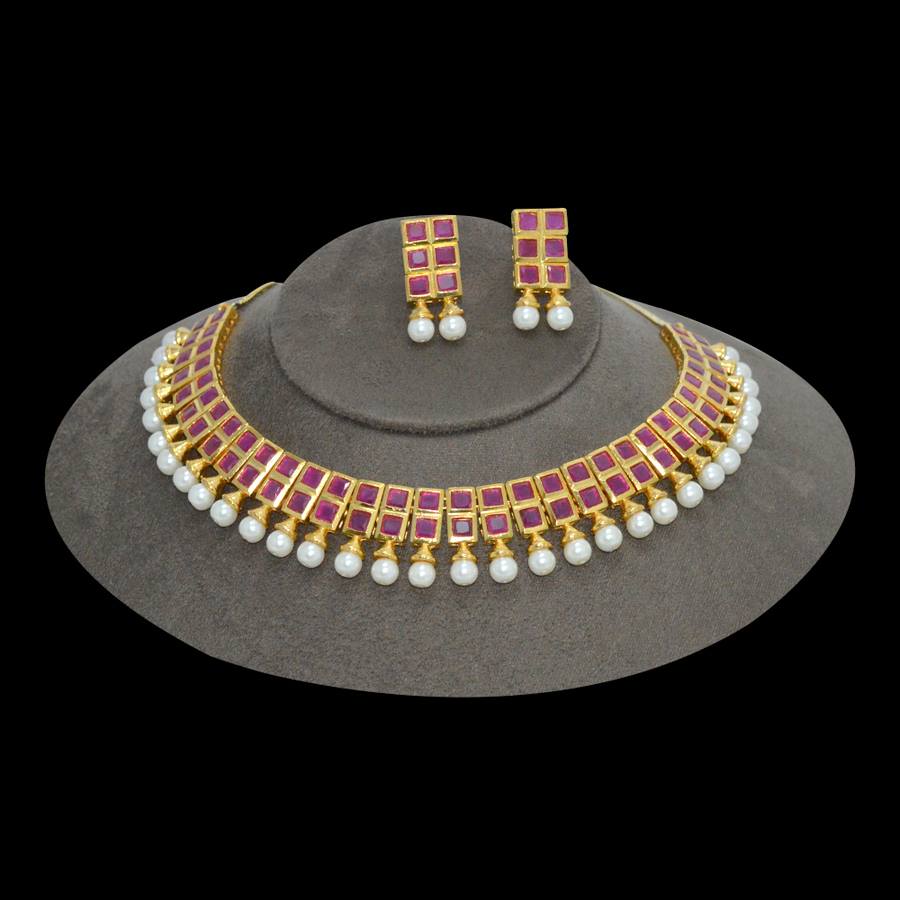 It's the perfect time for you to buy a stone necklace. Go on, pick your choice and ramp up your outfit for any occasion. Keep in mind the trending designs since you wouldn't want the one you bought go waste. Find the perfect fit for your attire since stone necklaces are here to stay for quite a long time.
In case if you like to shop the same designs,  please contact the seller below.
Seller Name : Sri Fine Jewellery
Website Name : http://www.srifinejewellery.com/
Facebook : https://www.facebook.com/SriFineJewellery/
Contact No : 098499 92087
Also Read : Don't Miss These 30 South Indian Antique Gold Jewellery Designs