A marriage is an occasion that requires the most intricate detailing and planning. The most important things in the list include set of gold jewelry and dresses. Most families first chose the jewelry and then, select the dress based on it.
Although heavy jewelry is generally passed down the generations as a family tradition, a new set of gold jewelry is always a need. The best sets for marriage are completely traditional. The best part about gold sets is that they never go out of fashion and are timeless.
It is a lot easier to pick the best during shopping, if you have your favorite design at your reach beforehand rather than having to ponder over all the available designs. To help you out and make your work a lot less tiring, below are some of the best traditional gold jewelry set designs, that are a perfect choice for marriages.
A choker set etched to a mala is one of the most perfect antique looking set that has a modern touch to it. It is not too heavy and hence, is not too tiresome to carry around all day long.
Carving on a set is perfect for a completely ethnic look. It is quite heavy and gives a completely traditional feel. It can be carried around with other non-heavy sets to complete the overall look.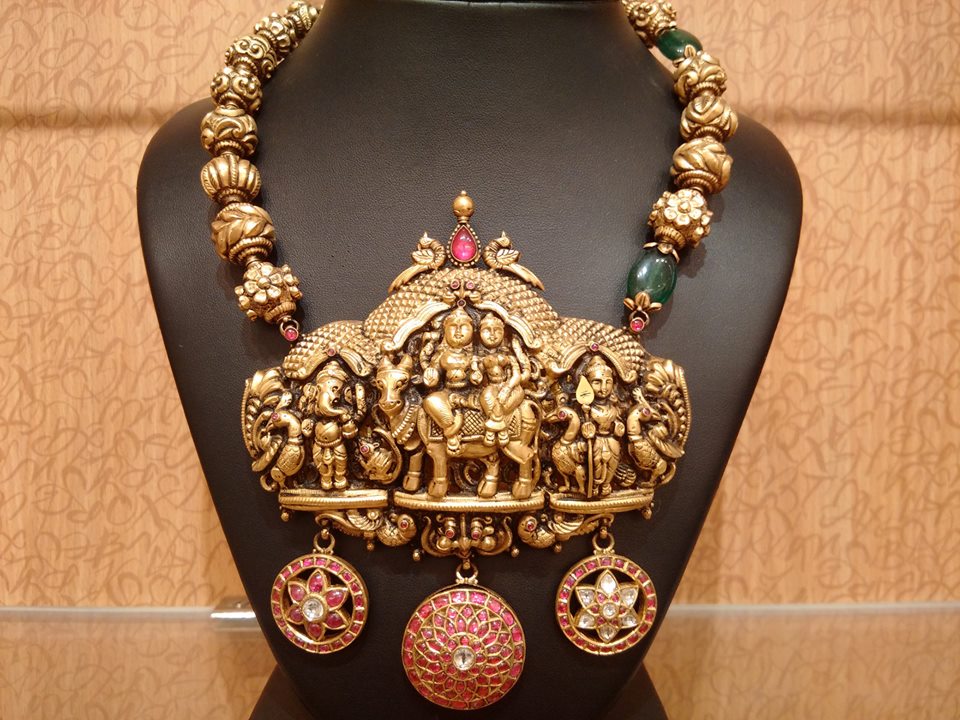 A matar mala is primarily a chain with multiple gold beads. When paired along with a choker set, the look reaches a whole new level. It is perfect if your outfit is neither too heavy nor too light.
Gorgeous diamond set with rubies studded into it is probably one of the must-have sets. The best thing is that diamond looks equally exquisite as platinum and yet, is quite less expensive.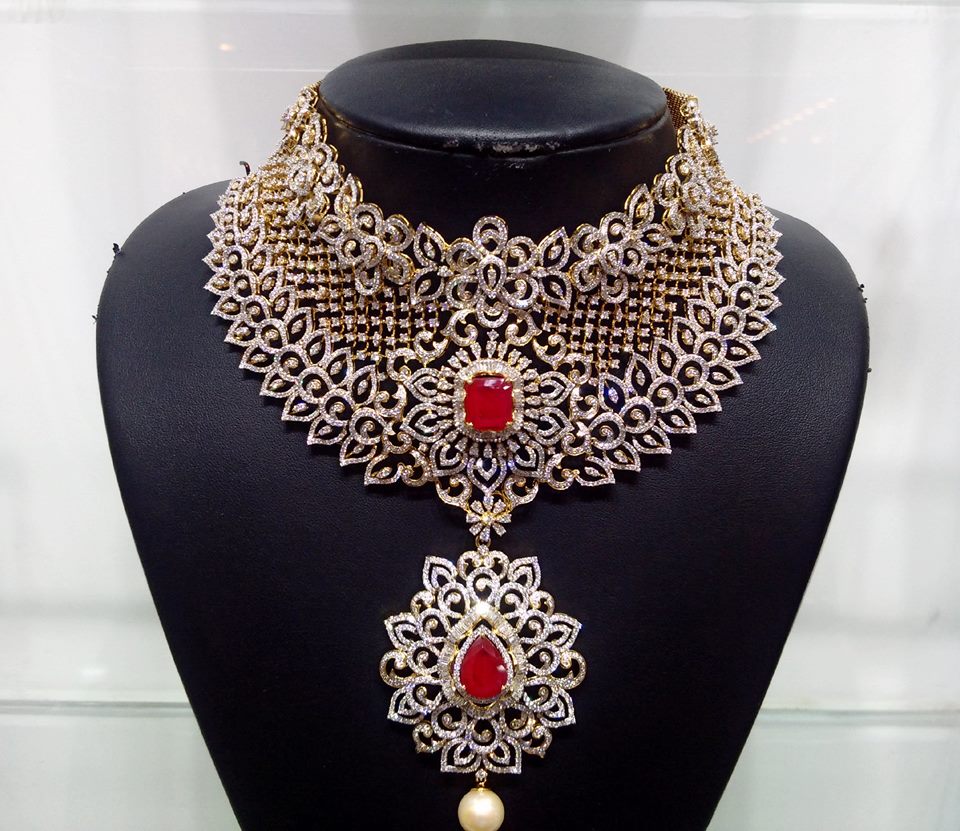 Kerala gold necklace set is the most special set that a bride could have. South Indian necklaces are sure to steal anyone's attention. These are made especially from bright yellow gold that is a lot more appealing than the normal gold sets.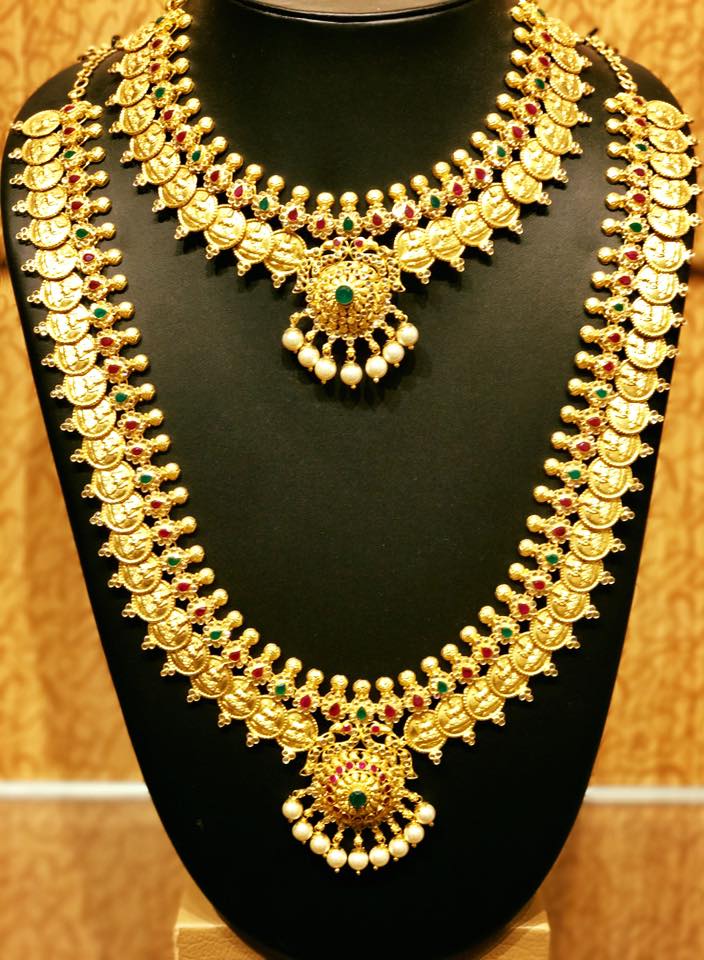 V-shaped necklace sets are perfect to embellish the blouse. The heavy pendant at the end steals all the attention and is a perfect pick for classic red and green attire. The kundan set adds new essence to the overall look. These sets can further be worn in other upcoming occasions and would still be in trend after decades.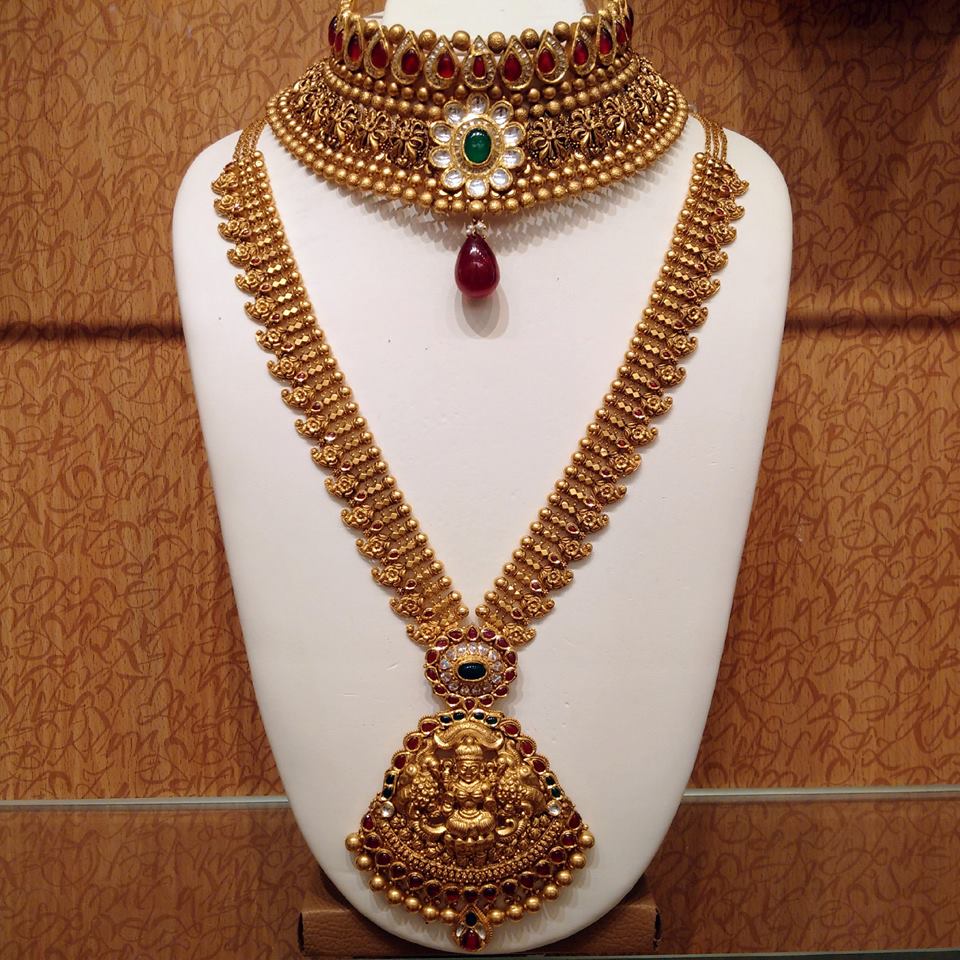 No matter how pretty and astonishing gold looks, nothing can beat the beauty of a set made of white gold, accompanied with pearls. The studded ruby stones make the set completely flawless.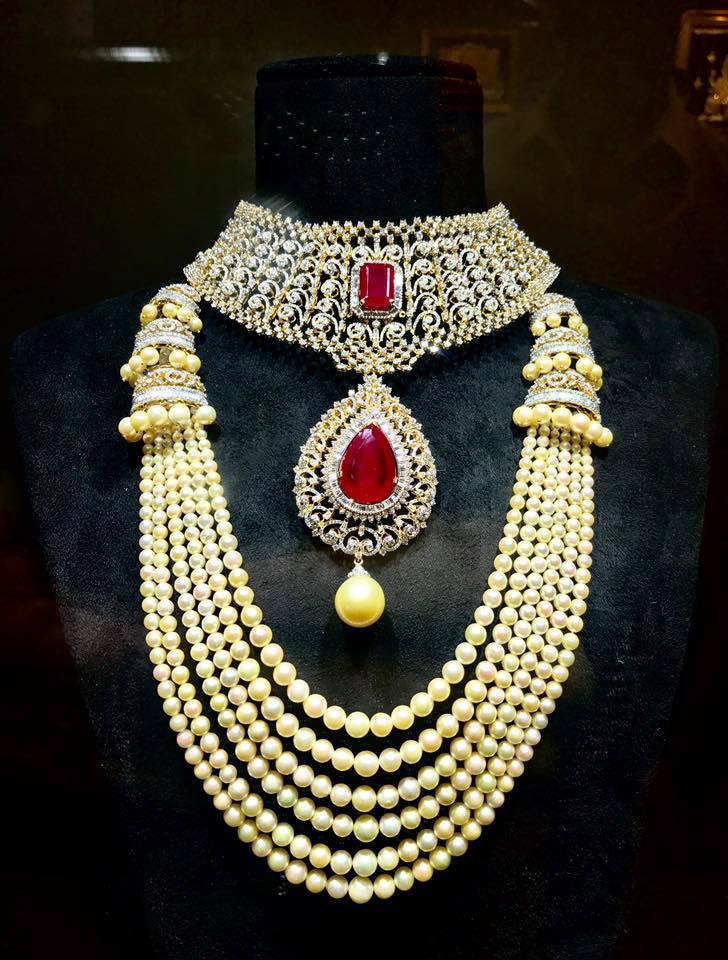 Long gold haram necklaces are perfect for a light saree. The peacock embellishment on the neck piece is a perfect accessory to the necklace. The CZ stones are quite appealing to the eyes and the pendant is just right thereby, it completes the attire.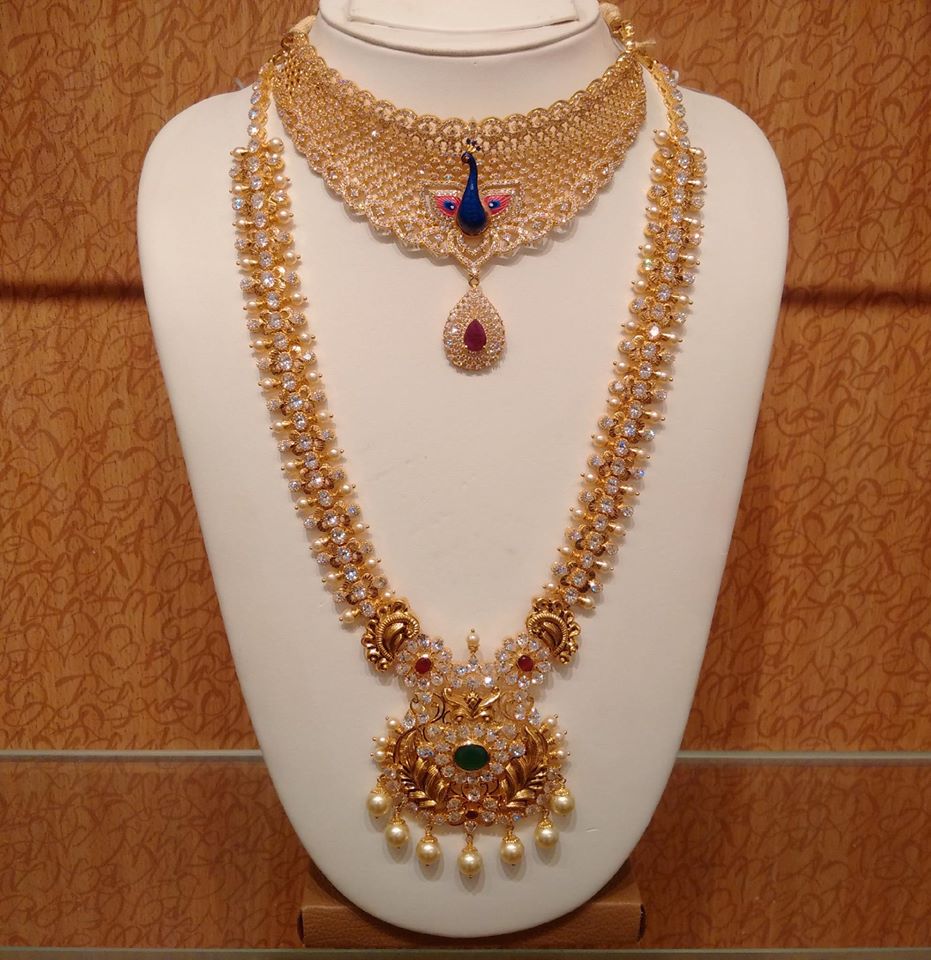 Antique looking sets are a pick of most brides these days. Such sets bring a completely different look and feel as compared to the typical yellow gold look. The set is quite antique and has a royal, godly feeling etched to it.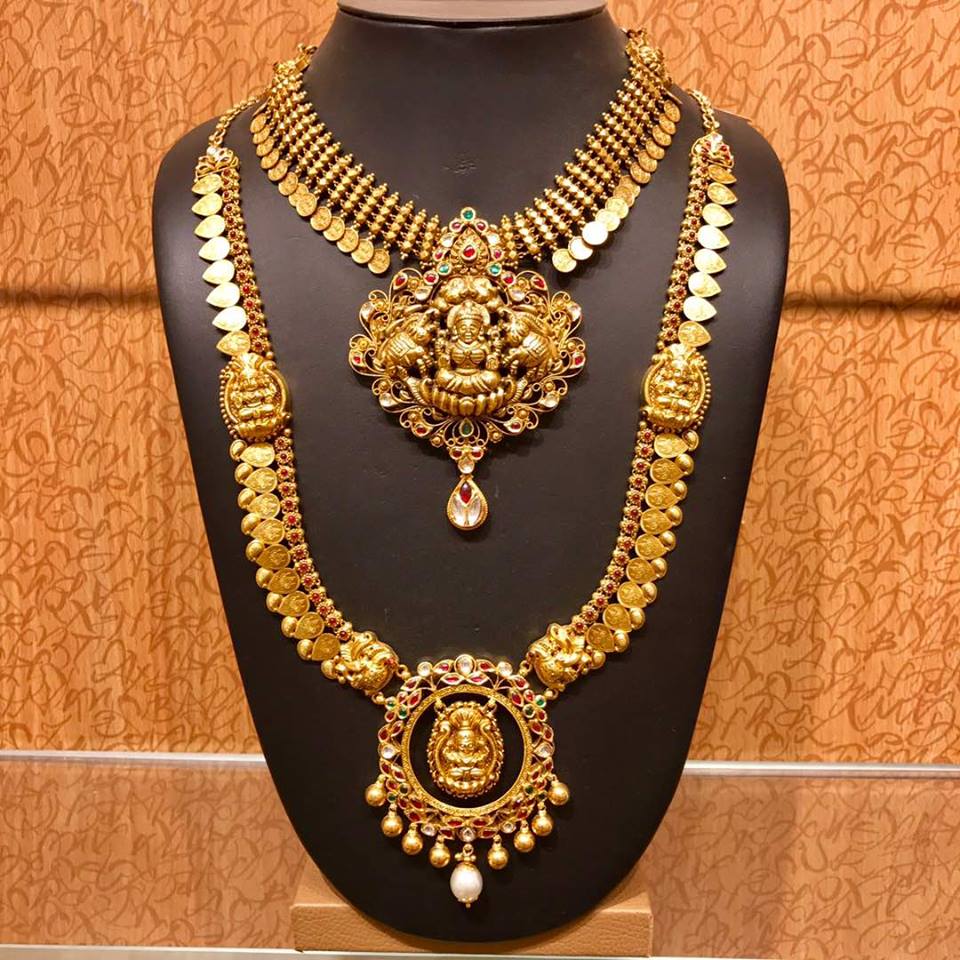 A traditional gold set with gold beads with brooch type pin on either sides is the best pick for a not too heavy look. It is perfect for the smaller occasions that go on around the actual wedding day.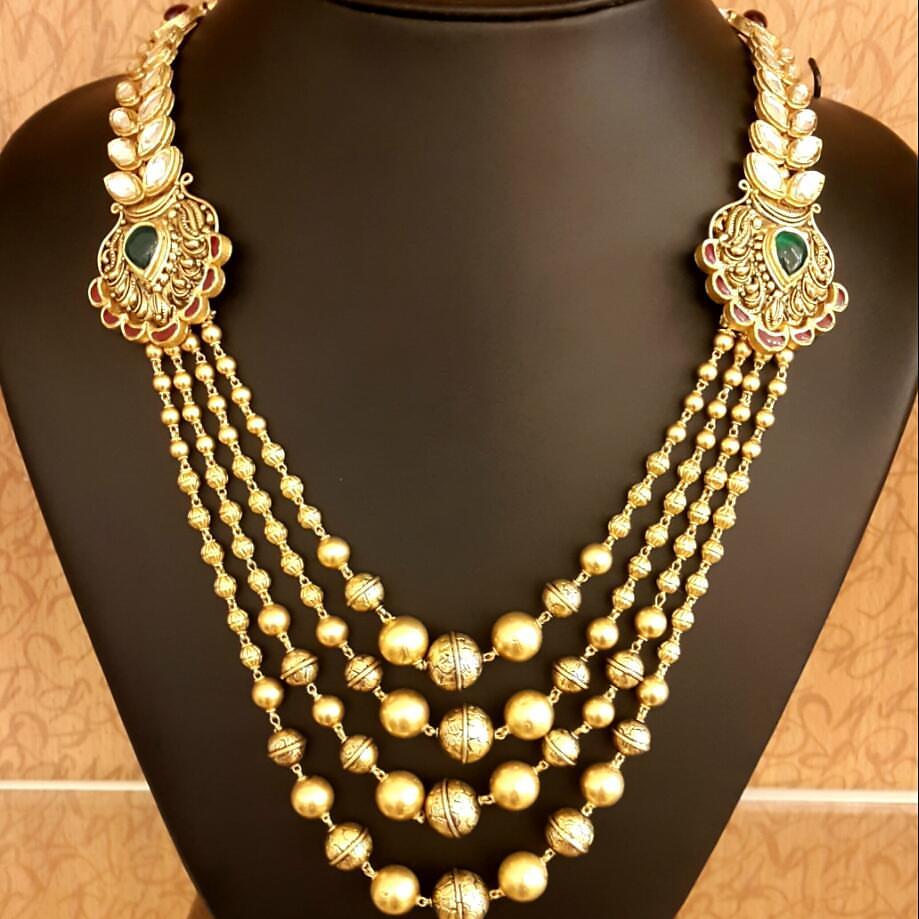 Heavy gold sets are the soul of perfect bridal attire. These could be quite difficult to carry around but, the look that it adds is completely worth it. Heavy sets have no other match and hence, these are perfect for the wedding ceremony.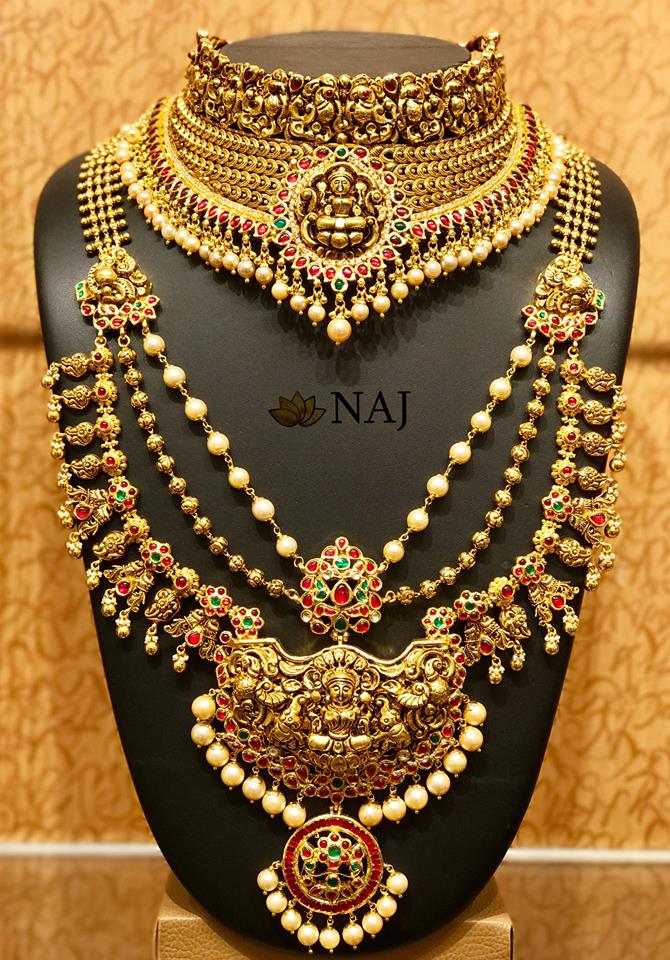 As antique looking sets are amazing and so are the heavy ones, why not blend the two together. The necklace is quite unique and could be hard to find. However, this set is perfect to represent plain ethnicity and conventionalism.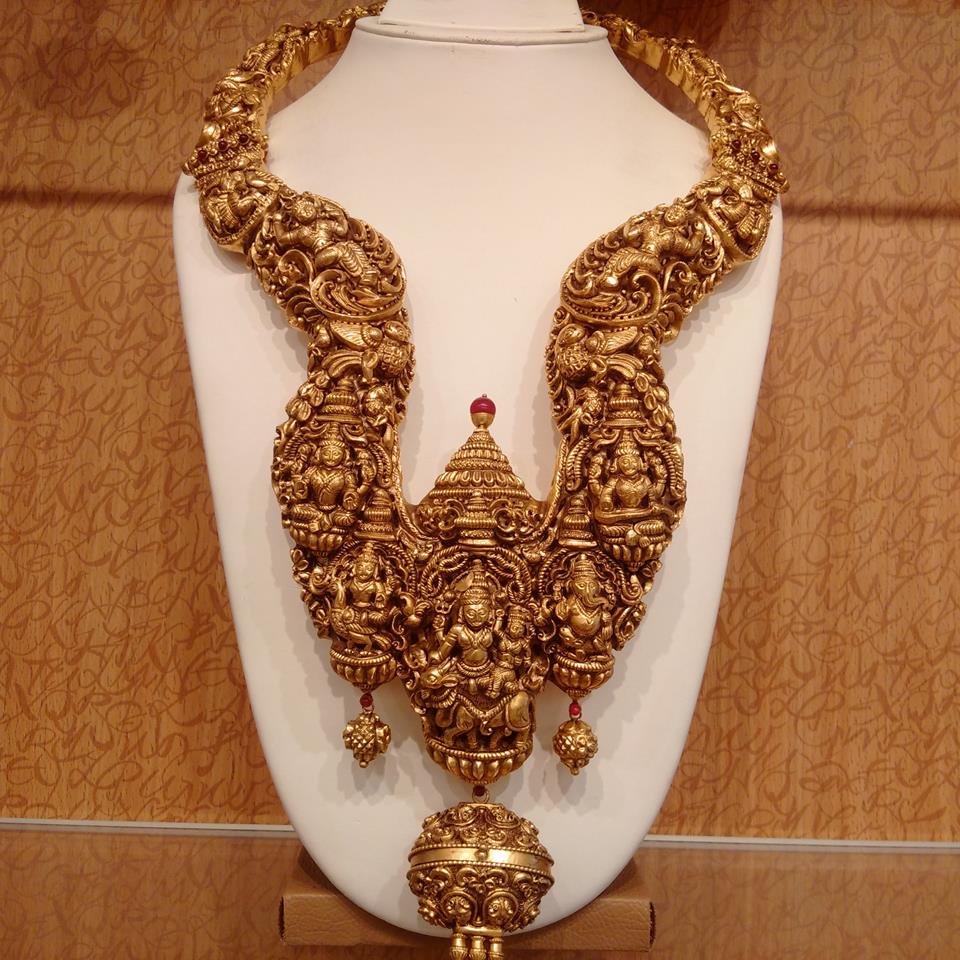 Typical south Indian sets are perfect, especially for marriage ceremonies. The pendant in the bottom is flawless and can enhance the overall attire.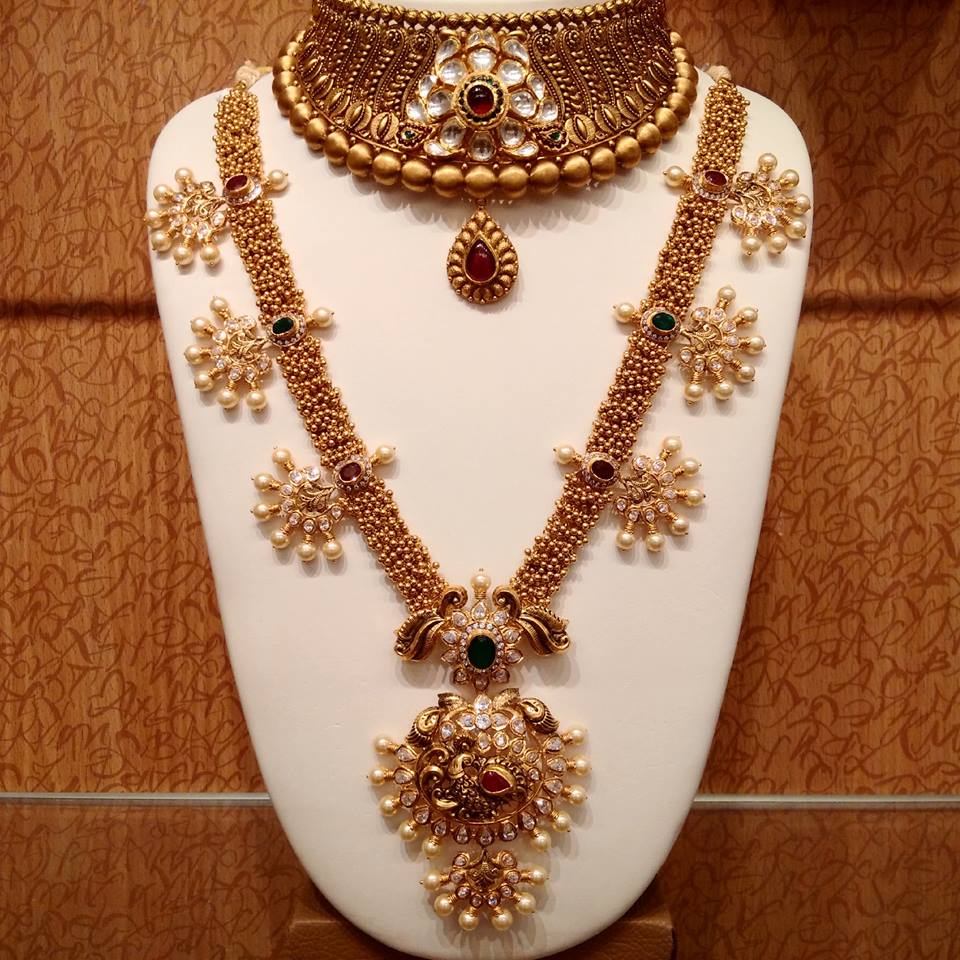 Since red is the basic color of Indian wedding attires, a ruby and gold set is definitely the perfect pick. The pearl beads enhance the look even more and the embellishment in the center is greatly appealing.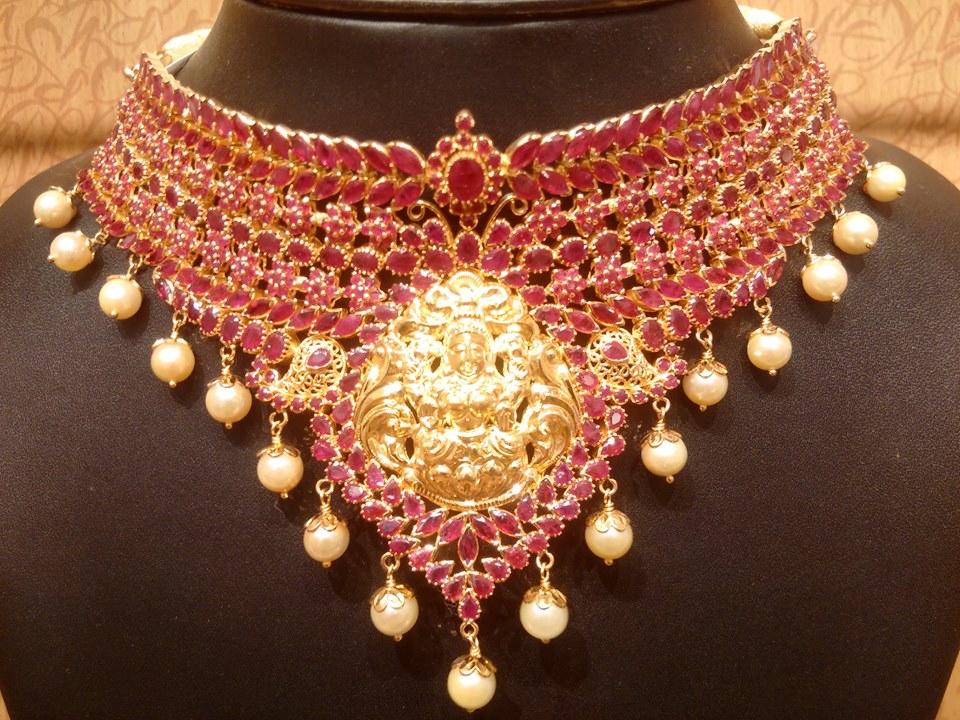 Traditional diamond haram with emerald is a perfect combination for weddings. Green blends in amazingly with every traditional attire and hence, the set is perfect for marriages.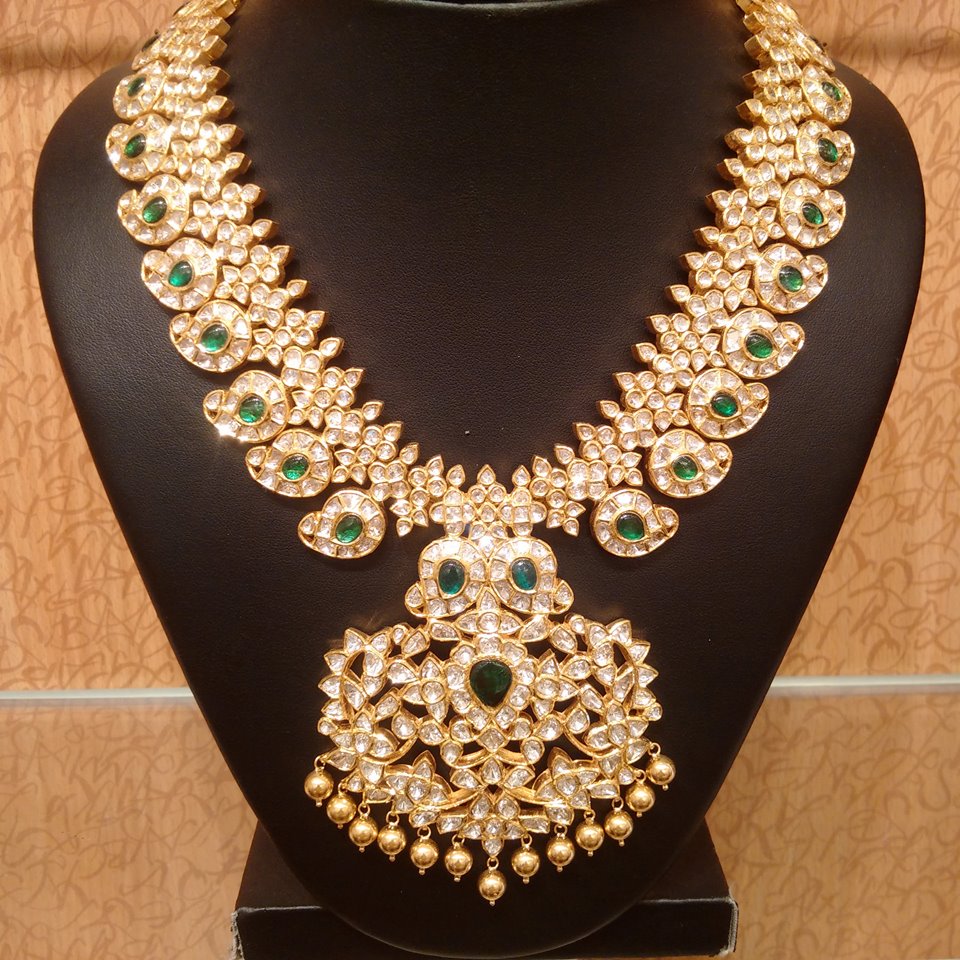 A classic jewelry set that can be passed on for generations. Such sets never go out of fashion and can be worn even during occasions other than the marriage rituals.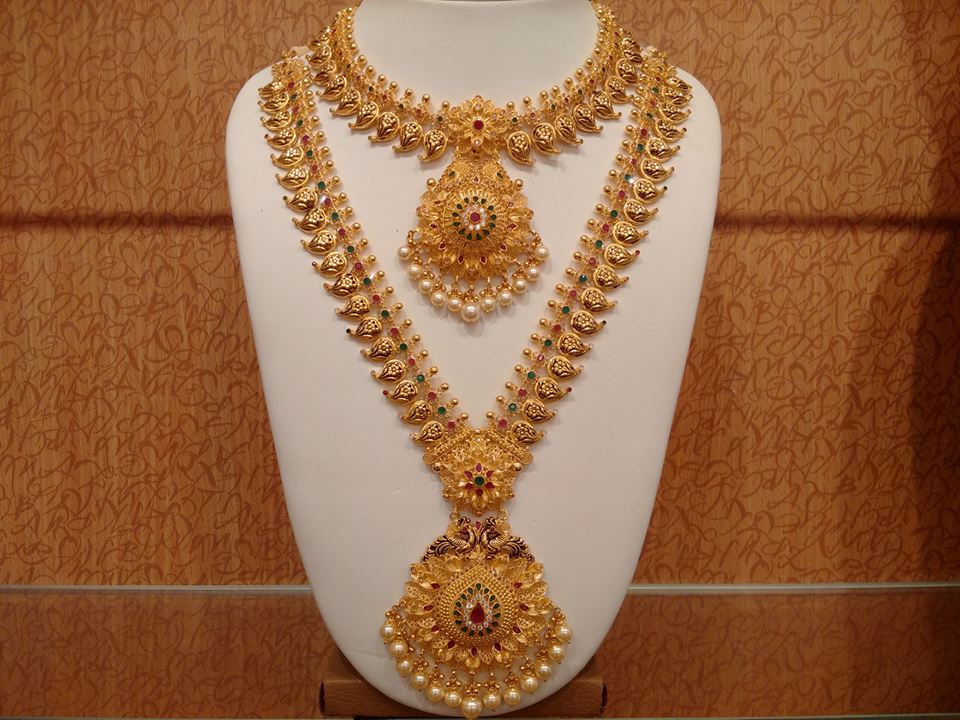 A matar mala reaches an all new level of perfectness when paired with a choker set etched with ruby and emerald stones. The set is a great choice since it is neither too heavy nor too light.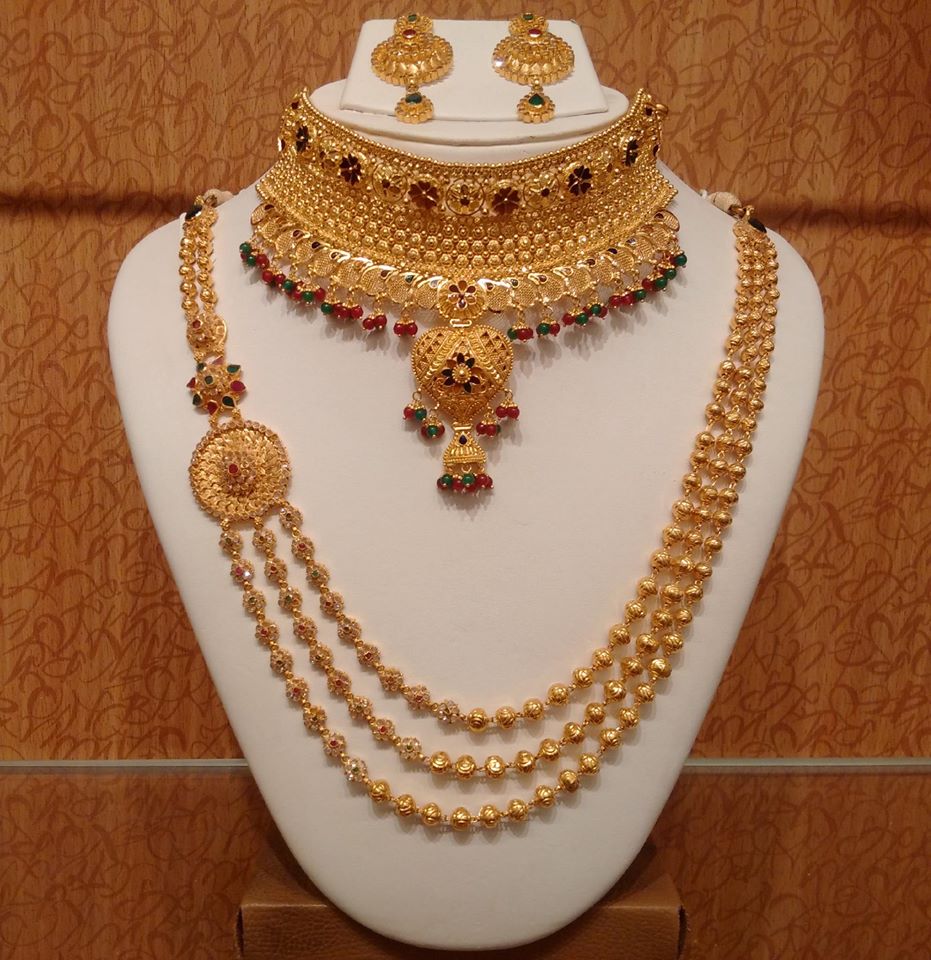 It might seem similar to the previous one. However, the collar set is quite heavy and can definitely steal attention of everyone around.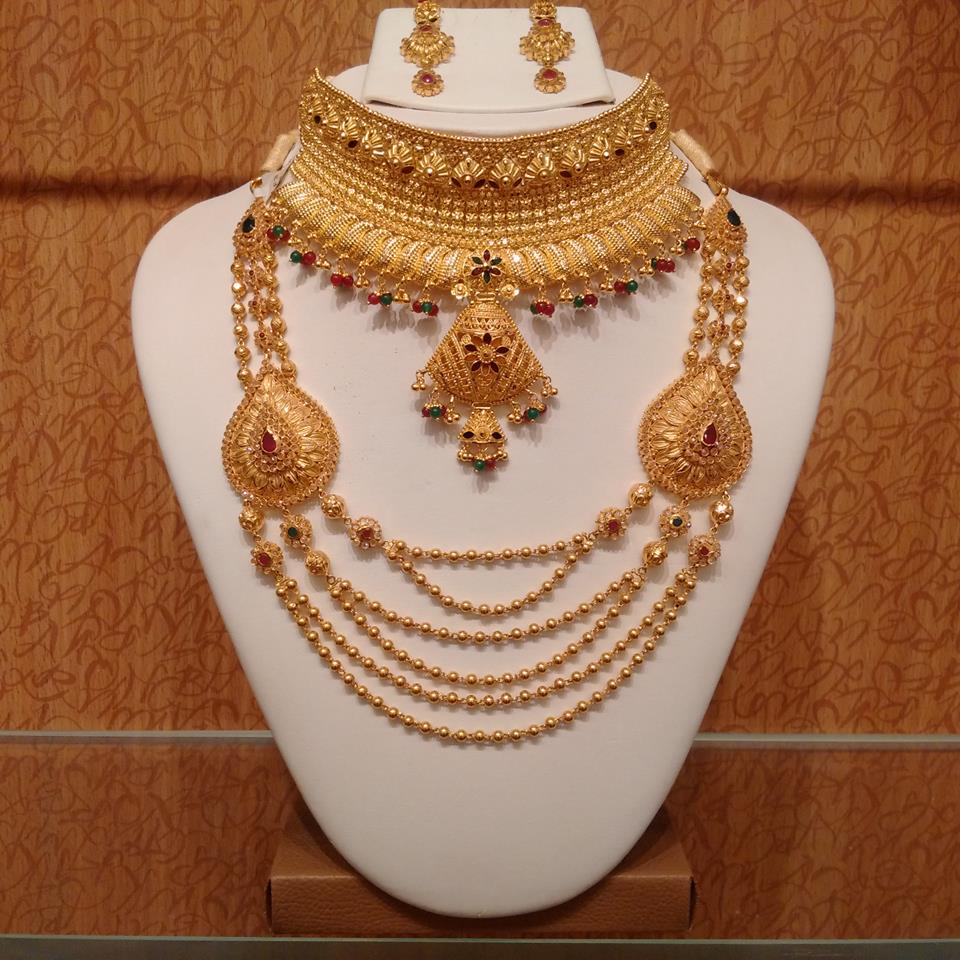 Yet another classic example of white gold with emerald stones. The set is perfect for the reception nights since it blends in properly with both traditional as well as modern outfits.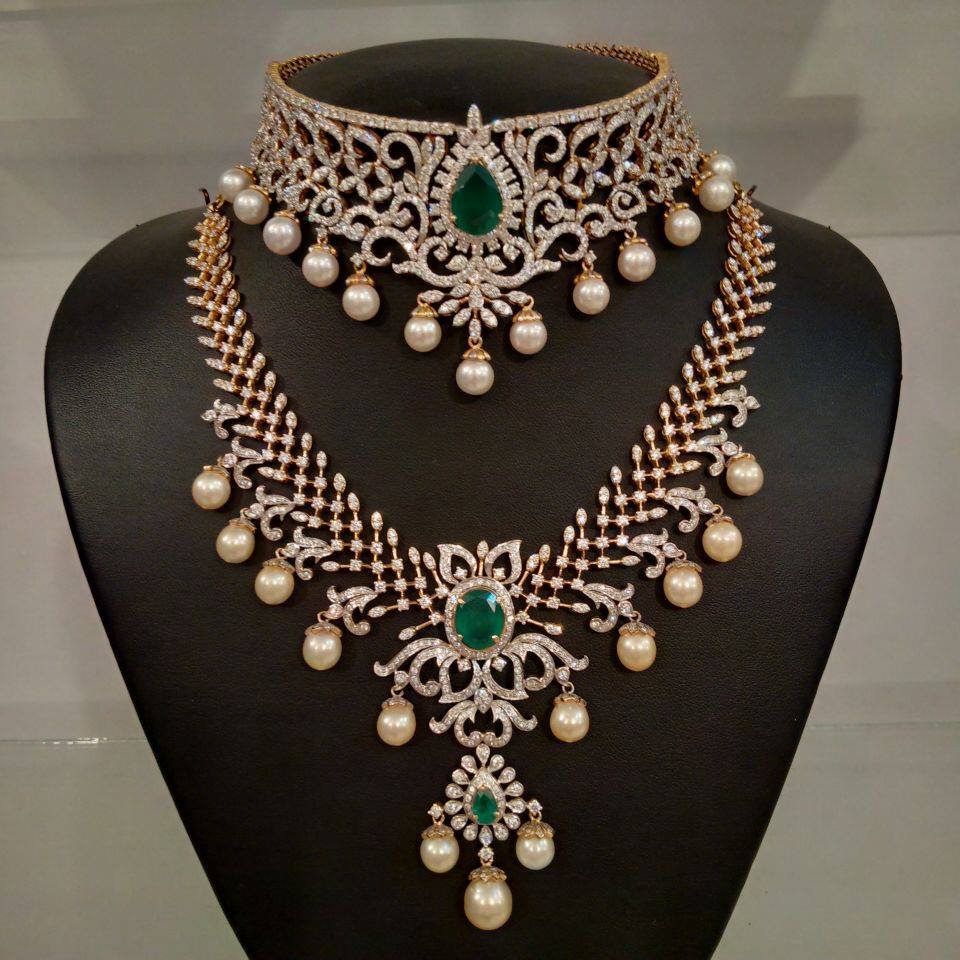 A typical Keralite set with the most antique and heavily carved detailing. The intricate detailing is perfect and the set can be worn easily at any wedding.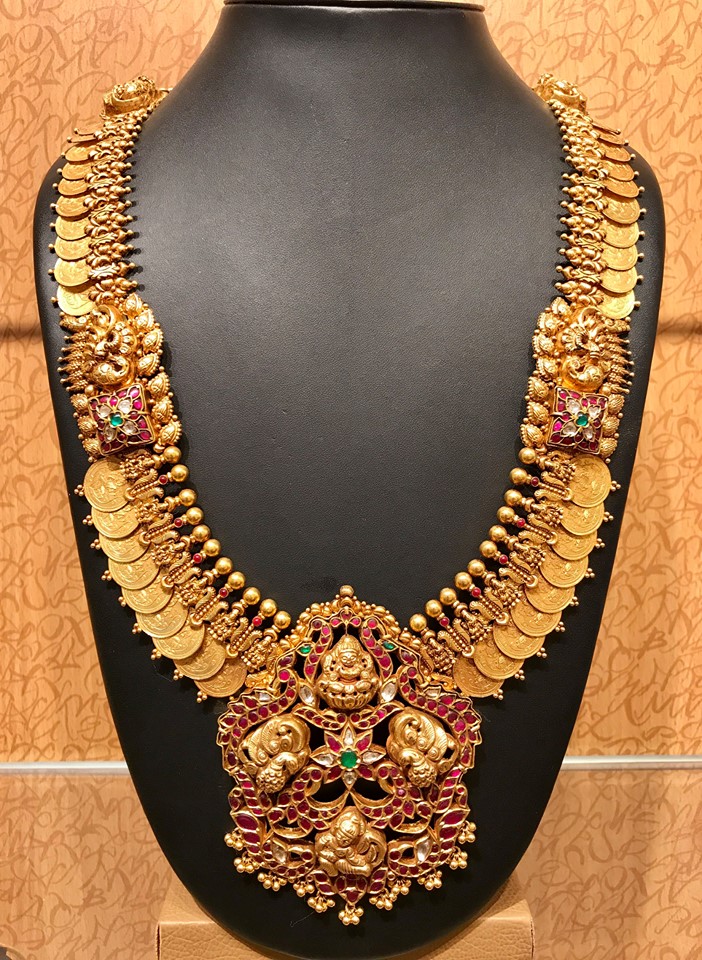 This set is quite different from the rest. Although it is a collar set, the ruby and emeralds steal the look. The gold along with a bit of white gold is just a perfect combination.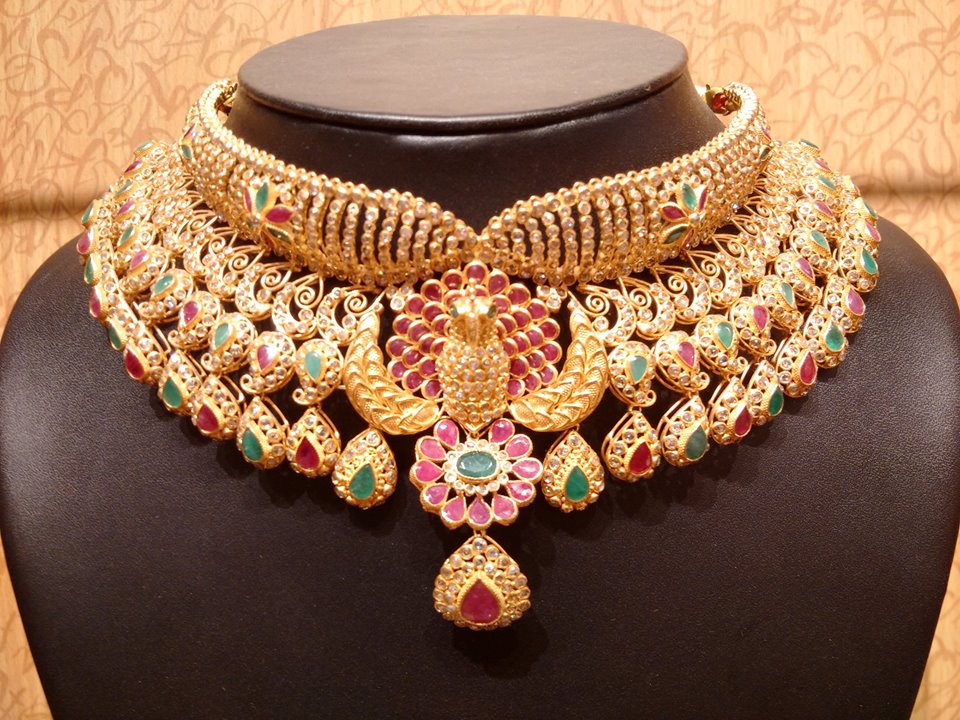 Go on and find just the right gold necklace set for your wedding attire. Keep in mind the family heirloom and be proud to create new traditions for the coming generations. It is quite necessary to keep in mind a budget before you go on to buy the right set for yourself. Simply keep in mind the latest trends along with the age-old traditions and you are all set to go. Give in to the festive vibes and shop your best.
In case if you like to shop the same gold necklace sets featured above, then you can reach the seller below.
Seller Name : NAJ Jewellery
Address : 957, Jewel Junction, Achari Street, Nellore 524003.
Contact No : +91-861- 2331123 I 2331323
Email : mynaj@najindia.com
Website : http://www.najindia.com/
Facebook : https://www.facebook.com/najjewellery
Whatsapp :9032041323
Happy shopping!
Also Read : Tips to Shop the Best South Indian Wedding Jewellery