Welcome brides. We know the whimsical tension that lurks behind you.
Okay, your D-day is just around the corner. You are busy in the process of finding that dream dress and complimenting jewellery to take all the limelight on the coming big day.
Your friends and cousins might already be assisting you in getting the apt jewellery. However, the sheer volume of choice is overwhelming you.
And you don't know which jewellery trend to pick amidst the heap of choices.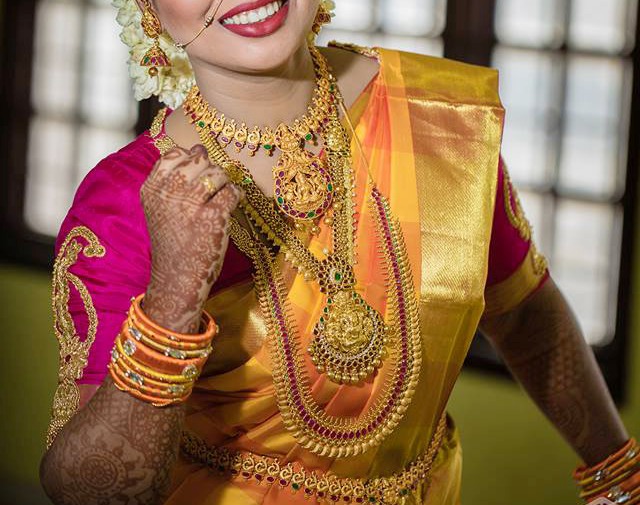 Should I opt for gold necklace and gold plated vadanam? Shall I go for a grand diamond jhumka and antique haram?
Should I select matt finish jewellery or the glittery stone sets?
Your mind might already be prodding you with all the possible permutations and combinations.
Now you feel like you are losing the game. However, don't fret.  We are here to help you out. Check out our quick tips and bridal jewellery inspirations ahead that will ease you out from the shopping tension.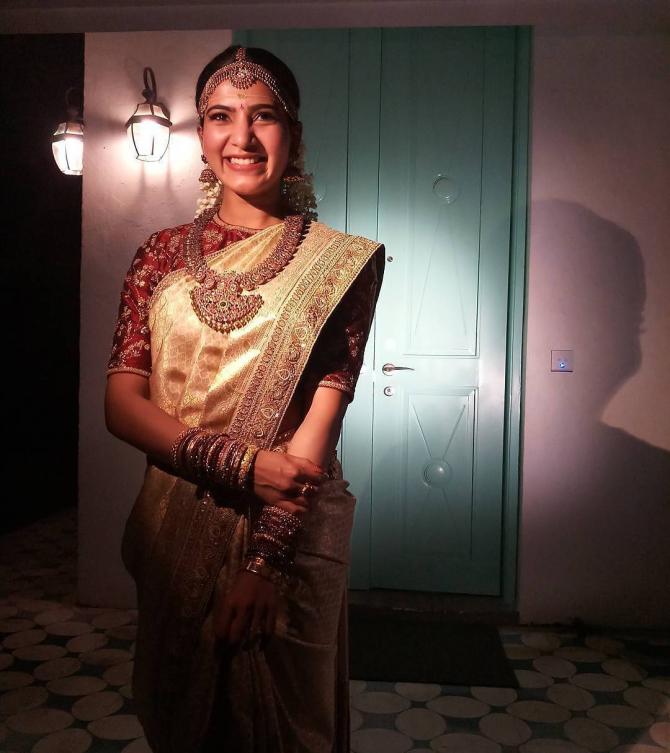 Tips for Selecting Best South Indian Wedding Jewellery
First and foremost, decide on your budget. Are you planning to buy everything on gold or gold plated? This will narrow down your choices.
Next lay out your outfits and remind yourself that you are going to pick jewellery that should compliment your look on this outfit. Don't pick jewellery without matching it with your dress.
Think about the event. Is it a night reception? Then you need some sparkling stone set for your dress. If it is a day time gala, then bold antique jewellery would catch everyone's attention.
Go to pinterest and get some real bridal inspiration. Follow our Instagram page and reach out to seller who sells the piece that you feel ideal for your outfit.
And finally, always test your outfit with jewellery well in advance so you will not have any surprise at the dawn of the big day. Also, always keep few backup accessories, so in case if something doesn't work out, you know how to fix things soon.
South Indian Wedding Jewellery Designs/Ideas
Now, let's check out some pretty brides who have nailed their wedding jewellery. This section will give you lots of inspirations on how to get your own accessories right.
Kasu haram and temple necklace is an irresistible combination that can add a divine feel to your saree.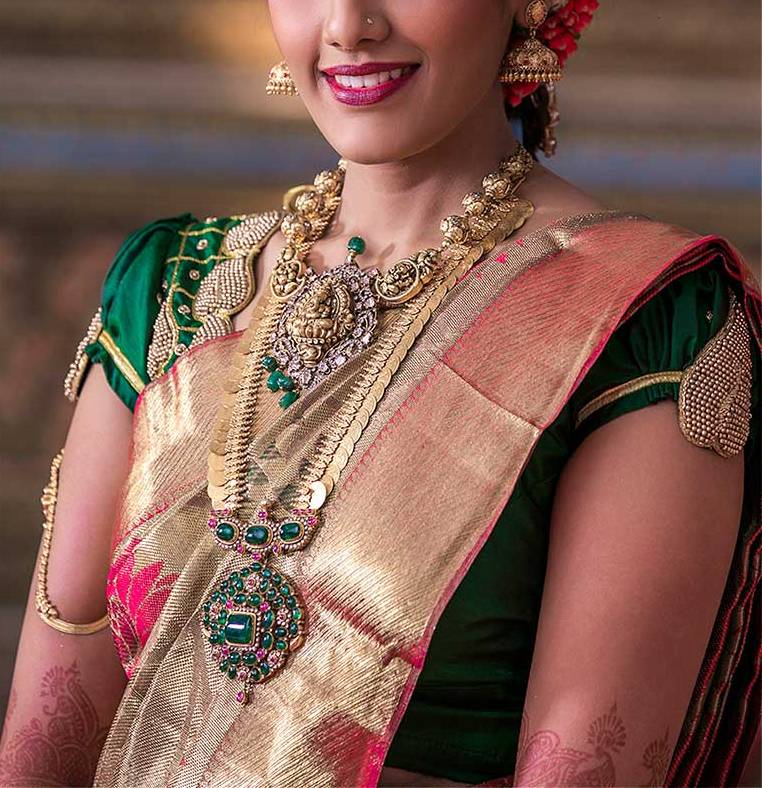 When you are busy shopping necklace and jhumka, don't miss this crucial piece of accessory. When you twirl your lehengas and anarkalis, you should have a statement anklet like this to make everyone eyes glued to your outfit.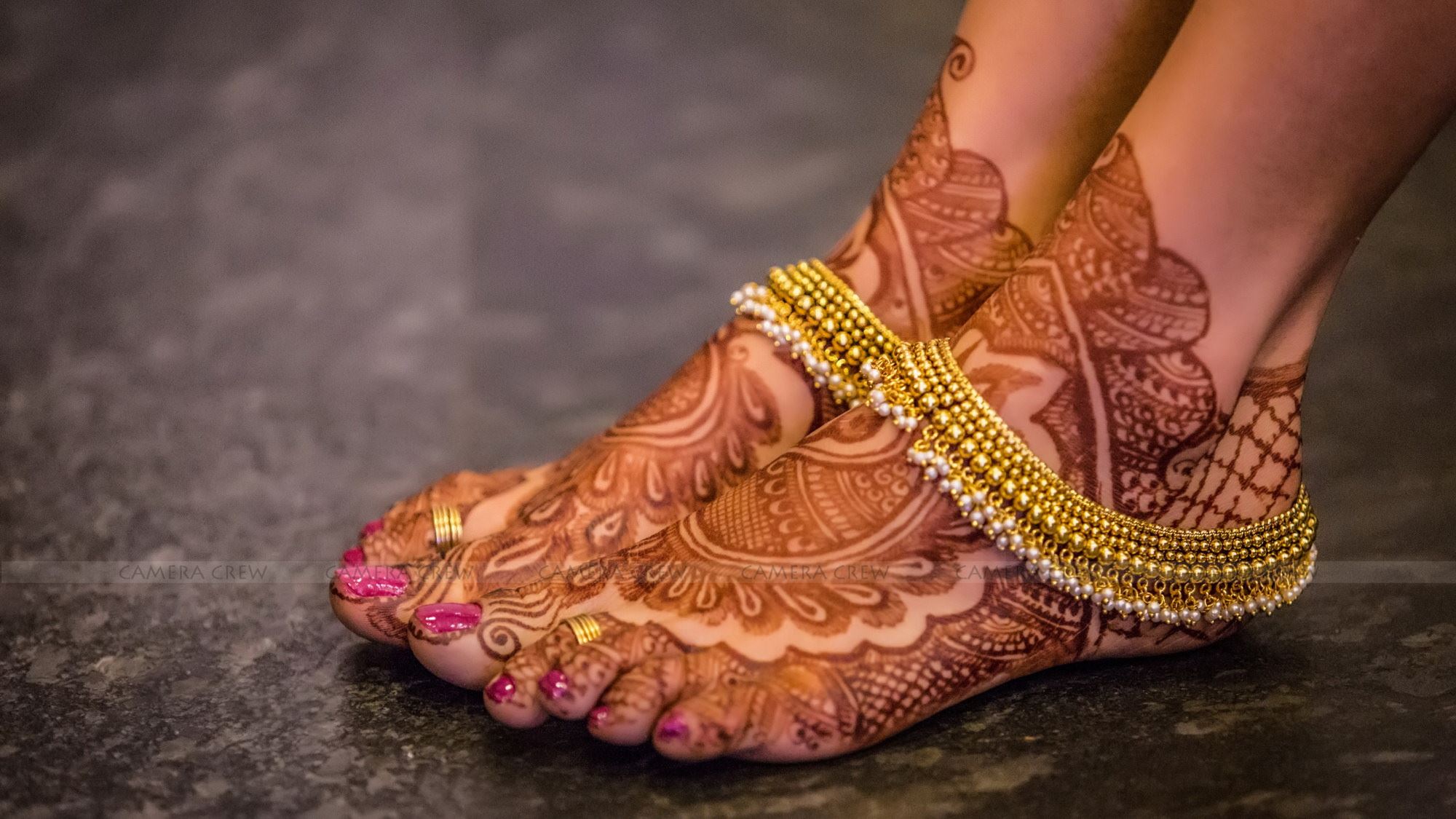 This is once in a life time sort of thing; make sure you get the best of hair accessories that stays in tune with your blouse back. If it's a morning event, temple or antique hair ornaments would look good. If the event takes place on late evenings, then you can go for American diamonds or CZ studded stone sets.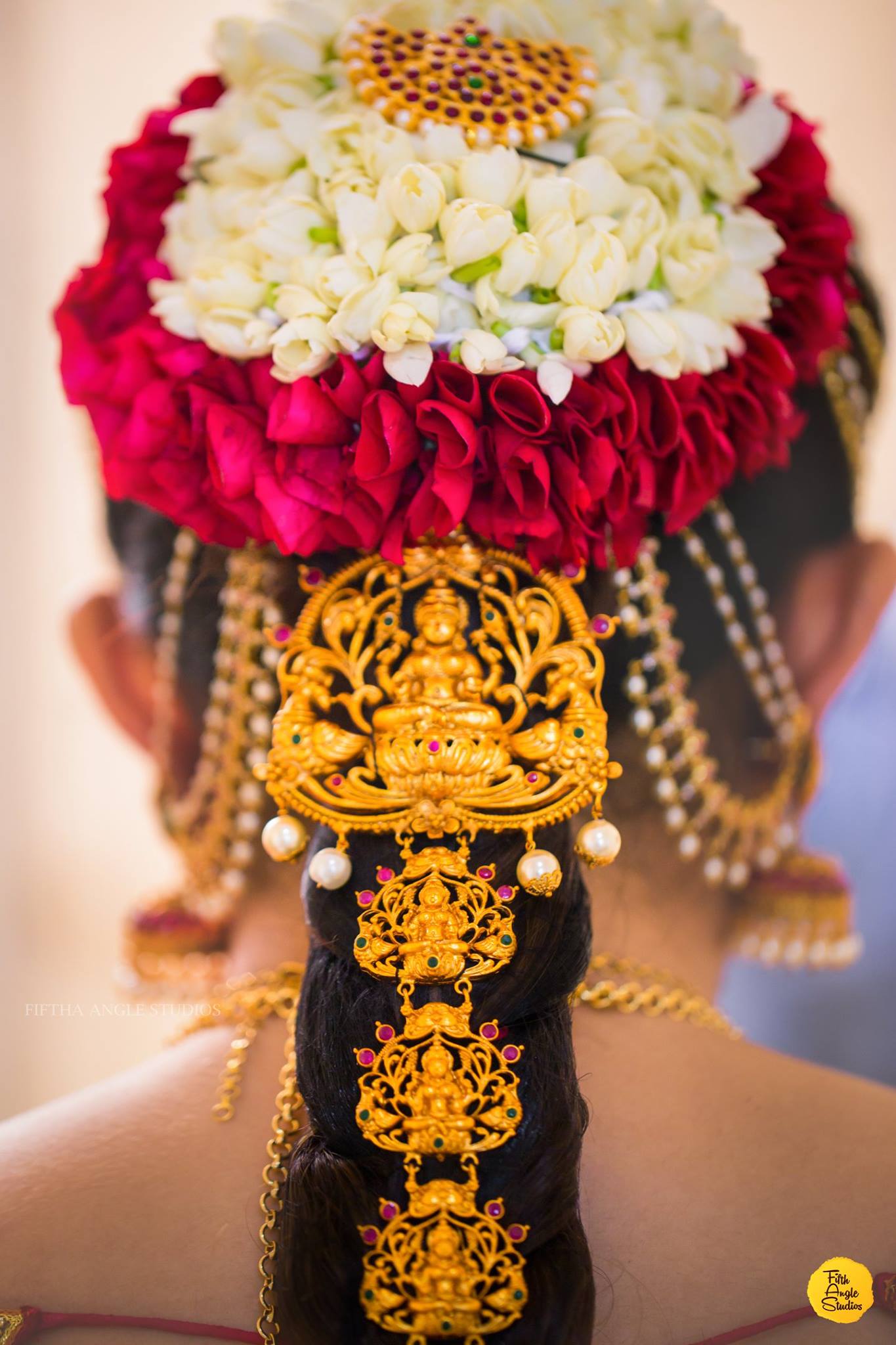 Having bold patterns that attracts eyeballs would make other go WOW with your jewellery.  The grand peacock jewellery set below is a proof for this.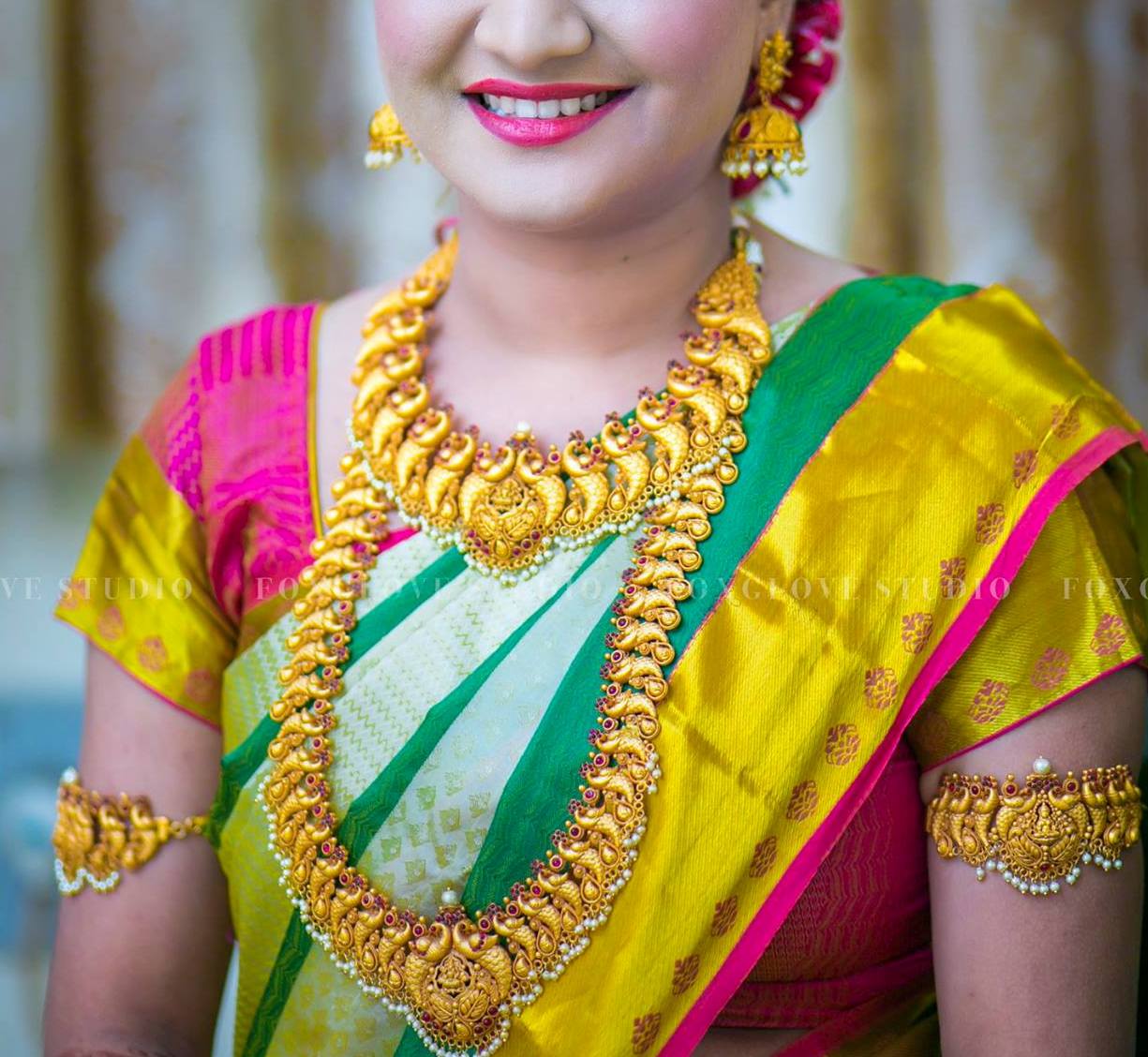 For the grand final moment, you need layers of adorable jewellery to keep all the eyes glued on you. If you don't mind bold gold necklaces and harams, then this will spark your interest.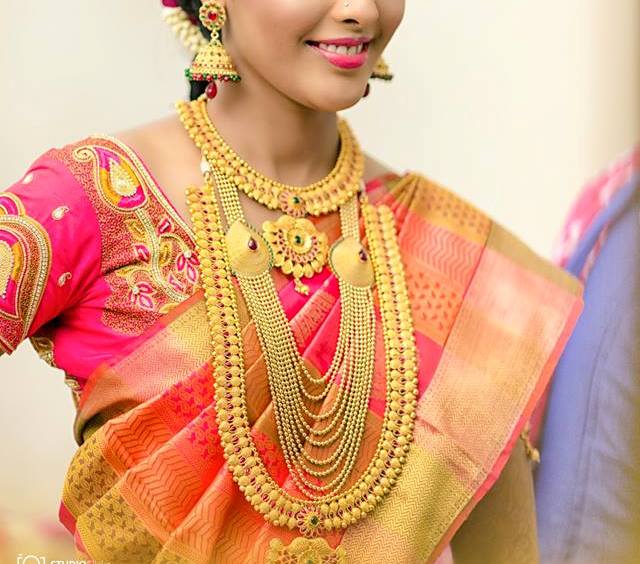 This is simple, yet strikingly elegant. This mango necklace and haram set is something that would bring the traditional side in you when worn with classic shades of silk sarees.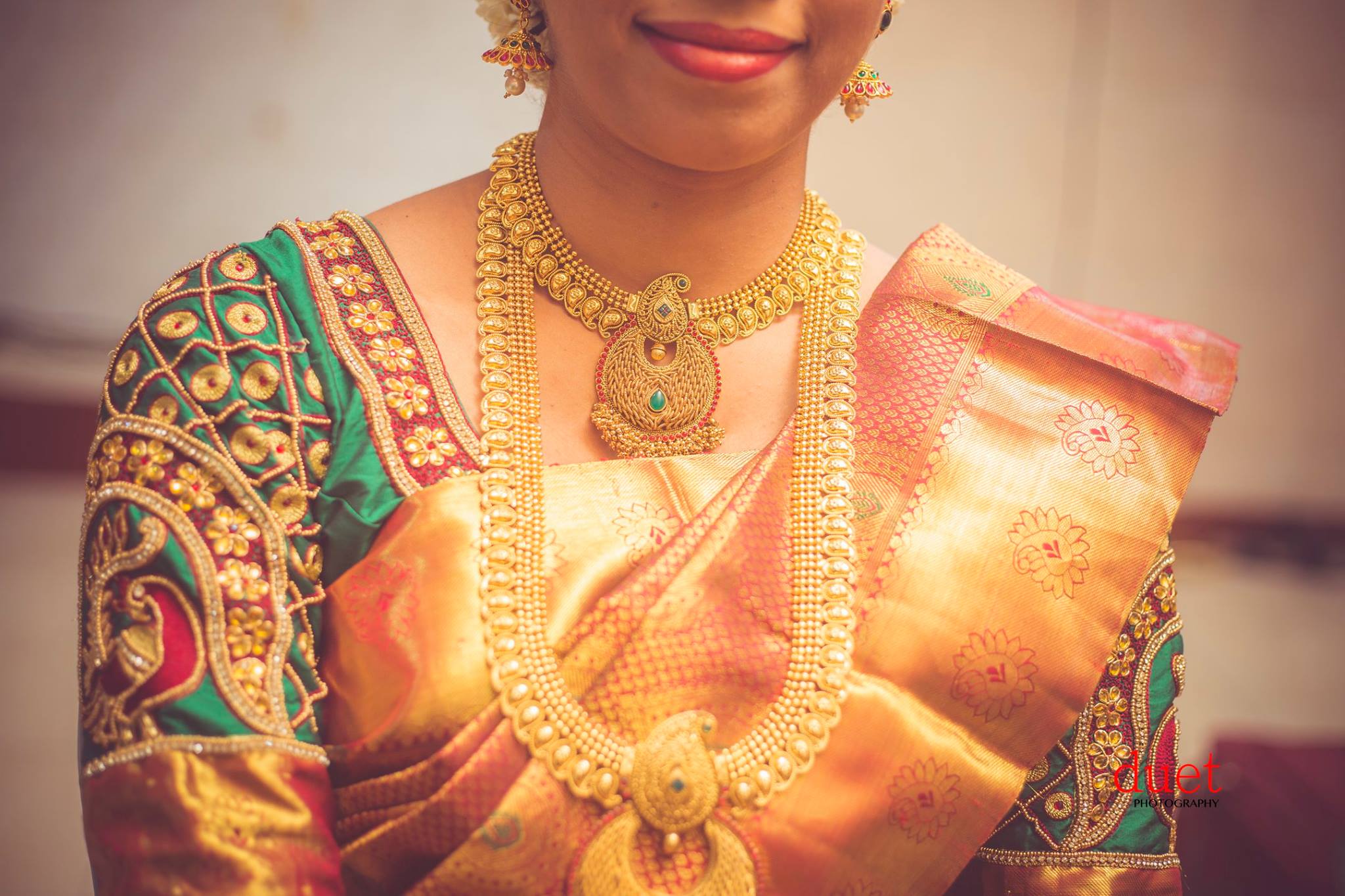 For late evenings, opt for diamond or CZ stone necklace and vadanam. They would look so ravish on your silk saree.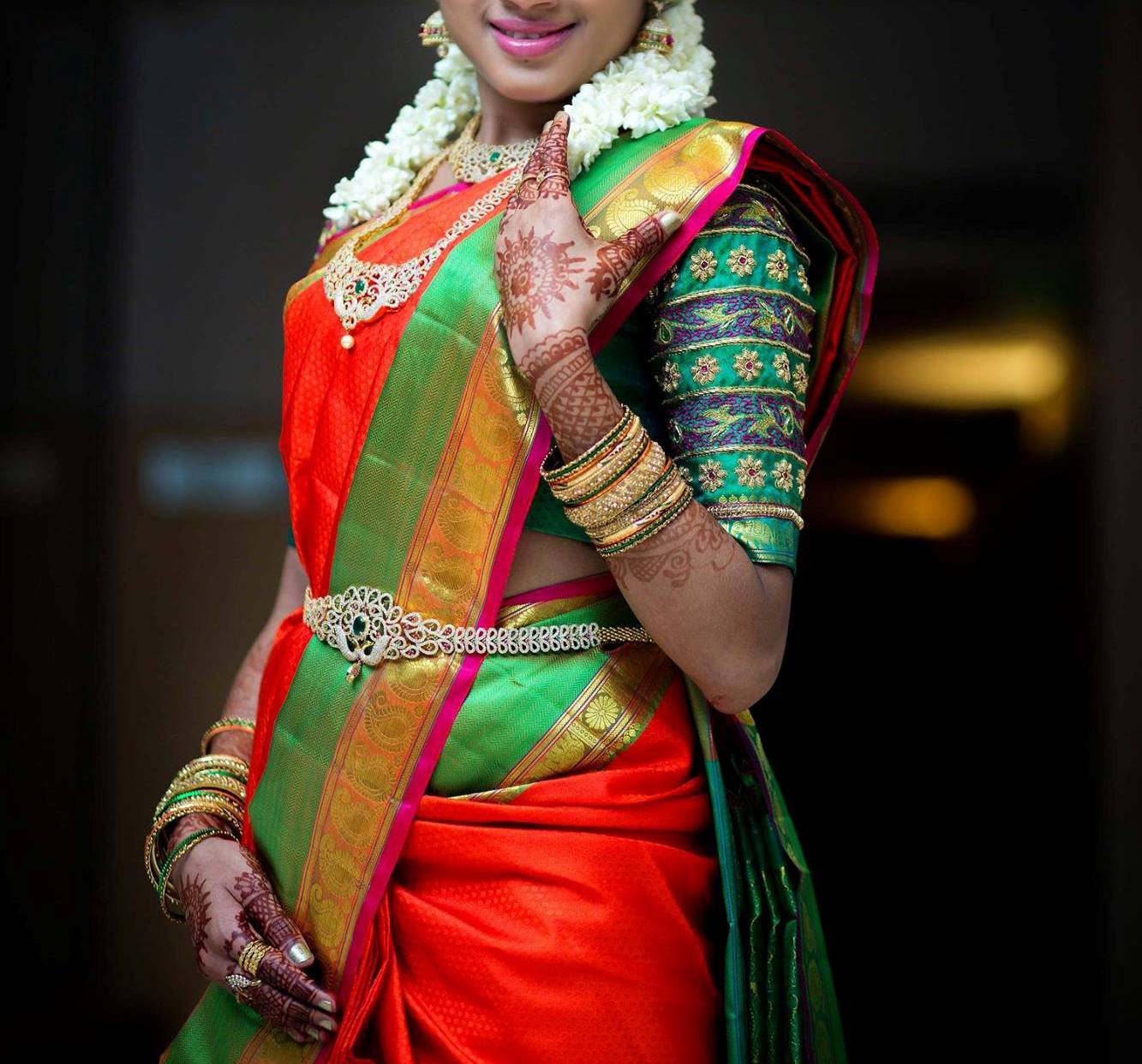 Bold antique collections are being fancied by everyone. Don't skip these gorgeous beauties for your weddings. This is so apt to wear on morning muhurtham.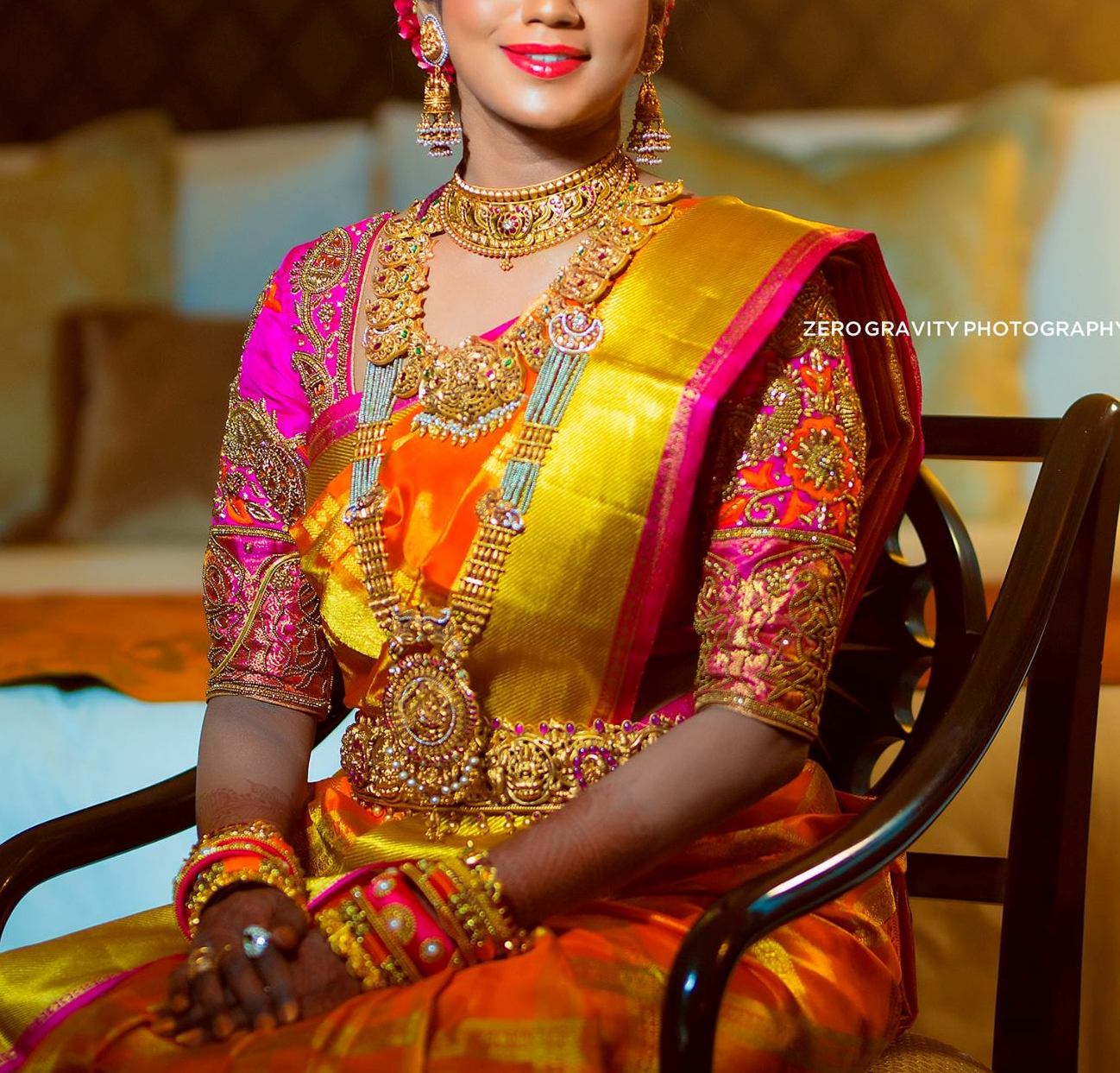 It doesn't matter whether you got your jhumka and necklace right, till you have a temple vadanam to adorn your hips. You can either opt for gold antique vadanams or one gram gold sets depending on your budget.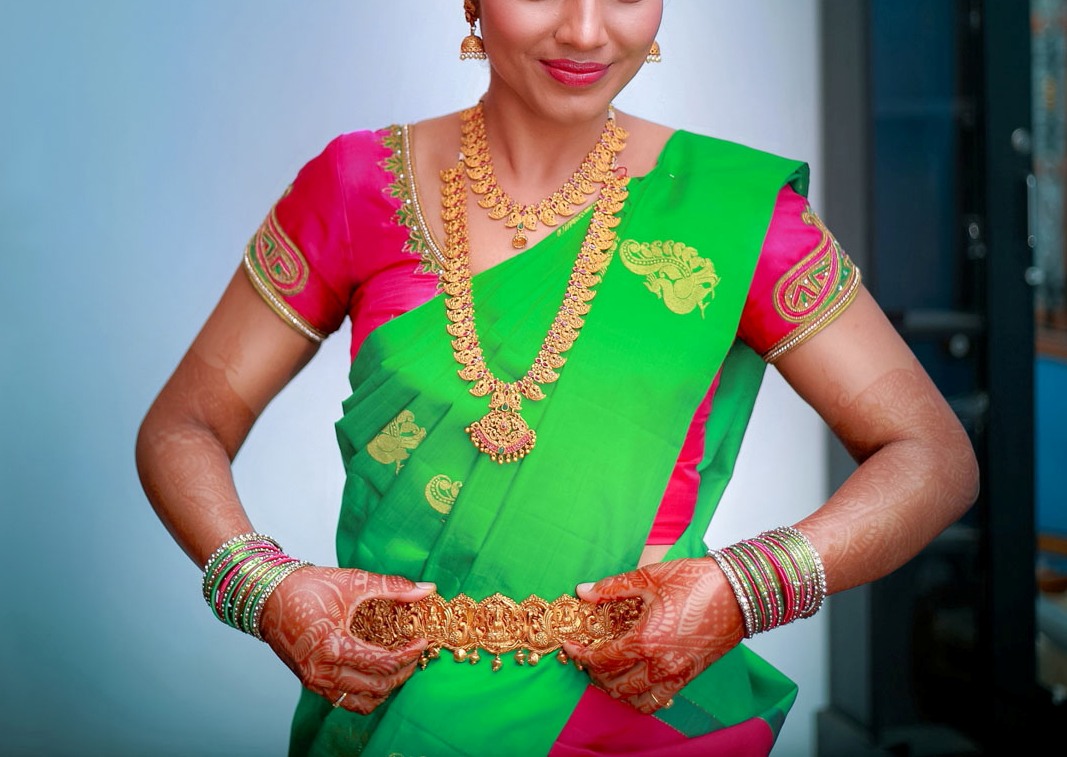 Love the colorful show of pearls, rubies and emeralds here. And those bold bangles are something that is hard to resist. Mixing pearls with temple jewellery will bring a dashing look to your silk sarees.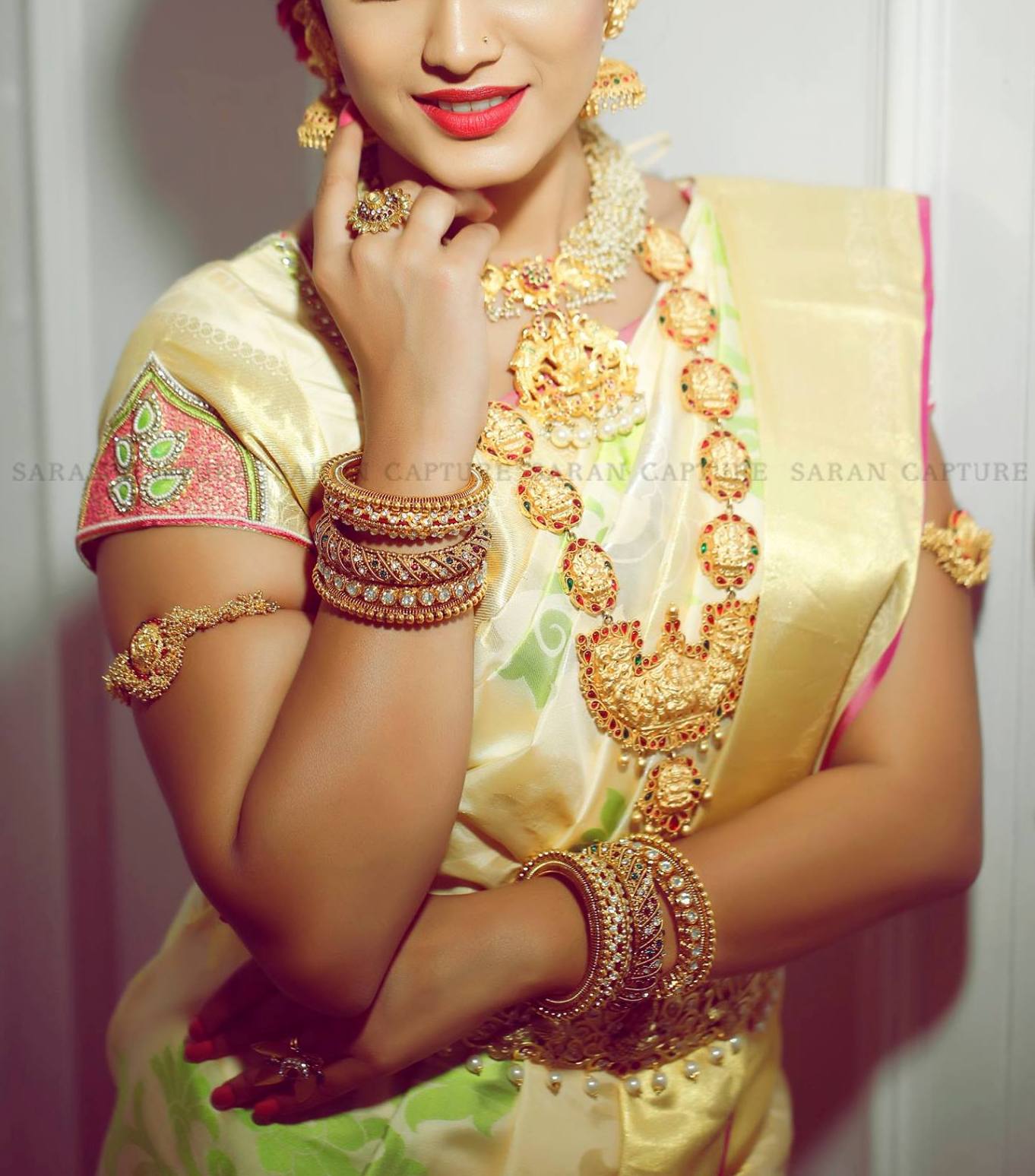 Traditional temple jewellery with ruby highlights is a must for those who have bright red saree to wear for the grand event. For wedding mornings, you can opt for matt finish jewellery like the one below.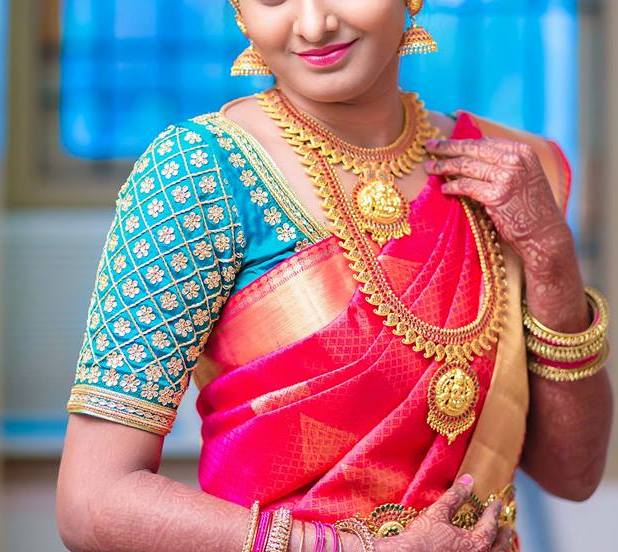 Match your bangles with silk saree. Silk thread bangles are trending hot this season. Get yourself a customized set that matches your saree and blouse hues.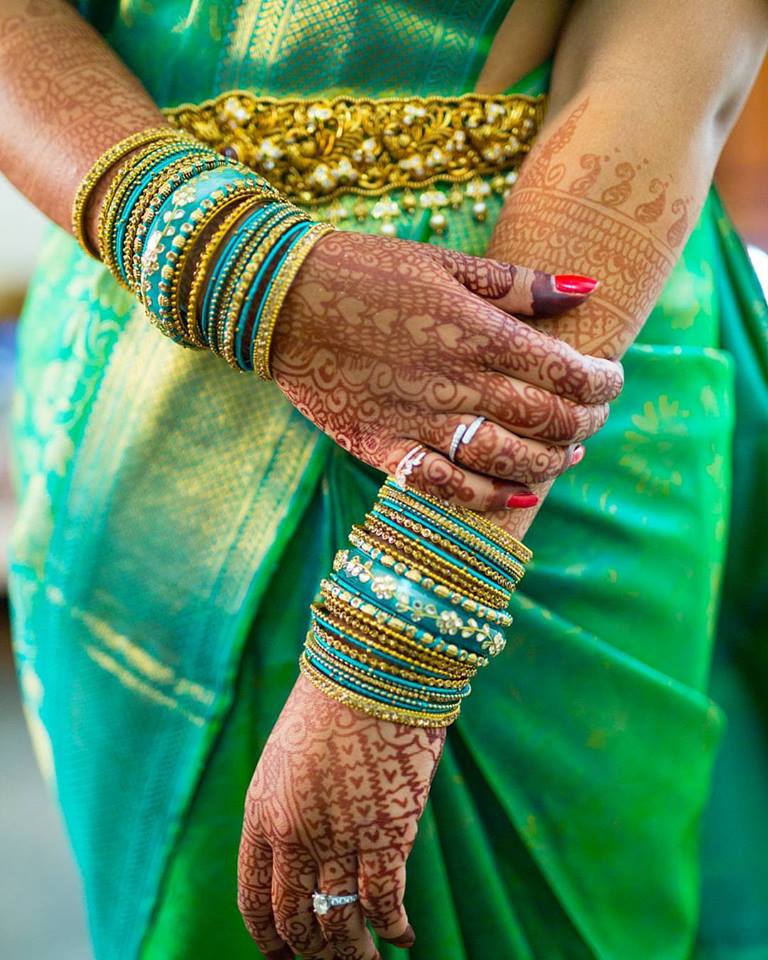 If your outfit is modern, then you need fashionable polka jewellery to spice up your look.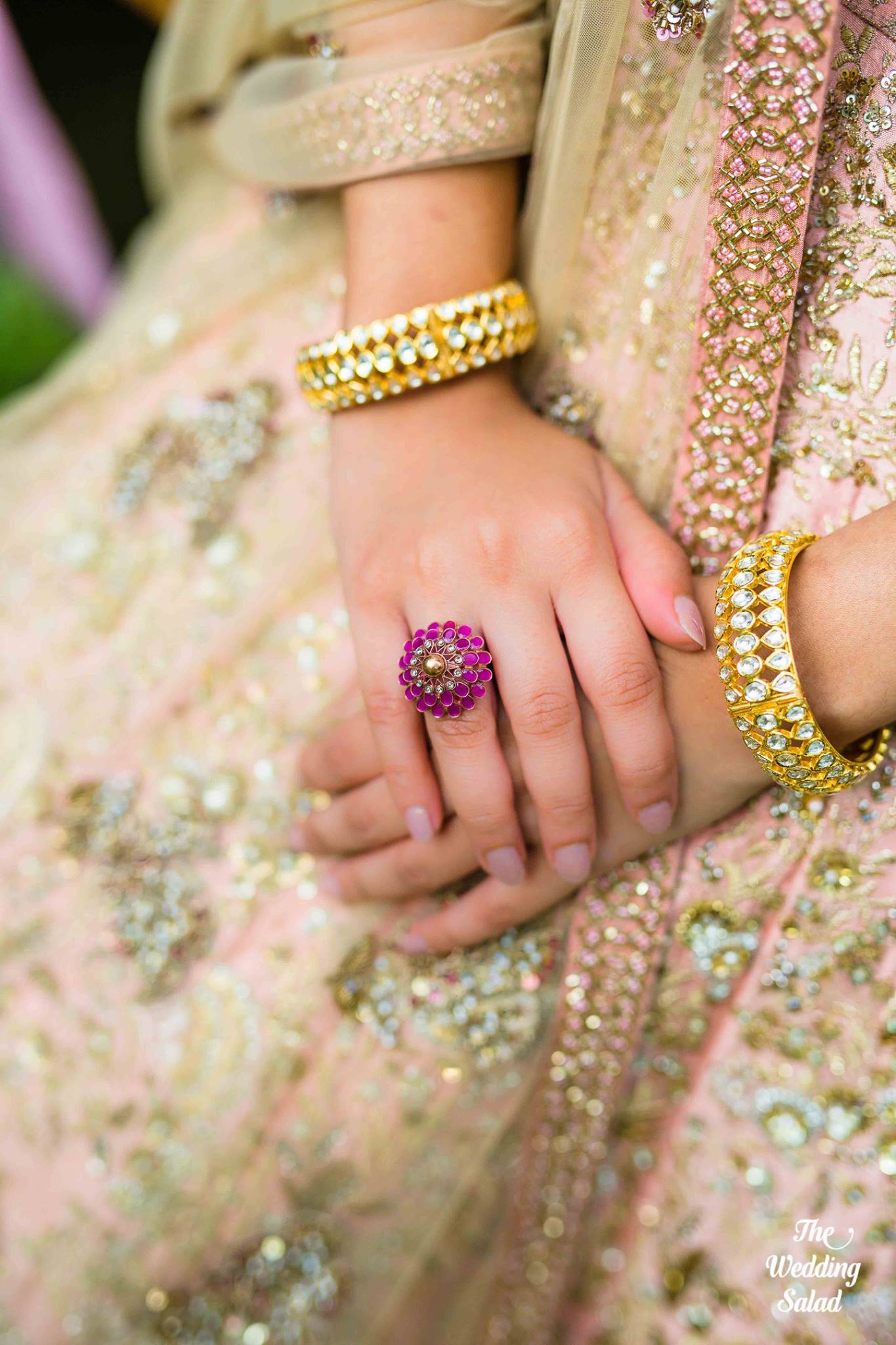 Brides, who like to keep jewellery minimal, opt for choker and vadanam.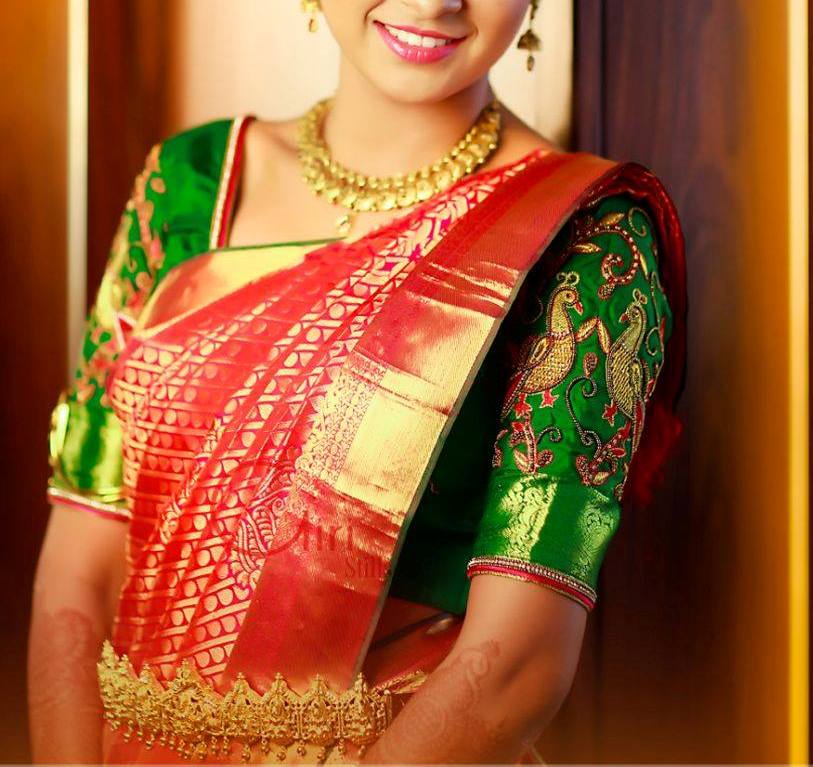 Have an heirloom haram? Mix it with your modern jewellery and give a delightful twist to your saree.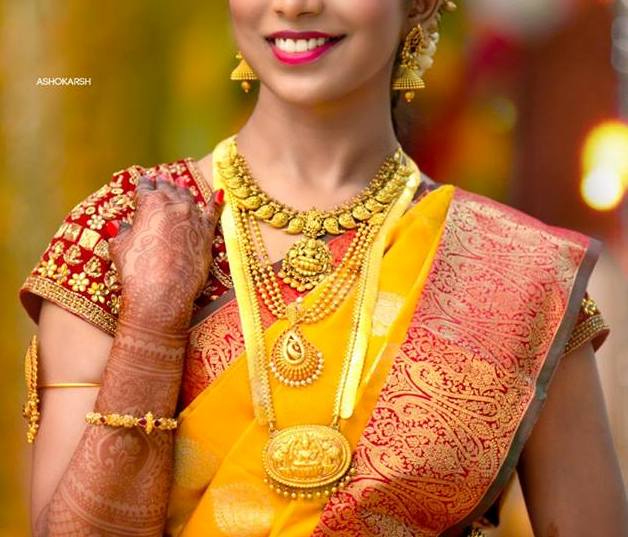 Love this antique and diamond jewellery combination. This is a great way to make your jewellery stand out from the crowd.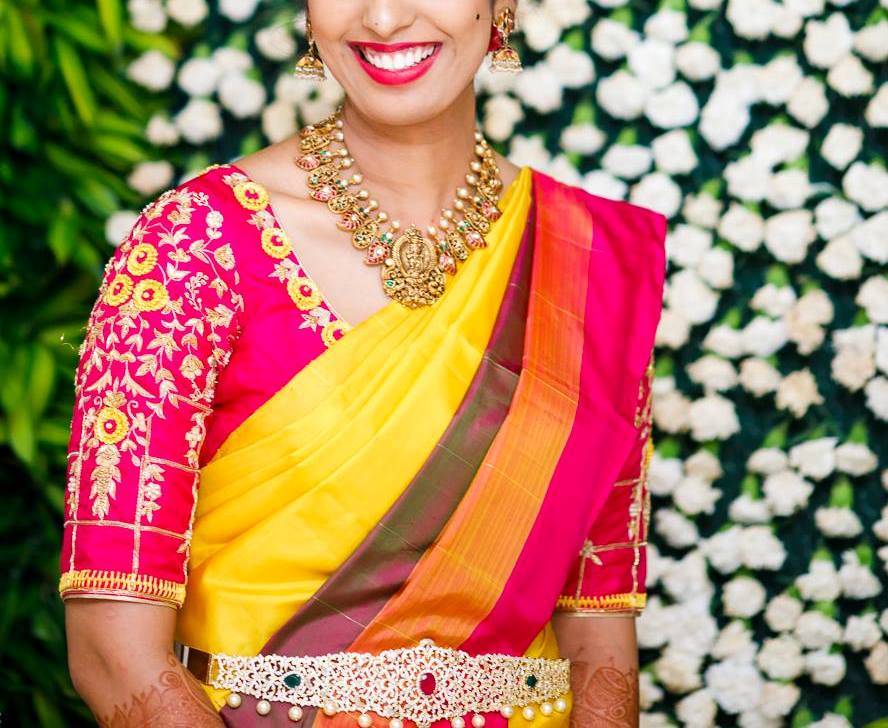 Dull tone jewellery adds a delightful freshness to your bright color sarees. Those who are bored of standard stone and gold jewellery sets should give this style a try.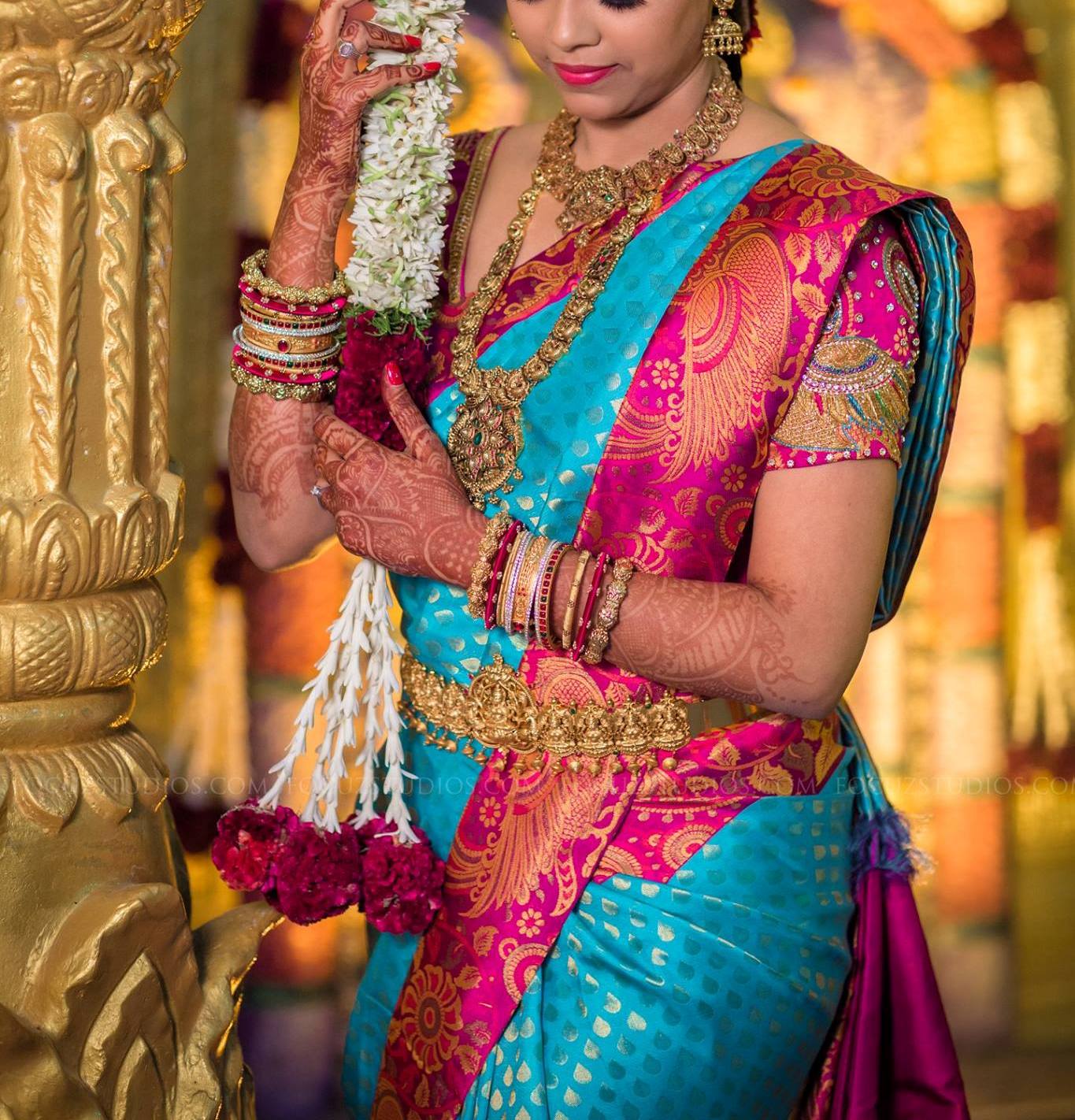 Nothing can beat a diamond, if you can afford it. Wearing carefully curated diamond pieces would elevate your silk saree to whole new level.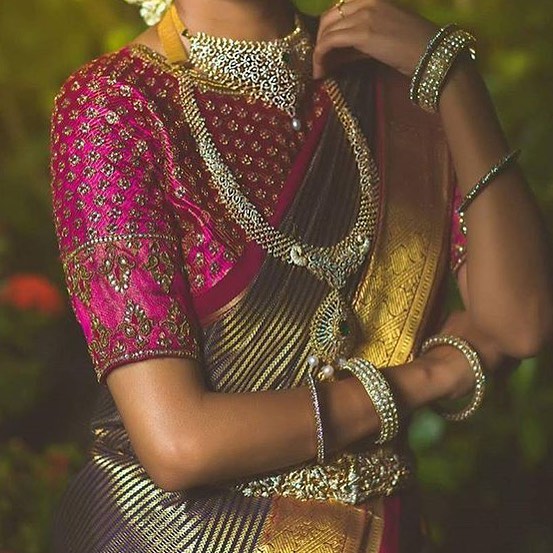 Pearls and emeralds have a way to induce richness to your look. You can wear these stunning stone either on gold sets or on diamond sets too.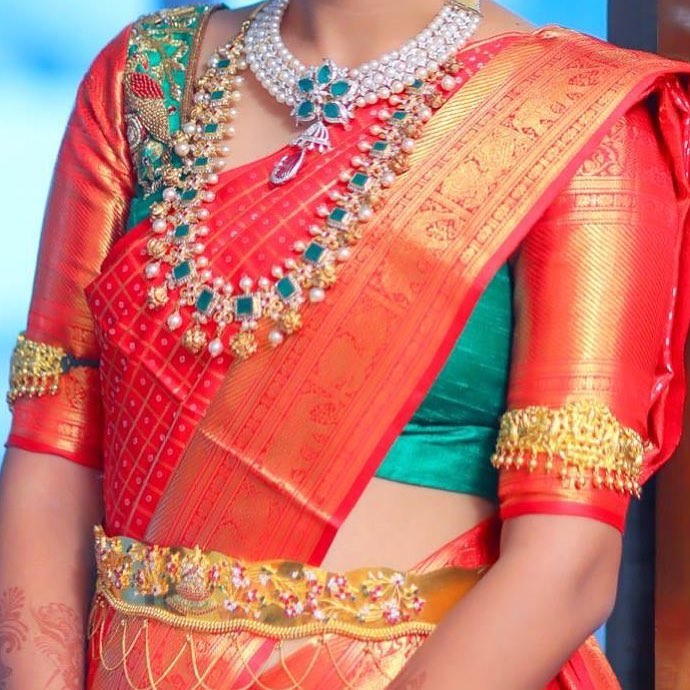 Jewellery is a very crucial piece in your wedding outfit. Considering the richness of South Indian Wedding, you need your jewellery to compliment the grand traditions and culture that are so intertwined on these occasions.
So stay ahead in the game. Plan well and we are sure you will steal all the glance that you rightfully deserve.
Also Read : 21 Gorgeous South Indian Style Gold Jhumka Designs