Any Indian traditional outfit is at its best only due to a perfect set of gold necklace. A necklace is defined by its design more so than any other factor. However, that one set that definitely takes your breath away is the one that's worth the wait.
You need to keep in mind the antiqueness as well as the latest trends. However, some of the trending designs are made to stand out and are best if you want to get a bold look.
To help you decide on what to select, below are some trendy gold necklace set designs that will get you all pumped up for any occasion. These pretty designs are from one of our favorite brand 'Manubhai Jewellers'. The contact details of the seller are given at the end of the post.
Trendy Gold Necklace Set Designs
This is one of the most classic designs of all time. You can vary the detailing color according to your outfit. They can be matched with a traditional sari or a half sari and can blend in perfectly in an occasion that isn't too magnificent.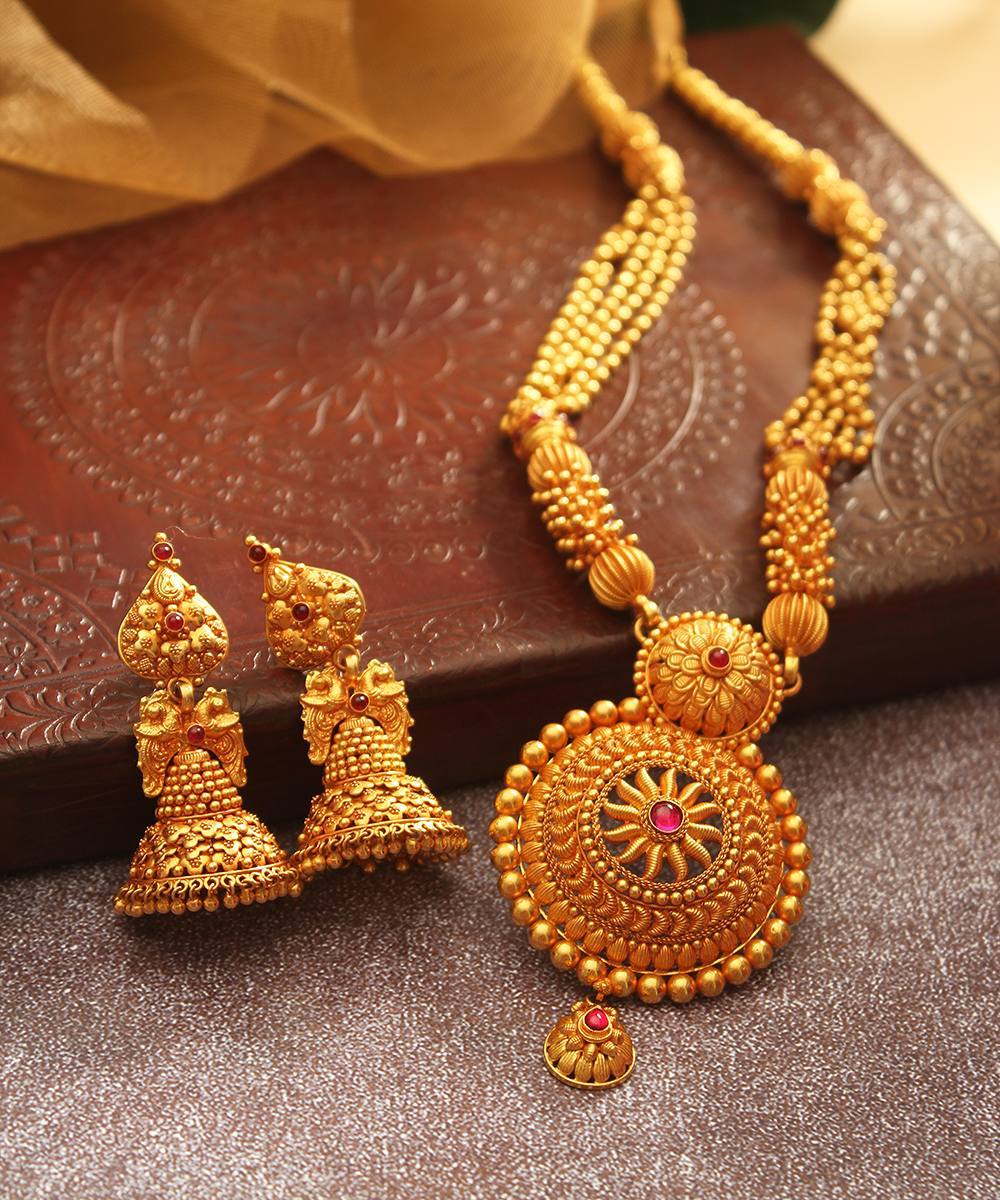 The design of this set is quite different than the usual ones. Each separate droplet adds a new charm to the overall look of the attire. It gives a royal and sophisticated aspect. The set is great for a mild, formal occasion.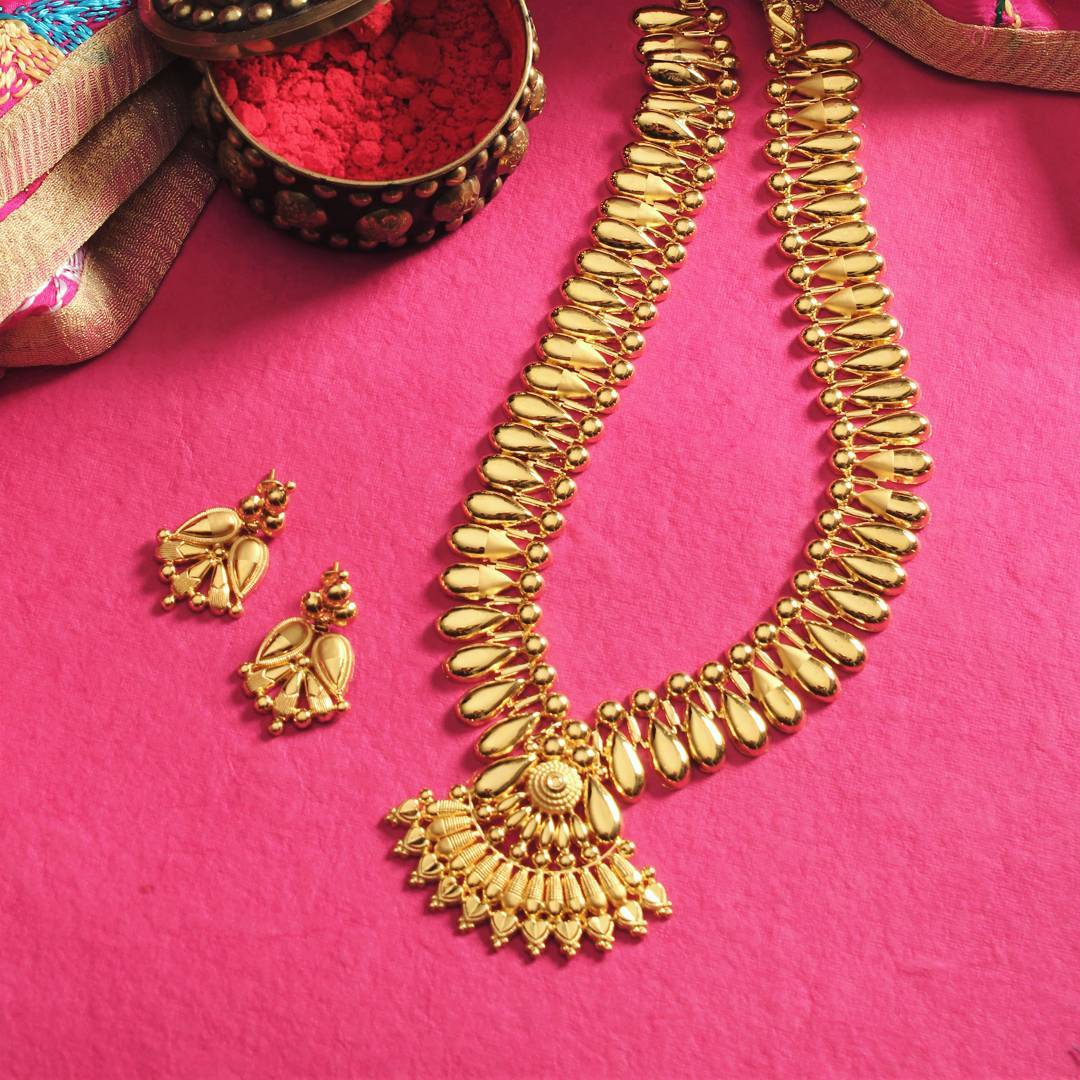 This set has a minimalist look and a very simple design. It is just a grand version of locket. The rose gold and silver colors add an aesthetic charisma. They are perfect for simple, plain traditional attires and can even be matched with simple dresses or kurtis.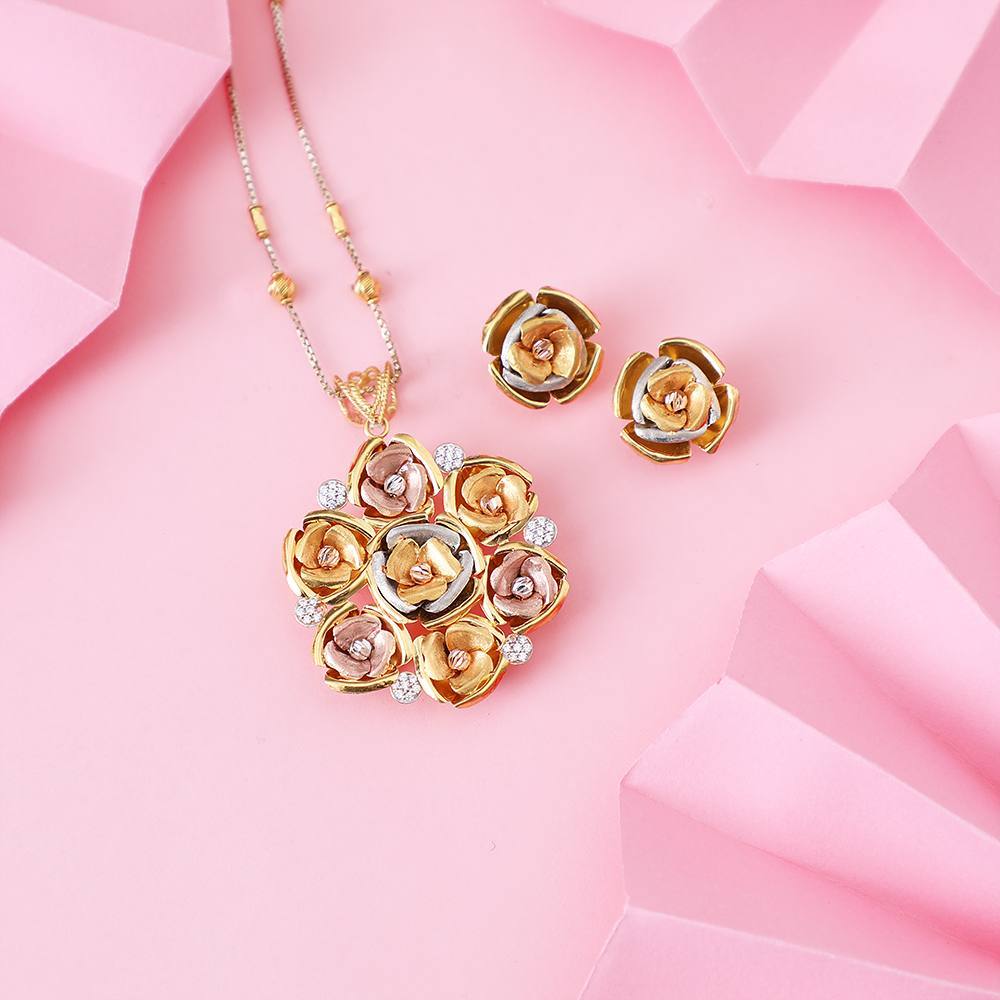 Another minimalist design that can make you stand out. The beauty lies in the viewer's eyes. It takes boldness to carry this kind of a set. It would blend in perfectly with dark colored attire and is a great pick for all day long occasions.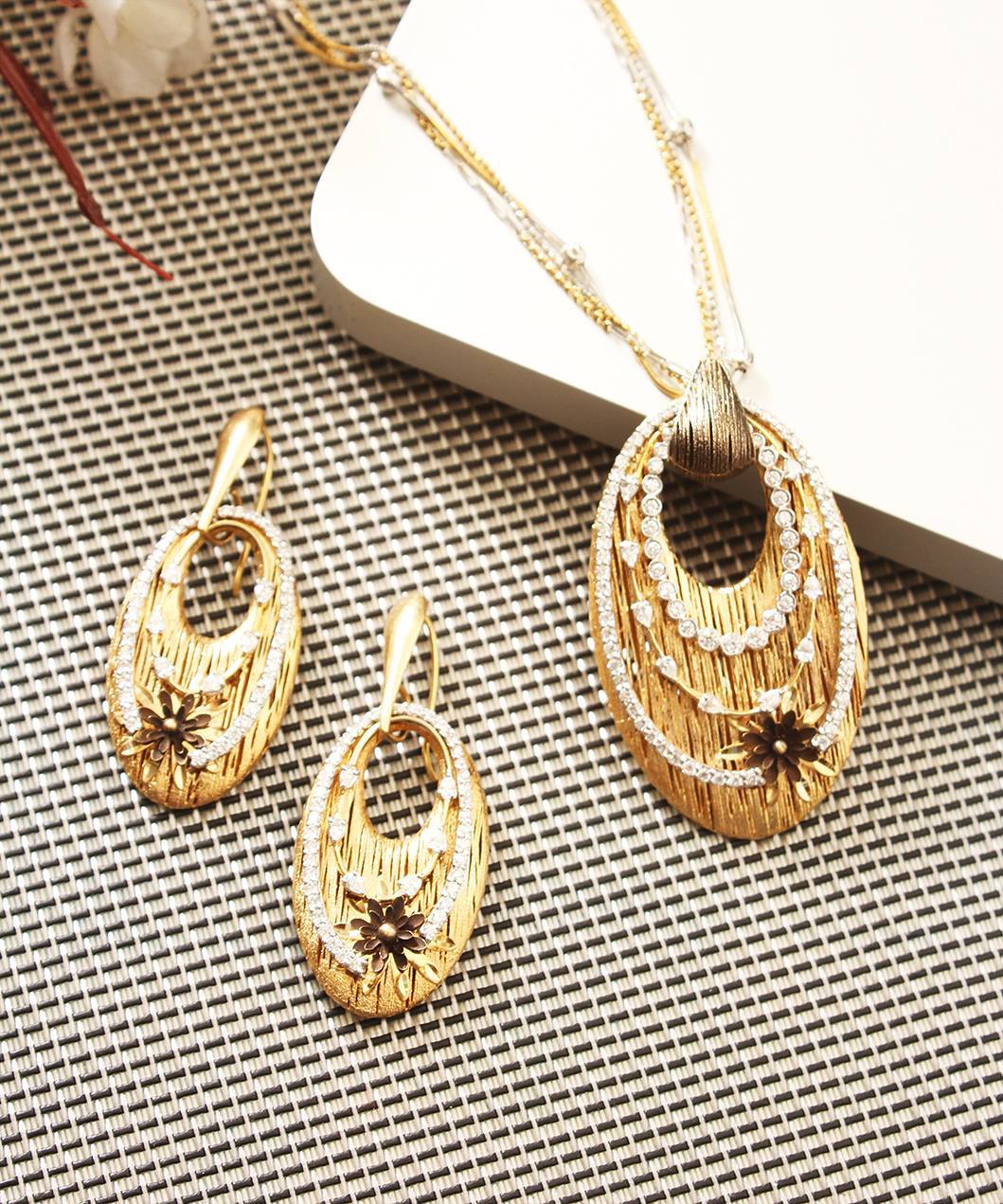 This set is not quite heavy and the rose gold color offers a completely different perspective. The intricate design also adds to the overall charm. They are perfect especially for formal occasions and can go perfectly well with almost any attire.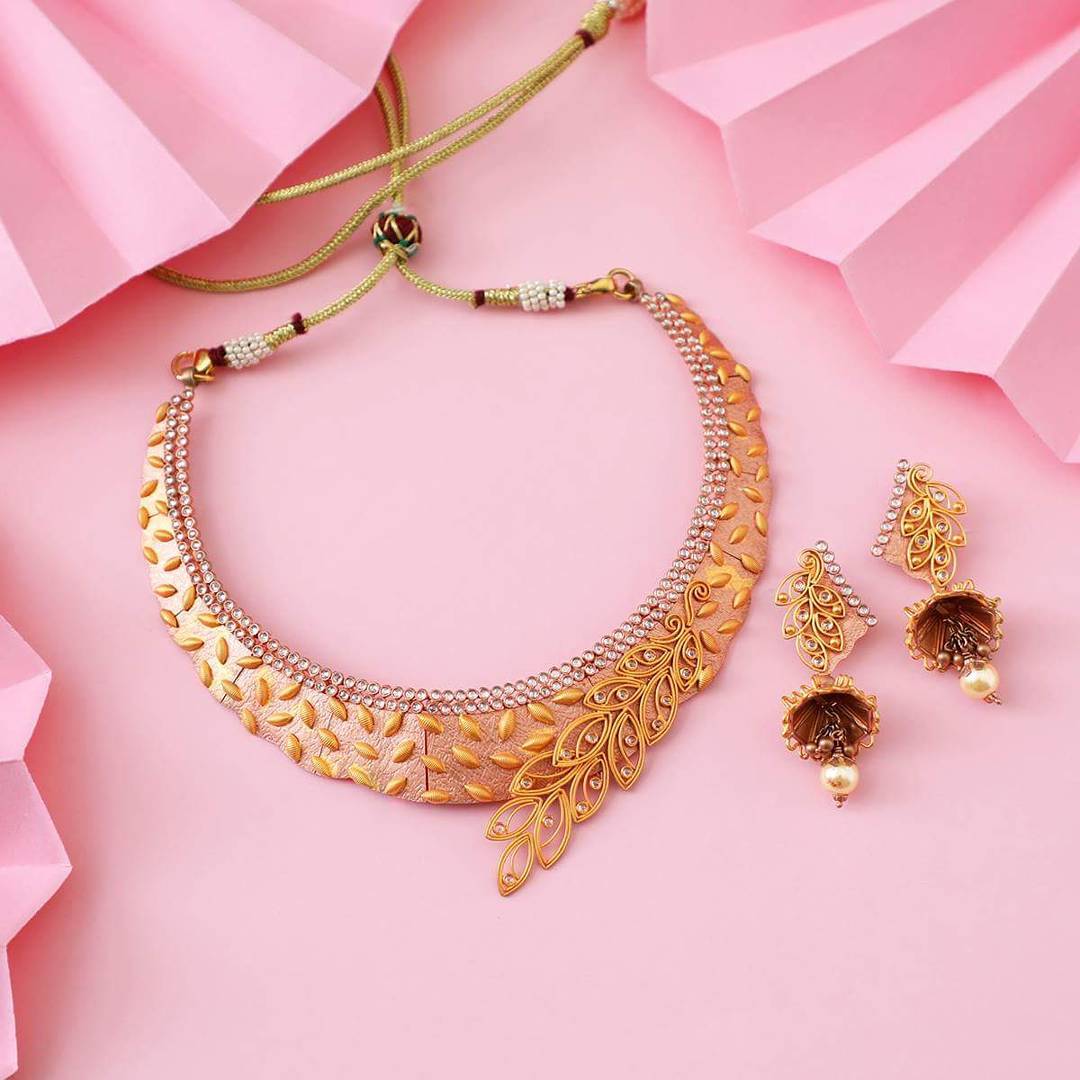 This design has a completely royal feel etched to it. It is very majestic and even though bearing marginal detailing, it seems quite heavy. They are perfect for occasions where you want to steal everyone's attention without feeling too burdened on accessory.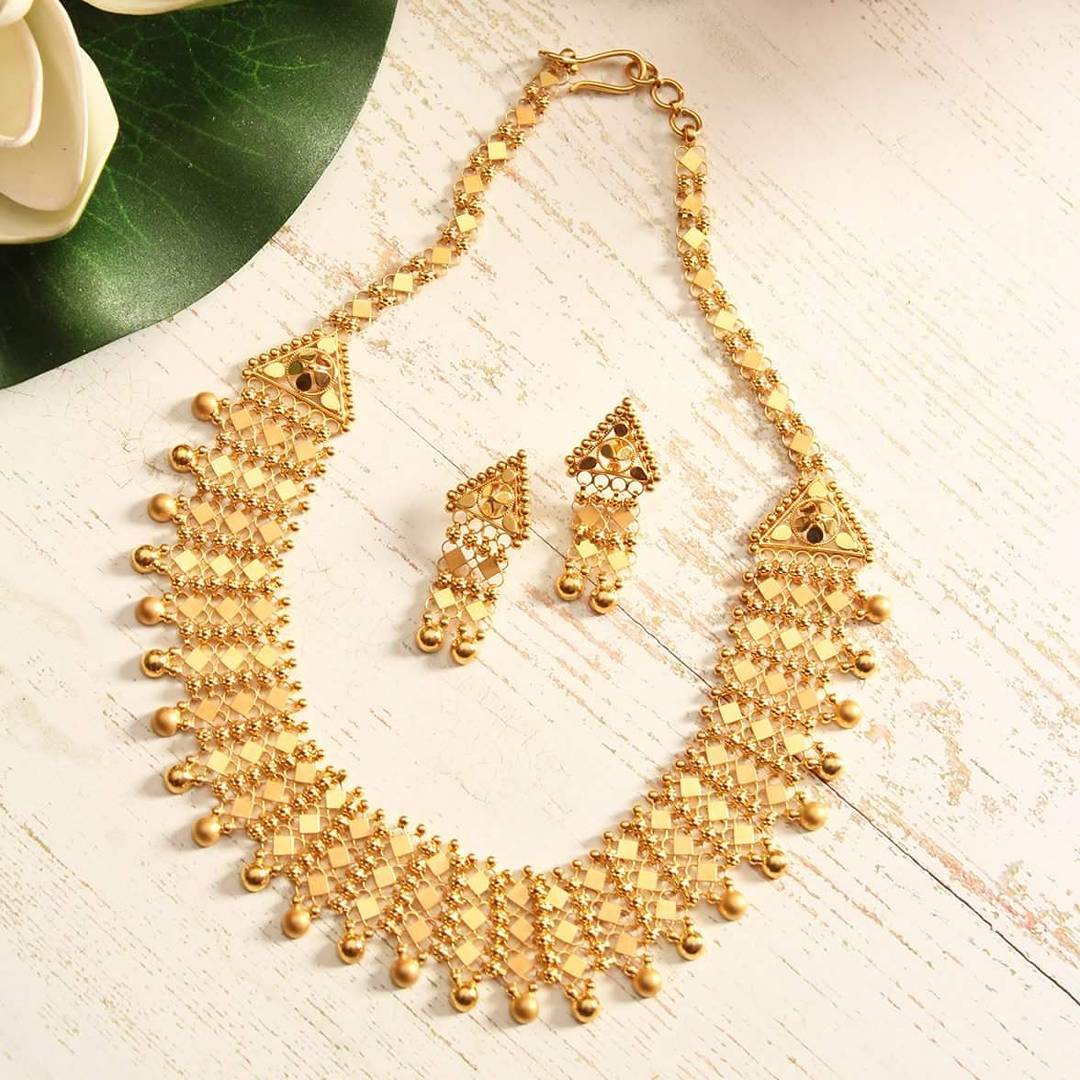 This is yet another minimal, locket type design that can be paired with simple attires. They are a great pick for mild occasions. This design is a great way to take a break from the heavy sets.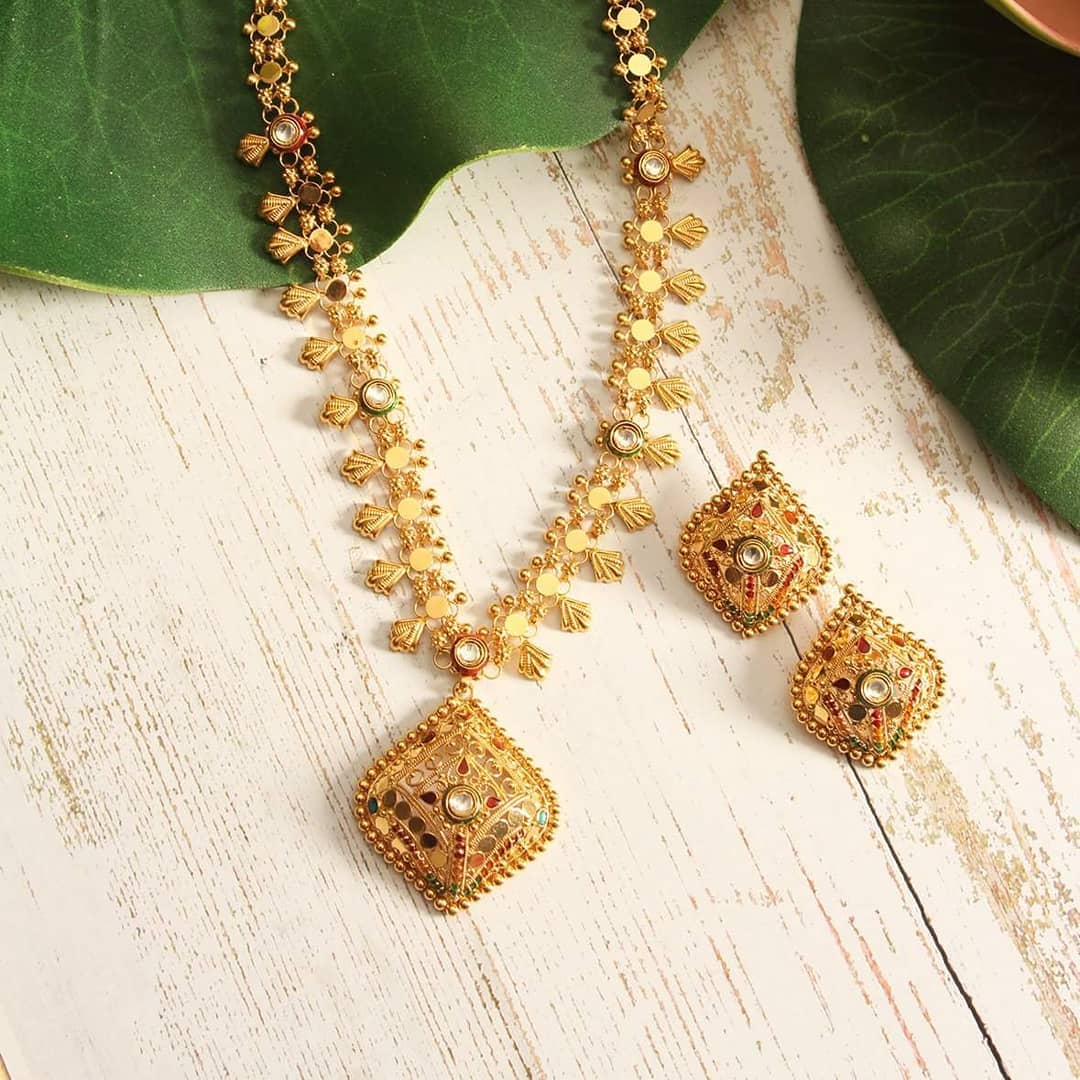 This rodhium infused gold necklace set with a beautiful pearl bead dangling at the end is a great one to ramp up a new look. This set would go beautifully with black or any other dark colored attire.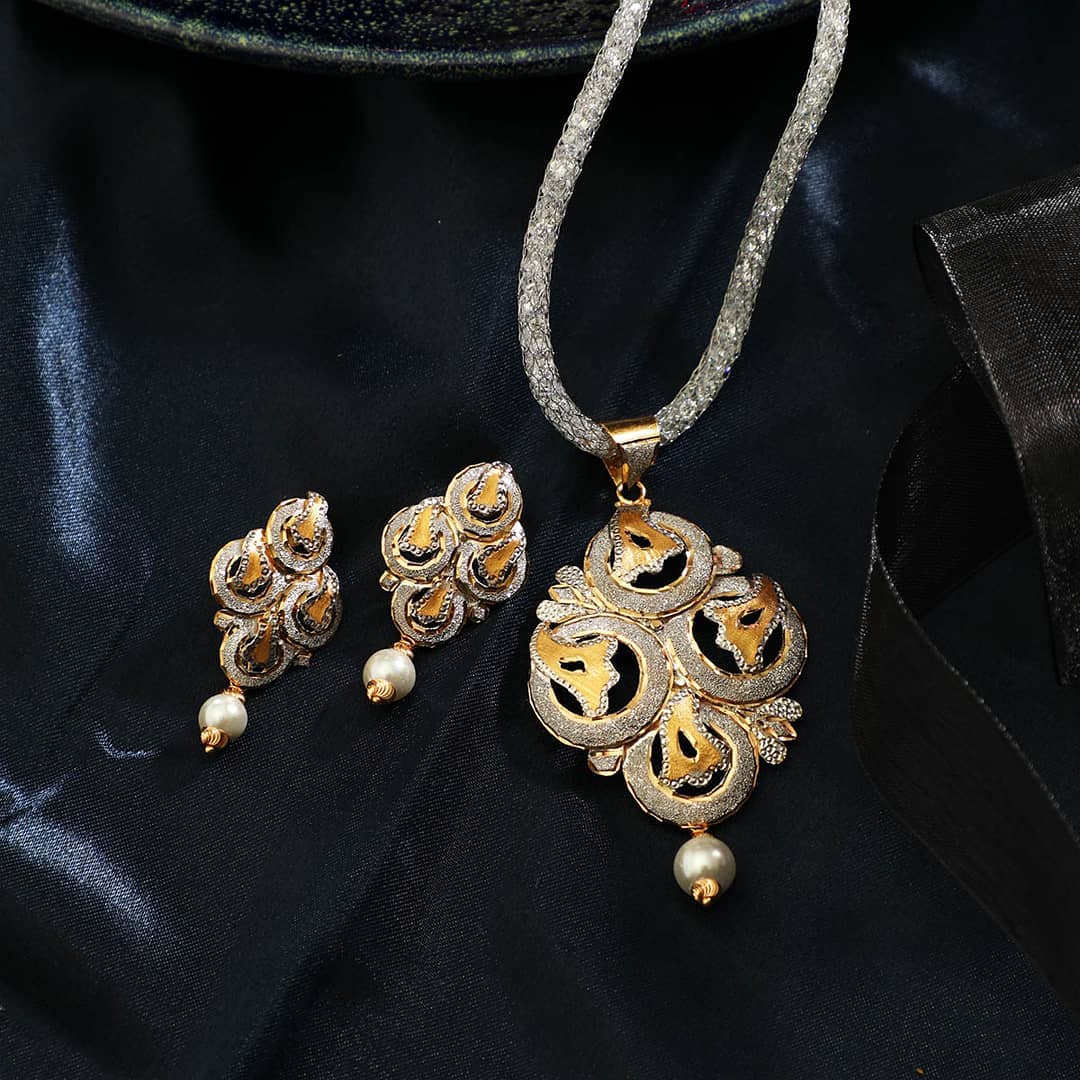 This design is perfect for a newlywed. It has a charismatic look to itself and goes well with a mangalsutra. It is modern, classic and yet strikingly customary. They are perfect for outings where you want to dress up nominally.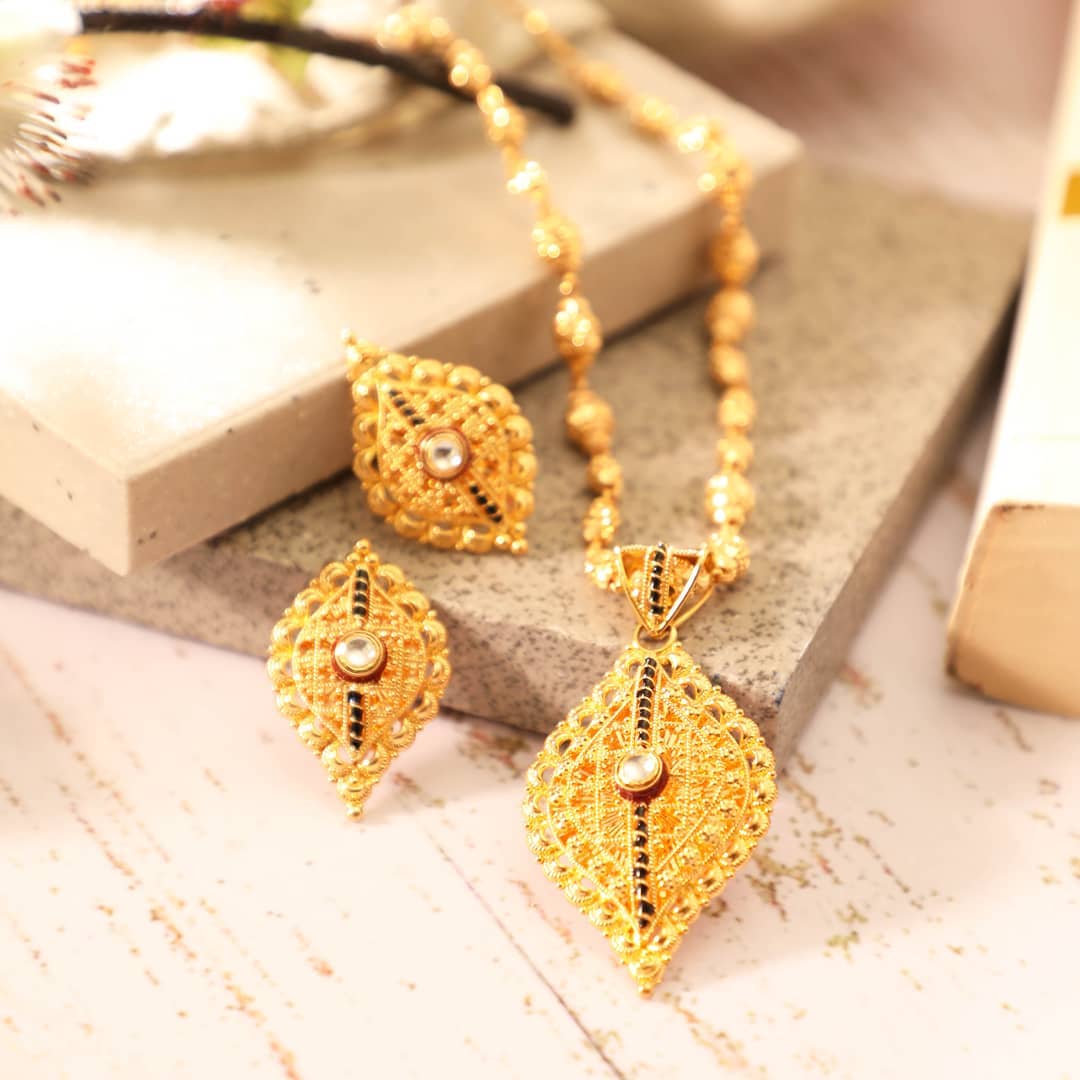 Rose gold and gold are a classic combination which becomes better when blended with a bit of red and white. This necklace is sturdy and would sit right onto the collar bones. The set is perfect for a fancy occasion and would go with a reddish pink outfit.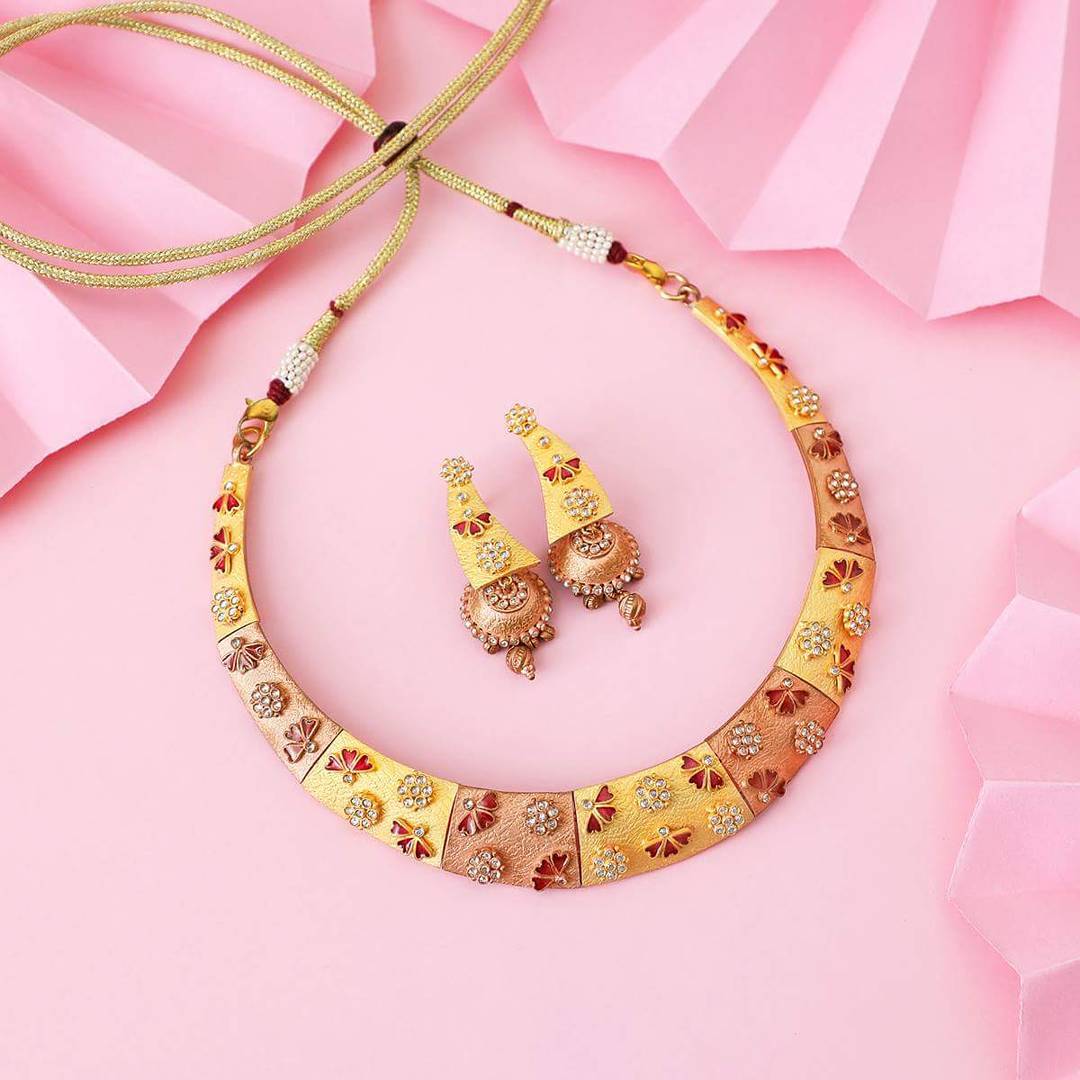 One of the most classic designs, fitted with ruby and white stones. The intricate detailing around the ruby stones is set to take your breath away. They are perfect for grand occasions.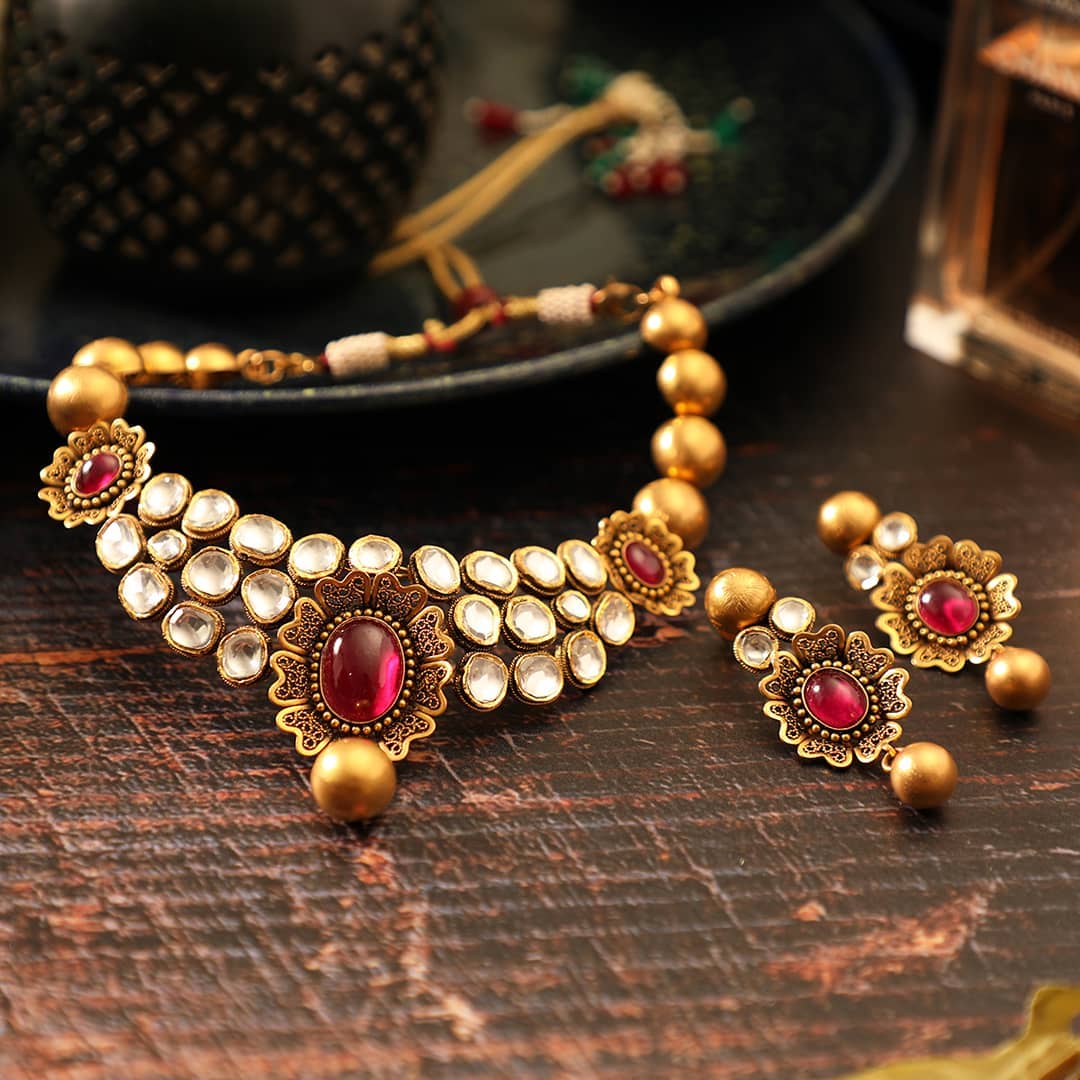 The chain is bound to steal the attention and the locket is a perfect example of simplicity. The tiny pearl hanging at the end, flawlessly sits into the entire set. This is a great selection for a modest and mild occasion.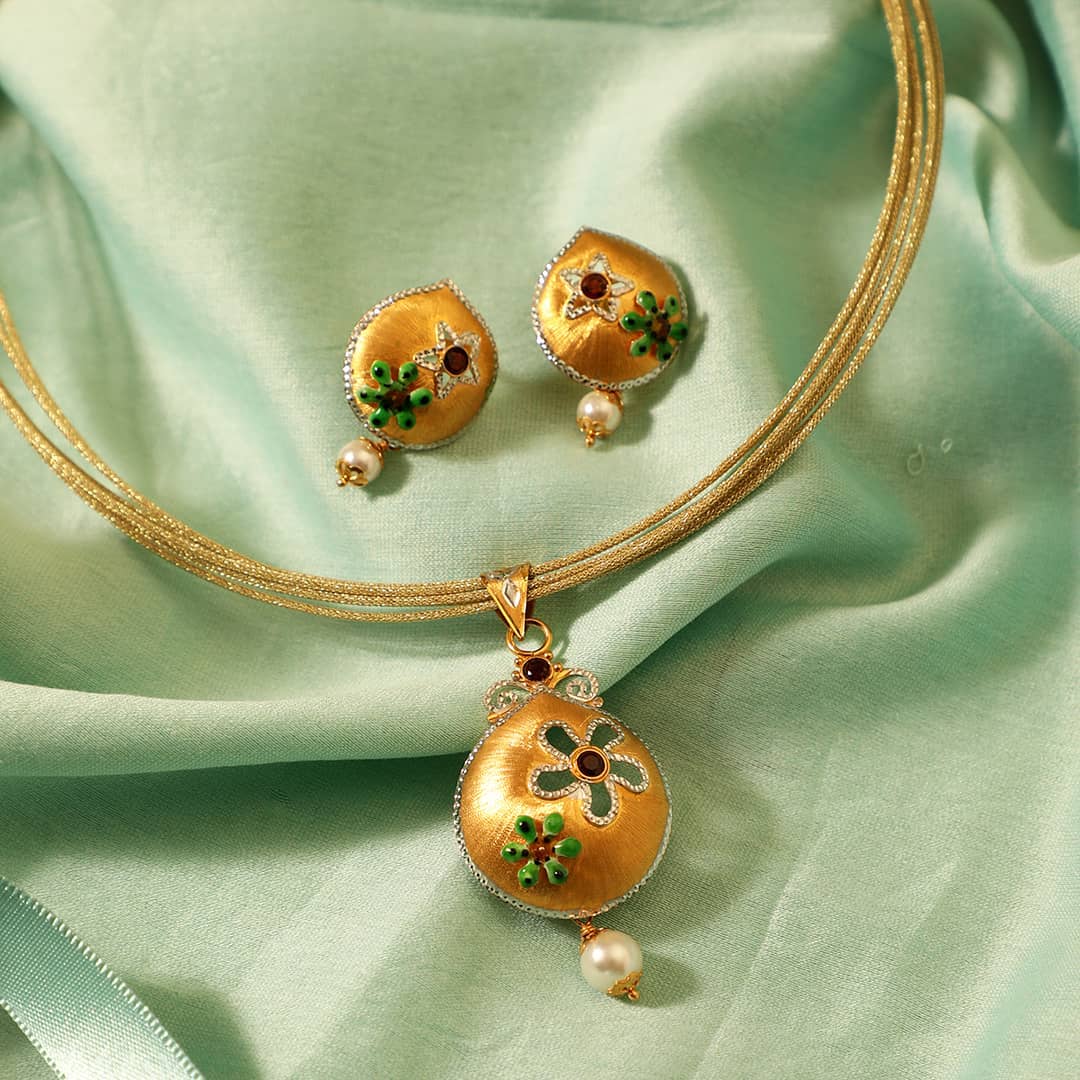 It has a completely new look and is set to break the barriers of all the iconic necklaces. It has a perfect combination of blue, pink and gold. The set would blend right in with a simple outfit. It is perfect for any occasion where you like to appear trendy.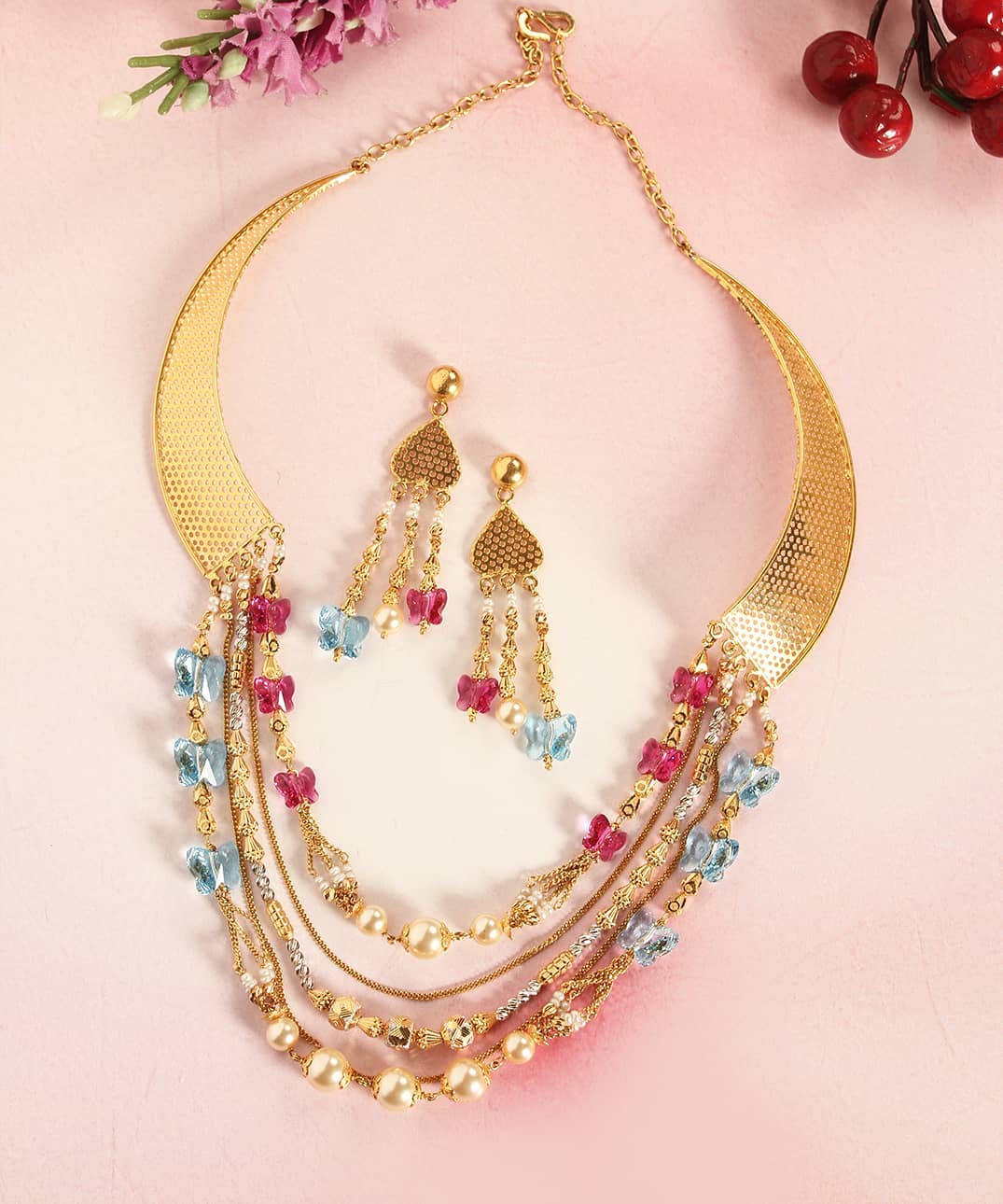 This pure gold set would definitely steal attention in a single glance. Its hollow center adds great charisma to the overall look of the set. The set is perfect for any kind of occasion.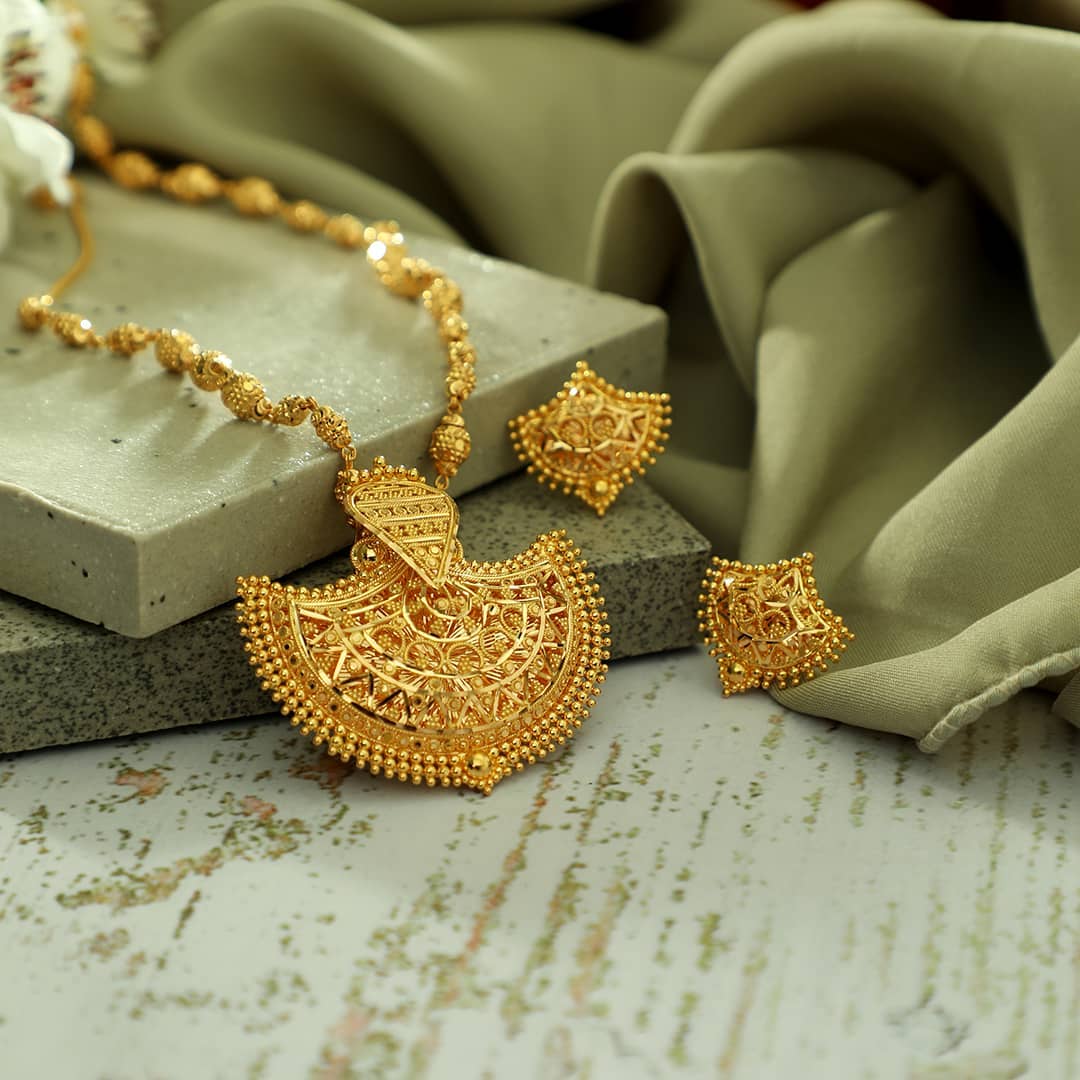 A bold design set that can be matched perfectly with a traditional sari. A combination of green and red would flawlessly blend in. It is a great pick for a grand occasion and can be worn with utmost ease.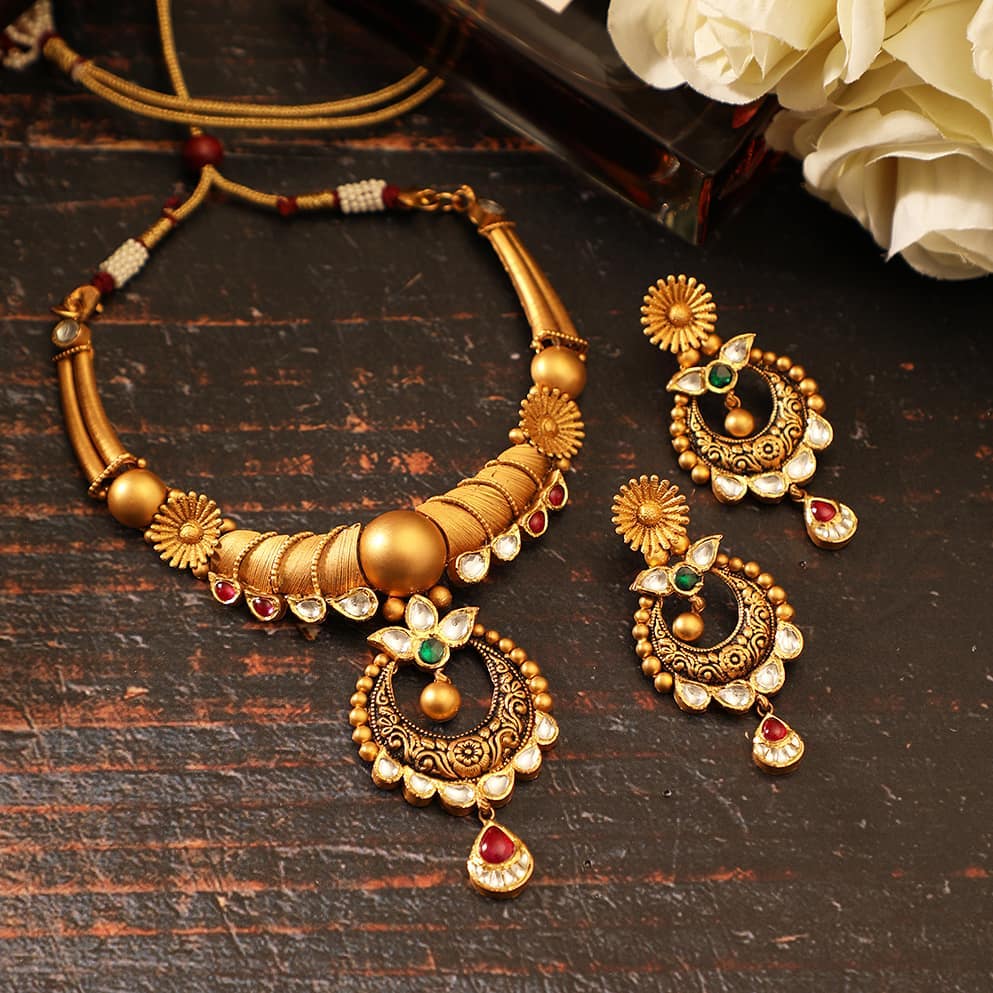 This set gives a retro look, making it perfect for the occasions with all those oldies!  It would go well with a green, red and white combination. The golden chips sit perfectly on your neck, giving it a proper structure.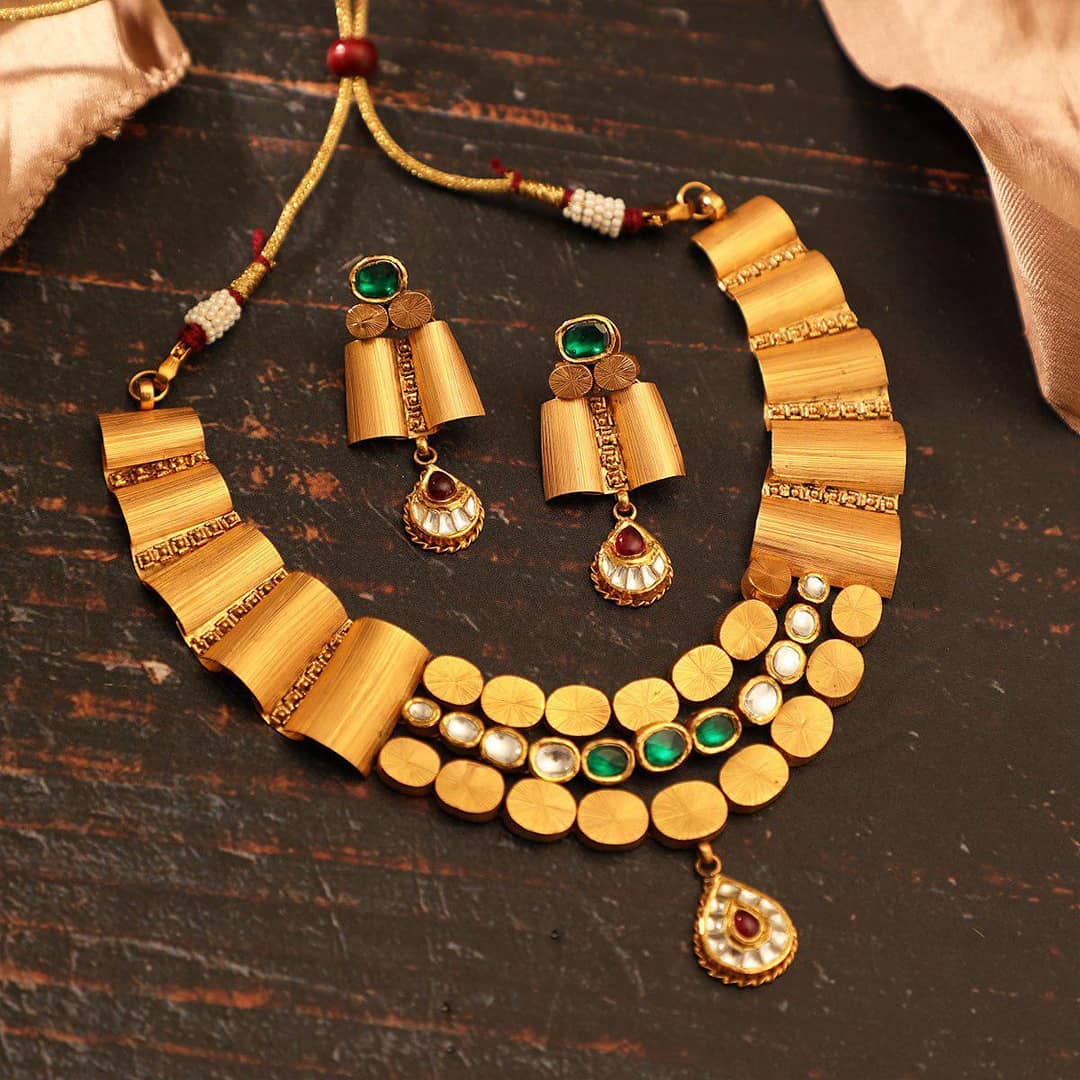 This is yet another minimally designed set that can be perfect for a evening parties and friends together. The pairing up of gold with slight silver makes it stand out despite being common.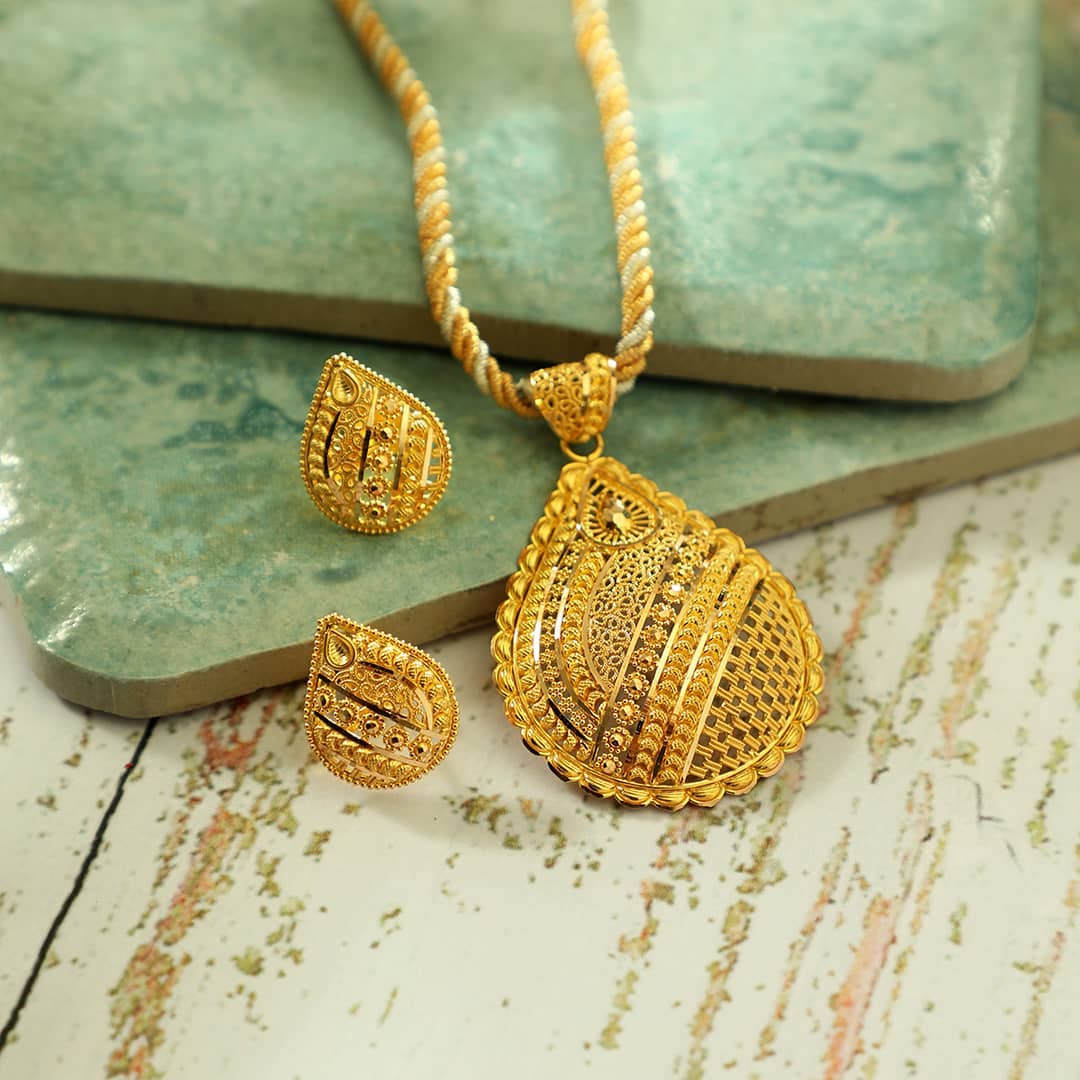 A negligible chain with a perfect locket and equally amazing earrings add up to a great set altogether. It can be paired up with almost any outfit and are great for simple occasions.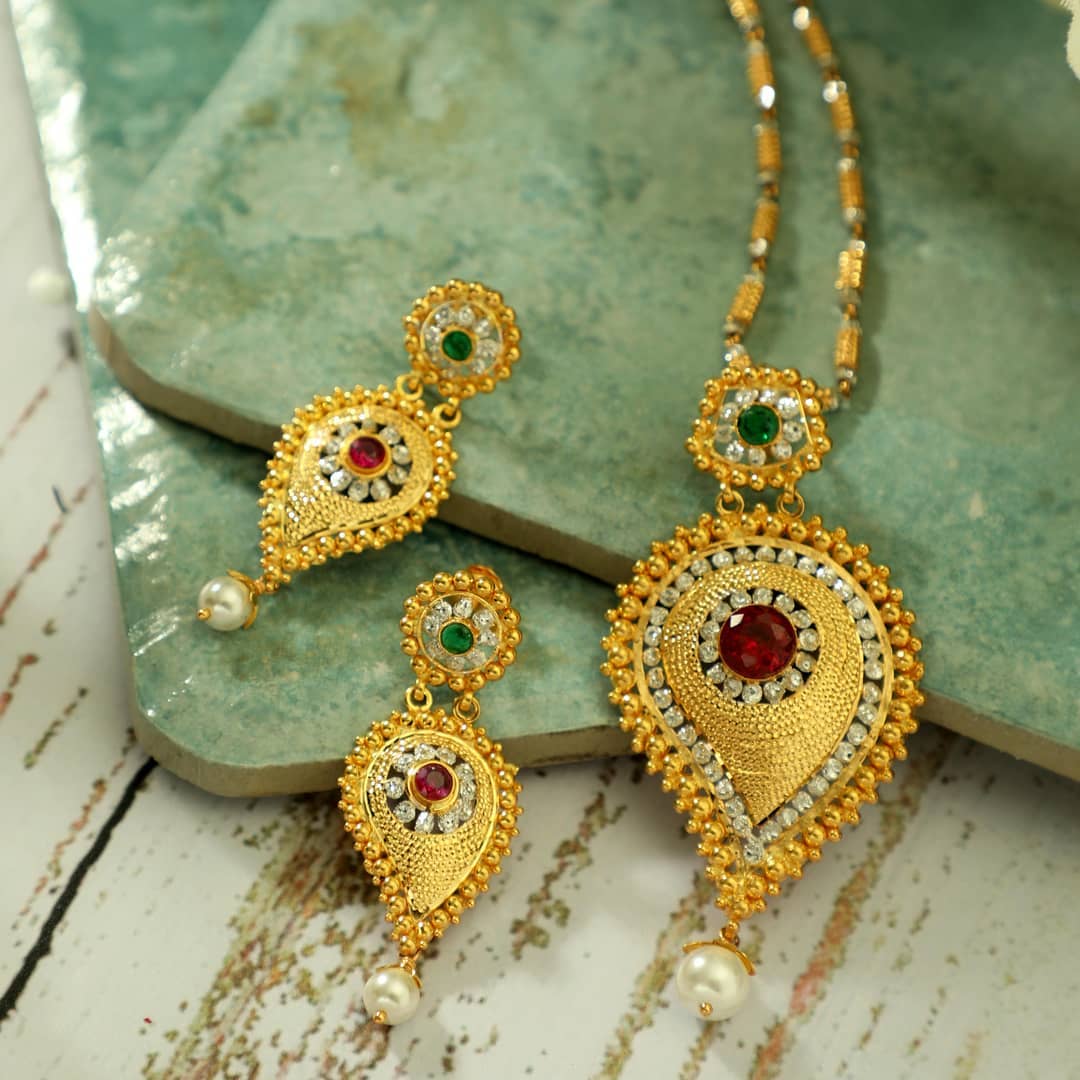 A boxy look is a lot more in trend now than ever. The white locket with green emerald studs adds a completely new sense of fashion to the outfit. They could be a perfect accessory for occasion where you like to look catchy with your effortless dressing style.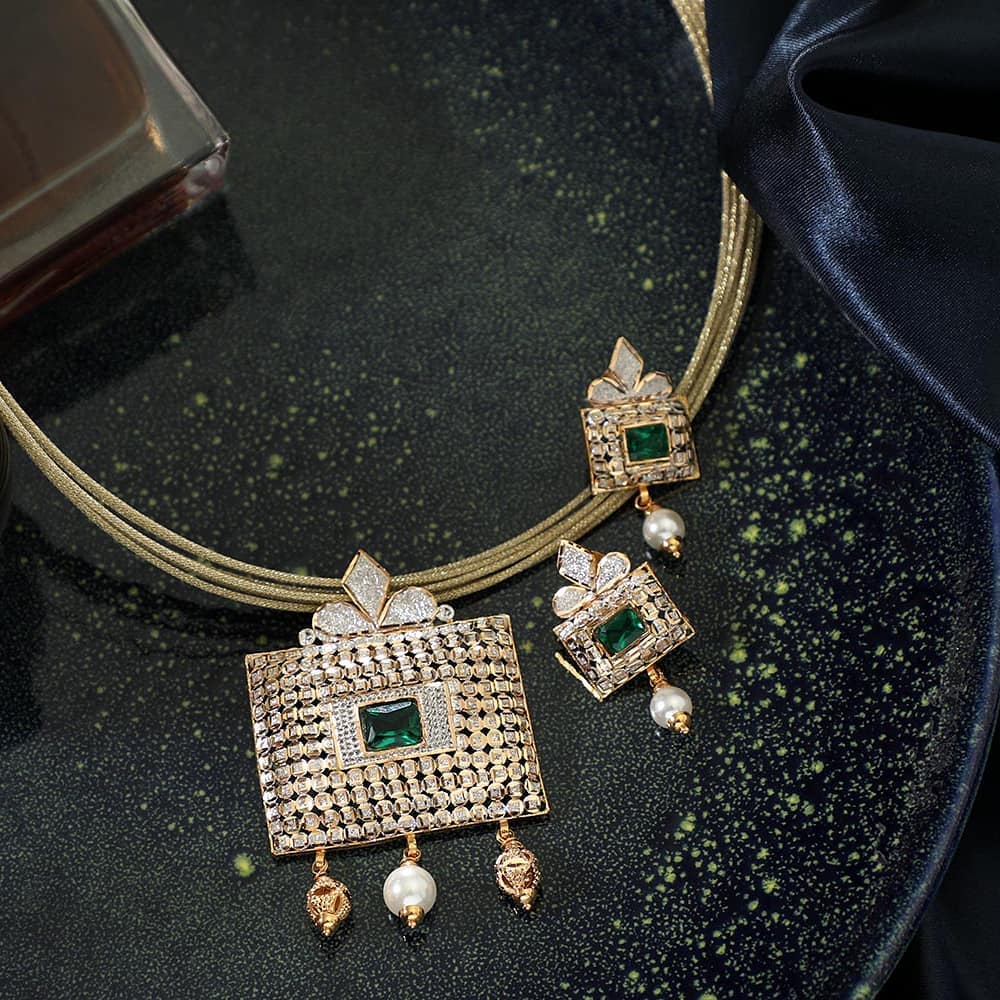 This design is a perfect example of modernity. It would definitely fit right in with any outfit and can be worn to any occasion that presents itself.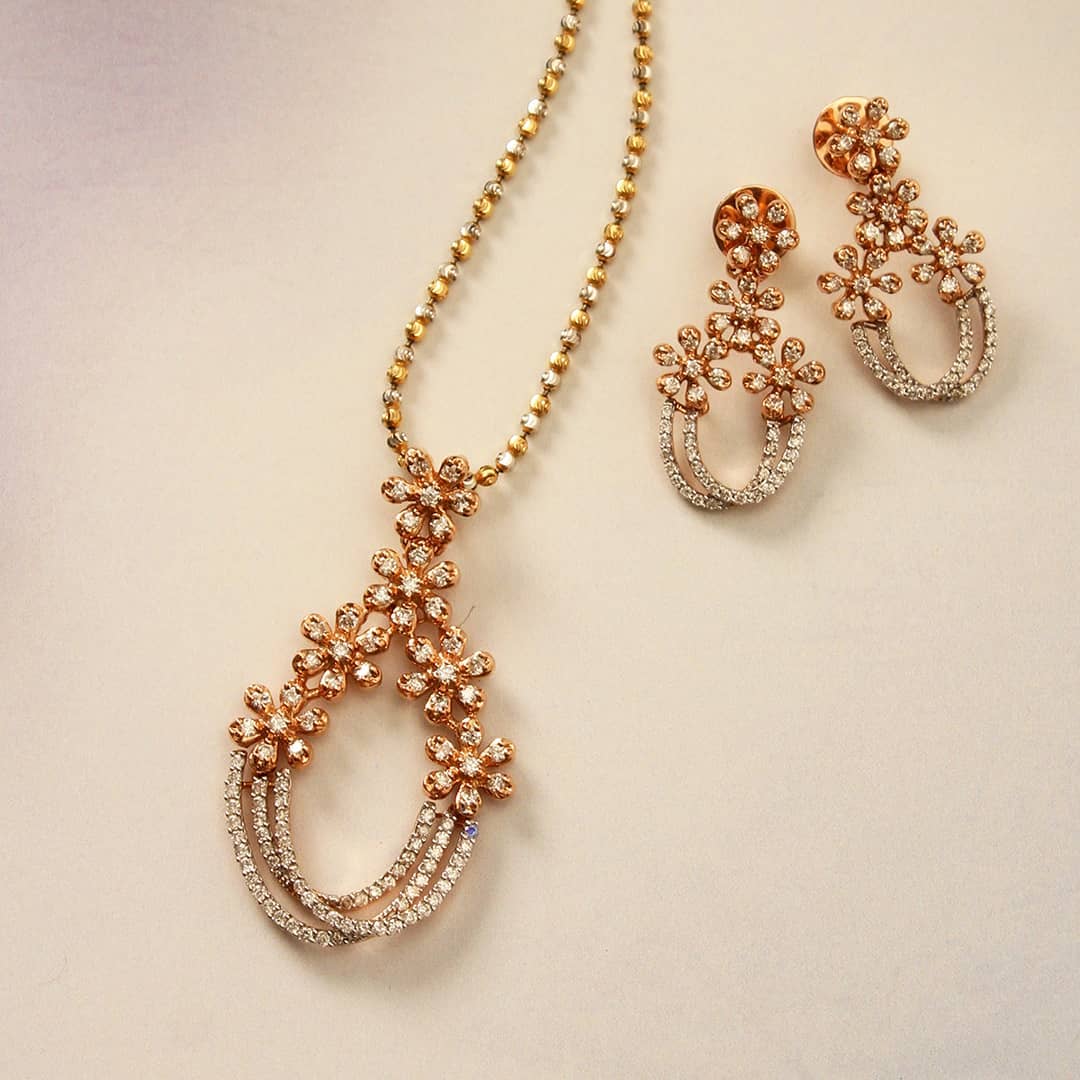 The beaded chain has its own new look and the plain yet huge locket is a perfect way to mix things up. The earrings are a perfect fit for traditional outfits and the set can be worn to any occasion that demands simple dressings.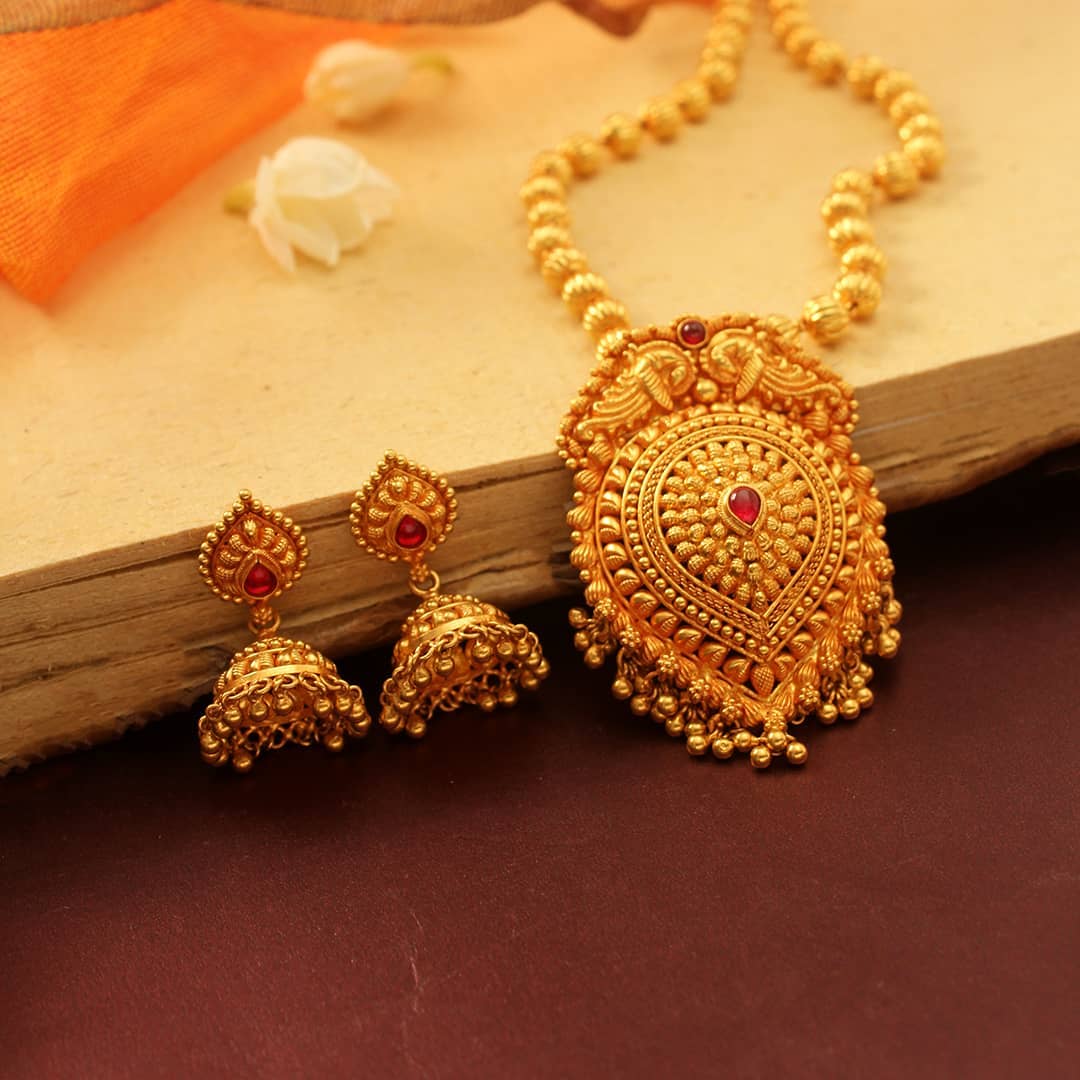 This stone wall design with a great outline is perfect for any dark attire or multi-colored outfits. It could blend right in at any occasion and is a perfect way to keep things simple.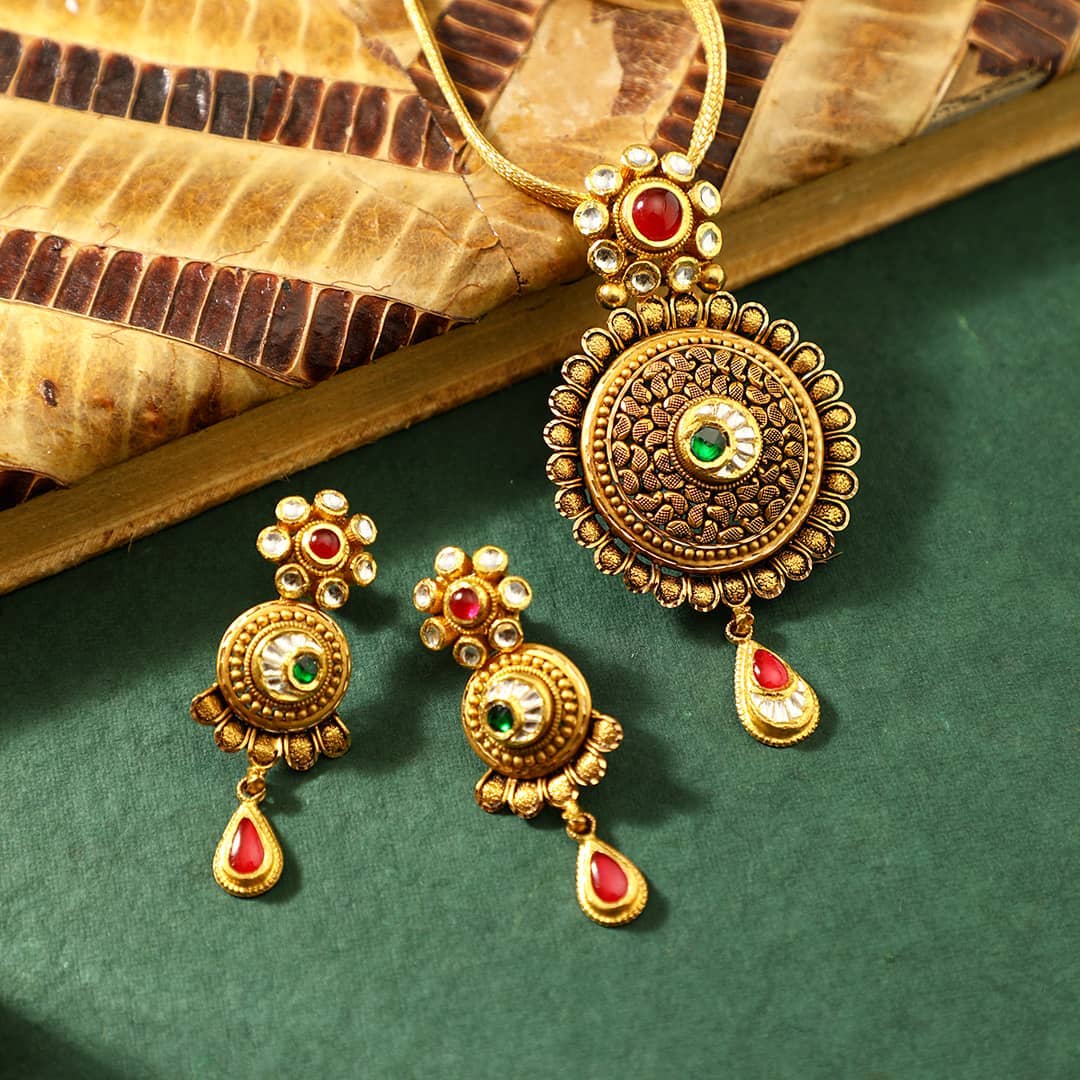 These are some of the latest trendiest gold necklace sets from the ever famous Manubhai Jewellers. To shop from them, please find the contact details.
Seller Name : Manubhai Jewellers
Contact No : 022 28992042 / 8 lines
Website : www.manubhai.in
Facebook : https://www.facebook.com/Manubhai.Jewelers
Instagram :https://www.instagram.com/manubhaijewels/
Take inspiration from the above designs and go on a venture to find your perfect match of a necklace design.
Also Read : 30+ Antique Jhumka Designs For Women of Any Age!