They say that the path to a man's heart is the stomach. In the same sense, the way to a woman's heart is jewelry. All other ornaments apart, diamond Jhumkas are something that is definitely worth the wait.
They bring out a great essence of the inner self and, become an astounding source of confidence in any woman. They are an essential part of a traditional outfit, enhancing the overall look manifold.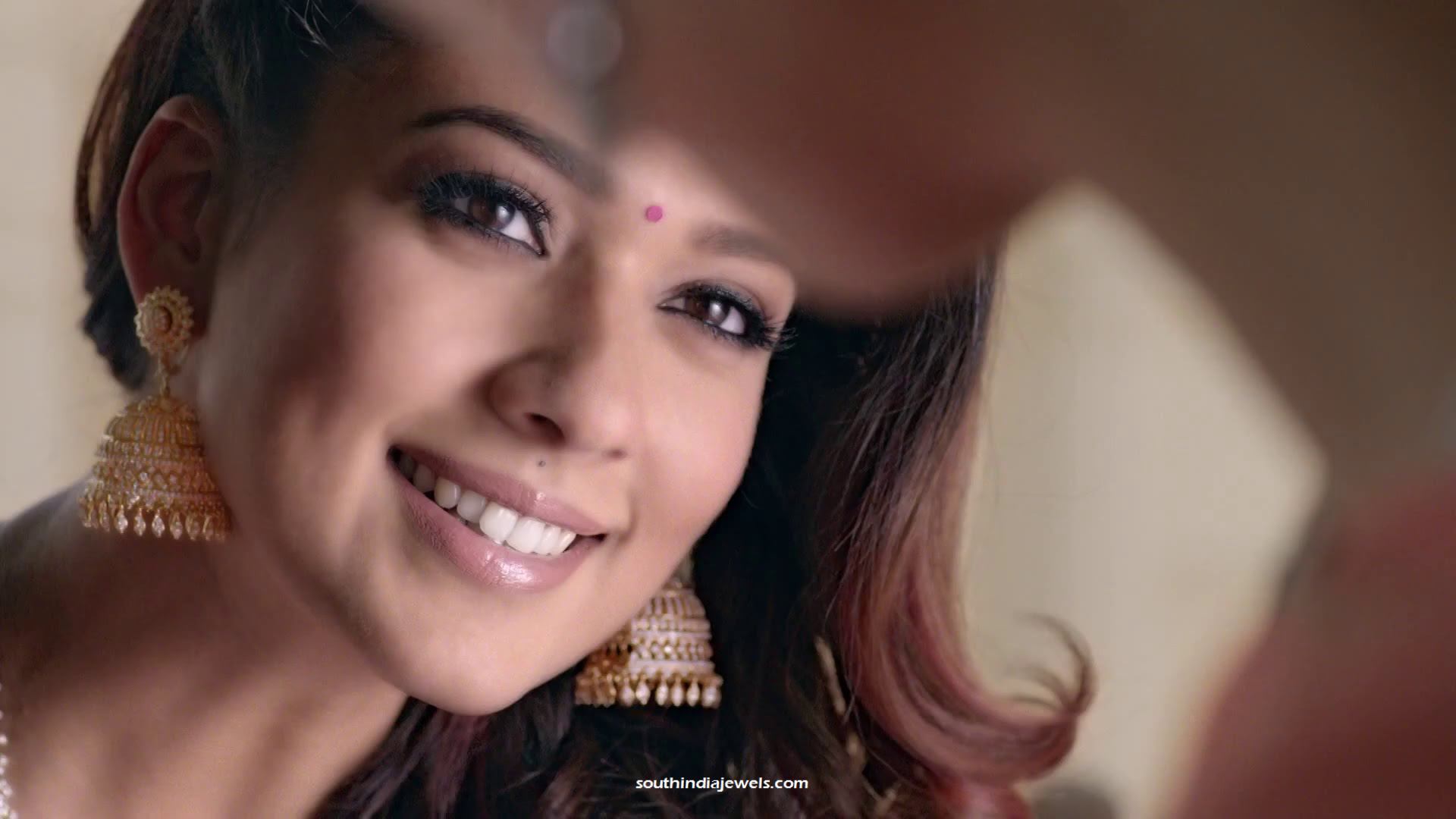 At any place or ceremony, a great pair of Jhumkas definitely brings together women of all age, race, culture, and religion. They go well with the simple, elegant dresses as well as the heavily stoned, designer dresses. Diamond Jhumkas have no limits to them and can set any attire to a great new level.
Jhumkas are versatile and can be matched up with any kind of attire. The bold fashionistas out there even mix in diamond Jhumkas with the most trending western wear! Since diamond Jhumkas are available in a variety of designs, sizes, looks, and pattern, selecting the perfect Jhumkas for your look might be a pretty tiresome task. To make your work easier, here are a few of the most trending diamond Jhumkas that are perfect to tone up your personality and attire.
As we all know, a green and red saree is just heavenly. These diamond Jhumkas with the perfect blend of emerald and ruby stones are sure to bring your outfit a completely different perspective. They are classy and elegant and even have small pearls studded at the end. This combination can never fail to seize anybody's attention.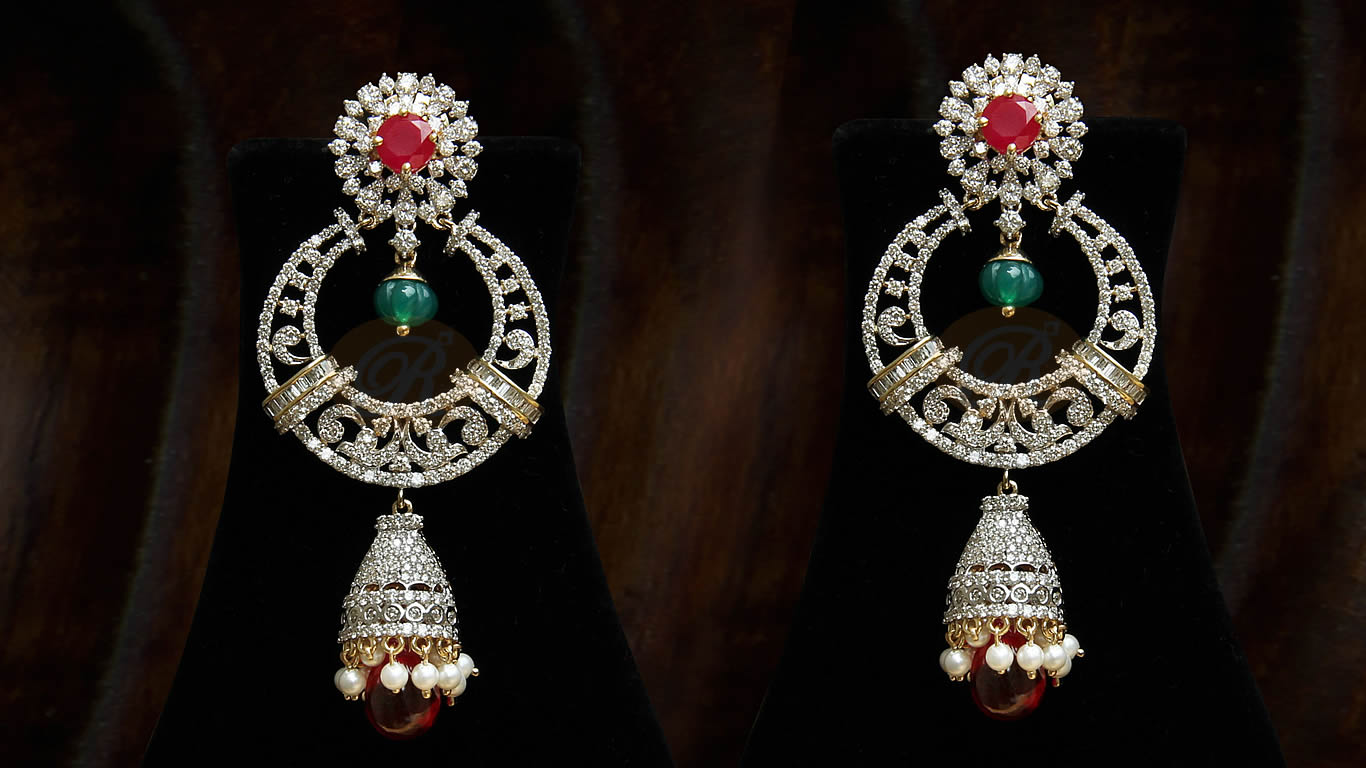 If you are looking for the simplest yet breathtaking pair of Jhumkas, these are definitely for you. They are an amazing selection that fit perfectly with a Kerala Saree. They might be simple but, the intricate detailing is sure to entangle every strand of the viewer's sight.

Seller : GRT Jewellers

Yet another classic beauty to enhance your attire. It is perfect for a mild occasion, with a plain outfit. You can always match it up with a heavy one, all you have to do is get creative! The pearl at the bottom and the ruby at the top are the heart and soul of the Jhumka.

Seller : Parnicaa

These are a gorgeous pair of Jhumkas, with an emerald stone jutted on its top. The little diamonds dangling at the bottom have their own look and thereby, bring up a different statement. They are bold, classic and graceful. They can be paired up with any outfit owing to a bit of green.

Seller : Not Known

These Jhumkas can be worn with sarees, anarkalis, half sarees or even dresses. They are not so heavily filled and yet, are a classic example of pure beauty. It is a great accessory to a combination of red and green outfit

Seller : Kothari Jewellery

A perfect choice for the audacious woman within you. It blends flawlessly with any outfit and, the hollow design gives it yet another glow. The little pearls at the end are a true sign of sophistication. The tiny ruby stones on either sides are remarkably splendid.

Seller : Ishwarya Diamonds

Although a Jhumka with colored stones might ramp up the attire, there is no match for a pair of monotonous diamond Jhumkas. It is the best go to if you do not want to worry about the detailed coordination between a Jhumka and the outfit.

Seller : C.Krishniah Chetty & Sons

Yet another pair, with the most minimalist yet classic balance between the varieties of choices available. The detailed work is astounding, that adds a clearly visible shine to the Jhumkas. They go perfectly with any kind of outfit, and would not go out of style for a very long time.

Seller : Etash Diamond

These little Jhumkas have a snowflake kind of design, which puts it apart from the regular ones. The little diamond on the top too adds a great compliment to the entire pair. The floating kind of beads at the bottom too have their own essence.

Seller : Sri Balaji Jewellers

These are one of the most elegant choices one can make. They have no color and least detailing. Yet, the simplicity of it all steals the heart. They have little diamonds connected all around, which highlights a sense of sensitivity and calm of the person wearing it. They go great with any attire and can come handy when you have no time to choose a single one from many.

Seller : Vajra Jewellery

This pair has a triangular, cone type design that makes it seem quite different from the rest. They would go perfectly well with any outfit which has a bit of pink and green. The emerald at the top, outlined by gold and diamonds, has its own sense of uniqueness etched to it.

Seller : Kothari Jewellery

If you're looking for a diamond Jhumka which is not entirely filled with diamonds then this should definitely be your catch. They have bird shaped detailing, with the perfect usage of ruby and emerald stones. They even have little gold flowers, attaching the top and the bottom parts of the Jhumkas.

Seller : VBJ

This is yet another breathtaking pair which has the most elegant display of diamonds. Every single piece can be distinguished from the other. They are a great combination of gold and white, thereby, perfect for any attire.

Seller : Creations Jewellery

These Jhumkas are sure to steal everyone's attention. They have swan or crane designs on either side, which give it an appraising look. The golden bead at the bottom has its own charm. The green stones perfectly fit in. Thereby, bringing together the entire look of the Jhumkas.

Seller : Creations Jewellery

A change from the usual ones, this pair has a completely unusual design. It has purple beads that mix in beautifully with the golden and the white and yet, stand out! The dangling semi-round beads at the bottom gain a special focus and take the look to a new level altogether.

Seller : Vithaldas Zaveri

These swan-shaped Jhumkas with the perfect bell-shaped bottom is one of the most outgoing pairs. They might not go well with every attire but, can definitely bring out the best with the ones they sit in.

Seller : Premraj Shantilal Jain Jewellers
No matter what other accessories a woman wears, a pair of diamond Jhumkas has no match. They are the most sensational ornament and can lighten up the entire look and personality. Go on, get yourself a pair of diamond Jhumkas and get ready for all the attention!
Also Read : 19 Beautiful Gold Jhumka Designs You Need To See