You should definitely consider checking these necklace pieces if charming and lovely necklaces are your weakness and you can't hold the urge to buy them. Don't forget to check out these beautiful kasulaperu designs. To shop these products, please check the brand details at the end of the post.
Maybe, you might find a kasulaperu necklace of your choice that can offer you a great, fashionable and elegant appearance. You can wear them on the outfits of your taste and preferences as well as try out new and creative combinations of jewelry and dresses.
Silver Kasulaperu With Kundan Stones
This stylish and amazing silver kasulaperu with Kundan stones can offer you a lovely appearance with your outfits. The silver gives a shiny look to this piece of jewelry that can be worn with various dresses.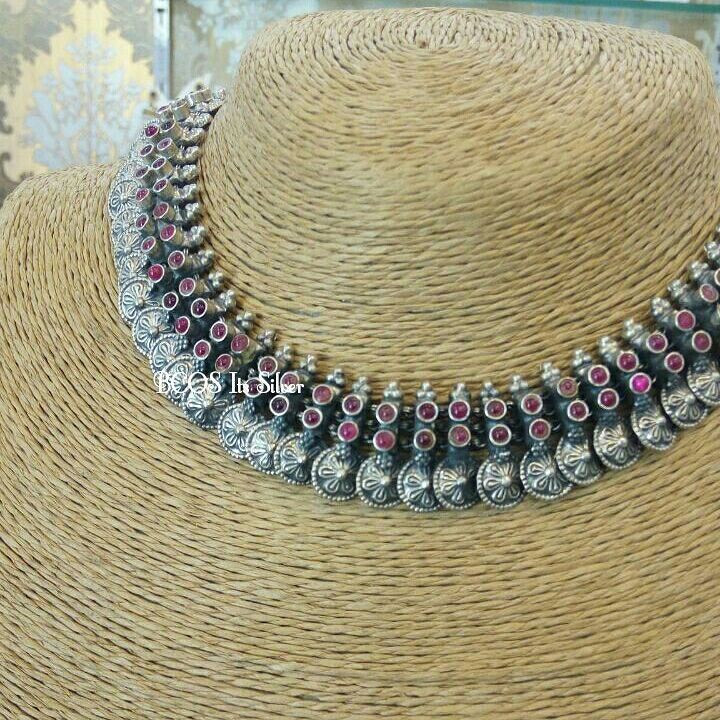 Gold Plated Temple Kasulaperu
Get the stylish and captivating looks wearing gold-plated temple kasulaperu. Through this piece of jewelry, be amazed by the combination of temple jewelry and kasulaperu jewelry into a single necklace piece. You can bring it home if you are fond of gold, temple, and antique designs and it will be a great addition to your jewelry collection.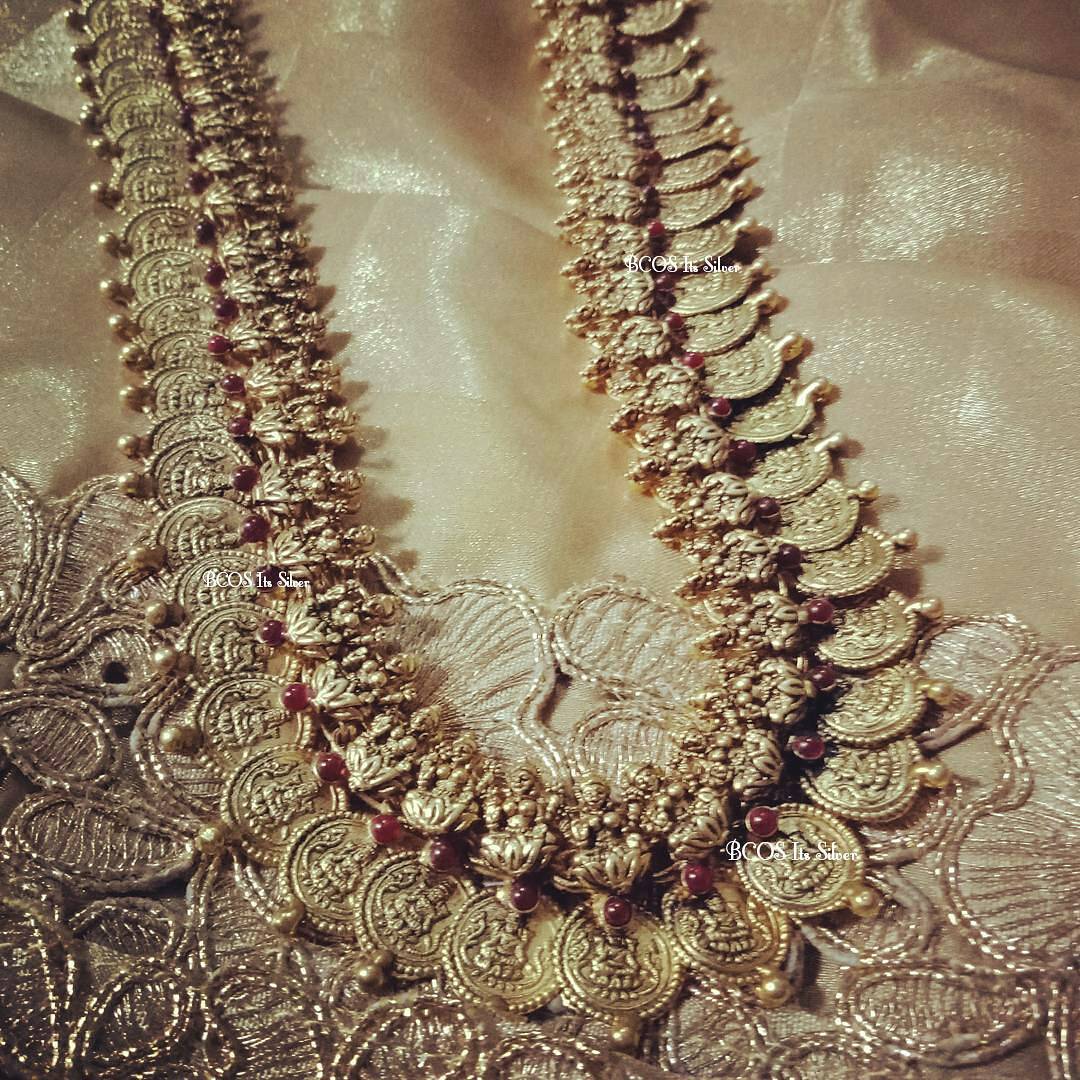 Antique Kasulaperu With Gemstones
Obtain the antique kasulaperu with gemstones and experience an outstanding and marvelous appearance. The wonderful gemstones add colors to this antique jewelry necklace piece.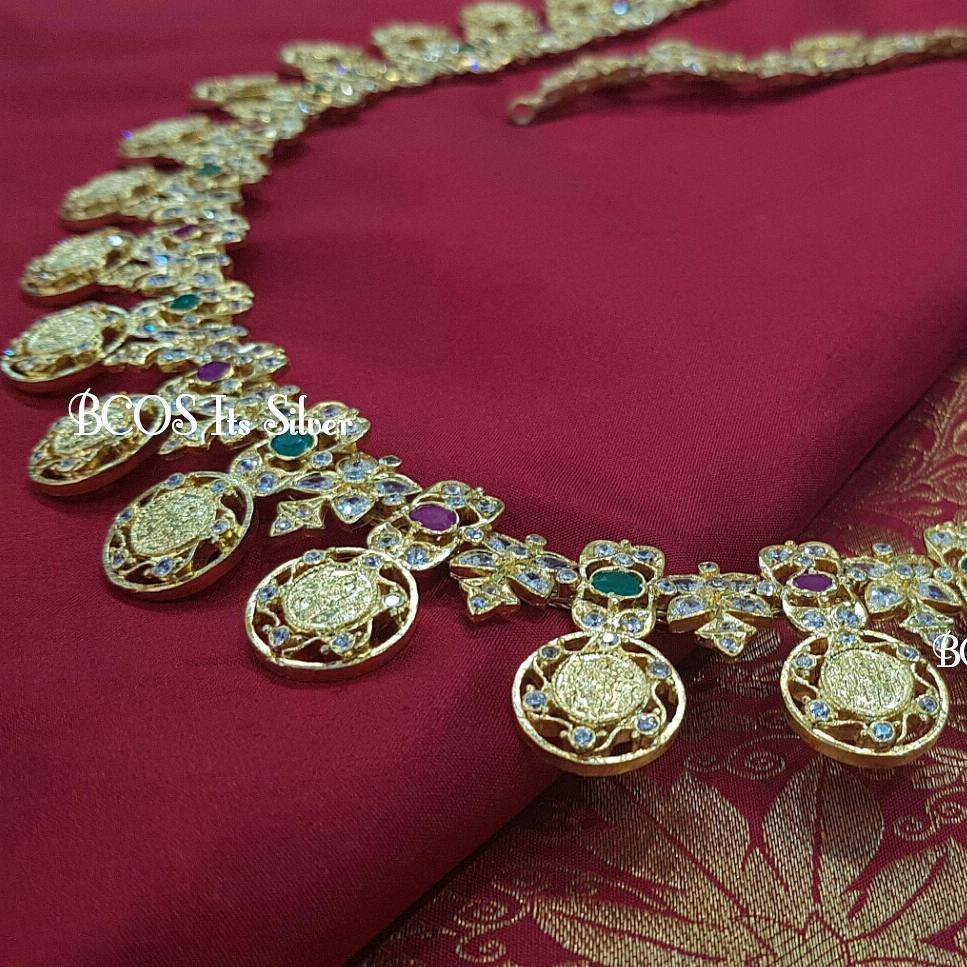 Laxmi Gold Coin Necklace With Rubies
The combination of Goddess Laxmi and studded rubies on this necklace piece make it one of the auspicious jewelry that can be worn on festivals and special occasions. The gold coins and Goddess Laxmi made on it make it a great choice to wear it in any traditional attire.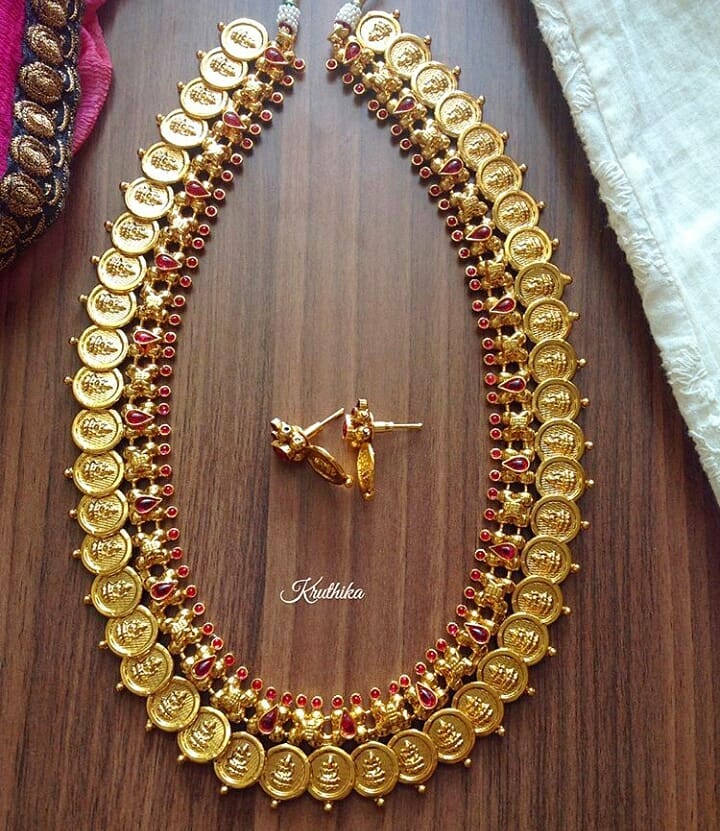 Peacock Laxmi Silver Coin Necklace
The peacock Laxmi silver coin necklace is the right choice for you if you like the peacock and Goddess Laxmi designs on the jewelry. The silver coin gives it a stylish look along with elegance it offers to you.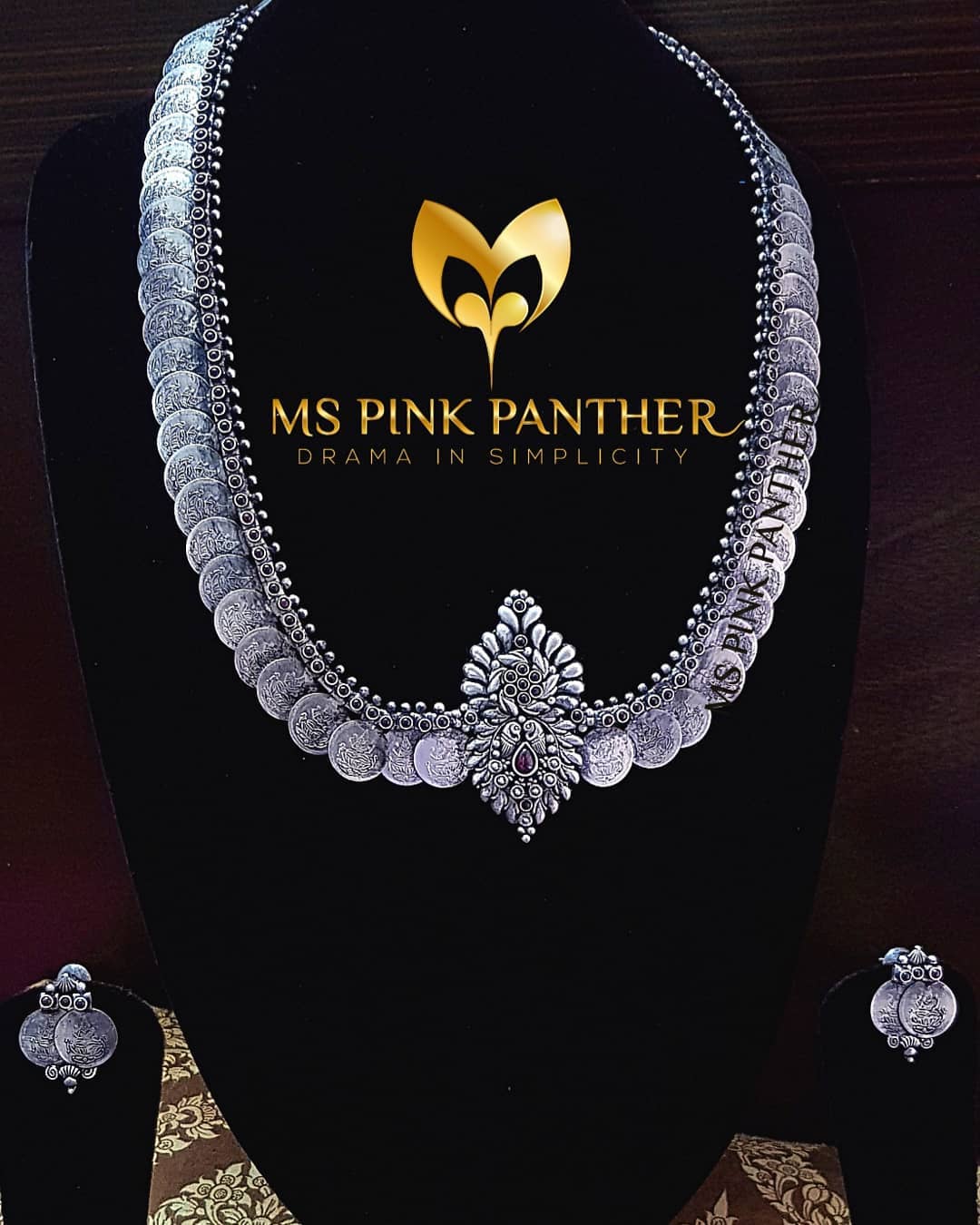 Gold Laxmi Kasulaperu Necklace
Your overall look will be enhanced with this gold Laxmi kasulaperu necklace. It is one of the kasulaperu designs that will give a delightful and wonderful look to your traditional outfits such as sarees and salwar suits.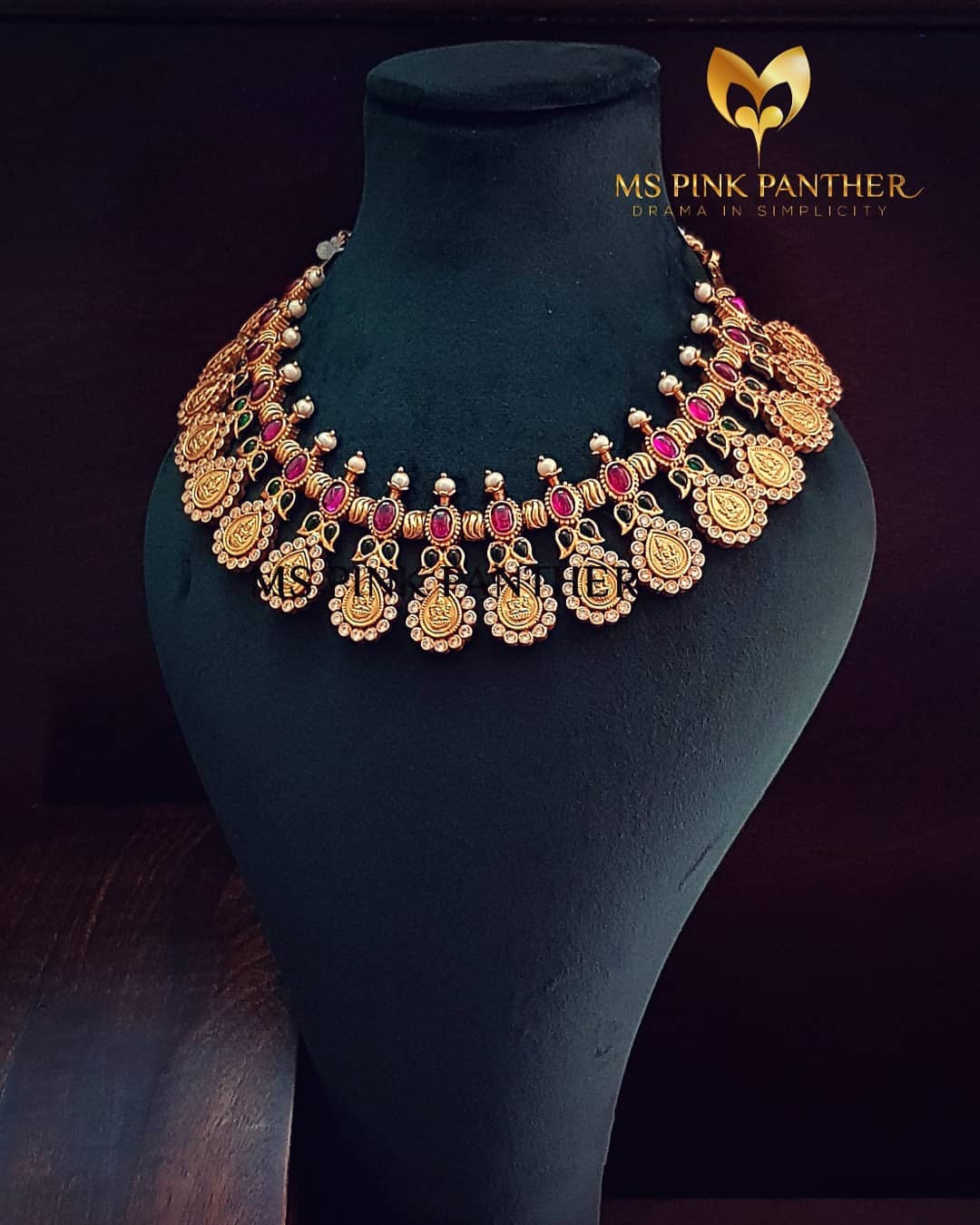 Gold Traditional Kasulaperu Necklace
Be astonished by the elephant and traditional designs on this long gold kasulaperu necklace. Bring home the gold traditional kasulaperu necklace and wear it to make a stylish and fashionable statement.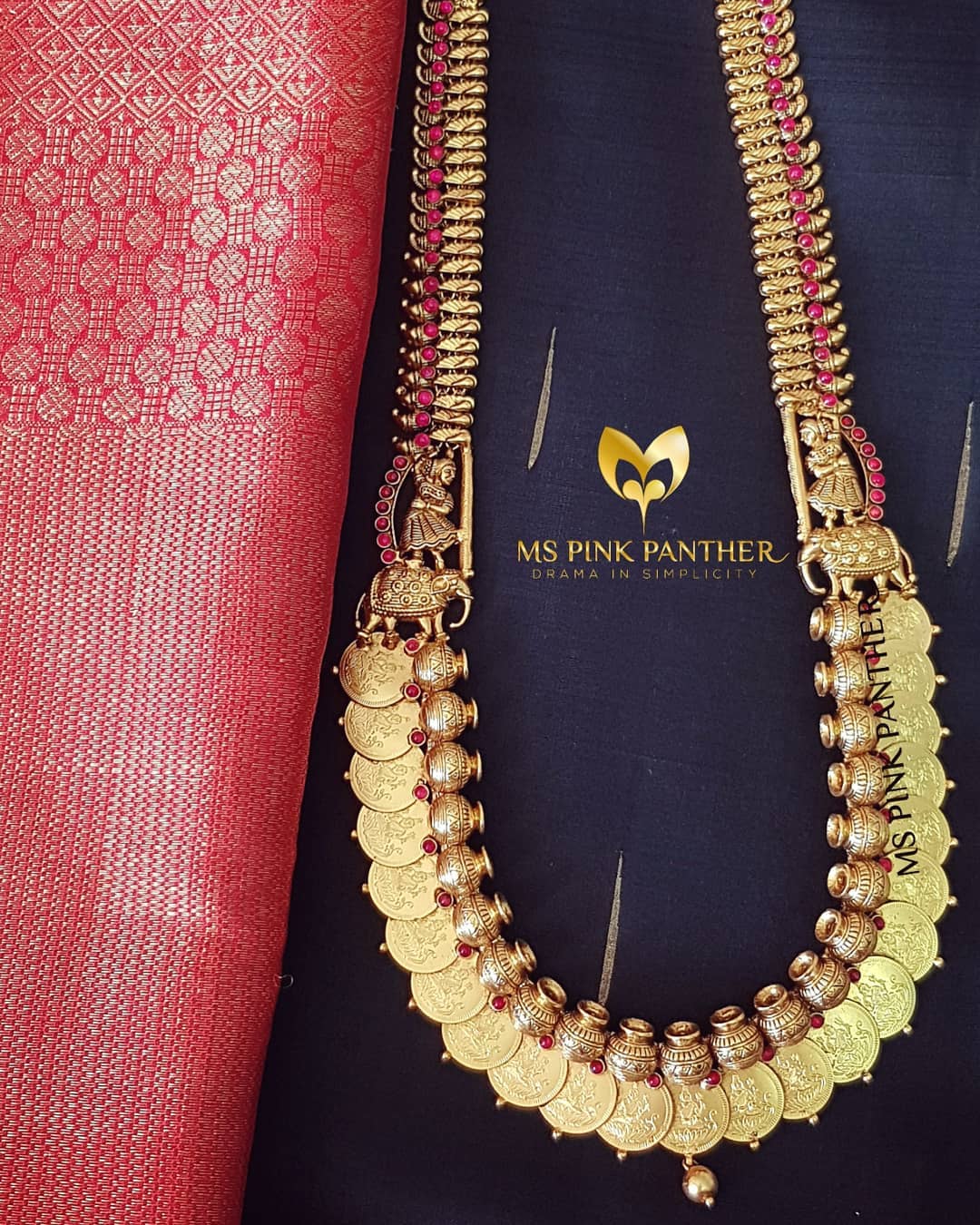 Peacock Traditional Kasulaperu
The peacock traditional kasulaperu can be a nice addition to your traditional jewelry collection. Experience a different, lovely and eye-catchy look wearing this jewelry piece.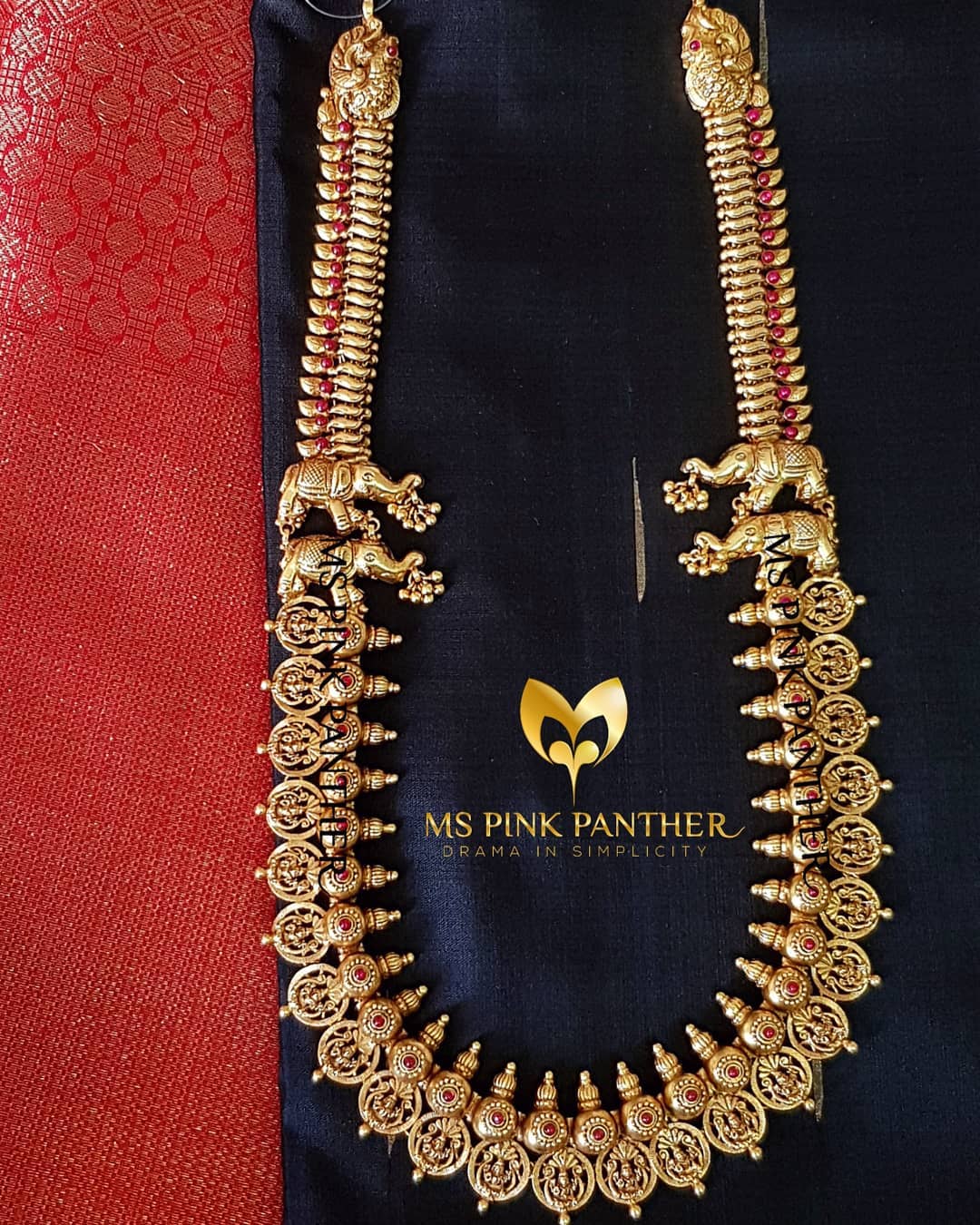 Gold Peacock Kasulaperu Necklace
The gold peacock kasulaperu necklace will offer a beautiful, stylish and shiny look with the outfit. With this lovely gold necklace piece, you can mix and match it with your dresses from the wardrobe and get a great look.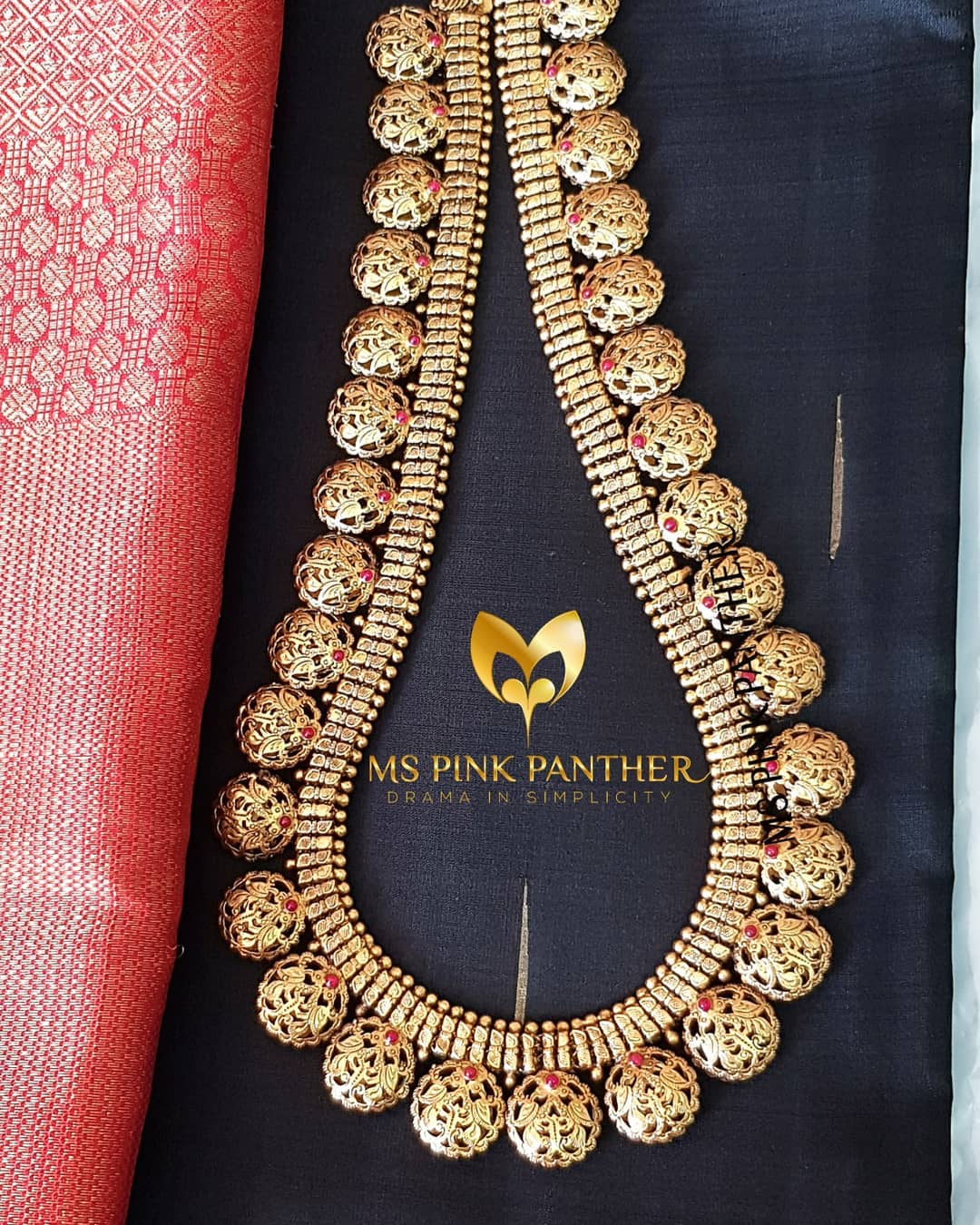 Silver Coined Necklace With Large Pendant
If you are confused what to wear with your white, black and grey evening dresses, then, you can definitely pick this silver coined necklace with large pendant. It will give you the desired look on your overall outfit and you will look pretty and stylish among people.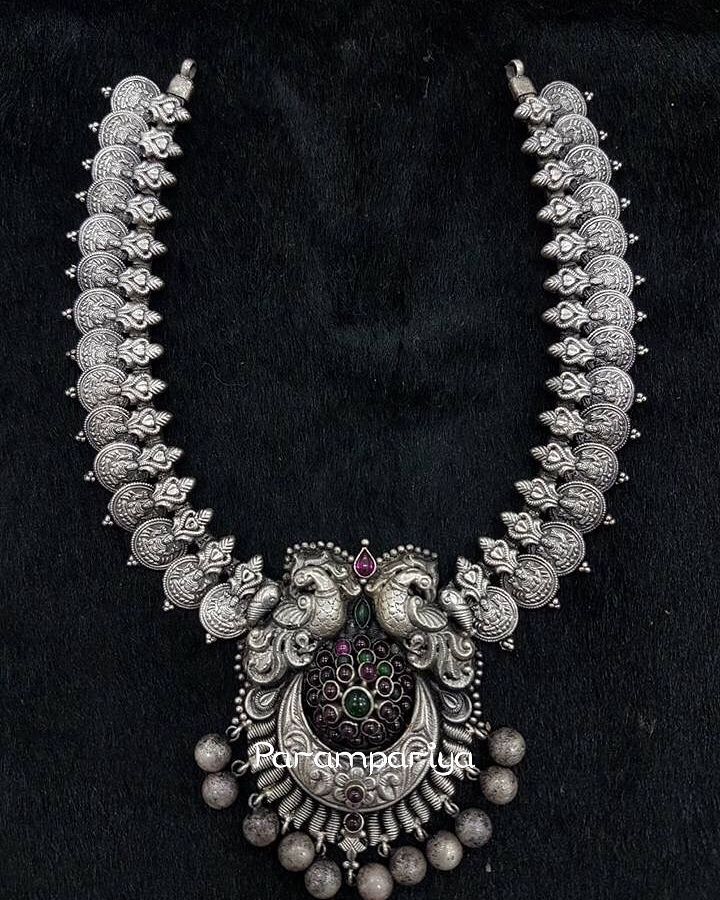 Silver Laxmi Kasulaperu Necklace With Kundan
Give yourself a stylish, charming, enchanting and pretty look with this beautiful piece of jewelry. Silver Laxmi kasulaperu necklace with Kundan is a mixture of Goddess Laxmi designs made on it along with the crimson and silver colors.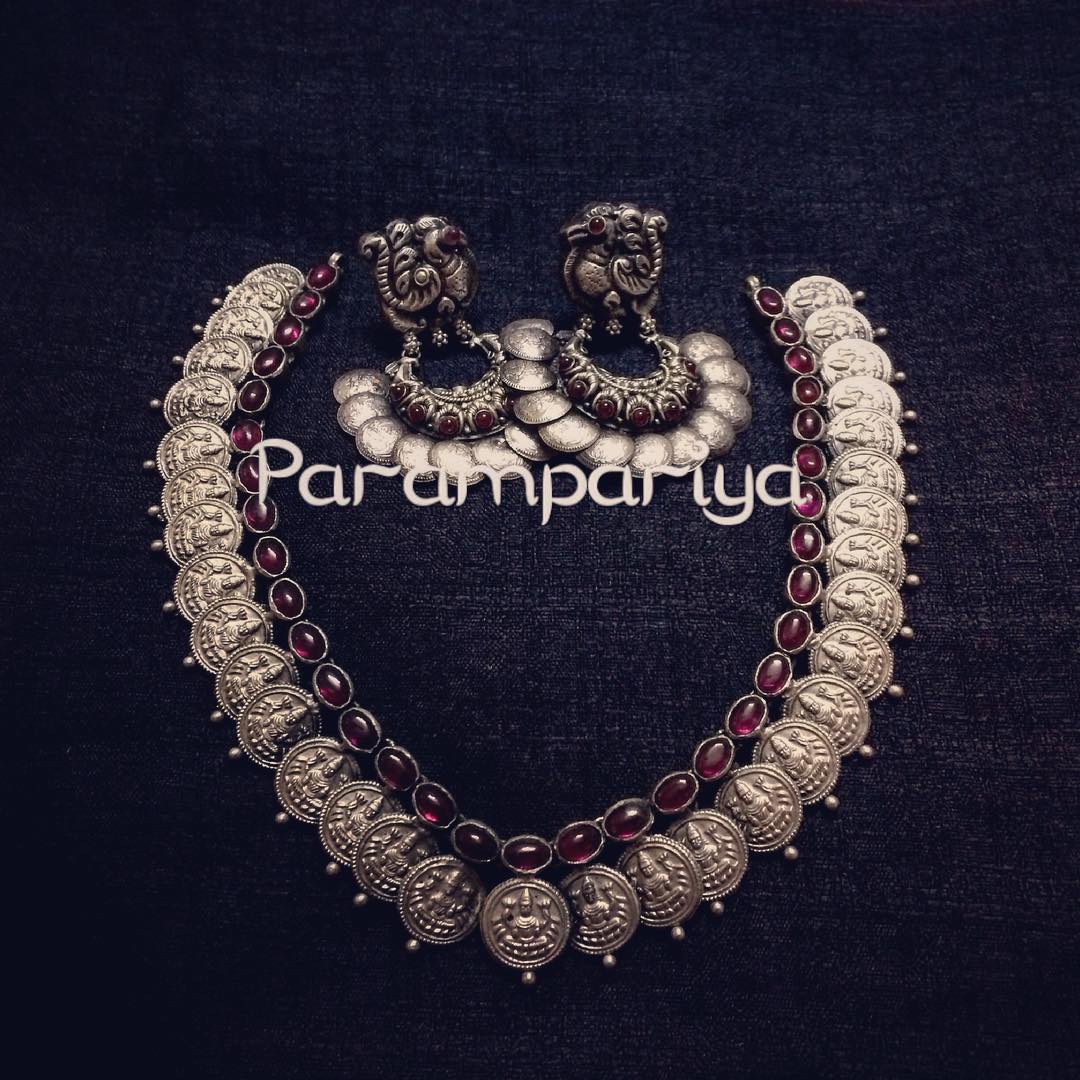 Two Layered Gold Peacock Kasulaperu
Get a simple, graceful and sober look with this two-layered gold peacock kasulaperu necklace piece. With this light weighted and delicate necklace piece, you can have a wonderful experience wearing it with any outfit of your preference and visit any place including malls, café, gardens and other places.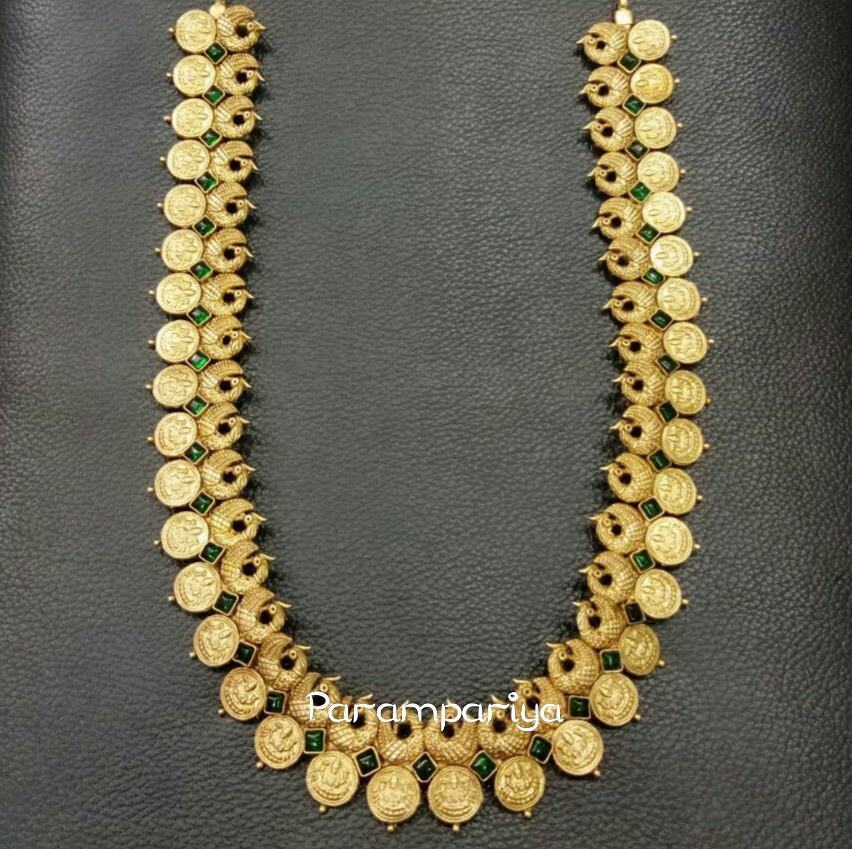 Gold Kasulaperu With Large Pendant
The large pendant of this gold necklace piece gives it a heavy, wonderful, marvelous and elegant look. The gold kasulaperu with the large pendant is a great choice for you to consider bringing home and adding it to your jewelry collection.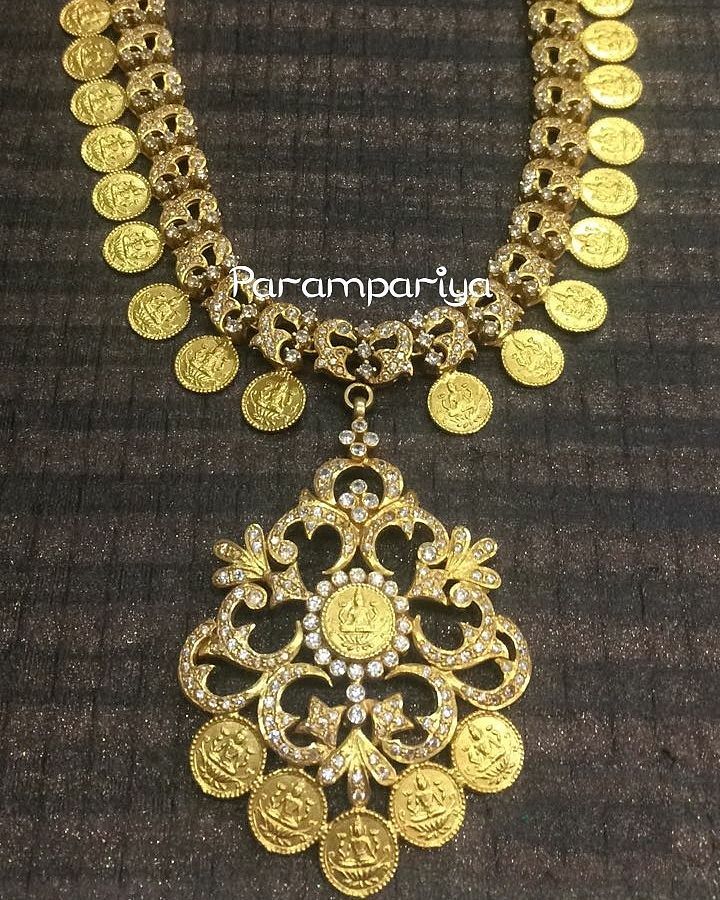 Silver Navratan Kasulaperu Necklace
The variety and different nine gemstones studded in this jewelry piece make it special and an interesting choice. The silver navratan kasulaperu necklace is one of the kasulaperu necklace pieces you would not want to miss at all. The colorful nine gemstones with the silver offer this necklace the perfect look that can add elegance, enchanting, charming, and interesting look to your attire.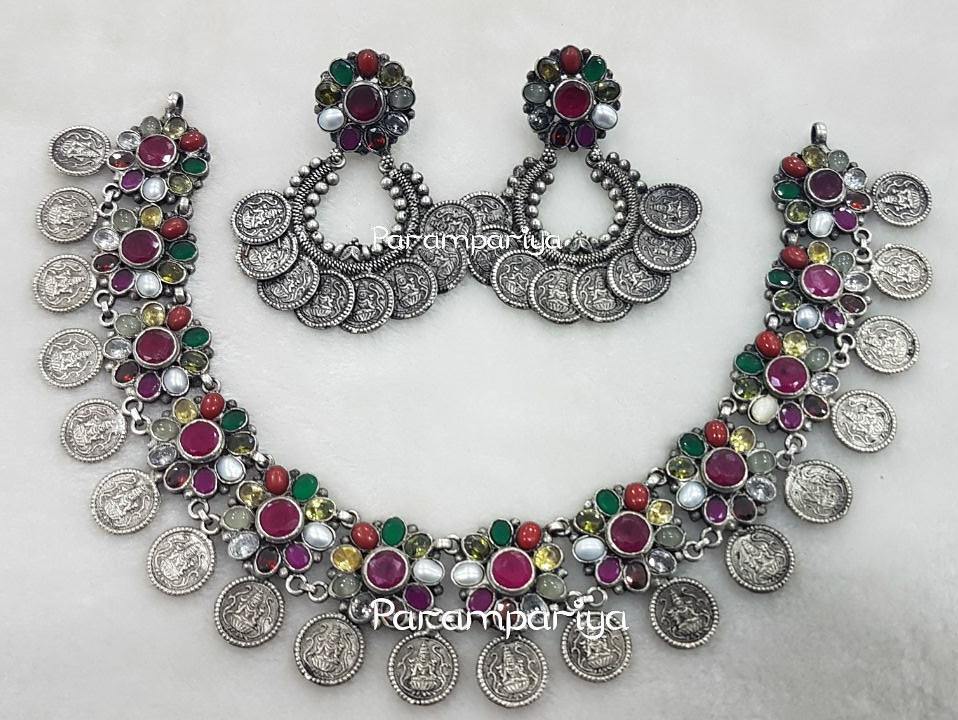 Silver Coined Necklace With Studded Rubies And Emeralds
The rubies and emeralds studded on this silver coined necklace give the person wearing it an amazing, delicate, wonderful and beautiful look.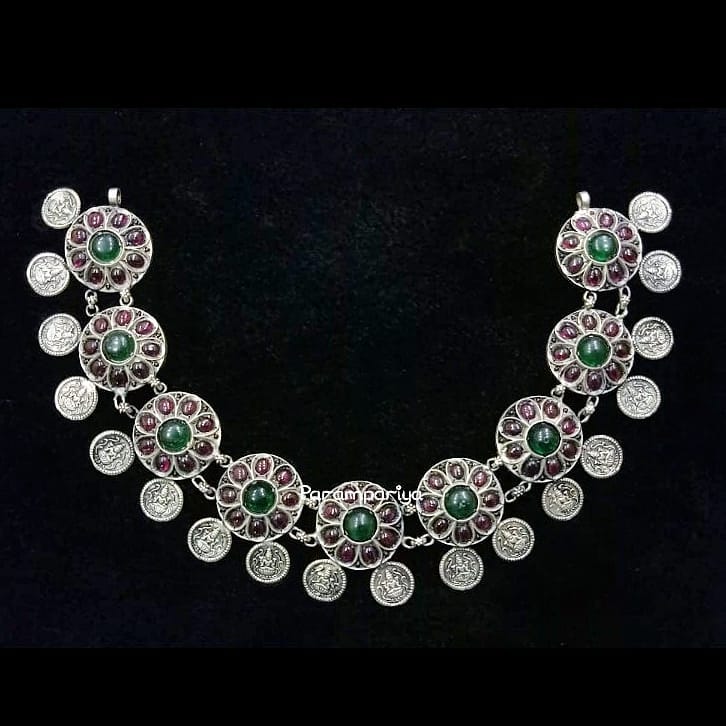 Gold Laxmi Kasulaperu With Large Pendant
This gold Laxmi kasulaperu with the large pendant is a nice jewelry piece to select to buy if you are looking for an exquisite and pretty appearance.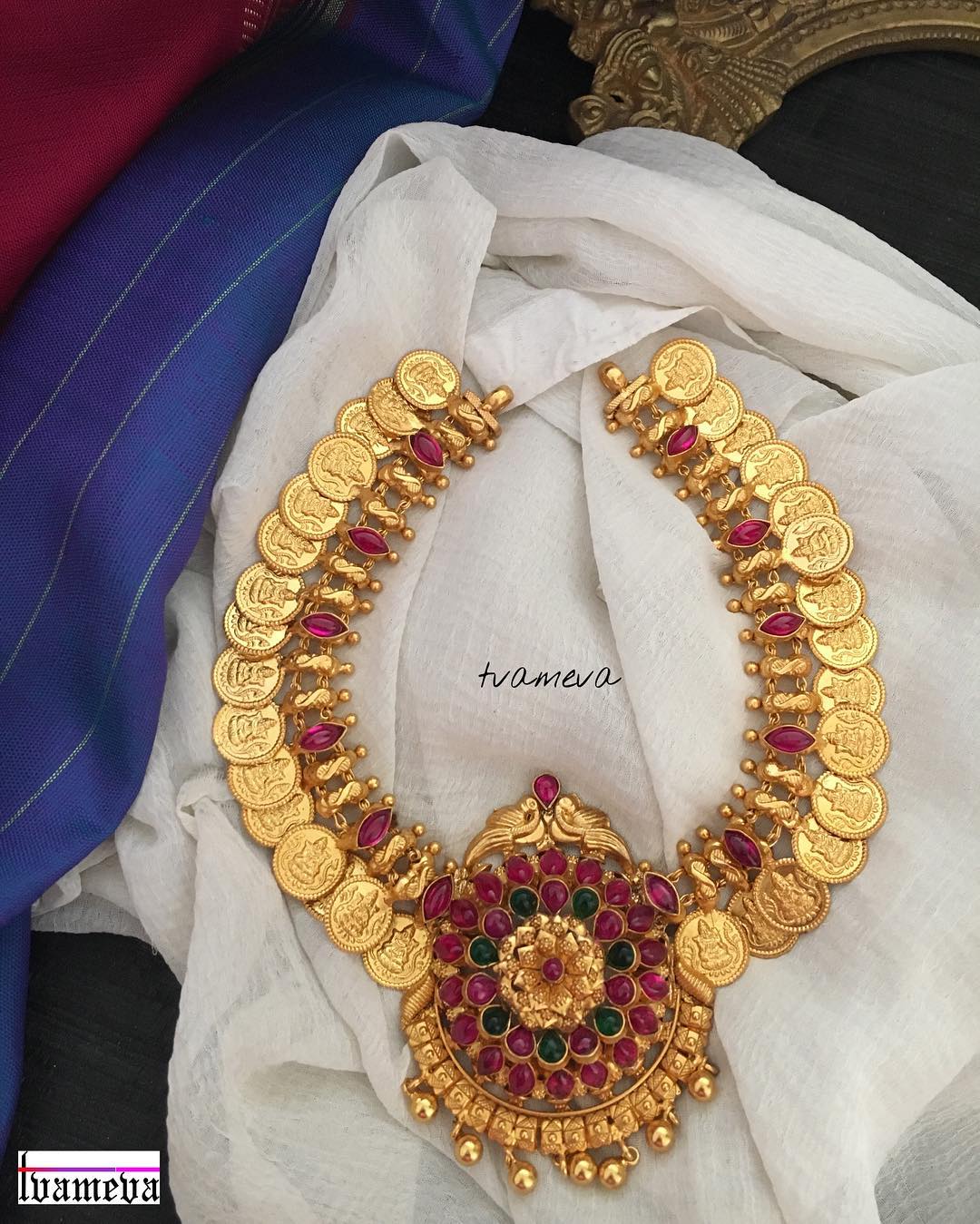 Dual Toned Kasulaperu Necklace
The dual toned kasulaperu necklace is an interesting combination of black and silver color. Wearing this necklace will give you a unique and different look. You will obtain an interesting and eye-catchy appearance with any dress you choose to wear to several places.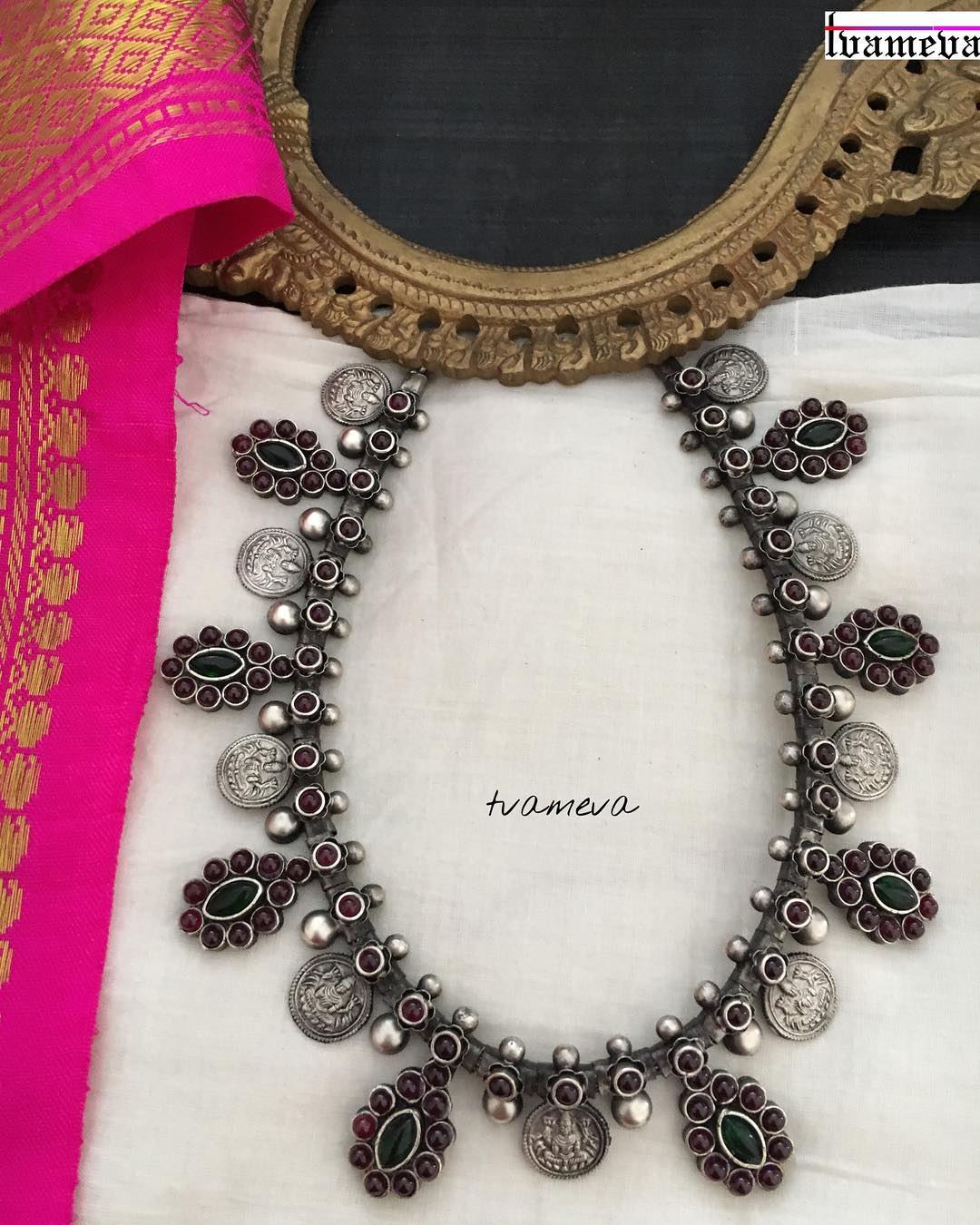 Peacock Gold And Diamond Kasulaperu Necklace
This peacock gold and diamond kasulaperu necklace is a wonderful choice to wear if you like wearing the combination of gold and diamond jewelry for weddings, engagements, festivals and special occasions.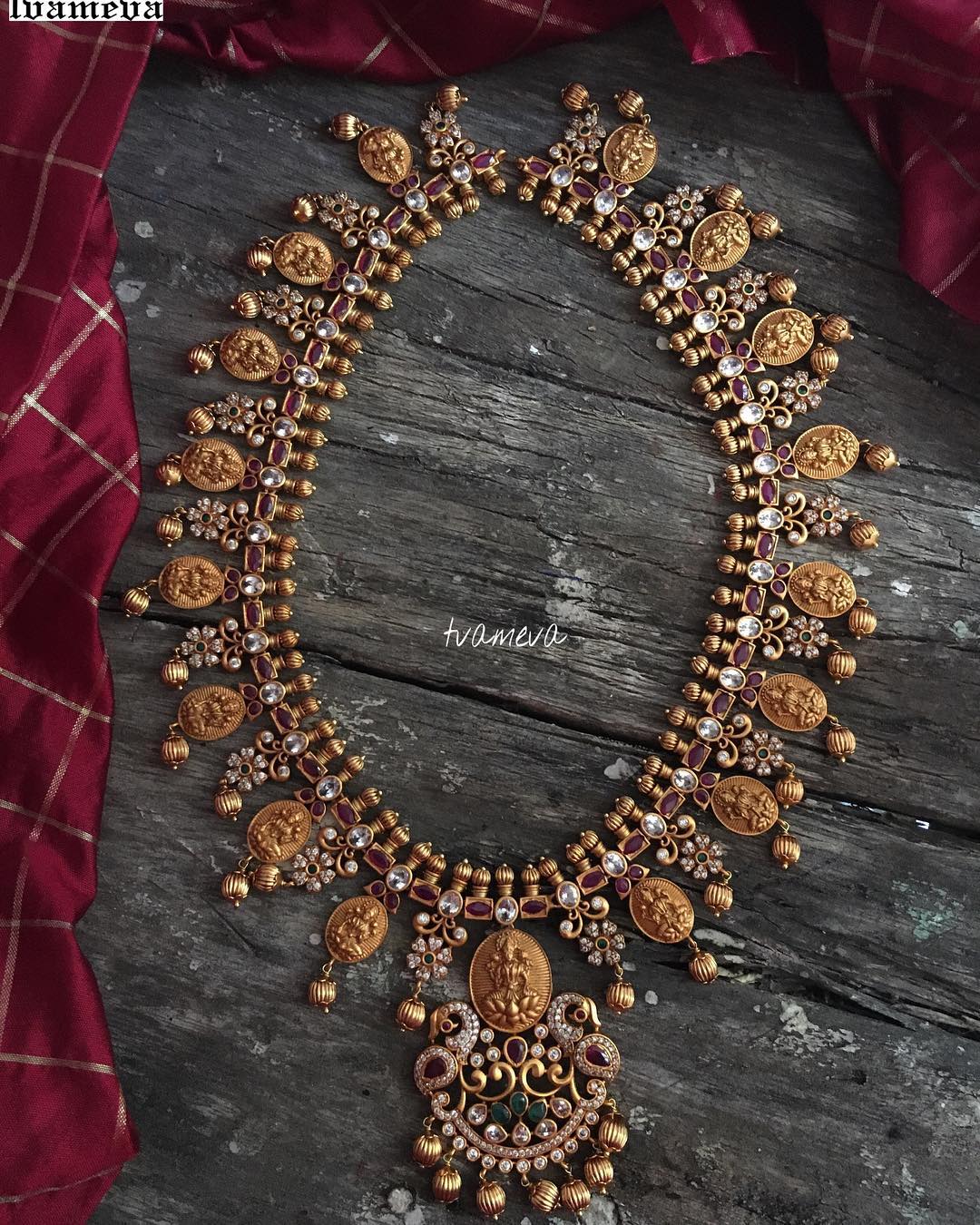 Gold Kasulaperu Necklace With Gold Coined Jhumka Earrings
An elegant and lovely appearance is offered by this jewelry piece along with the good look and feel of it. You will enjoy and have a nice time wearing this gold kasulaperu necklace with gold coined jhumka earrings with your traditional outfits.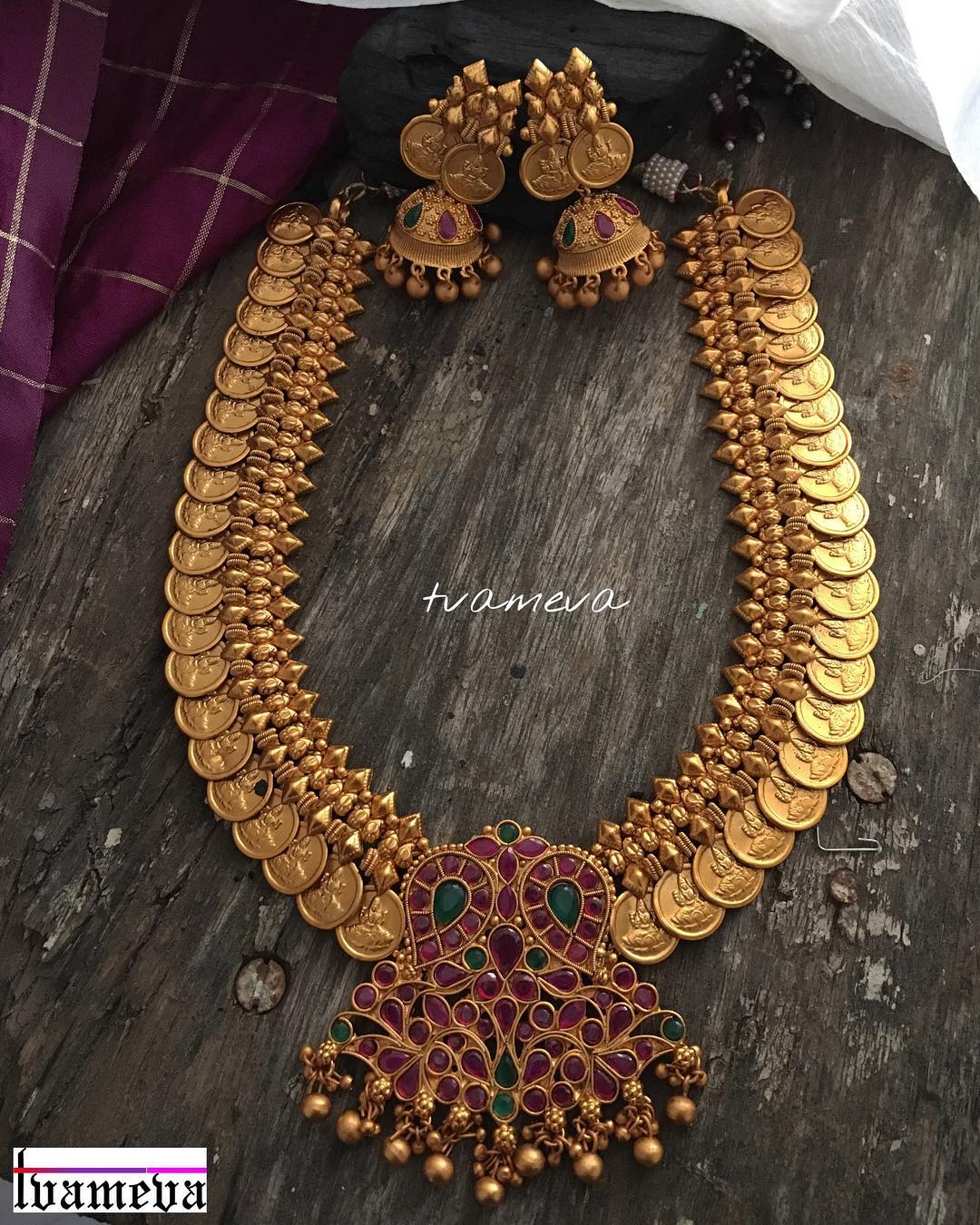 Laxmi Gold Coined Necklace With Studded Stones
After wearing the Laxmi gold coined necklace with studded stones, the rubies and emerald gemstones gives an adorable appearance to you and make a difference to your day. On wearing this necklace, you find a captivating look on you and the designs of Goddess Laxmi on this jewelry make it auspicious for you to start your day with a smile on your face.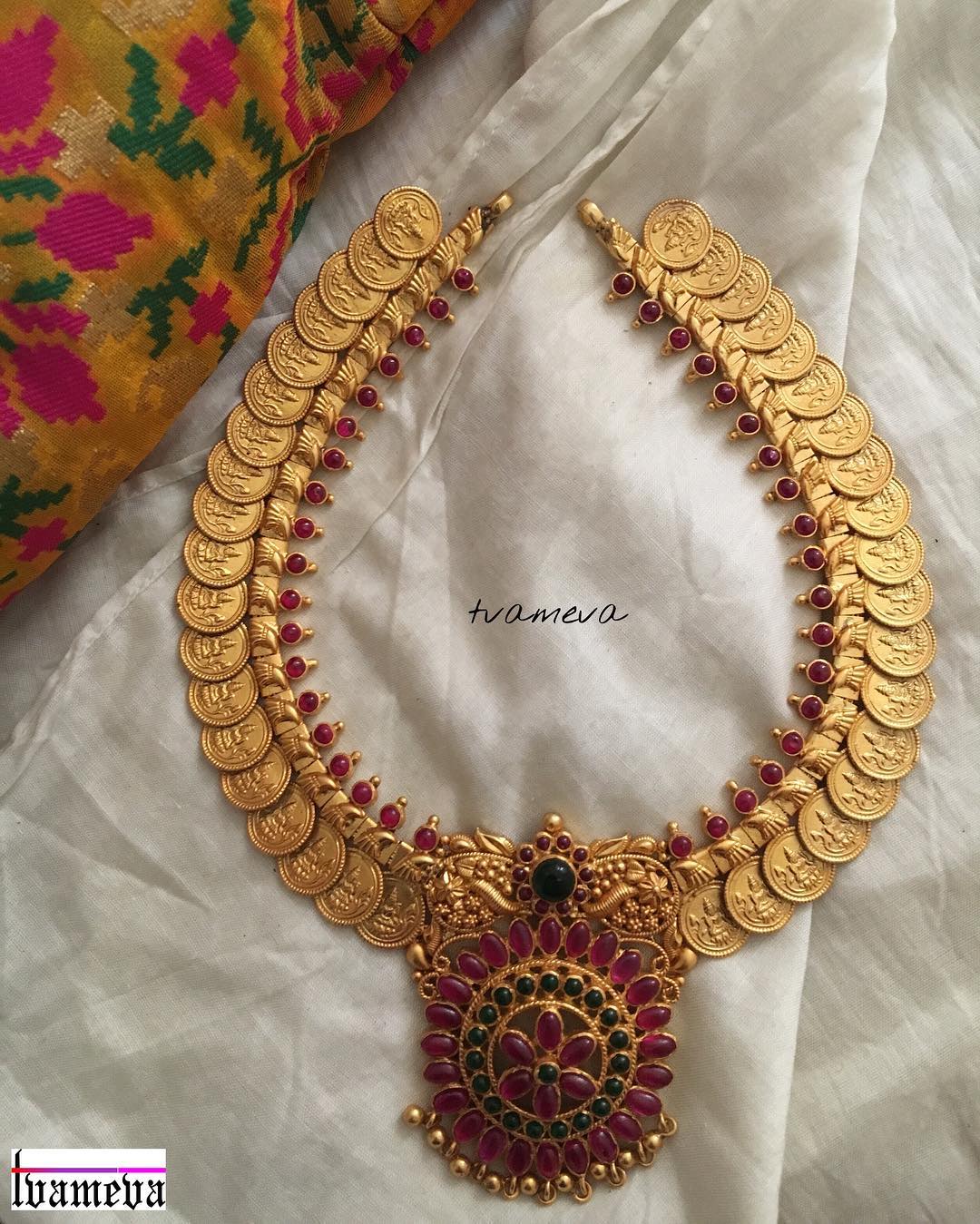 These kasulaperu designs can be a great and lovely addition to your jewelry collection. The necklaces are a great choice for any girl and lady to wear who look for style and fashionable jewelry pieces. In case if you like to shop the above pieces, then do find the seller contact details below.
Seller Name : BCOS – Its Silver
Contact No: +91 90941 38036.
Email :ar***************@gm***.com
Website: https://www.bcositssilver.com/
Instagram : https://www.instagram.com/bcos_its_silver/
Facebook: https://www.facebook.com/BCOSITSSILVER/
Address : Shop #1, Plot #102, 17th Cross Street, 6th sector, near MK Ahmed bazar, opp to ICICI bank, HSR Layout, Bengaluru 560 102.
Seller Name : Kruthika Jewellery
Instagram : https://www.instagram.com/kruthika_jewellery/
Contact : +91 9849207645
Seller Name : Ms Pink Panther
Facebook : https://www.facebook.com/MISSPINKPANTHERJEWELLERY/
Contact : +91 95855 95689
Instagram : https://www.instagram.com/mspinkpantherjewel/
Website : http://www.mspinkpanther.com/
Seller Name : Parampariya
Instagram : https://www.instagram.com/parampariya/
Facebook : https://www.facebook.com/parampariya/
Whatsapp : 9486708504
Seller Name : Tvameva
Instagram : https://www.instagram.com/tvameva/
Contact : 9994767370
Also Read :