When, they say the grass is greener on the other side, they obviously meant to look over at the side filled with emerald stones. You won't deny if I say that accessories are key- they can change the way you look. This sweet summer season we all saw from lush emeralds to fiery rubies, the bright side is the right side. Here are few stunning, vibrant emerald jewellery sets that will surely take your breath away.
1) Amazing Neckpiece
This design goes perfectly well with any traditional outfit, since it has a hanging. The white stones and emeralds are embedded in gold, giving it a very glamorous look. This one is perfect to rock your insta- stories.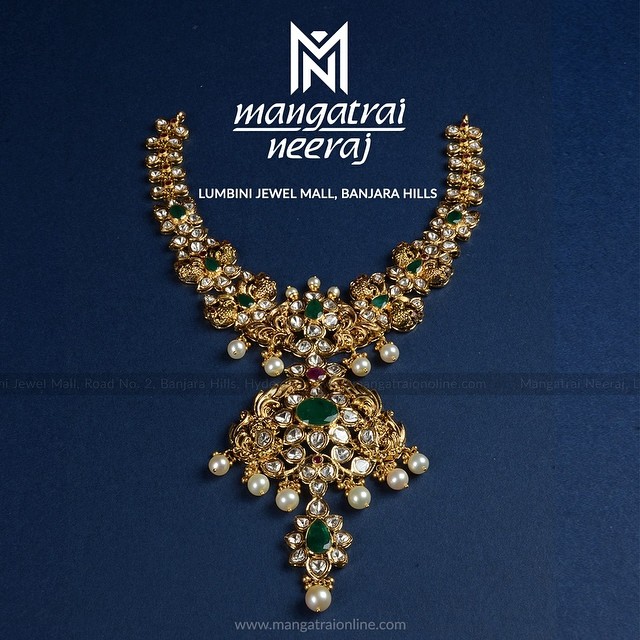 2) Fancy Design
The necklace has a sleek gold arc border with an amalgamation of rubies, emerald and white stone which makes this jewellery an unforgettable one. The huge pendant is inspired from peacock with peacock on both the sides of it. This is something which can be worn for a grand entry for a wedding or for a reception.
3) Minimal Approach
Sleek, simple and trendy – sometimes less is more when it comes to summer accessories. This emerald cuff is perfect if you are looking for something minimal and smart.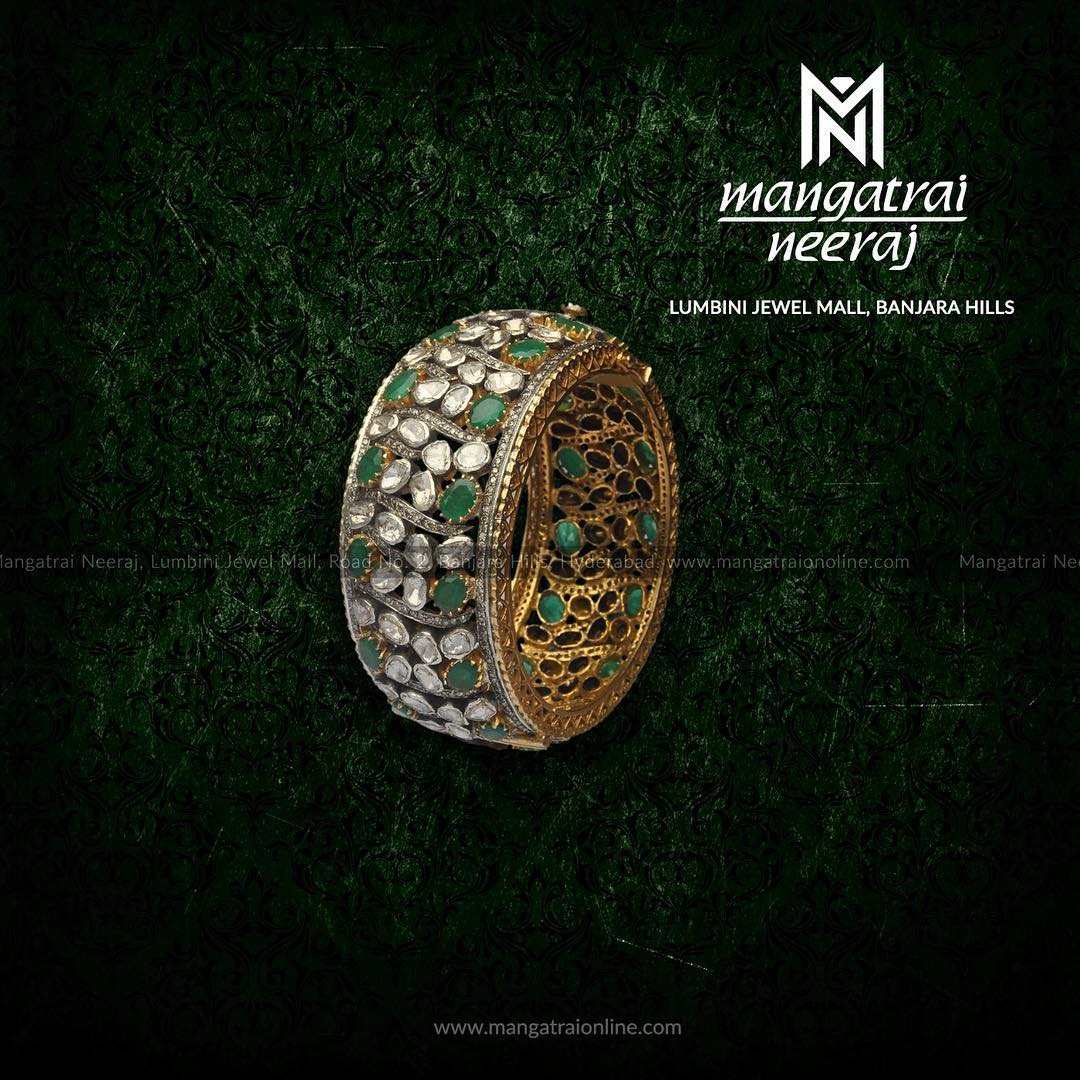 4) Perfect Ones
A traditional pair of emerald earring not only goes with virtually everything, but also makes for an unexpected earring choice.
5) Smart And Sleek
This one will guarantee you'll stand out. This one is a very elegant and sophisticated one, bringing out the beauty of this green gem which is surrounded with white stones embedded in gold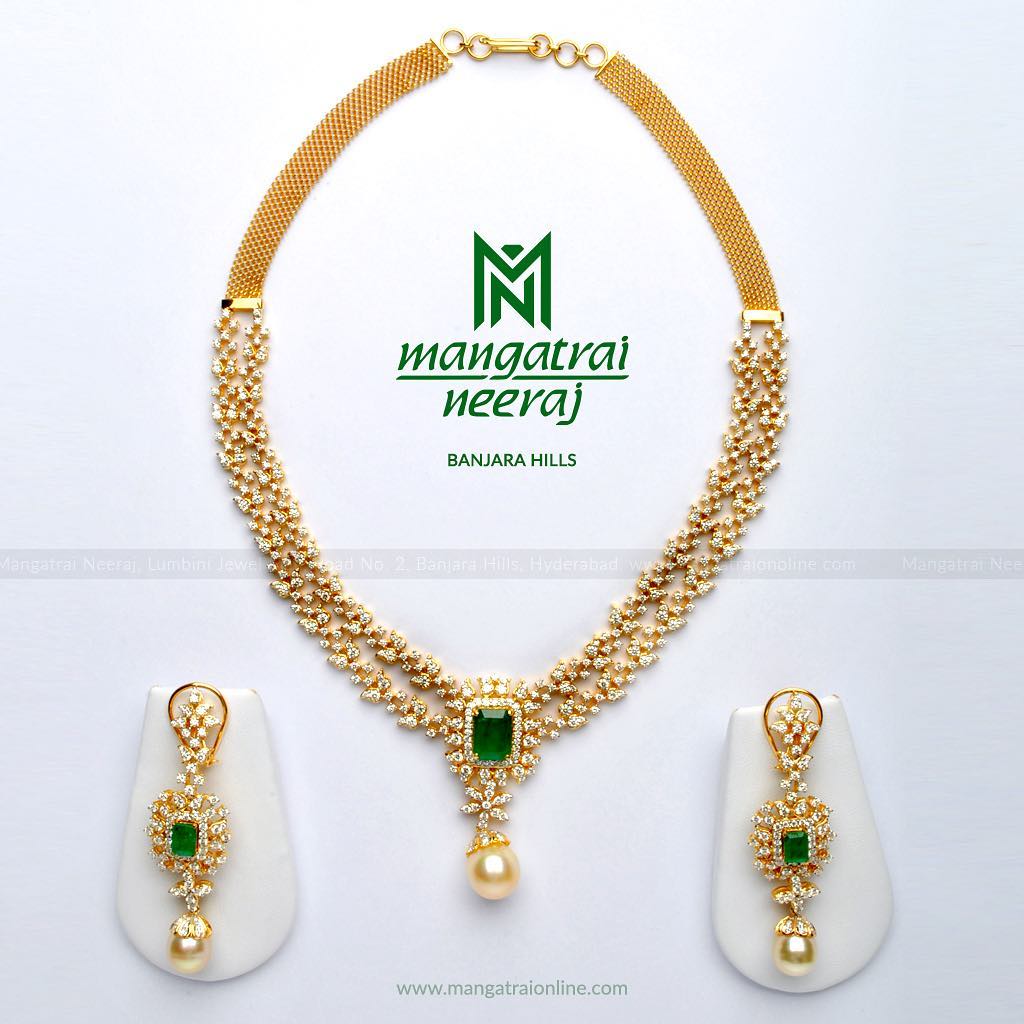 6) Classic Design
Embrace one of the season's top trending jewellery with this green emerald necklace and earrings. This one is when you want to steal a proverbial show.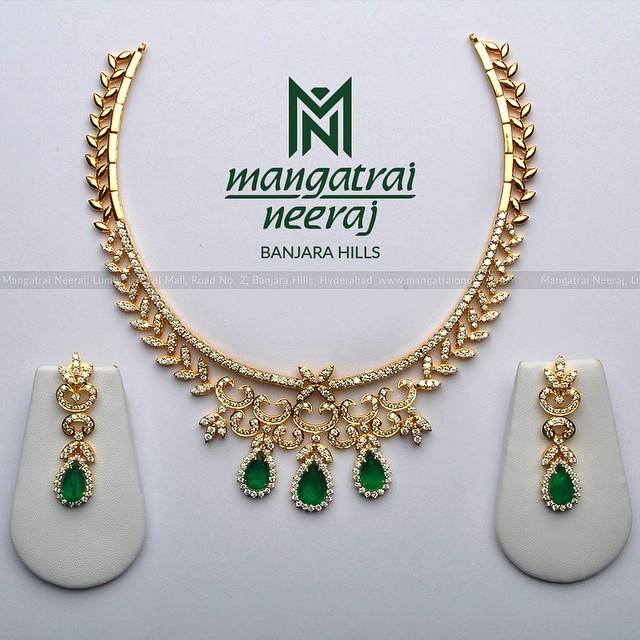 7) All In One
Whether it's a jet-setting for vacation or heading to a summer BBQ, this beautiful emeralds necklace instantly take your look to the next level. Amalgamation of emeralds along with pearl and ruby is the prime beauty of this neck-piece.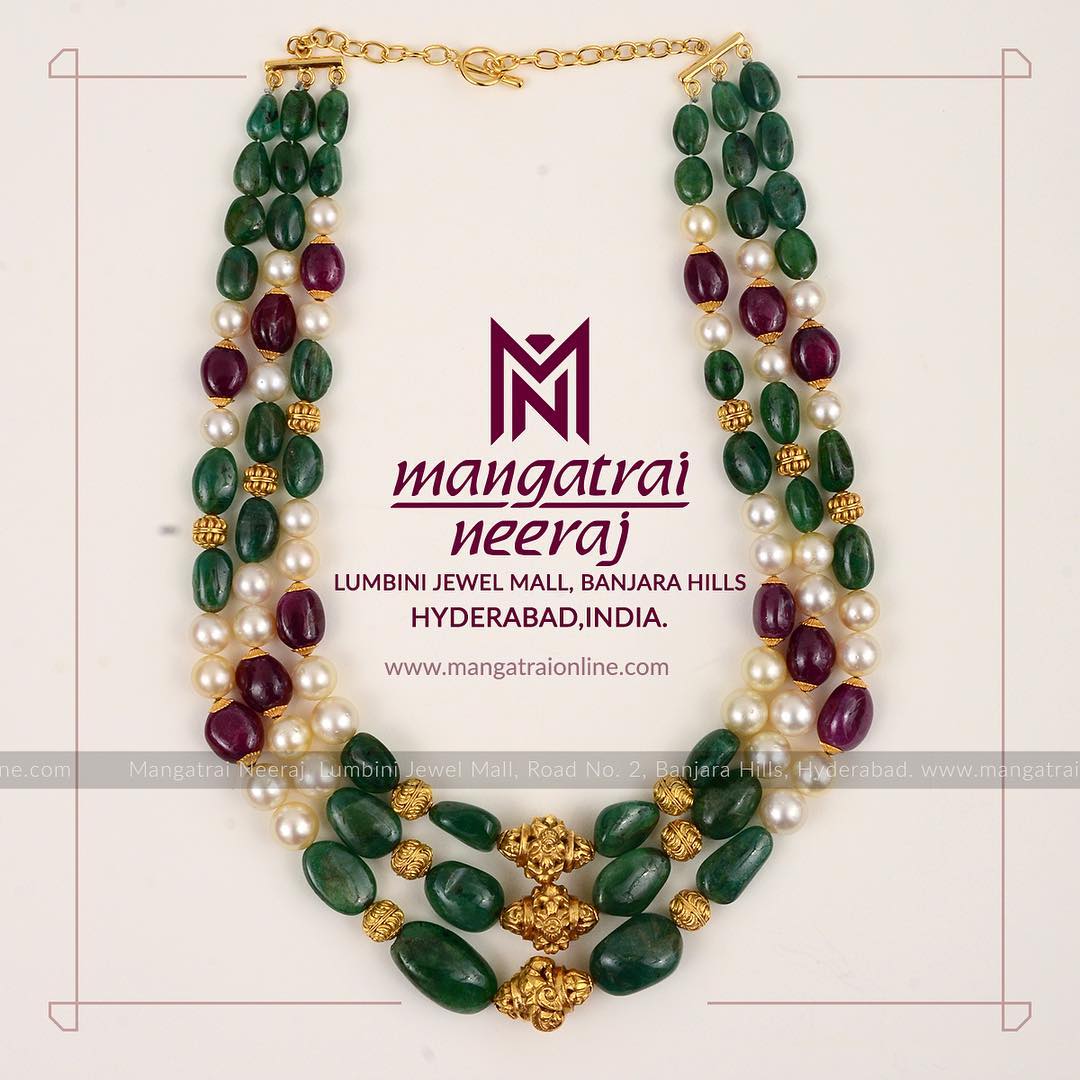 8) 80's Inspired
Add drama to your whole look with a grand glittering neckpiece and red lips for the night. You will surely grab a few compliments to yourself. Get in on the glitter green trend with this bright necklace waiting to accessorize your next upcoming wedding to attend.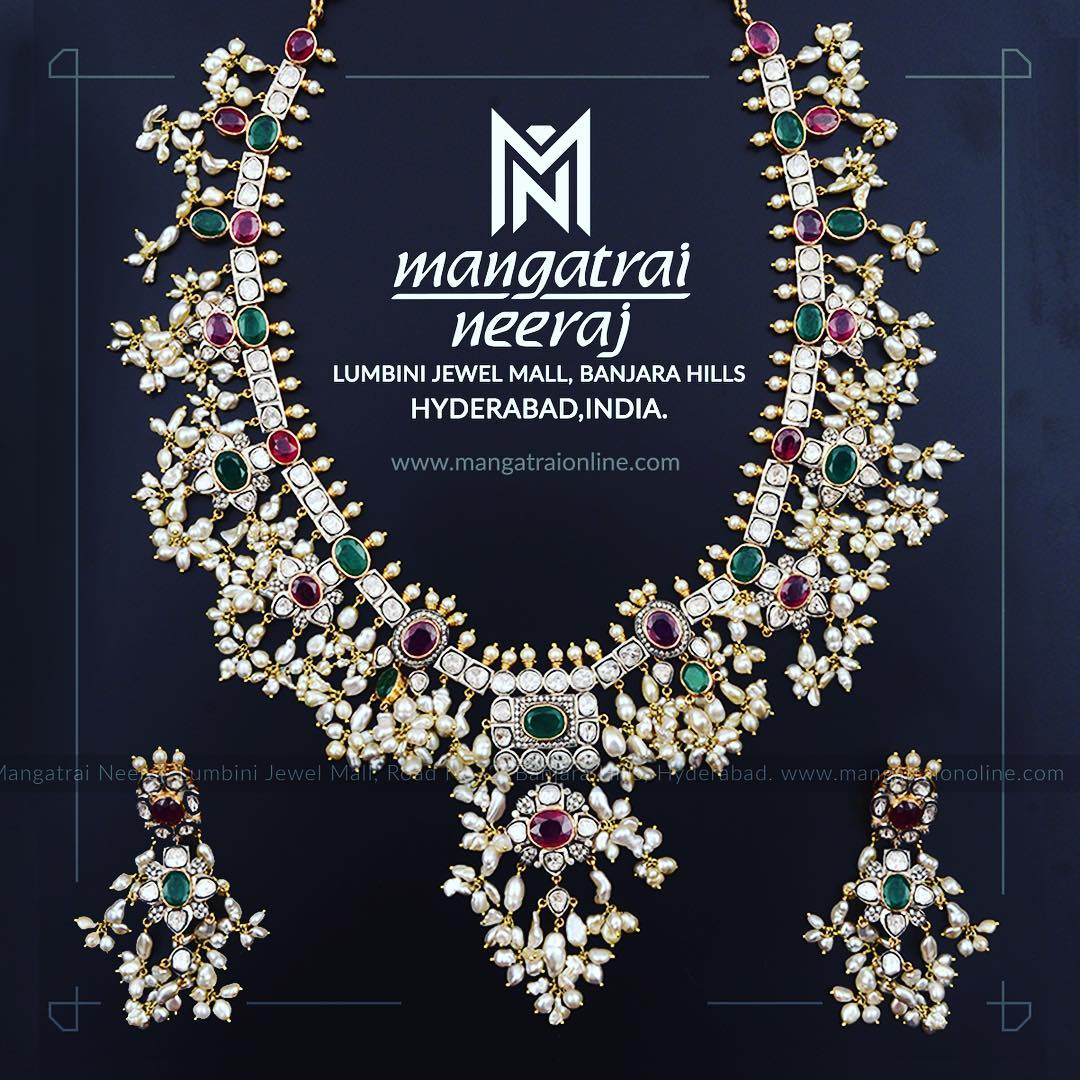 9) Unique Design
Opt for a necklace with interest and special details, like the bold pink colour, intricate design and amazing colour combination to avoid looking too undone.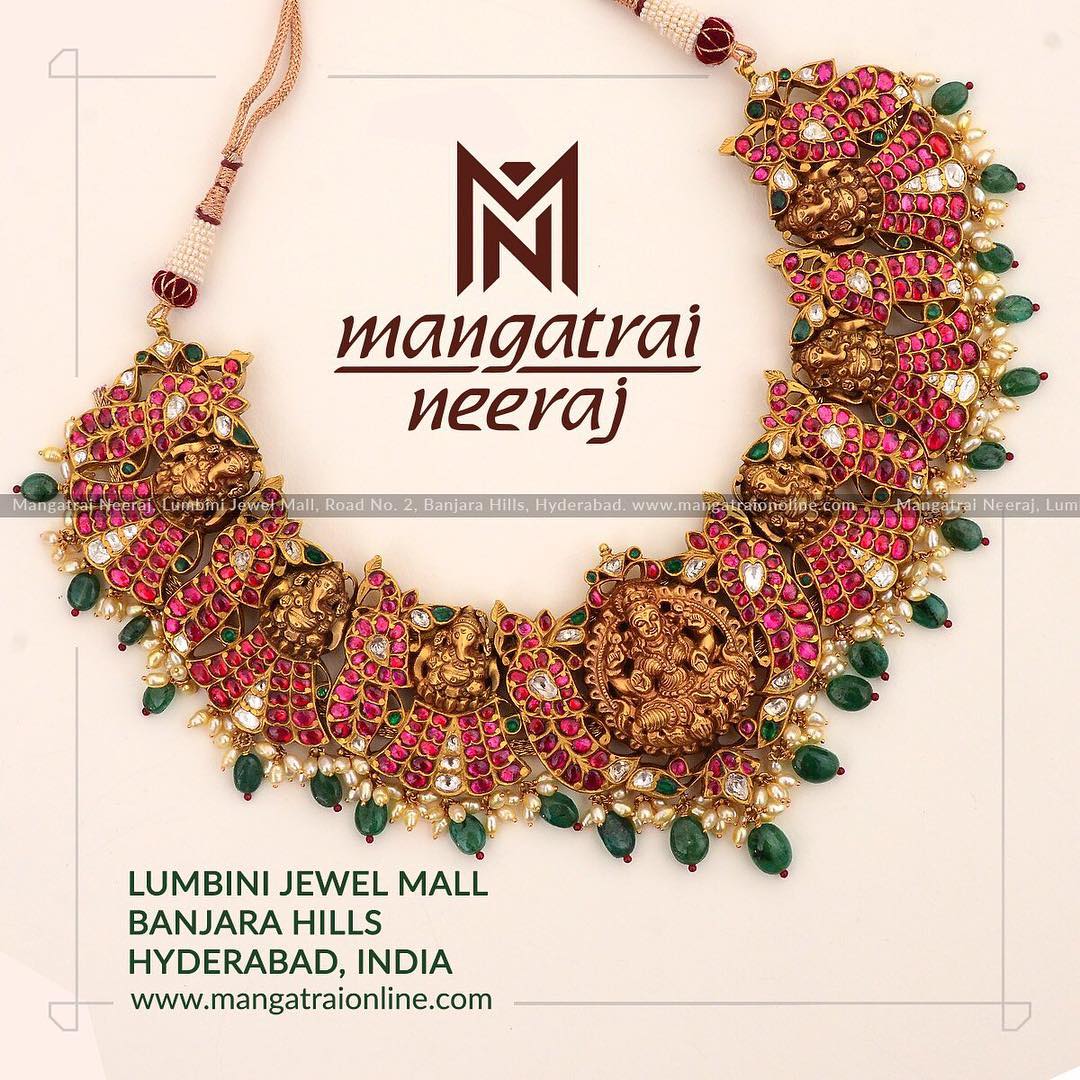 10) Traditional Design
Light emerald jewellery would work perfectly for a grand reception; simply pair it with red kanjivaram silk saree for a proper traditional look.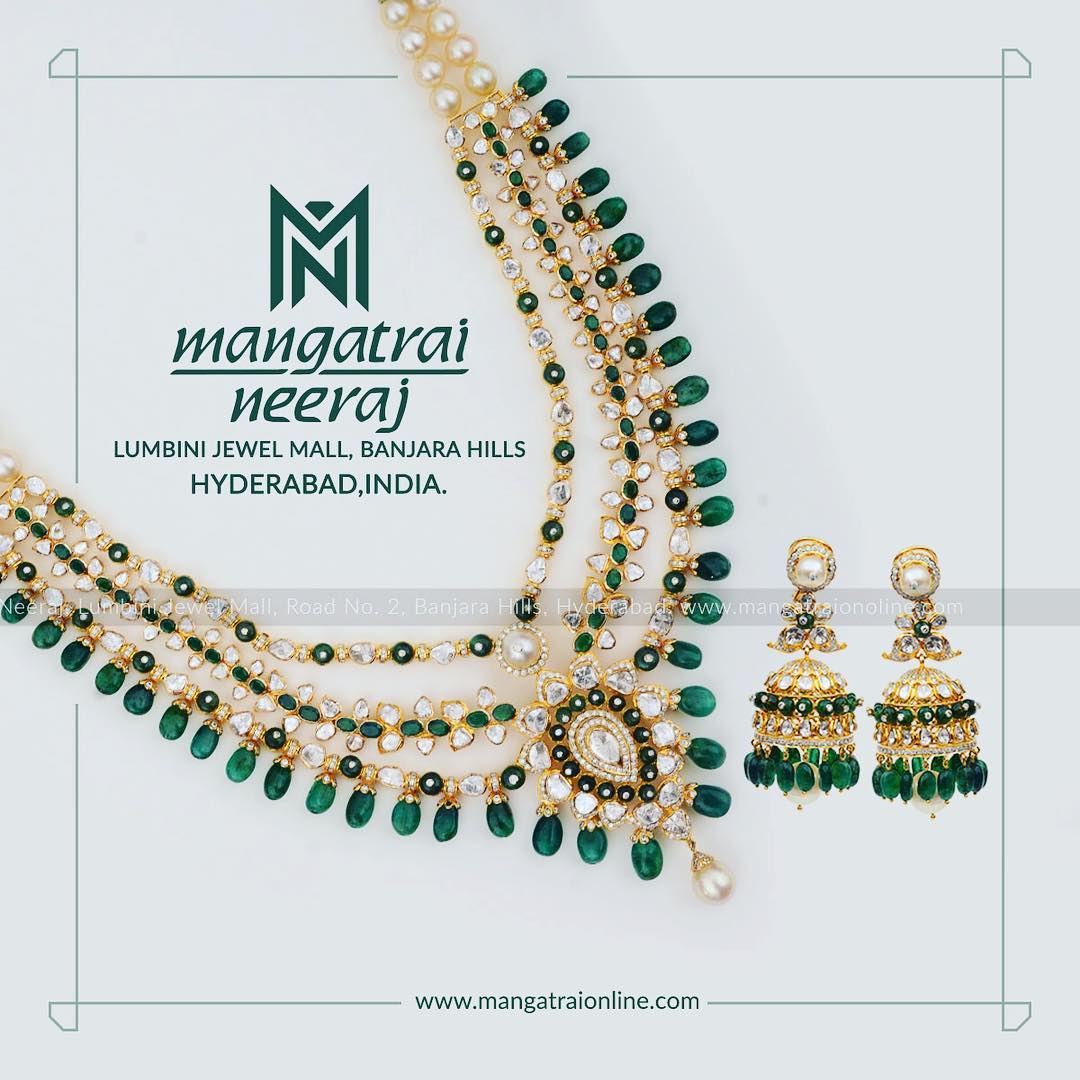 11) Multiple Strands
Don't confine necklace to the times you head out for a wedding, but few can be worn for all occasions without making you look over. This is exactly one of same sort with multi strands of emerald beads upholding beautiful pink pendant in the middle.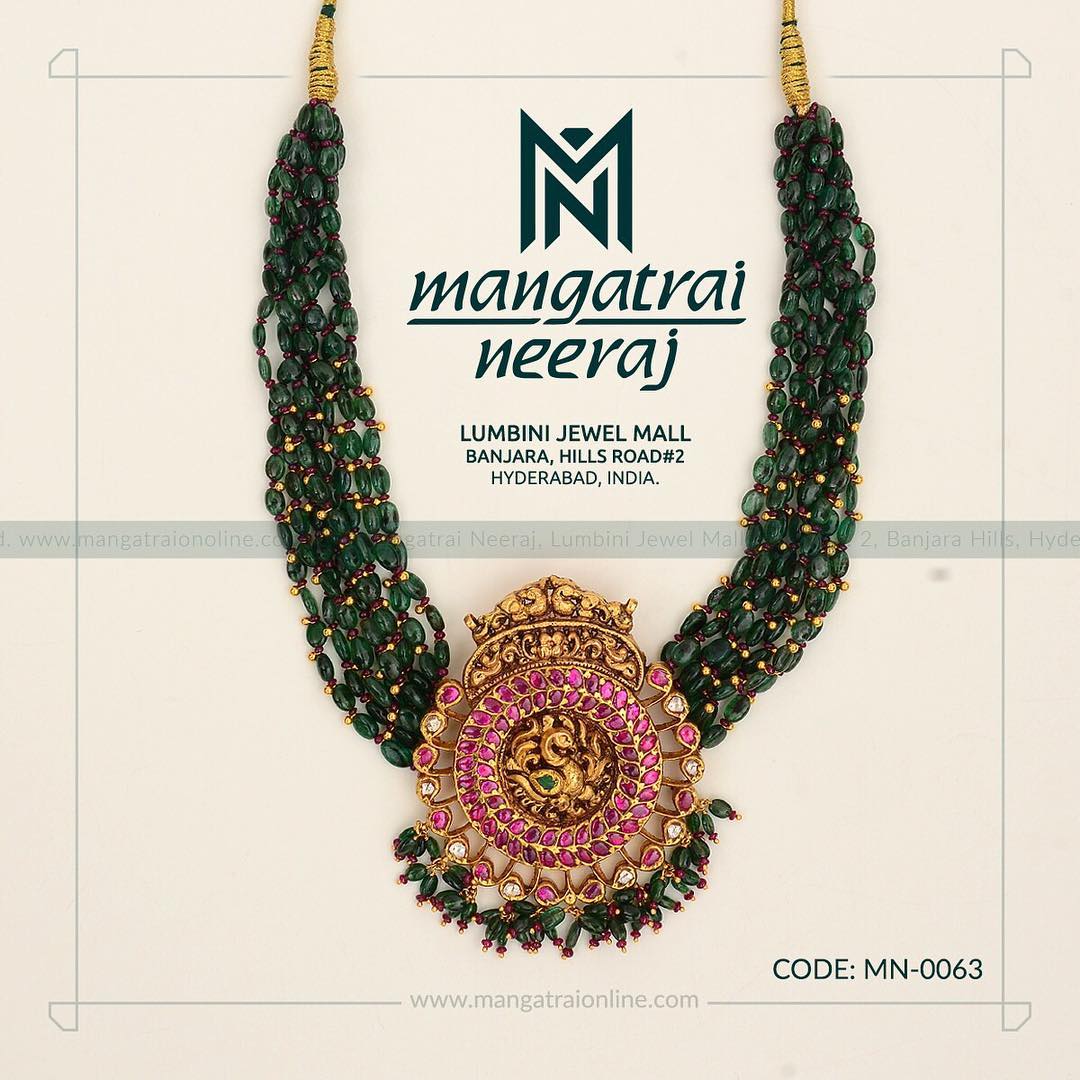 12) Must Have
The perfect emerald jewellery that will go with virtually all of the traditional wear: the hanging pedant stands out with an additional paisley shaped attachment.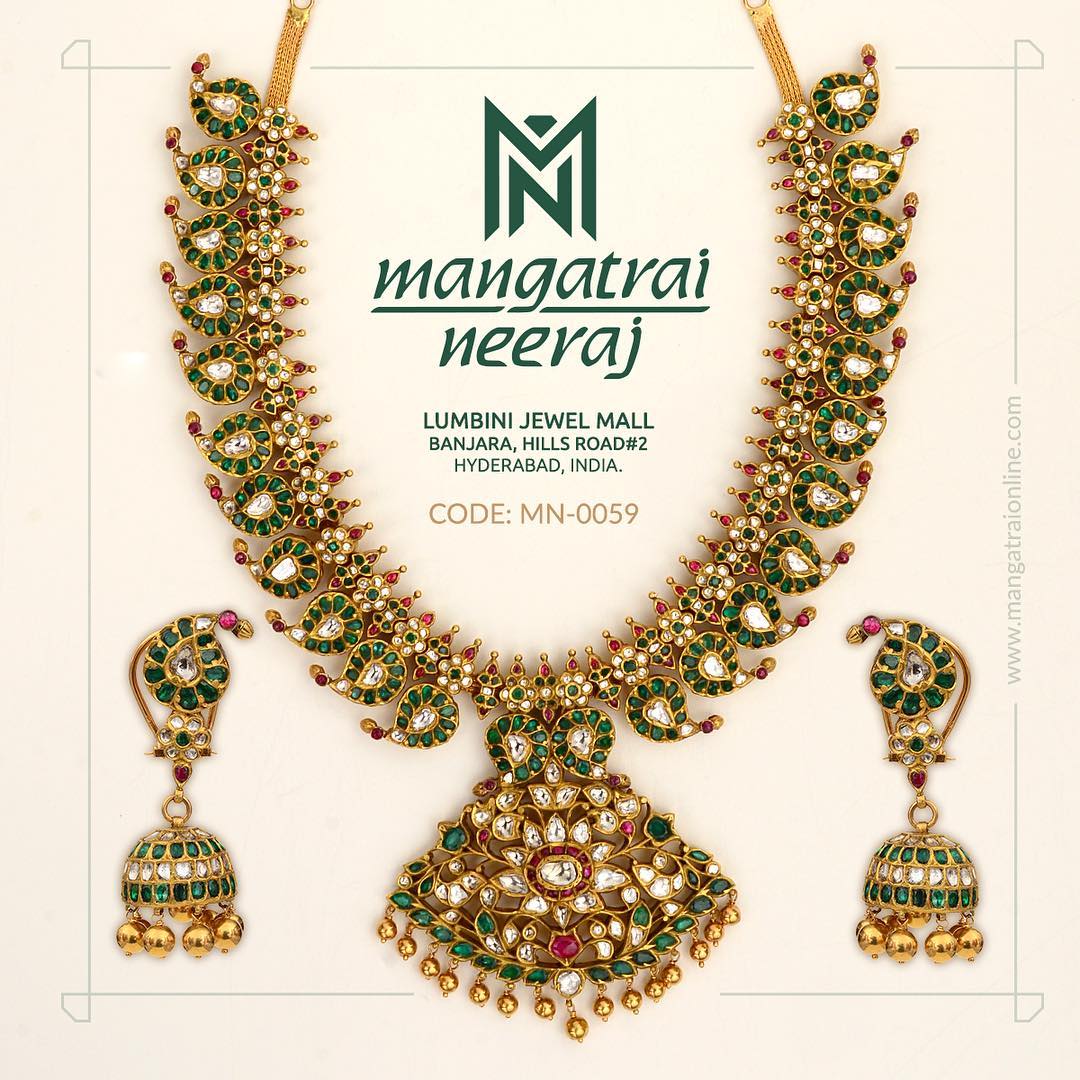 13) Grand Necklace
Omg! This one is just so beautiful. Finding the perfect necklace that blends in completely well with the attire is a pretty tiring and time-consuming task. We have curated this one for all year wedding accessory.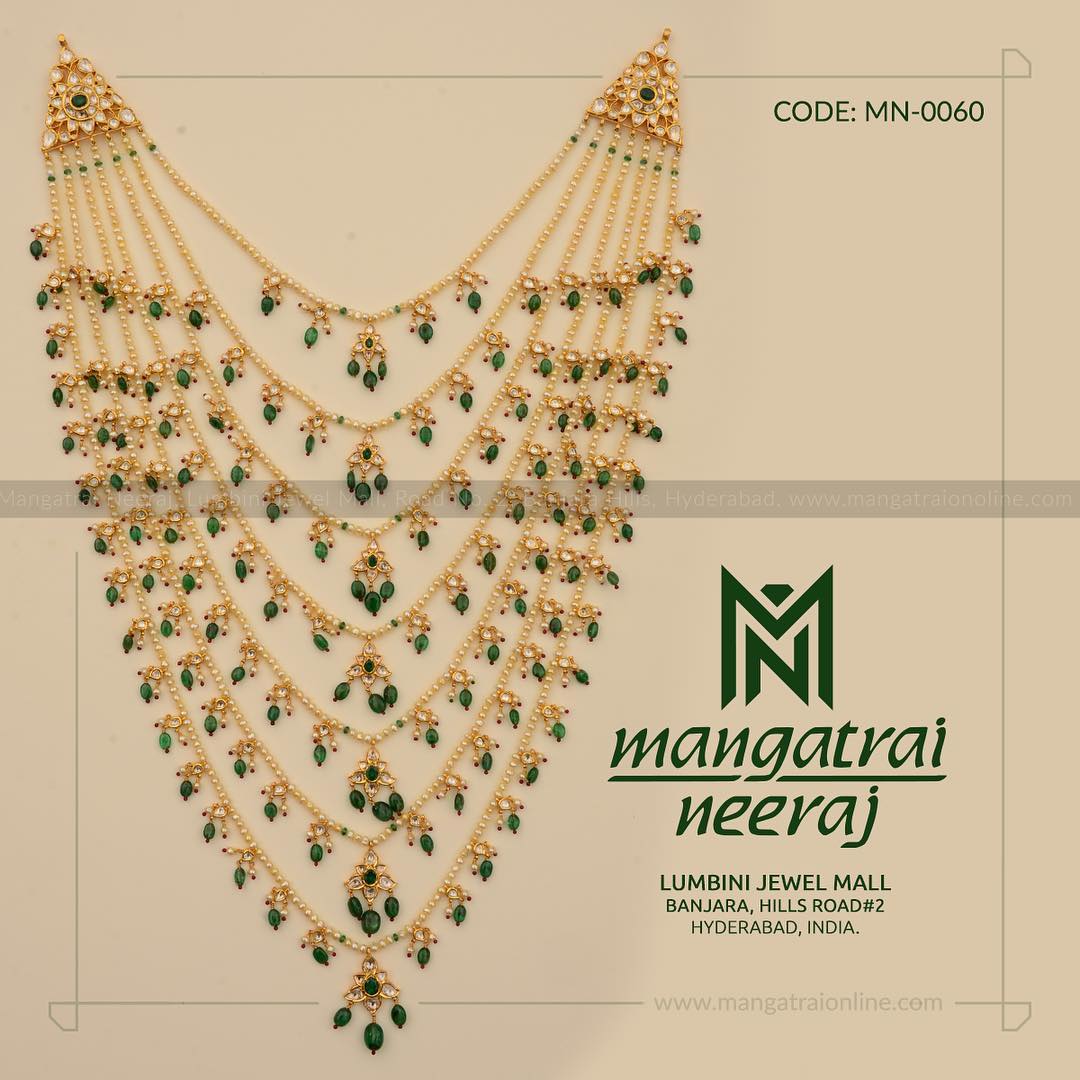 14) Fun Jewellery
If you are dressing for an occasion, wear a chunky emerald necklace with an updo for a dramatic. For a touch of elegance, you can wear this with a jumpsuit. It's time for you to retire your gold neckpiece for greener pastures.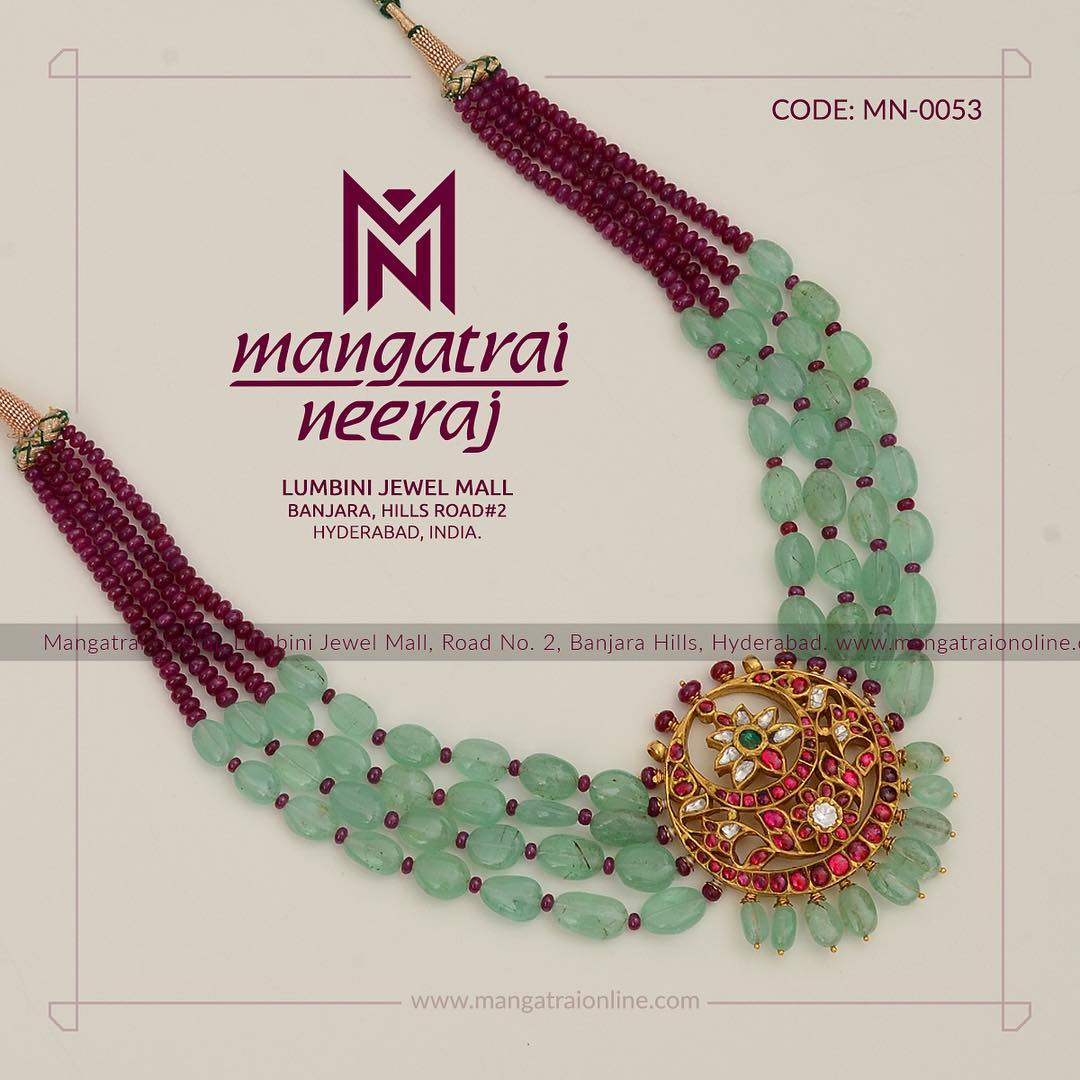 15) Contemporary Design
Skipping diamonds and gold temple jewellery, you can go the contemporary route with this stunning emerald multi strand necklace. You can pair this with a contrast saree.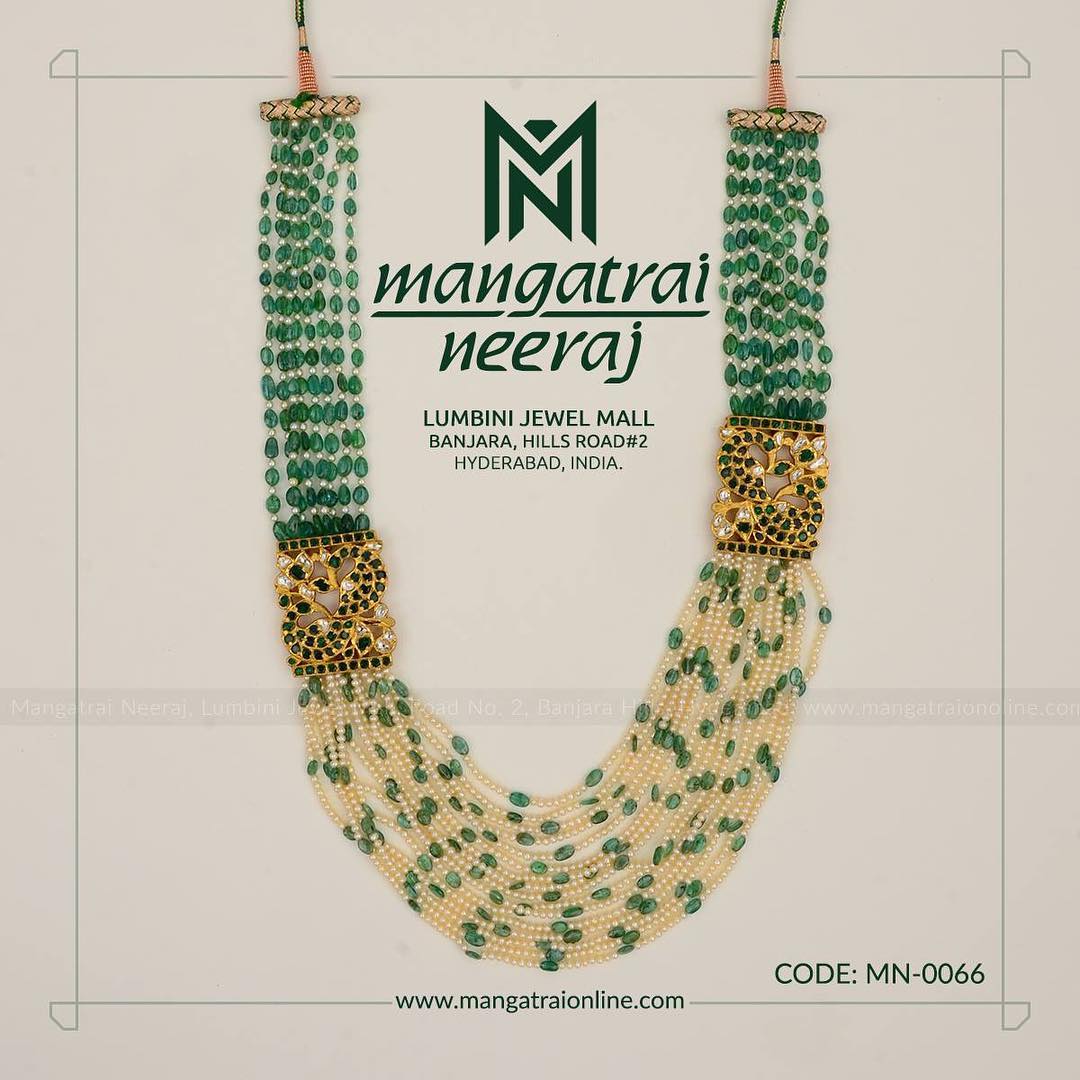 16) Seven Strands
Practically made for festival season, you can never go wrong with a grand six strand royal necklace design; style the rare with a beautiful saree for an unexpected pairing. Gold beads and emerald is arranged in a systematic manner to achieve this beautiful pattern. This can be worn for a wedding reception or for an occasion of sangeet if you want to grab everybody's attention.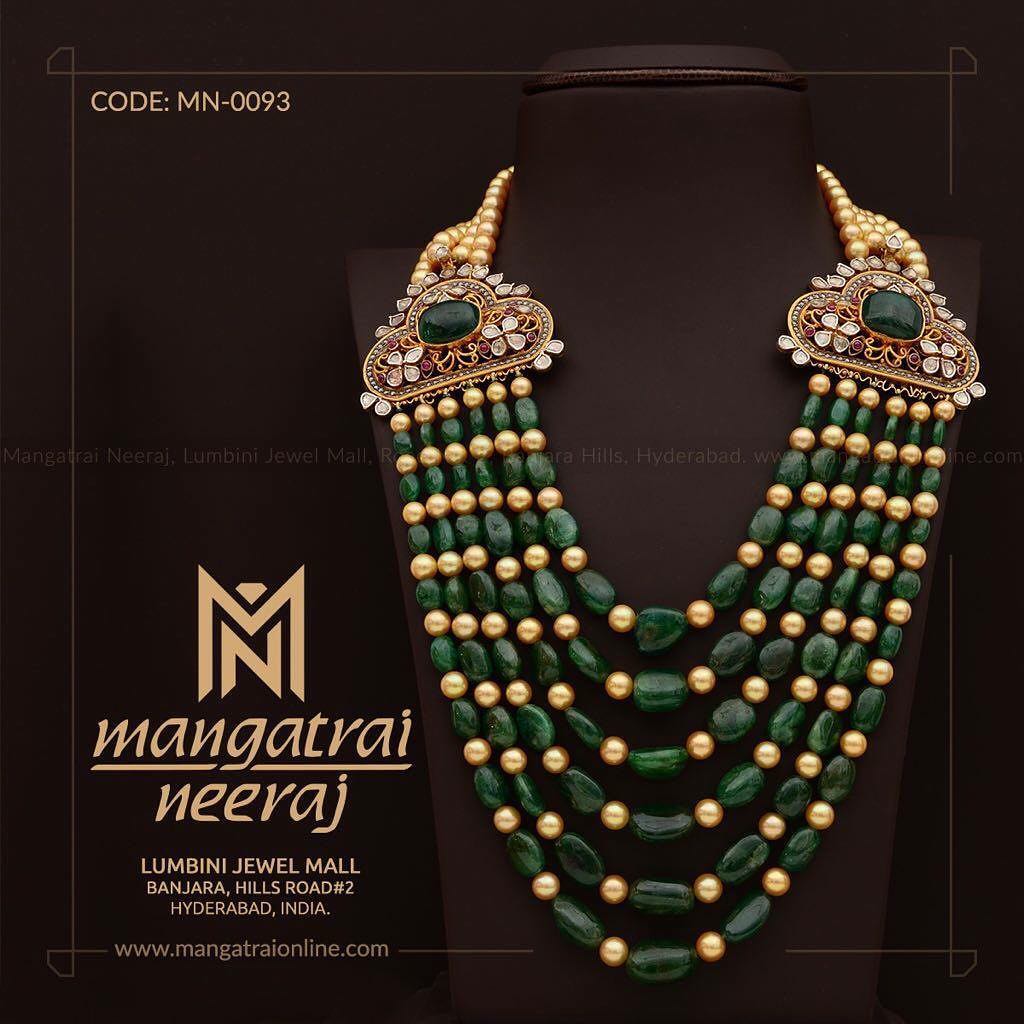 17) Typical Temple Jewellery
This classy piece of necklace is sure to make a bold statement. The gold necklace has a miniature of lord Krishna inside the pendant surrounded with square shaped ruby embedded in gold. A traditional silk saree with this necklace would be trendy.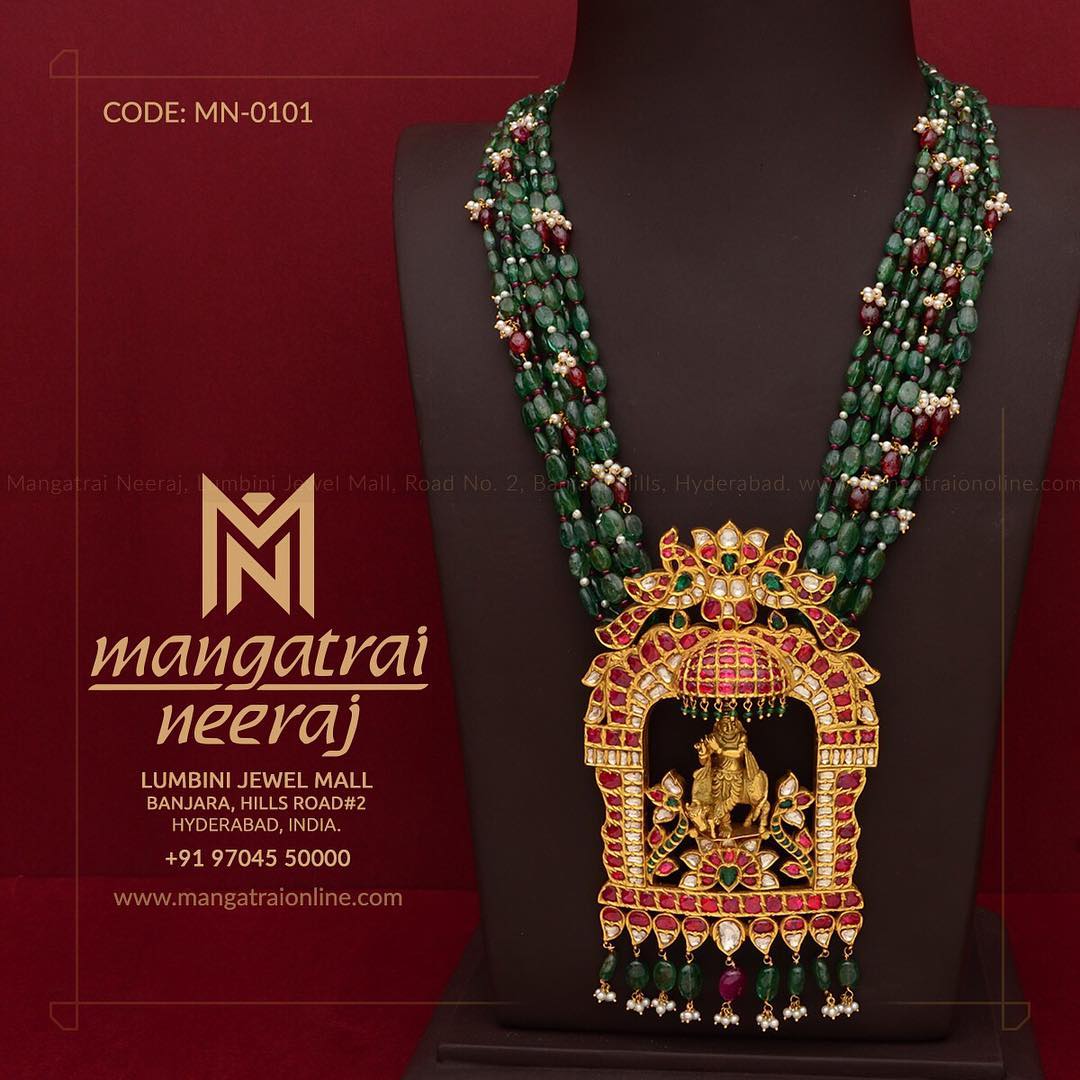 18) Royal Look
Why pick those boring necklaces when you have interesting ones? Whether you opt for a day party or night wedding, a statement necklace takes the plunge with just green emeralds. The flower pattern of the earring is mind-blowing and is complimenting the neck piece as well. Seven strands of emeralds are the prime beauty of this neckpiece.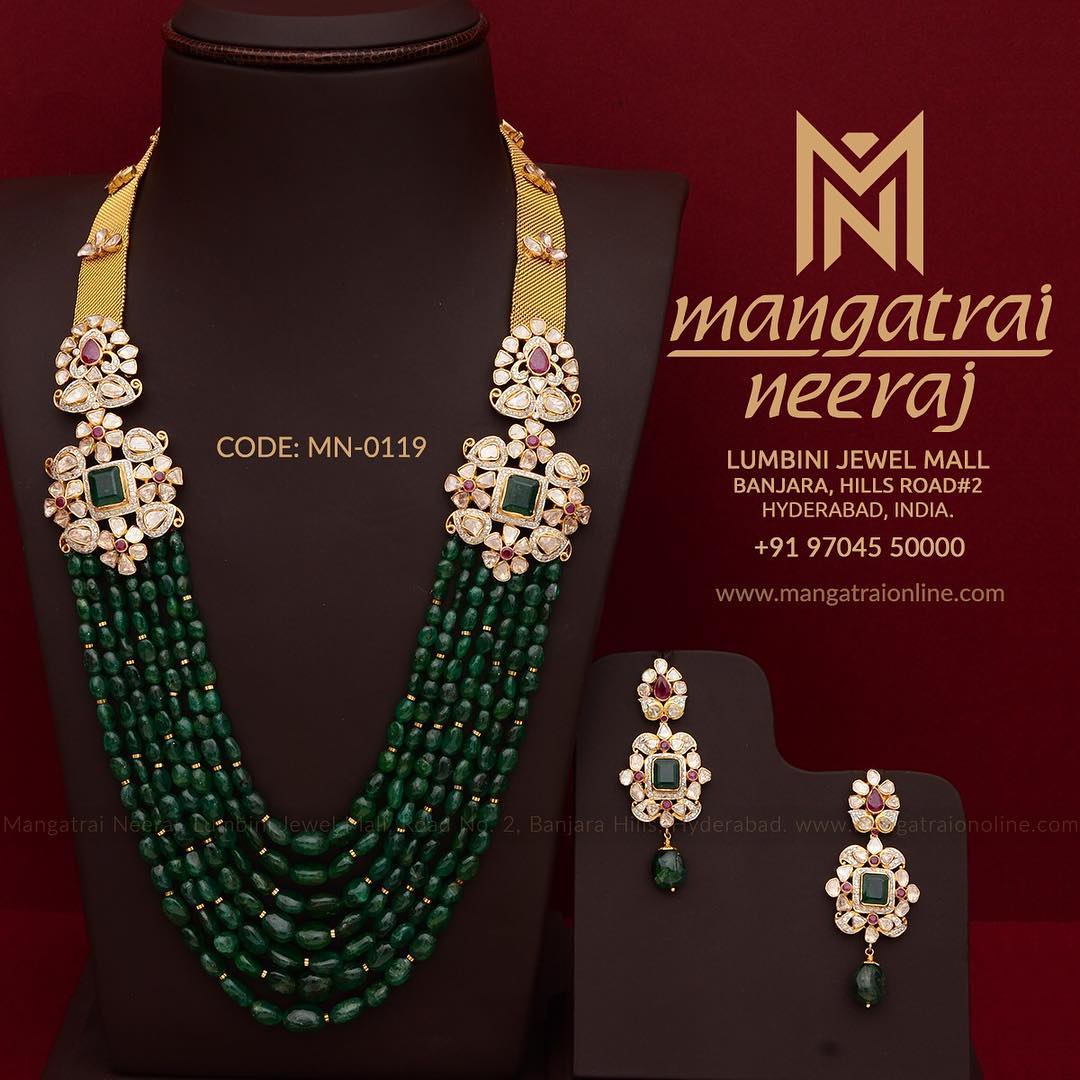 19) Trendy Design
Whether day or night, this contemporary emerald design makes a statement in the best possible and works with fern green or white sandals. This can be worn either for a brunch or for a formal party.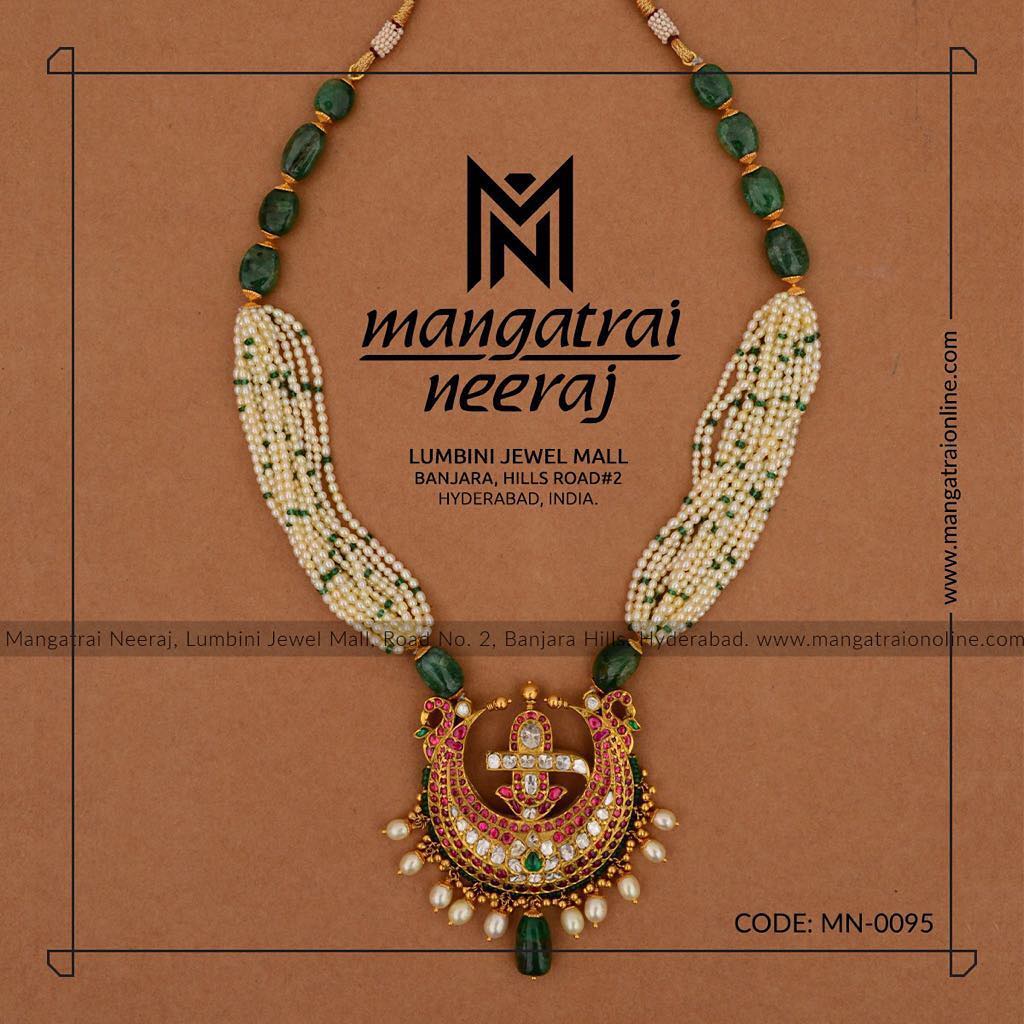 20) Delighting Green
Keep it classic with an emerald statement necklace like this one that can be worn all year round. The design of this emerald neckpiece is so unique and creative that it's worth turning heads. Combination of small pearl and emerald is just amazing and admirable.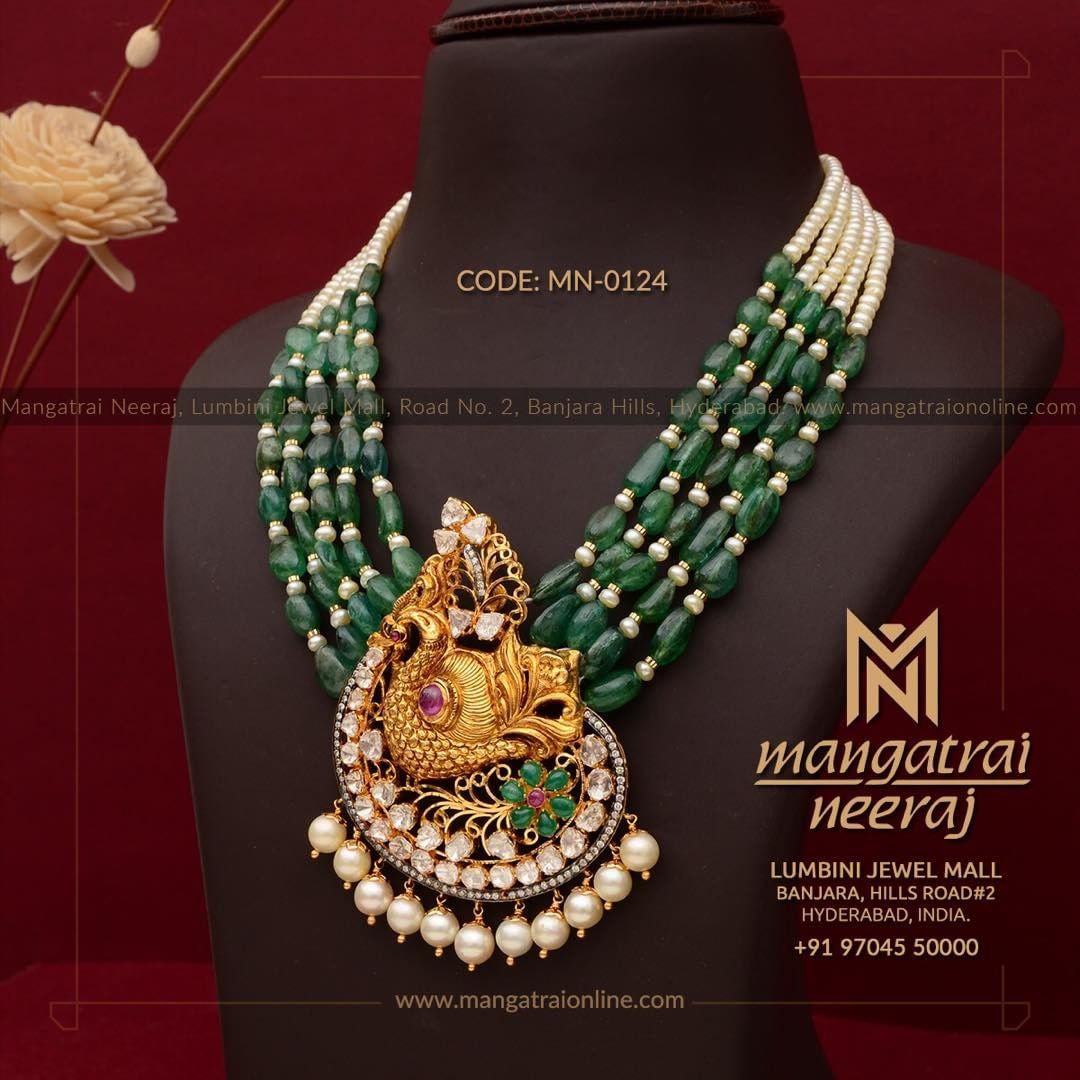 21) Intricate Design
This one is just stunning necklace which will leave you with the feeling of must have.  Small emeralds are embedded in gold, giving it a very royal look. The design of this necklace is intricate and the white stones complimented by the emerald. This one is very artistic with charismatic emeralds. This statement neckpiece is sure to grab you loads of compliments.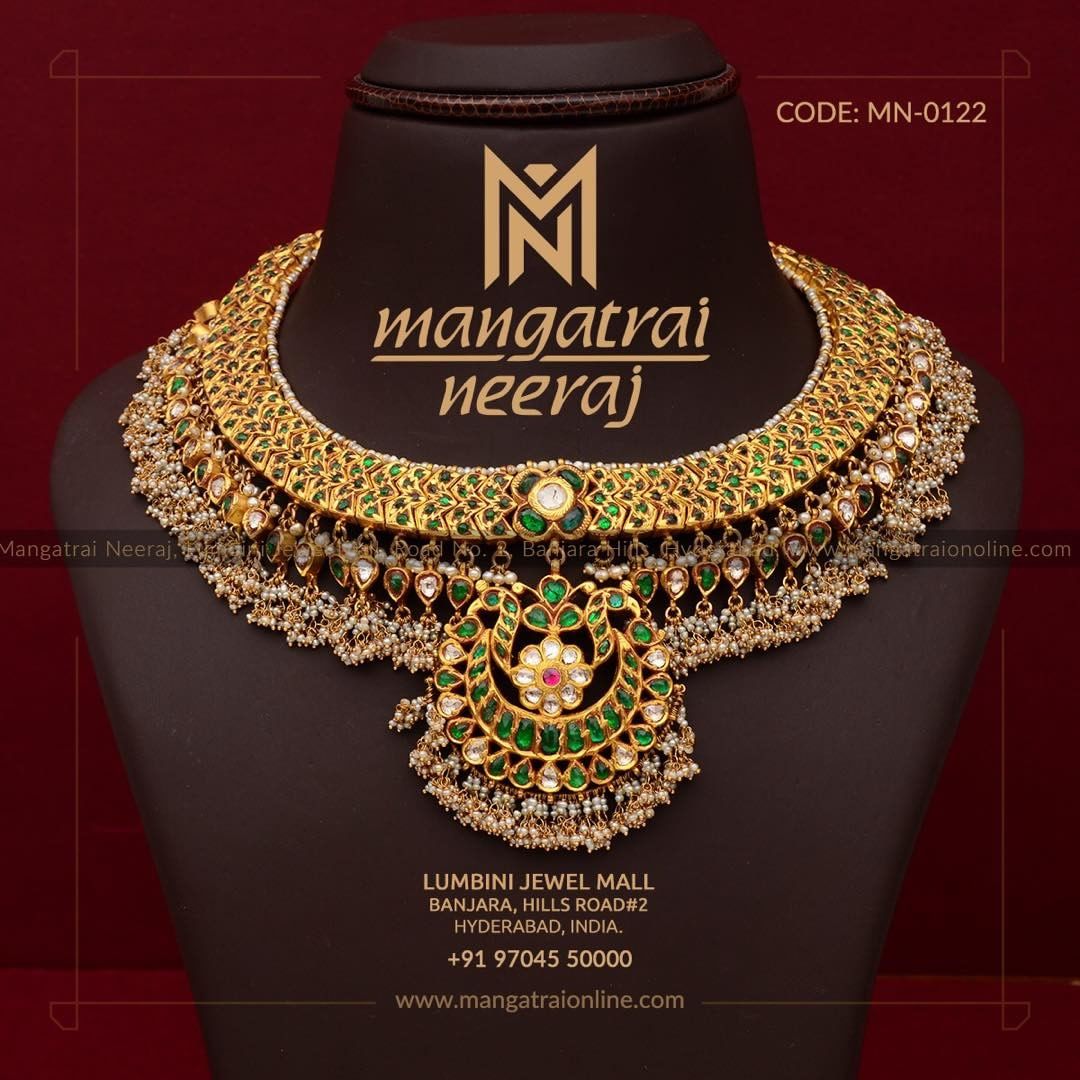 Hope you are so mesmerized by the beauty of these evergreen stones and how it can elevate you jewellery style. In case if you like to shop the emerald jewellery featured above, then please find the contact details given below.
Seller Name : Mangatarai Neeraj
Instagram : https://www.instagram.com/mangatraineeraj/
Whatsapp : 97045 50000
Also Read :