Gold has always been the most preferred form of adornment and has always been enhancing woman's beauty since ages. Not even a single occasion goes without wearing a beautiful gold necklace. May it be a simple party or a marriage, women love wearing these pieces of jewelry and flaunting them with the most suited up attire.
Women don't just consider these gold jewelries just as an accessory but an essential part of their appearance. Gold necklaces have evolved with time and now there are thousands of designs to choose from. Have a look at these small and splendid gold necklace designs:
Notable Pendant
This good-looking piece of necklace has diamond shaped gold pieces with blue and pink stones attached together as a chain. There is a beautiful pendant with goddess Lakshmi impressed on it with pink and green stones and pearls hanging in the bottom. This necklace can be paired with a traditional saree for a traditional occasion.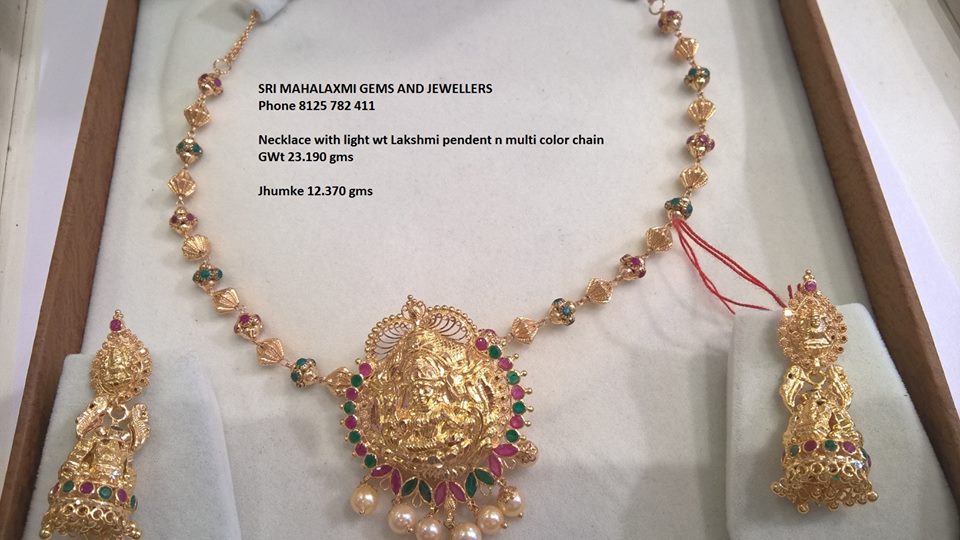 Elegant Look
The chain of this necklace is combined with white perals, golden balls, green and plum colored stones. The pendant has intricate design and has goddess Laxmi carved on it. The overall look of the necklace is pretty.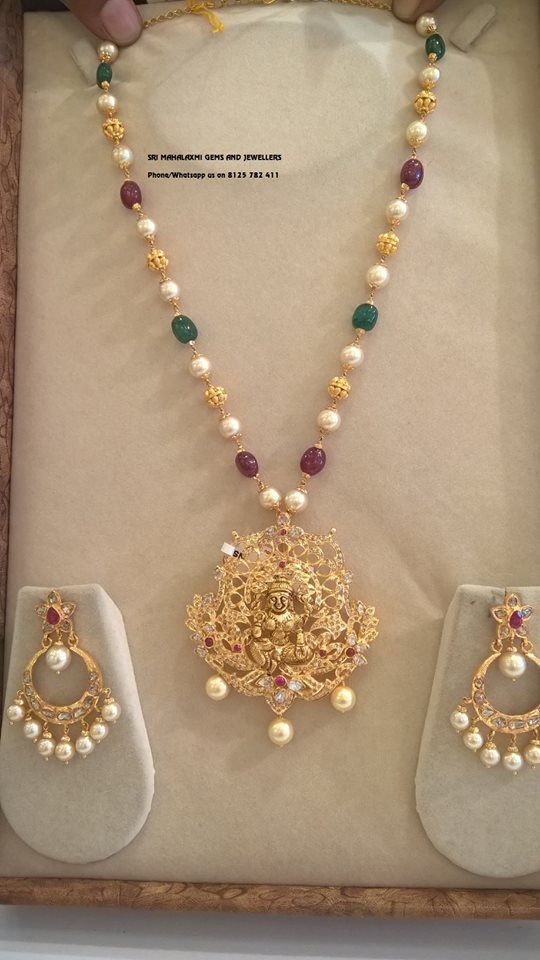 Double Chains
A simple chain with spaced white stones along with another chain of green stones dangling from it, there is a ruby stone in the center and there are attractive hangings from the chains. The gold necklace gives you a very different look as two chains emerge from one two joints. Definitely a must try necklace for an unusual look.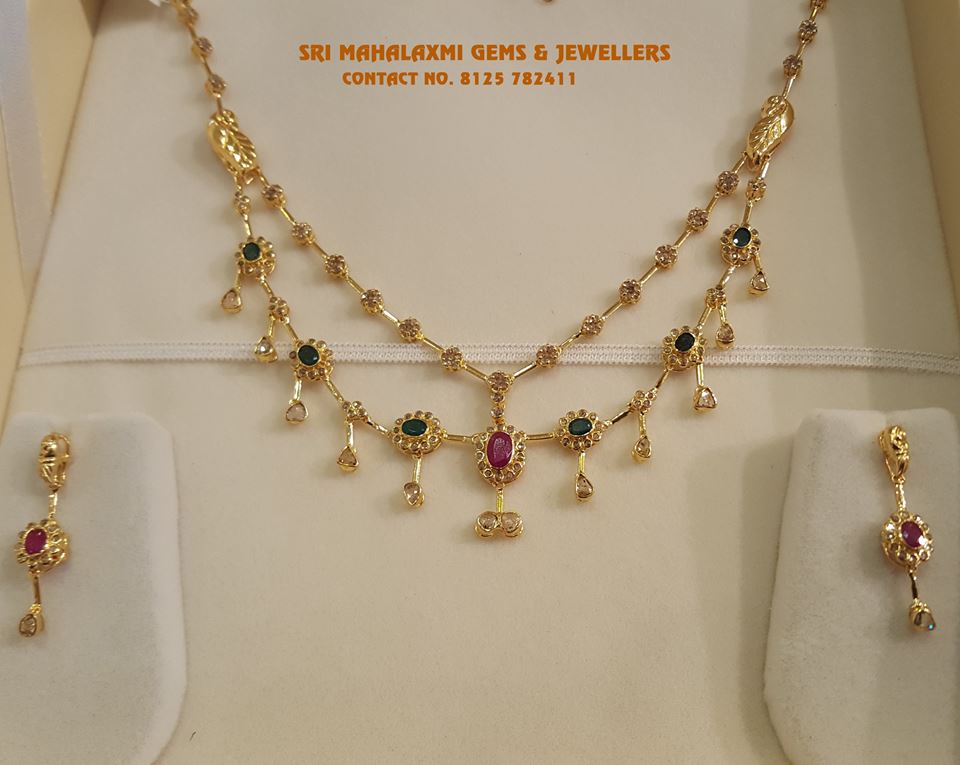 Pleasing Pearls
These alluring pearls along with gold are combined as a chain and enhanced with a glittering white stoned pendant with a pink stone in the middle and a pearl hanging from the pendant. A pleasing piece of necklace which makes your attire, look absolutely serene.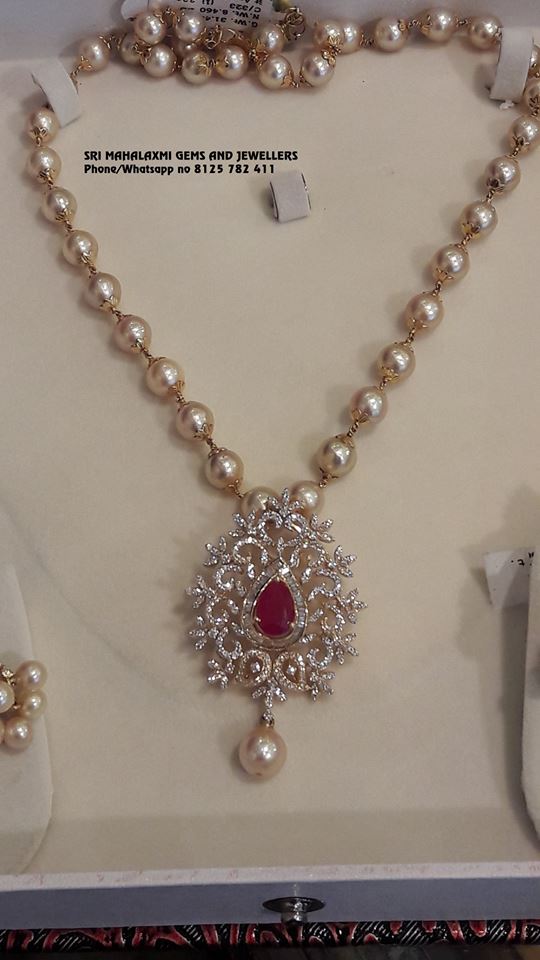 The Appealing Necklace
This necklace looks quite long and is very much appealing. The gold chain is embedded with half white stones and half pink stones and intensified with this classy pendant having white pearls hanging from its bottom. This necklace perfectly goes well for a traditional occasion.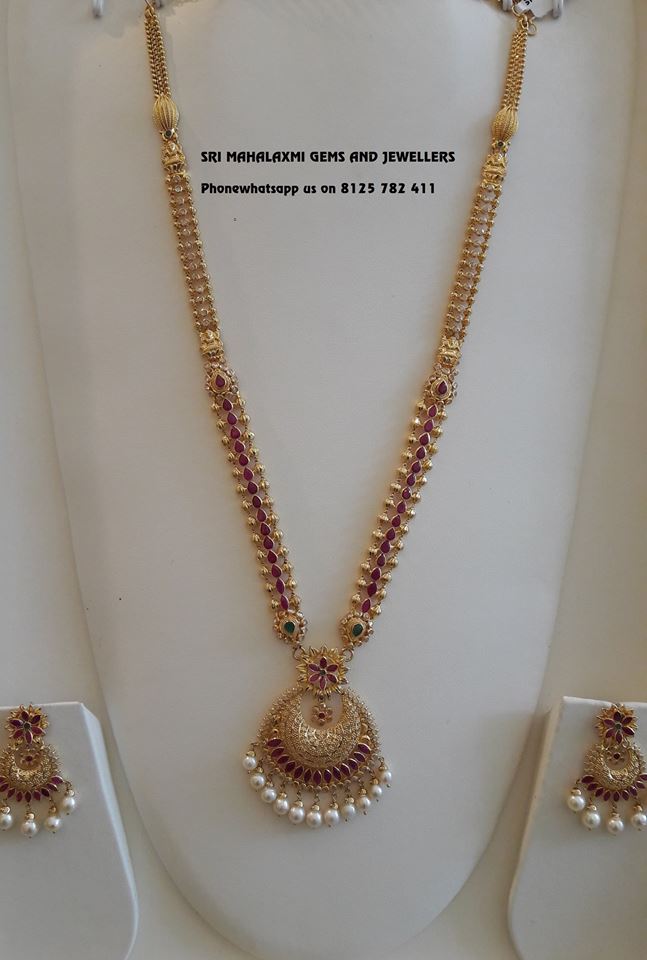 Chain Patterns
Edged with small circular gold bearings, the chain has gold dotted patterns. There are designed pink and green stones surrounded by white stones placed on the chain. The necklace has an attractive pendant with designs of white stone, emeralds and pink stones.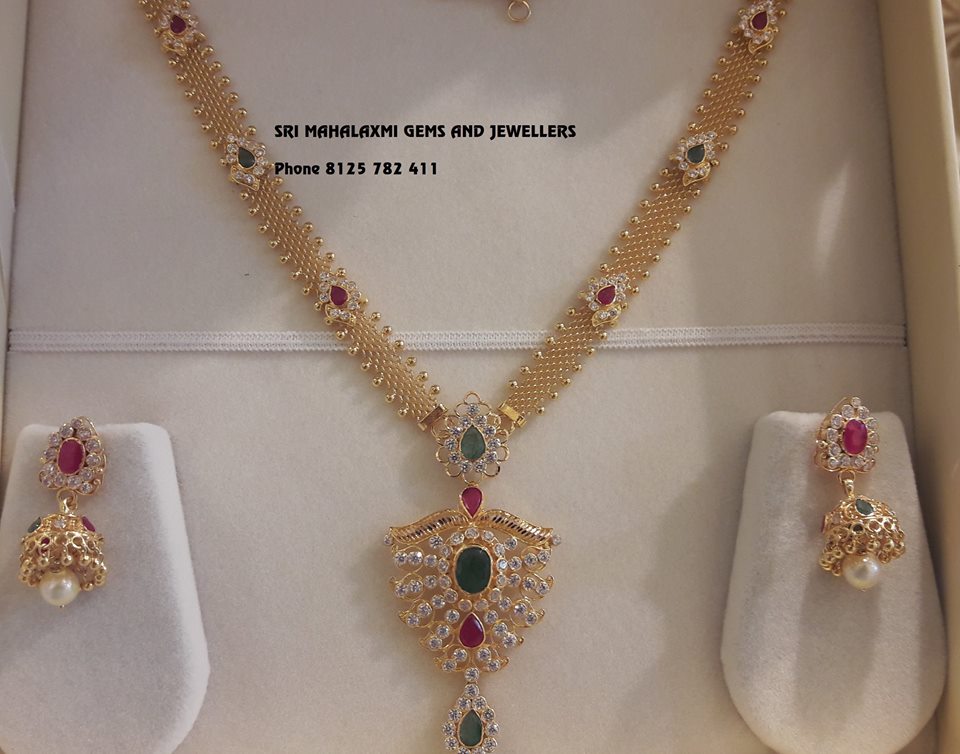 The Magnificent Gold
This necklace is with grandeur look for all your grand occasions. It has a kadha type of chain with golden carvings on it and has a flower with white stones and gives you a heavy look. It has another small kadha and glorious Lakshmi pendant hanging from it having pearls at the bottom.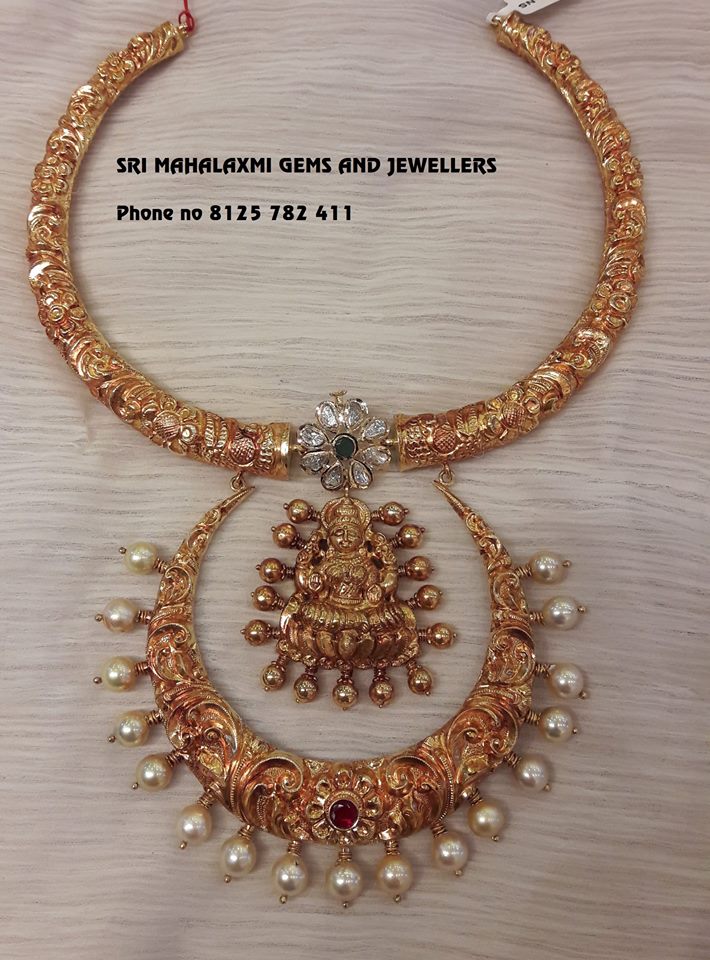 Navratna
The Navratna's-nine stones joined together to make this prepossessing necklace. It has a pendant of the same nine stones put up together. You can pair it up with any multi-colored outfits as the necklace will match up well with corresponding colors.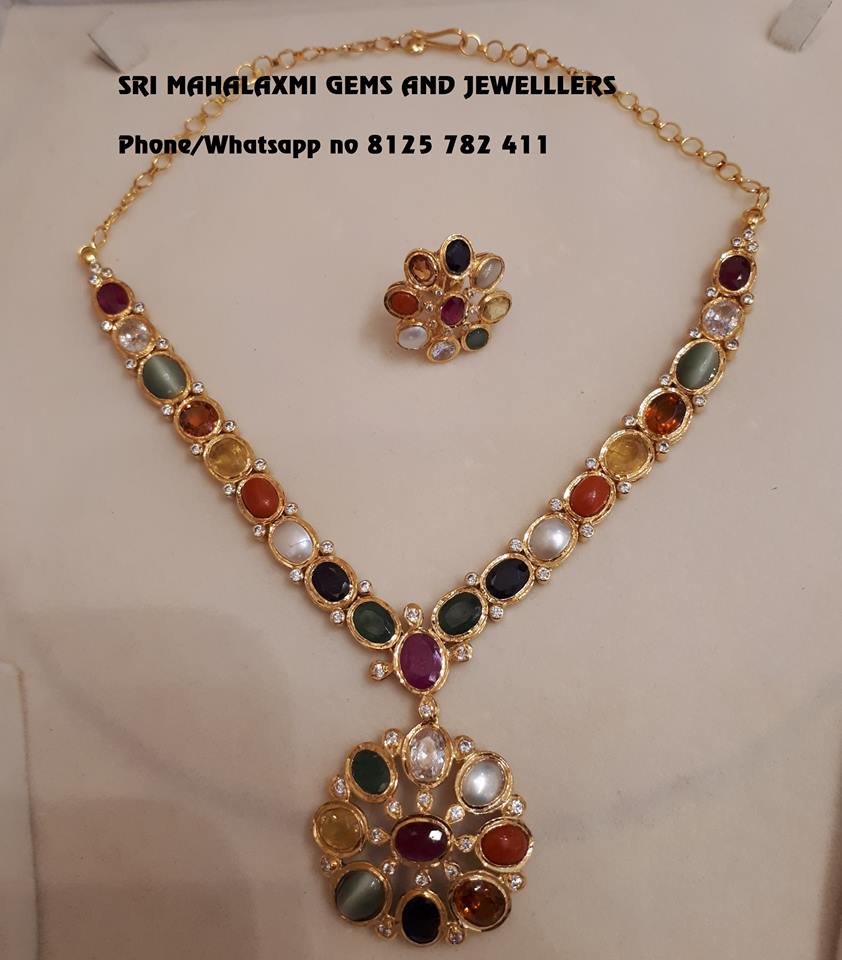 The Lion
The chain of the necklace is made up of pearls and carved golden balls with an unusual pendant of Lion and two brown semi curved chunks supported with gold. Well, you will look the modest wearing this necklace.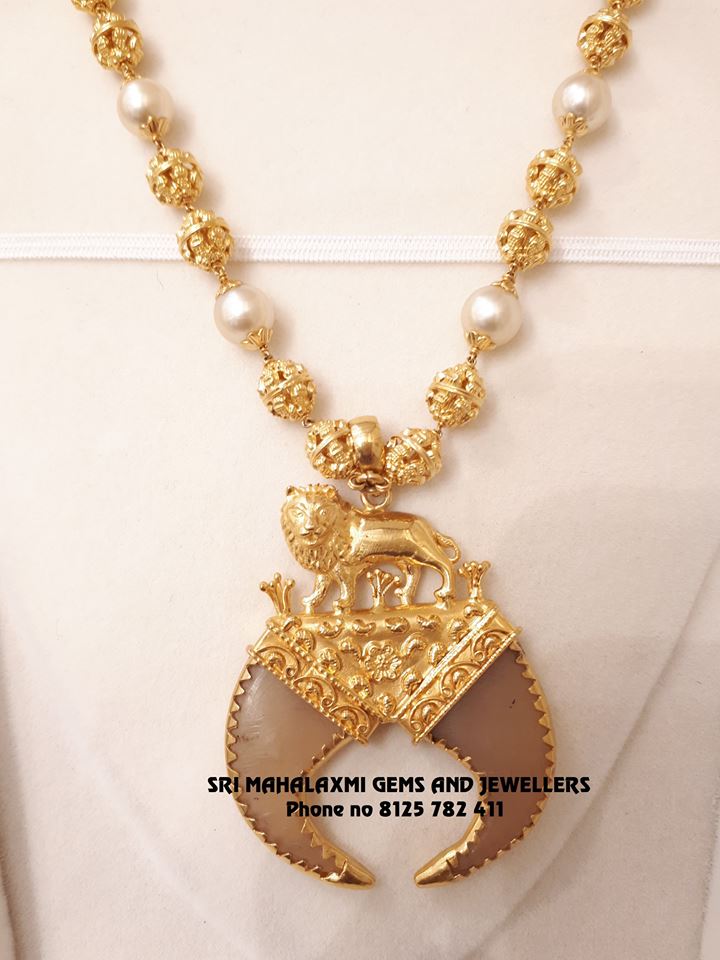 Pretty Greens
This is one pretty necklace embedded with green stones. The chain has green stones with gold petals along with a flower in the center from which there is an excellent pendant dangling. The pendant is circled with green stones and has golden design inside and a pearl hanging from it.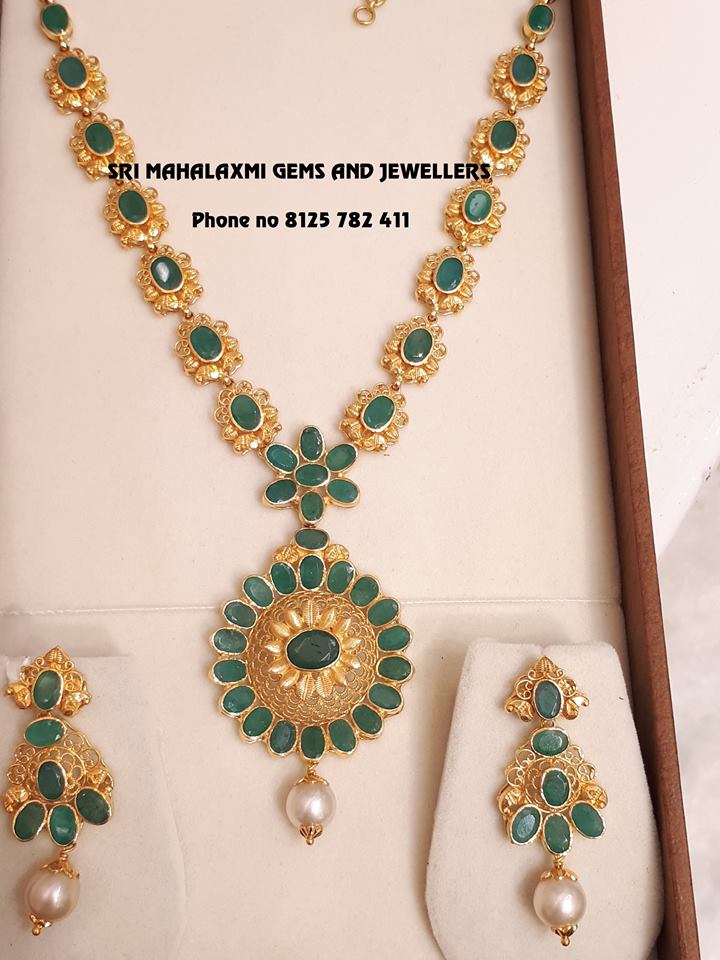 The Resplendent Necklace
The necklace has a chain of big eggplant colored stones with golden designs in between. It has a gorgeous golden pendant of two swans facing each other on a lotus. You can wear this necklace with a fancy saree and ramp up your attire.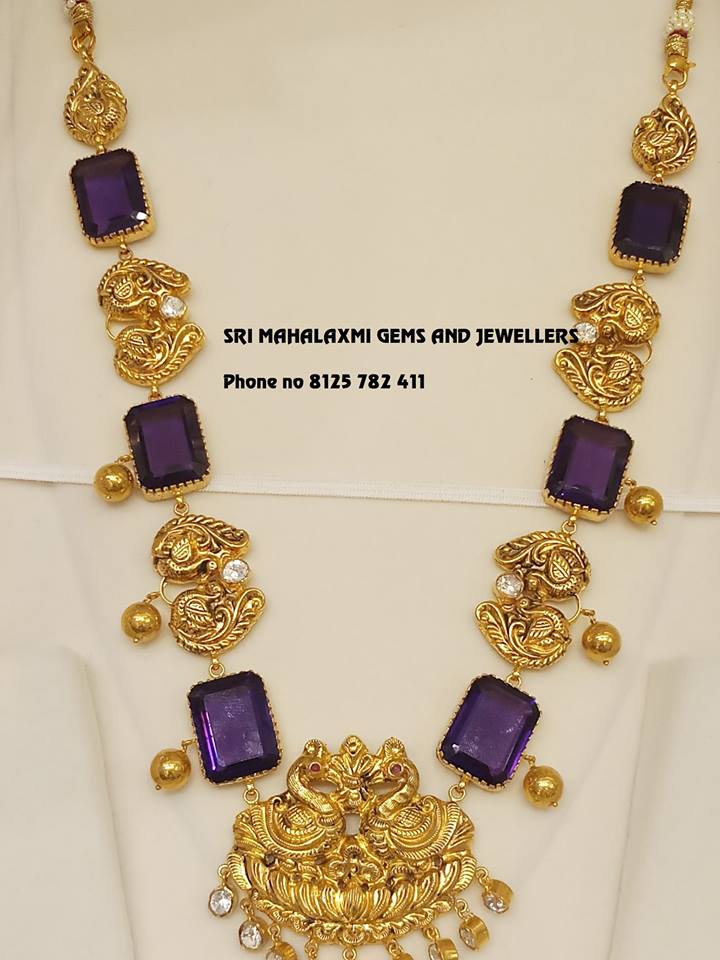 Delighting Pearls
You can opt for this necklace if you want an elegant look! The chain is a combination of red and white pearls with gold, it has an impressive with beautiful peacocks of gold on both the sides having decorated white stones and pearls hanging from at the bottom. A simple chain with a grand pendant, you can wear it with both traditional and fancy sarees.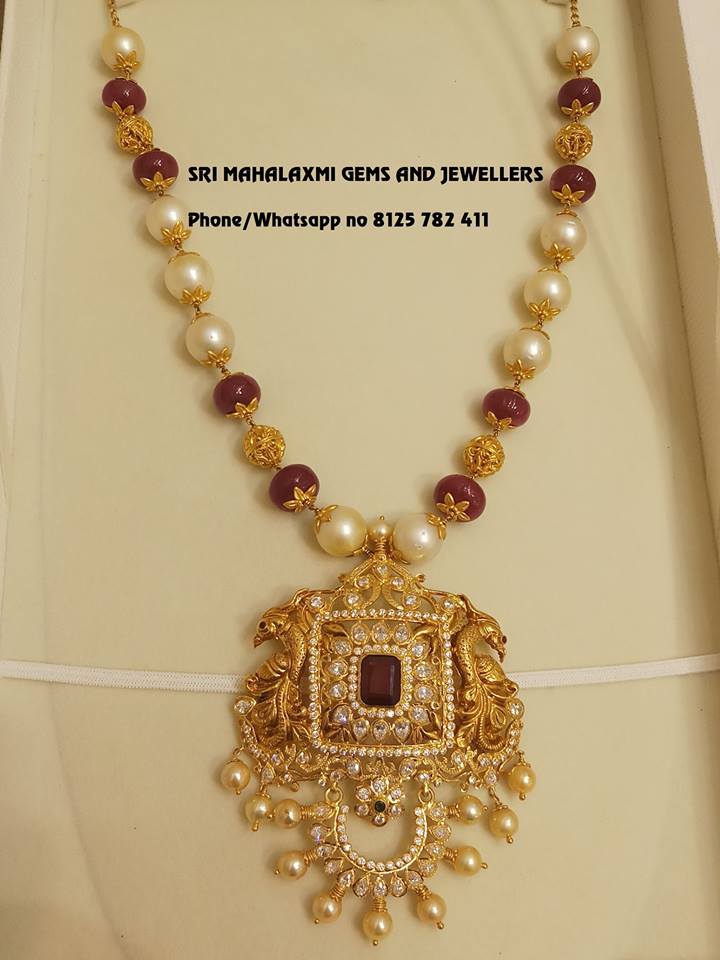 Golden Chains
A beautiful necklace for a beautiful lady. This gold necklace has two chains on each side making it look more spread out with Ruby in the center and green stones on either side. It also has a golden pendant with tiny white stones and green stones.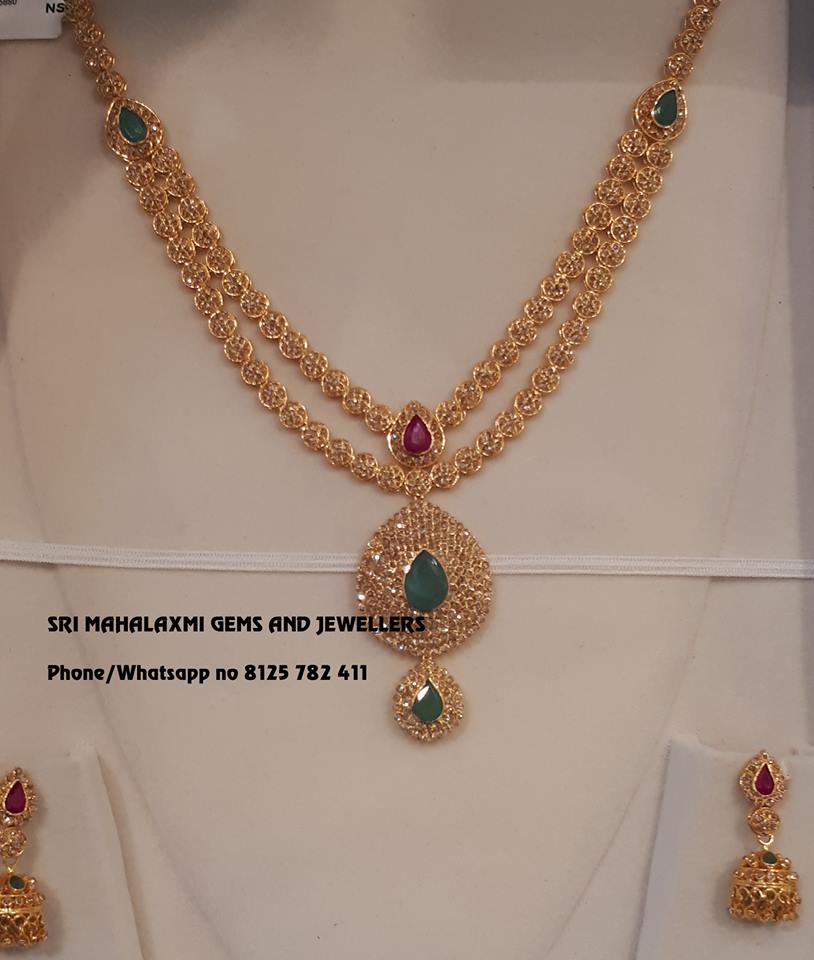 Simple Yet Classy
A simple golden chain with an imposing pendant inspired by peacock's beauty, this pendant is emphasizing with a golden peacock, with pink stones flaunting its feathers with white stones. If you would prefer to be on lighter side this is an ideal choice to look both simple and classy.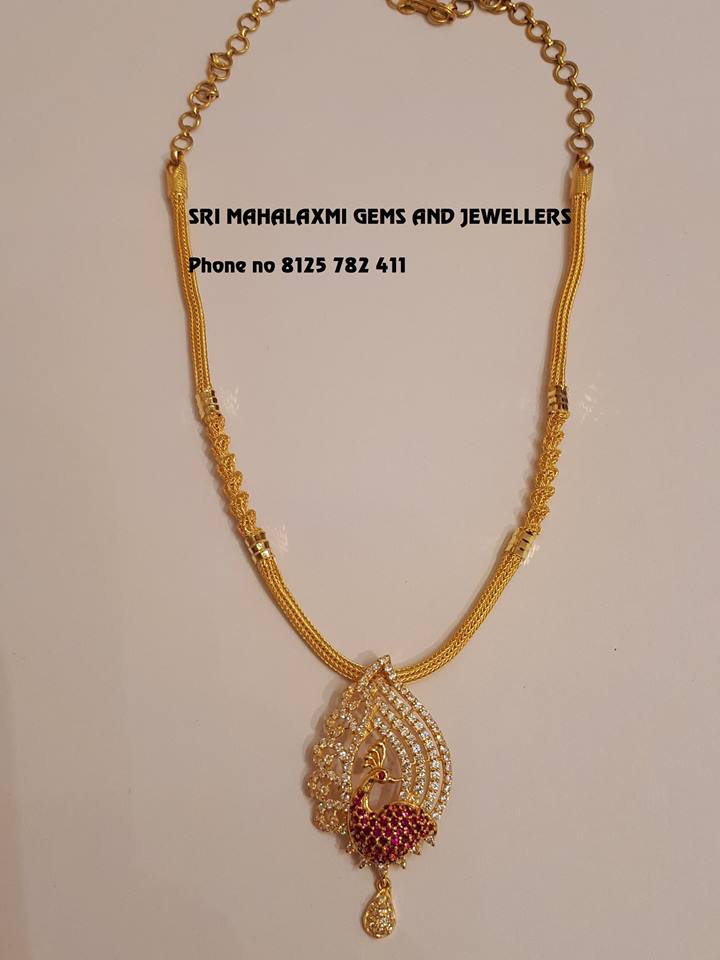 The Eye-catching Gold
The necklace has a thick designed gold chain which is sure to catch attention. It has got a glittering pendant with white, green and red stones. This piece of jewelry goes well with any traditional attire and gain you compliment.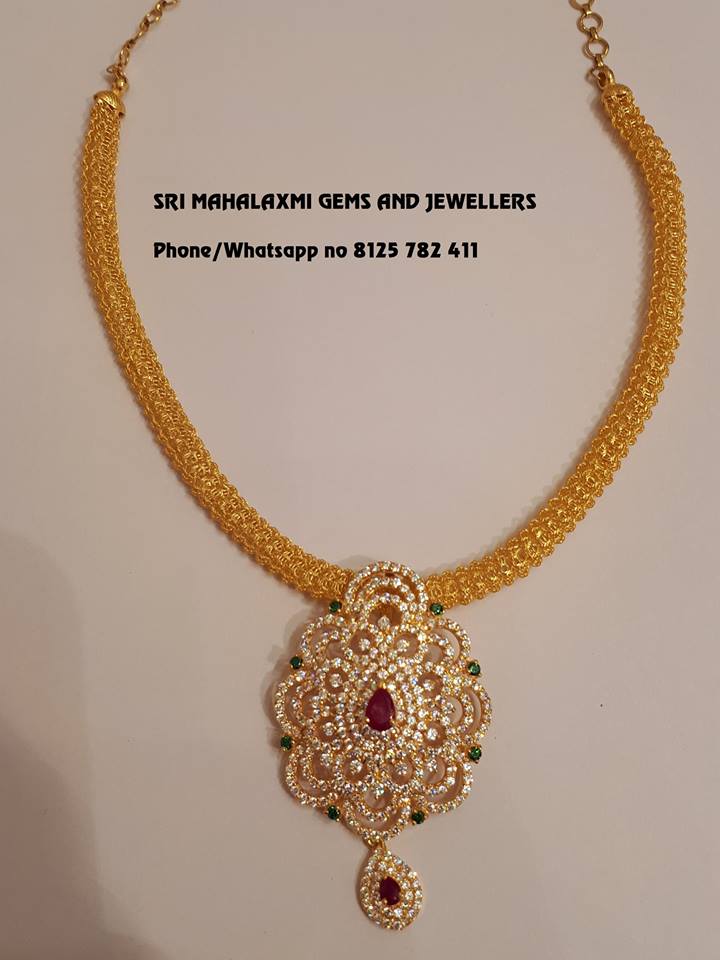 The Variant Necklace
The necklace has verities in itself. It has got a chain of these gold floral patterns embedded with different white, green and red stones and another small gold chain attached to it. The necklace has got an awesome golden pendant with stones and pearls attached to it.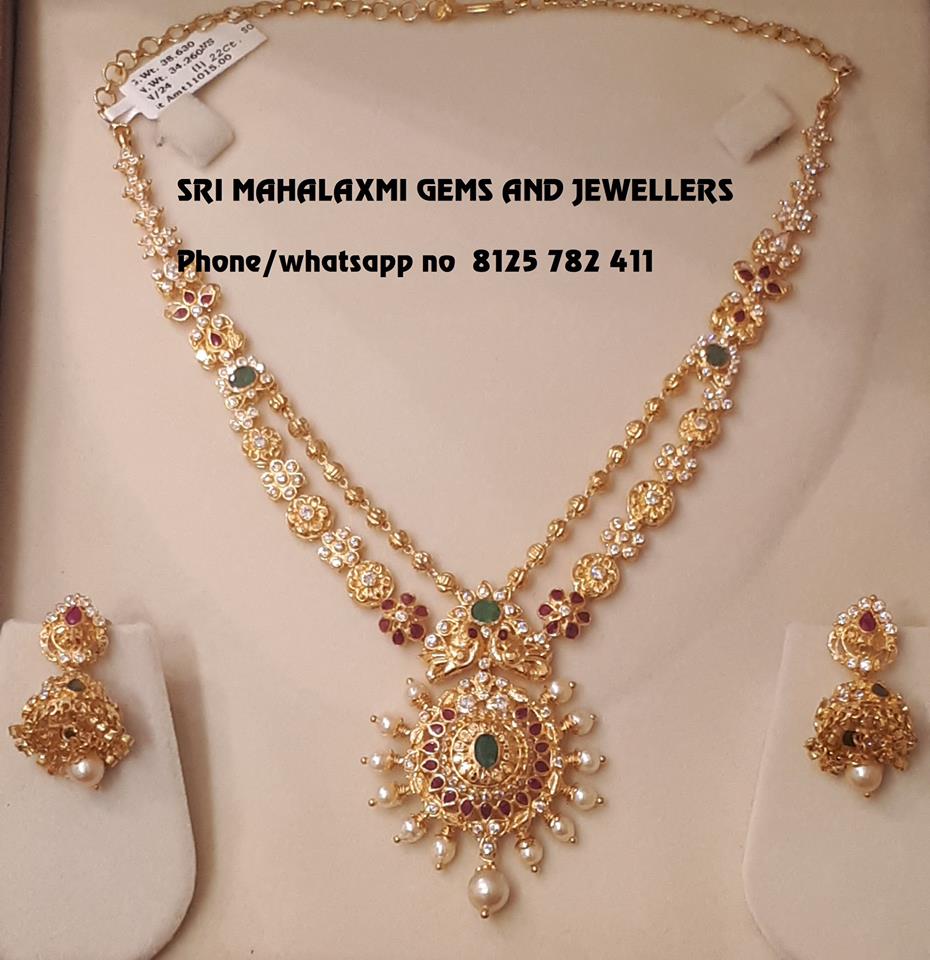 Sophisticated Pendant
This is a splendid piece of jewelry with chain of gold and pearls with an enchanting pendant intricately designed and embedded with emerald. This necklace is sure to enhance your beauty and make you look more gracious.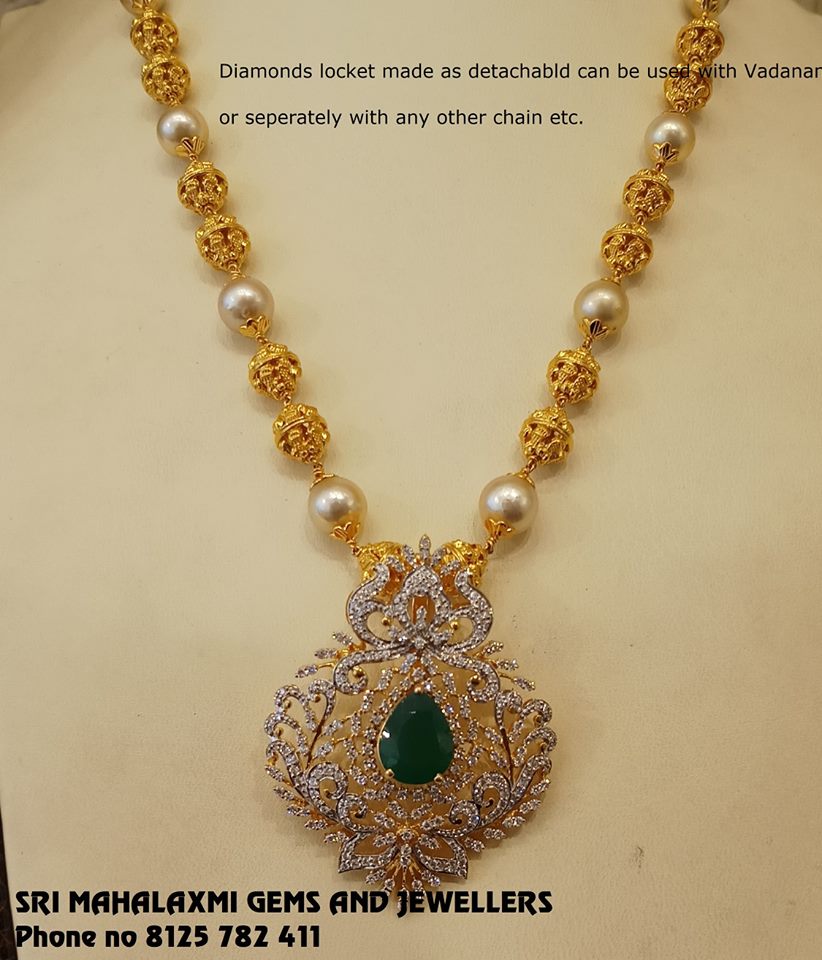 The Fancy Look
This necklace is very cheerful with its looks having a gold chain embedded with pink, green stones and many bunches of tiny white pearls dangling from the chain. You are sure to get a joyous look with this necklace.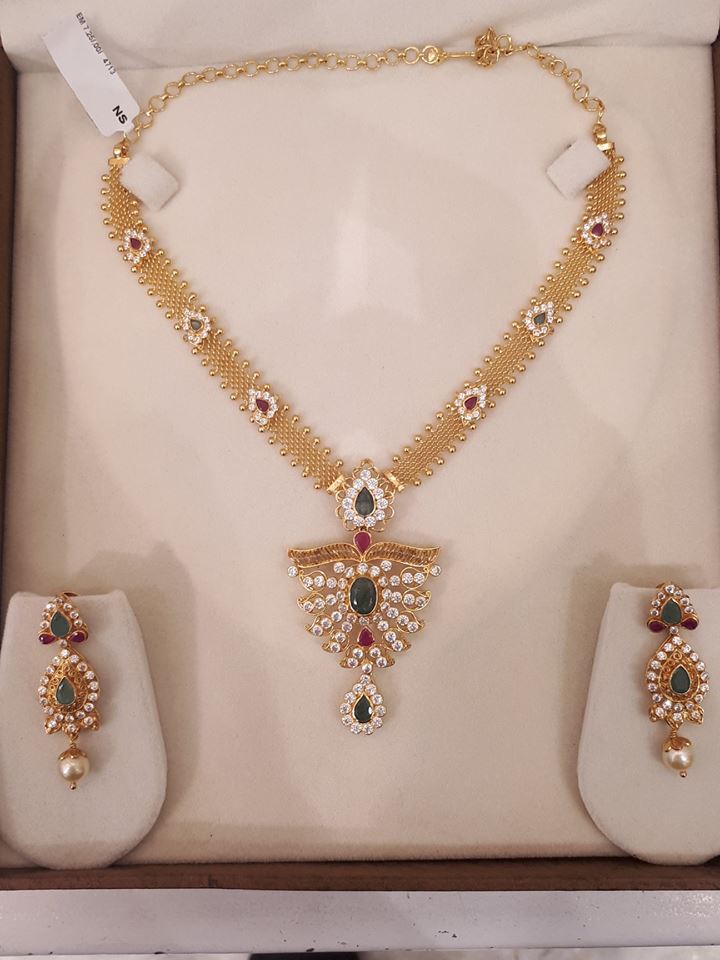 Modish Style
This small necklace has a contemporary look with golden nakshi balls combined with big dark green stones. There is a bigger nakshi ball at the center of necklace. This necklace can go along well with indo-western styled outfits as it has a modern touch.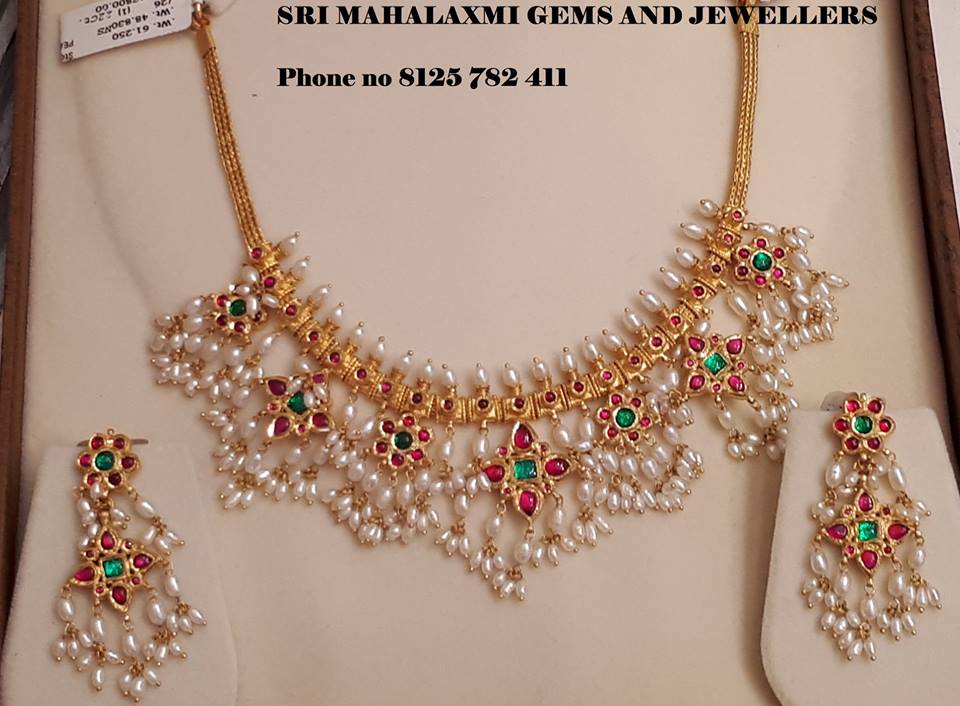 The above mentioned small necklace designs go along well with any occasions and grab you as many compliments! These are some of the must-have in your collections. Why wait? Find the one with goes your personality and flaunt it with your attire.
In case, If you like to shop the same designs feature in this post, please find the seller contact details here.
Seller Name : Sri Mahalaxmi Gems and Jewellers
Facebook: https://www.facebook.com/SriMahalaxmiGemsAndJewels/
Website : http://www.srimahalaxmi.com/
Contact : +91 92468 89611
Happy Shopping!
Also Read: