The art of adornment would be incomplete without the fascinating metal, Gold. History of Indian Jewelry is as old as the history of the country itself. Since ages gold has always been complimenting woman's beauty.
In Indian culture, Gold symbolizes wealth, health and prosperity. It has grown and evolved with time. Not even a single occasion goes without wearing a beautiful gold necklace. However if you flaunt those necklace with precious emeralds, it is needless to say that it will part a divine look.
Without a emerald necklace, your jewel box is never complete.
So here are 20 never seen before emerald necklace designs in Gold. To shop these, please find the contact details at the end of the post.
Golden Delight
Here is a beautiful gold necklace embedded with emeralds, pearls and rubies. The necklace has floral type of chaining with leaf like emerald and ruby holdings and a beautiful pendant of floral pattern with red stone hanging in the center and two pearls hanging on either side. The necklace worn on a red saree would enhance your traditional look.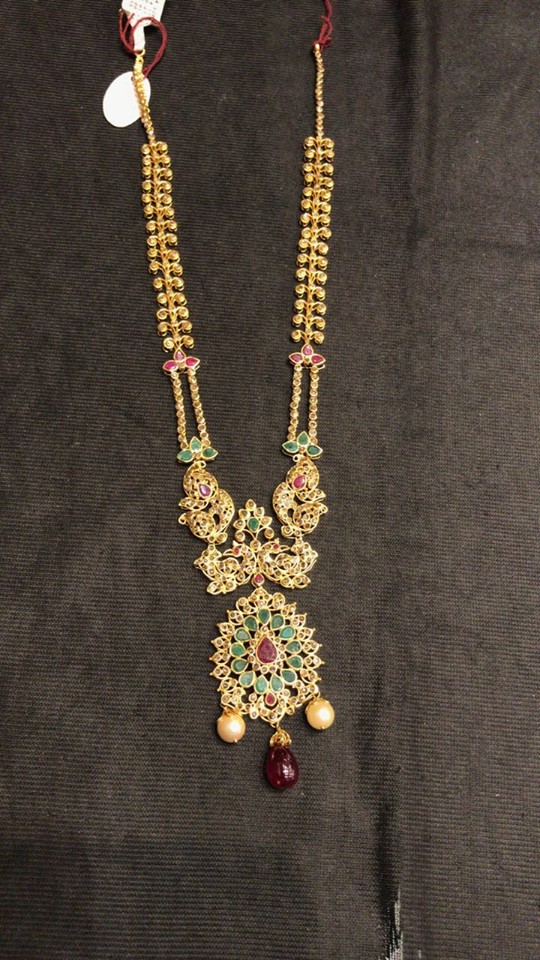 Semi Chocker Design
This classy piece of necklace is sure to make a bold statement. The gold necklace has floral carvings on it along with white stones centrally arranged in floral patterns and there are highlighting emeralds and pearls placed in-between the flowers. A traditional wrap skirt with the necklace would be trendy.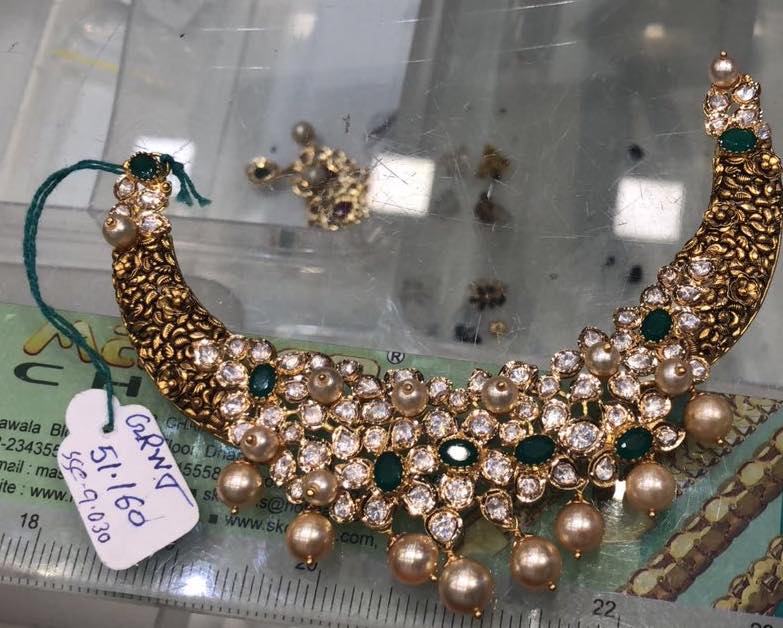 The Traditional Chains
The jewelry has layering of chain. One with yellowish pearls, the other with square emeralds accompanied with floral patterned white stones with highlighting red stones in the center and with circular detailed gold work hanging from the square emerald. It is quite heavy and gives a complete traditional look.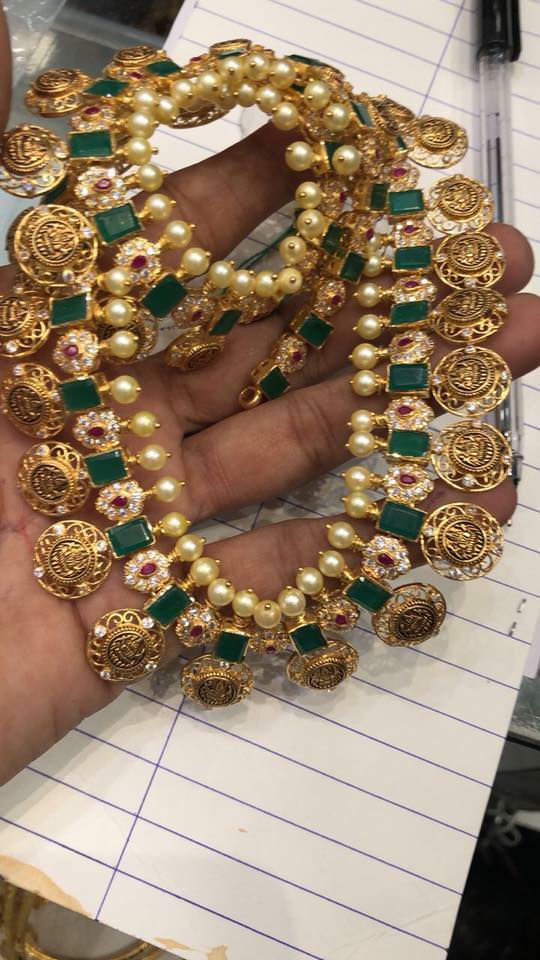 The Antique Masterpiece
This is an elegant looking piece. There is a chain of square gold pieces embedded with emeralds in the center accompanied with intricate peacock head design on one side and circular designed gold on the other side. This jewelry will match up with any dark colored sarees.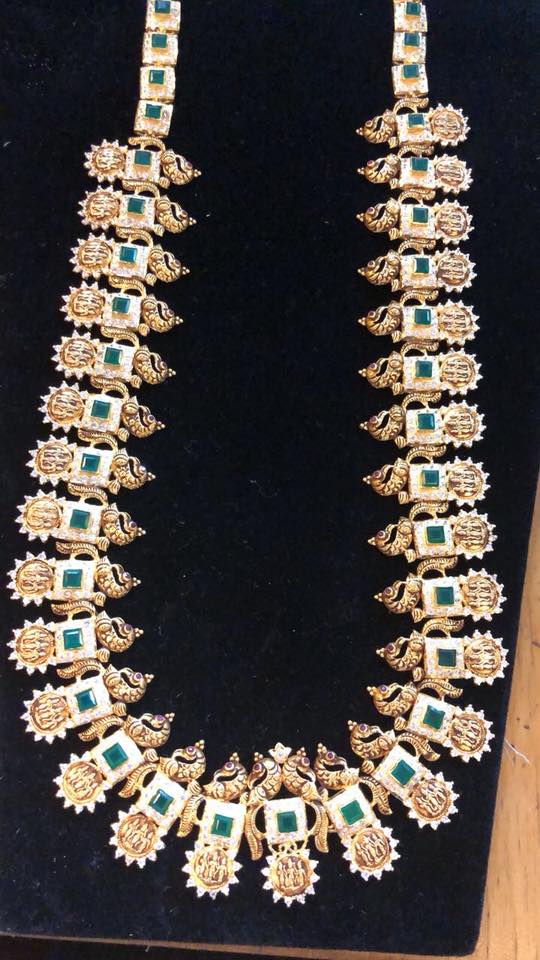 Alluring Pendant
This necklace has alternative gold design chained with white stones in the oval shape and highlighting emerald in-between.
This piece has a royal pendant with beautiful patterns having a ruby on the top of the pendant and emerald with hanging pearls on the bottom. This is on heavier side and can be worn on grand occasions to reflect a majestic look.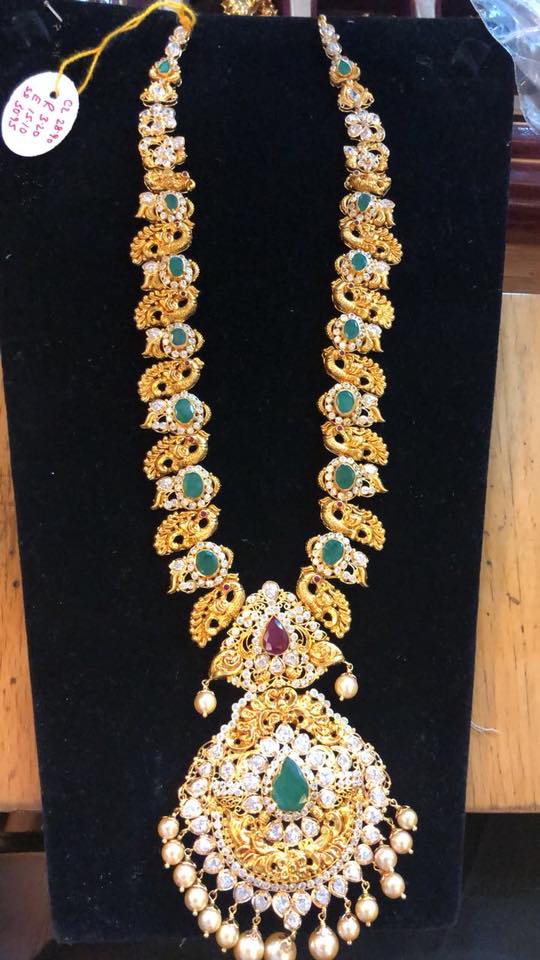 Pretty Pearls
The jewelry looks like a complete set of ornaments put together. It is a combination of square emeralds with gracefully scattered pearls and white stones. This necklace would go along really well with any white and green or off-white modern lehengas.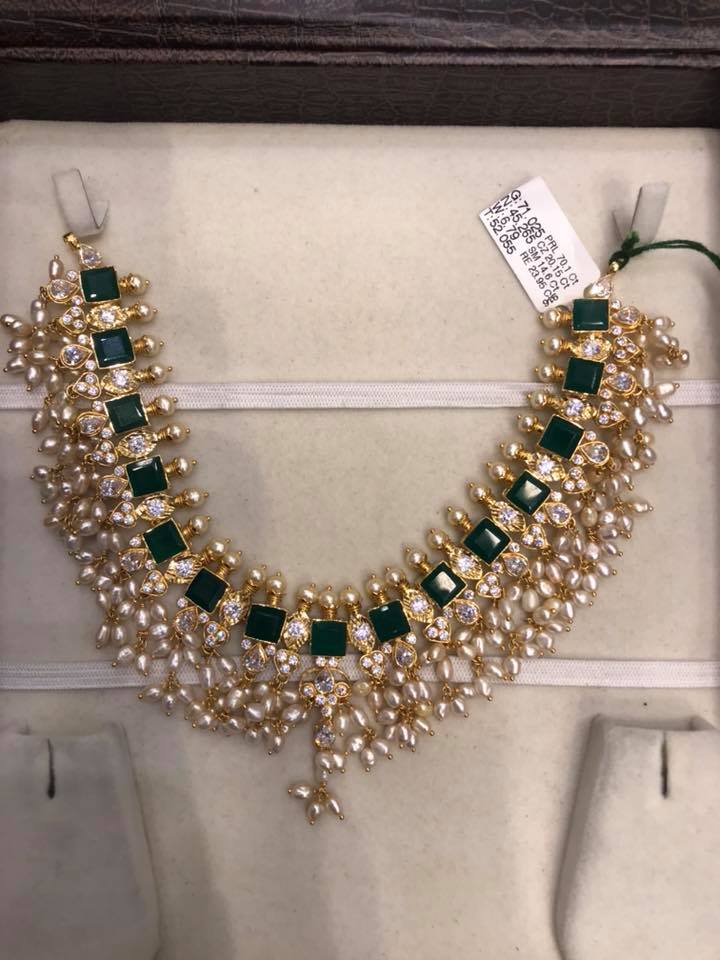 Golden Metallic Look
This neck piece has a striking golden look with alternate series of square emerald surrounded with white stones and a hanging circular gold design. This heavy looking yet light necklace can be worn with fancy sarees.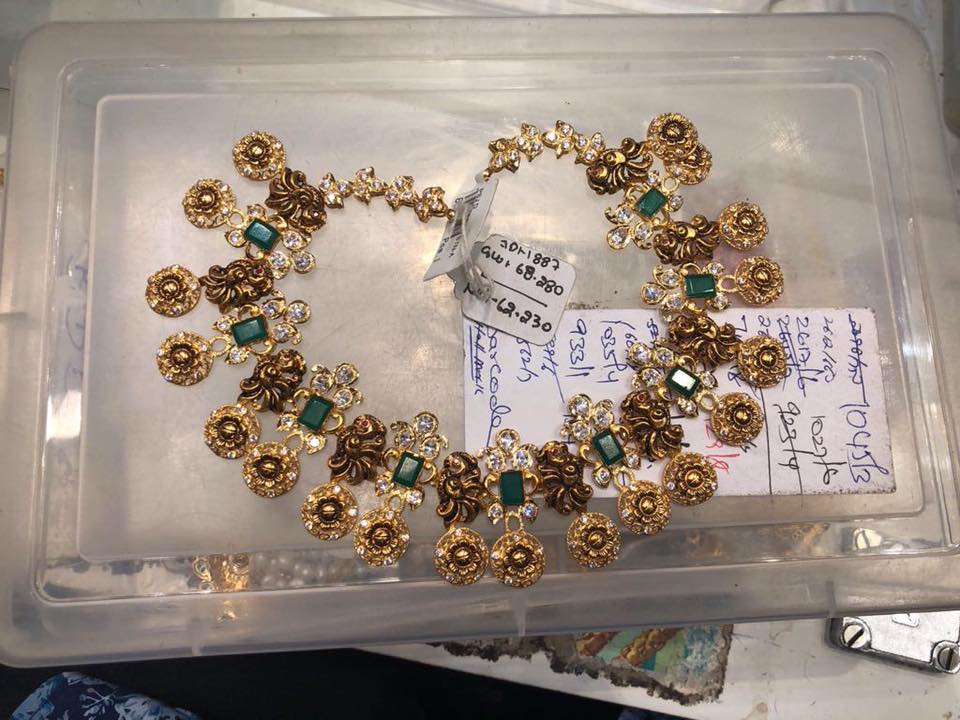 Appealing Pearls and Emeralds
This pretty necklace is made with oval shaped emeralds, square white stones and elongated pearls hanging from the emeralds. This jewelry would go with a traditional, simple ghagra.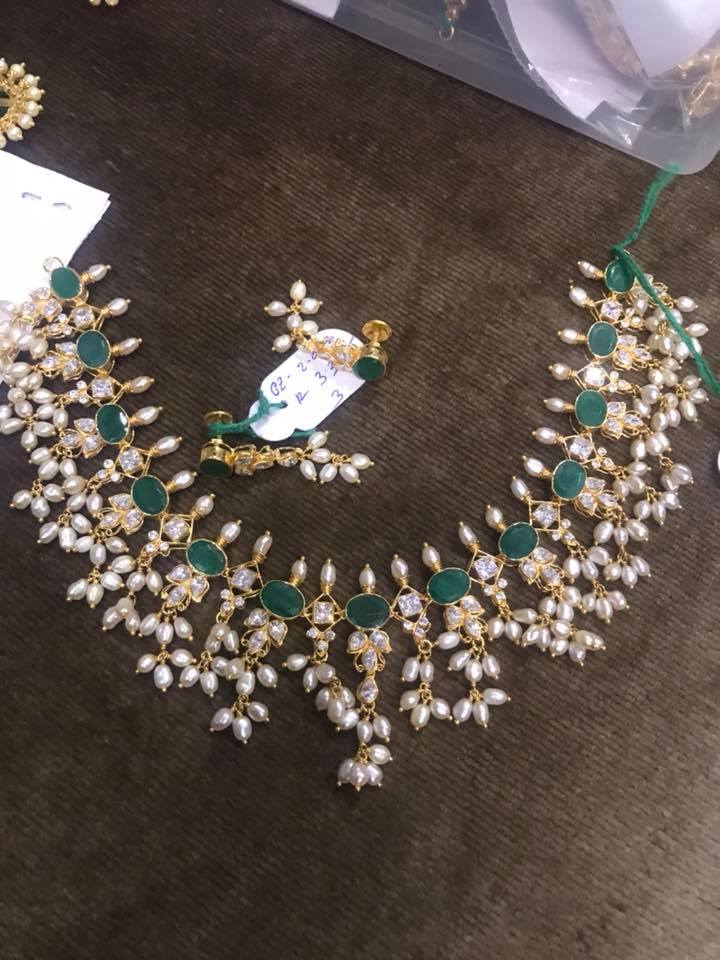 Emeralds With a Modern Touch
The necklace looks stunning and bold with its varying sizes of oval shaped emeralds also the white stones in-between add up to its elegance. It is a fine mixture of flower patterned white stone chain with emeralds in the bottom. This can be worn with indo-western outfits and this would make a perfect fashion statement when worn on a gown or a simple saree or salwar kameez.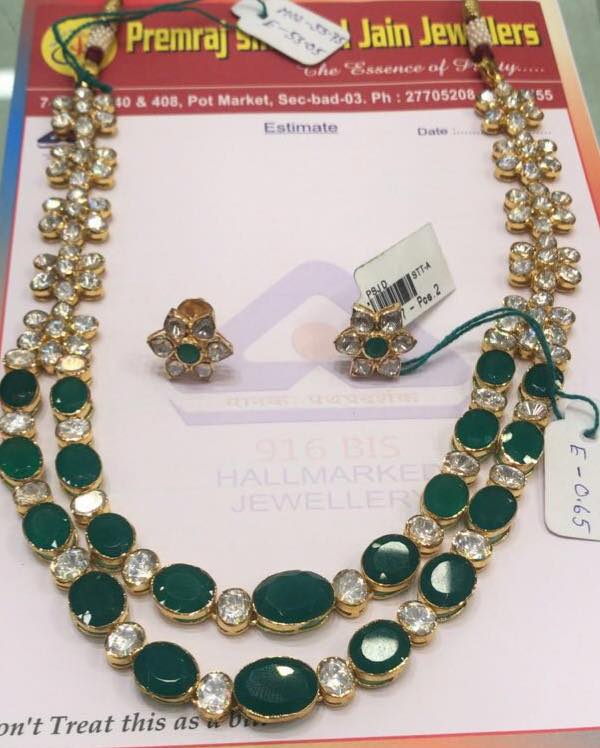 Pleasing Blend of Stones and Emeralds
This gorgeous necklace is sure to get you complimented for your beauty. The necklace has a chain of petal-ed white stones with hanging emeralds bounded by white round stones. The necklace with go along with ghagra/lehengas also wearing it on turquoise colored saree would be snazzy.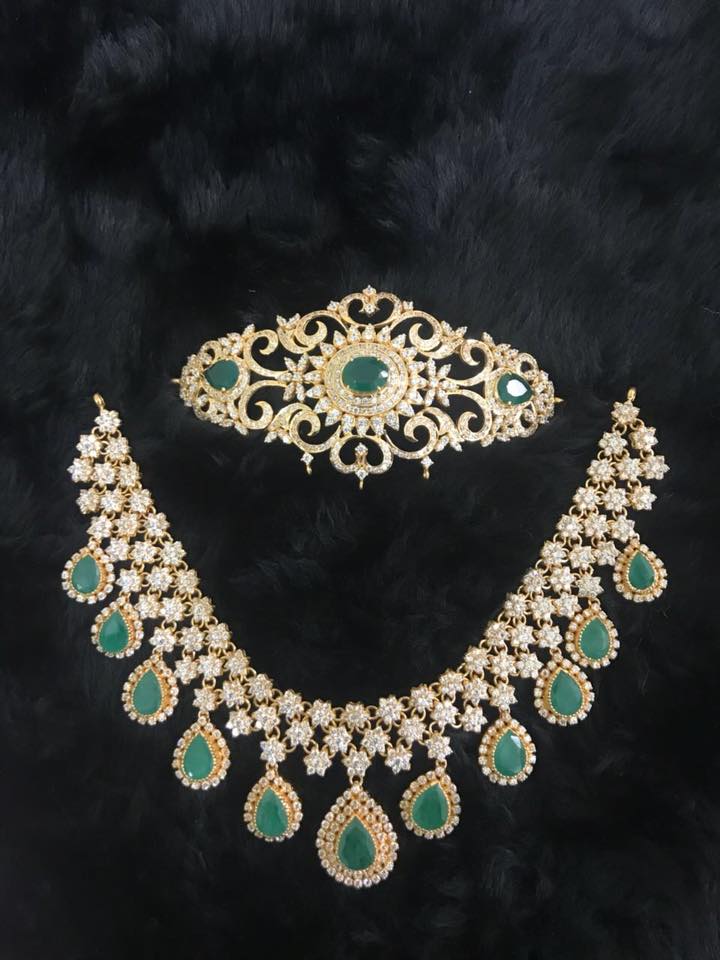 The Party Charmer
This is a glorious grandeur necklace with intricate design. The necklace is embedded with emeralds and bright white stones and a sophisticated pendant with an emerald surrounded by detailed designs of white stone with pearls hanging from it. Your evening party attire with a saree wouldn't be completed without this and this look will surely catch all the attention.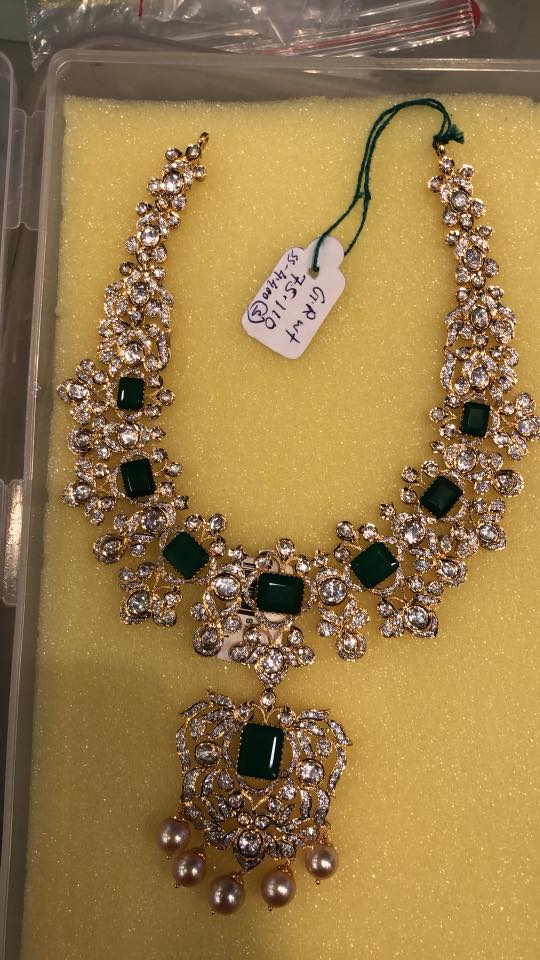 The Classic Gold Patterns
This would be a good combination for your collection of traditional saree. Chain with golden peacocks on both sides and a goddess placed in the center of necklace with the emeralds surrounded by white round stones hanging from them.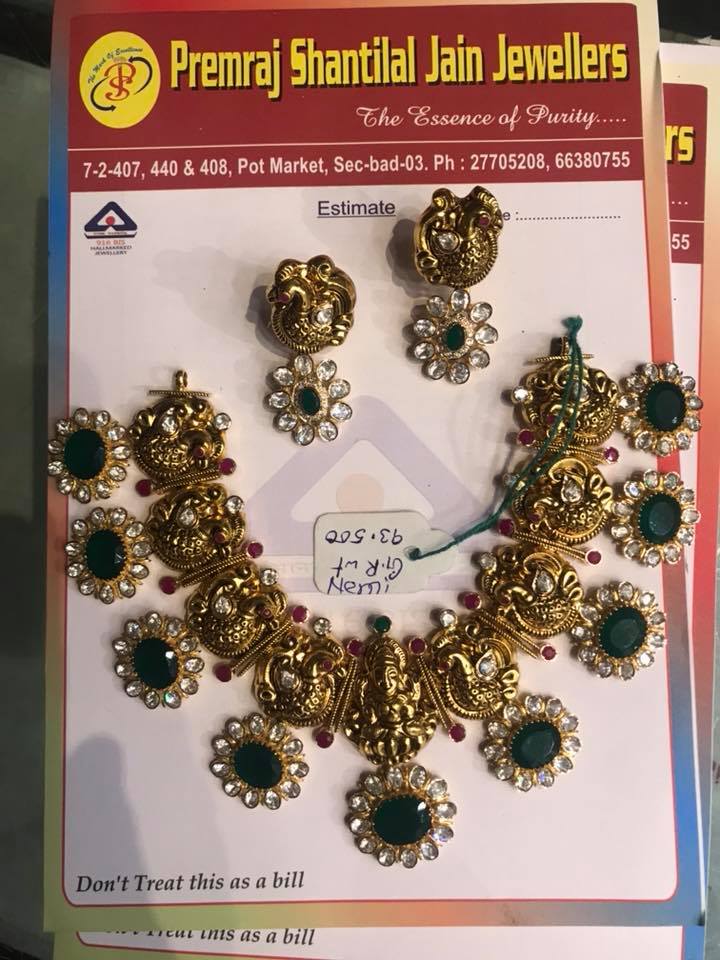 Beauteously Enhanced Emeralds
This masterpiece has pearls hanging from gold designs with emeralds embedded in square gold frames. Red stones put up in-between increase the beauty of the necklace.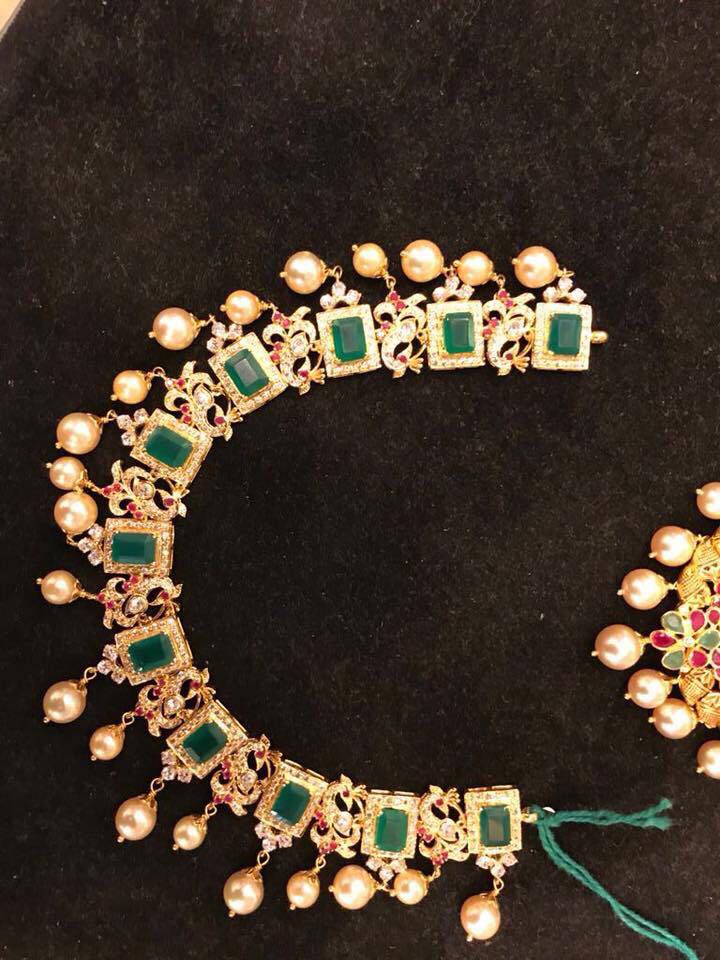 Heavy Golden Glory
Here is a magnificent looking necklace for all the grand occasions. The chain has gold carvings blended with emeralds, small pearls hanging inwards and slight big pearls hanging outwards. It has a ruby in the center and an equally complimenting pendant with pearls hanging from it.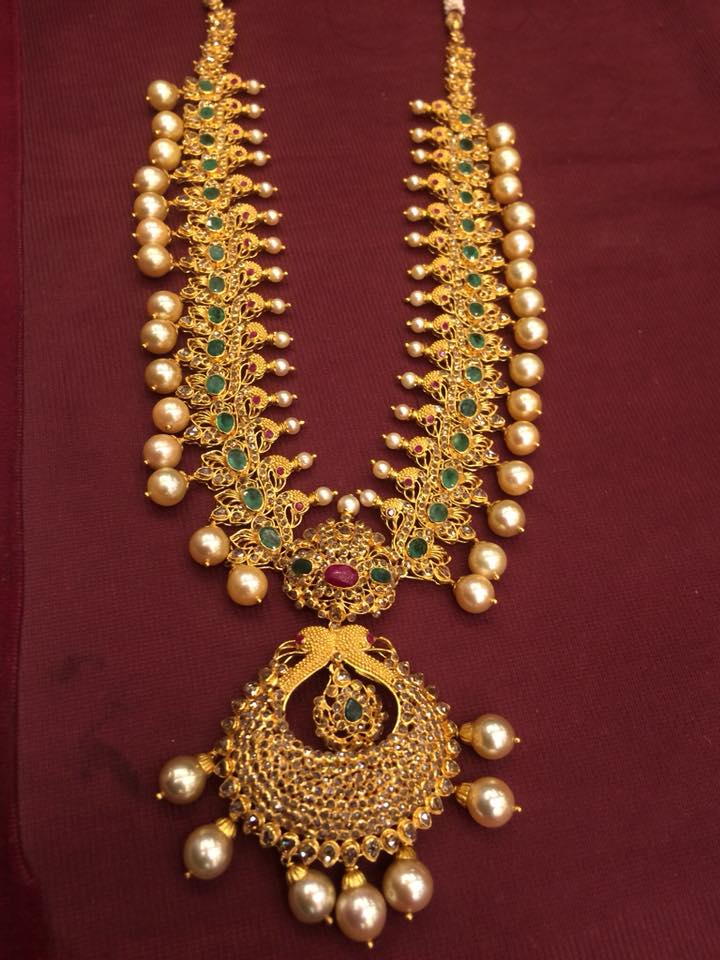 The Pink Prestige
Wrapping up a pink saree with this necklace would definitely be enhancing your good looks. The modish necklace has emeralds surrounded by small red stones with pearls hanging outwards and inwards and a radiant pendant with a big emerald in the center and pearls hanging from it.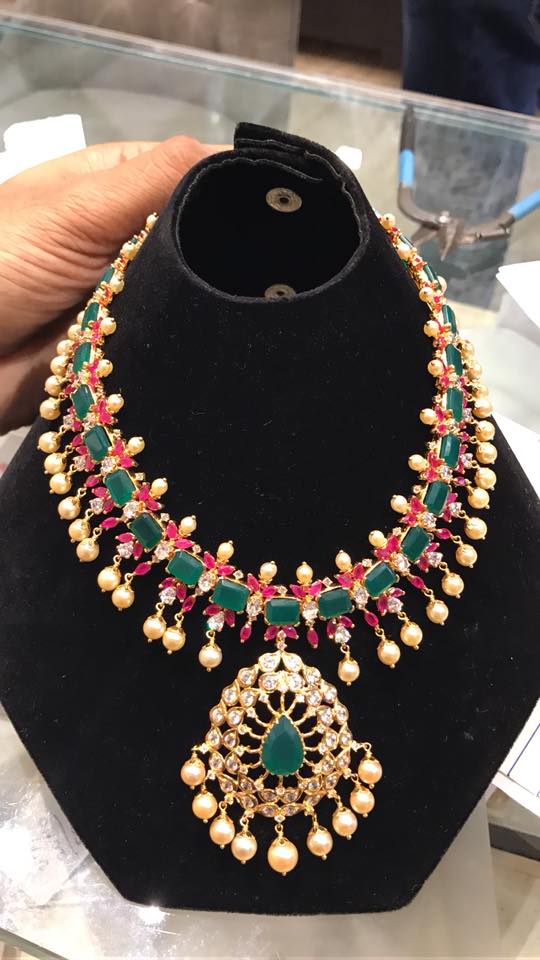 Absolute Golden Grandeur
This alluring jewelry styled with off-white, red or a green saree will gain you a lot of appreciation. The necklace is embedded with emeralds, red stones, pearls, a ruby in the center and a complimenting pendant with pearls hanging in the bottom. The set is quite antique and has a royal and godly feeling etched to it.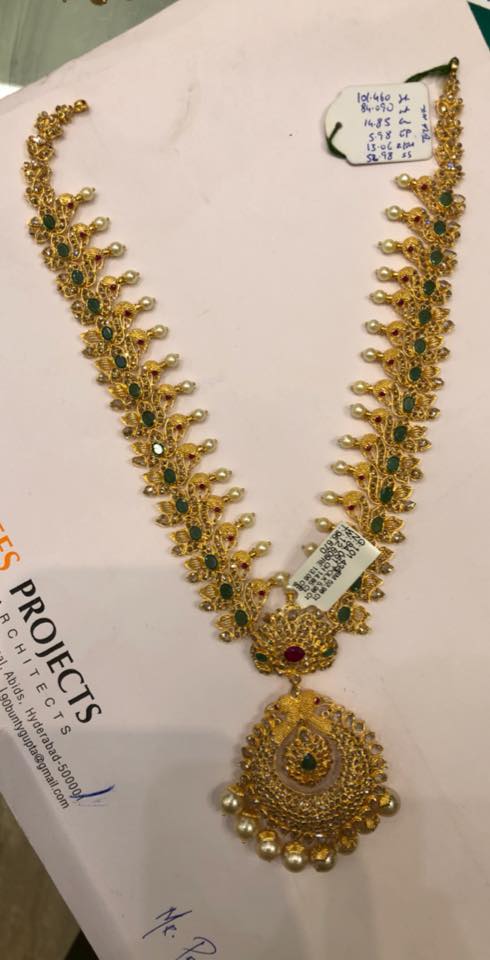 Eminent Emerald Looks
The mixture of white stones and the hanging pearls is enhancing the gold. There is a red stone in the center and a heavy pendant with emerald, white stones and pearls hanging from bottom. This neck piece is definitely good choice for traditional attire.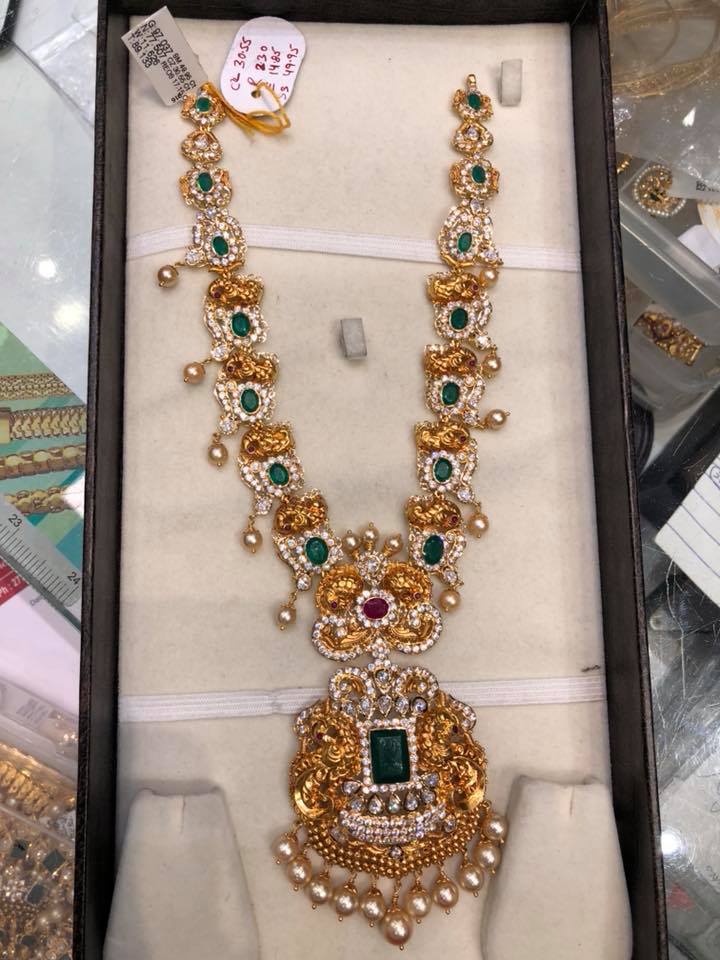 Classic Choice
This is a very simple yet attractive and stylish piece of jewelry. There are Emeralds from which golden beads and pearls are hanging. This can be worn on lehengas to complete the look.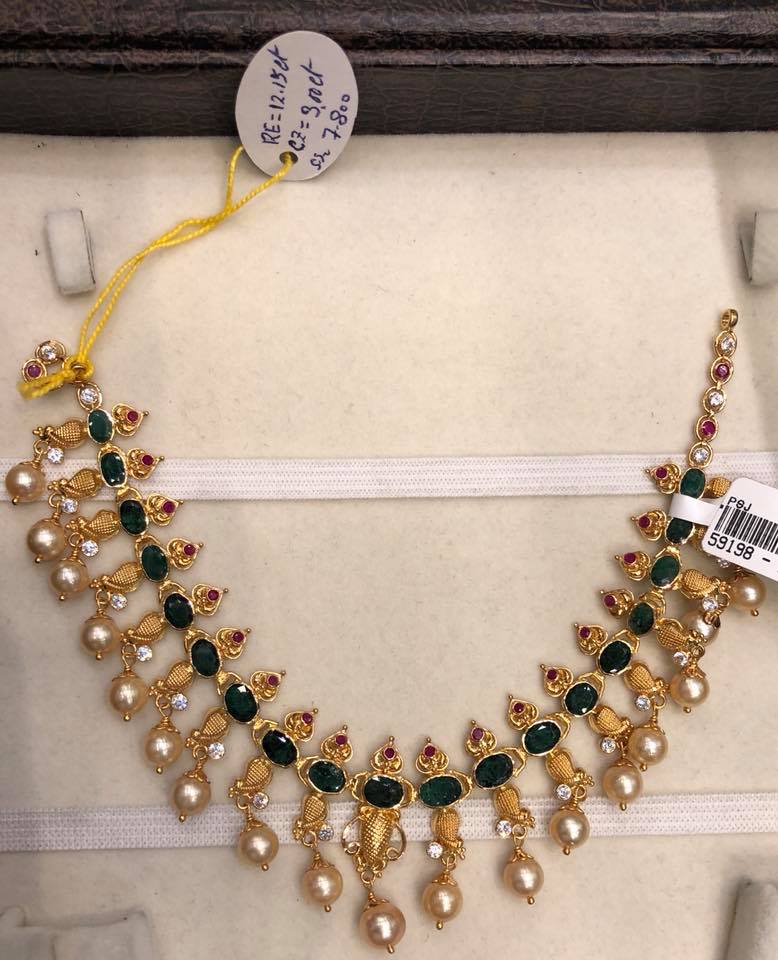 The Sophisticated Necklace
If styled with a fancy saree for an evening party, you are sure to be the center of attraction with this marvelous piece of jewelry. This necklace with emeralds and shining white stones will make you a party charm. There are pearls hanging from the chain and a captivating pendant with emerald in the center and a pearl hanging from it.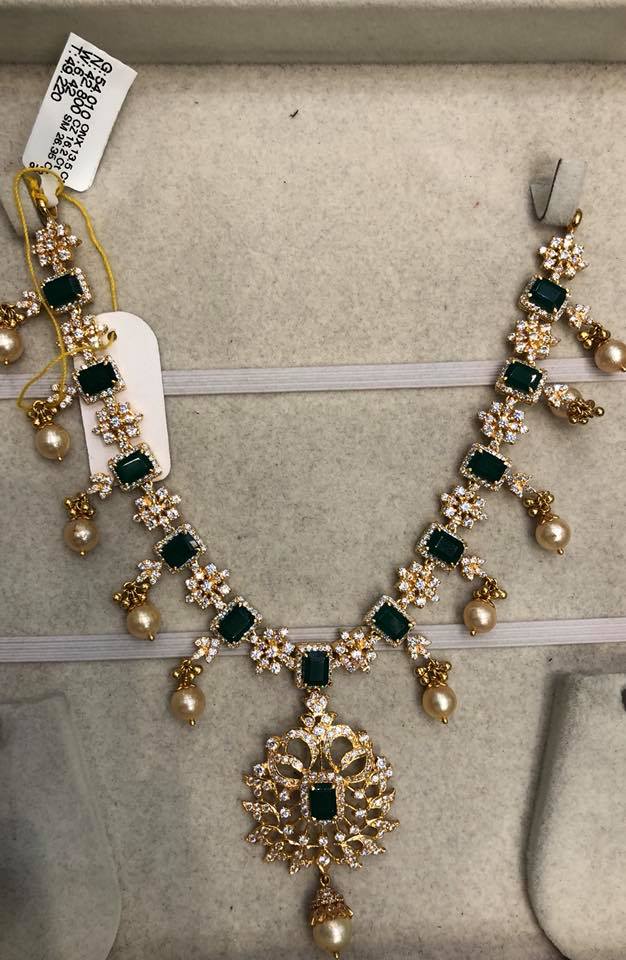 The Magnificent Queenly Look
There are sequences of emeralds and red stones surrounded by white stones along with round gold designs hanging outwards and pearls inwards. Combining this with a traditional saree would be attractive.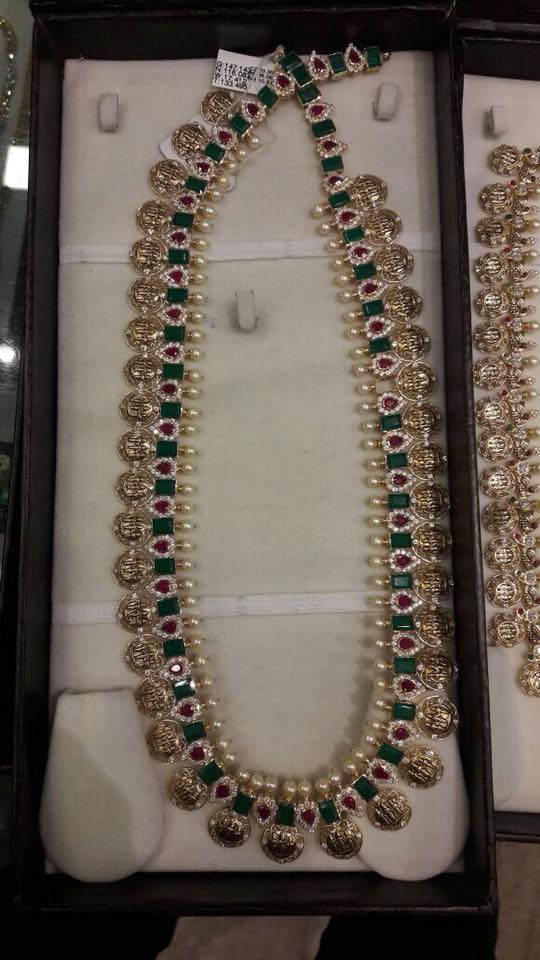 No matter what, gold never goes out of fashion and pearls, emeralds, and sapphires add on to the beauty making you look gorgeous and stand out from the crowd. Experiment with various combinations, be it the typical tradition or fusion wear there is always a piece of jewelry waiting for you. Now go ahead and grab your favorite piece of gold emerald necklace!
In case, if you like to shop the above designs, please find below the contact details.
Seller Name : Premraj Shantilal Jain Jewellers
Address : POT MARKET Opp BATA Rp road,Hyderabad, India 500025.
Contact No : 9700009000, 9951000005
Website : http://premshantijewels.blogspot.in/
Facebook : https://www.facebook.com/premrajshantilaljainjewellers/
Also Read: