No matter what your outfit is, without earrings you are missing out on completing your entire look. You can always rely on Kundan jewelry which is a well-known Rajasthani traditional jewelry. Kundans are made for simple wear as well as wedding and traditional occasions.
Kundan jewelry is work of expensive stones in red or maroon or green. Skilled craftsmanship is required for making antique kundan earrings. Kundan earrings are definitely a great collection to flaunt your attire. Designs keep evolving with time and make sure you shop the best to enhance your charm.
There are brands like Parampariya and Rajatamaya who excel in making these unique kundan earrings. They have specialized earrings collection which would be a treat for all Kundan jewellery lovers. Well, these are our picks of best brands for antique kundan earrings with their promising designs and ravishing looks.
So, do check out their collections from the contact details given at the end of this post.
Pretty Pink Dangling Earrings
A pair of Jhumkas with pink beads surrounding all over peacock, this pretty pair of earring will go with any dress may it be kurta, salwar or saree. This pair is good choice for multi occasional wear.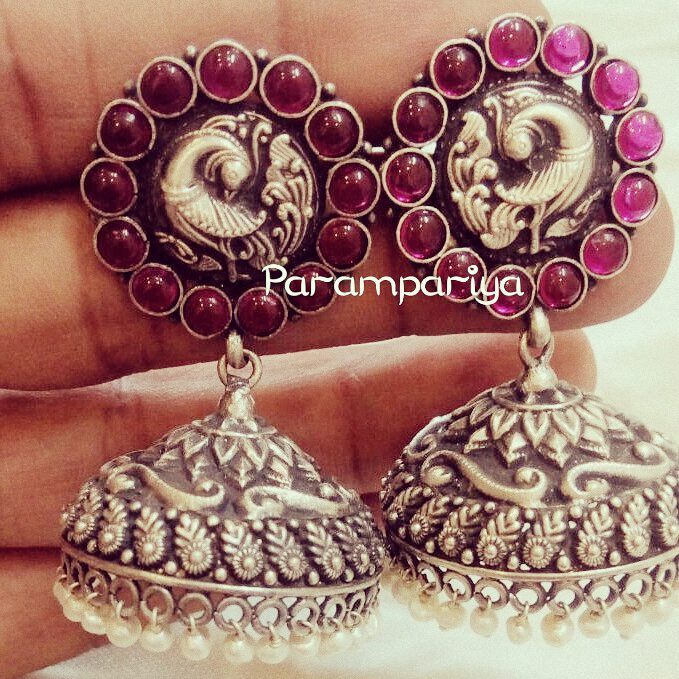 Simple Stone Earrings
This pair of earrings is inspired by the Peacock's beauty, emphasized with round and leaf like shaped stones. With a pink half-moon falling down from the peacocks and tiny pearls hanging at the bottom, these beautiful earrings are definitely a must have.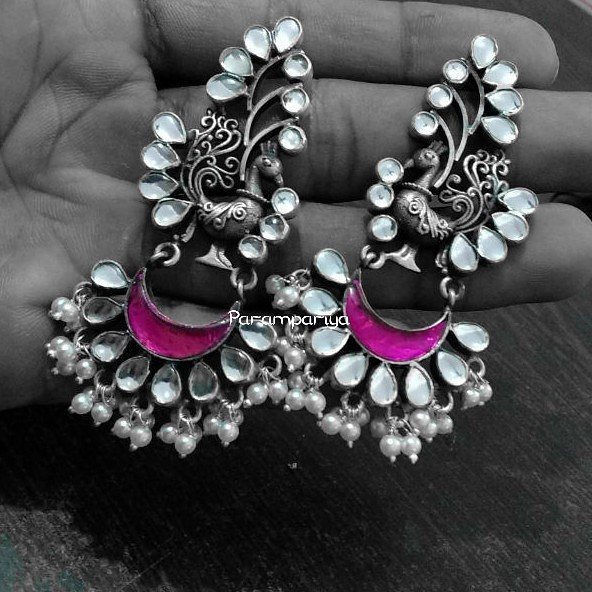 For Ring Lovers
This refreshing piece of jewelry has pink stone embedded rings with small green stones, white stones and pearls hanging from them. You can start your day with a pair of these earrings and have a rejoicing look all day long.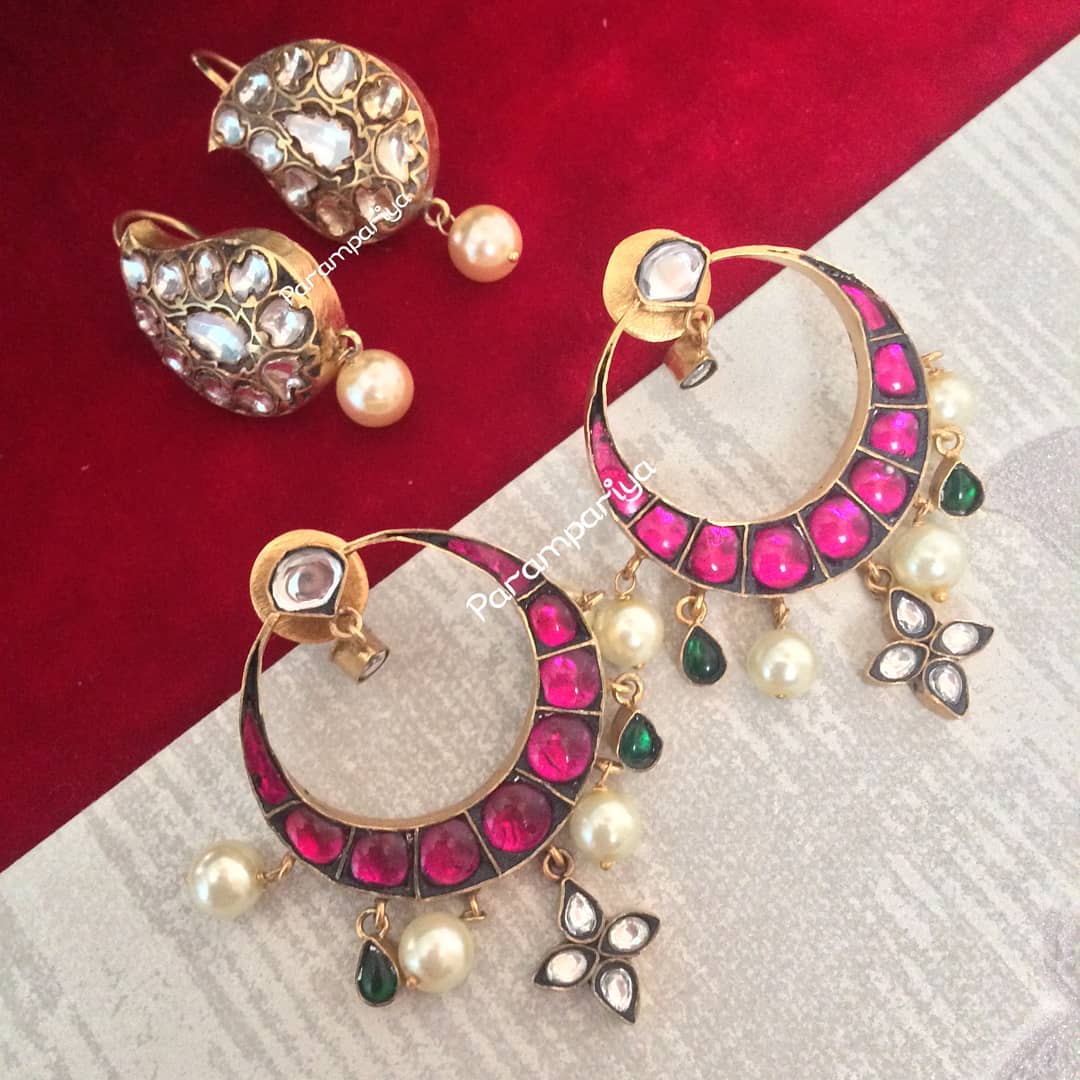 Simple yet Classy Pair of Earring
These small earrings with green stones around, pink stone in the center and pearl dangling at the bottom looks absolutely classy with its size and shape. Worn with a matching saree, these earrings are sure to get you complimented with a serene look.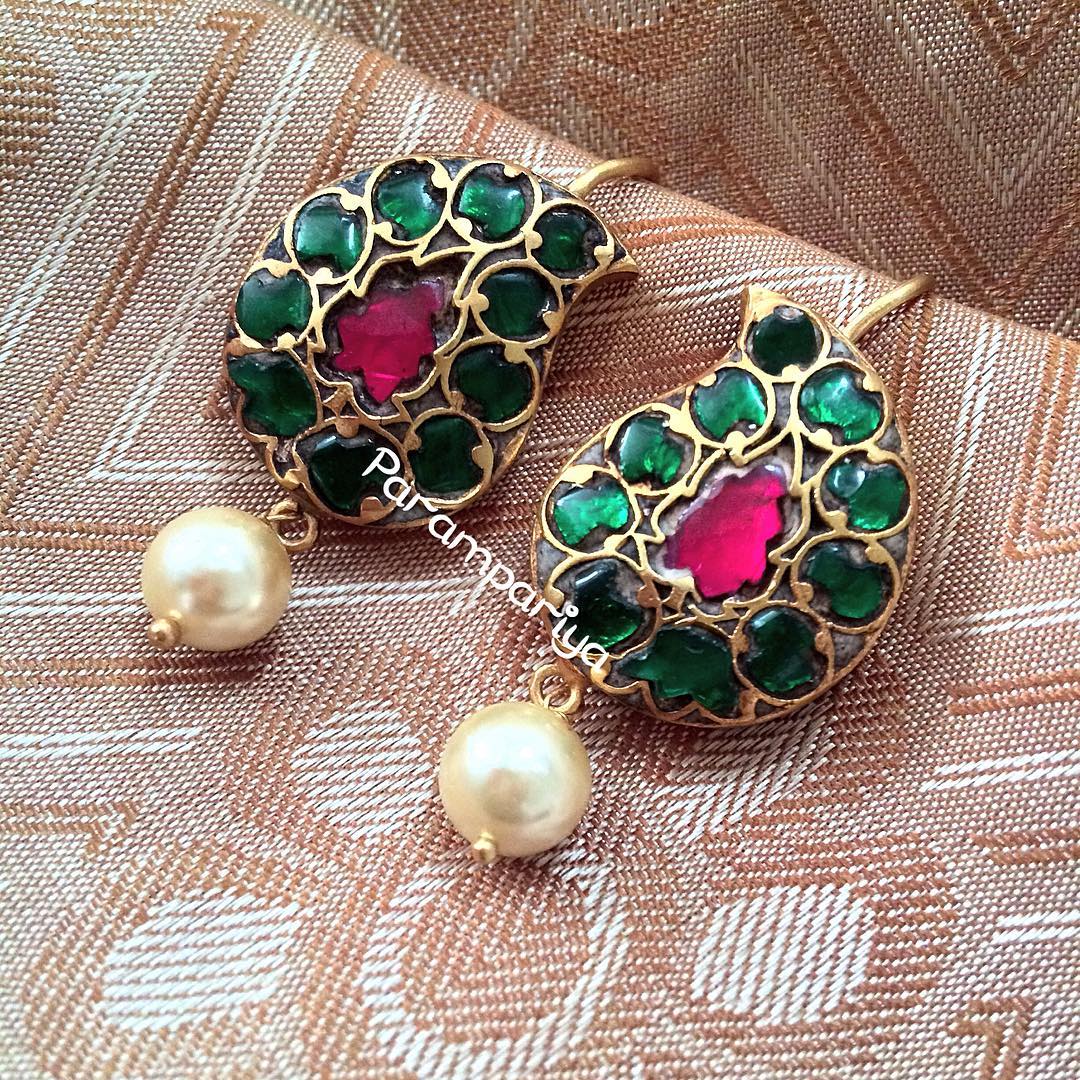 Flaunting Fish Design
You could flaunt your attire with these charming pair of earring and get a lively look! The pink stoned, fish shaped earrings cover the ear and are a great way to ramp up your outfit. The jhumka at the bottom with the white, pink stones and small white round beads hanging looks alluring!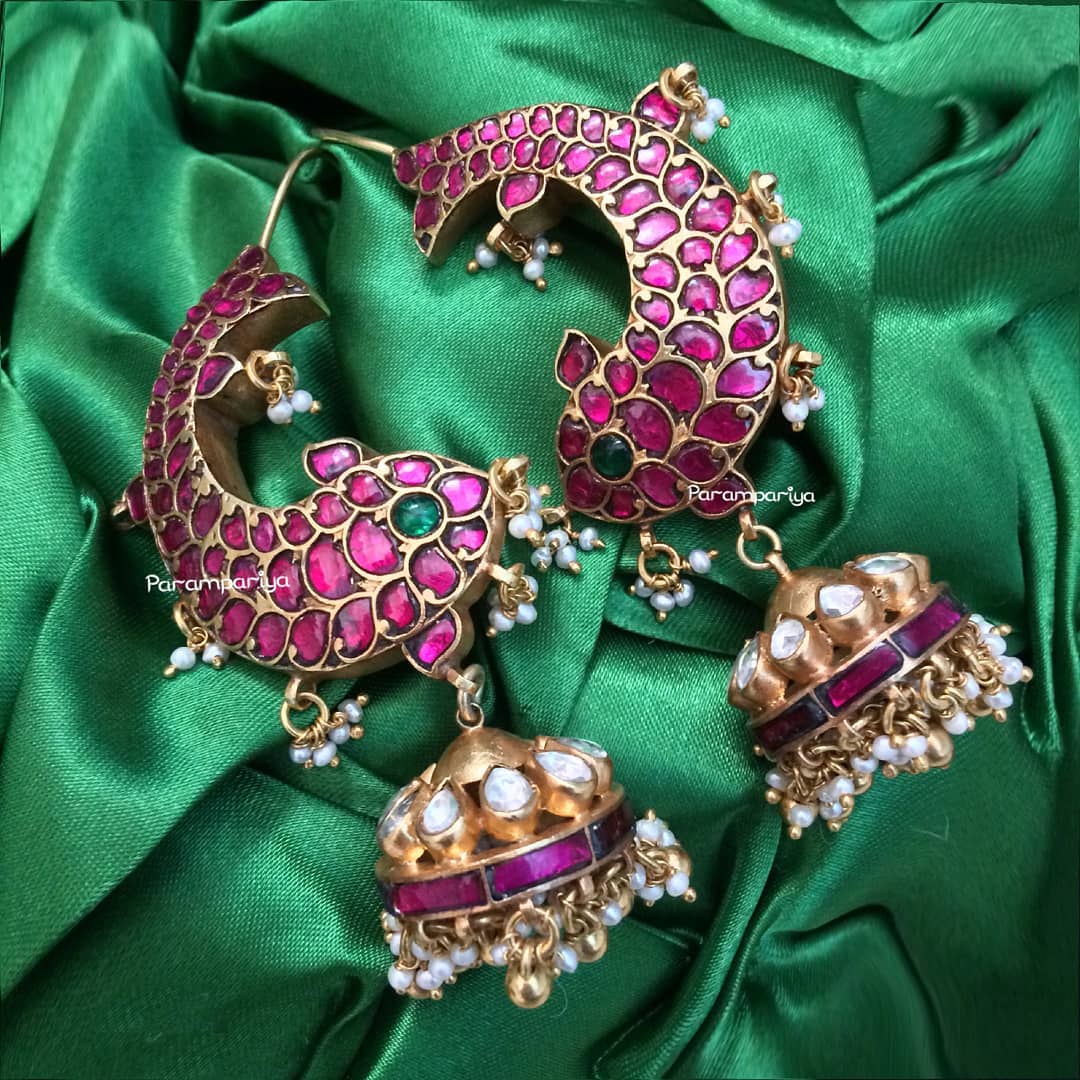 Elegant View
This pair is quite different with a pink stoned half-moon and kundans arranged on it and exquisite turquoise colored circular stones dangling from it. The kundans that have been elegantly put up together has a grand touch and definitely commit you a charismatic look!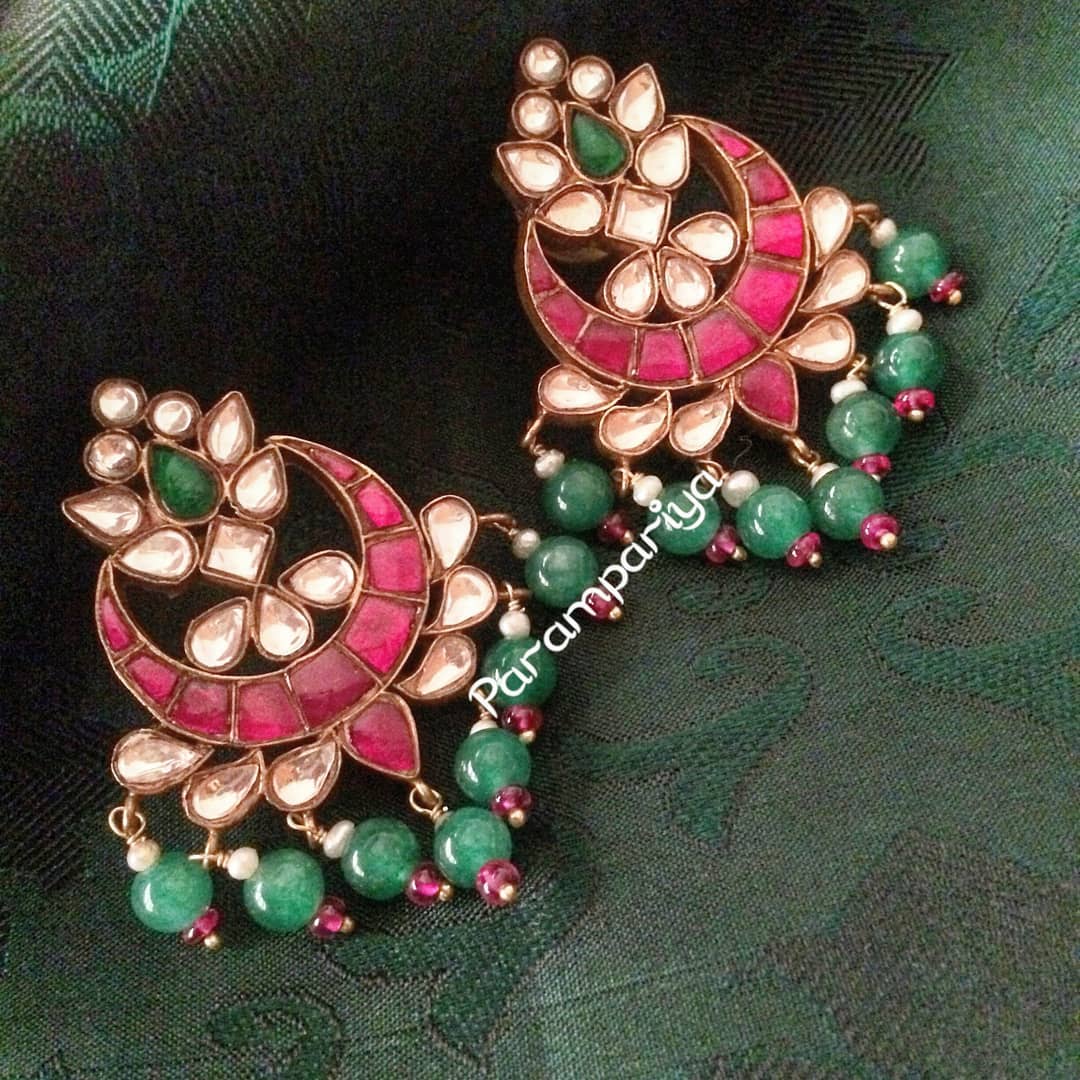 Lotus and Pearl Paradise
This pair of Rajatamaya branded earring are sophisticated with pink stoned lotuses and cream pearls. The earrings have small lotus on the top and a lotus turning into a ring in the bottom with pearls hanging from it. These earrings will look stunning on off-white dresses and even pink or similar contrasting colors.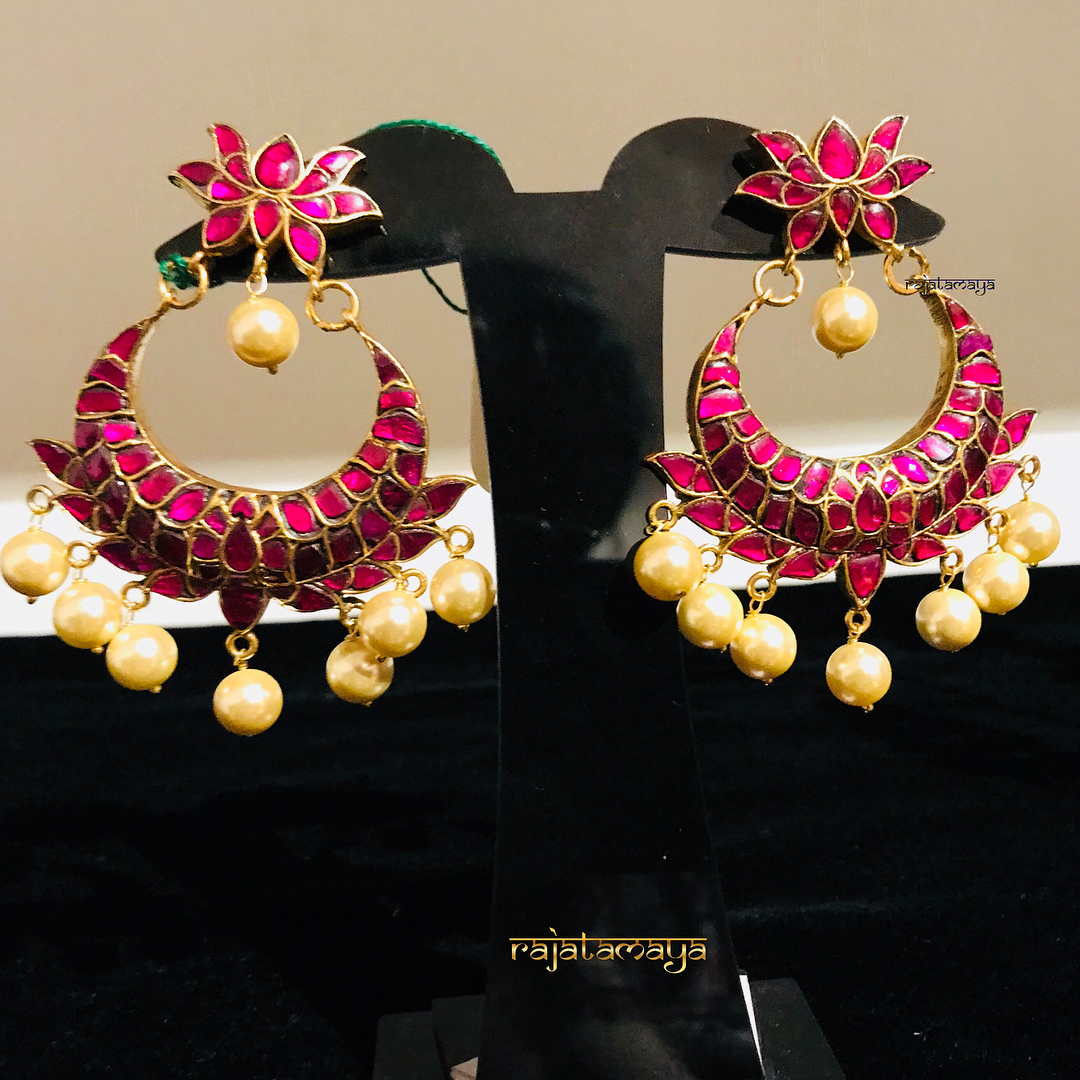 Joyous Jhumkas
This pair of earrings is very artistic with charismatic pink peacock kundan design on top and beautiful jhumkas beneath with tiny pairs of white stones hanging from them. Isn't this a beautiful sight? Of course! These earrings are sure to grab you loads of compliments.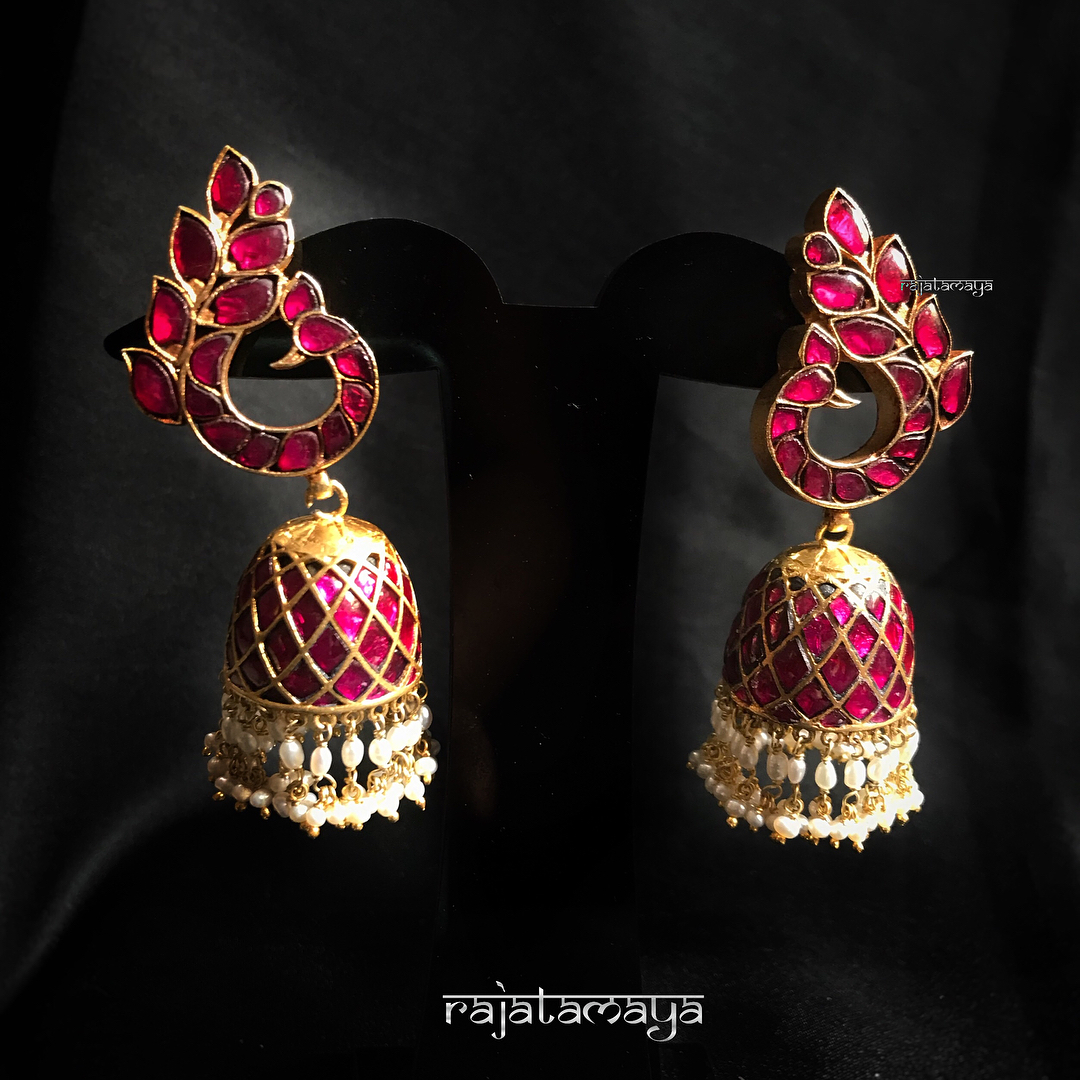 The Golden Glow
Here is a stunning pair of jhumkas with simple manadala design of pink and green stones on the top and carved goldish jhumkas with small round goldish hanging bearings. These earrings will go really well with any traditional attire and also indo-western outfits.
The Fancy Focus
This colorful and attractive pair of earrings is sure to catch anybody's attention. Intricately designed with pink, green, and white stones, with a gold half-moon design in the middle and little round white beads hanging in the bottom, the design is one fancy collaboration!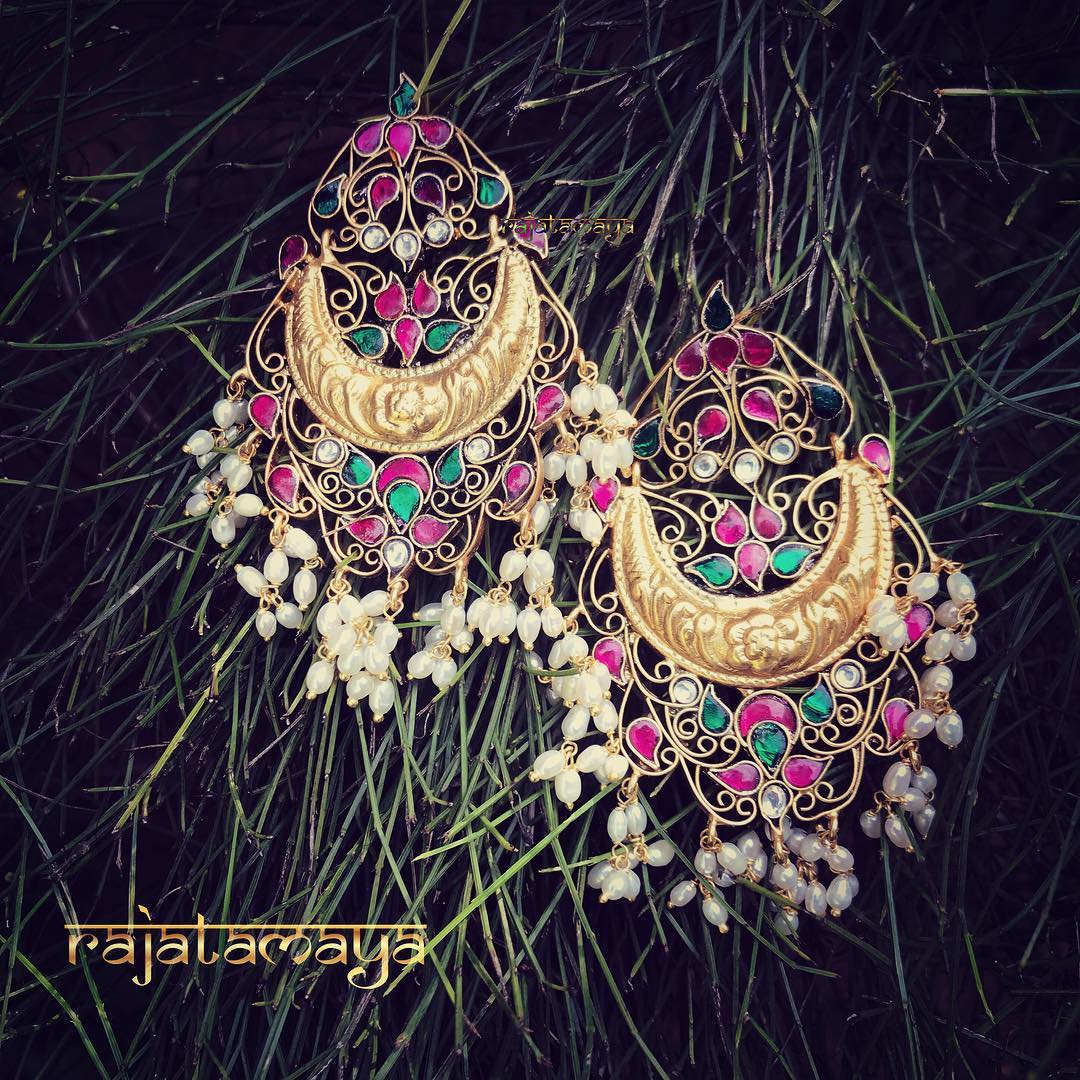 Shiny Stones
These Conch shell shaped earrings, embedded with small white circular stones around and white, green, pink stones inside it assure you a whole composed look. The pair has got a lovely appearance with its shape and size.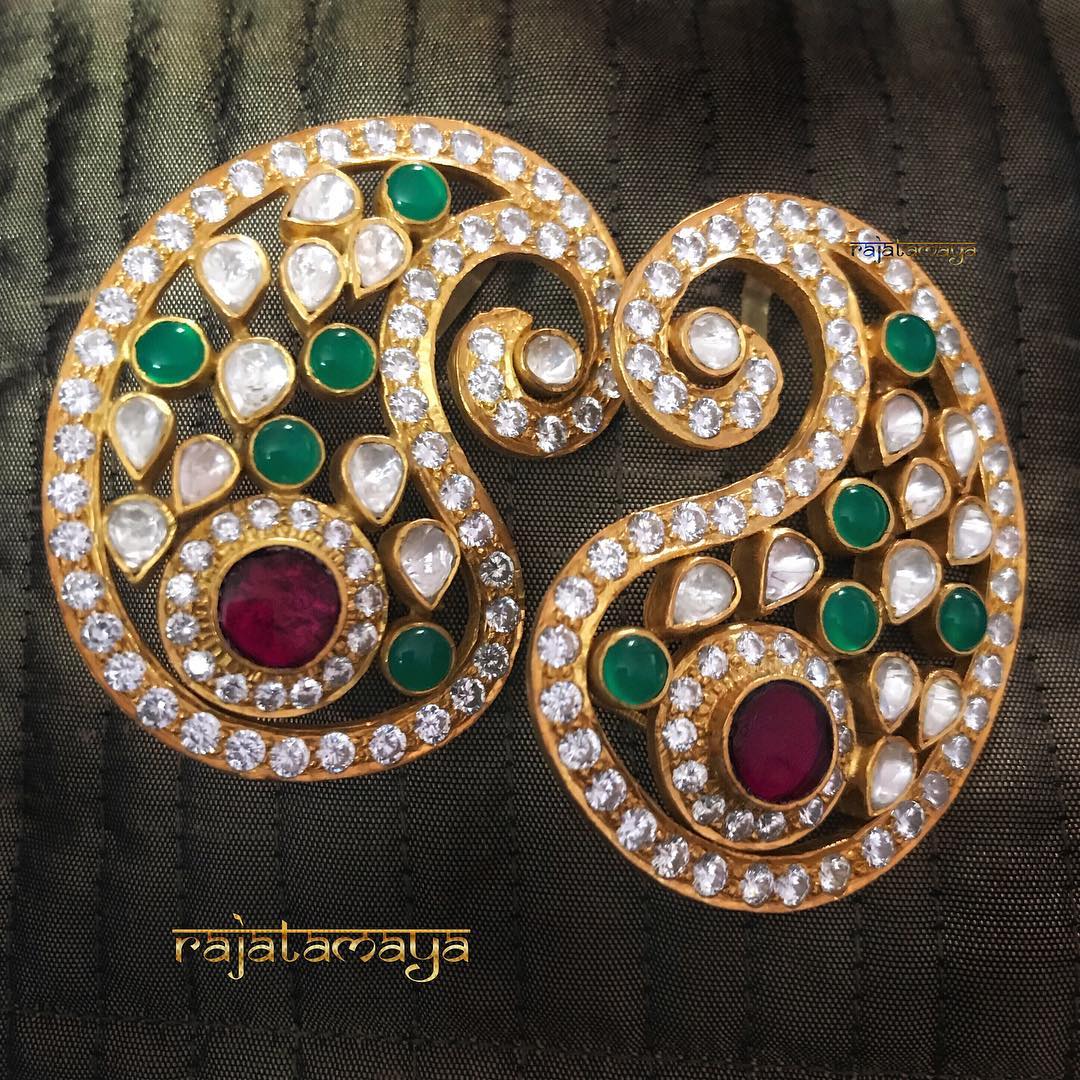 The Long Jhumkas
Here is a four pieced hanging Jhumka, absolutely eye-catching with its length and color combinations. Circular golden piece with pink stones in floral shape, leaflike pink and green pieces, spread-out floral patterns of pink, green and white stones and lastly gorgeous pink jhumka with golden beads attached. This would go really well with a designer wear as the earring is also unique.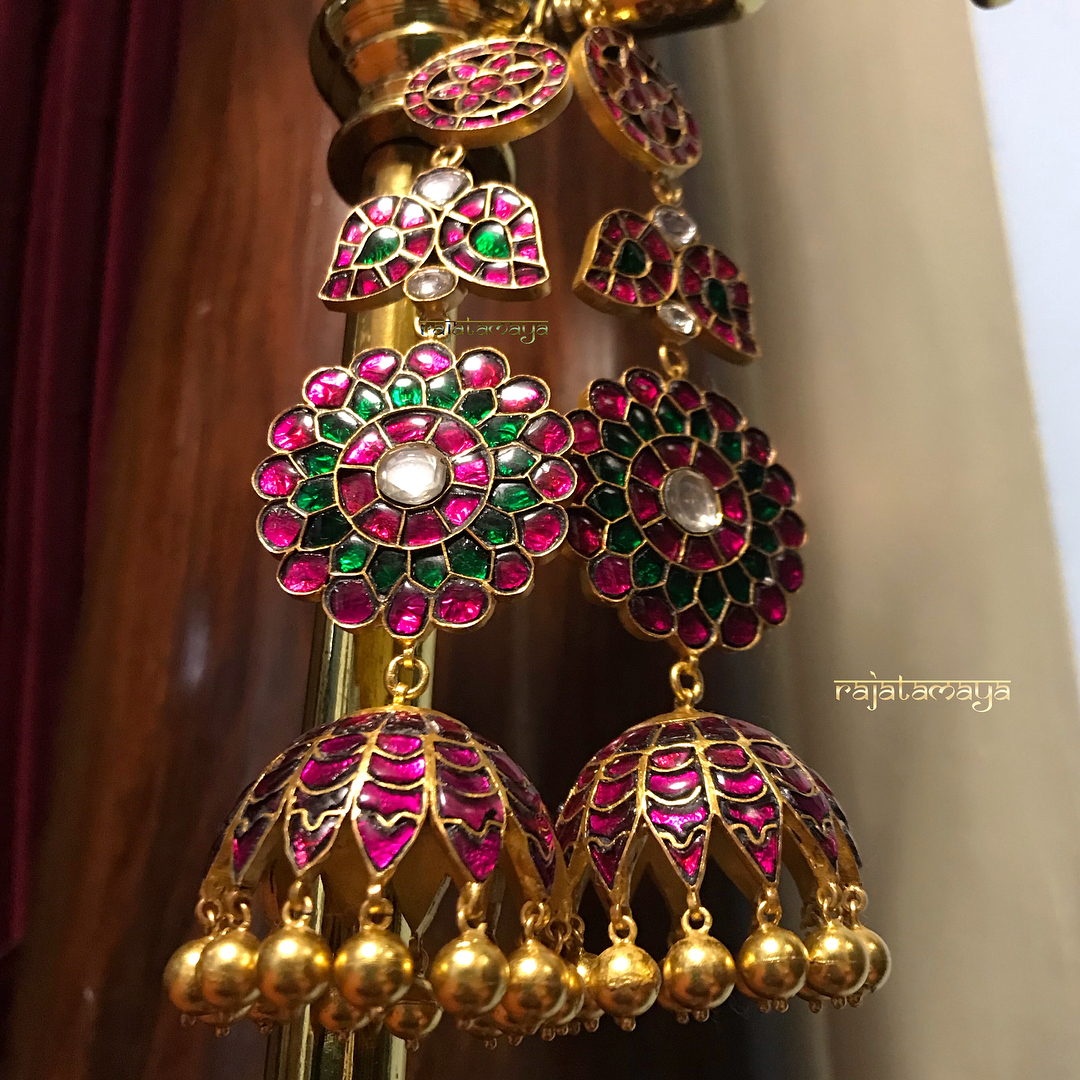 The Stylish Peacock
An attractive pair of golden peacocks flaunting their feathers with green and white stones along with round golden beads and amazing dangling kundan jhumkas with small white hangs attached. These danglers are extensively fashionable, and give an elegant look.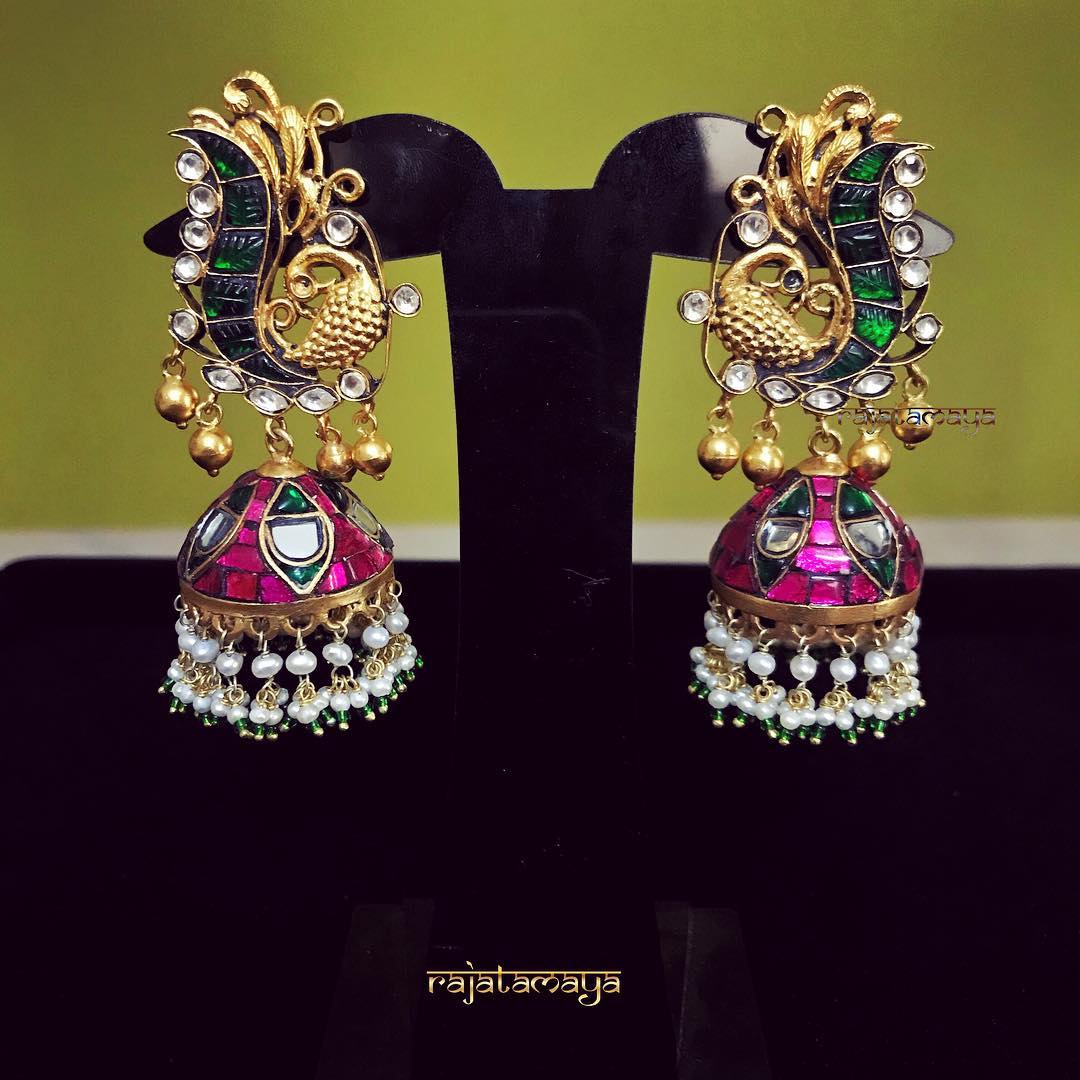 Pink and Golden Earrings
This pair of kundan earrings imparts a graceful look. It has a simple mandala design with hanging rich golden circular beads and these earrings give you an absolute composed look.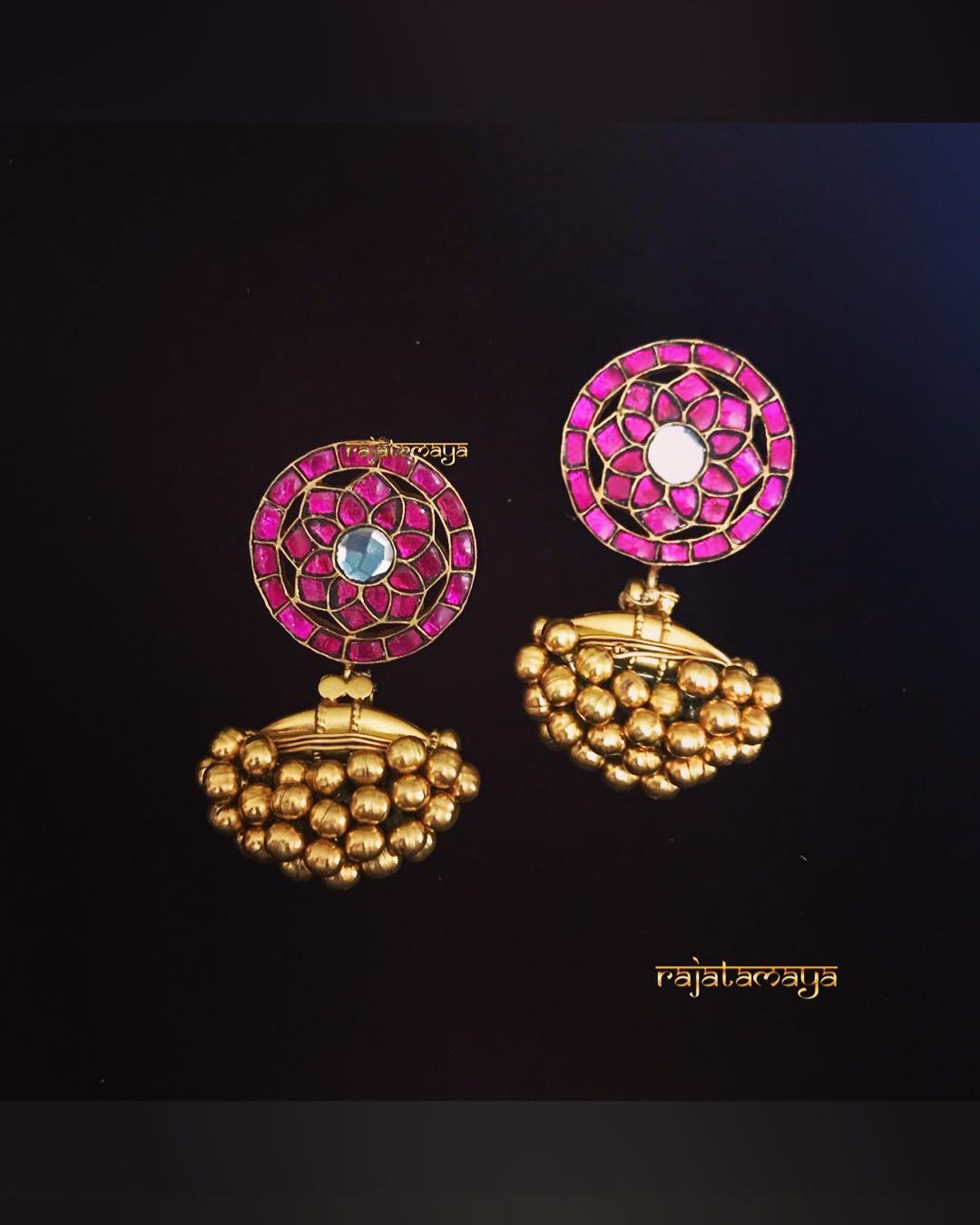 Different Style
Yet another peacock design earrings with pink stones and a hanging white, pink and green stones. The design of the earrings is scattered with good looks and hence will enhance your beauty too!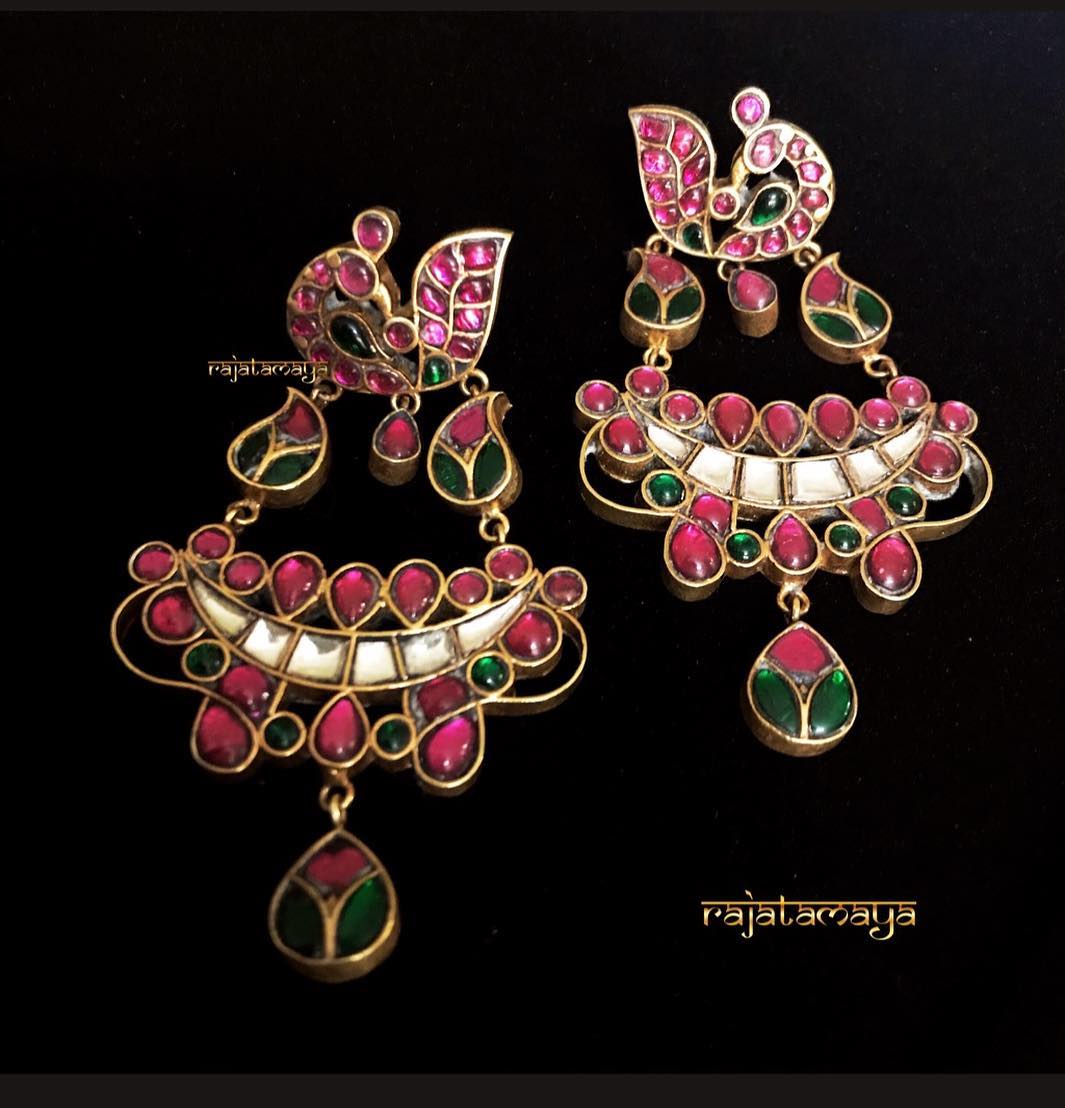 The sophisticated Jewel
Pink kundan artfully embedded in gold carves, these earrings definitely deserves appreciation. These exclusive earrings will look high-class on gowns or even sarees and many traditional wears.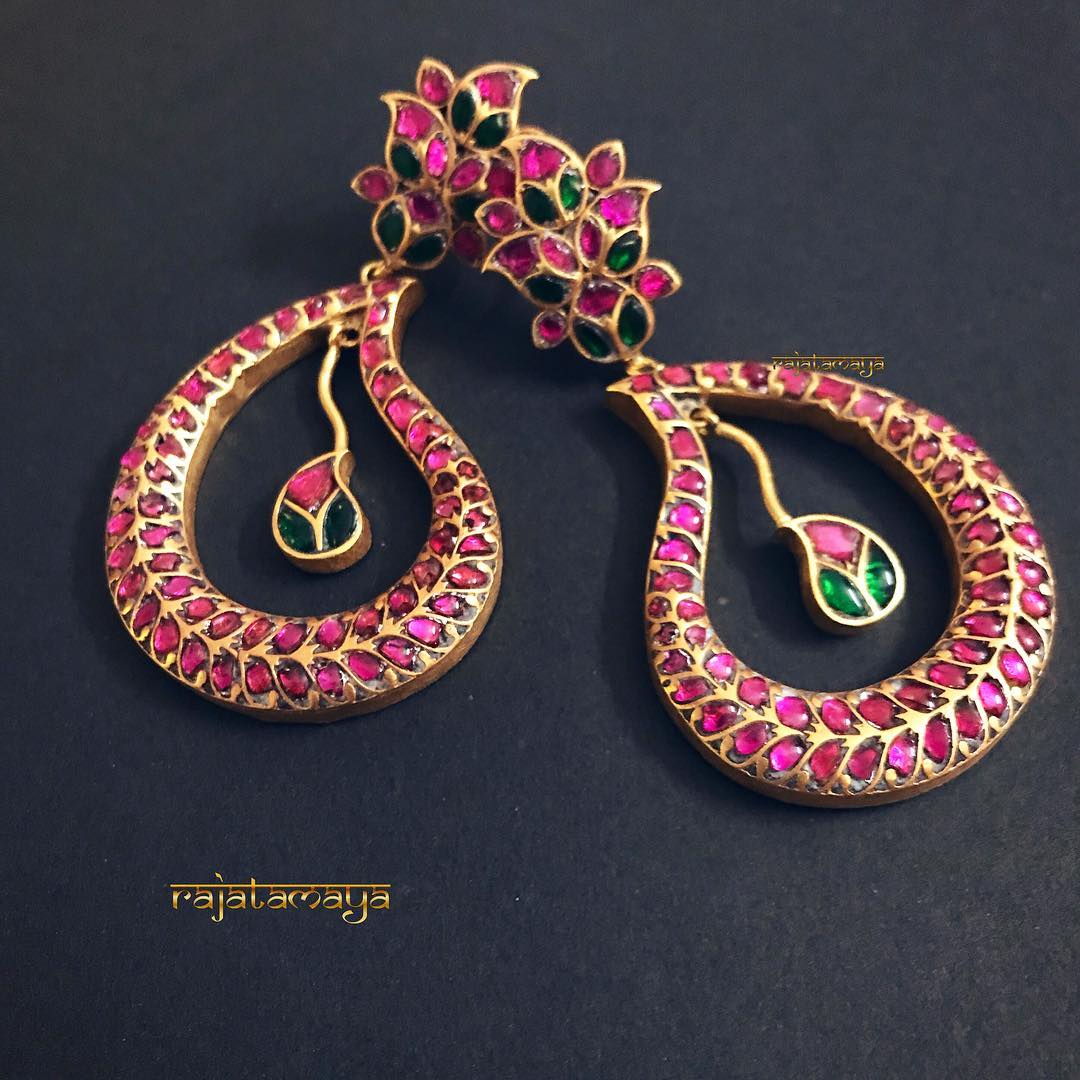 Enchanting Colorful Jhumkas
Not one, not two, but three jhumkas together! Isn't that delightful? A pretty peacock on the top with green and white kundans below it, from which two golden and a grand pink jhumkas hang on. This is sure to make your ghagra/lehenga look more glamorous and make you stand out from the crowd.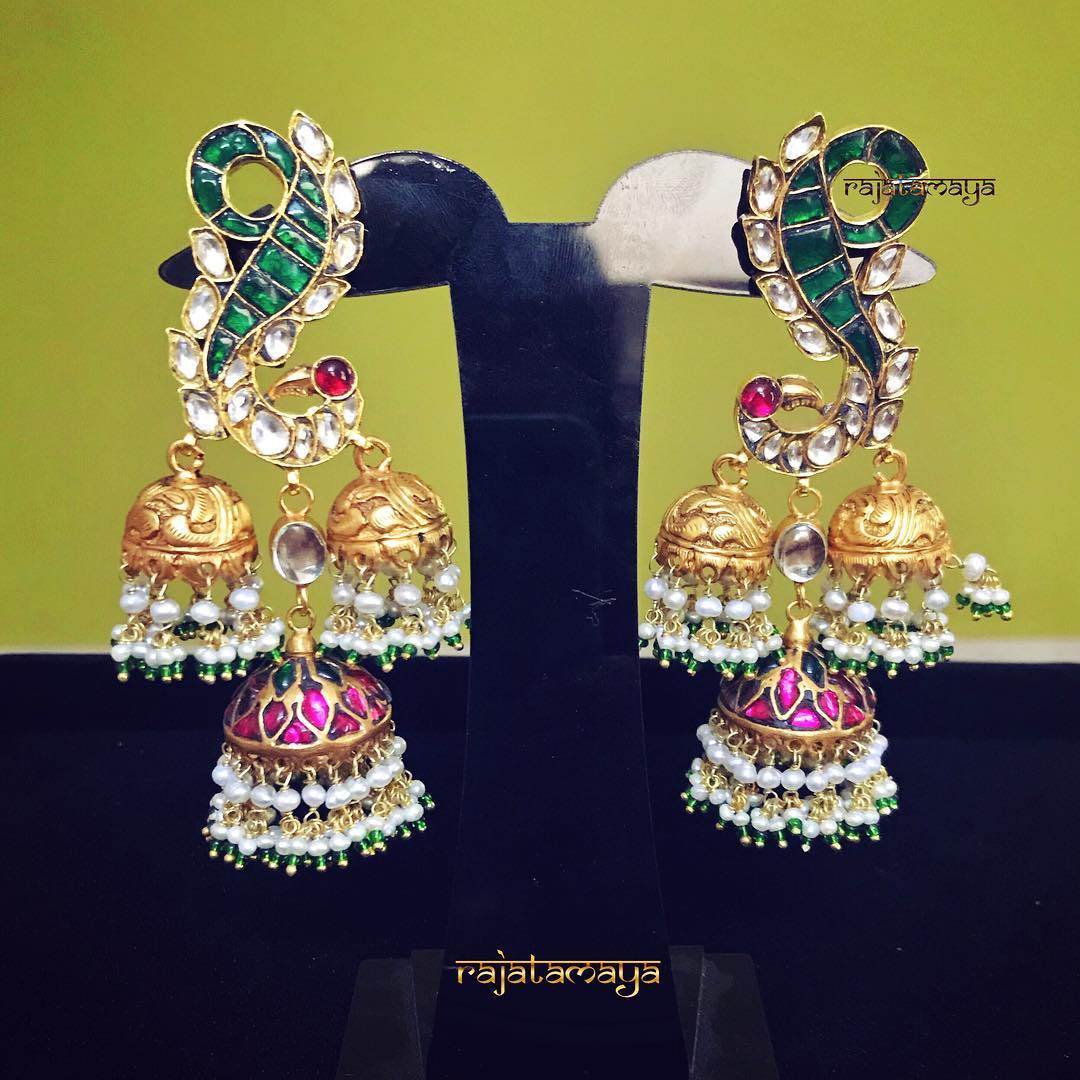 The Mesmerizing Look
This piece of jewelry is a fusion of classic and modern. Glazing white kundans of half moon and floral pattern along with a captivating tiny golden jhumka with hanging golden bearings, this is a perfect choice for all the ladies out there. This could be paired up with an off white or say Kerala saree or even anarkali dresses would suit up. A black salwar or a black saree along with this ravishing piece of jewelry would make in a perfect style statement.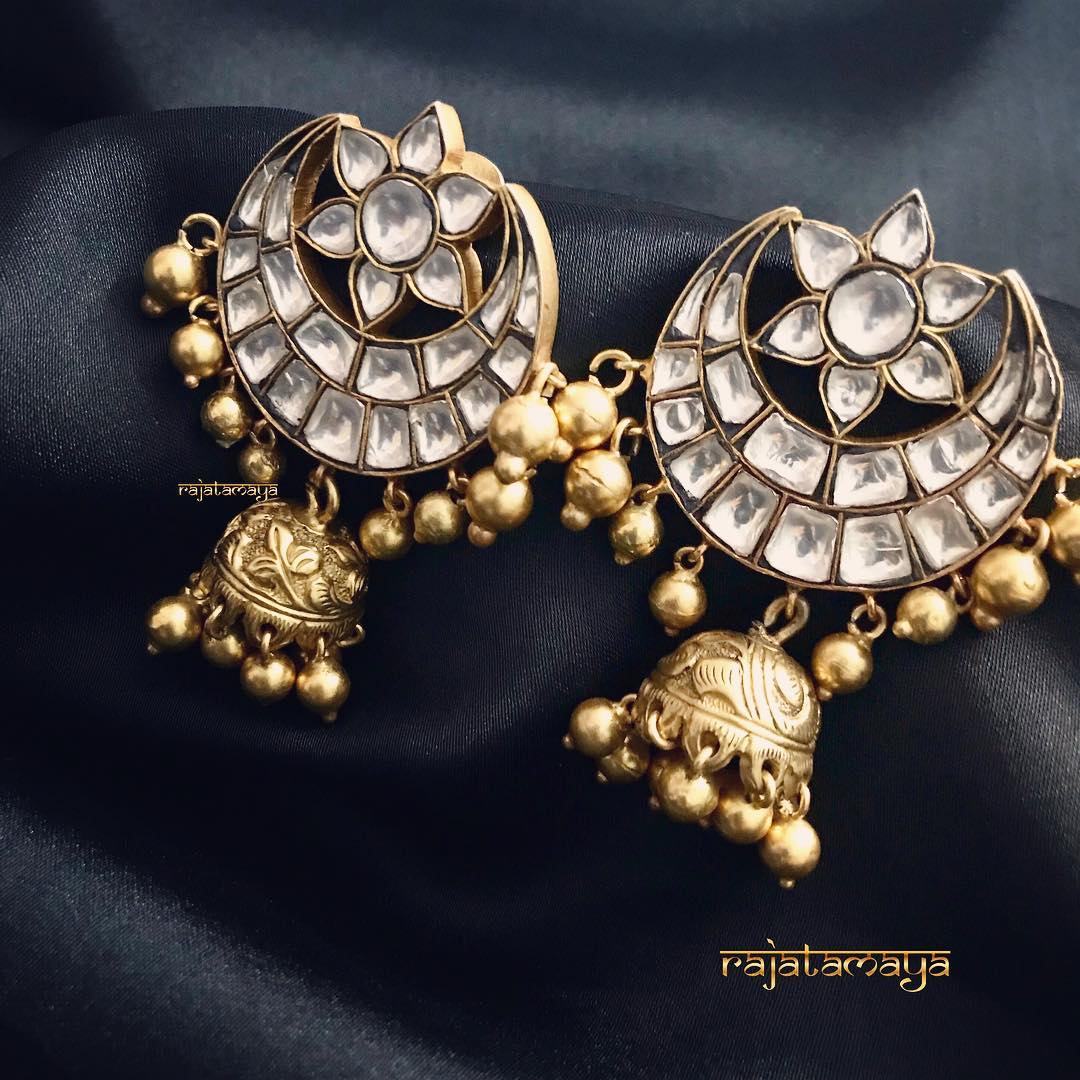 Now wouldn't you want to own any of these above earrings and flaunt them along with your attire? Kundan jewelry is definitely a must have in your collection and these earrings are a perfect choice. You are sure to seek all the attention with these designs. Look glamorous with these amazing earrings and also let others know your collection!
To shop, please find the seller's contact details below. [Note: Each design above has the seller name. You can inquire them directly with this contact details.]
Happy shopping!
Seller Name : Parampariya
Instagram : https://www.instagram.com/parampariya/
Facebook : https://www.facebook.com/parampariya/
Whatsapp : 9486708504
Seller Name : Rajatamaya
Facebook : https://www.facebook.com/Rajatamaya/
https://www.instagram.com/rajatamaya/
Contact : +91 97865 22555
Also Read: