As we all know, jewelry is a core element of any traditional outfit. Without jewelry, your attire is never complete. However, owning tons of jewelry, with real gold, diamonds and other gemstones is quite expensive. Thus, to get solve the troubles and save some money, you can always opt for imitation jewelry.
Imitation temple jewelry is definitely a great collection to flaunt your attire. Below are some mind-blowing imitation temple jewelry collection from Darpana, DreamJwell and Abharanam, which are some of the best brands to shop imitation temple jewelry online.
All the three brands have a very good collection of imitation temple jewelry that will go perfectly well with your attire.
Ruby Stones With Pearl Beads
This pair of earrings is perfect for an ethnic yet simple getup. It is heavy and at the same time, simple to look at. The assortment of stones is great and the pearl dangling definitely compliments the ruby stones.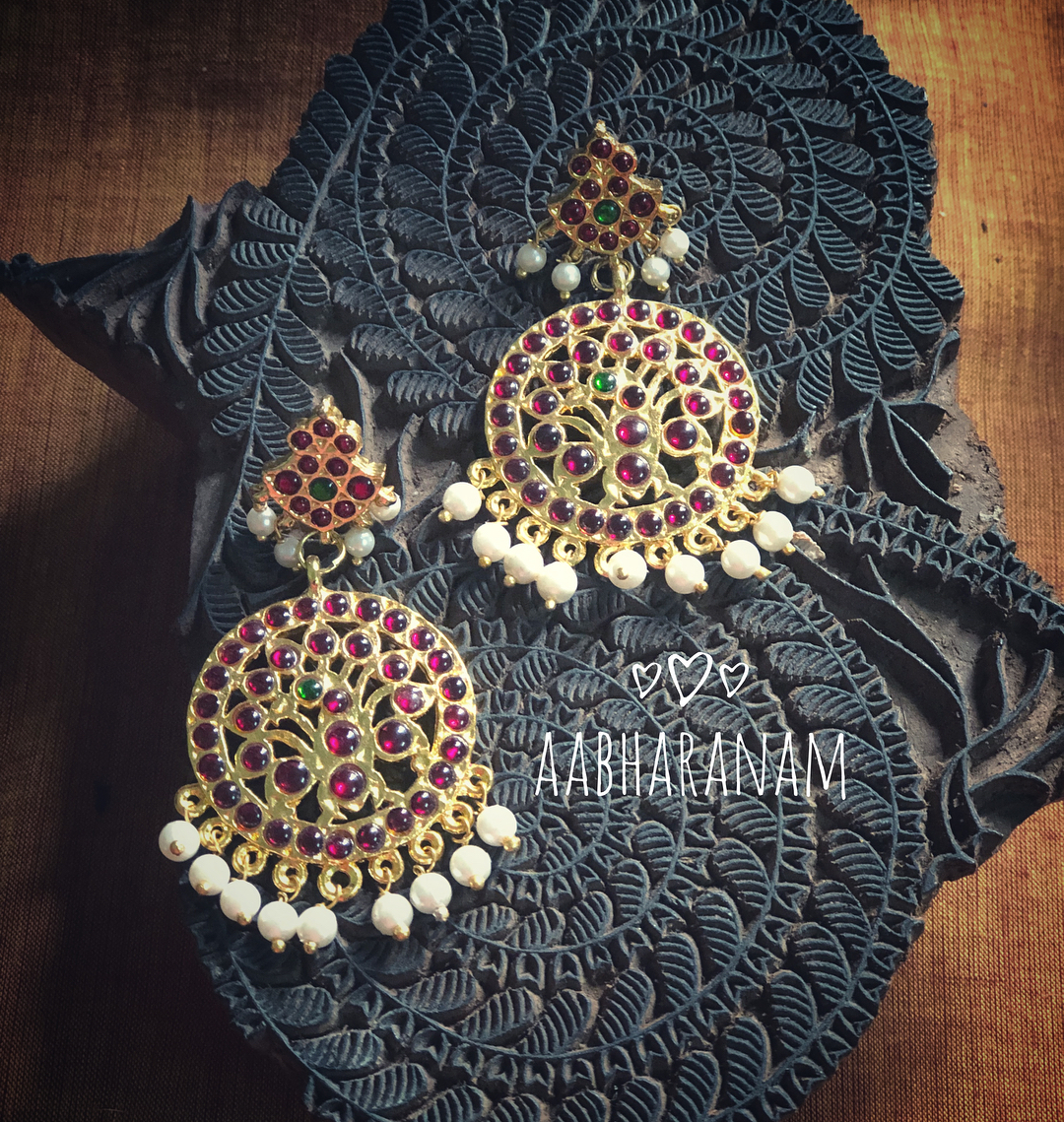 Heavy Pendant With Simple Chain
A simple design by Abharanam, that is quite light weighted on your neck. It feels completely comfortable and the catchy pendant makes up for it. It is quite showy and hence, perfect for grand occasions.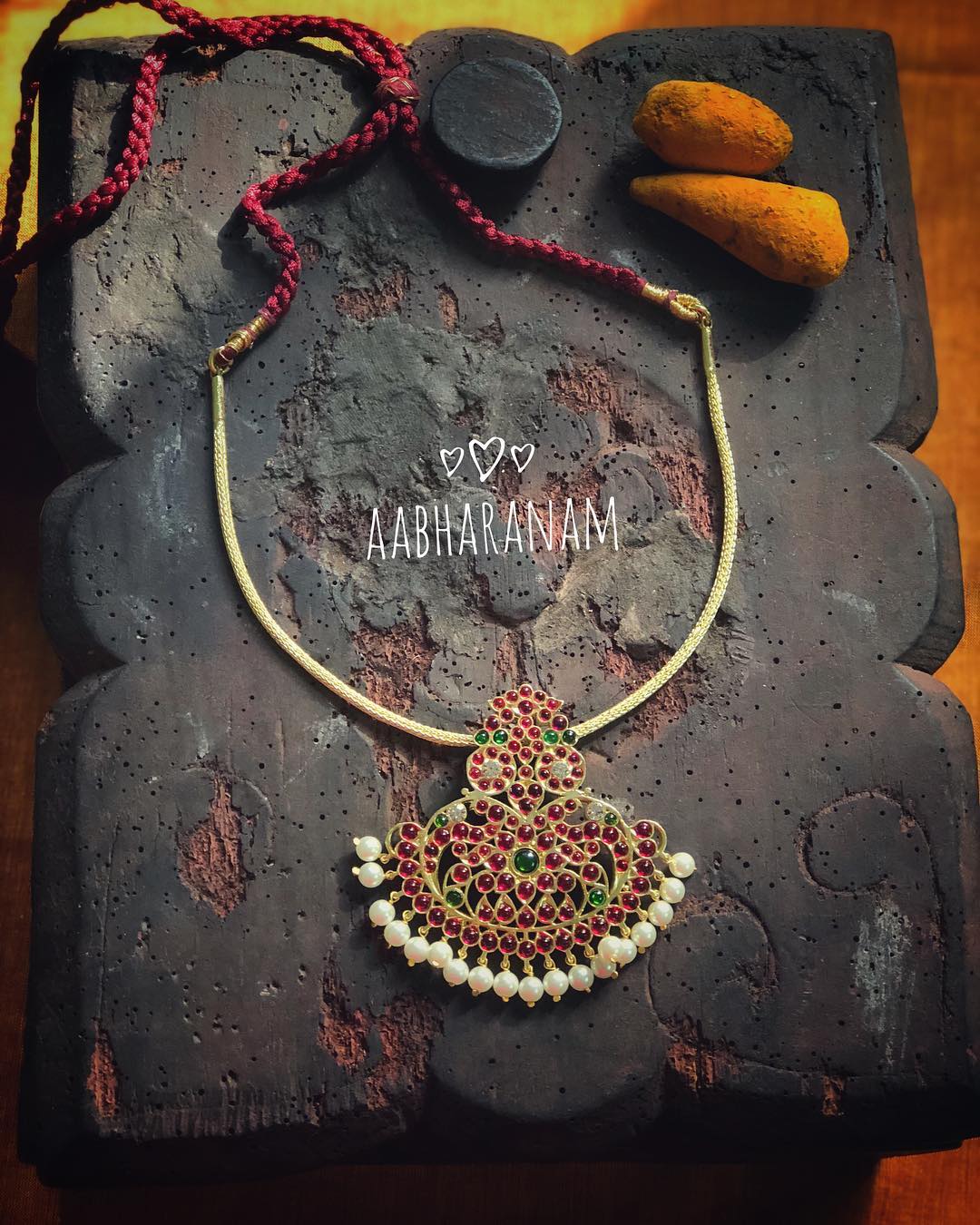 Emerald Beaded Chain With Rich Pendant
A necklace with beaded chain gives a very royal look and feel. The pendant is very attractive with the densely arranged ruby stones. The stones are arranged in a beautiful manner thereby, making the necklace appealing.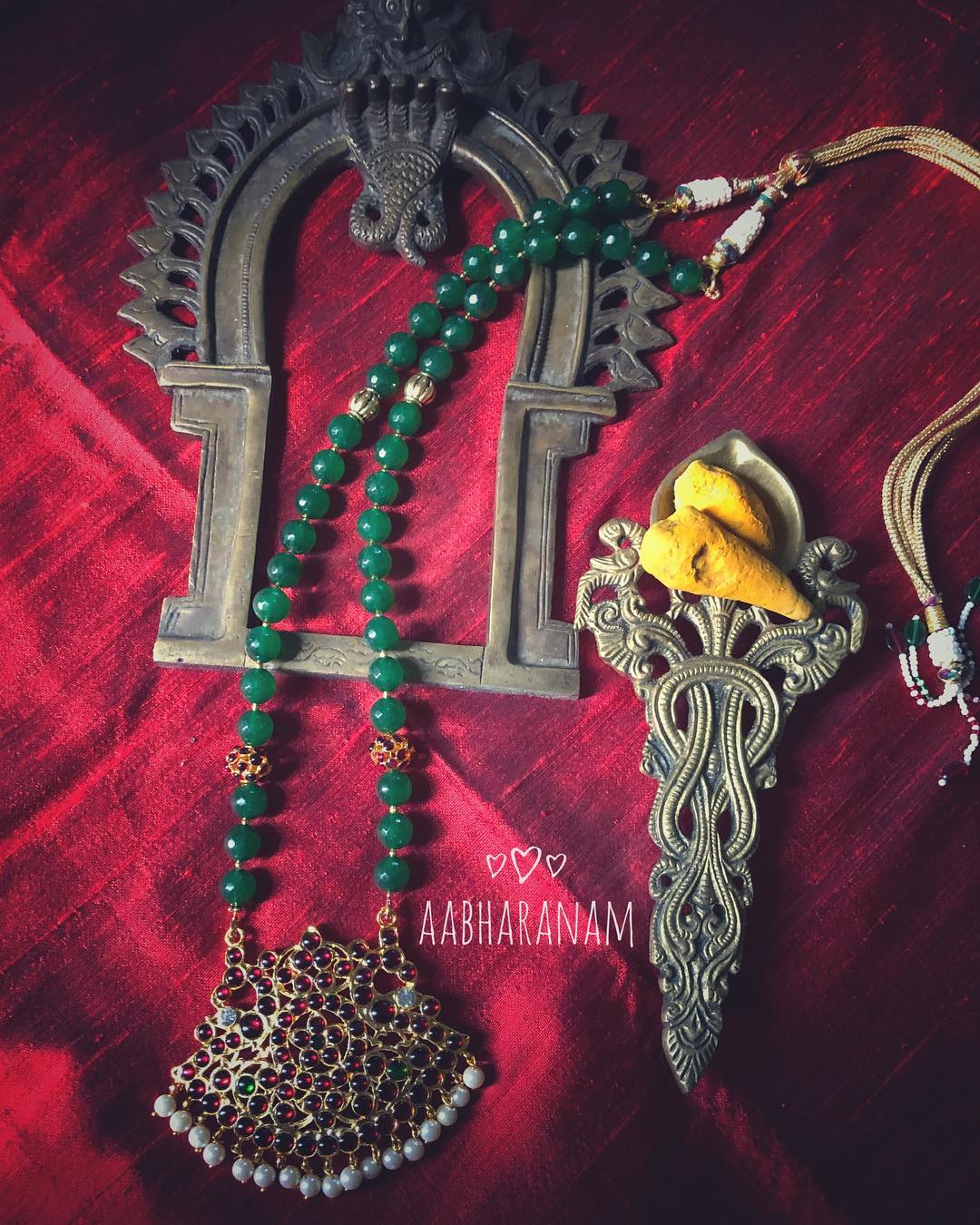 Graceful Pendant With Thick Chain
This necklace has a pendant which covers a great portion of your neck. It is quite filling and appealing to the eye. The chain is thick and so, looks quite original. The pendant is very charming and the stones elevates the beauty further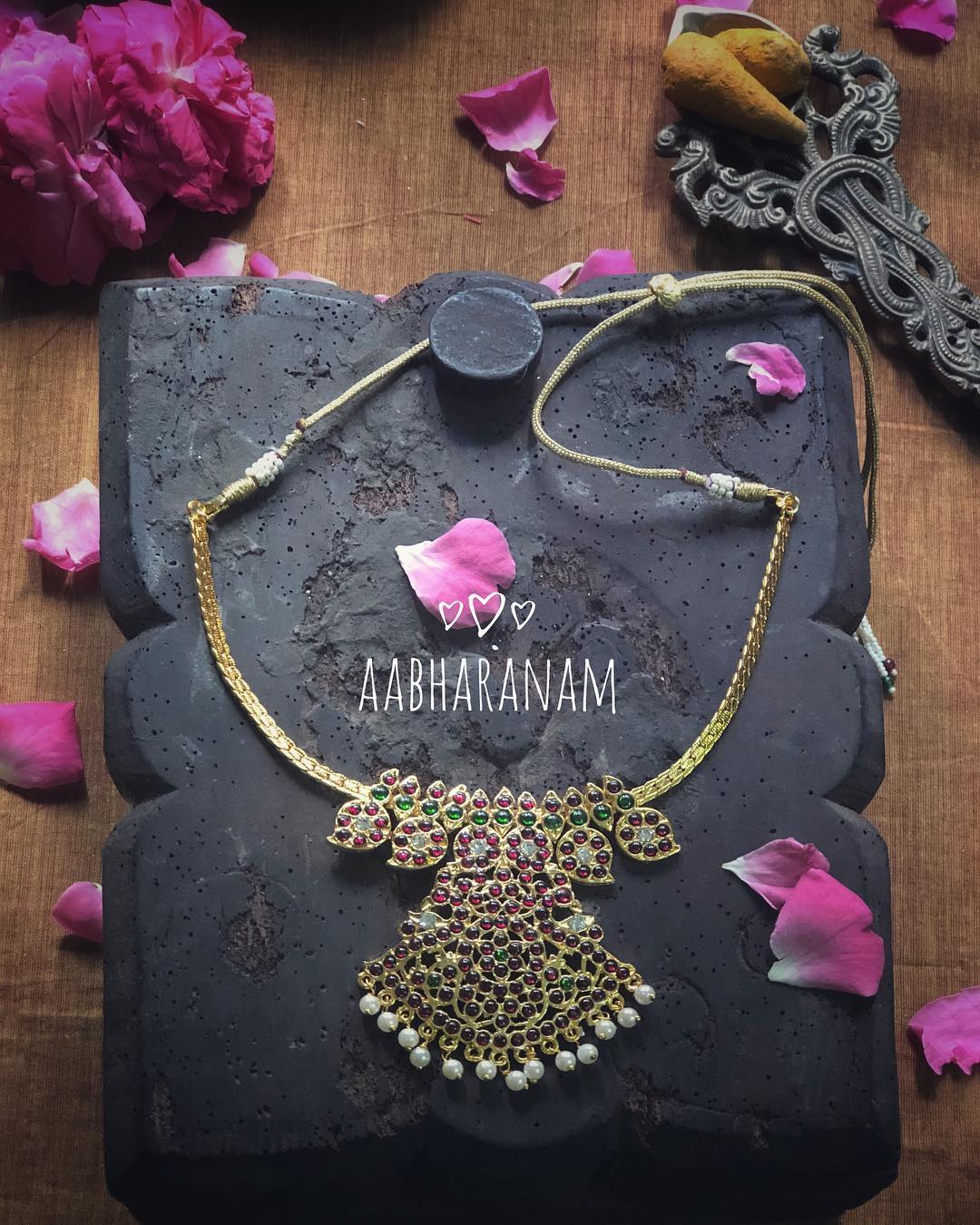 Necklace With Multiple Attachment
If you are looking for something heavy, that can be worn comfortably, this is surely the one for you. It is quite rich and the symmetry too is astounding. It is simple to wear and you can feel at ease all day long.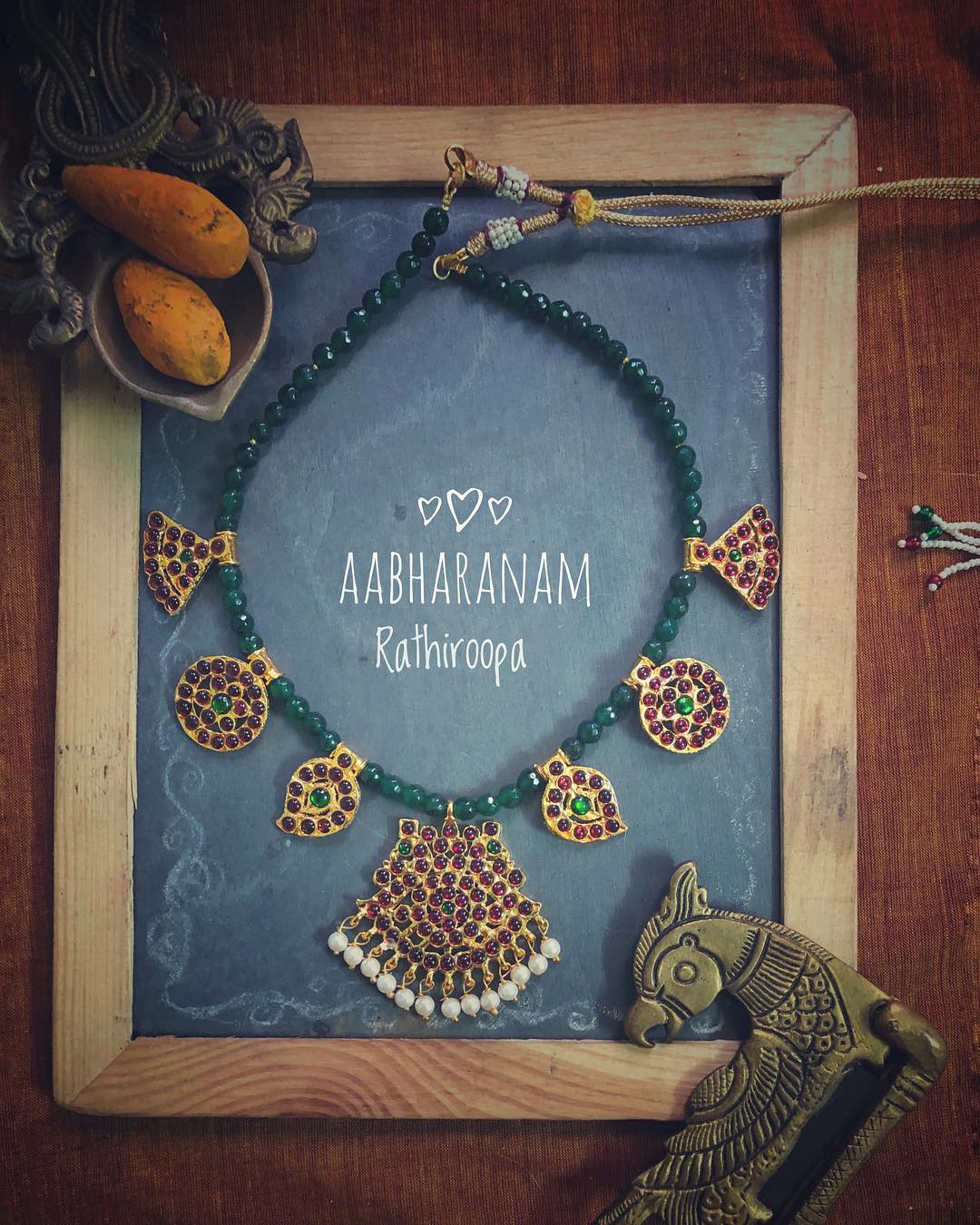 Fish Shaped Studded Earrings
These earrings cover the ear completely and are a great way to ramp up your attire. The jhumka look at the bottom is quite astounding and the pair is sure to grab attention. The pearl beads are very much complimenting the overall look.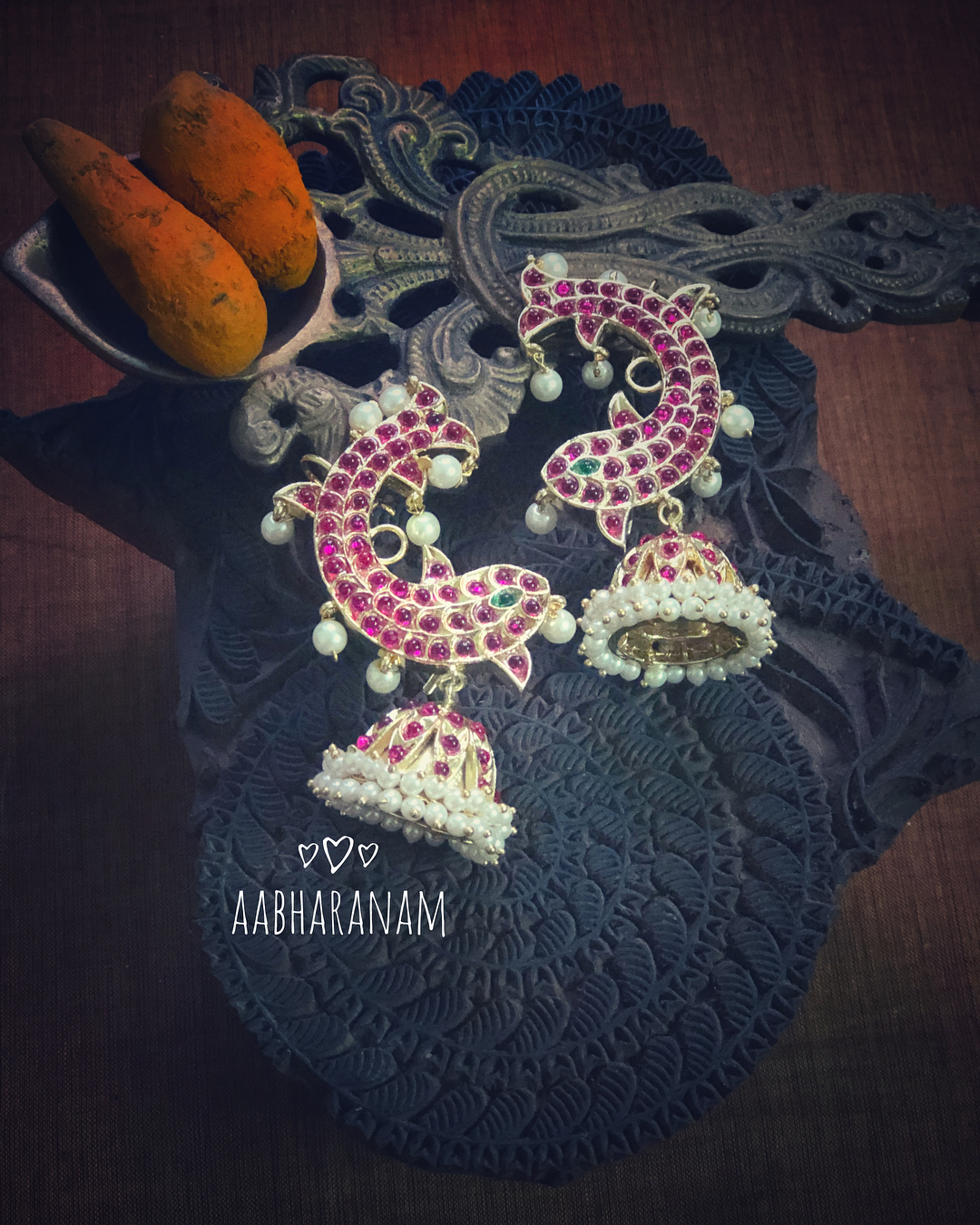 Simple Every Day Wear Neckpiece
Having a necklace in your collection which can be worn even on regular days is completely worth it. This neckpiece can be paired with dresses as well as western wear if you're looking for a fusion look.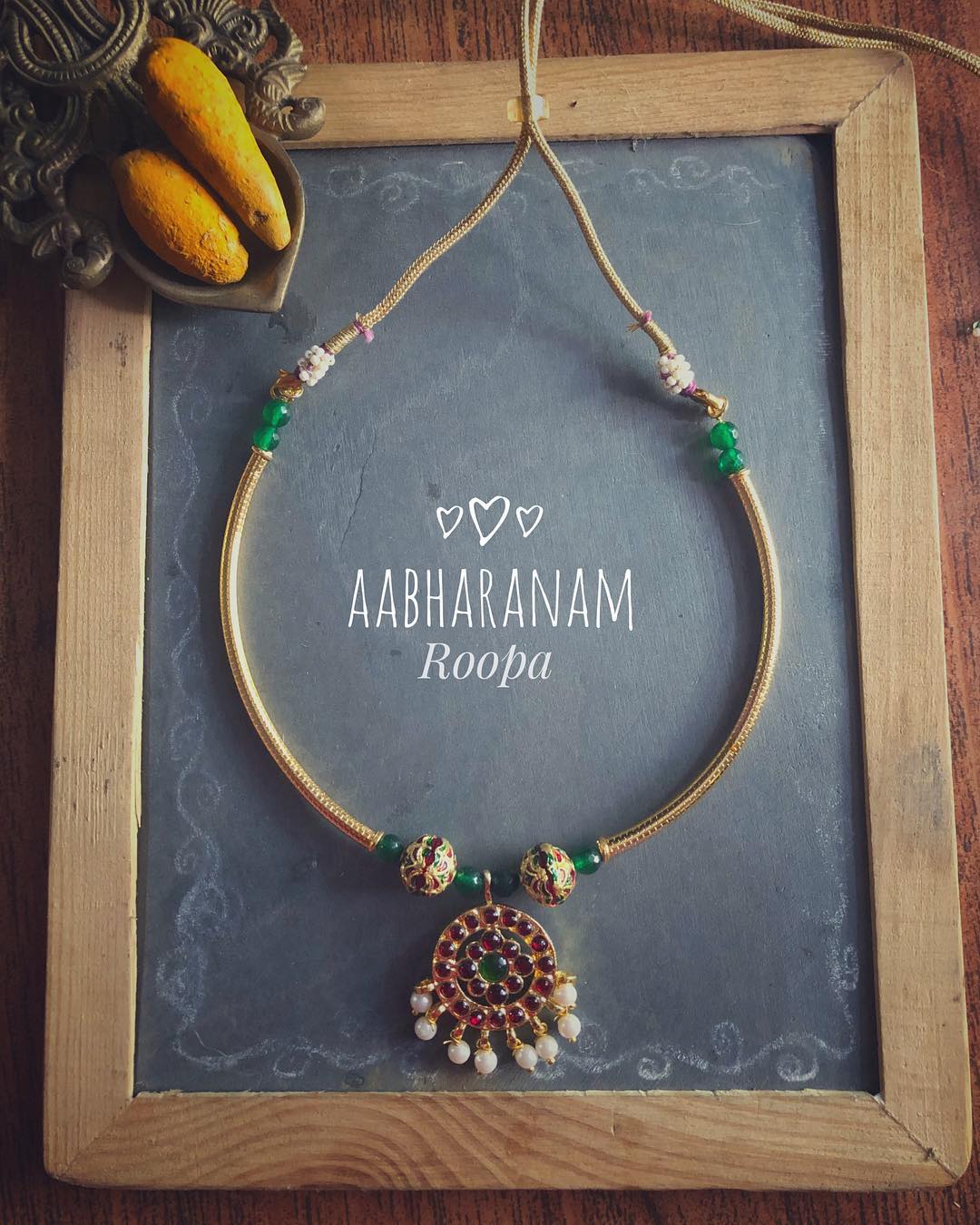 Minimalistic Design Necklace
For any of your dark colored attires, this one is the best pick. The small mango shaped studs adds a great sense of simplicity and a touch of ethnicity. This necklace by Darpana is very elegant and can go well with almost any outfit.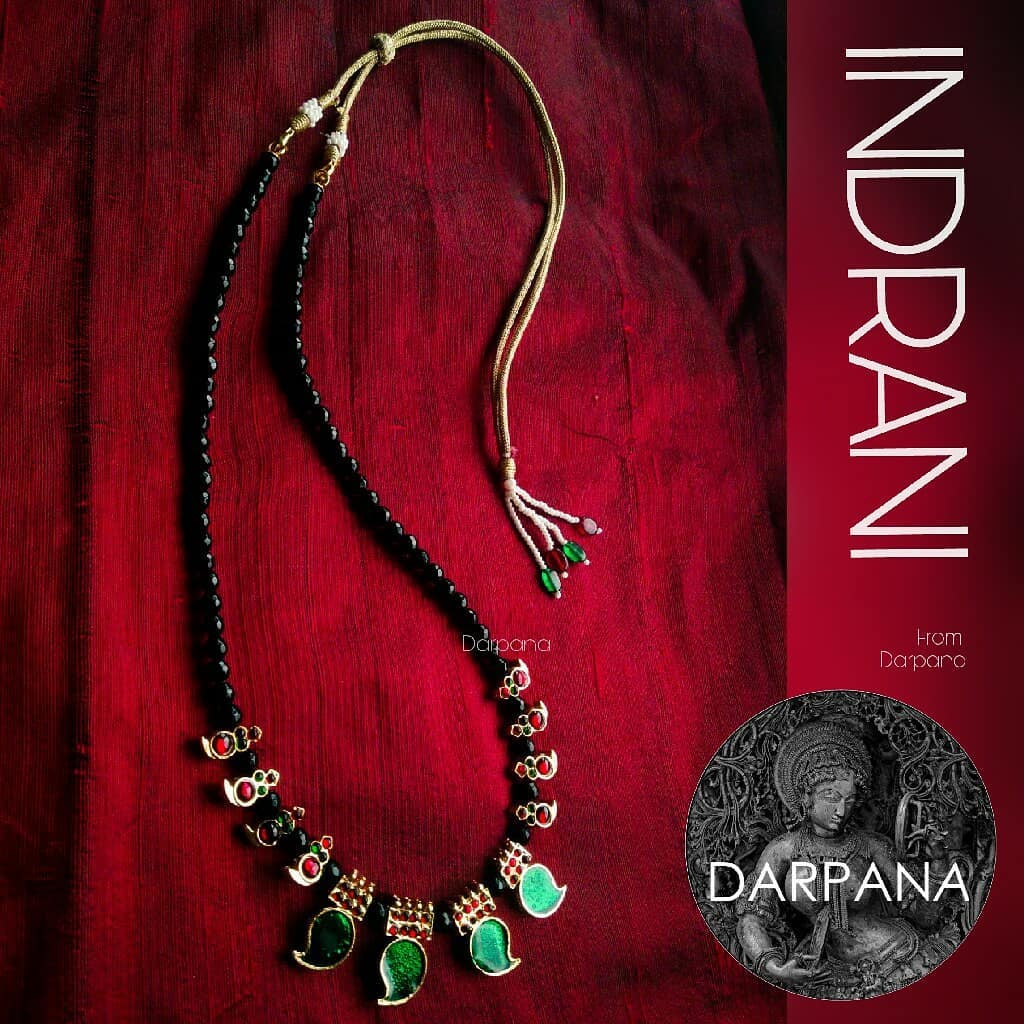 Pearl Chain With Pendant
The chain of this necklace is filled with tiny pearls, making it a great piece of attraction. The little pendant at the bottom is quite charming and is completely elegant.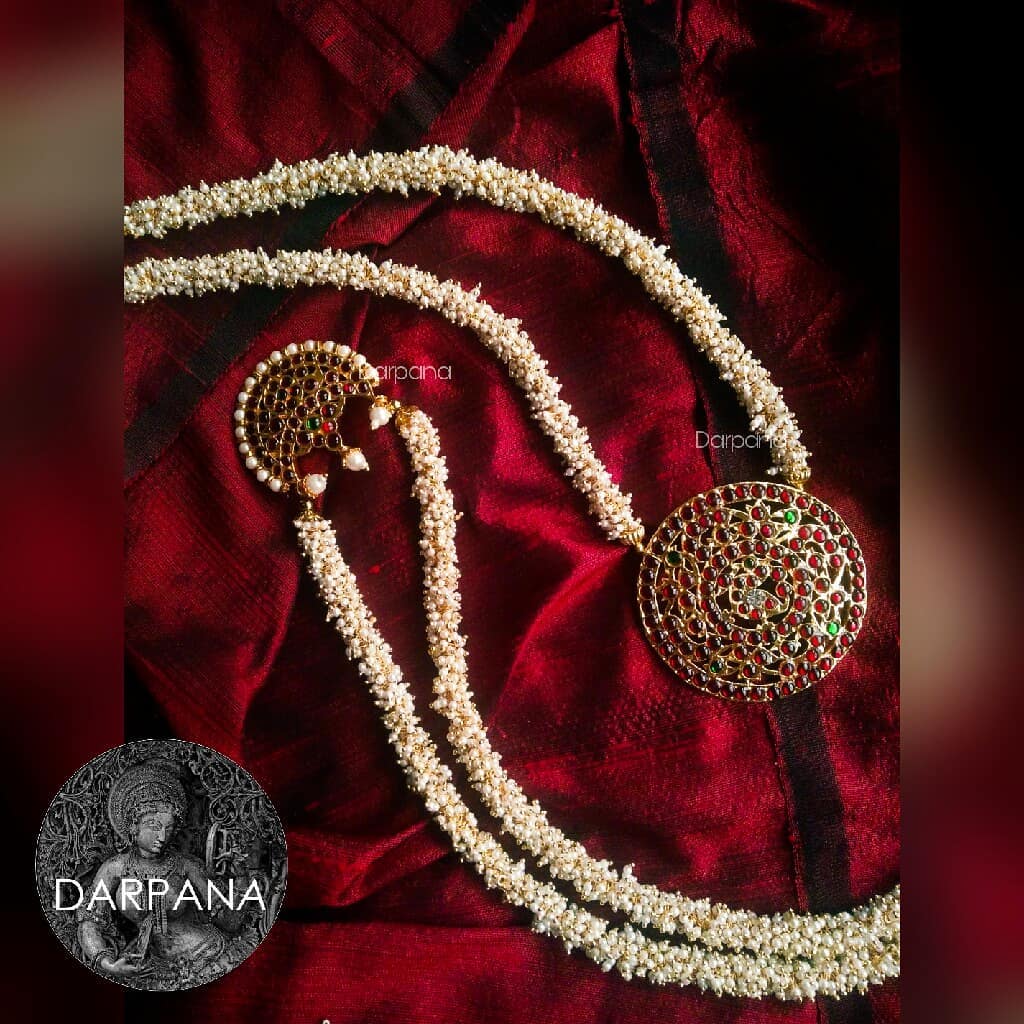 The Royal Delicacy
This necklace is purely delicate and looks very royal. It has a very sophisticated look and is sure to uplift your personality. It is perfect for any occasion and outfit.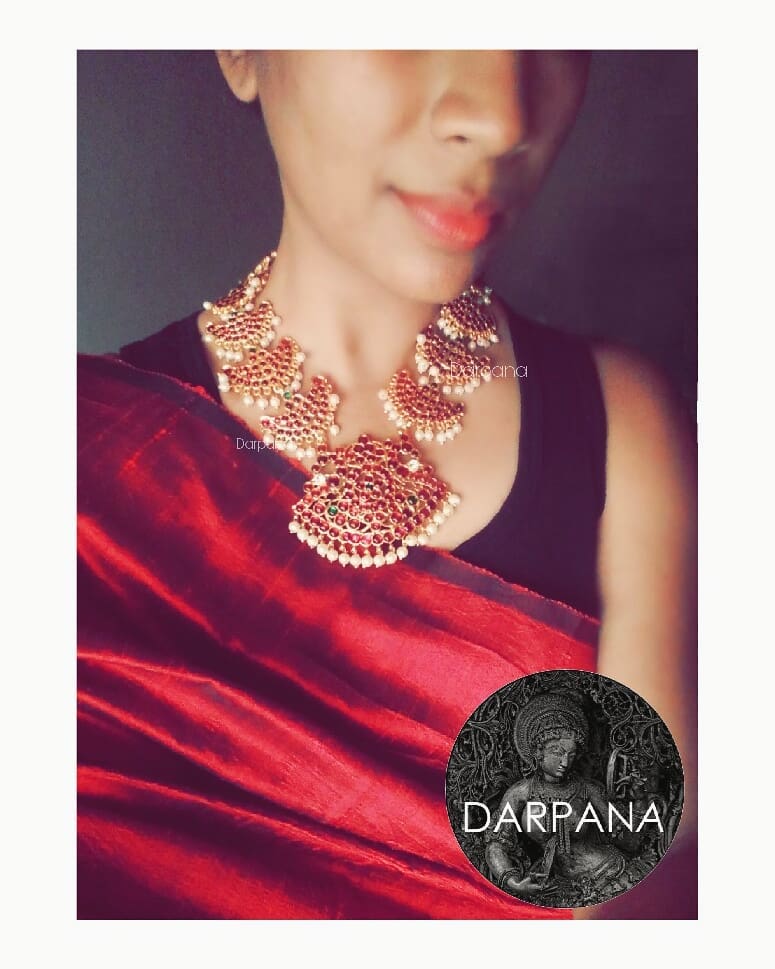 Multi-Layered Beauty
Since beaded chains are quite attractive, a multilayered one is even more amazing. The spear-shaped dangling at the end gives a very ancient look as that of our ancestors.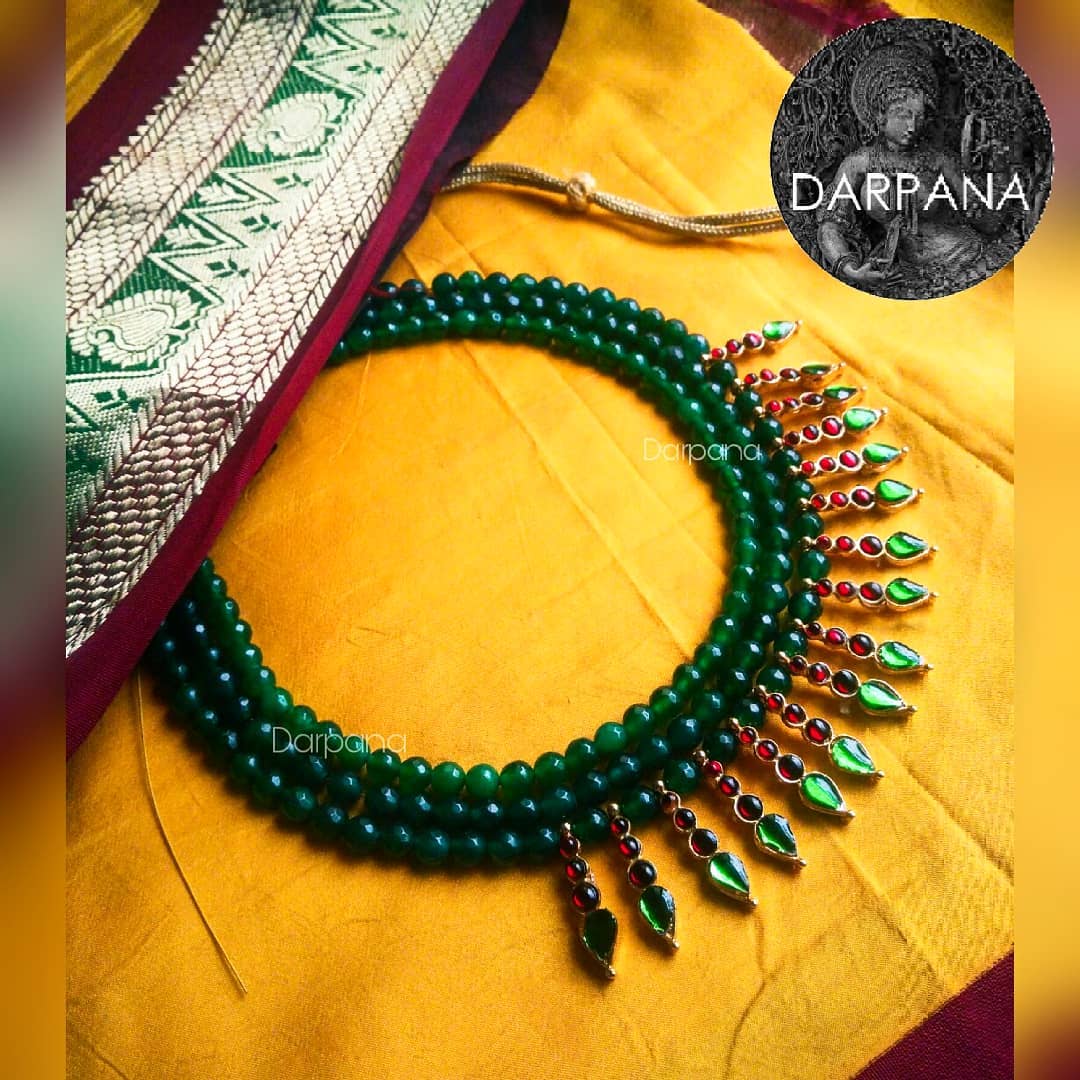 Goddess Lakshmi Pendant
A typical south Indian jewelry is sure to have a goddess engraved or embossed. This is the perfect example of one such piece. The pearl bead chain goes perfectly well with the pendant.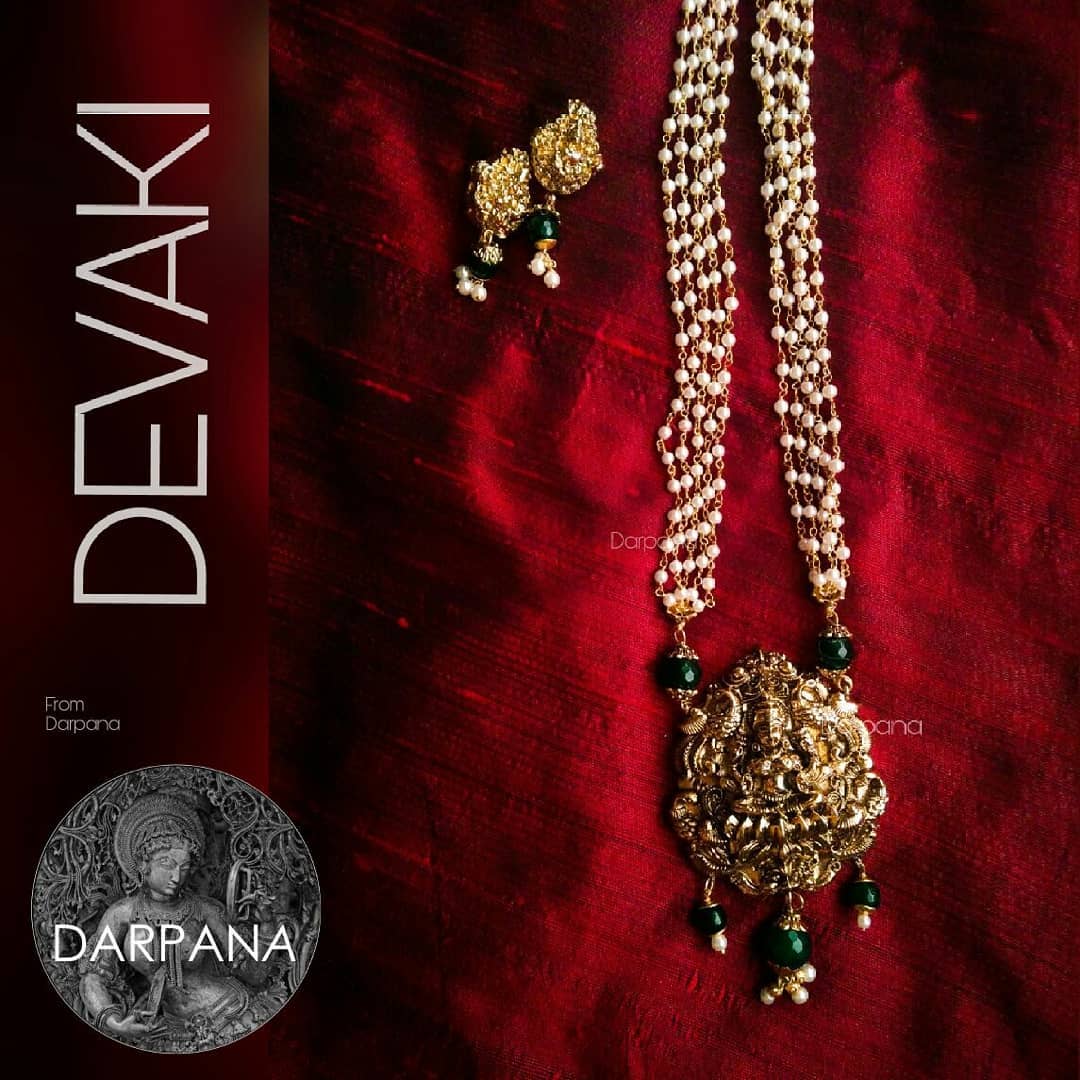 Bright As The Sunshine
This necklace, although simple, can be spotted even from far away. It has a great shine and the detailing on the pendant is quite appealing too. It is sure to turn many heads towards you.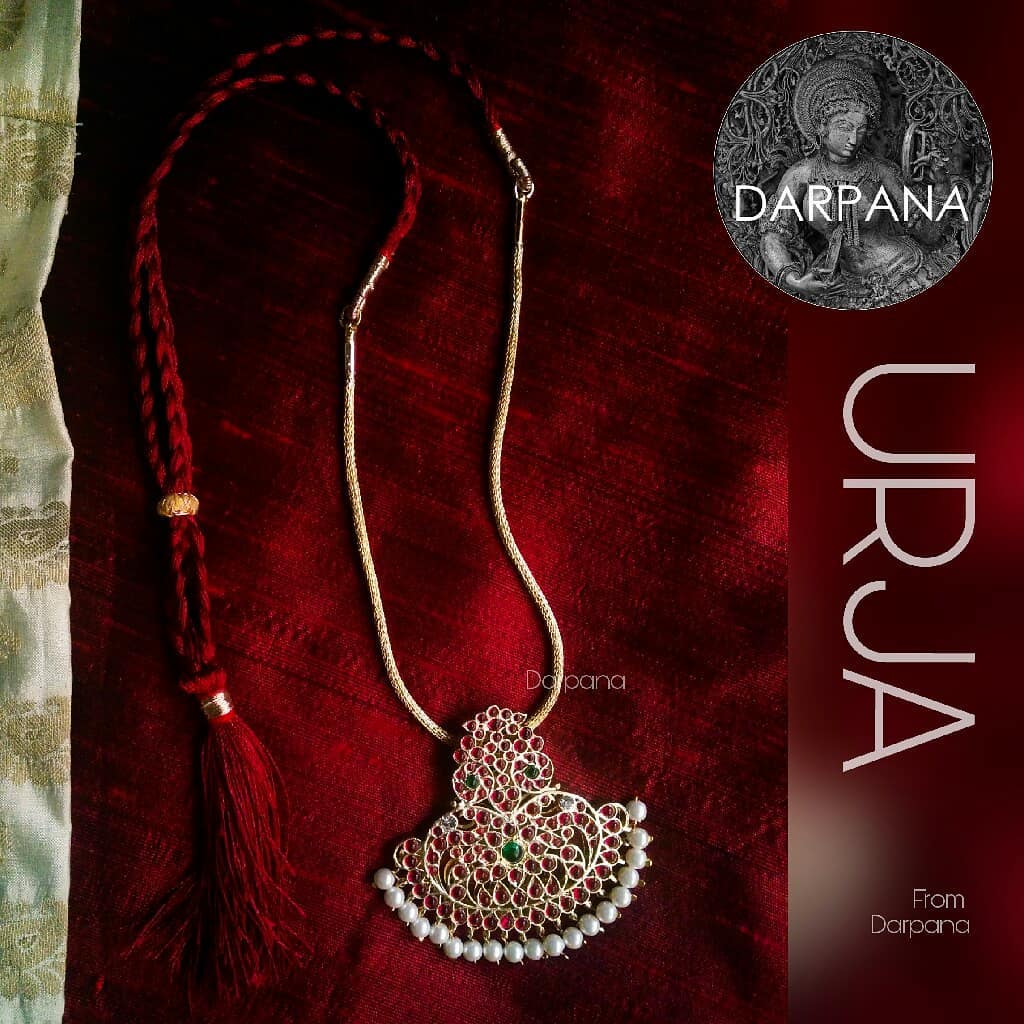 Traditional Necklace And Earring Set
The coconut-shaped chain and the huge pendant at the end is what a typical traditional jewelry set. The pearl beads add a great allure and the set can be adorned upon any outfit.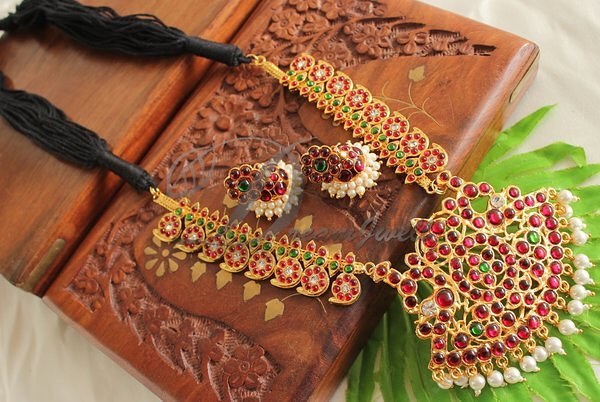 Spheres Of Stones With Grand Pendant
This necklace with beaded chain and spherical collection of stones is very appealing and satisfying to look at. The pendant is huge and has good detailing. The set can go well with almost any outfit and is great for any occasion.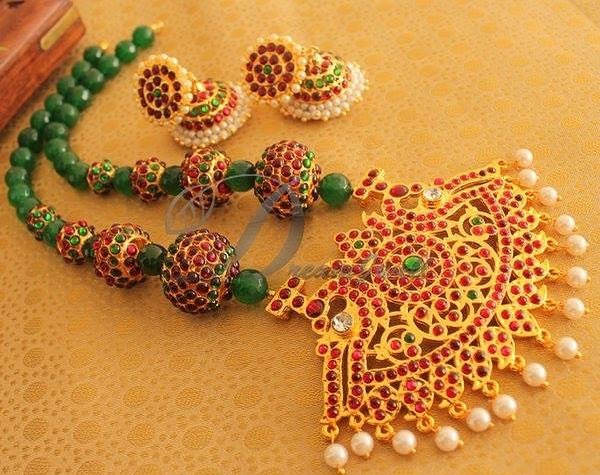 Single Colored Minimal Set
For the outfits with monotonous look, this is definitely a perfect match. It can be paired with both complimenting as well as contrasting colors and in both cases, the combination would be astounding. There are different designs available at DreamJwell and, you can select one you like the most.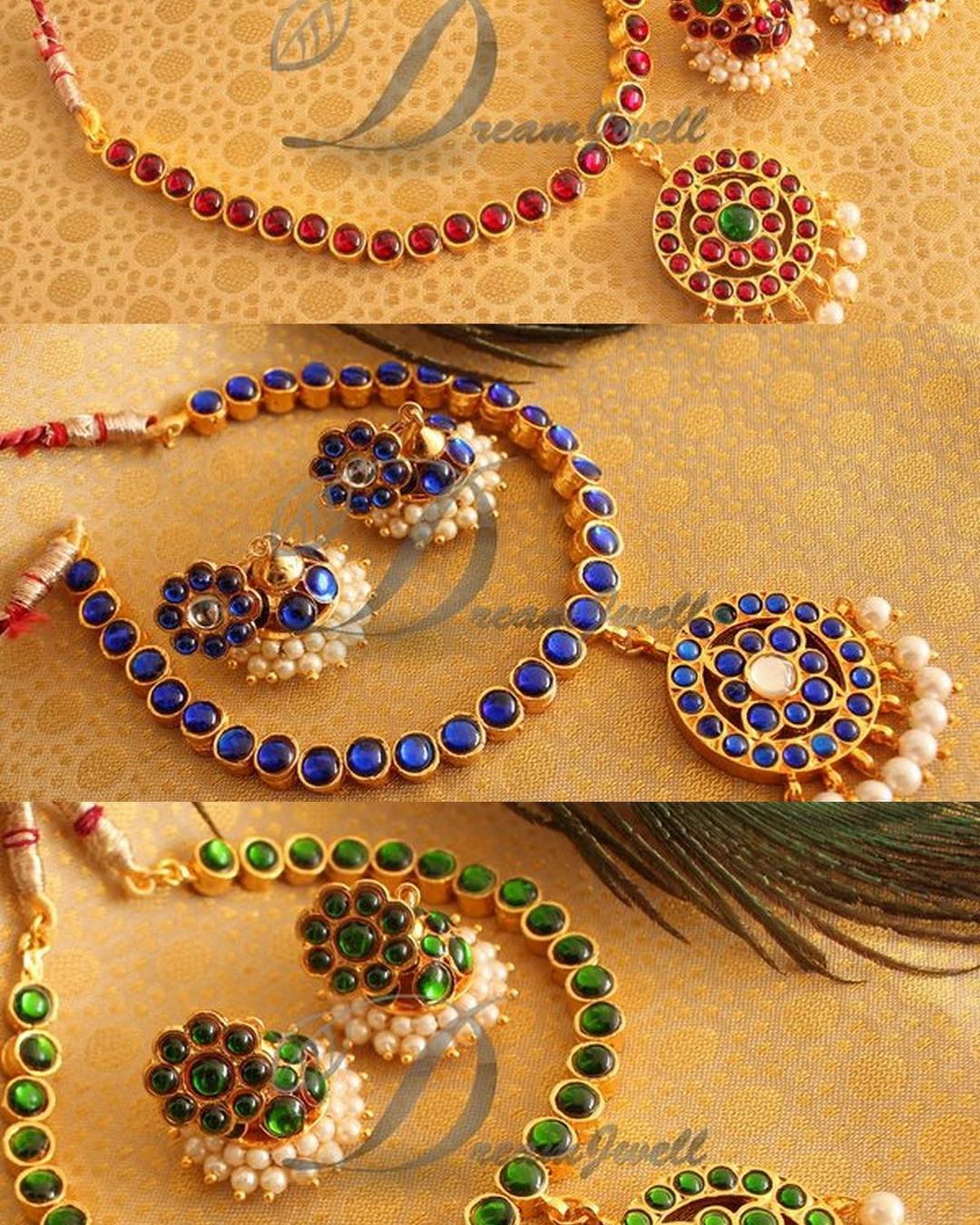 Traditional Stones Arranged Together
This set is quite heavy and grand. It is perfect to show off your jewelry collection and add shine to your attire. The chain too is quite attractive and the set can be paired up with almost any outfit. This is a perfect pick for all the festive occasions.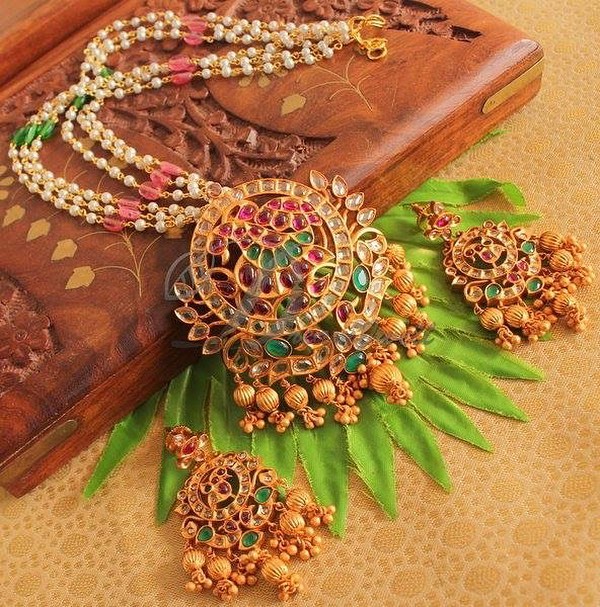 Simple Design With Grandeur
Although this set has a very simple design, it is very appealing. When paired with simple attires, your look is sure to be lauded. The gold looking globules look very astounding and the tiny pearl beads add to the charm.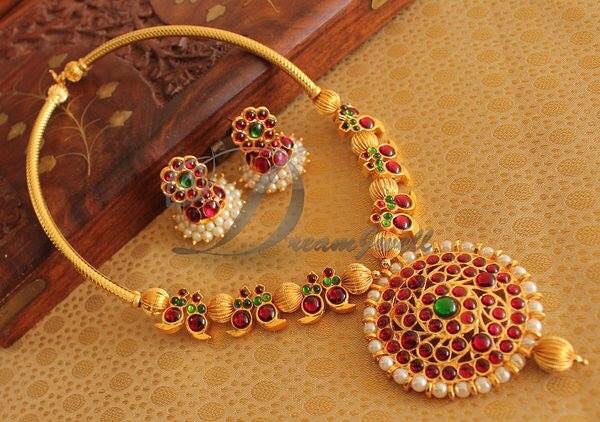 Leaf-Shaped Hanging Made Of Stones
This necklace has the look of a modern choker. Although traditional, it has a touch of freshness. It is the perfect pick for any mild occasions and is quite comfortable to wear.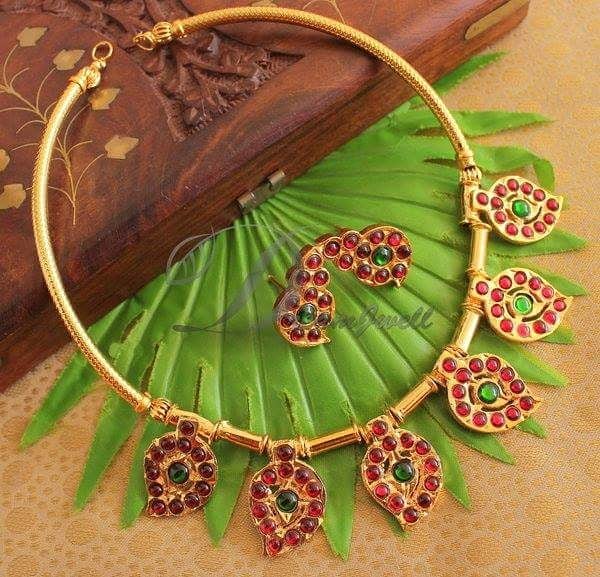 Irrespective of how much you spend on ornaments, imitation temple jewelry is definitely a must-have in your collection. If you are looking to buy some, you can surely have in mind the designs above. They are sure to amaze you as well as the ones around. You will feel special and the buy would be totally worth it. So, go on and get yourself a couple of imitation jewelry!
Happy shopping.
Seller Name : Darpana
Instagram : https://www.instagram.com/darpanadesign/
Whatsapp : 9742596734
Seller Name : Aabharanam
Instagram : https://www.instagram.com/abharanam/
Email : aahbaranam@gmail.com
Whatsapp : 9677600195
Seller Name : Dreamjwell
Instagram : https://www.instagram.com/dreamjwell/
Website : https://dreamjwell.com/
Also Read: