It is the choice of the jewelry that makes a difference to your look and outfit. No matter what the occasion is gold jhumkas can be the best choice to wear. With the elegance, astonishing marvelous look and feel of earrings that it offers make it popular among women and girls.
Selecting a suitable earring that blends well with your dress is what you need. Here is a sample of jhumka collection from Premraj, Manjula and Manubhai jewelers.
If you are fond of wearing gold earrings with many designs and also, you love keeping a collection of them then you would definitely like to check out the 21 gold jhumka designs. Let's take a peek at the jhumka designs you would like to own for yourself or probably, buy for someone you want to gift it to.
Oxidized Finish Step Jhumka
The oxidized finish step jhumka can be a good choice if you are wondering what to wear to the birthday parties along with family or friends gatherings. With its simple and light look, it goes well with the events where you will just have fun and a nice time with friends and family members.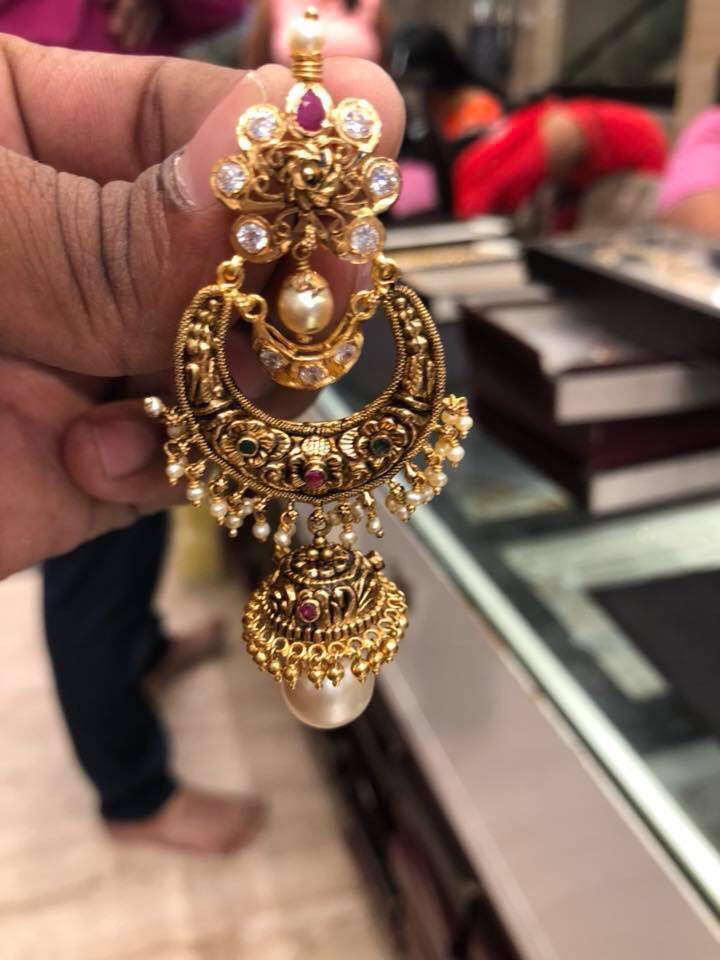 Antique Coin Jhumka
It is cool to wear the antique look of gold on the earring. The antique coin jhumka design is a perfect choice to be worn on festival occasions on the traditional dresses.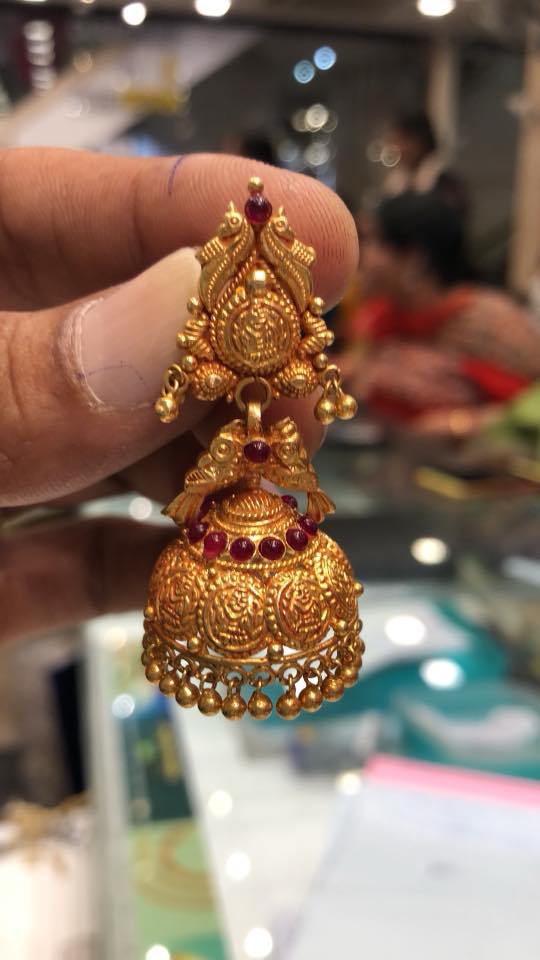 Traditional Ruby Jhumka
The ruby gemstone adds elegance and beauty on to the traditional gold jhumka and gives it an outstanding look on you. The Ruby offers the desirable crimson look to the piece of jewelry.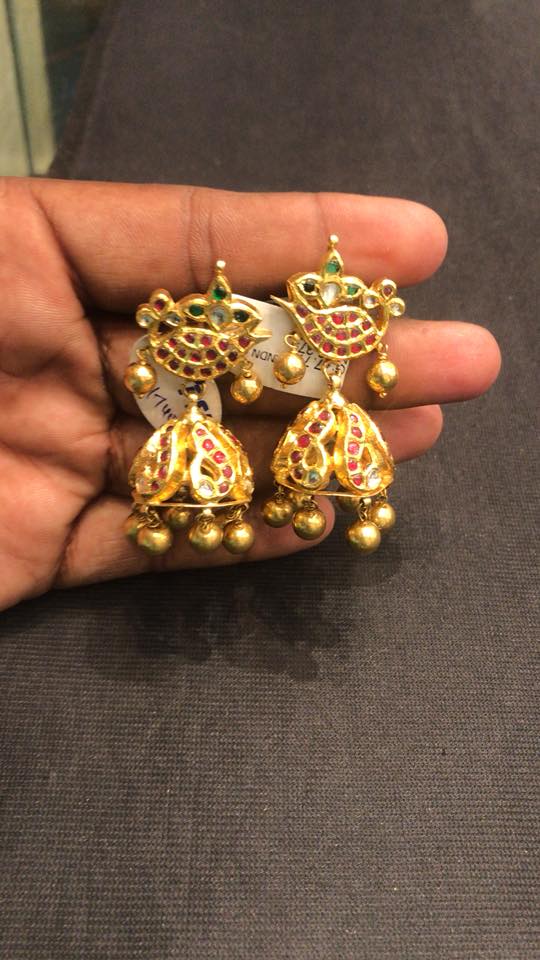 Layered Peacock Jhumka
The layered peacock design on this gold jhumka provides an amazing and good look on you. The peacock style makes it an adorable jewelry among your collection of jhumkas or earrings.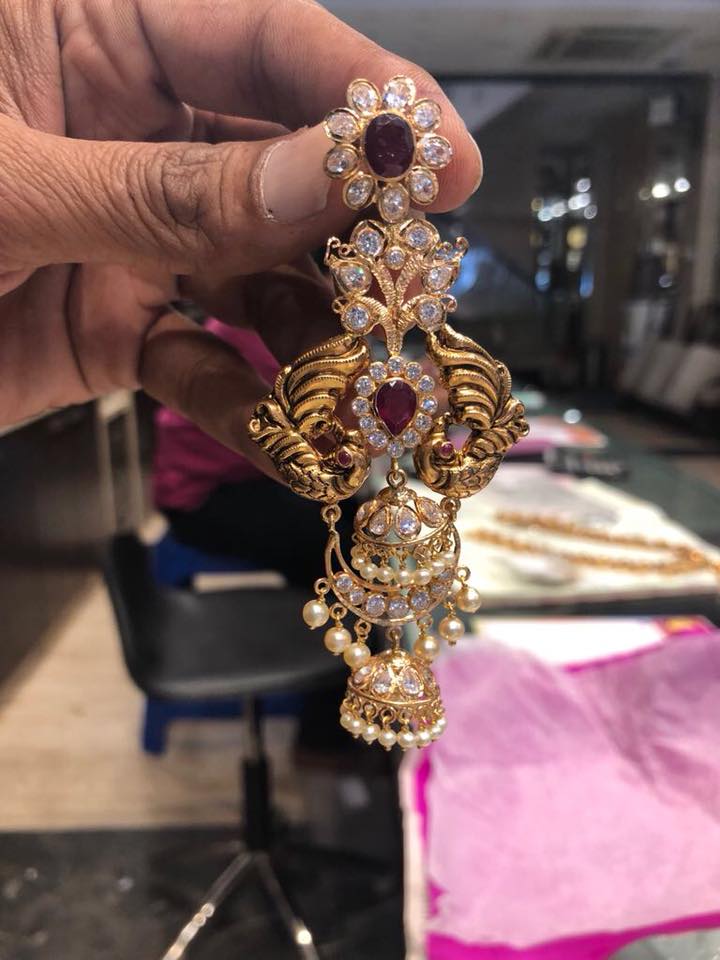 Bold Temple Jhumka
The bold temple jhumka is probably the design that would come to your mind when you think of temple Jhumkas.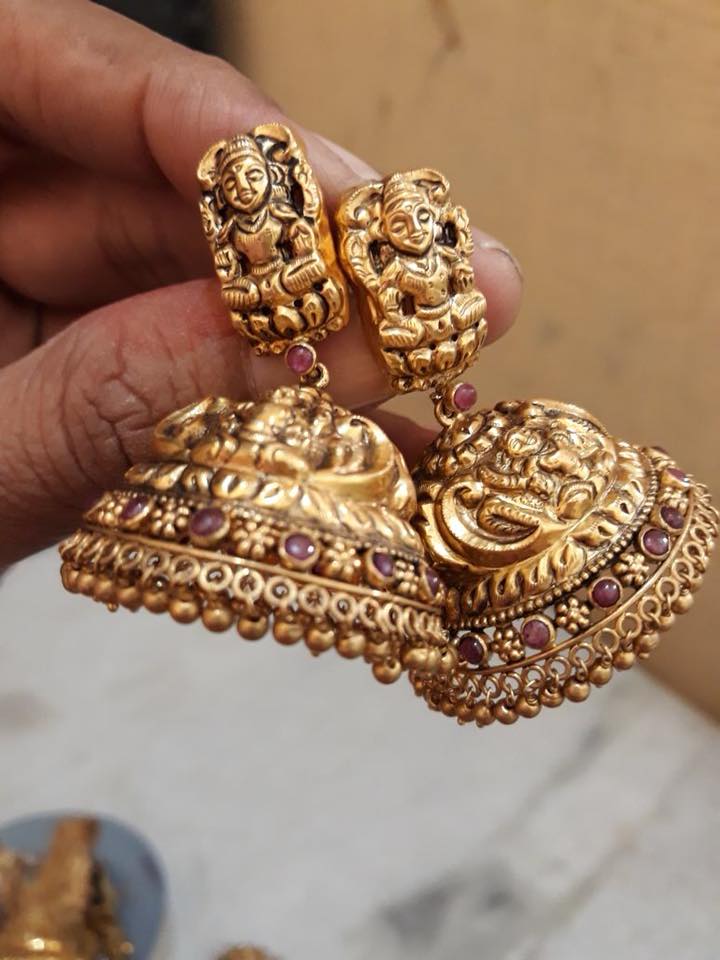 Classic Pachi Jhumka With Pearls
The pachi work or pachi karigari is a time intensive and complex jewelry making technique from Rajasthan. Along with the pearls used to craft this earring makes it a delicate and impressive choice of a piece of jewelry.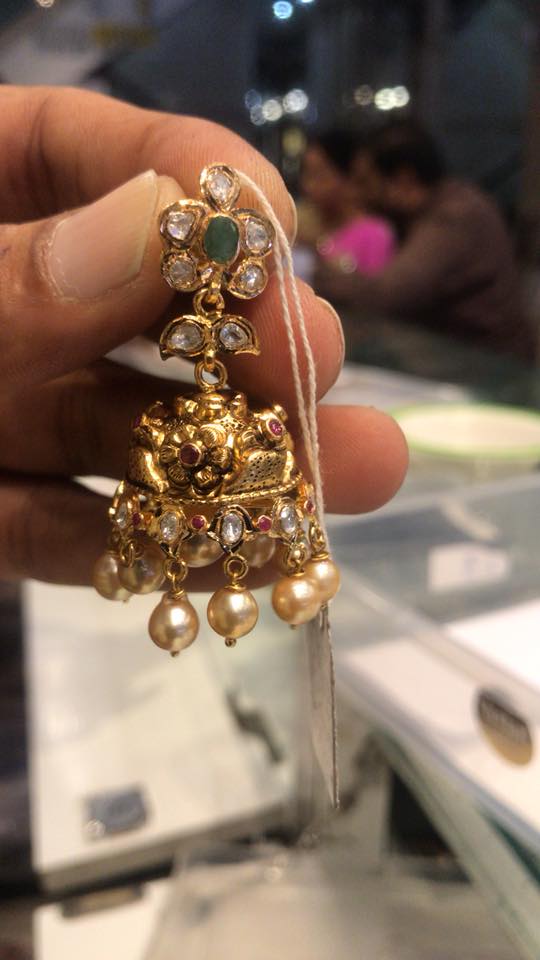 Jhumka With Stone Base
Surprisingly, this Jhumka with stone base is the best earring choice for ladies who love to wear sparkling stone studded accessories and jhumkas for their designer dresses.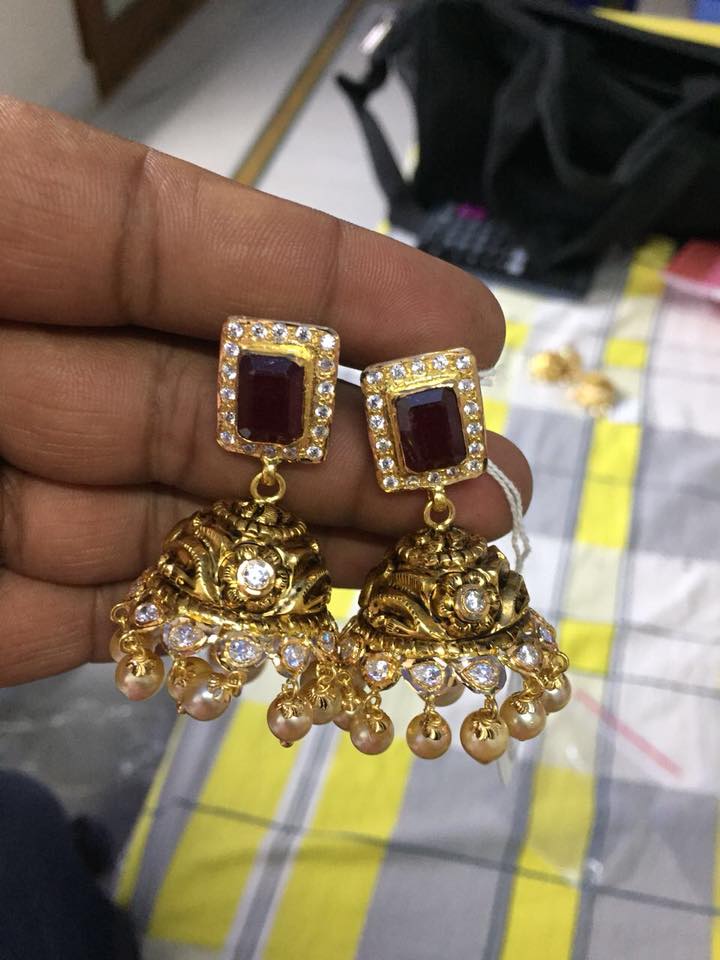 Lengthy Bridal Style Jhumka
Take a glimpse of your special wedding day you will realize how this lengthy bridal style jhumka model is the jewelry you need to make your occasion more memorable.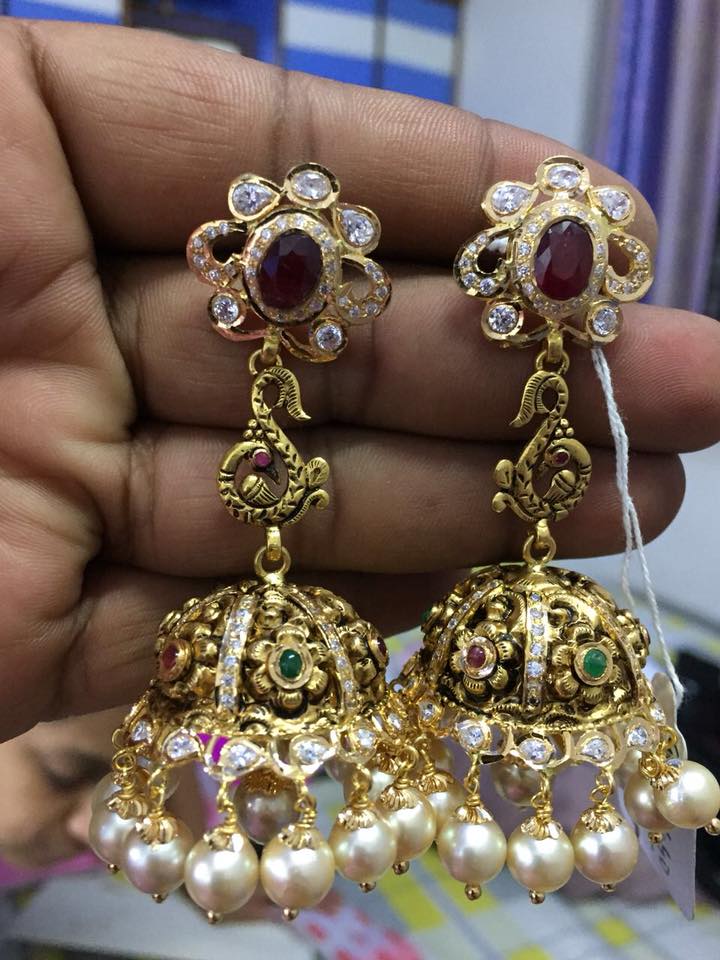 Short Ruby Emerald Jhumka
With the ruby and emerald stones attached to this piece of jewelry, this short ruby emerald jhumka is exactly what will compliment well with your traditional dresses and outfits.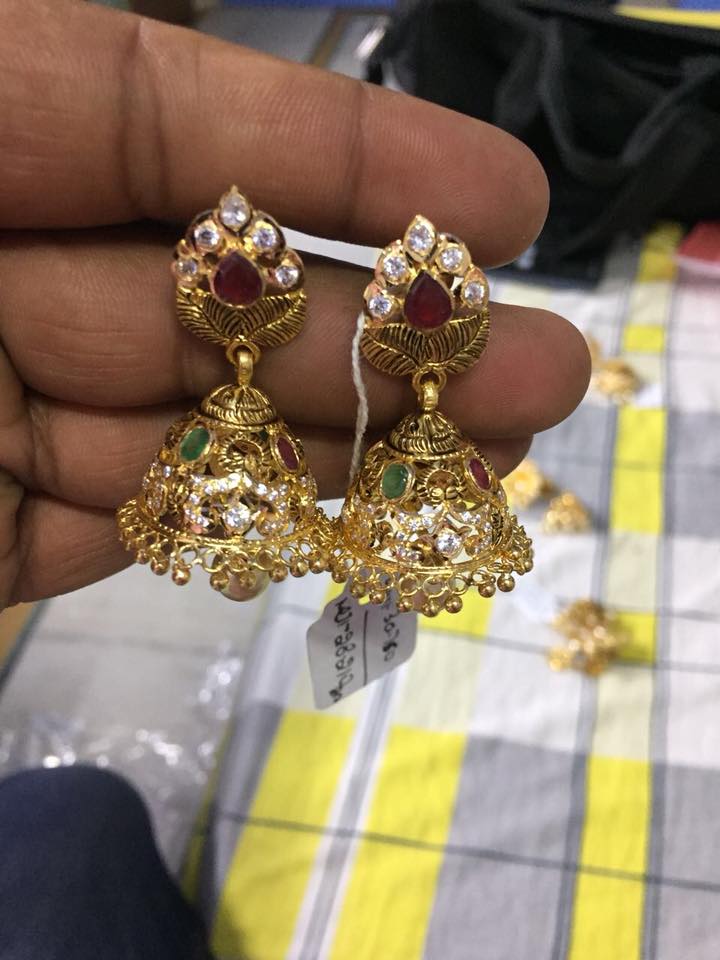 Evergreen White Stone Jhumka
Do you like white stones in your jewelry collection at home? White is an elegant color that matches with any other one. With evergreen white stone jhumka, you can bring a piece of white stone gemstone jewelry to your place.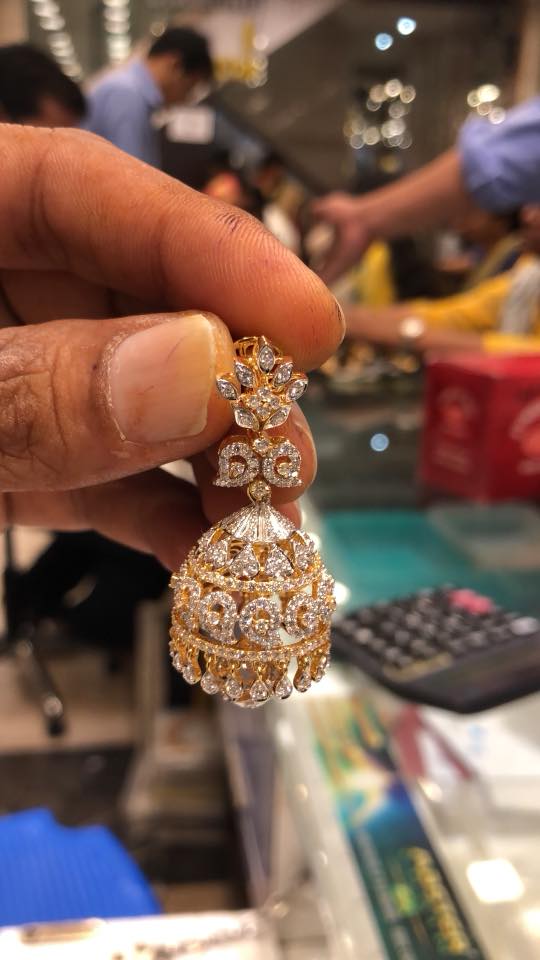 Jhumka With Pearl Base
With the amazing attributes of pearl gemstone, this jhumka with pearl base is one of the earrings that you should have. You can wear this earring on any outfit you like. Interestingly, the pearl gemstone is a naturally occurring gemstone which is extremely hard to obtain and is discovered from the deep sea water.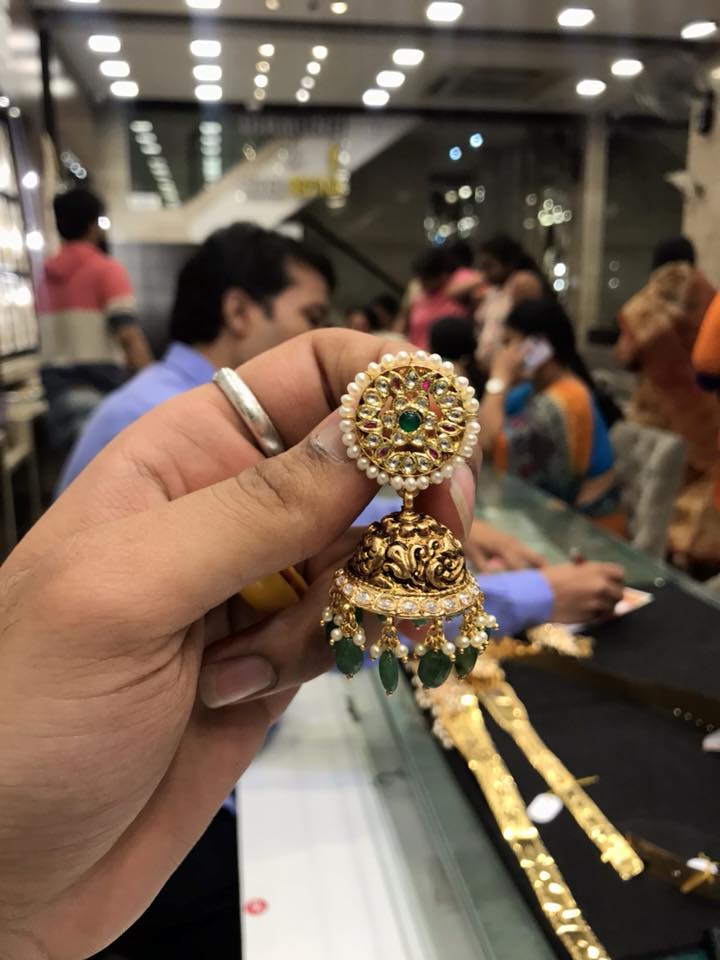 Jhumka With Antique Gold Balls
The beautiful and lovely gold balls on the jhumka enhance the antique aspect of this piece of jewelry. The jhumka with antique gold balls is a good selection of jewelry to wear on weddings and engagement ceremonies.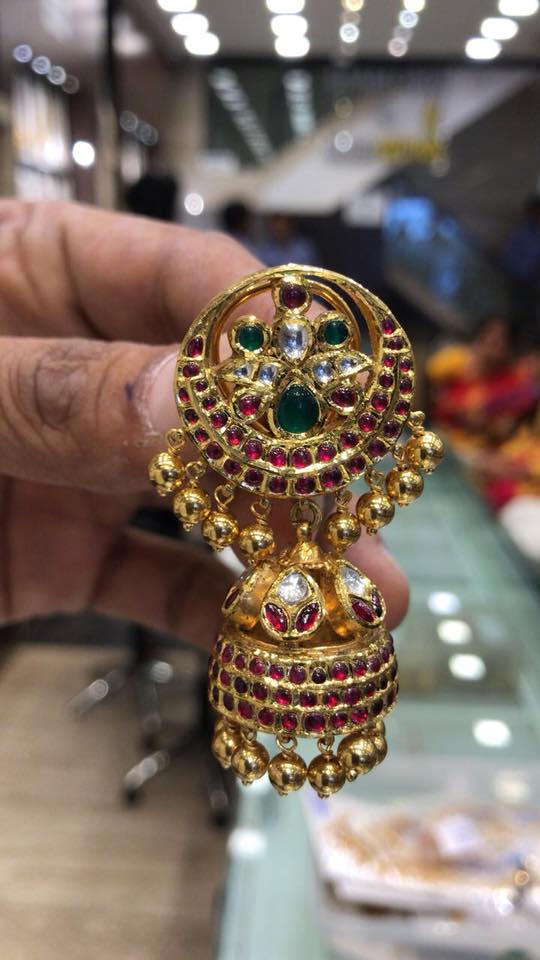 Jhumka With Kundan Stones
Several Kundan stones are placed and added while crafting and designing this jhumka. The jhumka with Kundan stones is a nice option for you to choose if you like the collection of Kundan jewelry.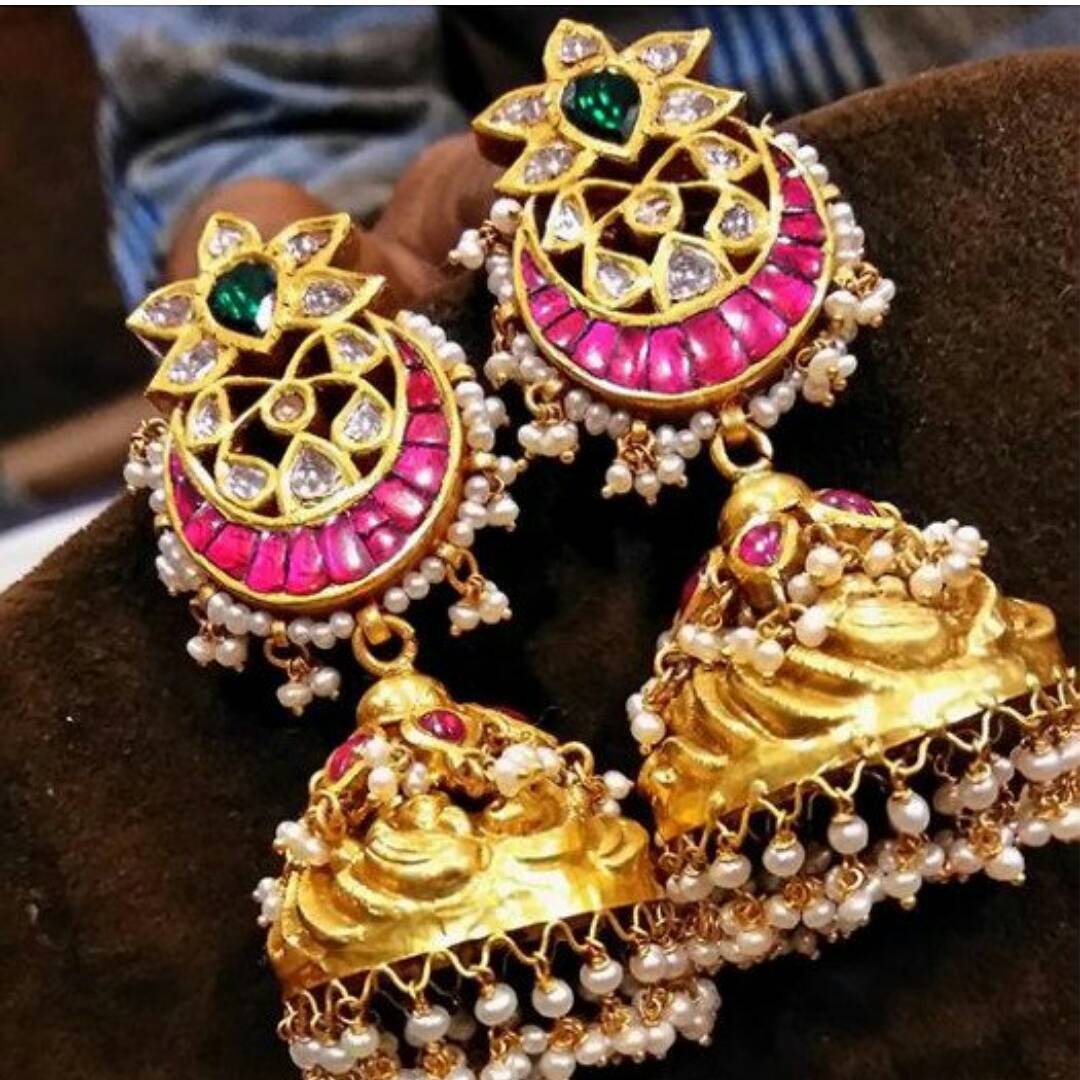 Jhumka With South Sea Pearls
This piece of jewelry or earring is made with south sea pearls to give an amazing, eye-catchy and ethnic look. The angelic appearance of the pearl gemstone attracts mostly everyone and it is also observed that majority of women want to attain the marvelous and delicate looking pearl gemstone.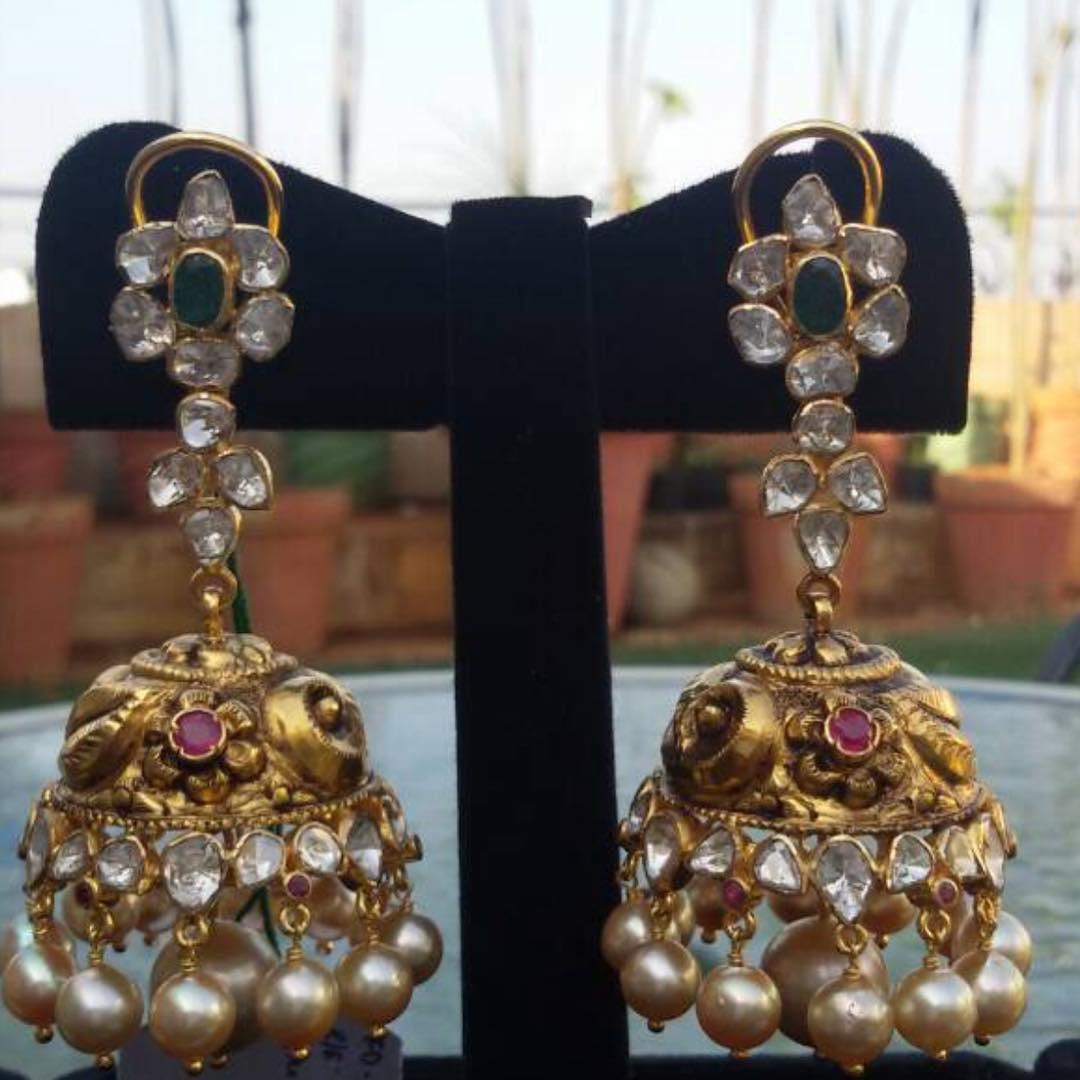 Peacock Jhumka
Peacock designed jhumka is a lovely earring that can present a stunning look to your overall look. Buy a peacock jhumka and style it with any outfit from your wardrobe. Make a style and fashion statement wearing this peacock jhumka.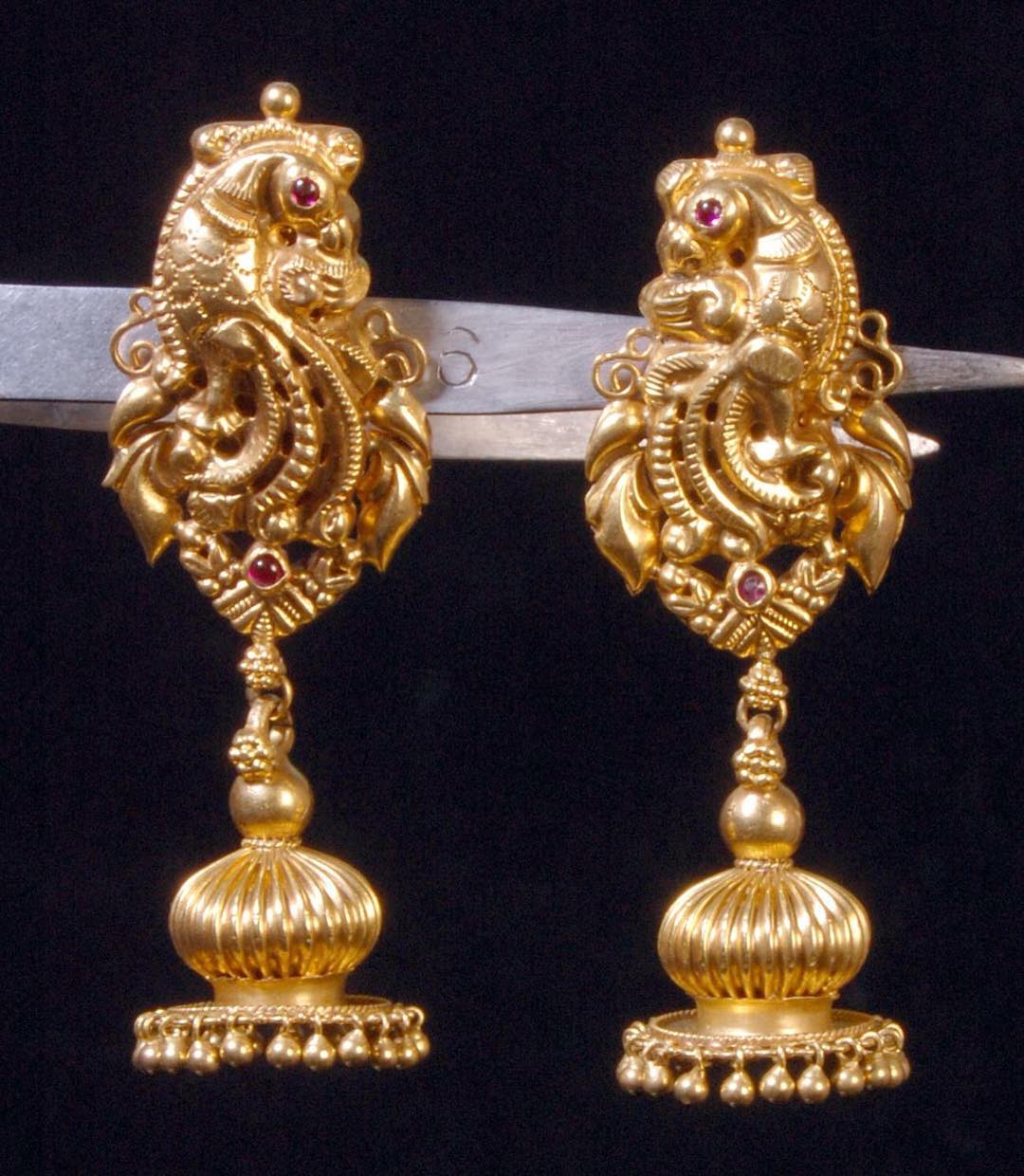 Stylish Antique Jhumka
The charming look of this accessory is a reliable alternative to boost your ethnic look on traditional dresses such as silk sarees, lehenga, and salwars. Get the stylish antique jhumka and give yourself a trending and fashionable look.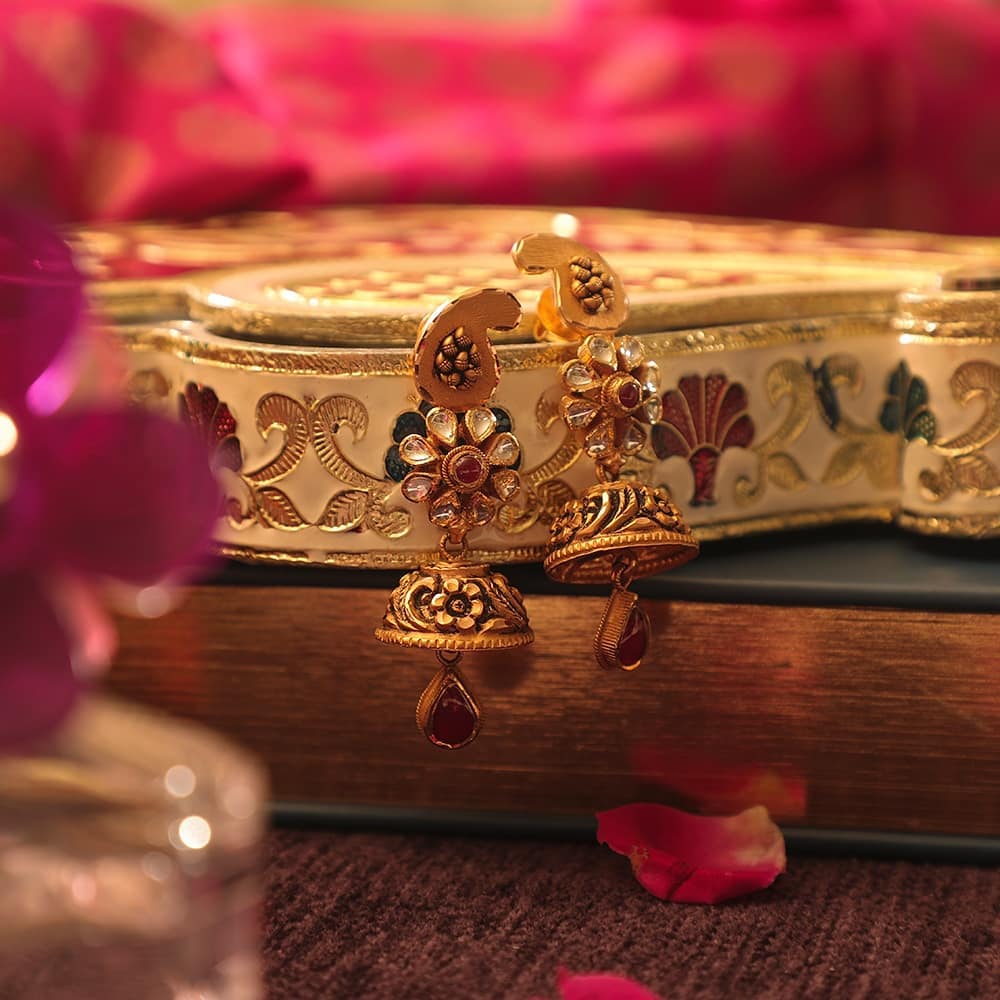 Jhumka With Intricate Stone & Pearl Work
Give yourself a pretty and captivating look with the detailed and complex work of stone and pearl on this jewelry. Get the jhumka with intricate stone and pearl work for a superb and delightful appearance along with your outfit.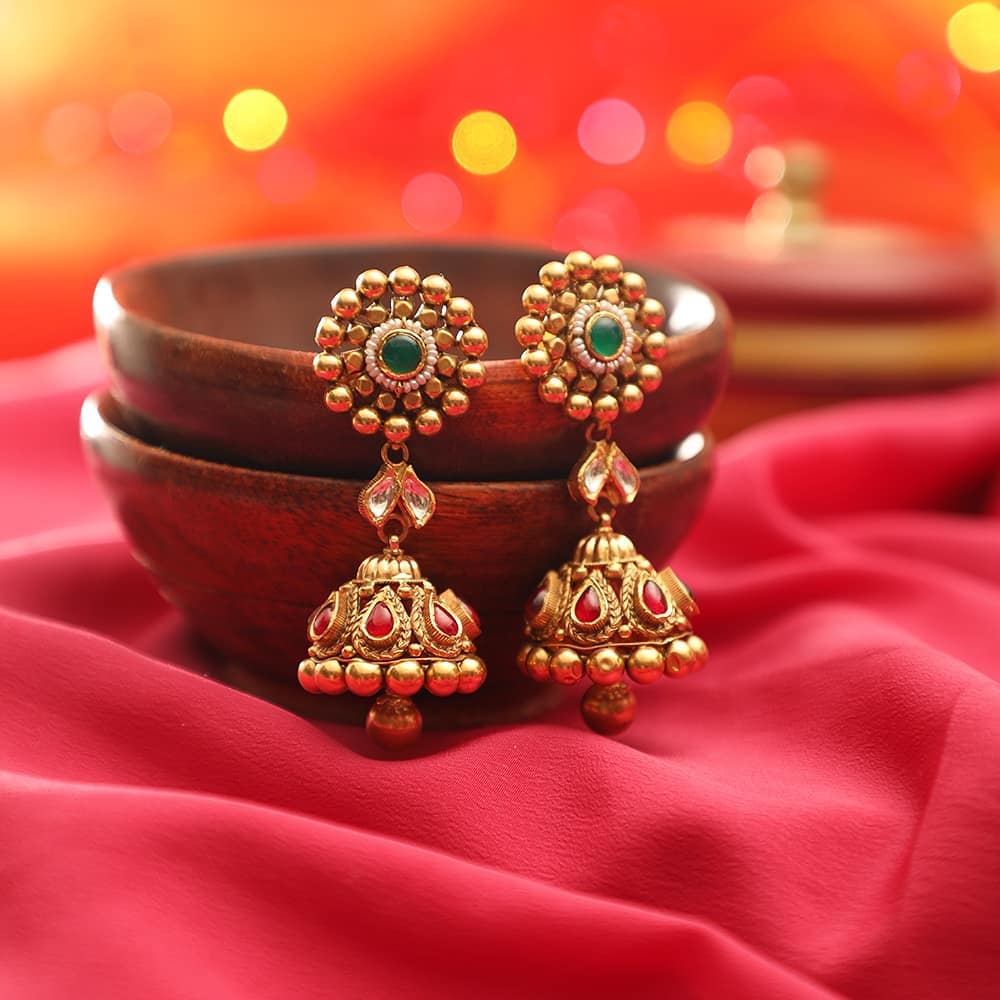 Plain Gold Jhumka
Purchase the precious, beautiful and amazing plain gold jhumkas online and get it to your home to add it to your gold jewelry collection. The best thing about the plain gold jhumka is that you can wear it on any dress you want without any confusion and doubt. The simplicity and graceful appearance of this earring will make you look and feel good.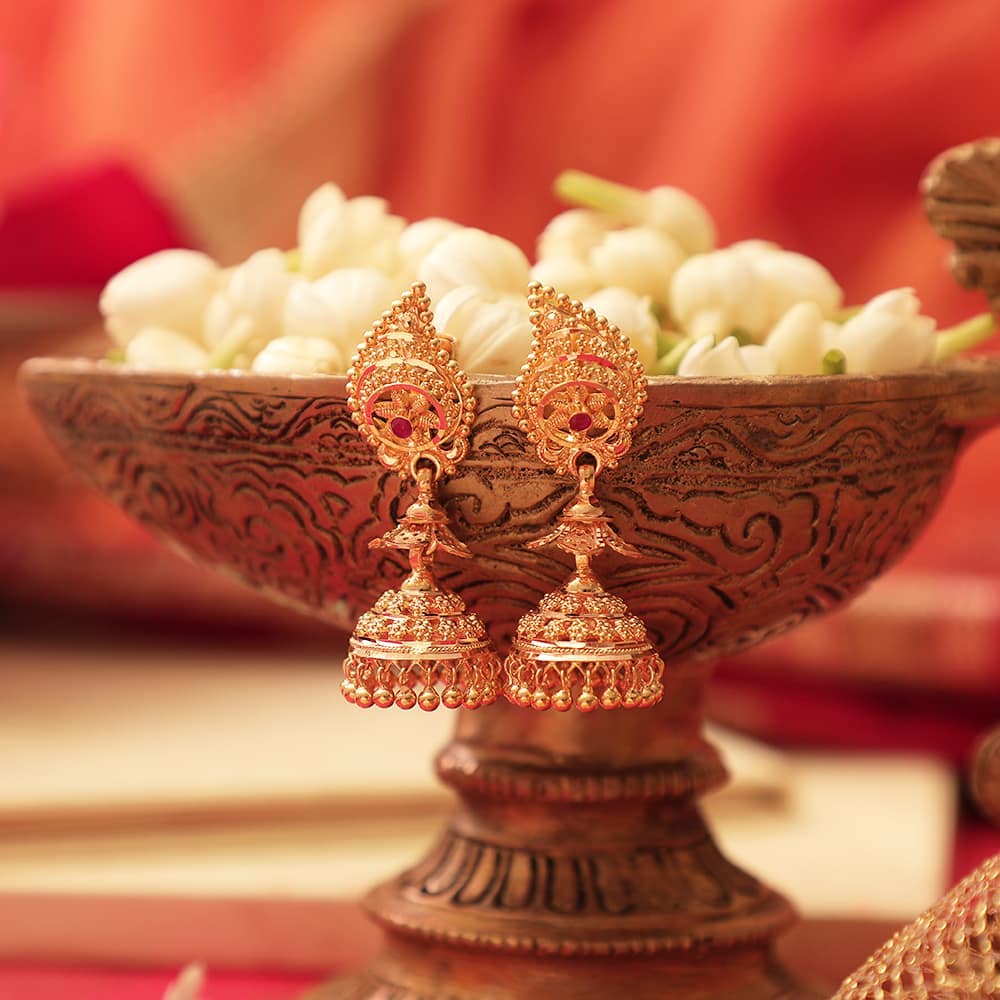 Light Weight Short Jhumka
If you are looking for an earring which is not heavy and small in size then light weight short jhumka is the one for you. You can wear this jhumka to malls, even your own school or college, and cafeterias also.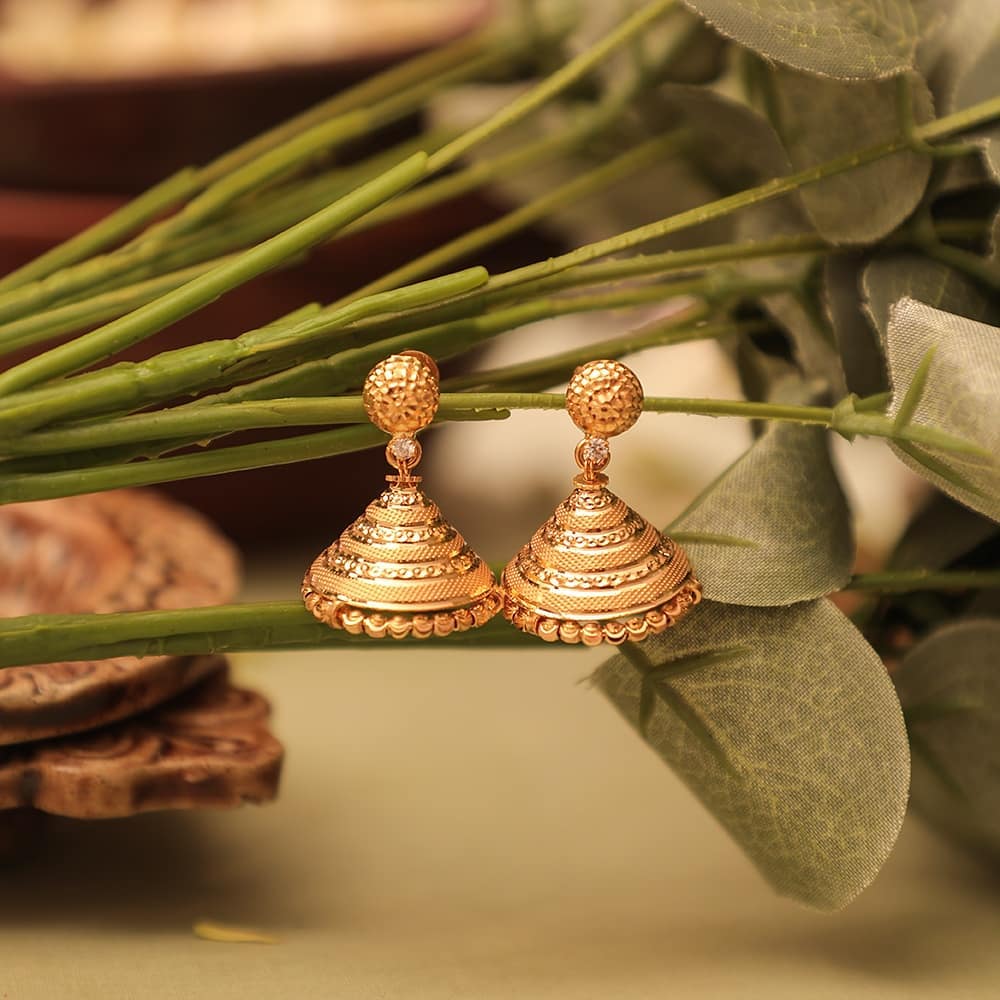 Dual Toned Jhumka
If you are looking for an earring with two colors or shades then the dual toned jhumka is the right choice for you. Basically, you will find a dual toned jhumka with silver and gold shades on it. Buy a dual toned jhumka and wear it on as many dresses you want.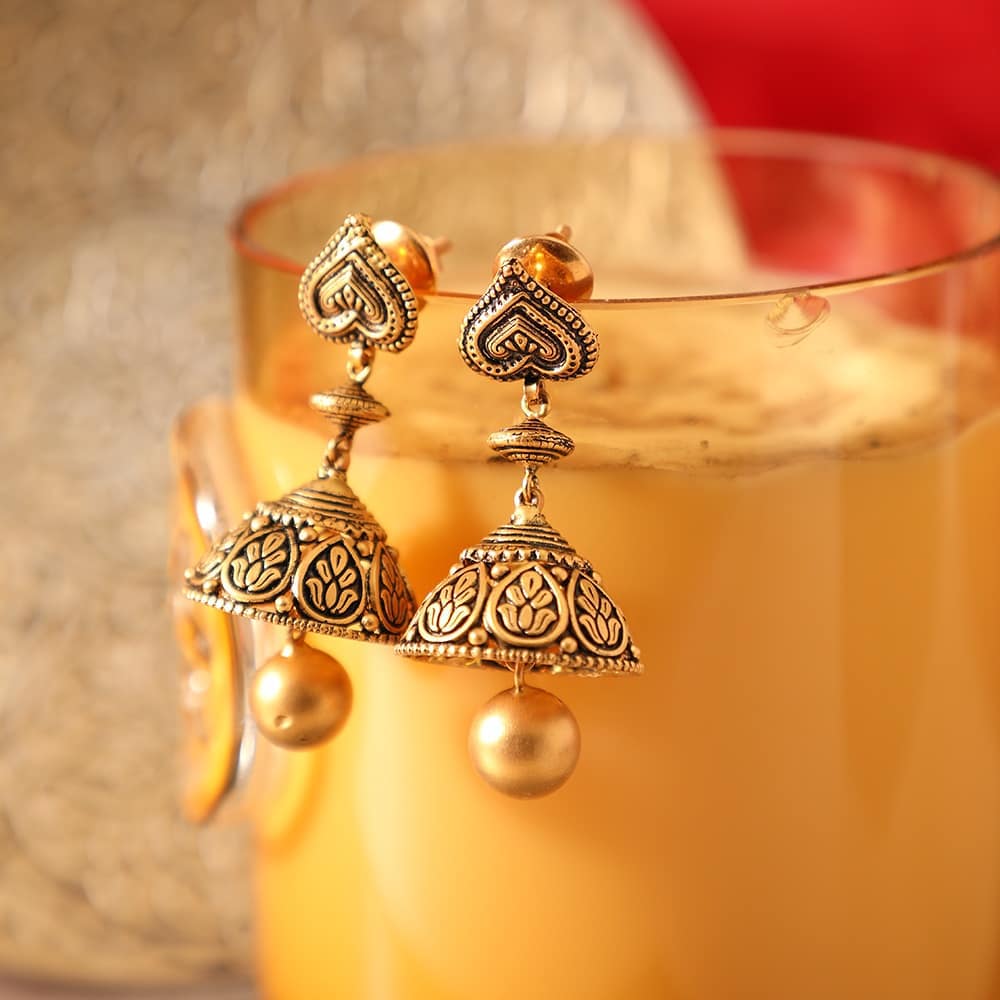 Fancy Layered Jhumka
The fancy layered jhumka is your thing if you like wearing long and an earring full of layers on it. The length of this jhumka starts from your ear and ends on your shoulders. It gives an elegant, enchanting and dazzling look when you wear it on special occasions and events.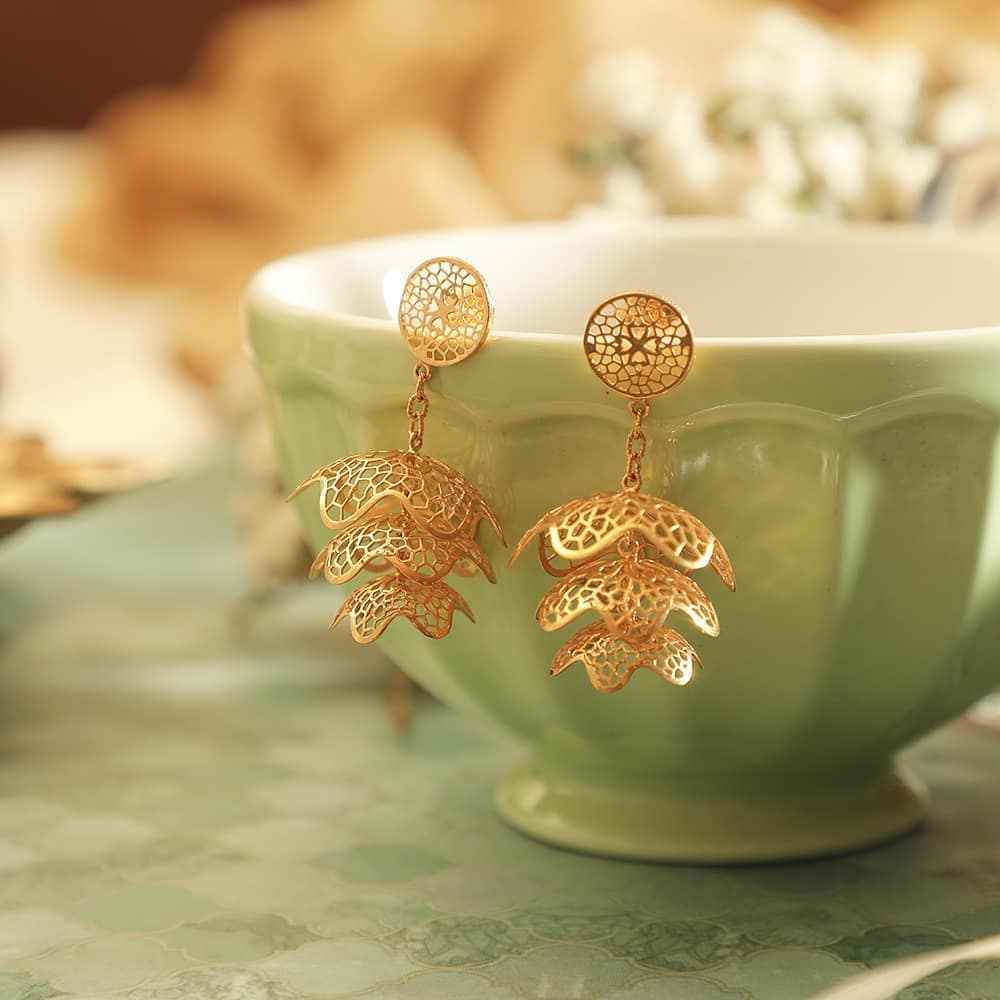 These are some of the beautiful gold jhumka designs that you can't stop lusting over. If you like to own these designs, then do find the seller details below.
Seller Name : Premraj Shantilal Jain Jewellers
Address : POT MARKET Opp BATA Rp road,Hyderabad, India 500025.
Contact No : 9700009000, 9951000005
Website : http://premshantijewels.blogspot.in/
Facebook : https://www.facebook.com/premrajshantilaljainjewellers/
Seller Name : Manjula Jewel
Instagram : https://www.instagram.com/manjulajewelsofficial/
Contact : 9550545432 , 9885154543
Seller Name : Manubhai Jewellers
Contact No : 022 28992042 / 8 lines
Website : www.manubhai.in
Facebook : https://www.facebook.com/Manubhai.Jewelers
Instagram :https://www.instagram.com/manubhaijewels/
Also Read :