South Indian jewellery has its own story to tell. There intricate designs will surely leave you amazed. So many online e-tailers have sprung up in last 5 years, that it's hard to know where to start if you are looking to buy Typical south Indian Jewellery. Whether we prefer or not, we've all jumps on Online shopping at one point or the other and when it comes to typical south Indian jewellery we get stuck. We have scoured the web to find the best 11 amazing brands from you, can shop your favourite south Indian jewellery. So make sure you check out there instagram page to have a look on what's trending.
1) Kovai Collections
Well, Kovai collection is a place where you can get all kinds of fashion jewellery from earrings with intricate design to simple yet trending neck pieces. They have beautiful temple jewellery which are so tempting and you can wait to try.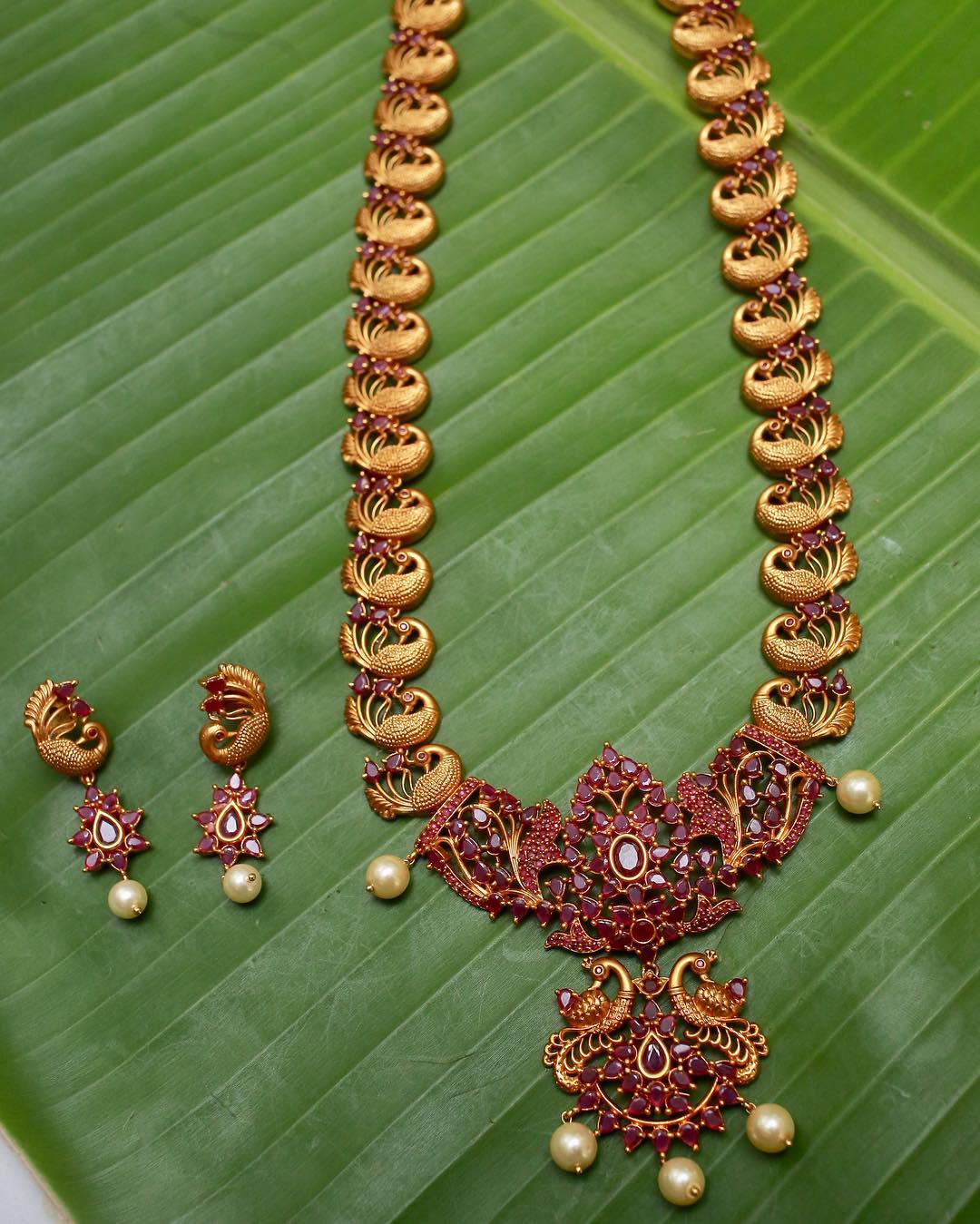 Kovai collection makes jewellery that is high on craftsmanship and simply breathtaking. Their pieces are inspired by India's heritage, and given a modern, eclectic twist. They have their own style which is unique and simple.
2)  1 Gram Jewellery
One of the most powerful jewellery brands, 1 Gram Jewellery. A brand best known for their inimitable, intricate and modern jewellery designs. It has everything from typical traditional temple jewellery to simple contemporary Ones.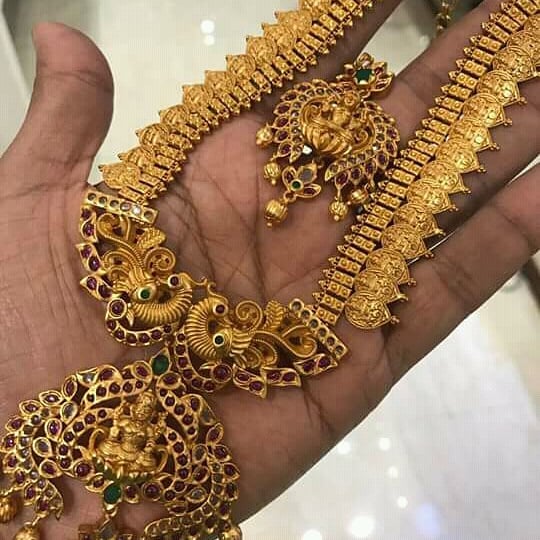 One thing we love about this brand is their distinct jewellery designs which will surely make you stand out in a crowd. They experiment with designs and materials —which eventually leads to pieces looking edgy, dramatic, and very, very classy.
3) Beads_Chiz
Sometimes a classic is a classic for a reason – because great fancy temple jewellery has always been in vogue. This is one destination for all; you can find various kinds of earring at one place. As wedding season is here and all brides-to-be are busy shopping for their perfect lehenga and jewellery so you can find all in Beads chiz.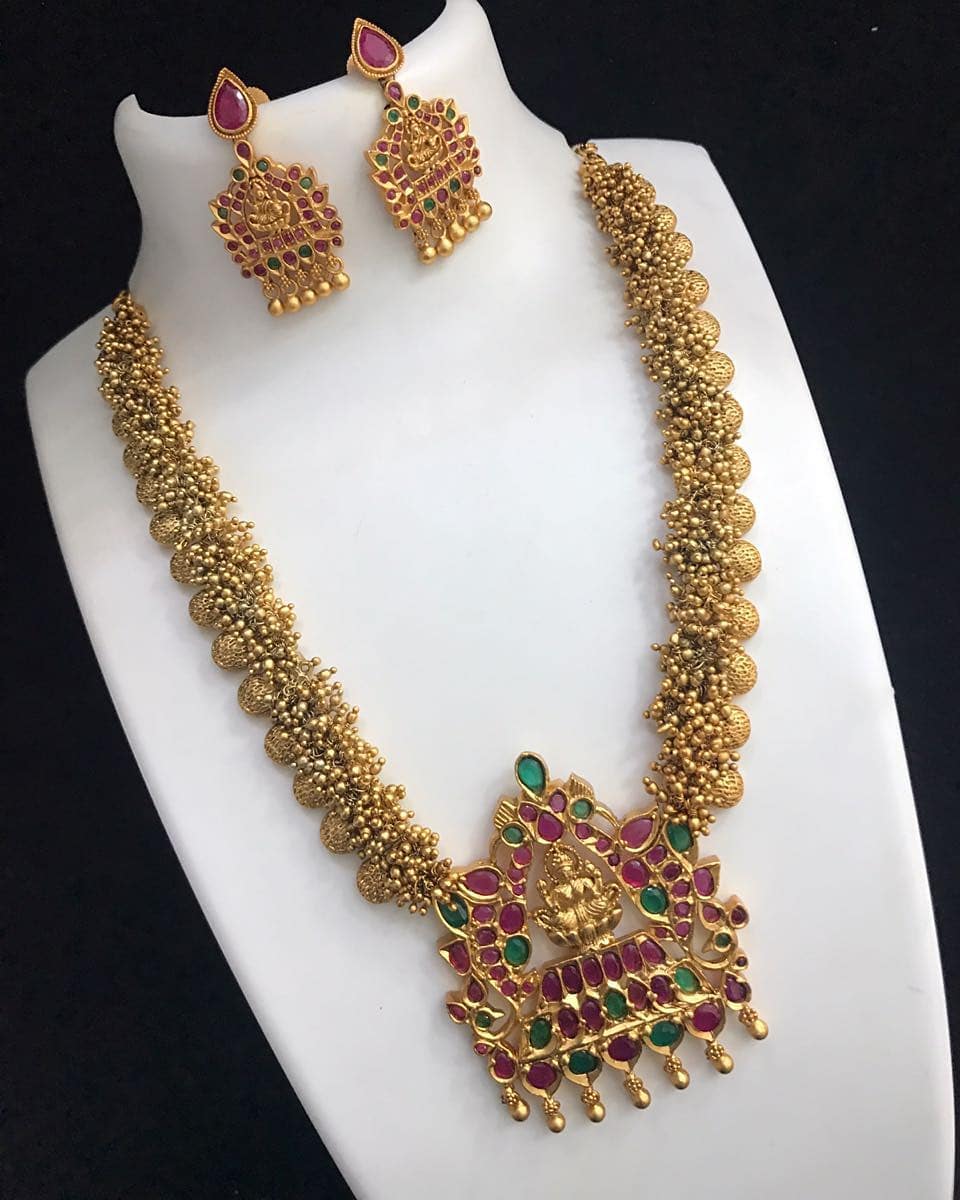 4) Accessory Villa
You can check out their latest collection by following their Instagram page and can order amazing south Indian jewellery at amazing prices. Accessory villa is all about sleek, edgy designs in matte gold embellished with stones of all colours.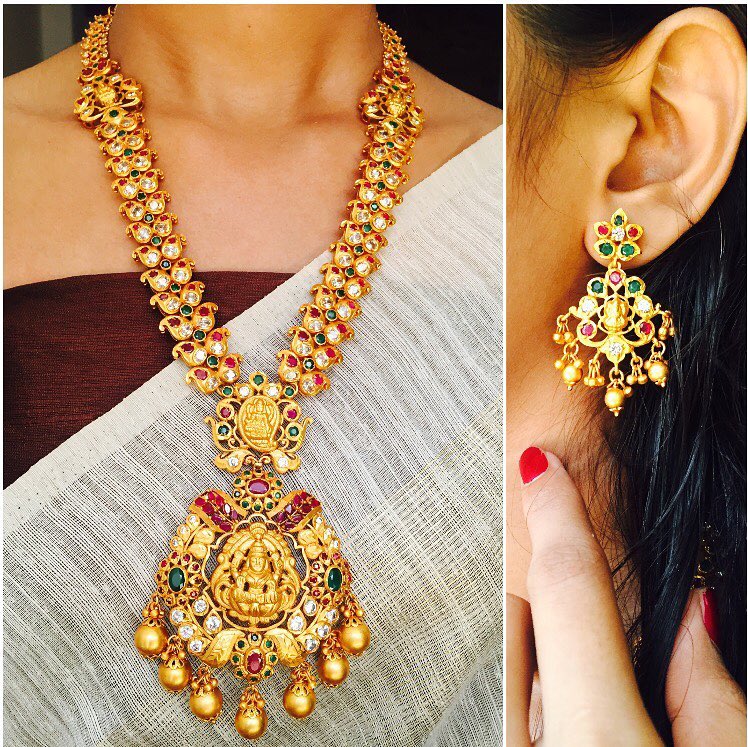 They've got dainty chandelier earrings, chunky studs, sleek straight lines, and even a small cluster of traditional wares, including jhumkas and the like. You have the liberty to choose from a variety of styles and design in earring along with necklace itself.
5) Vibha
This online brand has traditional to semi-precious jewel which are just amazing. Do check out their website and know what's trending. So now you don't have to go all over the place to curate south Indian temple jewellery, just follow their instagram page or go to their site to buy your favourite jewellery from temple jewellery to antique ones.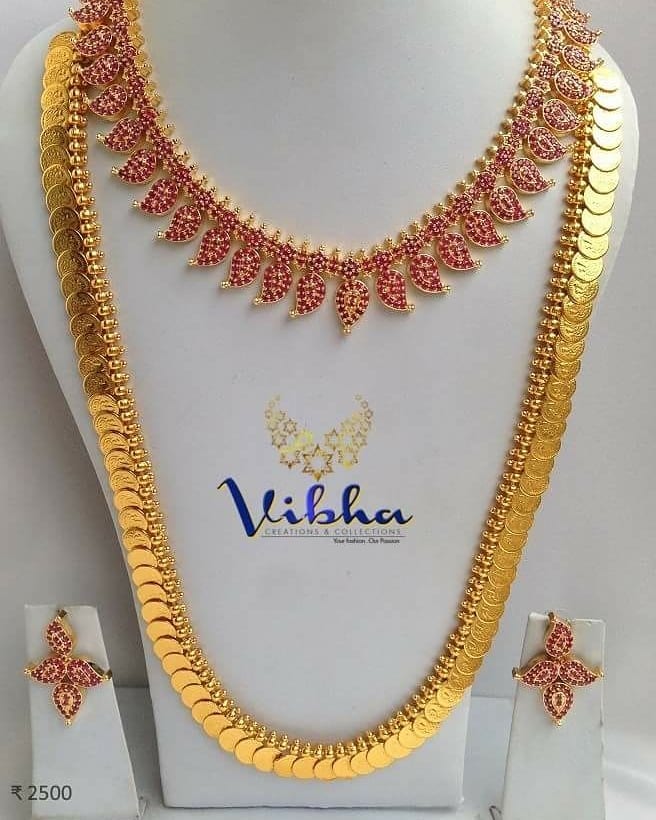 You will feel almost everything is made for you. There are some masterpieces inspired by your surroundings and designed to make a woman radiate beauty. They have necklaces of various designs which are just marvelous.
6) Emblish
You can follow them on facebook , you can shop with the knowledge that anything. Emblish is possibly the best online to check out if you're always on the lookout for newer, lesser-known brands that are anything but conventional when it comes to jewellery.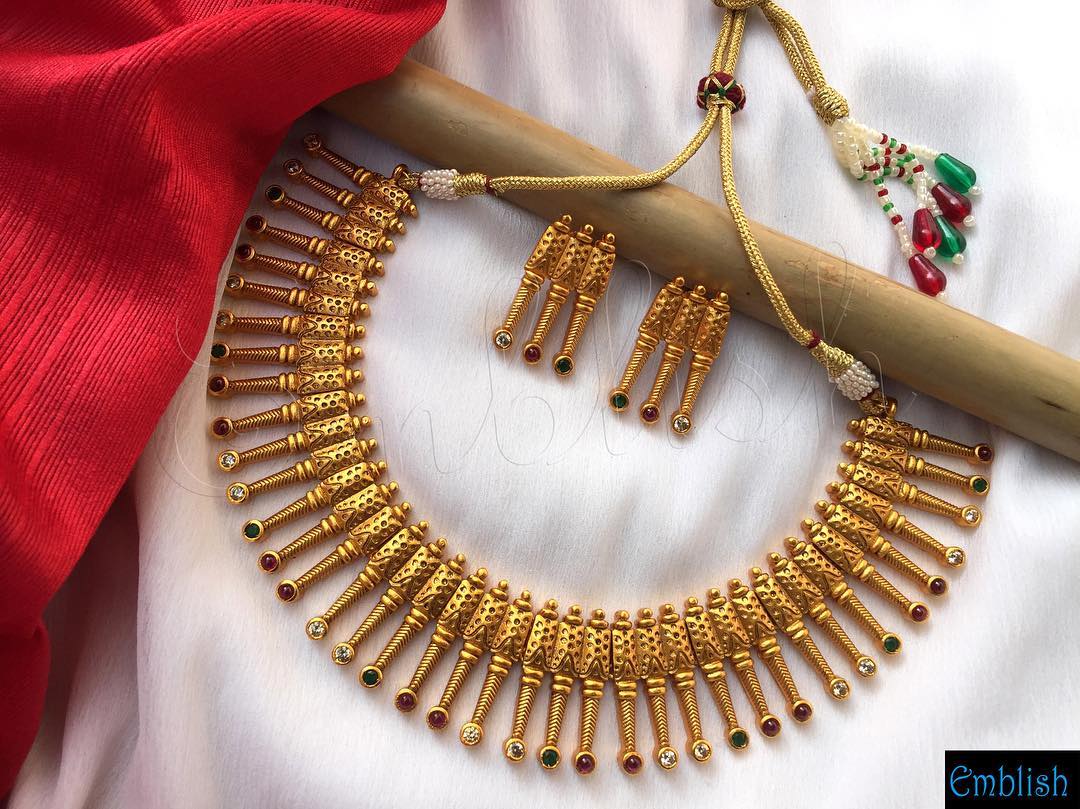 They stock handpicked pieces by up and coming designers who're giving stunning a whole different meaning. You can order from anywhere in the world. They keep adding new designs to their kitty, so you'll find something fresh and beautiful every time you visit them.
PS: Check out their insta page e to get an idea of the kind of jewellery you can find here.
7) Alamakara
This brand will introduce us to the whole new world of jewellery. The brand which says "Good things come in small packages, especially when its jewellery" so grab your favourite jewellery and flaunt it. To keep check on what it has to serve you, you can bump in their insta page.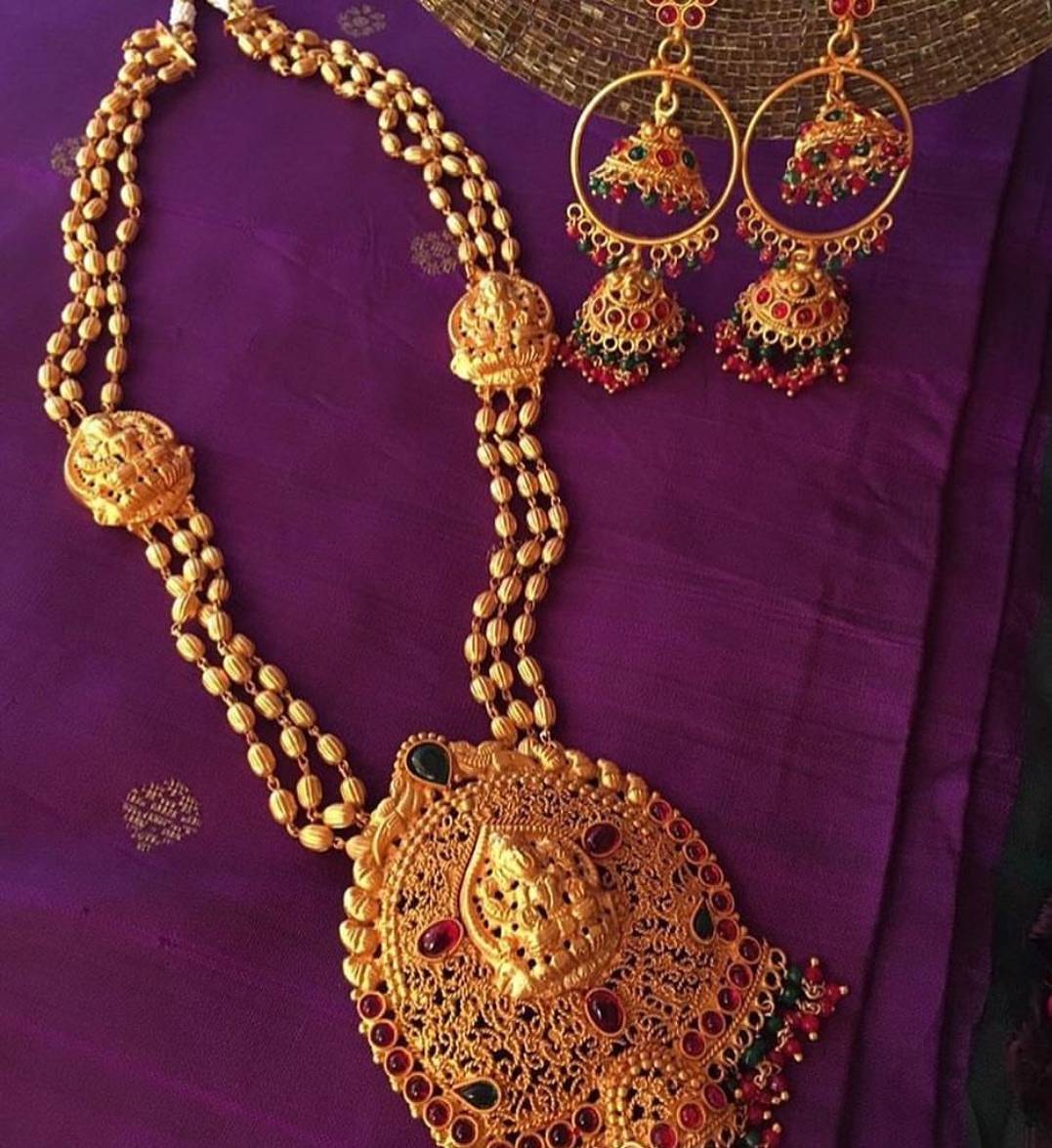 This brand has fabulous temple jewellery designs to choose from on their collections, they have around 2k post on instagram. So make sure to visit them for shopping your favourite south Indian jewellery.
8) Kirthi Fashions
Now with a wealth of brands online, this is a one-stop-shop for serious junk and glamorous selection of jewellery. From temple jewellery, to gold and silver jhumkas and neckpieces studded to chunky statement earrings. They have quite variety when it comes to traditional style jewellery.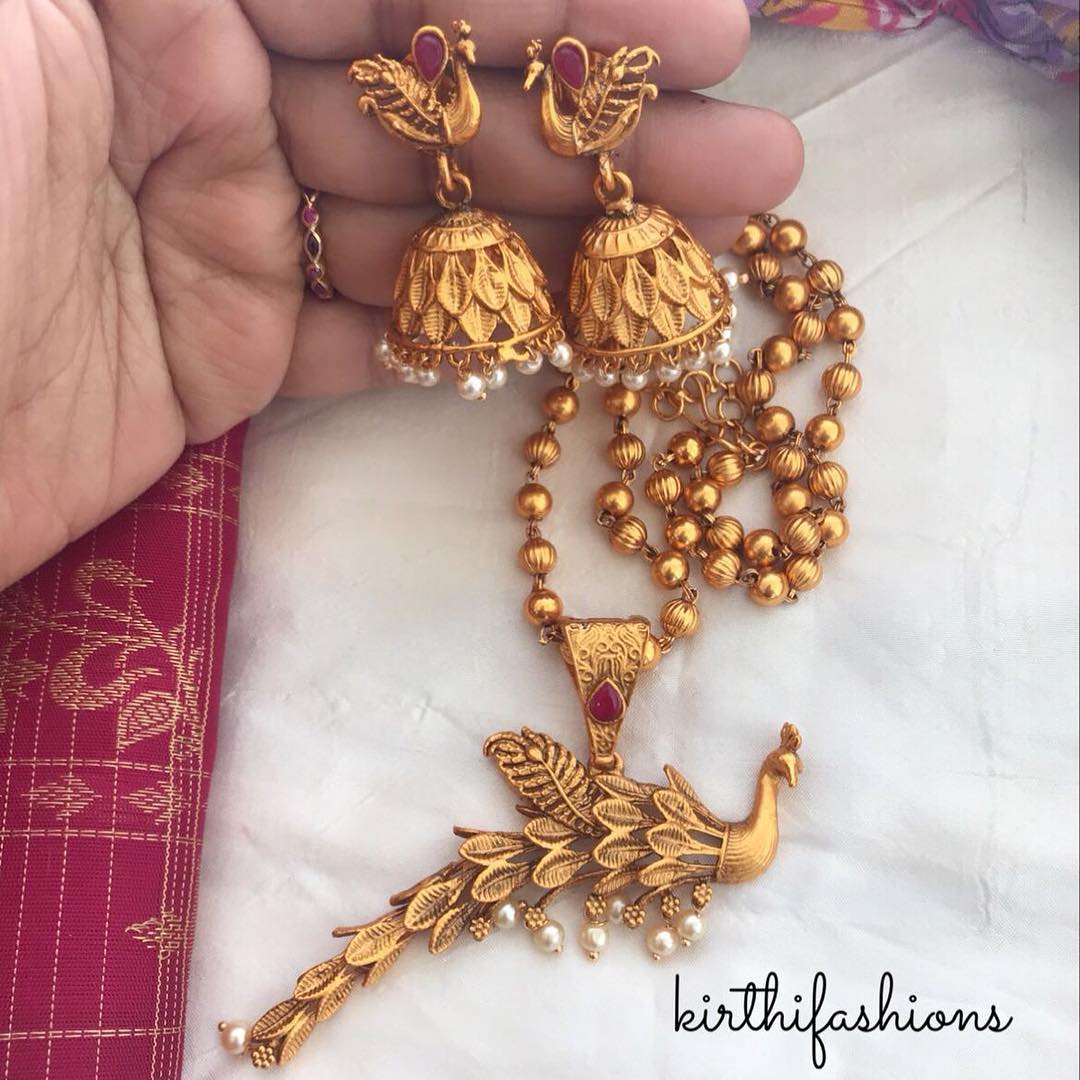 They even have pieces that are on the lighter side, so you need not head here just for wedding or festive shopping. For knowing more about their beautiful collection you can be follow their Instagram page.
9) Lakshmifashiana
This brand has around 16.8k followers on Instagram and over ample products to choose from on its sit across. There really is something for everyone here. This brand has typical south Indian temple jewellery. You get everything on whole price which far cheaper than other brands.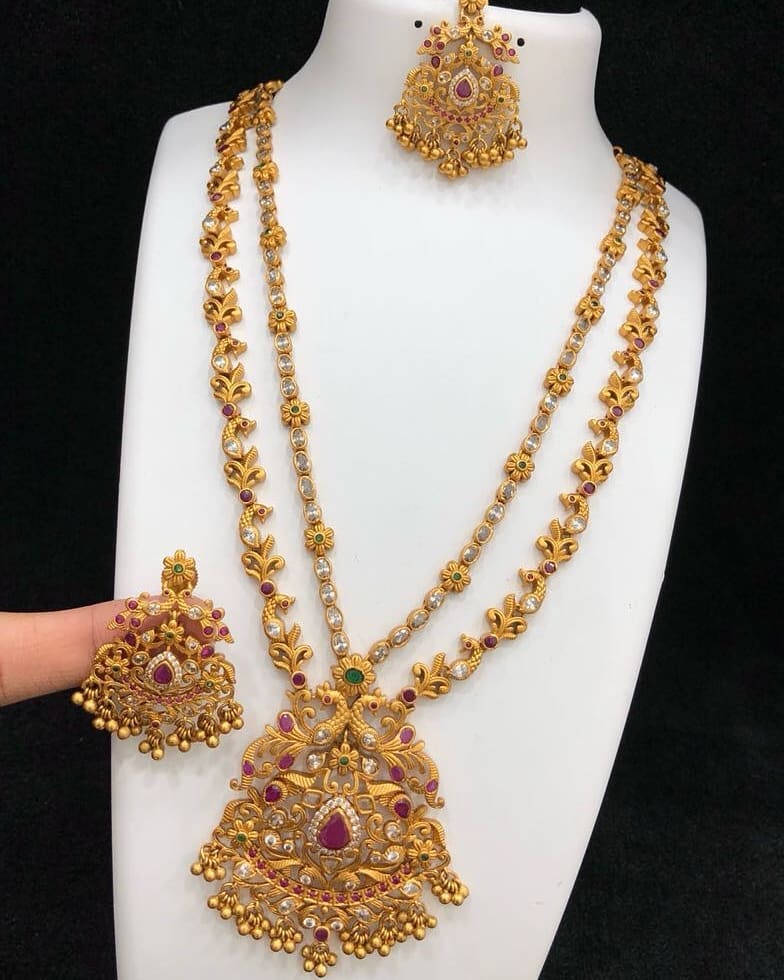 Along with the traditional jewellery they have gorgeous watches. So next time you have to gift someone, you know where to shop from. Everything on their Instagram page looks simple yet modern, you will be hard pressed to leave empty handed.
10) Dreamjwell
One of the serious jewellery destination, allows you to test out new jewellery without having to splurge. They have a Instagram page which is fab for keeping up with all the latest collections. You can find new stuff every week, which they showcase an exclusive edits of products.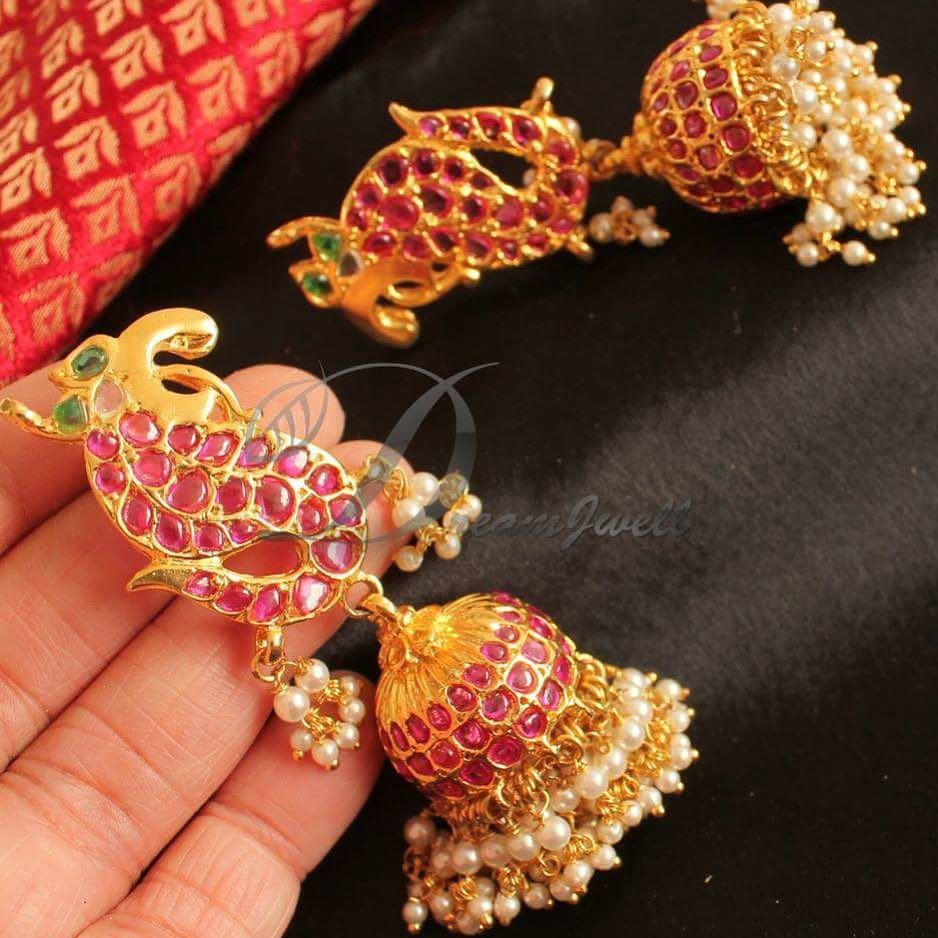 They have beautiful earrings inspired from a peacock. They have some of the most unique pieces, and their jewellery is made with up of gold, which is why it's a bit expensive. They use colours in great ways and the pieces are just amazing jewellery pieces.
11) Magha Store
You'll find some of the best south Indian temple jewellery you've laid our eyes on all at the lowest prices. We'd recommend checking them out for their collection of temple work jewellery and watches. You can follow Magha Store on facebook to get updates quickly.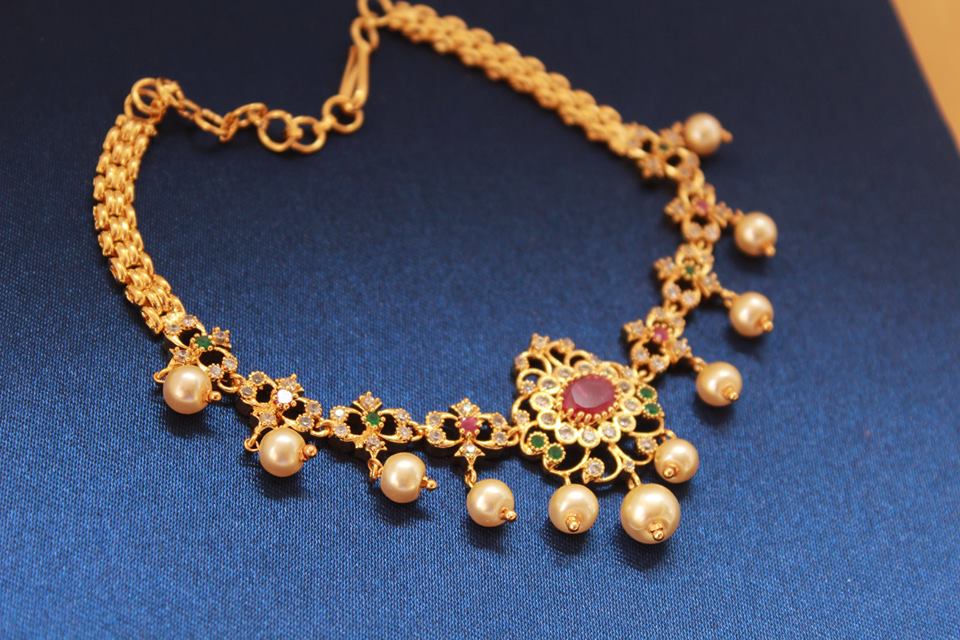 These are our picks of best brands that sells adorable imitation jewellery online. So are you ready to flaunt the best of South Indian jewellery designs from these brands?
Seller Name : Kovai Collections
Instagram : https://www.instagram.com/kovaicollections/
Seller Name : 1 Gram Jewellery
Contact No : 9845476270
Website : http://www.1gramjewellery.com/
Email : 1g*******************@gm***.com
Address : Shubham jewellers #871,nagarthpet main road Chickpet
Bangalore, India
Seller Name : Varsha
Instagram : https://www.instagram.com/bead_chicz/
Contact : 7736592409
Seller Name : Accessory Villa
Instagram : https://www.instagram.com/accessoryvilla2017/
Whatsapp : 9028666439
Facebook : https://www.facebook.com/accessoryvilla2017
Vibha Creations
Facebook : https://www.facebook.com/VIBHAcreations/
Instagram : https://www.instagram.com/vibha_creations_collections/
Website : https://www.vibhacollections.com/
Contact : + 91 9941315846
Seller Name : Emblish
Instagram : https://www.instagram.com/emblishcoimbatore/
Facebook : https://www.facebook.com/emblishcoimbatore
Contact : +91-9994644041
Seller Name : Alamakara
Instagram : https://www.instagram.com/alamakara/
Contact : 8248197075
Gmail : Al*************@gm***.com
Seller Name : Kirthi Fashions
Instagram : https://www.instagram.com/kirthifashions/
Contact : 8056321983
Seller Name : Lakshmifashiana
Instagram: https://www.instagram.com/lakshmifashiana/
Facebook : https://www.facebook.com/lakshmifashiana123
Contact : +91 83285 46069
Seller Name : Dreamjwell
Instagram : https://www.instagram.com/dreamjwell/
Website : https://dreamjwell.com/
Seller Name : Magha Store
Facebook : https://www.facebook.com/magha.store/
Contact : 9000265678
Also Read: