The bridal jewelry completes the overall look along with your wedding outfit. A piece of bridal jewelry complements to the beauty of a bride and makes the wedding day even more special for you.
You can check the bridal jewelry designs that you can consider to buy for your wedding day. Here are a few samples from Bandhan, Bcos Its Silver, Dhruvam, Ms Pink Panther, Rajatamaya and Vibha Jewelers that can enhance the glow and radiance of the bride's face. The seller contact details are given at the end of the post.
Gold Temple Bridal Jewelry Set
The gold temple bridal jewelry set is a nice choice for you if you are looking for jewelry with a holistic look at designs of God and Goddesses that is made of gold.  This piece of gold jewelry can make the wedding day more auspicious for the bride.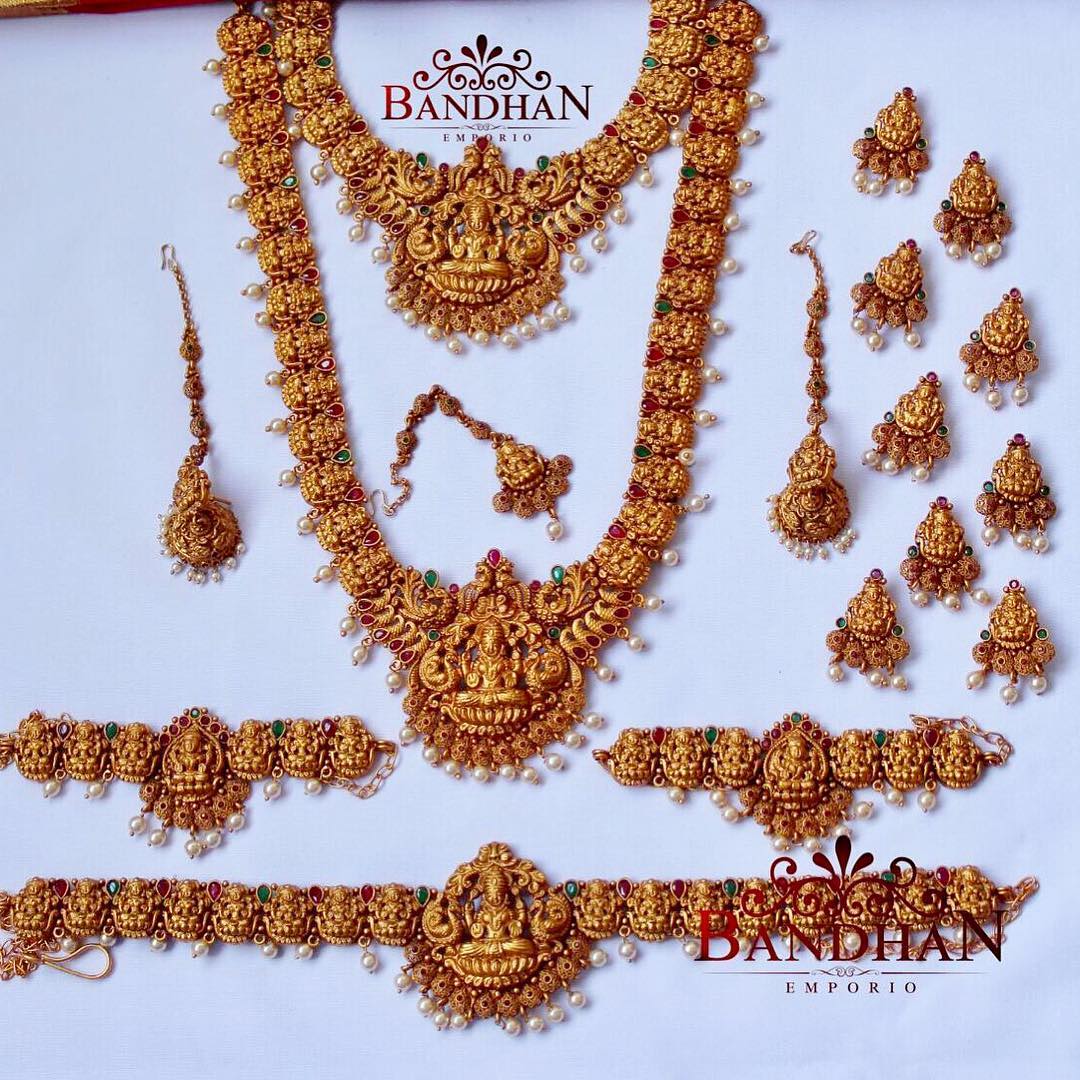 Gold Plated Antique Bridal Set
With an elegant, shiny and beautiful appearance of this gold plated antique bridal set, a bride will look fabulous and pretty. Along with the gold plated antique look of this piece of bridal jewelry, you will also find a few pearls attached to it.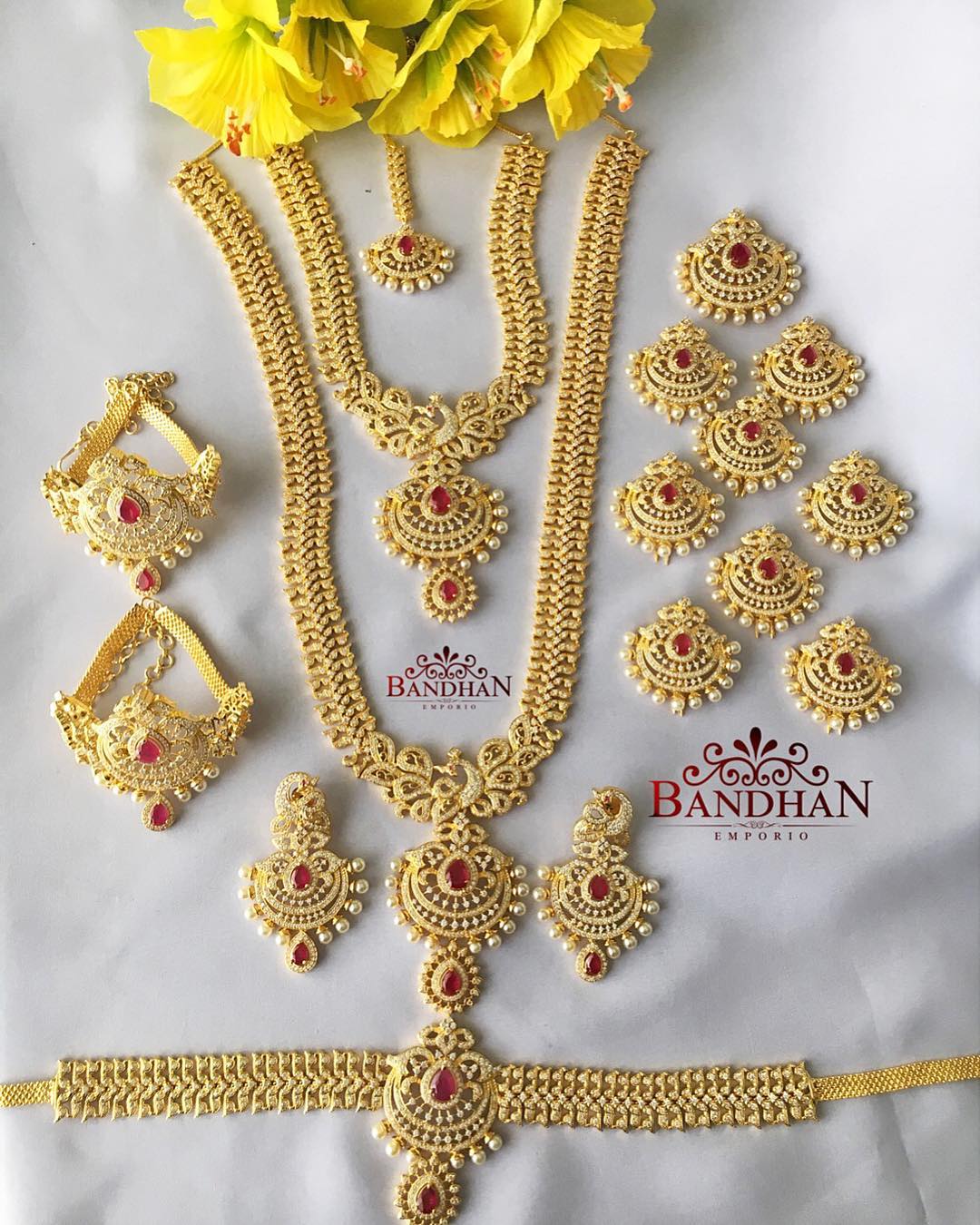 Gold With Kundan And Emerald Bridal Set
Several Kundan and emerald precious gemstones added to the gold jewelry make it a great choice for you to buy it. This gold with Kundan and emerald bridal set can embellish the look of your outfit and add the colors of red and green to the gold jewelry.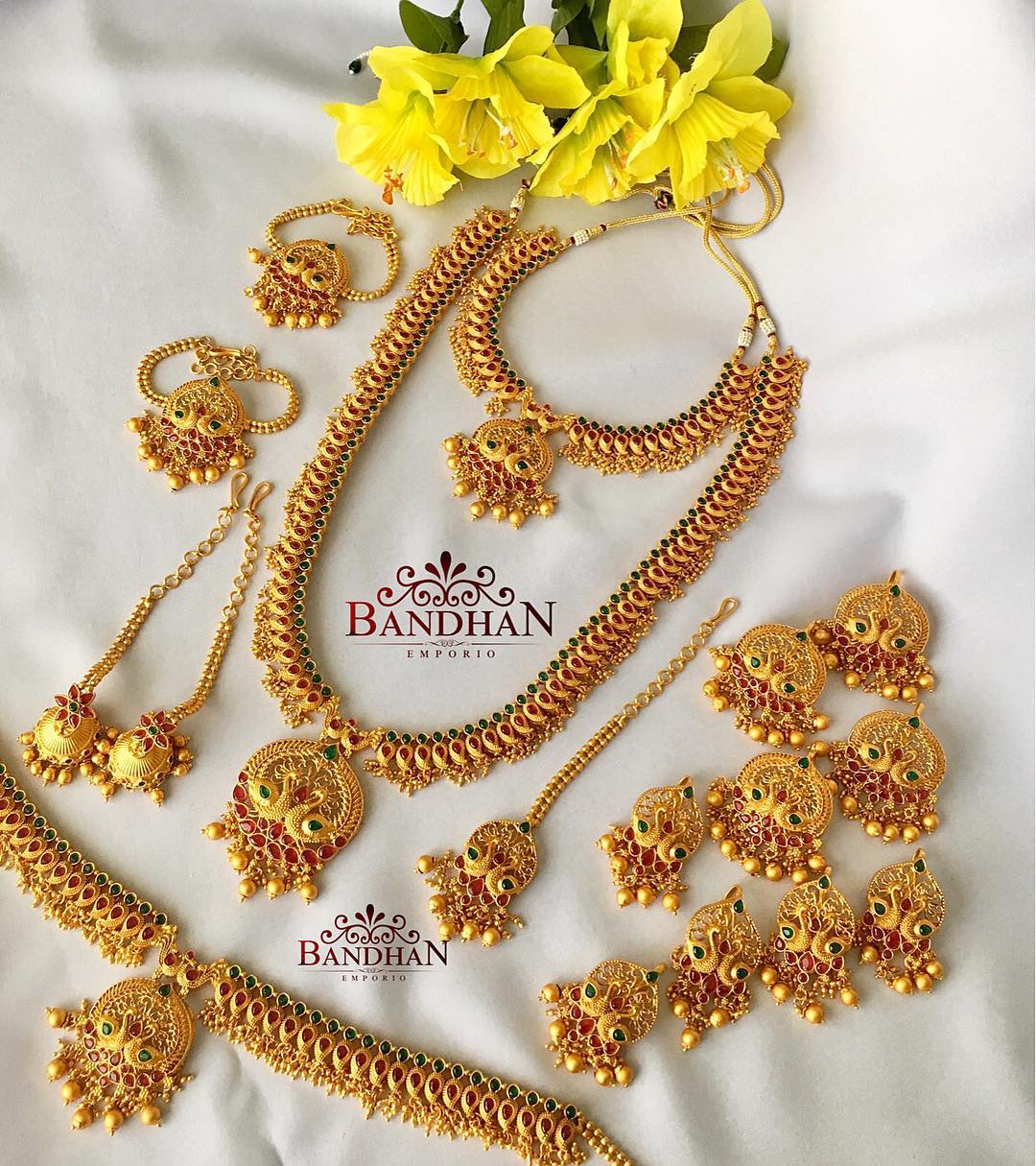 Studded Stones With Pearls Necklace Set
The studded stones with pearls necklace set offer a brilliant and marvelous look with the ruby and emerald precious gemstones. It presents an elegant and fancy appearance to the bride wearing it on her wedding day.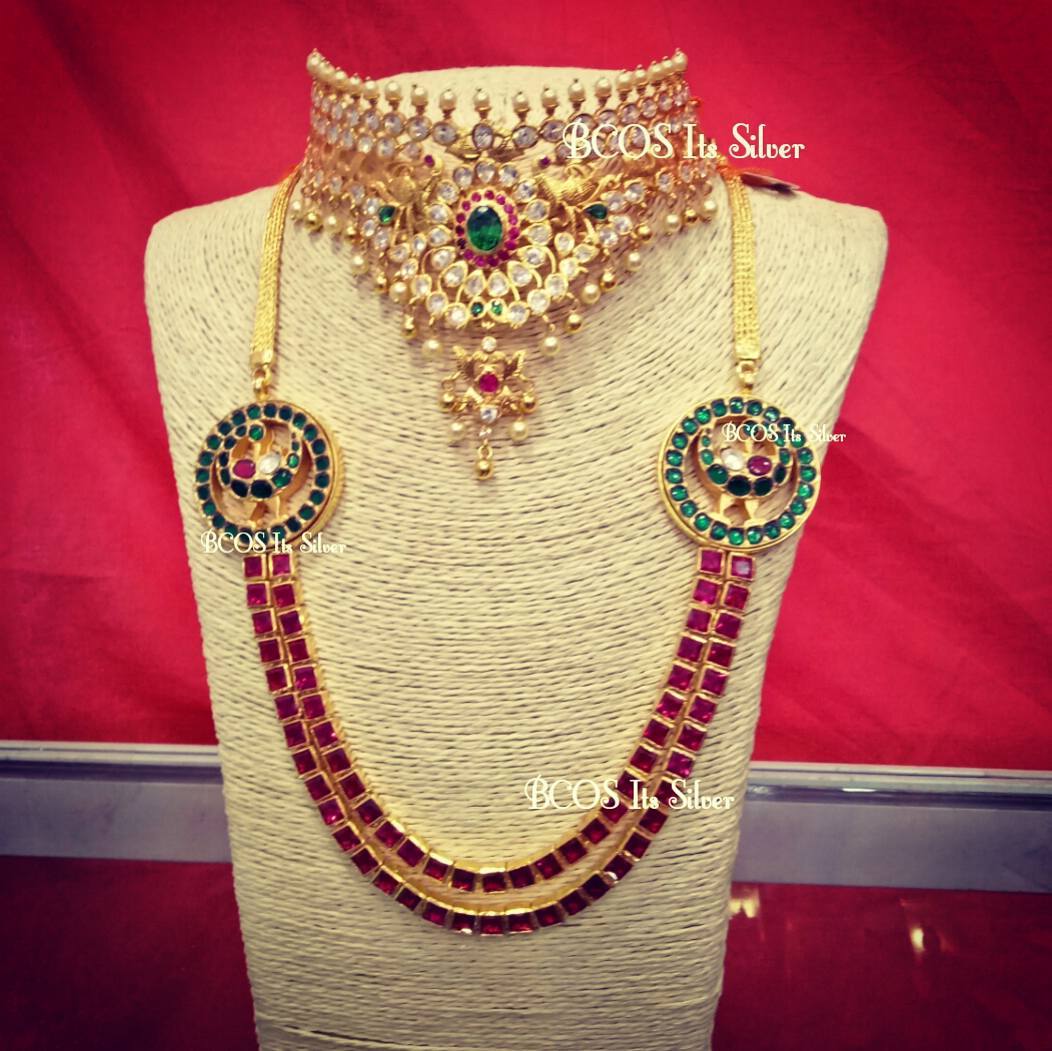 Peacock Temple With Big Pendant Necklace And Gold Dangler Earrings
The beautiful peacock designs on this piece of bridal temple jewelry give it an amazing look. The big pendant brings a captivating appearance to the bride. This bridal set includes lovely gold dangler earrings.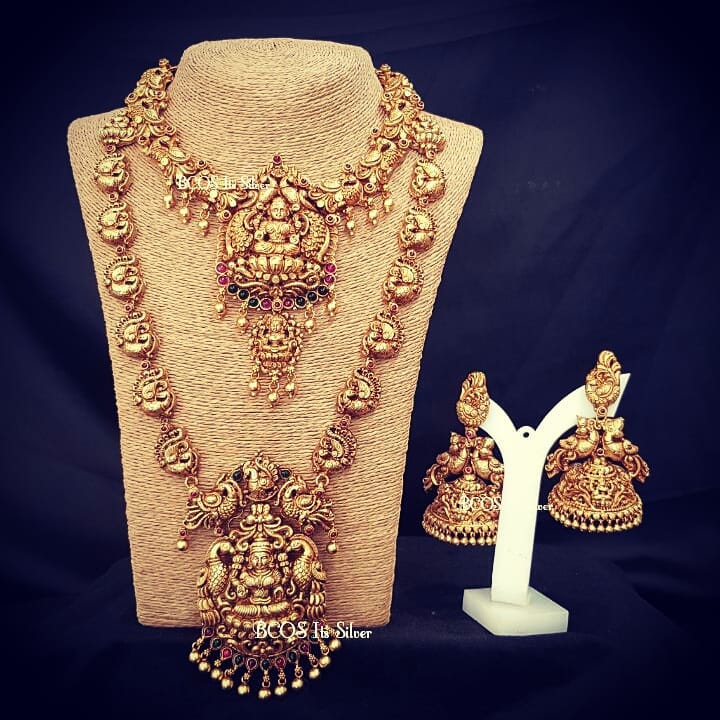 Full Gold Bridal Set
This gold full bridal set includes all the jewelry that a bride needs to wear with her wedding dress such as gold maang tikka, gold necklace, gold earrings, and gold waistband. It consists of everything that a bride could desire to wear with her outfit on the wedding day. The gold jewelry goes well with the bridal look and gives the bride an outstanding and wonderful look.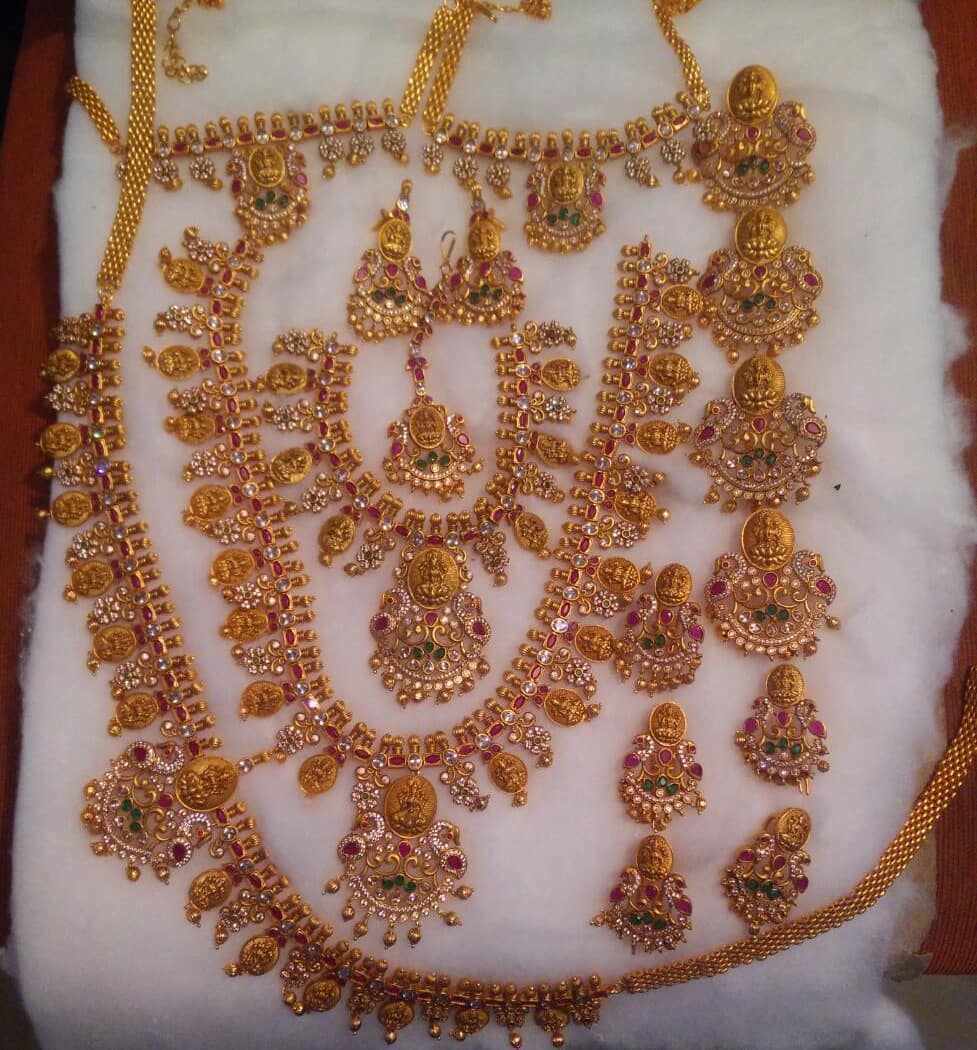 Guttapusalu Haaram With Pearls
This piece of bridal jewelry is one of the guttupasalu haaram jewelry and it has many pearls added to it. Guttapusalu haaram with pearls looks beautiful and pretty on the bride wearing it with her wedding dress.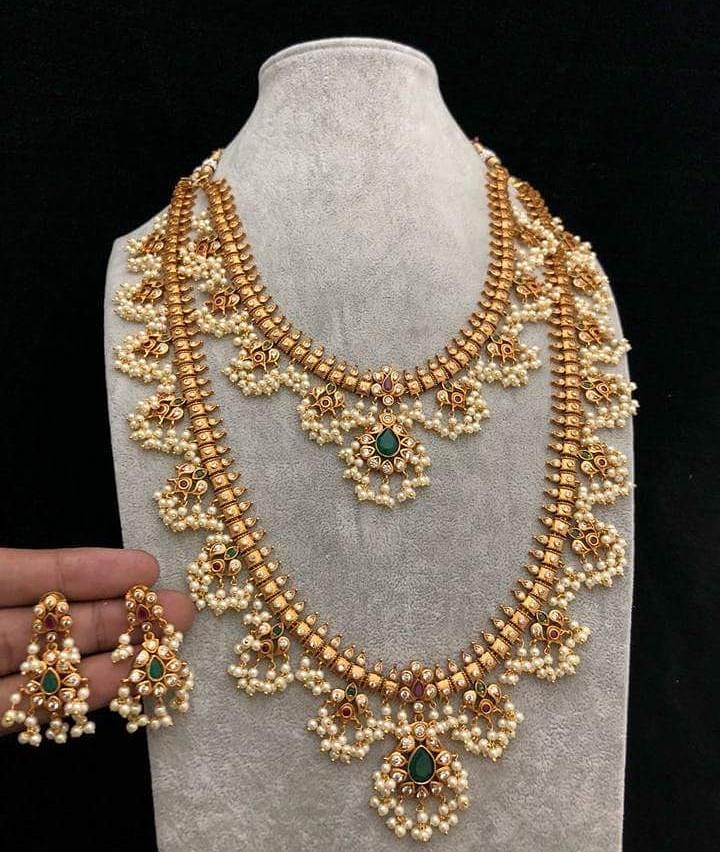 Full Bridal Kemp Jewelry
Full bridal Kemp jewelry includes an exclusive collection of Kemp stones. Additionally, it will be interesting to know that good quality stones and other necessary materials are used to design it. It makes this bridal jewelry eye-catchy and a good choice for brides.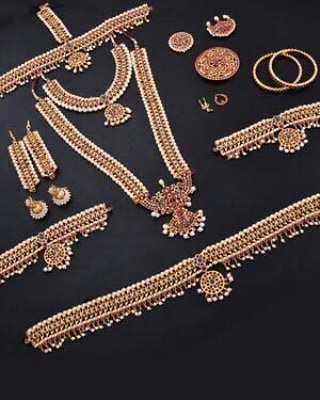 White American Diamond Bridal Jewelry Set
The shiny and sparkly look of white American diamond bridal jewelry set enhances the glow and glory to the appearance of the bride.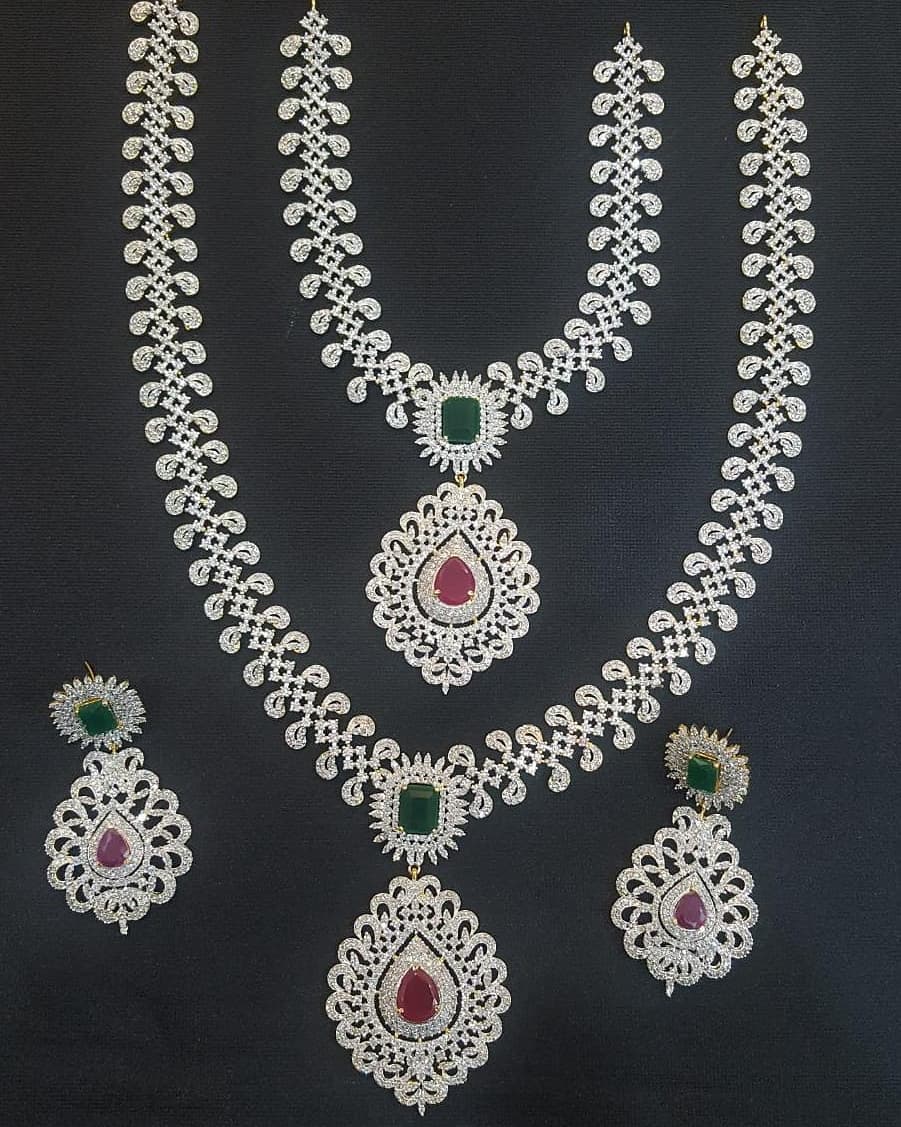 Bridal Couture Heritage Jewelry
This uniquely designed jewelry with a traditional and heritage tone offers an awesome and eminent look for you. With the innovative ideas that have been put in this piece along with keep the heritage and traditional jewelry in mind. It can be an amazing piece for your wardrobe.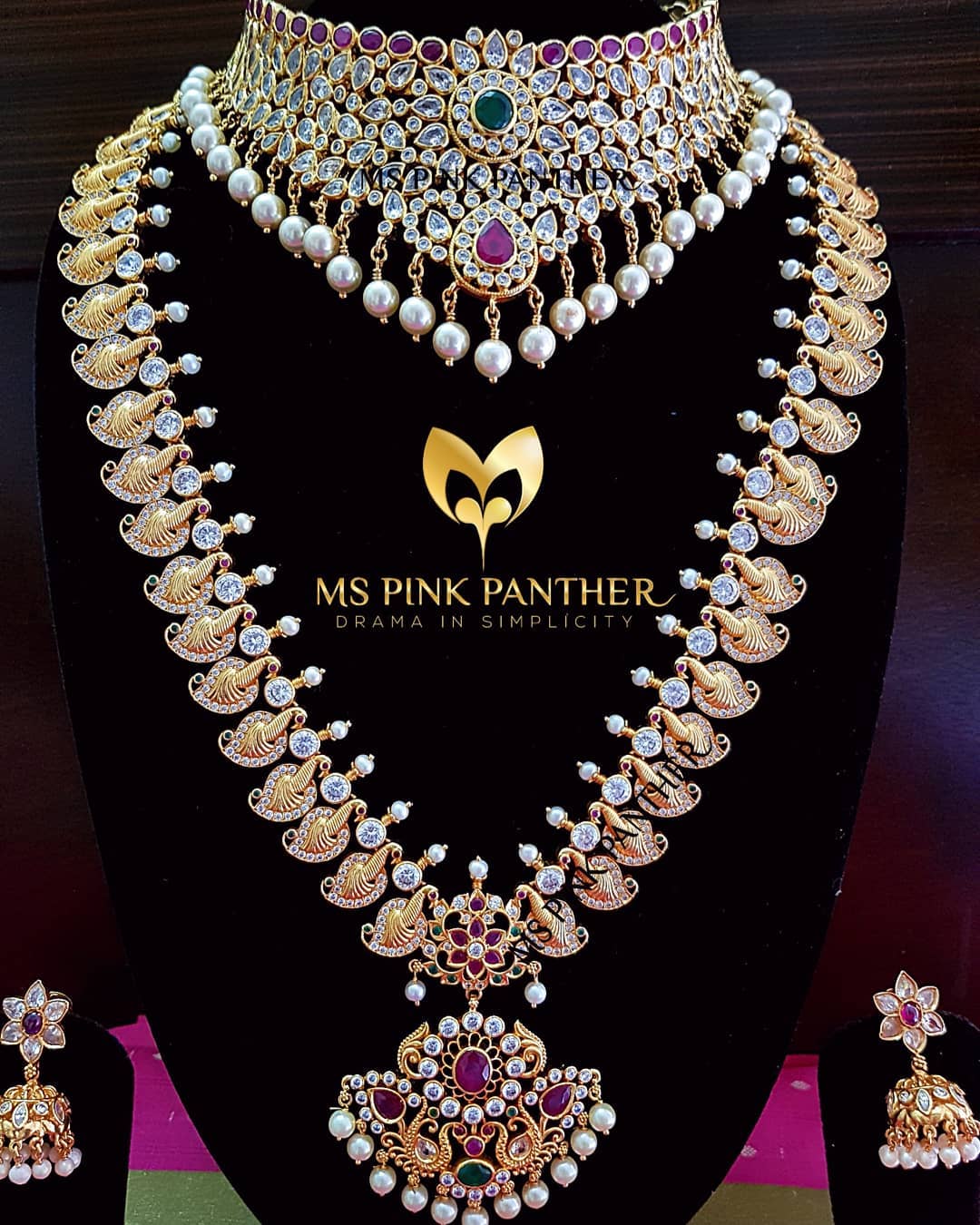 Kaasulaperu Couture Jewelry
Are you looking for the unique designs in kaasulaperu jewelry? You will like this piece of jewelry for sure. Kaasulaperu couture jewelry will offer you an outstanding and pretty look on your wedding day.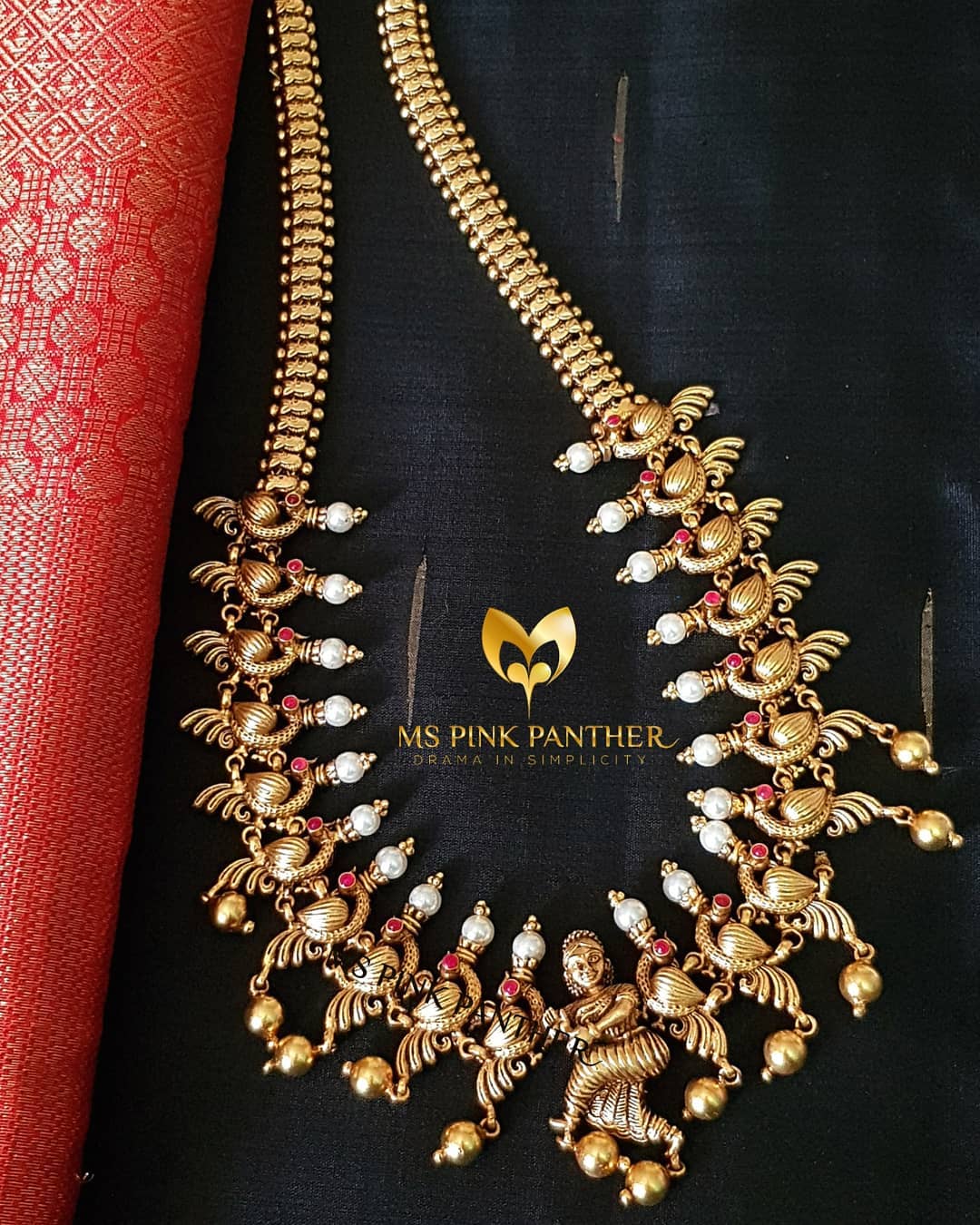 Kaasulaperu With Kundan Jewelry
Get a charming and captivating look with this Kaasulaperu with Kundan jewelry. Make it one of the bridal jewelry you might be planning to buy. You can match it with your outfit and enjoy your special day as a bride.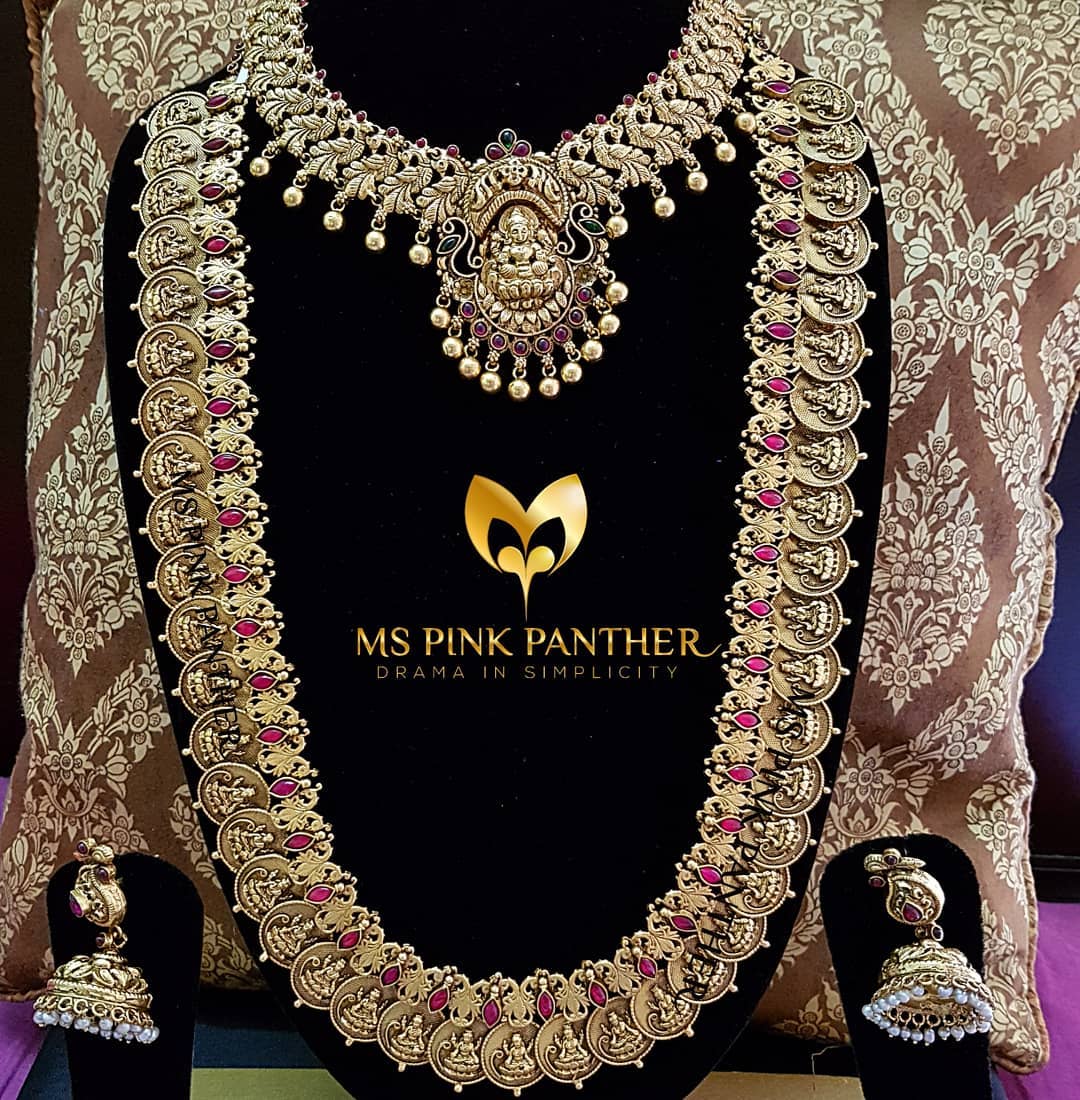 Oxidised Silver Temple Jewelry With Pearls And Stones
Start your married life wearing this beautiful piece of jewelry and boost the glow of the bride's face. Bring home the oxidized silver temple jewelry with pearls and stones to get an elegant and distinguished look.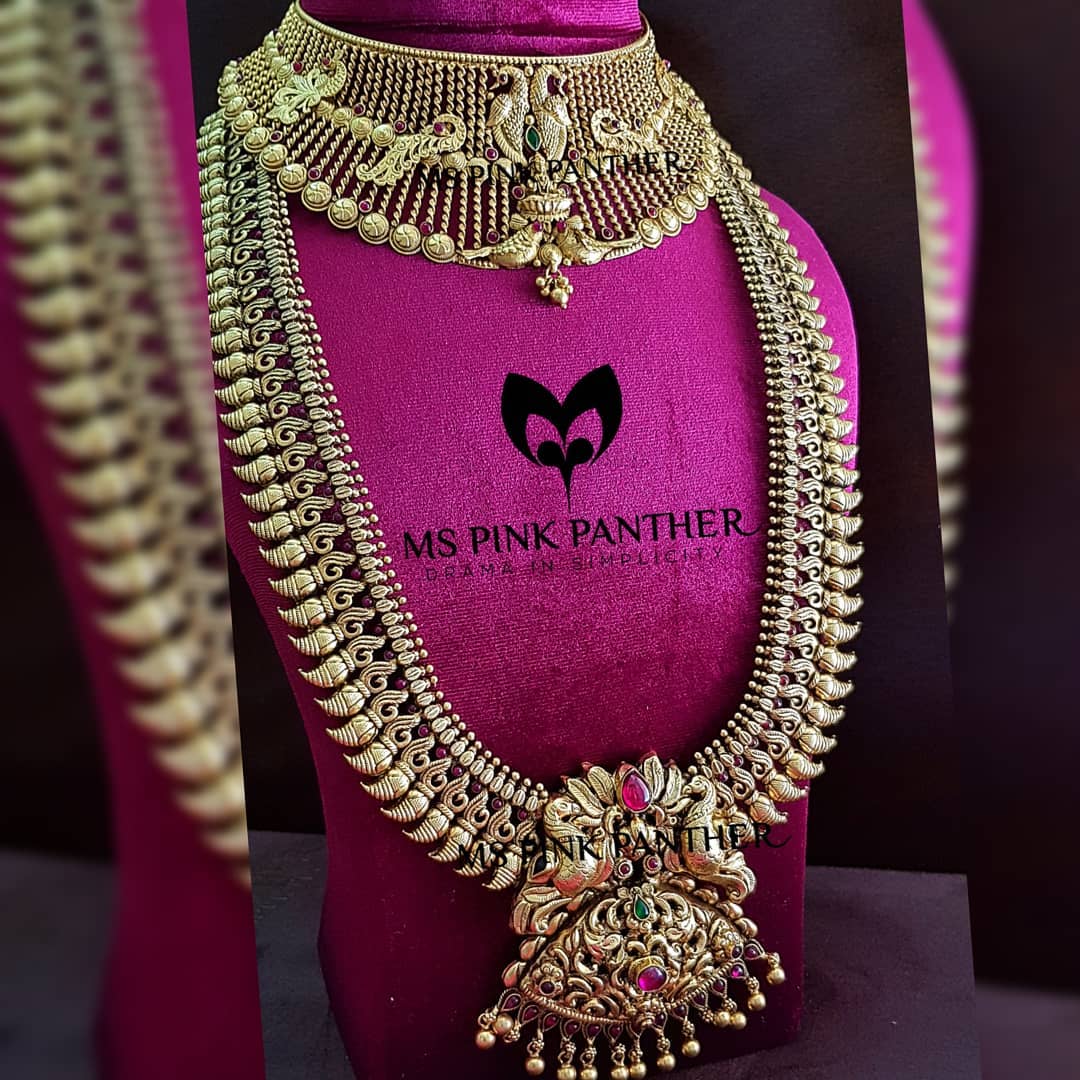 Kundan Choker
Give yourself a stylish and fascinating look with this Kundan choker necklace for your wedding. Choker necklace is becoming popular among ladies and girls who are fashion savvy.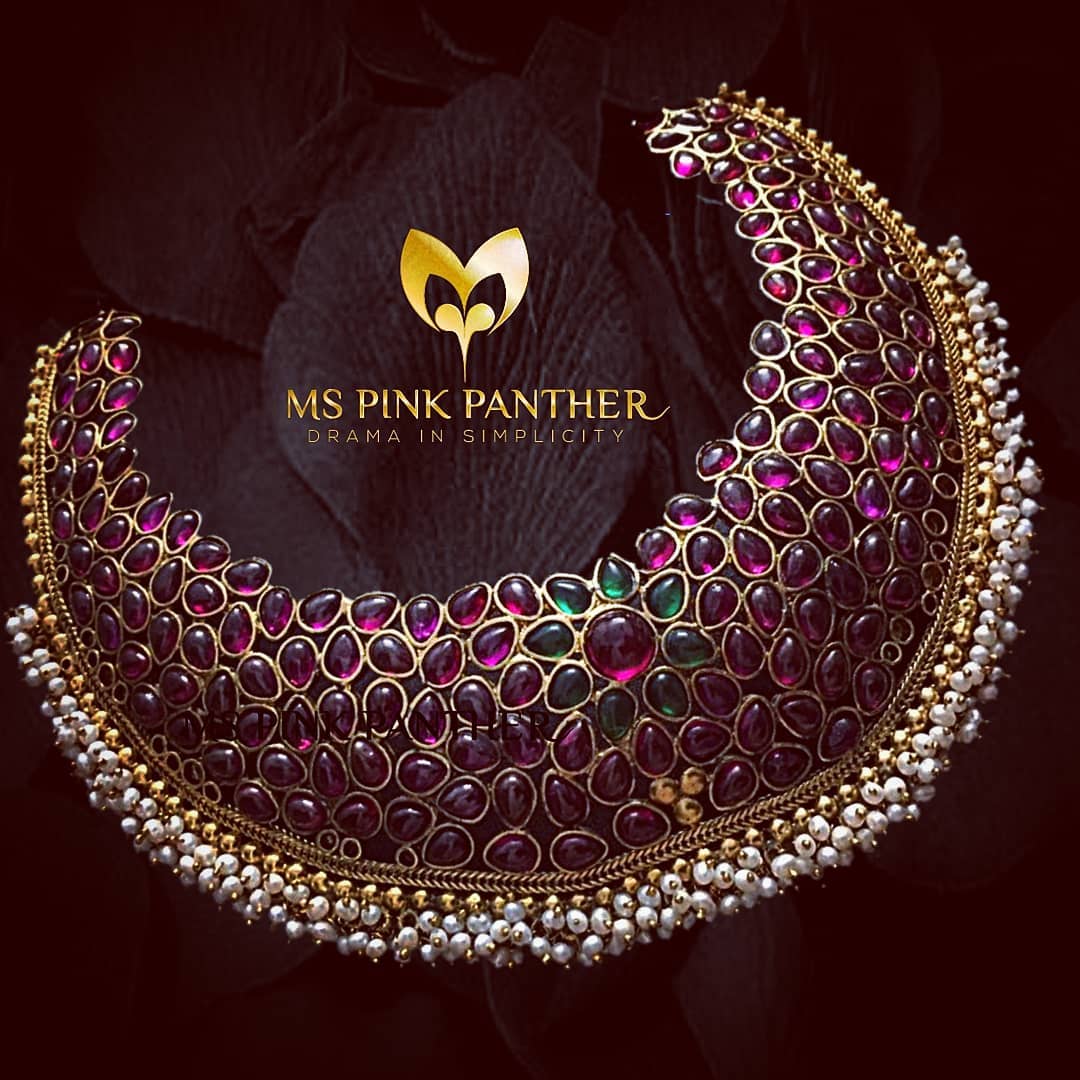 Peacock Antique Jewelry With Studded Kundan Stones
Peacock antique jewelry with studded Kundan stones is one of the bridal jewelry pieces that can a part of your jewelry collection. With the beautiful peacock patterns made with the antique jewelry designs offers a bride an enchanting look.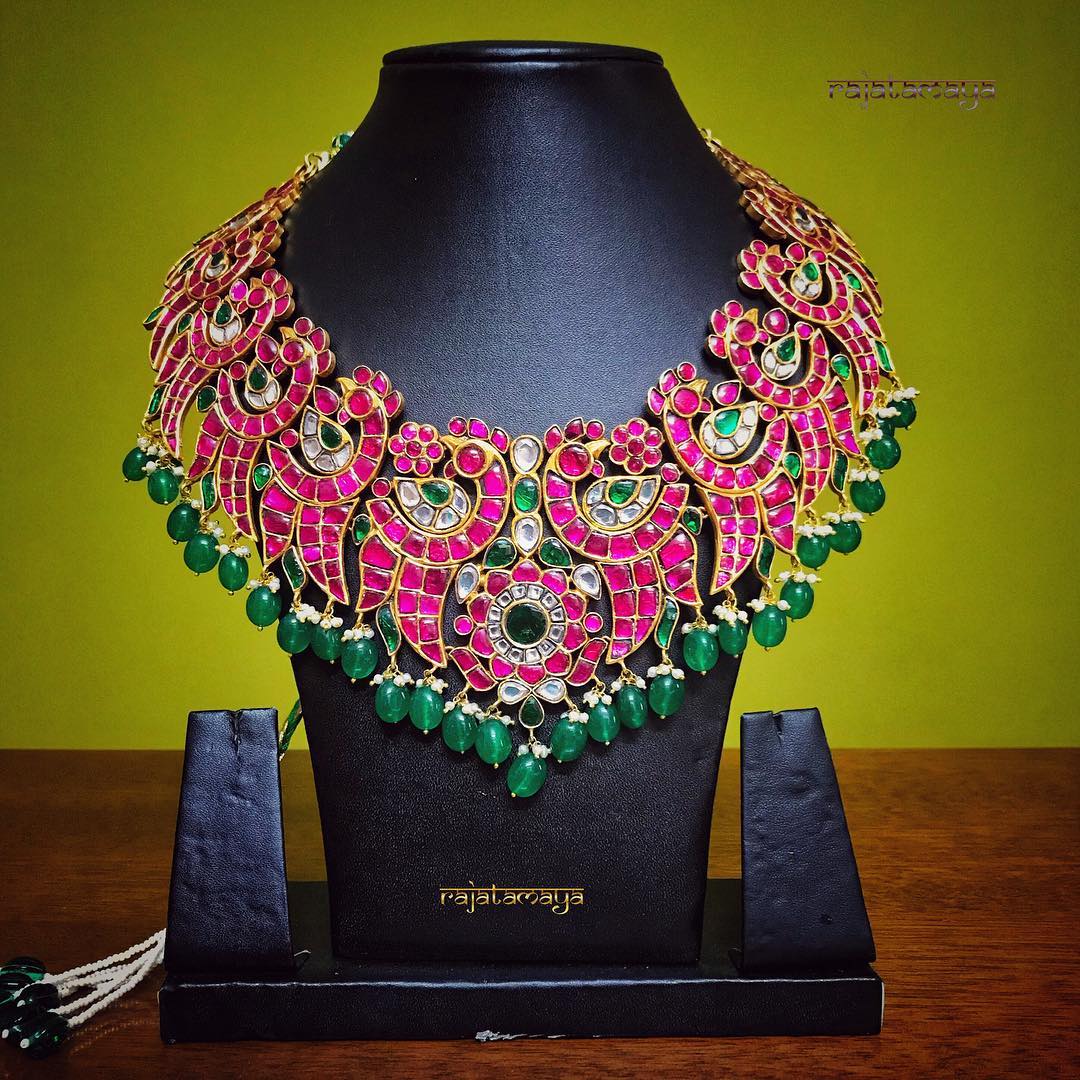 Kemp Jewelry With Studded Kundan And Emerald Stones
Make your day more memorable with this bridal jewelry design and bring it home to add it to your jewelry collection. Wear Kemp jewelry with studded Kundan and emerald stones to complement your outfit that you have planned to wear.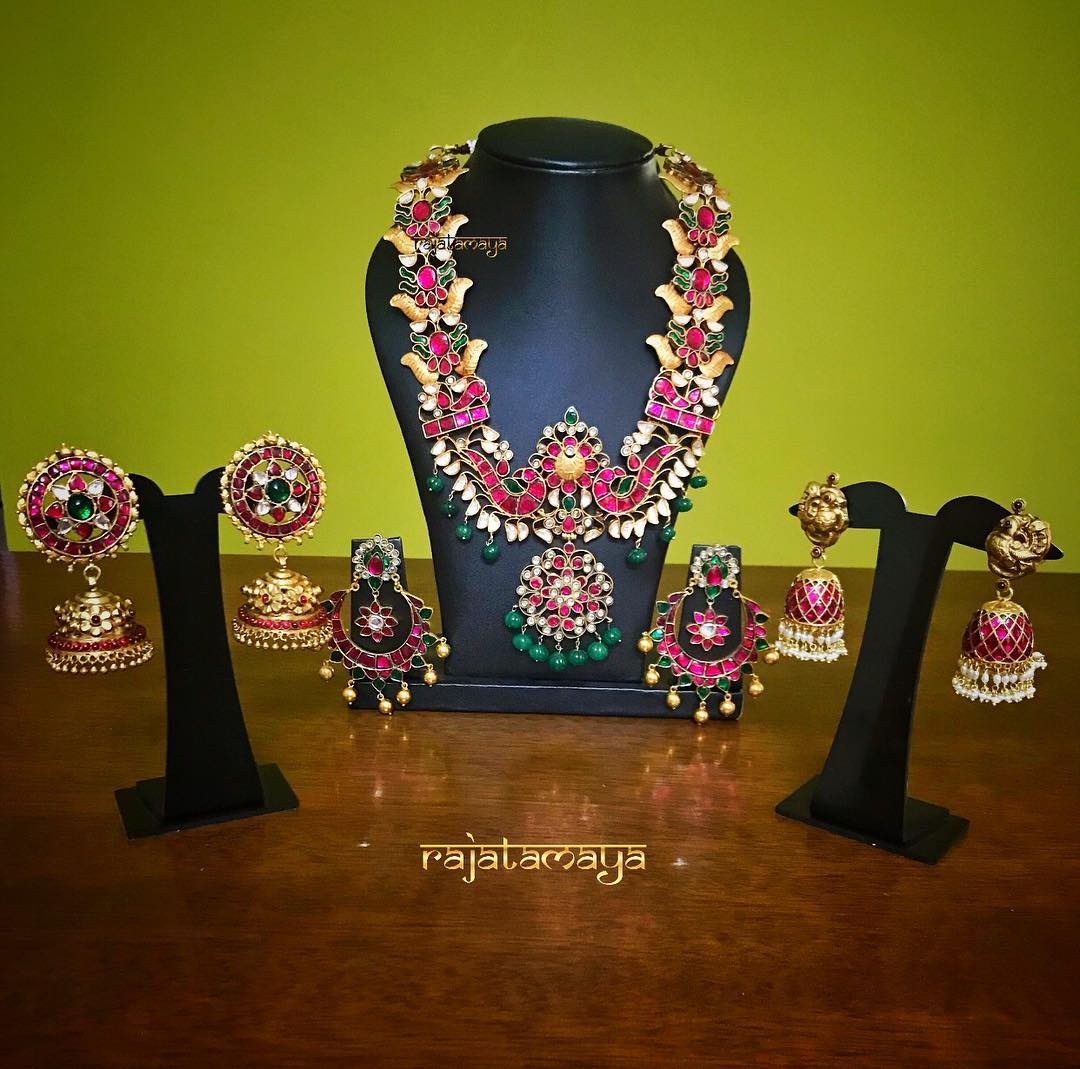 Kundan Manga Mala With Peacock Design
These manga mala is absolutely irresistible and it offers an artistic touch to your appearance. Don't forget to consider it while buying your bridal jewelry. The Kundan manga mala with peacock design can be a great choice for you to experience an eye-catchy and charming look.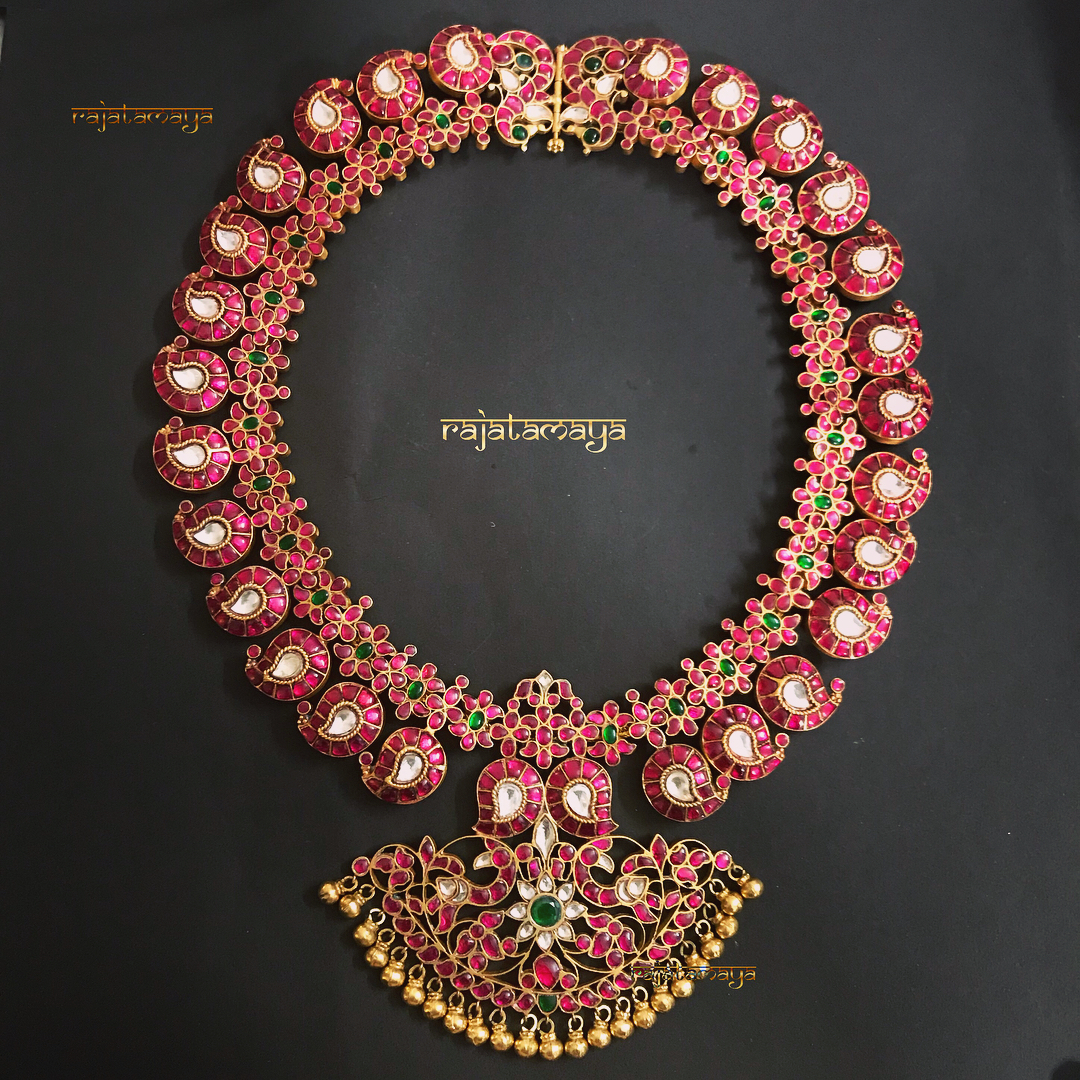 Grand Gold Unique Semi Bridal Jewelry
Make a fashion statement with the grand gold unique semi bridal jewelry. It will elevate the beauty and style of your overall look along with the amazing dress you have selected to wear with it. This piece of gold bridal jewelry will act as a catalyst in boosting your appearance and also will give you an elegant look.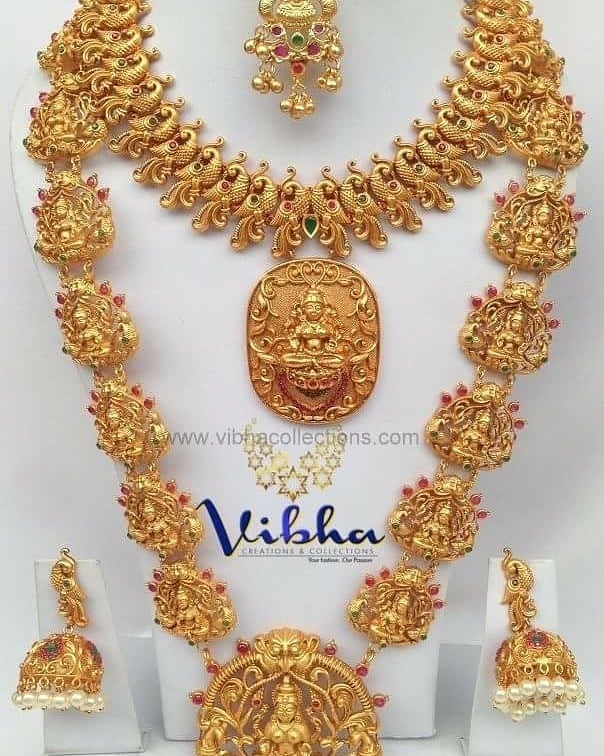 Grand Gold Bridal Matte Jewelry
Although grand gold bridal matte jewelry does not have a shiny look, it looks elegant and wonderful while wearing it. It can be one of the bridal jewelry designs that you can take home if you are looking for a graceful, rough and dignified look.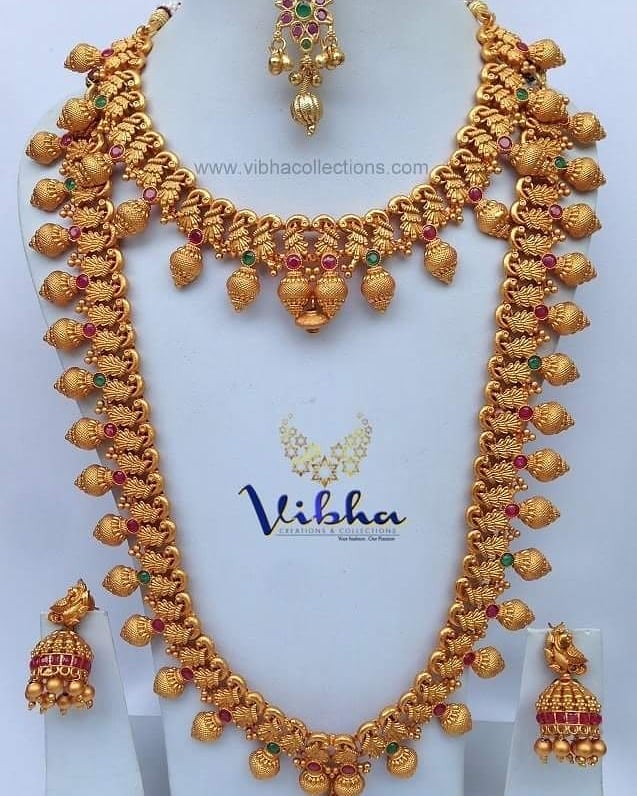 Gold Coin Kasu Haar With Kundan Jewelry
If you are looking for a long and gold coin necklace for the auspicious and special day of your marriage then gold coin kasu haar with Kundan jewelry is the perfect choice for you. You will find yourself looking good and lovely while wearing it.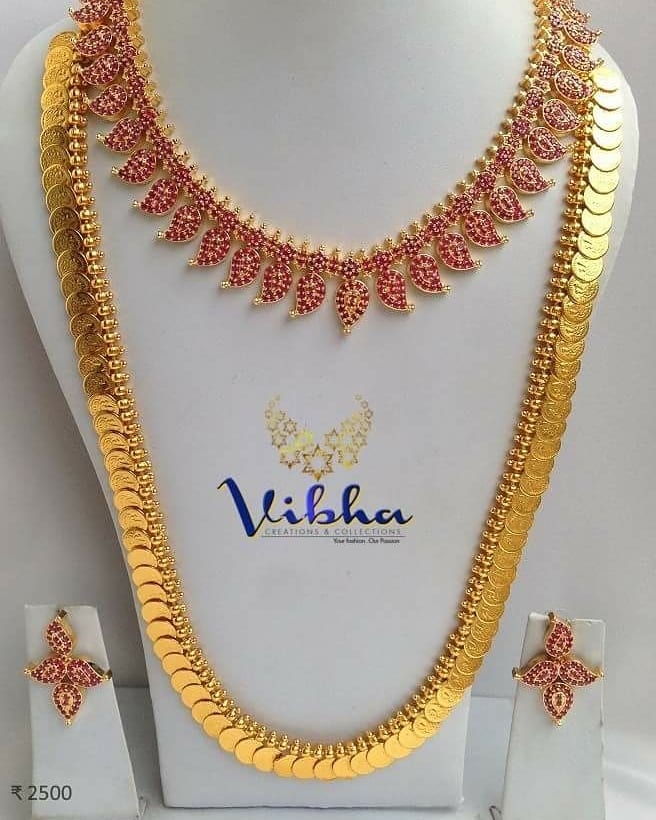 These are the lovely bridal jewelry designs that you can consider for your wedding day. The amazing pieces of jewelry of gold, antique jewelry, temple jewelry, precious gemstones like Kundan and emerald, Kemp jewelry, couture and matte jewelry can make your wedding day more special. To shop these from the respective sellers, please find the contact details below.
Seller Name: Bandhan
Instagram: https://instagram.com/bandhanemporio
Facebook:www.facebook.com/bandhansemporio/
Contact: Bandhan +91-9989504499 or +1-514-625-9097
Email: ba************@gm***.com
Seller Name : BCOS – Its Silver
Contact No: +91 90941 38036.
Email :ar***************@gm***.com
Website: https://www.bcositssilver.com/
Instagram : https://www.instagram.com/bcos_its_silver/
Facebook: https://www.facebook.com/BCOSITSSILVER/
Address : Shop #1, Plot #102, 17th Cross Street, 6th sector, near MK Ahmed bazar, opp to ICICI bank, HSR Layout, Bengaluru 560 102.
Seller Name : Dhruvam
Instagram : https://www.instagram.com/dhruvambyvaish/
Mode of Payment : Bank transfer, bhim or tez or Paytm or PAYPAL (International Delivery Done
Whatsapp : 91-9962979994
Seller Name : Ms Pink Panther
Facebook : https://www.facebook.com/MISSPINKPANTHERJEWELLERY/
Contact : +91 95855 95689
Instagram : https://www.instagram.com/mspinkpantherjewel/
Website : http://www.mspinkpanther.com/
Seller Name : Rajatamaya
Facebook : https://www.facebook.com/Rajatamaya/
https://www.instagram.com/rajatamaya/
Contact : +91 97865 22555
Vibha Creations
Facebook : https://www.facebook.com/VIBHAcreations/
Instagram : https://www.instagram.com/vibha_creations_collections/
Website : https://www.vibhacollections.com/
Contact : + 91 9941315846
Also Read: