Irrespective of the type of outfit, a traditional look is incomplete without a perfect pair of jhumkas. All women most definitely love jhumkas and hence, this one's for them. To make your attire enhancing and reach new levels of beauty, we are here with 25+ jhumka designs that will stun you. These designs will glorify your outfit and bring out a great sense of confidence within any woman.
Antique Jhumka With A Modern Touch
This pair of vintage jhumkas will set you on an altogether new class. The purple and white stones go well with both complementing as well as contrasting outfits.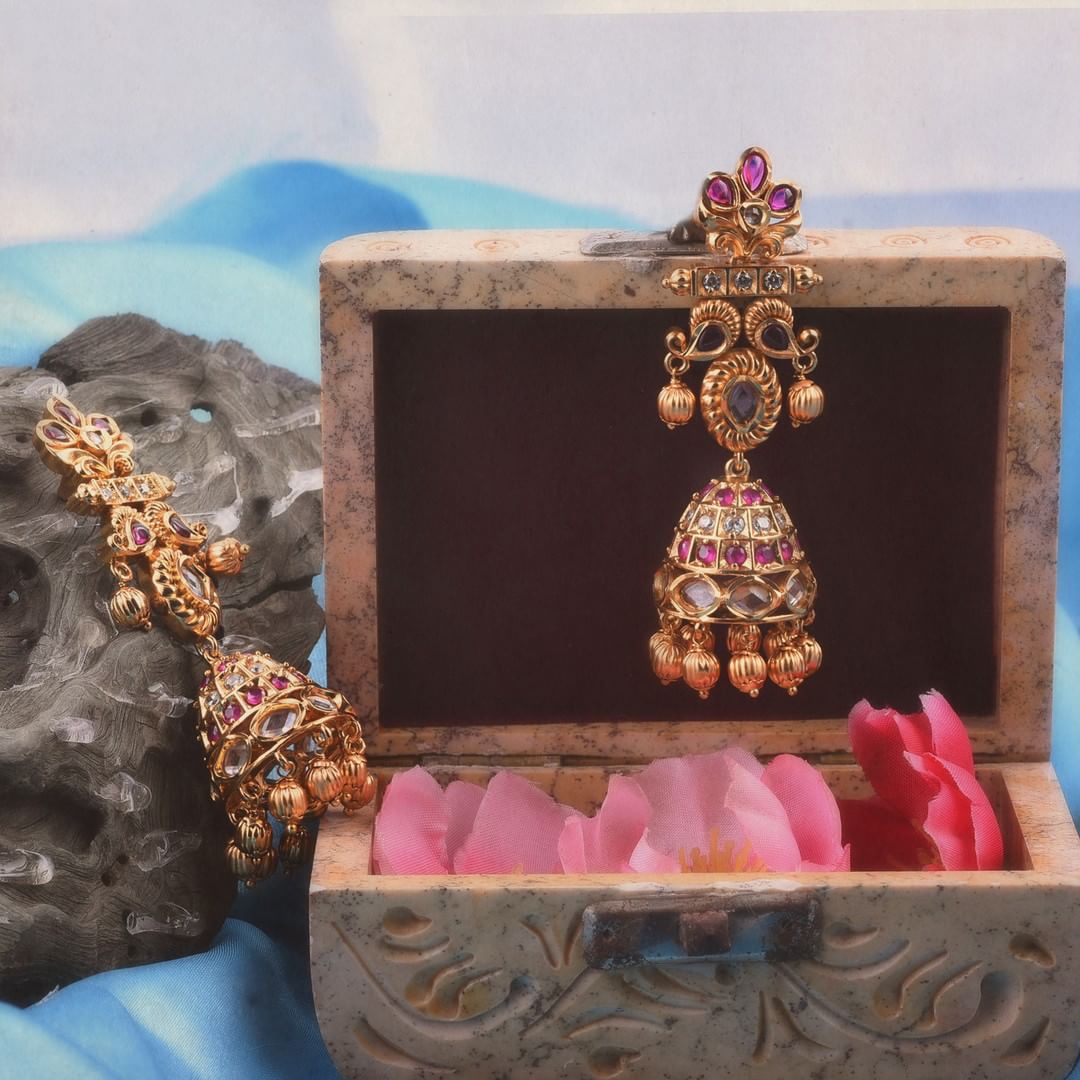 Simply Elegant Pearl Dangling
These jhumkas are simple and yet, steal the attention from all around. The bead type look of the gold, paired along with pearls is a great new combination that will set you apart from the rest.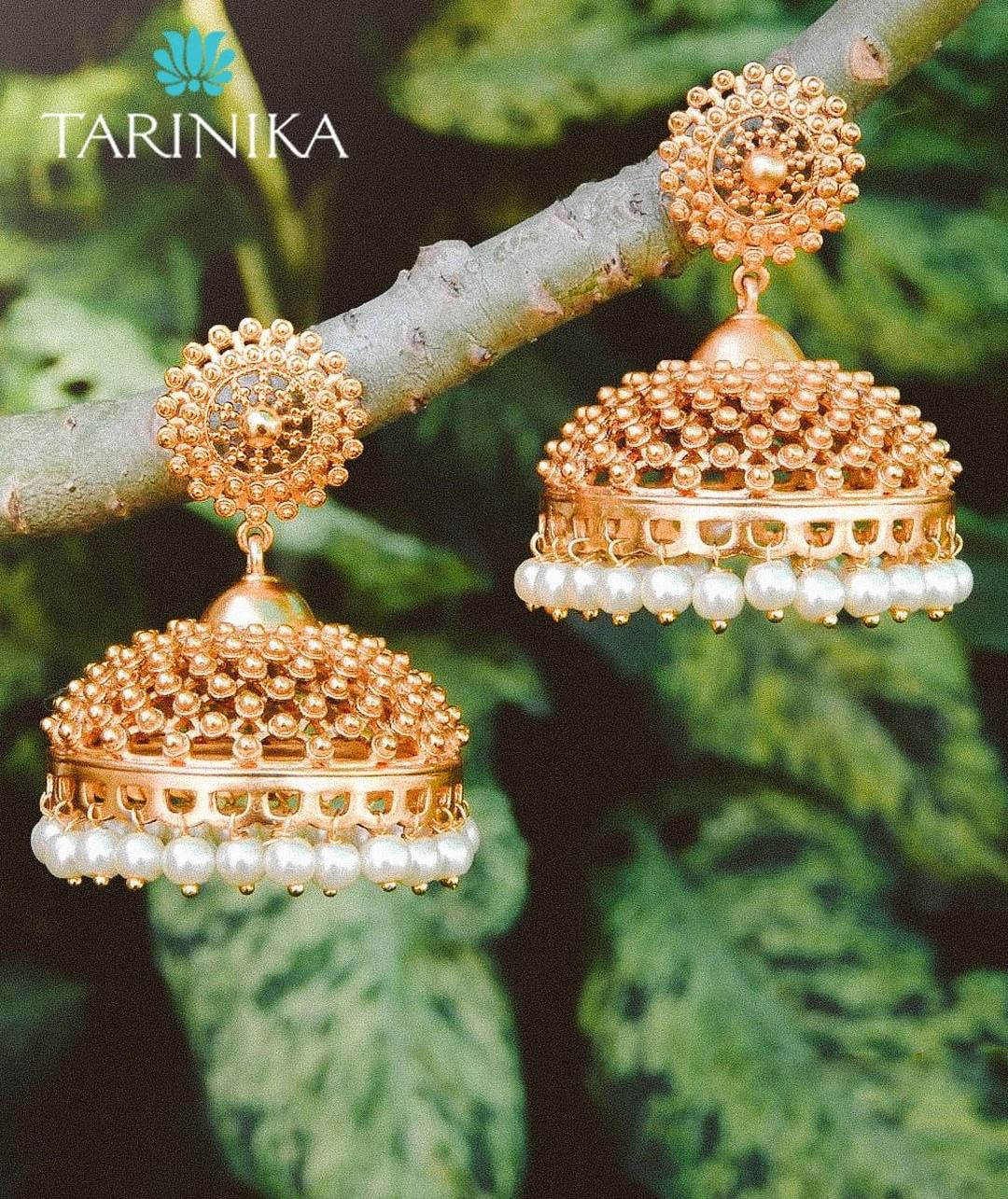 Intricate Detailing
This pair of gold jhumkas is perfect if you are looking for a mild attraction. The gold bead dangling at the end too adds to their beauty.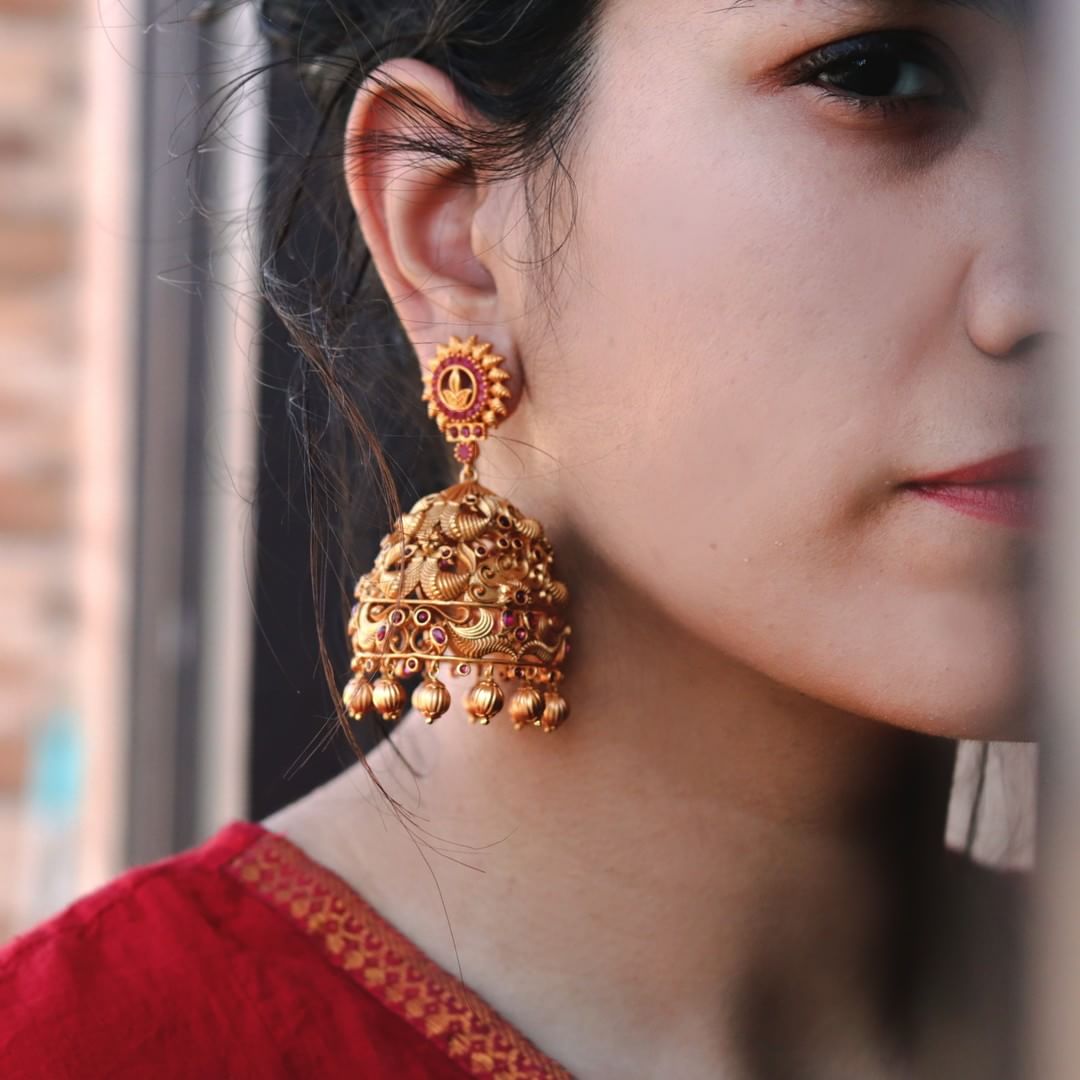 Petal Look With Single Stone
Nothing can ever beat the monotonous look. The petal and flower design, although simple, makes a great enhancement to your outfit. The ruby stone is set to steal your heart.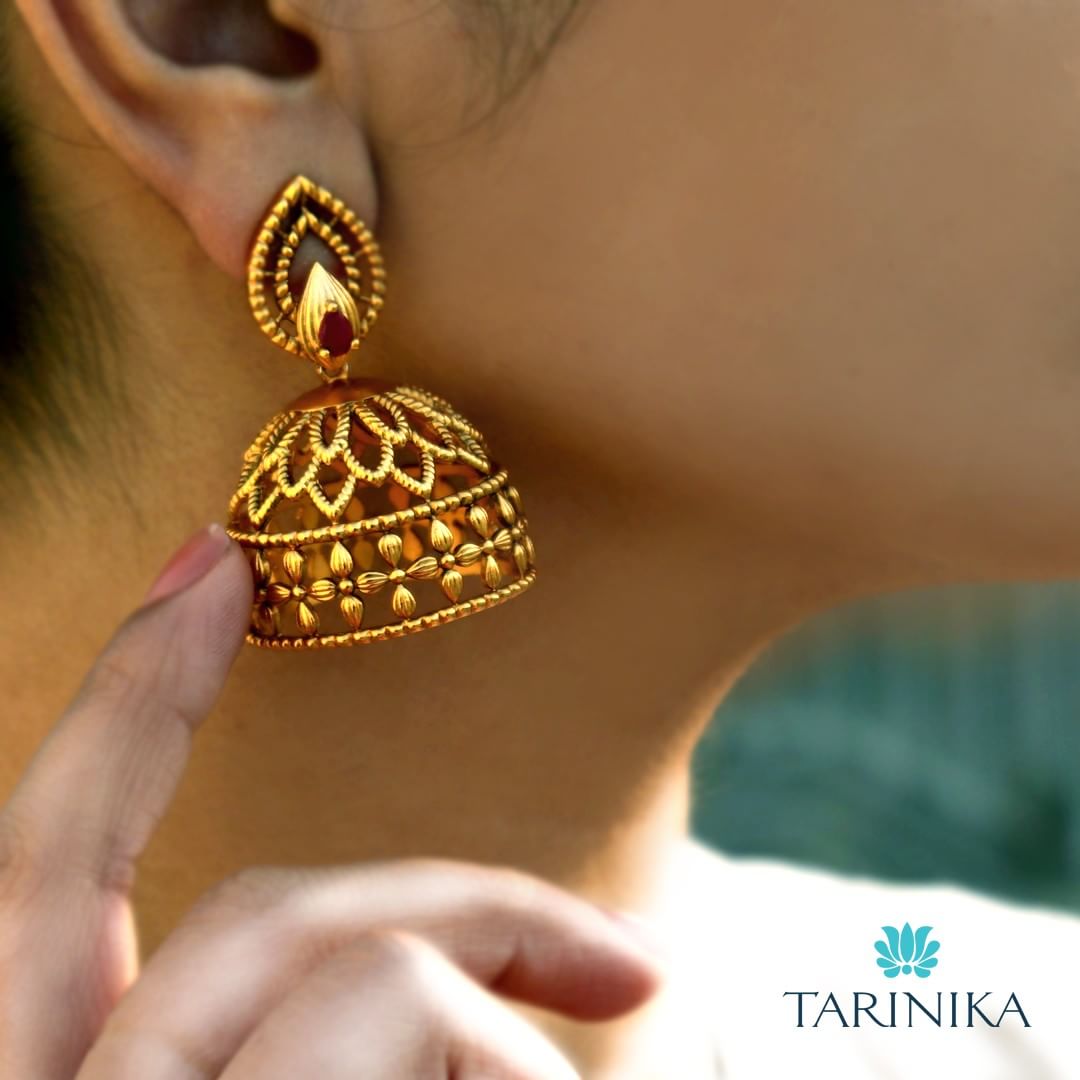 Jhumka With Ring
If you are looking for a pair that is light on your lobe, this is the one for you. The gold, ruby and emerald combination is as always, a classic pick for any occasion.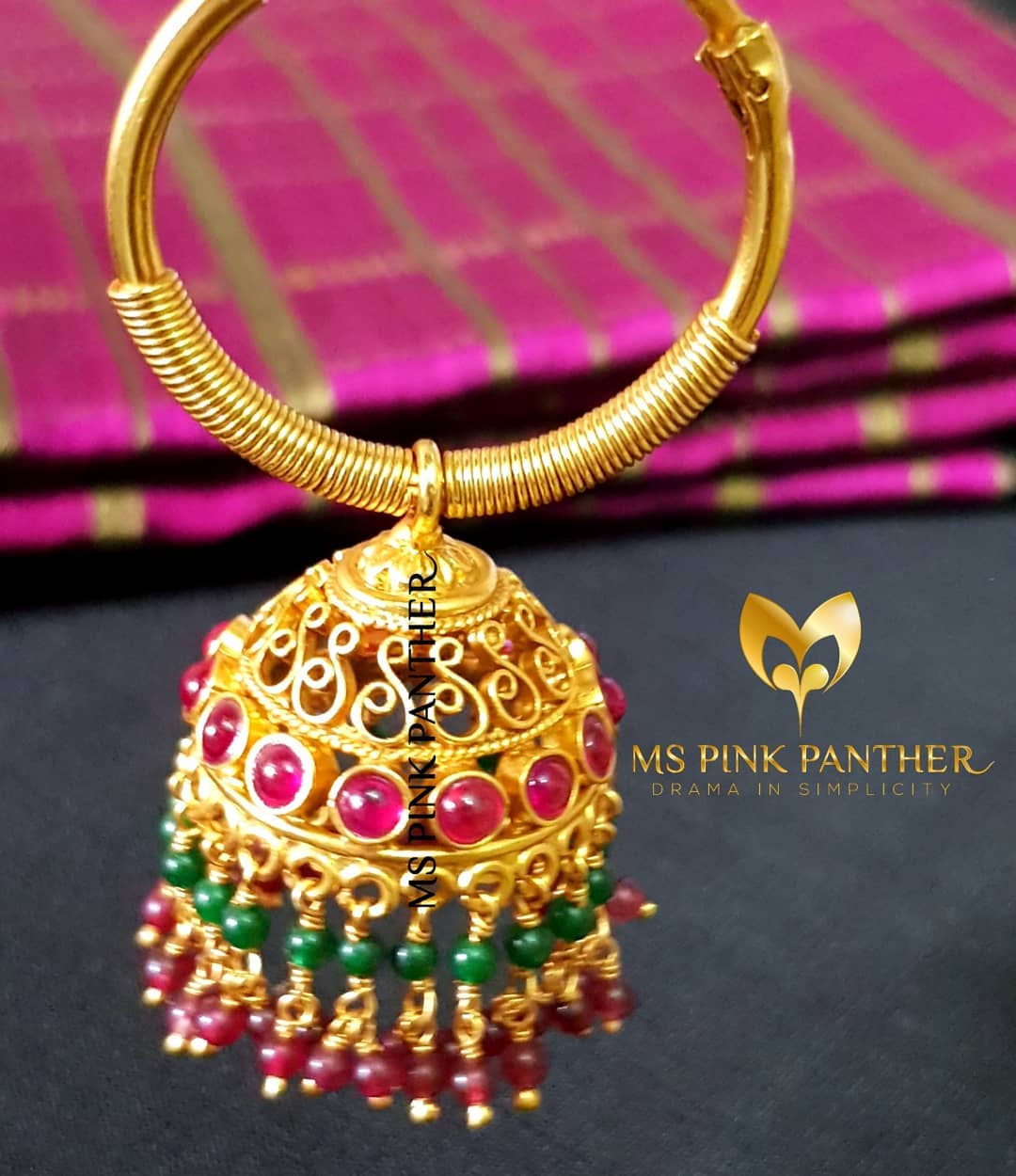 Beauty Of The Ruby Stones
Peacock designing is a classic detail and is completely uplifted by the ruby stones. This pair is great for a typical pink and gold outfit.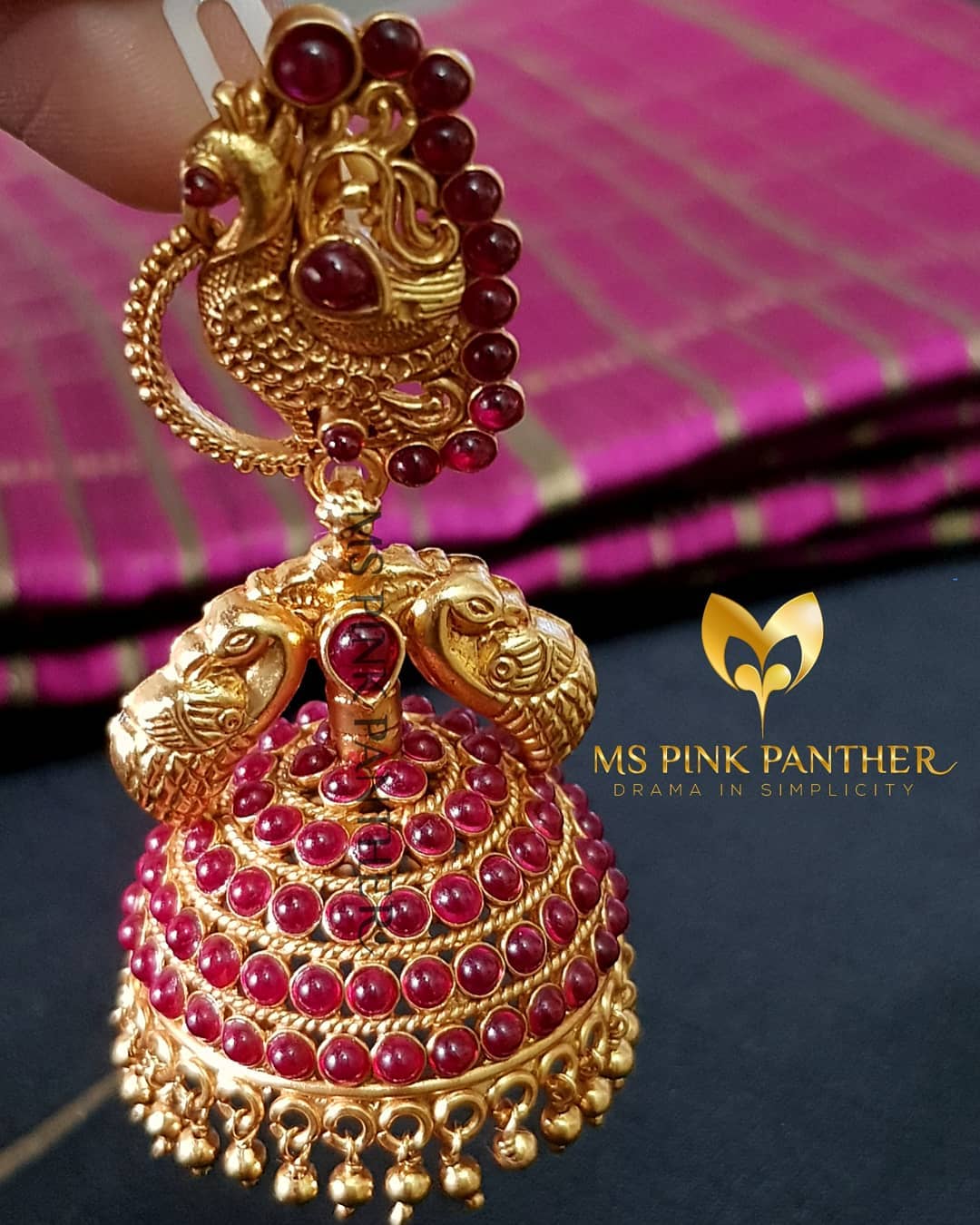 Sophisticated Look
When a jhumka is neither too heavy nor too simple, it reaches the perfect level of sophistication. This pair of jhumkas is a perfect example and the ruby stones put in a great deal of beauty.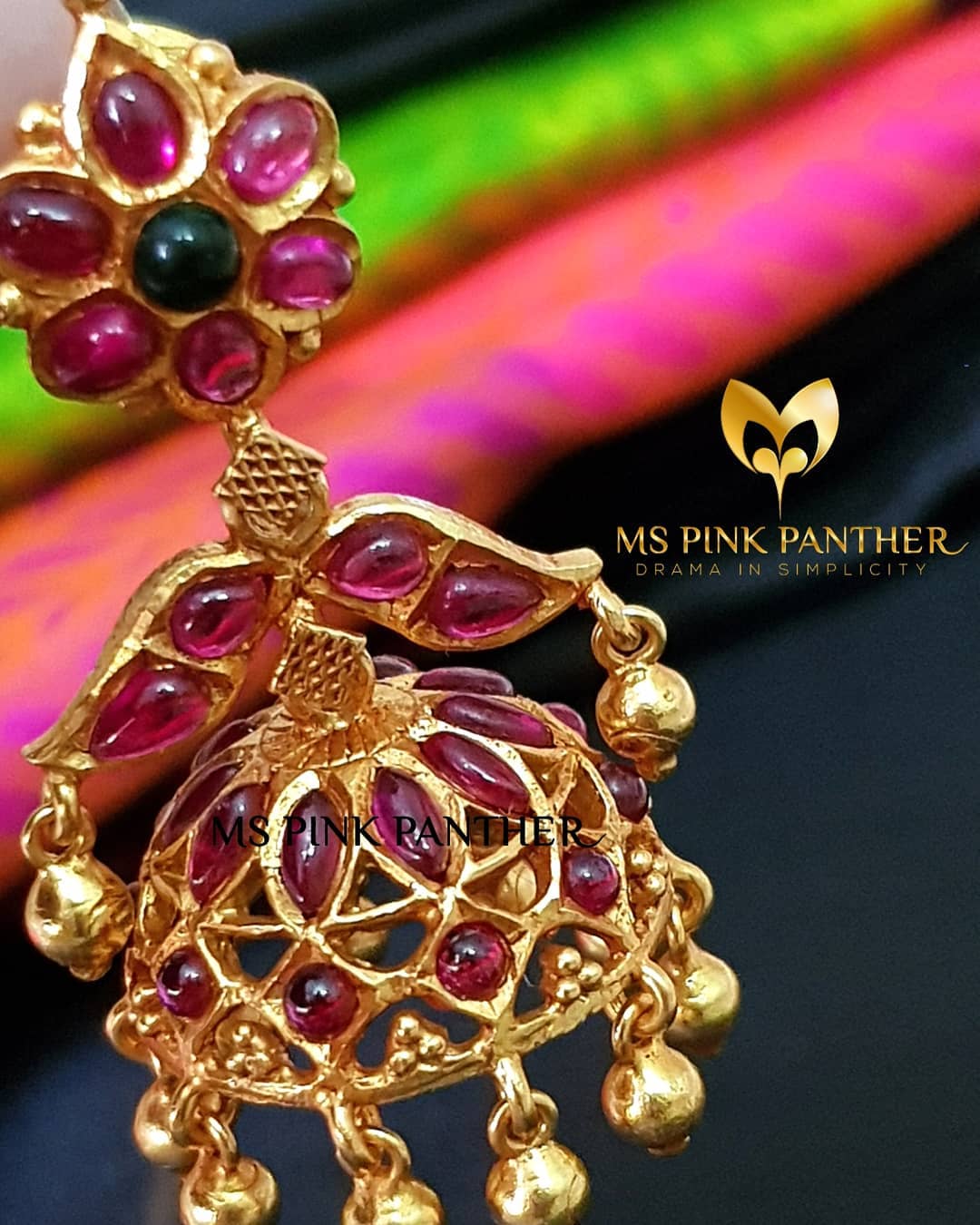 Big Is Beautiful
These jhumkas with an overfilled look is great for a heavy designer outfit. It can be worn on grand occasions and they will give you a royal look.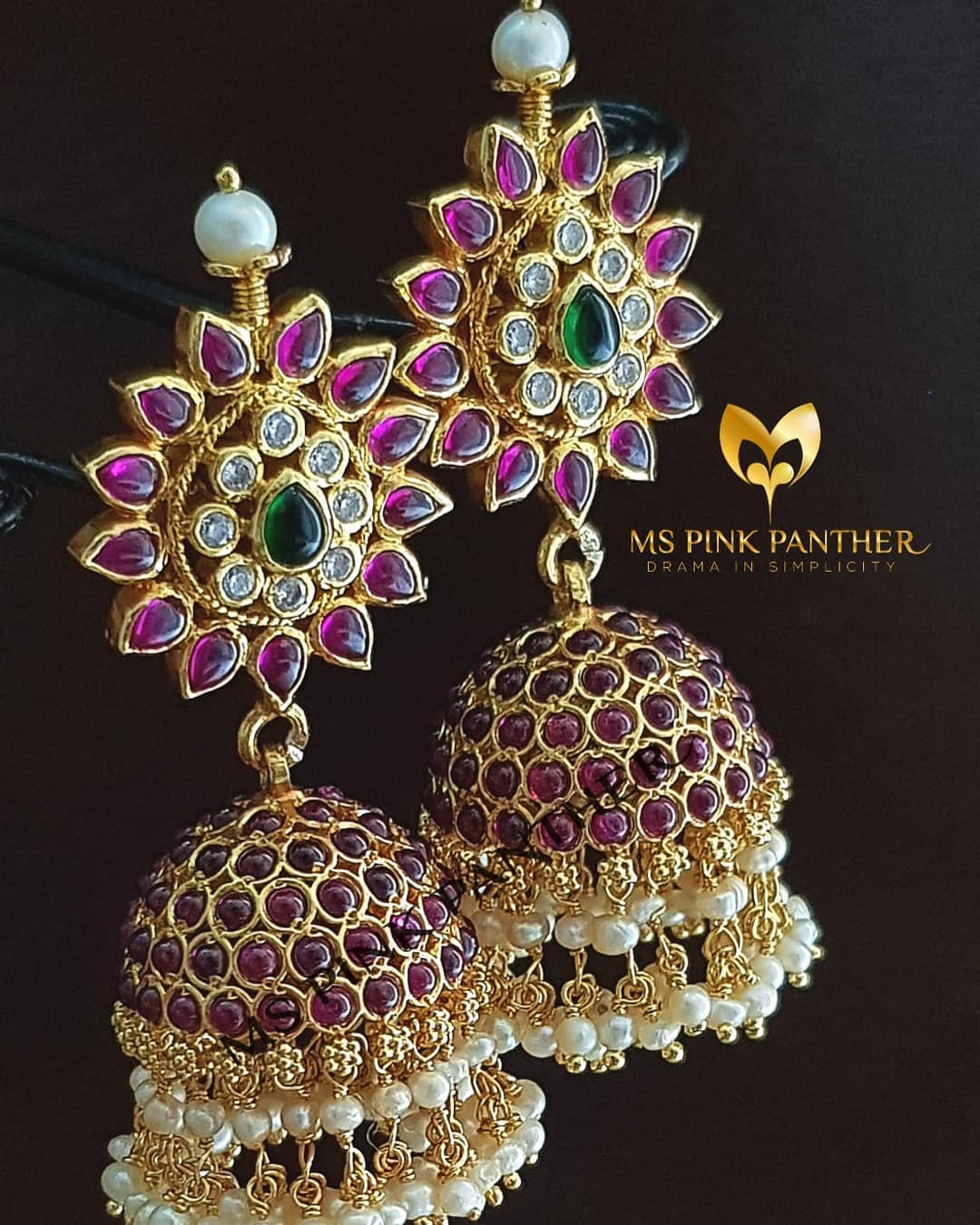 Dull Jhumka With Deity
A trendy dull toned jhumka with a deity is quite spectacular. It is long and has intricate detailing associated with it, making sure to steal attention.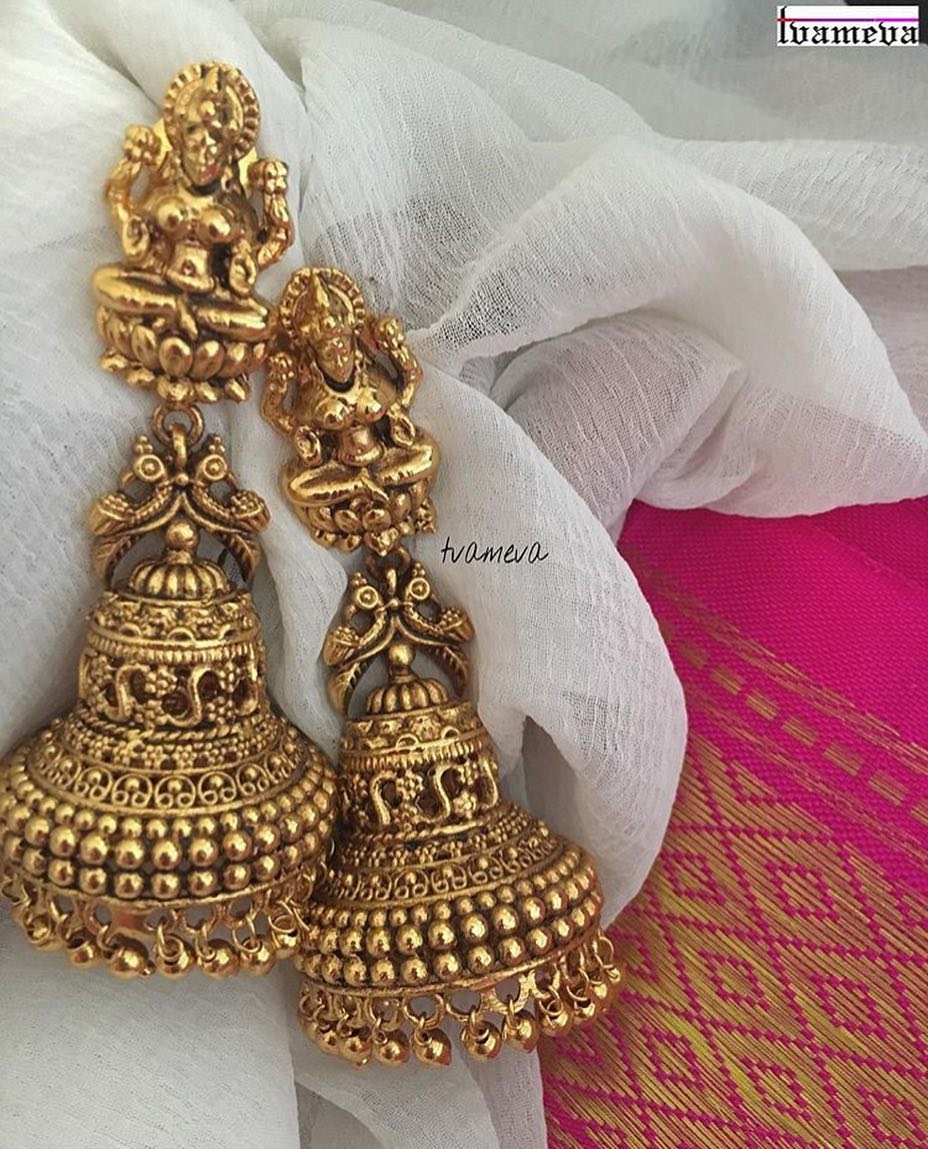 Bordering The Ear
This pair of assembled ruby and white stones is perfect for a designer look. It covers your ear almost completely thereby, beautifying the outfit.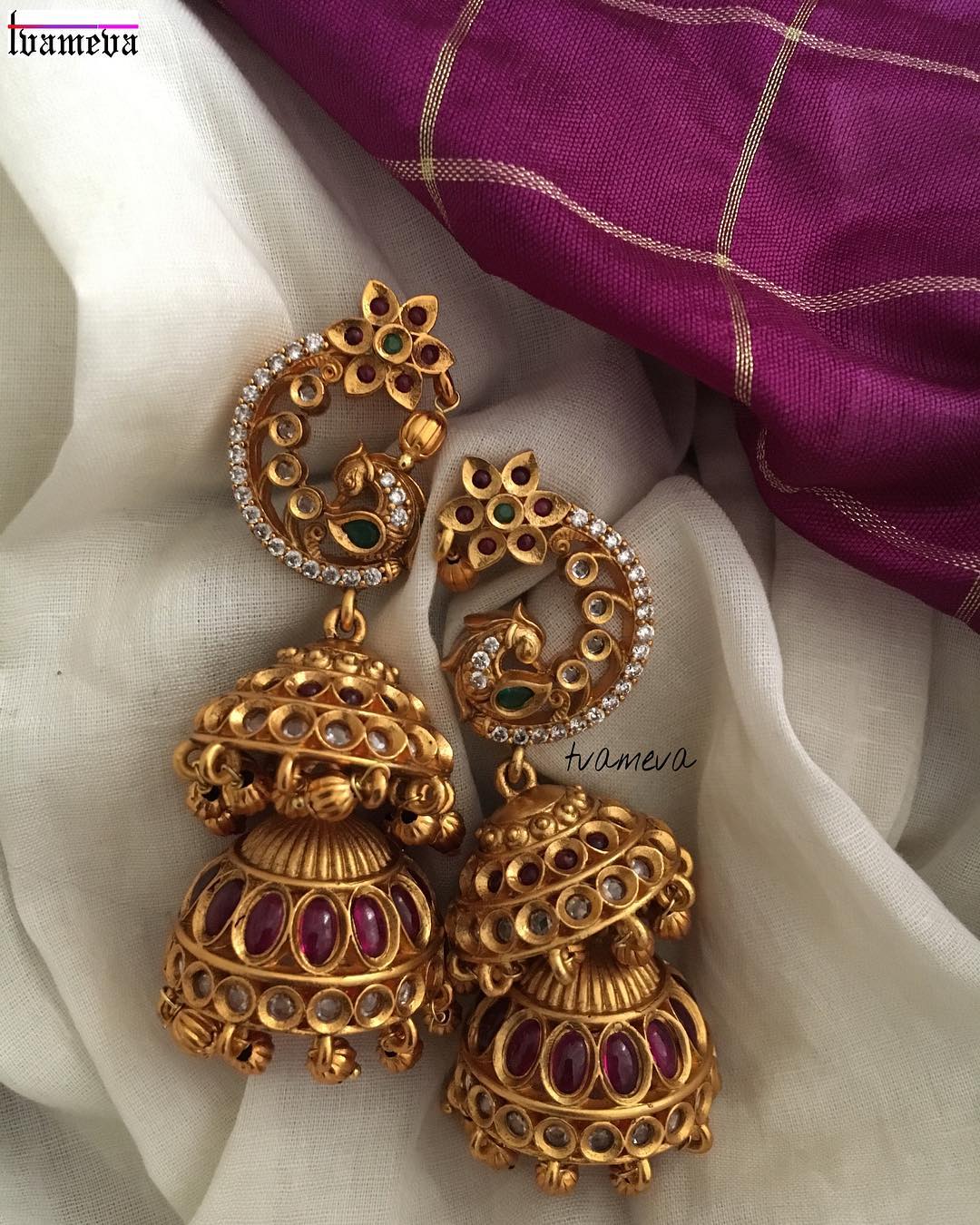 Peacock Beauty
Peacocks are an intricate part of all traditional jewelry. The detailing is perfect and is enhanced by ruby and emerald stones.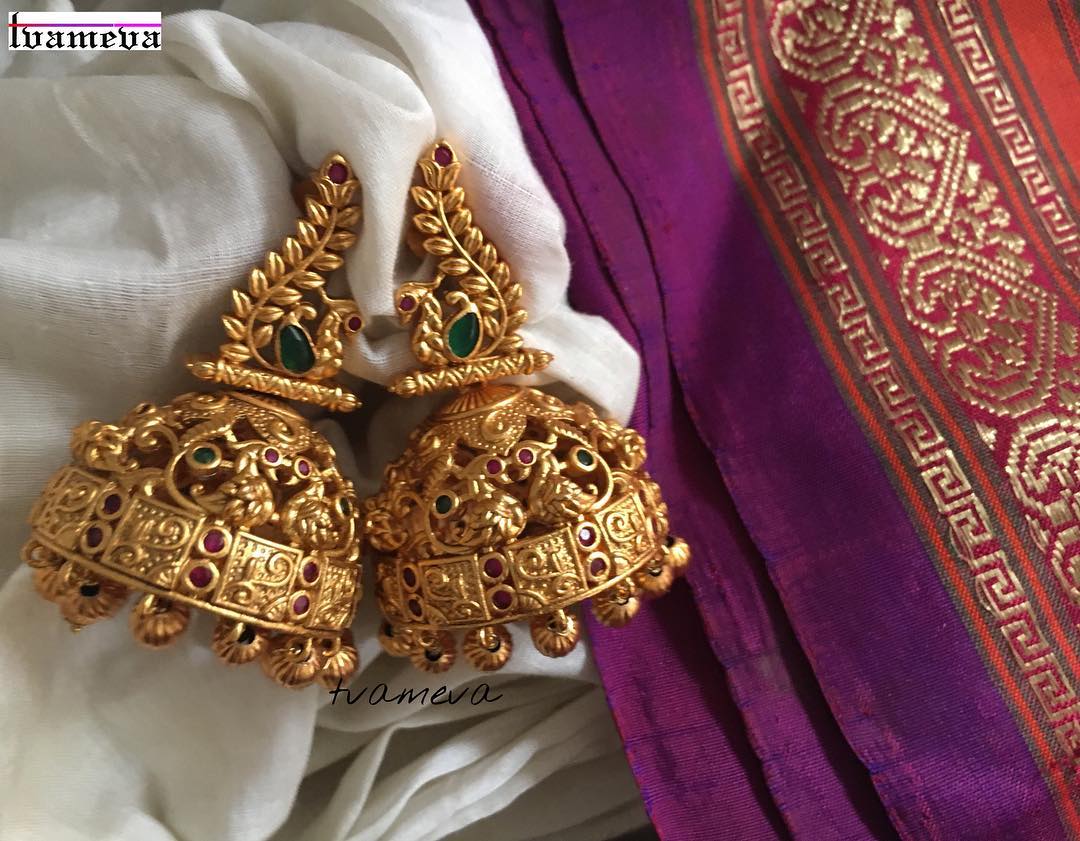 The Simple Traditional Look
These are probably the simplest pair of jhumkas you'll ever find. They would go perfectly with any outfit which has gold detailing. The tiny pearl beads add to the beauty.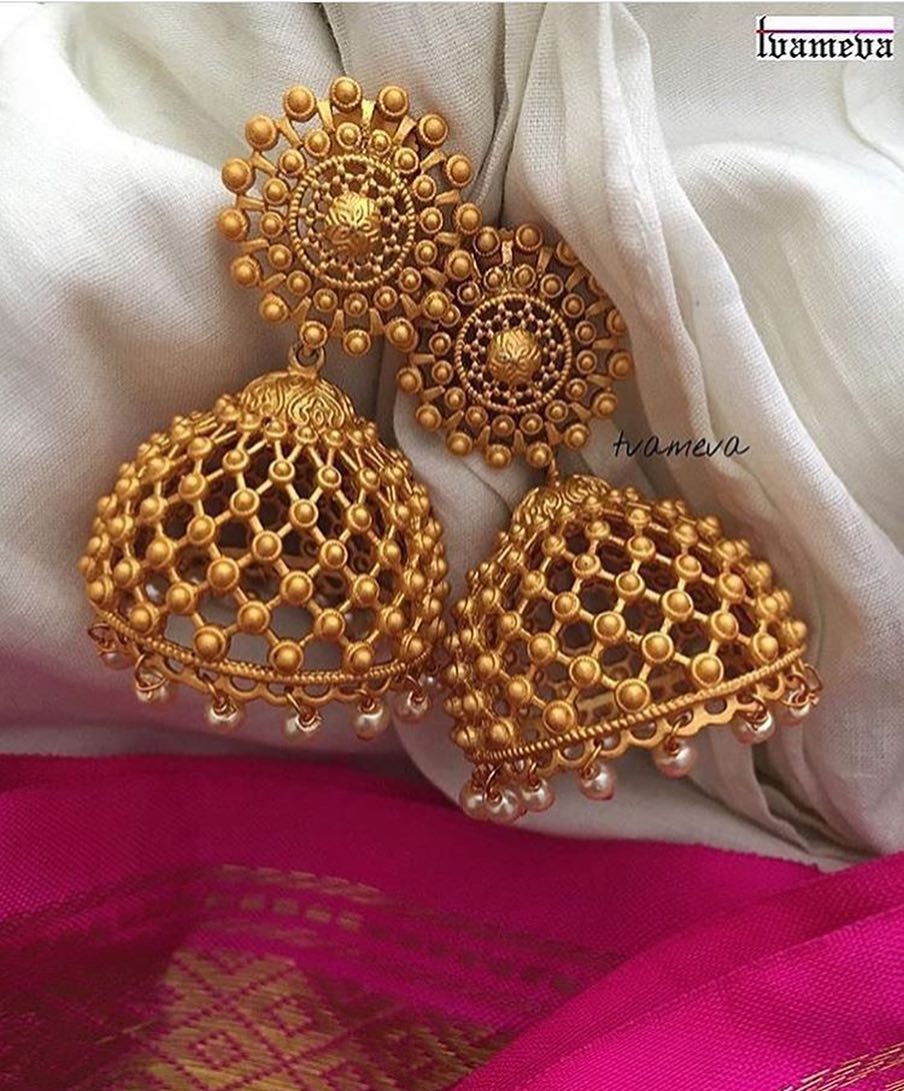 Minimal gold
If you are looking for something with the least gold this is the one for you. The ruby stones are set to catch hold of anyone's attention and the pair would go perfectly well with a pretty pink outfit.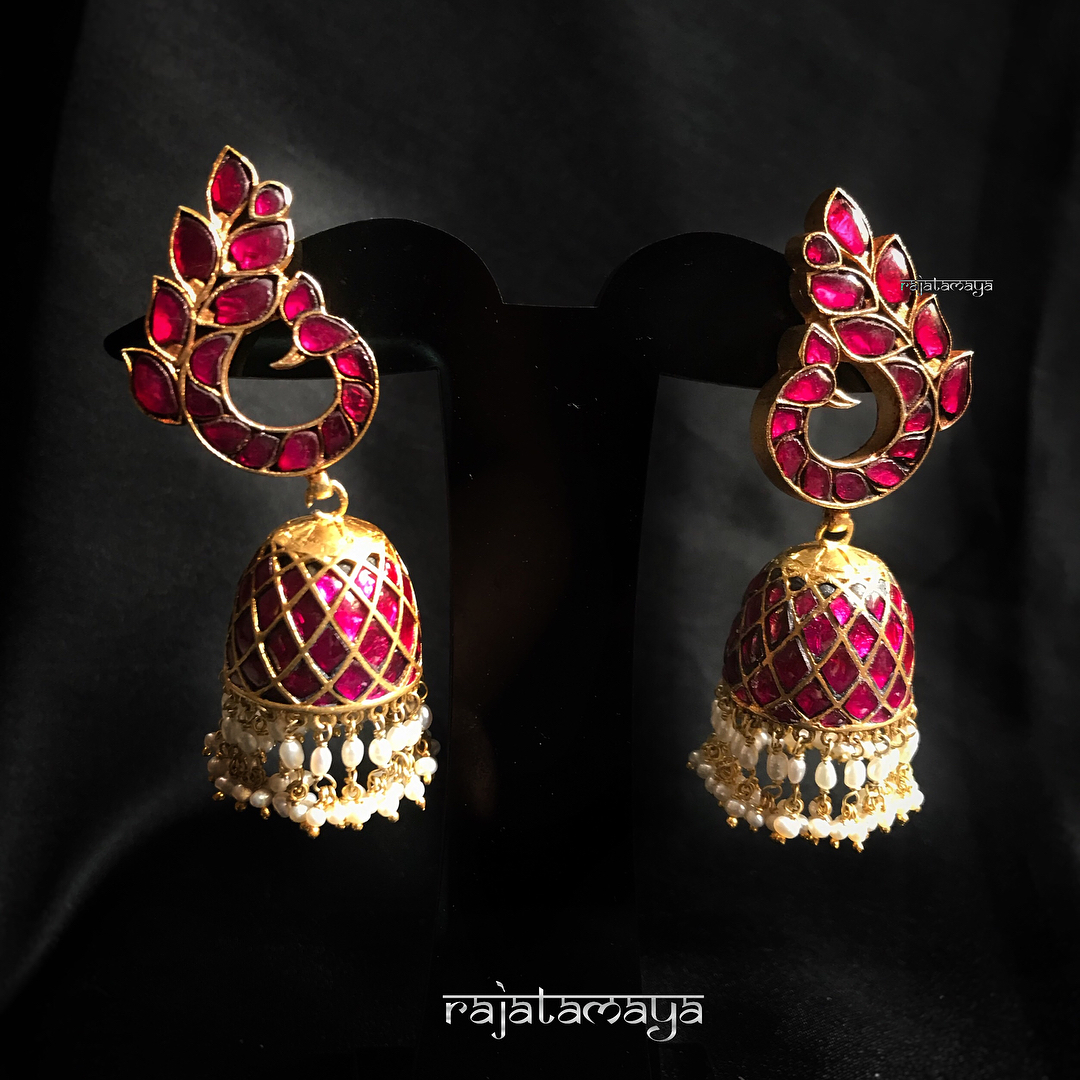 Designer look
This pair has intricate detailing and great combination. It can be matched with almost any outfit for any occasion.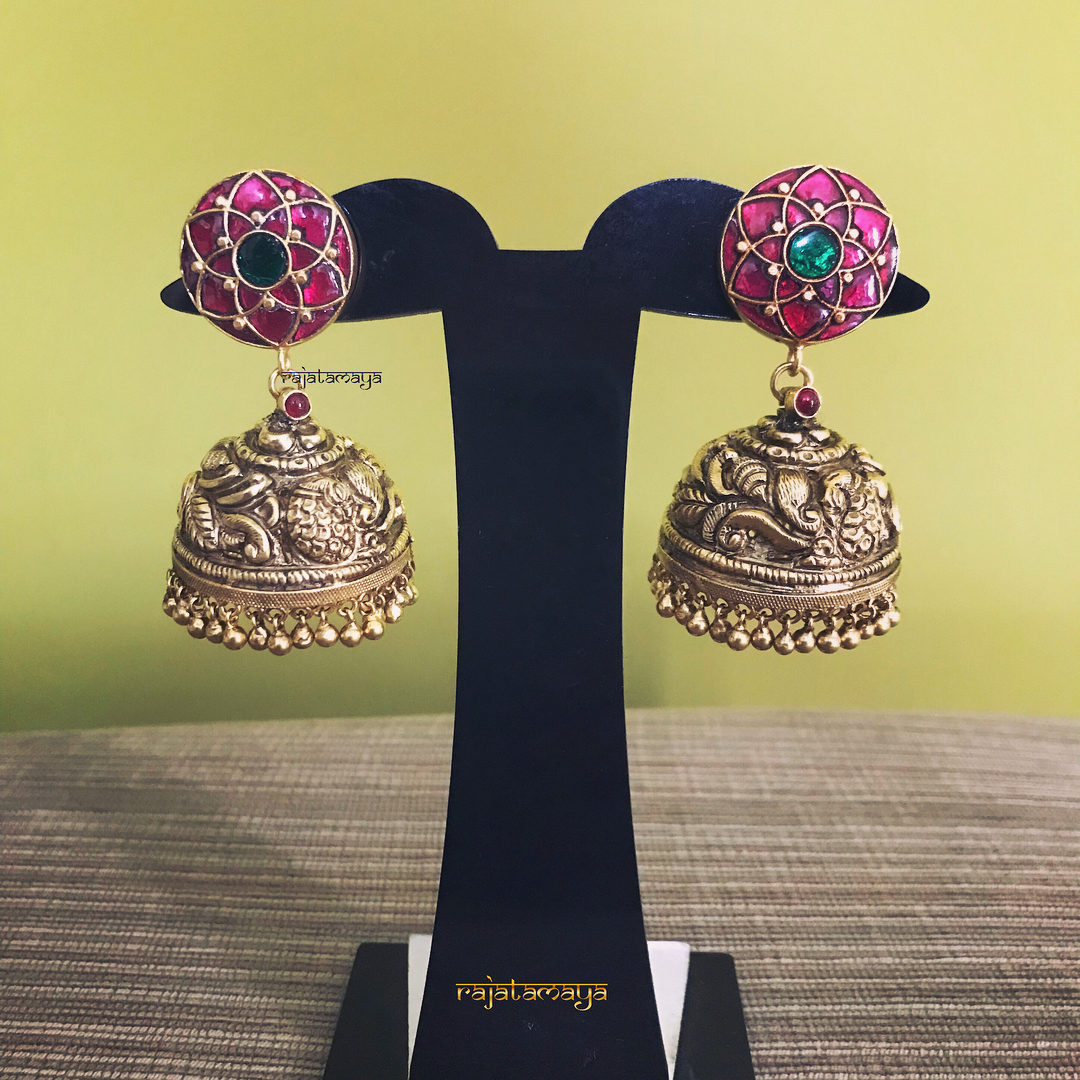 The long beauty
These jhumkas completely cover your ear and are perfect if you wish to put on a ghoonghat. The combination of ruby and emeralds never fails.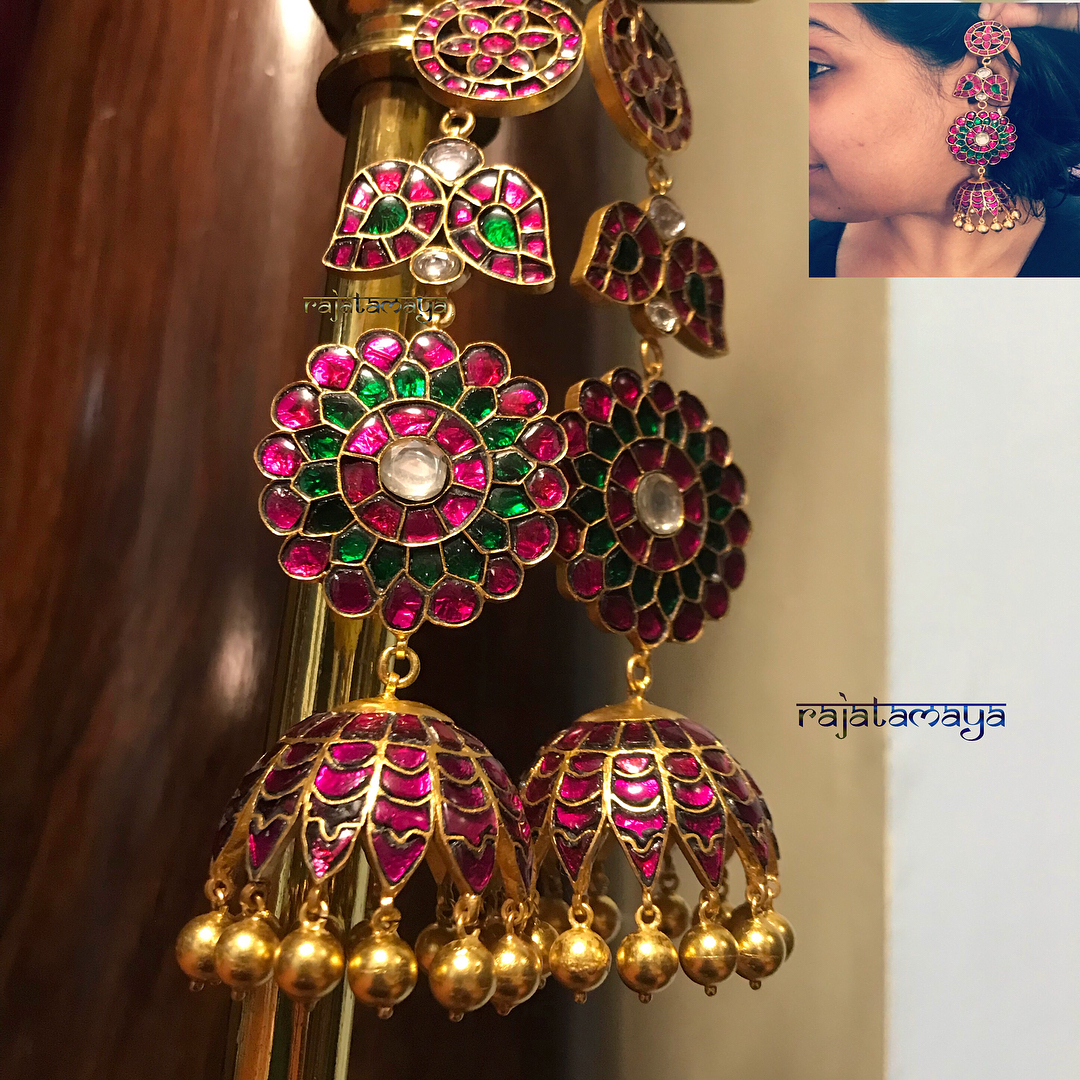 Classic design in modern times
This is the traditional design that can be passed on to generations. It is quite antique and can be paired with almost all outfits.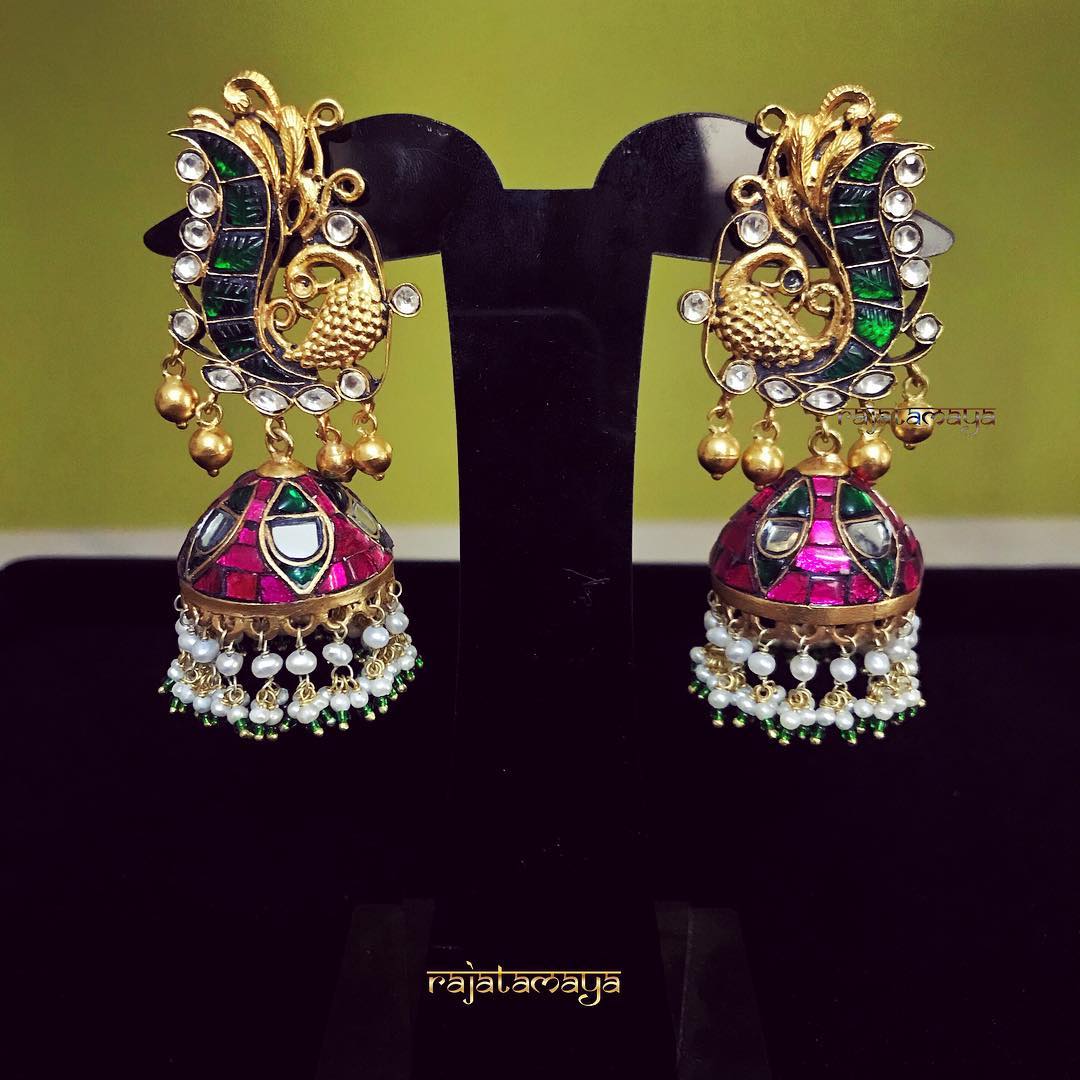 Bird in cage
This pair is quite different from the rest. It has a modern look attached to it and yet can be worn with traditional outfits. It is love to show off the fashionable side of you, pick this one!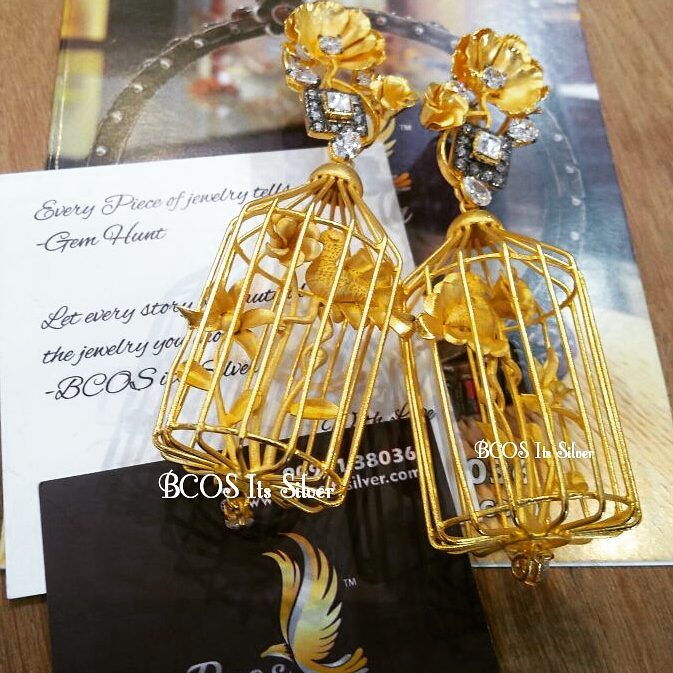 Enhanced with stones
Stones in ornaments is the perfect way to beautify them. Ruby, emerald and white stones go perfectly well together and are a great pick for any occasion.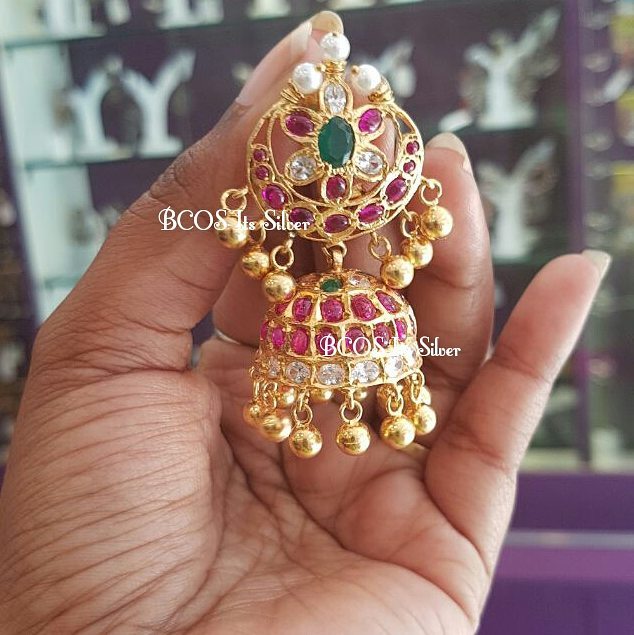 The red beauty
As we all know, red and black is a great combination. The faded silver with bright red stones is sure to amaze all those that look at it.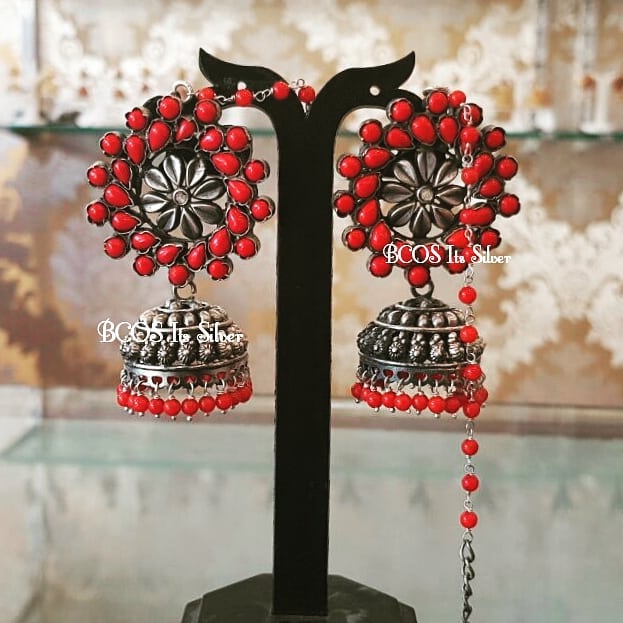 The Godly Appeal
This pair is a perfect pick if you are looking for something completely religious. The design and detailing go perfectly with one another.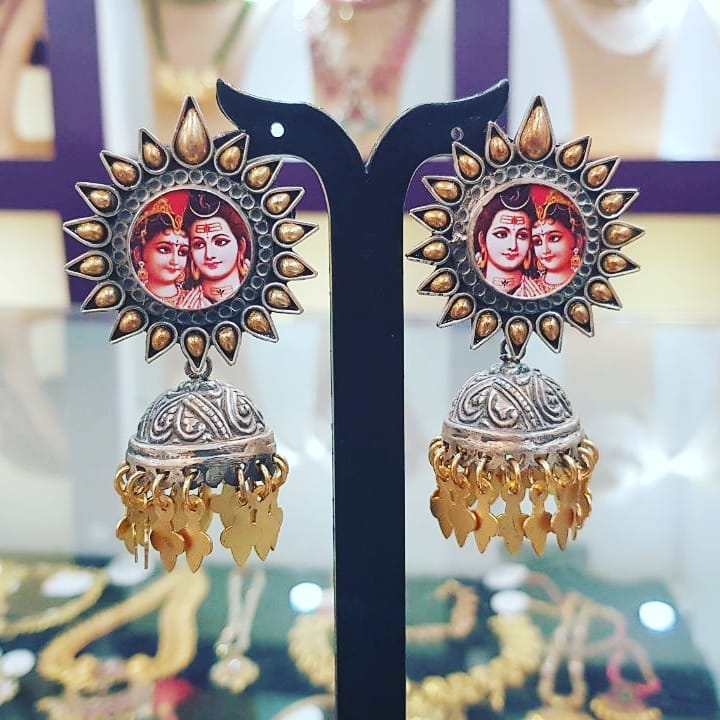 Rain in pearls
The chain of pearls dangling at the bottom make this pair a great pick to match with simple attires. It can be worn to almost any occasion.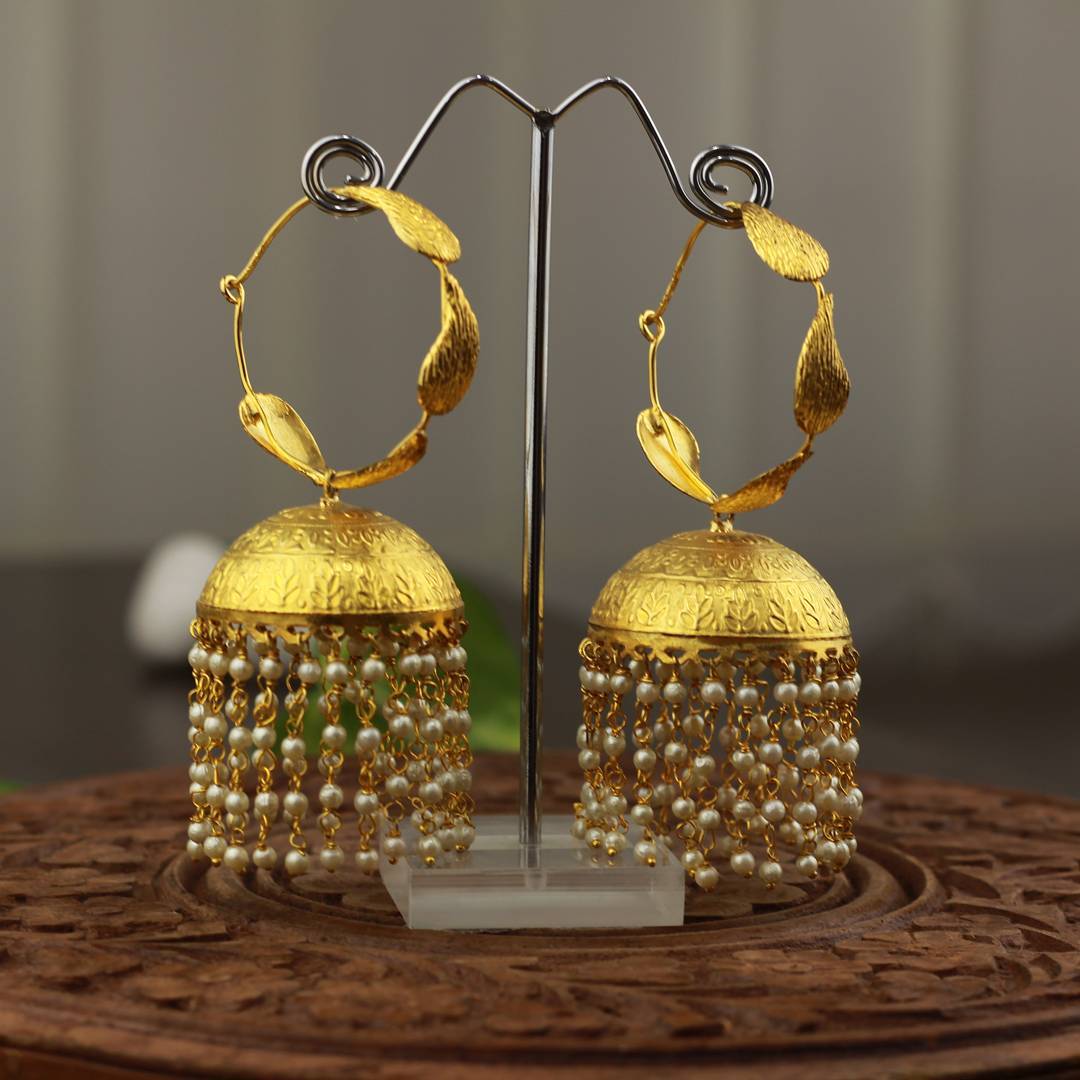 Ruby beads
Since rubies are greatly in trend, beads of ruby make a great show of enhancement. This pair is greatly satisfying and can uplift your outfit.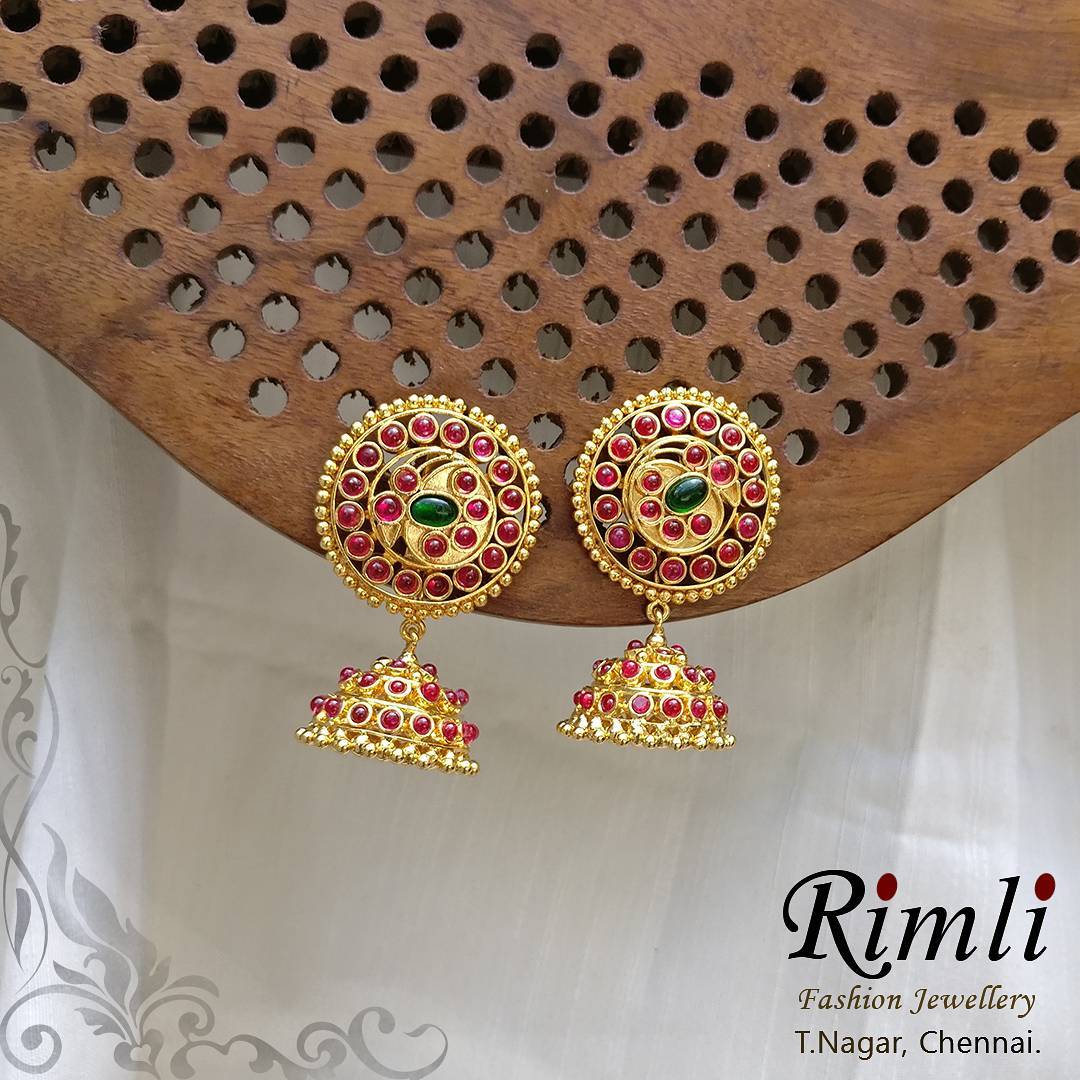 Lord Ganesh embellished jhumkas
This pair would be perfect to mark the beginning of a new life. They can be worn every day and are quite soothing because of the ruby.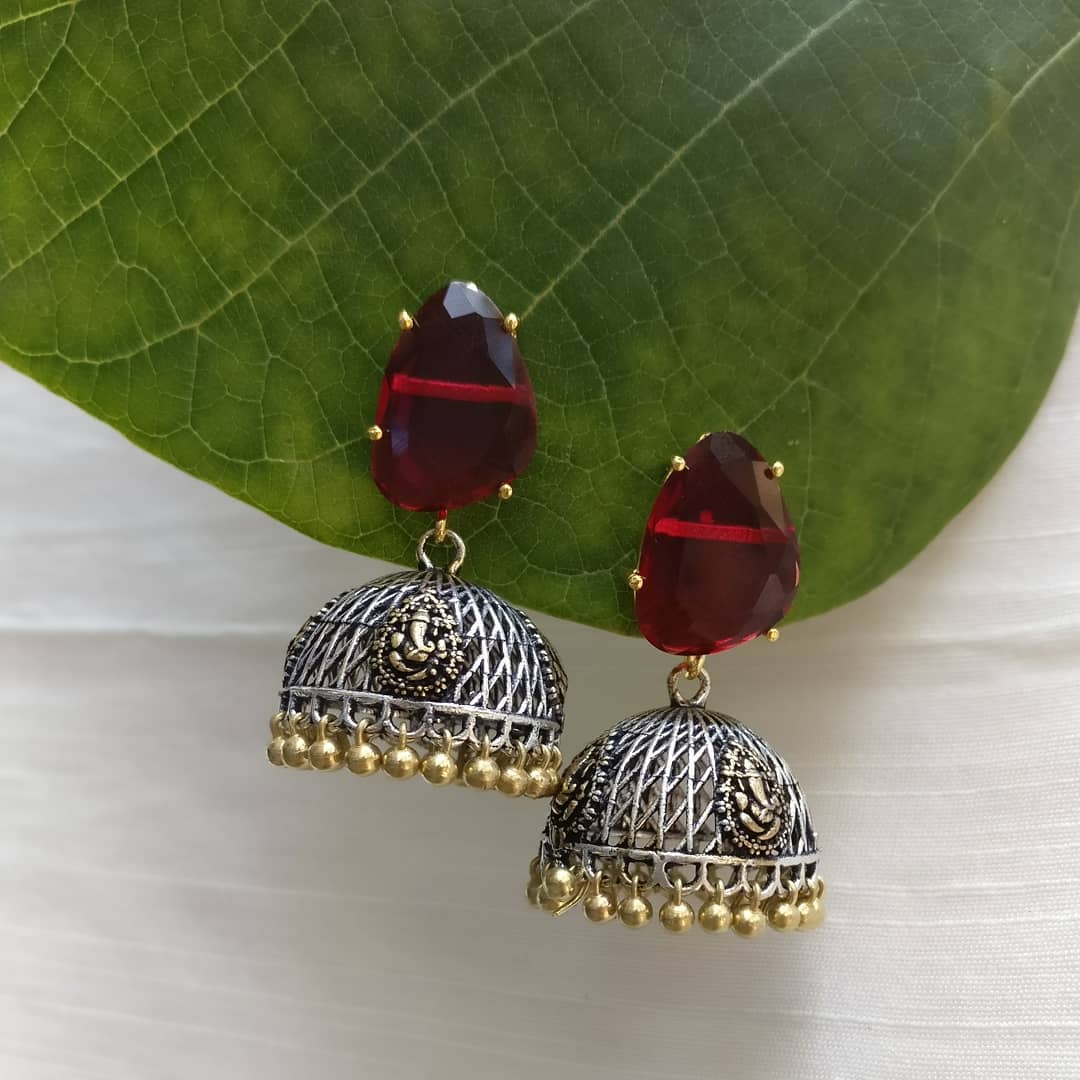 Whitestone and gold combination
Bright gold paired up with equally shiny white stones is a go-to. It can be paired with all outfits and is great for last minute matching.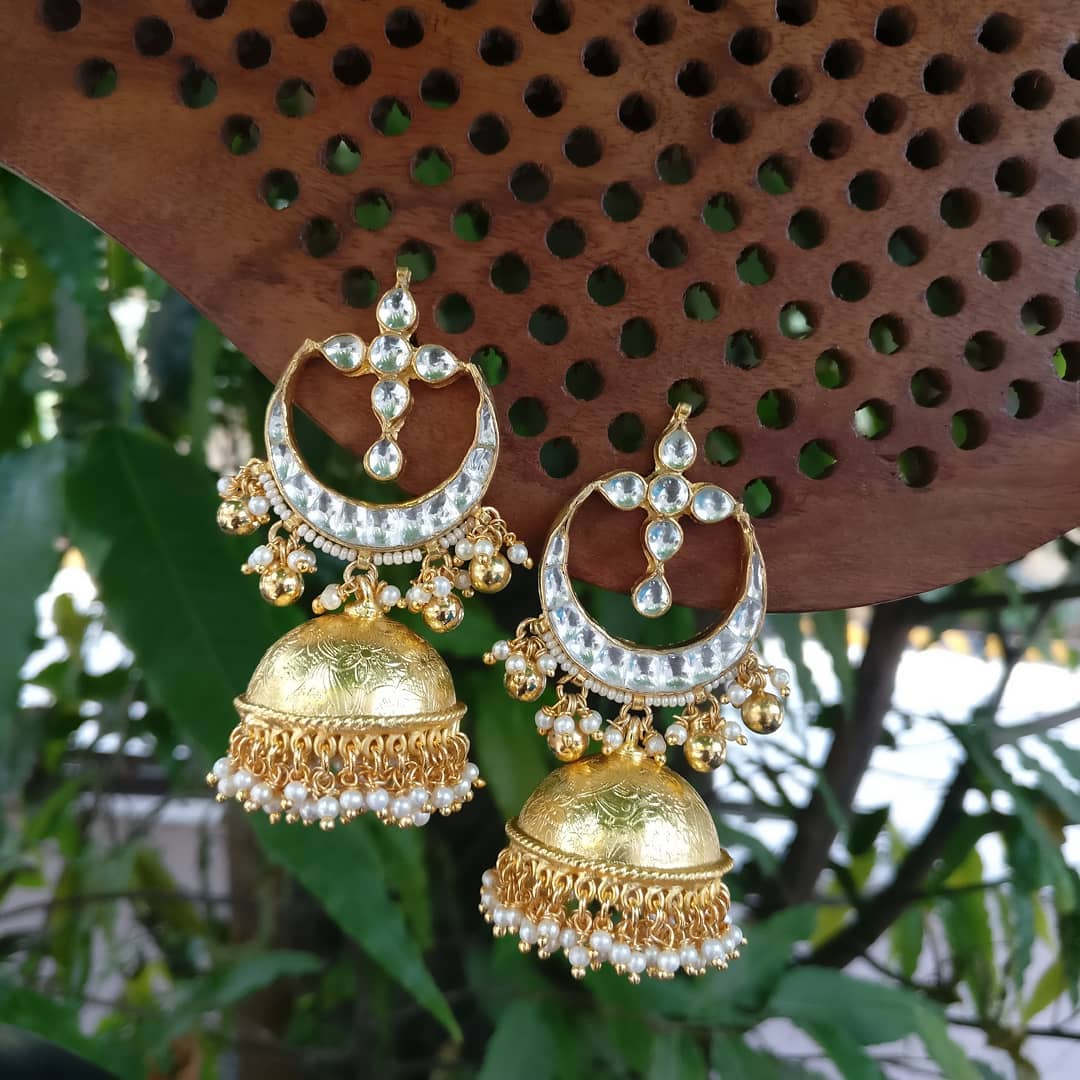 The rose gold shade
Rose gold jewellery is very much emerging lately. This simple and sophisticated pair of jhumkas is great for any formal occasion. The peacock design adds to the beauty and simplicity.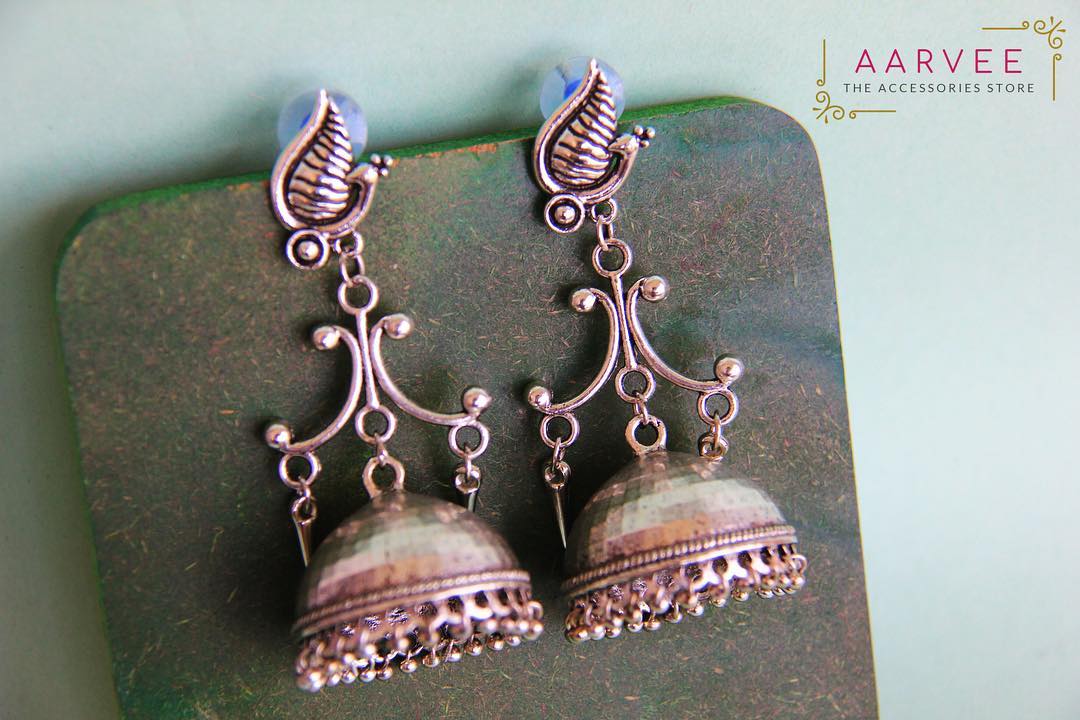 The long dangling
This pair is great especially for a typical Kerala saree. The peacock enhances the overall look and the jhumka is not too huge.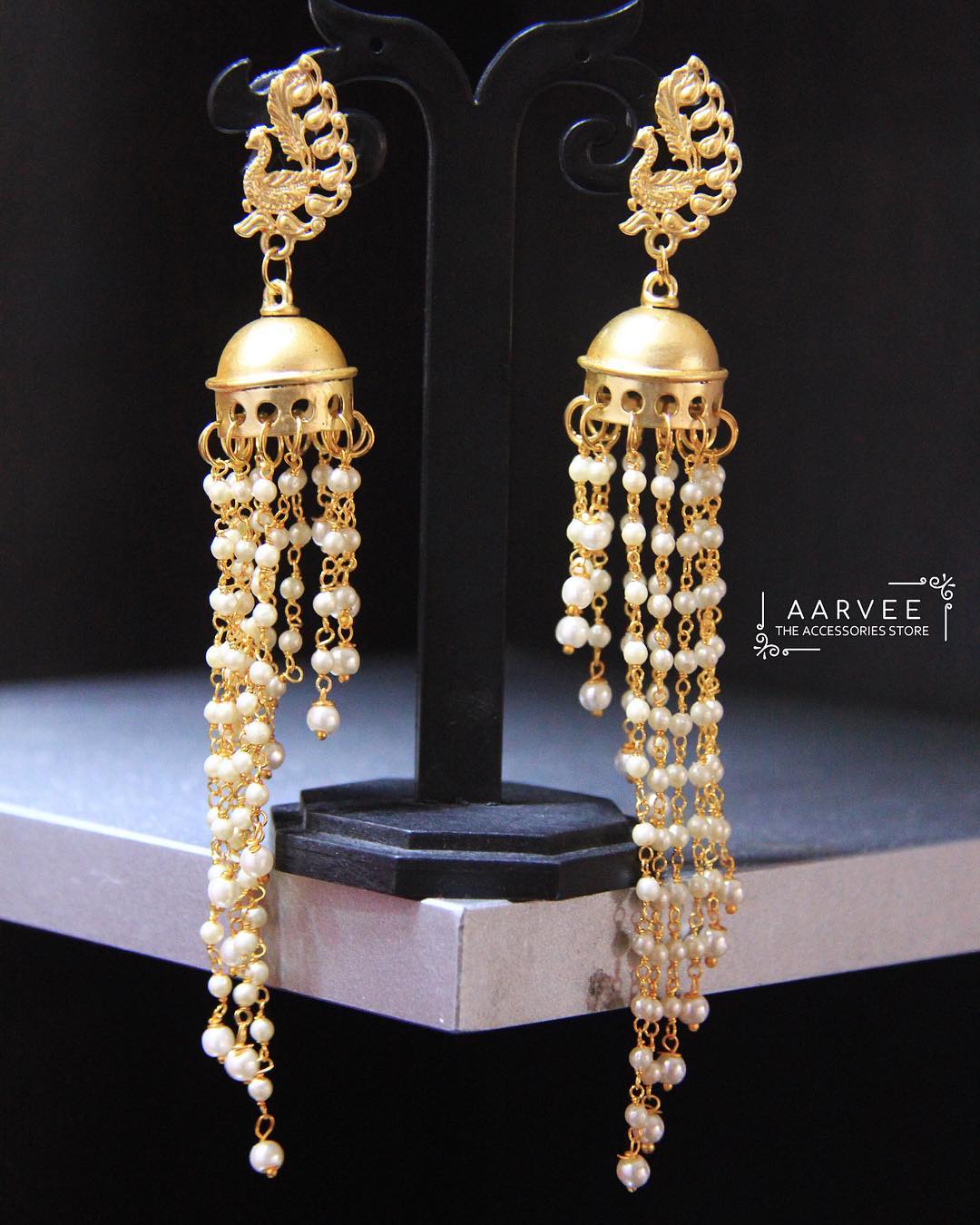 Vivid blue stones
The bright blue stones are set to grab all attention at any occasion. The bordering white pearls are a great addition.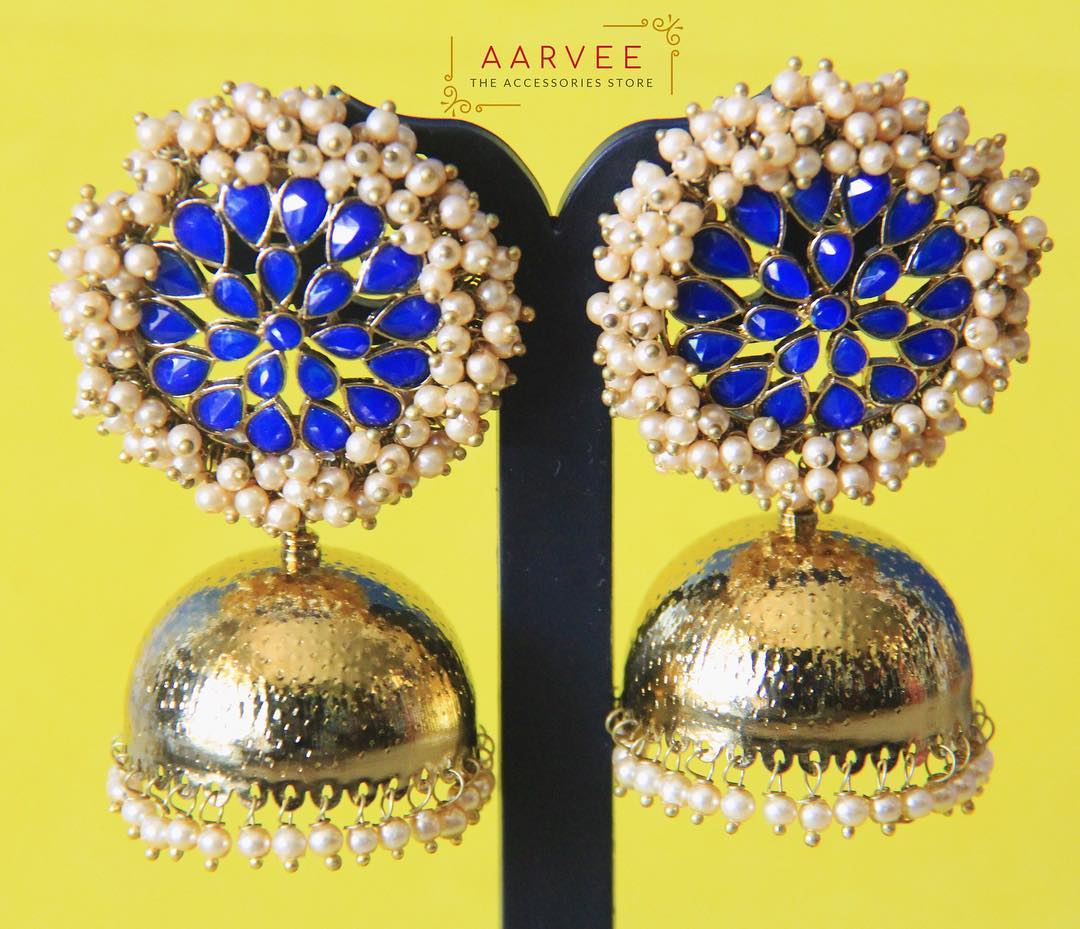 Pink and white combination
This pair is perfect for any light hued outfit. The white stones on the top bring the overall look together.
Irrespective of age, race, and culture, jhumkas are always a fascination for all women in our country. A pair of beautiful jhumkas is definitely a must-have for any woman. They are the most sensational accessory which lightens up the attire as well as personality. Go ahead and buy yourself a beautiful pair of jhumkas.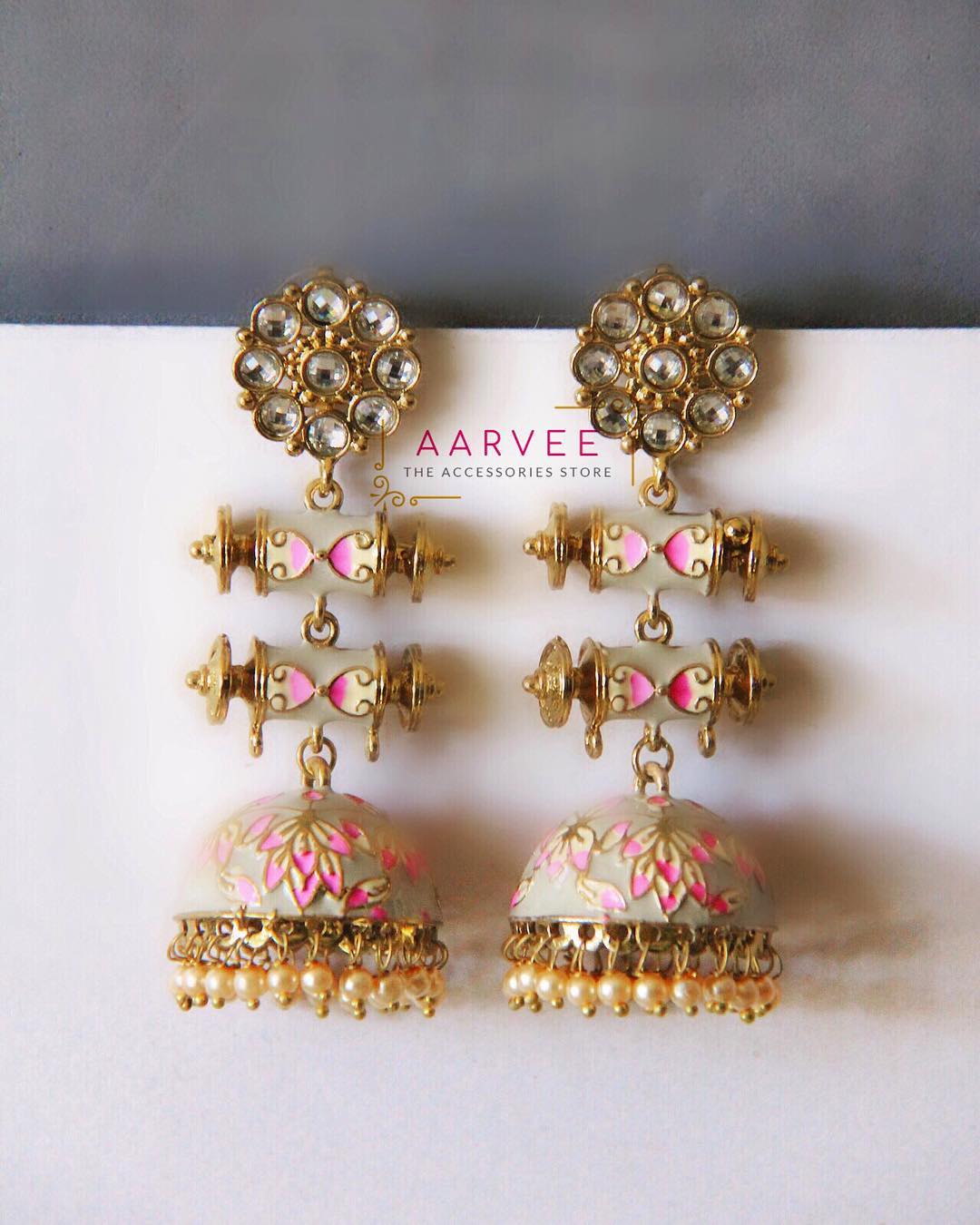 If you like to shop the above jhumkas, please find the seller contact details below.
Seller Name : Ms Pink Panther
Facebook : https://www.facebook.com/MISSPINKPANTHERJEWELLERY/
Contact : +91 95855 95689
Instagram : https://www.instagram.com/mspinkpantherjewel/
Website : http://www.mspinkpanther.com/
Seller Name : Tvameva
Instagram : https://www.instagram.com/tvameva/
Contact : 9994767370
Seller Name : Rajatamaya
Facebook : https://www.facebook.com/Rajatamaya/
https://www.instagram.com/rajatamaya/
Contact : +91 97865 22555
Seller Name : BCOS – Its Silver
Contact No: +91 90941 38036.
Email :artee.manifattura@gmail.com
Website: https://www.bcositssilver.com/
Instagram : https://www.instagram.com/bcos_its_silver/
Facebook: https://www.facebook.com/BCOSITSSILVER/
Address : Shop #1, Plot #102, 17th Cross Street, 6th sector, near MK Ahmed bazar, opp to ICICI bank, HSR Layout, Bengaluru 560 102.
Seller Name : Rimli Boutique
Instagram : https://www.instagram.com/rimliboutique/
Contact : 09841640771
Facebook : https://www.facebook.com/Rimli.boutique
Seller Name : Aarvee
Instagram : https://www.instagram.com/aarvee.chennai/
Facebook : https://www.facebook.com/aarvee.accessories
Email : aarveeaccessories@gmail.co
Also Read: