Every jewellery piece is one of its own kinds and expresses its own identity. Starting from the most essential piece of one's attire is earrings, ear cuffs and neckpieces. They give an extra glamour to your everyday look and on special occasions makes you look outstanding. Silver antique jewellery compliments any traditional attire and is trending hot this season.
If you have been thinking to try silver accessories, here is our picks of more than twenty adorable antique silver jewellery pieces for you.
Antique Silver Blues Stones Jhumka:
These blue stones silver jhumka will look best with any traditional attire having even a pinch of blue colour in it. It is blend of simplicity and style.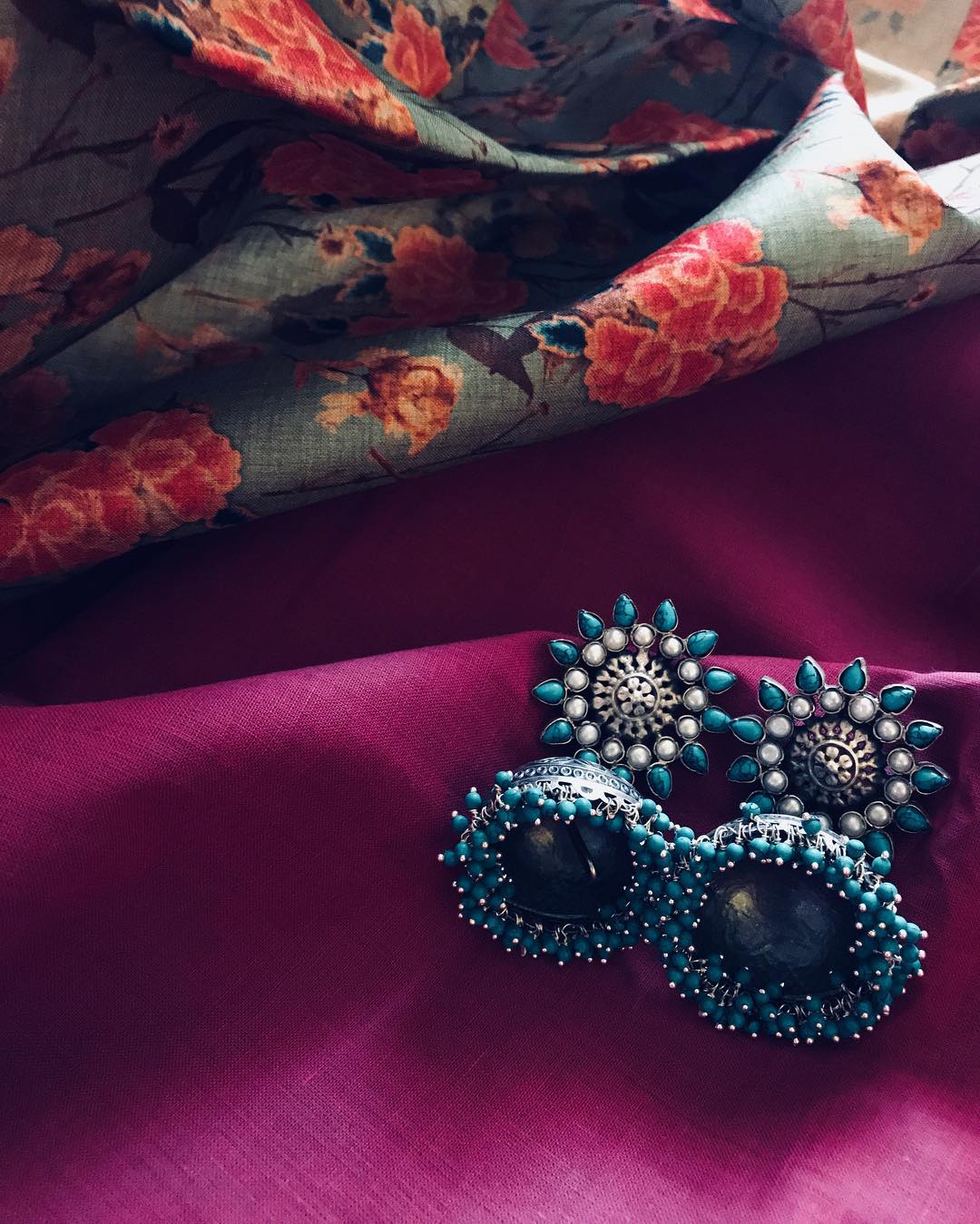 Circular and Cylindrical Earrings:
These circular and cylindrical shaped earrings are the most stylish earrings which will look good any traditional attire you are going to carry. They will go with any colour dress you wish to wear.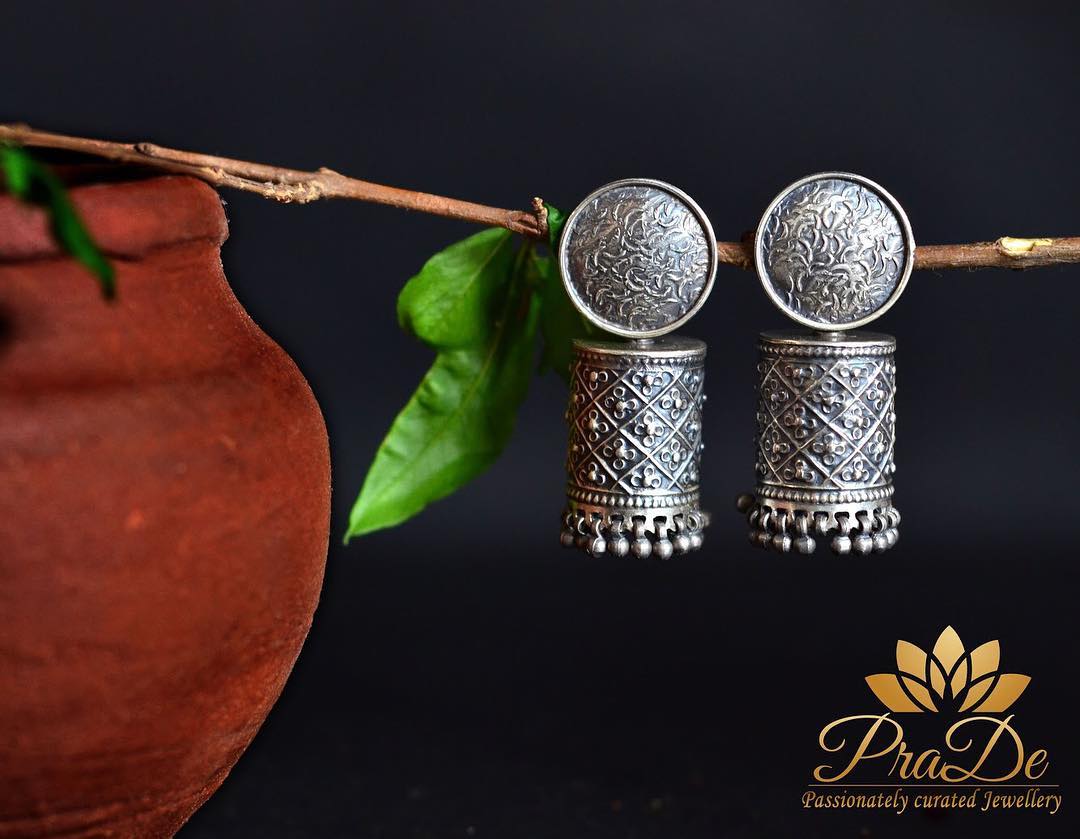 Silver Nose Pins with Pink and Green Stones:
Nose pins compliments the attire and they are so in trend right now.  These pretty nose pins make life easier and without getting your nose pierced you can wear them.
These small silver nose pins with pink and green stones will look go well with ethnic dresses and silk sarees and preferably pink and green colour clothes.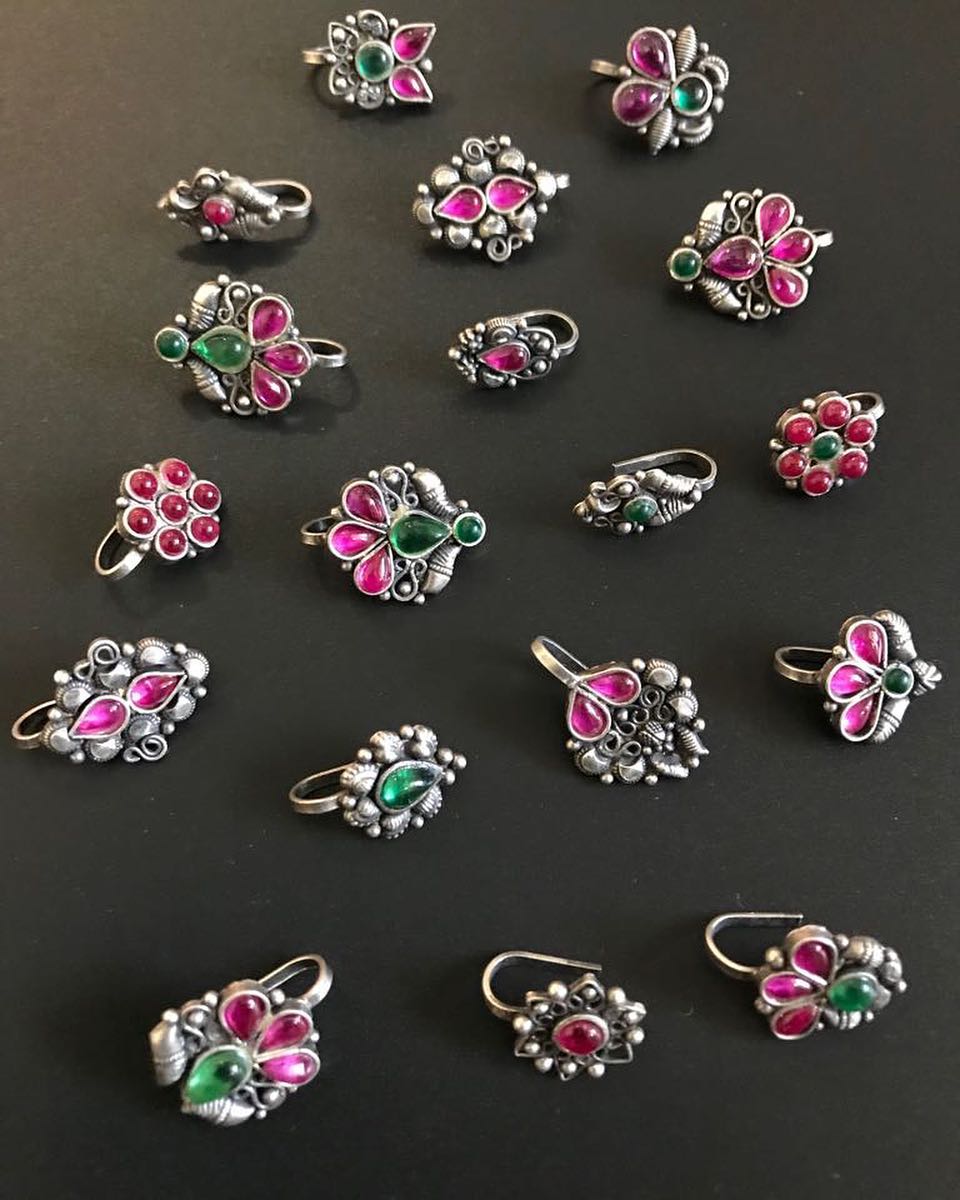 Multi Colour Neckpiece and Earrings:
The neckpiece and earrings will go well with traditional outfits and will look the best with sarees. It will give an essence of richness and a subtle look.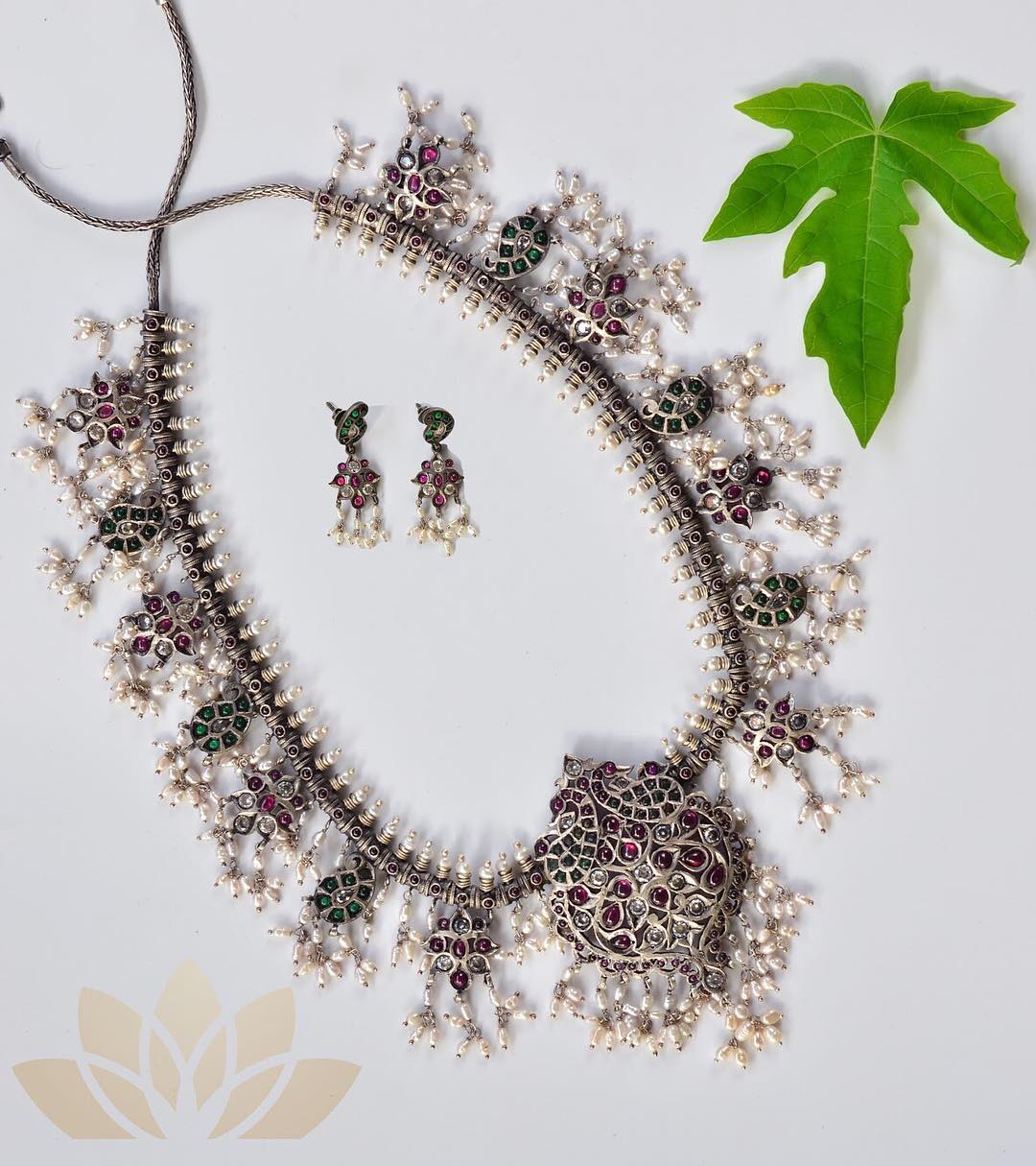 Peacock Cut and Semi Circular Jhumka:
The peacock cut gave an edge to the jhumka making it look much more beautiful. The silver peacock cut and circular jhumka will look good on any colour of ethnic outfit that one desires to carry.
Silver Peacock Cut Earrings:
Peacock symbolises affluence and brings out perfection and style. You can pair this up with each traditional attire and dresses without to worry about the colour combination.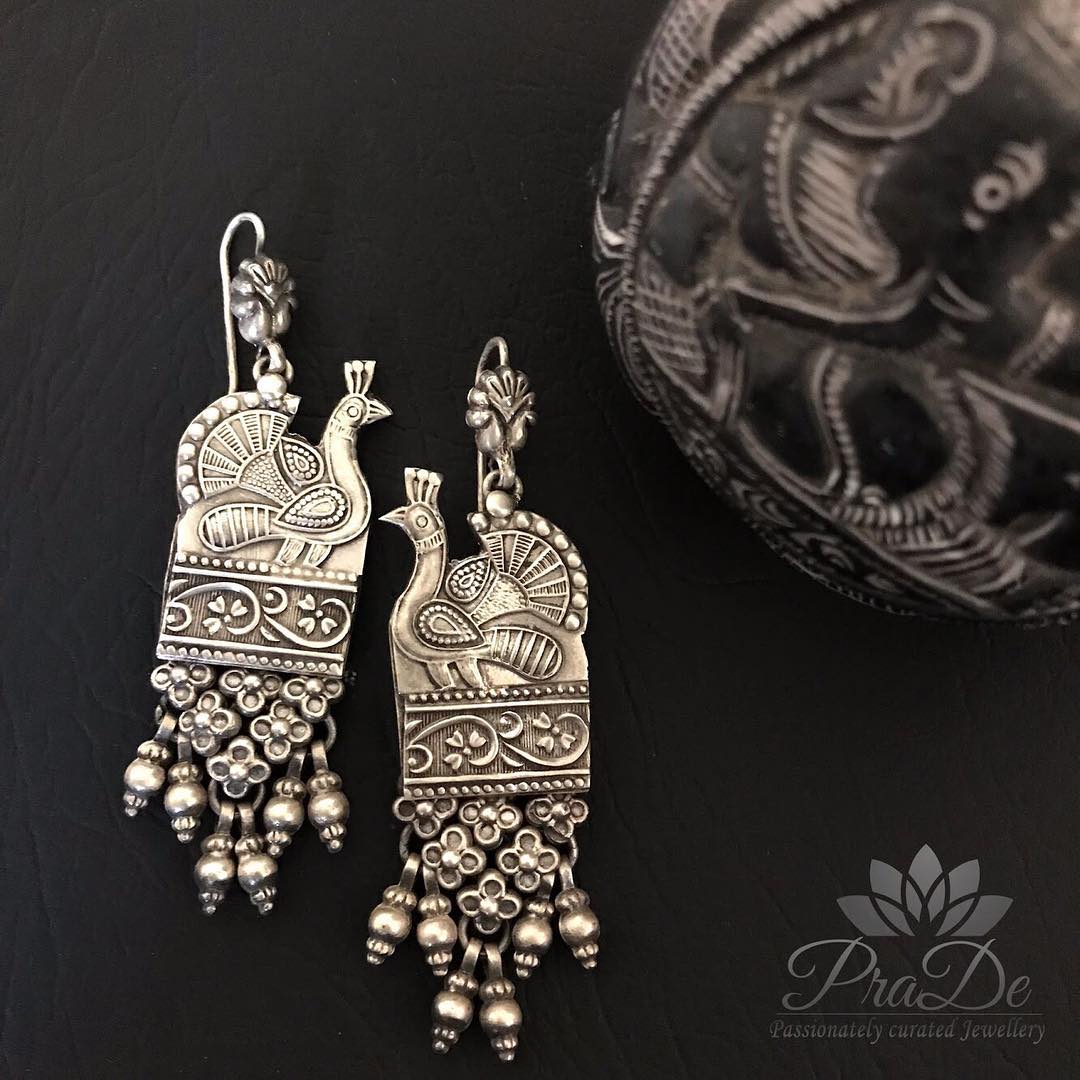 Pink Toned Ear Cuffs:
These silver pink toned ear cuffs look beautiful and luring. They will go well with Indian threads and will make you look gorgeous. They are perfectly made out.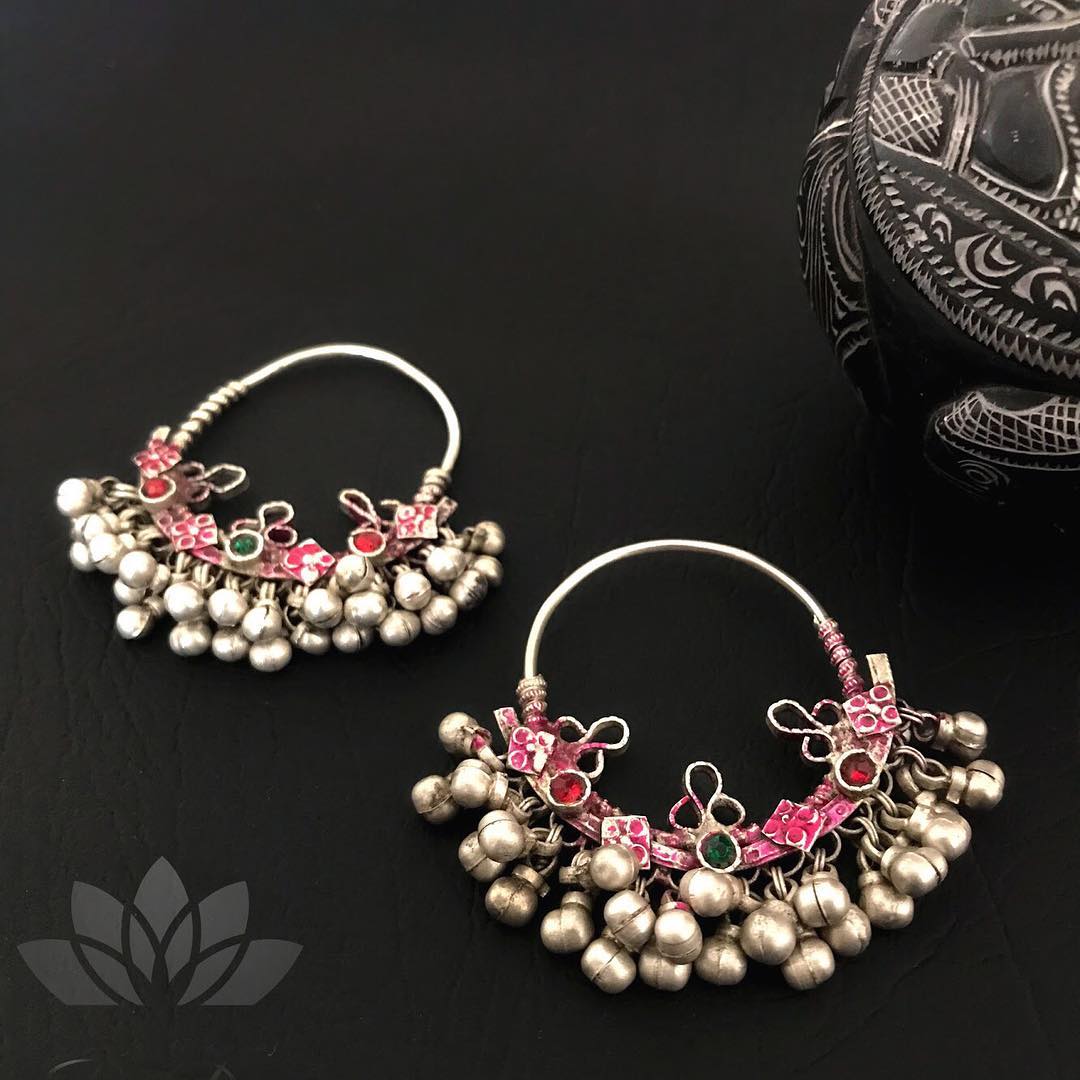 Antique Silver Stylish Earrings:
These are one of the most different and stylish earrings. The bottom design of a web look makes it more attractive. The earrings will look amazing when paired up with maroon or black colour apparels.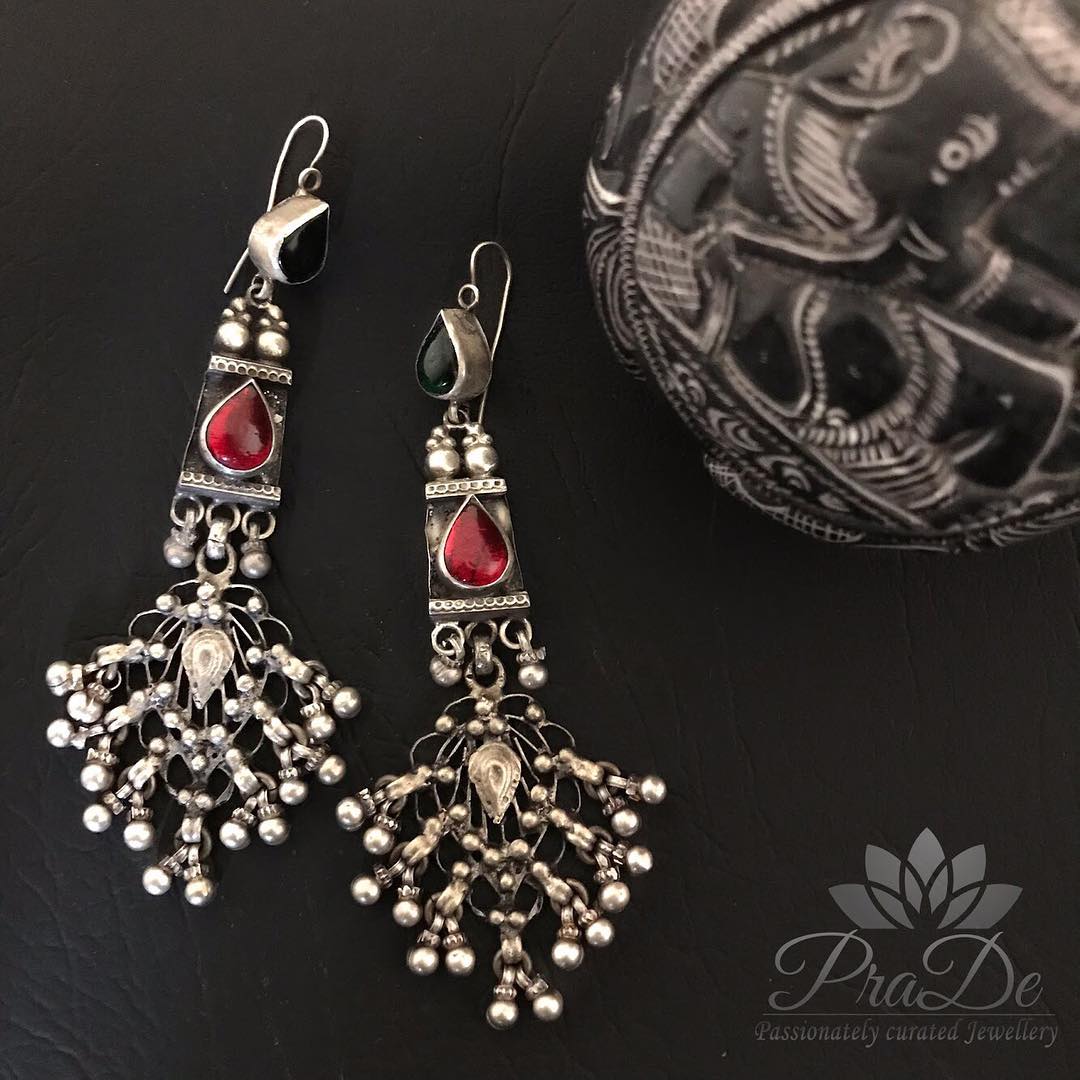 Silver Geometrical Shaped Earrings:
These peculiar geometrical shaped earrings stand out for themselves. They are eye catching and attractive piece. These antique silver earrings have triangular at the bottom giving it a new and refreshing look. These silver earrings can be paired up with ethnic dresses, kurtis and simple sarees.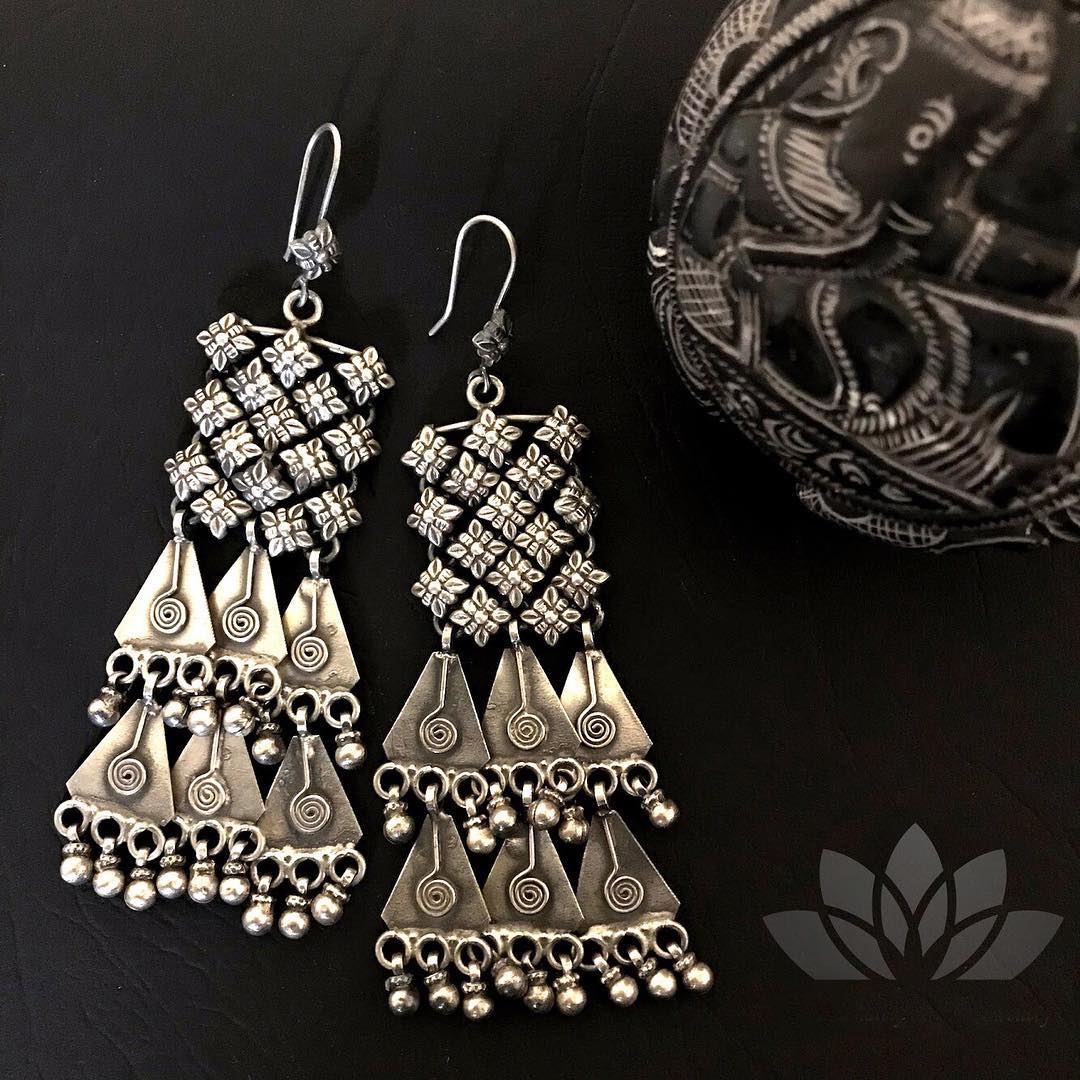 Two Tier Earrings:
The first tier of the silver earrings has Ganesh engraved in it making is traditional and pleasant. The second tier has semi-circular cut and is very beautiful. These silver two tier earrings can be worn with ethnic outfits.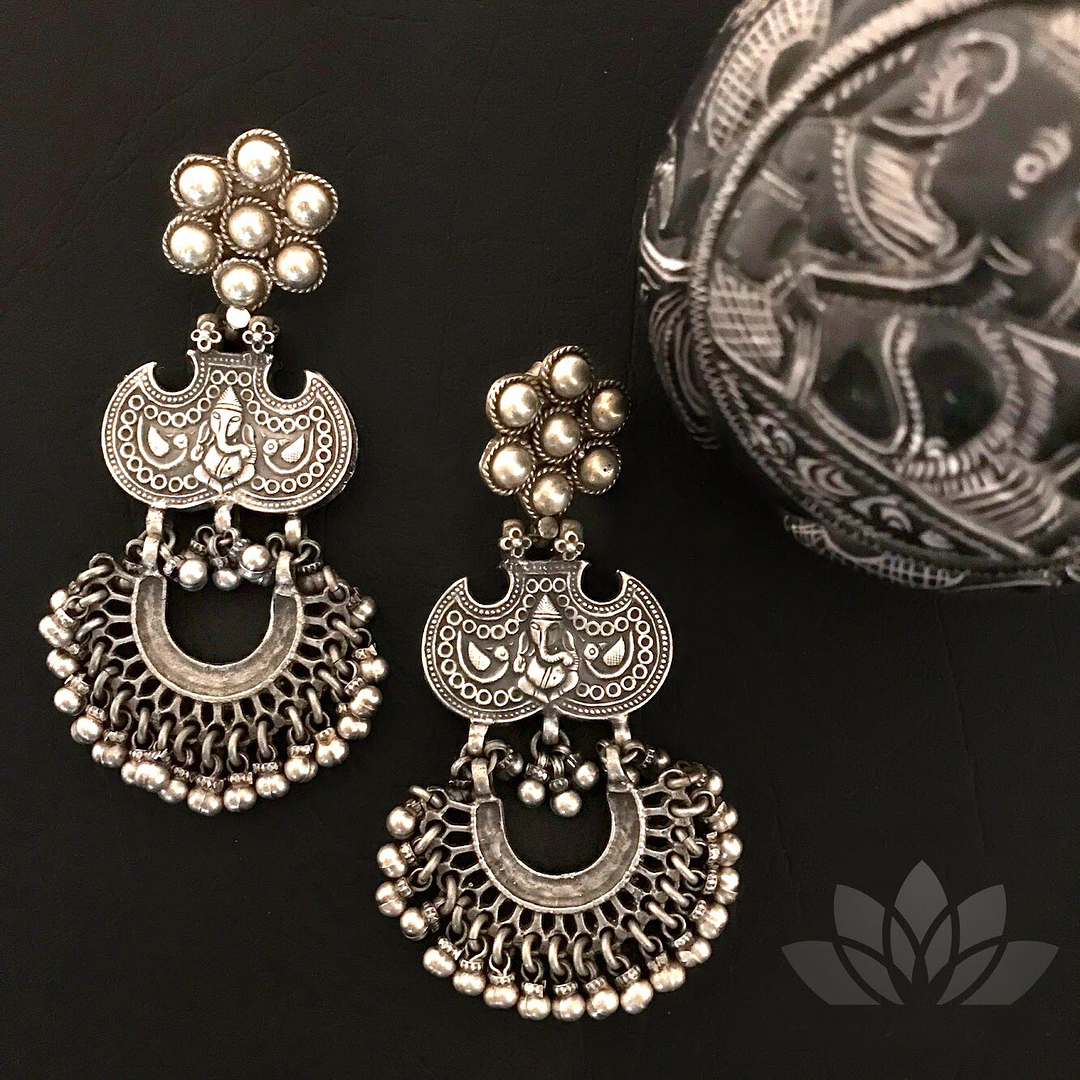 Silver Pink Stone Neckpiece:
This silver pink stone neckpiece looks very charming. The neckpiece will look magnificent when paired up with any attire. It will go well with western outfits as well as traditional clothes.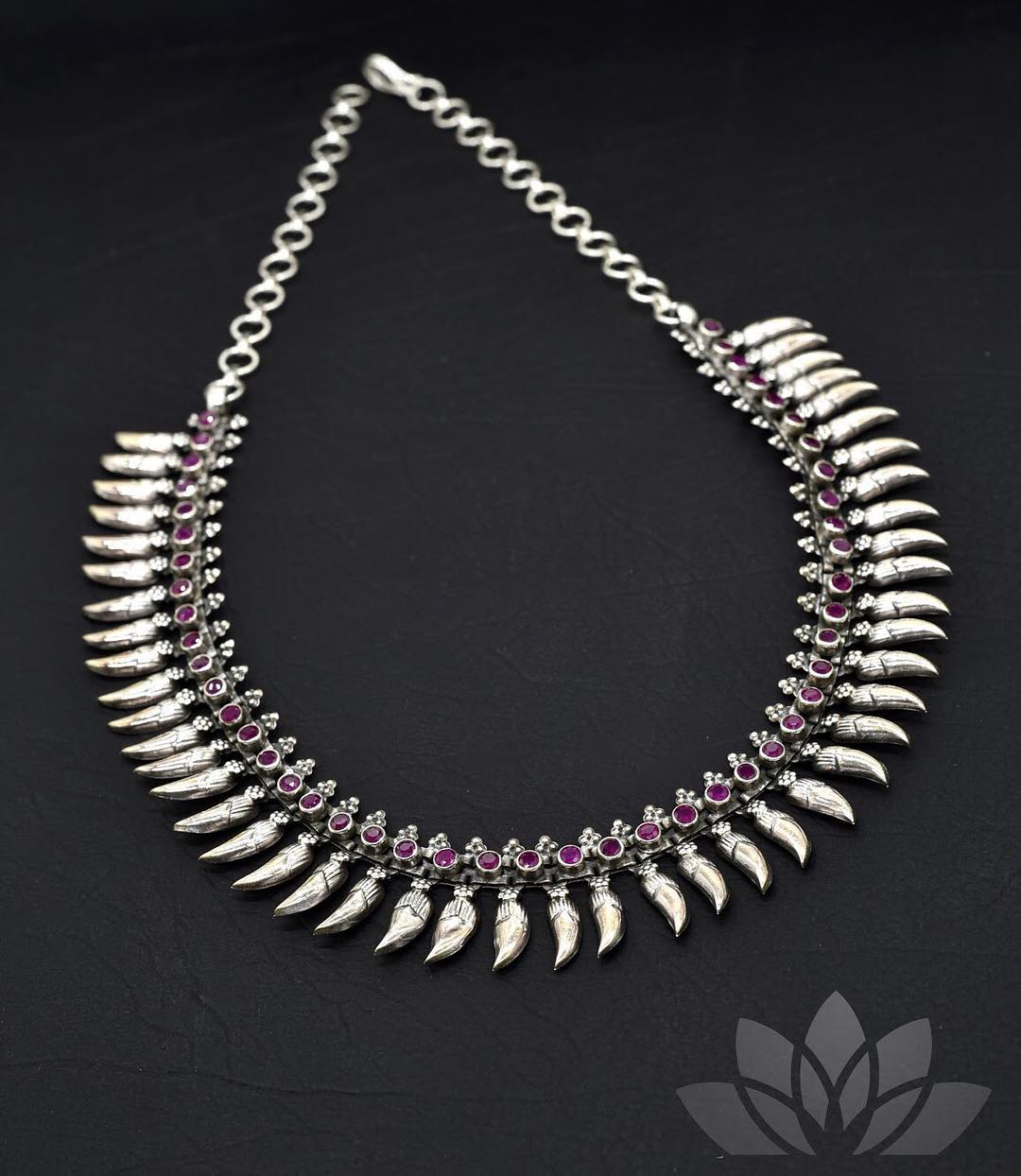 Antique Silver Necklace:
The silver necklace is a subtle and beautiful piece. The necklace will go well with any ethnic apparel and will look most attractive with subtle colours. It has an engaging look.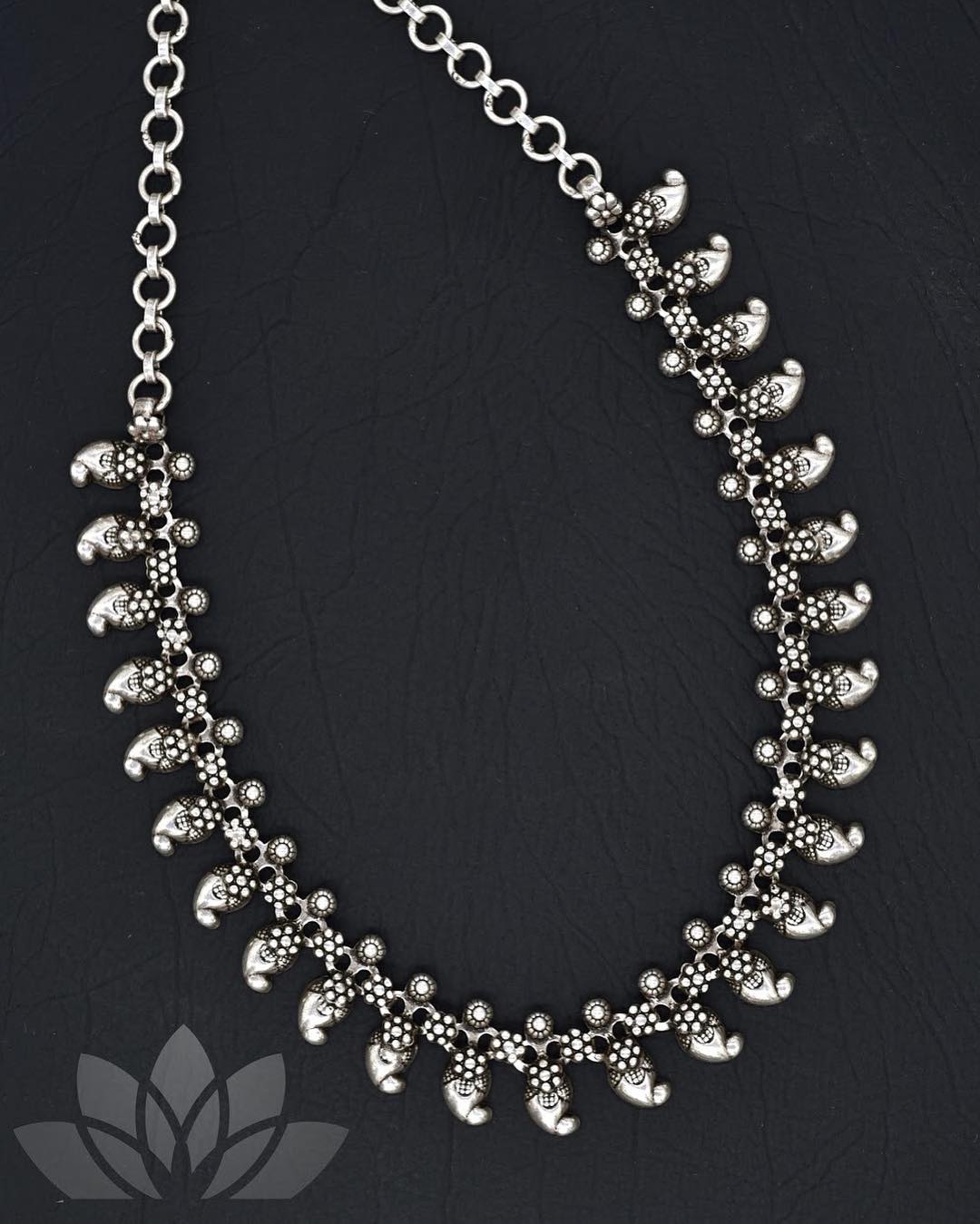 Blue Circular Jhumka:
These silver blue circular jhumkas are lovely pieces. These look beautiful and can be paired up with traditional clothes and preferably blue colour clothes.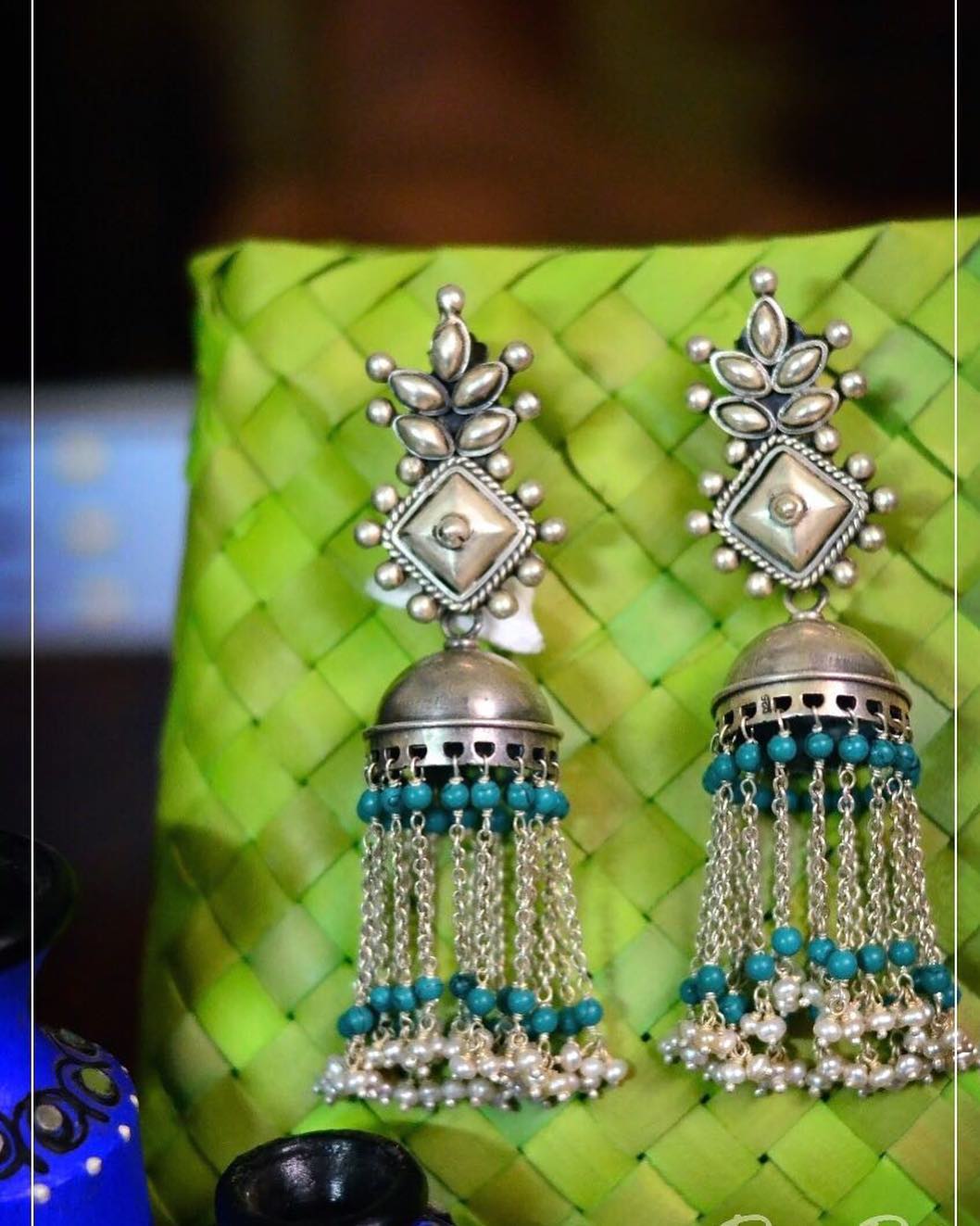 Silver Purple Stone Neckpiece:
This silver purple stone neckpiece is alluring to the eyes of everyone. The purple stones are there in the shape of flower. The neckpiece will look great when paired with sarees and especially silk sarees.
Silver Multicolour Stone Necklace:
This multicolour stone necklace has tusk shaped white stones which looks attractive. The mint blue coloured stones are beautiful and a rare colour as well. The necklace in total looks very gorgeous. When paired with traditional outfits, it looks amazing and lovely.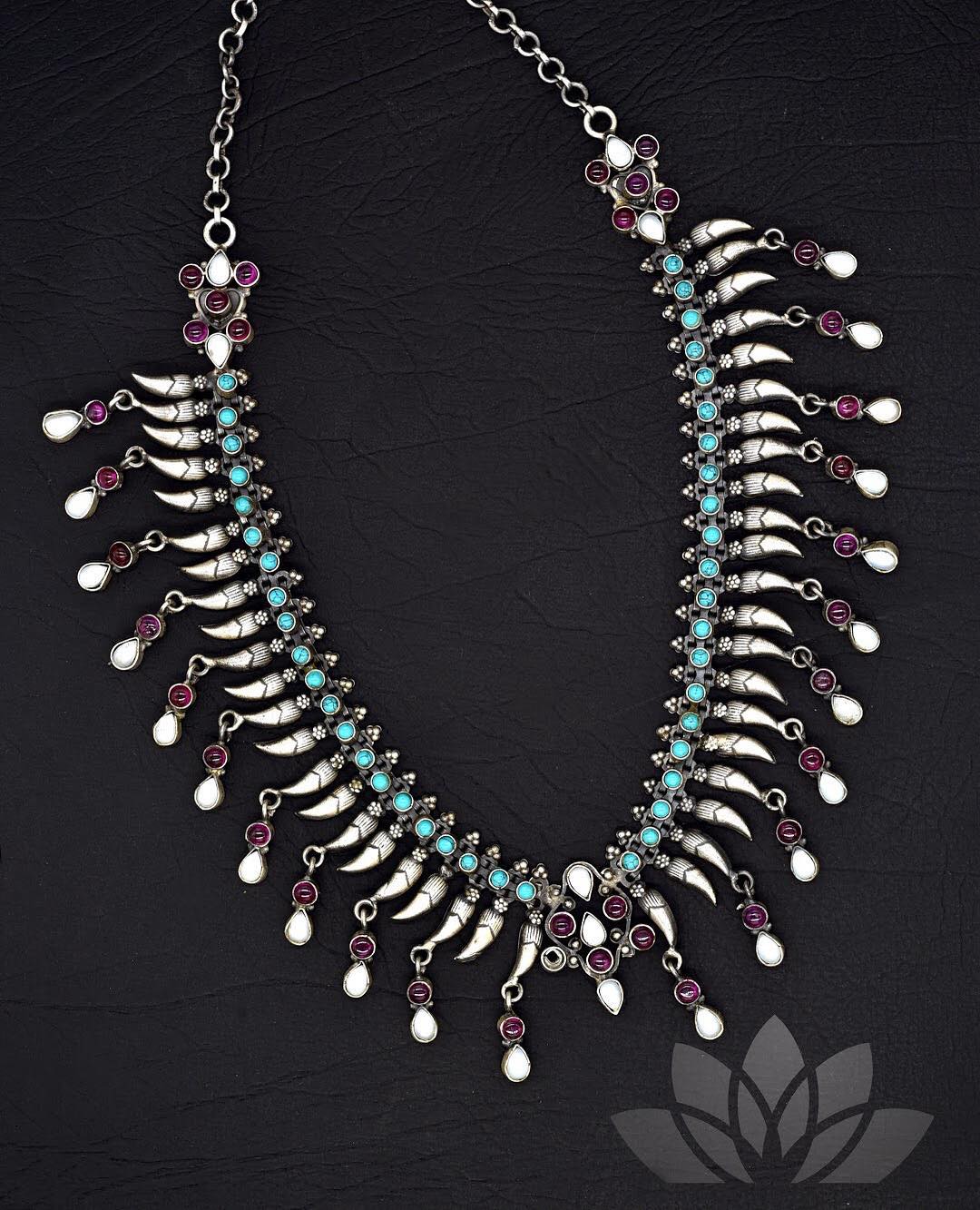 Antique Silver Pink Stone Jhumka:
These antique silver jhumka's are very beautiful and charming. These jhumka's never goes out of style and are always special. These silver pink stone jhumka will look best when paired with ethnic apparels and especially magenta coloured clothes.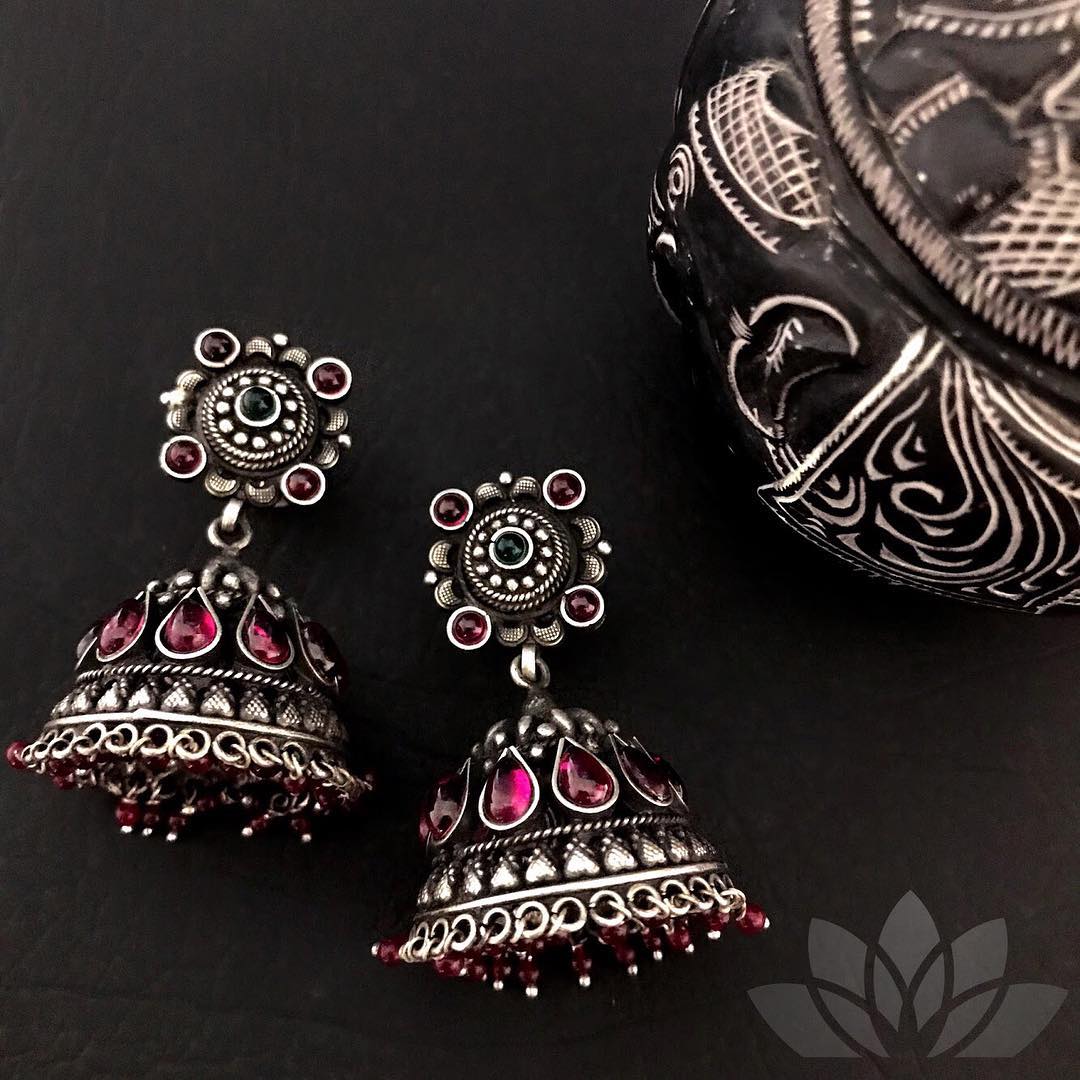 Antique Silver Purple Stone Neckpiece:
This purple stone neckpiece is very beautiful. It looks traditional as well as western. The neckpiece is antique and magnificent. This silver purple stone neckpiece will go well with both traditional and western clothing.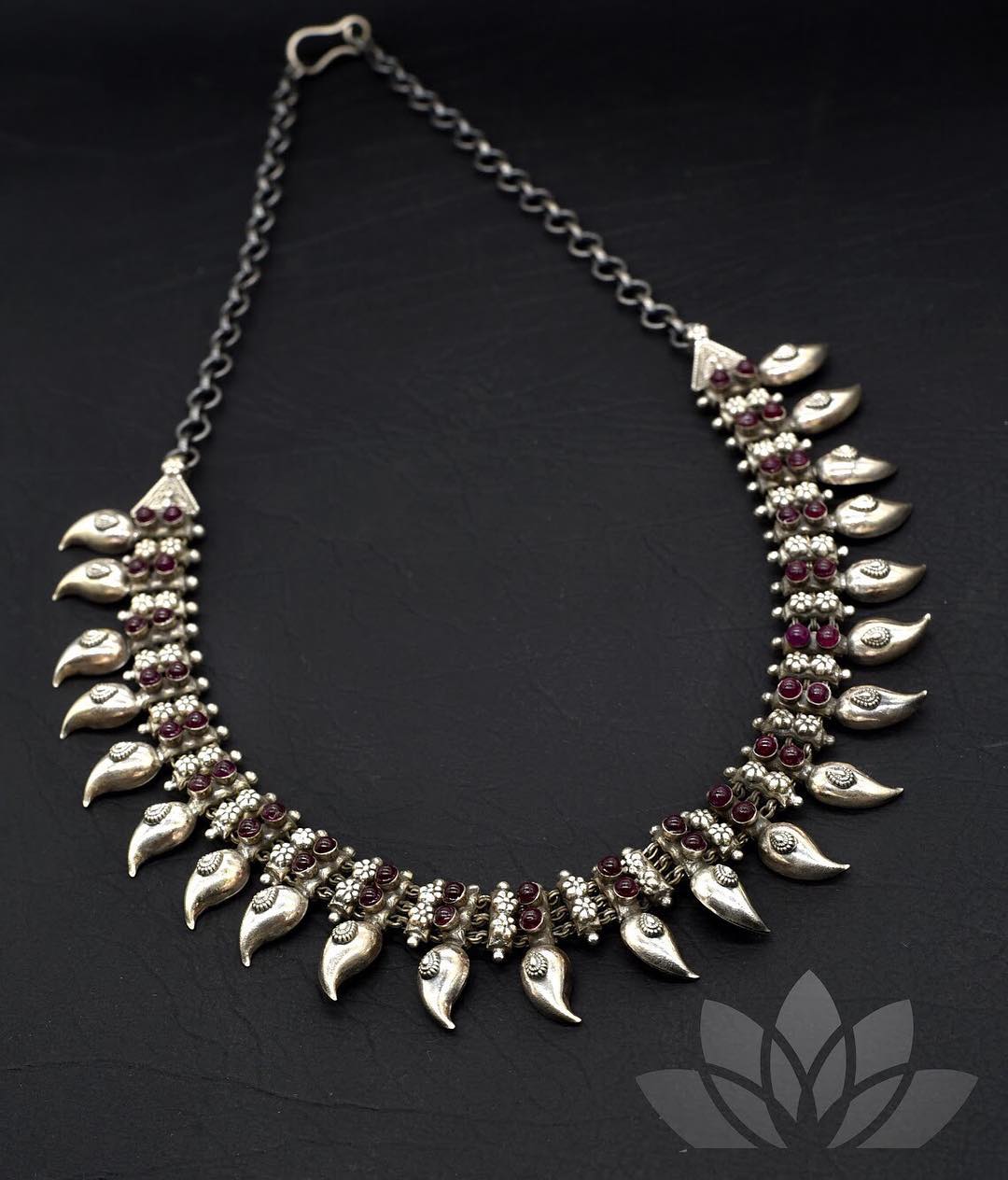 Antique Silver Red Circular Jhumka:
These silver red circular jhumka are an evergreen looking pair of Jhumka. They look eye catching and very attractive. The coral stones elevates the grace of this Jhumka. They will look amazing when paired with ethnic apparels and especially red colour outfits.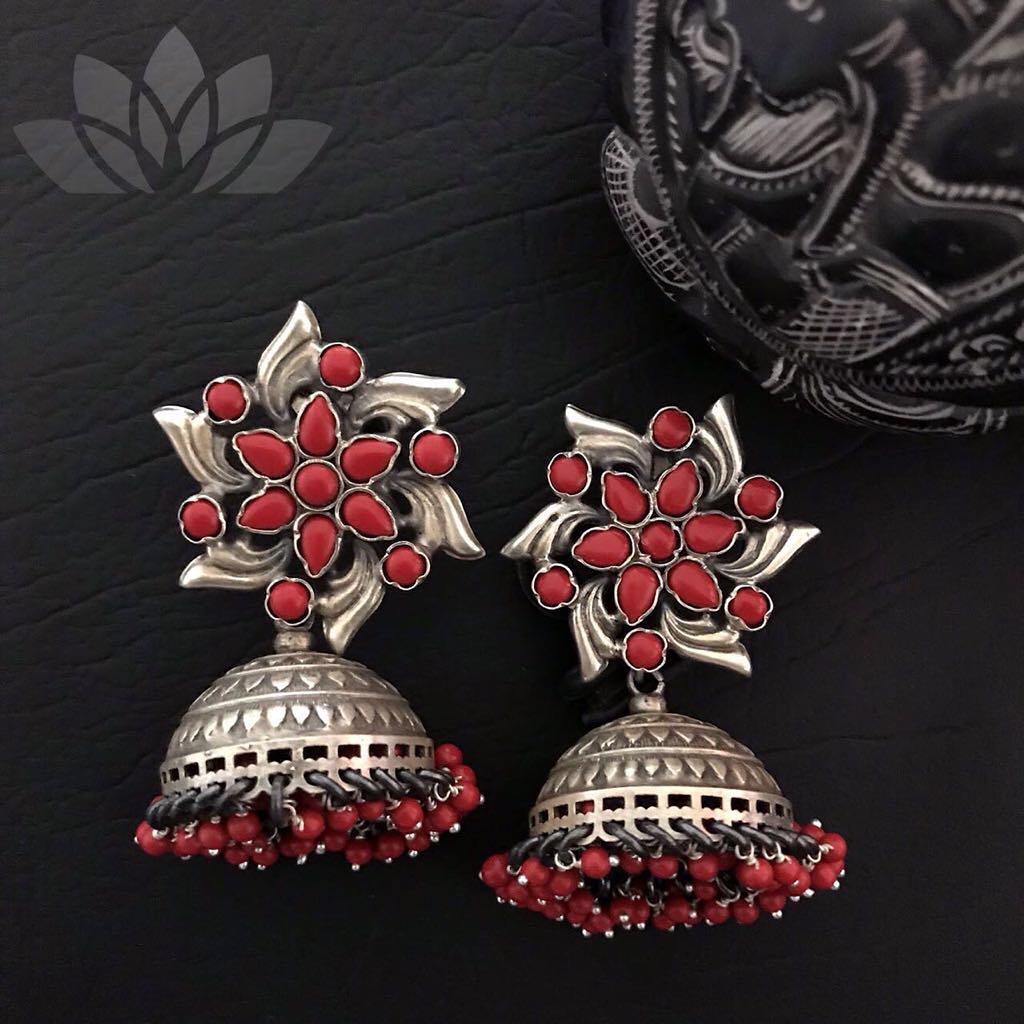 Silver Stylised Earrings:
These earrings have a unique shape and they look enticing to the eyes. The different shape and style of the earrings looks the best and makes is outshine. These earrings will complement each outfit whether ethnic or western.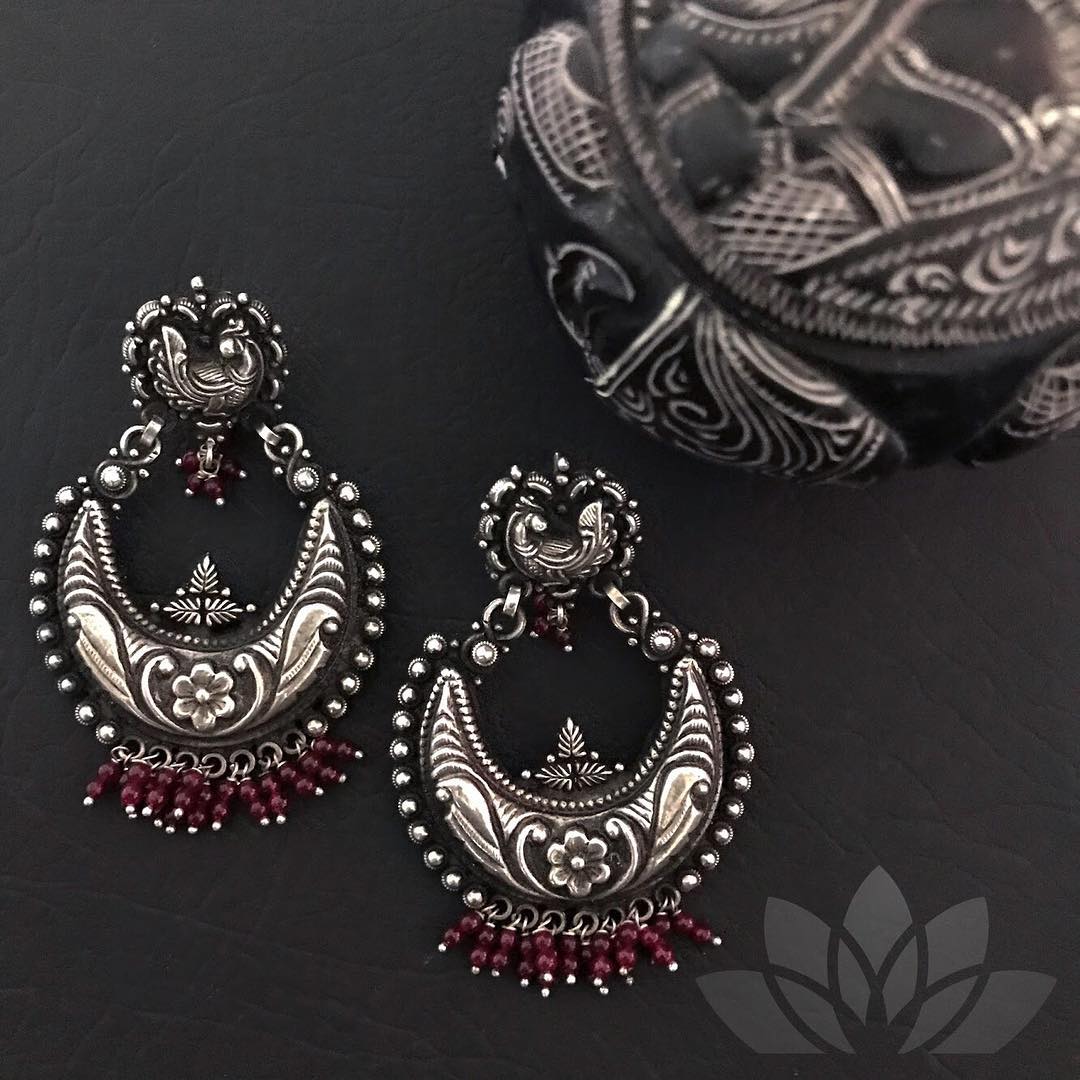 Silver Burgundy Stone Earrings:
Burgundy colour is hitting the market and everyone wants to own atleast one burgundy outfit for themselves. These are beautifully carved out and have a special shape. They are beautiful and pleasant looking. They will go with both the western dresses and Indian clothing as well.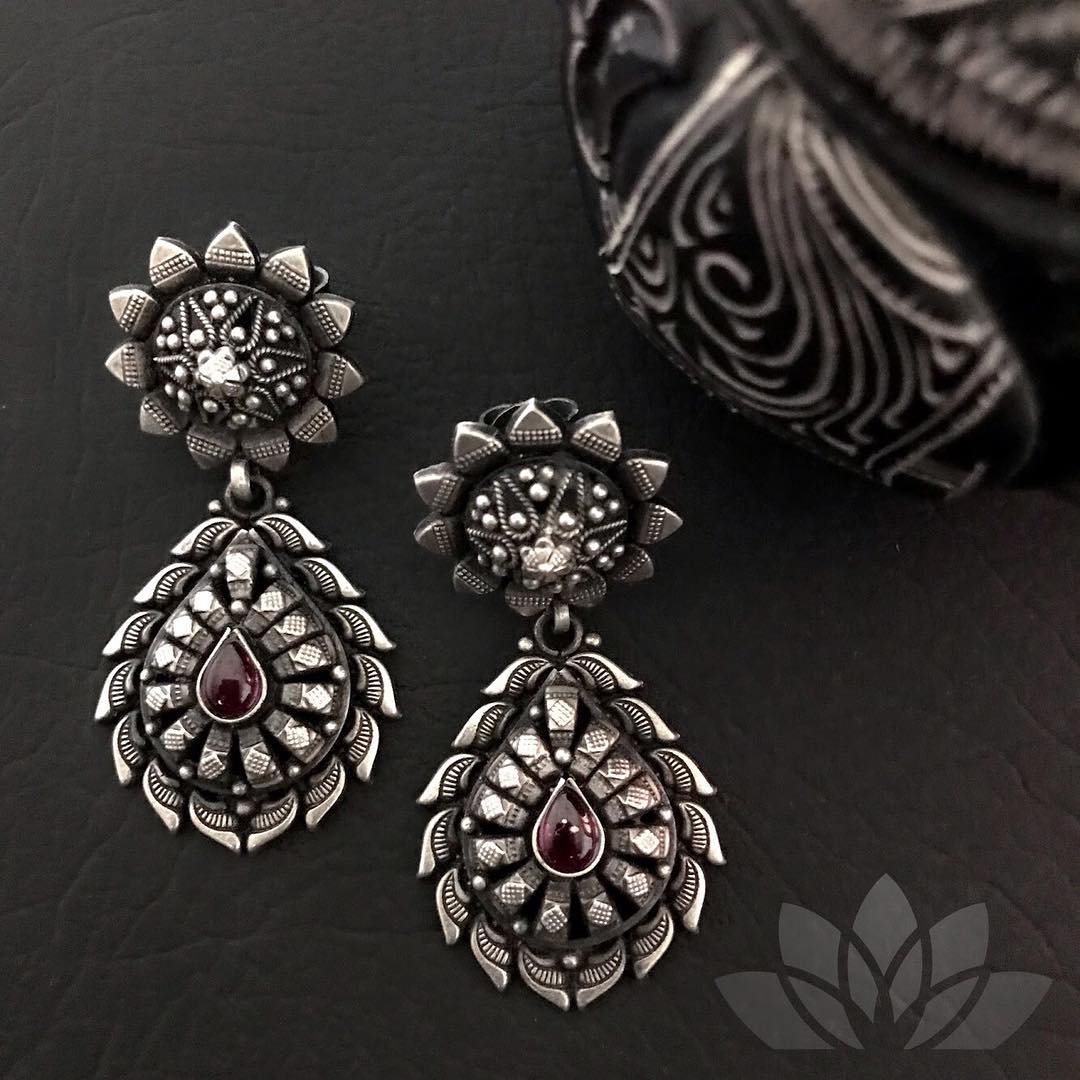 Circular Pink and Green Earrings:
This is a very simple yet affluent looking pair of earrings. The combination of pink and green is very beautiful. These pair of earring will look good with traditional outfits and preferably pink and green colour dresses.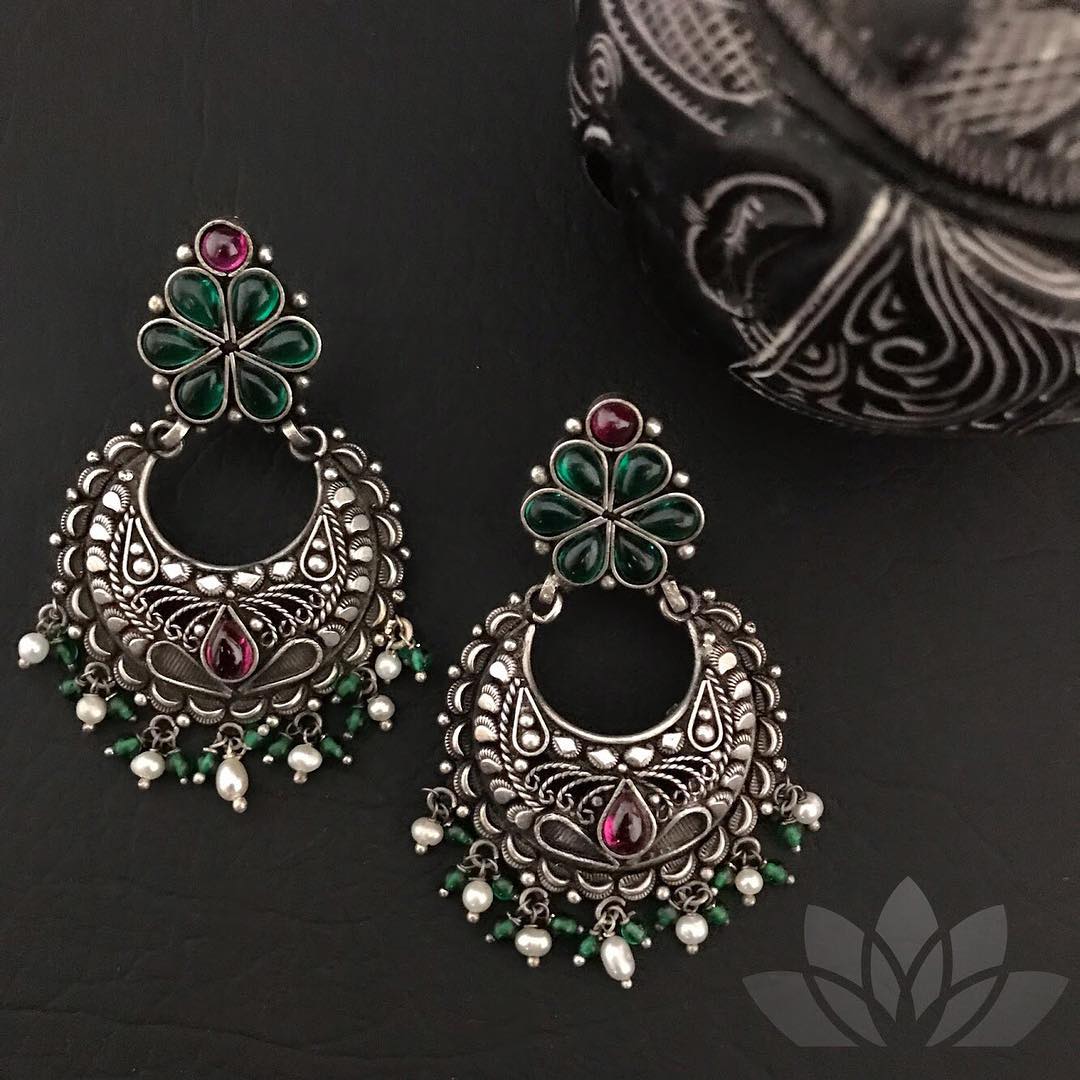 Earrings and Neckpieces are the most essential accessories for one's look. A simple kurti or suit can get an attractive through accessioning it with earrings or neckpieces. Antique silver jewellery cannot go out of style and always looks good on everyone. These were one of the most exciting more than twenty antique jewellery pieces one can admire.
Also Read :