Without a perfect necklace on your neck that complements your overall appearance, your outfit feels and looks incomplete. Style up your wardrobe with the gold layered necklace designs if you are not sure what to wear with your outfit.  You can wear them with other accessories of your choice and mix patterns to find out what looks better on you.
Mix and match the layered necklace designs around your dresses and come up with a variety of cool and creative looks. Try out innovative ideas while dressing up with lovely gold layered necklaces and be amazed at the excellent and wonderful neck jewelry pieces. Let yourself explore the various options of necklace designs and select the one that catches your attention.
You can check out the exquisite twenty irresistible gold layered necklace designs and make your own style and fashion statement wherever you plan to go. Unleash the fashion pro inside you and don't hesitate to go through each and every option available for you to consider while you are making your own mind to decide which ones to buy.
 Multilayer Beaded Chain Necklace
This piece of jewelry can enhance your beauty and style. Multilayer beaded chain necklace looks great on the neck and boosts the overall look. You can wear it to meet your friends, go to malls and attend parties.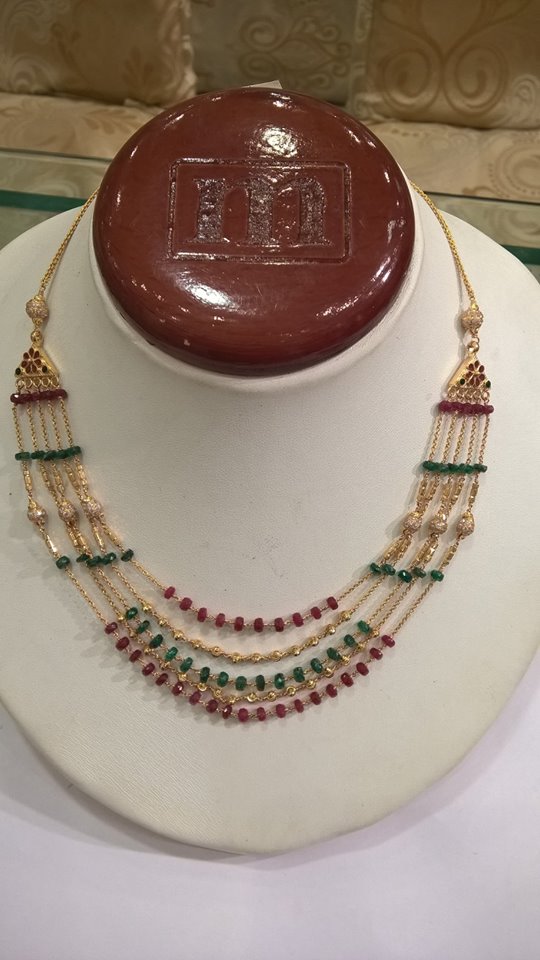 Layered Necklace With Stone Hangings
Layered necklace with stone hangings looks lovely and amazing. Its appearance looks simple and delicate. It is a good piece of jewelry to wear and completes the whole look of your outfit.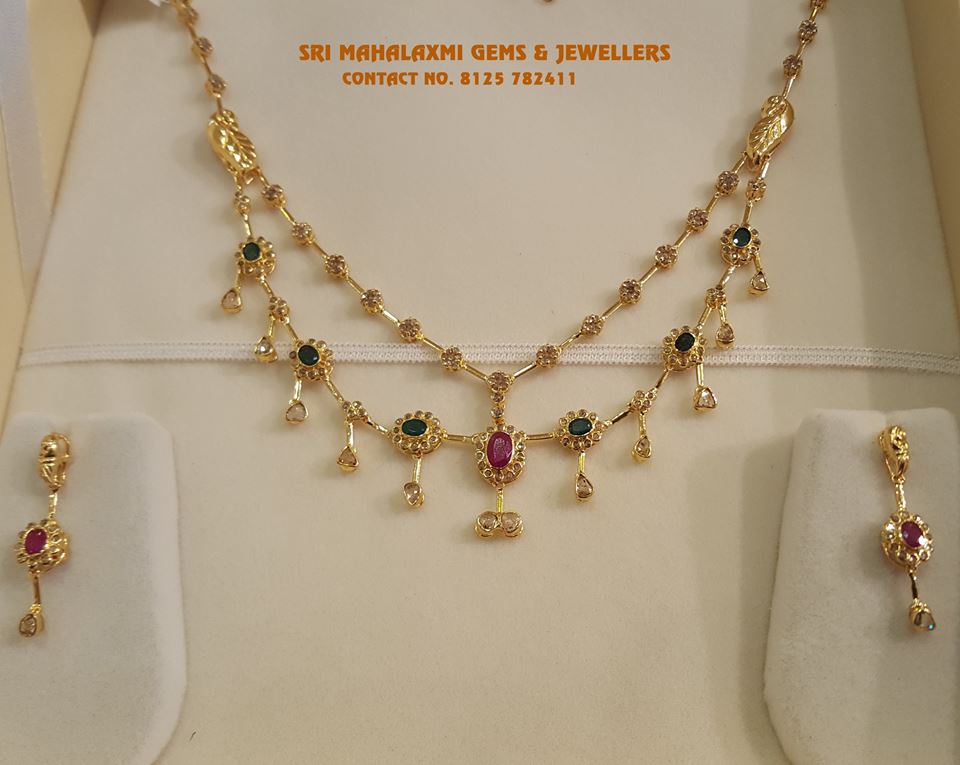 Bold Stone Necklace With Side Locket
Acquire the bold stone necklace with side locket and give yourself the desired appearance you have been dreaming of. The side locket in the necklace offers it a cool look on you.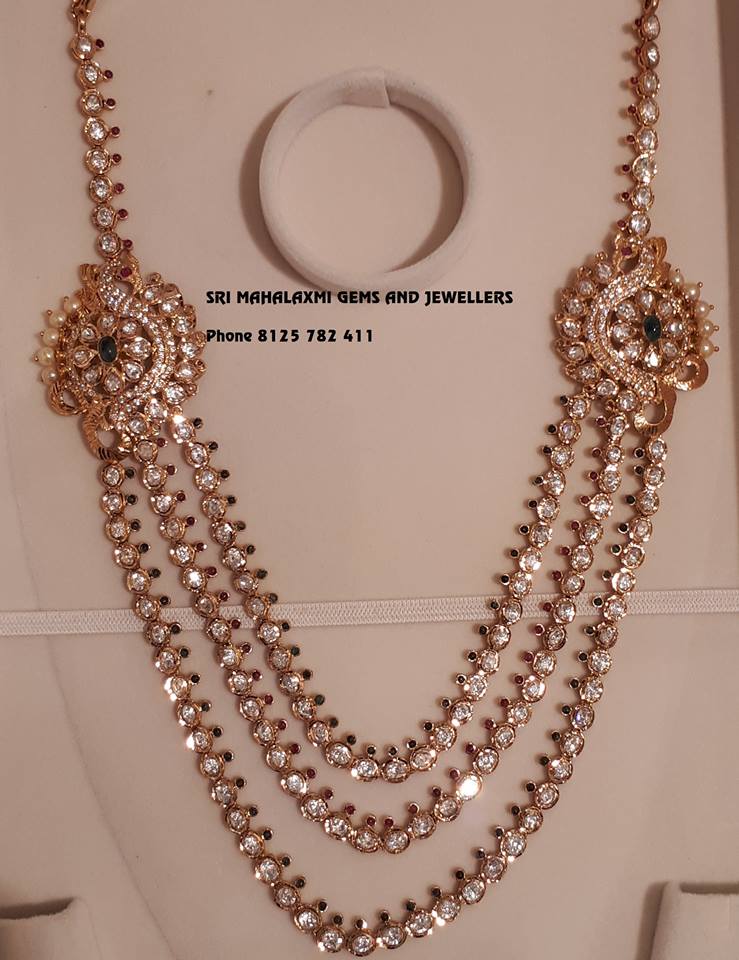 Layered CZ Stone Necklace
This layered CZ stone necklace is a very delicate and light weighted jewelry piece for ladies and girls to wear. You can wear it more frequently if you want during festivals, at home and any other place.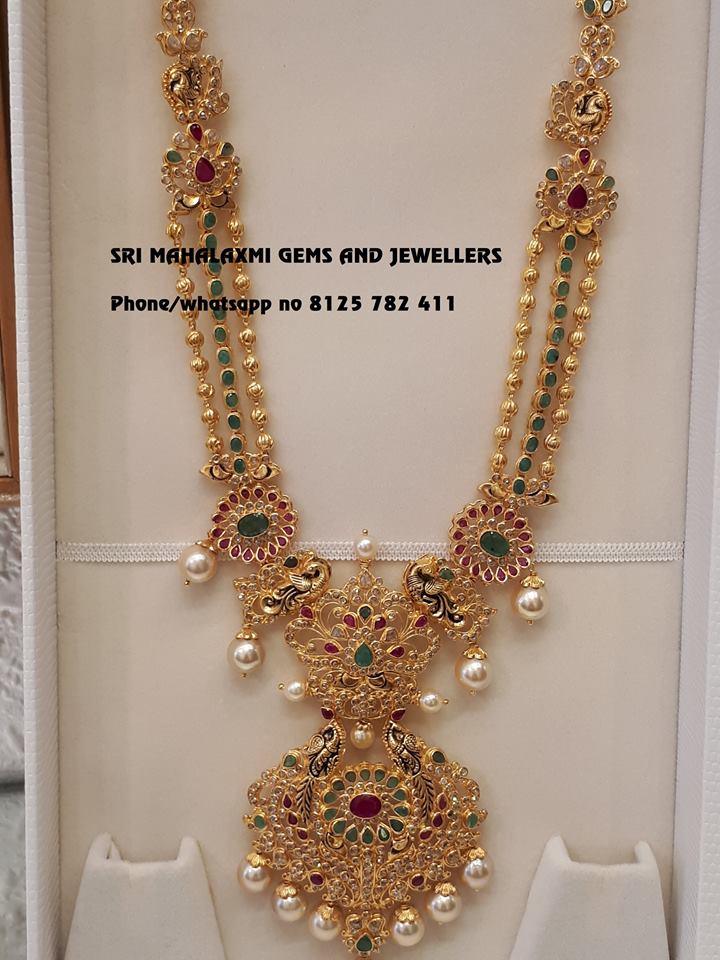 Short Two Layered Necklace Set
Enjoy the captivating and outstanding look and feel of wearing gold neck piece with the short two layered necklace set. You can mix and match with your dresses before wearing it according to your choice.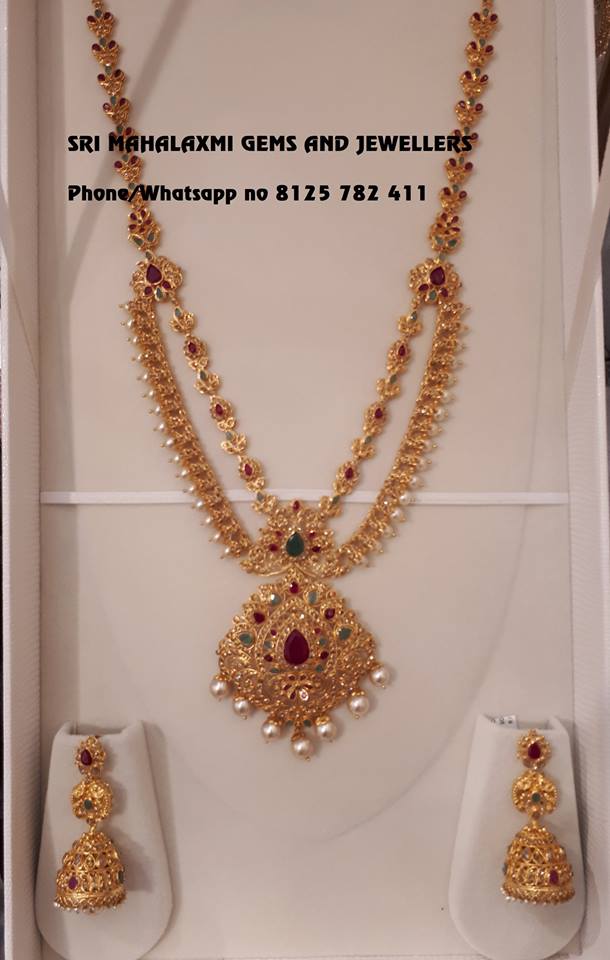 Multilayer Pearl Chain Necklace
Pearl is a popular and most sought-after precious gemstone. Ladies love to wear pearls and enjoy a delicate and ethnic look. The holistic appearance of pearls makes it a choice to wear as a multilayer pearl chain necklace.
 Grand Layered Bridal Necklace
With the glory and elegance of the grand layered bridal necklace, let your wedding day be more special and memorable for you.  Make every moment precious and full of glow radiating around you. Create your own fashion statement and impress everyone at the wedding through wearing this marvelous and pretty layered bridal necklace.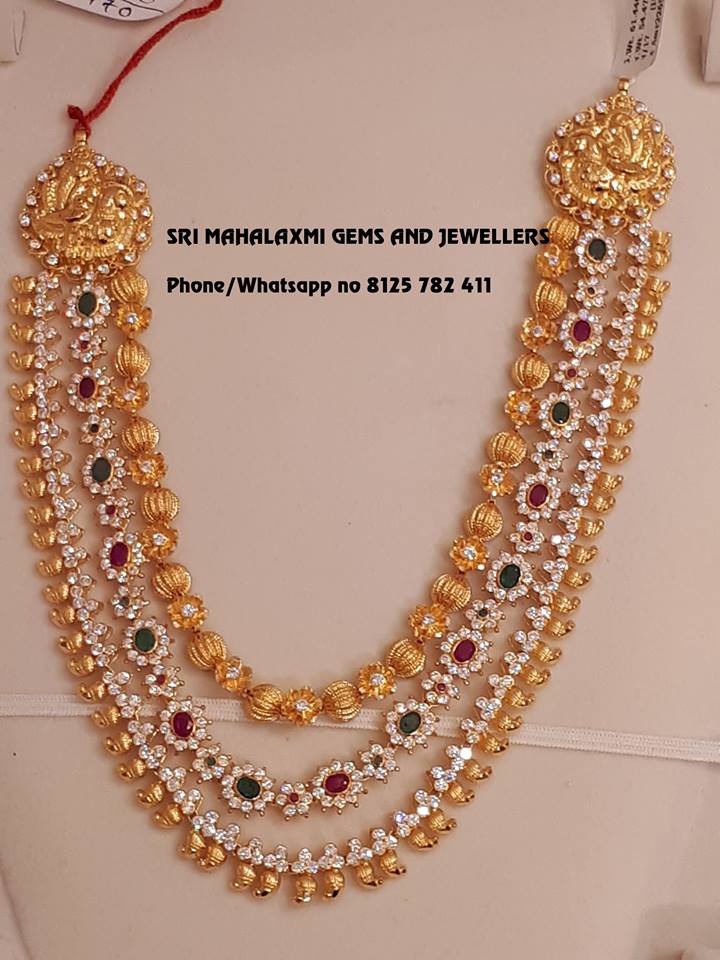 Layered Necklace With Emeralds And Pearls
Give yourself a stylish, wonderful and unique look with

the layered necklace with emeralds and pearls. The emerald and pearl gemstones make this necklace a great choice to wear for ladies.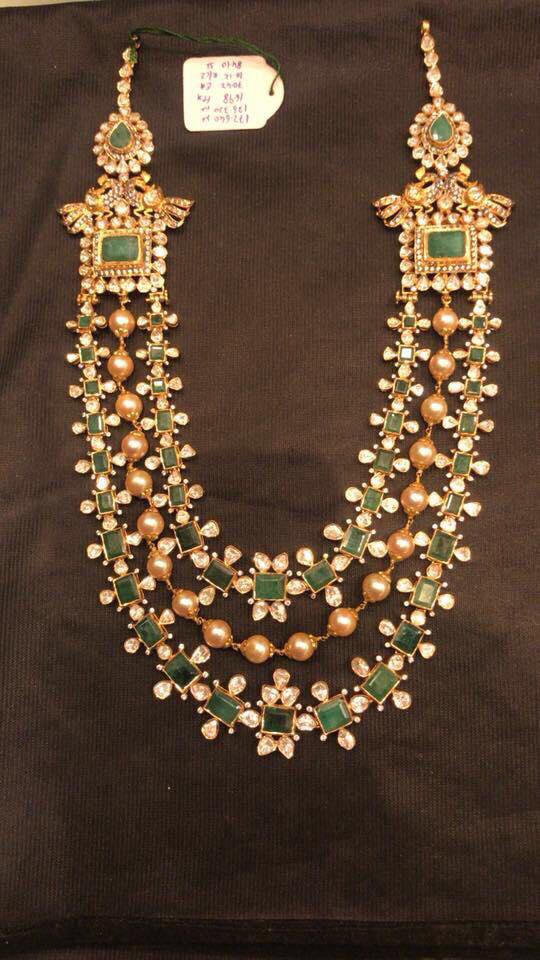 Two Layer Sparking Stone Set
This shiny piece of necklace jewelry can be a good addition to your jewelry collection at home. The two layers sparking stone set can be worn with any traditional outfit.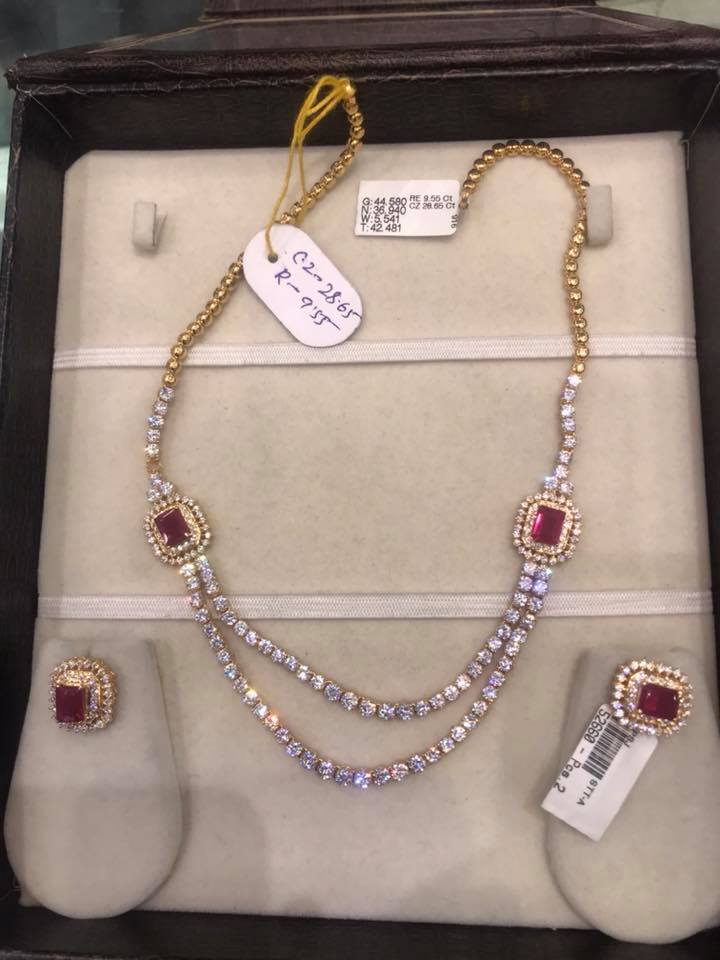 Temple Ruby Necklace Set
If you are a fan of temple jewelry and you own a temple jewelry collection at your house. You would definitely want to bring home this temple ruby necklace set. It is such a charming necklace jewelry piece that your heart will melt instantly to take it with you.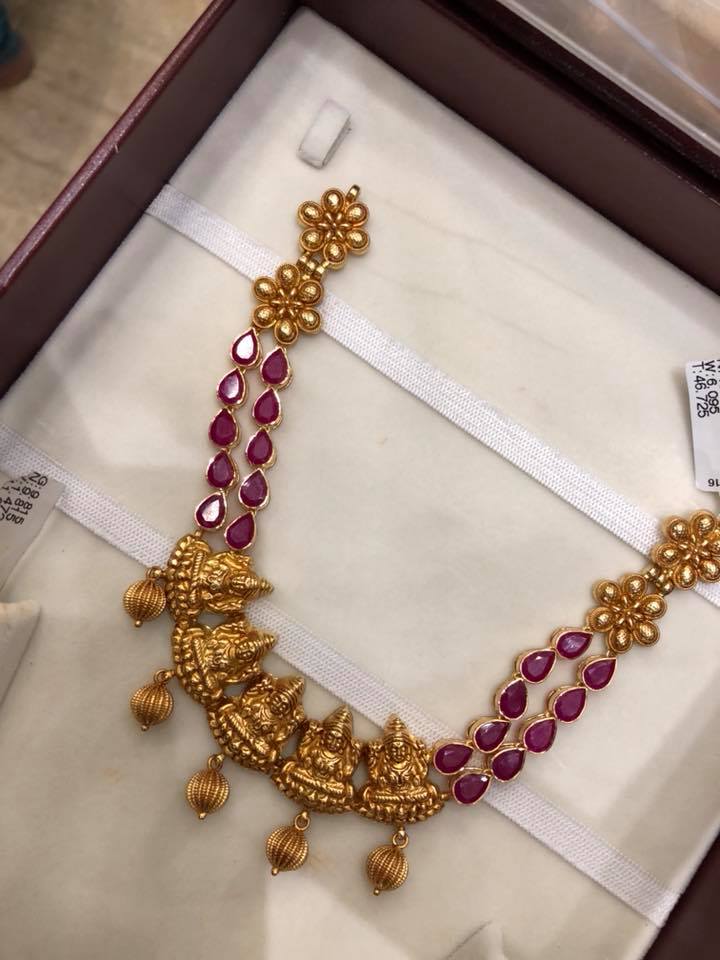 Layered Gemstone Necklace
With colorful and gemstones studded into this jewelry piece, this layered gemstone necklace is a fantastic jewelry that can give you a nice look while you wear it.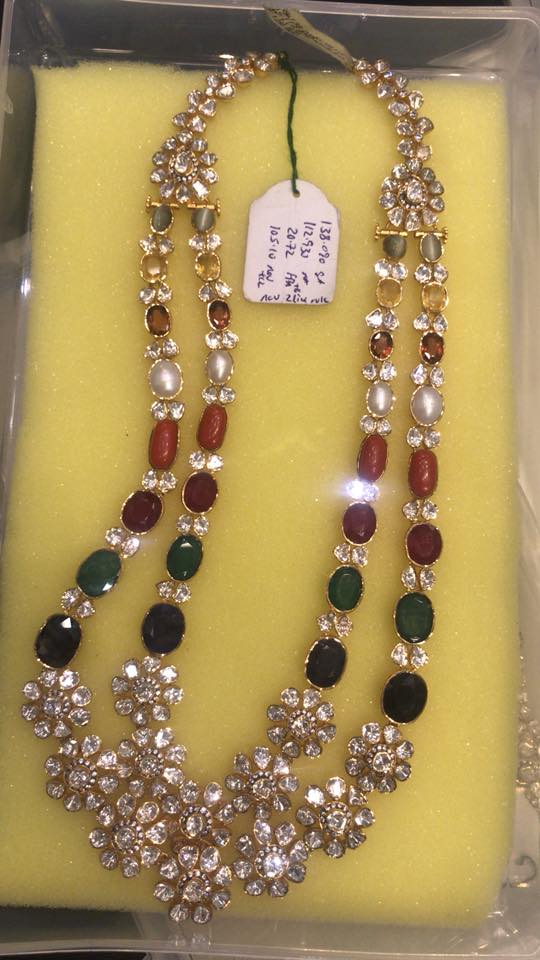 Three Layer Lakshmi Necklace
The designs of Lakshmi and studded Kundan stones on this three-layered necklace, makes it an auspicious piece of jewelry. You can bring it home as an addition to your necklace jewelry collection.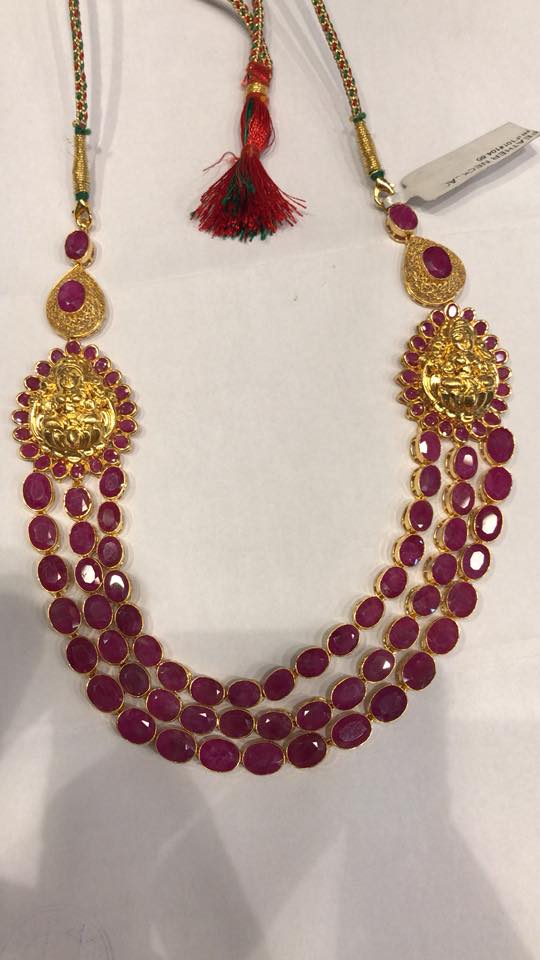 Multilayer Set With Pearls, Rubies And Emeralds
The multilayer set with pearls, rubies, and emeralds can offer you a great, superb, wonderful, and pretty look combined with your stylish and dashing outfit.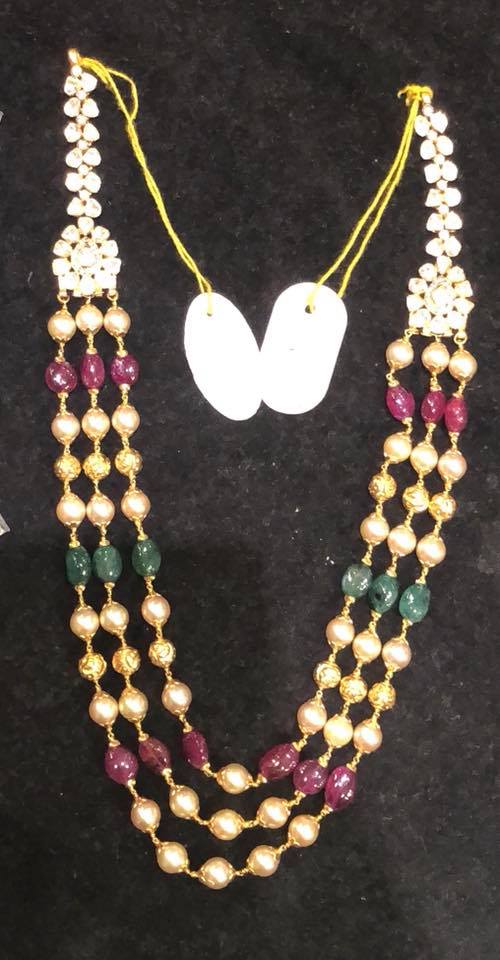 Designer Stone Necklace
If you want to look lovely, beautiful and pretty then this designer stone necklace is a nice choice for you to consider for buying.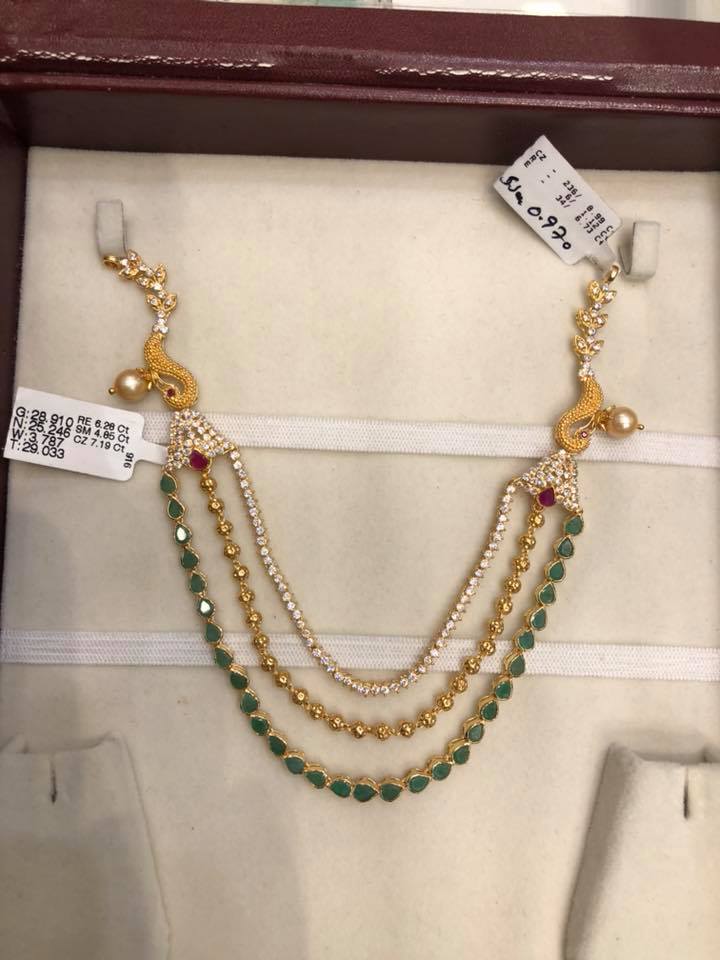 Grand Pearl Haram Necklace
You will definitely fall in love with this grand pearl haram necklace piece. Obtain a magical, delightful and enchanting look with this jewelry piece and wear it with pride and glory.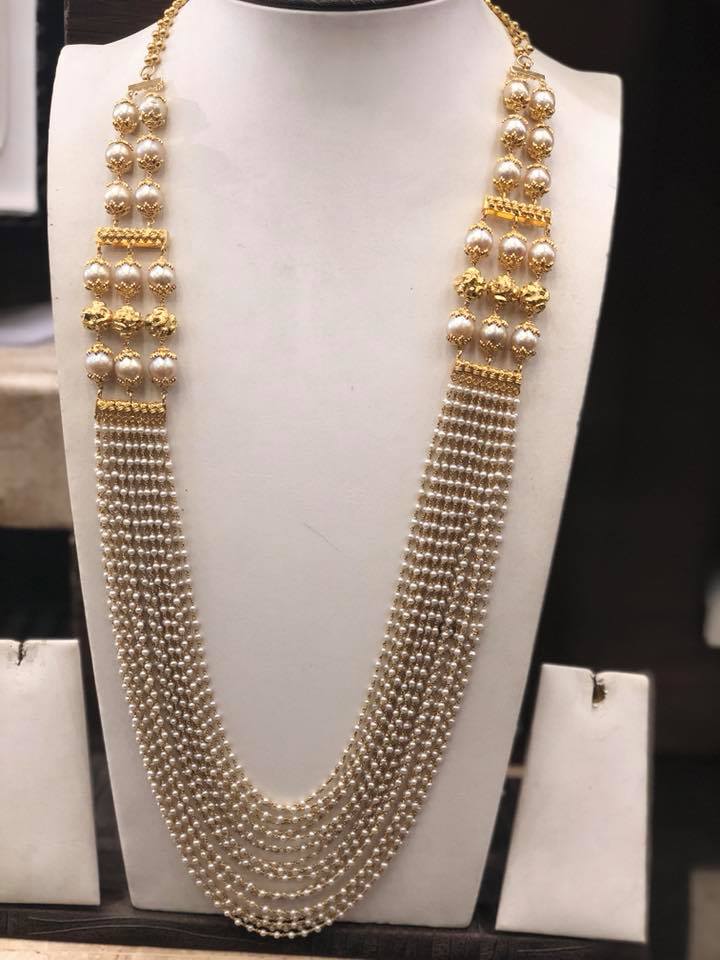 Short Peacock Necklace Set
You can gift or keep this short peacock necklace set with amazing and wonderful peacock designs made on this gold neck jewelry piece.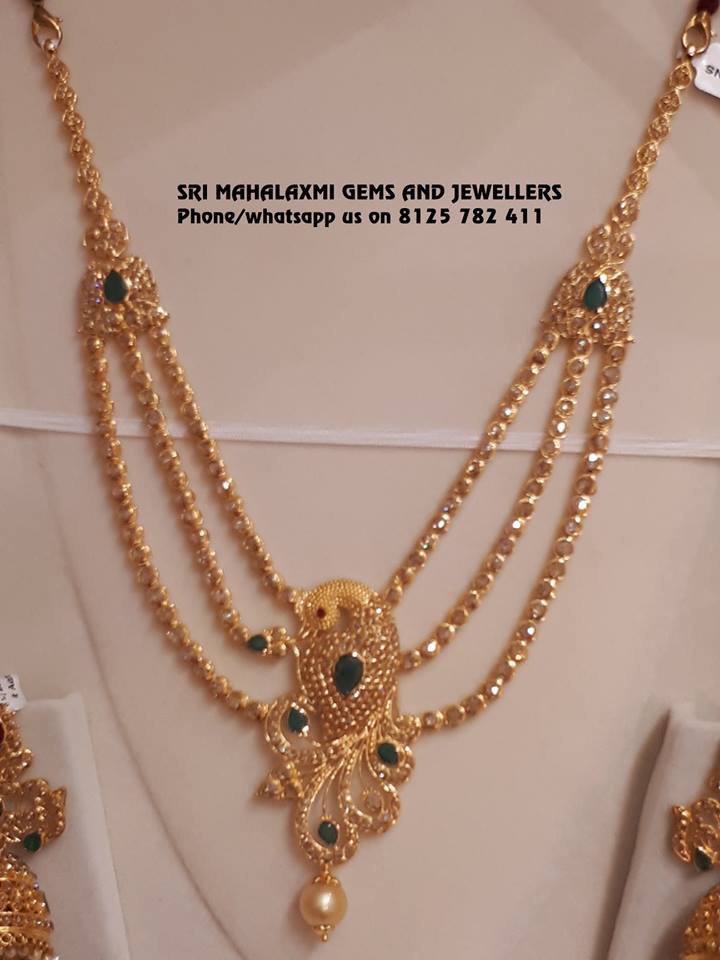 Layered Ball Necklace Set
Experience wearing the elegant and charming valuable gold layered ball necklace set. Don't forget to bring it home if you find yourself liking this jewelry piece.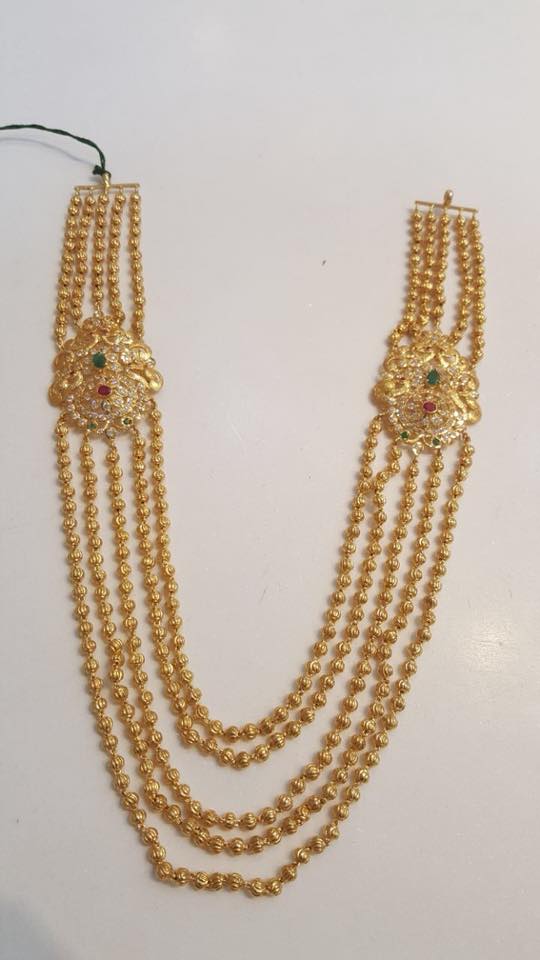 Three Layer South Sea Pearl Necklace
Feel the touch of this three-layer south sea pearl necklace on your skin and enhance the beauty of your neck. Get the outstanding and adorable appearance you were looking for.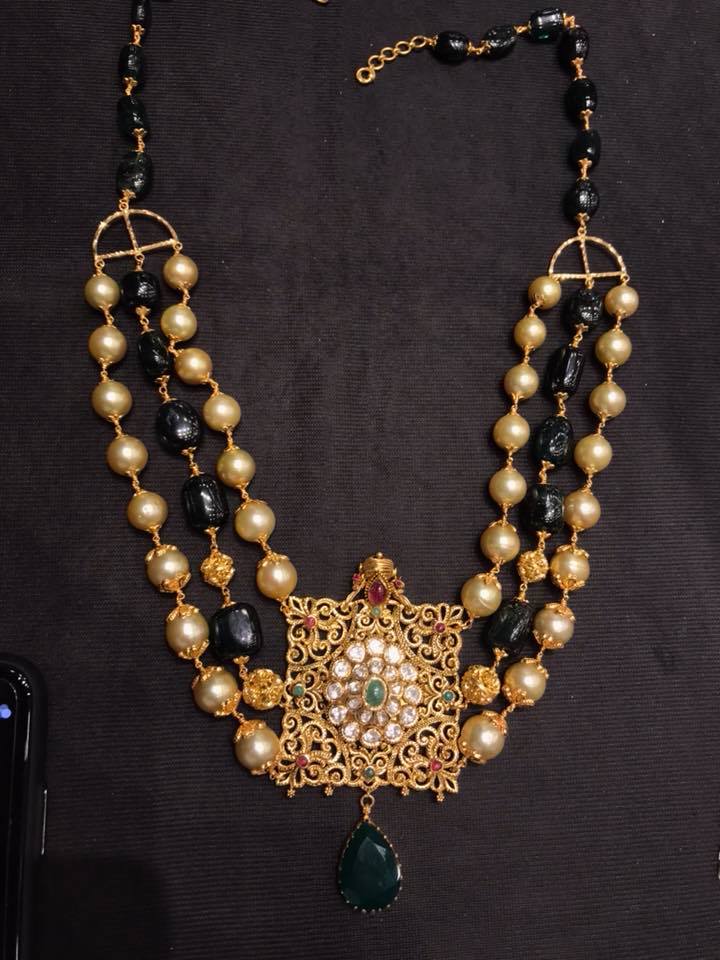 Bridal Necklace With Emeralds And White Stones
Enjoy your special and grand evening wearing this bridal necklace with emeralds and white stones. Be the charming and eye-catchy bride among the guest and also appreciate the attention you receive from people.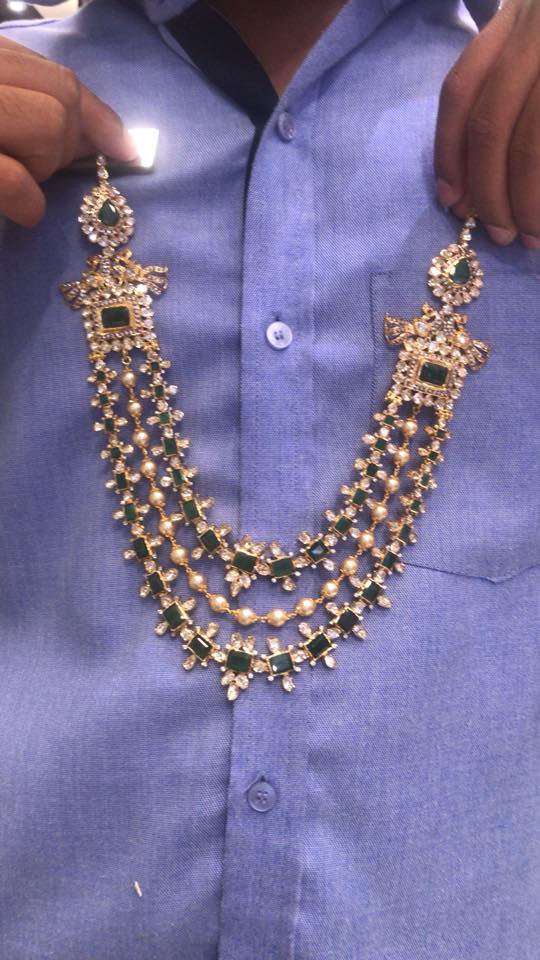 Designer Pearl Necklace
If you are a fashion savvy lady and also fond of wearing pearls then you will love this designer pearl necklace for sure. Get this beautiful, exquisite and great necklace and have a nice time.
Let the interesting and popular stones such as emerald, pearl, rubies, white stones gemstones be a part of your amazing layered necklace jewelry collection. Only take home the irresistible gold layered necklace designs you like.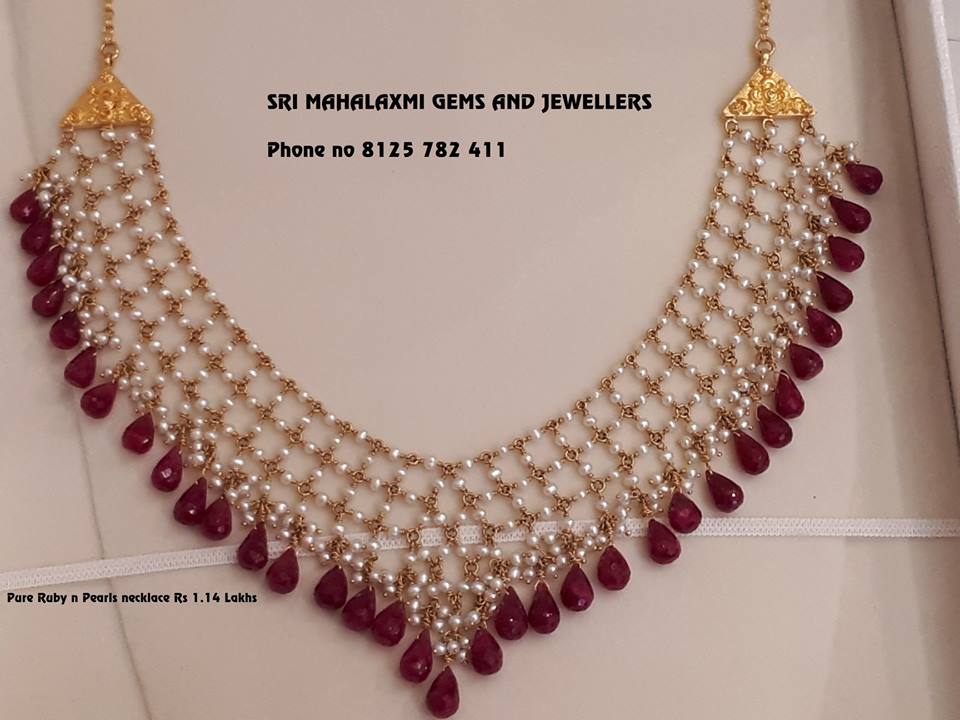 Allow the gold layered necklace designs to speak to your soul, mind, and body freely before selecting the one jewelry piece that makes you feel complete when you wear it. If you like to shop the featured jewellery here, then please find the seller contact details below.
Seller Name : Sri Mahalaxmi Gems and Jewellers
Facebook: https://www.facebook.com/SriMahalaxmiGemsAndJewels/
Website : http://www.srimahalaxmi.com/
Contact : +91 92468 89611
Seller Name : Premraj Shantilal Jain Jewellers
Address : POT MARKET Opp BATA Rp road,Hyderabad, India 500025.
Contact No : 9700009000, 9951000005
Website : http://premshantijewels.blogspot.in/
Facebook : https://www.facebook.com/premrajshantilaljainjewellers/
Also Read :