Pearl mala have always been considered a symbol of elegance and one of the must-have pieces that can be found in a jewelry box of every true lady. If you fall among that group of women who don't like the traditional stuff, a simple yet trendy pearl necklace is the perfect solution that can be adjusted to your personality and fashion style.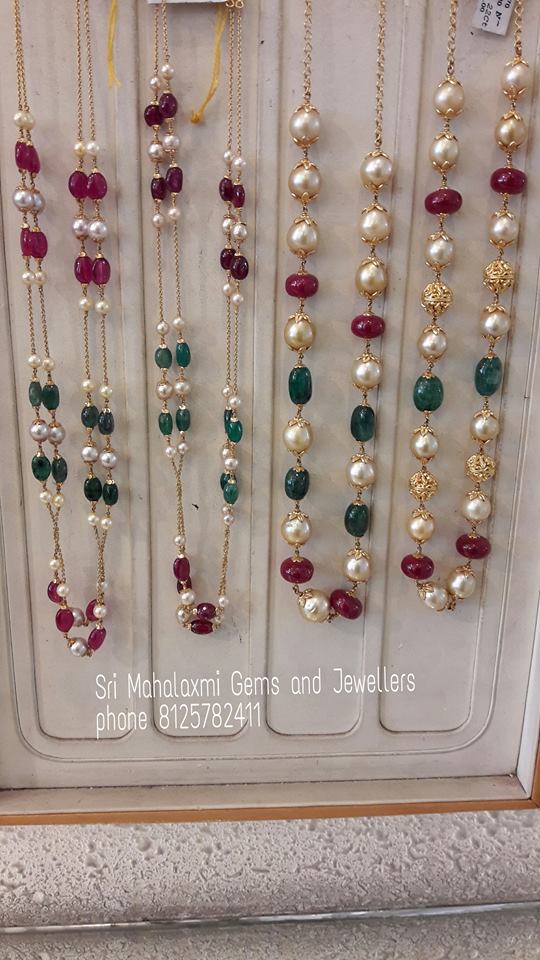 A few years ago, strand pearl necklaces were a must have, even if they were faux, while in today's fashion. Continue reading and discover our complete pearl chain collection designs.  In case if you like to shop these designs, seller contact details are given at the end of the post.
1) Pretty Pearls
Pearls are something which is meant for every age group – they can be worn by little girls, ladies in their teen and women of all age groups. It is a simple strand of pearls, this one is for someone who prefers classic neckpiece and must have one.
This kind of necklace can be a girl's first pearl necklace, it can be offered as a christening gift or as a birthday gift. You can even offer it to someone special.
2) Single Beauty
Our fascination for soothing and precious pearl dates back to the ancient times, but the modern renditions of this precious gemstone are very different from the vintage ones. This neckpiece is modern and trendy.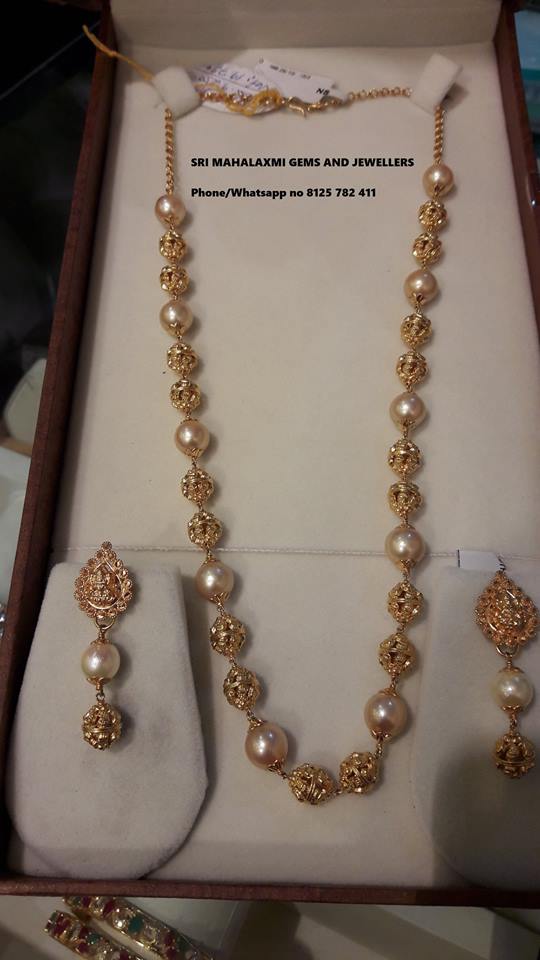 As wedding season is already here and all brides-to-be are busy shopping for their perfect saree and jewellery so you can add this one too for a family get-together.  This one is a combination of pearl and gold beads which are paired together to make a perfect harmony.
3) Eminent Pearl Looks
This would be a perfect combination for your collection of traditional wear. Strands of pearls form the chain of this necklace; a pendant with stones embedded in it is the prime attraction of this neck piece.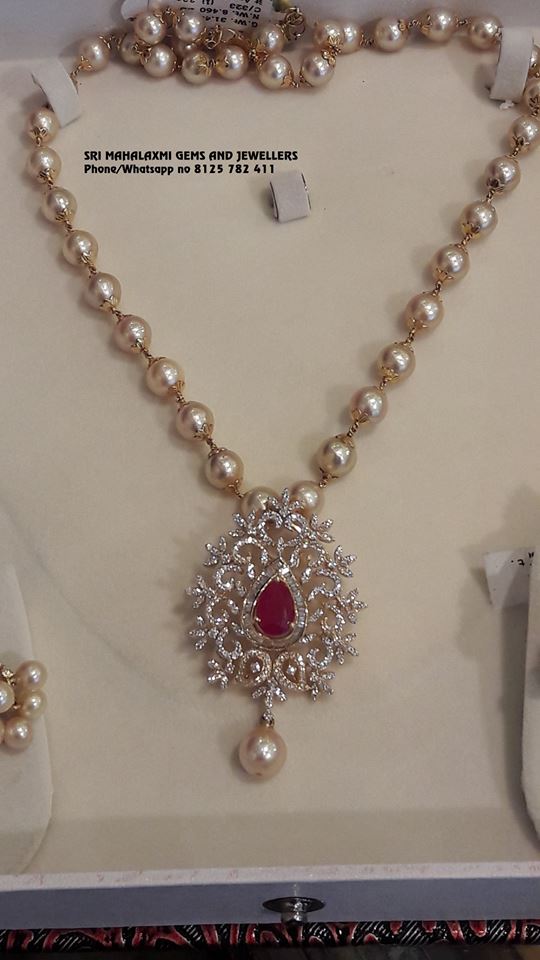 4) Trendy Pearls
While this type of pearl necklace has taken the wedding space by storm, pairing pearl jewellery with cocktail dresses has also emerged as a popular trend over the past year and will hold strong in 2018.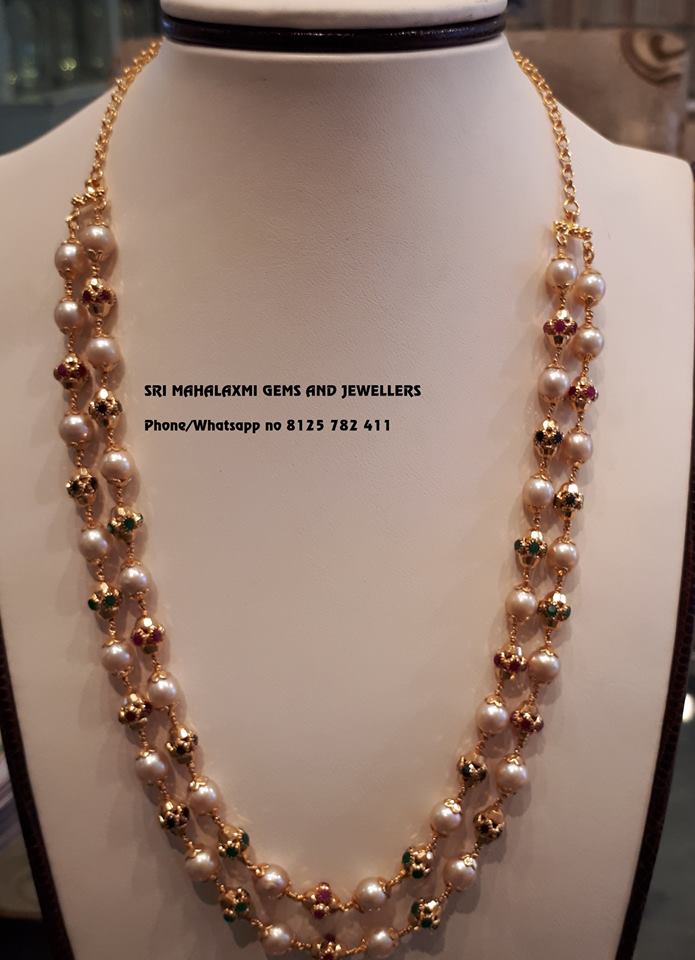 This necklace looks quite long and is very much appealing. This one has two strands which run parallel to each other and has pearl and colored stone stunningly arranged to make this masterpiece. This necklace perfectly goes well for a traditional occasion.
5) All-Time Favourite
This is an elegant looking piece. This pretty necklace is made up to two strands which are to each other with a help of two gold beads with a black stone in between. This jewelry will match up with any dark colored sarees.
6) Traditional Design
This necklace is with grandeur look for all your grand occasions. It has multiple strands which have both pearl and gold beads which gives you a heavy look which is perfect for a wedding or reception.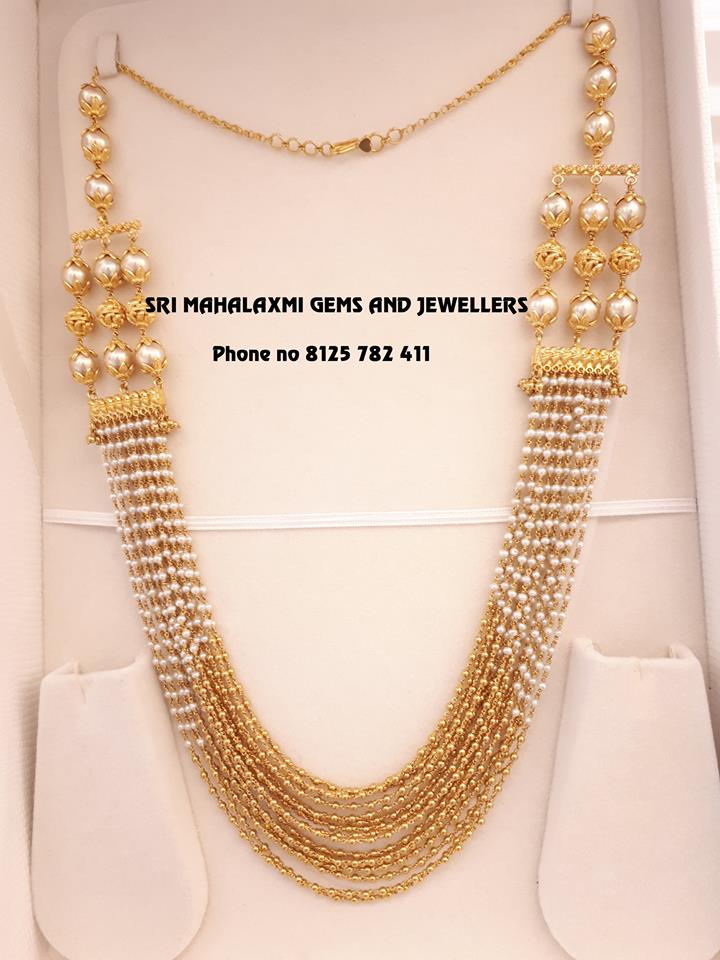 7) Simple Design With Ruby
A necklace with beaded chains gives a very royal look and feel. The pendant is very attractive with the densely arranged colored stones with pearls. A simple chain is formed gold bead followed by pearl with black bead in the middle, making the necklace appealing and perfect one to team it with ethnic wear.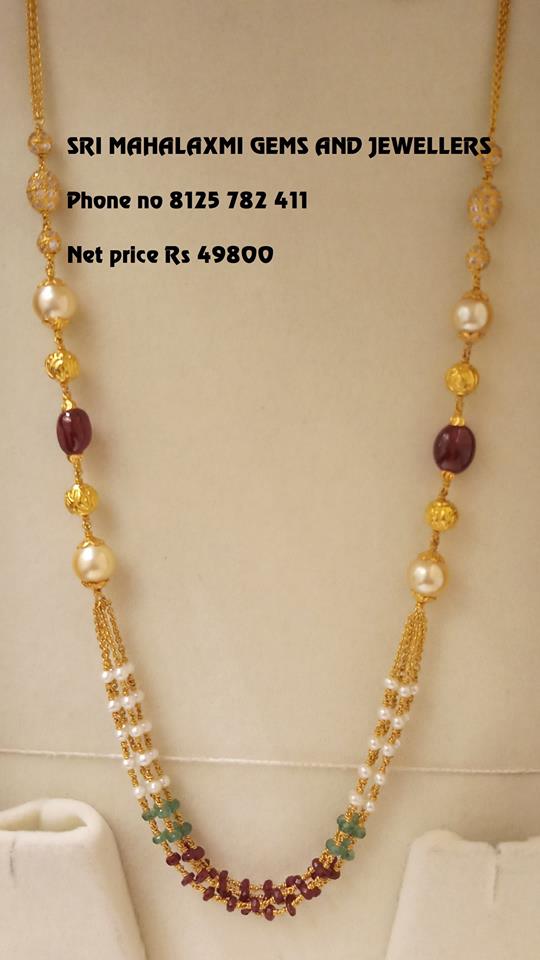 8) Simple Design With Ruby And Emerald
If you are looking for something light, that can be worn comfortably; this is surely the one for you. It is quite rich and the design too is astounding. It is simple to wear and you can feel at ease all day long. This can be worn for a family day out or for upcoming wedding.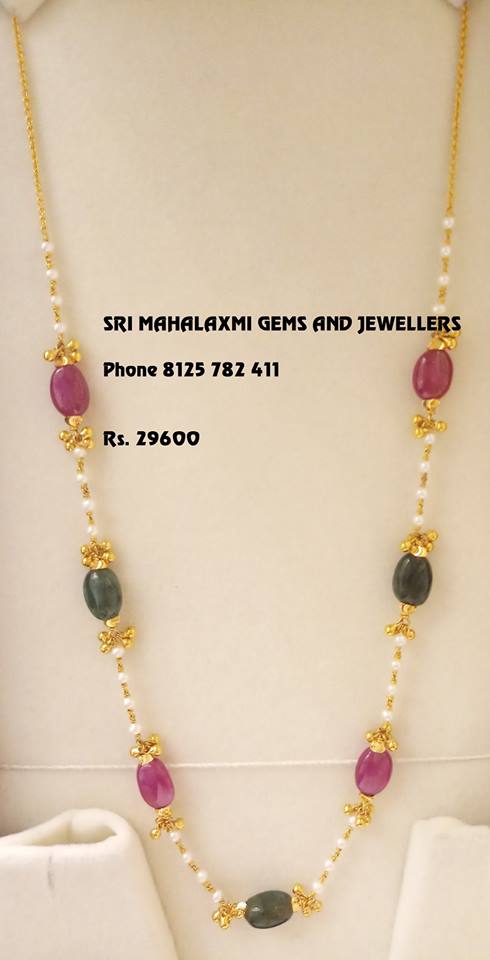 9) Tri- Colour Master Piece
This necklace looks stunning and bold with red stone strands on top, white stone strands at middle and green stone strands at bottom with beautiful fancy design in between which add up to its elegance.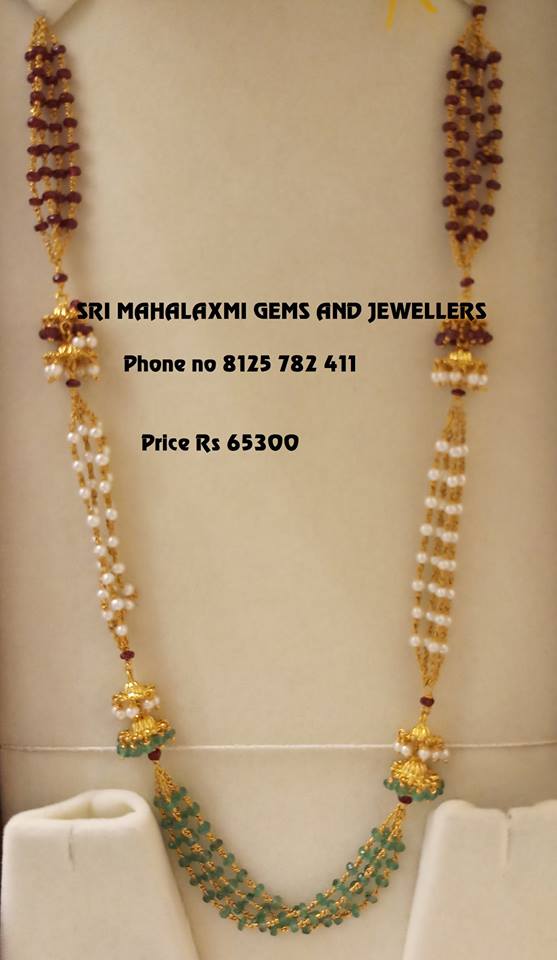 This can be worn with indo-western outfits and this would make a perfect fashion statement when worn with a gown or a simple saree or kurta.
10) Fancy Designs
This is one of our favourite, because of its unique design which is just amazing. These strands are the key element of this whole master piece and are a great way to ramp up your attire.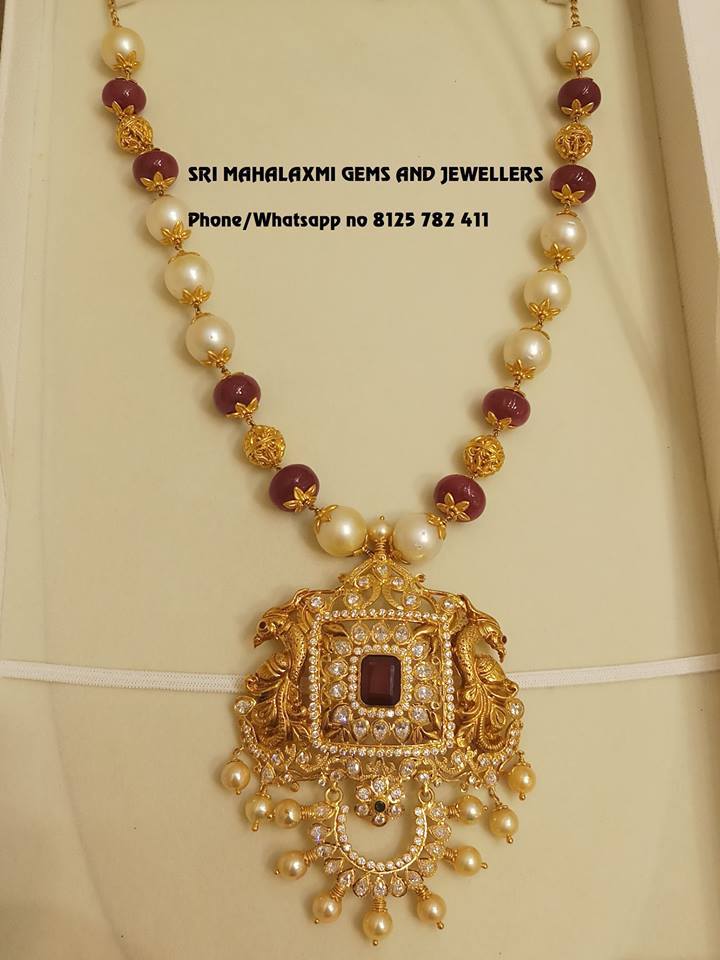 This one is divided into section of three with red, white and green which is quite astounding and the pair is sure to grab attention. The pearl beads are very much complimenting the overall look.
11) Must Have Piece
This one is a typical south Indian jewellery with multiple strands with black beads which are connected to pearl and a gold bead giving it a very traditional look.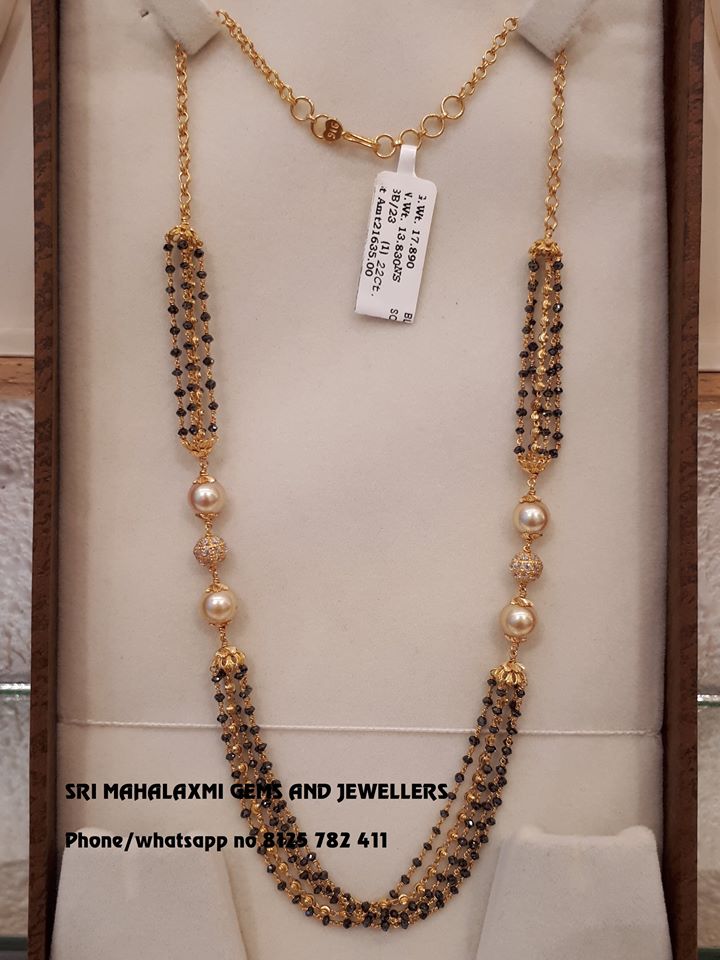 This is the perfect for a reception if you want something simple yet smart. The pearl bead goes perfectly well with the black bead strands.
12) Fancy Gold
This one is simple yet sexy and can be worn with any traditional outfit of any mild occasion and even it's quite comfortable to wear.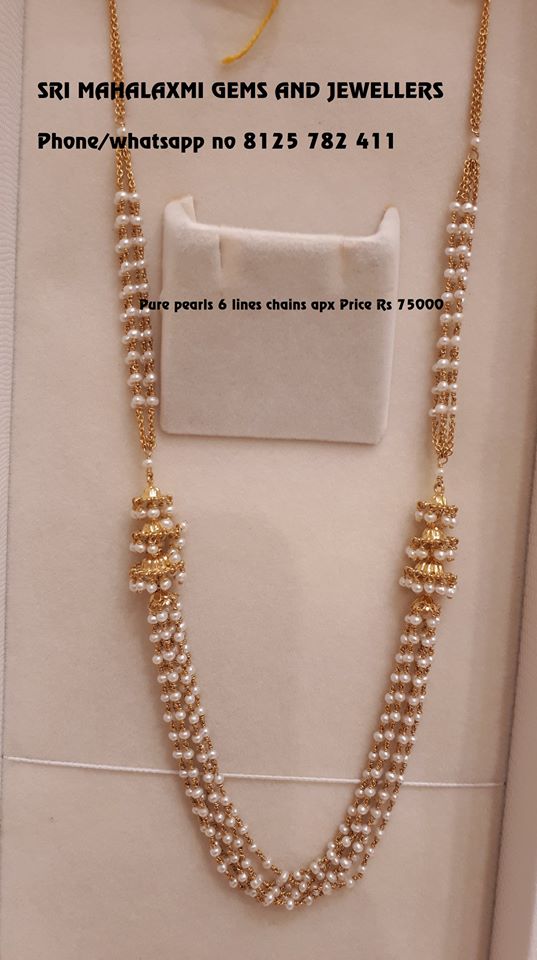 13) Modern Touch
These alluring pearls along with ruby and emerald are combined as a chain. A pleasing piece of necklace which makes your attire, look absolutely serene.  If you are looking to buy some, you can surely have in mind the designs above.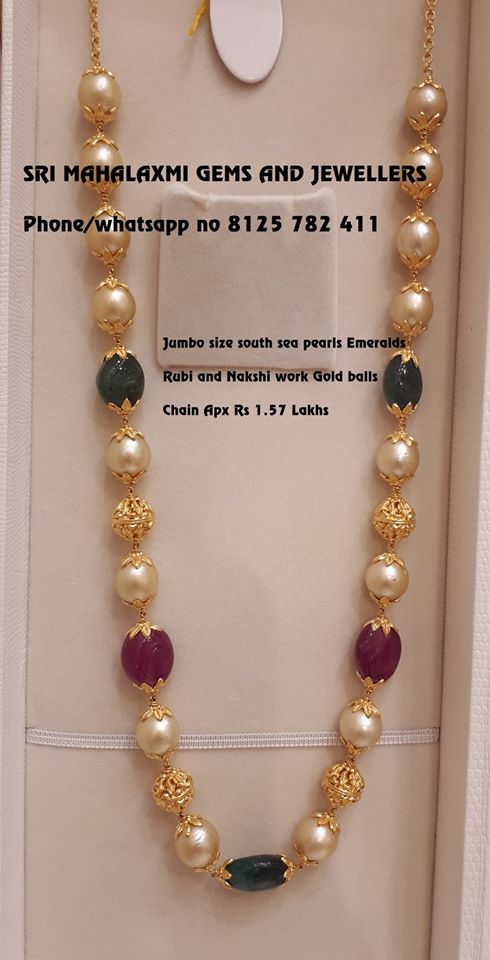 They are sure to amaze you as well as the ones around. You will feel special and the buy would be totally worth it.
14) Sexy Combo
Everybody looks for novelty in designs and when it comes associated with a certain springs from a certain concept, then it's an add on.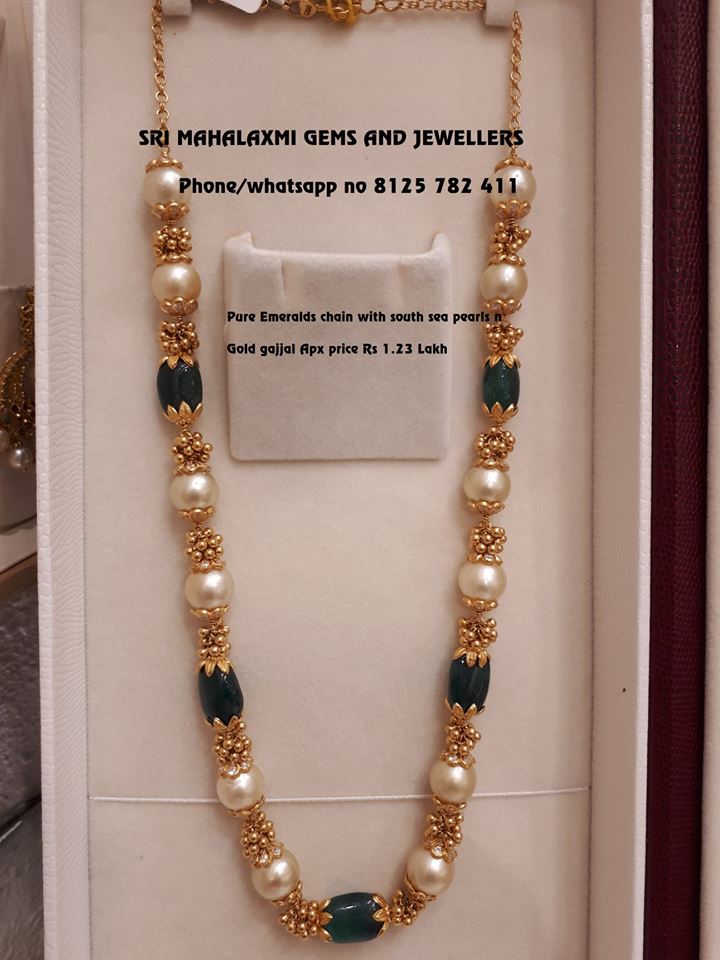 This is one of the unique designs which have emerald along with pearls which are arranged beautifully. This one especially is a great hit amongst millennial who love owning and donning such unique pieces.
15) Vibrant Design
A simple chain with spaced pearls along with, alternate pearl, with strands of white stones followed by red and then green stone.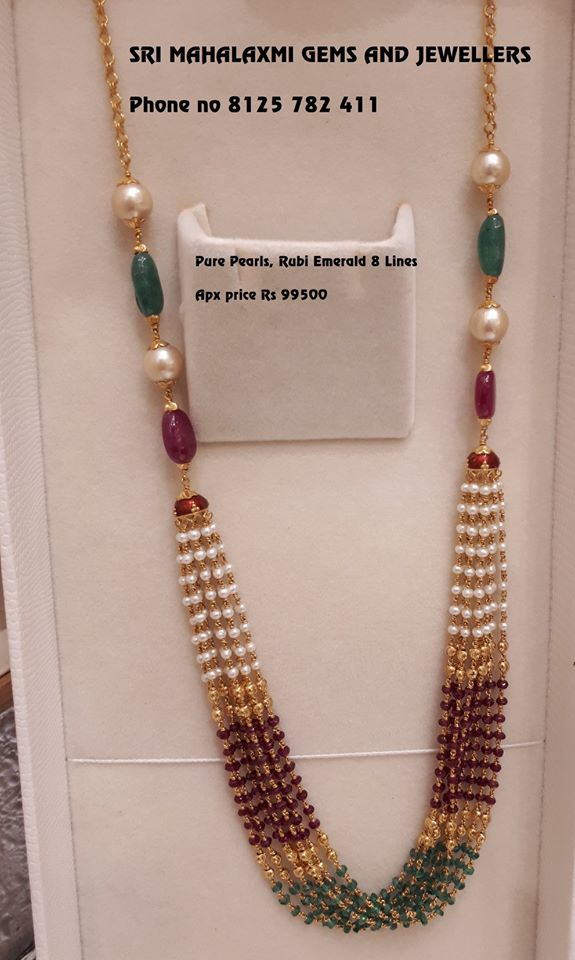 The gold necklace gives you a very different look as it emerges from one single strand into multiple thin strands making this whole neckpiece look marvelous. Definitely a must try necklace for an unusual look.
16) Classic Design
Jewellery encrusted with vibrant colored stones is set to rule 2018. This one is glamorous and contemporary; it is designed especially for the savvy and fashion-conscious customer.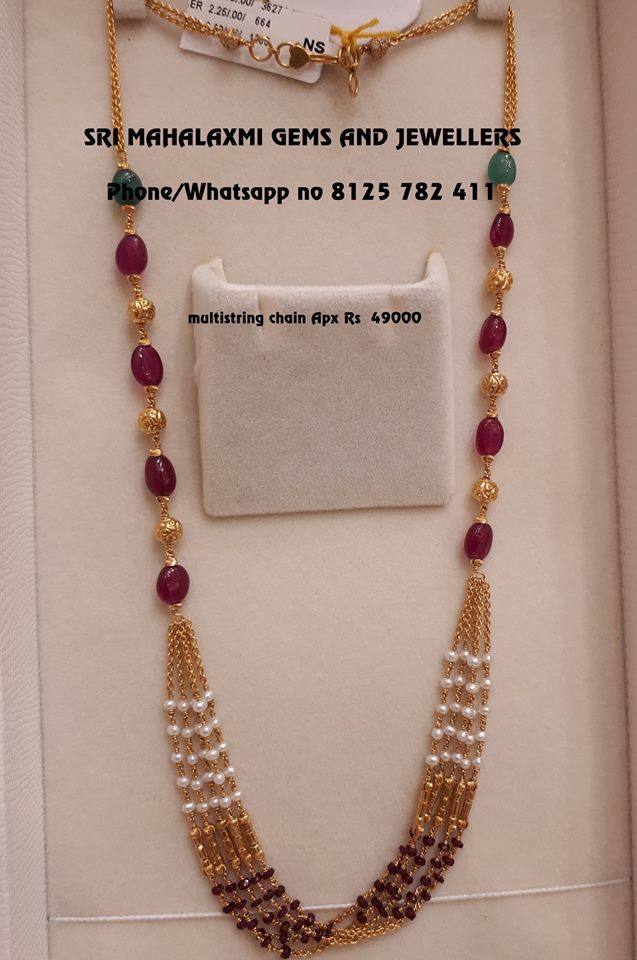 You can wear this one over a solid kurta to make it as a statement neck-piece. You might have seen this kind of the pearl neckpiece on the runway too.
17) Alluring Gold Beads
If you are one of those women who simply can't feel "complete" without pairing your outfit with the right accessories, can be a quite sartorial nightmare then this simple yet elegant pearl design is for you.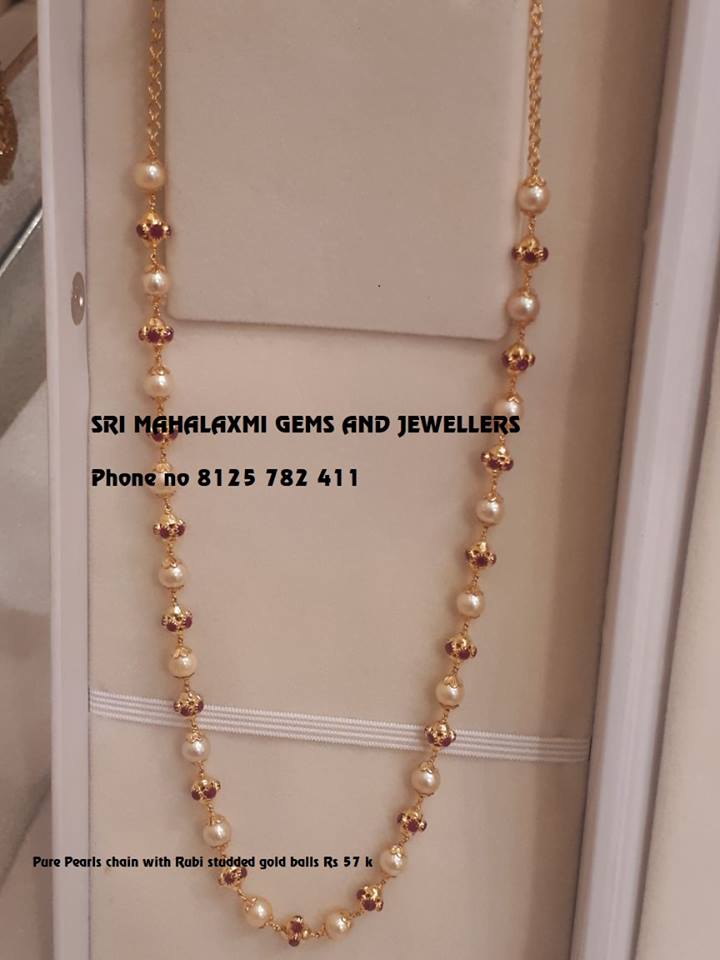 This one is a Combination of pearl and gold beads which are beautifully arranged right to each other in a strand.
18) Modern Royal Jewellery
The great thing about pearls is their versatility: they're sexy, elegant and subtle, all at the same time. If your some grand wedding to attend then this one is a must have.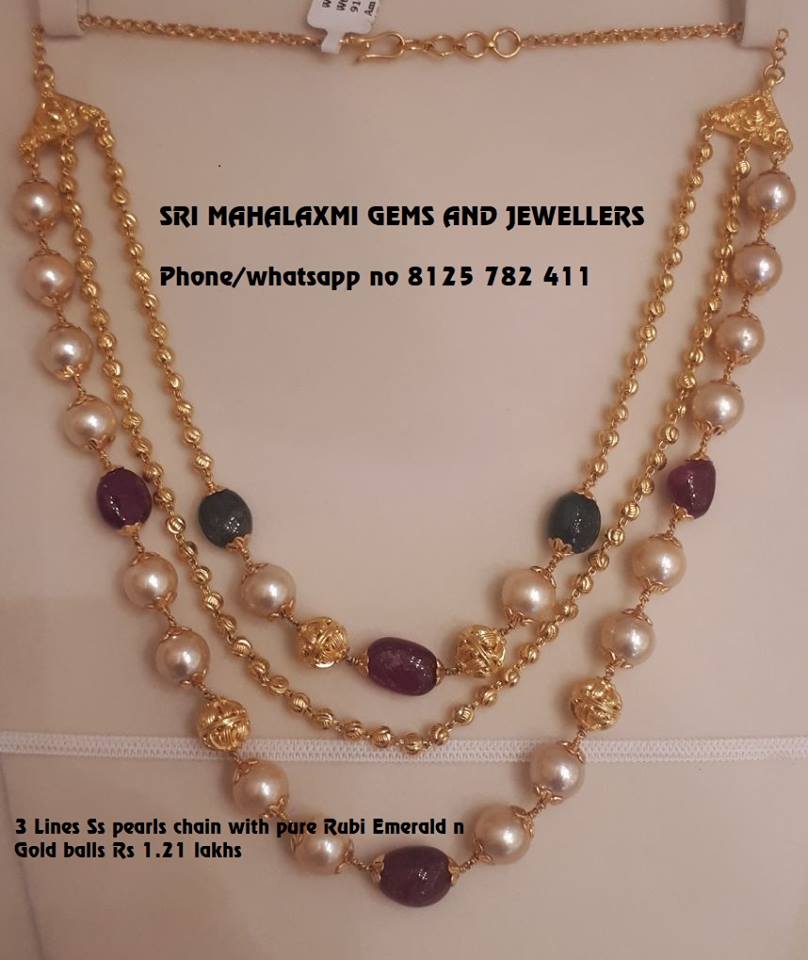 This is one of the most dramatic neckpiece which we have ever seen. Three strands from the same origin hang down from a single chain.
19) Royal Design
This necklace has alternative gold design chained with white stones in the oval shape and highlighting ruby in-between.
This piece is a royal neck piece with beautiful patterns having red stones on the bottom of the necklace and emerald with gold beads in-between. This is on heavier side and can be worn on grand occasions to reflect a majestic look.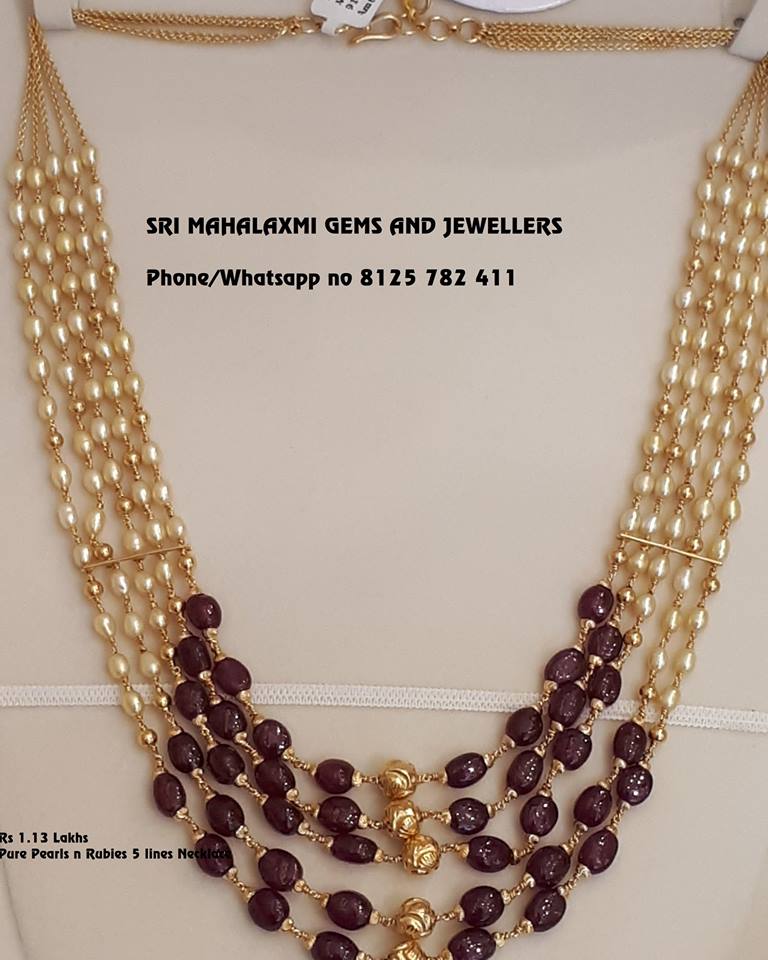 Hope you liked the complete pearl chain collections. In case if you like to shop the above designs please find the seller contact details below.
Seller Name : Sri Mahalaxmi Gems and Jewellers
Facebook: https://www.facebook.com/SriMahalaxmiGemsAndJewels/
Website : http://www.srimahalaxmi.com/
Contact : +91 92468 89611
Also Read :