Jewelleries are a woman's best friend! May it be a traditional occasion or parties, women always prefer to complete their look with beautiful jewelries on them. Necklaces are really a popular choice when it comes to jewelry and they tend to enhance your beauty quotient.
There are variety of designs and styles which you can choose from and there are these emerald and ruby ones which are trending in the market. Here we have put up some of the ruby and emerald designs that will add a wow factor to your style statement.
The Two Layer Haram
Here is a necklace of quite a good length with pink stones in the bottom chain and emeralds embedded in a circular design further linked by golden chain. The pink stones in square shapes and emeralds in circle shape give a different dimension to the chain and add up in enhancing your beauty.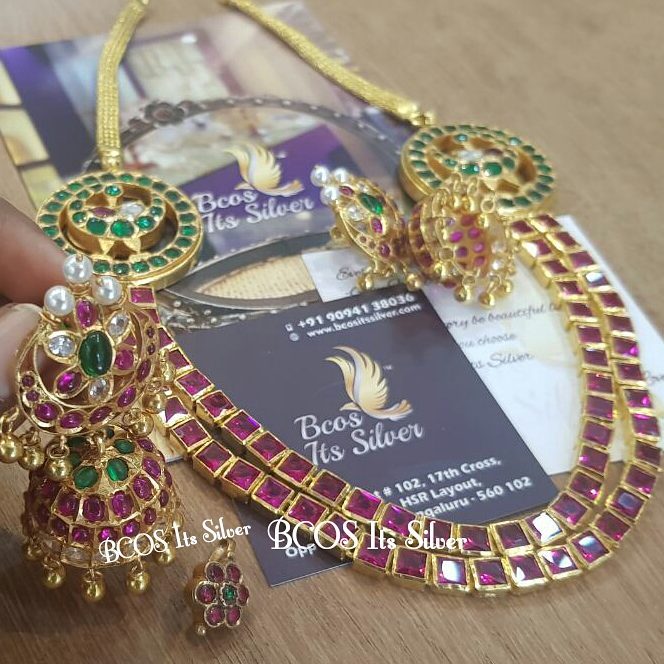 Charming Beauty
This necklace looks very lively with its vibrant colors. There are pink stones and emeralds embedded in finely made up gold design. There are oval shaped emeralds hanging from the chain which adds up to its charm. This piece of jewelry is adorable and can be worn on ghagras and indo western outfits too. The colors are refreshing and hence make you look lively and rejoicing.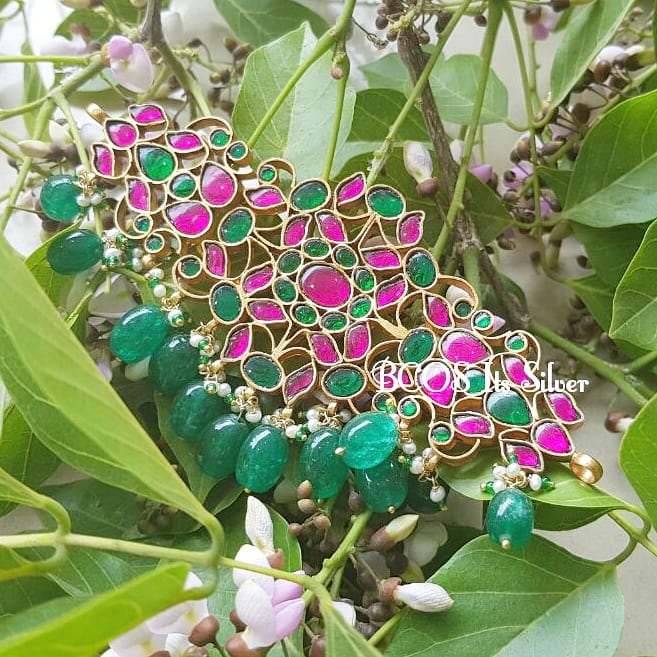 Pretty And Big
This necklace indeed looks royal with its size and shapes. Golden chain with pearls attached inwards and beautifully developed designs with rubies and emerald stones in it. There are tiny white pearls hanging around throughout the necklace emphasizing the beauty of necklace.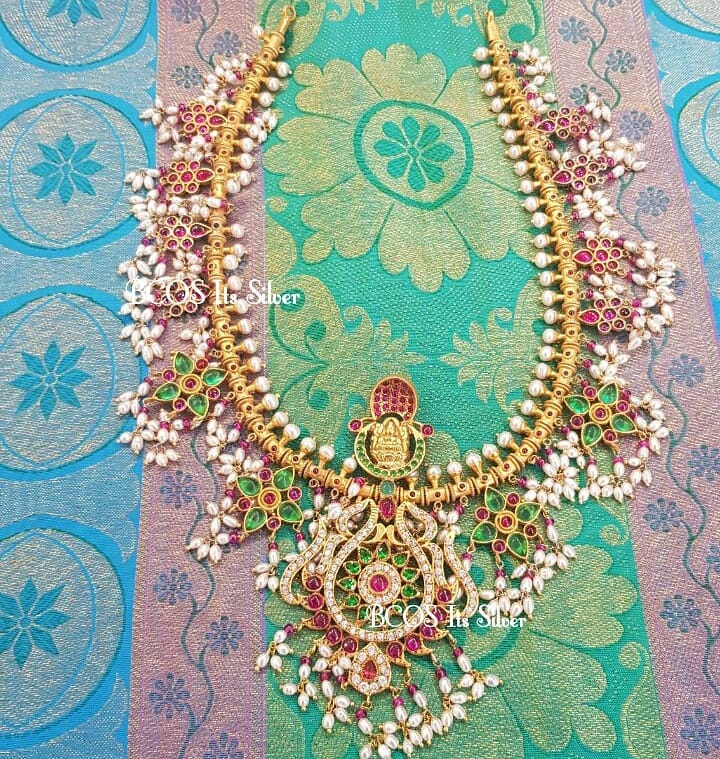 There is a nicely designed big locked to the chain with white stone, ruby and emeralds also there is a small golden imprinted locket upwards. This can be paired up with sarees for grand and traditional occasions.
The Sophisticated Look
This piece of jewelry carries class and sophistication with it. Gorgeous oval shaped emeralds put up together with an absolutely stunning pendant with tiny rubies and emeralds accompanied by dangling golden bearings.
You are sure to look amazing and composed with this necklace. This classy piece can be paired with silk sarees, lehengas, fusion black wear and also fancy stuff.
Pink Delight
This is a gorgeous piece of necklace with oval shaped rubies and emeralds here and there. There are these small peacock shaped designs with gold, embedded with small rubies hanging along the chain accompanied by a large pendant of pretty peacock designs with rubies, emeralds and golden bearings dangling from it.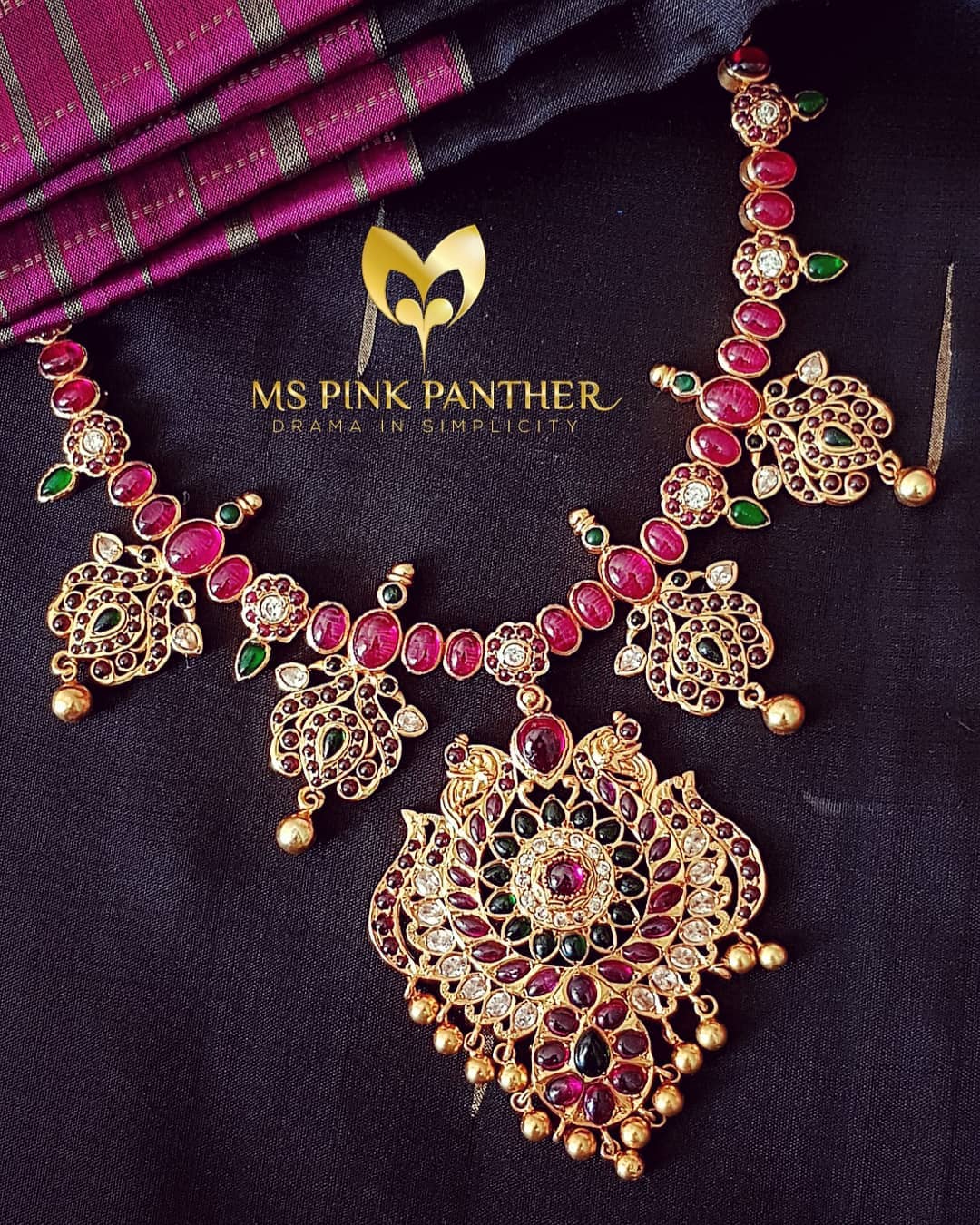 You will look absolutely gorgeous in this necklace. This necklace with a black saree would look fascinating.
Marvelous Design
This necklace has a ravishing look with its contemporary yet traditional design. The necklace has a chain of sky blue stones and golden balls with a truly magnificent golden pendant with the imprints of god and goddesses on it.
There are three circular designs embedded with rubies and emerald hanging from the pendant. This necklace is sure to gain huge compliments and ramp up your attire with stunning looks.
Appealing Pearls
Here is a pretty necklace with a big golden chain with appealing pearls attached inwards accompanied by designs of rubies, pearls, emeralds on the outer side of the chain along with a nice pendant of rubies dangling from the chain.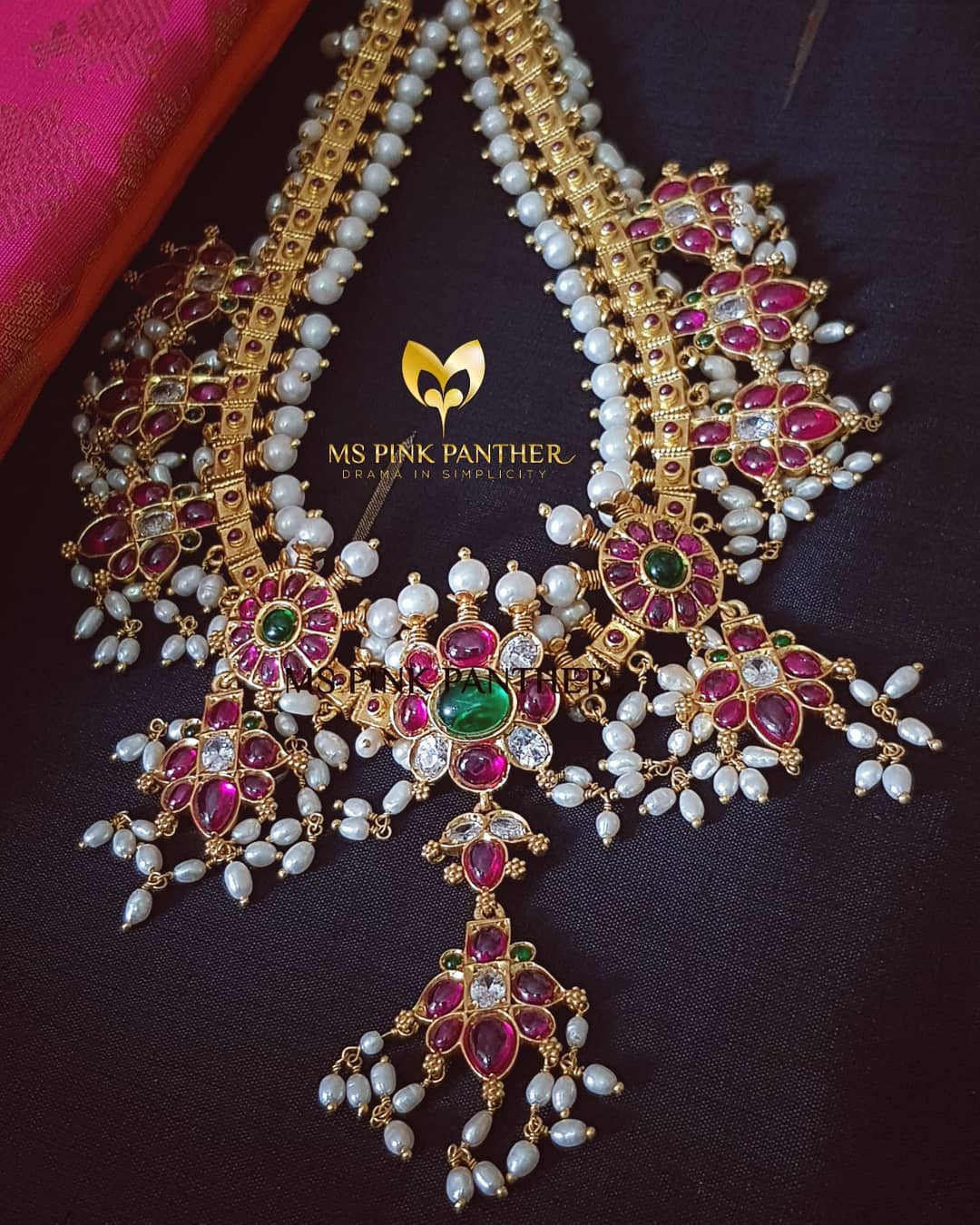 You can opt this for any of your parties or major occasions to flaunt your beauty.
Unique Circles
This one is quite unique with its modular design and unusual arrangement. This necklace has a circular gold design embedded with rubies and emeralds arranged together as a chain. You will surely be complimented and asked about the uniqueness.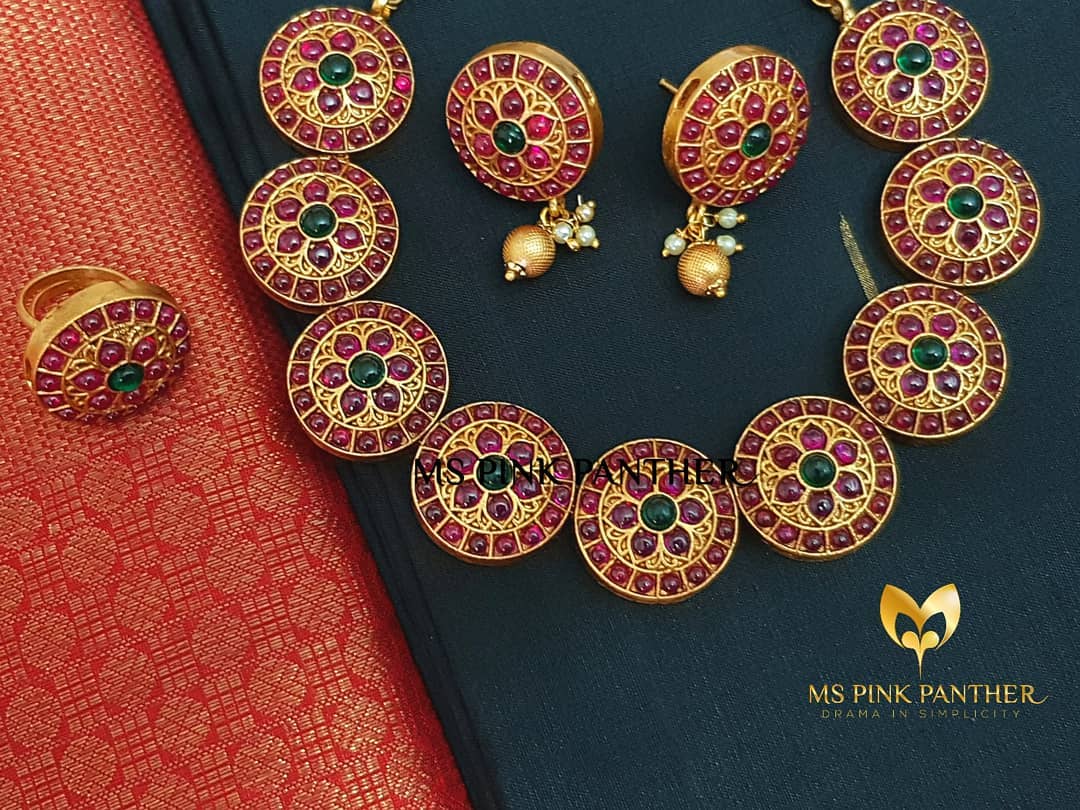 This is an absolutely stunning piece of jewelry that will leave you looking charismatic all-day long.
Golden Delight
Here is a necklace with heavy grandeur look, a heavy golden chain with emeralds and rubies alternatively fixed in it along with a grand gold pendant with peacocks and dangling golden bearings.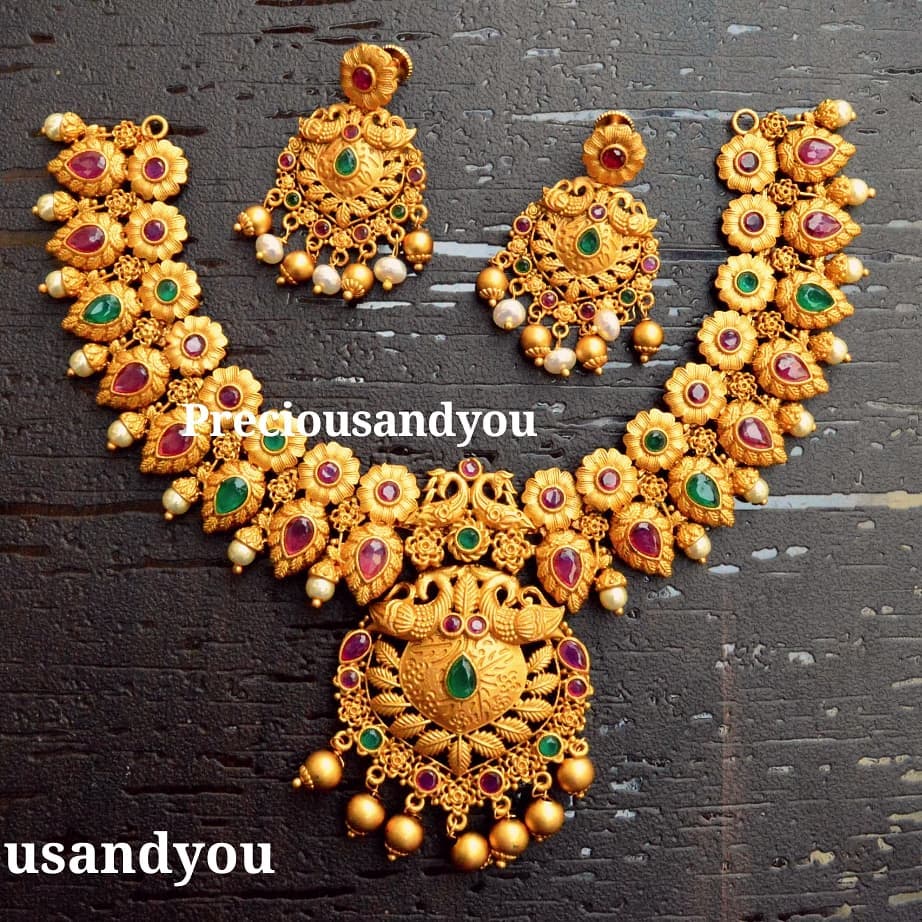 You have an immense pleasure and golden glow wearing this royal necklace and also you would be highlighting yourself among the crowd.
Enchanting Necklace
This necklace is a type of a kasulaperu design. Uniform chain of gorgeous rubies with golden coins imprinted with goddess. Has an emerald in the center with an intricately designed pendant having pearls hanging from it.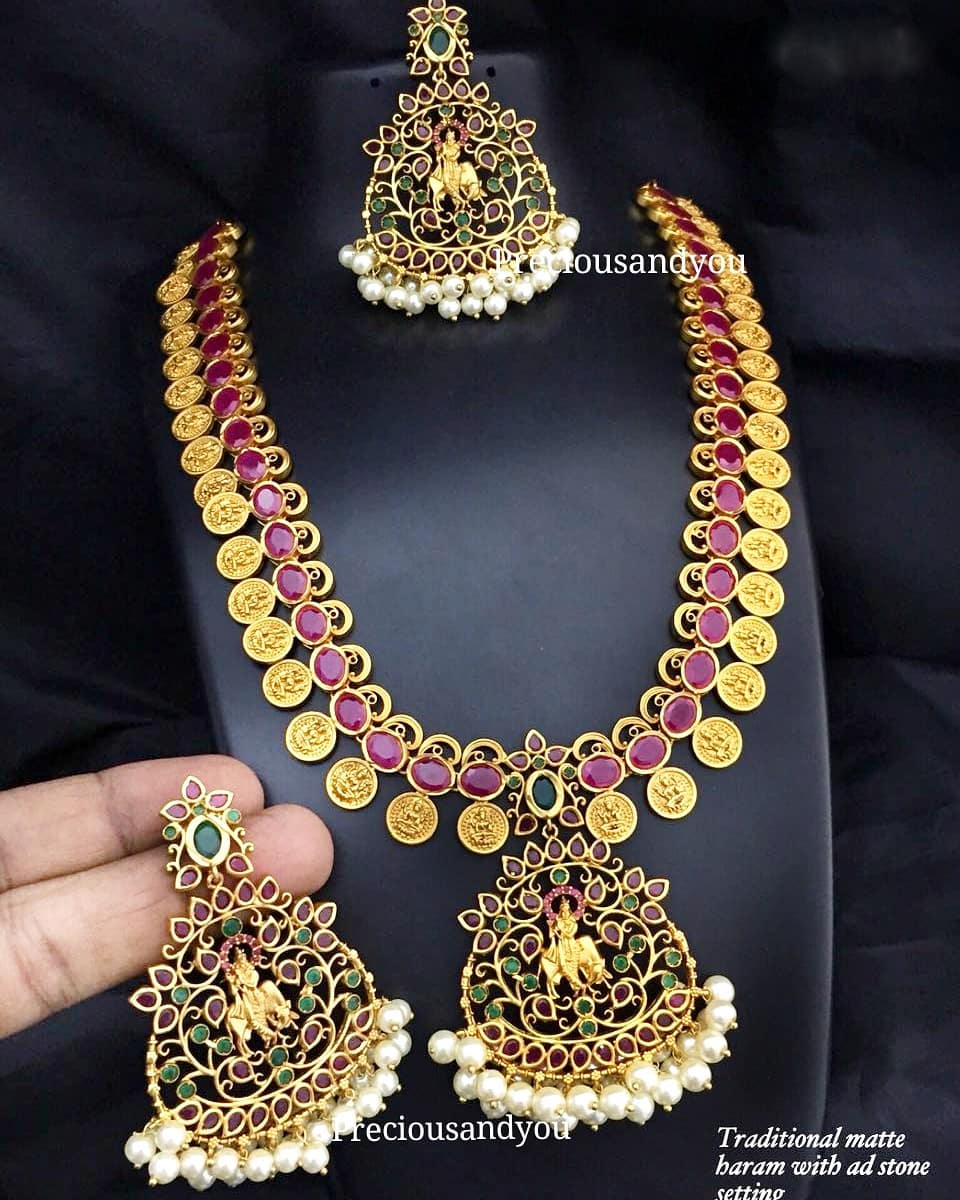 The Kadha Style
Absolutely bright, carved, solid kadha type of gold chain which gives a bold style statement. Has a lovely pendant of lotus with rubies, emeralds, white stones and tiny pearls hanging from it. Paired with black and blue wardrobe collection, you are going to have ravishing looks with this chain.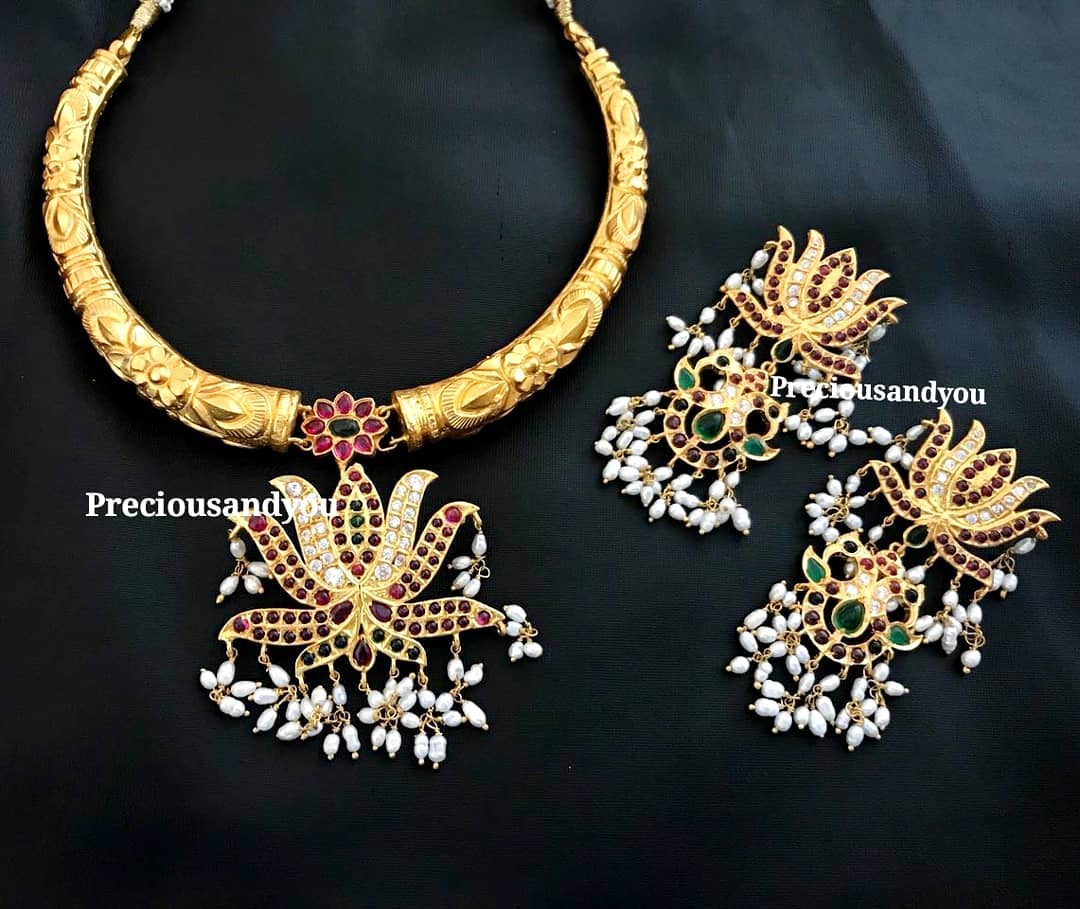 The Royal Jewel
Here is a traditional, grand necklace with golden chain having pearls attached inwards and designs with rubies and emeralds attached outwards along with a pendant of beautiful peacocks having tiny pearls dangling from it. This will be a great choice for all your grand occasions.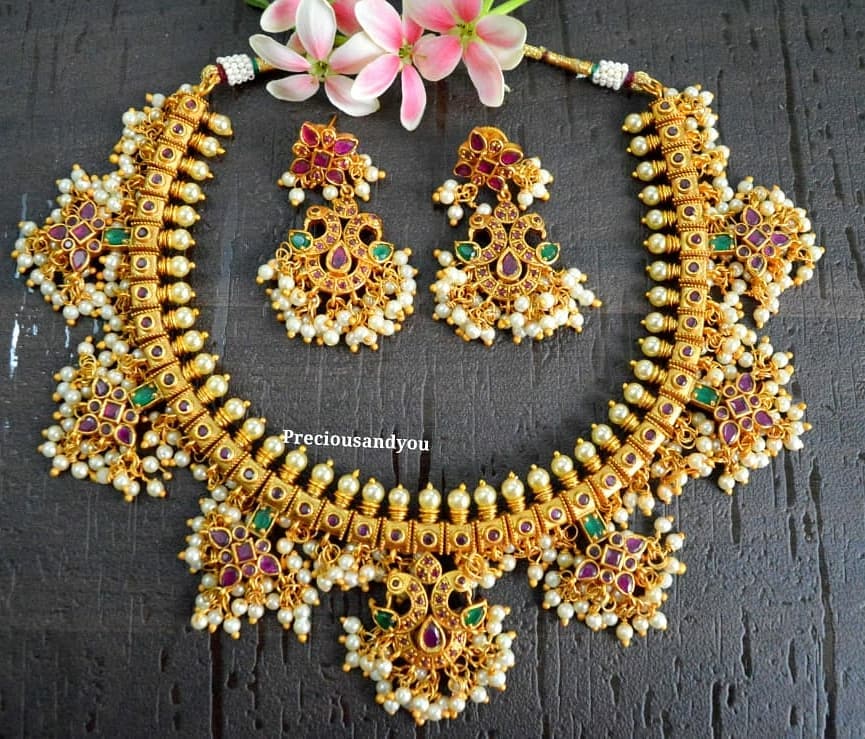 Eccentric Peacock
The chain of this necklace is completely made up of pearls. The highlight of this necklace is its pendant. It has a huge pendant describing peacocks beauty with carved gold emeralds and rubies.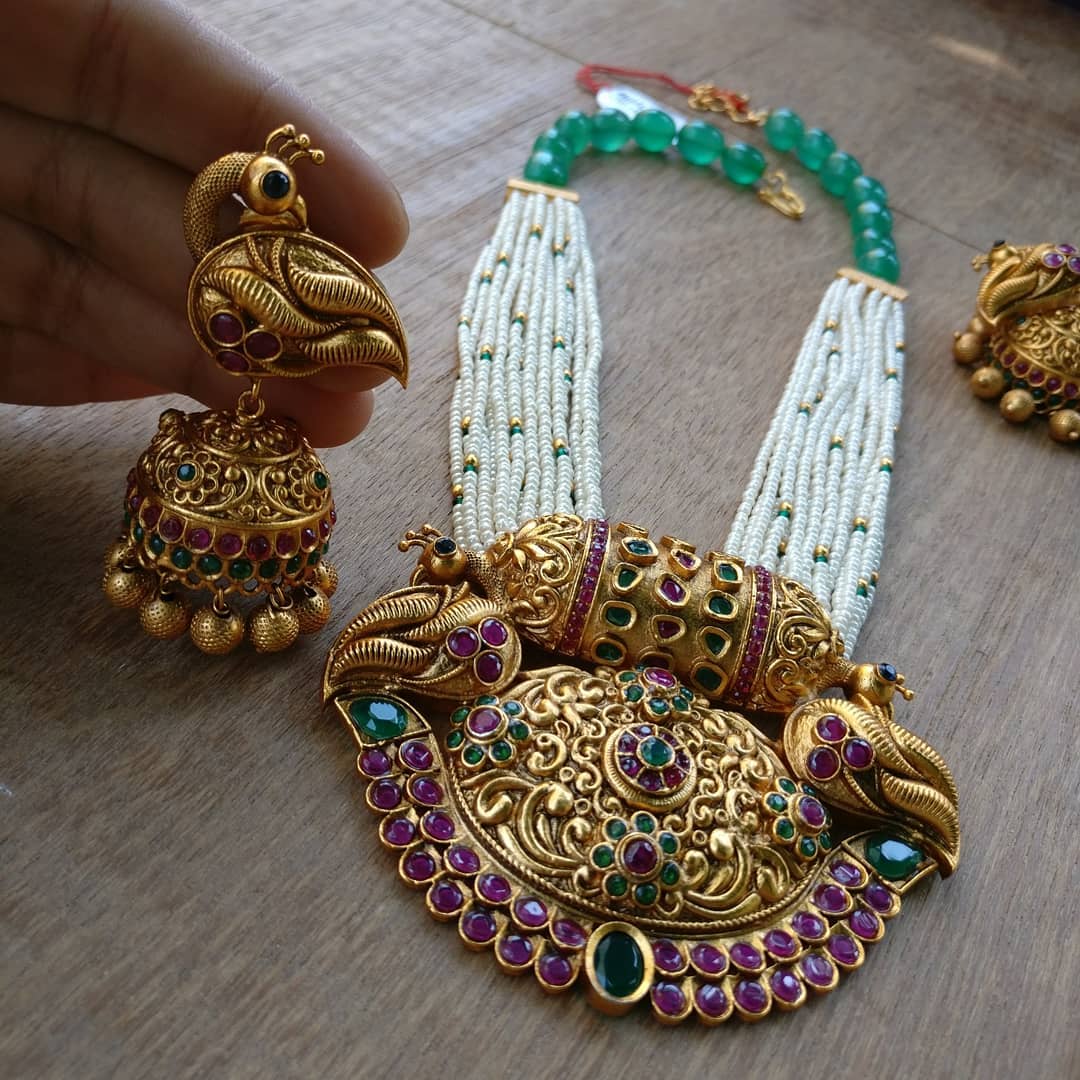 The Simple One
This is a simple yet pretty necklace. Has a chain of oval shaped rubies and flowers of white stones and emeralds attached to it. You can wear it for any get-togethers, parties or simpler occasions.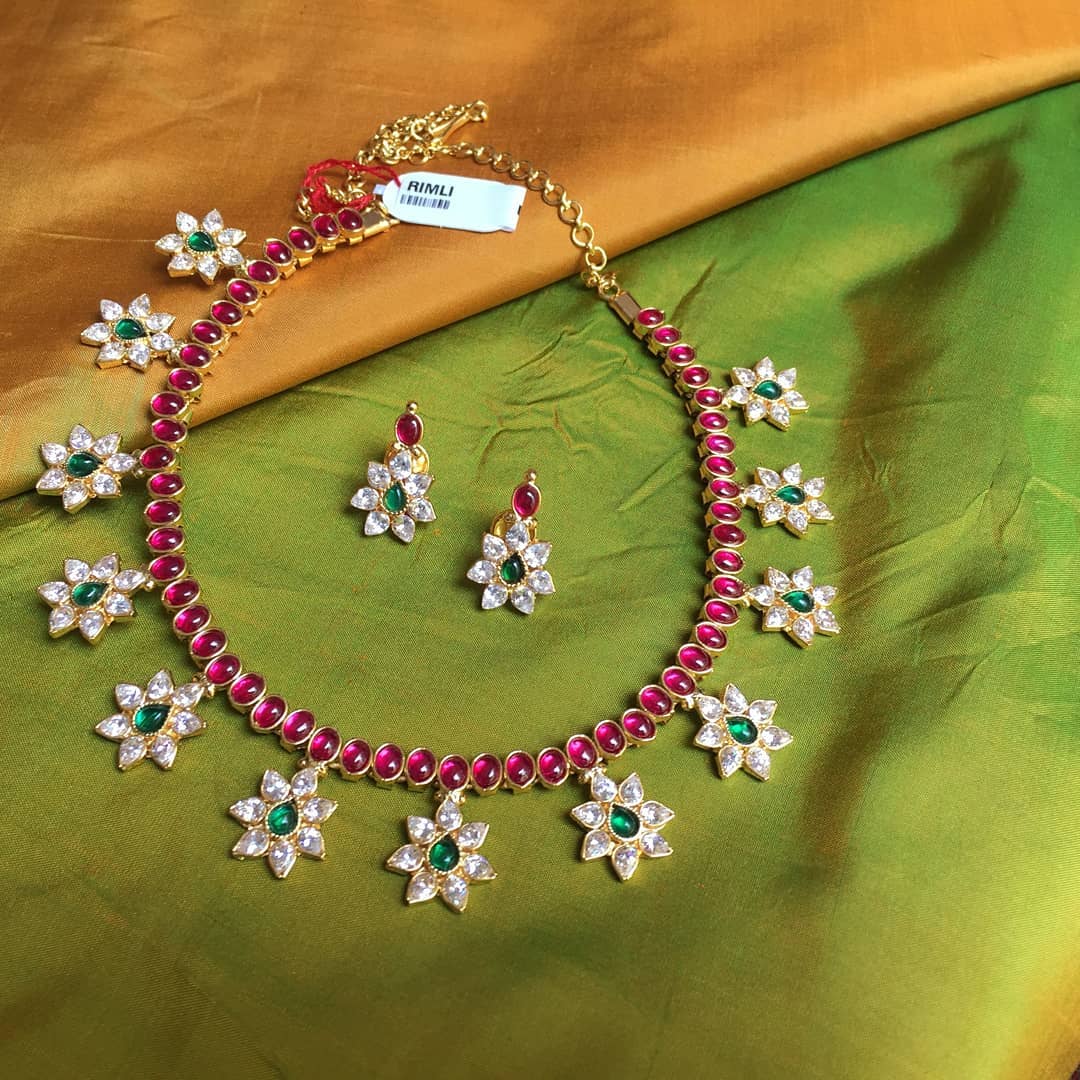 Charismatic One
This is definitely a cheerful looking necklace with a golden chain having pearls inwards and outwards with a floral pendant embedded with rubies and emeralds.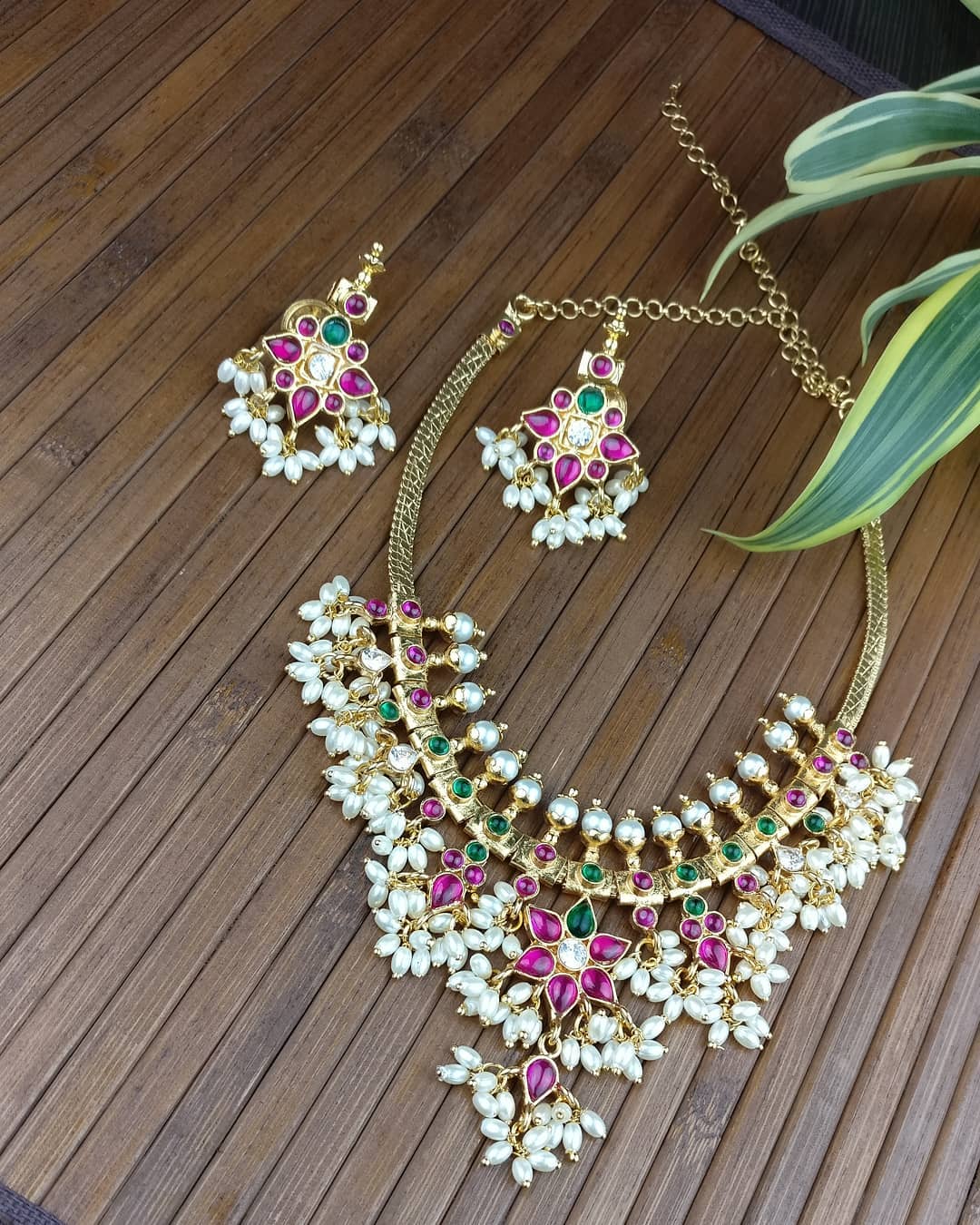 Delightful Pendant
The chain of this necklace is made up of tiny pearls put up together. The chain is shot in length and has a prepossessing pendant of horizontal length. This necklace is quite different from other designs, and makes you look pretty and unique.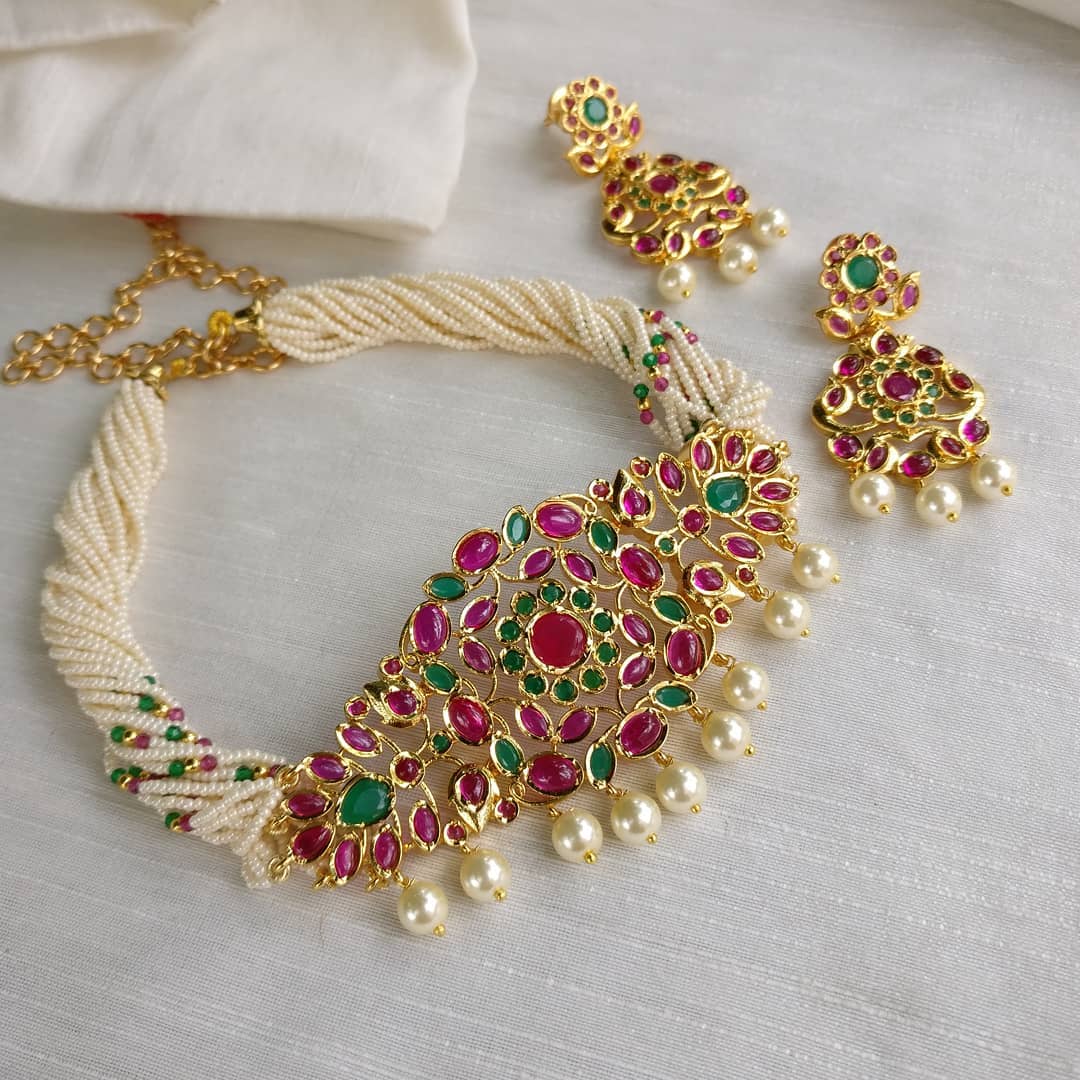 Pearl Paradise
Here is a stunning necklace with the chain completely made up of tiny pearls and pendant of half-moon shape with the stones and another piece of design dangling from it.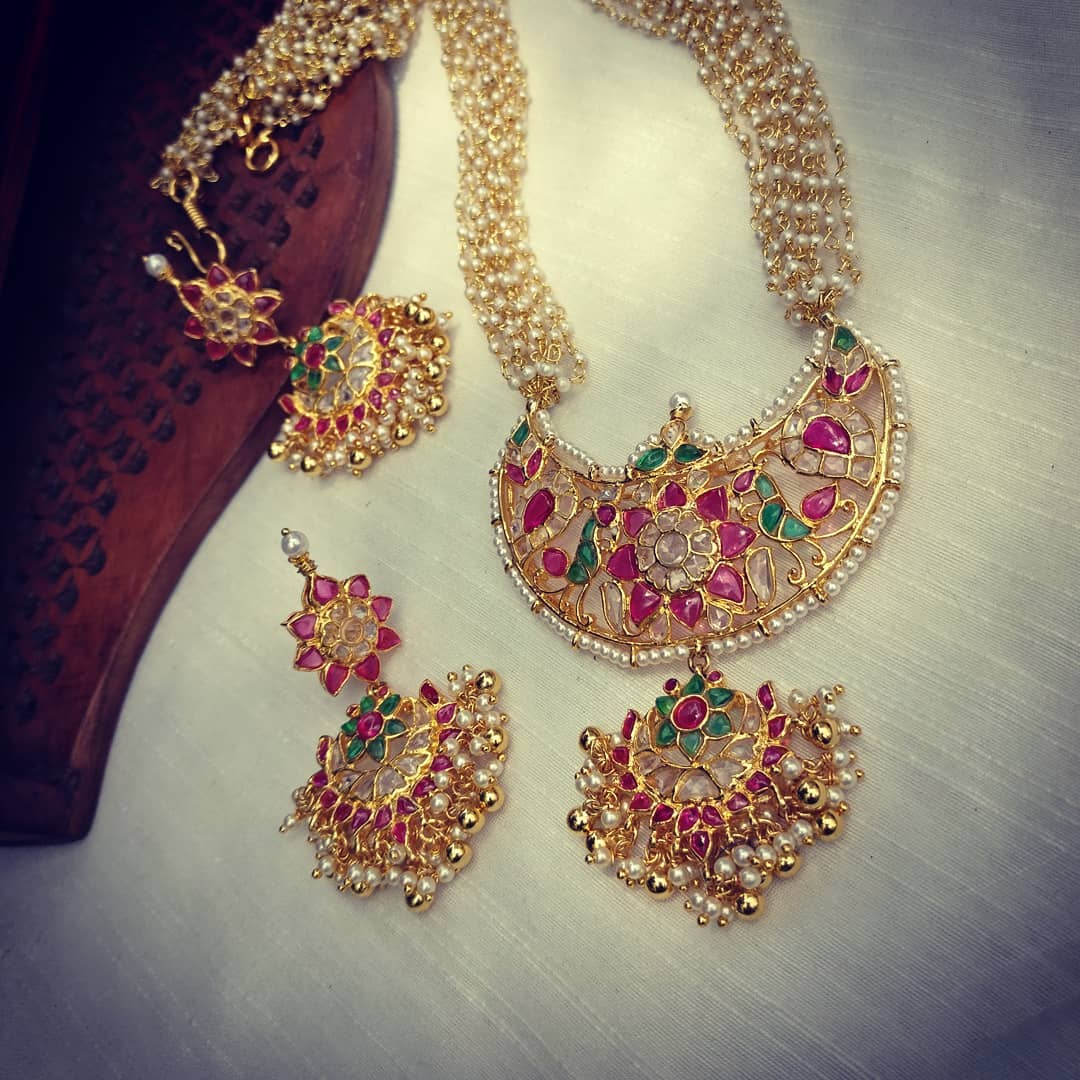 The Royal Wear
This necklace is heavy and grand having three chains making it look bulky and more precious. The layers of chains are embedded with white stones, emeralds and rubies. The necklace is a perfect choice for wedding or any similar occasions.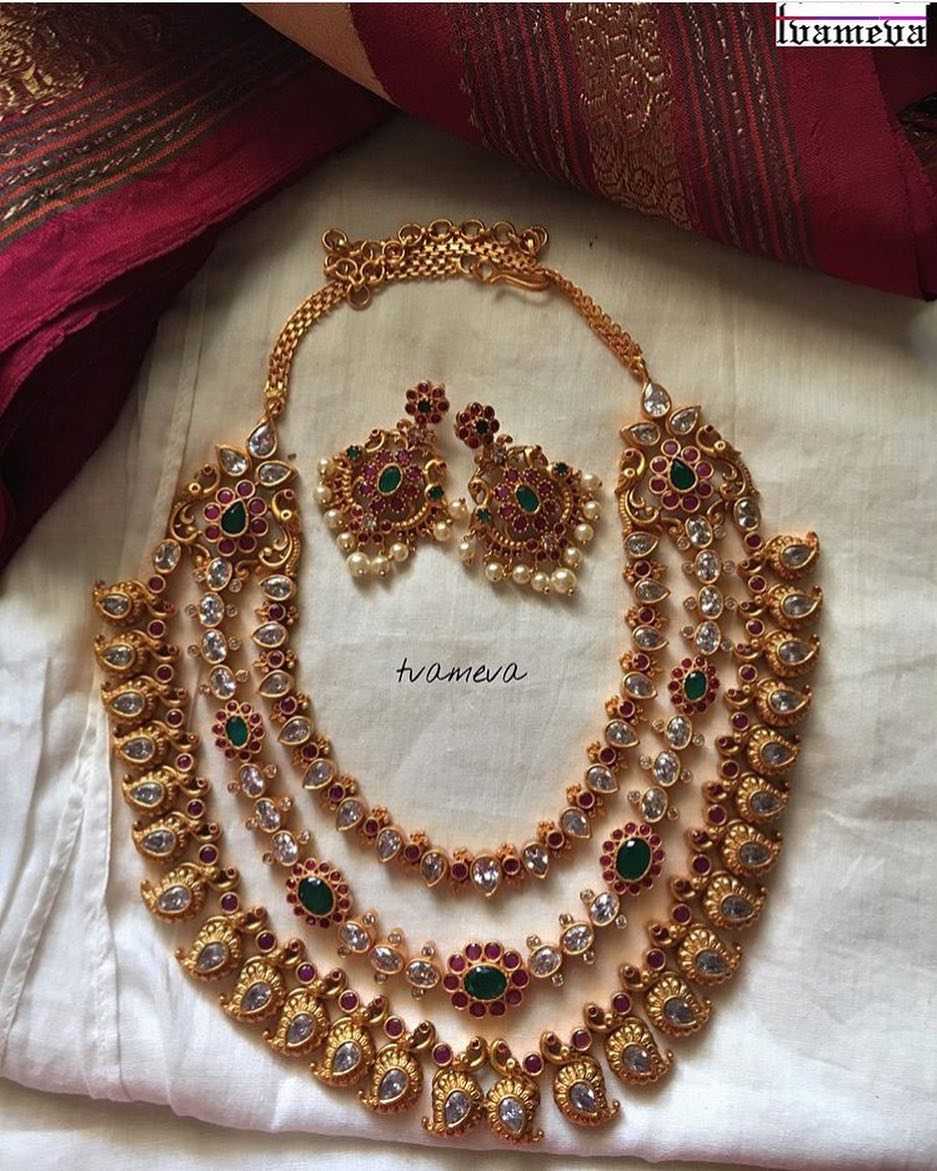 Most Supreme
This necklace has the perfect color and has the most brilliant design. It has a bronzy colored antique touch to it various designs alternatively placed with rich emeralds and rubies. This necklace will make you stand out with a sophisticated and classic look.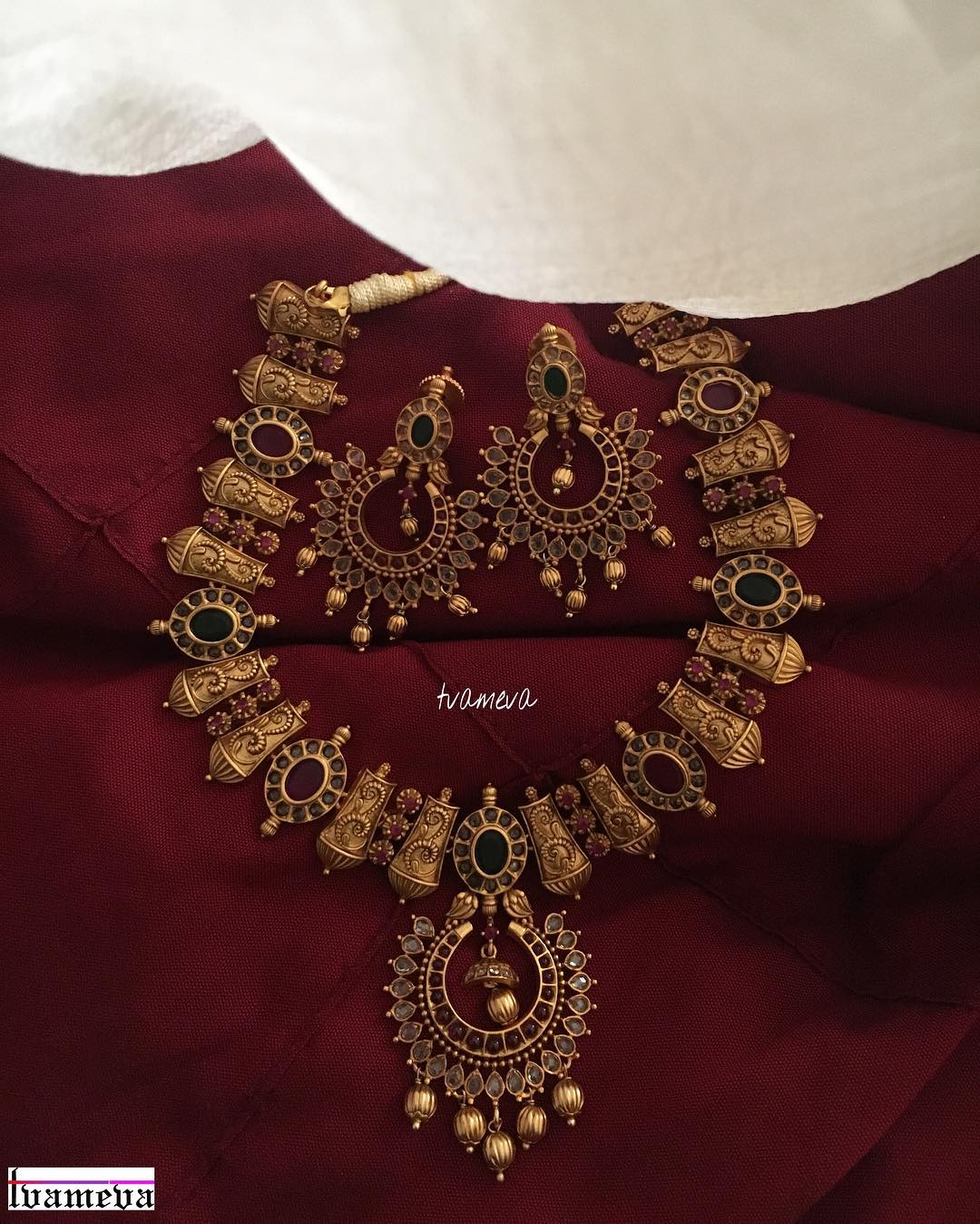 The necklace is an ideal choice for parties, traditional occasions and if paired with maroon or black clothes, your attire will steal the show.
The Pleasing Necklace
This is an alluring and simple necklace with emeralds put up together as chain and attached with carved gold design. This would be complimenting you in all your attires, may it be indie, western or typical traditional one!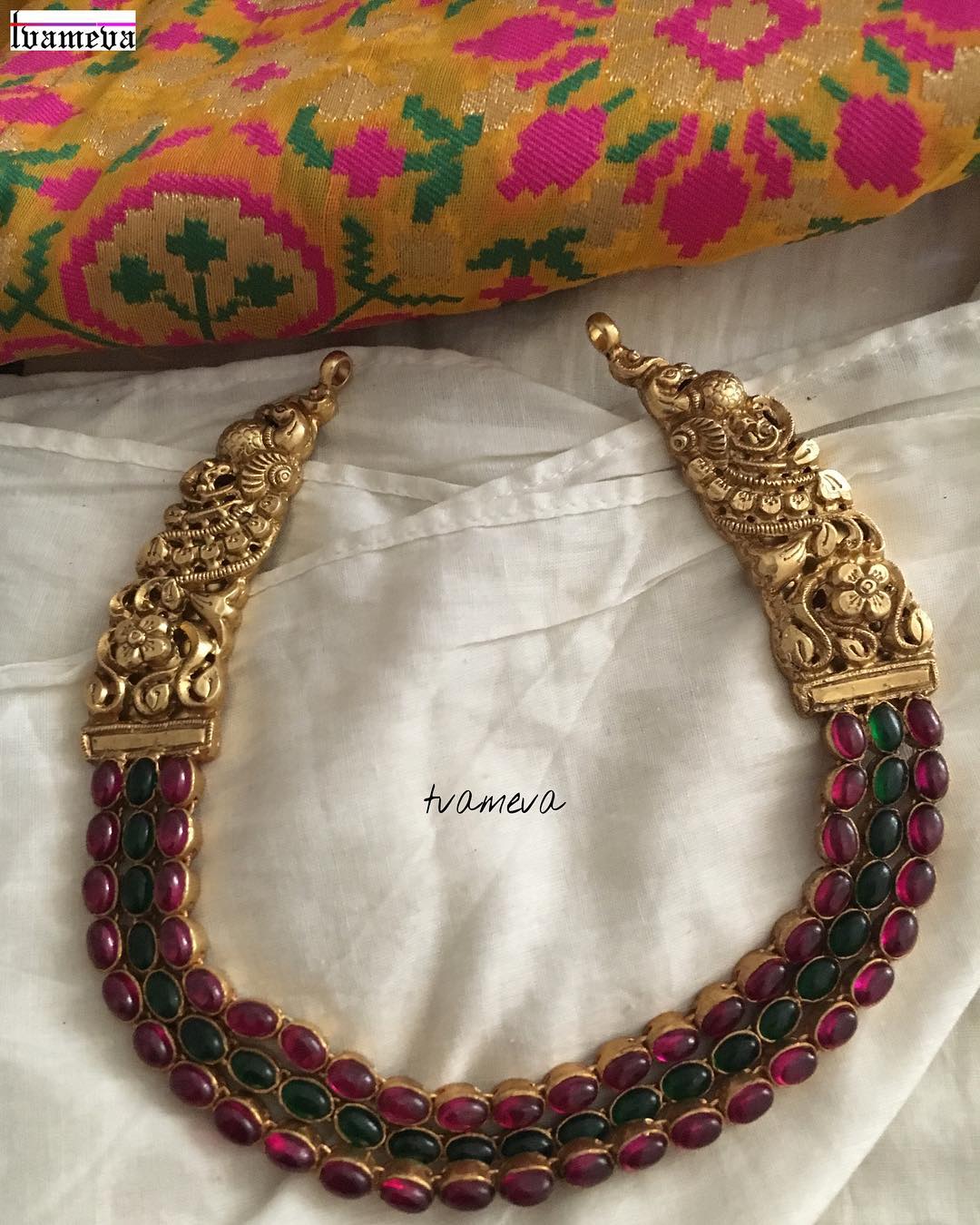 Emeralds and rubies are all time in style and one of the best collections you can have. So why wait? Grab your favorite piece of necklace now! If you like to shop the featured designs in this post, then please do check the seller details below. Happy shopping!
Seller Name : BCOS – Its Silver
Contact No: +91 90941 38036.
Email :ar***************@gm***.com
Website: https://www.bcositssilver.com/
Instagram : https://www.instagram.com/bcos_its_silver/
Facebook: https://www.facebook.com/BCOSITSSILVER/
Address : Shop #1, Plot #102, 17th Cross Street, 6th sector, near MK Ahmed bazar, opp to ICICI bank, HSR Layout, Bengaluru 560 102.
Seller Name : Ms Pink Panther
Facebook : https://www.facebook.com/MISSPINKPANTHERJEWELLERY/
Contact : +91 95855 95689
Instagram : https://www.instagram.com/mspinkpantherjewel/
Website : http://www.mspinkpanther.com/
Seller Name : Precious and You
Instagram : https://www.instagram.com/preciousandyou/
Contact : +917094196623
Website : http://www.preciousandyou.com/
Facebook : https://www.facebook.com/preciousandyou/
Seller Name : Rimli Boutique
Instagram : https://www.instagram.com/rimliboutique/
Contact : 09841640771
Facebook : https://www.facebook.com/Rimli.boutique
Seller Name : Tvameva
Instagram : https://www.instagram.com/tvameva/
Contact : 9994767370
Also Read :