Earring is one accessory that instantly revives your wardrobe. Whether it is to give the classic white shirt an upgrade or simply to revamp that vintage benarasi saree, statement earring are the proverbial knights in shining armour every distressed damsel can count on. We give you the top 11 earrings to ramp up your style quotient for the summer.
1) Stone Earring
This season the biggest jewellery trends happening for a while is statement earrings. Therefore, these stone earrings are one of its kind. It will go with both Indian wear and western wear. These stone earrings are so tempting; we are sure you can't wait to try.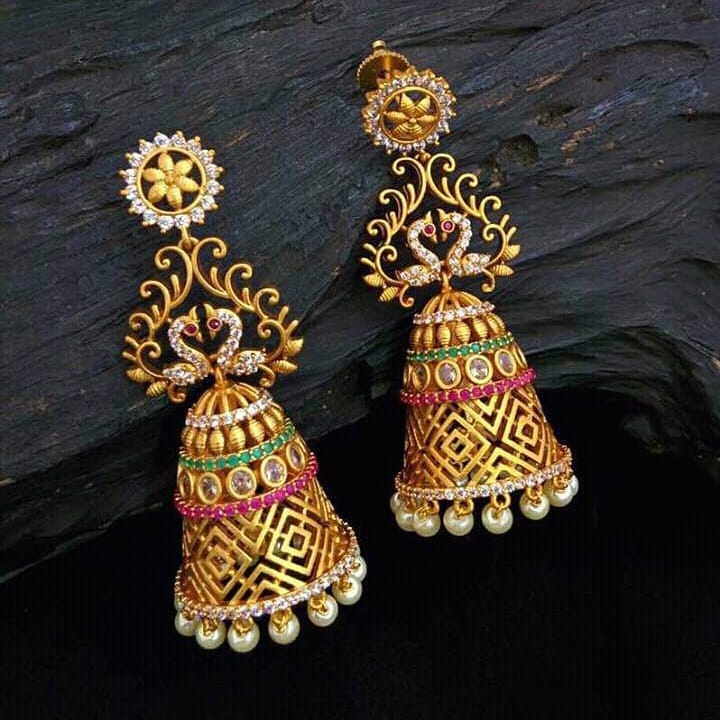 These stone earrings are high on craftsmanship and simply breathtaking. These pieces are inspired by India's heritage, and given a modern, eclectic twist. They have their own style, which is unique and simple.
2) Kemp Earring
As mercury level rise, what better way to beat the heat than the feel good colourful jewellery right? Whether you're in search of some all-out-sparkle quotient or in search of perfect add on to your ethnic look, big earrings will help you elevate your sartorial game for anything your social calendar sends your way.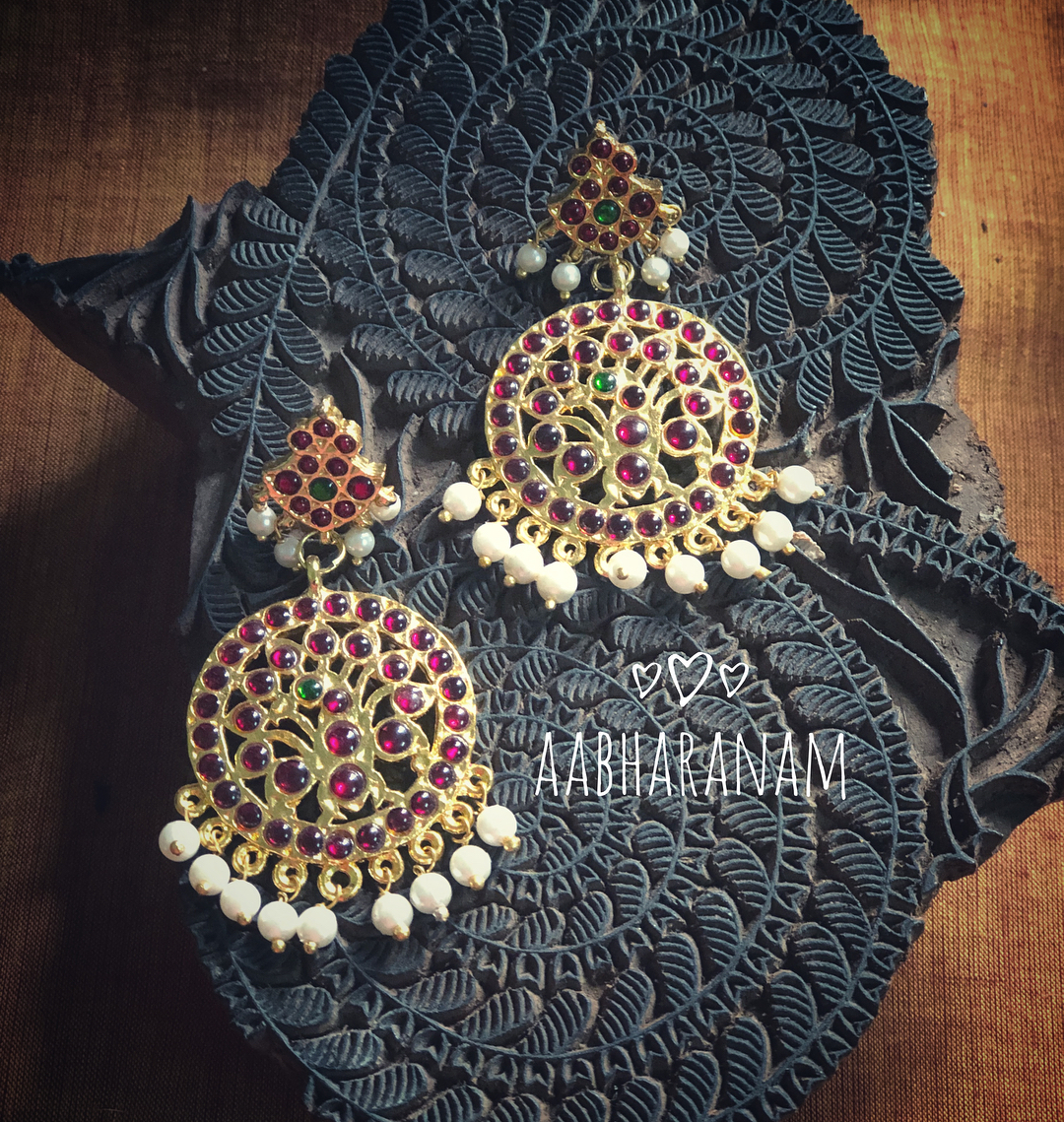 Kemp earrings are best known for their inimitable, intricate and graceful designs. One thing we love about these kemp earrings is their distinct designs, which will surely make you stand out in a crowd.
3) Studs
Sometimes a classic is a classic for a reason – because great studs have always been in vogue. These ruby drop studs are one of its kind. Crystals are arranged in a floral pattern which is the prime beauty of these studs.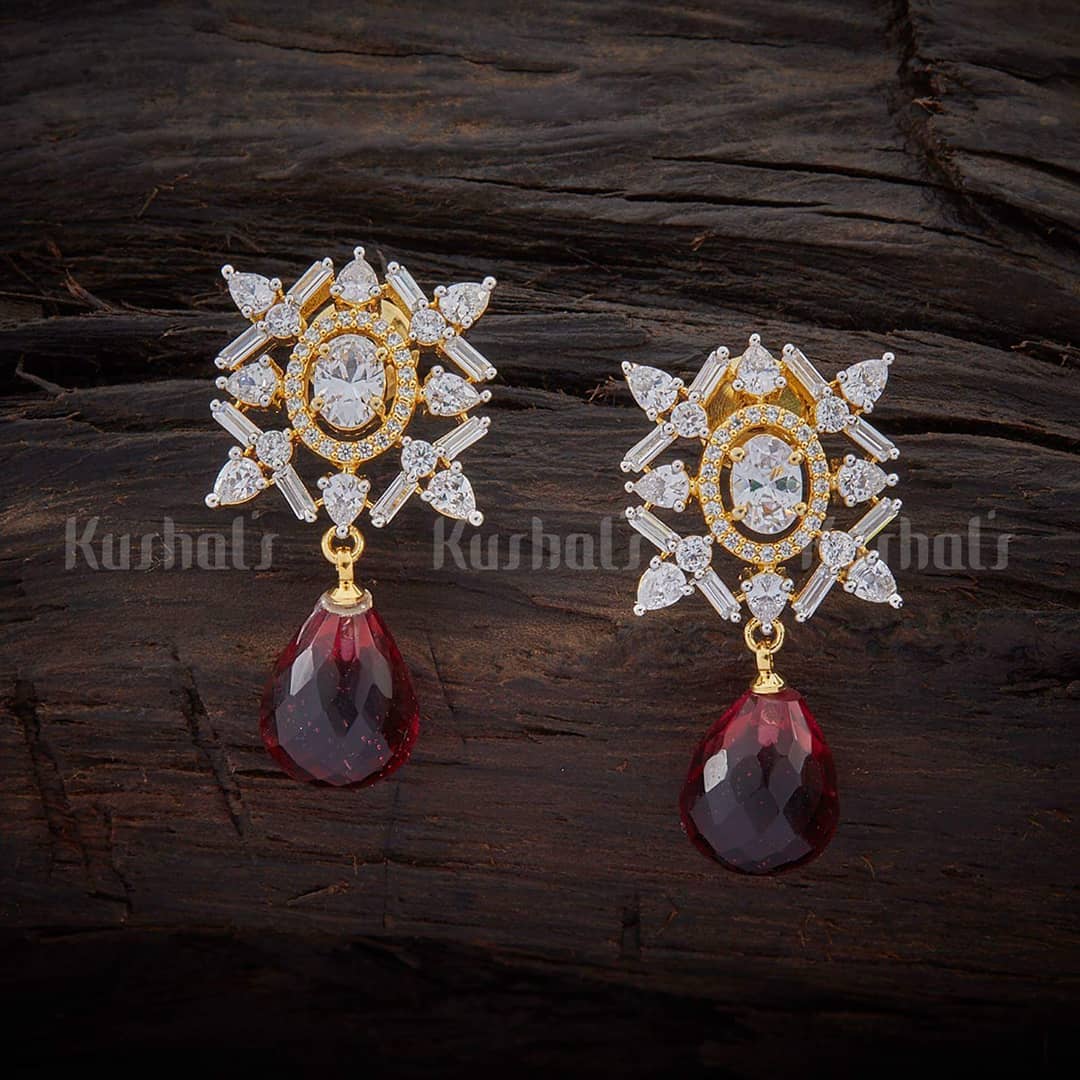 Therefore, when you are thinking of something simple and smart you can surely go for this one. These studs will go with both traditional as well as western wear. Moreover, the best thing is they will go with any color. These modern studs earrings will instantly amp any outfits.
4) Temple Earring
Now a day's temple jewellery is something, which is rocking the fashion industry. So try these Goddess Lakshmi inspired design that is perfect for a south Indian wedding or even for a reception.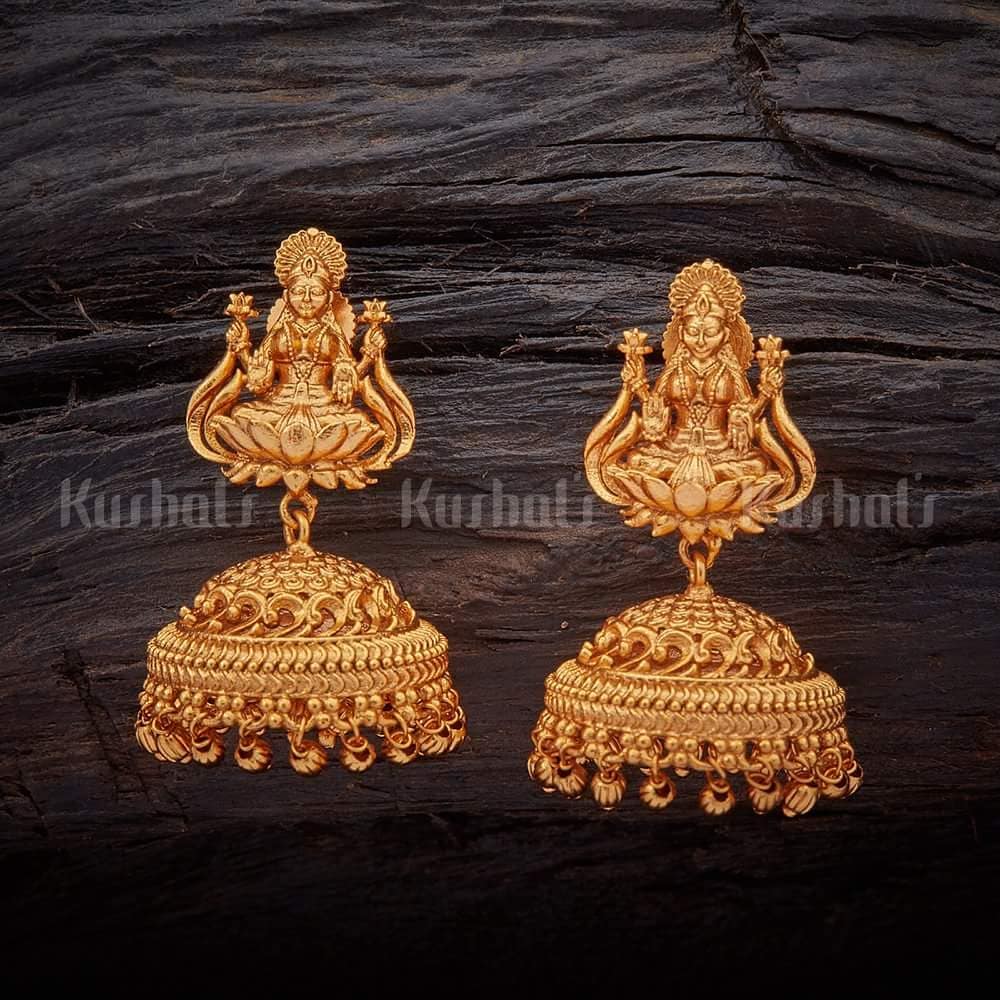 Lotus is considered as an auspicious flower in India so we have these lotus flower design earring with goddess Lakmi sitting on it. Give your accessory a fresh update and add these temple earrings but remember balance is the key so avoid over doing it.
5) Hook Earring
If your taste in jewellery is neither experimental nor maximal, go the minimal route with hook earrings. These hooks with intricate design are stunning and look appropriate for a sangeet or an after party. The prime beauty of these earrings is the ultra- cool design.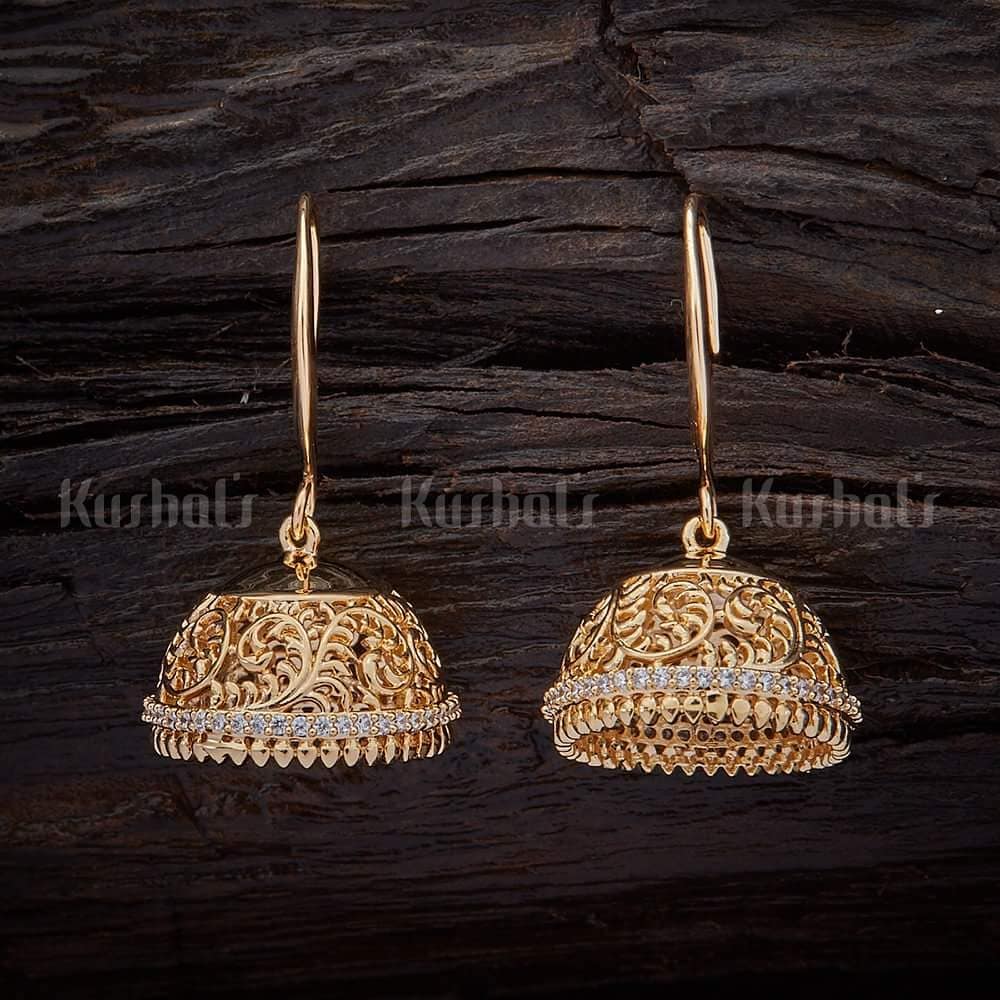 This leaf design on the edge is the perfect touch for the ethnic wear. Sometimes you just want to grab those hooks and jump in the venue these are for those times.
6) Peacock Earring
Size most definitely matters or at least it does when it comes to earrings. These are inspired from our national bird no other than peacock. Dare to be different with one delicate, peacock earrings.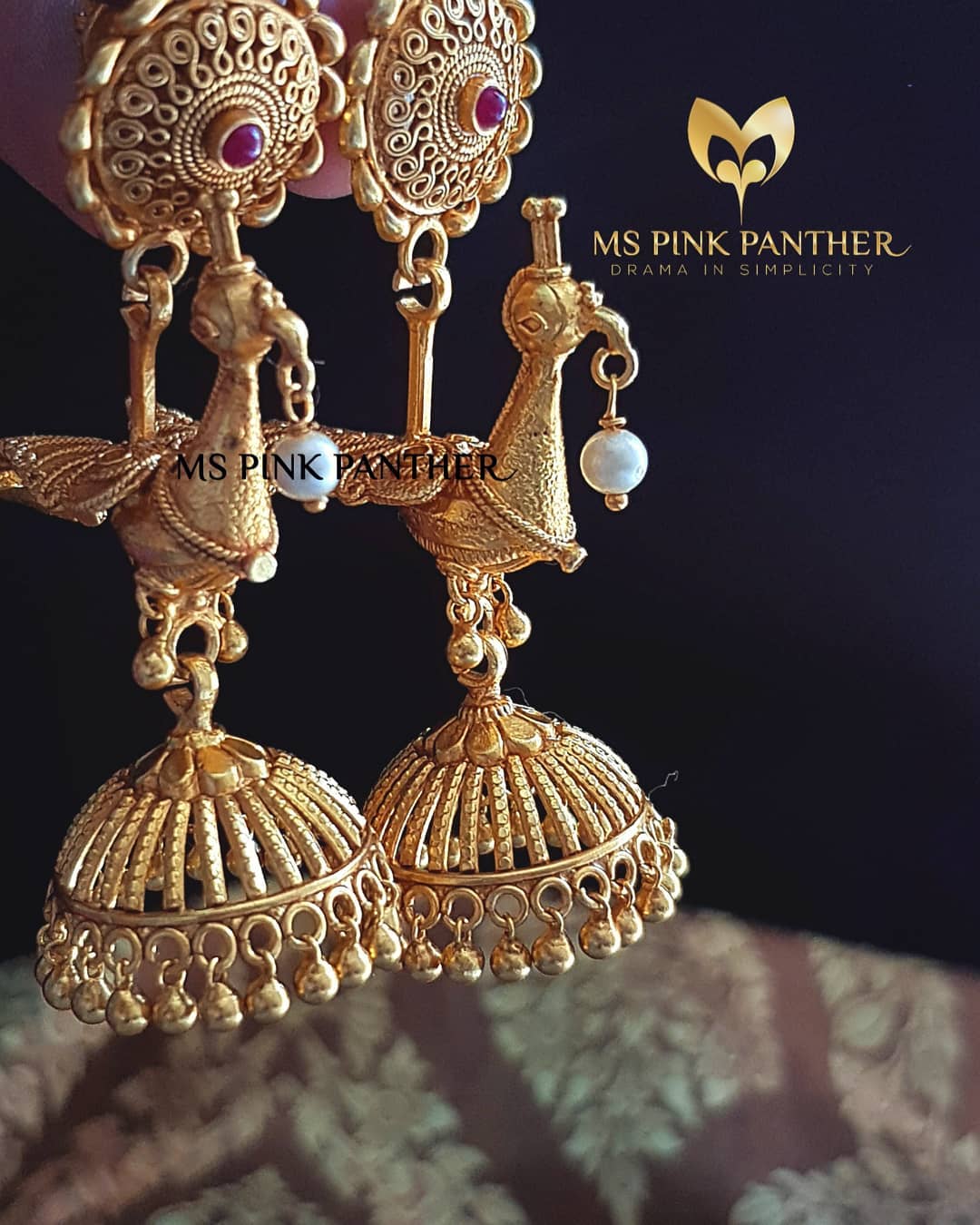 7) Pearl Jhumkas
Pearl is a popular and most sought-after precious gemstone. Pearl jhumkas are so in trend and they compliment all kind of attire whether its ethnic wear or western wear. Pearls are perfectly complimenting the whole body of gold and adding an extra charm to it.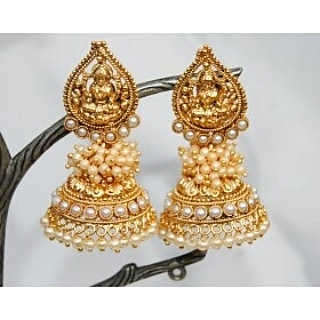 They will make you look trendy and smart. These pretty pearl Jhumkas make life easier you just have to wear them and then you can hop from sangeet to after party.
8) Silver Earring
Sometime simplicity is just as stunning as intricacy. The intricate design detail is the main emphasis, which grabs the attention of the viewers. This piece is light yet grand. Dare to step outside your comfort zone with these ultra-cool silver earrings. You will turn heads all day in these silver earrings.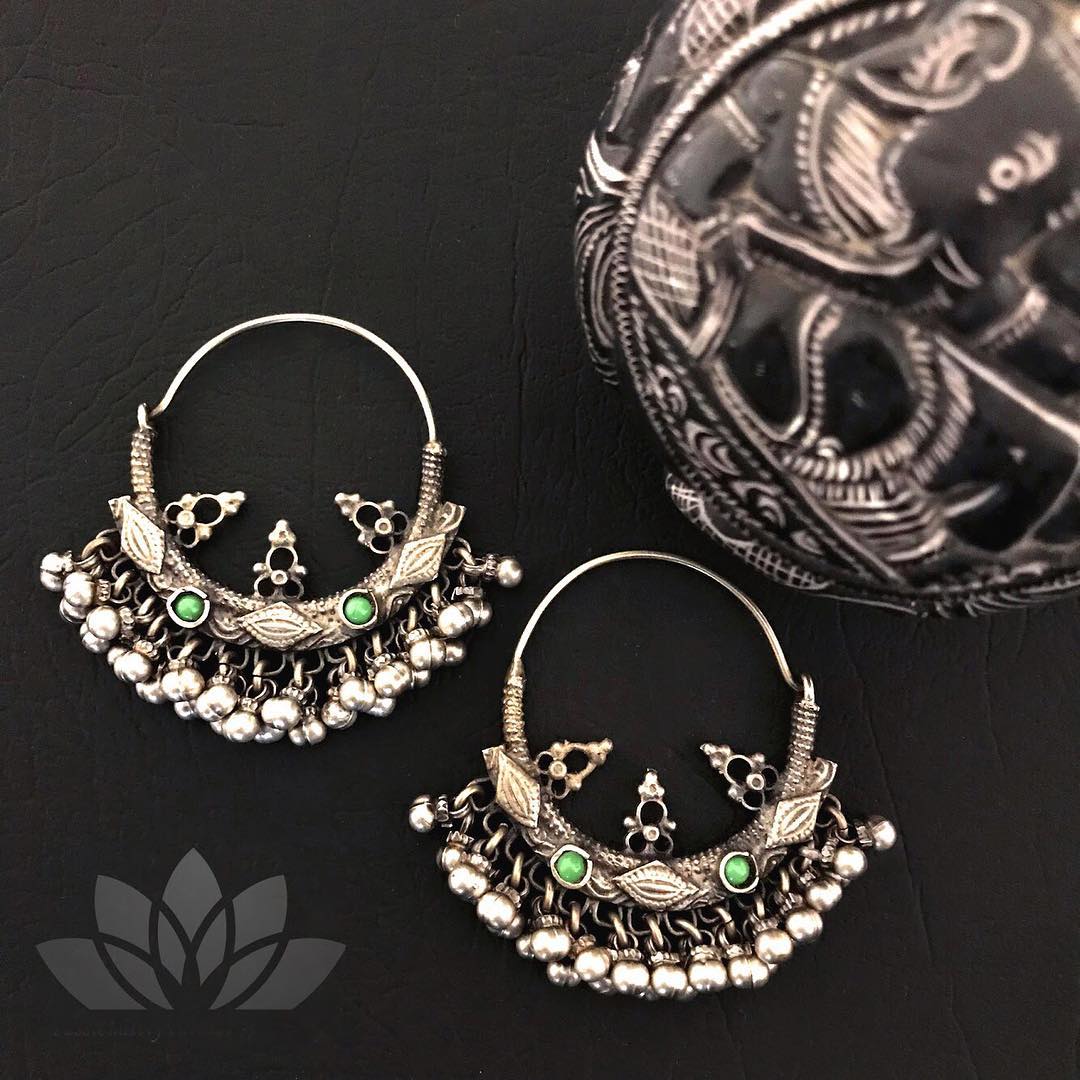 9) Kundan Earring
If you like standing out, then opt for something very extraordinary like these Kundan earring which are just mind blowing. Kundan earrings are famous in Rajasthan and if you are looking for a typical Indian traditional look you should surely opt for these.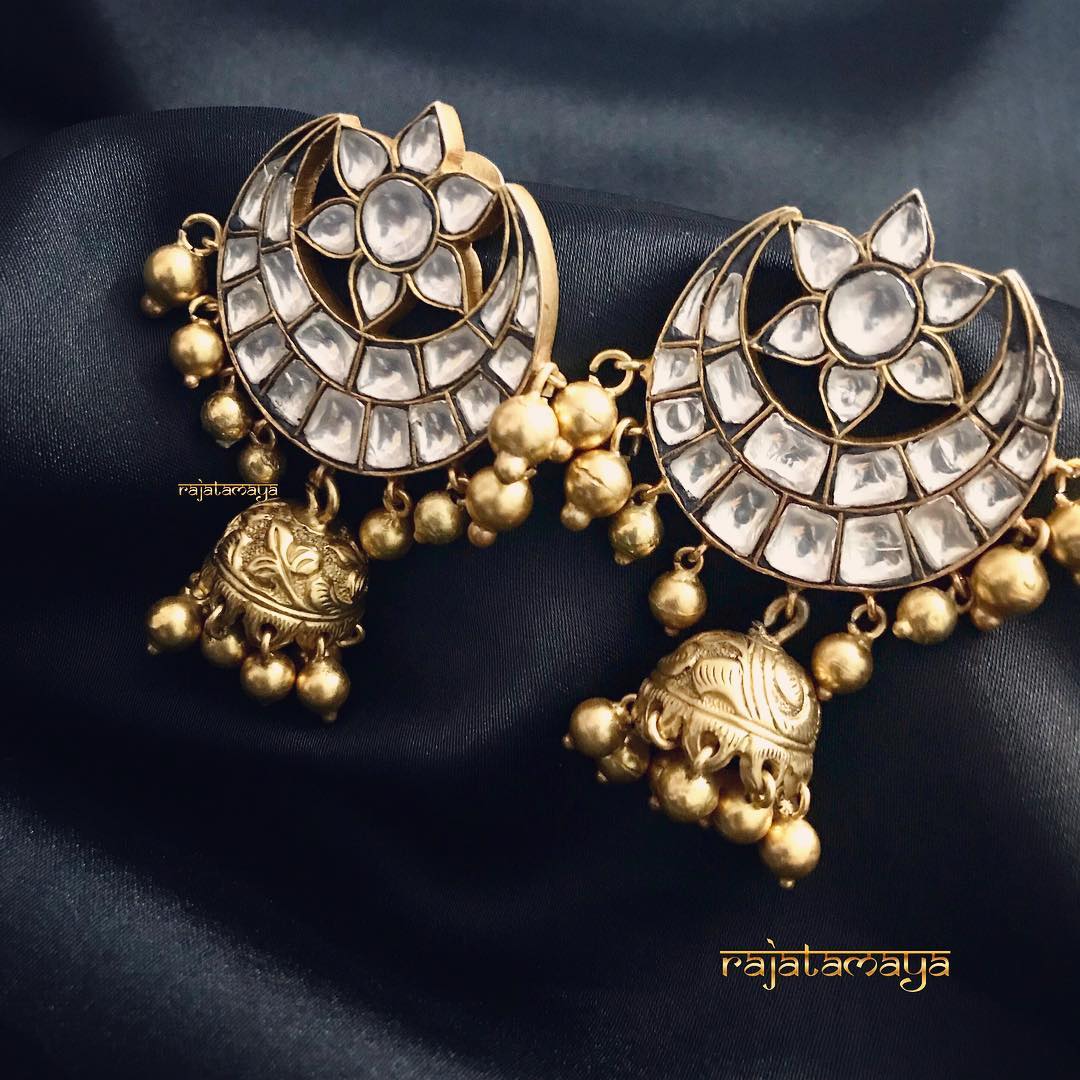 They will go with a stunning silk saree or even with a anarkali suit. The hanging jhumka is the prime beauty of this earring.
10) Bold Antique Earring
These are undeniable pretty. These are for everyone as they are not so simple and not very dramatic as well. This brand has typical south Indian temple jewellery. These are simple yet modern, so make sure you have one pair of these to elevate your simple look into something stylish and trendy.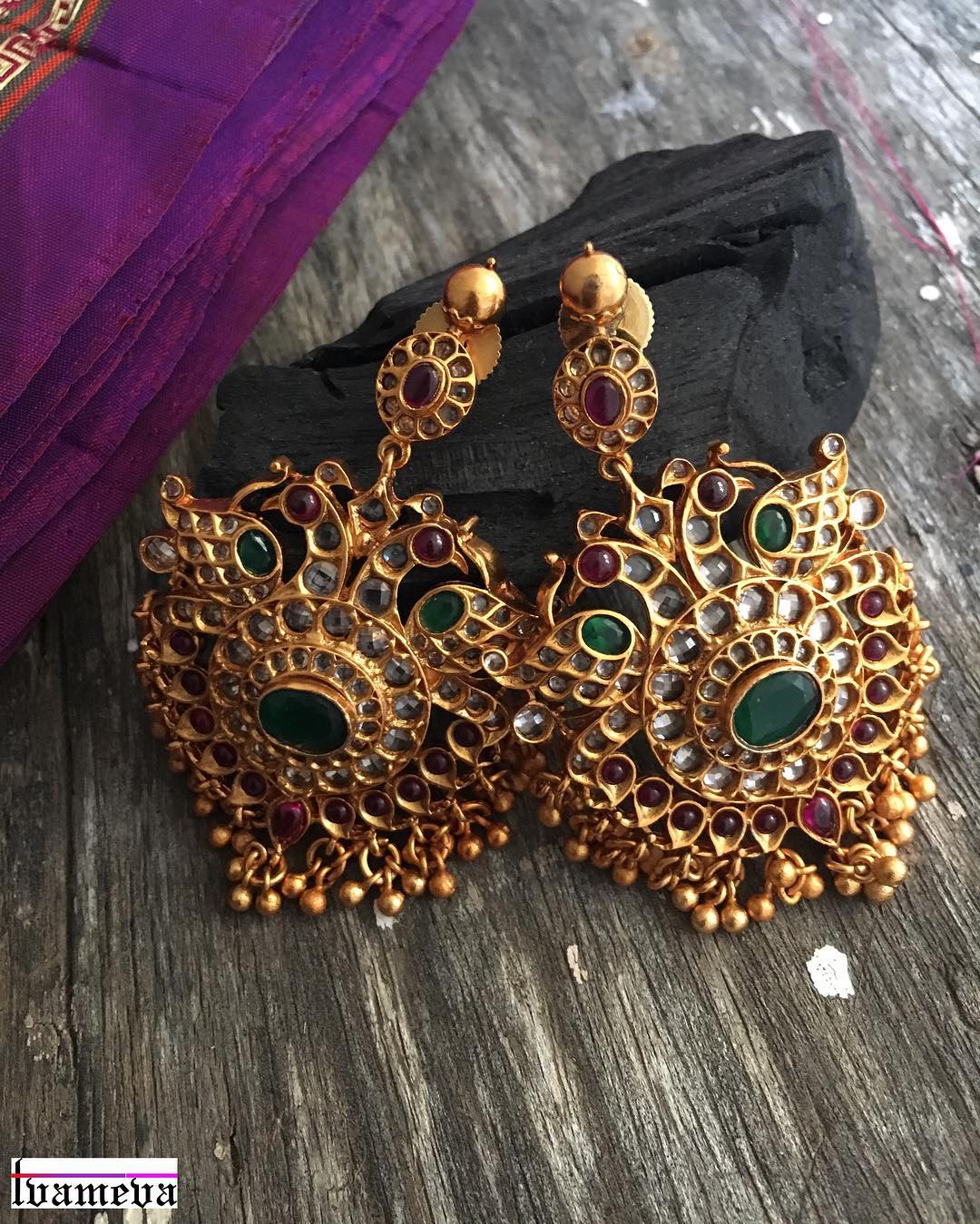 Wear these with something solid that will bring out the whole look of the earring. So try these for the ultimate edgy look.
11) Coin Earring
This pair is quite different from the rest. It has a modern look attached to it and yet can be worn with traditional outfits. It is love to show off the fashionable side of you, pick this one! They will surely give you a vintage look, which is very much appealing.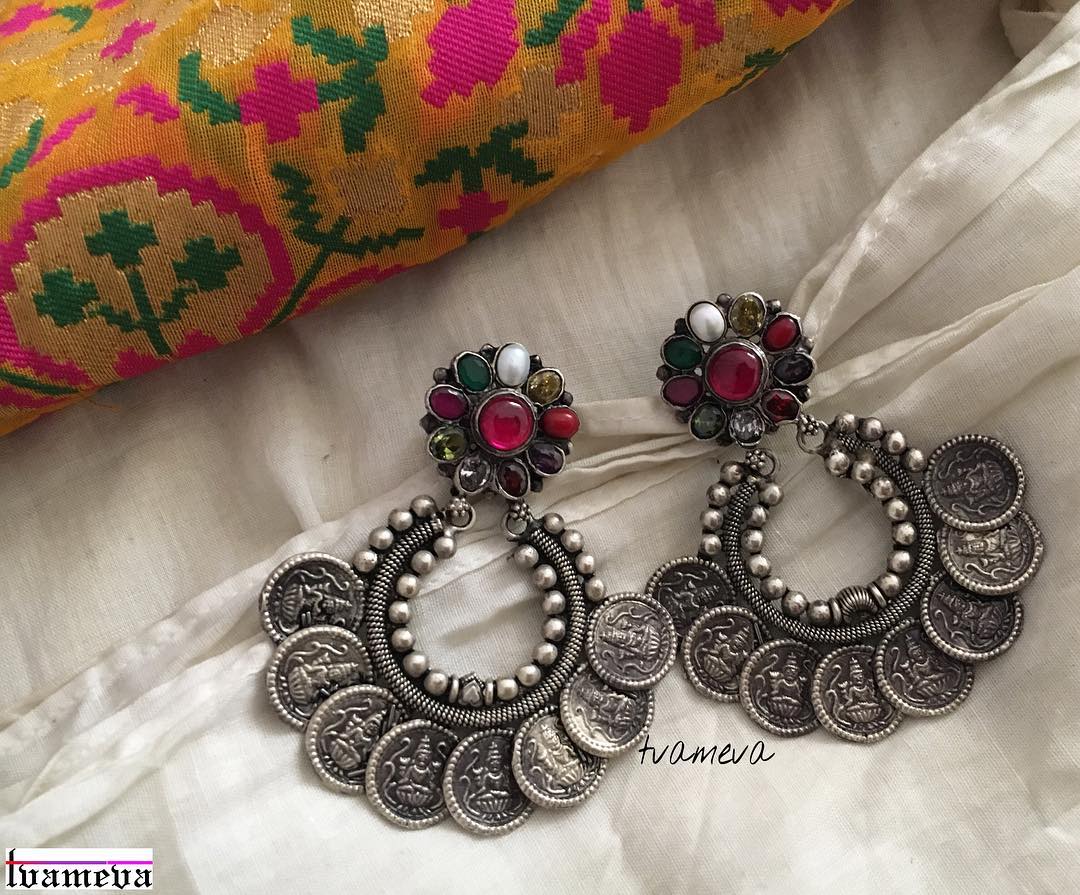 The coins are arranged in an arch giving the earring an elaborated version. Try pairing them with your favourite Indian wear, make sure you pull back your mane so that the earrings are emphasized. This is one of the unique masterpiece and a must have.
12) Chandbalis
When you are wearing something, which is neither too heavy nor too simple but yes something very attractive you reach the perfect level of sophistication. This pair of chandbalis is a perfect example and the hanging beads put in a great deal of beauty.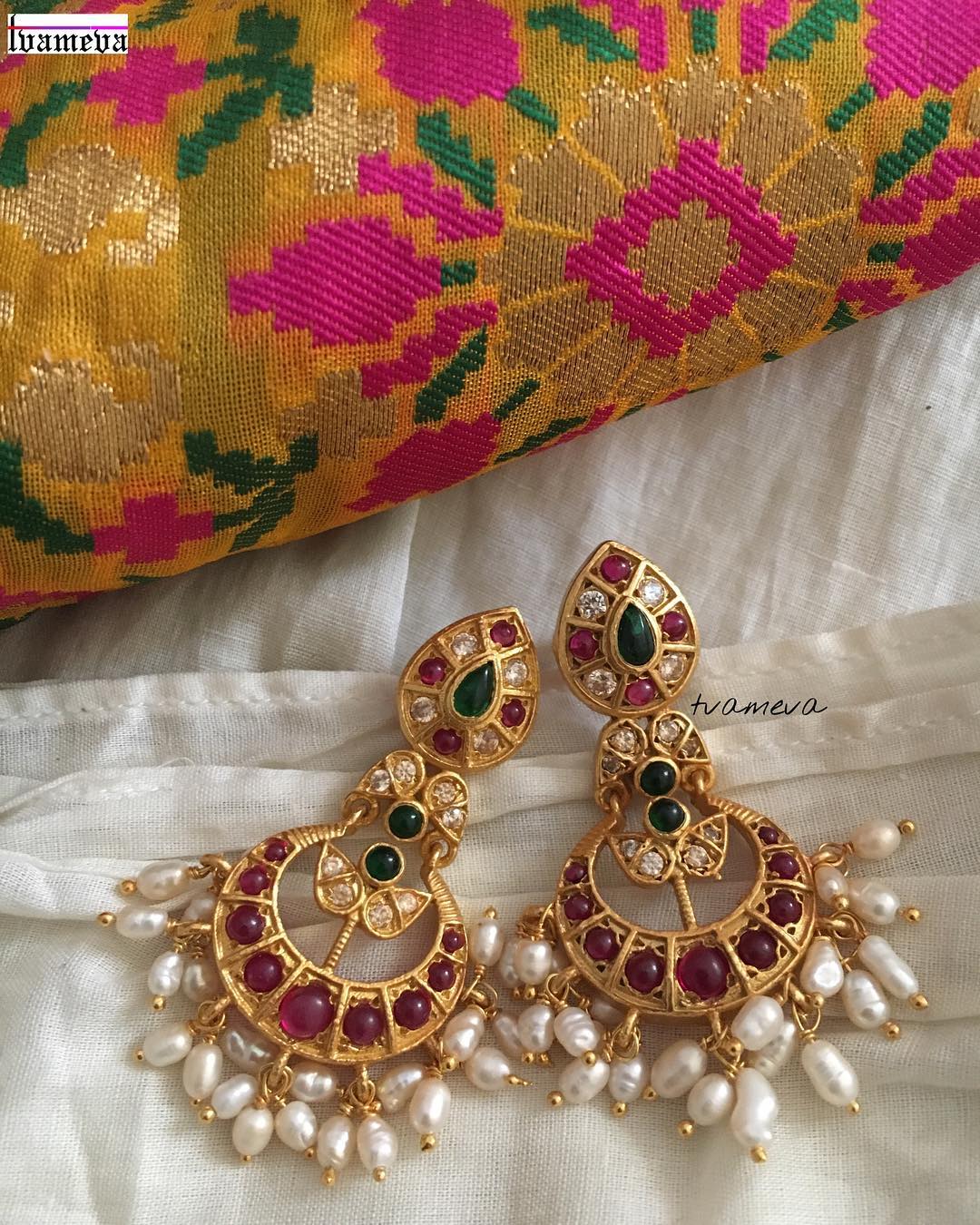 Okay, that ends our list. How many earrings do you have on this list? Do not fret if you have not laid hands on the above list of adorable earrings. You can check the availability of the designs that featured here from the sellers below. Happy Shopping!
Seller Name : 1 Gram Jewellery
Contact No : 9845476270
Website : http://www.1gramjewellery.com/
Email : 1g*******************@gm***.com
Address : Shubham jewellers #871,nagarthpet main road Chickpet
Bangalore, India
Seller Name : Aabharanam
Instagram : https://www.instagram.com/abharanam/
Email : aa********@gm***.com
Whatsapp : 9677600195
Seller Name : Kushal's Fashion Jewellery
Instagram : https://www.instagram.com/kushalsfashionjewellery/
Contact No : 1800-103-7337
Website : www.kushals.com
Email : he***@ku*****.com
Seller Name : Ms Pink Panther
Facebook : https://www.facebook.com/MISSPINKPANTHERJEWELLERY/
Contact : +91 95855 95689
Instagram : https://www.instagram.com/mspinkpantherjewel/
Website : http://www.mspinkpanther.com/
Seller Name: Orne Jewels
Website : www.ornejewels.com
Contact : 9833121784/9545278675
Email : or********@gm***.com
Facebook : https://www.facebook.com/ornejewels
Instagram : https://www.instagram.com/ornejewels/
Seller Name : Tvameva
Instagram : https://www.instagram.com/tvameva/
Contact : 9994767370
Seller Name : Rajatamaya
Facebook : https://www.facebook.com/Rajatamaya/
https://www.instagram.com/rajatamaya/
Contact : +91 97865 22555
Also Read :