You have been looking in the mirror for a long time and feeling like your look is missing something. You have worn your favorite outfit, put on a matching lipstick and nail paint too but it seems your look feels incomplete and boredom is creeping in on your day to day looks.
Here is good news for you. These 24 adorable small gold earrings designs will ensure the kind of every-day-nice-look you were hoping for.
They will blend in and complete your overall appearance just the way your heart, mind, and soul will want for you. Get mesmerized with these stunning golden earrings and choose the one you like to buy now.
Antique Earrings With Beads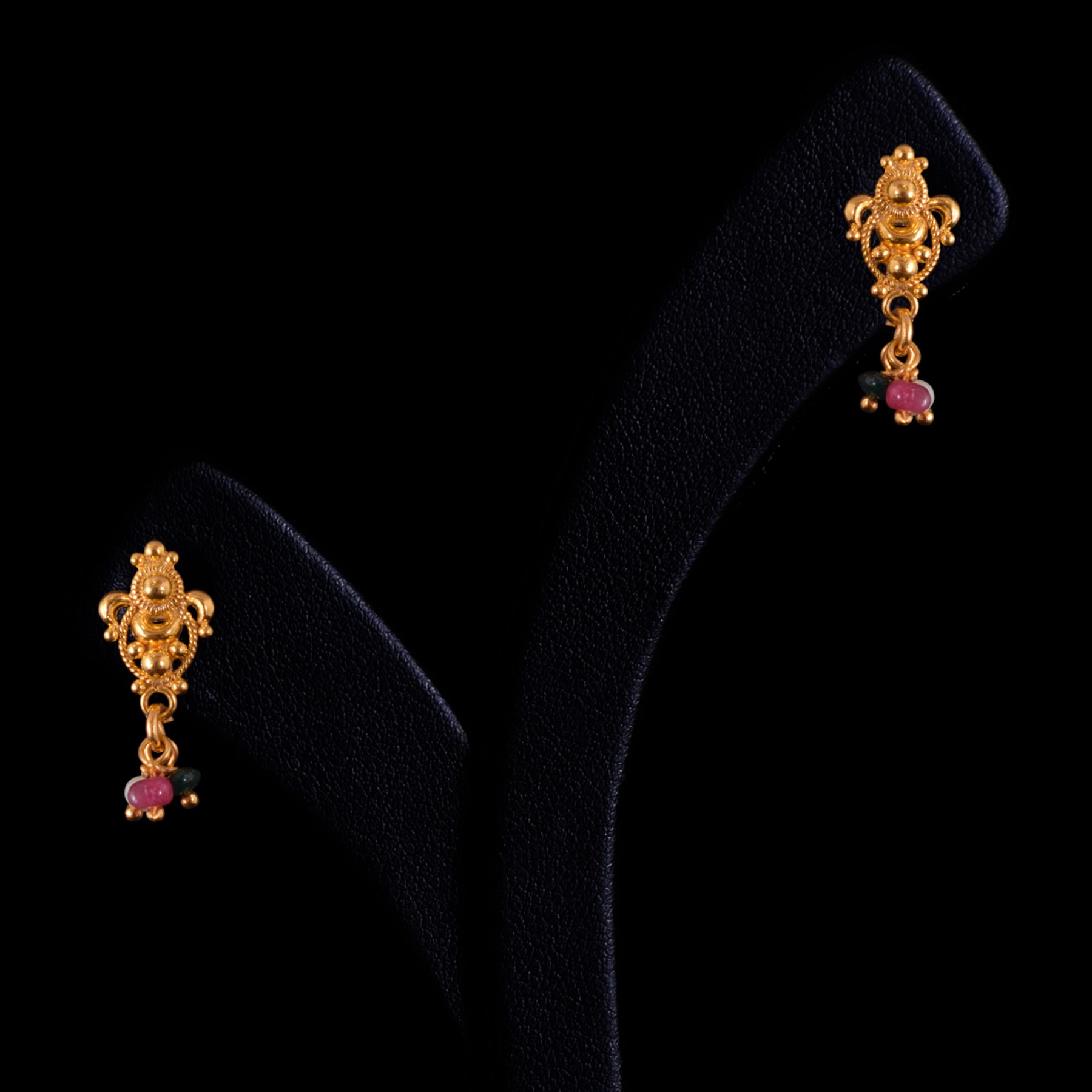 The three colors, white, pink and black beads on the antique earring with beads make this gold earring look gorgeous and stunning. If you are looking for an antique earring piece with beads as an addition to it, then, this jewelry piece is definitely what you should get home.
Earrings With Gold Balls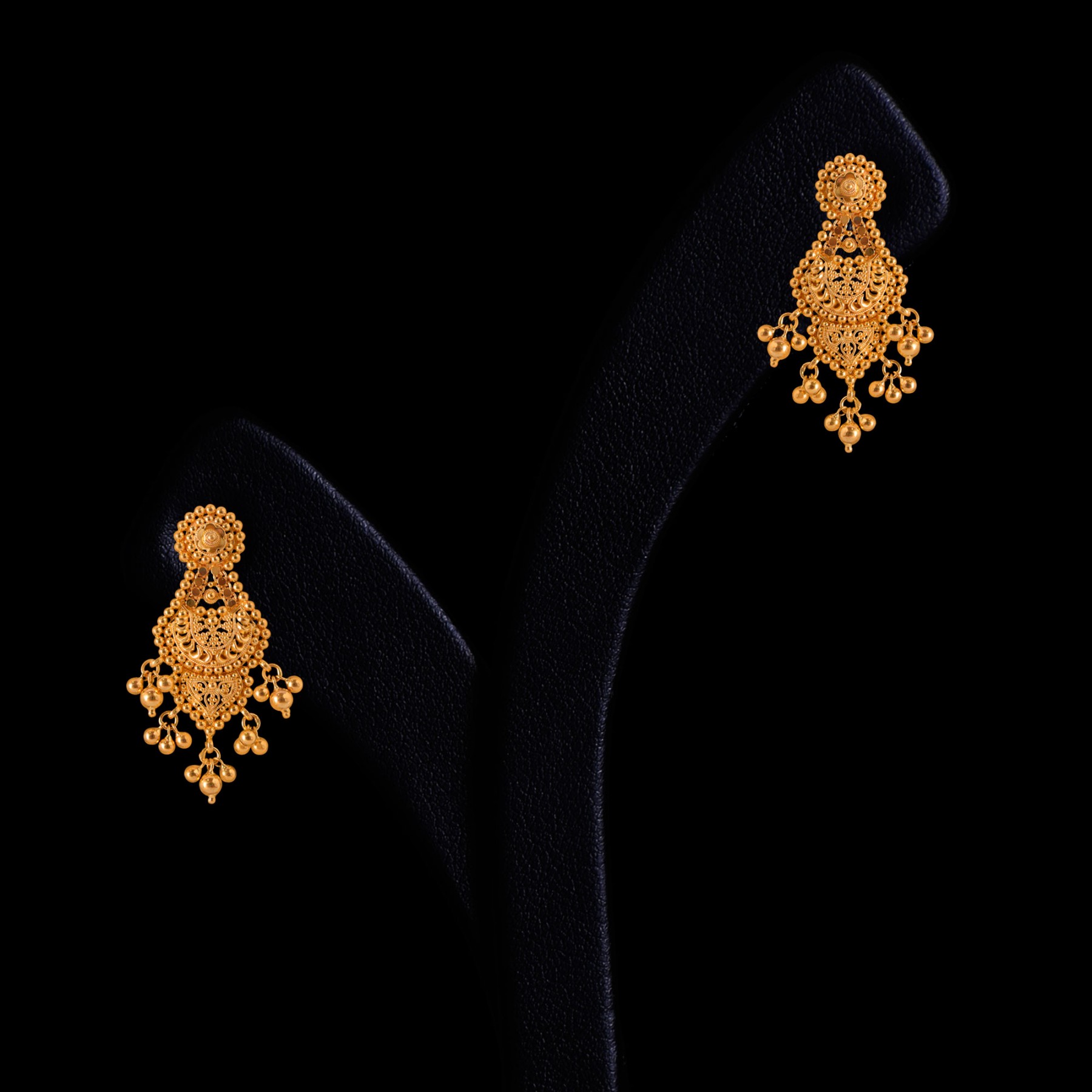 The connected small three gold balls to each one golden ring attached to this gold earring give it an astonishing and striking look. The tiny balls included into the designs and patterns of this earring with the gold ball make it an eye-catchy jewelry piece for girls and ladies.
Designer CZ Stone Earrings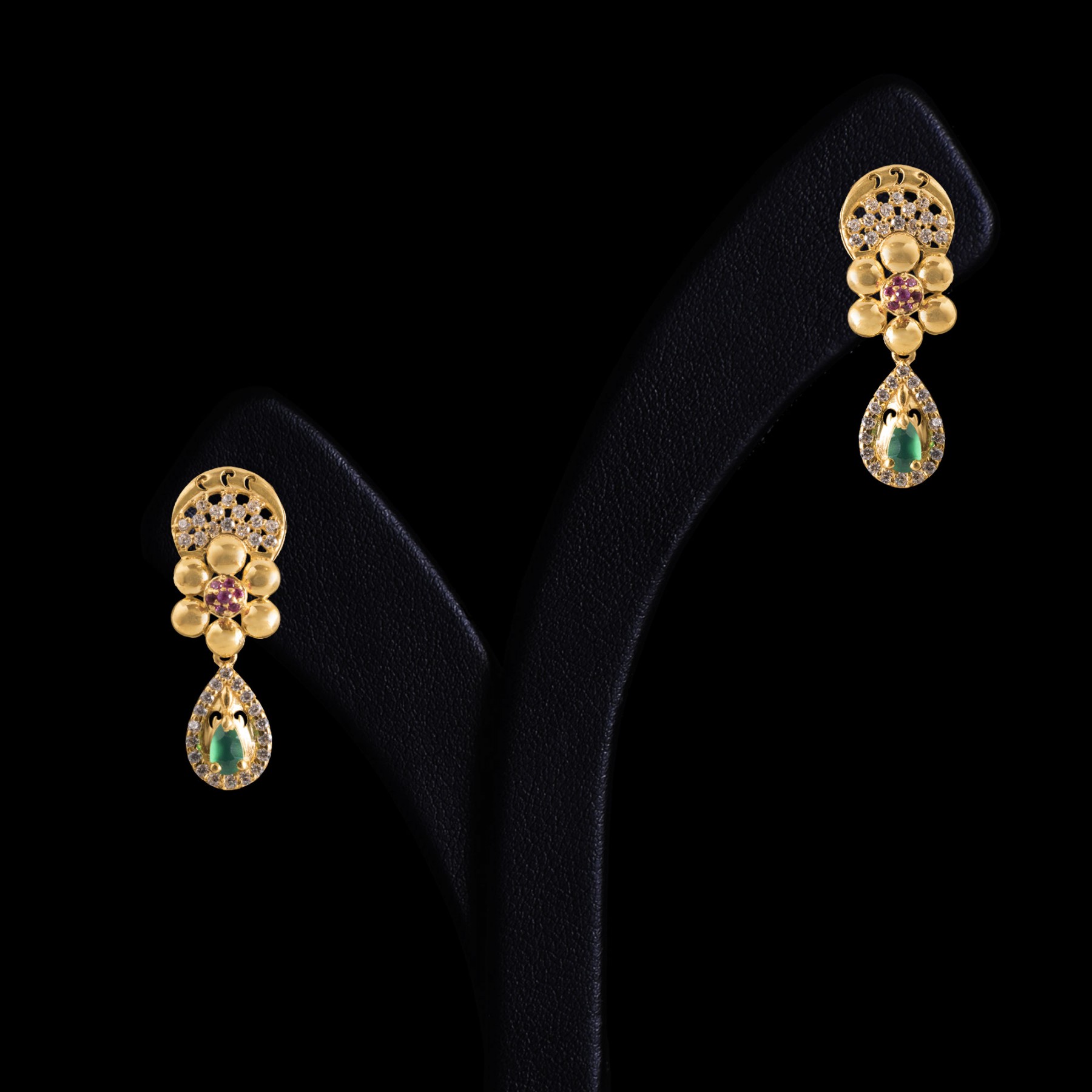 The green and purple cubic zirconia (CZ) stones on the shimmering and glossy golden earrings look brilliant and eye-catchy. The designer CZ stone earrings can be mixed and match with any of your purple, green, gold, silver, white, grey and black evening and shimmer dresses.
Spherical Drops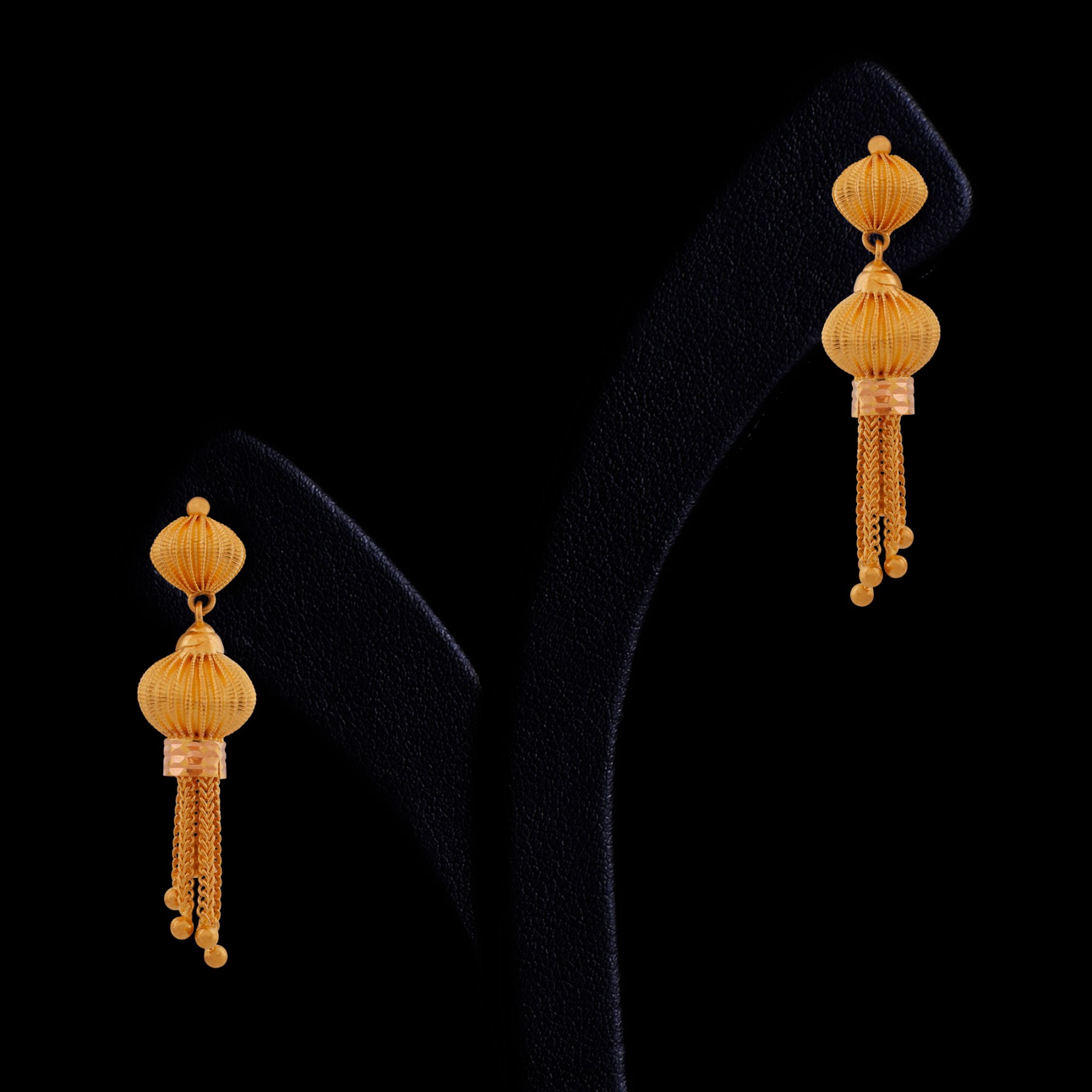 The golden spherical drops extended with the interlinked chains connected to the four small gold balls that make it one of the exquisite gold earrings you can add to your jewel box. Give yourself a charming, superb, and enchanting appearance by wearing it with your V-necked outfits.
Plain Ear Stud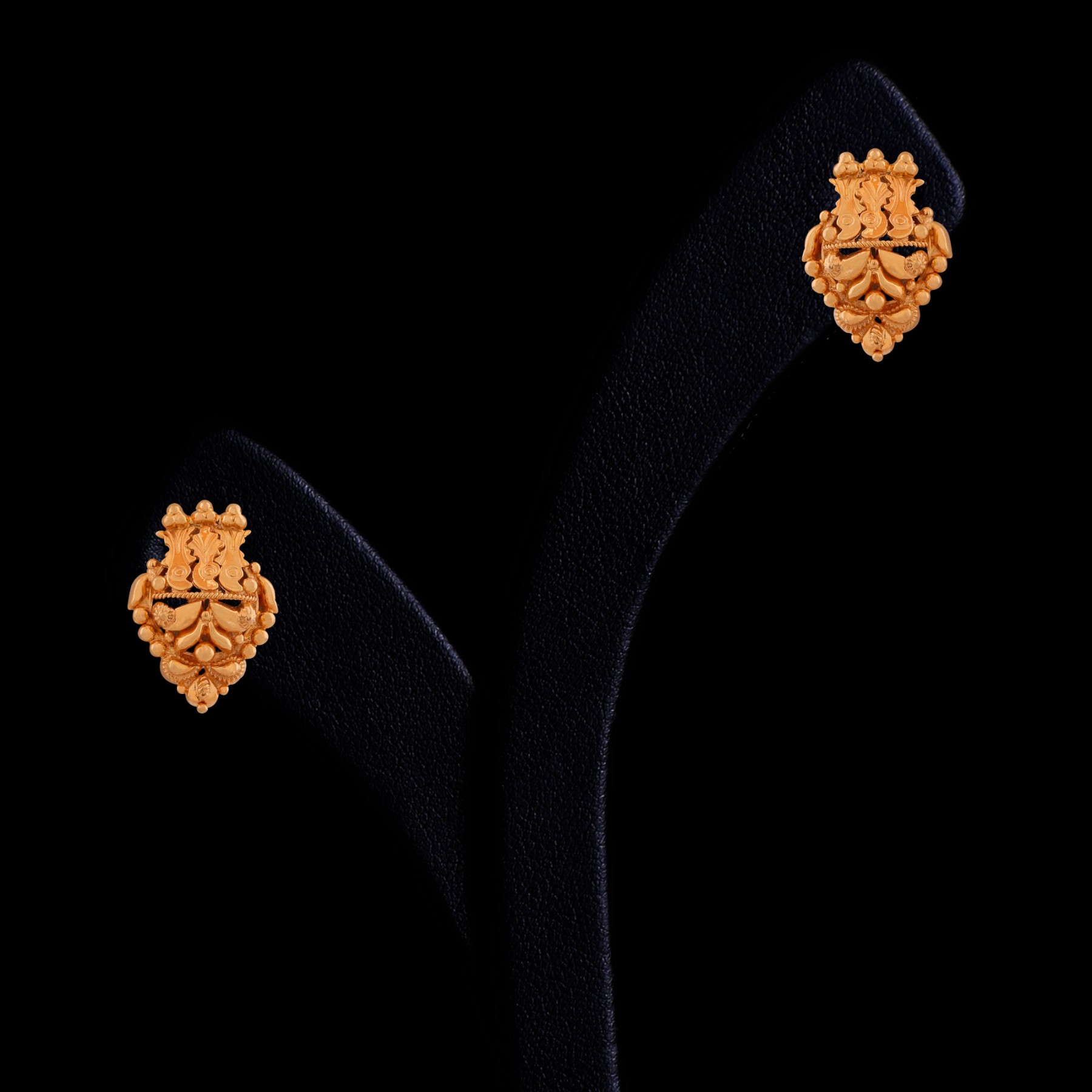 A simple and sober plain ear stud can be a great choice if you are looking for a small earring you would like to wear every day with many outfits you have. Obtain this small golden ear stud to offer you a marvelous look by bringing it home and match it with your attire you like to put on.
Mini Circular Earrings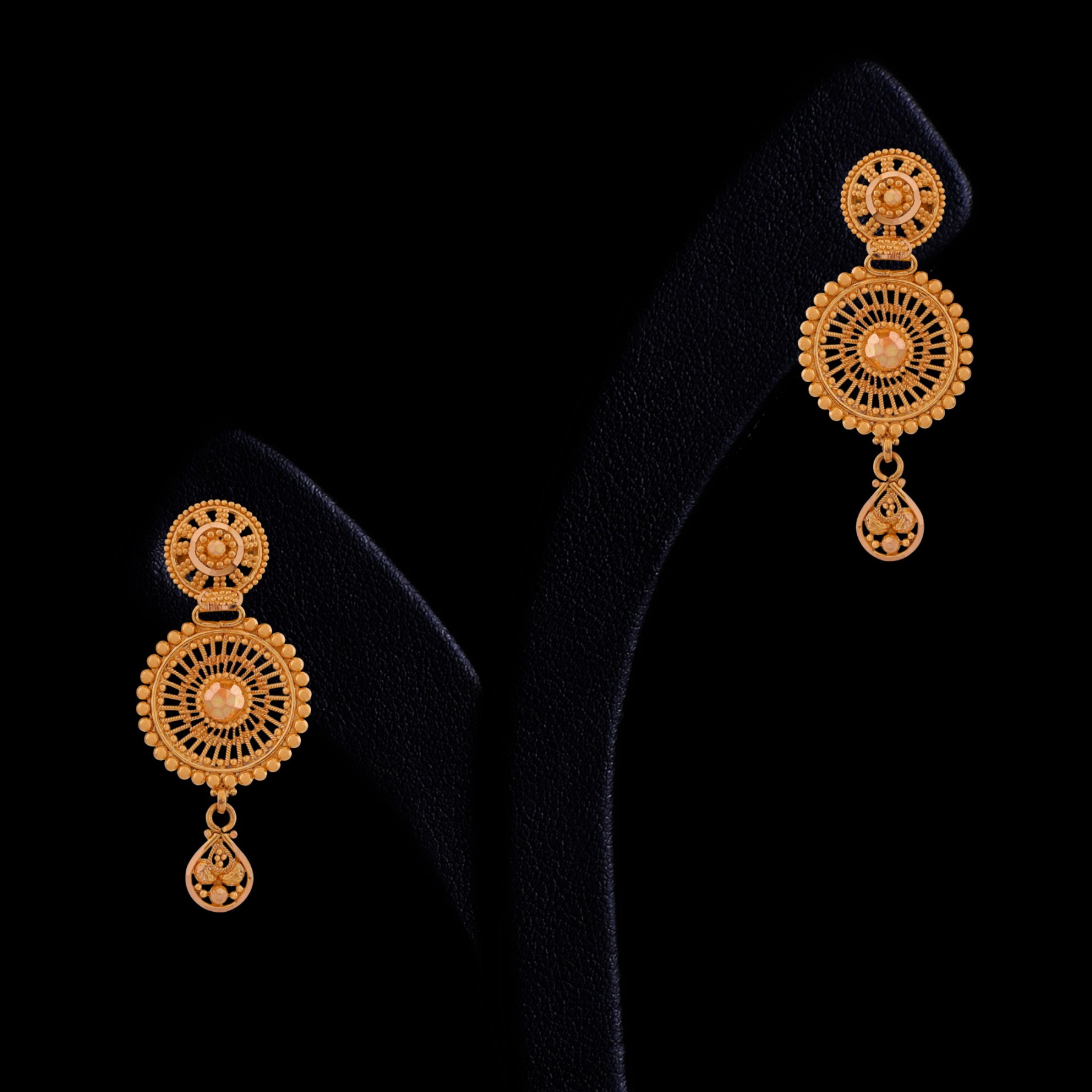 Be astounded and enhance your overall beauty, style, and fashion with the mini circular earrings. Allow this piece of jewelry to reflect your personality with round neck outfits. The patterns and designs engraved on this earring make it one of the jewelry pieces that you might not want to miss.
Antique Peacock Earrings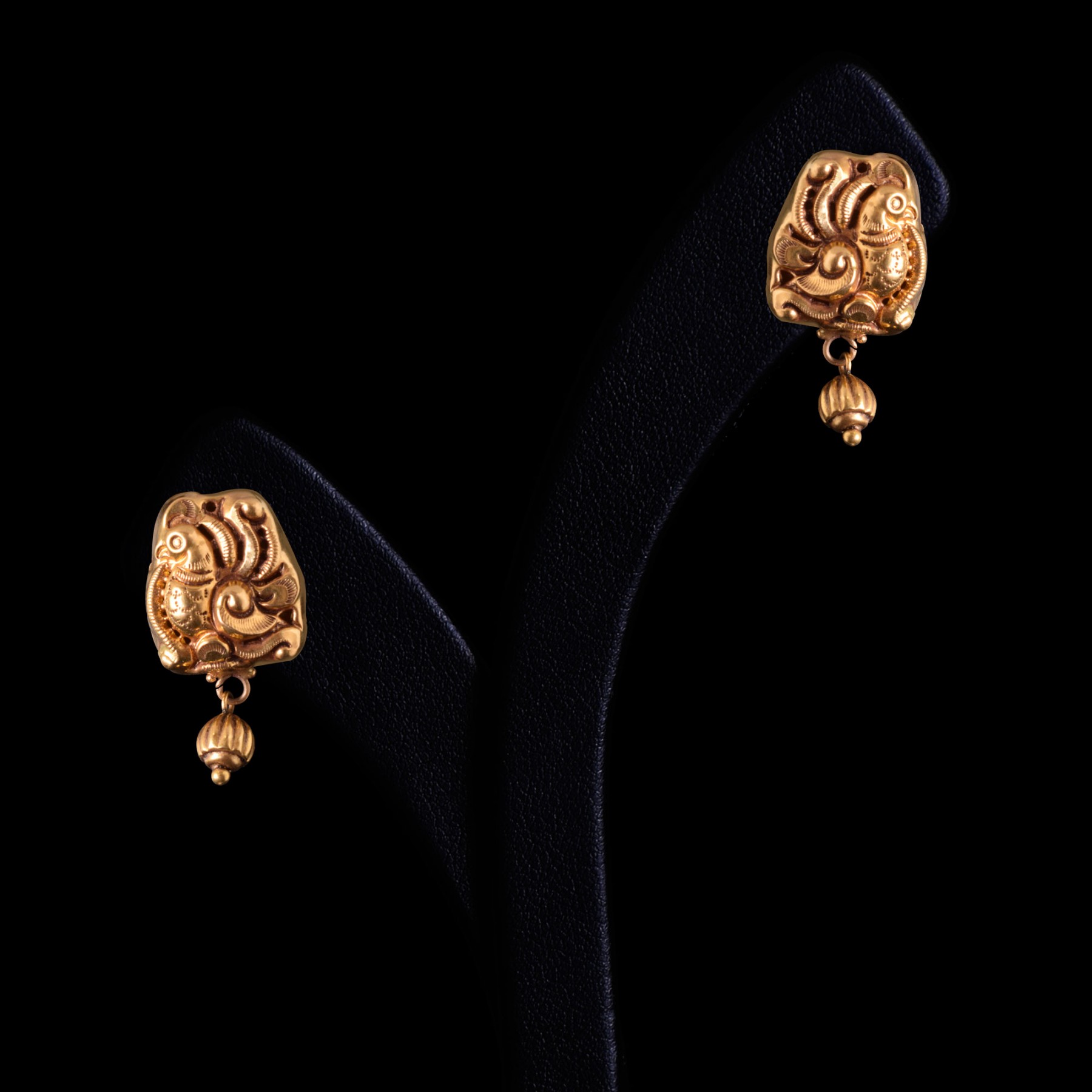 With lovely peacock designs on this antique jewelry, the antique peacock earrings are one of a kind earring piece that can leave you breathless and astonished whenever you plan wearing it.
Mini CZ Stone Earrings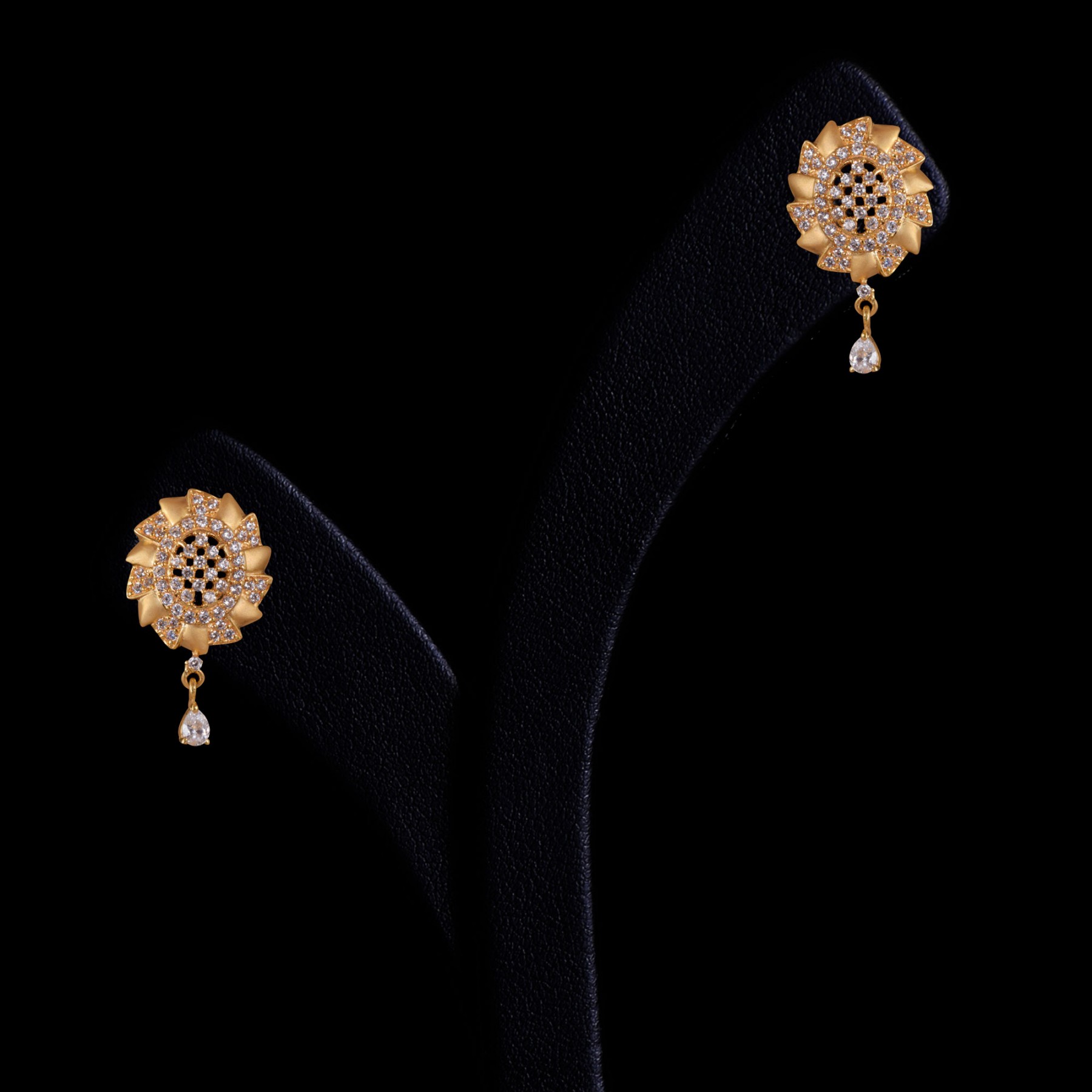 Experience the brilliant, glistening, glowing and captivating appearance with these mini CZ stone earrings. Amplify your style and beauty with these earrings and make your own unique fashion statement wherever you go.
Beaded Peacock Ear Stud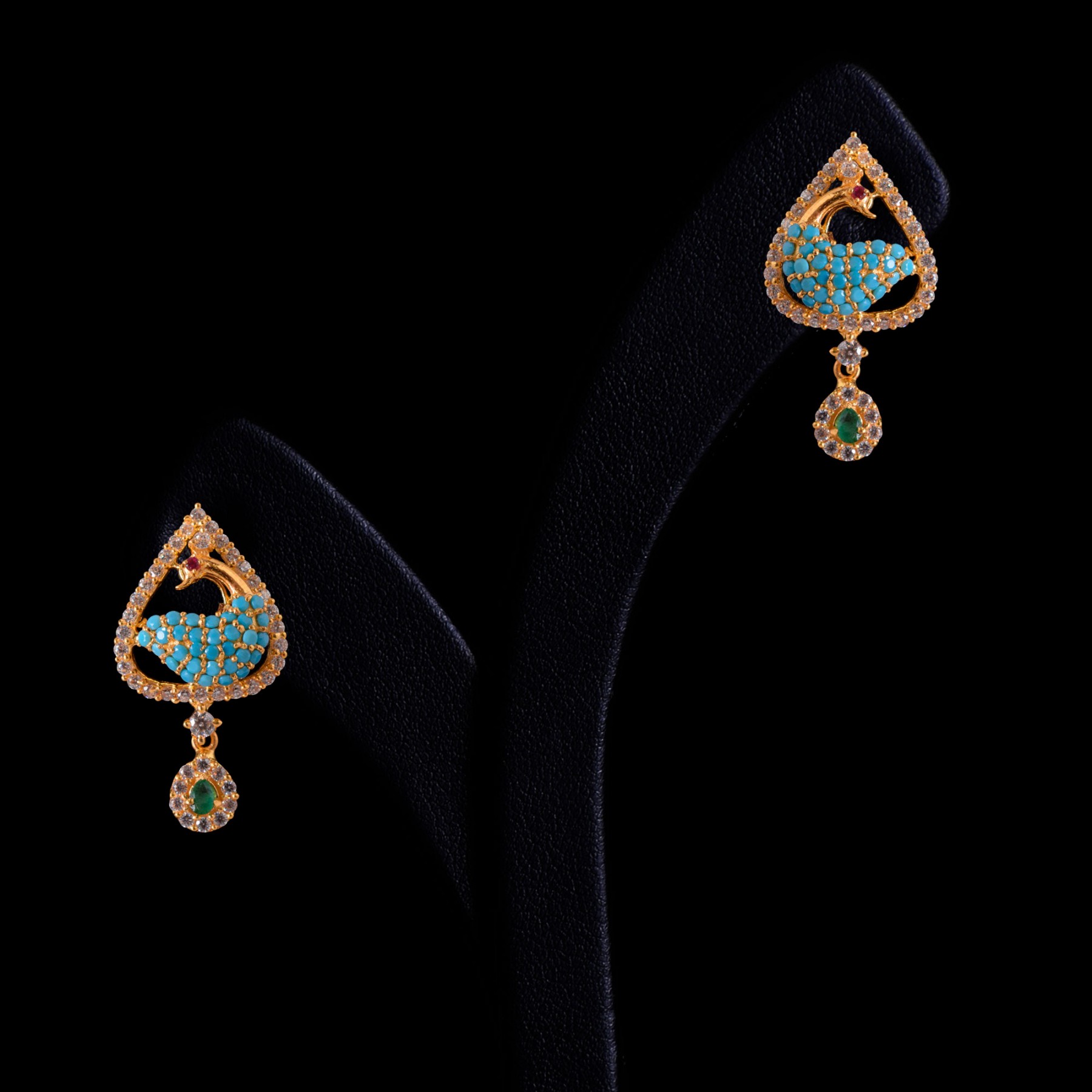 The blue, green and grey colored beads with the delightful and graceful peacock designs on it make it an eye-catchy piece of jewelry. If you felt a connection with this beaded peacock ear stud then don't hesitate considering it for buying this for you or your loved one.
Small Stone Jhumka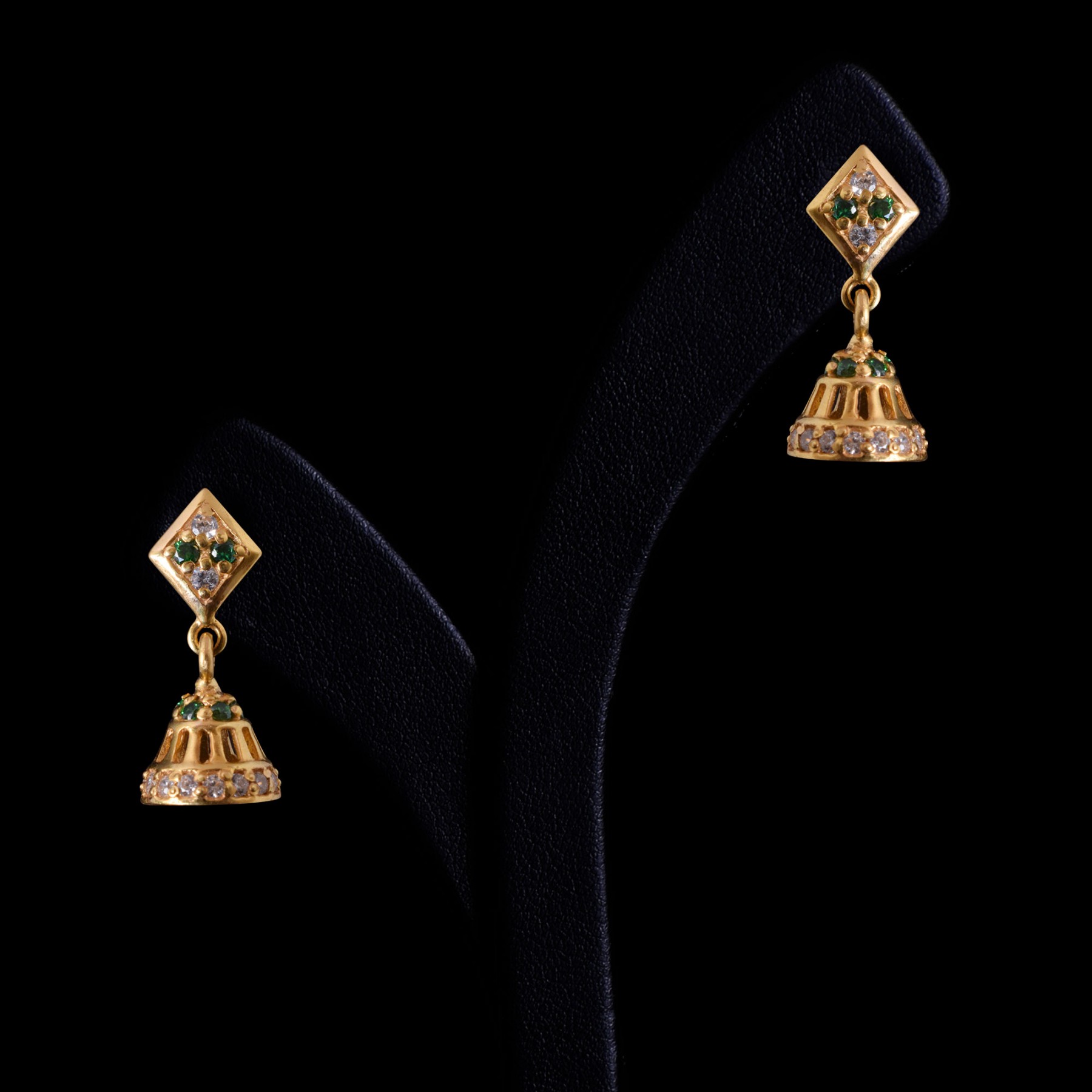 Present yourself a lovely and nice look with the small stone jhumka on you. Unleash the creativity of your mind and experiment with various combinations of dresses with these golden earrings to unveil different and unique looks.
Floral Drops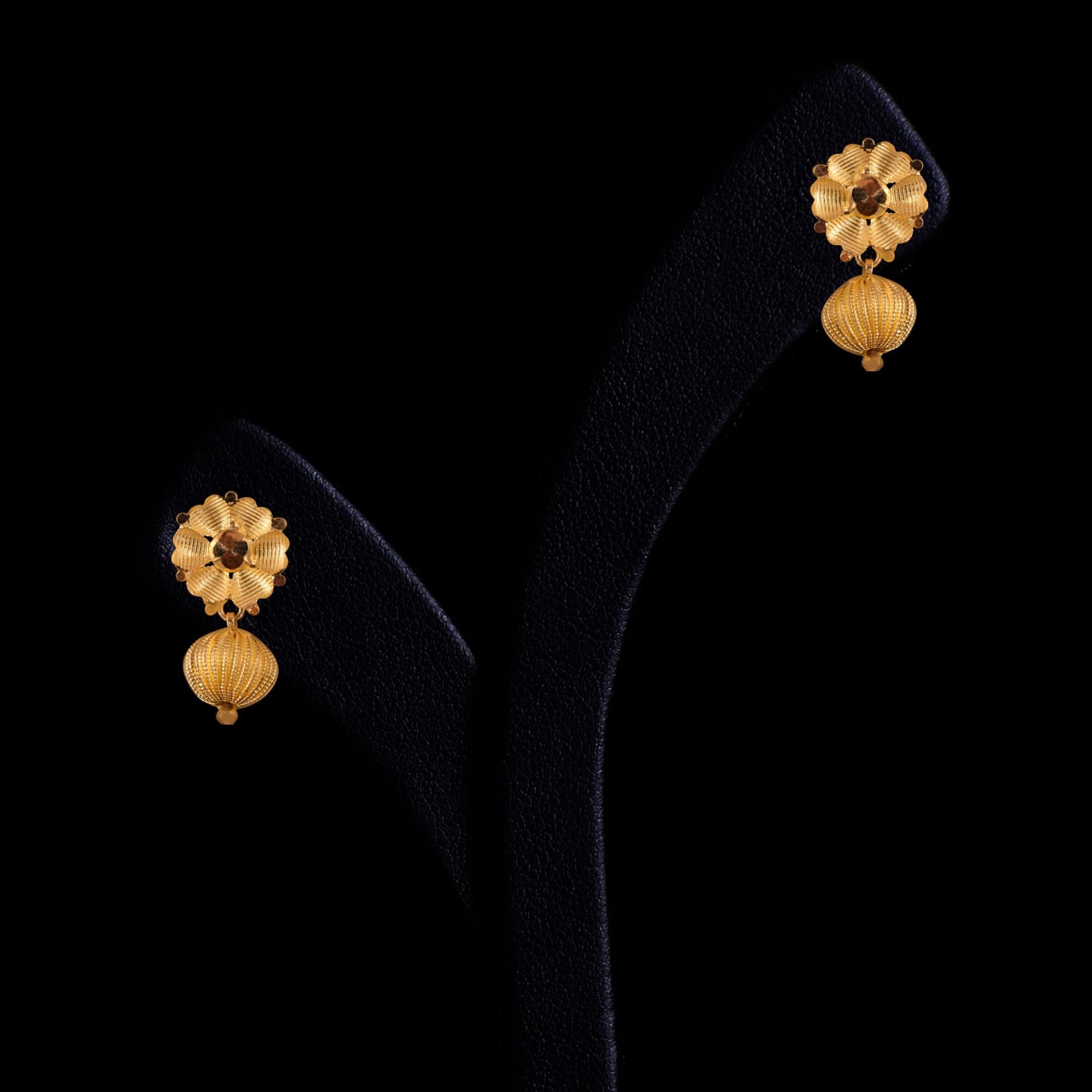 This one will blow your mind for sure and you won't be able to resist the desire to take this floral drop earring home. The outstanding golden flower on this jewelry piece will make you fall in love with these earrings. You can also wear it with many dresses you want. It will just make your day great whenever you will have it on you.
Ruby Stone Jhumka
The precious gemstone ruby attached to the earring makes this ruby stone jhumka an amazing and wonderful choice for you. With the rubies added to it, this earring promises you a striking and mind-blowing look whenever you wear it and go out to many places with your family, friends, relatives and other people you know.
Designer CZ Ear Stud
The designer CZ ear stud is here to complement and increase the level of beauty of your look drastically. Take your overall appearance to the next level with this stupendous, radiant, luminous, enthralling and mesmerizing earring piece. Just don't hold yourself back and buy this jewelry if you have fallen in love with these earrings now.
Classic Enamel Earrings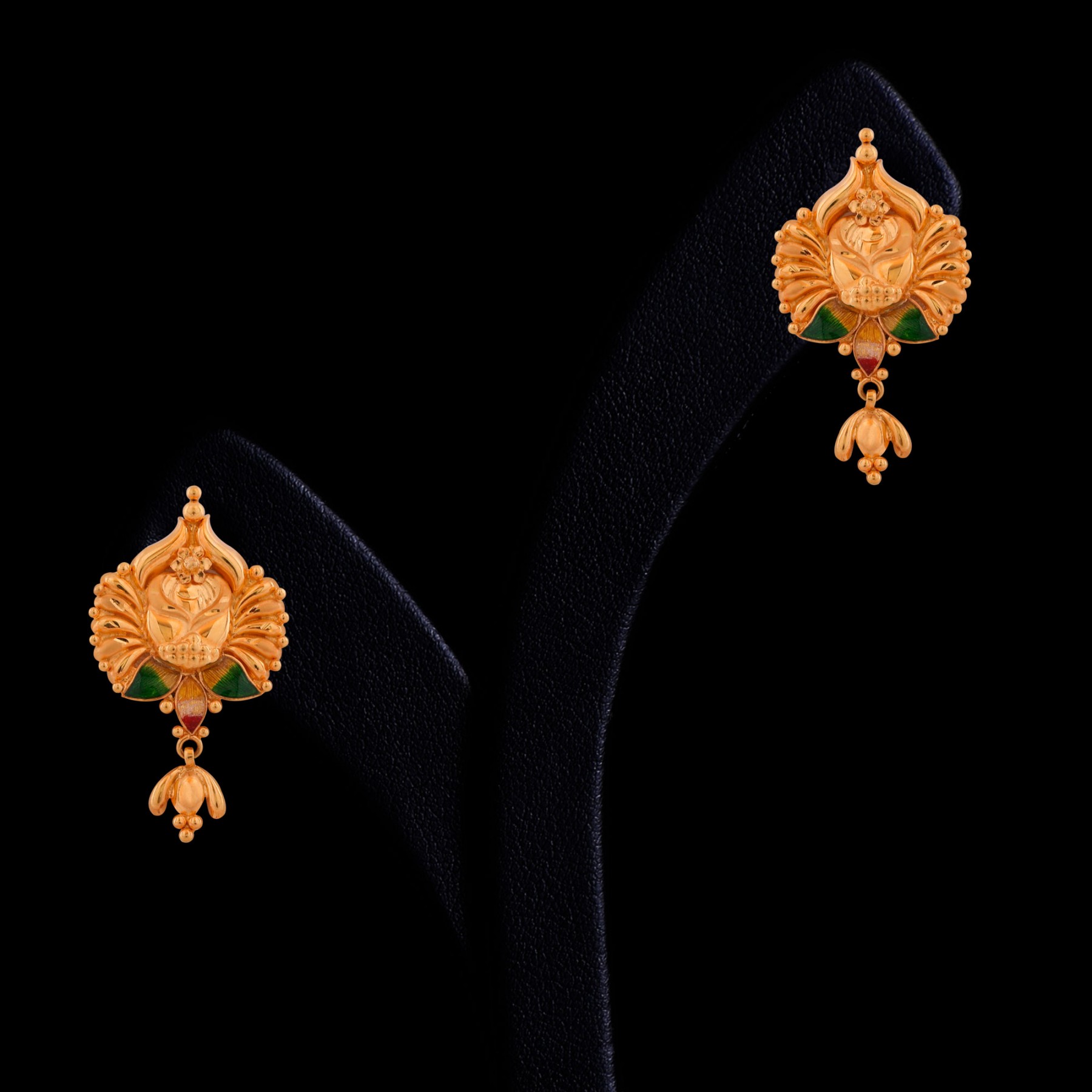 As the name suggests clearly 'classic' is all it needs to define the characteristics it holds to itself to make its way towards your heart for sure. The classic enamel earrings are a remarkable, unique and terrific piece of jewelry for you to wear it on special occasions.
White Stone Ear Drops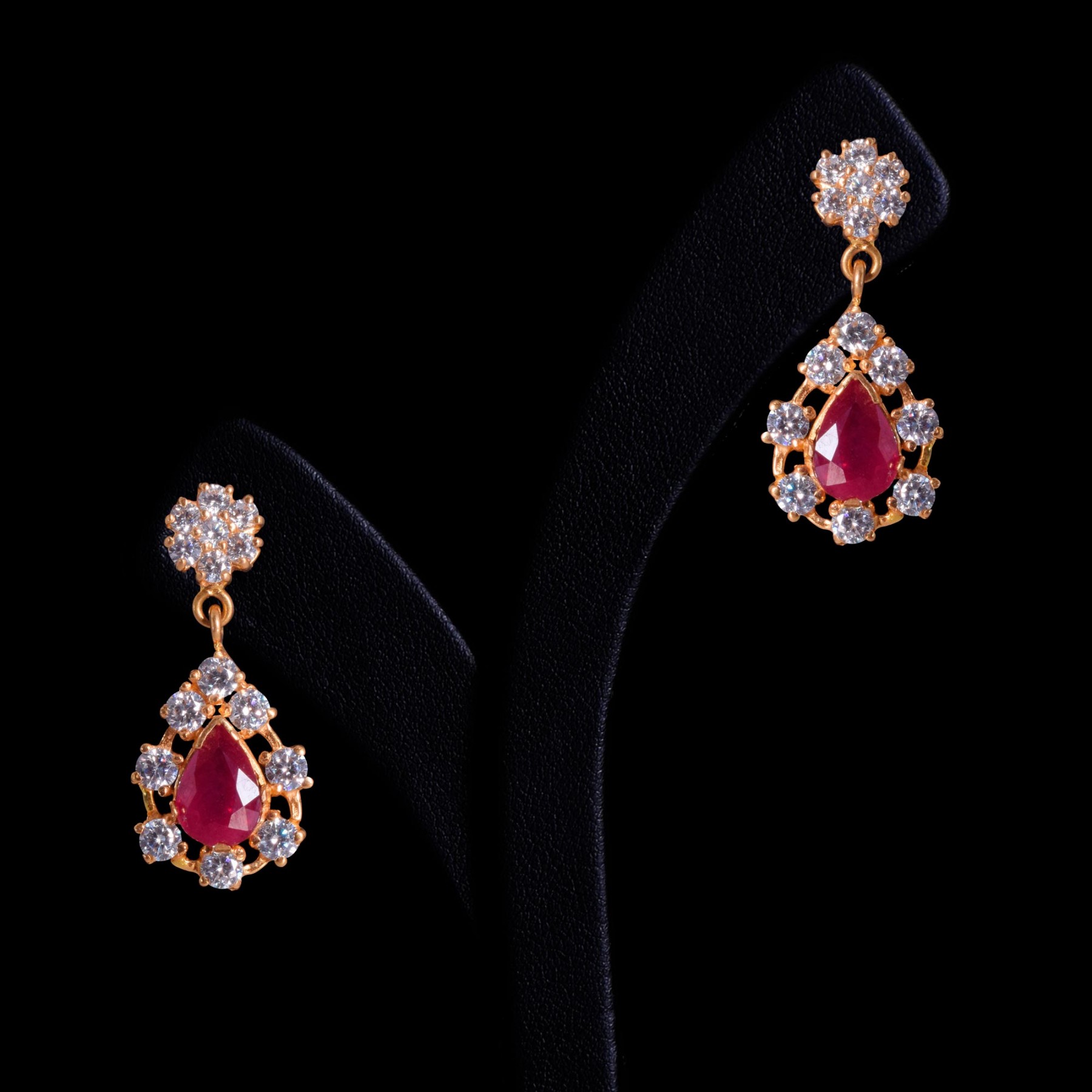 Give a boost up to your gorgeous and lovely look with these white stone ear drops. The fascinating and incredible look can be achieved by wearing these earrings on your traditional attire to the parties, weddings and special occasions.
Temple Ear Stud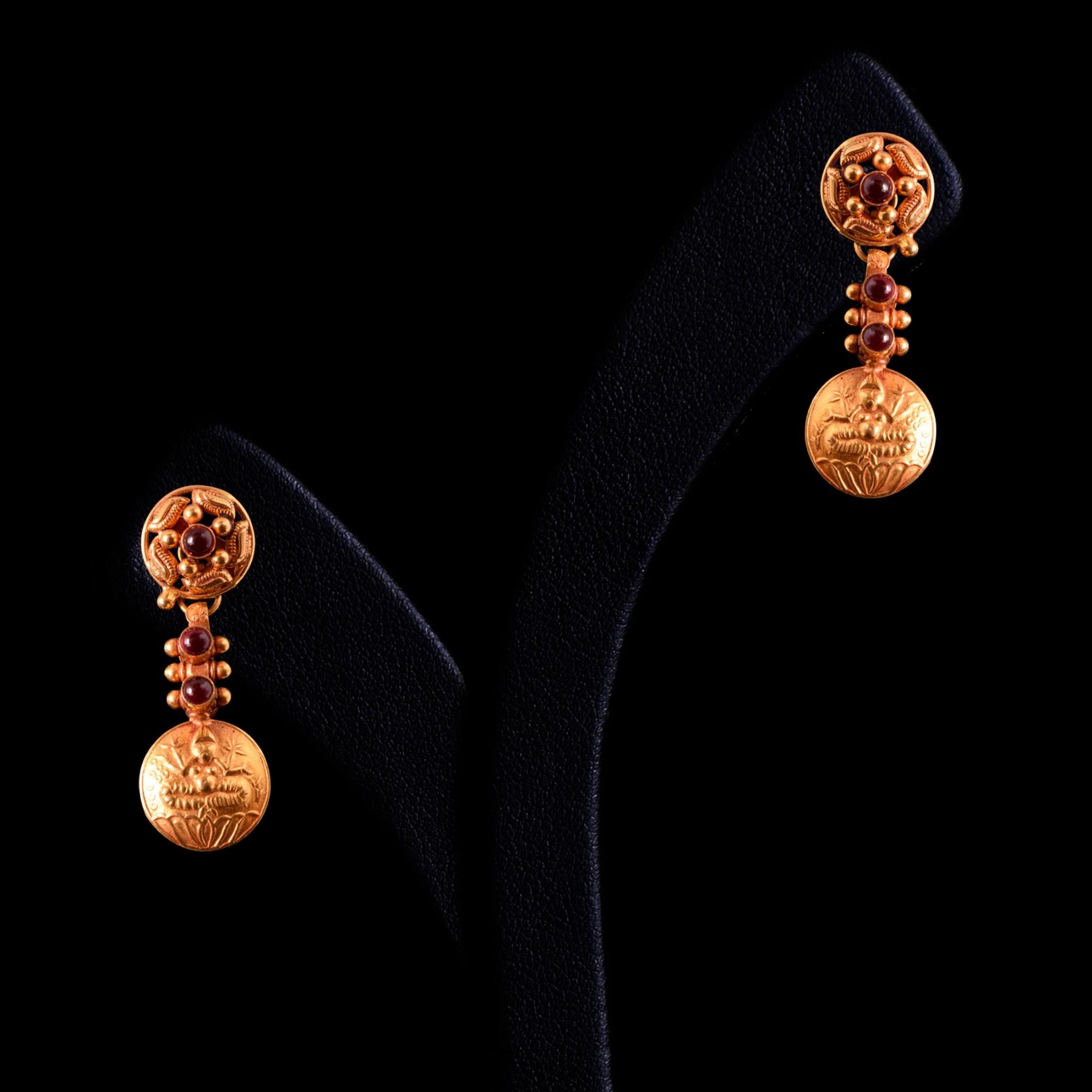 The temple ear stud can be a charming addition to your temple jewelry collection. These graceful and lovely earrings can give you a pleasing to the eye and astonishing look.
Multi Color Stone Earrings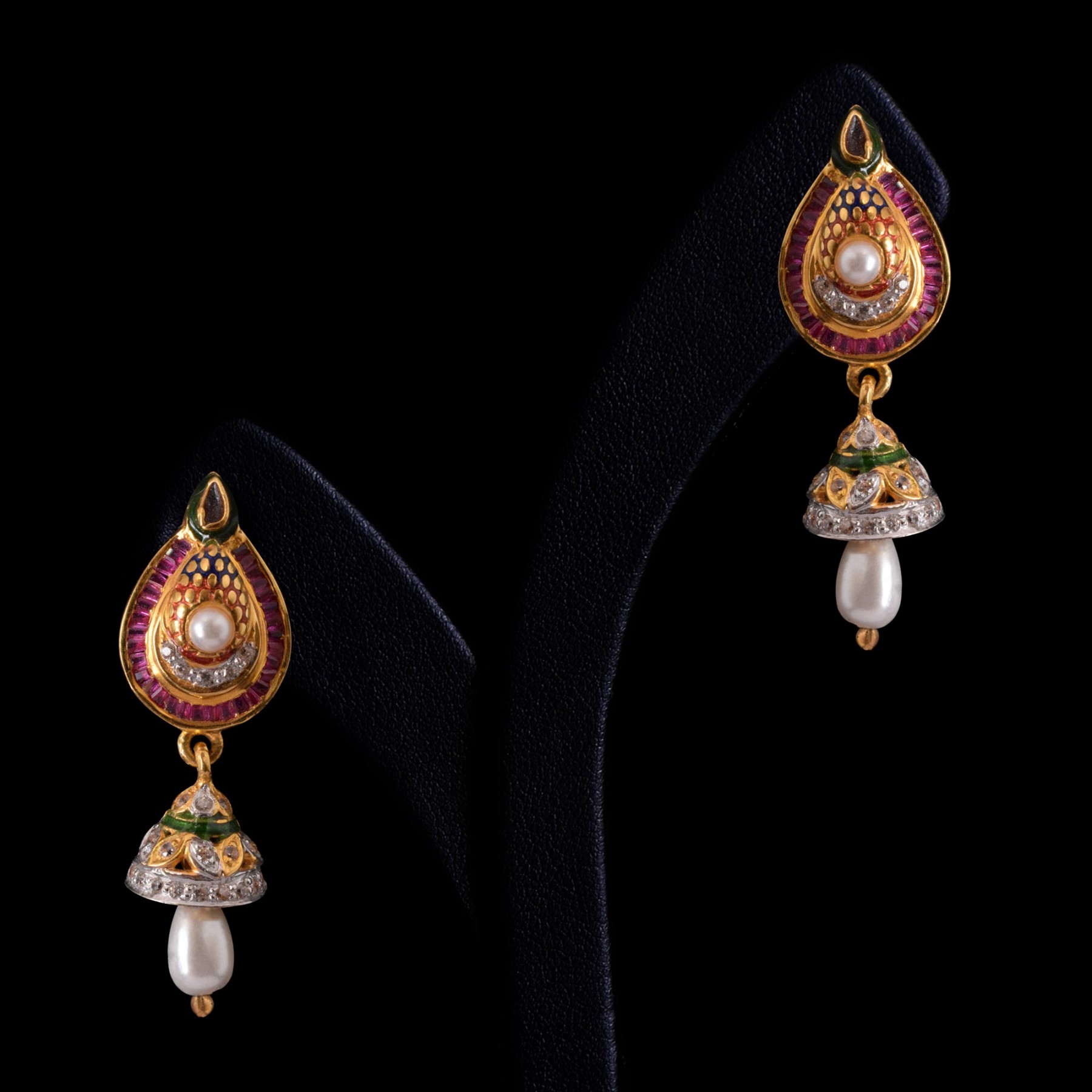 This is the earring you might want if you are looking for an amazing, enchanting and exquisite look on you. Get a striking, astonishing and splendid appearance with these multi-color stone earrings.
Mini Jhumka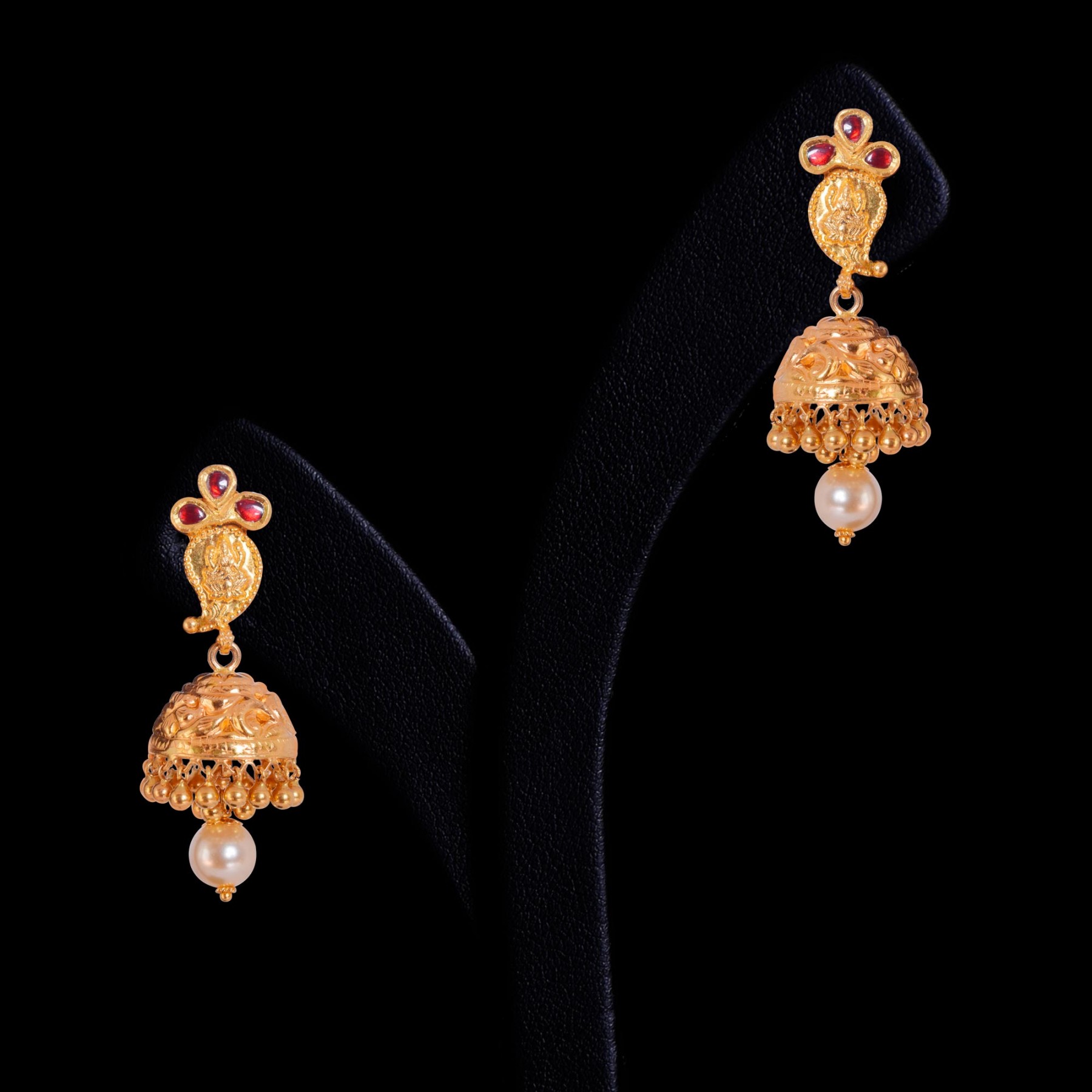 Acquire a divine, nice, gleaming, and radiant look with pearls on this mini jhumka. With its marvelous look, it goes well with the events where you can have fun with friends and family members.
Kemp Stud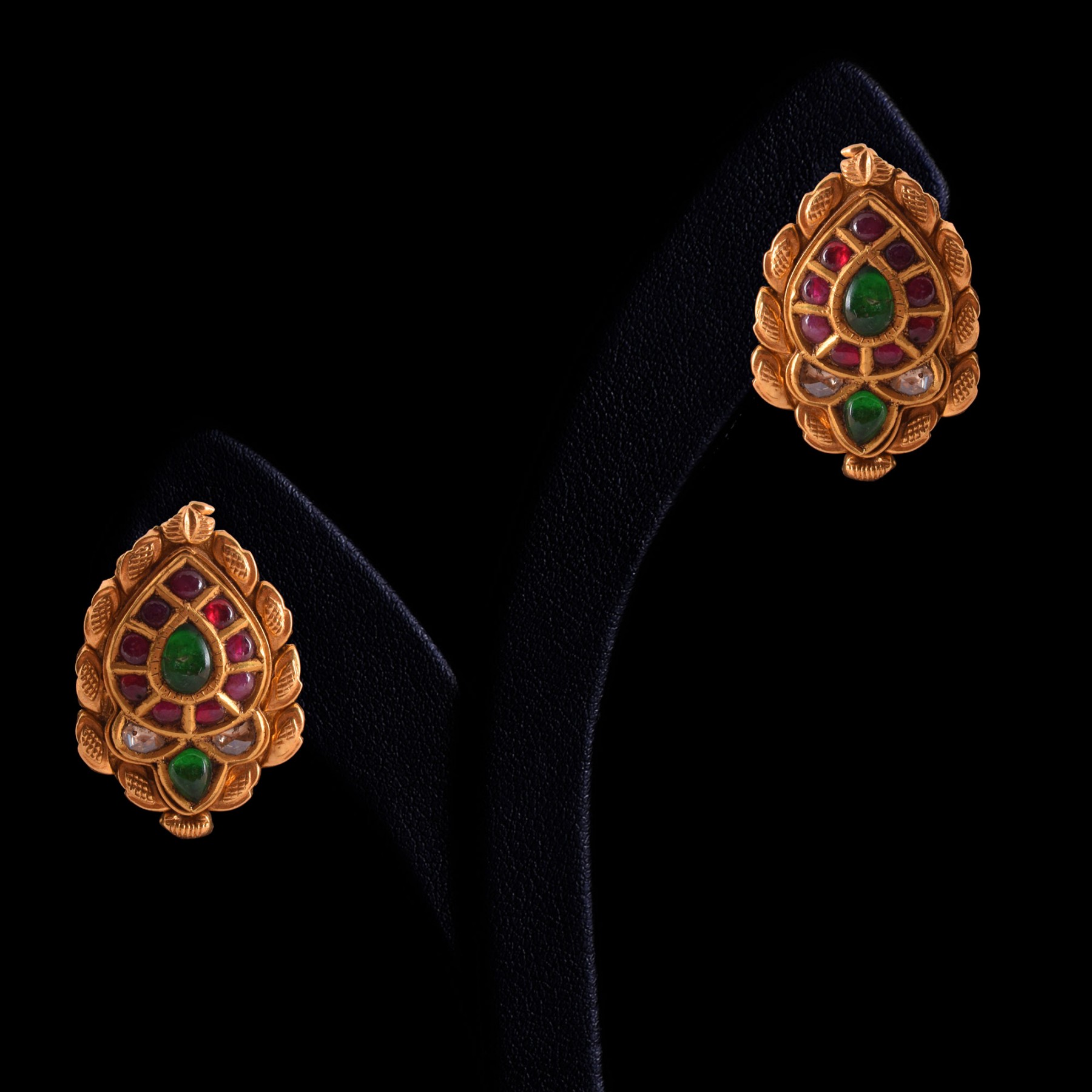 This Kemp stud is the best earring choice for girls and women who love to wear elegant stone studded accessories and jewelry pieces for their designer outfits.
Floral Stone Stud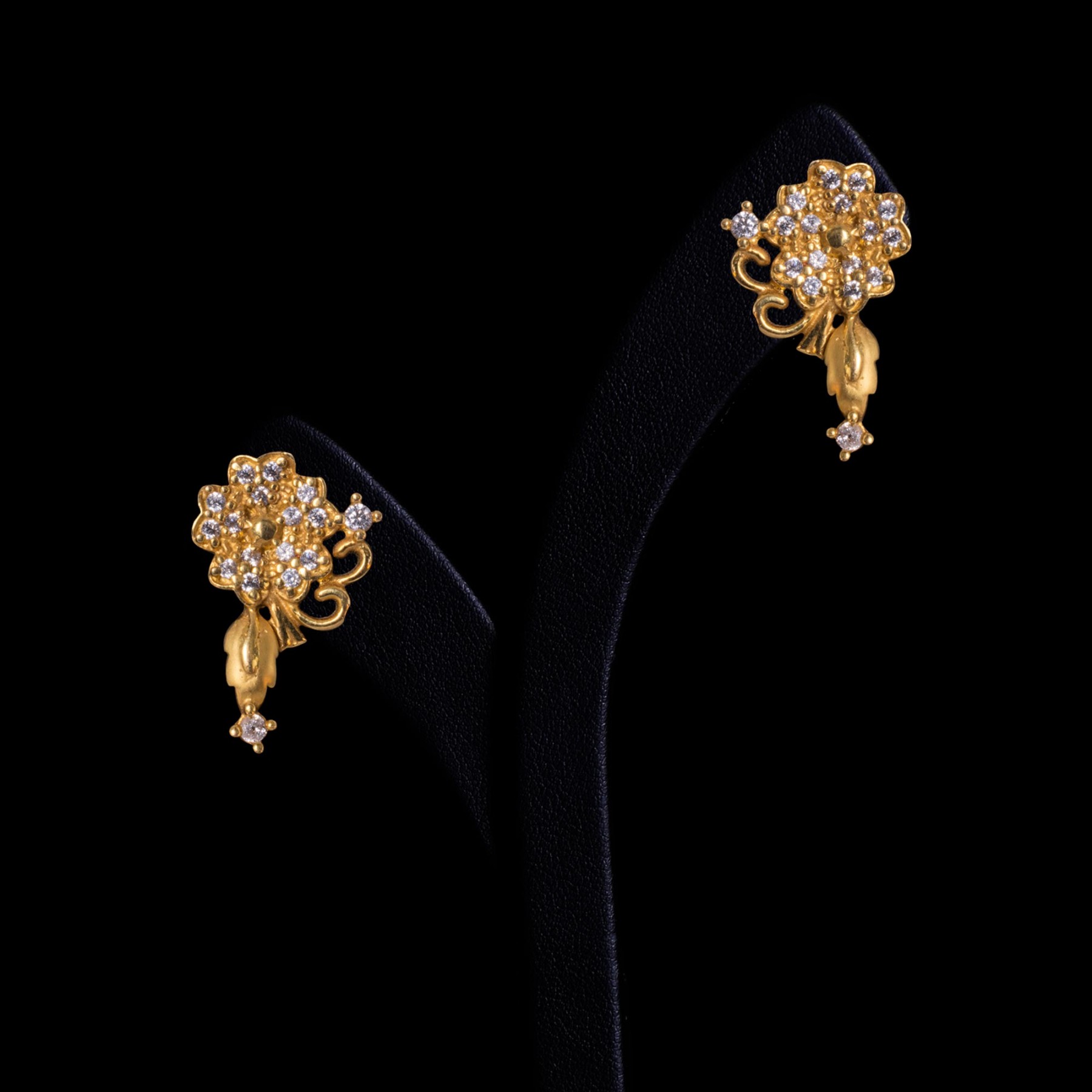 The floral stone stud offers a stunning, enchanting, charming and spectacular appearance to your whole look. It can be a nice addition to your golden earrings collection at home.
Classic Lakshmi Earrings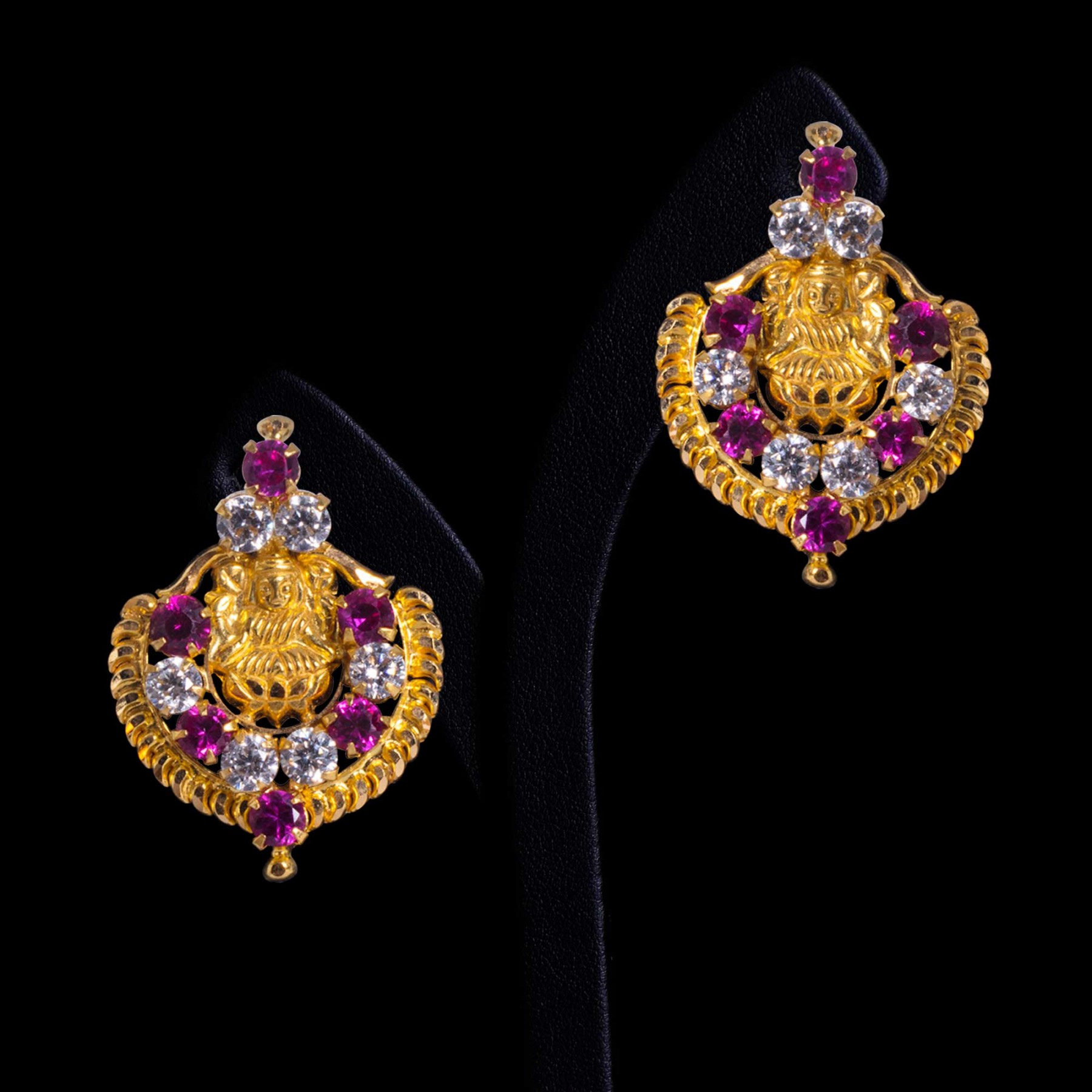 The graceful Goddess Laxmi designs on these classic Lakshmi earrings make it an excellent choice for you with its luminous and eye-catchy look. You can definitely add this jewelry piece to your Lakshmi jewelry collection and enjoy your time wearing it along with the blessings from the Goddess.
Oxidized Earrings
If you are looking for a fine-looking, dignified and exquisite earring jewelry piece, then, this oxidized earring is a wonderful choice for you. You can absolutely consider it while buying gold earrings designs.
Mini Stone Drops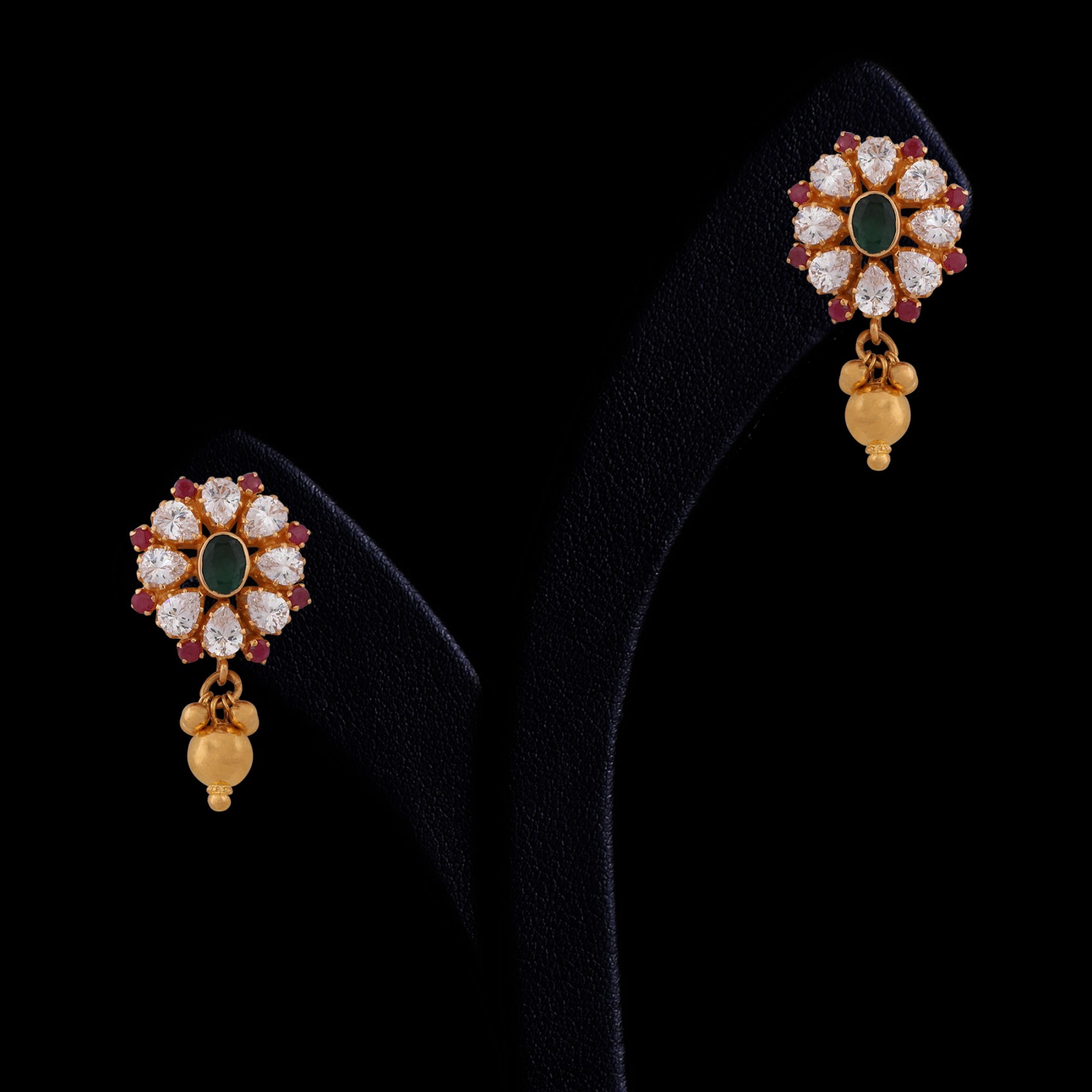 The green, black and red stones with orange and black color shades on the mini stone drops make it one of the wonderful gold earrings for fashion-savvy girls and ladies. You can style up your wardrobe with this magnificent and awesome earring.
Designer Rhodium Earrings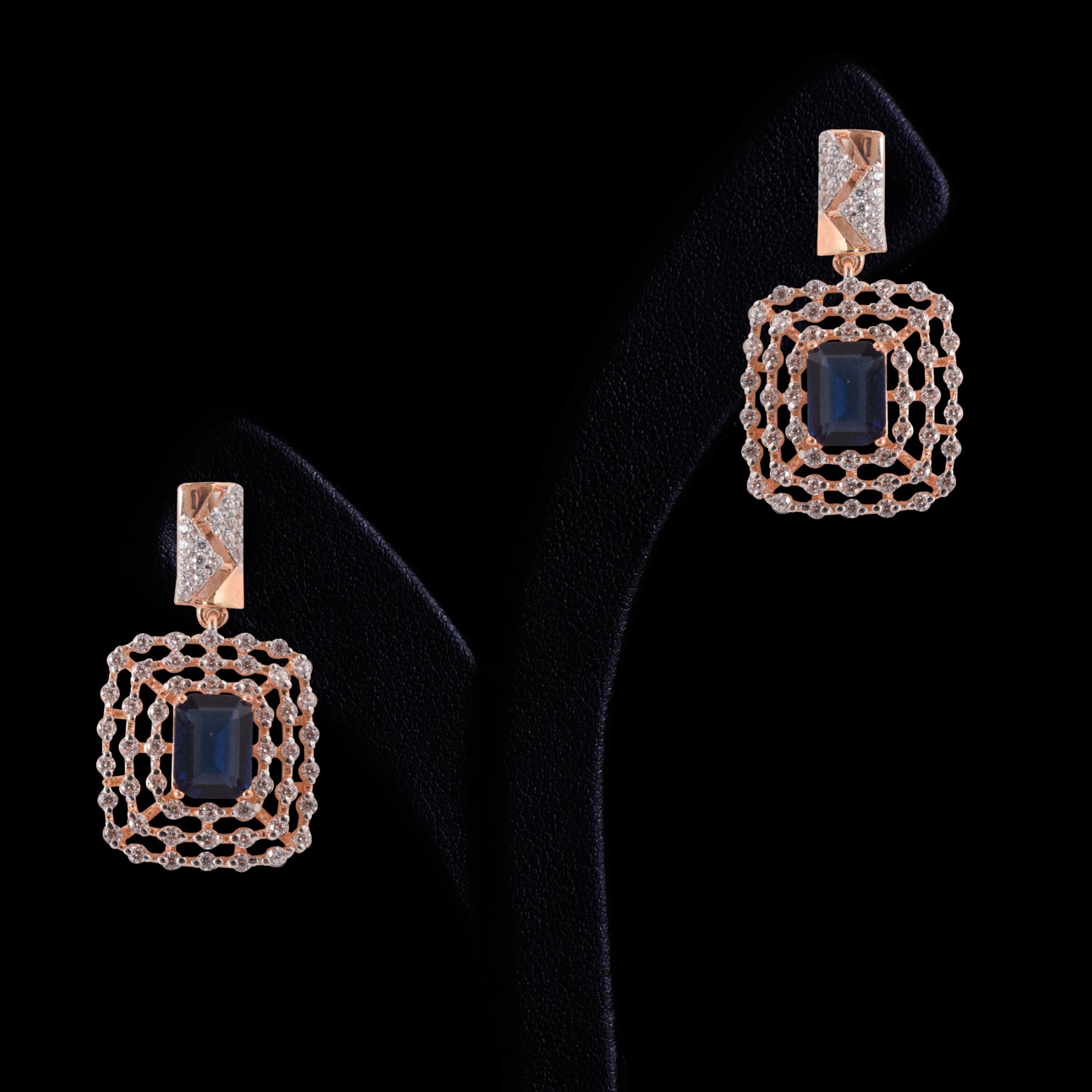 The breathtaking, fantastic and glistening designer rhodium earring can add more luxury, style and splendor element to your outfits. It is a magnificent earring piece to be a part of the jewelry collection in your jewelry box.
Hope these small earrings add the oomph factor on your day to day looks! In case if you like to buy the earrings featured on this post, then
Seller Name : Vummidi Bangaru Jewellers
Address : AB 149, 3rd Main Road, Anna Nagar, Chennai, Tamil Nadu 600040
Rani Seethai Hall, First Floor, 603, Anna Salai,Chennai – 600 006.
Contact No : 044 – 2829 2003, 2829 2004, 044 – 49033355
Website : http://www.vummidi.com/
More Details : VBJ (Vummidi Bangaru Jewellers) are creators and retailers of exquisite gold and diamond jewellery since 1900, in India. Their range includes traditional Kundan, Nakshi and antique finished jewellery, as well as modern 18k gold and trendy diamond jewellery.
Also Read: