Everyone loves to wear and buy the latest traditional jewellery sets that will please everyone's eyes. Jewellery is one essential piece that every woman loves to buy, wear and adore. Those long necks look a little empty without the latest traditional temple jewellery collection.
Here is a latest collection of traditional temple jewellery set from various brands that are keeping us hooked to their Instagram feed. Do check them out and you will feel why we feel so obsessed with their designs!
Nagasu-Sooriyan: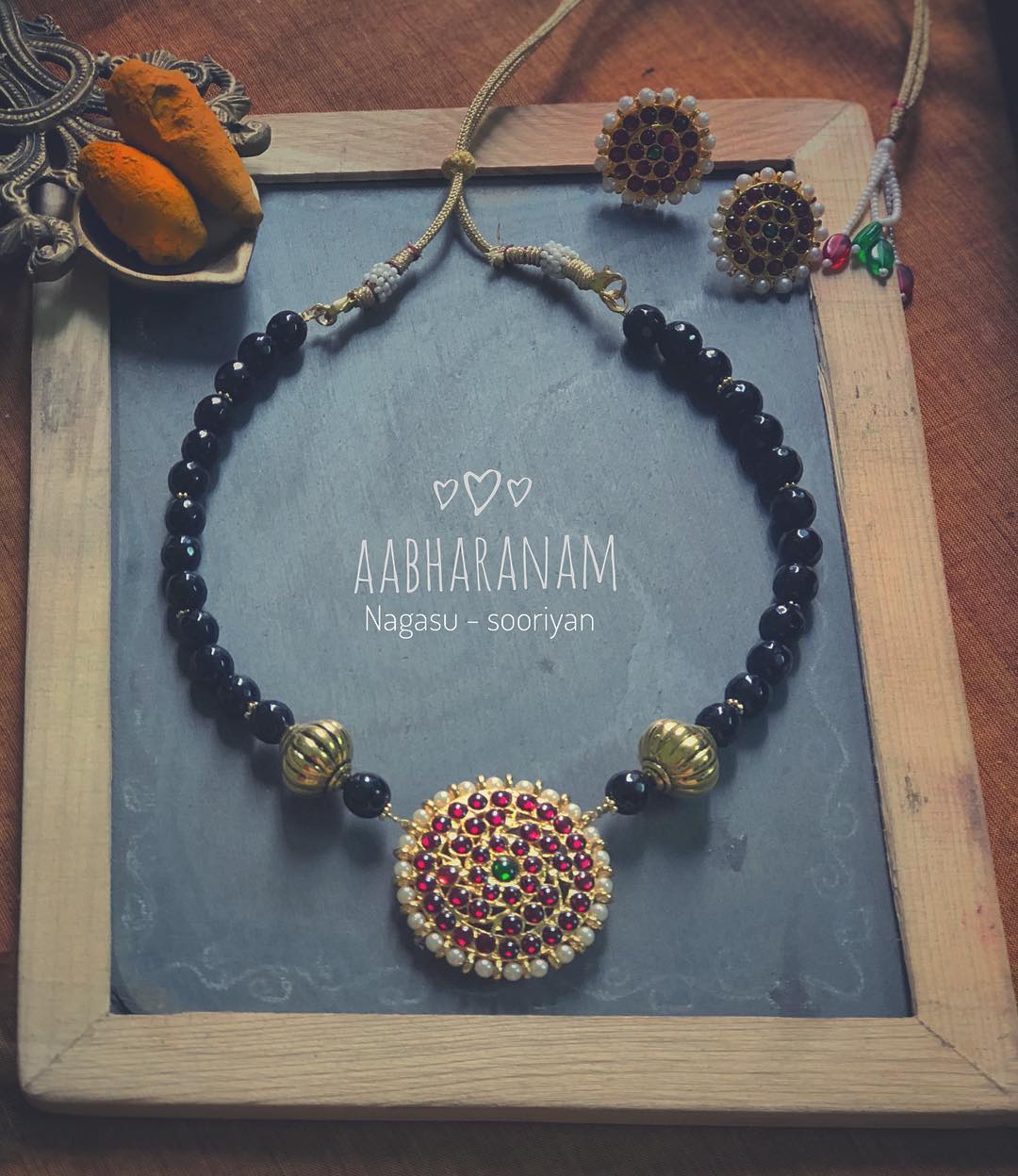 Kemp stone work is one which goes well with each traditional outfit. The combination of red, white and black beads is one which always compliments with the classic clothing.
Kalyani: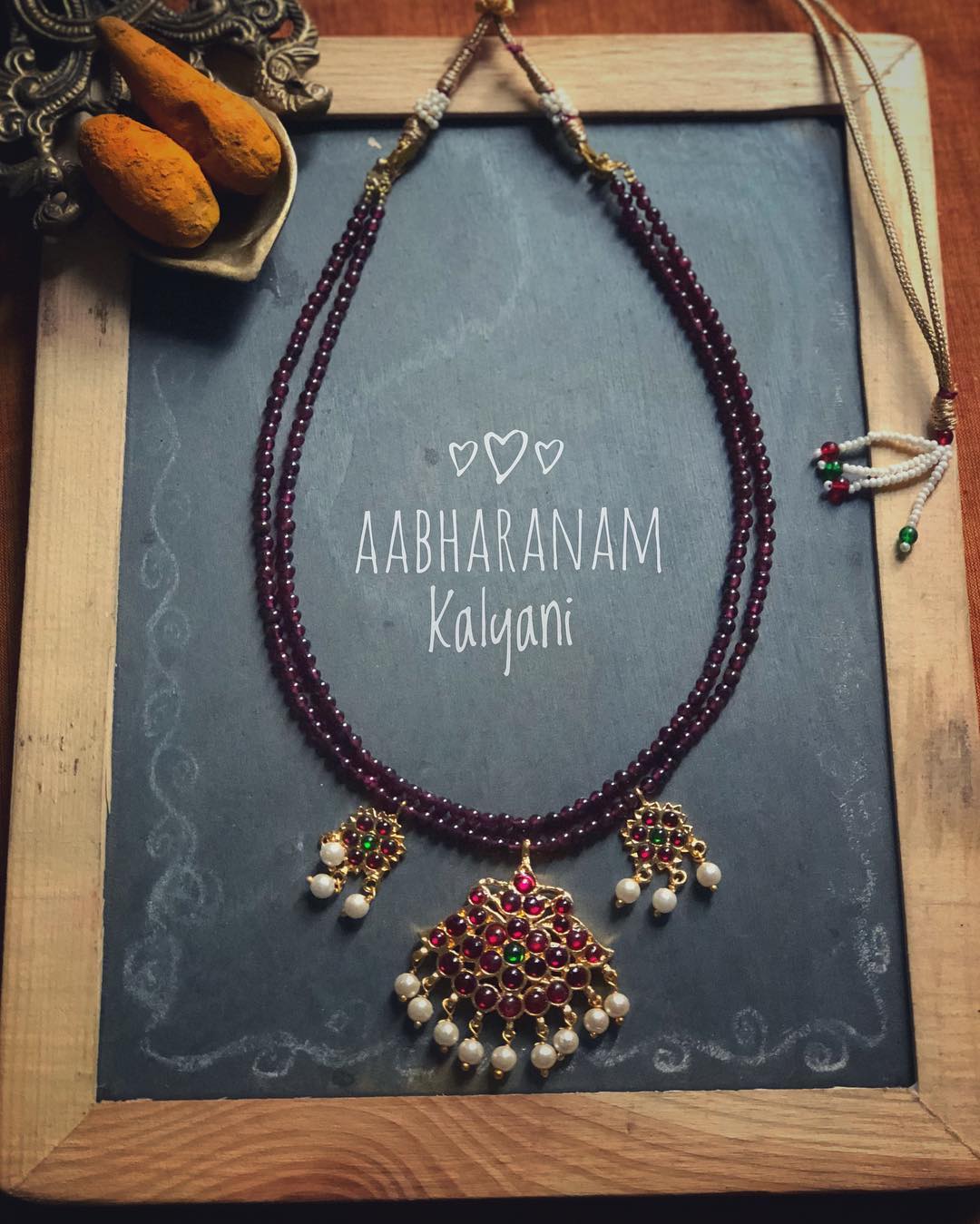 The different color combination of stones in Kalyani makes it a very likable piece of jewellery. The double layer of mala in kalyani is making it a more attractive and eye catching.
Shambhavi: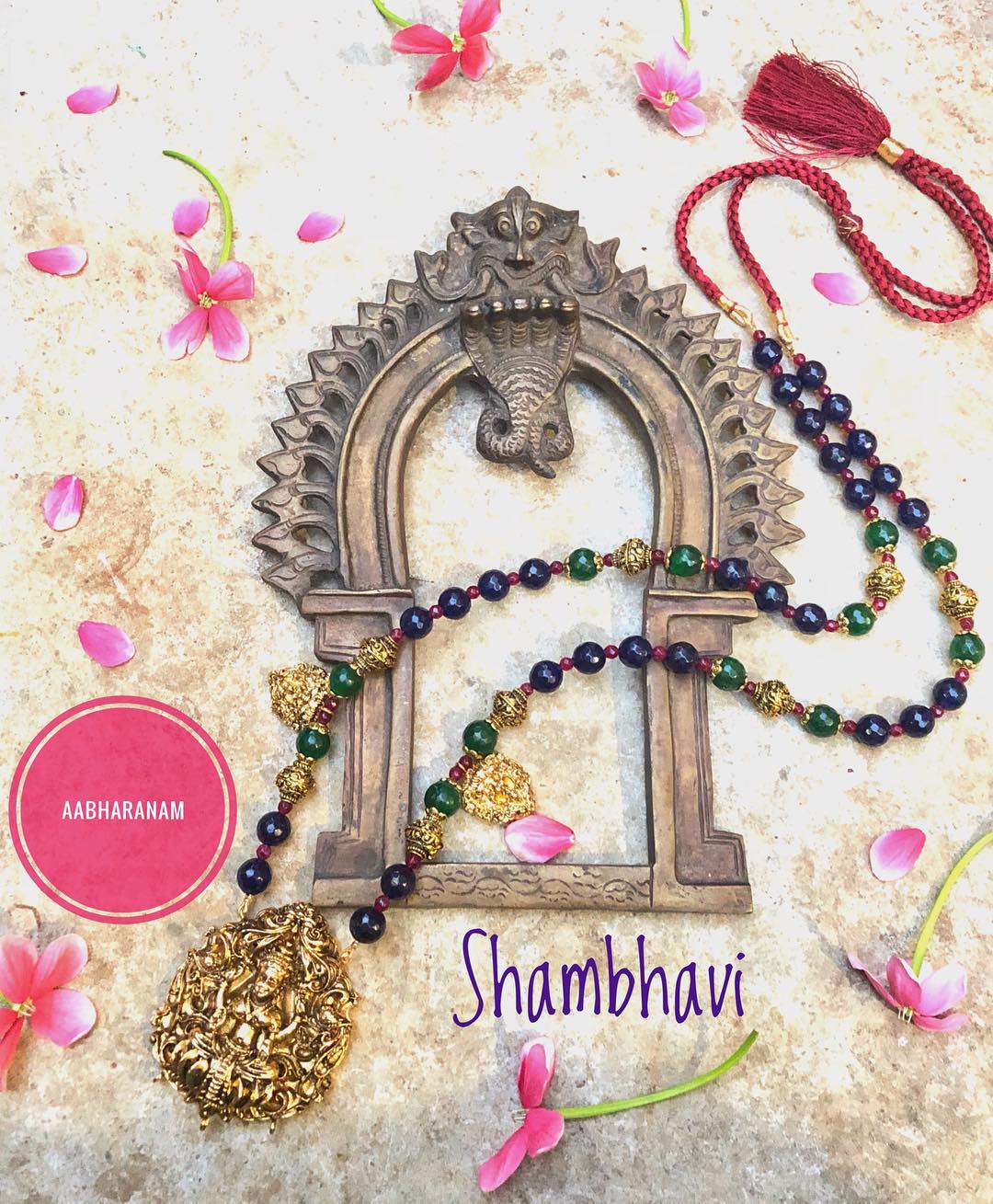 God and Goddesses designs on jewellery have always been loved by the buyers. They have a different and alluring design into themselves. The Goddess Lakshmi is carved on this piece of jewellery, which makes more and more attractive to buy. The golden color pendant and earrings can be paired up with many different colors of outfits.
Indrani: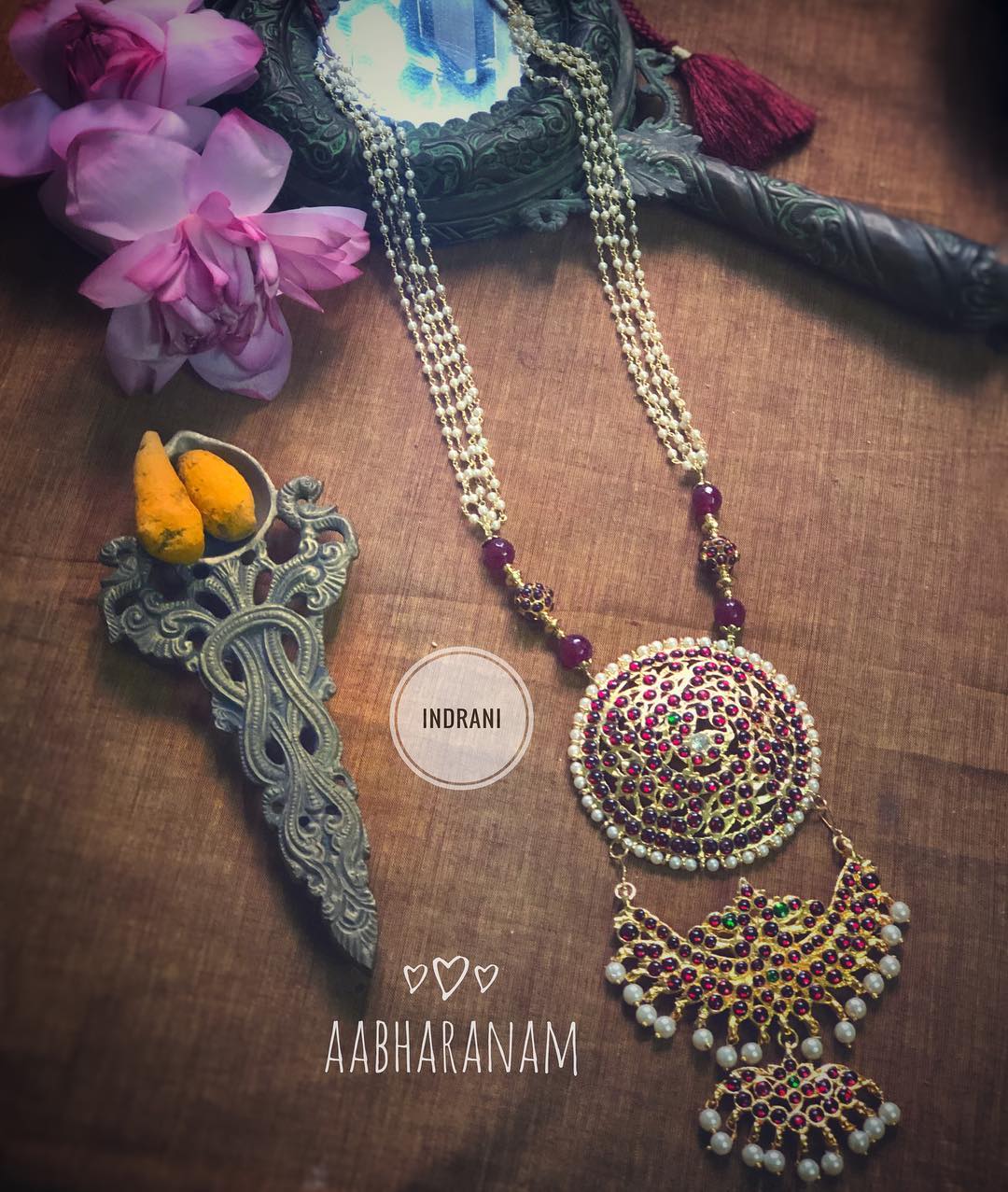 The multiple layer mala and multilayer pendant are a big attraction for this exclusive jewellery piece. The necklace speaks for itself and the colour combination is one which will work well light and heavy clothing.
Goddess Necklace: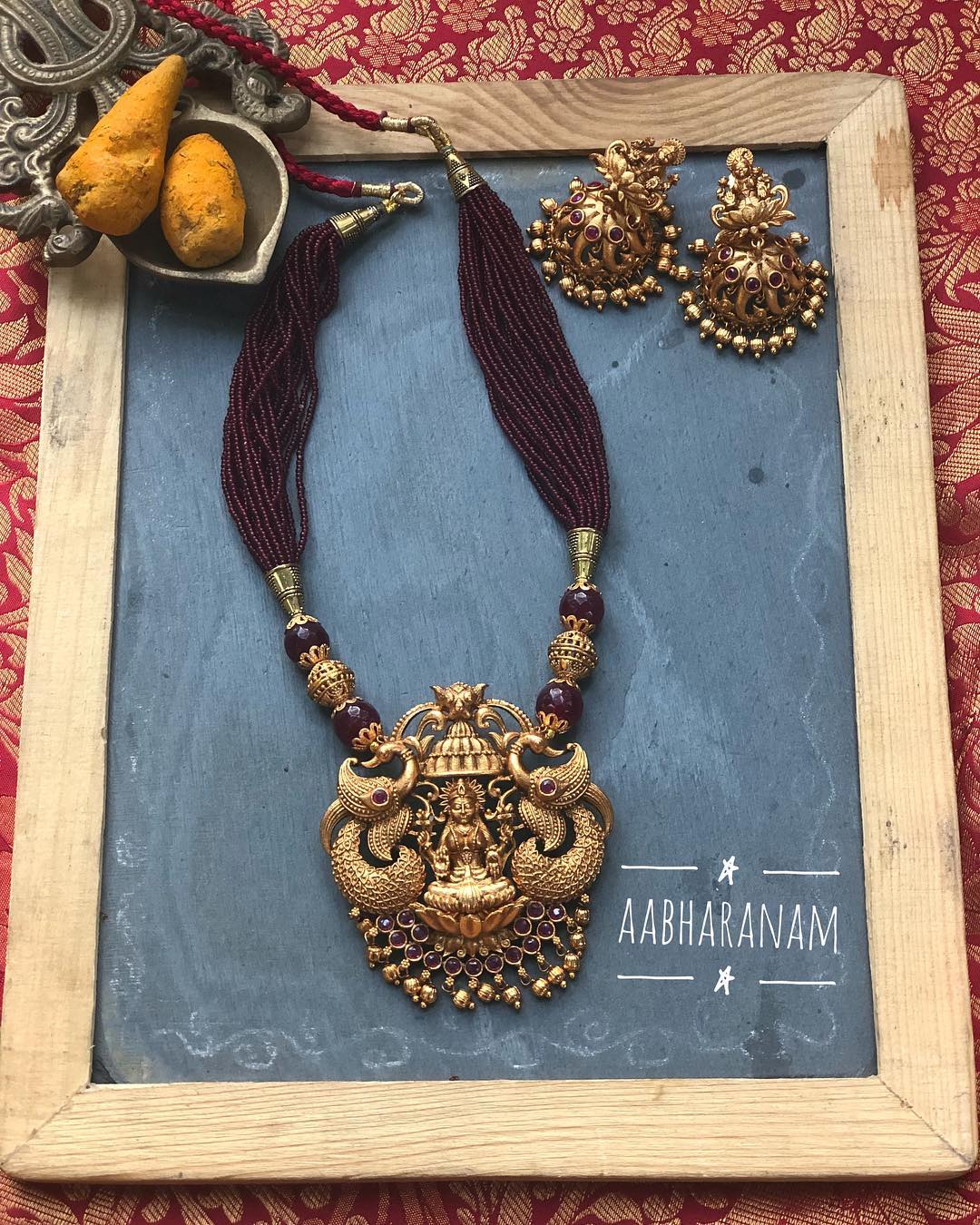 The elaborate work on the pendant is the one which will be loved by the buyers and also the work done on the jhumka is very beautiful and unique. Goddess Lakshmi on the pendant and jhumka makes it a very beautiful set.
Raadhya: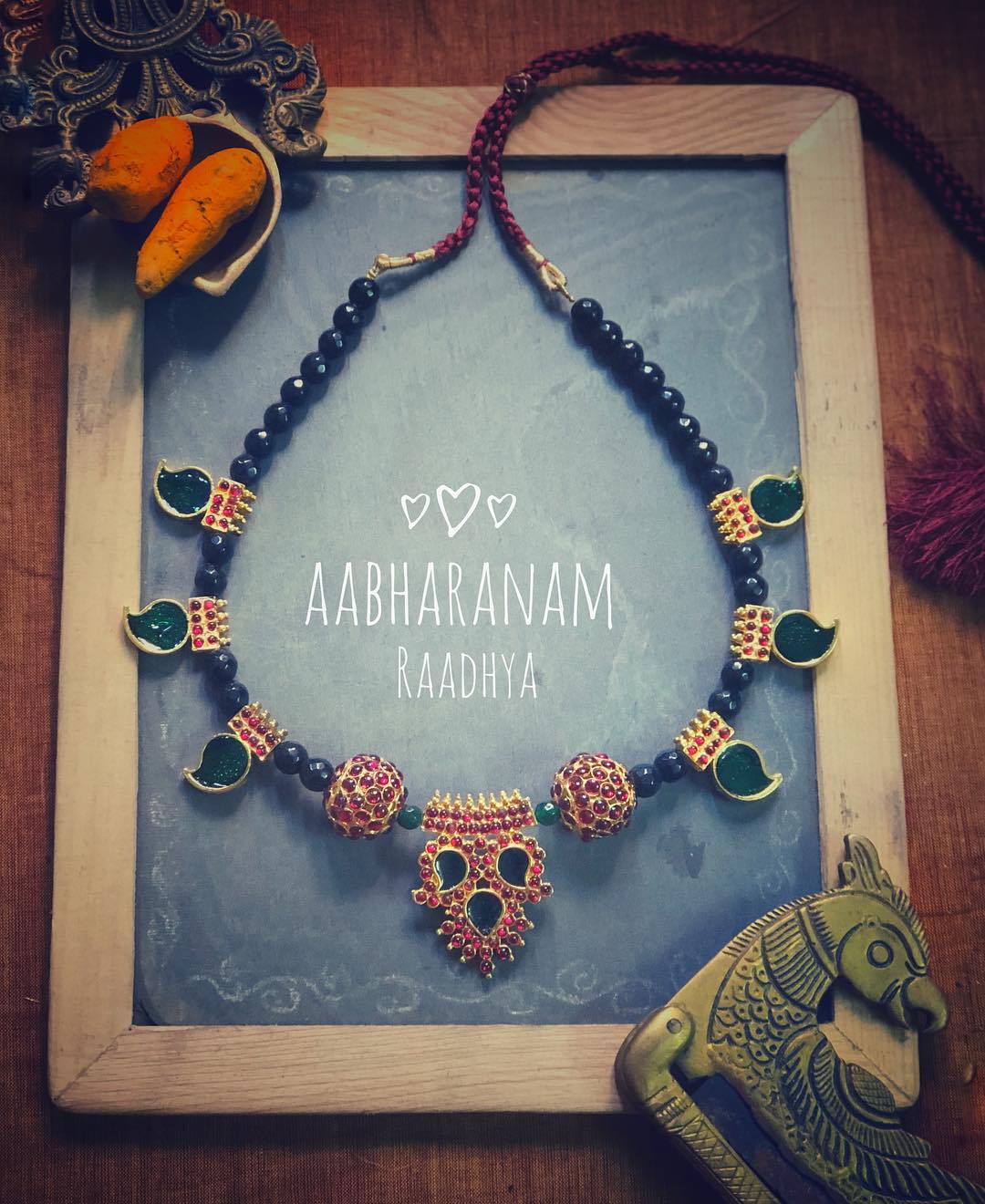 Sometimes, eyes get struck on the most simple and yet, aesthetic design of all time. Raadhya is one of them it is simple and pleasing to the eyes. The combination of red and green with simple beads on it is quite attractive to wear.
Nila: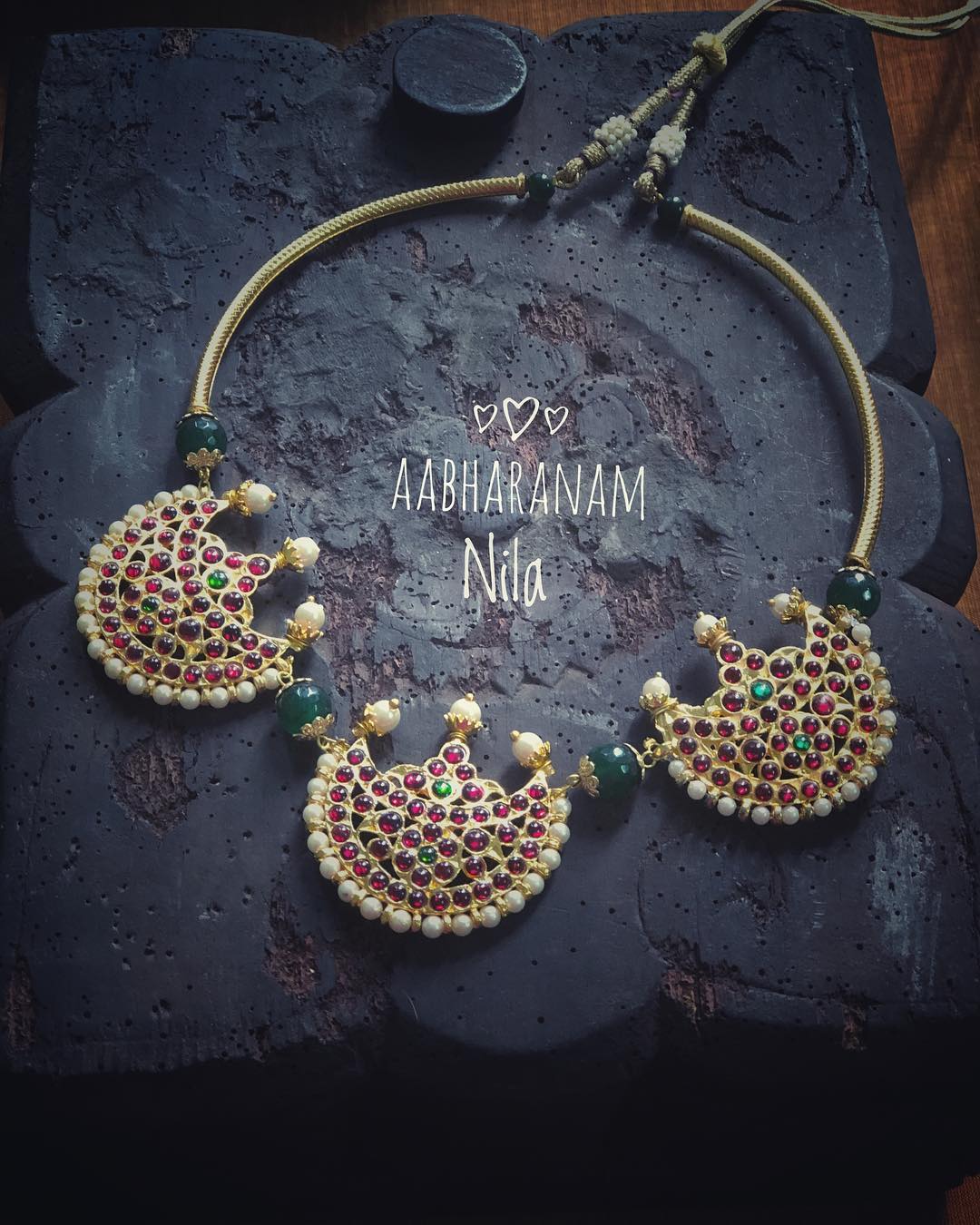 Traditional choker has always been in fashion. And this one is something that goes well with any traditional outfit.Chokers go well with deep neck blouses and classic clothing.
Ratiroopa: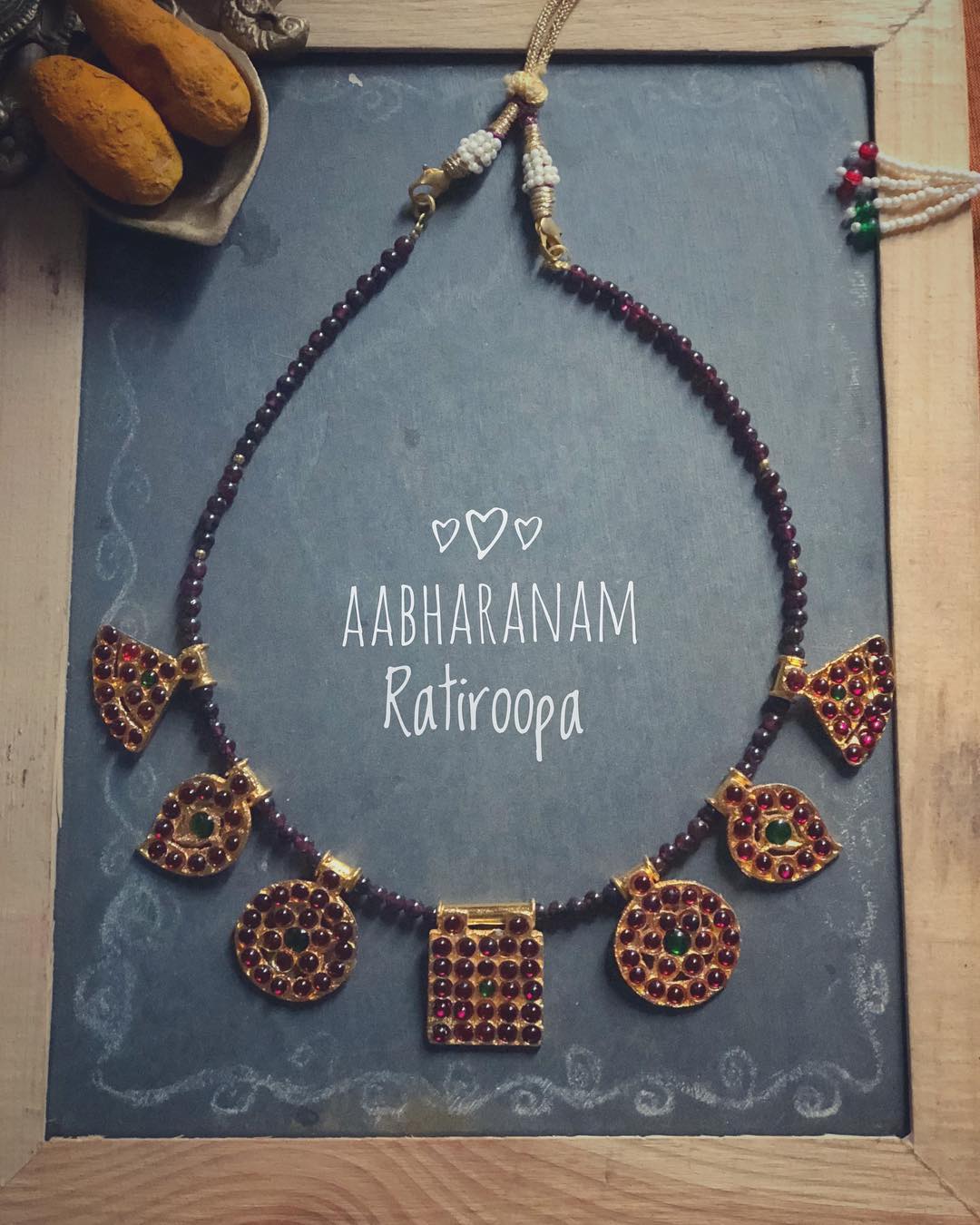 Ratiroopa is an elegant and gorgeous piece of jewellery. It has multiple pendants in one mala. Those seven pendants have their own different designs with beautiful stone work in them.
Heavy Pendant: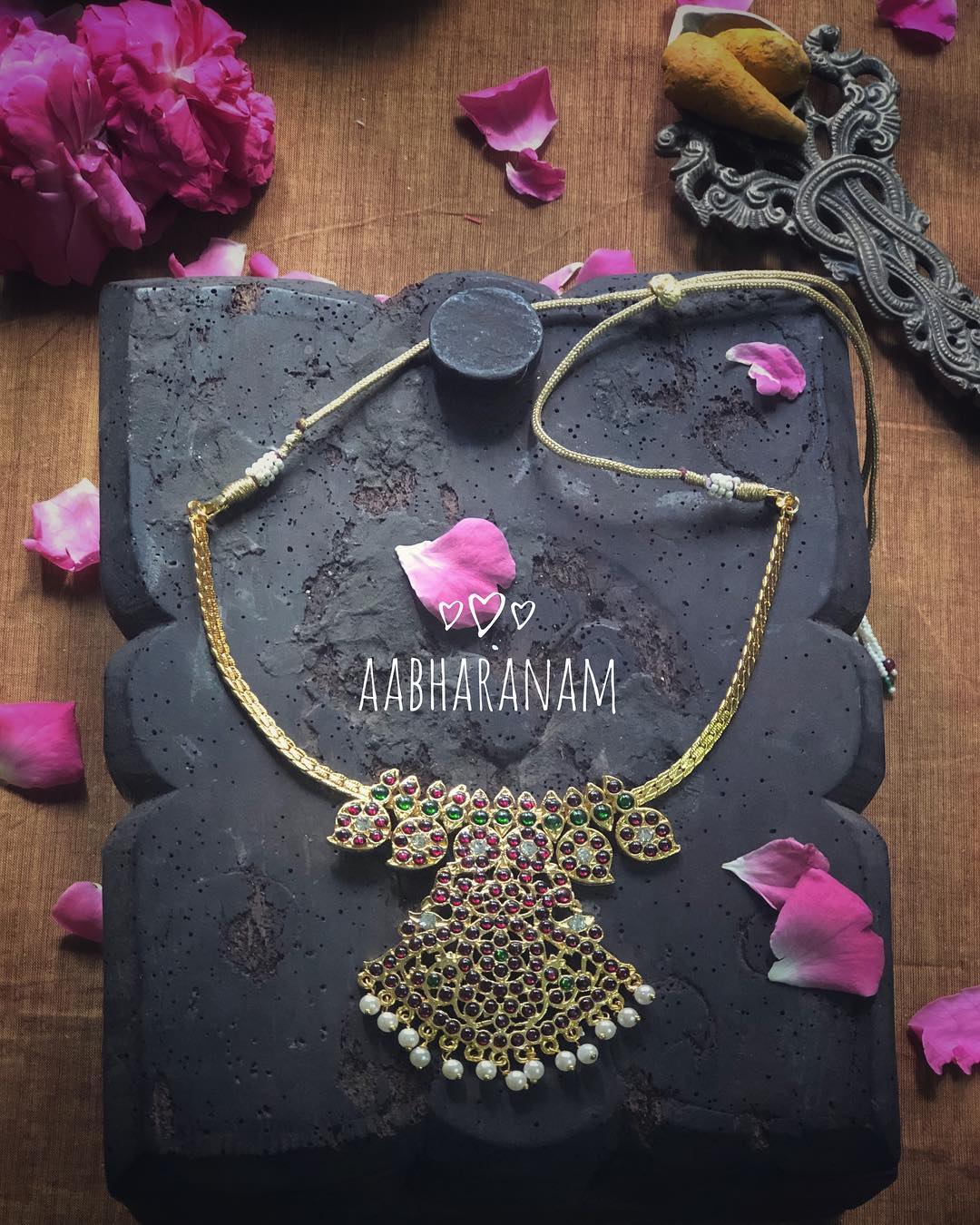 This one has got a heavy pendant and a thick chain which looks quite beautiful and loving to the eyes. The shape and design of the pendant is very magnificent.
 Vaagmi: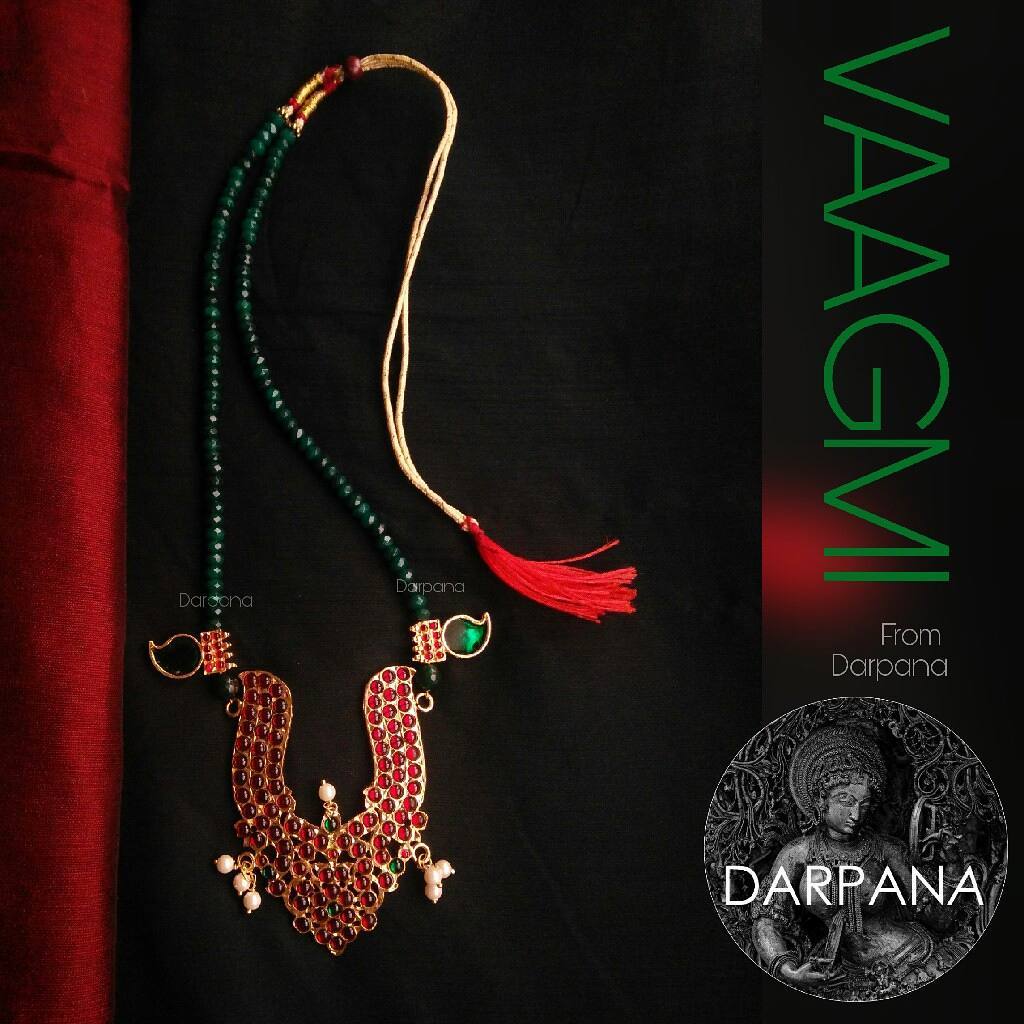 It has a green stone mala and red stone pendant. The pendant has a unique designer shape which looks royal and got a traditional look.
 Lipa: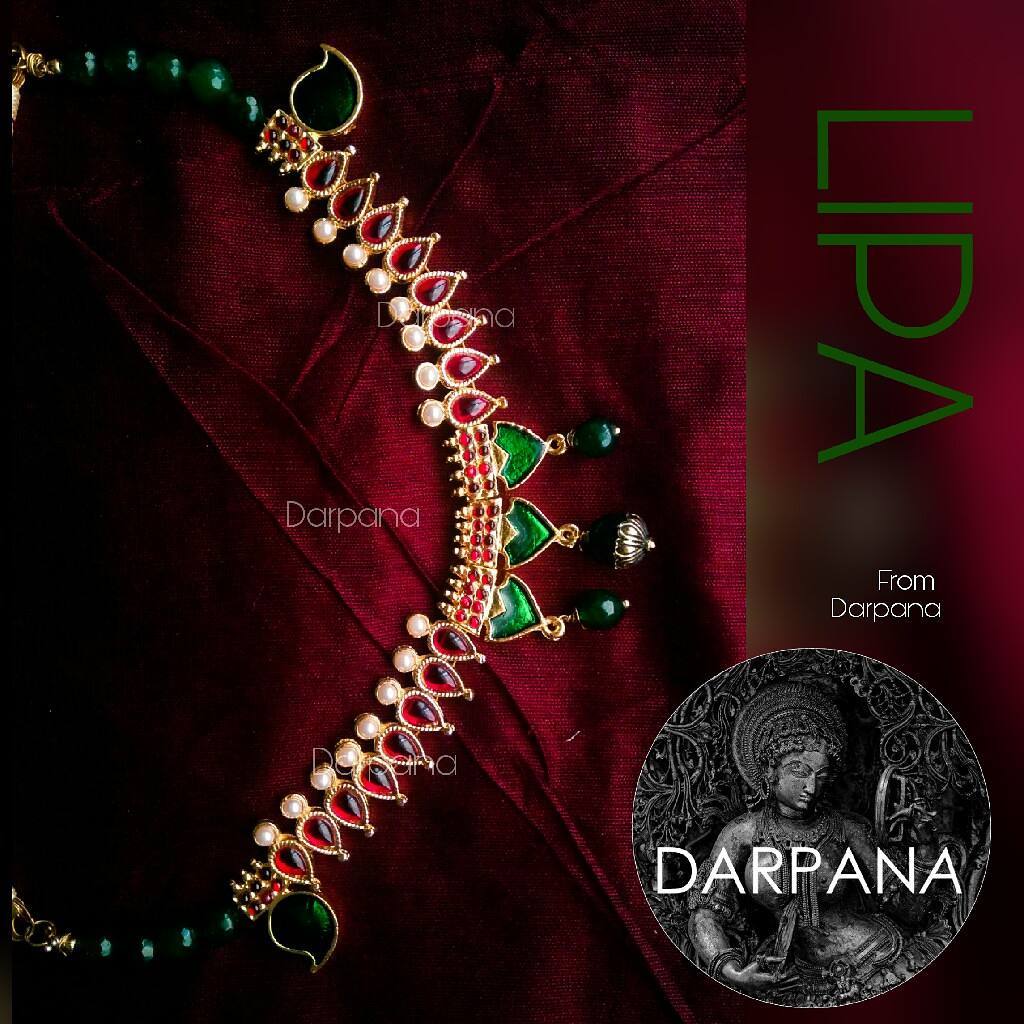 It is a plain and elegant piece of jewellery. It has different stones which complements the simplicity of the necklace.
 Jala II: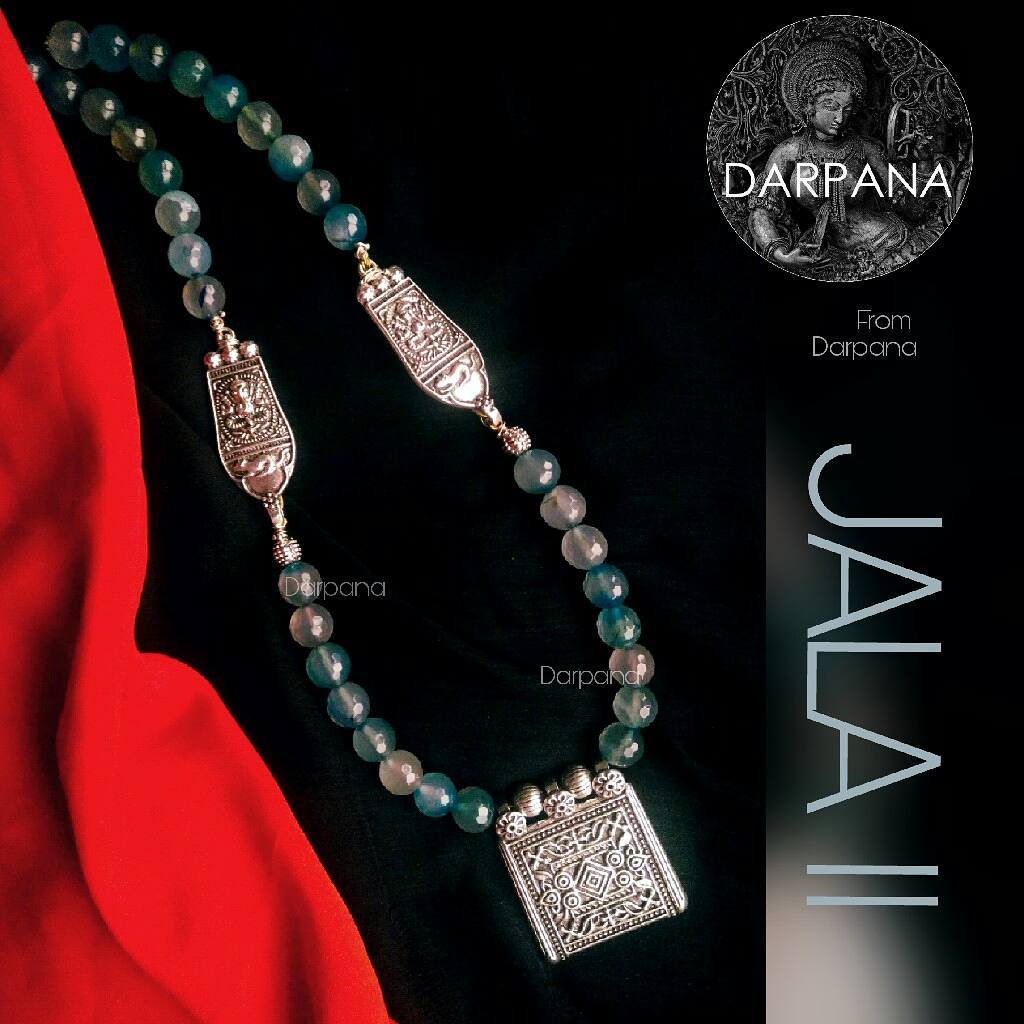 This design has always been in the fashion. It is a pleasure to pull off this model with a beautiful saree. The silver color pendant and turquoise color beads are a perfect combination to elevate your look further.
 Circular Pendant Necklace: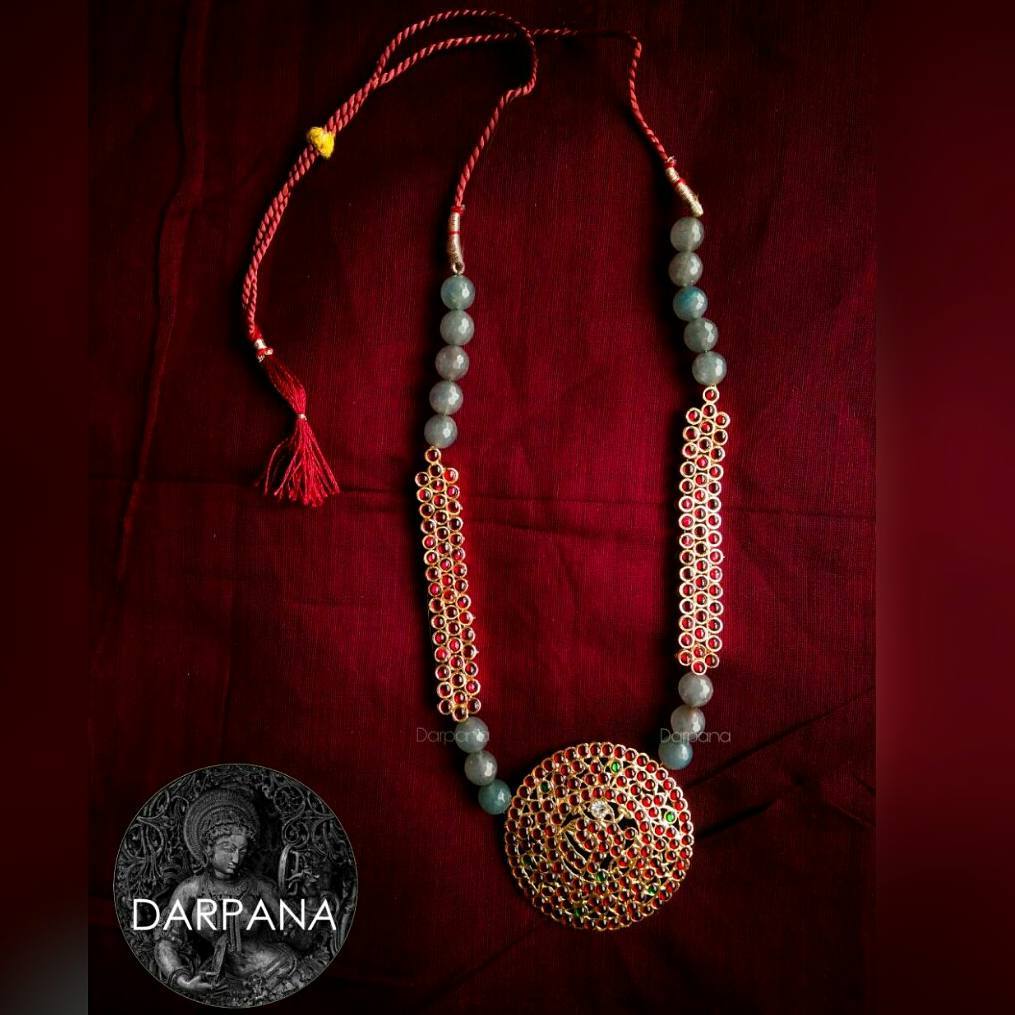 Circular pendants are loved by people all over. They are evergreen and plain yet, liked by everyone. The red beads in the circular pendant and rectangular shaped beads on the sides are a delight.
 Naga II: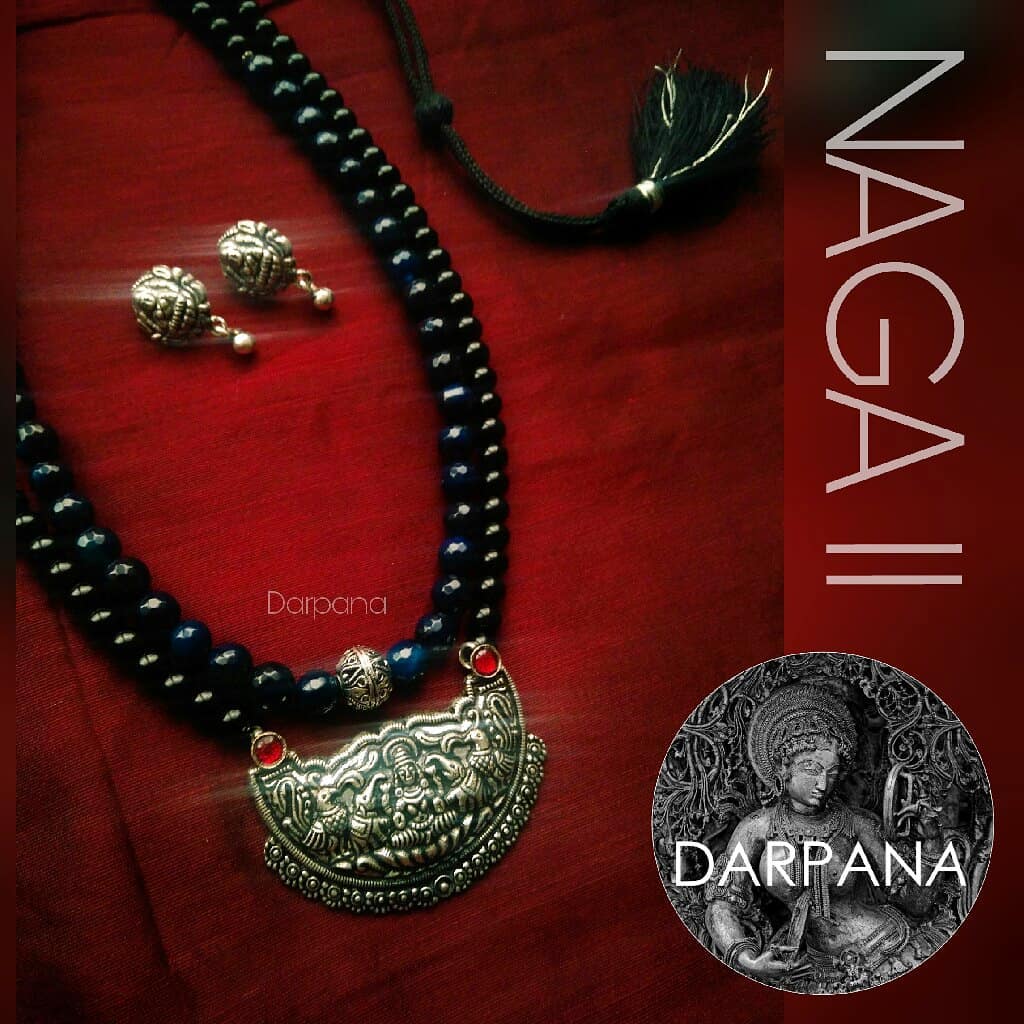 The pendant has goddess carved on it with birds in silver with dark blue double layer beads mala. It had small and beautiful earrings made in silver. The jewellery set looks very attractive.
 Devaki: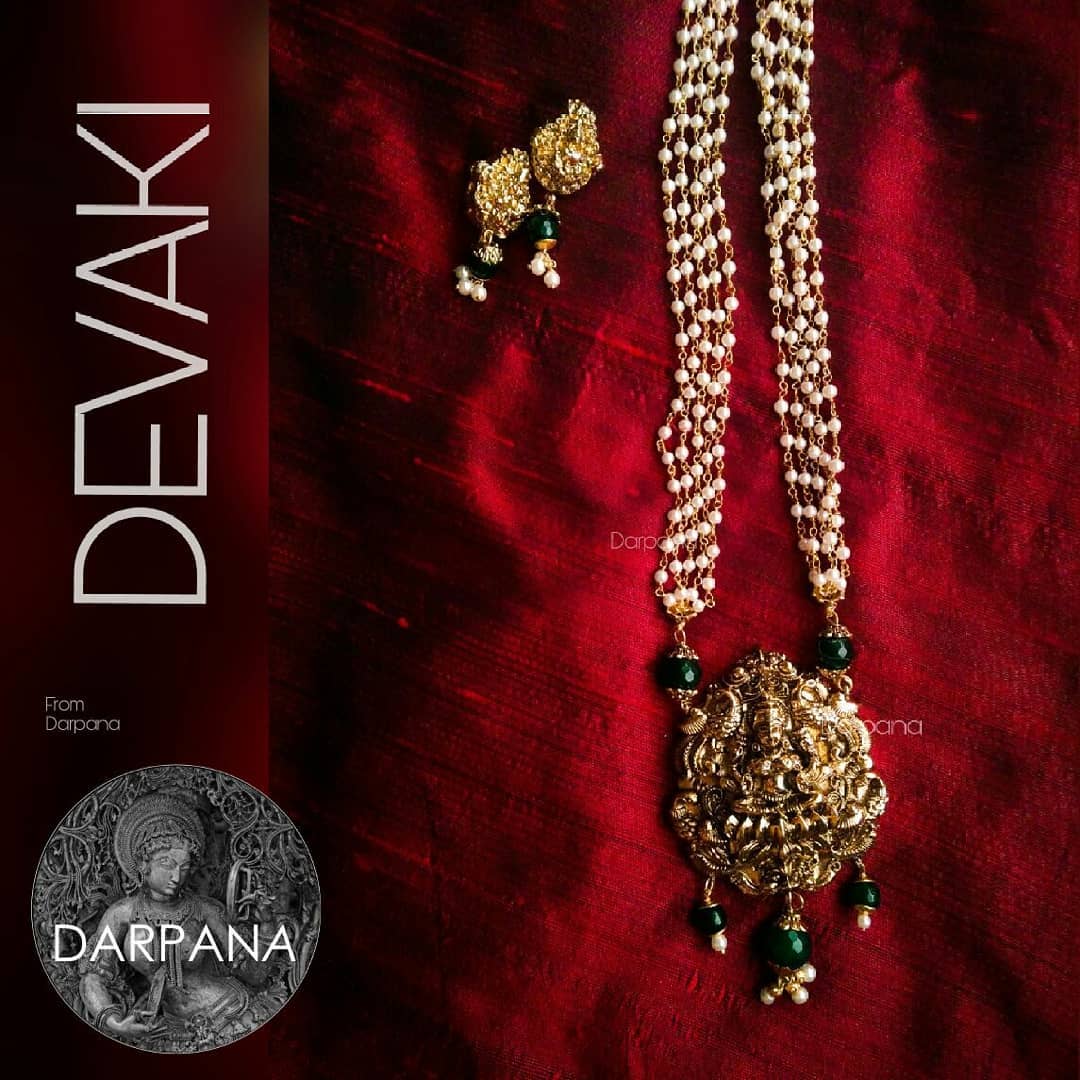 The multiple layer stone mala looks much elegant to wear with a pendant which has goddess on it. The goddess is golden in color and the mala had white stones which golden color earrings. The jewellery set when paired with red will look perfect.
 Arya: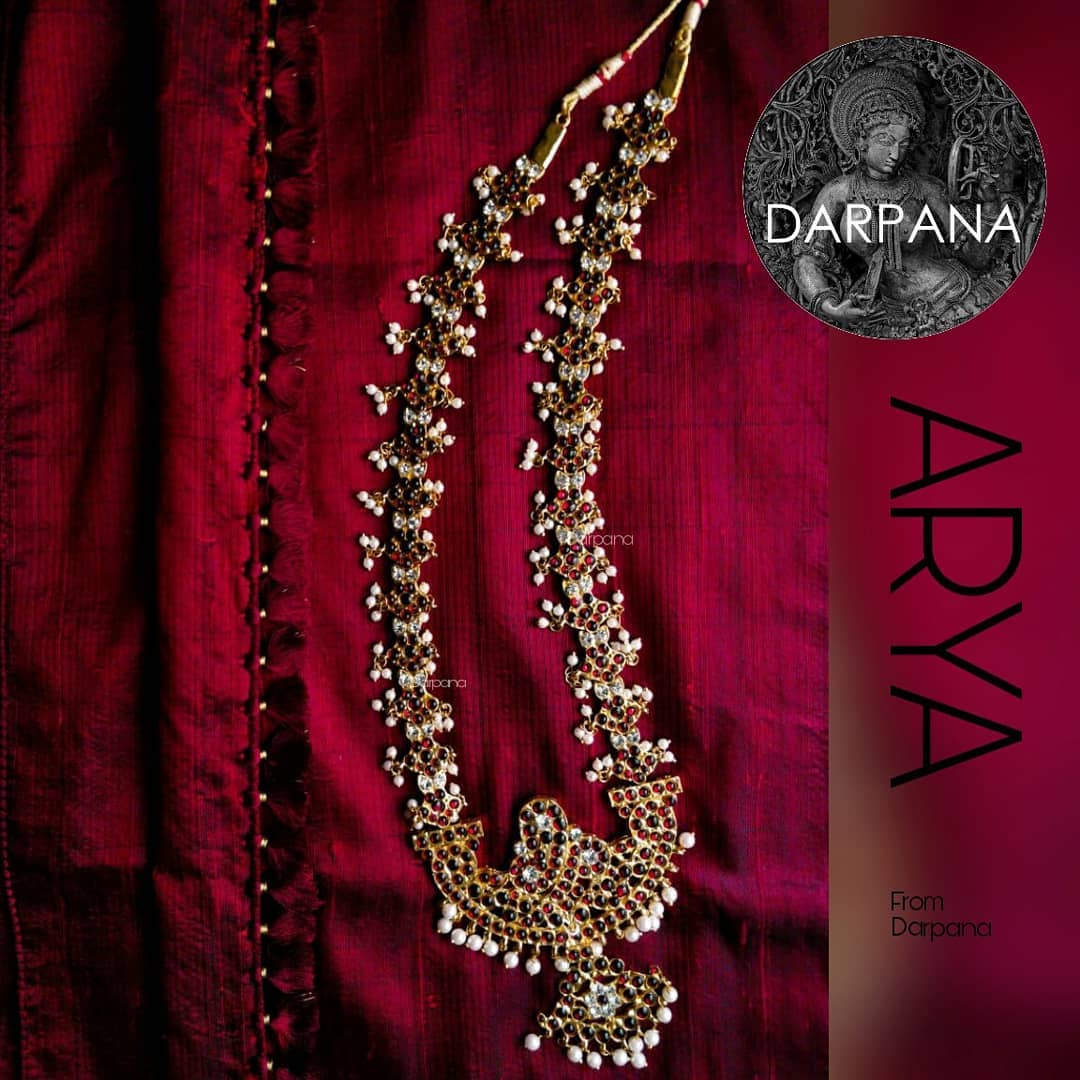 Arya is a quite heavy and beautiful piece of jewellery. The red color stone work is all over the necklace and white beads hanging on it. It is beautiful and eye-catching.
 Mayukha: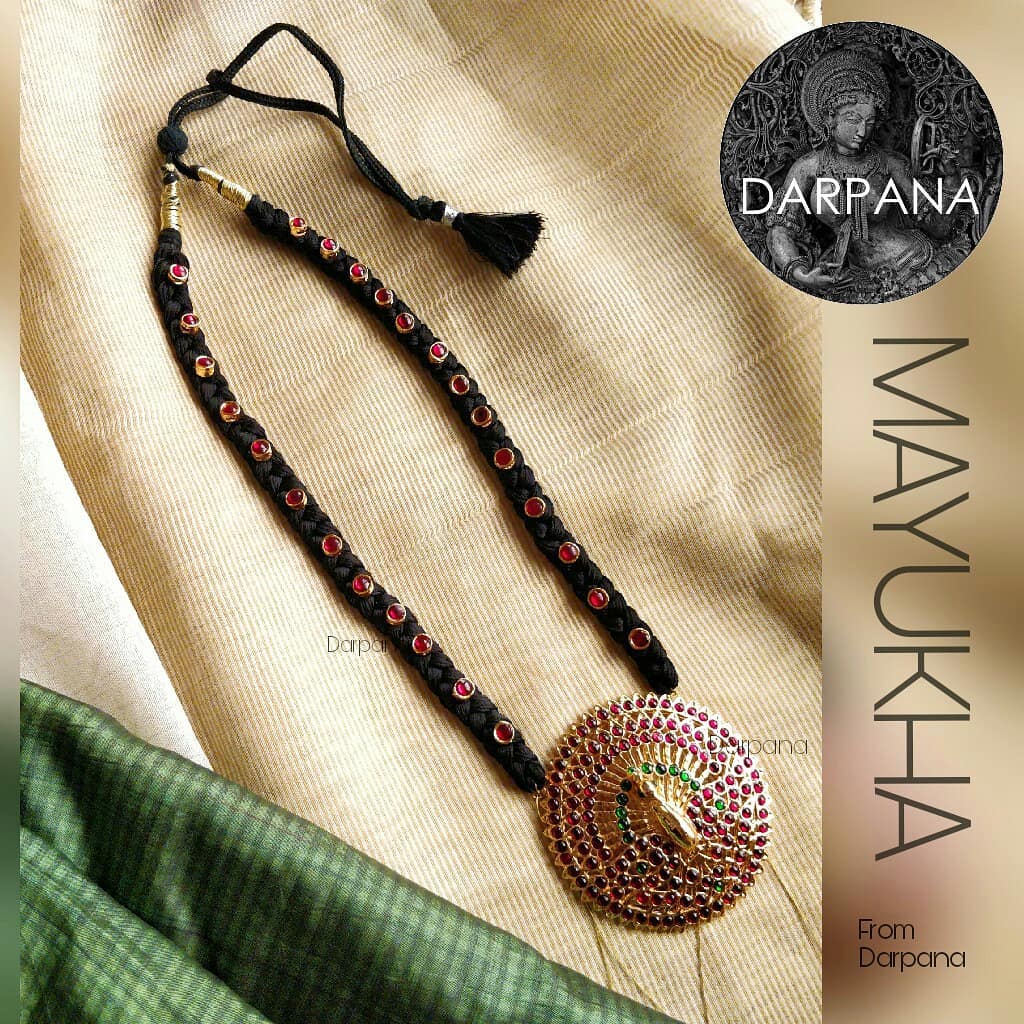 This necklace is plain and very attractive. The black thread work with red stones on it. The circular pendant is beautiful.
 Kalki: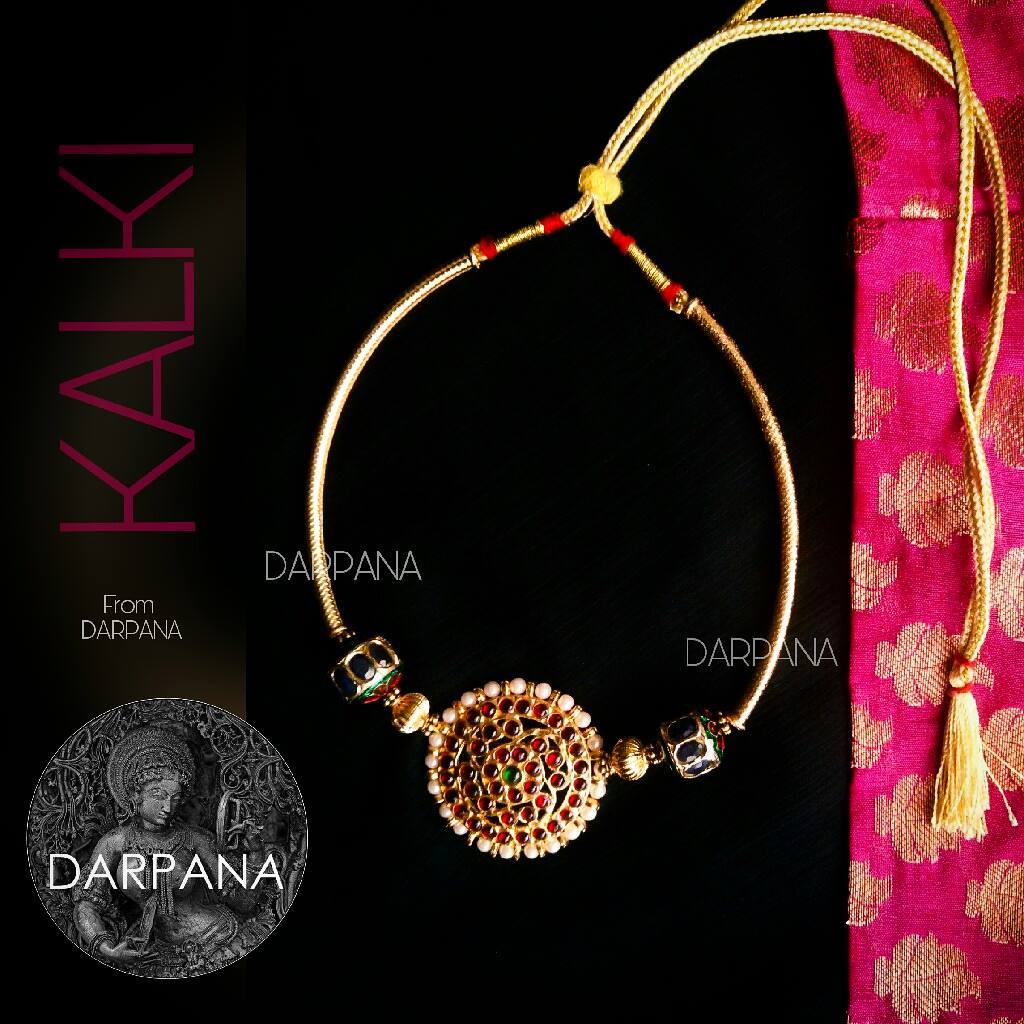 This is a very simple and plain choker with thread work mala. It had a little circular pendant which is very pretty.
 Saurabhi: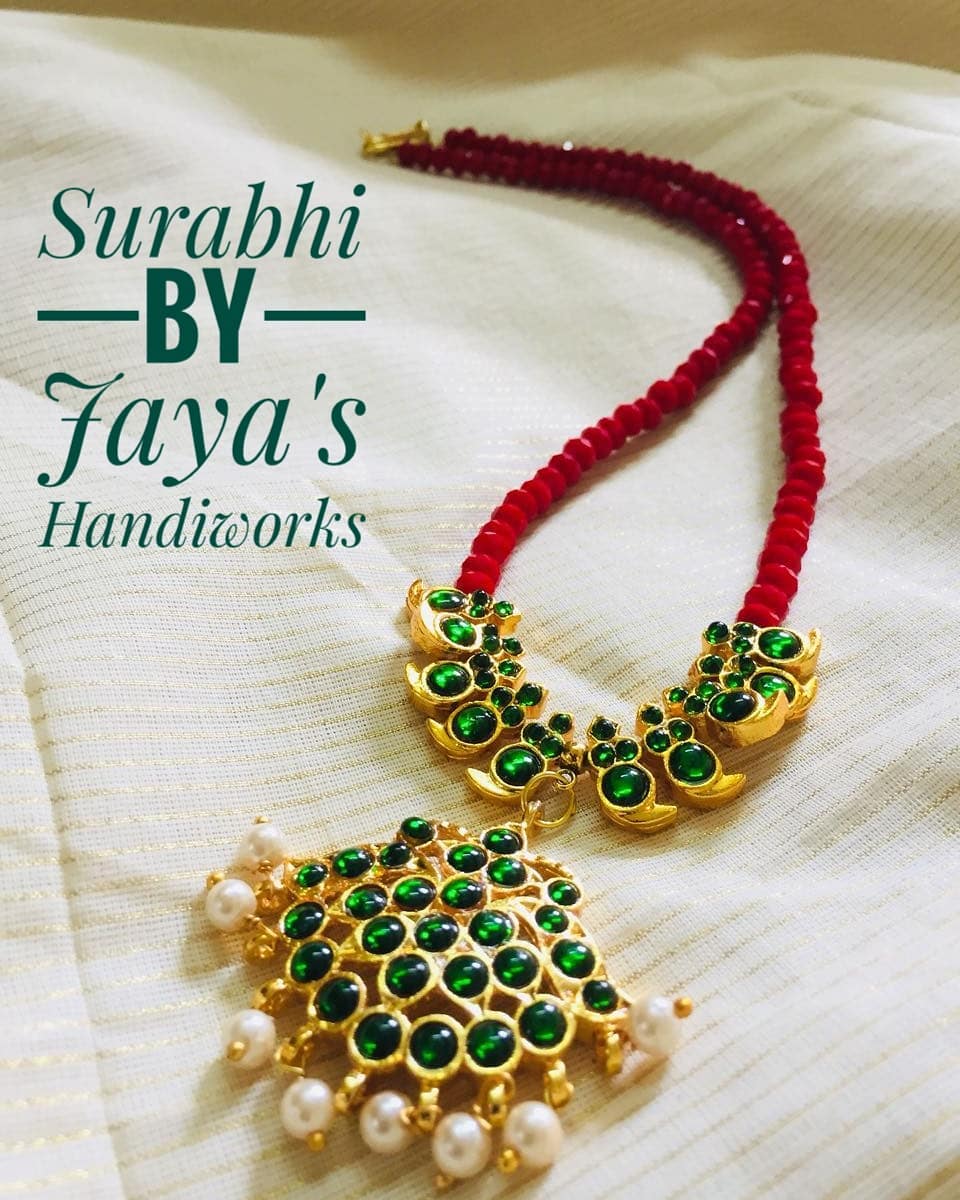 A red bead mala and green stone pendant with a very beautiful pendant. It will look good with white color and red color saree the most.
 Mahamaya in Pearl: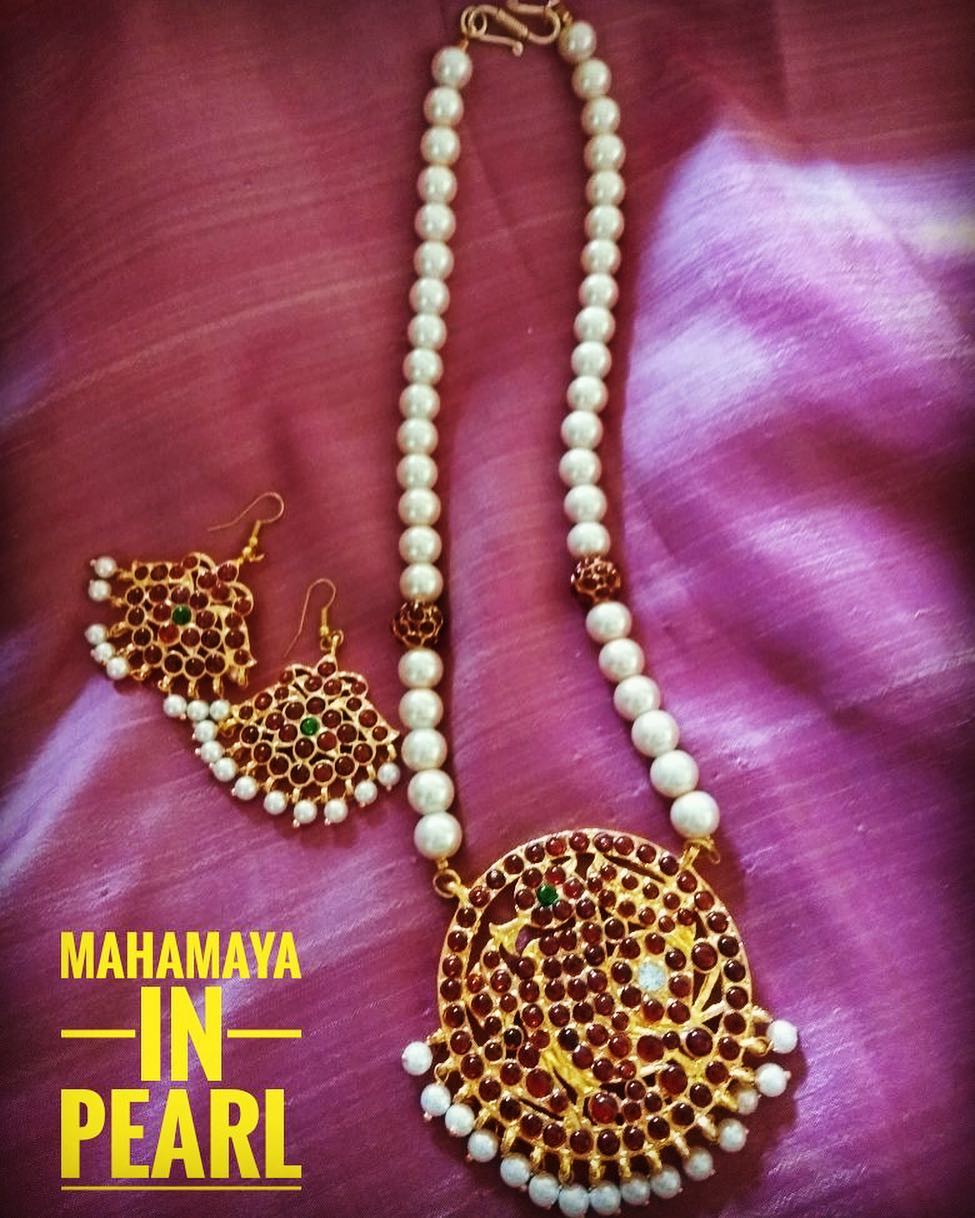 A white pearl mala with round pendant and red stone work. This necklace will complement all the dark color sarees.
 The Union: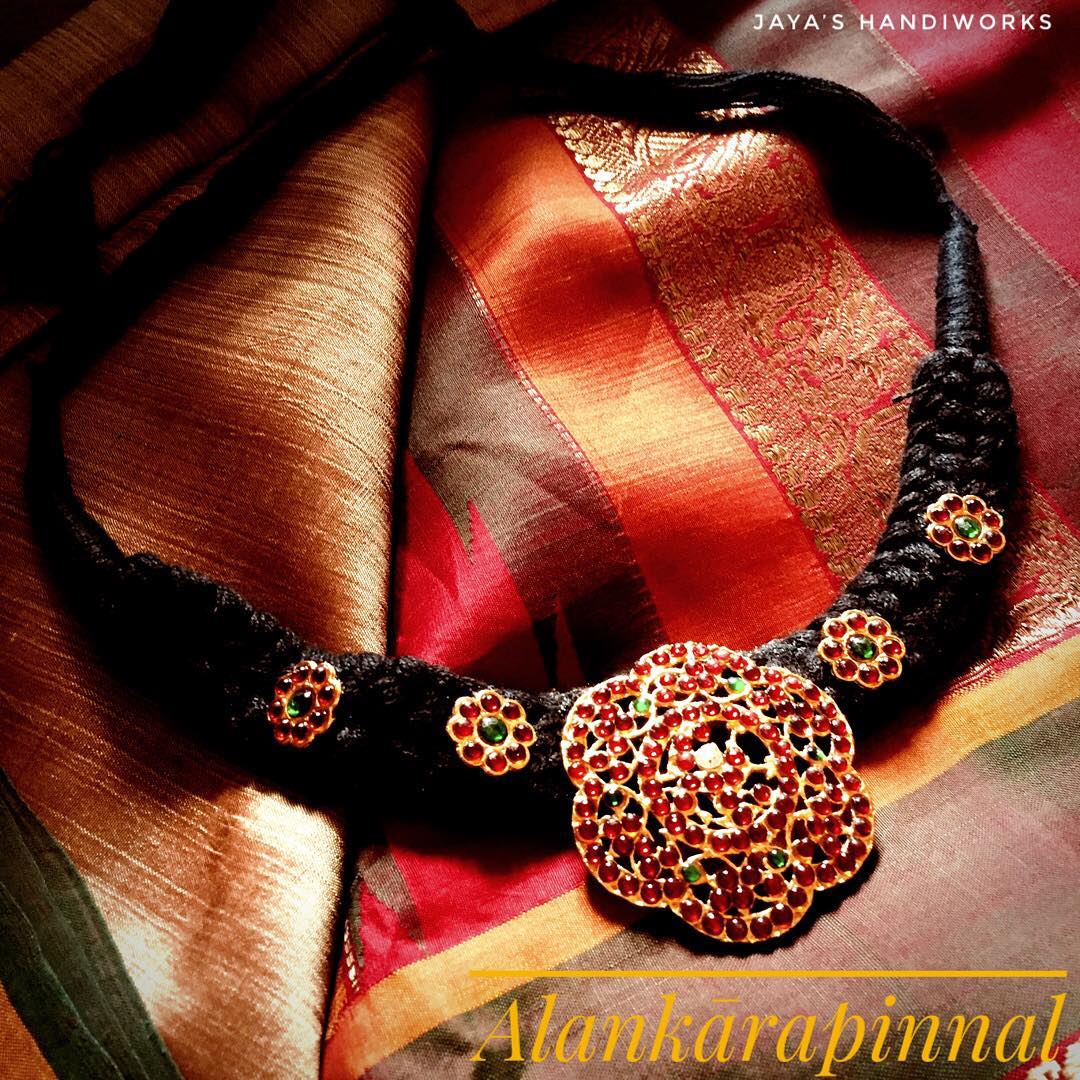 The mala is made of beautiful stones made in a very beautiful design. The round pendant has a peacock made in the middle which looks royal and attractive.
 Pearl and Stone Work Mala: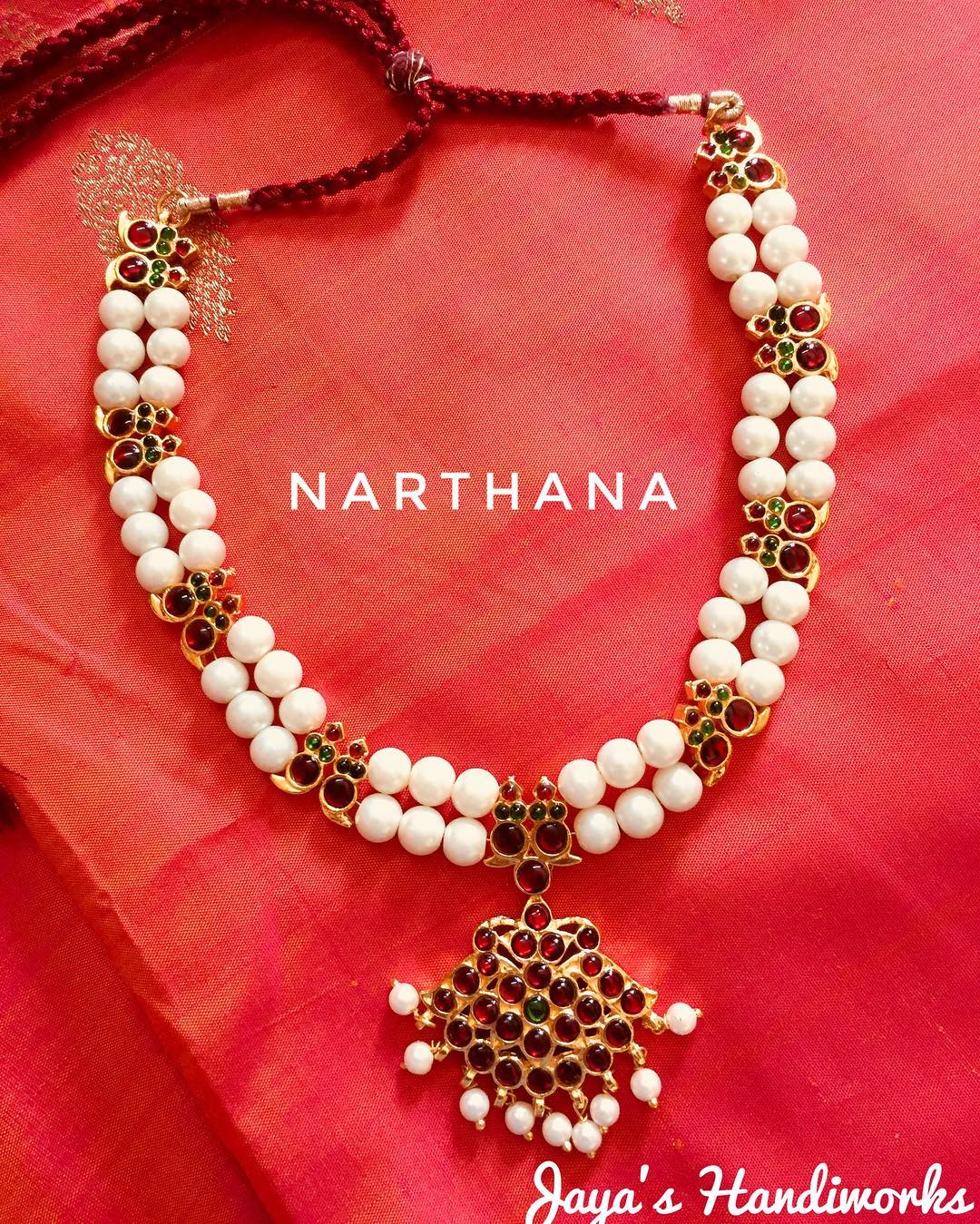 This is the most simplest yet, one the most worn mala. This could be worn with western as well as with traditional clothes.
 Oodha in Black: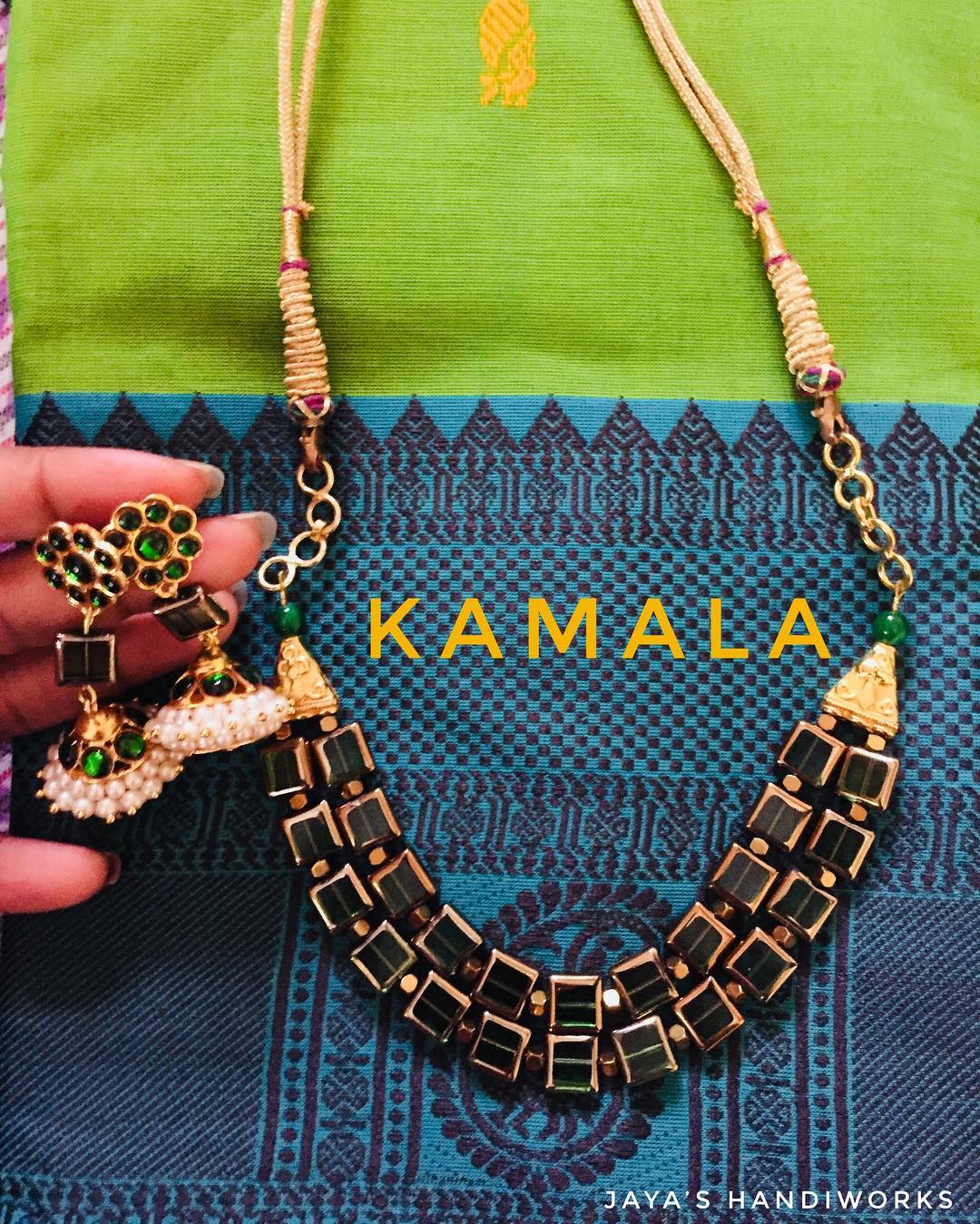 Double layer of pendant with black mala and a beautiful pair of jhumka. This looks beautiful and very striking to the eyes.
 Pallavi in Pearls: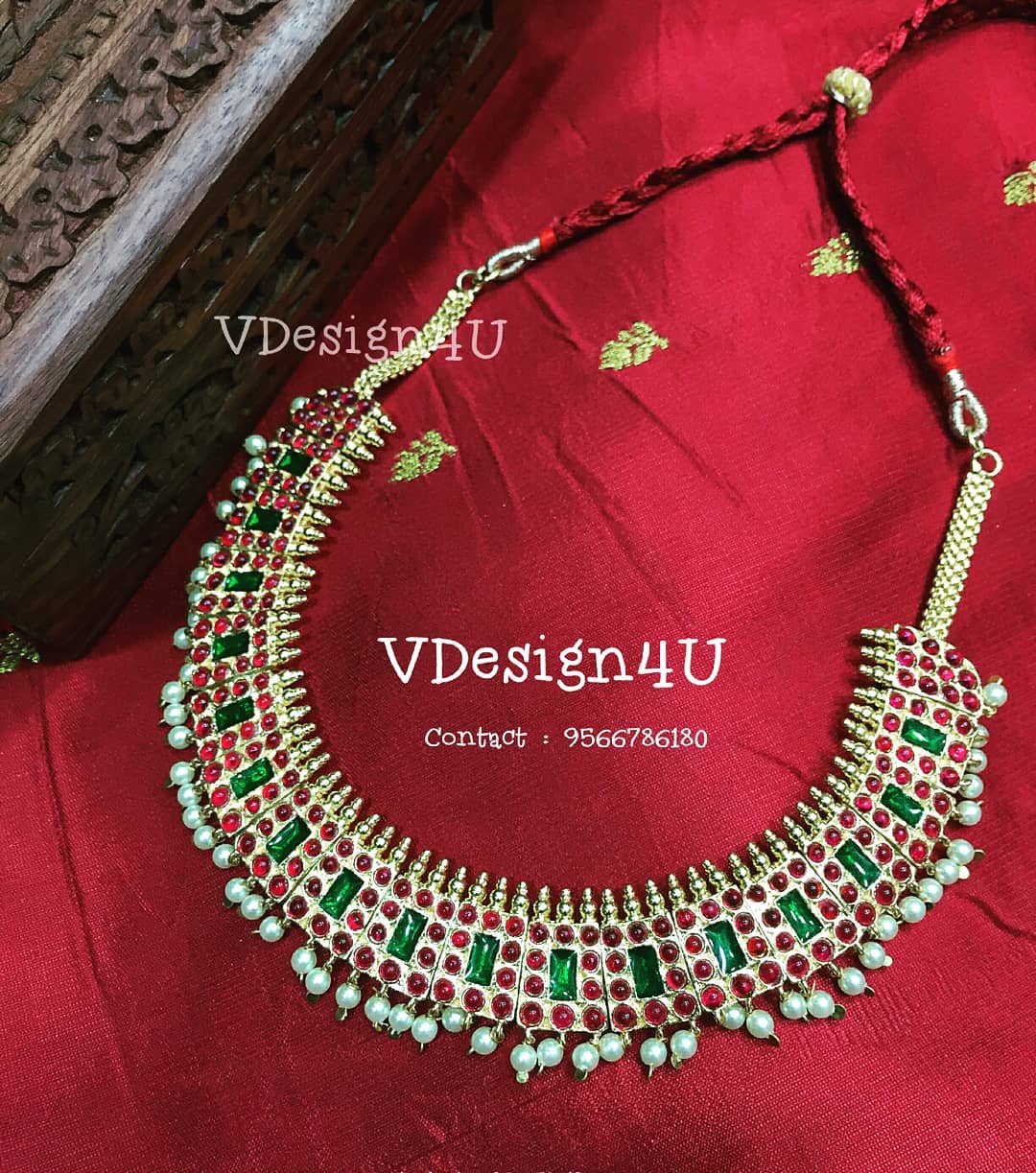 Multilayered white beads mala with a semi circular pendant looks gorgeous. When worn with black color saree, it will define the beauty of the jewellery as well as the lady wearing it.
 Alankarapinnal: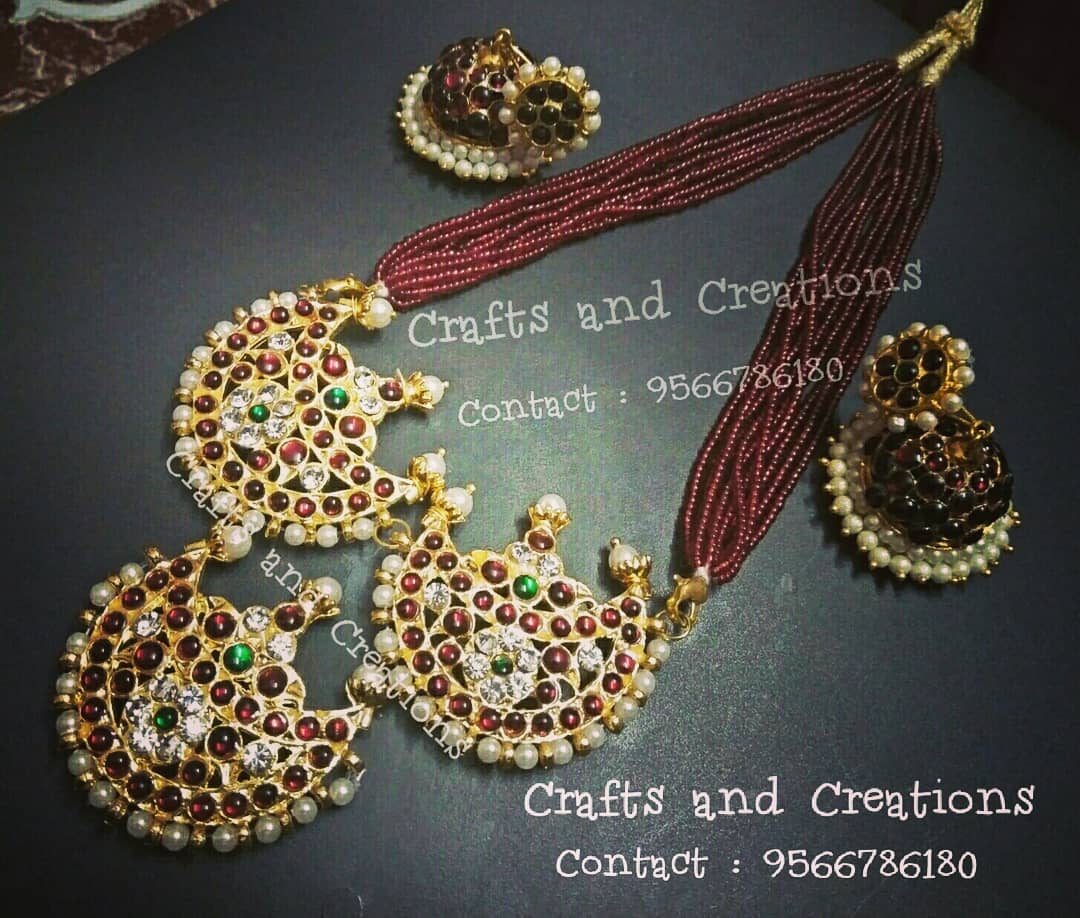 The black color thread mala with a beautiful flower pendant on it looks amazingly striking to the eyes. This will go well with red and white color saree or other traditional piece of clothing the most.
 Narthana: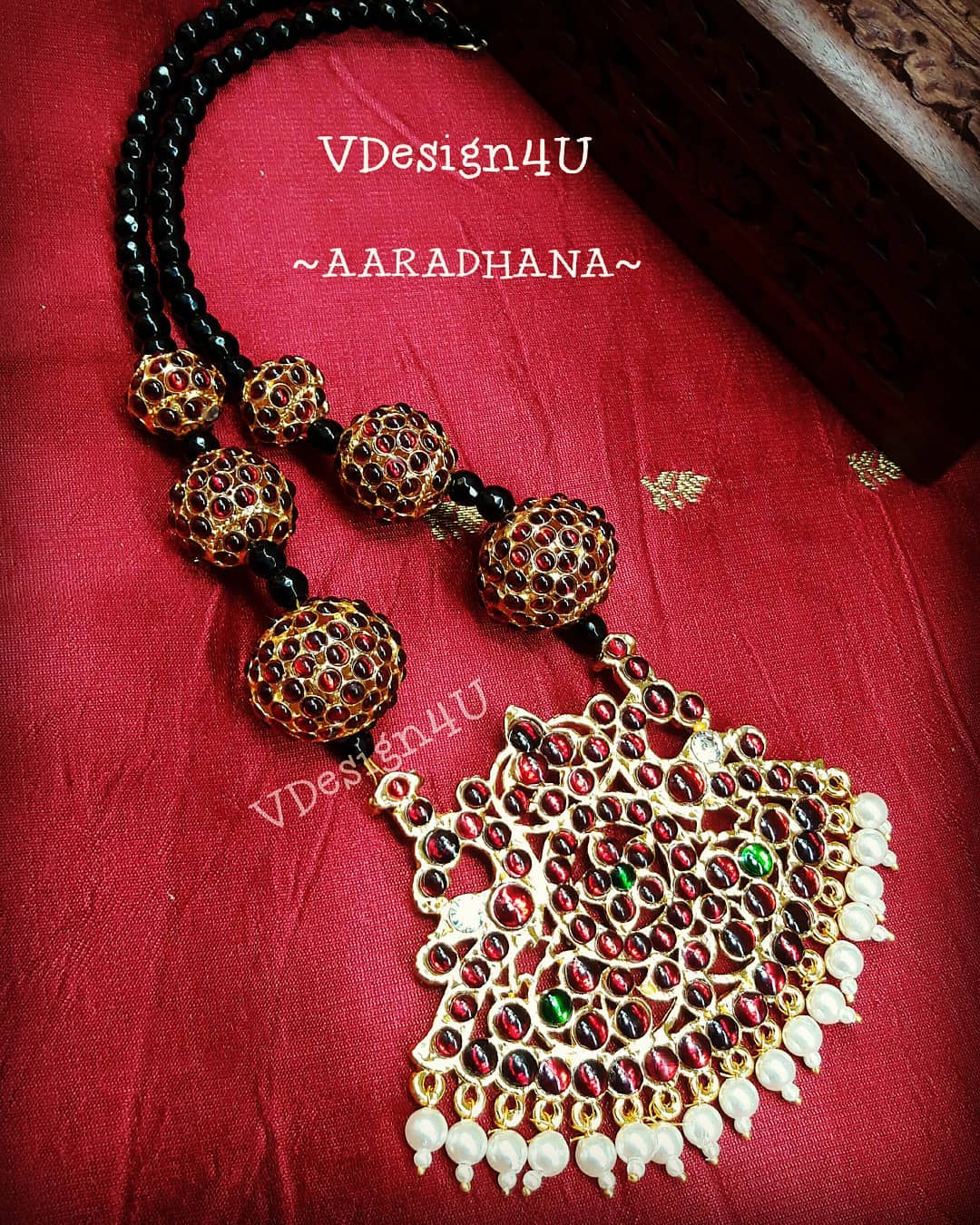 This is an elegant piece of jewellery. The subtle white color beads with red stones will lure your eyes. It has a small pendant which looks magnificent to the eyes as well.
 Kamala: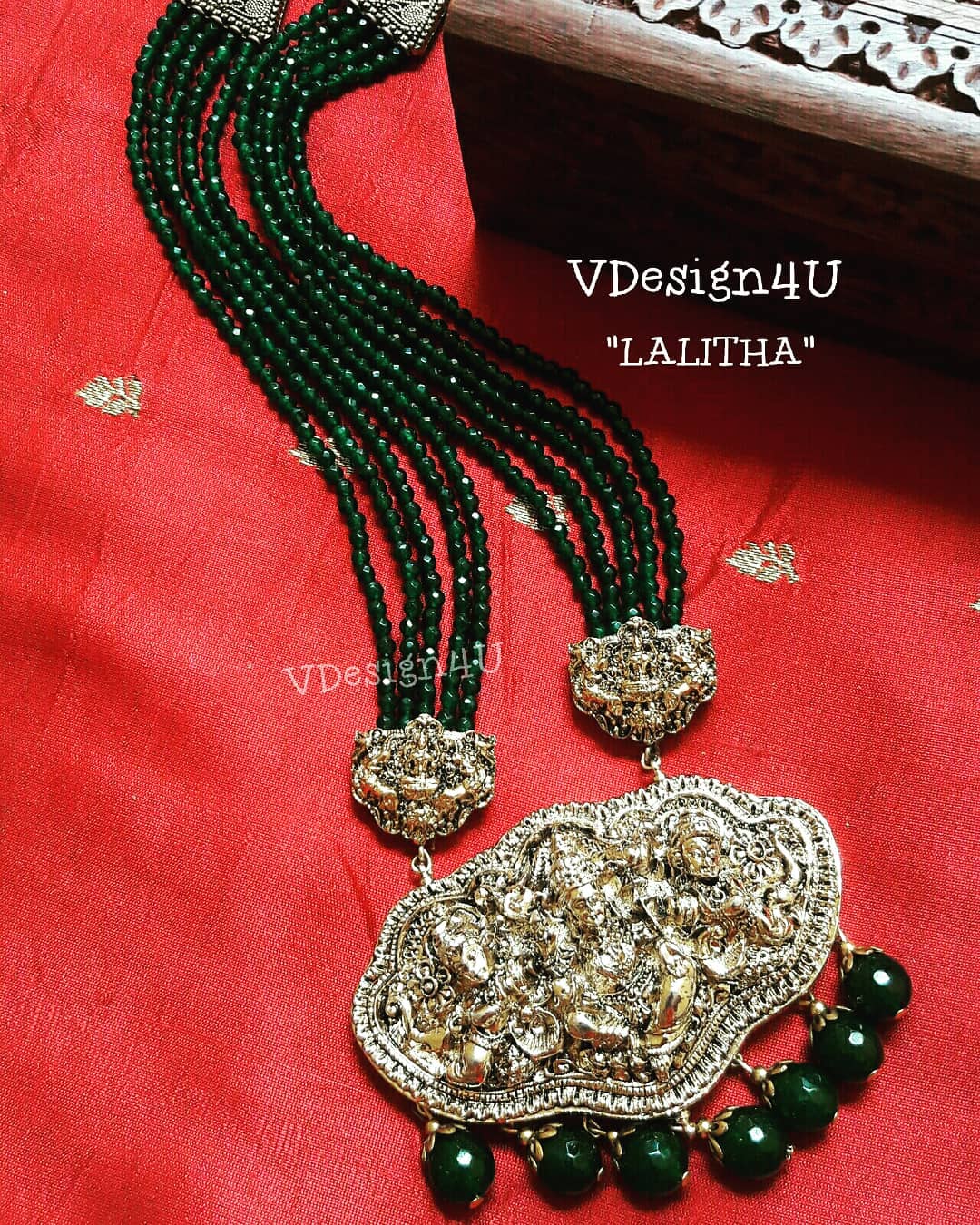 The black rectangular stones in the middle of the choker give Kamala a modern as well as traditional look. The earrings have a those beautiful black stones as well as white beads hanging on it.
 Choker Neck Piece: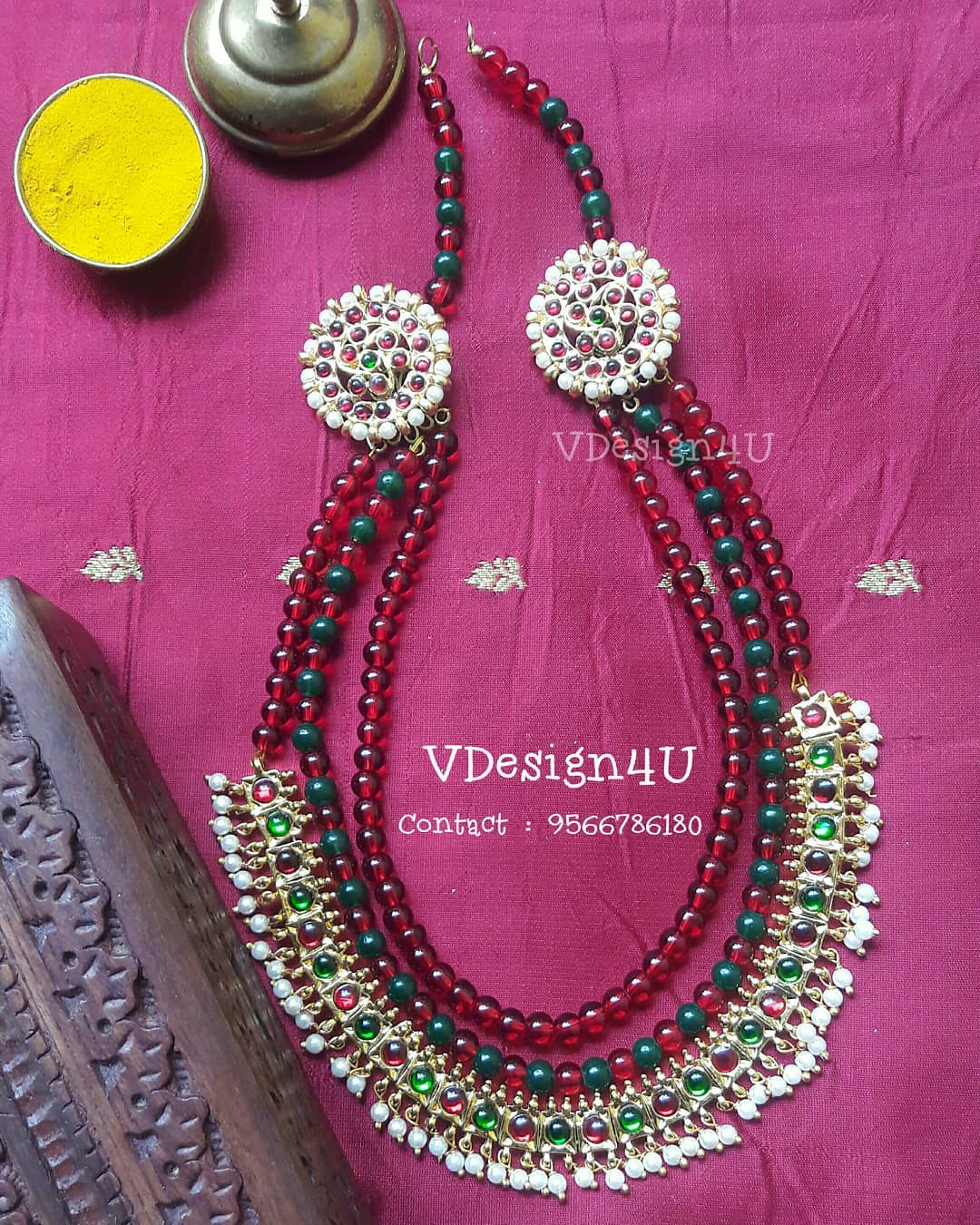 This is a very heavy choker neck piece with beautiful stone work done on it. It can be worn on quite auspicious occasions.
 Dual Layer Pendant Set: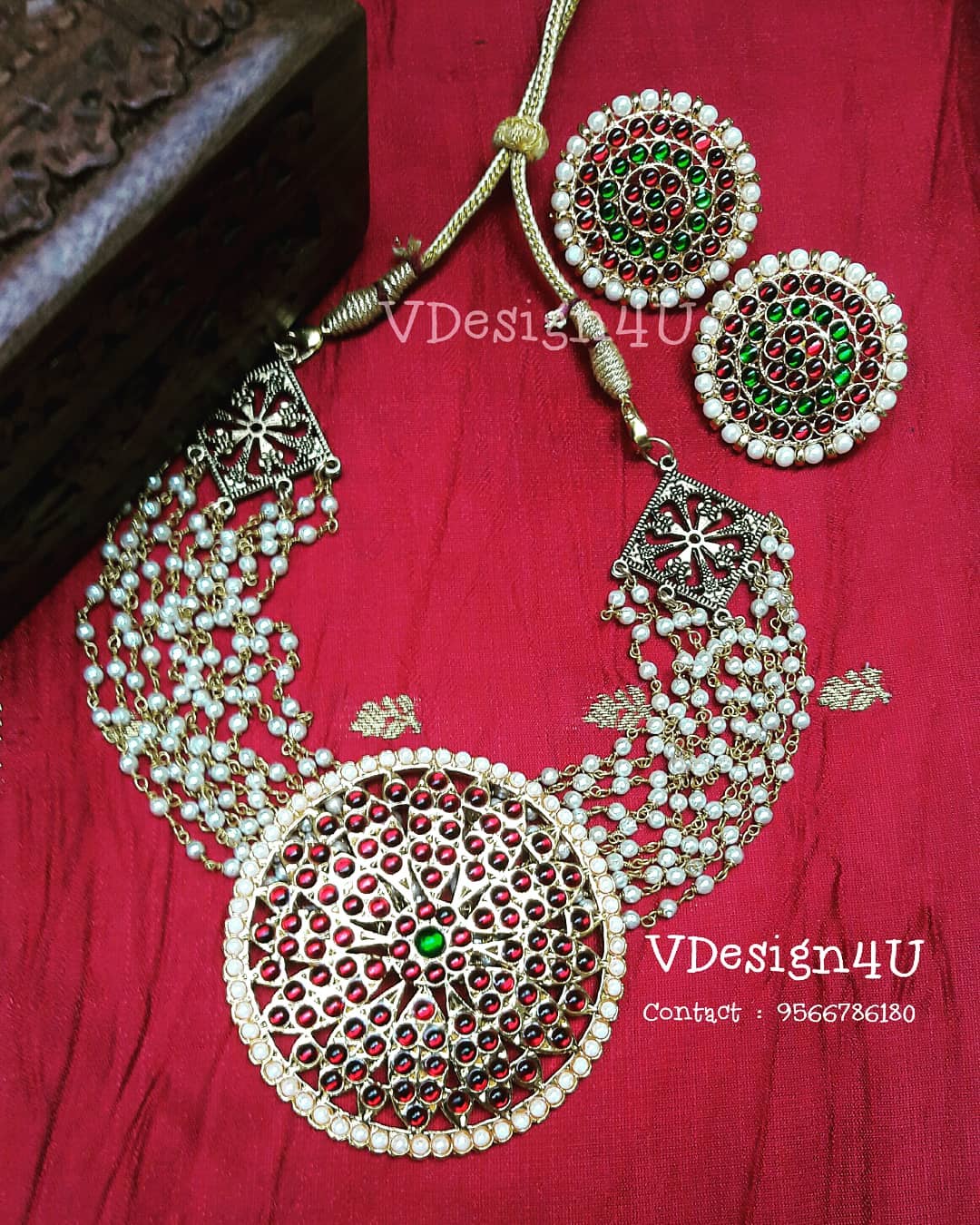 The first layer of the pendant has two pendants and the other one has one pendant. It has a traditional and beautiful look.
 Aaradhana: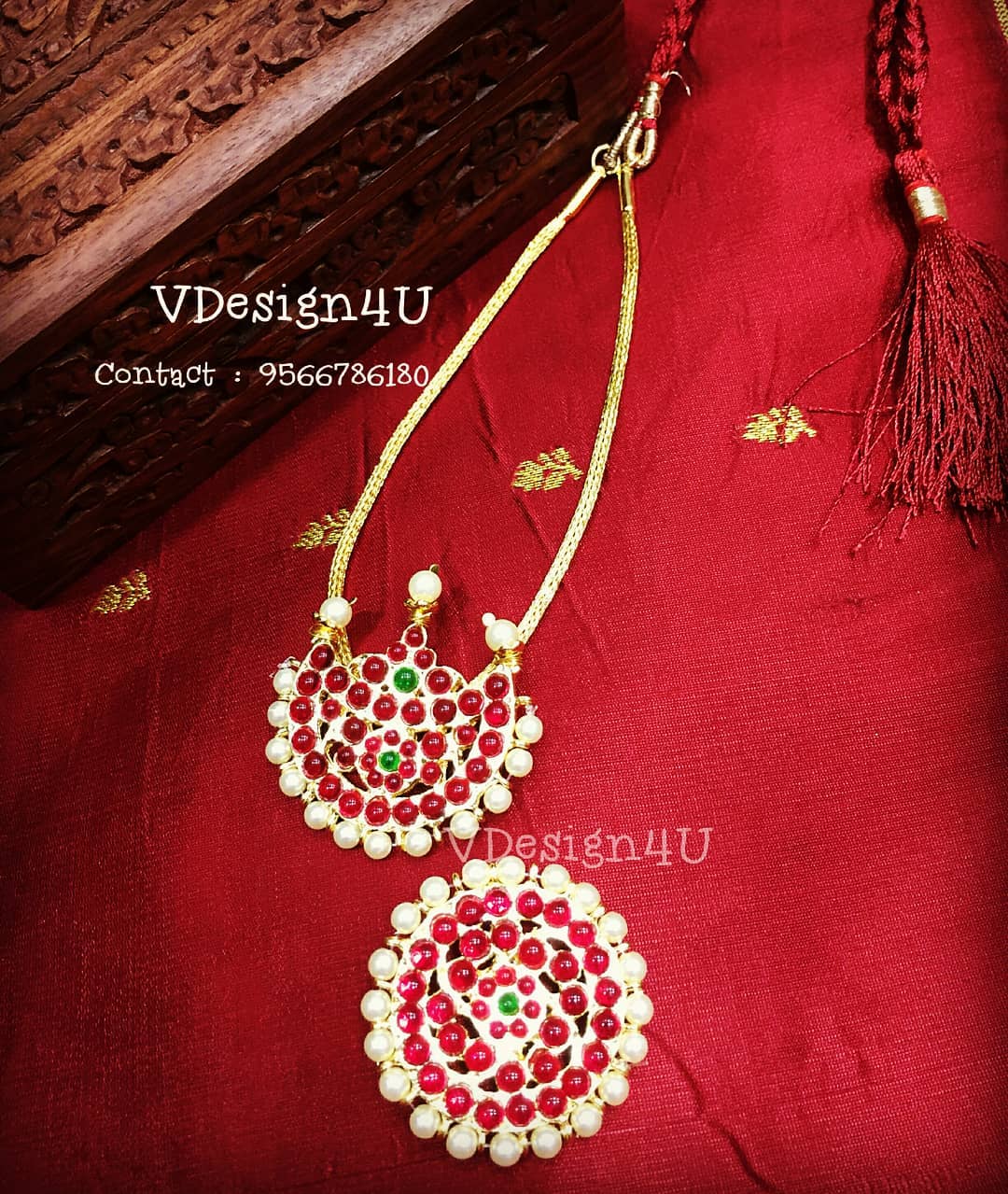 A huge pendant with stone mala and various stone balls makes this necklace look likable to the eyes.
 Lalitha: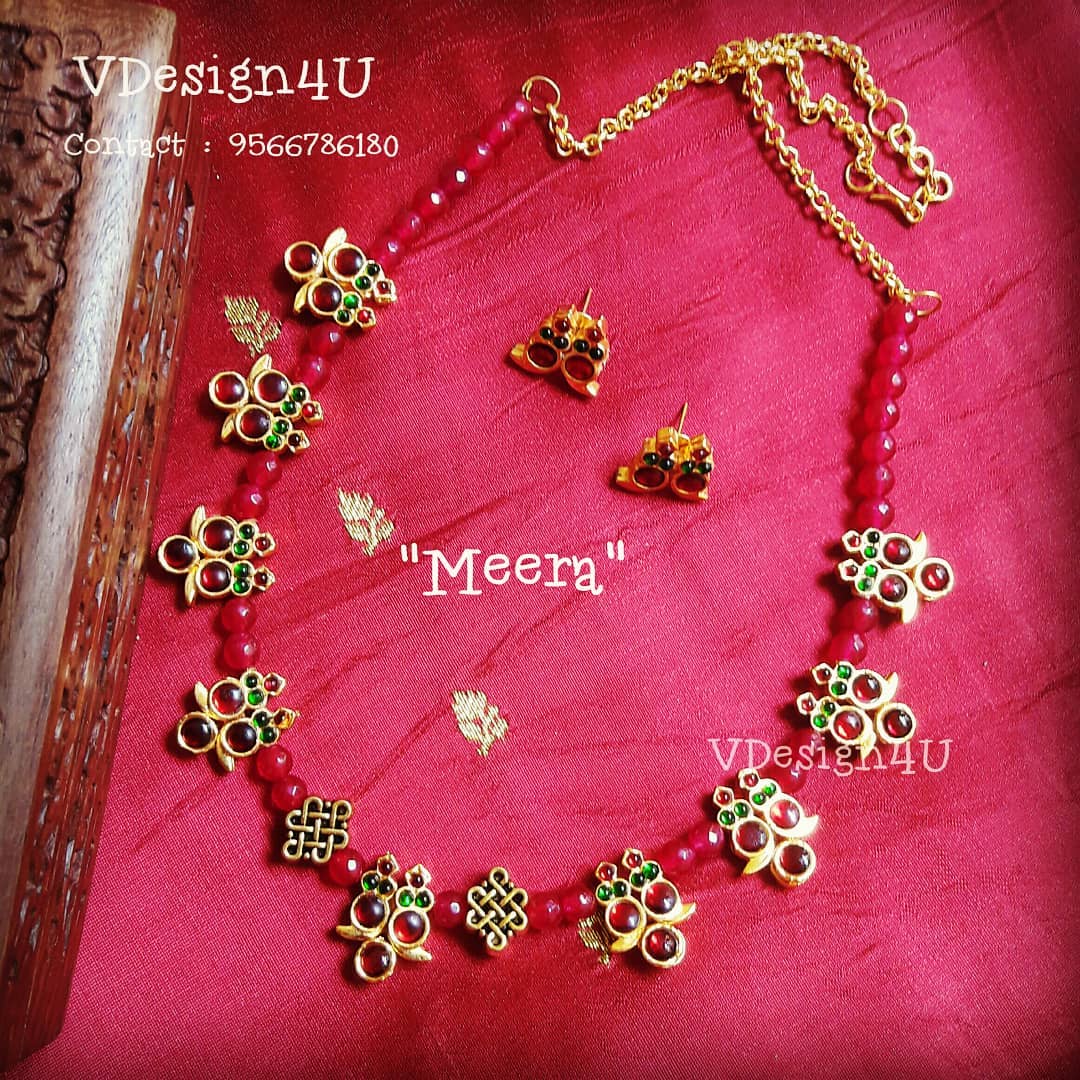 This necklace's pendant has three godlike figures carved in it. This huge silver pendant looks rich and pleasing to the eyes.
 Multilayered Necklace: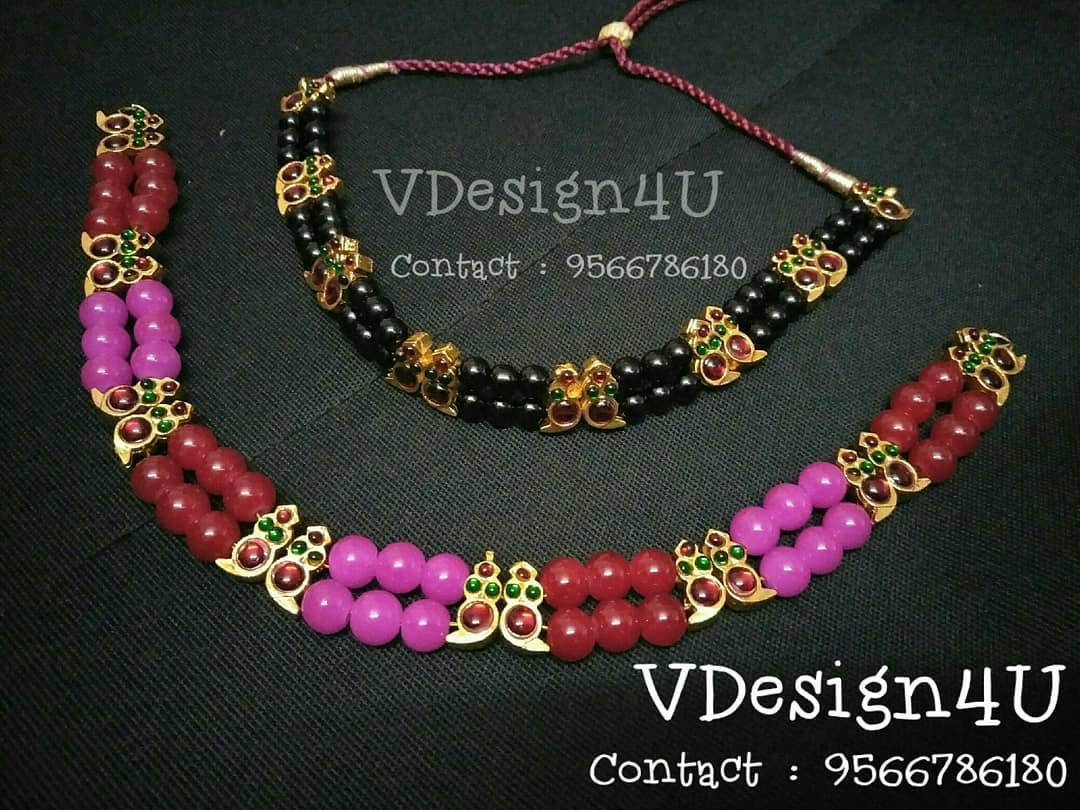 the necklace has three layered mala where the middle layer is a mixture of red and green stones. The work on the necklace is quite heavy.
Okay..that's it ladies. Hope you like the wide range of traditional temple jewellery sets featured on this post today. In case if you like to shop any of them, please do find the seller contact details below.
Seller Name : Aabharanam
Instagram : https://www.instagram.com/abharanam/
Email : aa********@gm***.com
Whatsapp : 9677600195
Seller Name : Darpana
Instagram : https://www.instagram.com/darpanadesign/
Whatsapp : 9742596734
Seller Name : Jaya's Handiwork
Instagram : https://www.instagram.com/jayashandiworks/
Seller Name: Vdesign4U
Instagram: https://www.instagram.com/vdesign4u.official/
Contact:+91 9566786180.
Also Read: