Chokers look really good on women as they accentuate the elegance of their neck and make them look like a diva. There are many types of choker– thin, dainty chokers that use delicate pieces of metal attached in a fashionable way to form a stunning neck piece and there are also the chunky and heavy ones that look much bigger and are decorated with precious stones to add color and variety. Below are 34 traditional choker necklace designs & where to shop for them:
1.Gold Plated Stone Lakshmi Choker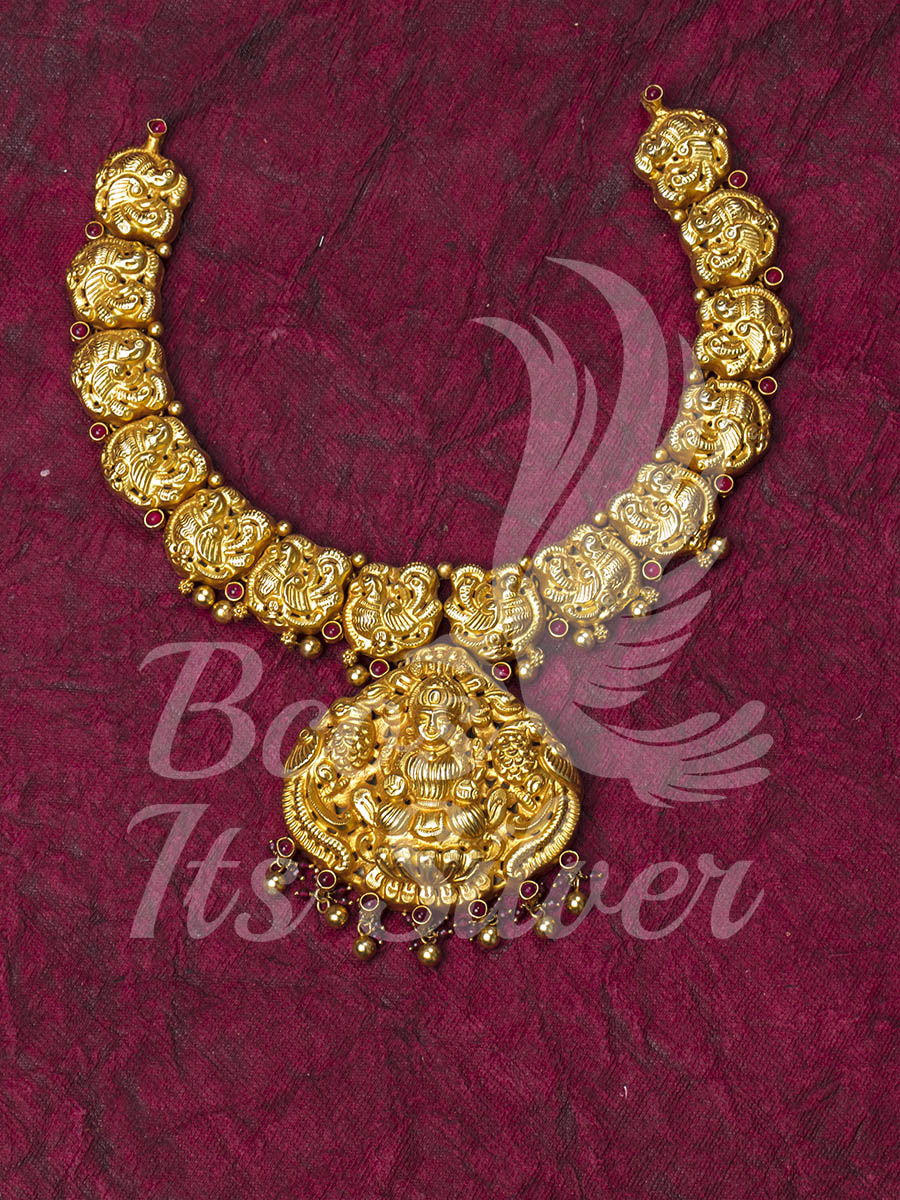 Gold plated jewelry is a popular alternative to the ones made with precious metal. This gold plated stone lakshmi choker is an affordable option too.
2.White Stone Pearls Choker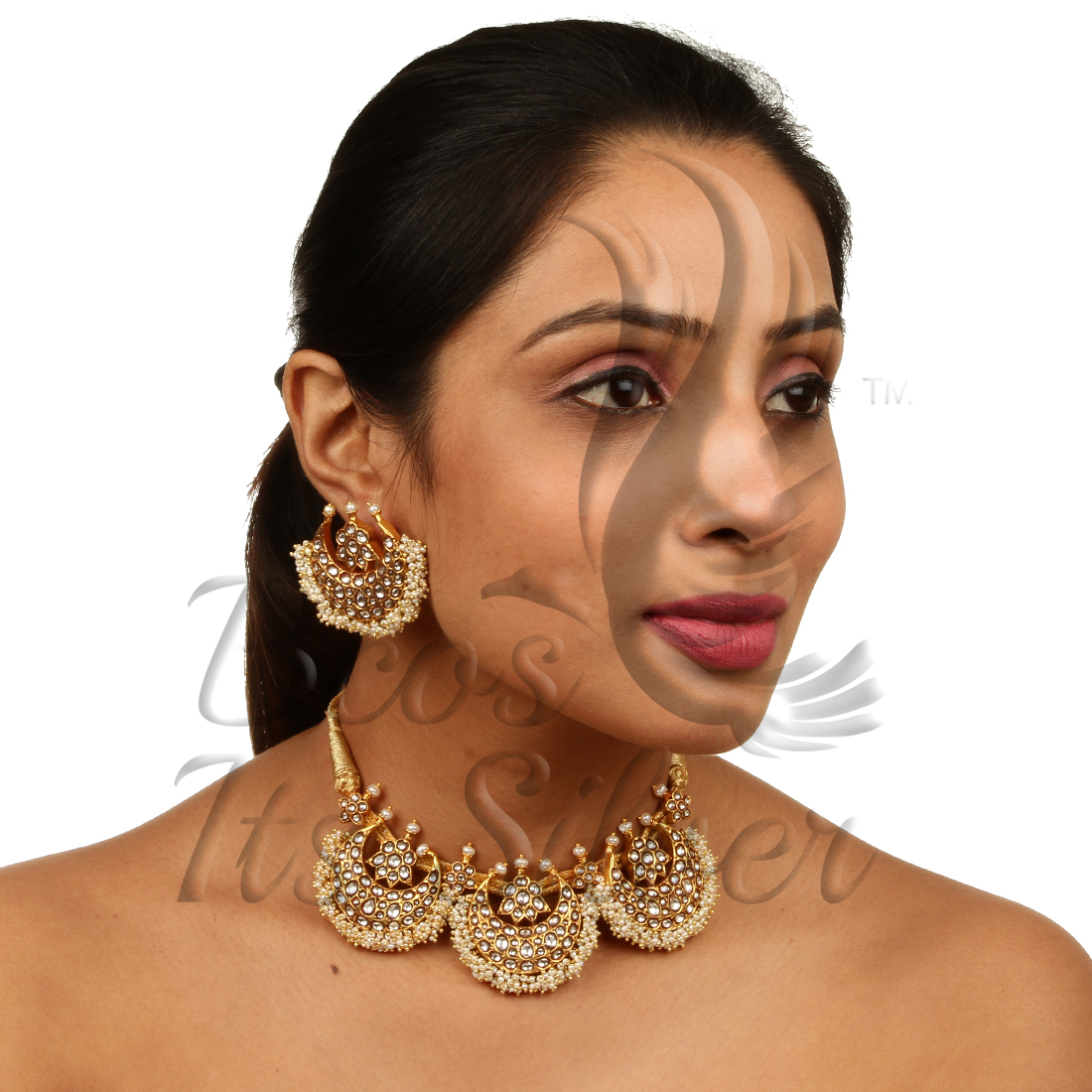 Pearl can incredibly increase the sophistication and beauty of any woman in the world. However, it can give more attractiveness to her if it has a combination of white stones.
3.Fish Motif Traditional Choker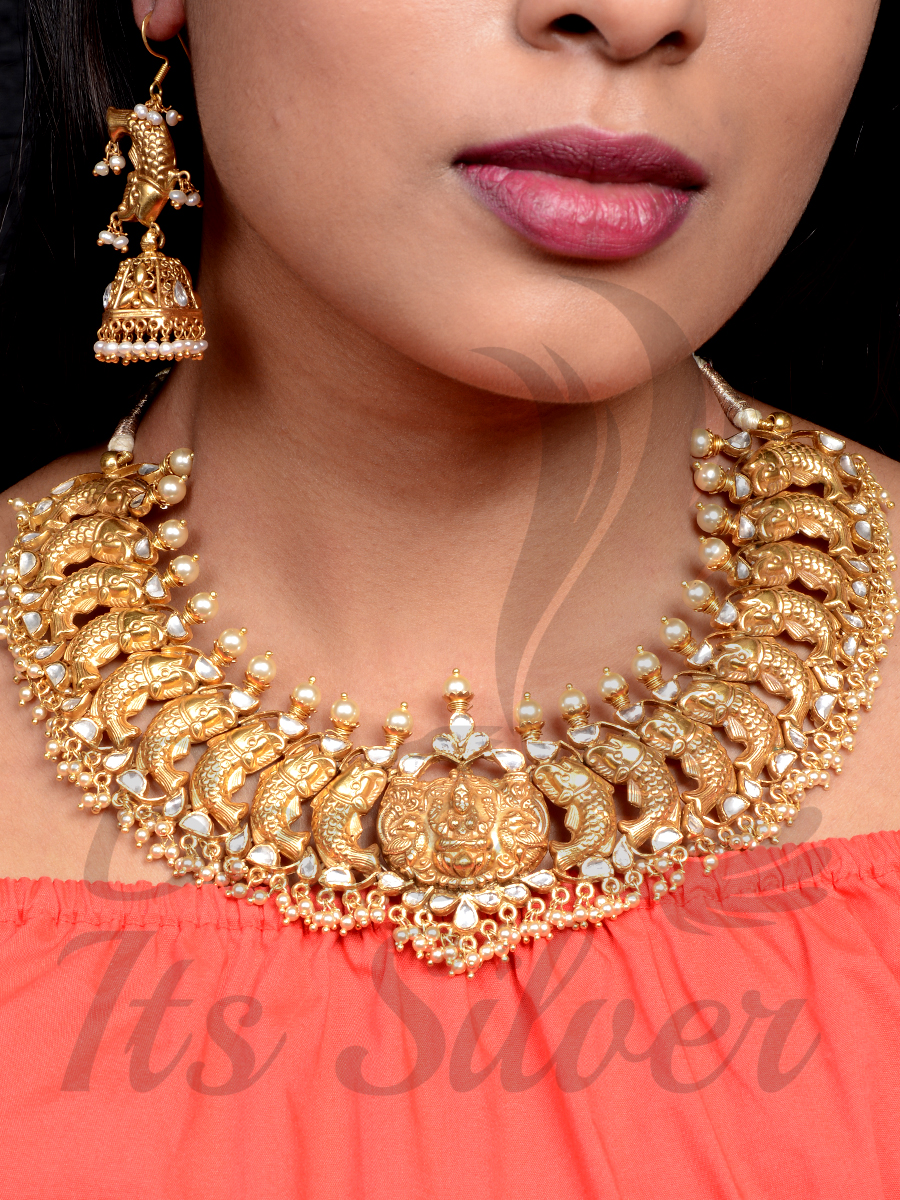 If you want to add some traditional pieces of jewelry in your jewelry-closet, then this fish motif traditional choker is the most premium choice.
4.Bird Ruby Stone Choker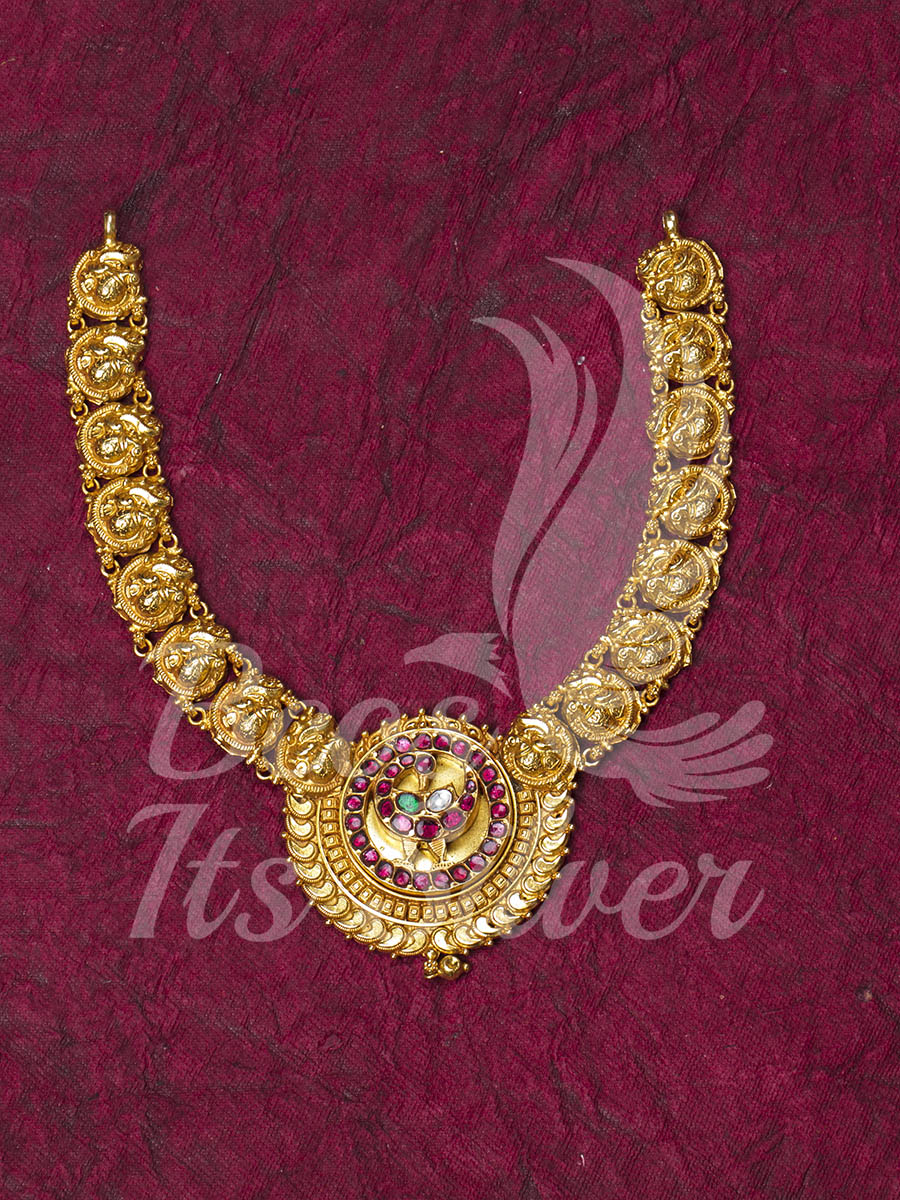 Vibrant in its color, rubies are surely the most desired gemstones today. Ruby chokers have now become the best choice for weddings too.
5.Goddess Lakshmi Motif Choker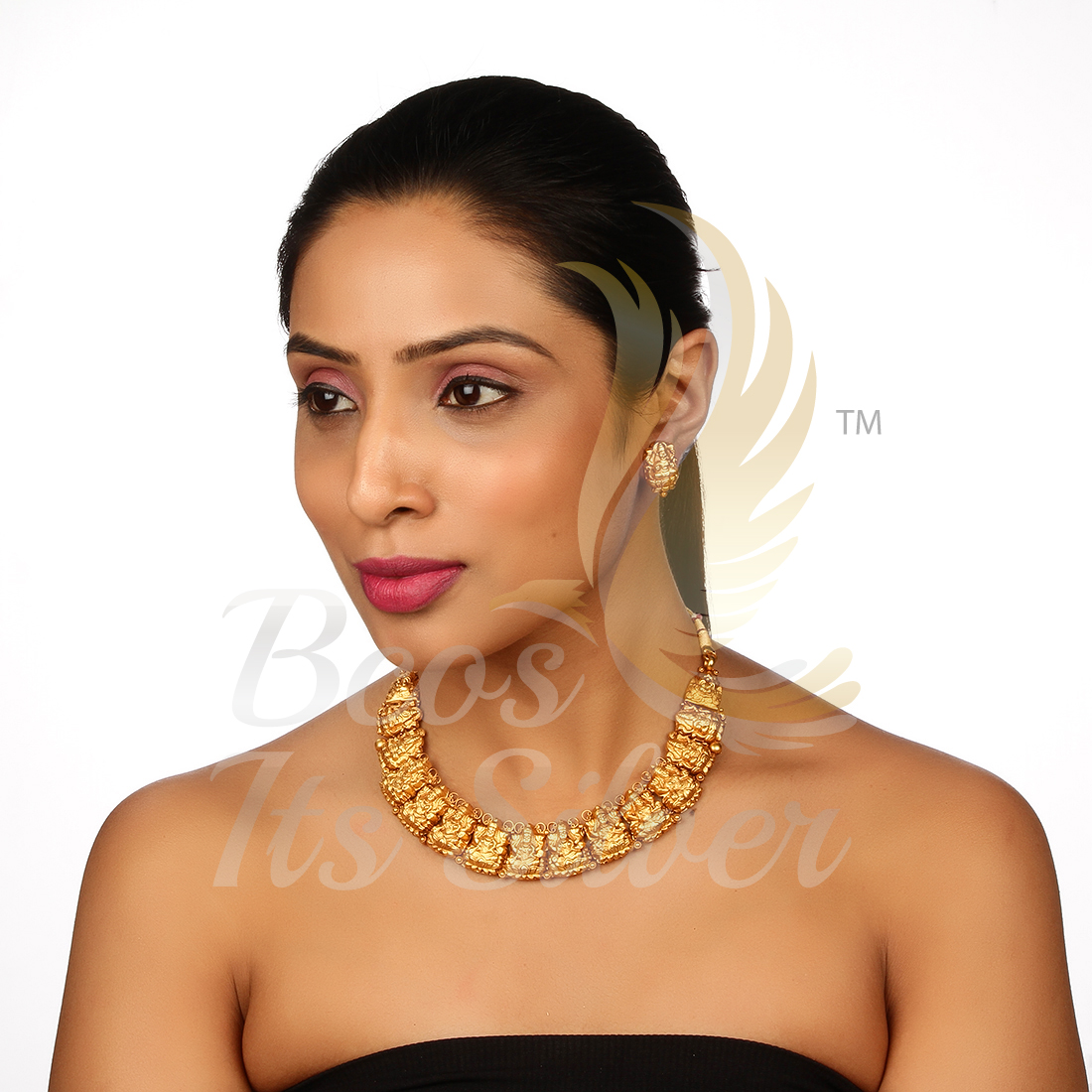 If you want to make a statement, then go for traditional motif chokers. Ensure that the rest of your outfit is simple so that the choker stands out as a statement piece.
6.Peacock Motif Emerald Stone With Rubies Choker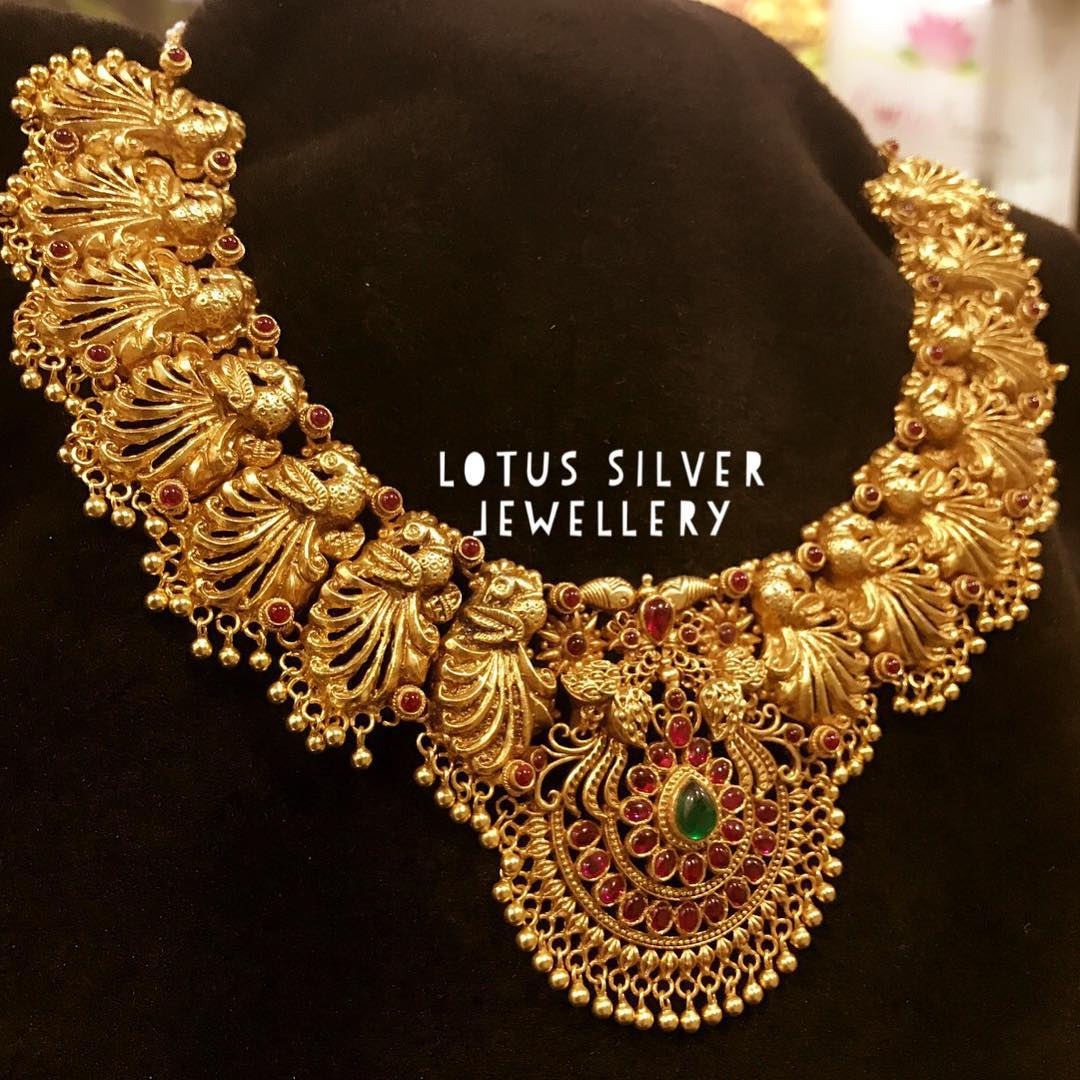 Being one of the favorites of all times, this peacock motif emerald stone with rubies choker is the best choice.
7.Peacock Emerald And Ruby Stones Traditional Choker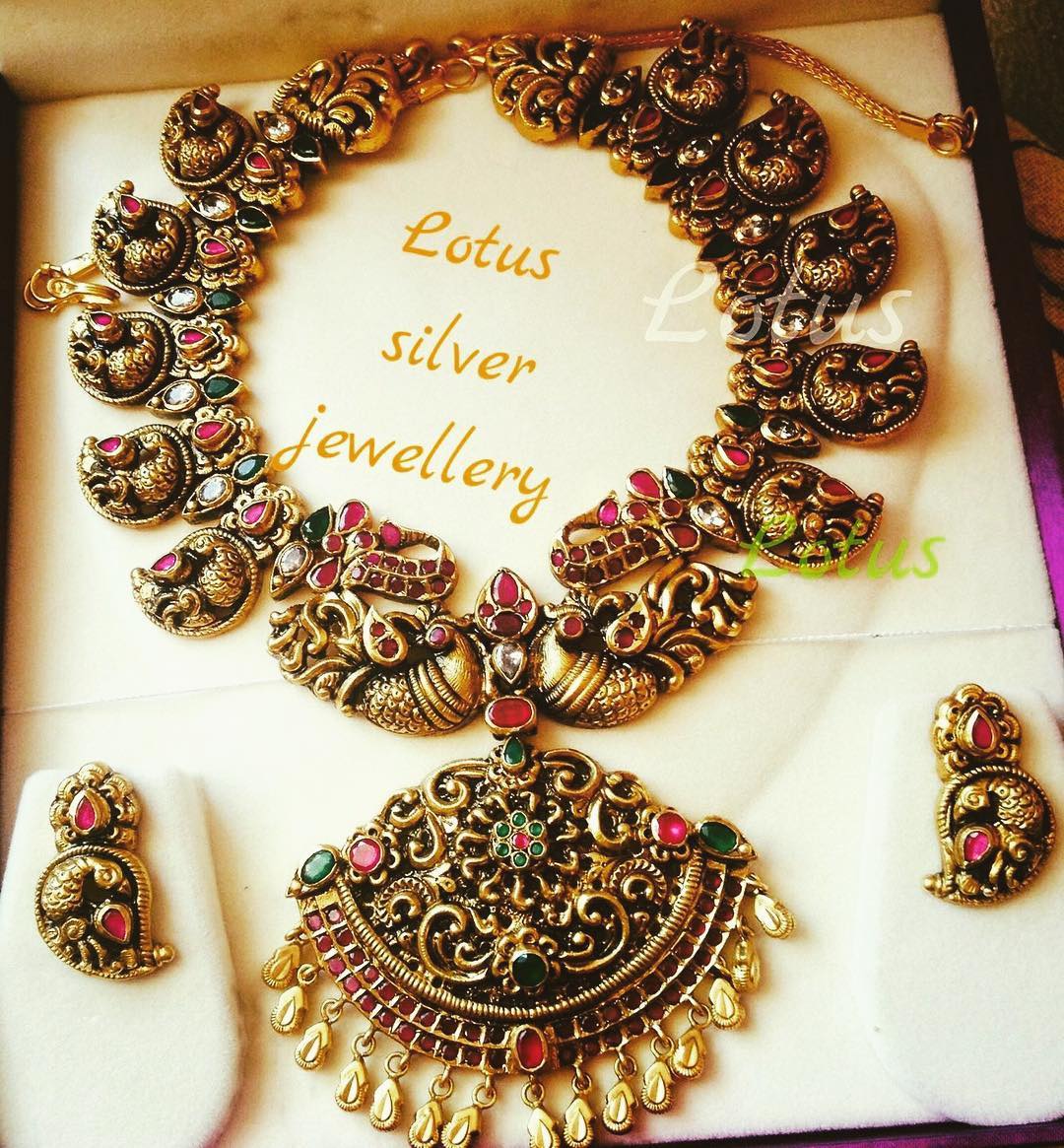 Rubies are considered to be one of the most favorites of all gemstones since ages. This peacock emerald and ruby stones traditional choker will be close to a woman's heart because of its bright and vibrant color.
8.Cylindrical Butterfly Floral Choker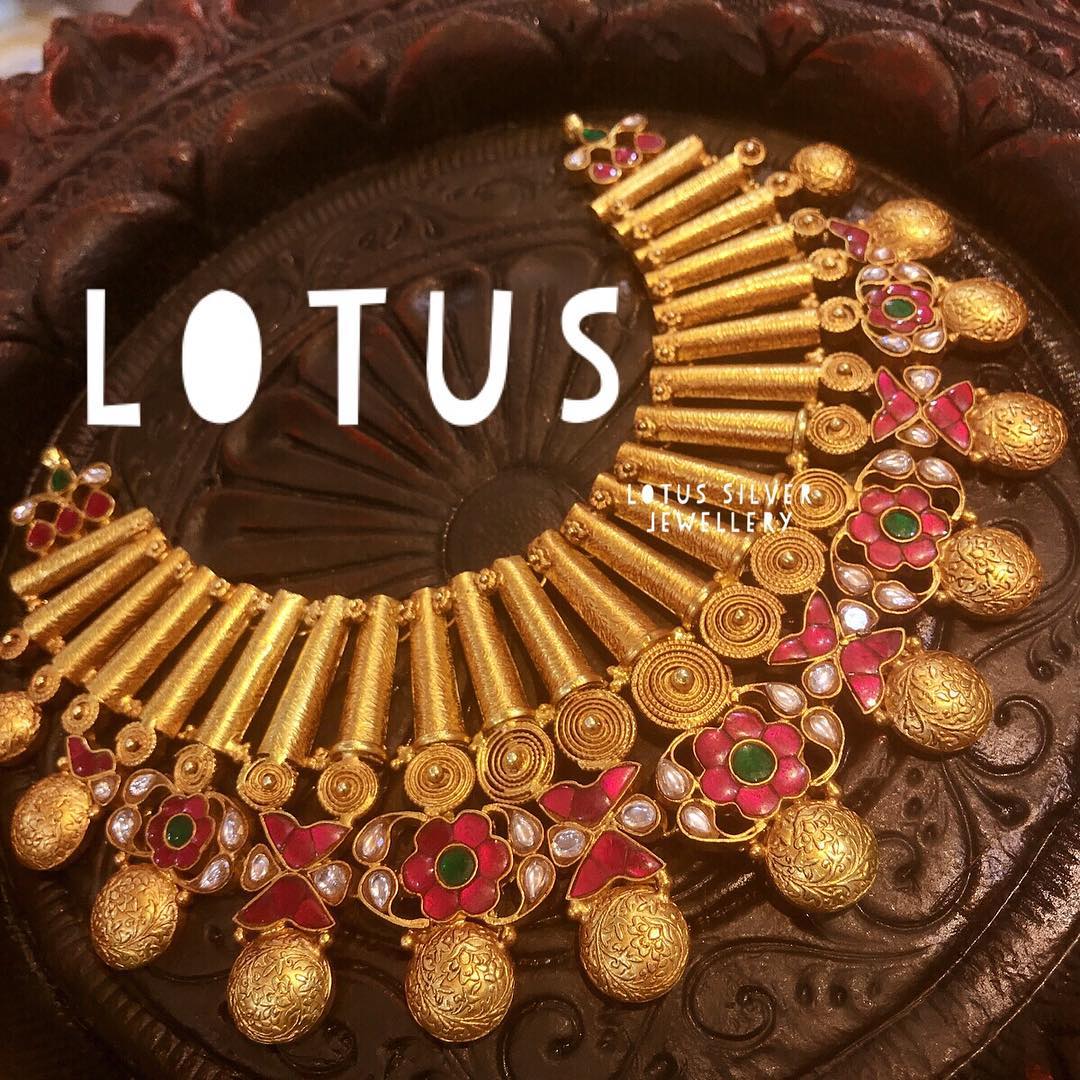 For that glamorous goddess look, wear a cylindrical butterfly floral choker like this one.
9.Emerald And Diamond Stones With Pearls Choker
Emerald pieces never fade. Emerald and diamond are used in both vintage and modern jewelry and look both authentic and fashionable.
10.Oxidized Emerald And Ruby Stones Traditional Choker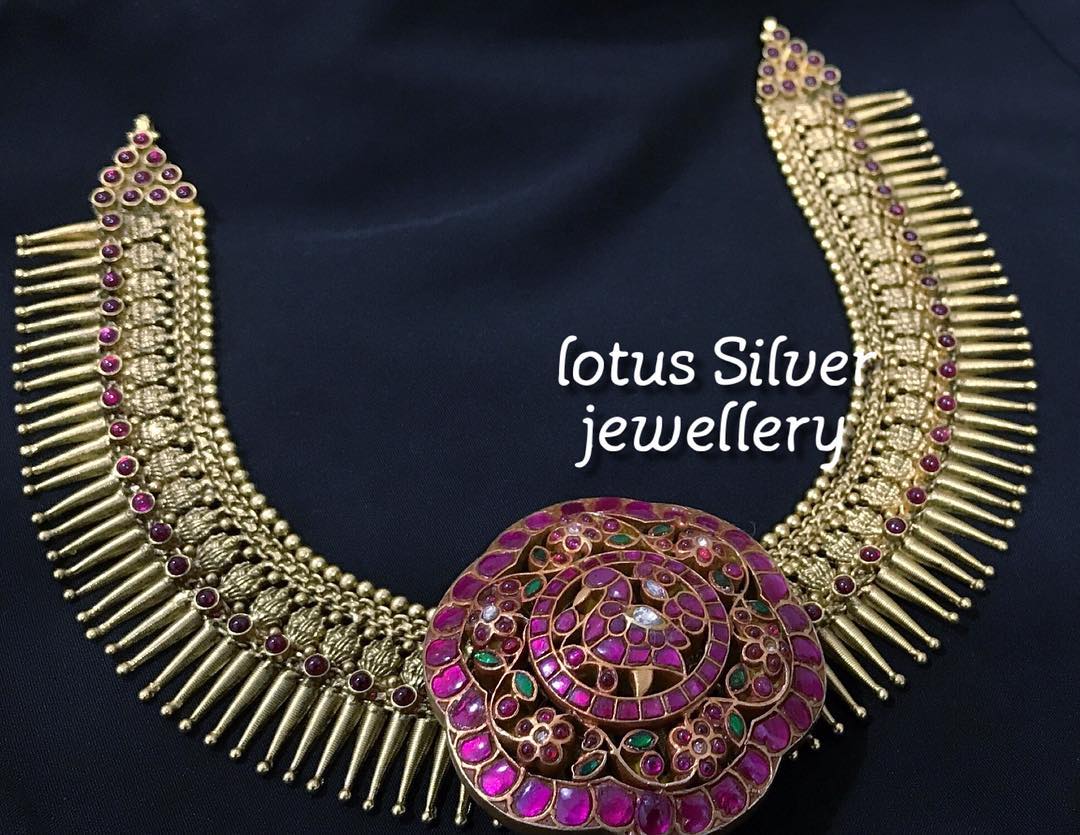 They say that a diamond is a lady's best friend. If there was another precious stone that deserves equal attention, it is emerald.
11.Mango Kemp Choker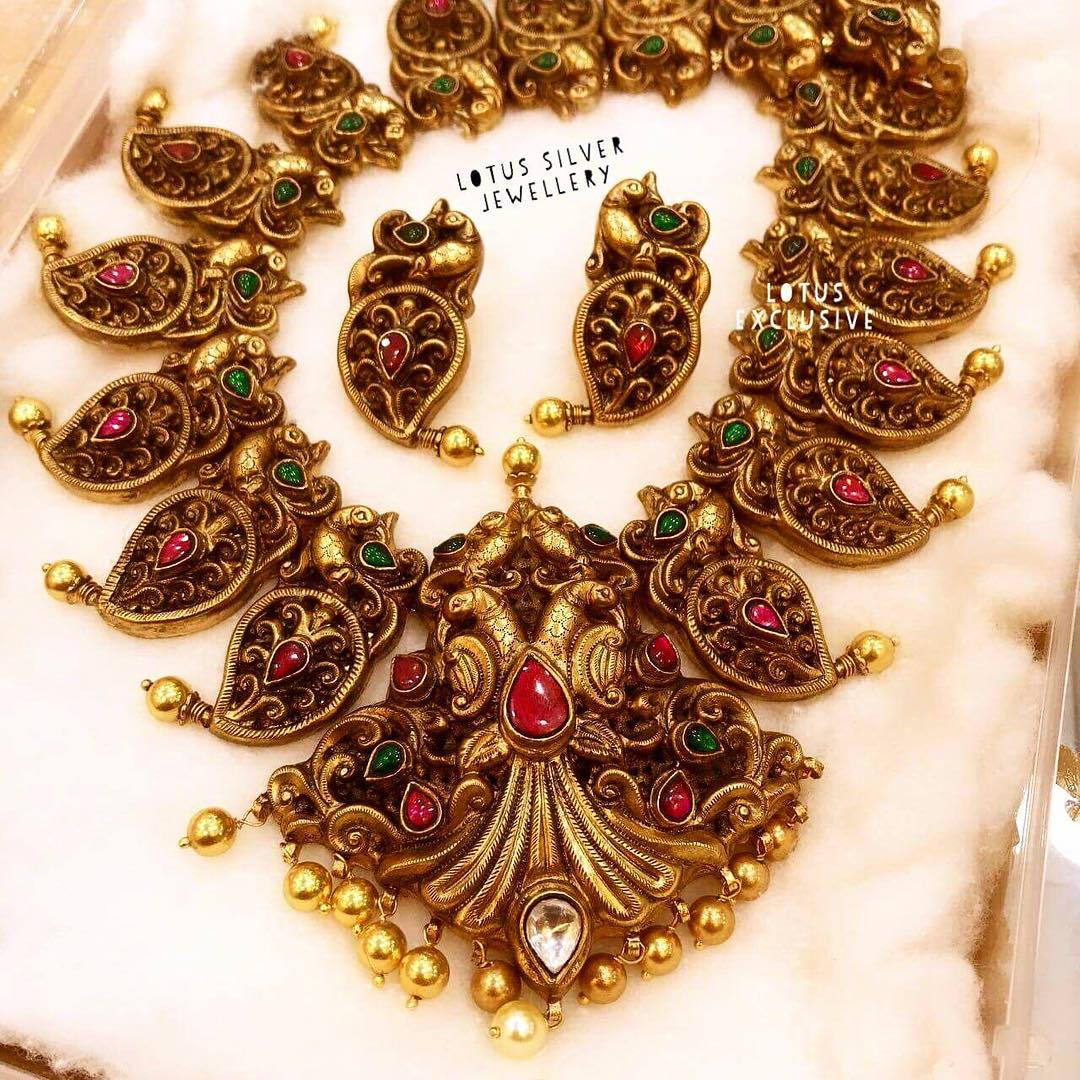 The mango kemp chokers are the jewelry trend and command the fashion jewelry market this year.
12.Studded Ruby Choker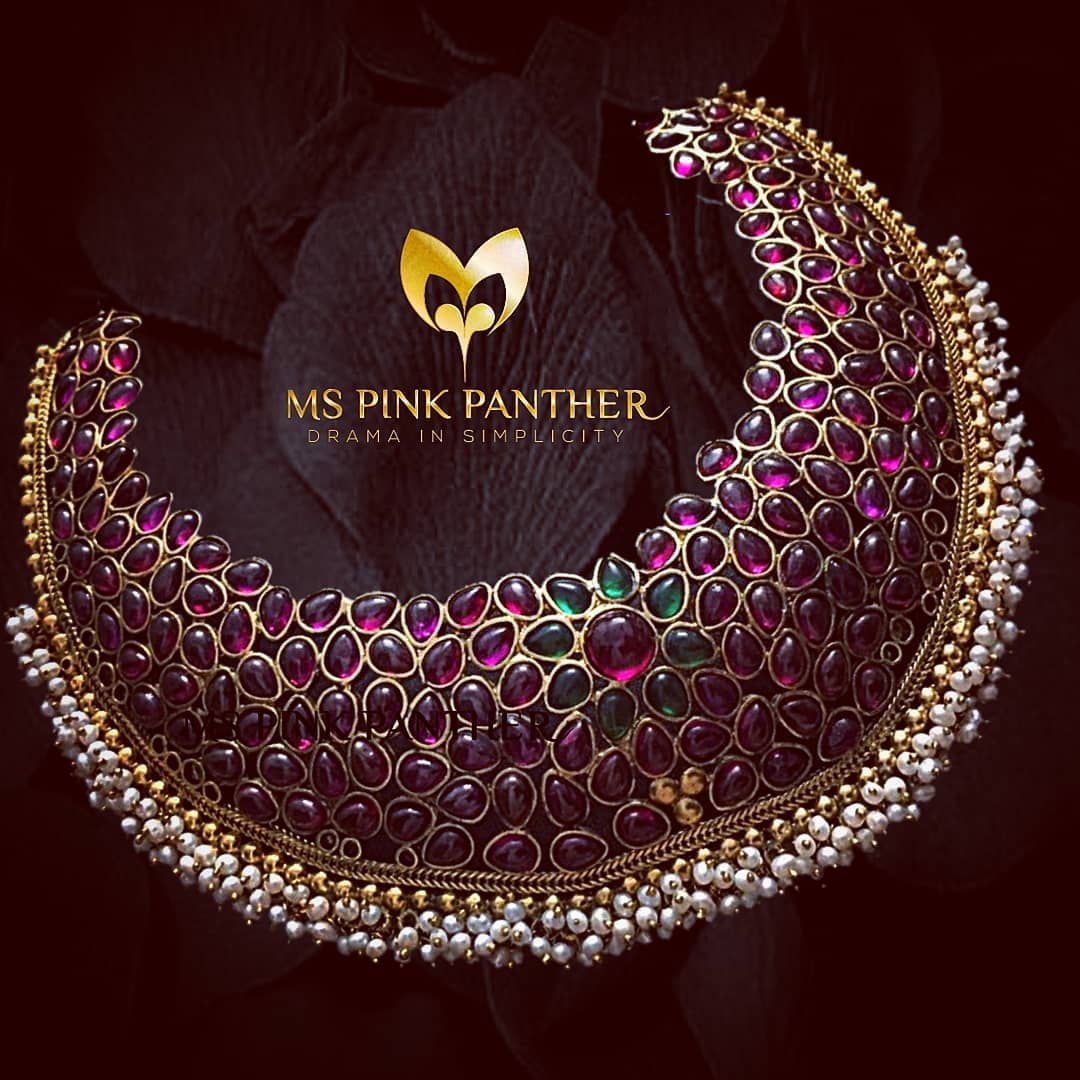 Rubies are fundamentally regal. It is the magnificent red color of rubies that has captivated so many hearts for centuries.
13.Traditional Kemp Choker Set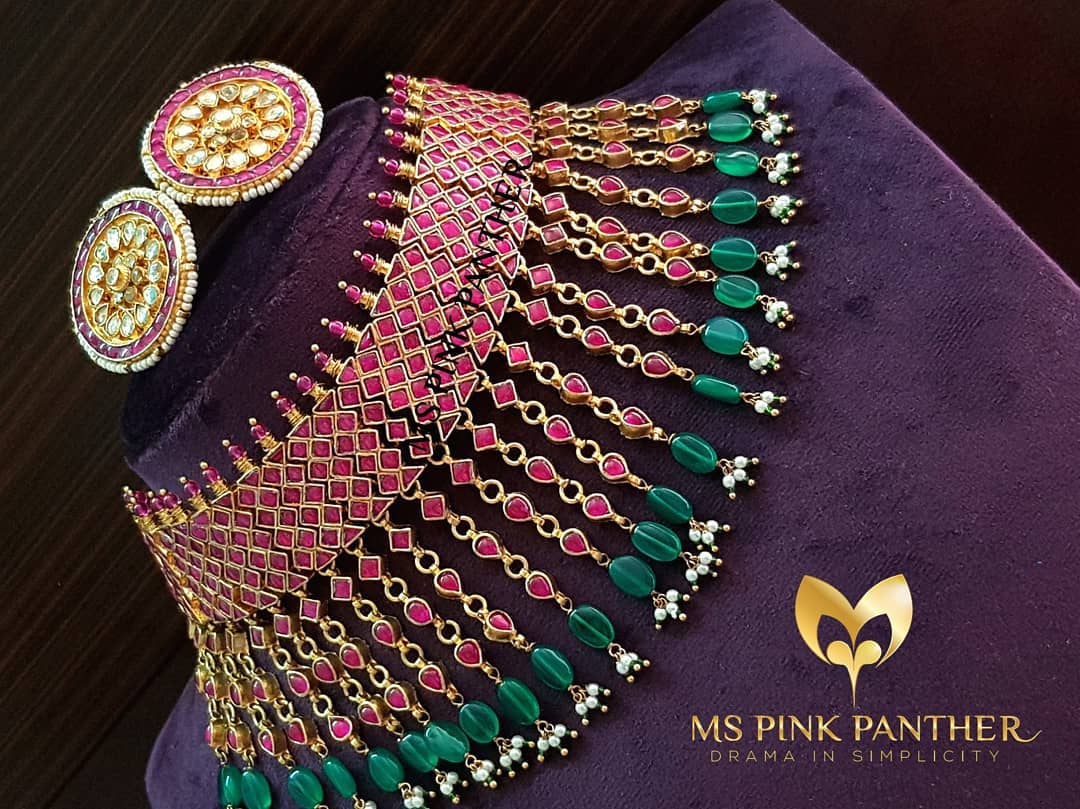 This kemp choker set will bring out the extreme and even the remotest of persons will tend to love it.
14.Ruby Mango Choker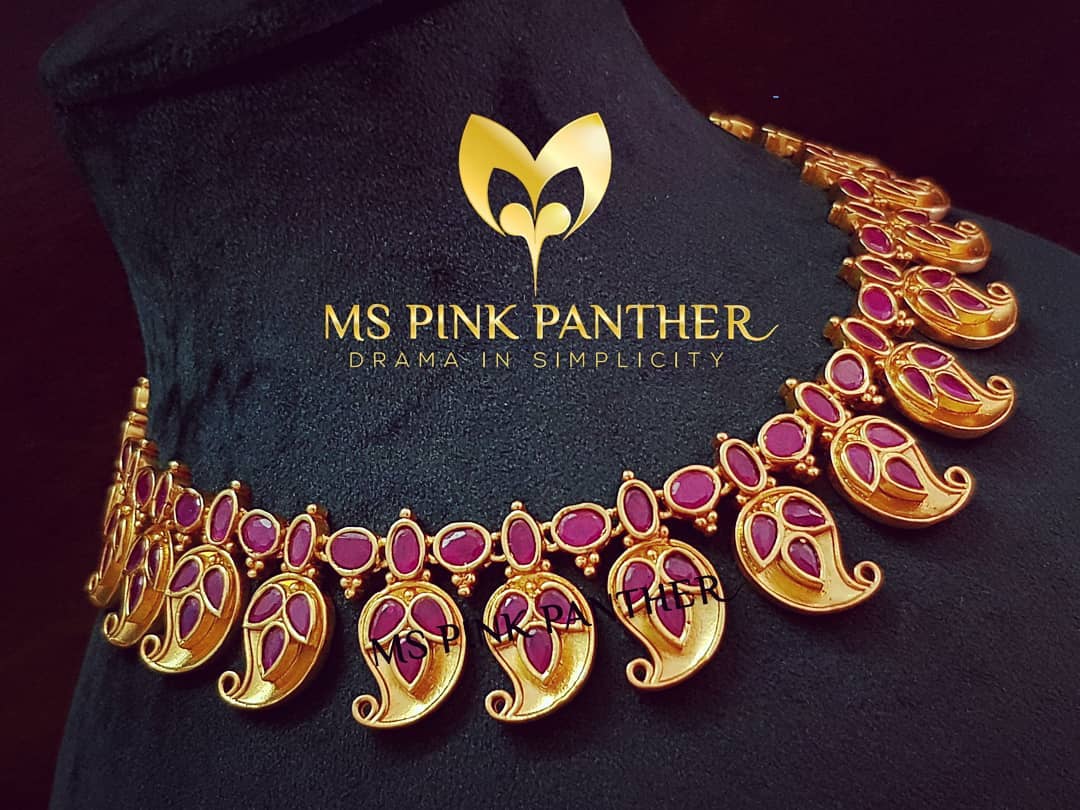 Ruby stands out for its sheer beauty. Ruby jewelry is appropriate for a lot of outfits.
15.Stone Temple Choker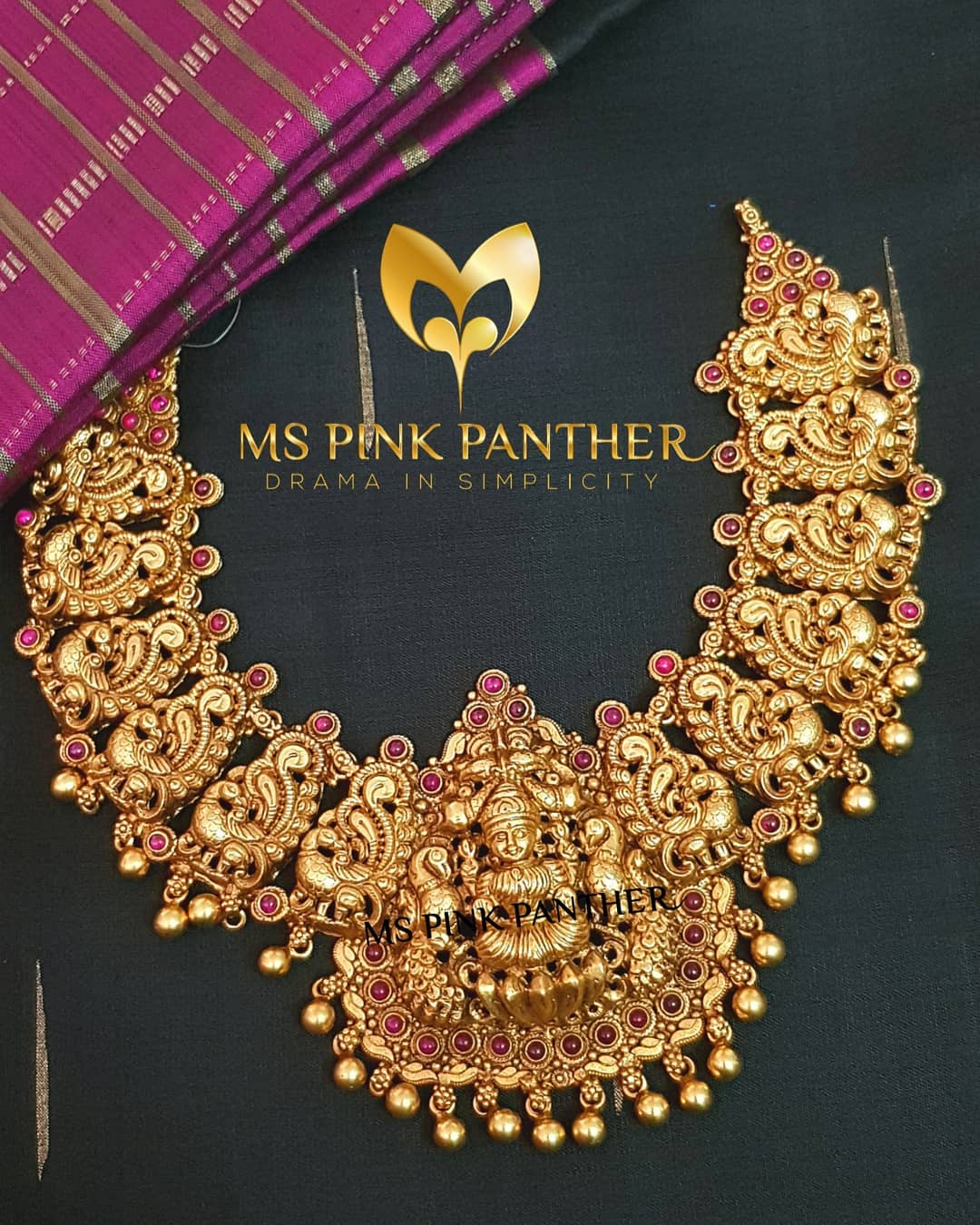 The sheer beauty and elegance of the stone temple choker is a sight to behold.
16.Pink Stones Traditional Choker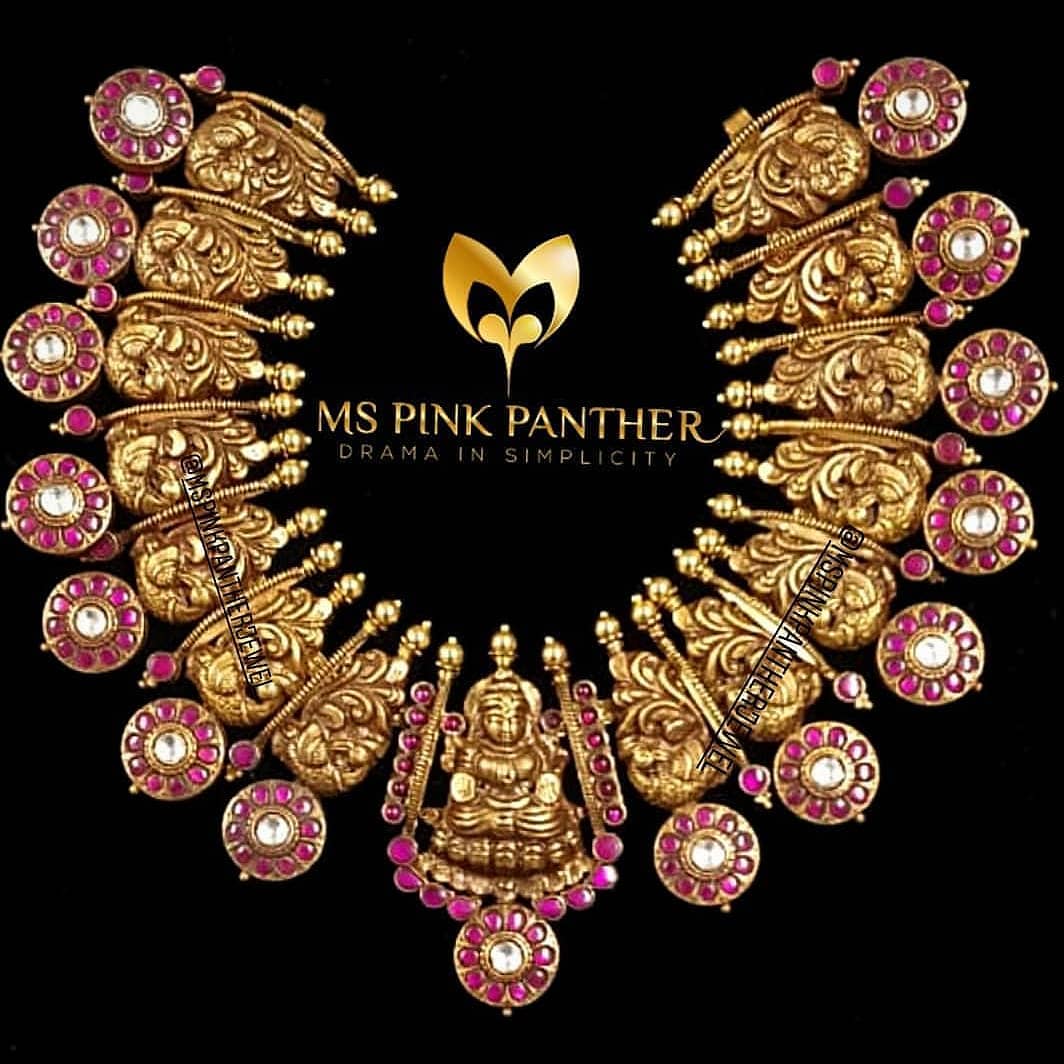 Women love traditional chokers and have been an indispensable part of a woman's dress code.
17.White Stone Choker Necklace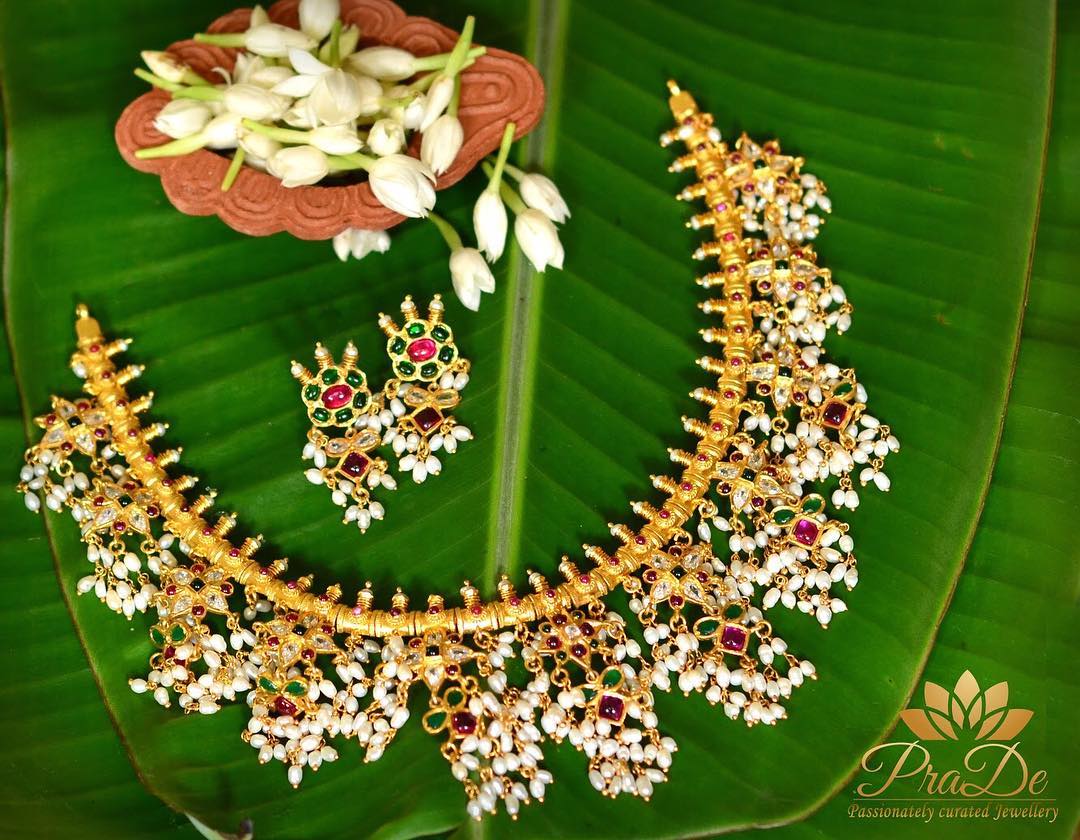 Whitestone choker necklace is one of the few pieces that exhibit a high level of versatility.
18.Oxidized Peacock Choker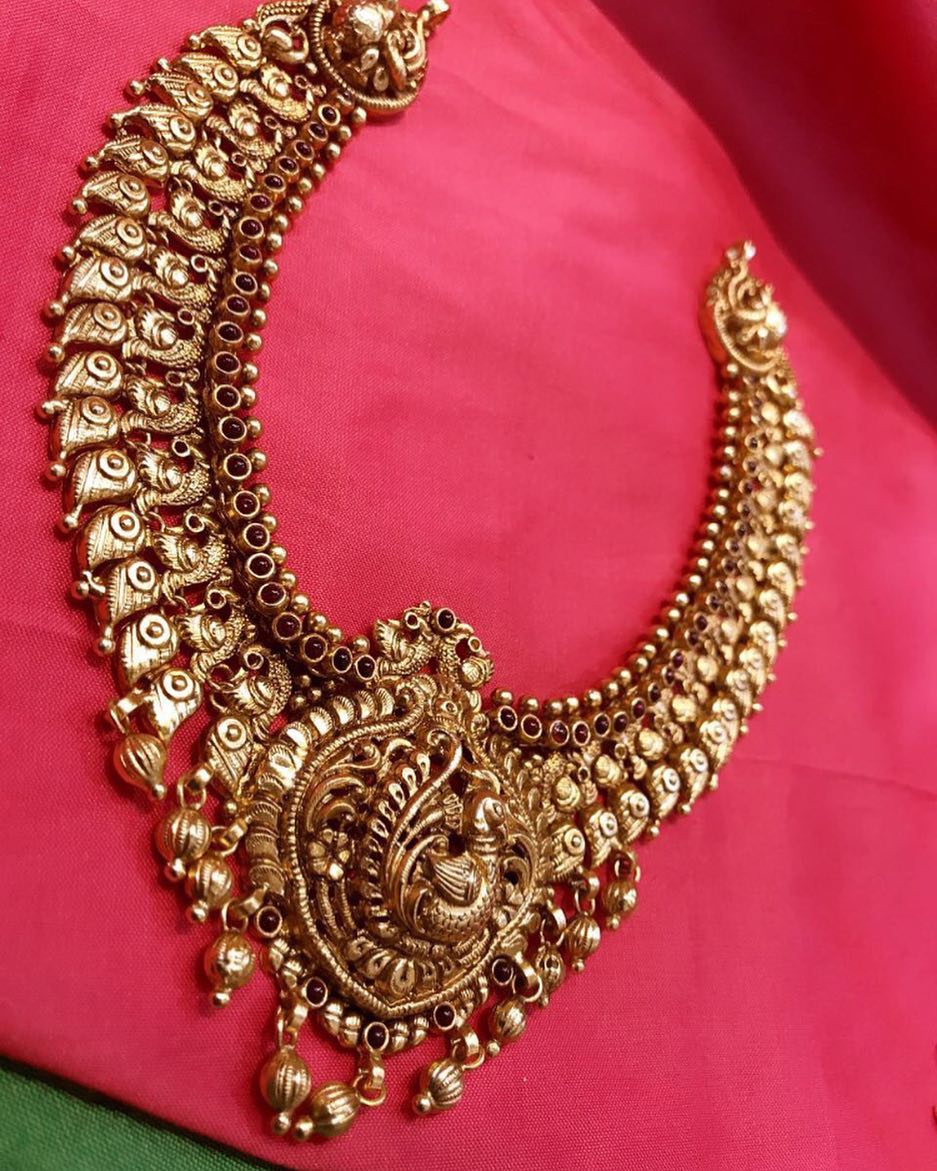 Depending on your outfit and whether you wish to achieve graceful simplicity, haute couture, style goddess or casual looks, this oxidized choker is just perfect.
19.Kemp Stone Temple Choker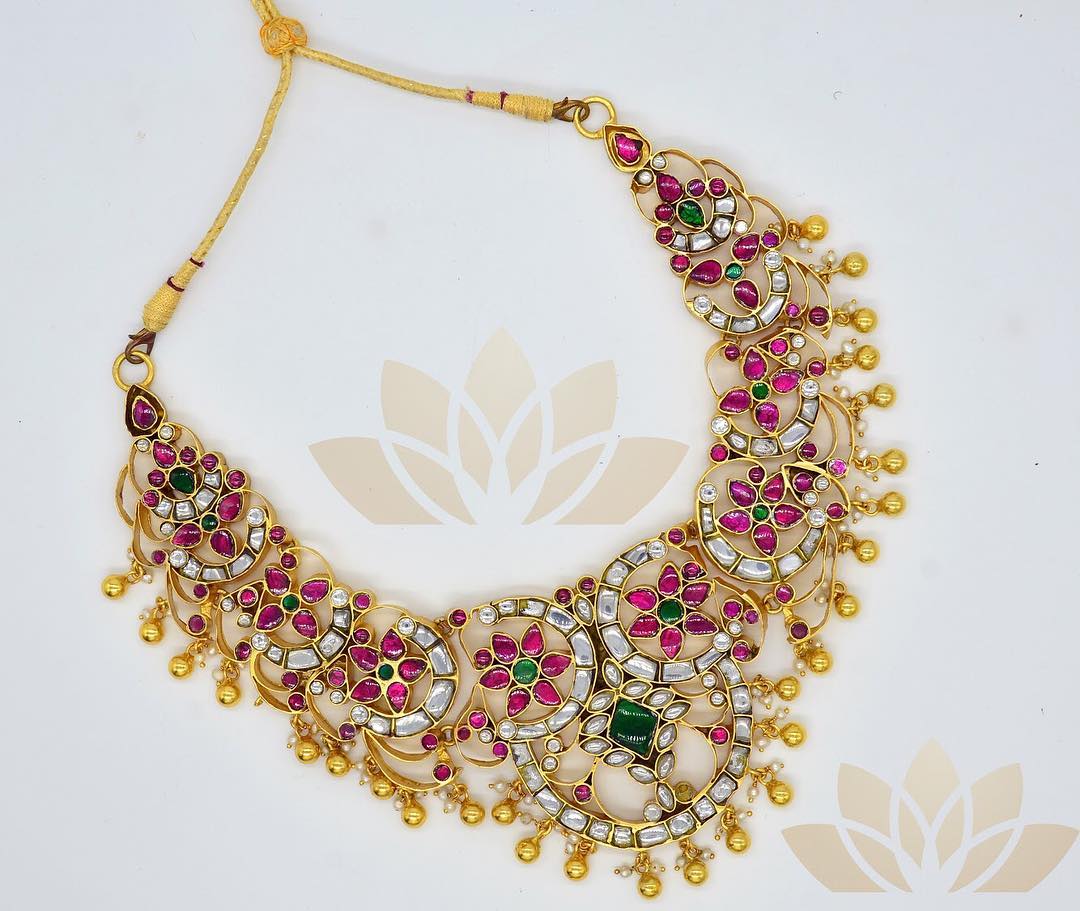 Kemp stone chokers have always been the most wanted with women, for the simple reason that these can create an instantaneous buzz no matter what outfit you pair them with.
20.Peacock Ruby Stones Choker
Rubies are one of the most popular gemstones around and a peacock ruby stones choker will simply look stunning.
21.Matt Finish Temple Choker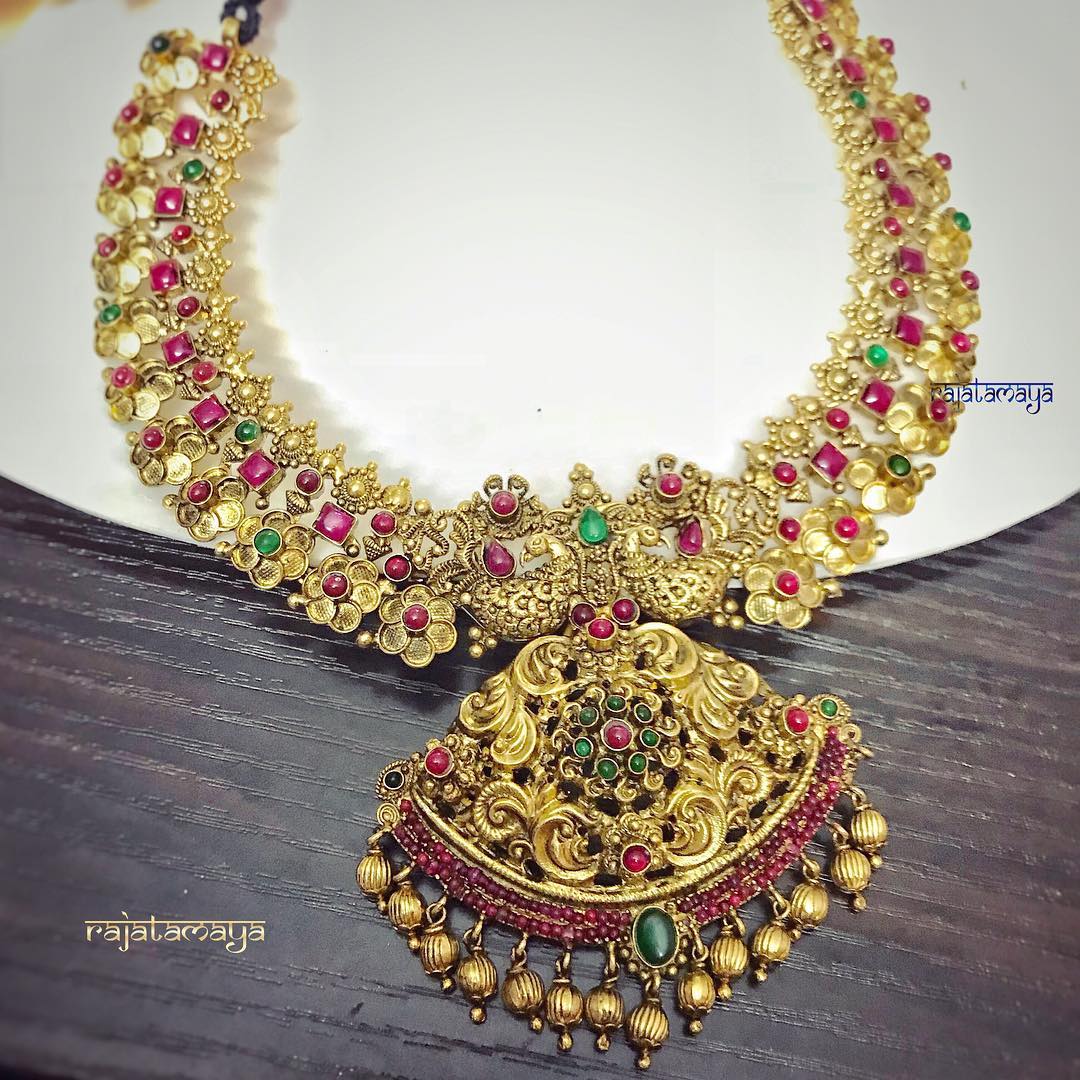 Truly one cannot go wrong with owning a stunning matt finish temple choker.
22.Floral Peacock Traditional Choker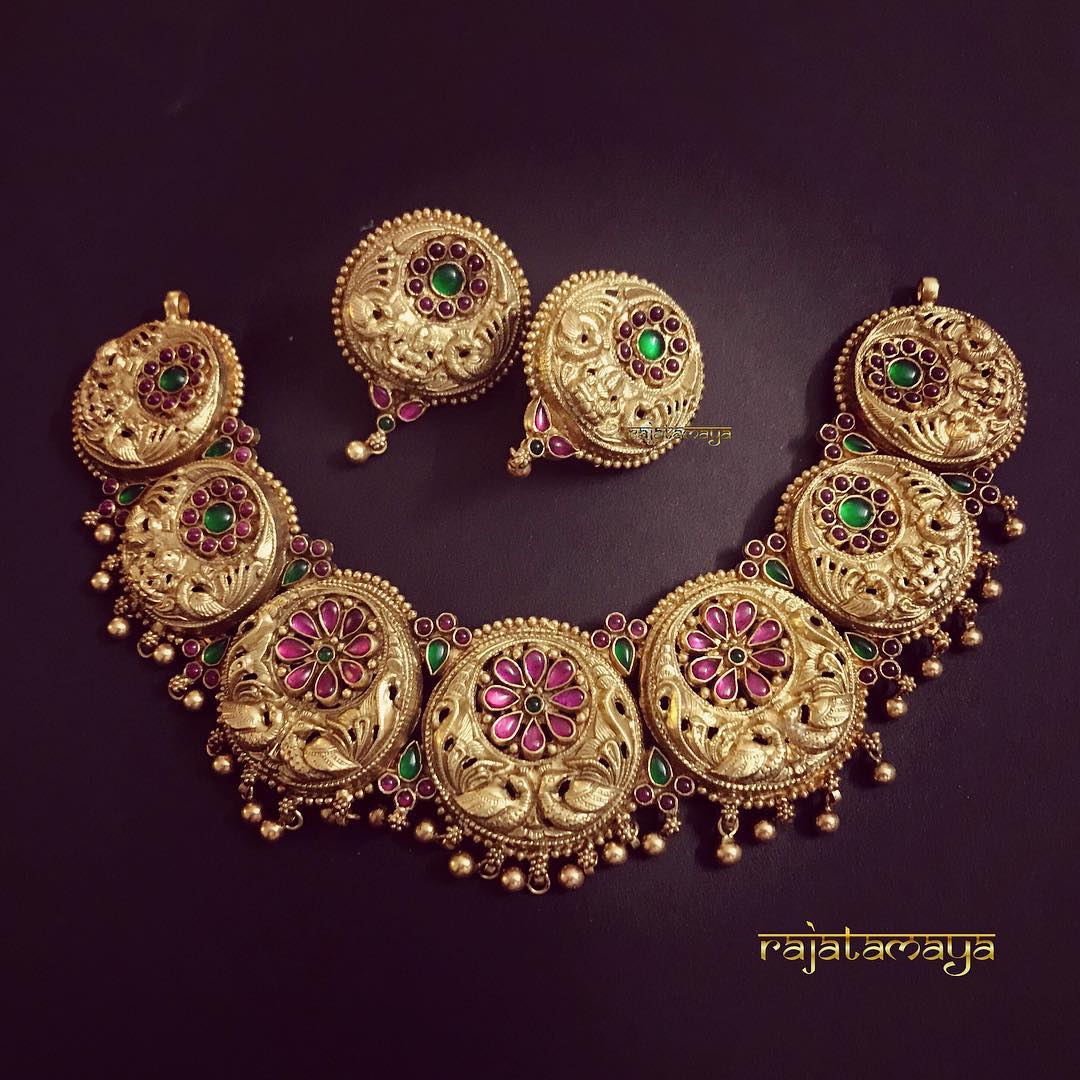 This floral peacock traditional choker will surely elicit such extreme and delightful reactions.
23.   Floral Kemp Stones Choker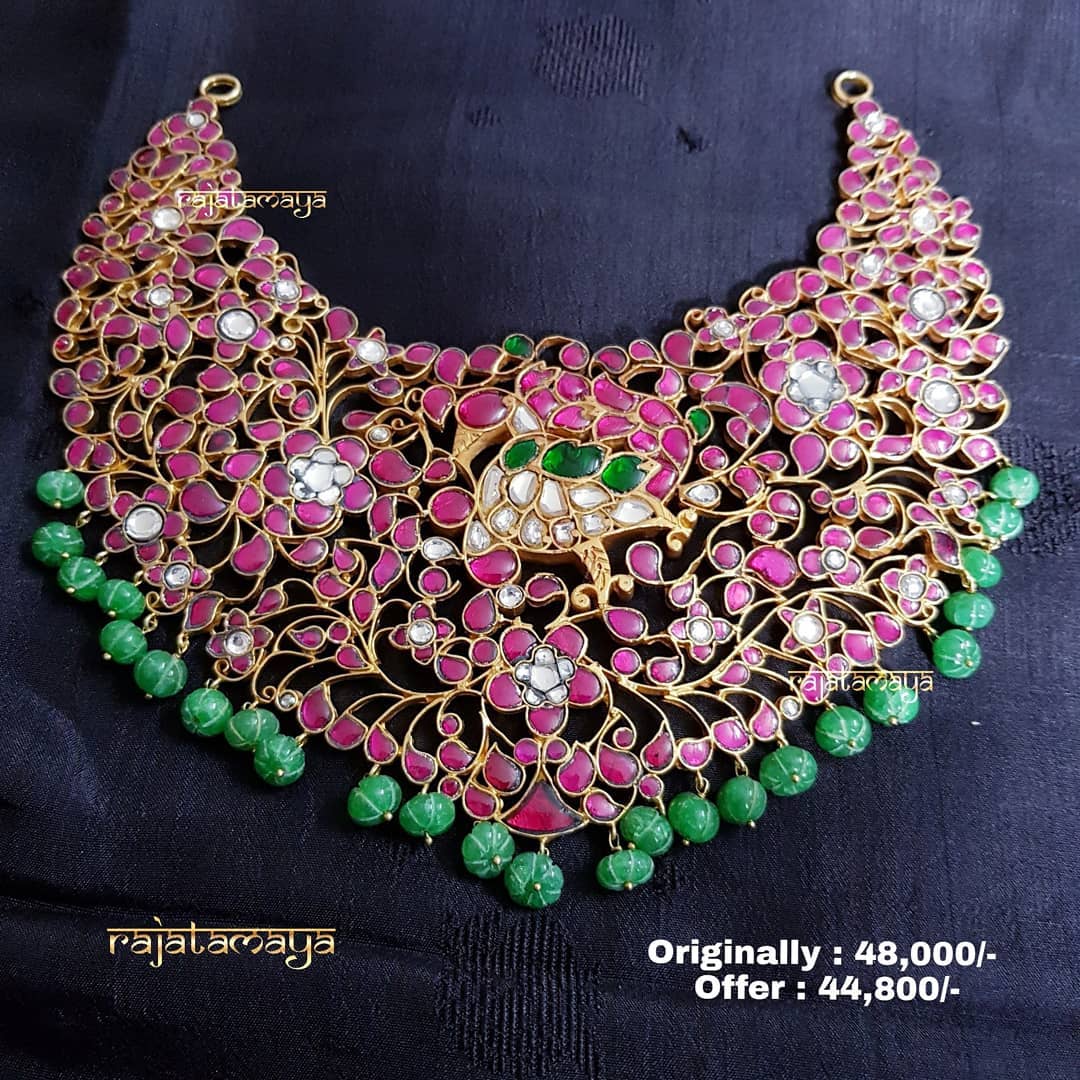 Move away from simple chokers and consider statement floral choker.
24.Traditional Stone Choker Necklace
Some of the most popular styles that are loved by ladies include this stone choker necklace.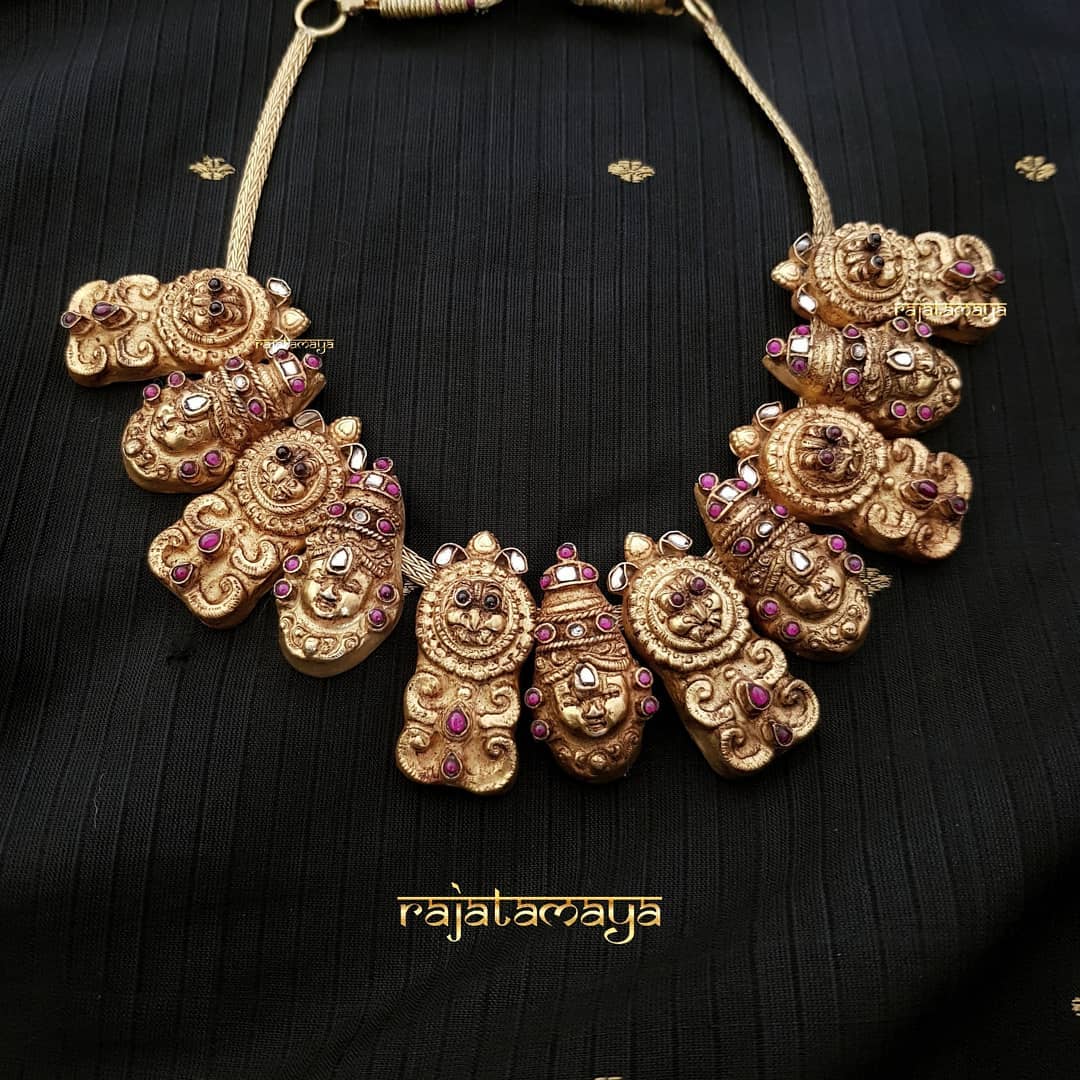 25.Stone Peacock Mango Choker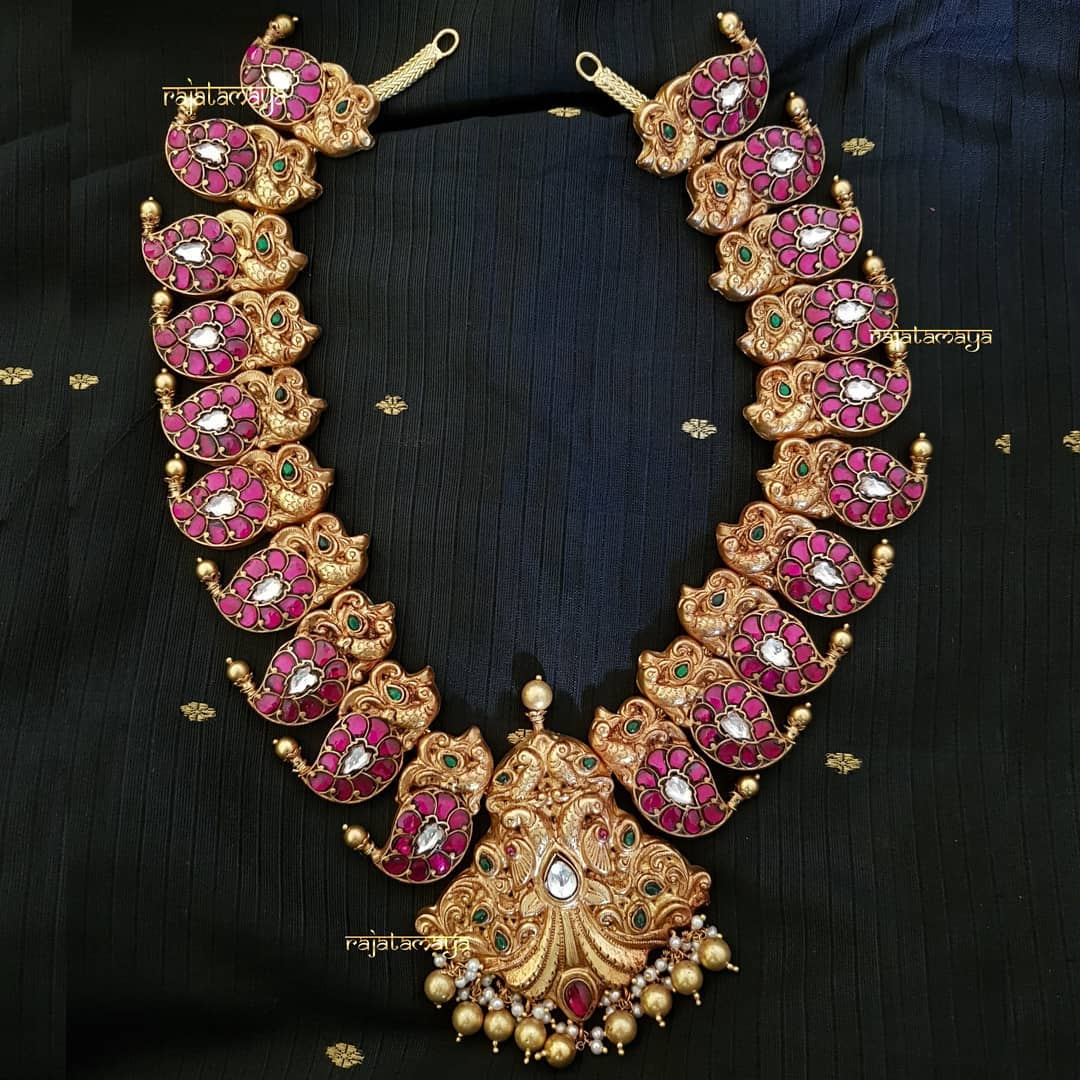 A stone peacock mango choker is always be treasured.
26.Leaf Floral Ruby And Emerald Stone Choker Set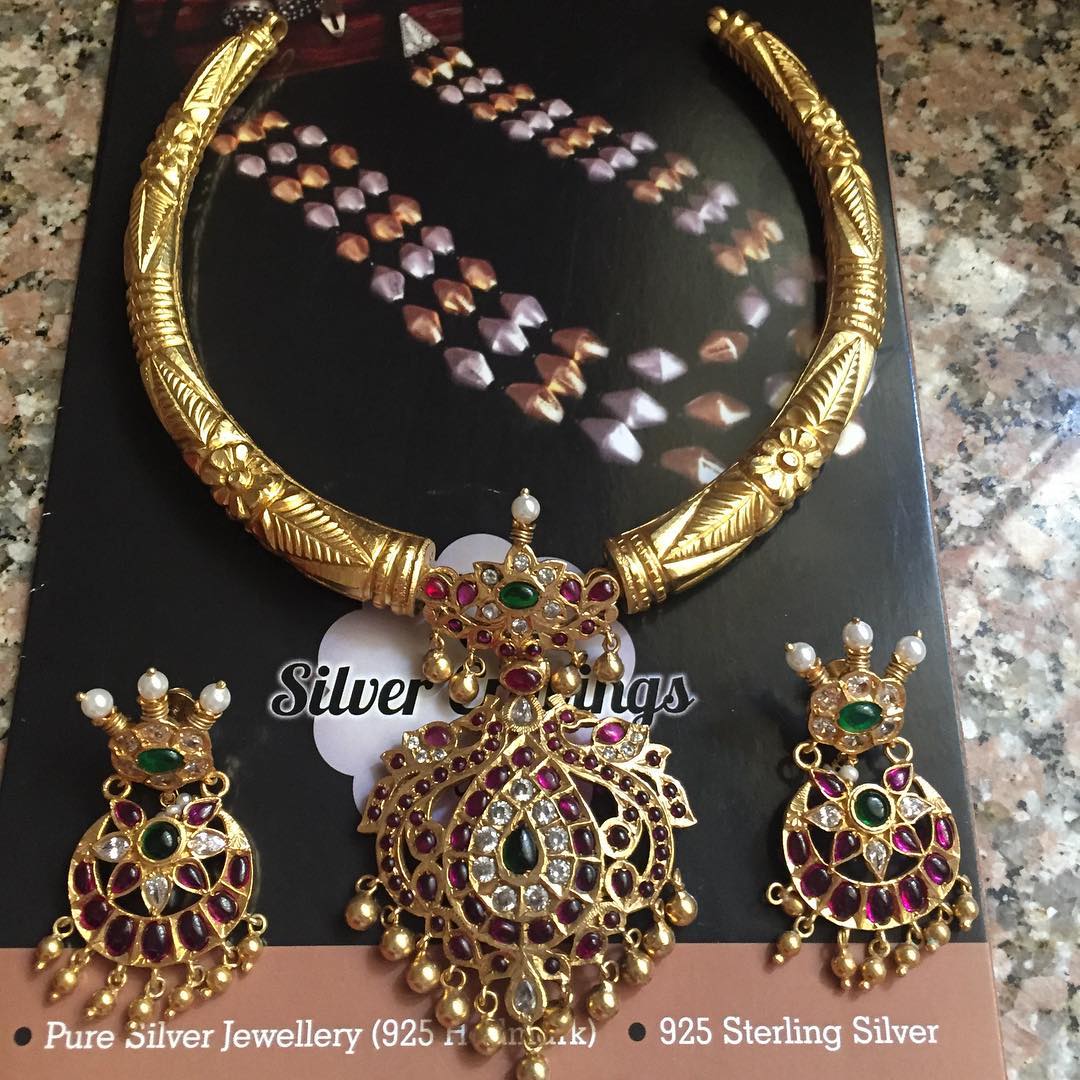 Ruby chokers are growing in popularity due to their unique look.
27.Goddess Lakshmi Pendant Mango Stone Choker Set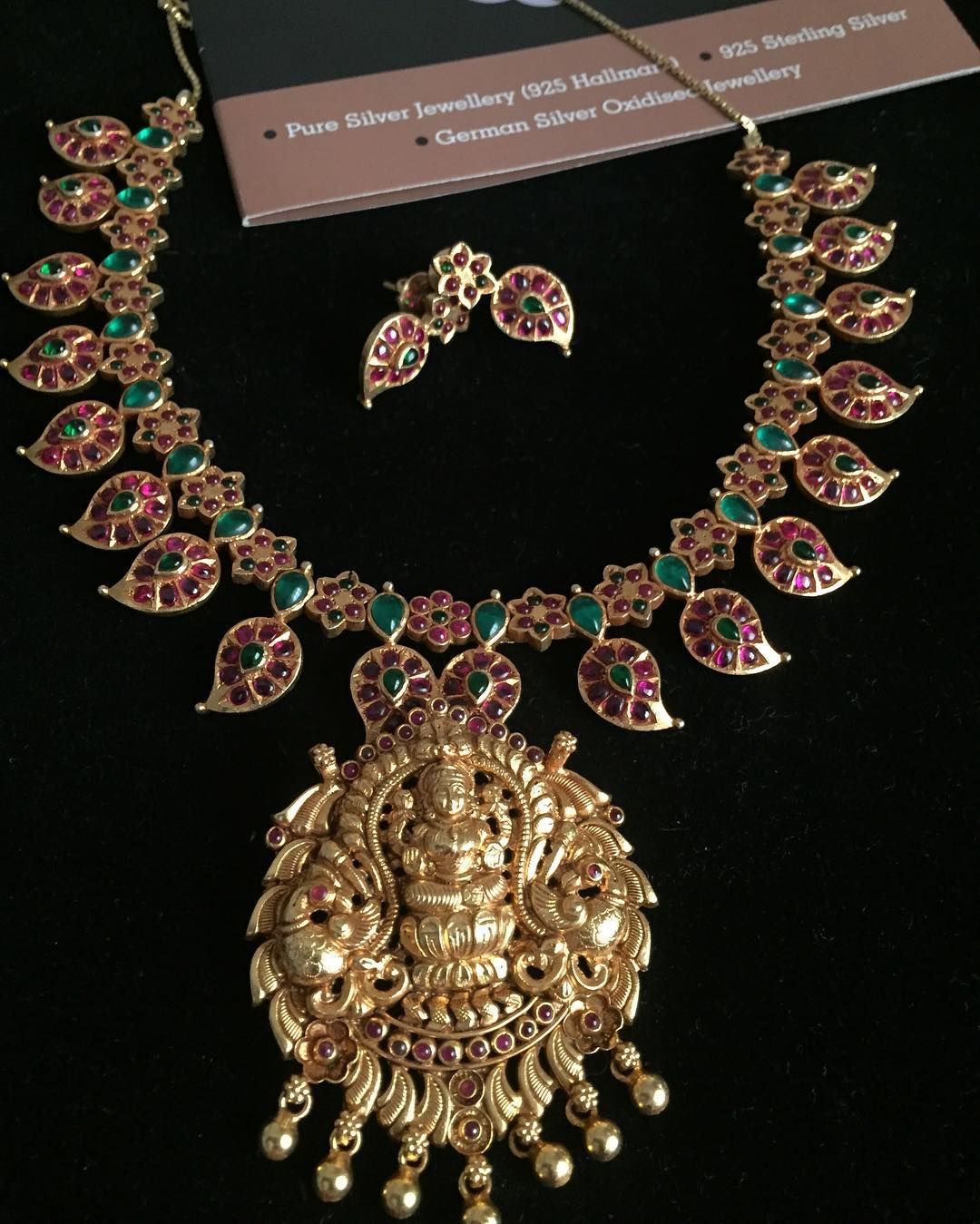 This goddess Lakshmi pendant mango stone choker set is distinctive and stands apart from other chokers.
28.Stones Choker Necklace Set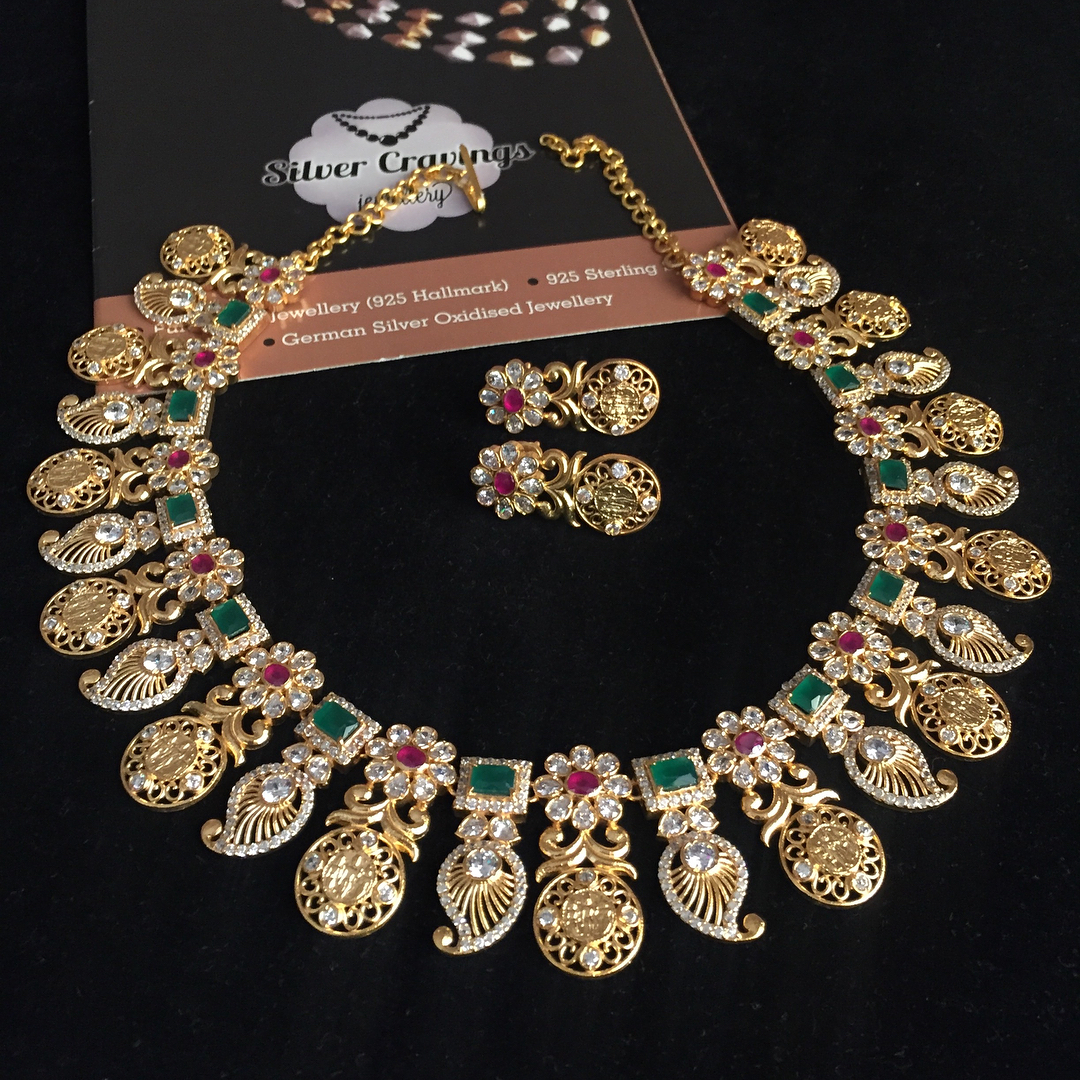 This set will you feel gorgeous. Stone chokers are also very much in the trend.
29.Matt Finish Ruby Temple Choker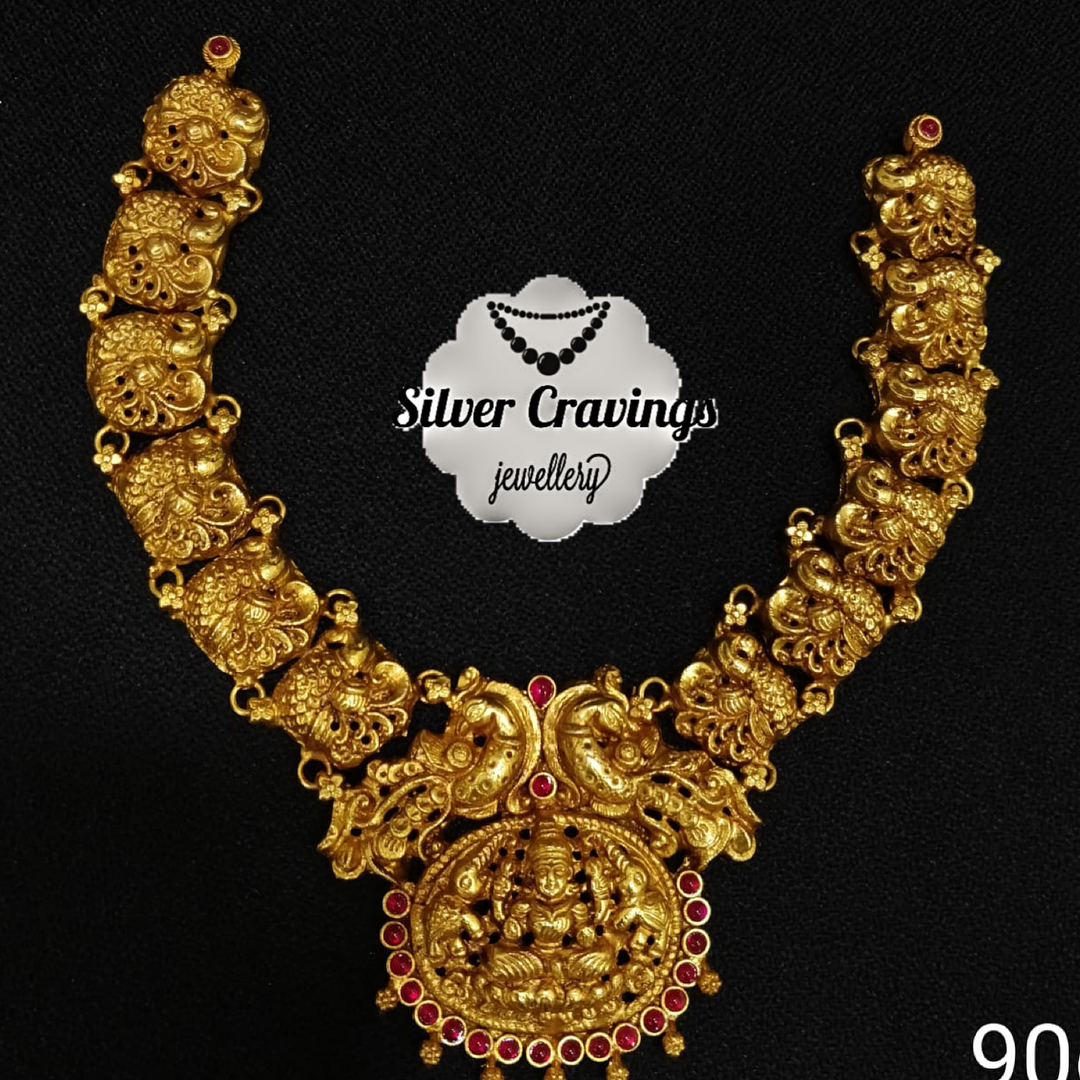 For those who want to be set apart, rubies are the perfect choice. It is the perfect piece for showing off your own personality.
30.Pink And White Stones Choker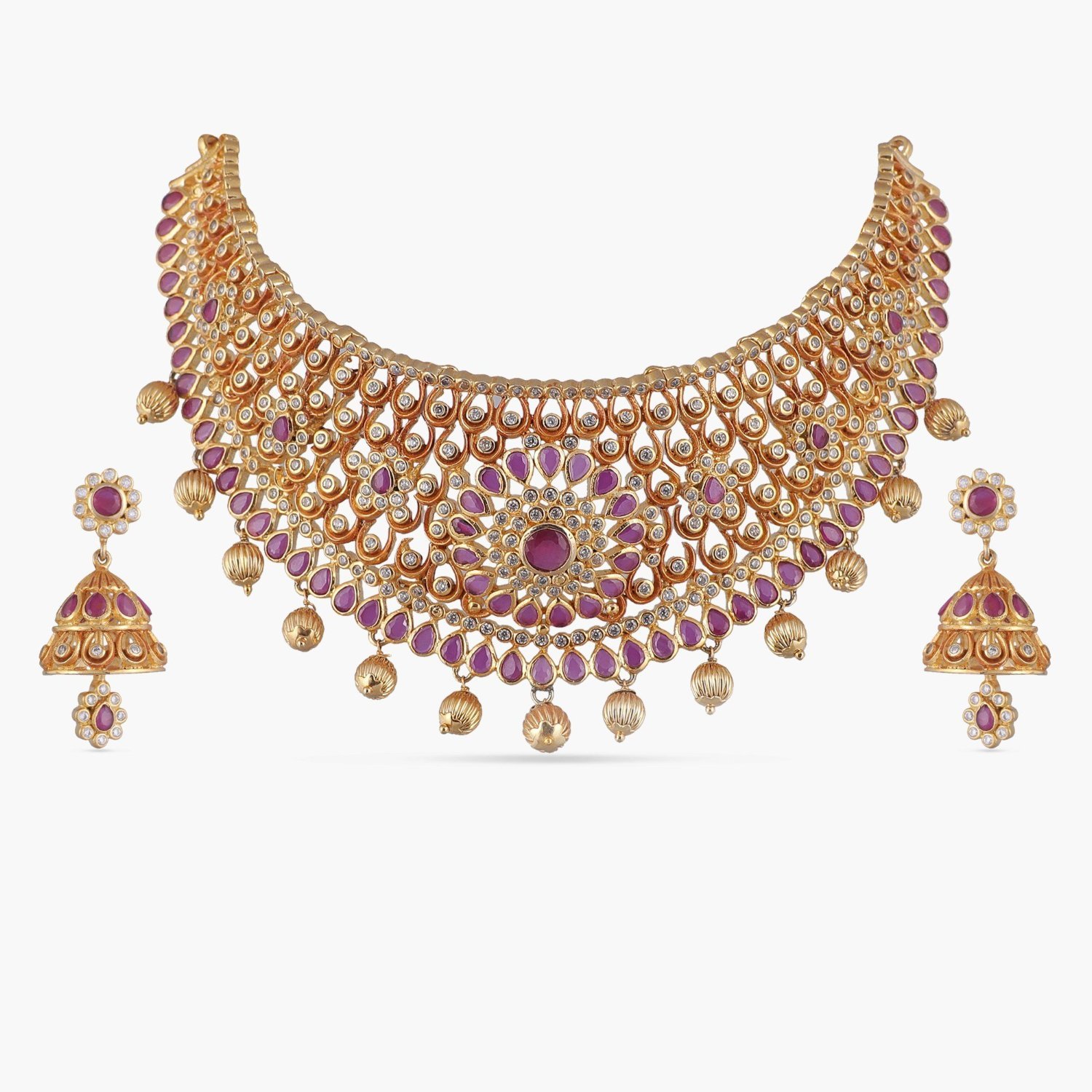 If you want something classy and unique, then this choker that would fulfill your expectations!
31.Peacock Temple Kemp Stones Choker Set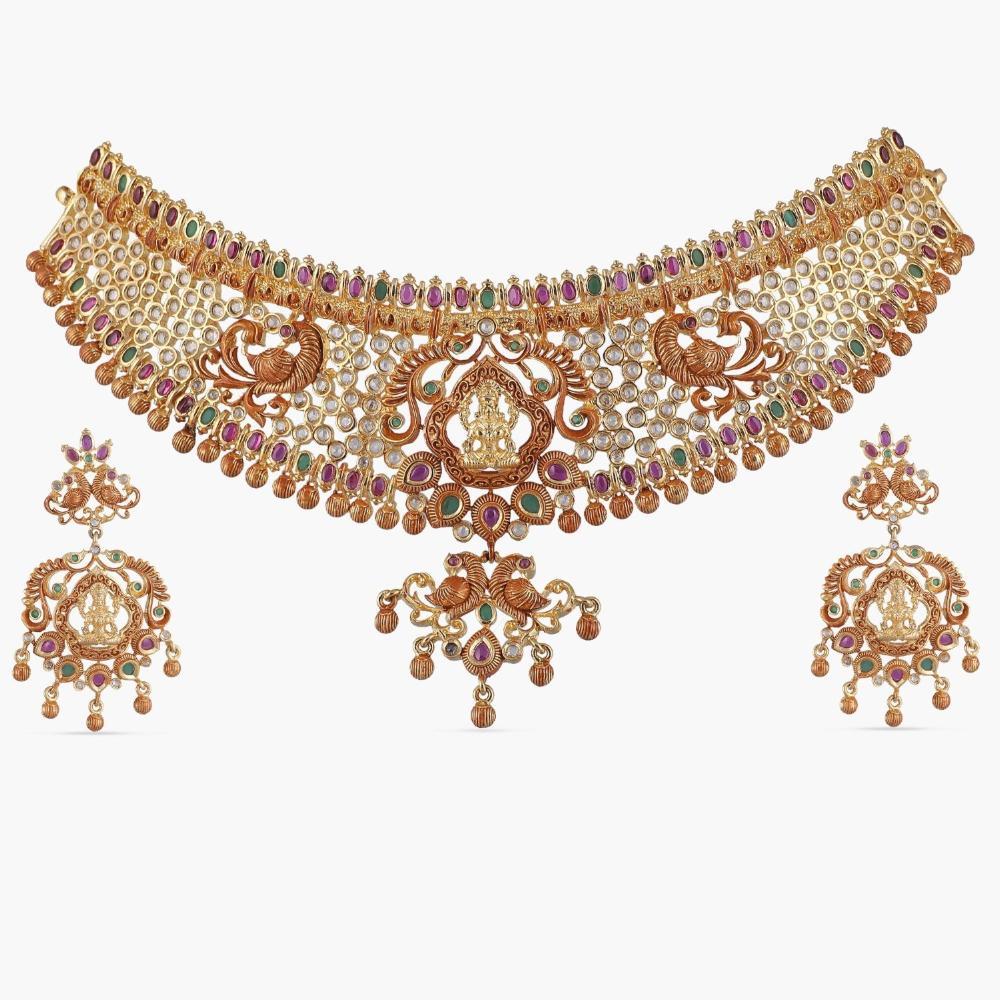 A nicely crafted choker set can add to the style statement you are trying to make.
32.White And Pink Stone Choker With Pearls Set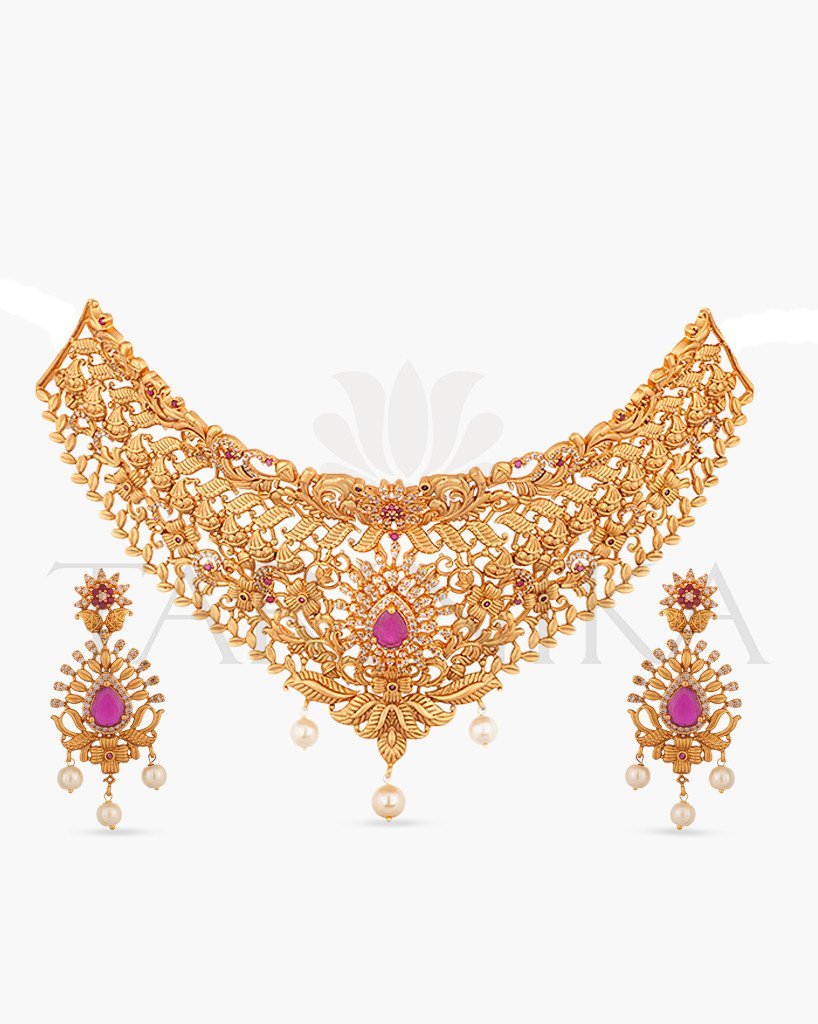 Pearl choker is really incredible option that you must opt for. The key magnetism of pearl choker is its tranquil style.
33.Lakshmi Stone Choker With Pearls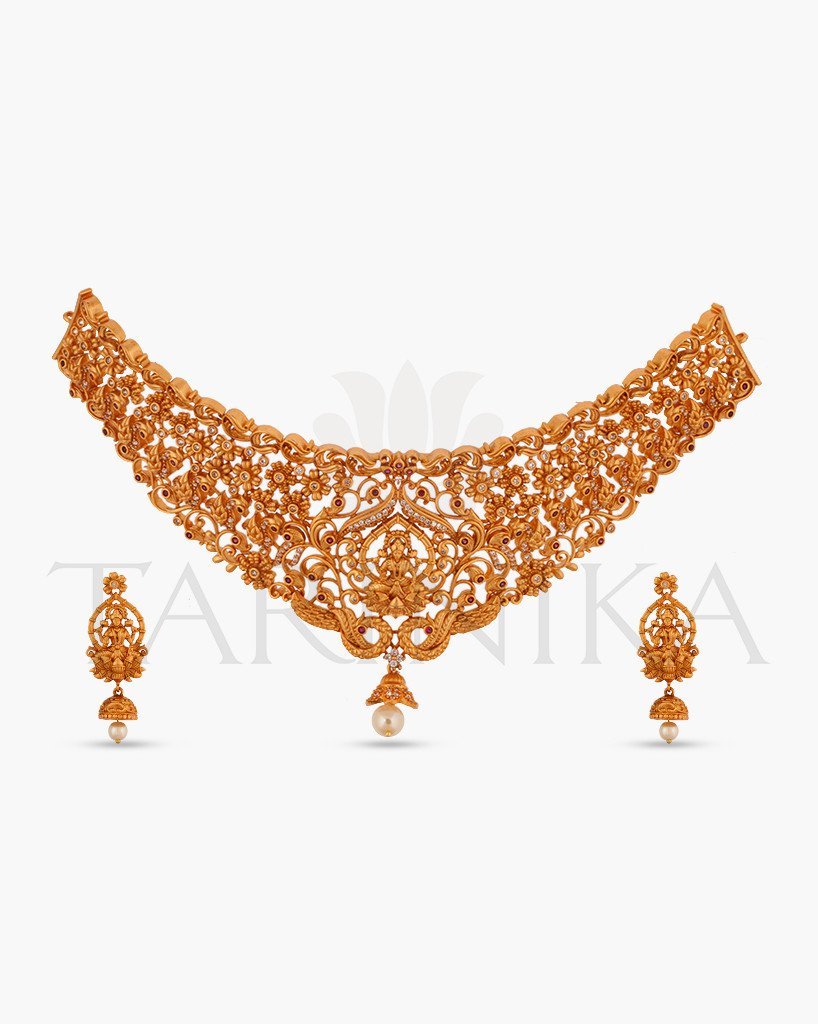 This choker can offer you absolutely gorgeous, fashionable and unique look in the crowd. You can choose this pearl choker to bring sophisticated and gracious looks in your personality.
34.Floral Kemp Stones Choker Necklace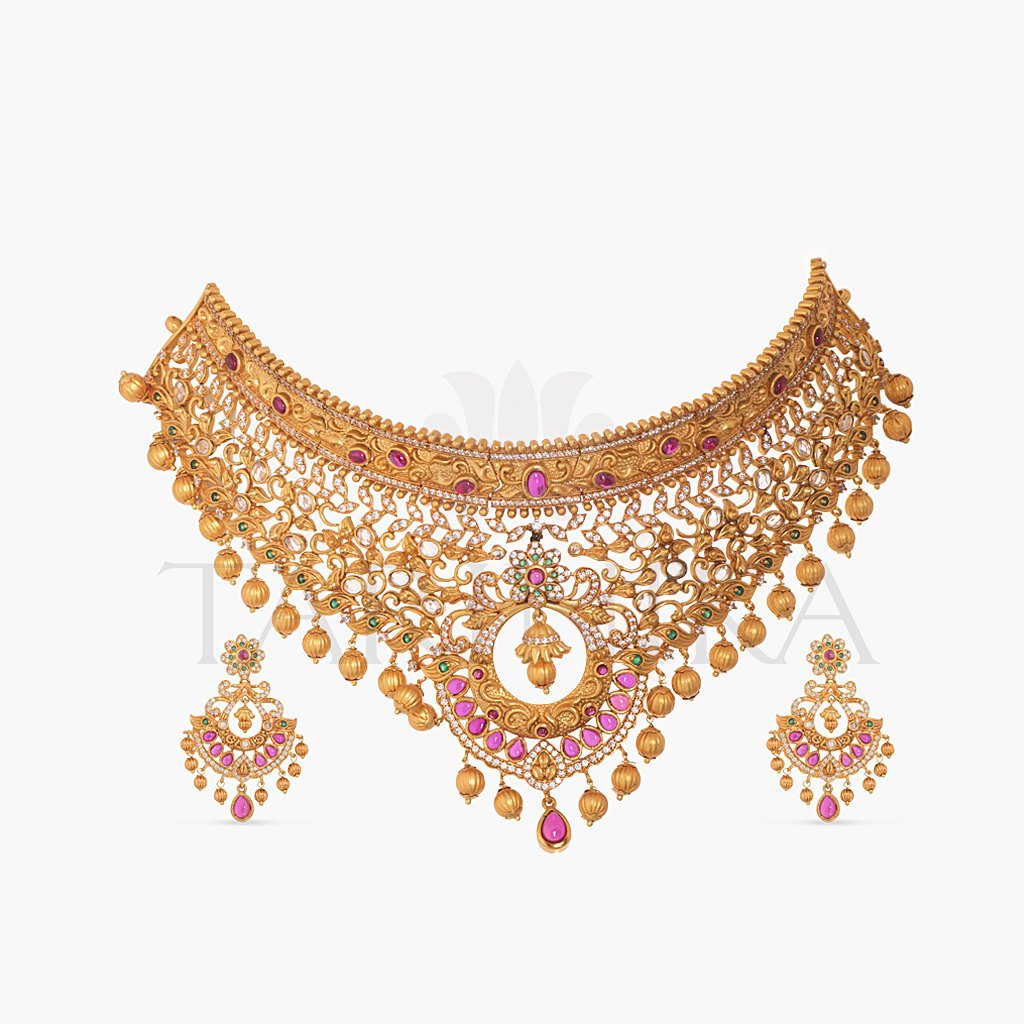 One of the reasons floral Kemp chokers are so popular with women is that they are a piece that set you apart.
Thus, it is clear that traditional chokers for women come in an assortment of materials, stones, and designs that serve to decorate the neck beyond just a basic necklace. Go to highly regarded online stores that deal with traditional chokers and select from the countless options that they have available for you.
To shop the chokers featured in this post, please contact the respective sellers below.
Seller Name : BCOS – Its Silver
Contact No: +91 90941 38036.
Email :ar***************@gm***.com
Website: https://www.bcositssilver.com/
Instagram : https://www.instagram.com/bcos_its_silver/
Facebook: https://www.facebook.com/BCOSITSSILVER/
Address : Shop #1, Plot #102, 17th Cross Street, 6th sector, near MK Ahmed bazar, opp to ICICI bank, HSR Layout, Bengaluru 560 102.
Seller Name : Gold Lotus Silver Jewellery
Facebook : https://www.facebook.com/GOLD-LOTUS-silver-jewellery-259689387705536/
Contact No : 072049 12776
Seller Name : Ms Pink Panther
Facebook : https://www.facebook.com/MISSPINKPANTHERJEWELLERY/
Contact : +91 95855 95689
Instagram : https://www.instagram.com/mspinkpantherjewel/
Website : http://www.mspinkpanther.com/
Seller Name : Prade Jewels
Instagram : https://www.instagram.com/pradejewels/
Website : https://tamarachennai.com/collections/silver-jewellery
Seller Name : Rajatamaya
Facebook : https://www.facebook.com/Rajatamaya/
https://www.instagram.com/rajatamaya/
Contact : +91 97865 22555
Seller Name : Silver Cravings Jewellery
Whatsapp : 9443890773
Instagram : https://www.instagram.com/silvercravingsjewellery/ Facebook : www.facebook.com/SilverCravingsJewellery
Seller Name : Tarinika
Instagram : https://www.instagram.com/shoptarinika/
Facebook : https://www.facebook.com/ShopTarinika/
Website : https://www.tarinika.com
Whatsapp : +918621034913
Email : su*****@ta******.com
Contact : +1 (832) 559-0132 (US)
Also Read: