It is every girl's dream to look her best with a smile on her face in the dress she is wearing but there seems to be something missing when she looks at her neck and she thinks where her necklace could possibly be.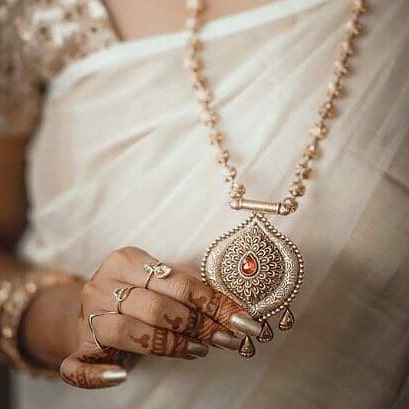 To prevent such moments to happen with you, you might want to keep necklaces in your jewelry box. Let's check out these gorgeous gold necklace designs in 15 grams and hopefully, you might find the one jewelry piece you will want to buy for yourself. To Shop these designs, please find the seller details at the end of the post.
Beaded Chain Necklace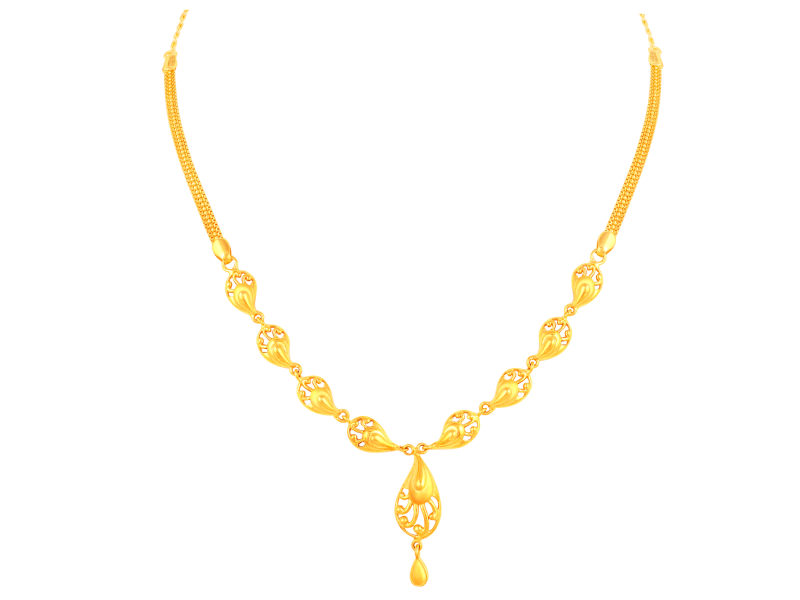 The glistening and burnished beaded chain necklace can be a lovely gold necklace for you and someone else you would like to buy this for as a gift or a token of love. Give yourself the desired look with this amazing and lovely necklace jewelry piece.
Stone Necklace With Pendant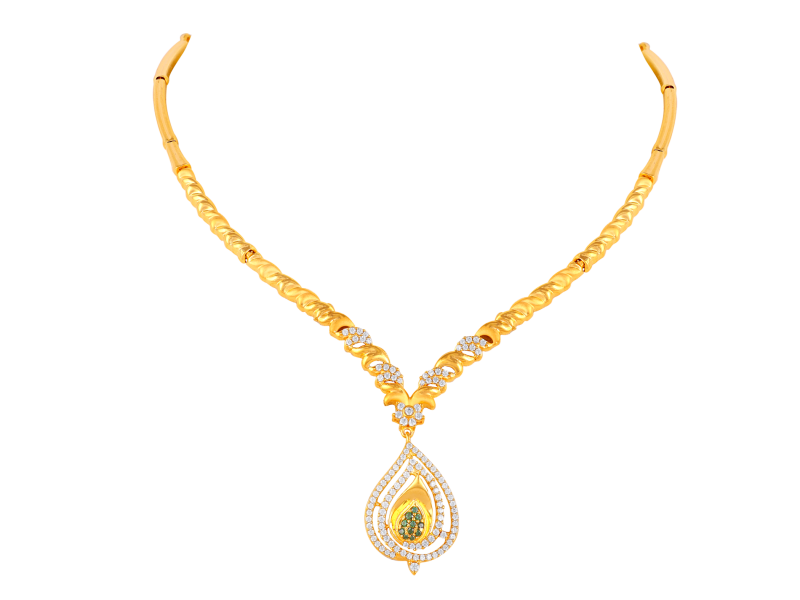 The green and white stones on this glittery and polished necklace radiate beauty and glow to the overall look. Get astonished with this gorgeous stone necklace with pendant and put it on to the parties, weddings and other special events in your life. The beauty of the necklace is amplified with its stunning and marvelous pendant.
White Stone Necklace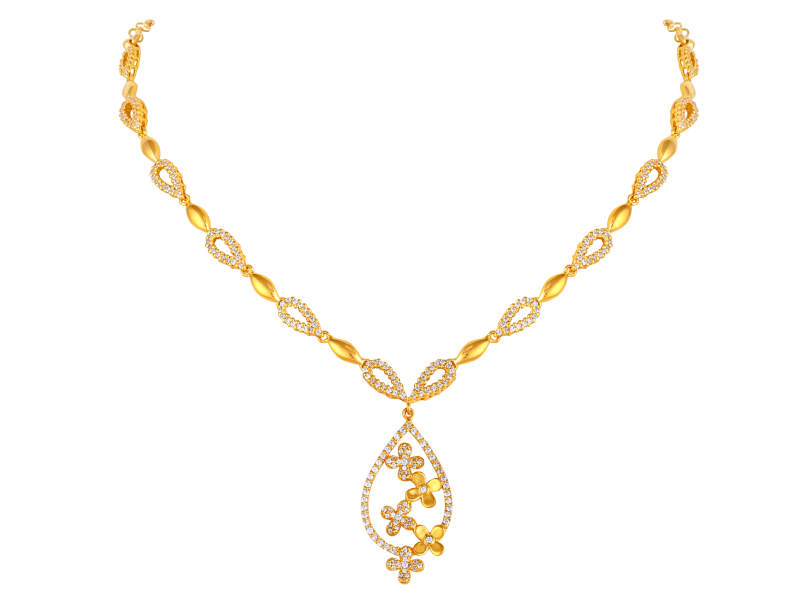 Feel yourself falling in love with this captivating, eye-catchy and outstanding white stone necklace. You will be happy to find out that you will appreciate buying this piece of jewelry when you will look at yourself in the mirror. Watching a stylish girl and lady in the mirror in front of you will make your day wonderful.
Pink Stone Floral Pendant Necklace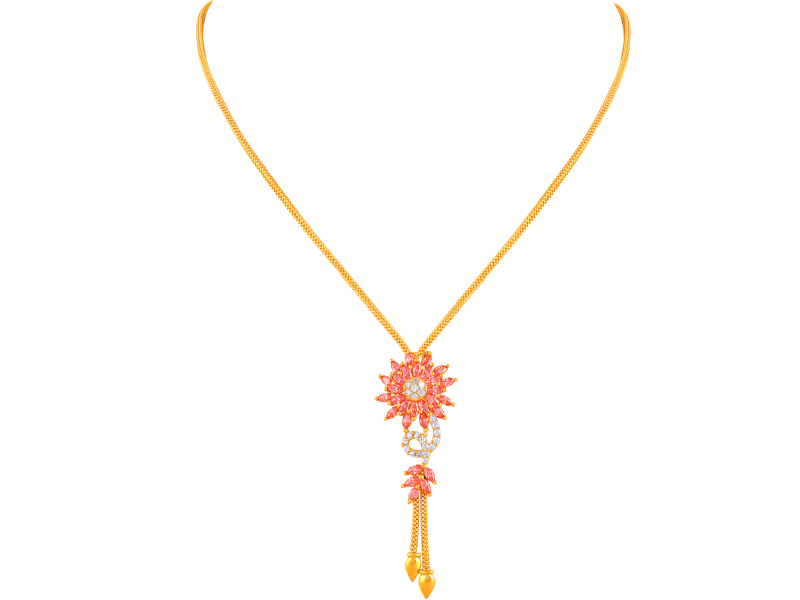 The pink stone floral pendant necklace is pleasing to the eye when you look at this jewelry piece. The pink shimmering studded stones into the floral designs make this necklace a superb choice for buying and bringing it home if you are fond of pink flowers on one of your jewelry piece.
White Stone Floral Necklace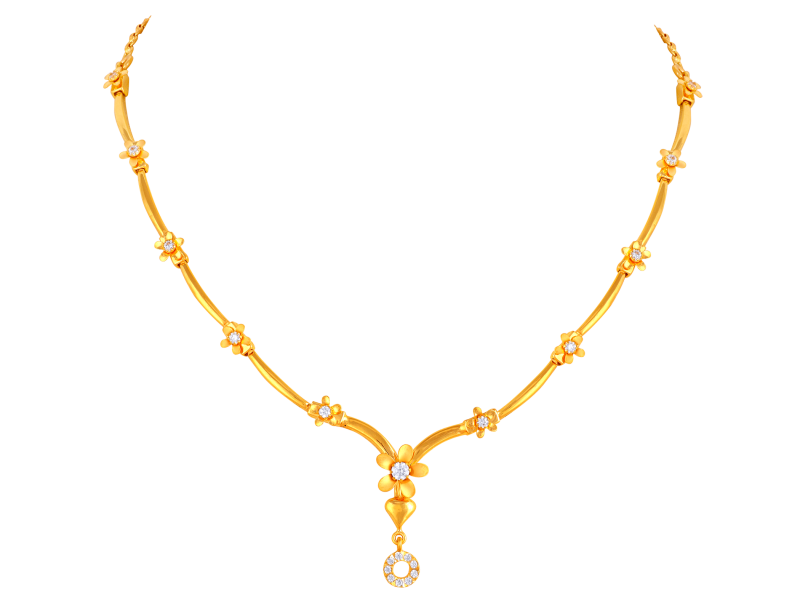 The white stone floral necklace gives a gorgeous and exquisite look to your whole appearance when you wear it to places. This delicate and graceful necklace piece can be a fantastic addition to your jewelry collection in the jewelry box in your home.
Purple Stone Necklace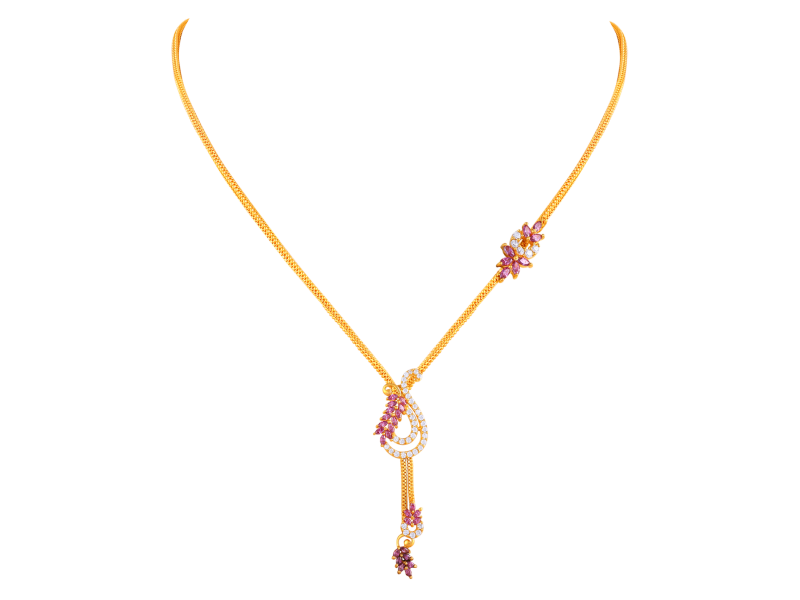 The purple stone necklace offers a charming, dazzling and delightful appearance to the girls and women. You can mix and match this necklace with the V-neck white and purple dresses you have in your own wardrobe if you want.
Leaf And Circular Necklace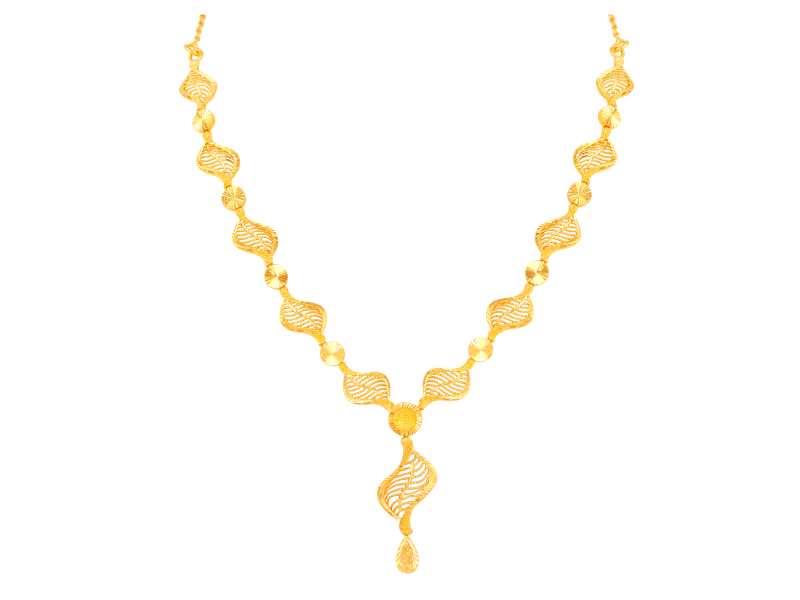 The interesting mixture of circular and leaf designs on this gold necklace give it an exquisite and enchanting look on you. The leaf and circular necklace can be a great pick if you are wondering what to wear with your evening outfits to social gatherings with family, relatives, friends and other people you know.
Beaded Necklace With Red Stone Peacock Pendant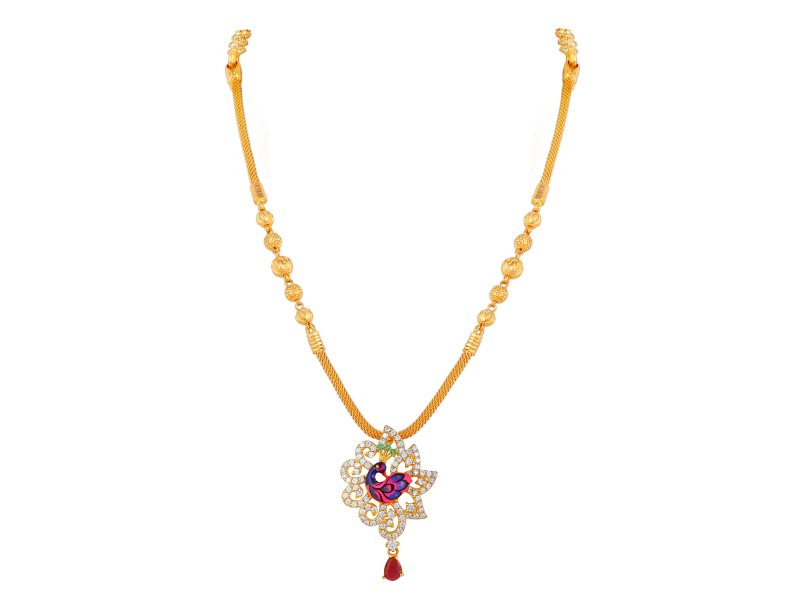 The enchanting and brilliant peacock designs along with the red stone attached to the pendant of the beaded necklace present a remarkable and breathtaking look. If you are already in love with this beaded necklace with red stone peacock pendant, then, don't hesitate in buying this necklace.
Peacock White Stone Pendant Necklace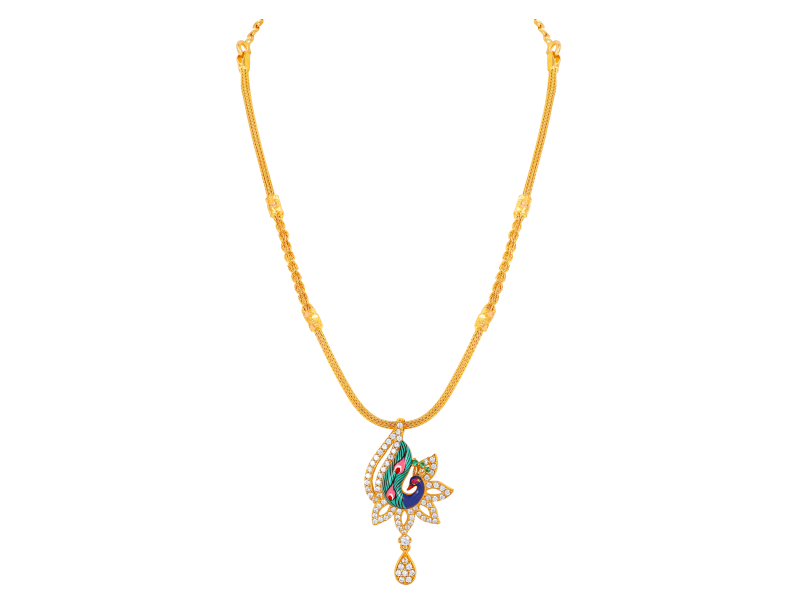 Experience the fabulous feel and look of the studded white stones with the lovely peacock design on the pendant of this necklace. Don't miss out on the chance to give yourself an incredible look on your attire with this peacock white stone pendant necklace.
Dual Toned Balls Necklace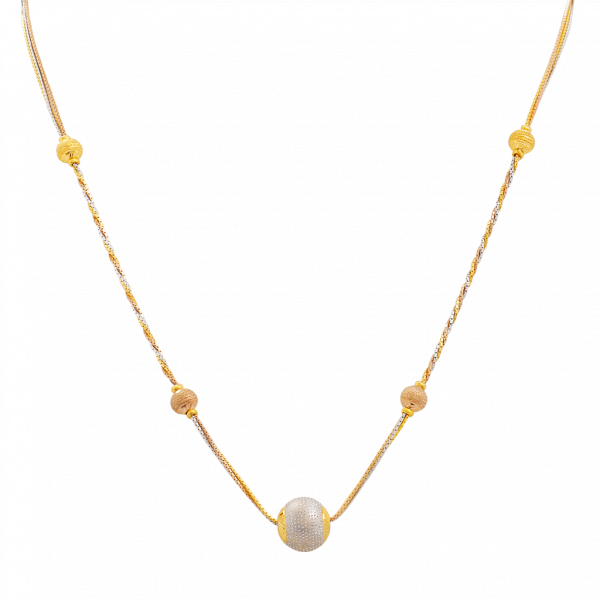 The silver and gold color shades of this dual toned balls necklace make it one of a good choice for women and girls. The fascinating blend of the silver and gold colors on the necklace gives you a remarkable and delightful look wherever you go.
Dark Green And Blue Shade Petals Leaf Necklace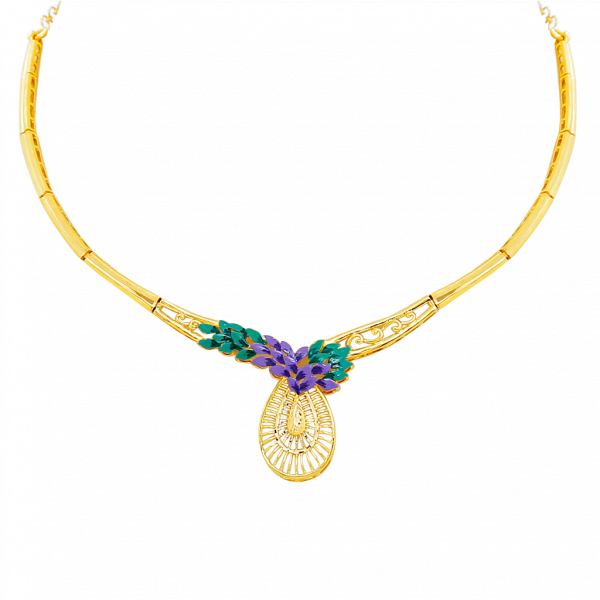 The dark green and blue shade petals along with the leaf patterns and designs on the necklace present this jewelry with a distinguished and charming look. With this necklace with you, you can unleash your hidden talent for coming up with creative ideas to experiment with many combinations of dresses with this jewelry to get interesting and unique looks.
Heart And Floral Necklace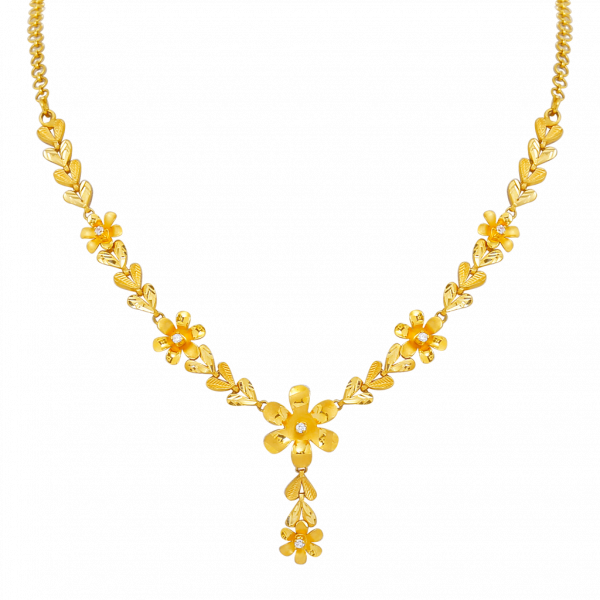 The enthralling and distinctive designs on the heart and flowers shapes on this gold necklace make it a nice choice to buy it for yourself or someone who you care for as a gift. The heart and floral necklace is an exclusive piece of jewelry you can buy and take it home.
The best thing about this necklace is that it can be worn on any outfit of your choice to malls, theaters, stores, birthday parties, farewell parties, gardens and also to any place with your special soul mate.
Floral Stone Petals Necklace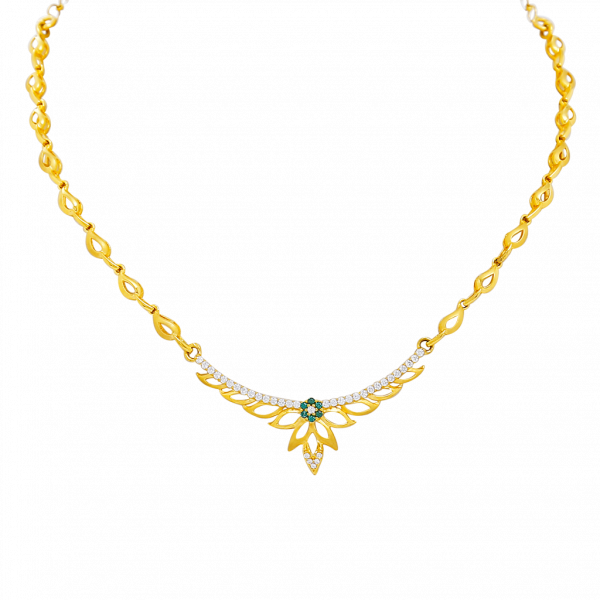 With the white and green stones of the floral stone petals necklace, this jewelry piece can give you a marvelous, splendid and delightful look that you have been looking for some time.
Three Rose Necklace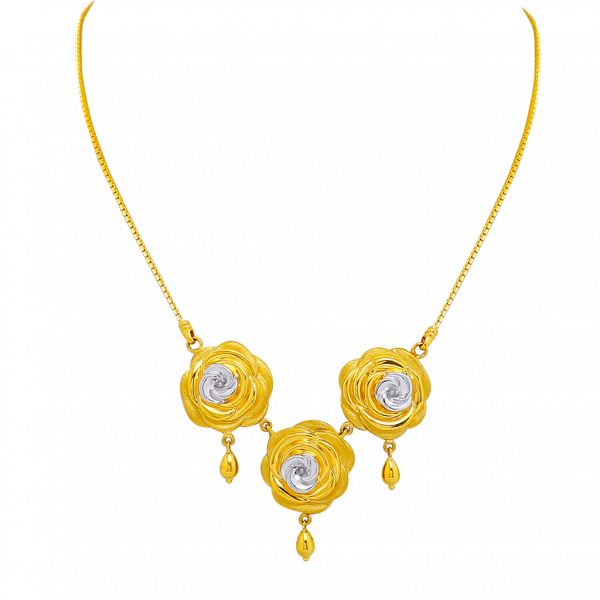 The adorable piece of necklace is a breathtaking, striking and eye-catchy jewelry that consists of a combination of three roses with silver and gold shades to it.
Floral And Leaf Necklace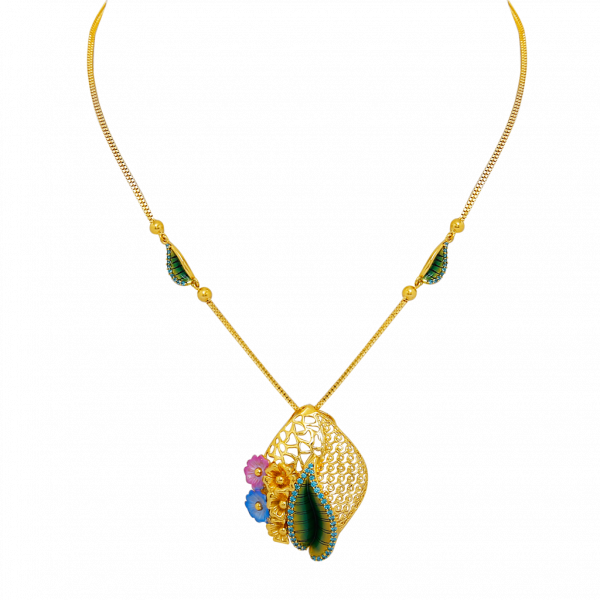 The perfect blend of colors can be noticed on this floral and leaf necklace. The lovely colors added to this necklace enhance the beauty and style of wearing this jewelry piece.
Light Pink And Green Shade Petals Leaf Necklace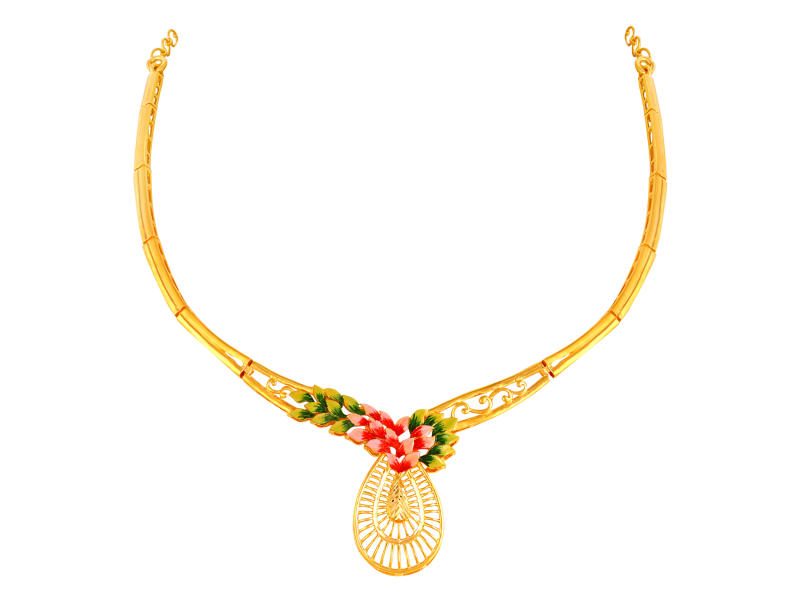 The light pink and green shade petals along with the leaf patterns and designs on the necklace give this jewelry piece an eminent, great and charismatic look. You can wear this with a necklace with your pink and green dresses if you want.
Cylindrical Stone Necklace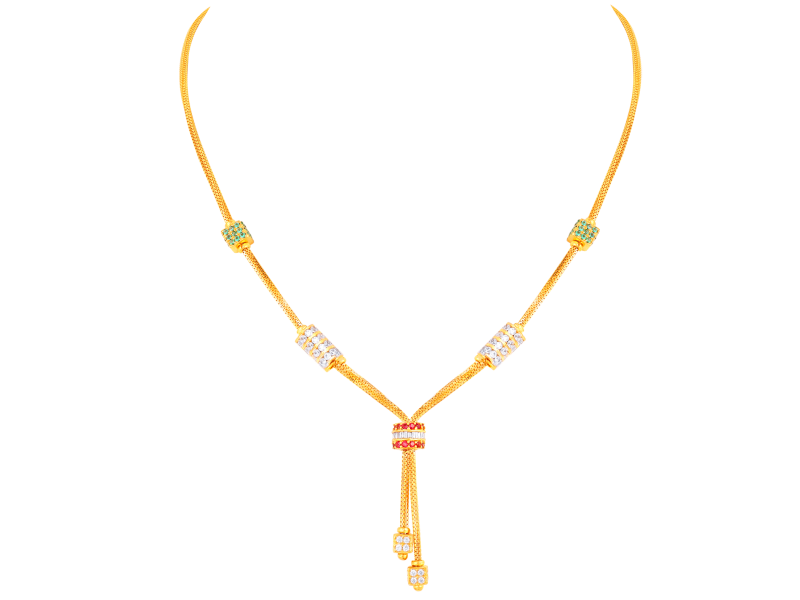 The necklace looks good, striking and stunning with the red, green and white color studded stones on it. The cylindrical stone necklace is a magnificent and fantastic choice to wear for girls and ladies with their astounding outfits.
Ruby Floral Necklace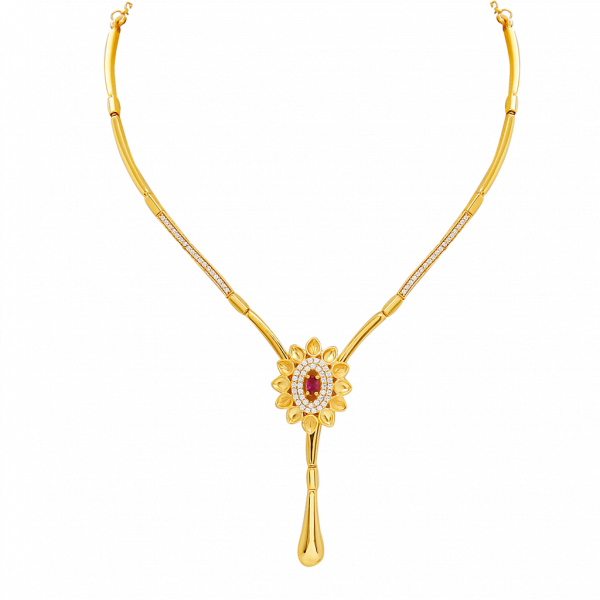 With elegance, beauty, glow, and style, the ruby floral necklace will give you a mind-blowing experience you will want to remember forever. The ruby situated in the center of the flower pendant on the necklace is a delightful and mesmerizing sight to look at and the ruby floral necklace is a nice jewelry to buy for your collection at home.
Long Leaf Floral Pendant Necklace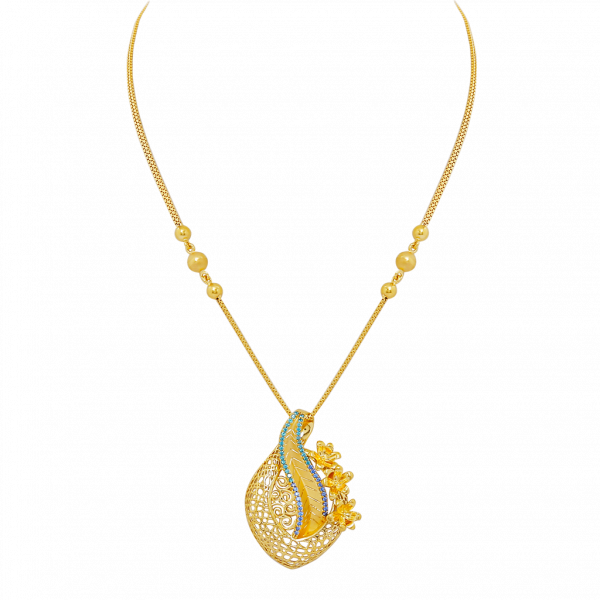 This long leaf floral pendant necklace will offer you a fascinating, exquisite and enchanting look to your overall attire. On wearing this gold necklace with your favorite dresses, you will find yourself looking graceful, stunning and striking.
Traditional Antique Ruby Leaf Pendant Necklace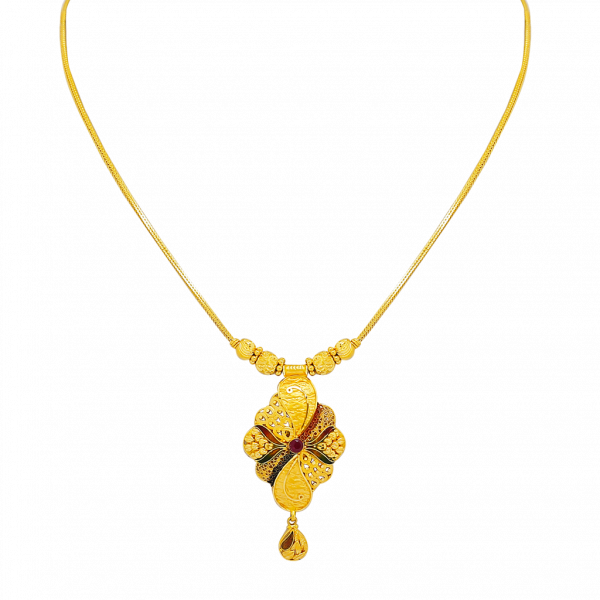 This one of a kind, distinctive, unique and distinguished jewelry can be an excellent addition to your necklace collections. The traditional antique ruby leaf pendant necklace is hard to miss out when your eyes fall on it once. If you find this necklace making a soft spot in your heart, then, you can buy it for sure.
Light Weight Matt Finish Necklace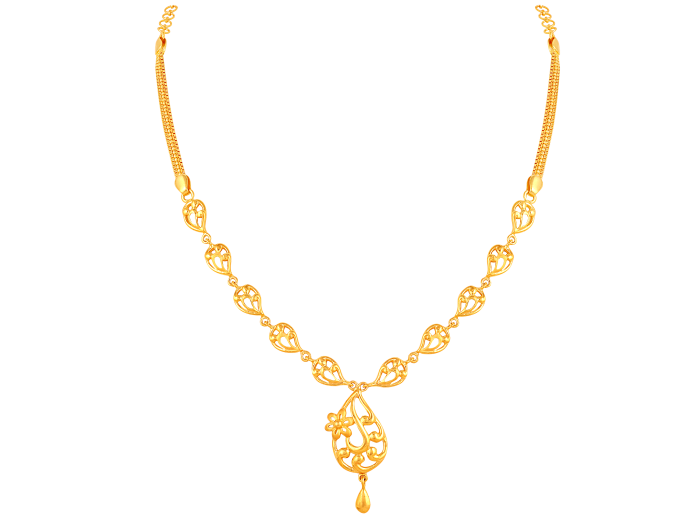 The delicate and lovely light weight matt finish necklace looks awesome and terrific. This necklace can elevate your fashion, style, and beauty in its own unique way as you wear it.
Hope you liked this amazing range of gold necklace designs which are just under 15 grams. If you like to shop any of the necklace featured on this post , then
Also Read: