The exquisite gold jewelry designs date back many decades and are a result of extraordinary love for this shiny material. Jewelry designers work towards creating new and innovative designs each day. New and alluring designs are created every day; hence you will have a great variety to choose from. If you are looking out for latest gold bangle designs, then here are 24 grand gold bangle designs that you can try below 20 grams: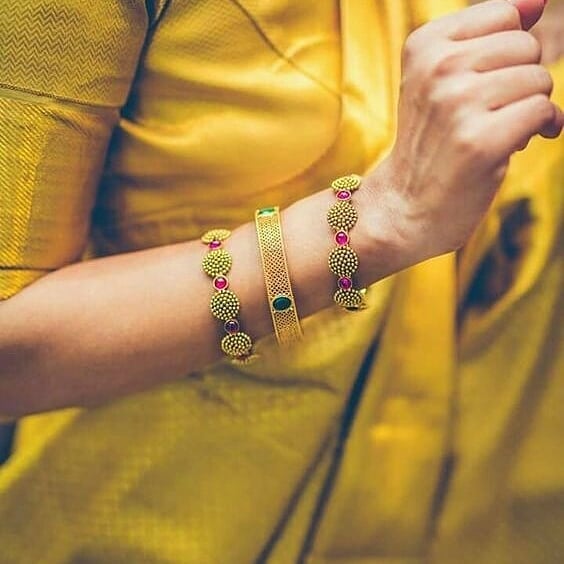 1) Fancy Stone Bangle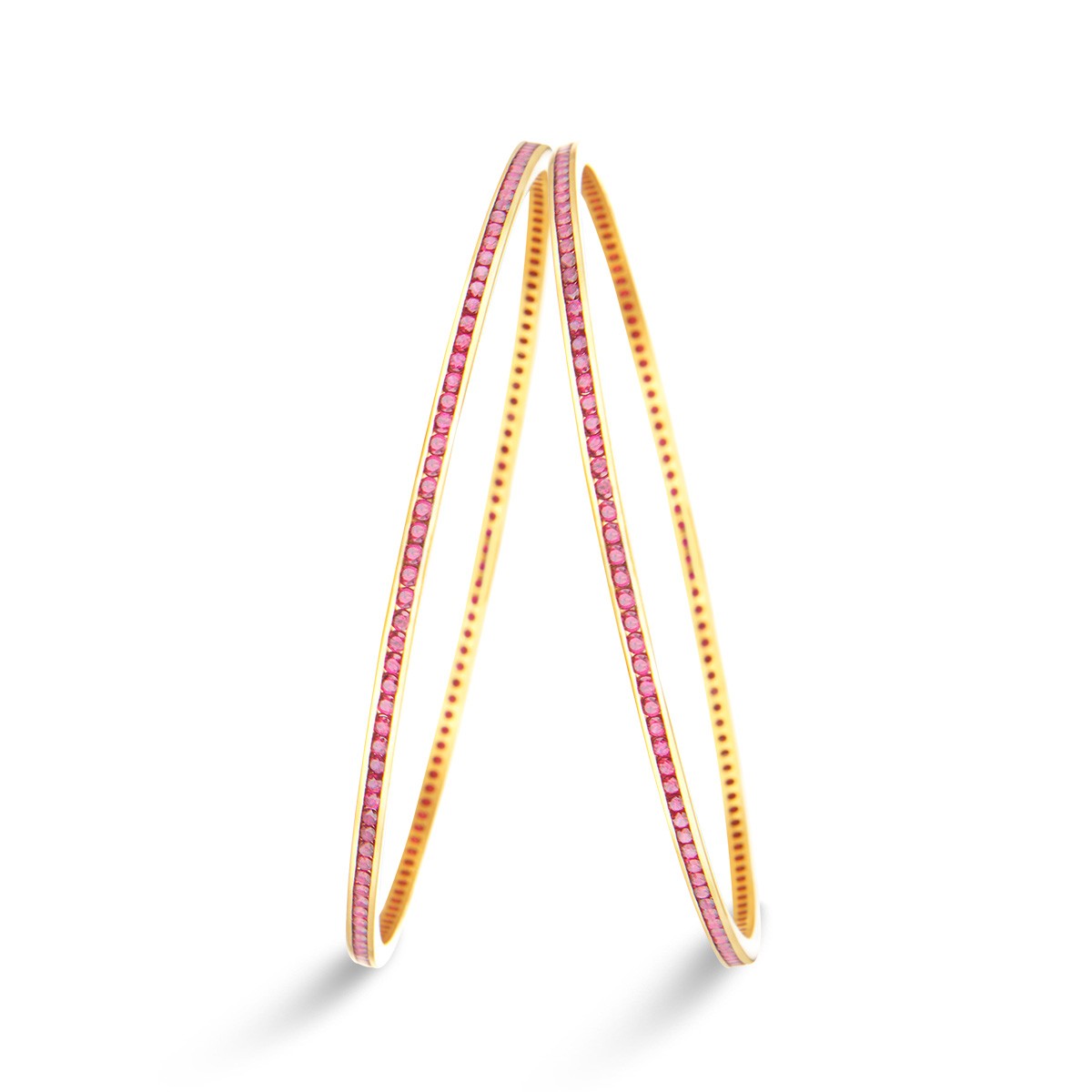 A standout amongst the most widely demanded bangles incorporate the fancy stone bangles. These bangles are in great demand due to their outstanding patterns and designs. It can be worn by all. Most of these bangles are studded with colorful stones.
2) Matt Finish Daily Wear Bangle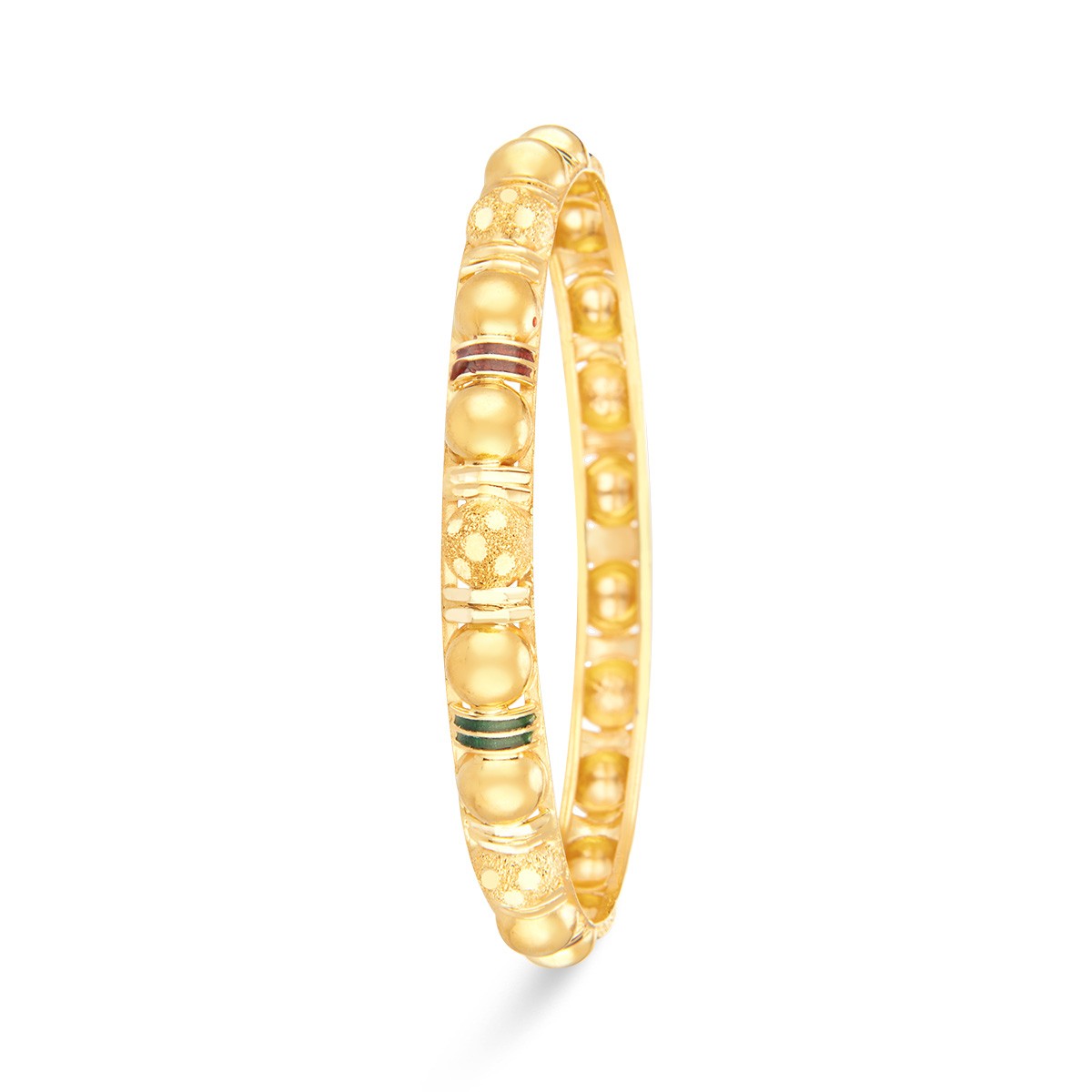 Matt finish daily wear bangles are usually made with intricate designs and patterns. Most stores have a huge variety of designs and styles which makes it easy to buy. These are available in a perfect blend of both traditional and modern designs.
3) Adjustable Bold Bangle With No Stones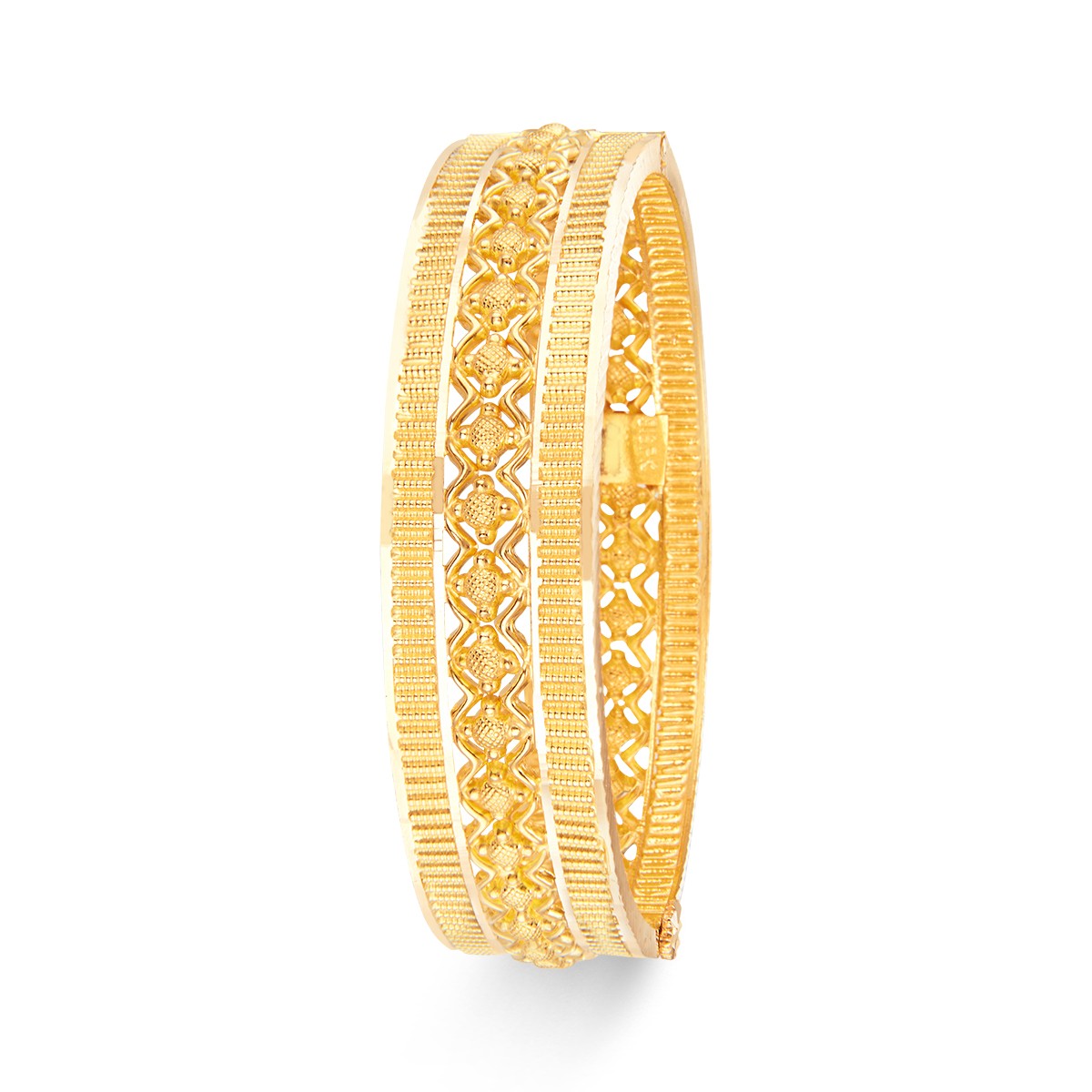 Be it an office-going lady or a housewife the interest for adjustable bold bangles with no stones are consistently high. These wonderful bangles are ideal for enhancing glam.
4) Grand CZ Stone Bangle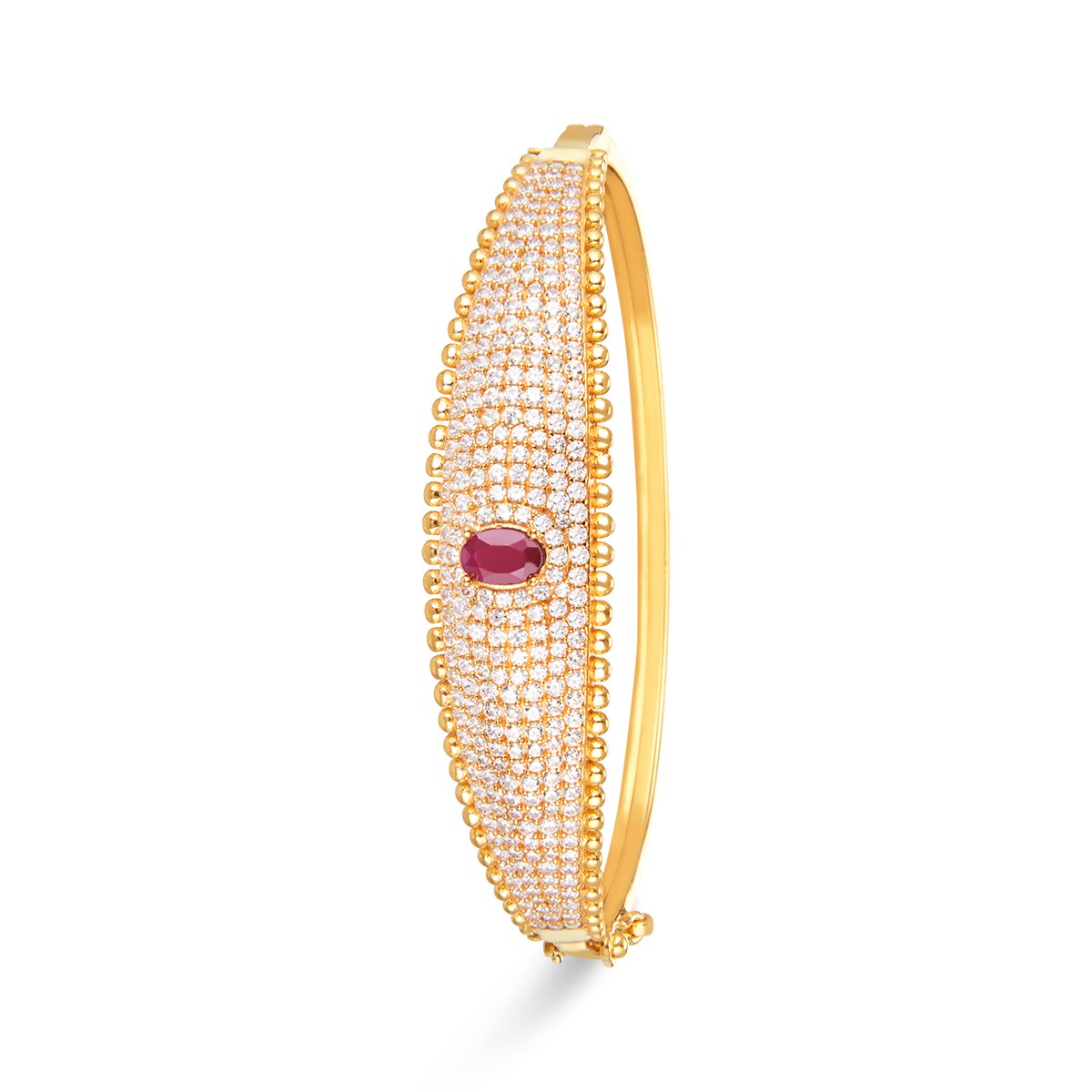 CZ Stone is one of the most wonderful stones used nowadays. Both white and red colored CZ stones are crafted together to make this elegant piece of ornament. It is both trendy and beautiful.
5) Curved Floral Bangle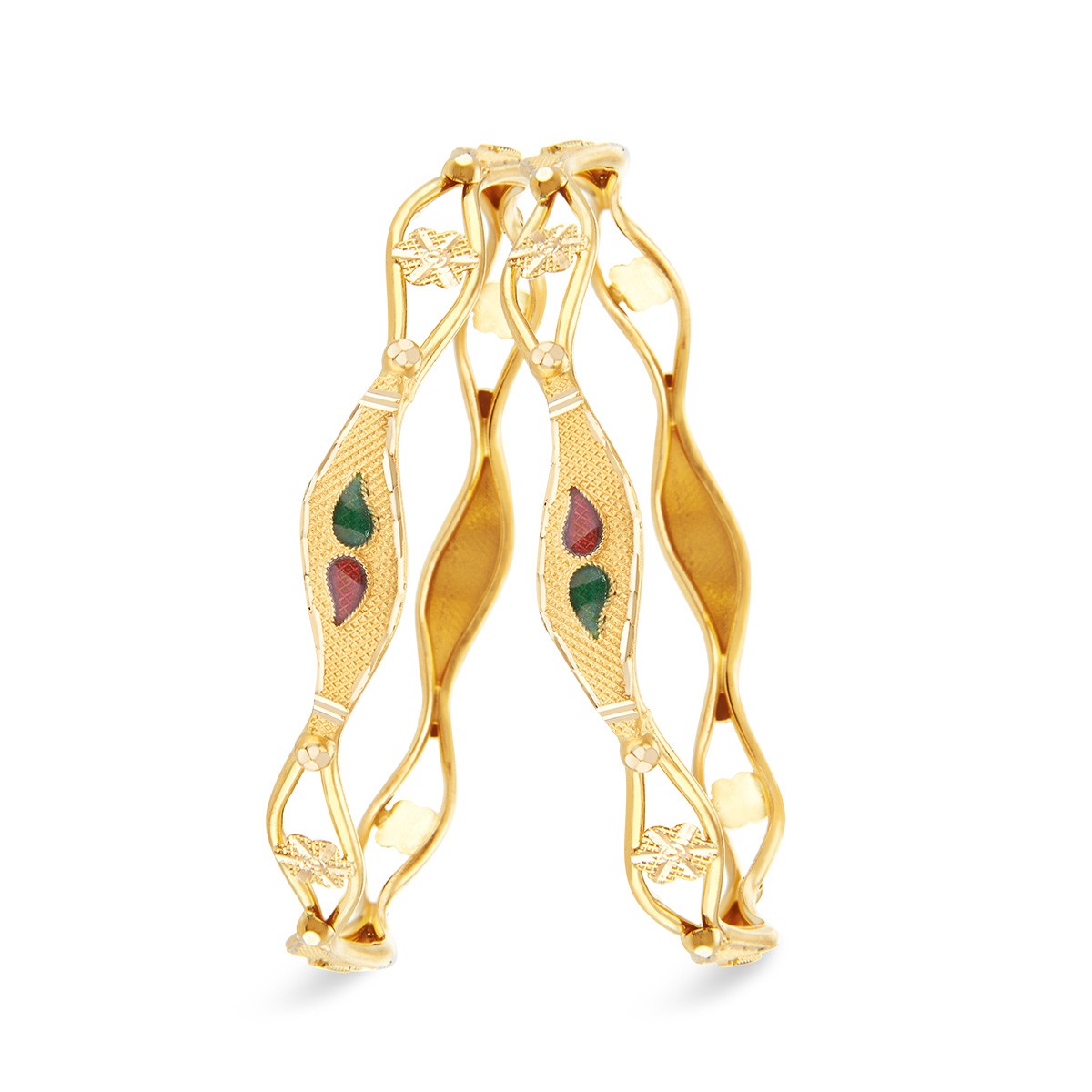 This curved floral bangle suit young ladies. For those, who want to look stylish and trendy, these bangles are the best choice.
6) Daily Wear Stone Bangle
Among the bangles collection, daily wear stone bangles have become a quite popular choice for every woman as they are stylish, lightweight and easy to wear and carry.
7) Party Wear Gold Stone Bangles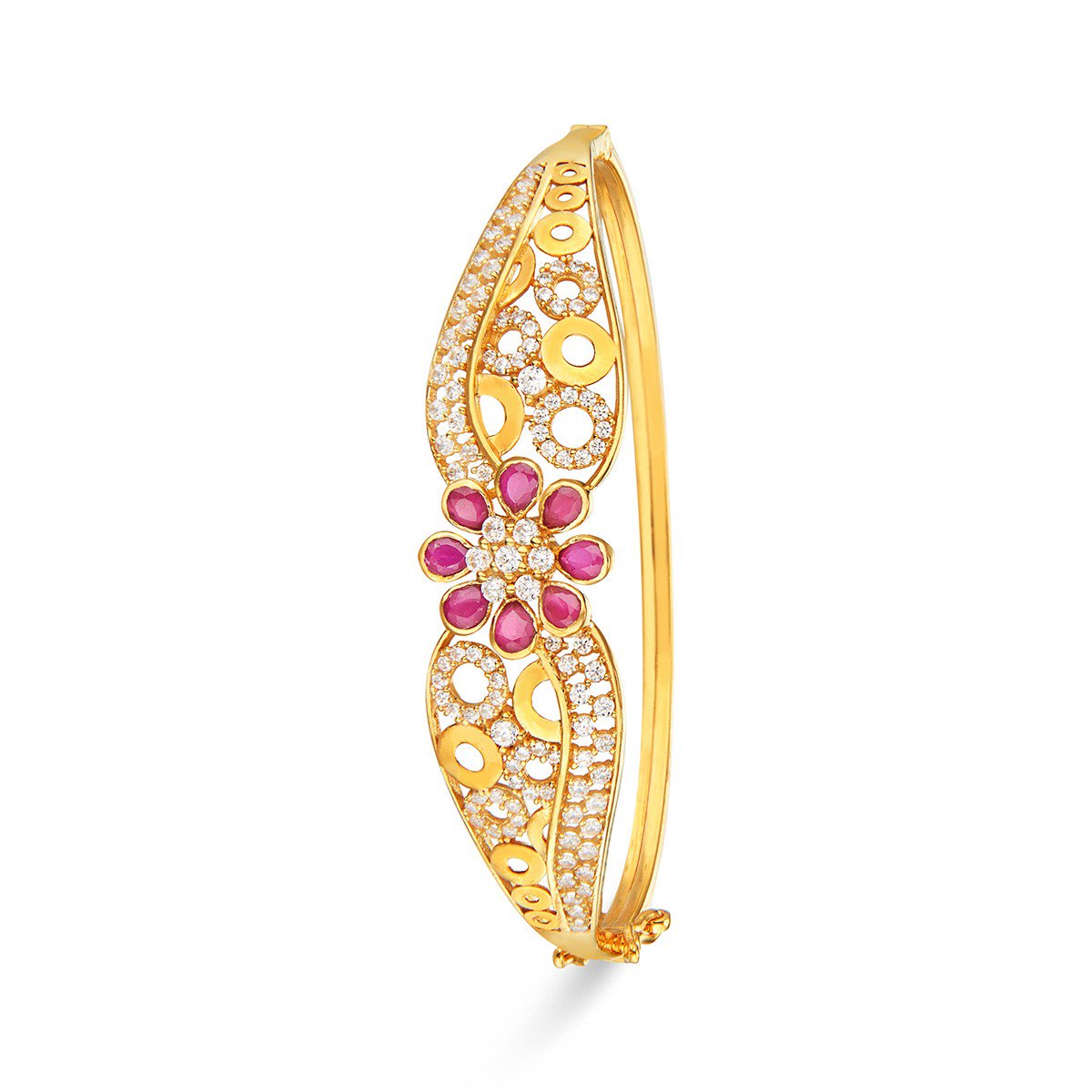 If the current jewelry trends are anything to go by, party wear gold stone bangles are the next big thing in the world of party-wear accessories. These pieces come in a variety of colors, offering customers with a wider range to choose from.
8) Gold Enamel Bangle You Can Wear Every Day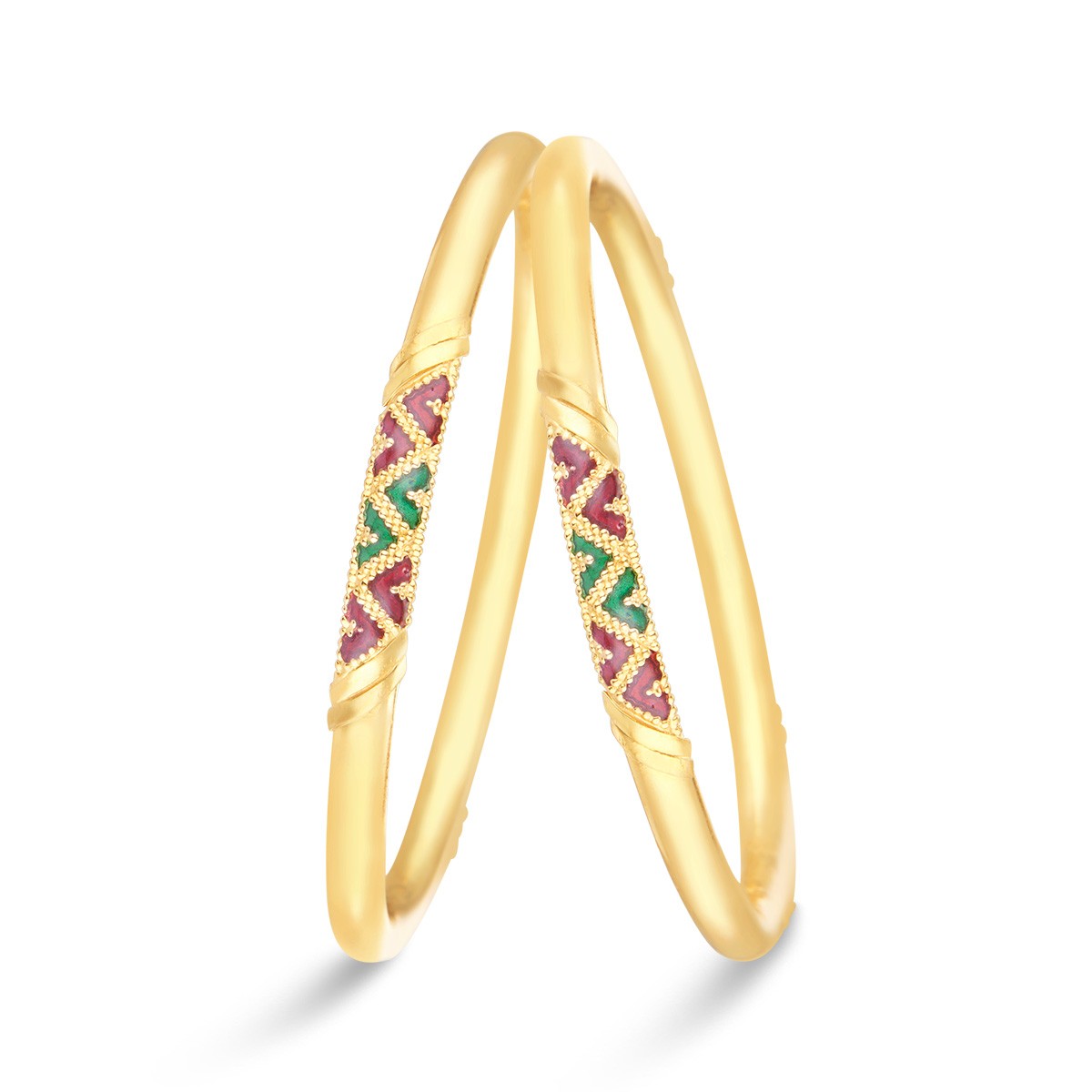 Gold enamel bangles are also making waves. These are found in a variety of colors, circling the wrist and you can wear them every day.
9) Bridal Kada Style Bangle
Kada style bangles are very popular as bridal jewelry among Indian ladies. They are grand and regal hence just perfect for your big day.
10) Plain Designer Gold Bangle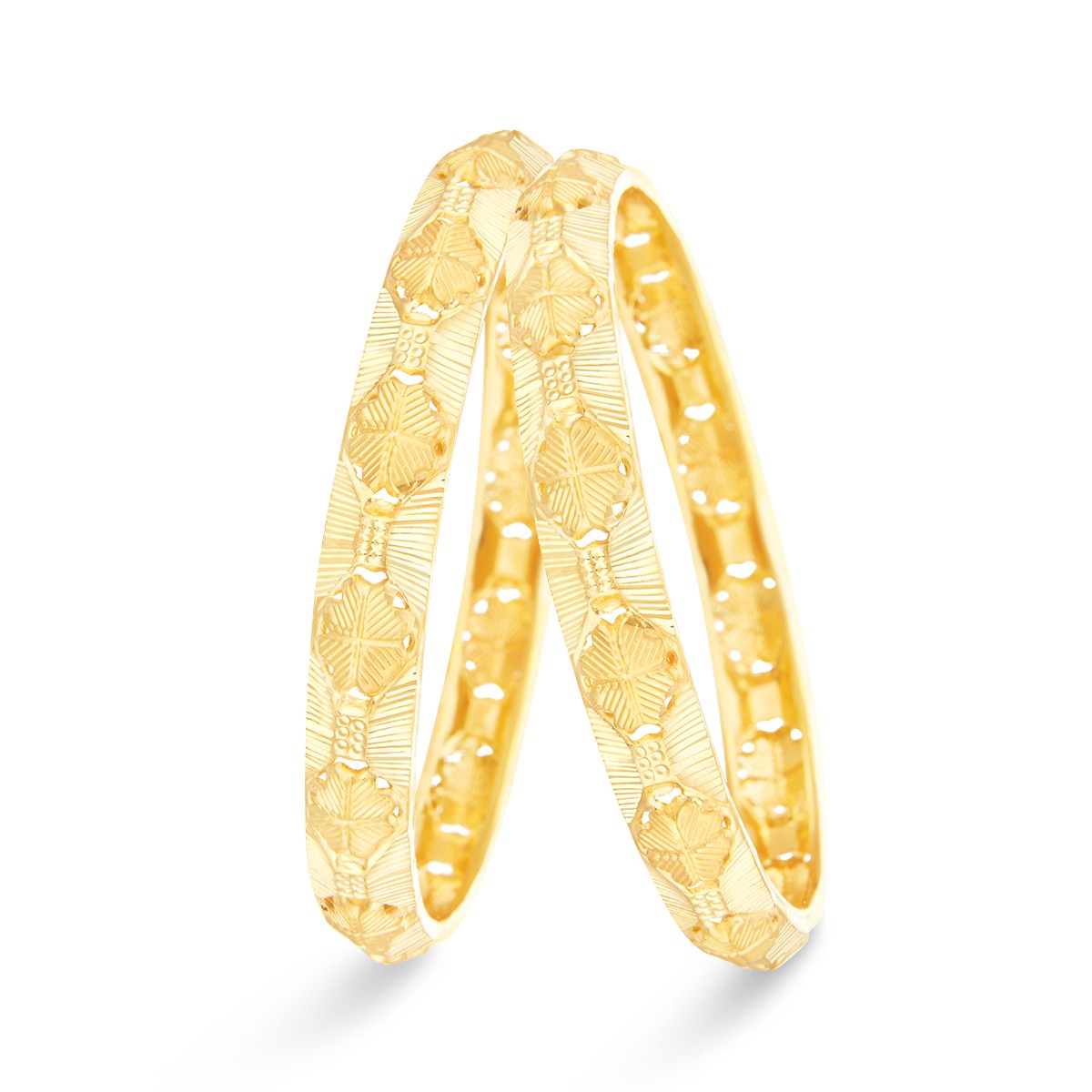 Bangles are usually worn to enhance the prettiness of the wearer. It often increases the glam quotient of the attire. These plain designer gold bangles are available in different designs and sizes.
11) Curved Gold Rhodium Bangle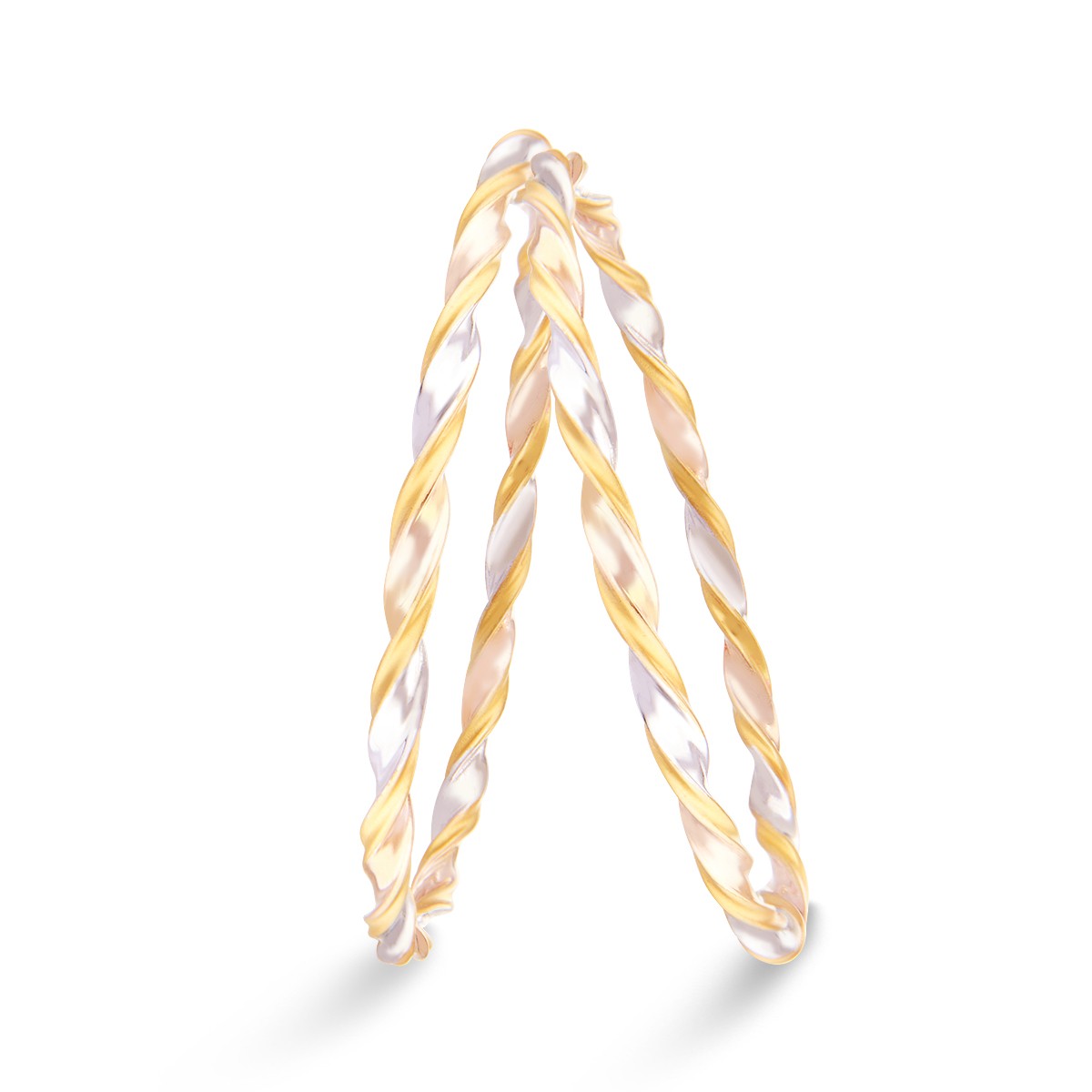 The next time when you go out for shopping, search for these popular curved gold rhodium bangles. You will undoubtedly have at least one of these in your jewelry collection.
12) Simple Gold Beaded Bangle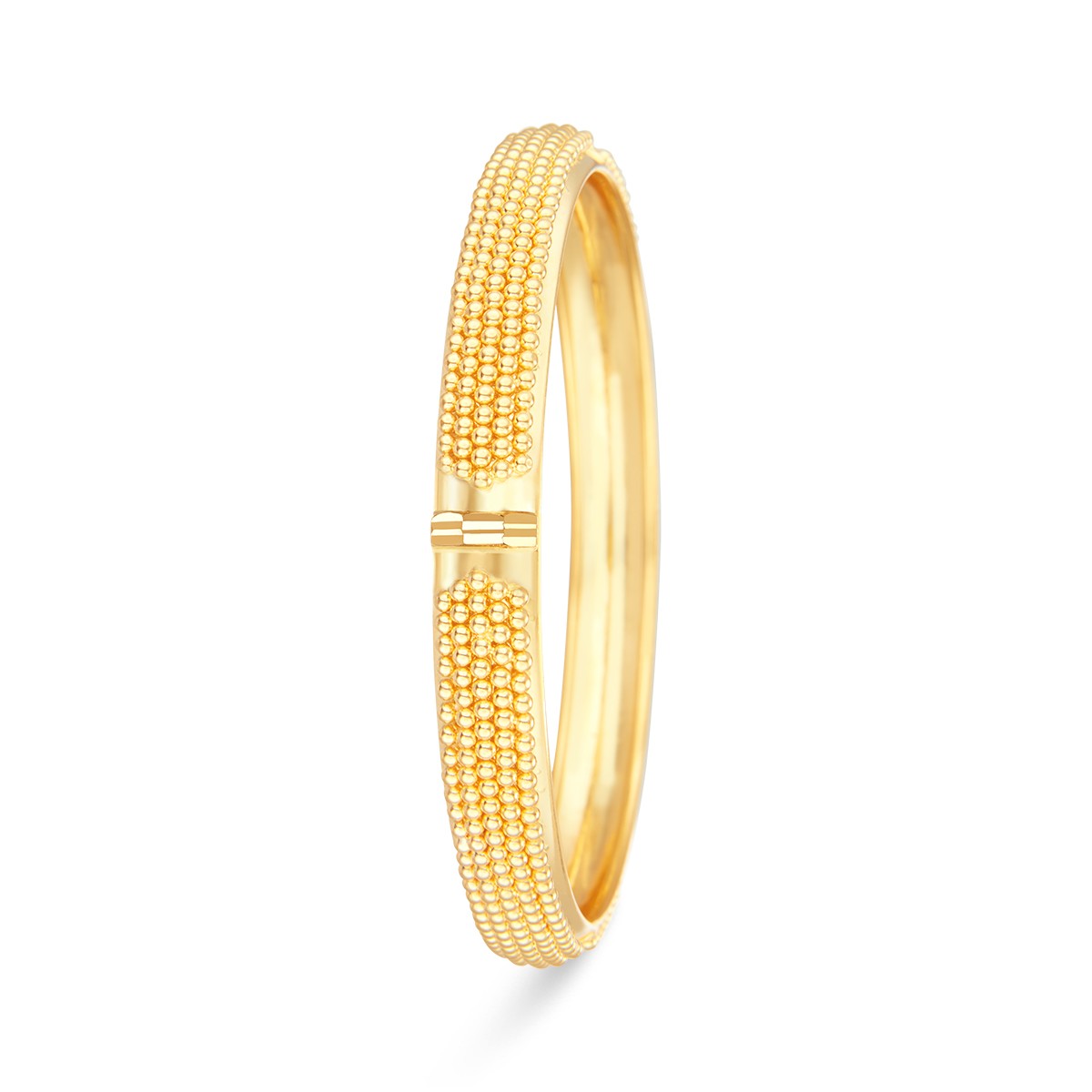 Available in a range of designs, these simple gold beaded bangles complement all personalities, occasions, and traditional outfits.
13) Gold Ruby Stone Bangle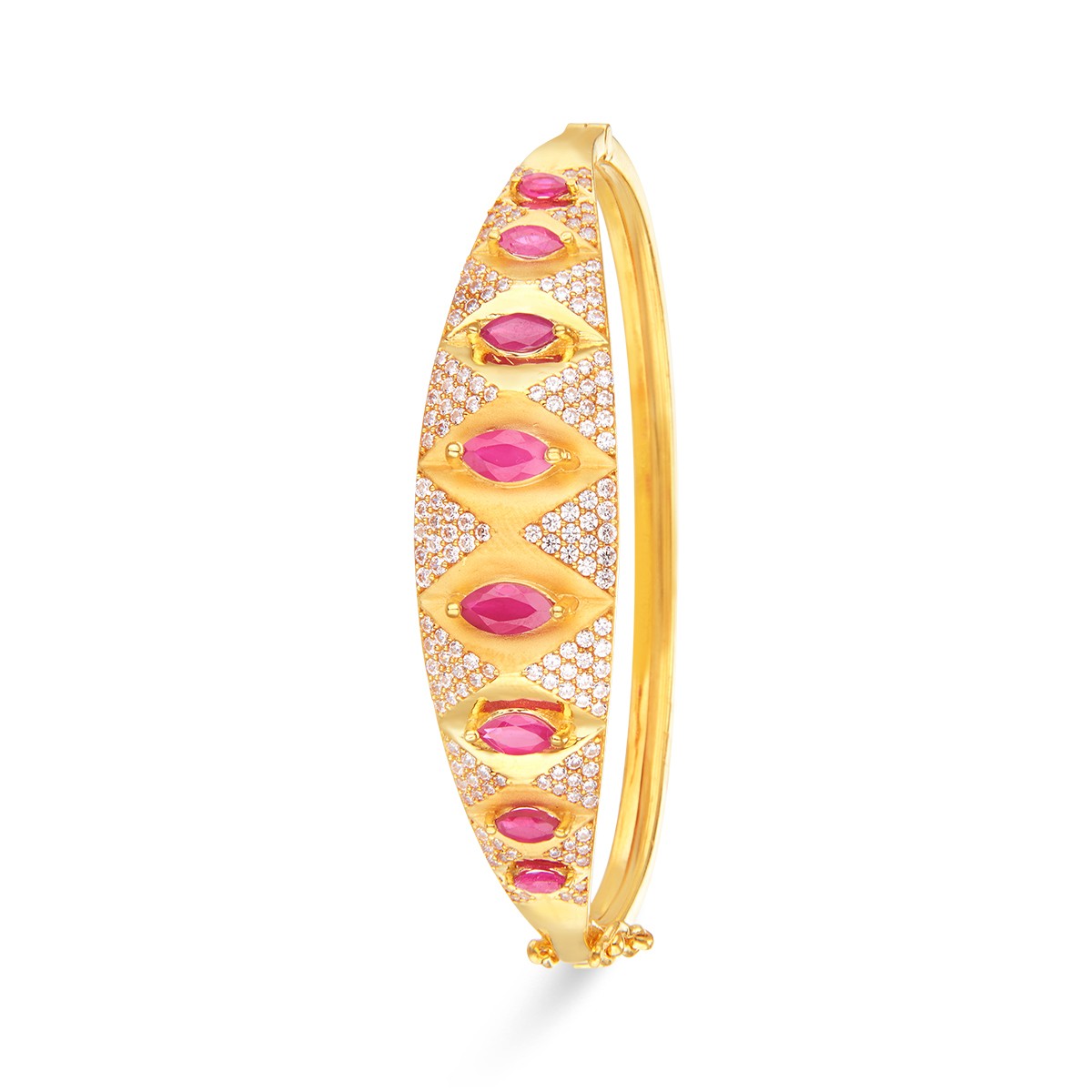 Traditional jewelry styles and patterns never fade from the fashion. Traditional designs include precious stones such as ruby. Most people prefer to wear traditional bangles as it suits different colored outfits.
14) Gold Peacock Enamel Bangle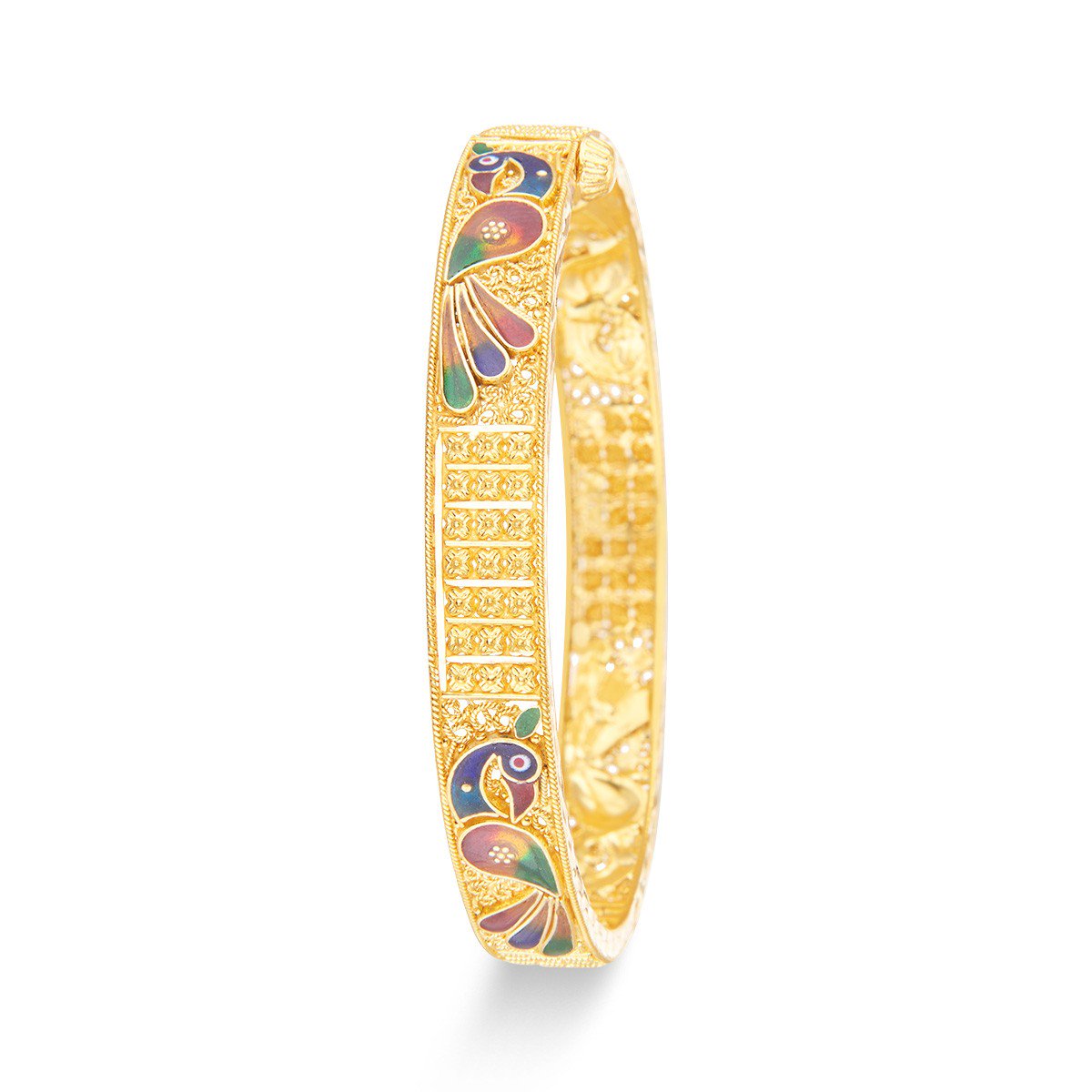 These gold peacock enamel bangles display extravagance and great magnificence at the same time. Thus they are one of a kind when compared with other type of bangles.
15) Pretty Heart Enamel Bangle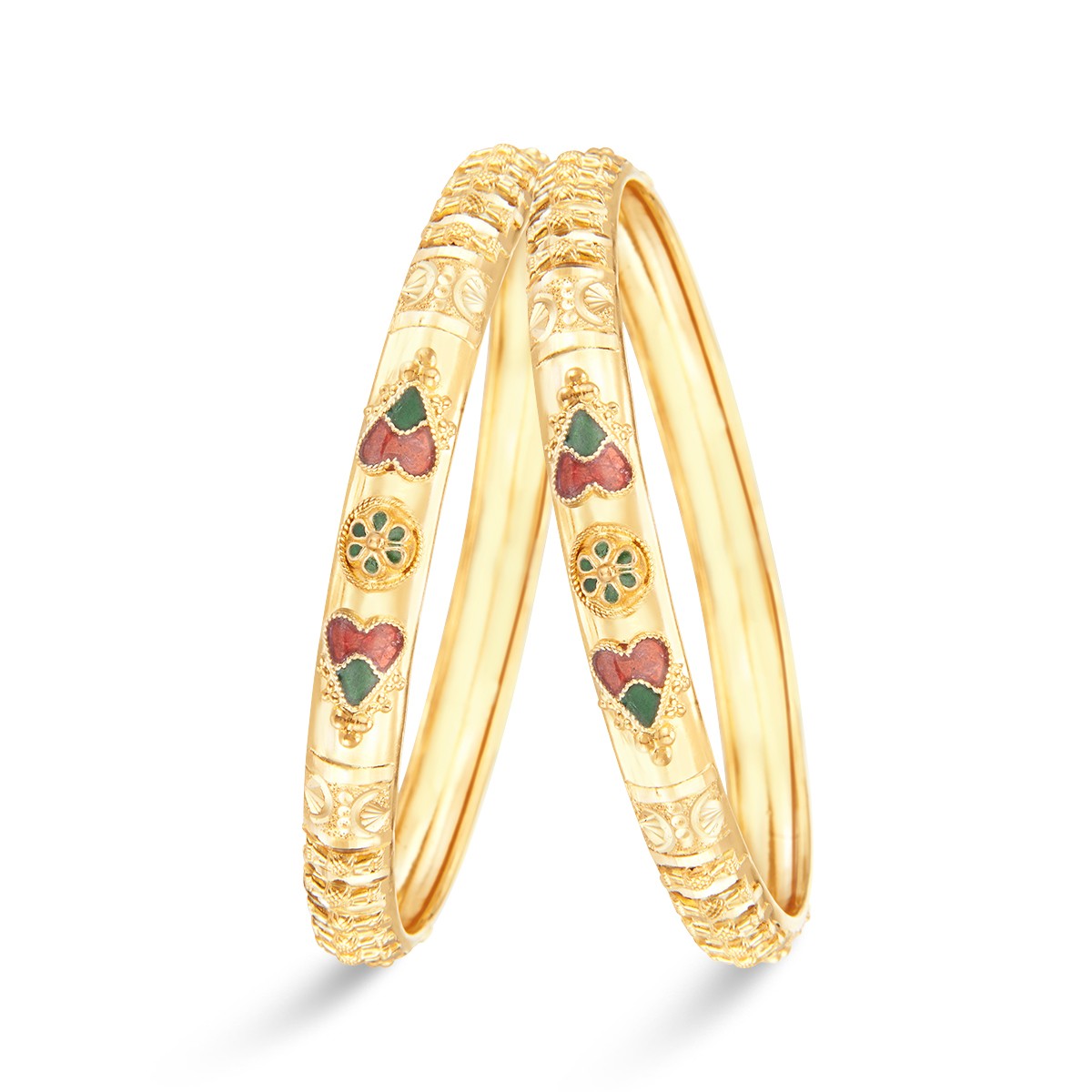 Pretty heart enamel bangles complement traditional outfits and enhance the beauty of the wearer. The elegant designs and plush look of these bangles are second to none.
16) Adjustable Party Wear Stone Bangle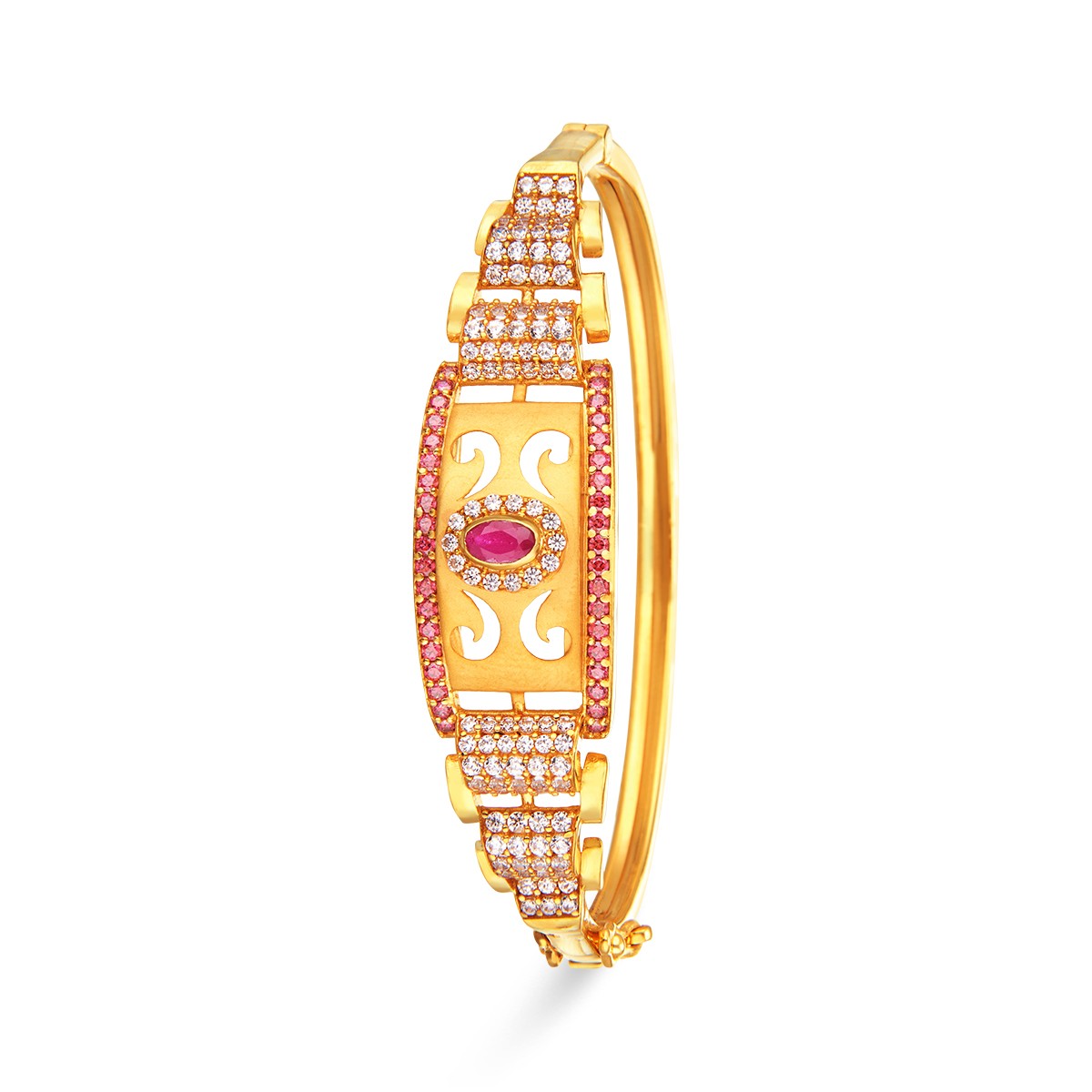 In the current scenario, adjustable party wear stone bangles are the preferred choice of every lady. These bangles symbolize grace; hence they make a perfect jewelry for wedding, anniversary, or for any other parties.
17) Plain Bold Gold Bangle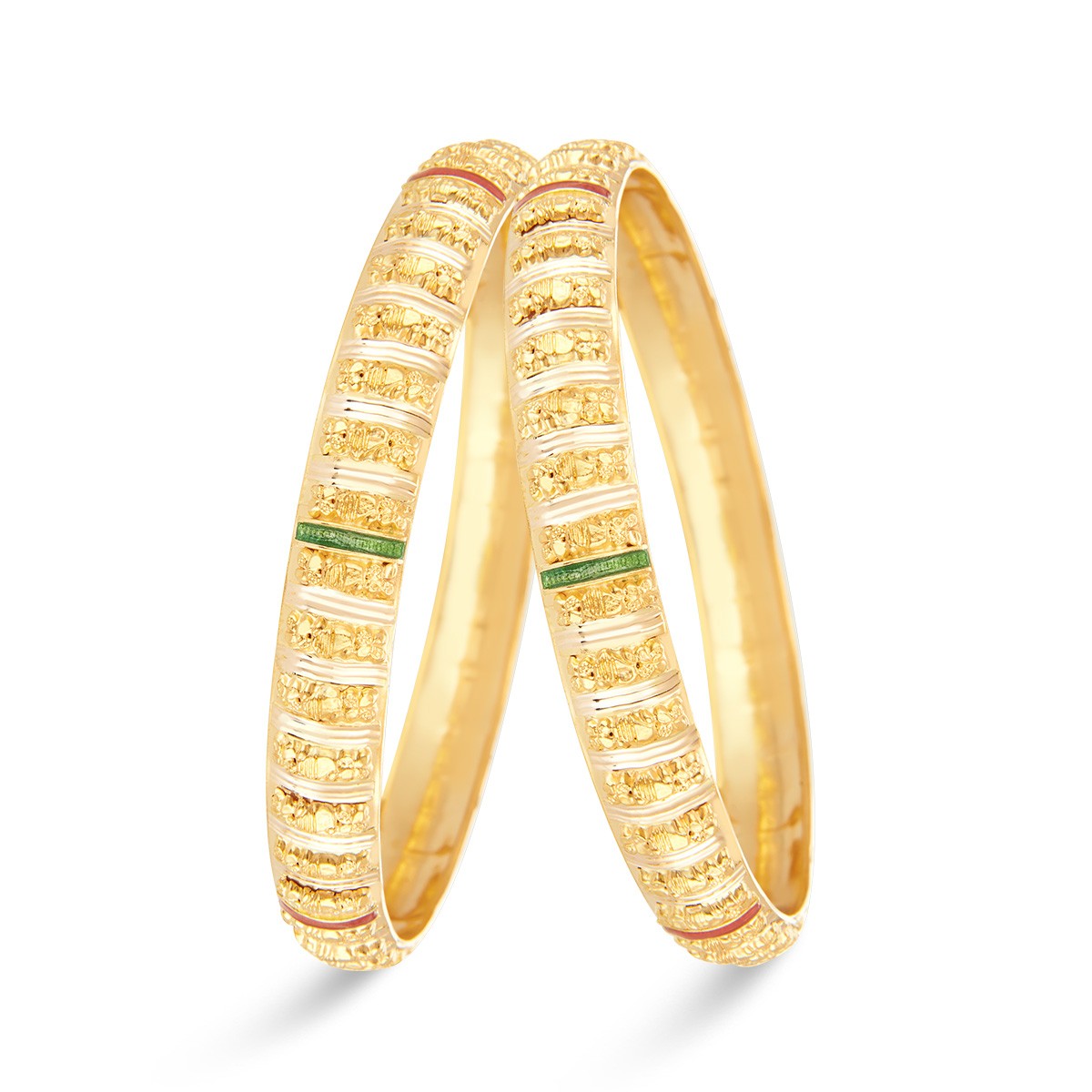 The statement that women all over the world are charmed and intrigued by the magnificence of bangles seems to be accurate when you have a look at these plain bold gold bangles.
18) Gold Bangle For Indo Western Wear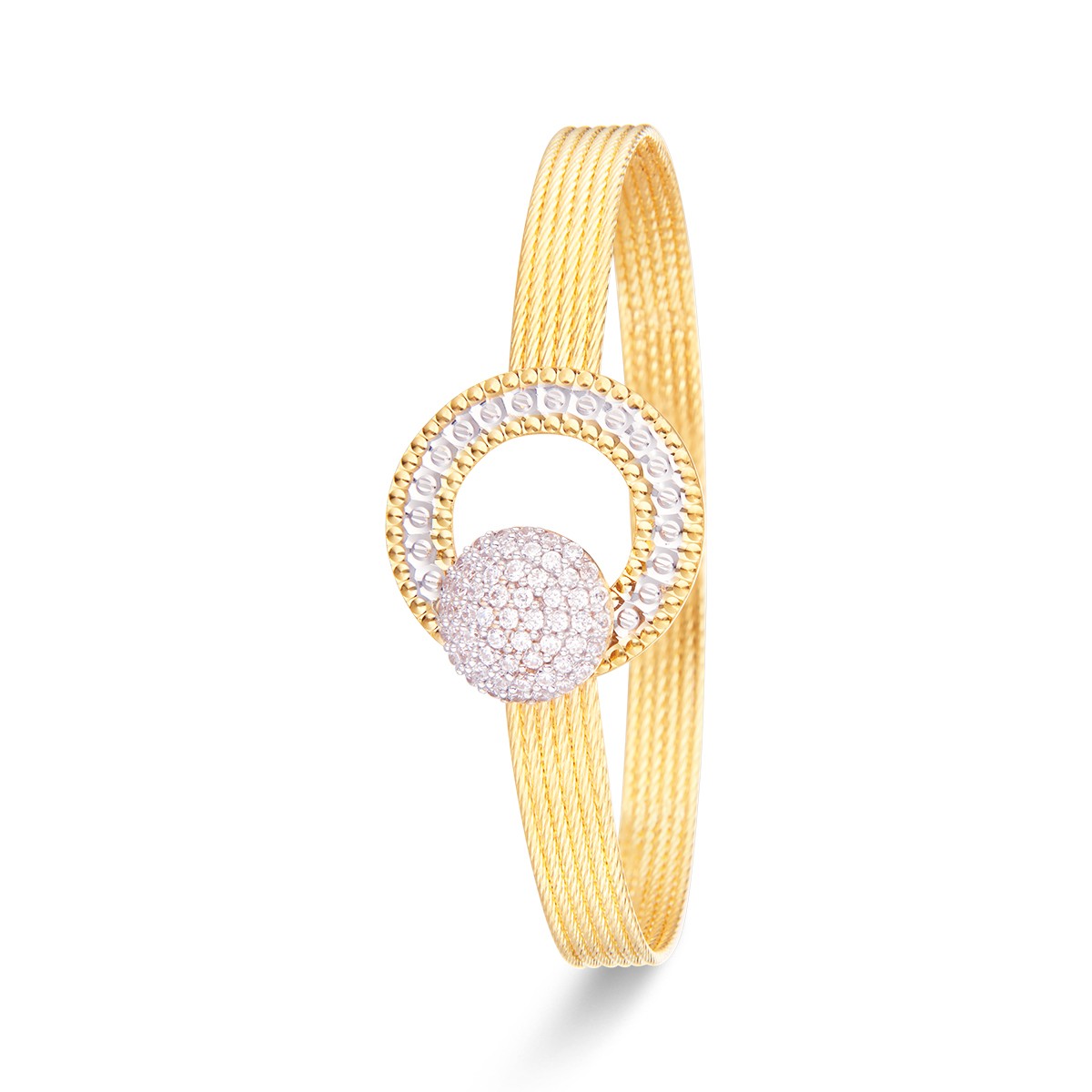 These bangles are for those ladies who love fusion wear. Youngsters are very crazy about these type of bangles because they suit indo-western outfits. These bangles are very stylish and suit any personality.
19) Gold CZ Stone Studded Peacock Kada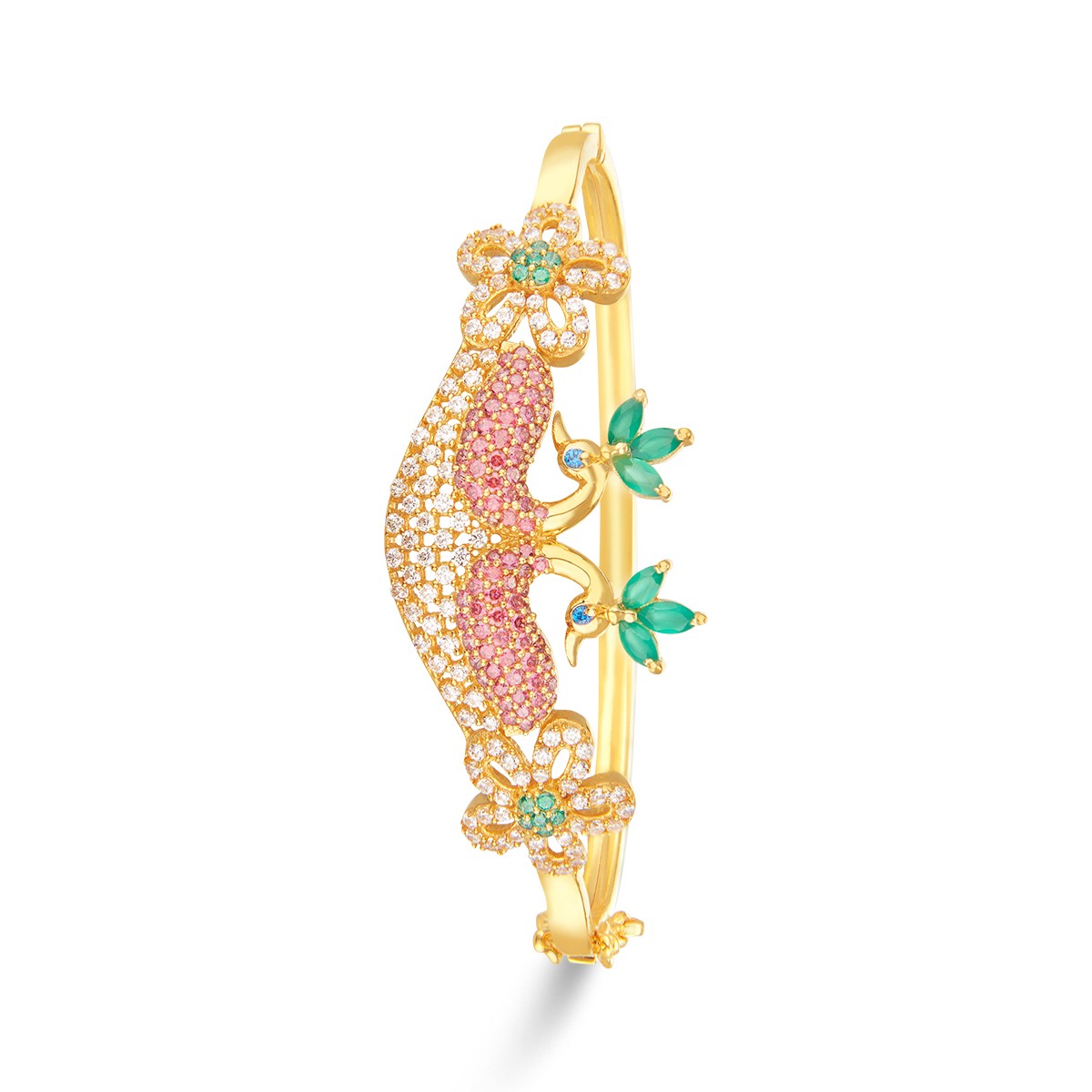 The sheer magnificence of the bangle lies in the style it adds to any clothing. Gold CZ stone studded peacock kada epitomizes traditional splendor. This is the reason behind why they have a great appeal as an accessory.
20) Gold Heavy Enamel Bangle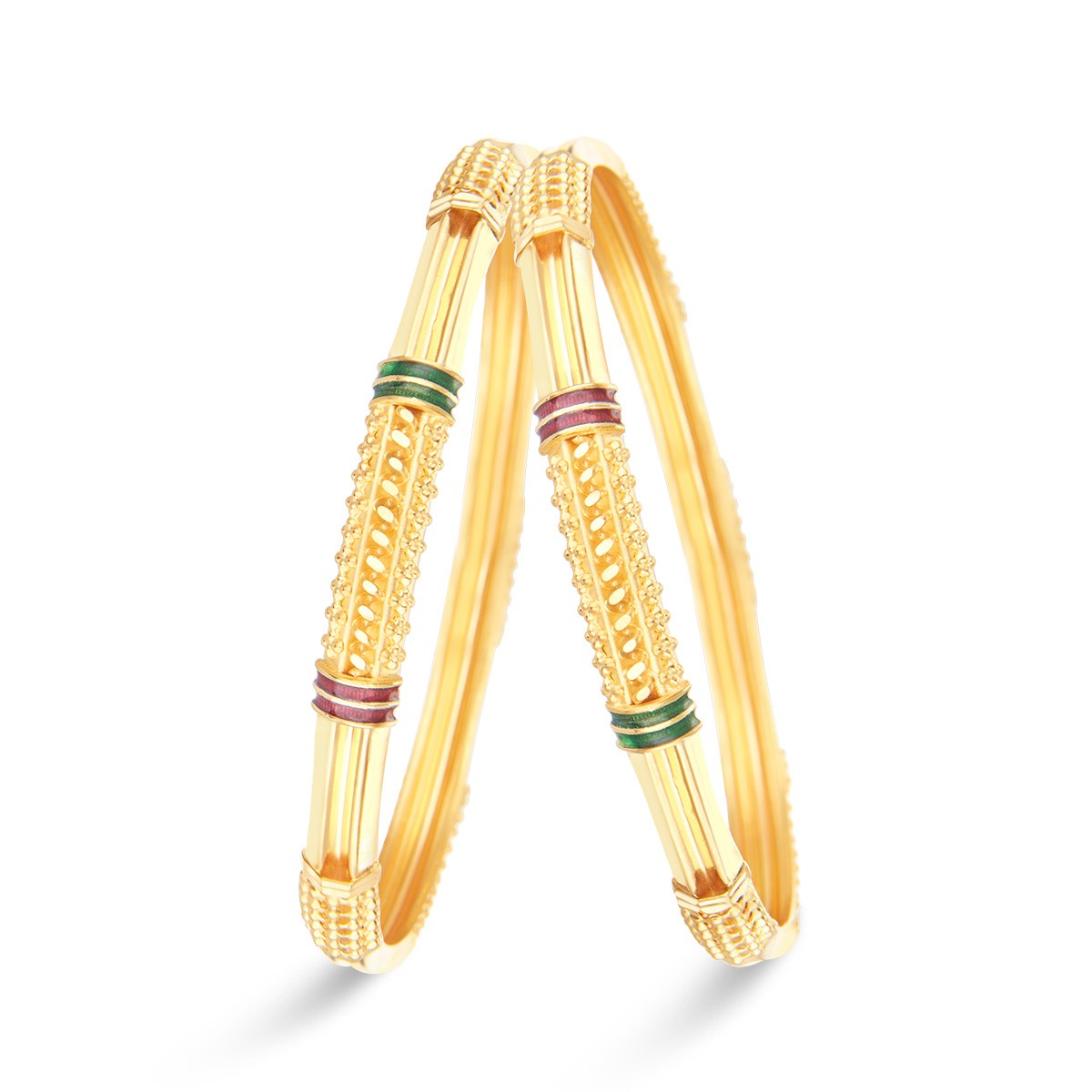 These gold heavy enamel bangles have a very modern and fashionable tag attached to it. What's great about these bangles is that you are sure to find varieties which are well-suited for your attire. You can check out bangles next time you go jewelry shopping and opt for the most beautiful designs to make you look sophisticated.
21) Simple Rhodium Bangles For Daily Use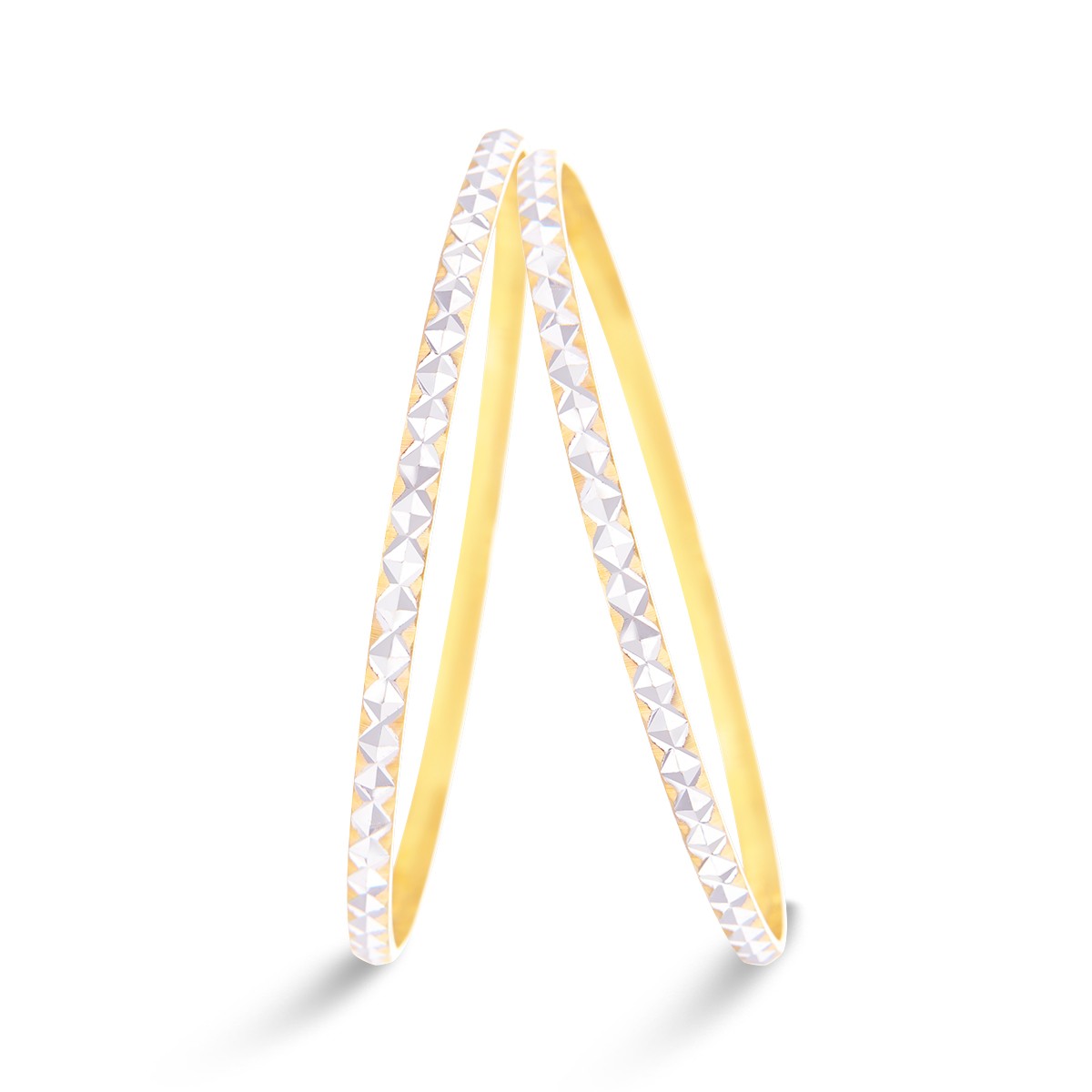 Rhodium is a shiny white colored metal with exceptional light reflecting properties. The metal is hard and sturdy. It is one of the rarest precious metals. These Rhodium bangles are considered an epitome of feminine beauty and grace.
22) Vibrant Floral Bangle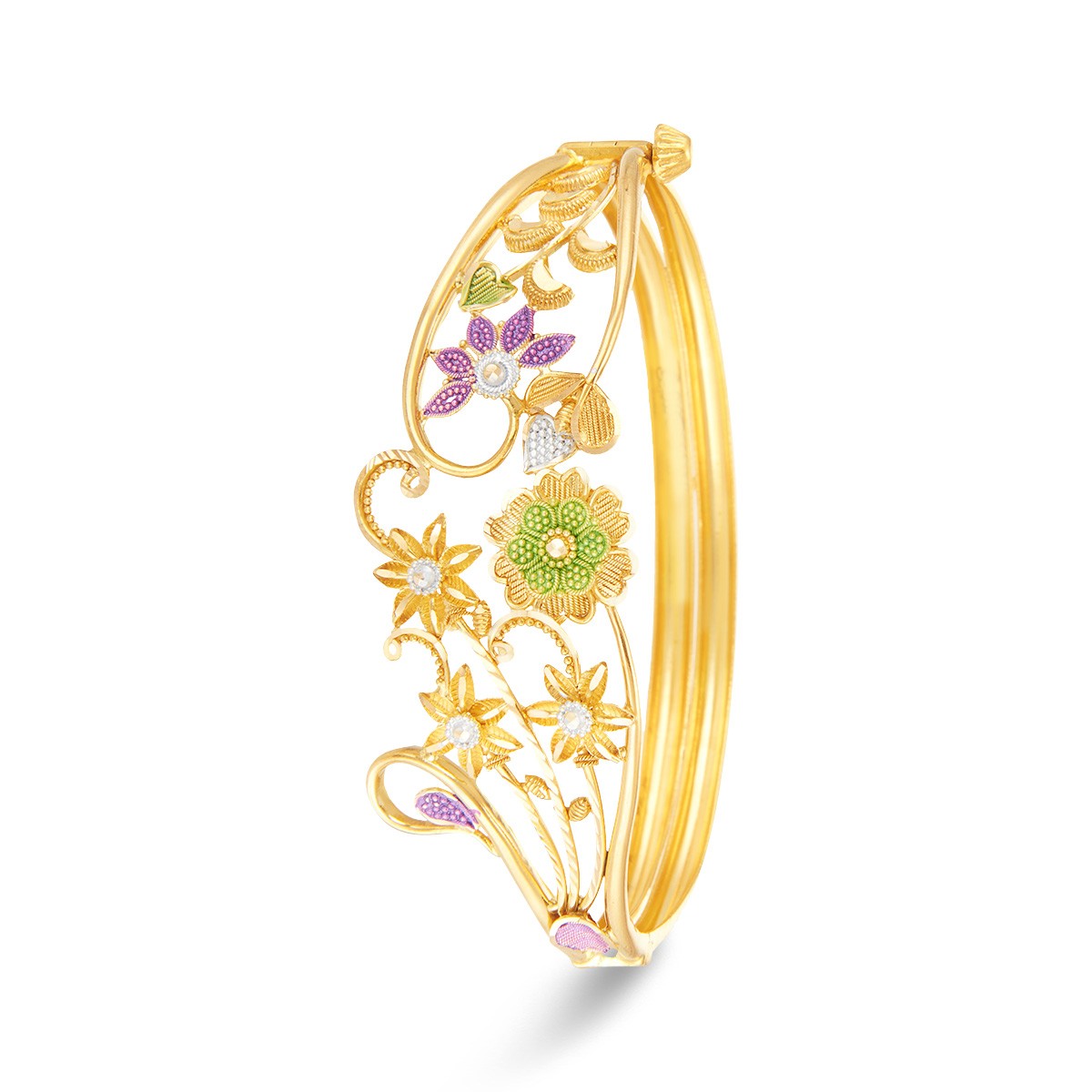 If you love being the centre of attention, then this unique piece of vibrant floral gold bangle will be perfect for your taste. The design features a intricate flowers in vibrant colors with a dainty stems and embellished leaves.
23) Simple Party Wear Bangle With Adjustable Screws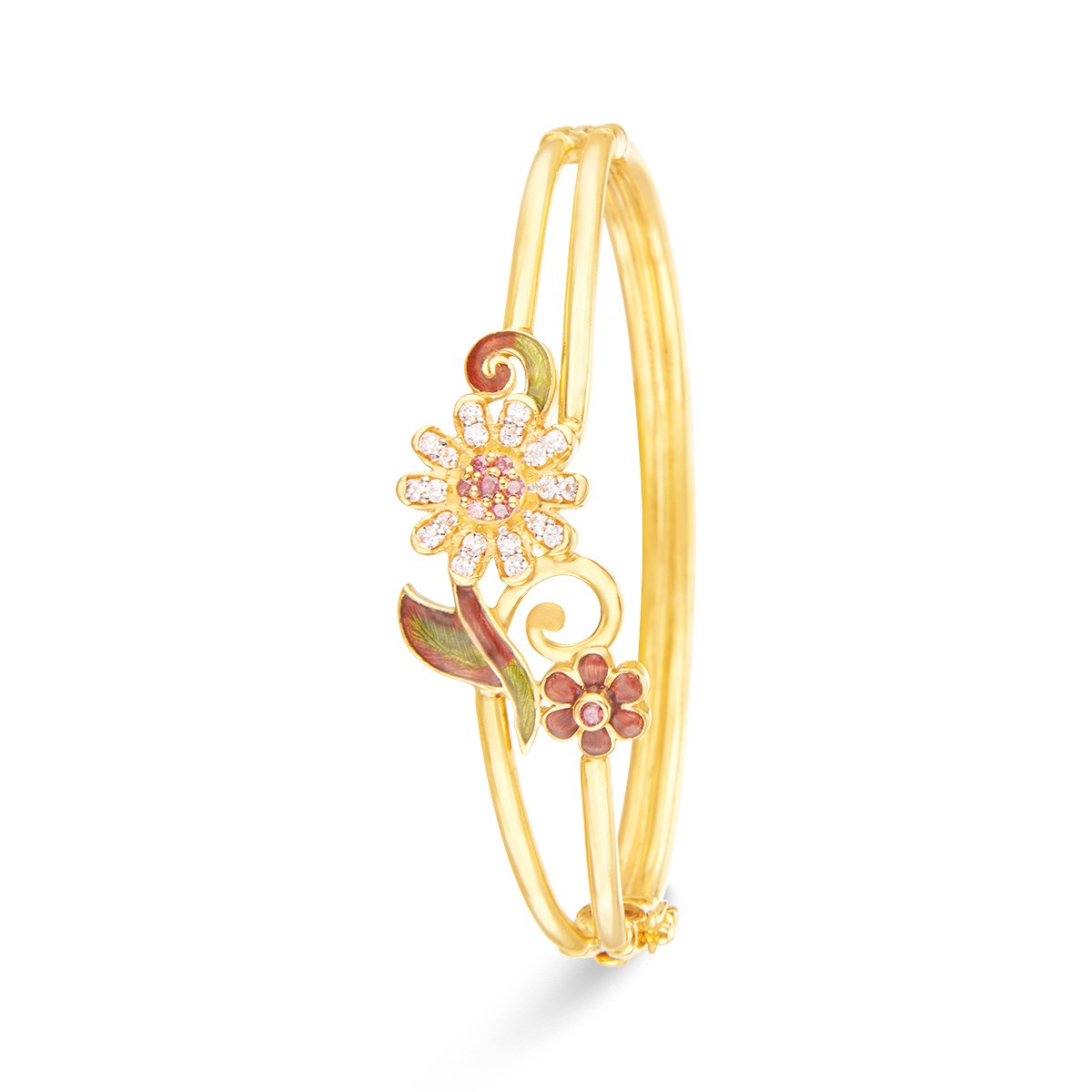 With this simple party wear bangle, you can show off your own personality as you want. One look at this adjustable bangle and anyone can have a glimpse of the unique and sophisticated style that you have.
24) Gold Rhodium Plated Festive Wear Bangle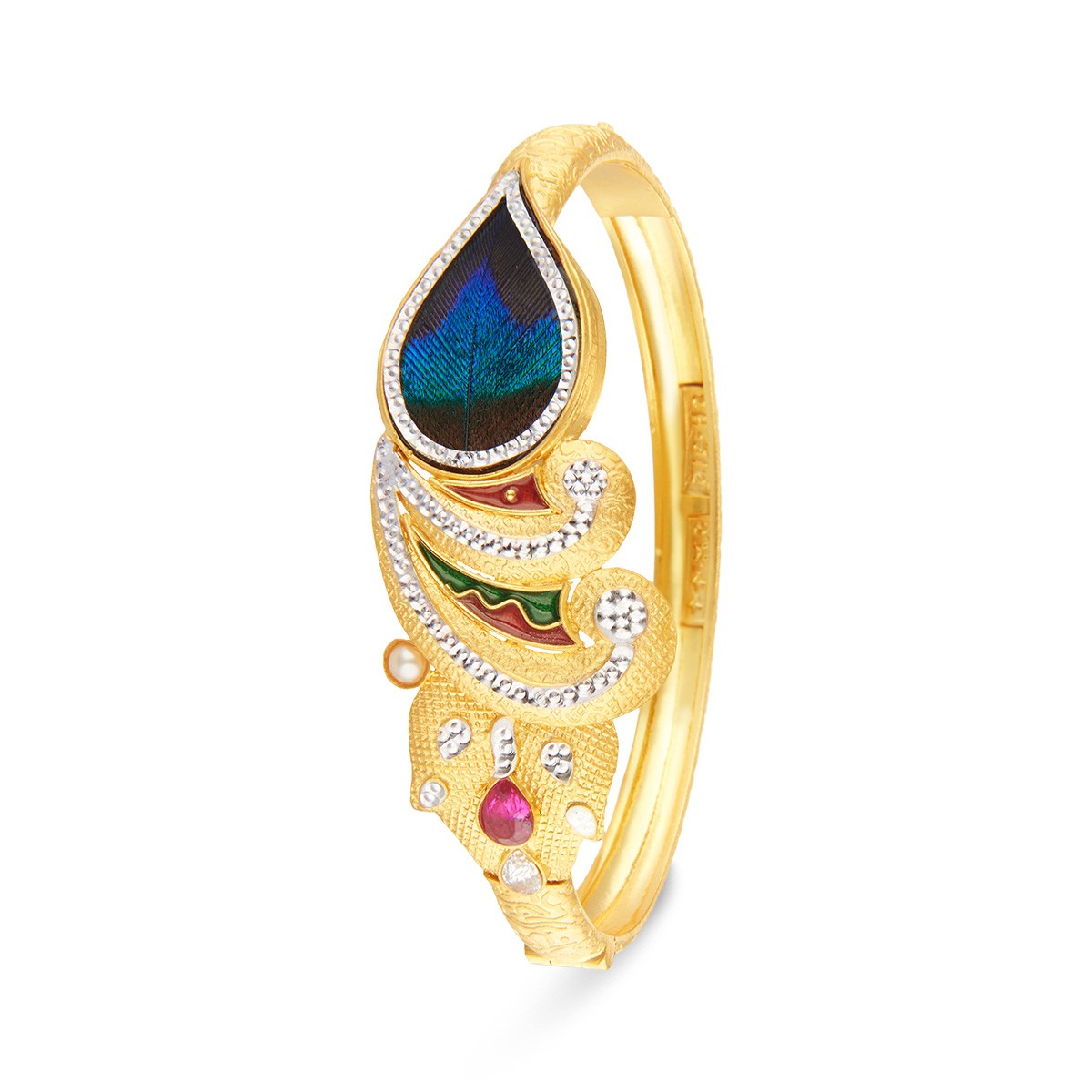 Gold rhodium plated bangles add glamour and elegance to your festive wear. The main advantage of having it electroplated in rhodium is more on making it sturdier and scratch resistant.
Make sure that you buy your favorite design from a reliable store. Look for the authentic gold pieces to be sure that you get good quality jewelry. In case if you like to shop the designs featured on this article, then please find the complete contact details of the brand below.
Seller Name : Thangamayil Jewellery Ltd.,
Address: 124, NethajiRoad, Madurai.
Contact No : 1800 123 0505
Email :ca**@th*********.com
Website : www.thangamayil.com
Also Read: