If you love jewelry, you can't possibly go wrong purchasing a pair of gold earrings. They are timeless pieces which can make you look stylish and hold some sentimental value, as well. A great pair of gold earrings is perfect for any and all occasions, as well as any outfit in your closet.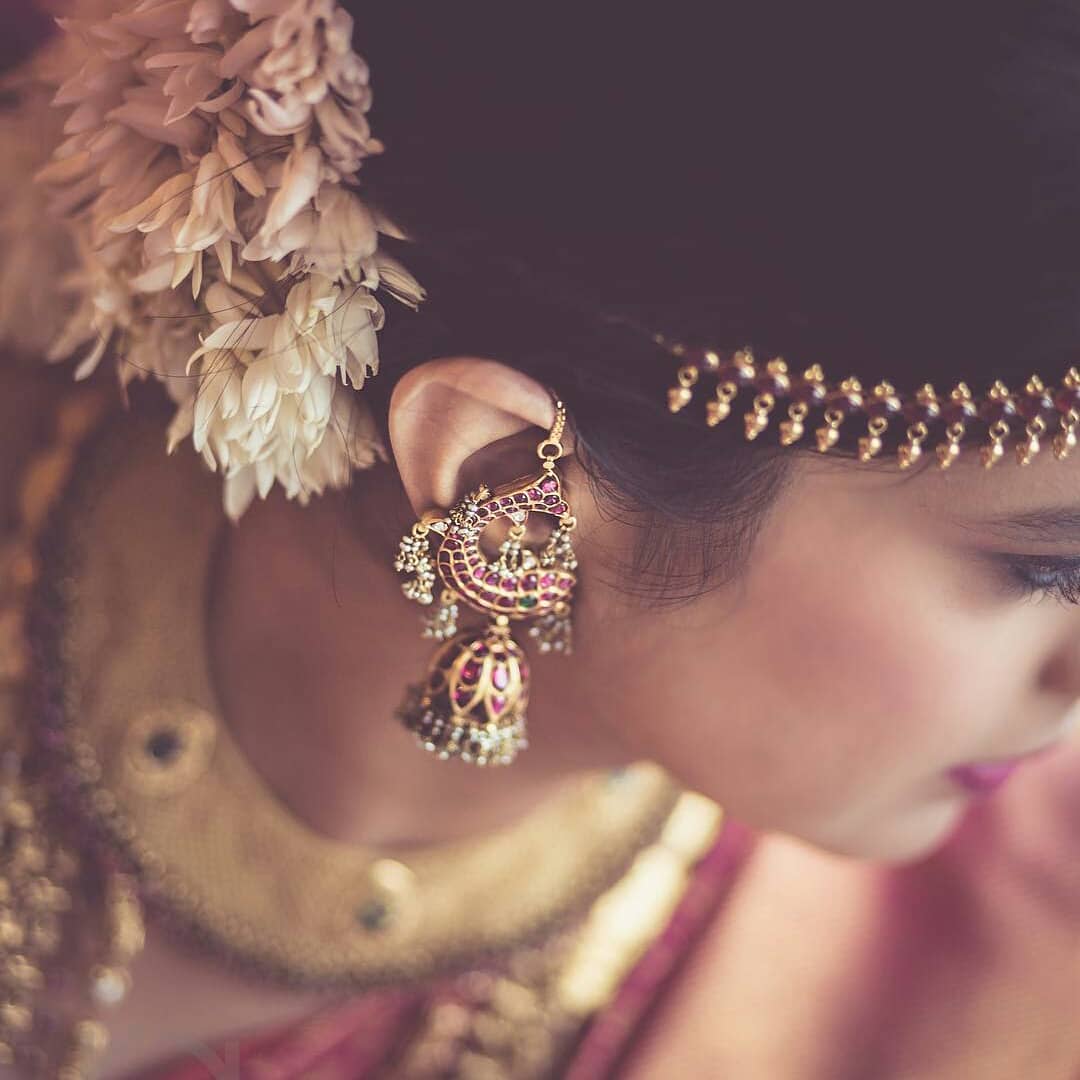 Trendy Stone Earrings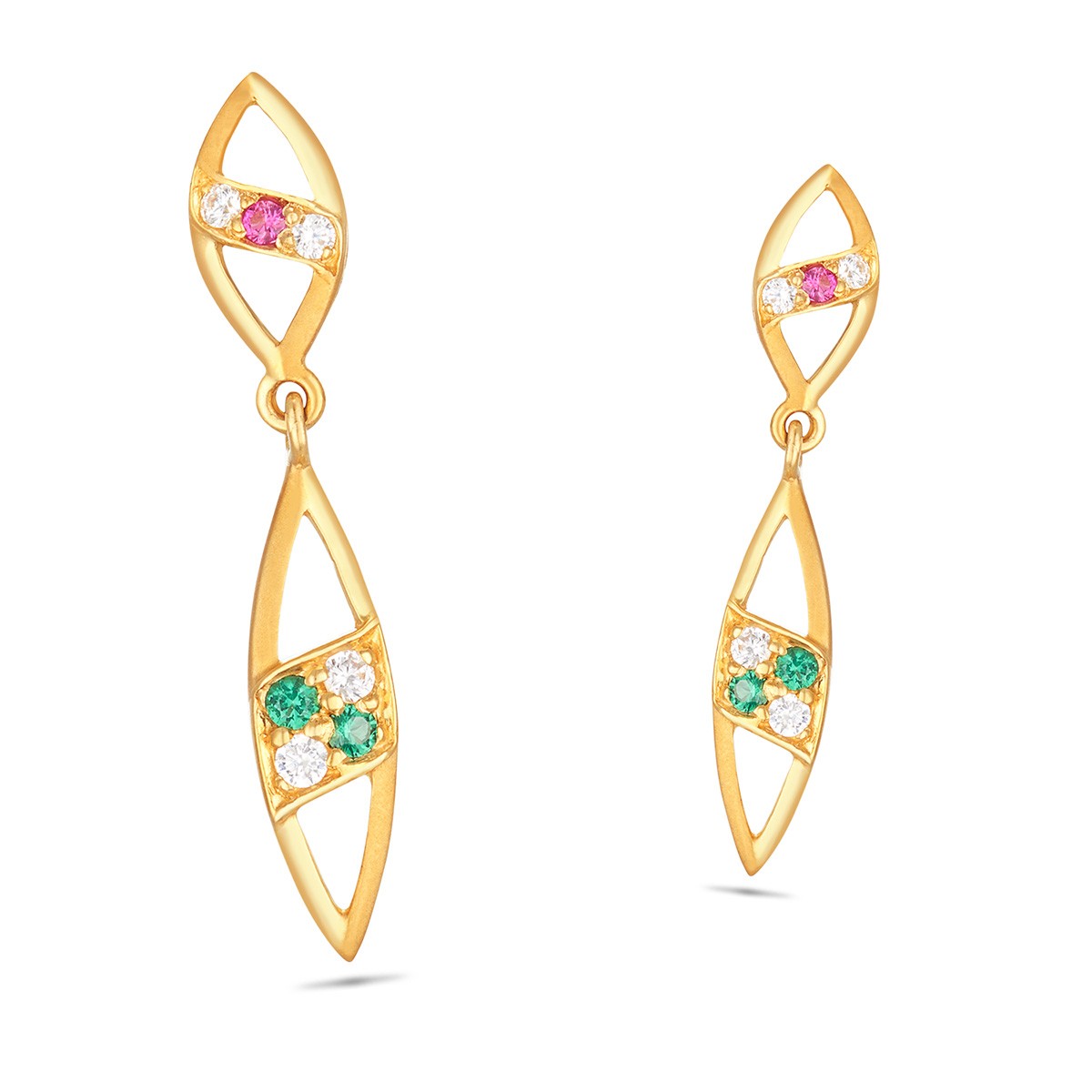 If you really want to sparkle, you can choose a pair of these trendy stone earrings, which are quite fashionable at the minute.
Fancy Gold Earrings In 4 Grams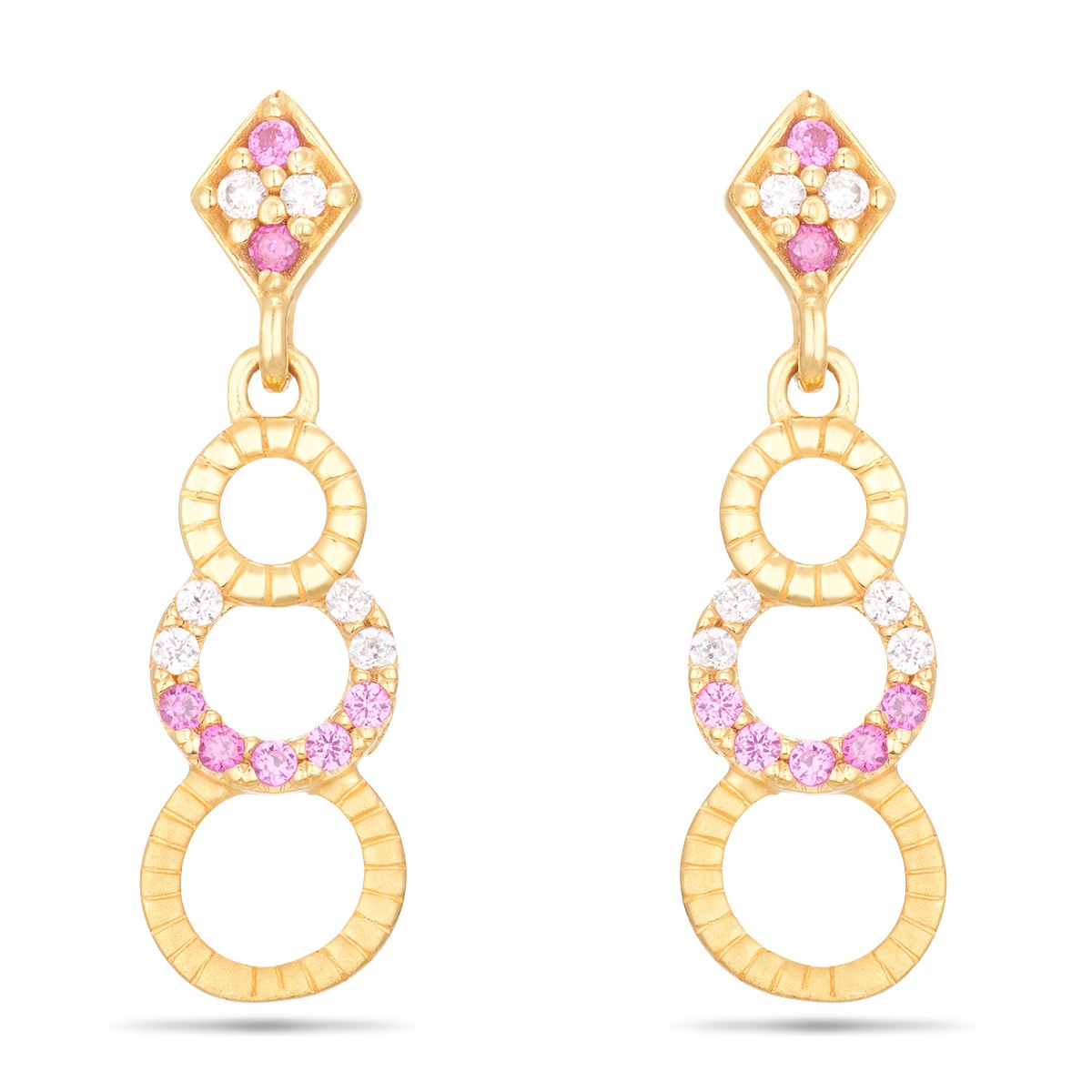 Gold drop earrings are one of the best options if you want earrings that are elegant which people will notice. These come in many lengths and styles and can also be studded with diamonds or other gemstones.
Peacock Enamel Earrings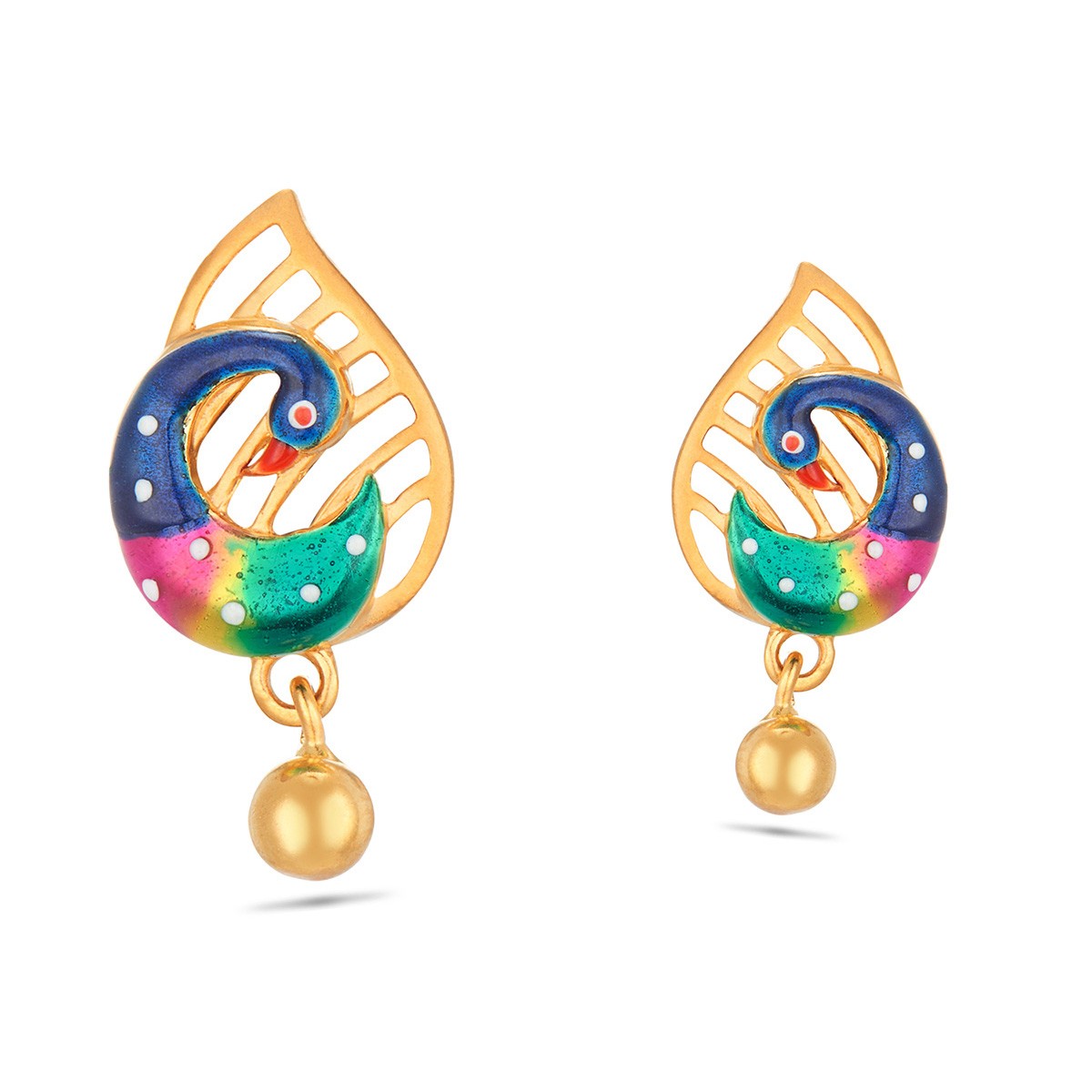 If you are looking for colors in your earrings, then peacock enamel earrings will work the best for you. You can find them in a variety of color combination for some added beauty and style.
Light-Weight Ear Stud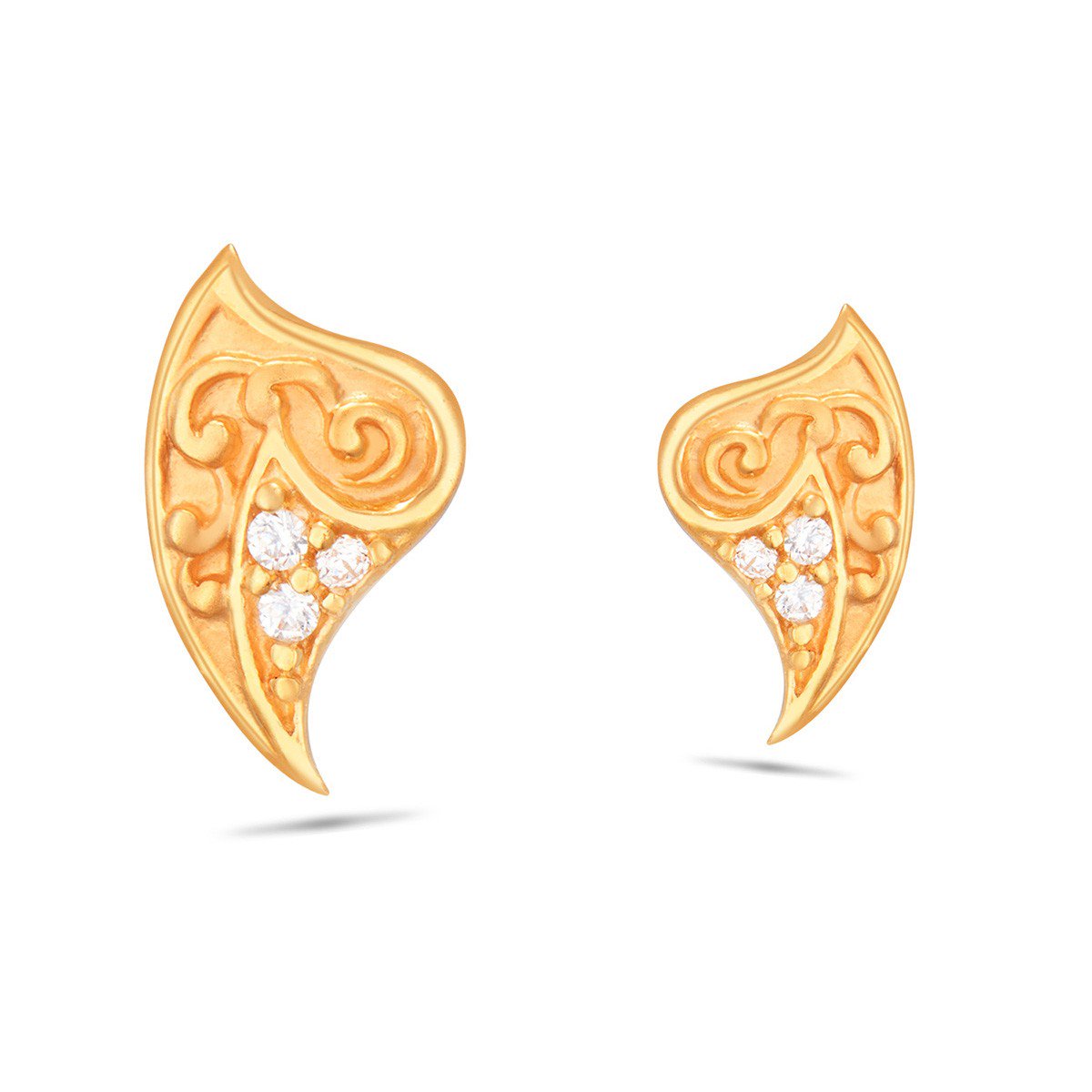 Consider buying a pair of gold studs for an elegant everyday look. These are tiny and light-weight earrings that make a low key style statement. Most ladies have more than one pair of gold studs in their jewelry box.
Fancy Drop Earrings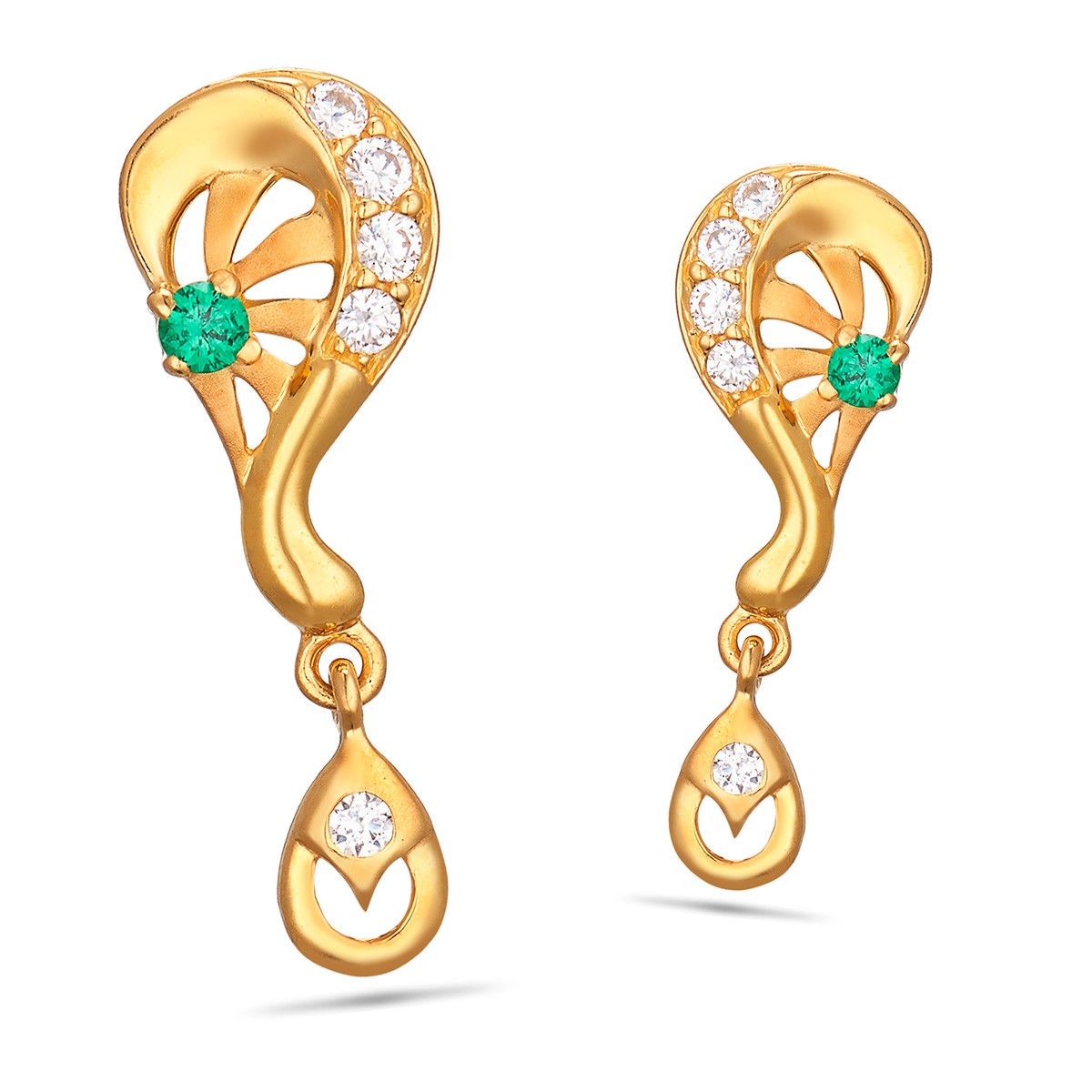 Drop style earrings are an incredible piece of jewelry to wear with almost any outfit from casual to dressy. The tear drop shape hanging from the base adds to the beauty of the earrings.
Simple Ruby Emerald Earrings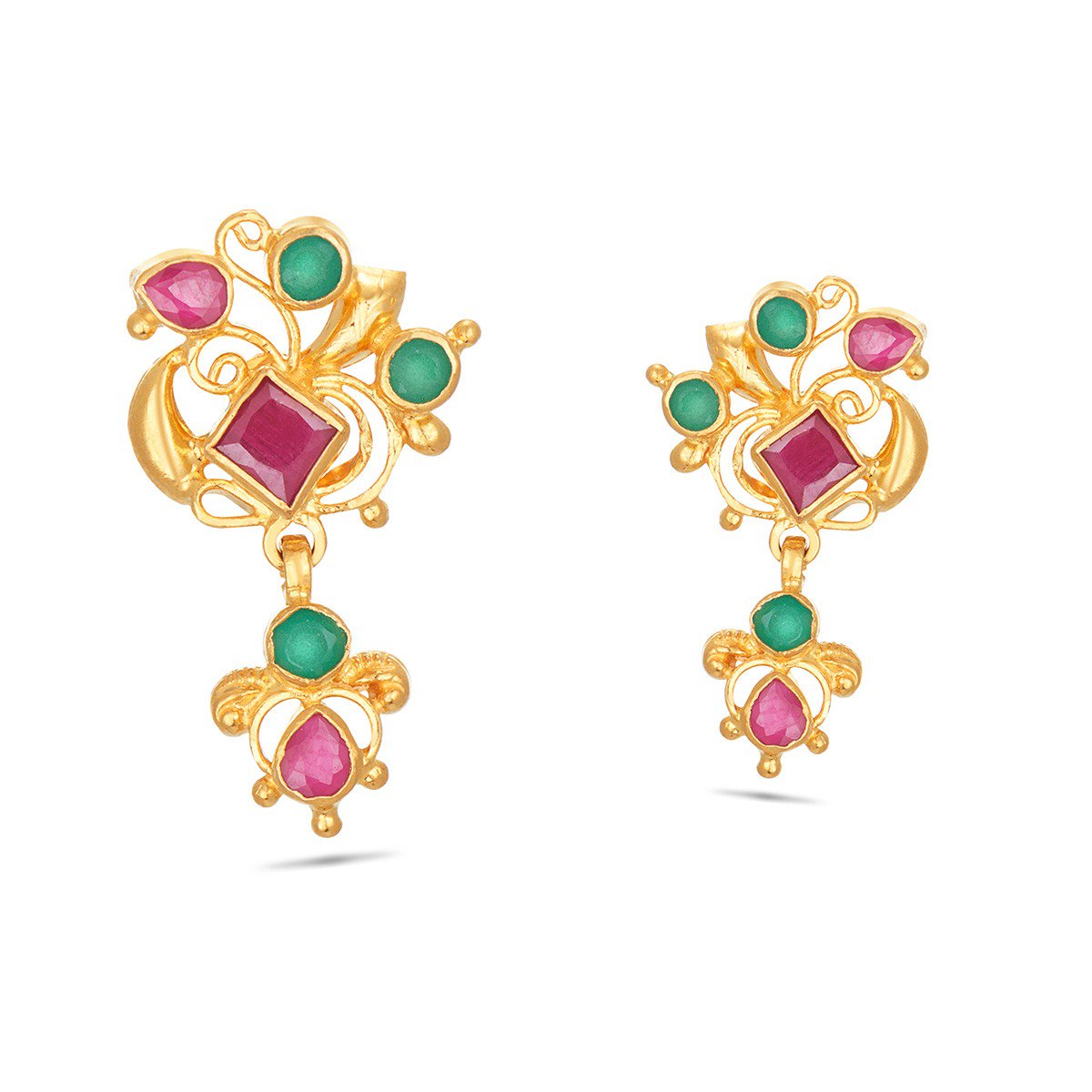 Earrings with elaborate design are appropriate for special events. These jewelry pieces can make you stand out from the crowd without having to try too hard.
Stylish Artin Drops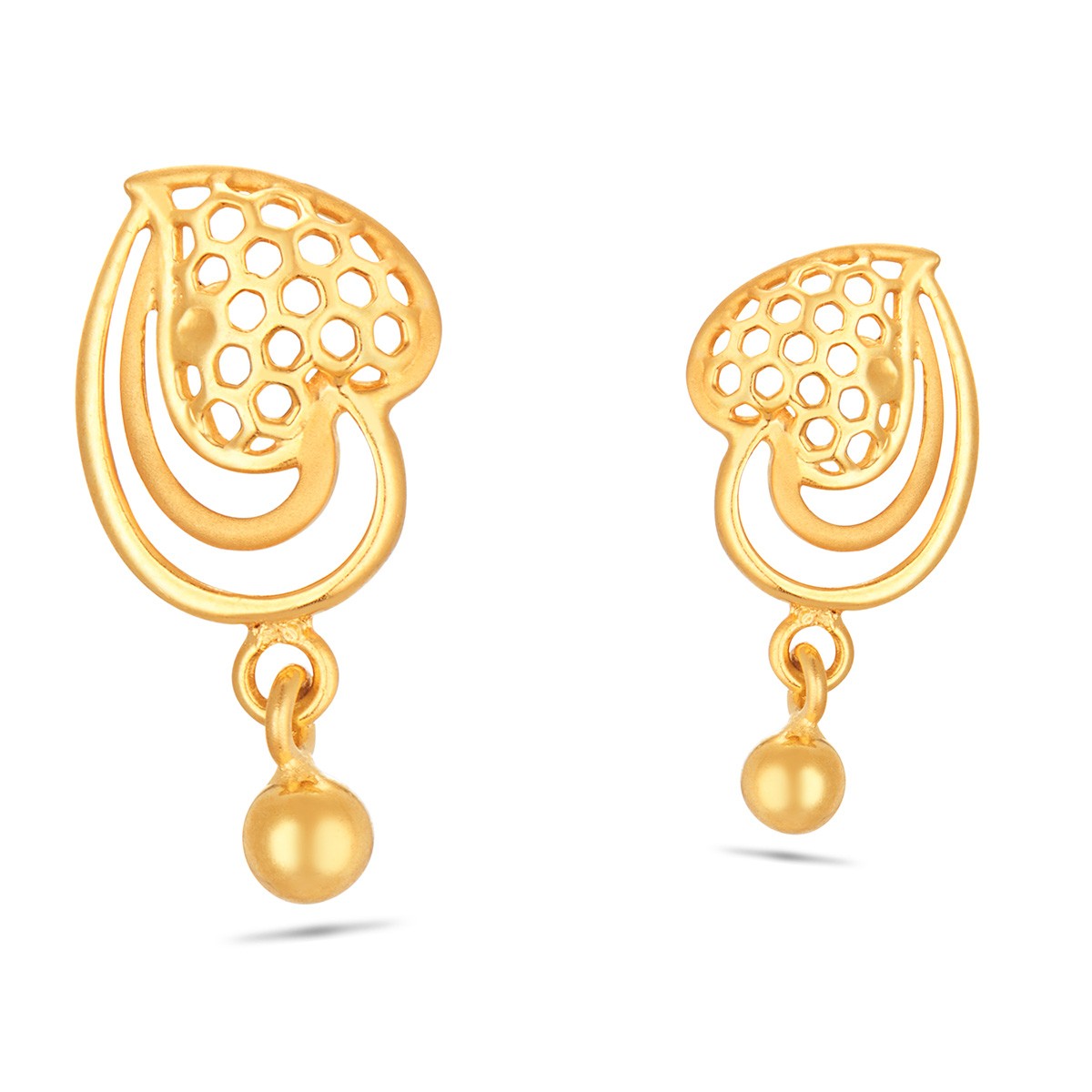 These stylish earrings can be worn on all sorts of occasions, match any outfit and suit all face shapes, skin tones, and hairstyles.
Designer Floral Drops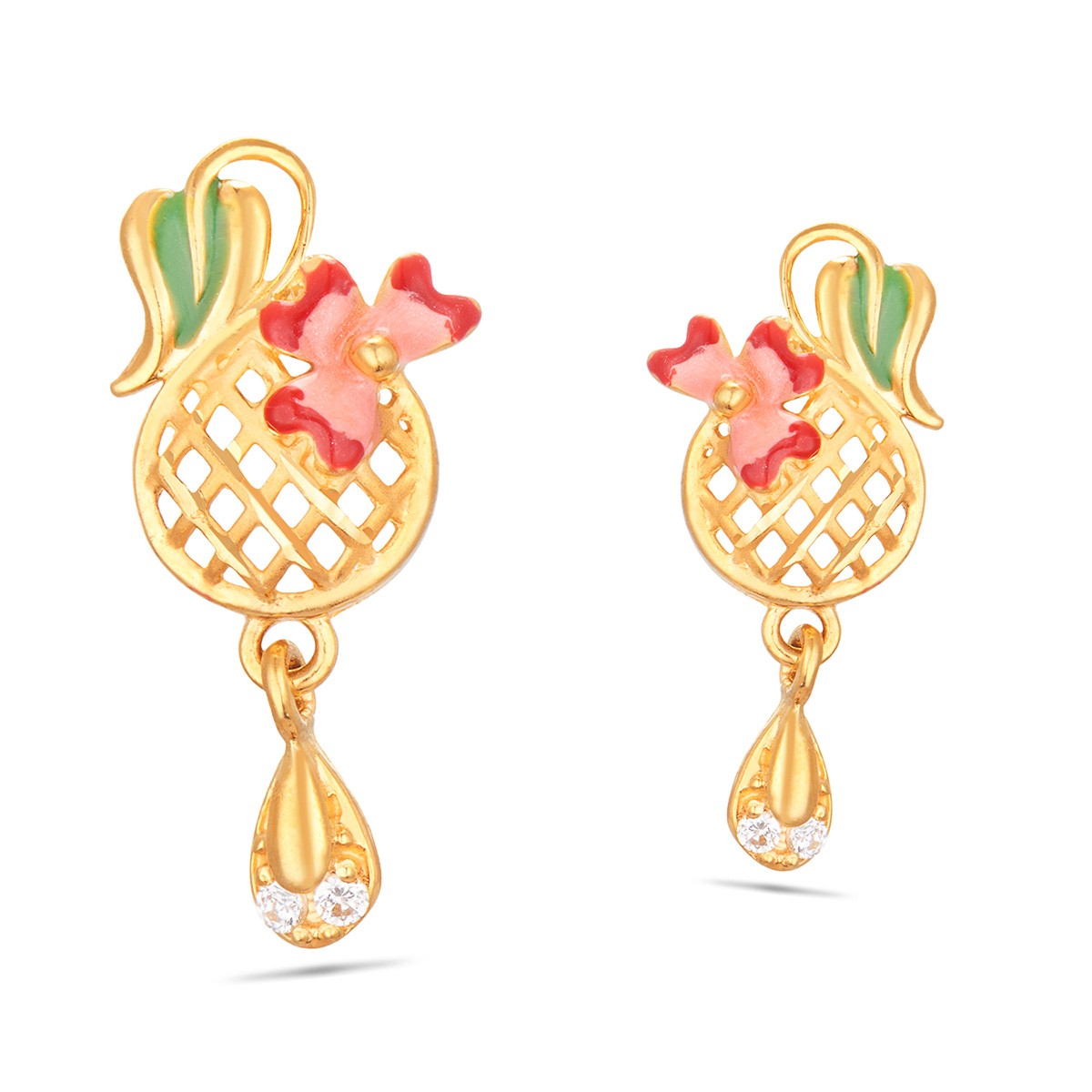 There is one type of earring style in particular that never seems to go out of fashion: floral drop earrings. And it is no surprise as these earrings are a perpetual favorite, unanimously loved because they are such an attractive accessory.
Matt Finish Double Heart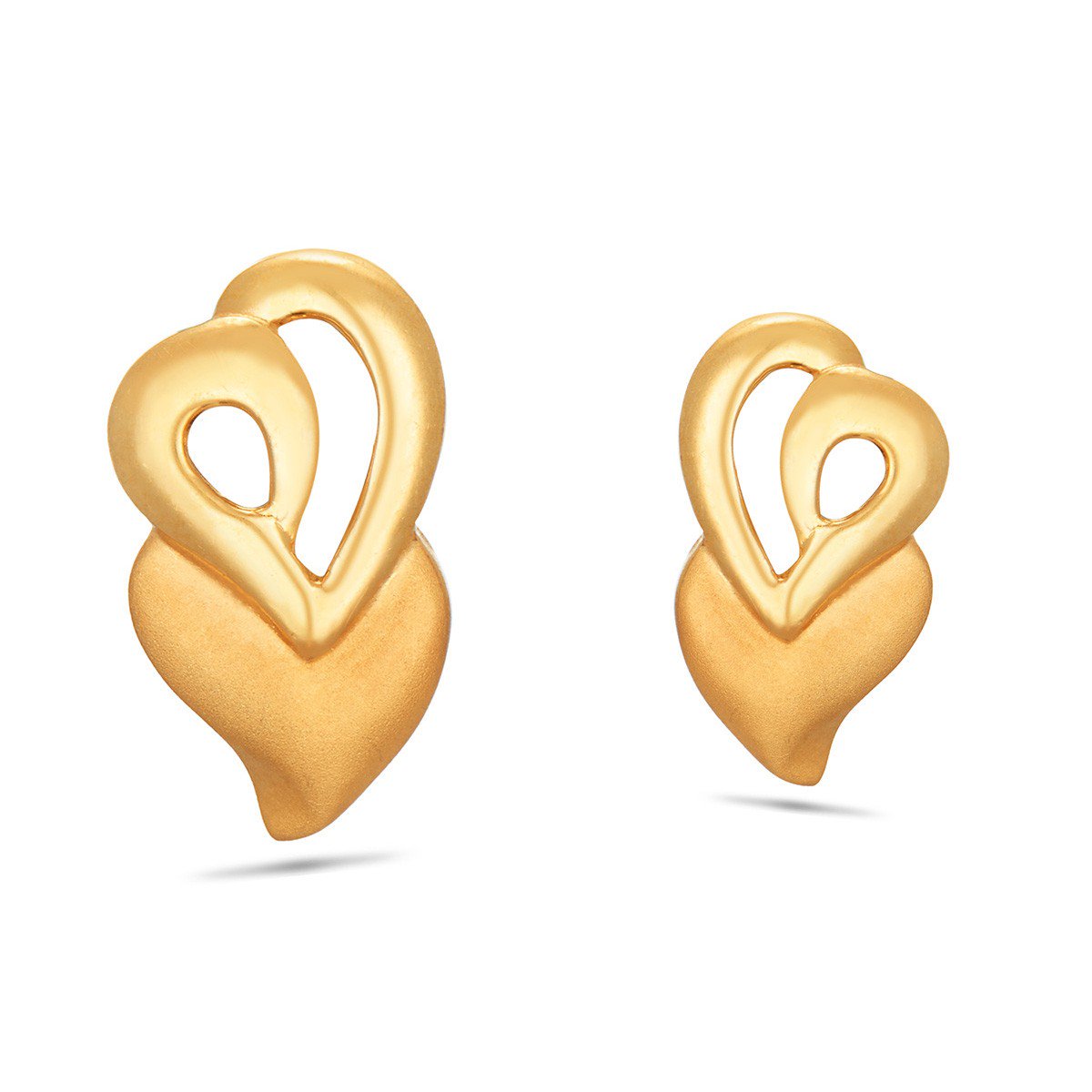 Step your style up a notch and buy these matt finish double heart earrings and you now have yourself something beautiful that you can wear with jeans or even a formal gown.
Fancy Floral Stud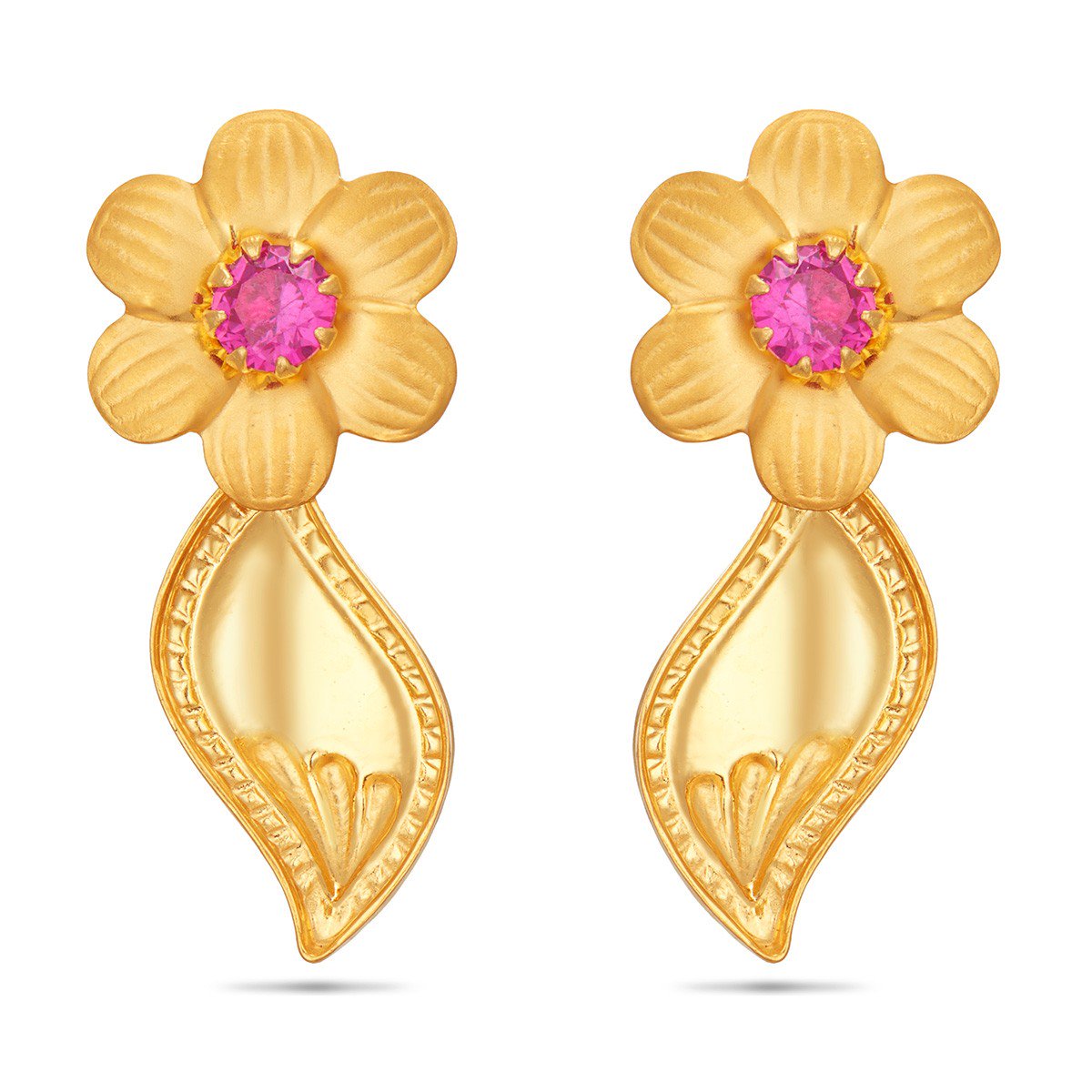 When you want to look stylish, these fancy floral stud earrings are a perfect choice. Possessing the dazzling charm and alluring beauty, these earrings are a woman's best friend for any special event.
Cute Butterfly Drops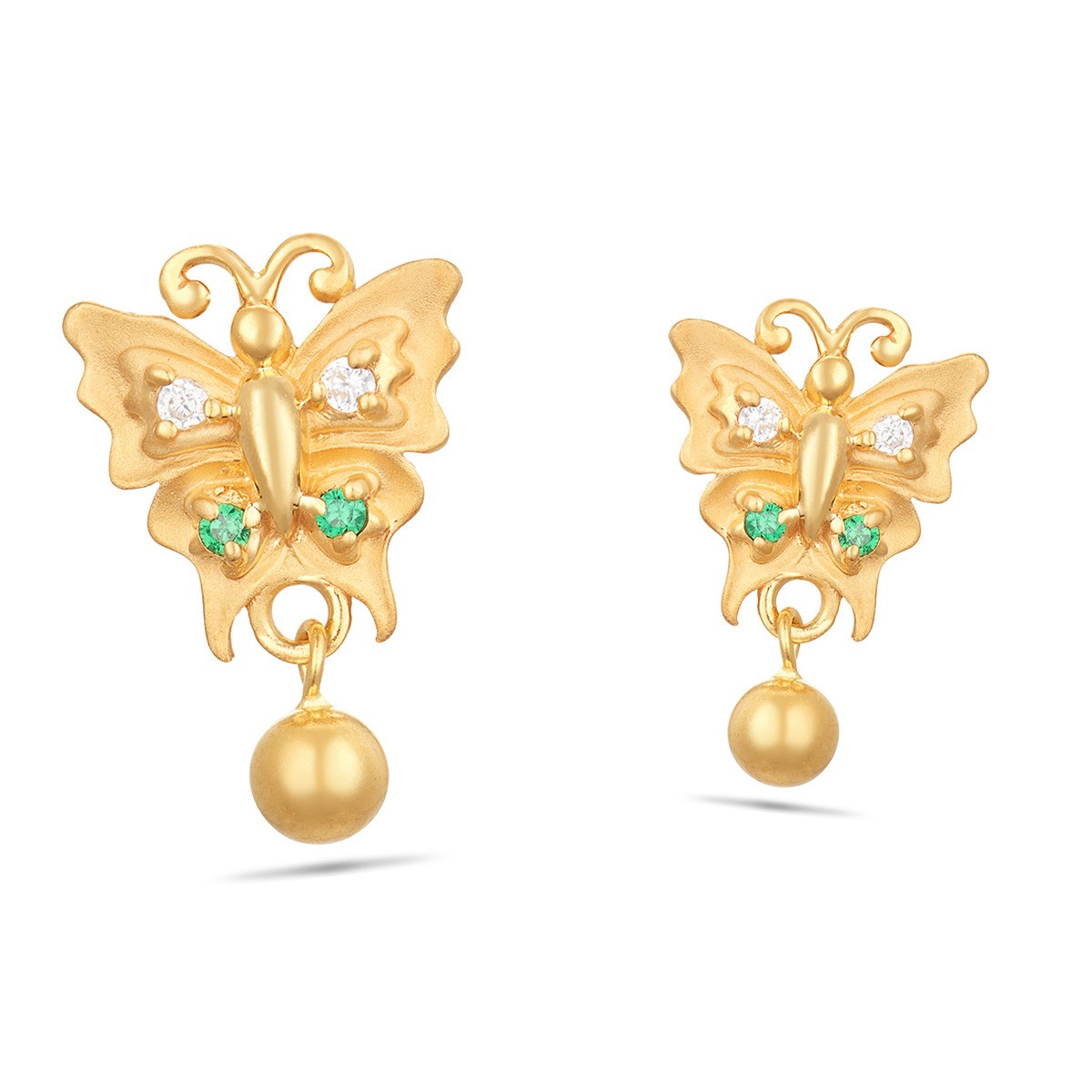 Probably one of the most unique earrings designs, these cute butterfly drop earrings will give you that subtle yet sparkling look that is paired pretty much with anything, anywhere and anytime.
Classic White Stone Stud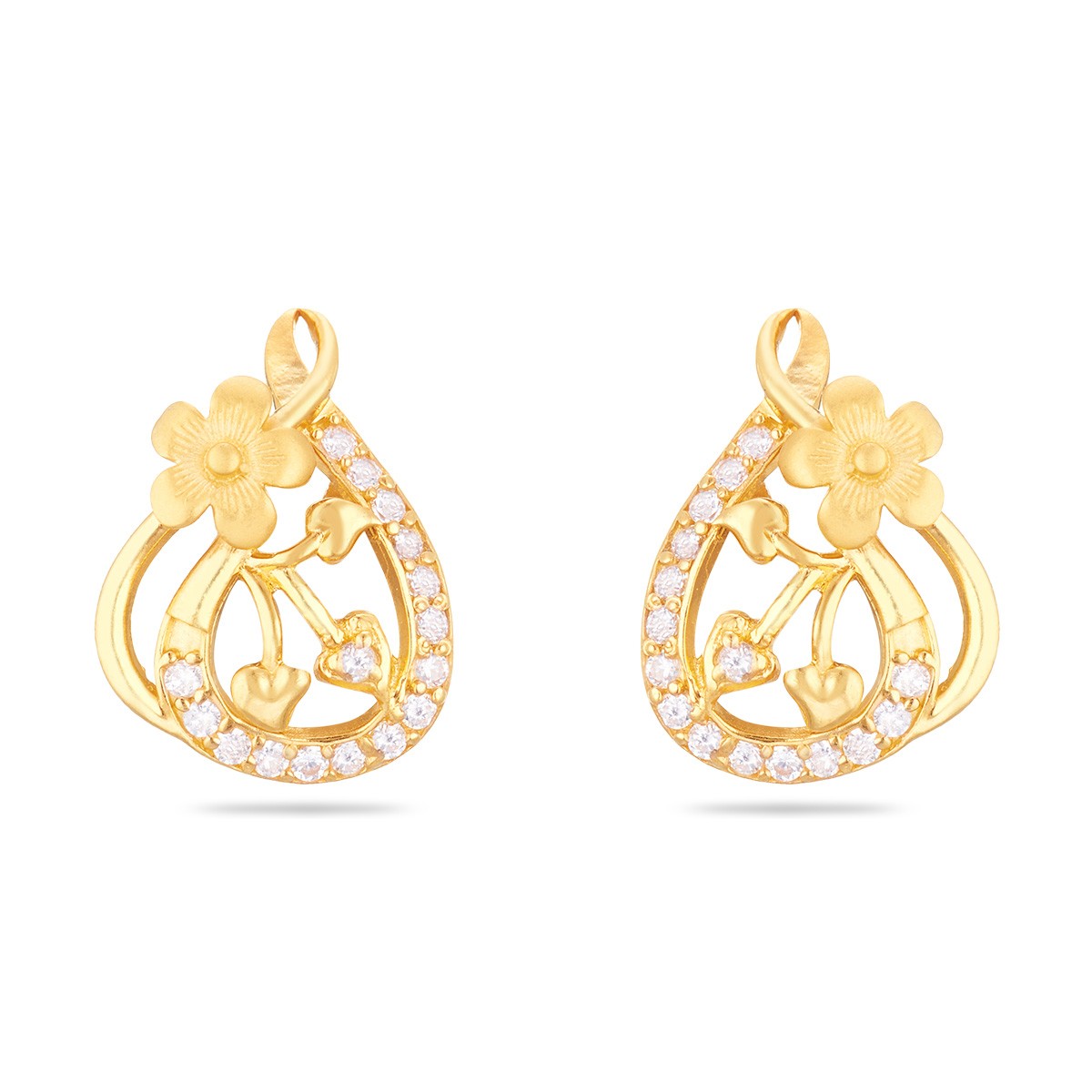 Looking for a stylish and classy look to wear to a formal event? Look no further than these always popular classic gold stone stud earrings.
Modern Stone Drops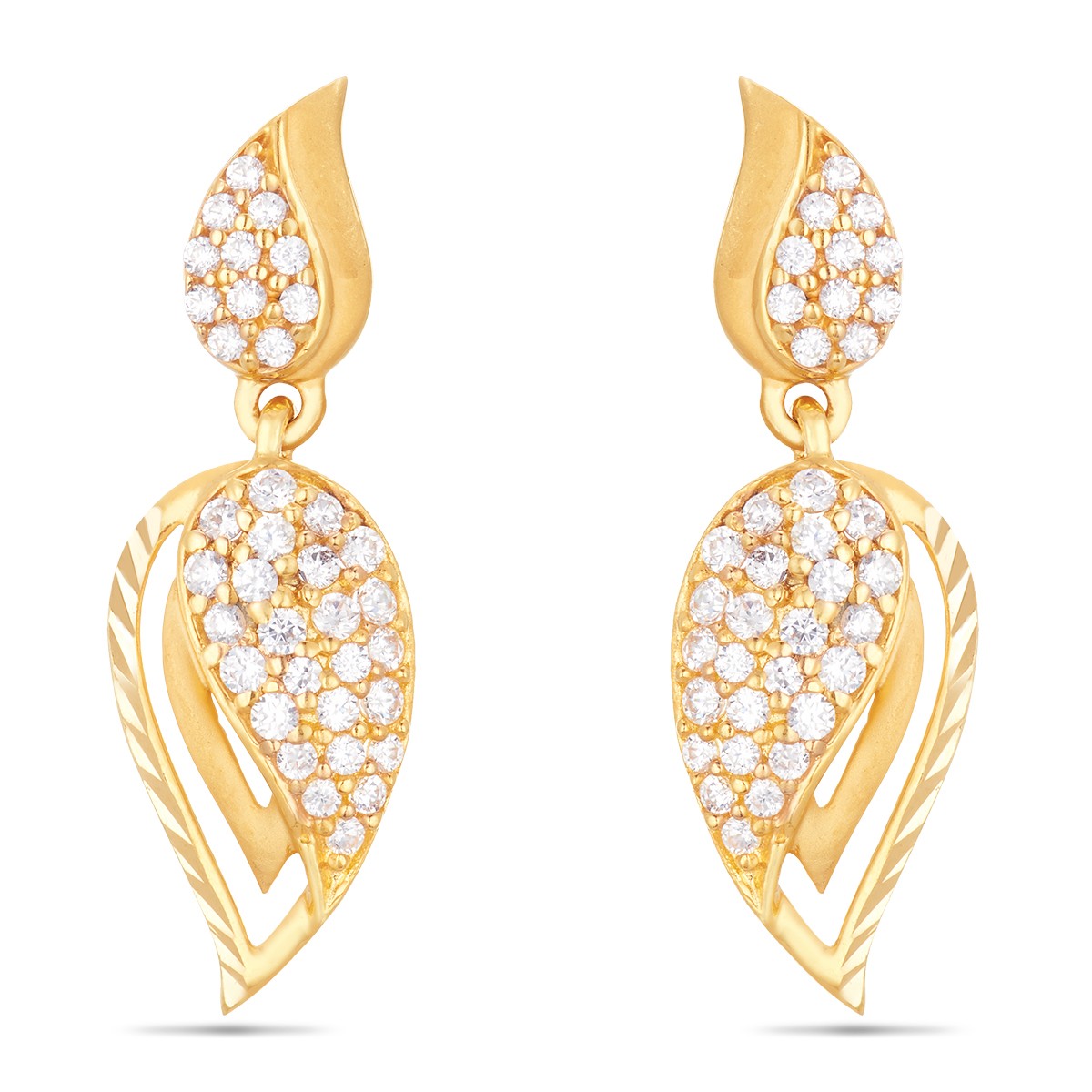 A fantastic and exciting pair of earrings to add to your jewelry box is a pair of modern stone drop earrings. The sparkling beauty of these earrings is stunning.
Matt Finish Floral Earrings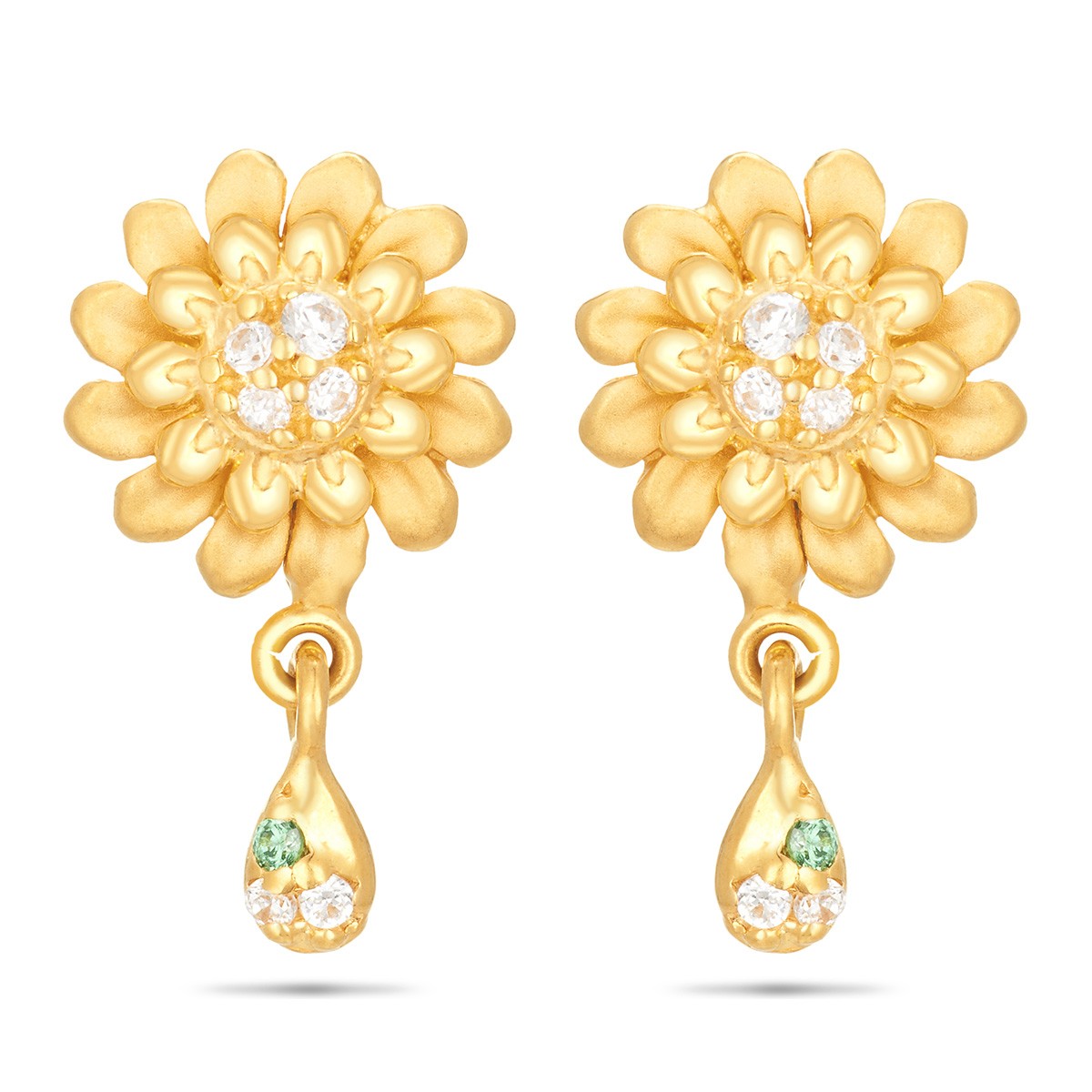 Nature is blossoming on the ears, as floral continue to be an extensively popular theme for drop earrings. Not only are they feminine, but they also add a stunning delicate touch to your look, and reiterate your elegant look.
Colorful Peacock Earrings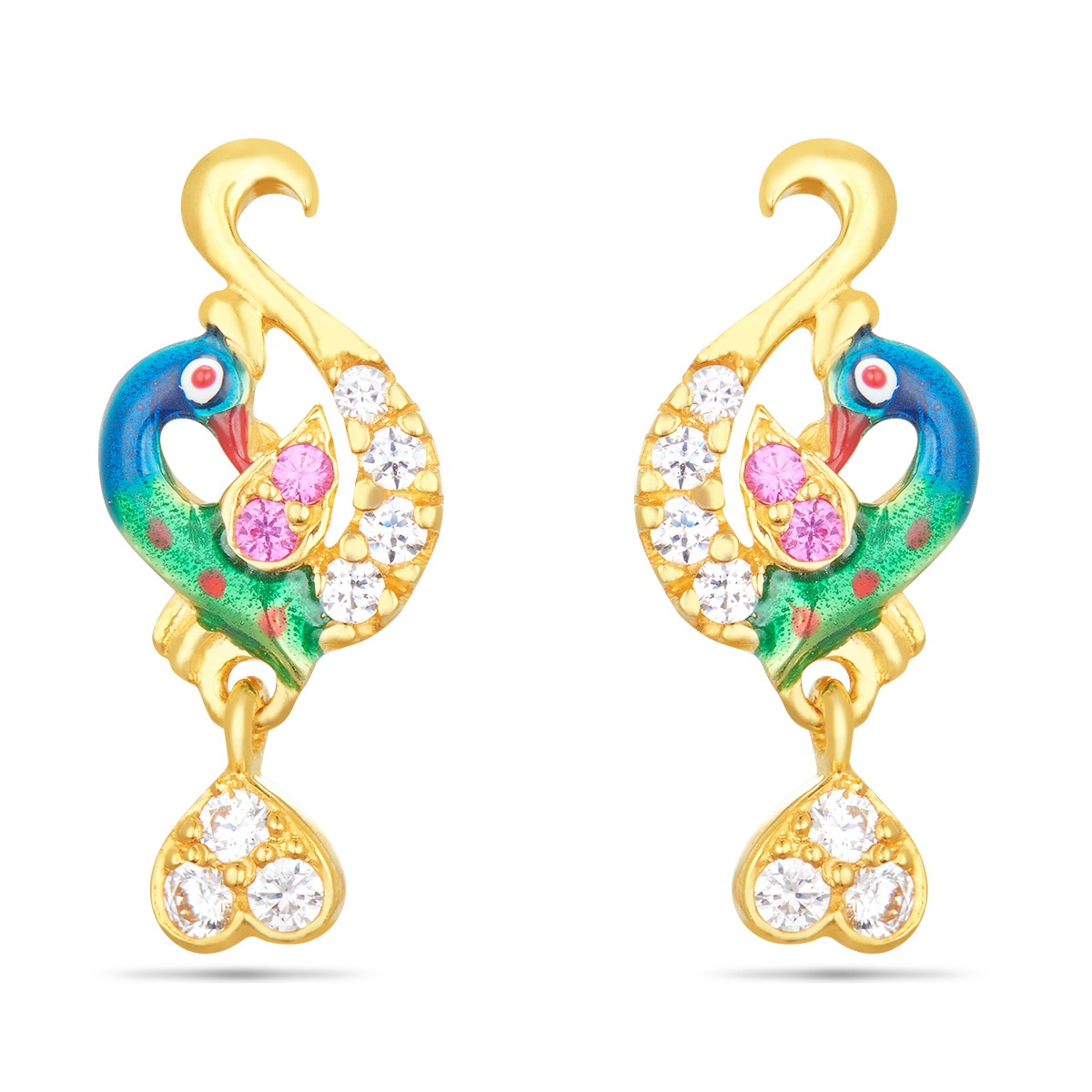 Have you ever thought about wearing colorful earrings? Its exquisiteness is something to behold. Add a splash of color to your entire look and create a unique style statement without breaking the bank.
Green Enamel Earring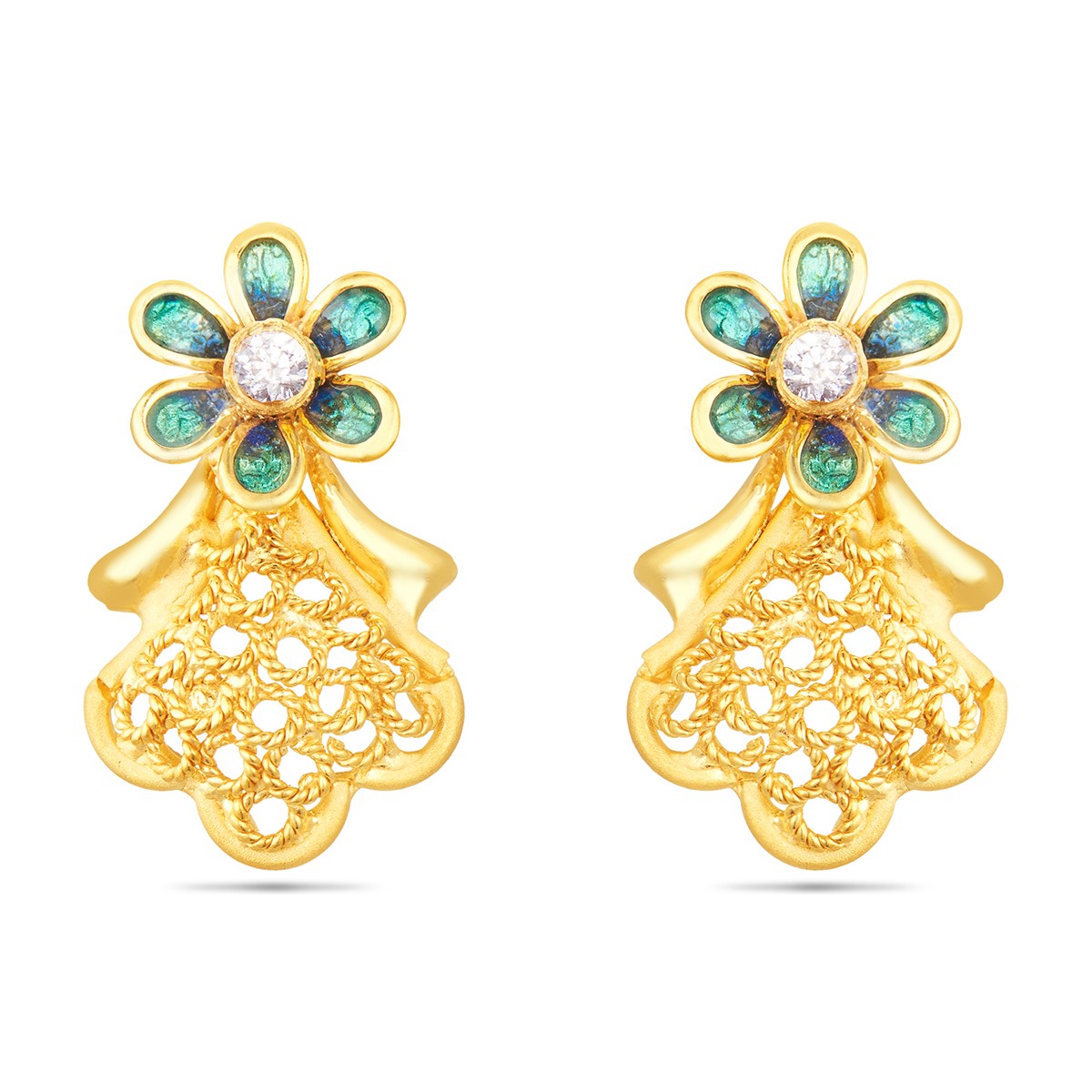 Anytime you decide to wear gold earrings make sure they are highlighted with vibrant colors or some other precious stone. These green enamel earrings will instantly make you look like a star.
Evergreen Pearl Stud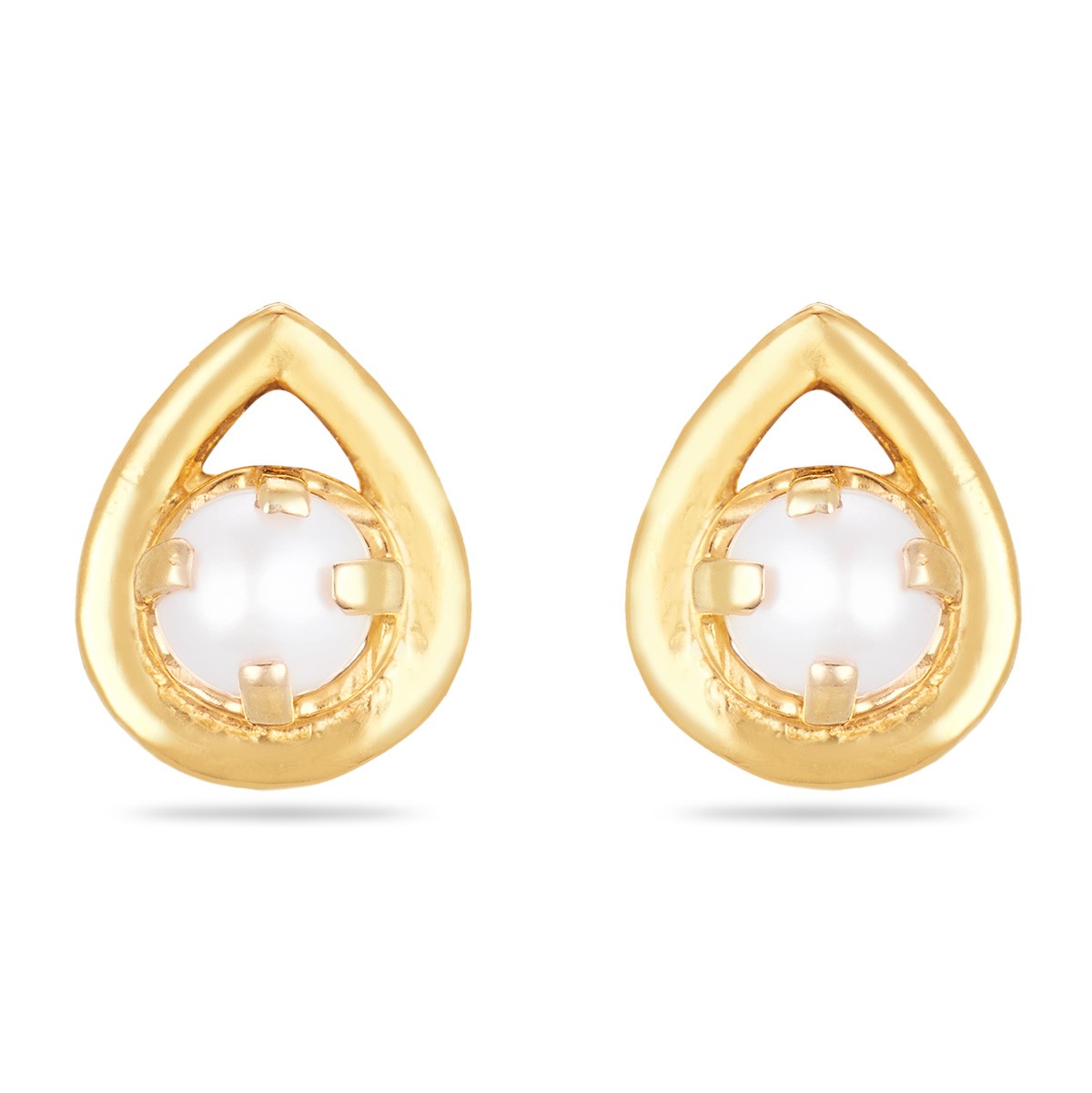 A classic example of fascinating jewelry is pearl stud earrings. Treasured for their sophistication and attention-grabbing look, pearl earrings are massively popular. In this design, the pearl stands alone to draw attention to the jewelry piece.
Plain Jhumka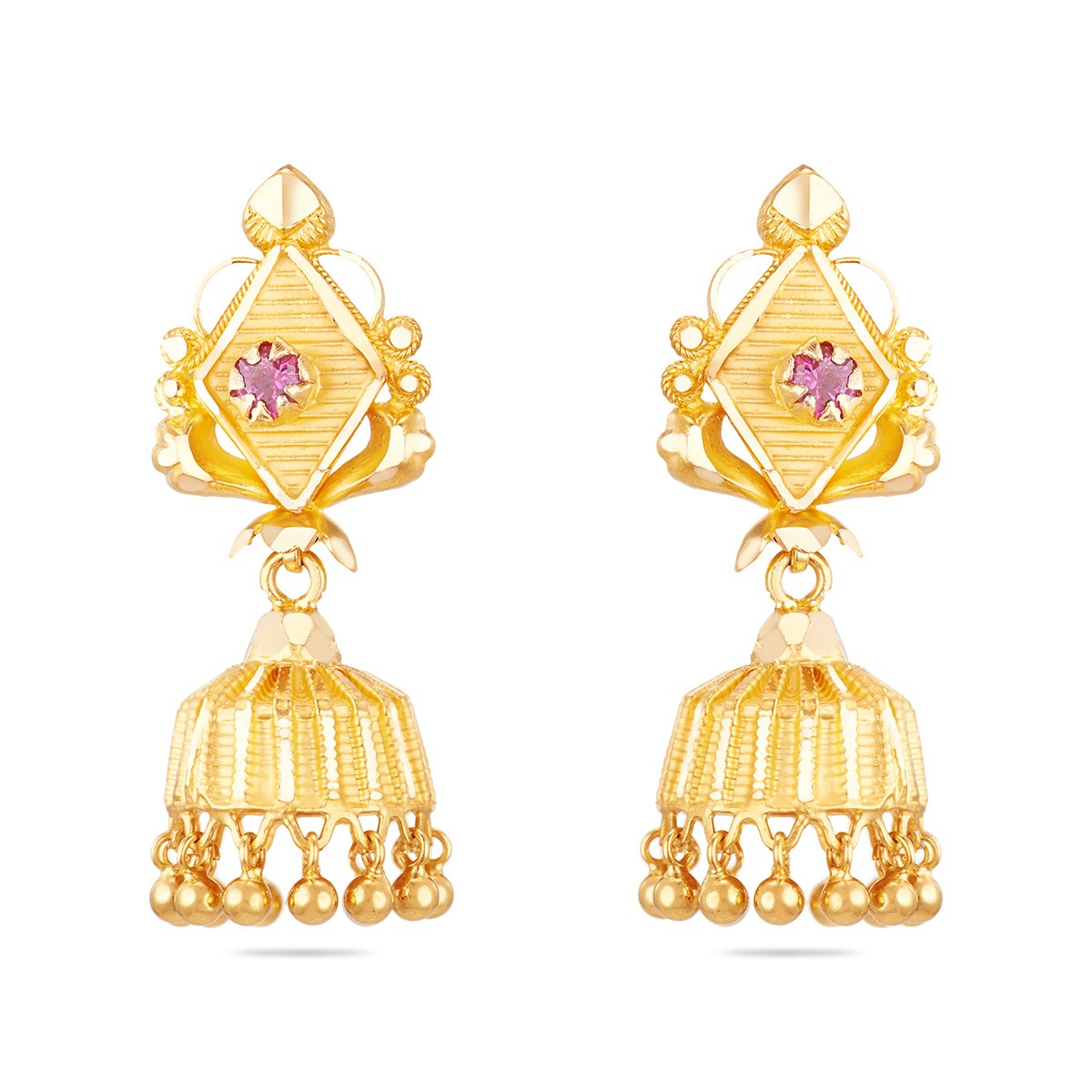 Fashion Stylists will tell you that jhumkas are the perfect earrings that will complement your face no matter its shape. They are available in sizes ranging from small to multi-tiered.
Regular Use Stone Earrings
Regular stone earrings are a fine style that not only looks stylish but is also so easy to wear on a daily basis. With these earrings, you will be able to go to any event without having to change your earrings.
Mango Earring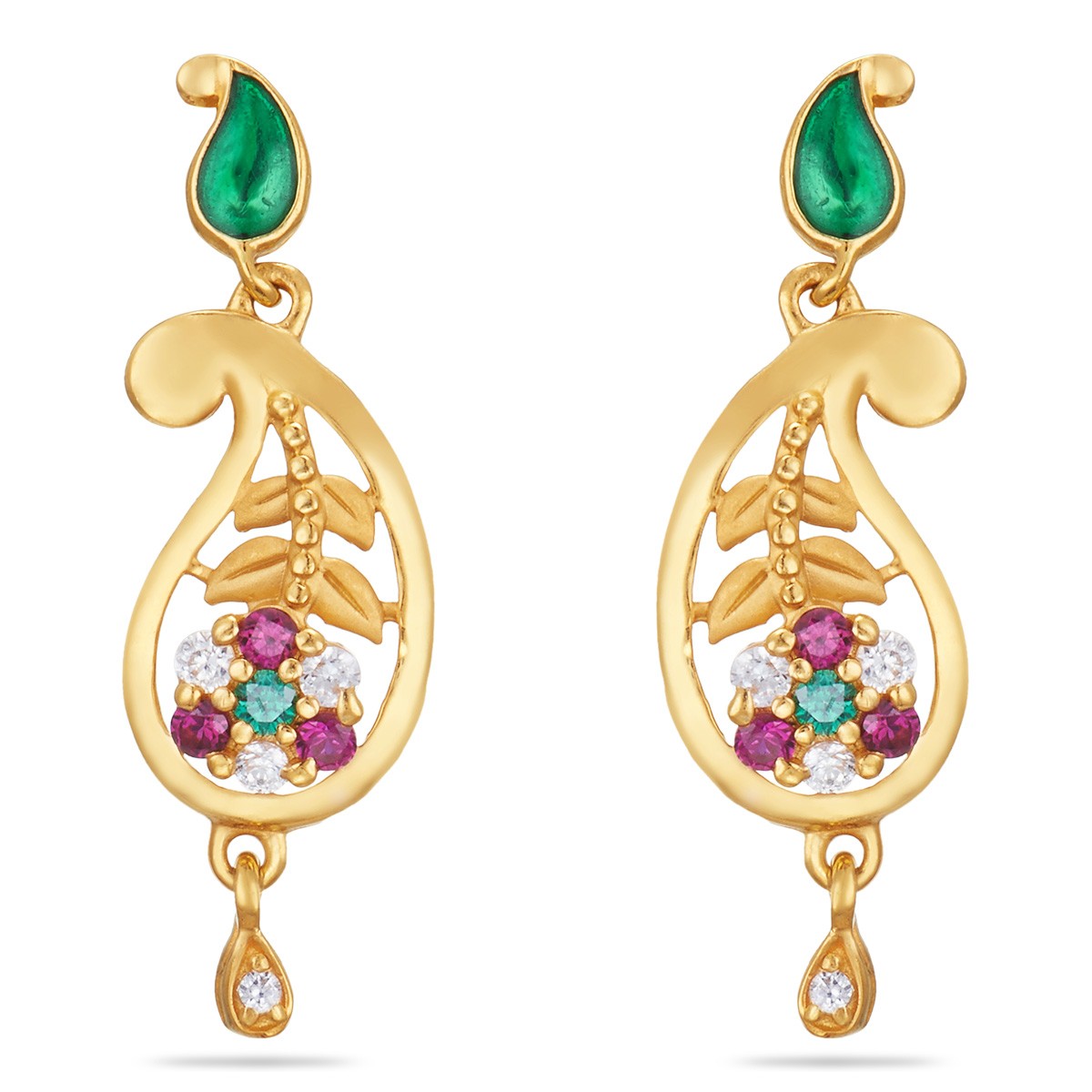 Usually, with this mango earrings style, you will want to wear your hair up so that people will be able to see the intricate and attractive design you chose. Save these for special occasions.
Creative Flower Stud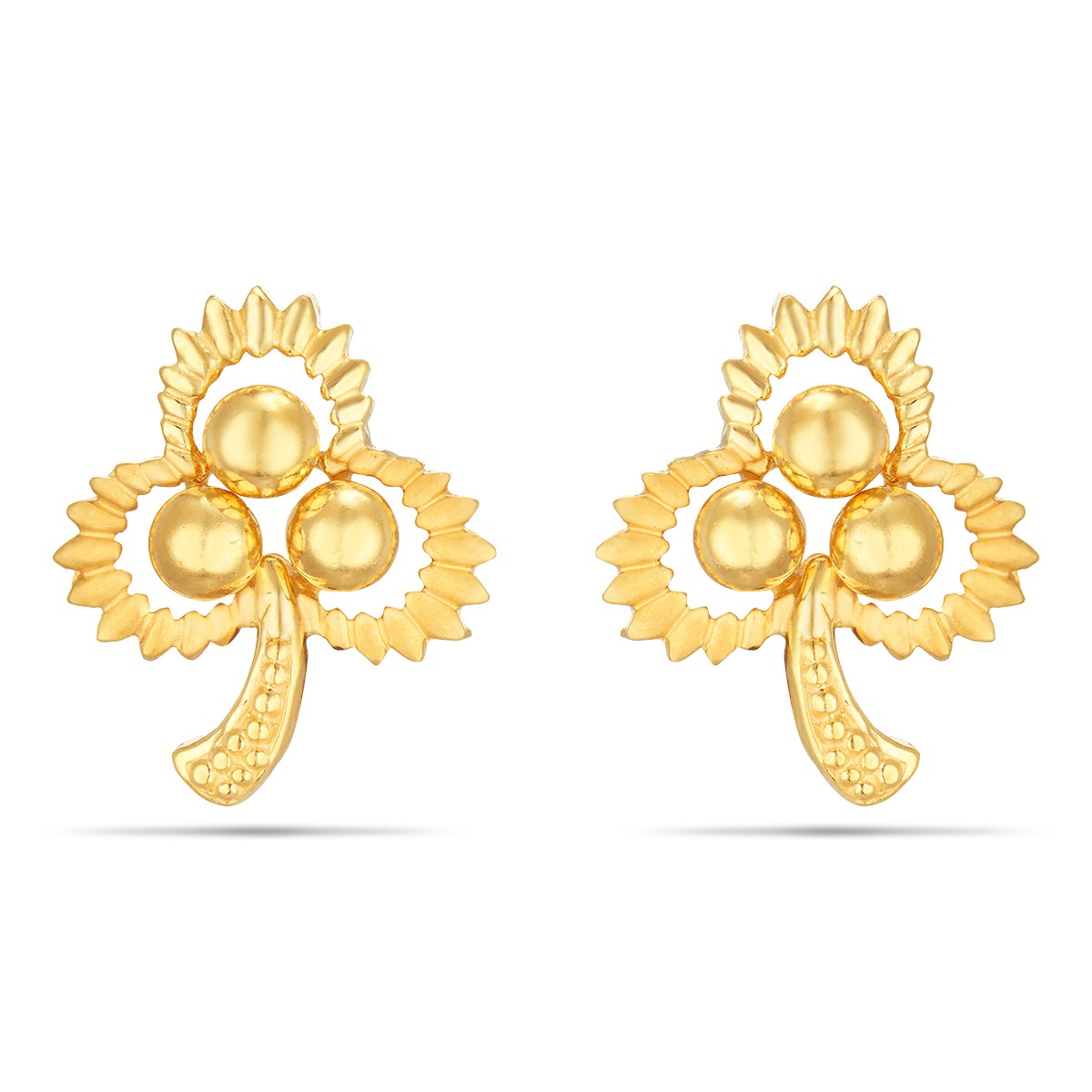 Creative flower stud earrings are increasing in popularity because they are so stylish and unique in design. If you plan on buying a gold earrings pair, the brilliance of this pair can't be beaten.
Daily Use Stone Stud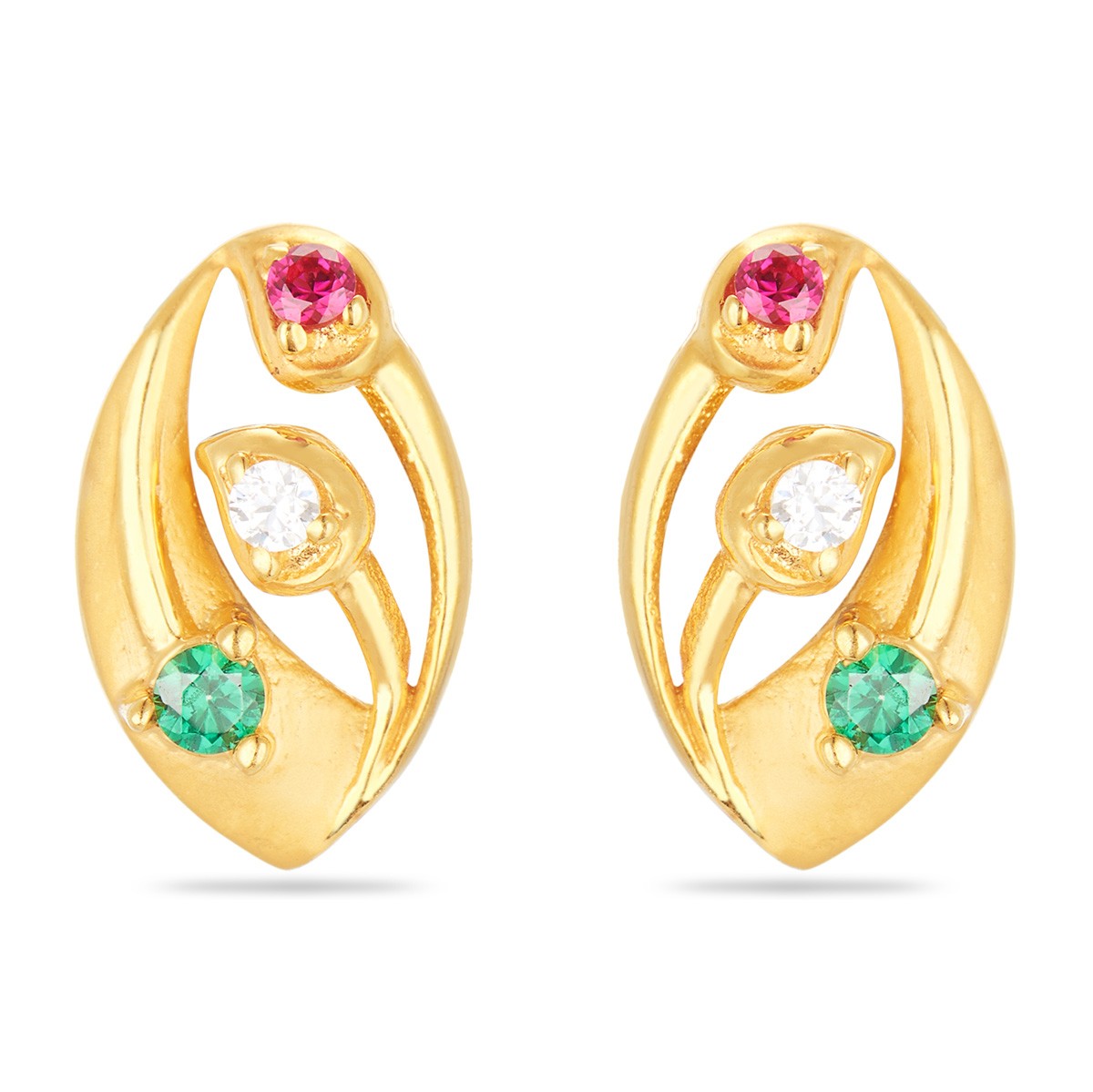 It's imperative to have certain pieces of earrings that you can consider staples – jewelry for daily-wear that goes well with almost anything in your closet. Of course, while choosing daily wear jewelry, you'll want to pick something you simply love and enables you to express your personal style.
Plain Daily Wear Drops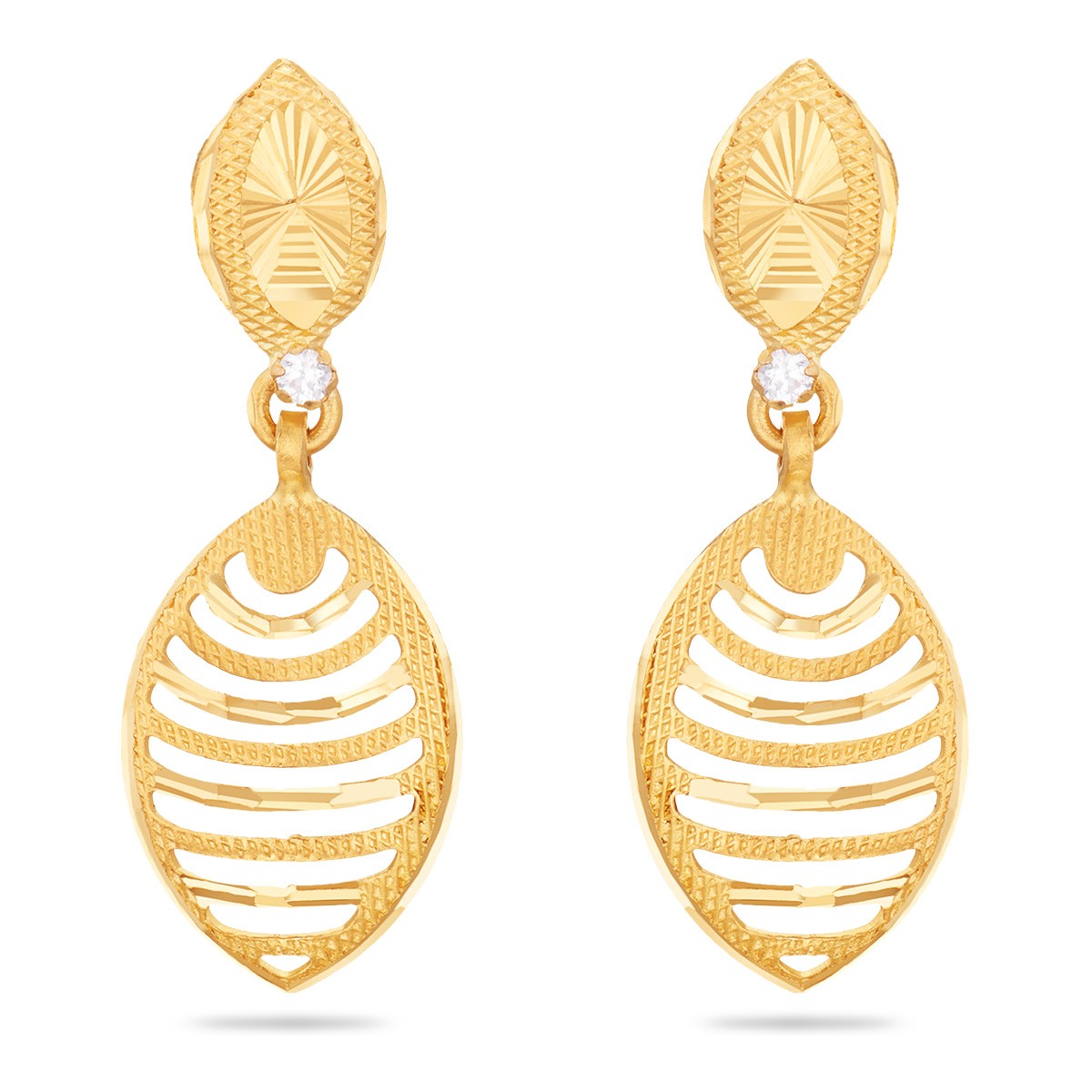 Drop earrings give a modern twist to a timeless look. For instance, consider these plain daily wear drops; they'll prove to be perfect for any outfit from work wear to evening wear. They are light as a feather and affordable– a perfect fit for daily wear.
You must consider your spending budget before shopping for gold earrings as there is no upper limit when it comes to price. You can search online which will allow you to set a price and search for only jewelry in that price range. Since there are numerous designs in gold earrings, you'll certainly come across a pair you absolutely love if you search enough.
In case, if you like to buy the designs featured on this post, then
Also Read: