Your overall outfit and look will be incomplete without a pair of beautiful and lovely earrings on you. You might be searching for earrings suitable for your dress that could complete and complement your overall appearance.
Interestingly, there are numerous styles and designs of earrings available for you to consider for buying online or offline. You can go through many options before selecting the earrings that you fall in love with.
Also if you are fond of earrings, then, you would definitely like to check out the unique designs mentioned below for you. Every earring design is different and unique in their special way. They can be a good addition to your collection at home.
Have a look at the mind-blowing and captivating earrings and enjoy mixing and matching them with your attire. Find the one that speaks to your heart, soul, and mind. Create the look you want with these earrings. To shop them, contact details are given at the end of the post.
Peacock Chandbalis
Get the shiny, marvelous and lovely looks wearing this peacock chandbalis. The beautiful peacock designs on this earring make it a unique and outstanding jewelry piece for woman of any age.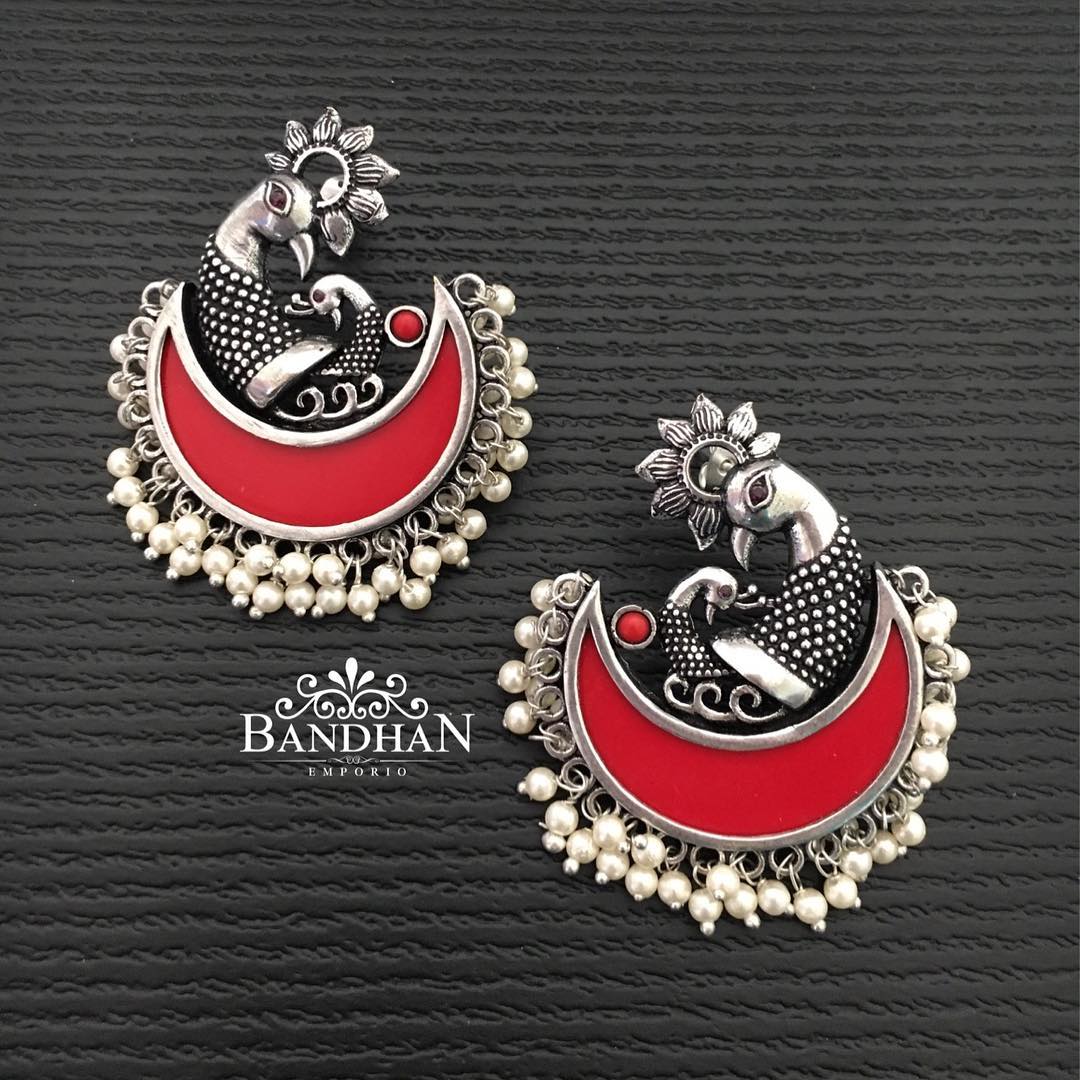 Temple Pearl Jhumka
The graceful Goddess Laxmi designs on this temple pearl jhumka make it a nice choice for you. You can add this jewelry piece to your temple jewelry collection and enjoy your time wearing it.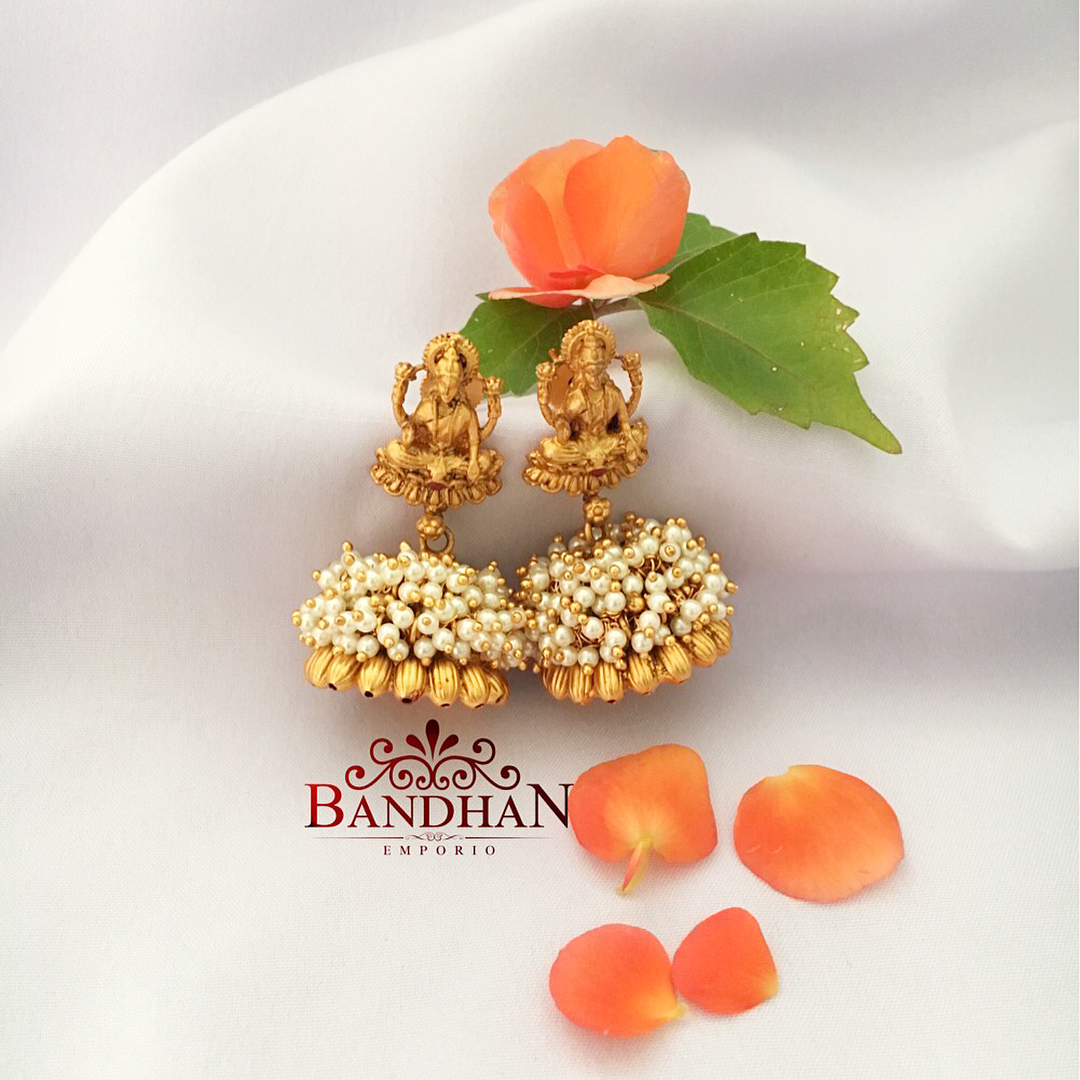 Antique Stone Earrings
The antique stone earrings can offer you a stylish, captivating and wonderful appearance complementing with your overall attire. This earring design can look good on any of your traditional dresses.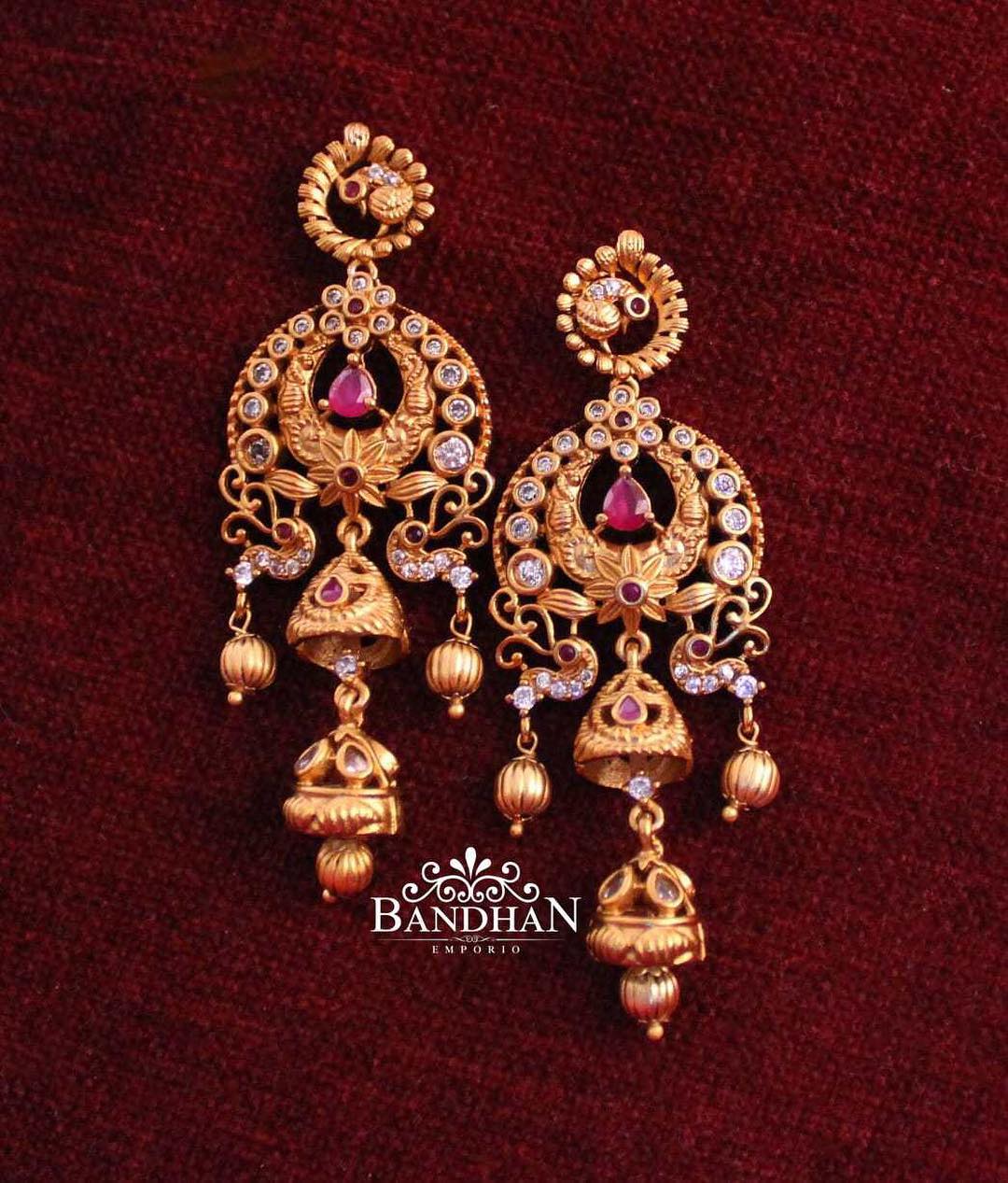 Bold Kundan Earrings
The charming and distinguished look of the bold Kundan earring can be a great jewelry piece you can bring home. This piece of jewelry can be a wonderful addition to your jewelry collection at your home.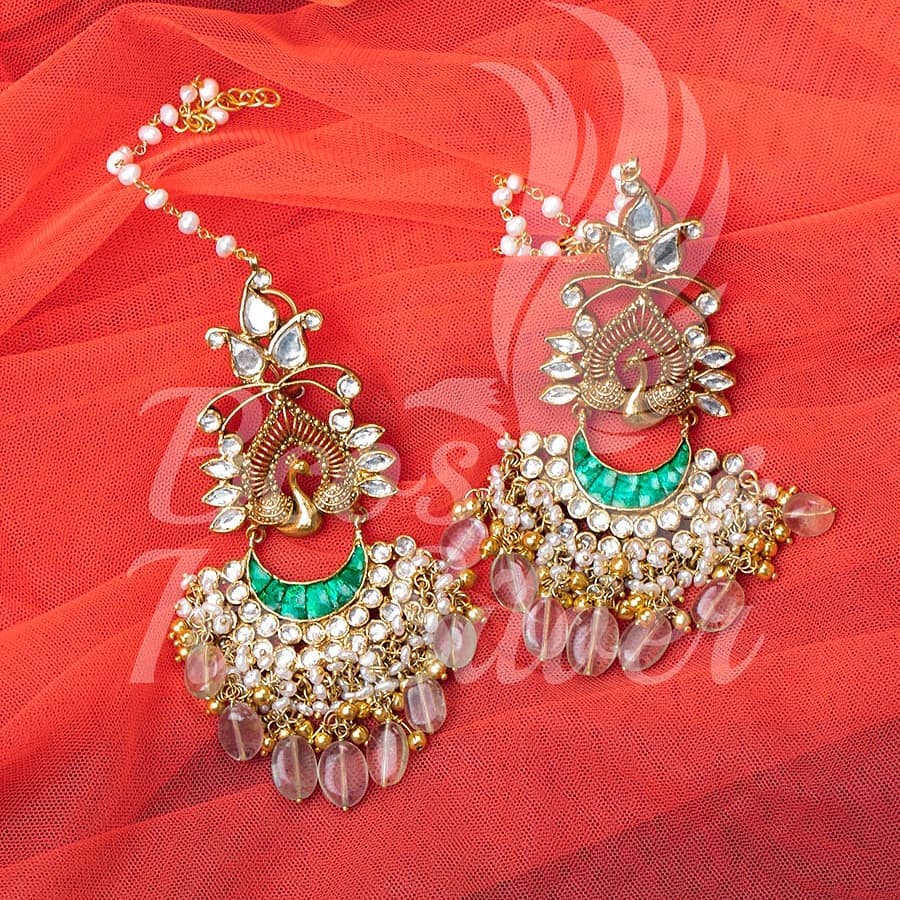 Polki Stone Earrings
The uncut, natural and raw form of diamond makes this polka stone earring one of the unique earring designs that can be a wonderful jewelry piece in your jewelry box.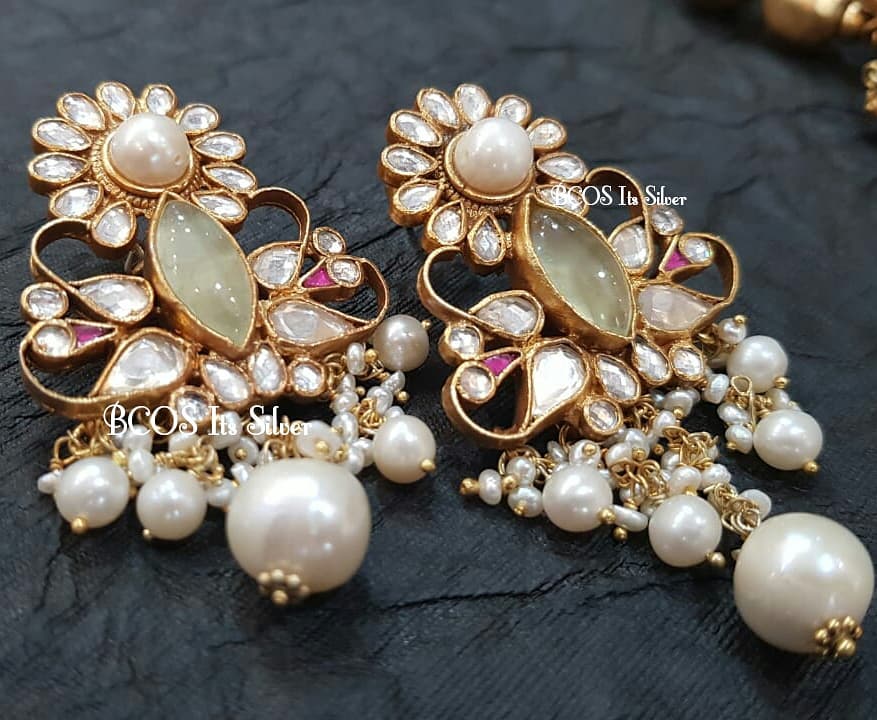 Bold Jhumka Earrings
Get the elegant, charming and eye catchy look with this bold jhumka earrings. You can wear it to social gatherings, festivals, engagement parties and family events.
Light Weight Ruby And Emerald Earrings
This light weight ruby and emerald earrings can be worn to the school, college, malls, gardens and other places. You can have a nice time wearing it with friends and family with this light weight earring.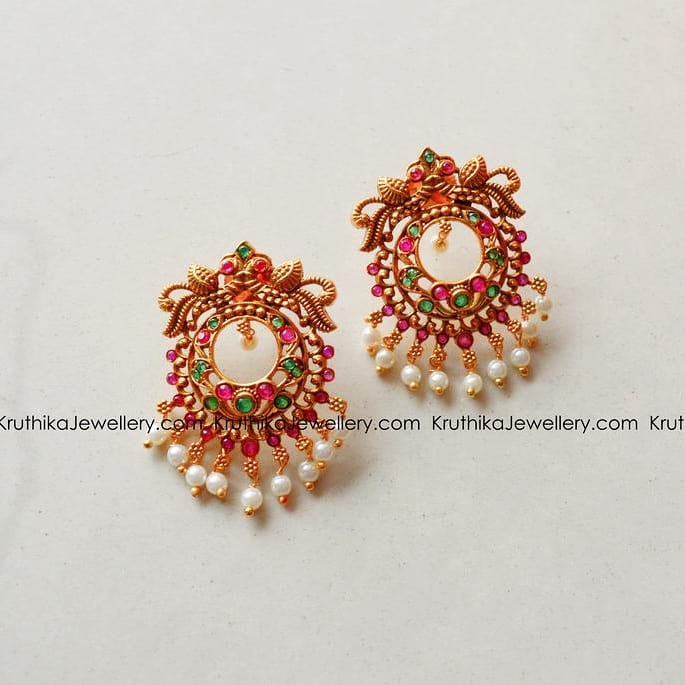 Matt Finish Stone Earrings
The rough, delightful and amazing look of the matt finish stone earrings can be a great choice of jewelry if you are planning to buy earrings with a bit rough look on it. You can definitely consider this jewelry earring piece before buying.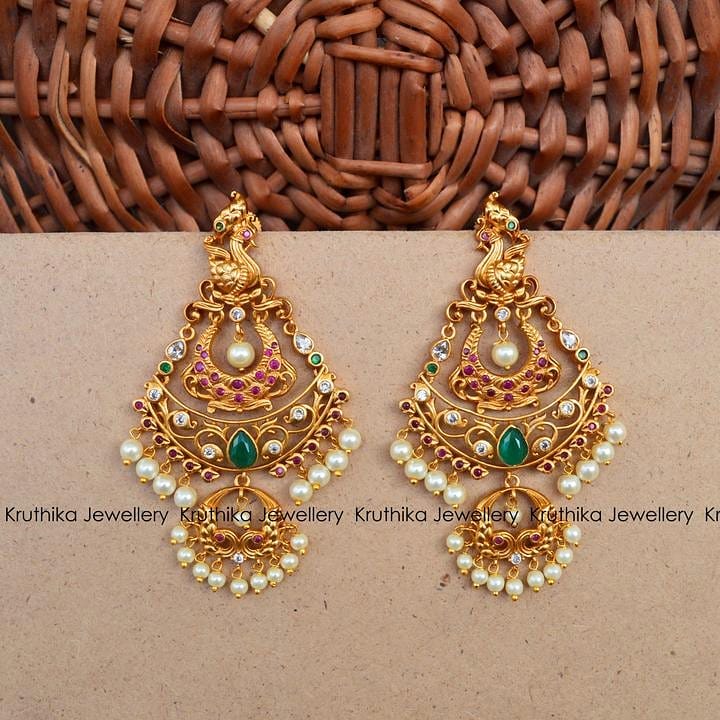 Designer Antique Kundan Earrings
This good looking, adorable and pretty designer antique kundan earring can give you a simple and wonderful look. Needless to mention it can look beyond beautiful with any ethnic outfit of yours.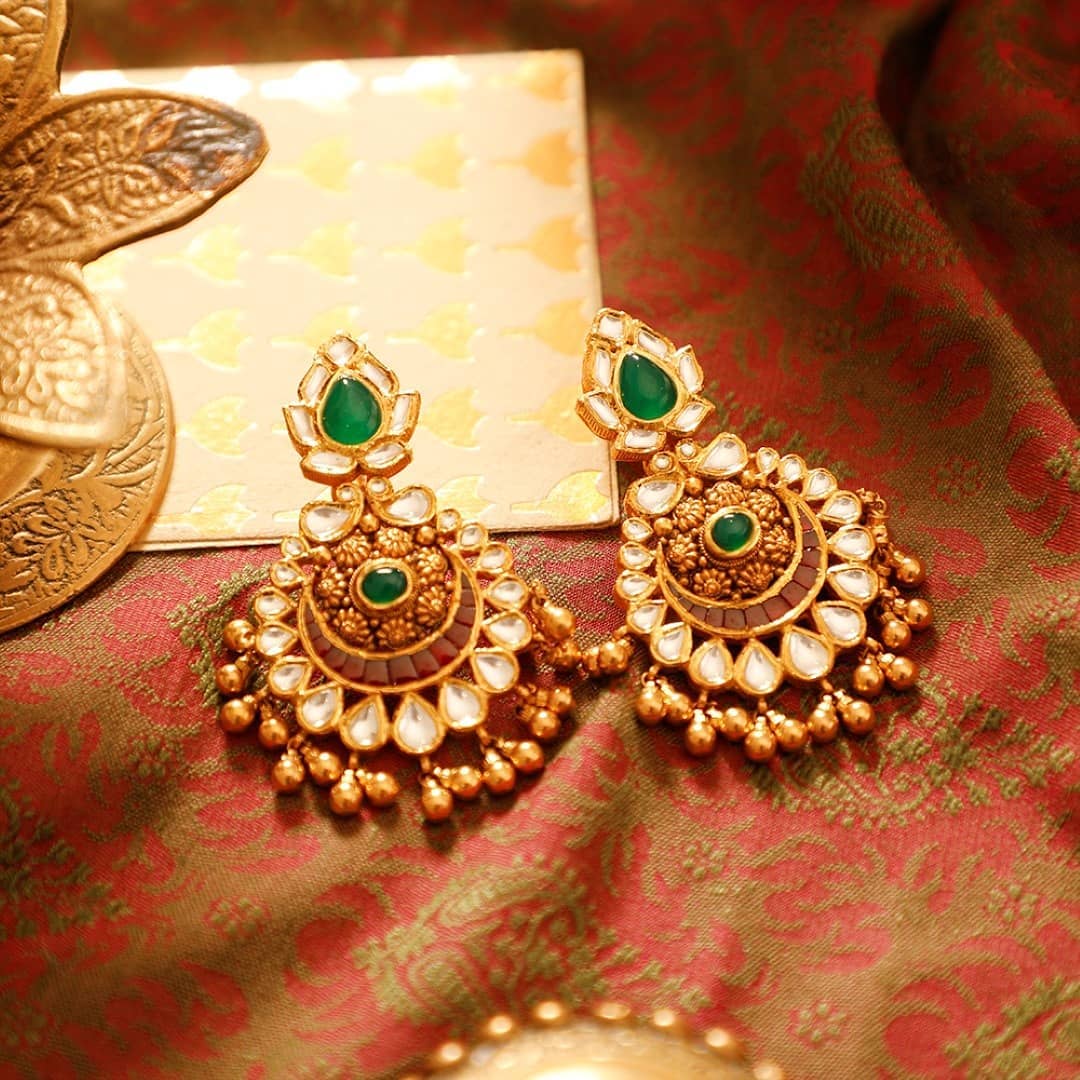 Layered Jhumka Earrings
This exquisite and elegant earring piece can be a wonderful and great jewelry to your collection. The layered jhumka earrings can boost your overall appearance when you wear it. So you know what to pick, when you want a dramatic style on your look!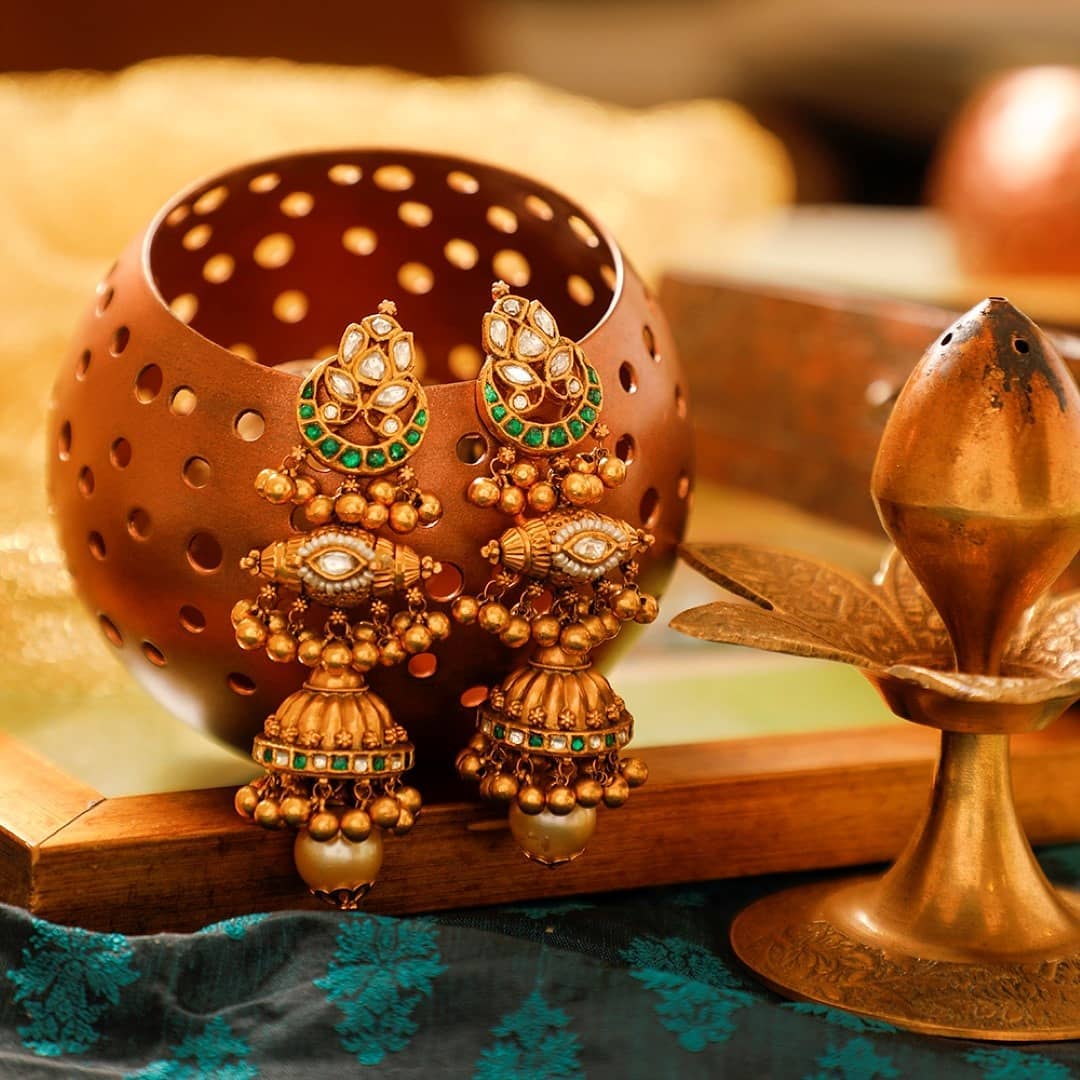 Oxidized Antique Earrings
If you are looking for a pretty, dignified and lovely earring jewelry piece, then, this oxidized antique earring is a nice choice for you.  This design is so unique that, it will come up as no surprise if your friends bug you for price and other details!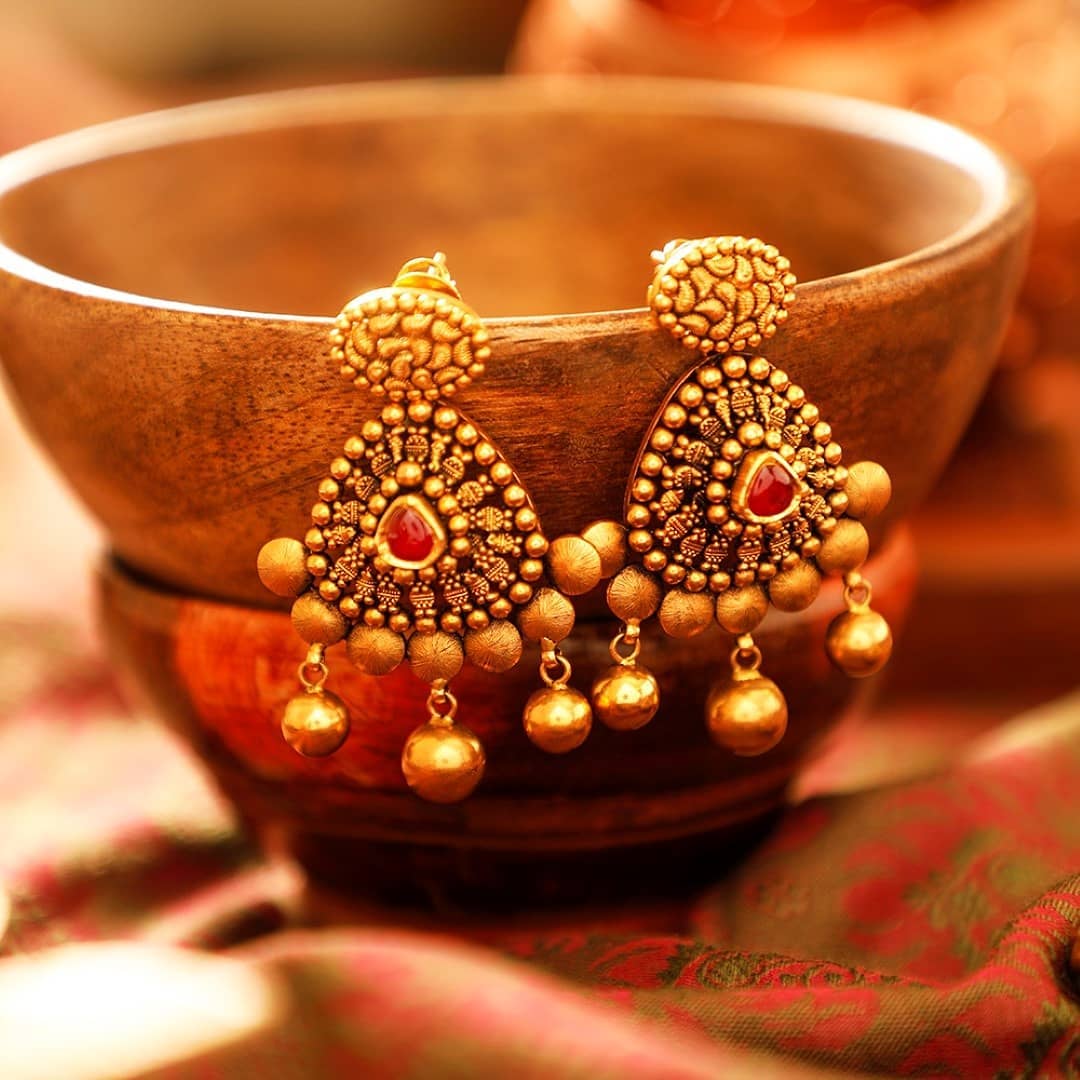 Designer Floral Earrings
The amazing floral designs on this earring make it a wonderful jewelry that can be purchased. The designer floral earrings are a great choice for ladies and girls who are fond of designs of flowers on their accessories and jewelry.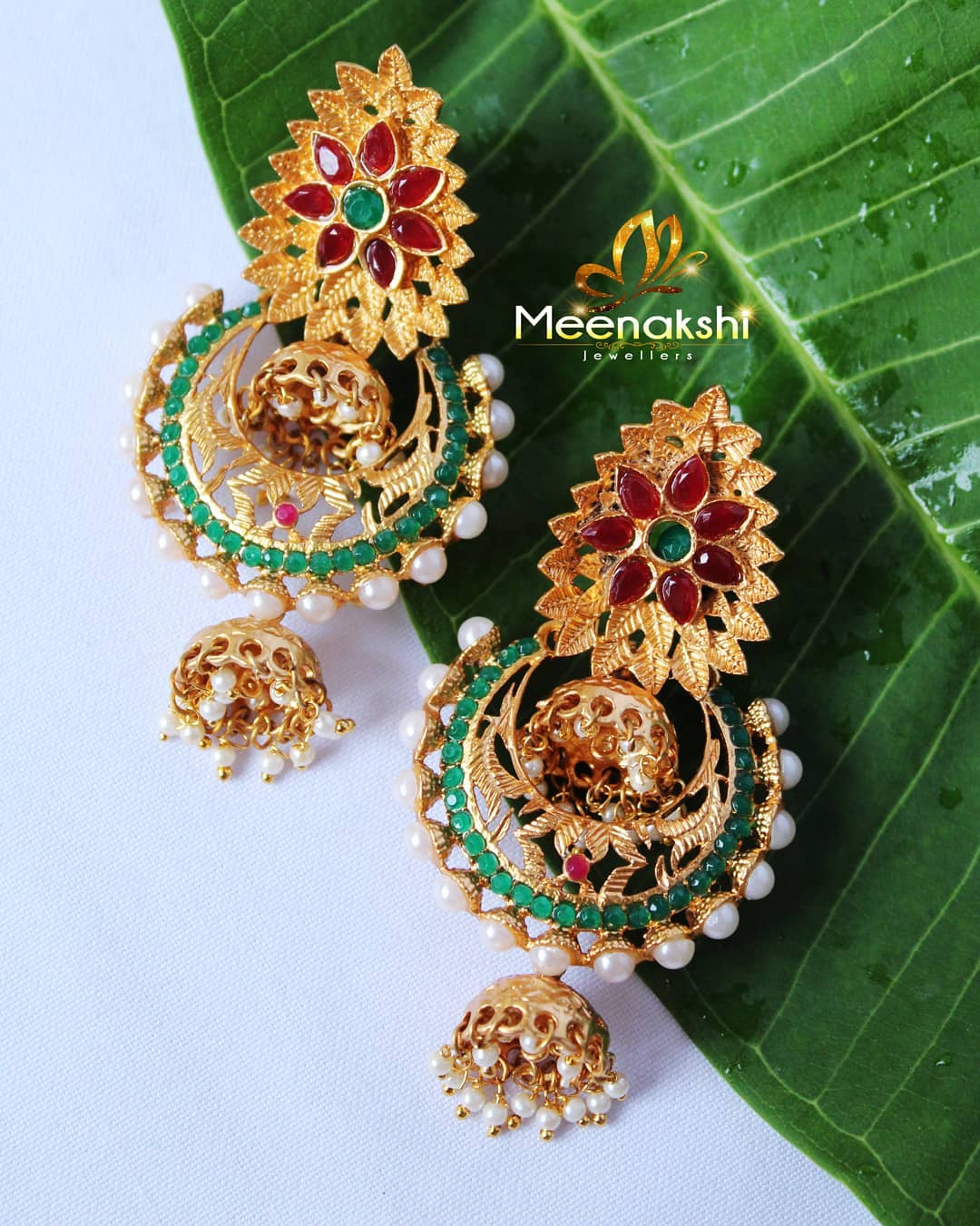 Bold Ruby Jhumka
The bold ruby jhumka can be a lovely addition to your jewelry at home. The studded rubies give it a pink color to the earring that makes it one of the nice choices for girls.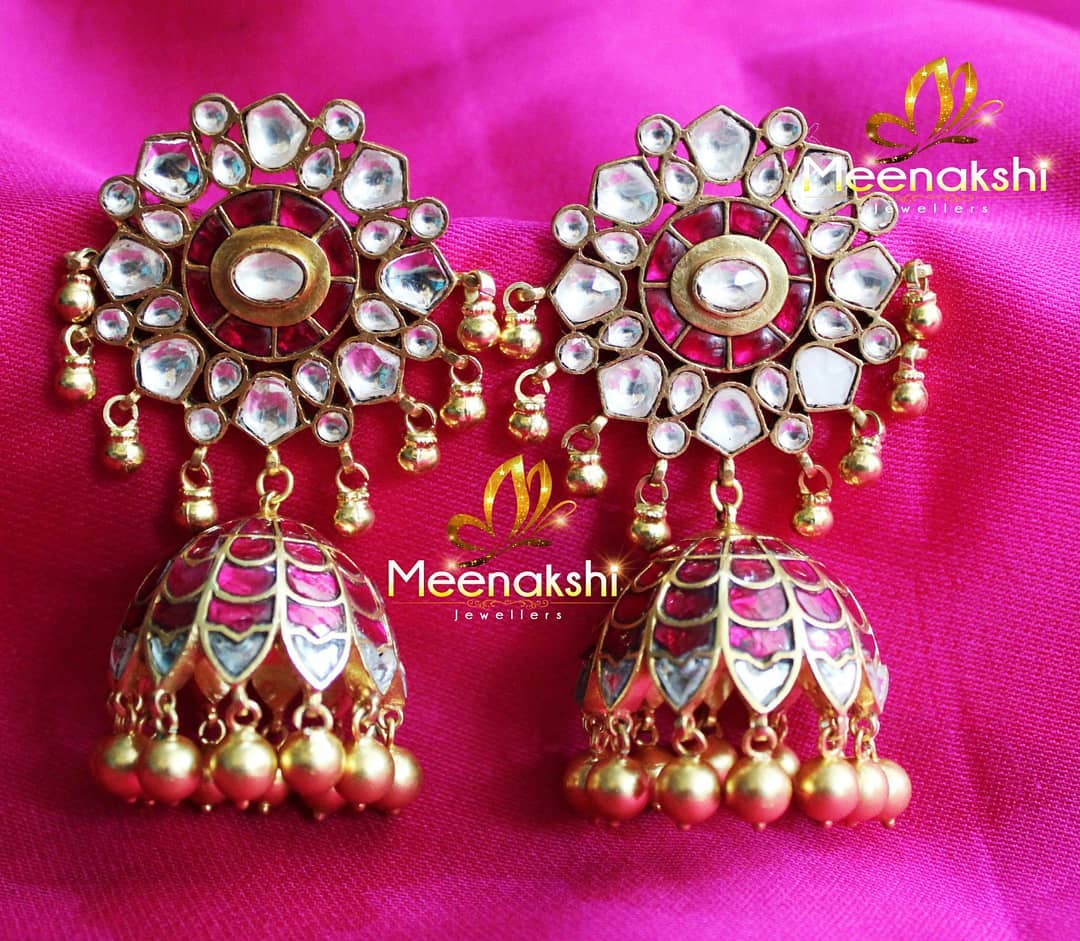 Classic Ruby Emerald Jhumka With Pearls
Experience the graceful and elegant look with this classic ruby emerald jhumka with pearls. Imagine wearing this beauty with traditional silk saree? Yes it can make you look that mind blowing!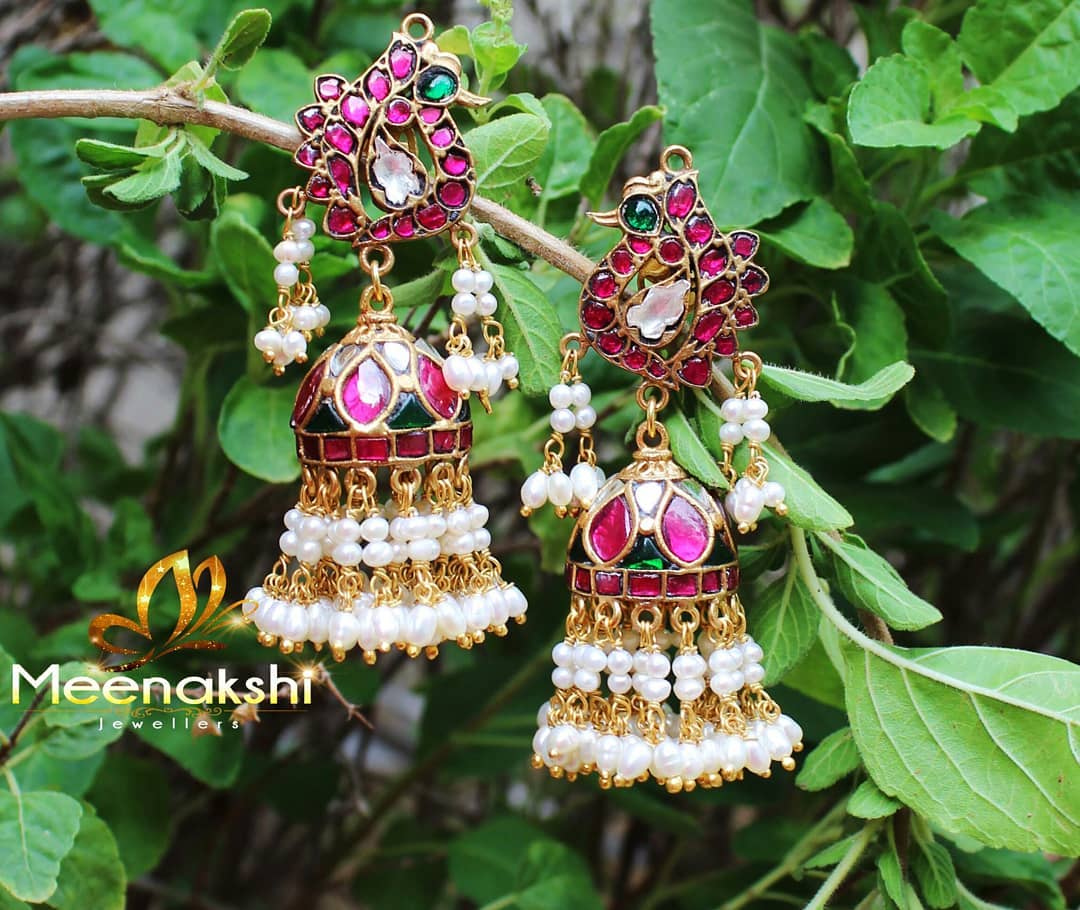 Antique Peacock Jhumka
The antique peacock jhumka can be a marvelous and amazing addition to your antique jewelry. The lovely peacock designs are always a sweet spot in any jewellery. In case, if you have still not laid your hands on peacock models, then it is the time to do so!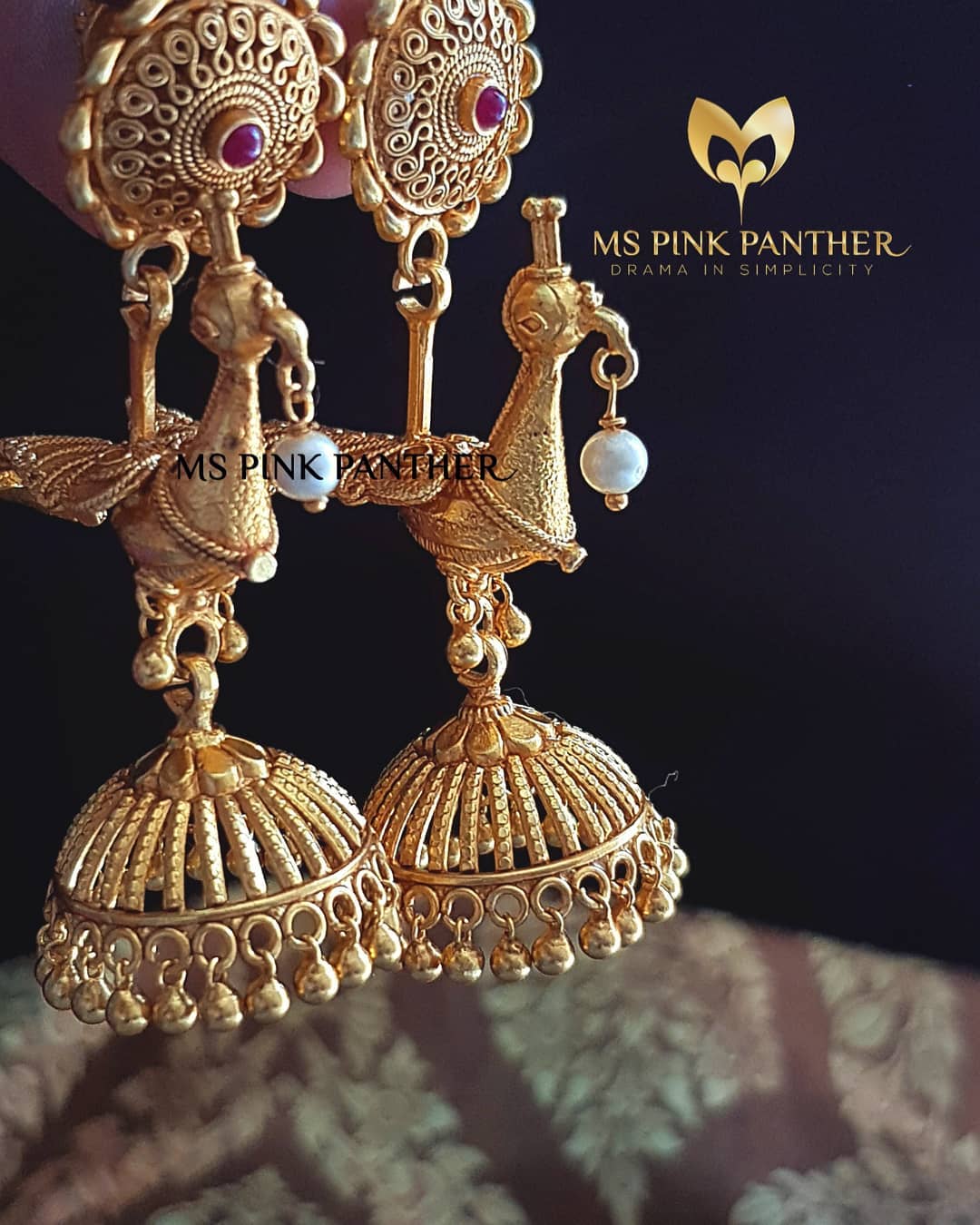 Bold Silver Danglers
Be amazed and breathless by looking at this elegant, charming and eye-catchy bold silver dangler earring. Yes, silver jewelleries are taking all the lime light this season. And this dangler, is a good place to start experimenting these trending models.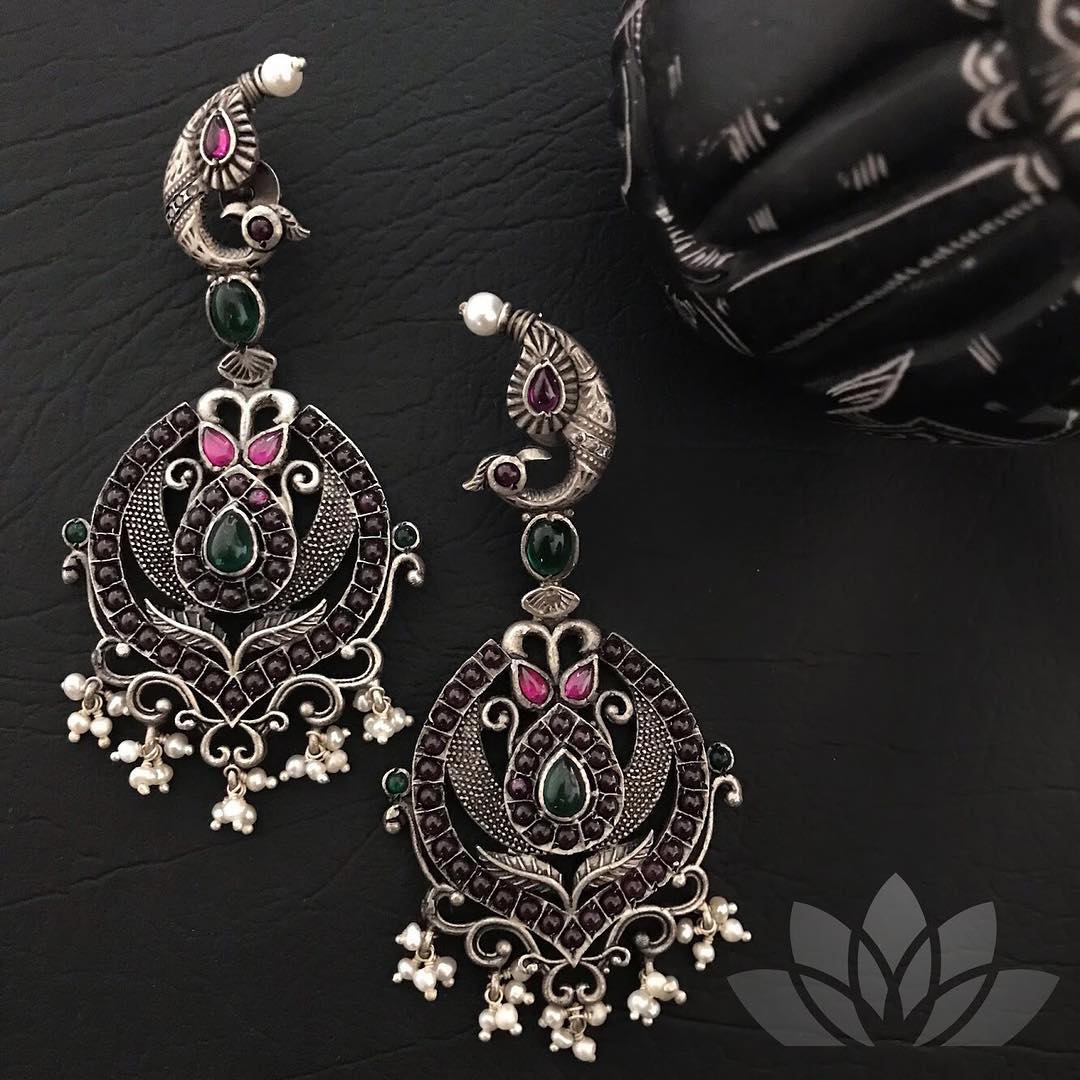 Silver Chandbali Earrings
Obtain a shiny, enchanting and charming appearance wearing this silver chandbali earring. When chandbali itself a prize to hold, why not stay in trend by owning them in silver?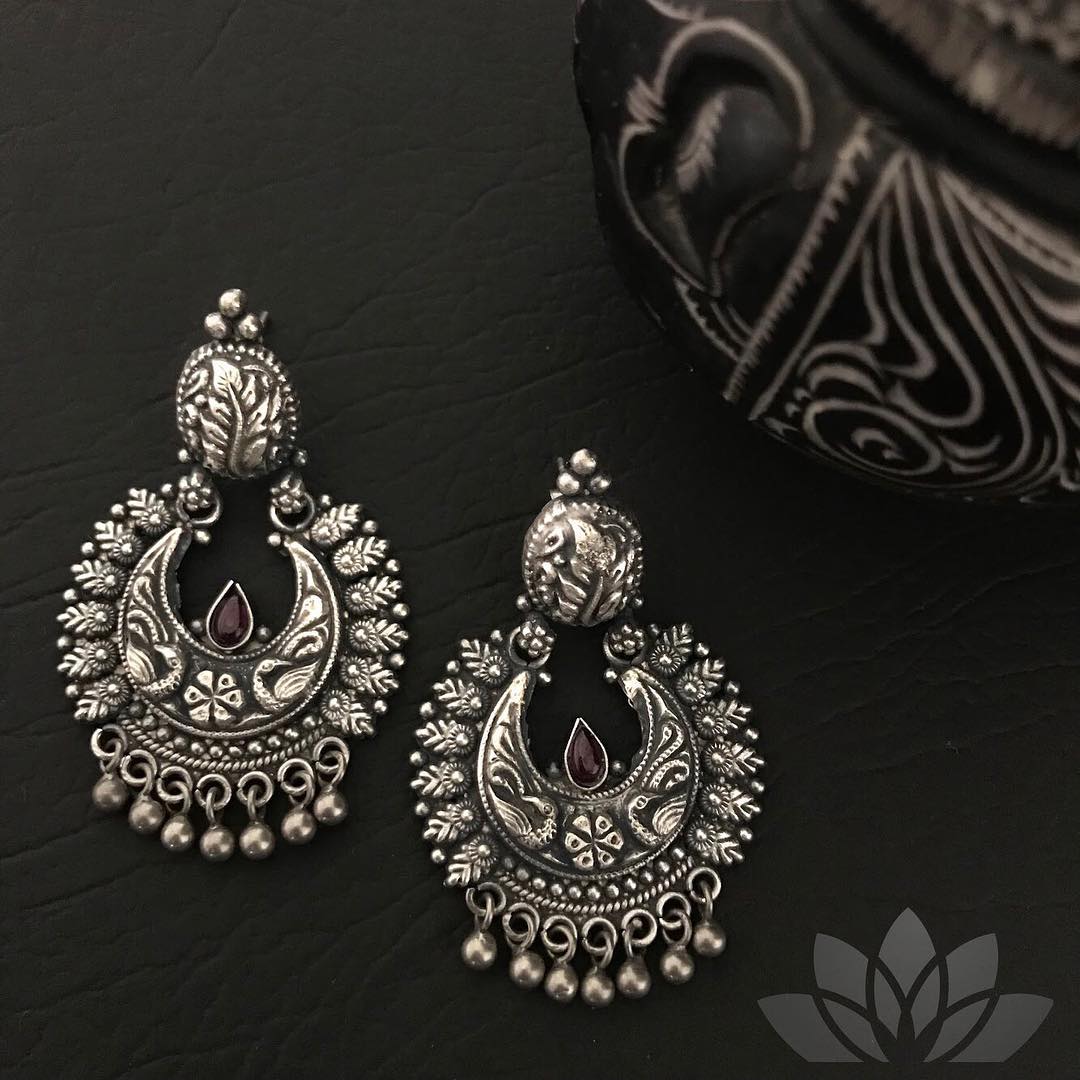 Simple Silver Jhumka
Get the desired pretty and sober look with the simple silver jhumka. You can wear it with any outfit for any friend and family gatherings or parties.  Of course, you know what a sin it is now to not have the classic jhumka earring in silver!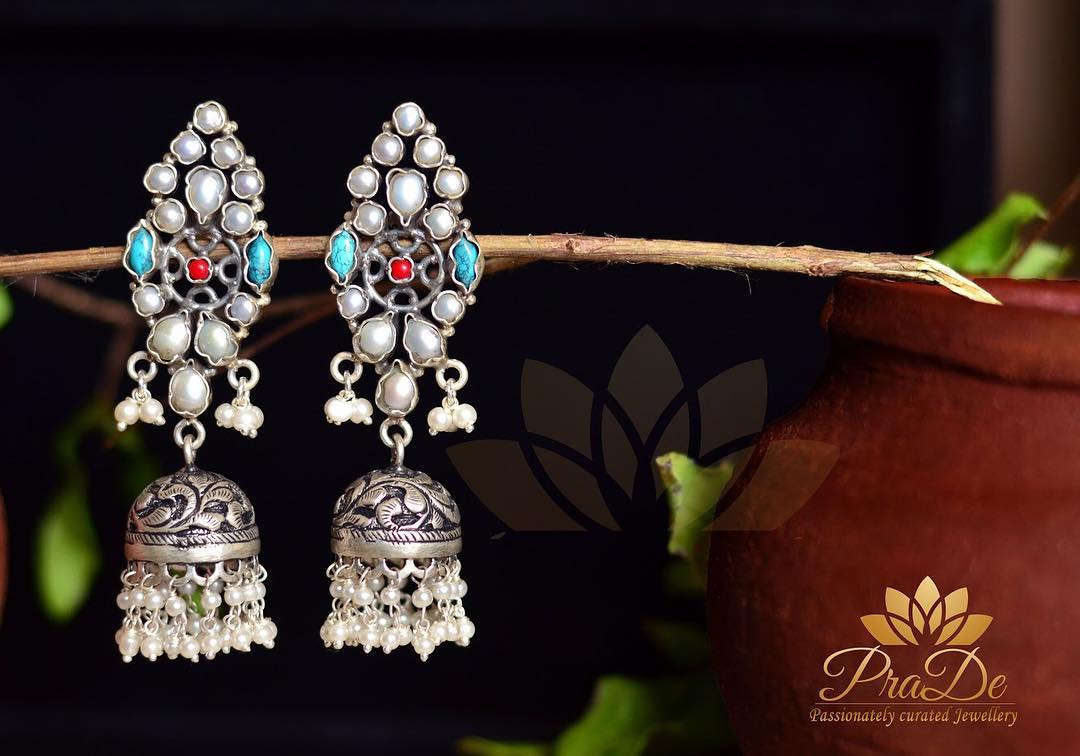 Two Layer Statement Jhumka
Enhance your beauty, style, and fashion with this two-layer statement jhumka. Make your own fashion and style statement wearing this earring design.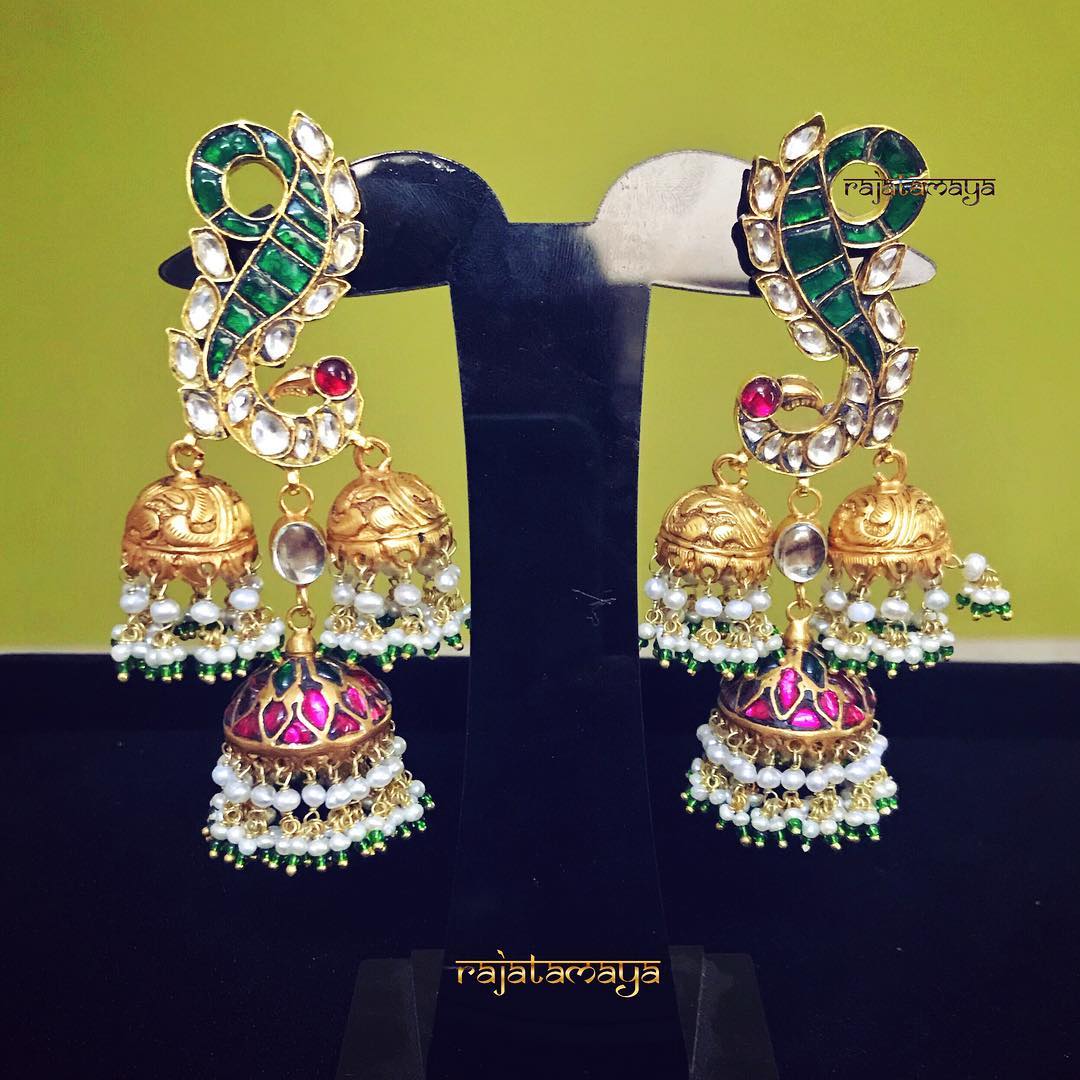 Kundan Ruby Stud
Give yourself a stylish, dignified, fashionable and distinguished look with this lovely kundan ruby stud earring.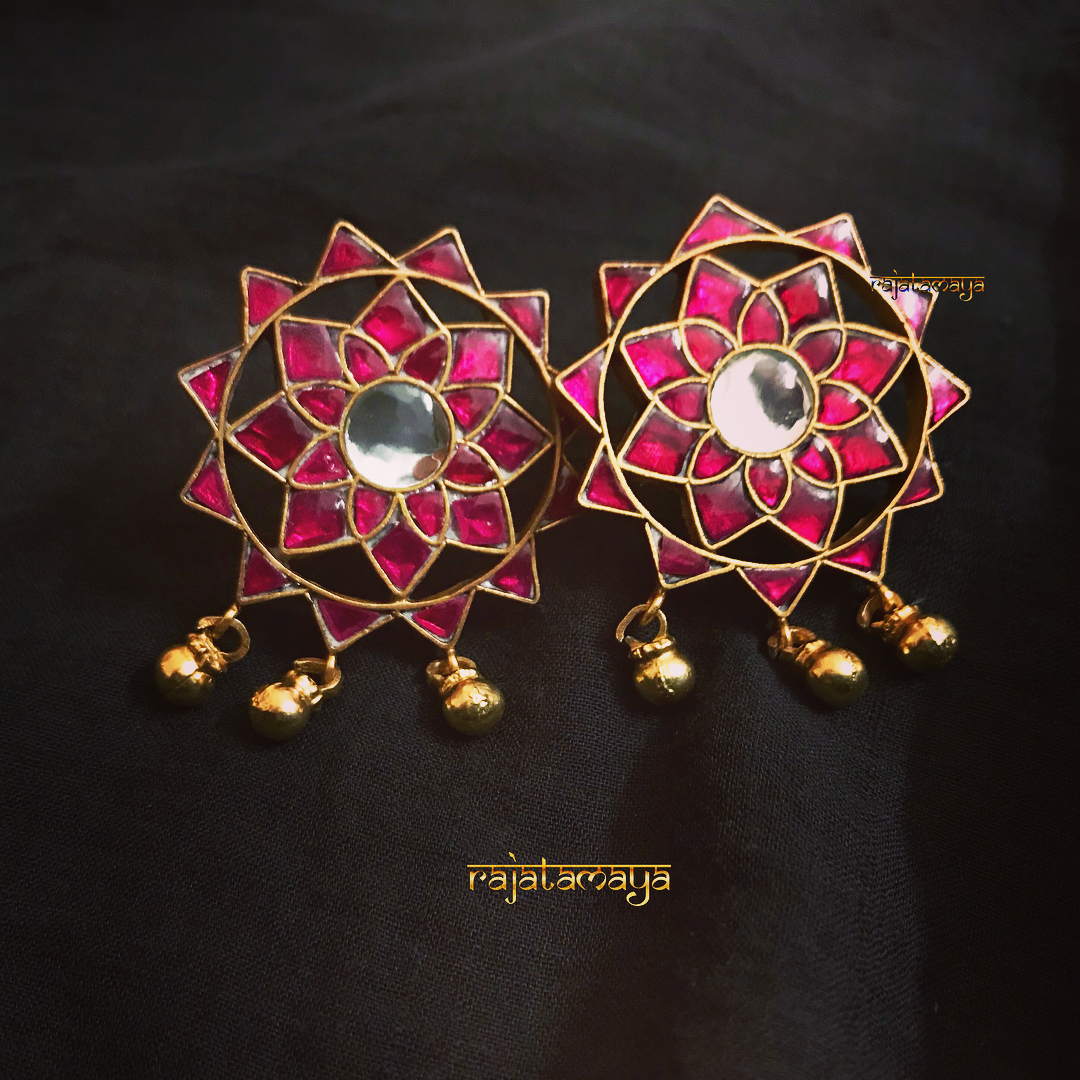 Statement Stone Dangler
Get an exquisite, delightful and enchanting overall look with this statement stone dangler. Buy this earring and boost your beauty and style with your fashionable outfit.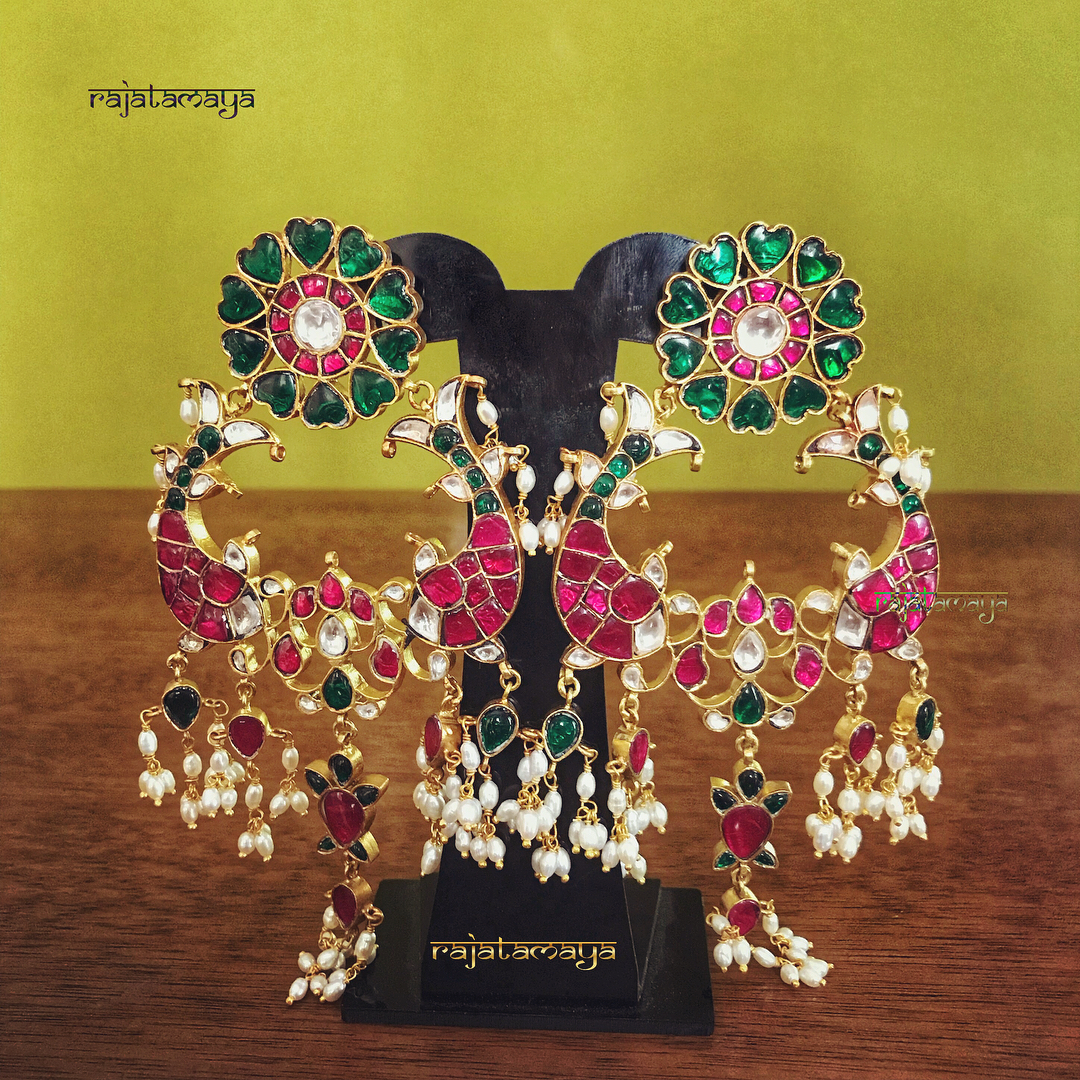 Timeless Ruby Emerald Stud
The timeless ruby emerald stud complements your overall look along with the outfit you are wearing. Get a wonderful and stunning look with this earring design.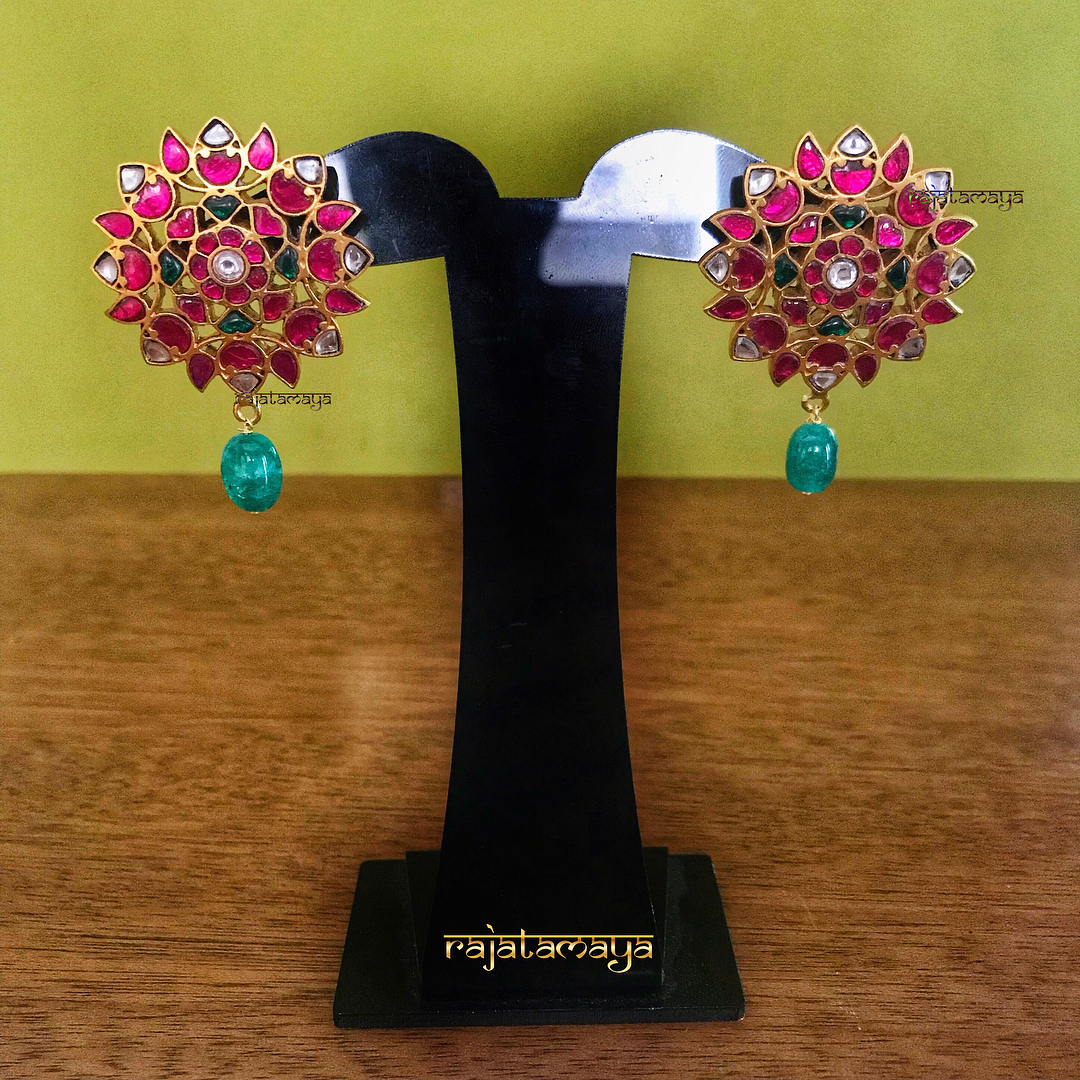 Matt Finish Jhumka
Experience elegance and beauty, along with a raw look with this matt finish jhumka when you wear it. No matter what the special occasion is, you can wear it to the weddings, festivals and other crucial events you will attend in future if you are fond of wearing bold looking pieces of jewelry.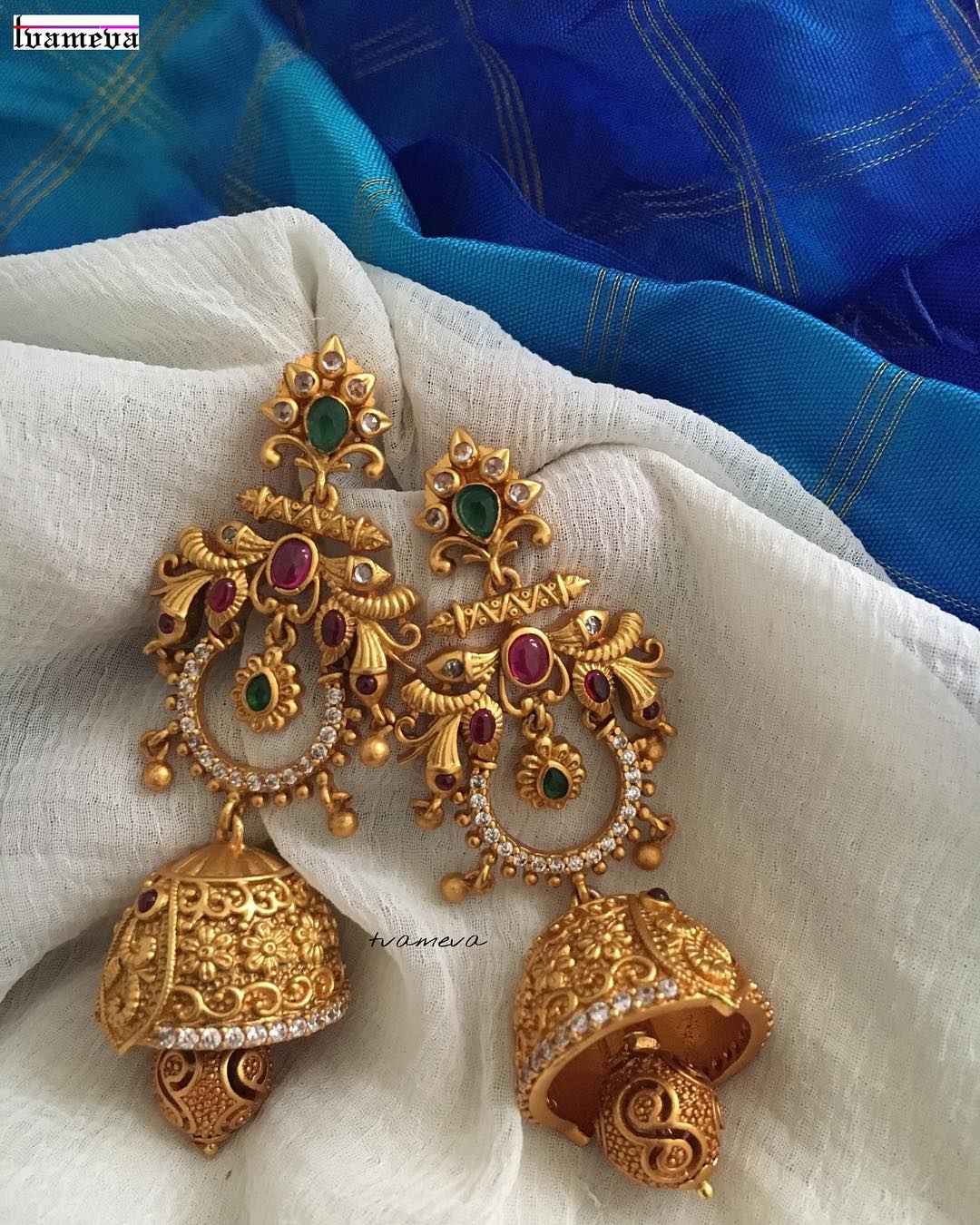 Coin Earrings
The coin earrings are a good choice to wear with traditional attire. The coins on this earring along with designs of Goddess Laxmi make it an auspicious jewelry for you.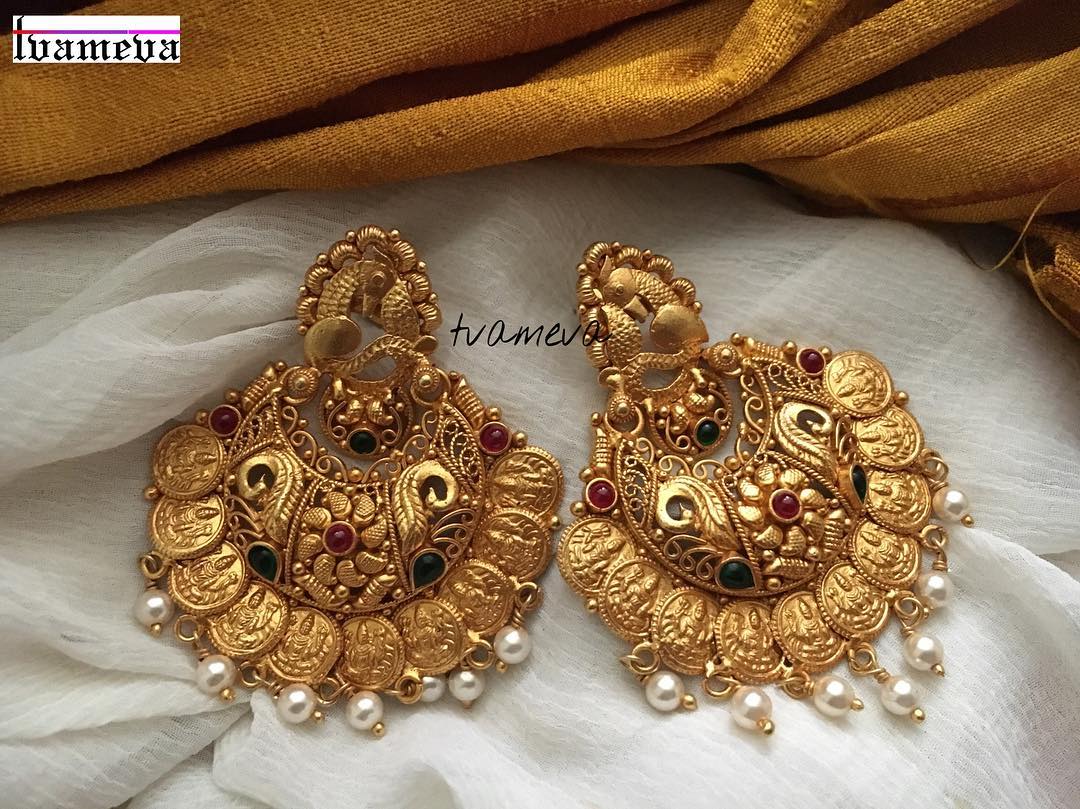 Emerald Danglers
Enjoy your time wearing the emerald dangler earrings with your dress and get the charming, delightful, outstanding and enchanting appearance.
These unique designs of earrings are apt for any ethnic outfit. You can wear these with as many dresses as you want. Pick the one you like and bring it home into your wardrobe or jewelry box.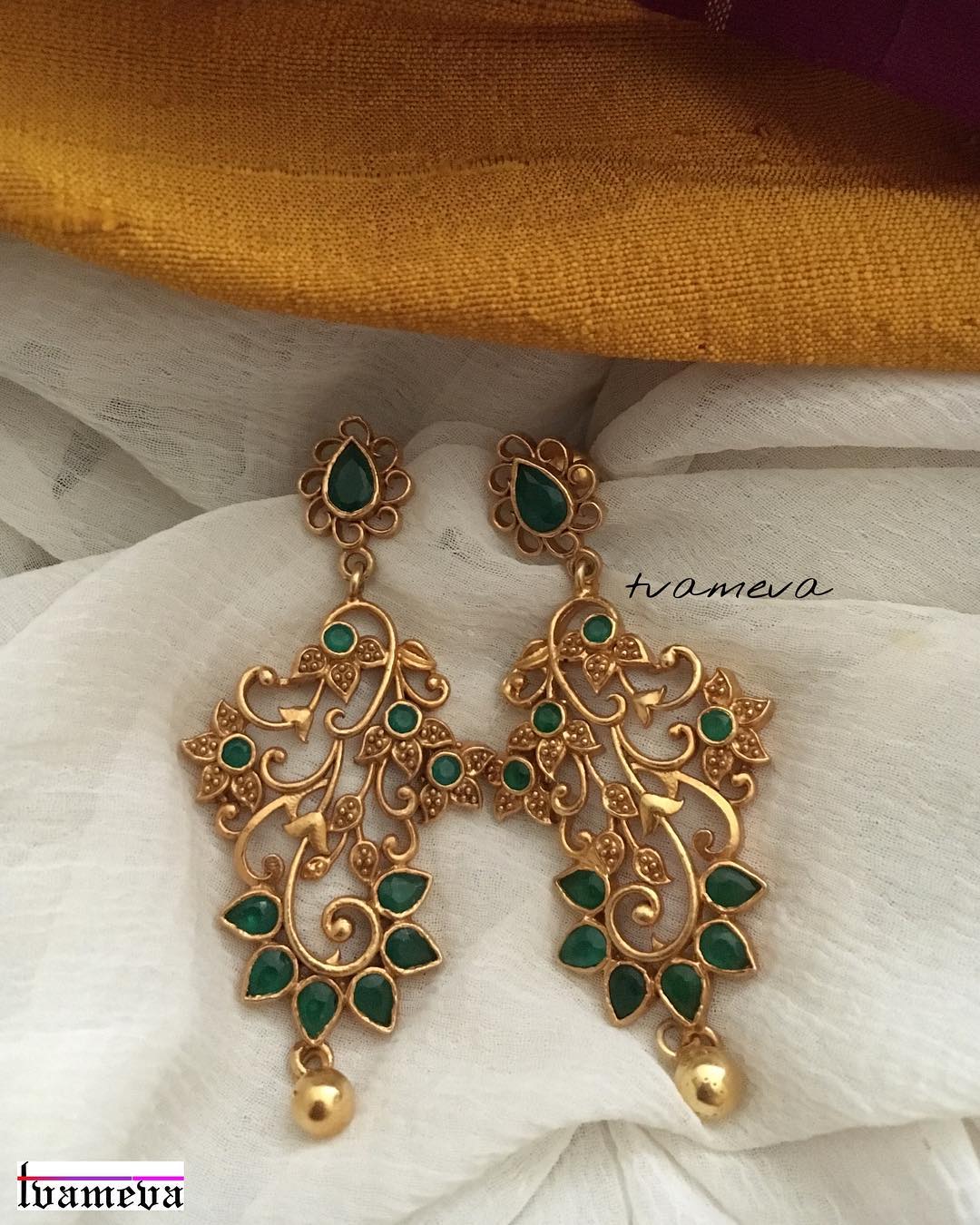 To check whether the above the earrings are available to shop, the contact details are given below.
Seller Name: Bandhan
Instagram: https://instagram.com/bandhanemporio
Facebook:www.facebook.com/bandhansemporio/
Contact: Bandhan +91-9963713989 or +1-647-472-9097
Email: ba************@gm***.com
Seller Name : BCOS – Its Silver
Contact No: +91 90941 38036.
Email :ar***************@gm***.com
Website: https://www.bcositssilver.com/
Instagram : https://www.instagram.com/bcos_its_silver/
Facebook: https://www.facebook.com/BCOSITSSILVER/
Address : Shop #1, Plot #102, 17th Cross Street, 6th sector, near MK Ahmed bazar, opp to ICICI bank, HSR Layout, Bengaluru 560 102.
Seller Name : Kruthika Jewellery
Instagram : https://www.instagram.com/kruthika_jewellery/
Contact : +91 9849207645
Seller Name : Manubhai Jewellers
Contact No : 022 28992042 / 8 lines
Website : www.manubhai.in
Facebook : https://www.facebook.com/Manubhai.Jewelers
Instagram :https://www.instagram.com/manubhaijewels/
Products : One stop destination for all bridal jewellery..Jadau and kundan collections to elegant diamond wear and pure gold jewellery. From gifting a bride to adorning a bride on her D-Day, Manubhai Jewellers has an eclectic collections.
Seller Name : Meenakshi Jewellers
Instagram : https://www.instagram.com/meenakshi_jewellers/
Facebook : https://www.facebook.com/Meenakshijewelers/
Whatsapp : 7730804088
Seller Name : Ms Pink Panther
Facebook : https://www.facebook.com/MISSPINKPANTHERJEWELLERY/
Contact : +91 95855 95689
Instagram : https://www.instagram.com/mspinkpantherjewel/
Website : http://www.mspinkpanther.com/
Seller Name : Prade Jewels
Instagram : https://www.instagram.com/pradejewels/
Website : https://tamarachennai.com/collections/silver-jewellery
Seller Name : Rajatamaya
Facebook : https://www.facebook.com/Rajatamaya/
https://www.instagram.com/rajatamaya/
Contact : +91 97865 22555
Seller Name : Tvameva
Instagram : https://www.instagram.com/tvameva/
Contact : 9994767370
Also Read: