Every culture in India has its own customs regarding bangles and its types as well as colours. Bangles are popular all over the world due to its colourful style. It is common that jewellery can be worn by women of all ages in India. Bangles present a unique image of rich Indian heritage. Bangles have different names and varieties in every state of India.
Bangles form one of the basic accessories that women wear all around the world. Whether married or unmarried, bangles are one of those accessories that can jazz up any outfit. So, it is always a good idea to keep an eye on the bangle trends so you know what to shop next time.
Now check out 21 latest trending bangle models that can add that oomph factor to any dress you choose to wear.
1) Floral Design Bangle
This gold thick bangle with pink beads embedded inside is something which every woman should own. The beautiful intricate floral design will just amaze you. You can pair this with your gorgeous silk Kanchipuram or with your zari embroidered kurta.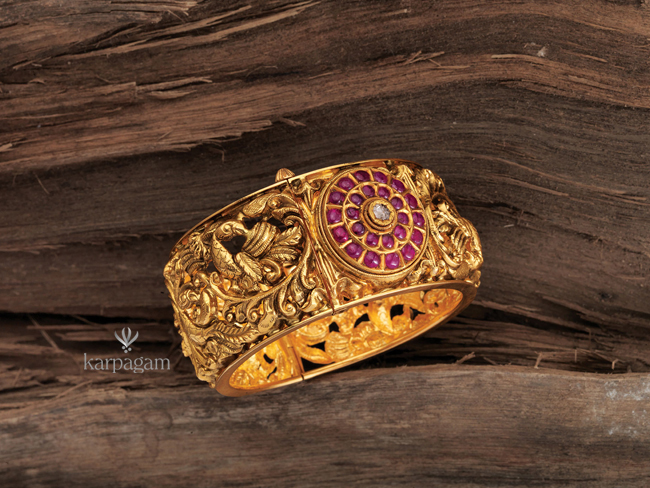 2) Double Gem Bangle
The miracle of two gems embedded in gold with that beautiful intricate border is just mind blowing. You can wear these for a family get together or even for your upcoming friend's wedding.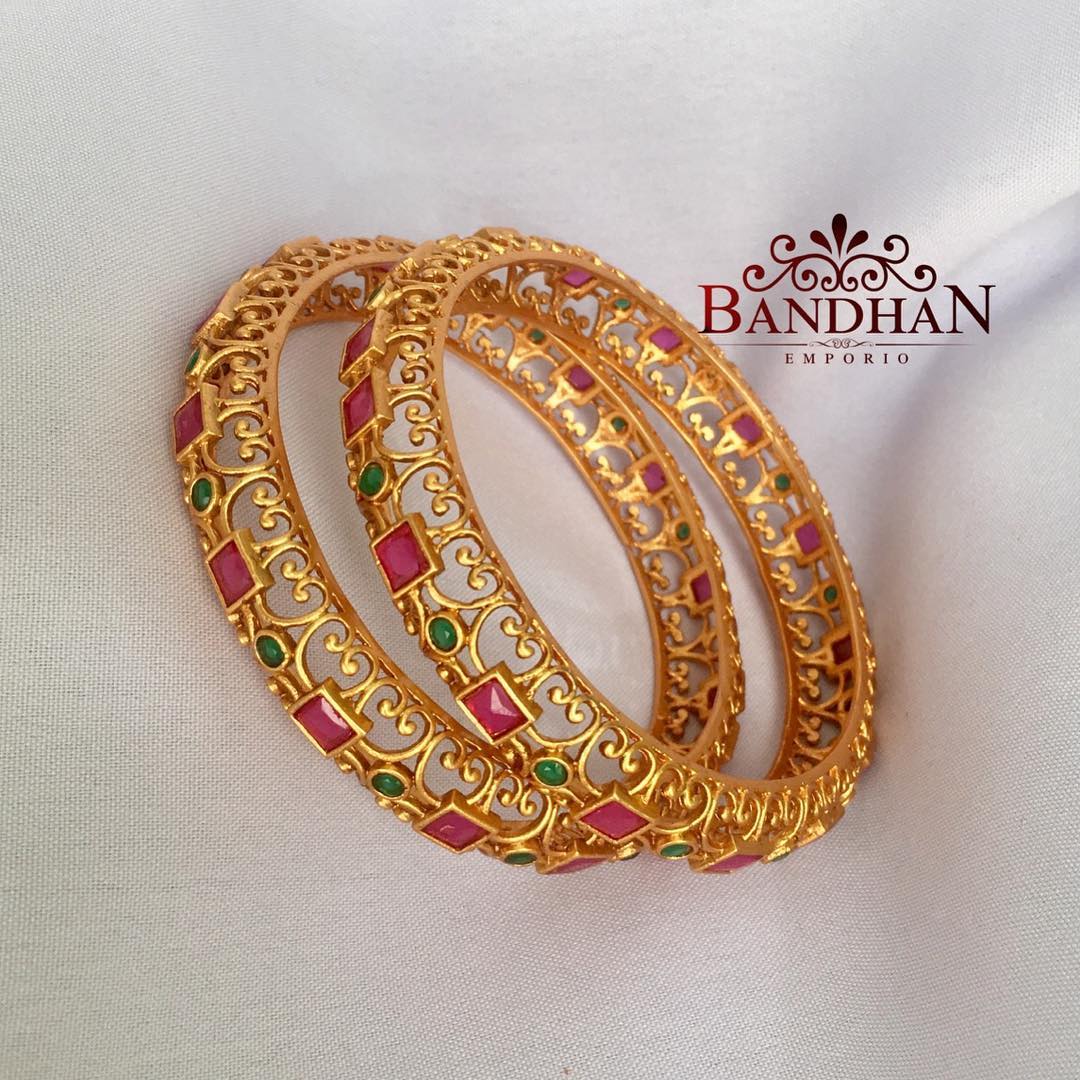 3) Multi-Stone Bangle
This is one of its kinds. This multi-stone bangle, with embedded American stone, on both the side of it makes it look spectacular. Stones of different colours are embedded in gold to enhance the beauty of this stunning bangle piece.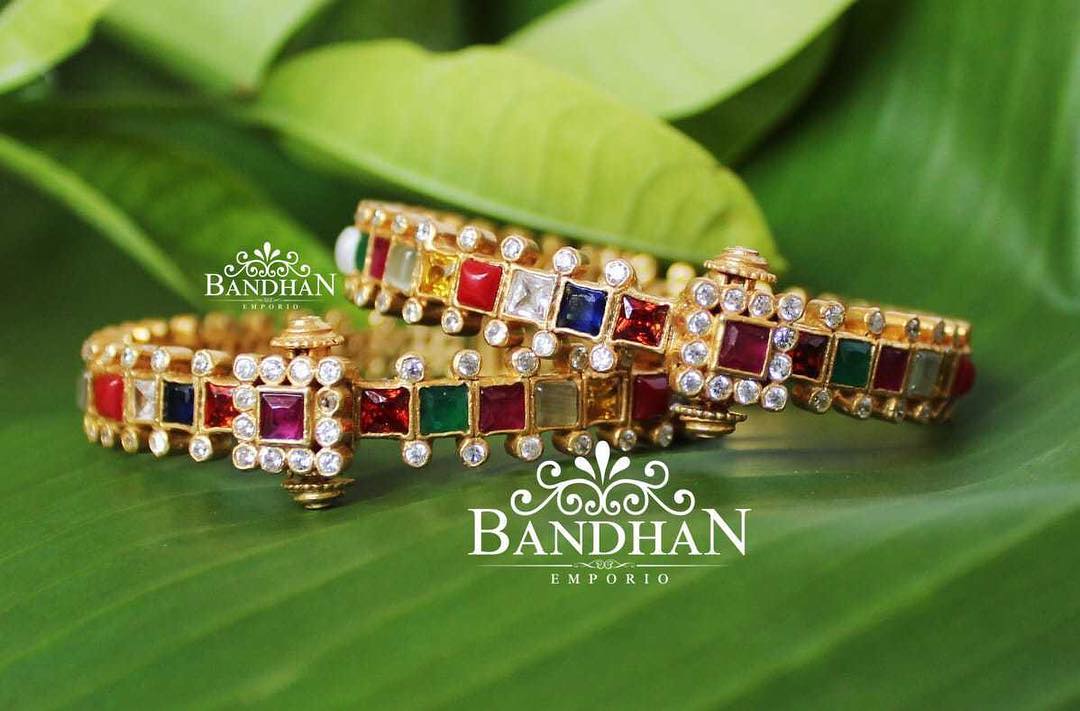 4) Creative Design Bangle
This gold bangle with marvellous design has a pink stone and emerald stone which are placed alternatively and are connected to each other with the help of a creeper like design in which American studs are embedded that add an extra drama to it.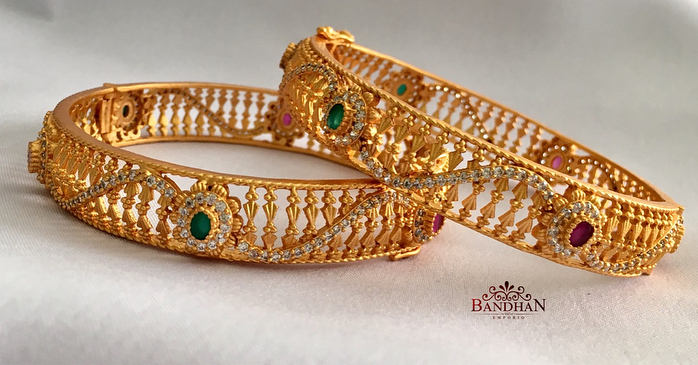 5) Goddess Lakshmi Bangle
This one is perfect for a puja celebration as it has a goddess idol on it. This one is a typical south Indian design. Along with the idol it has pink stones embedded in gold with American studs attached on both side. So reserve this one for upcoming festive season.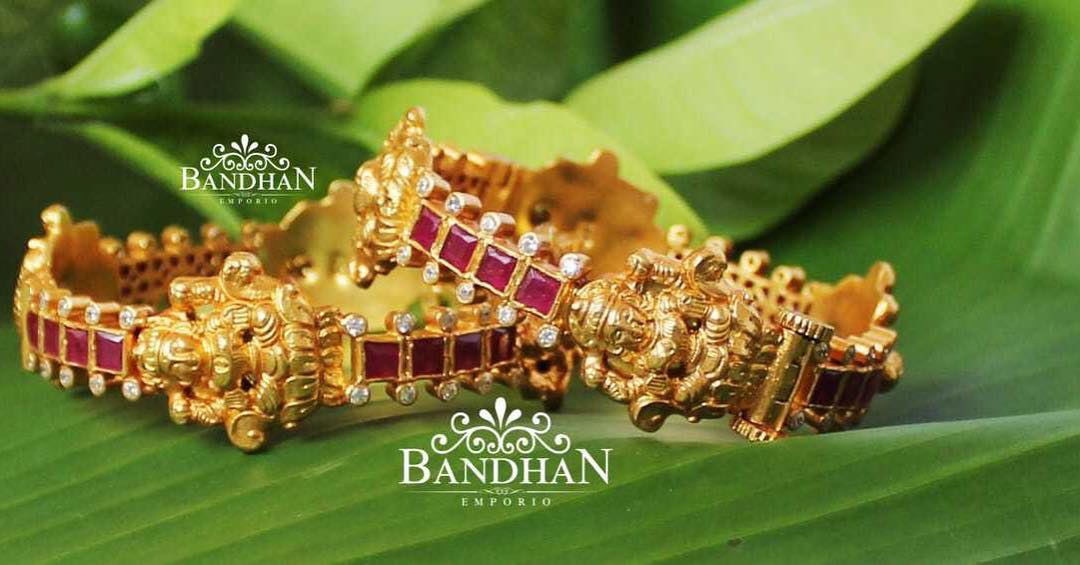 6) Exotic design
This one is just beautiful. The blend of rubies stone along with emerald stone gives a delightful look to this bangle. This is a very unique and exotic piece which is appropriate for a wedding ceremony.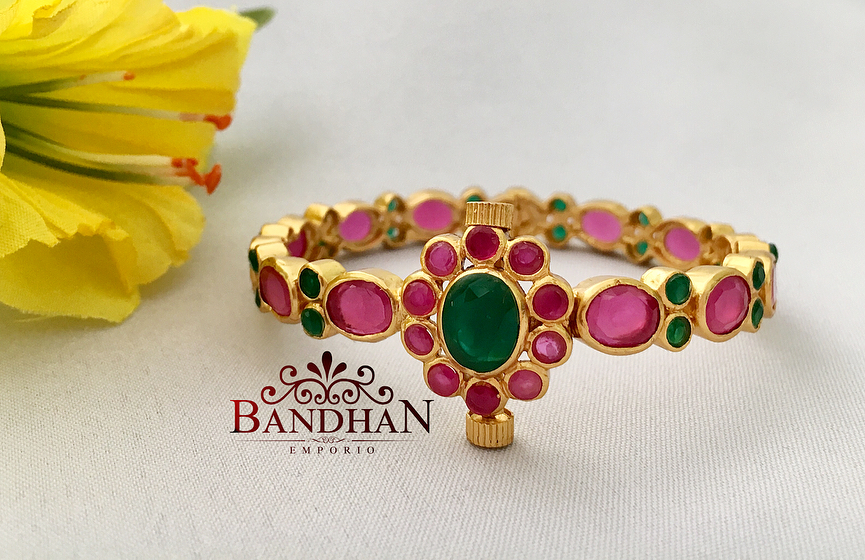 7) Peacock Bangle
This one is truly inspired from Indian culture with goddess Lakshmi idol on one side, and peacock which is a symbol of holiness on other, is so traditional and chic. You can wear this one for a baby shower or mahalakshmi puja.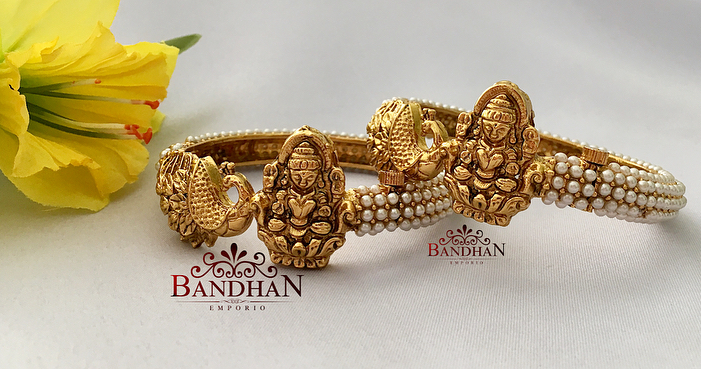 8) Exotic Design Bangle
Bangles are said to bring good fortune and prosperity. Bangle with such a unique design is something which every woman needs to avoid "I have something of same design" comment.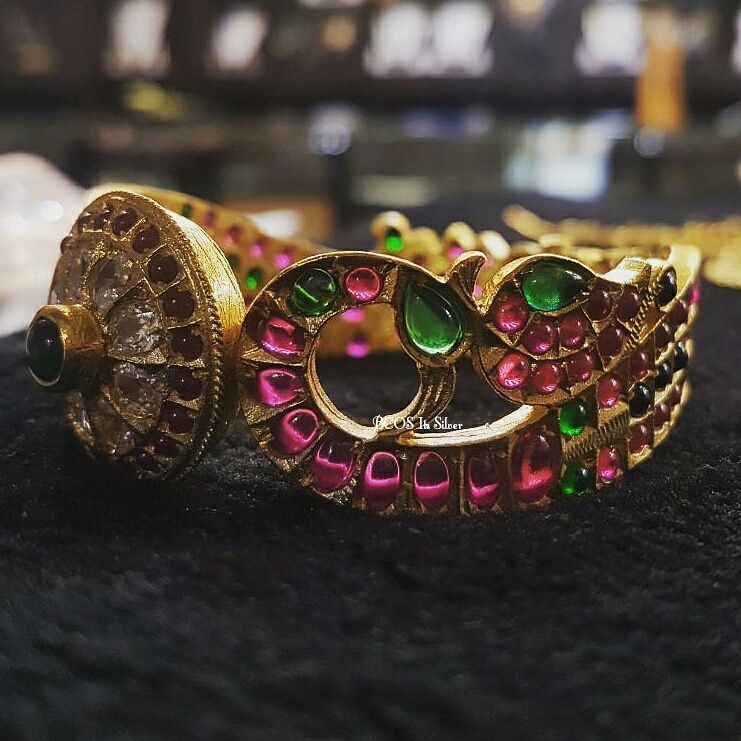 This peacock inspired bangle with pink stone and emerald stone embedded in a similar pattern is just one of its kinds.
9) Floral pattern
This Pink stone arranged in floral pattern is the prime beauty of this bangle. This one can be paired with saree with dark shades like blue, maroon. Bangle also has white crystals which are arranged in floral pattern.
10) Pearl Bangle
There are some unique jewellery pieces and you just can get enough of them. Needless to mention this one gem of piece is so unique and modern. Gold is moulded in the form of flower and pink stone is embedded in it. Pearls are also arranged around the stone which adds little drama to it.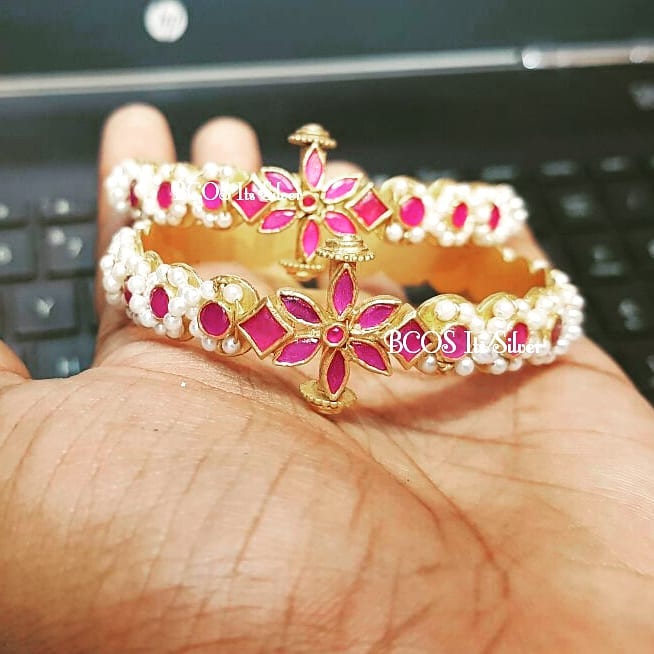 11) Simple Bangle
This one is simple and sleek. If you are someone who doesn't like those heavy bangles and looking for something simple yet smart, then you can opt for this one.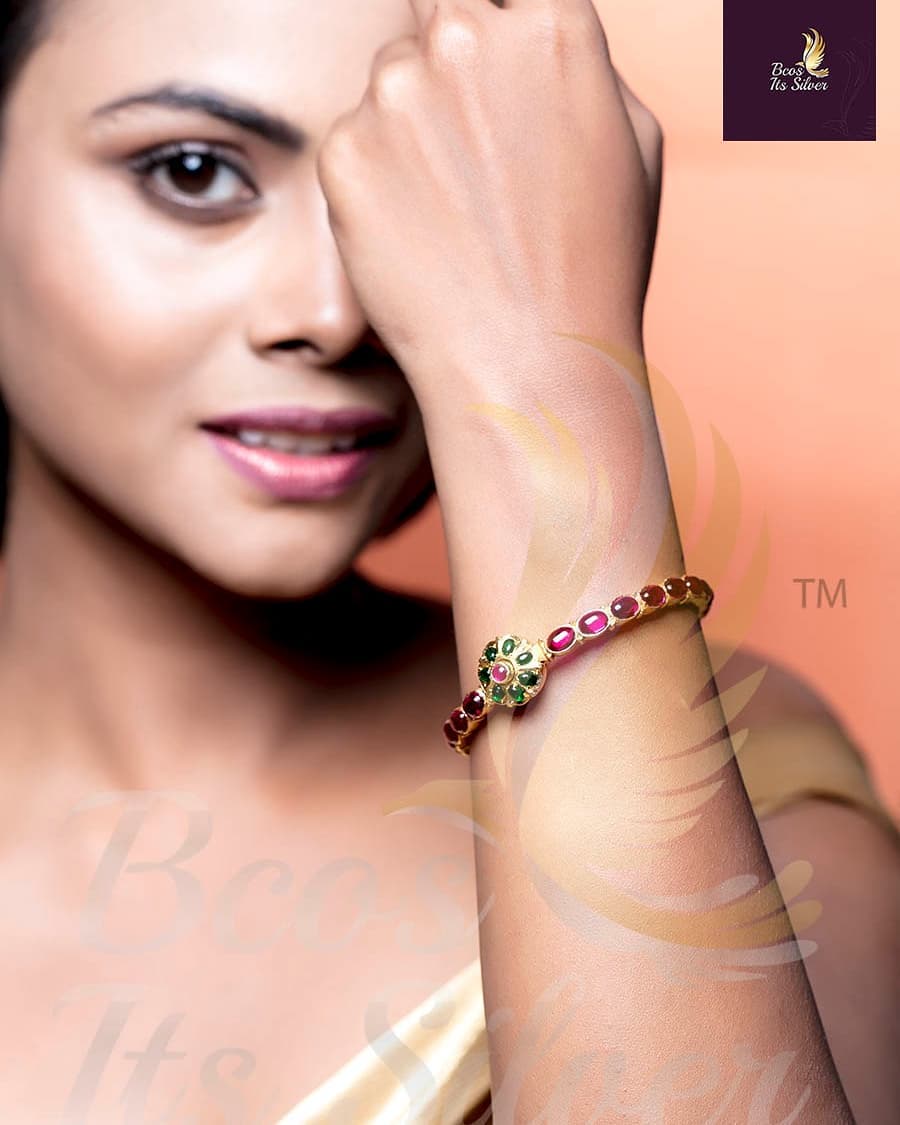 12) Stylish Kada Bangle
If you are love to wear bold pieces that makes for a centre stage on your dressing, then this bold intricately crafted kada bangle will come to your aid.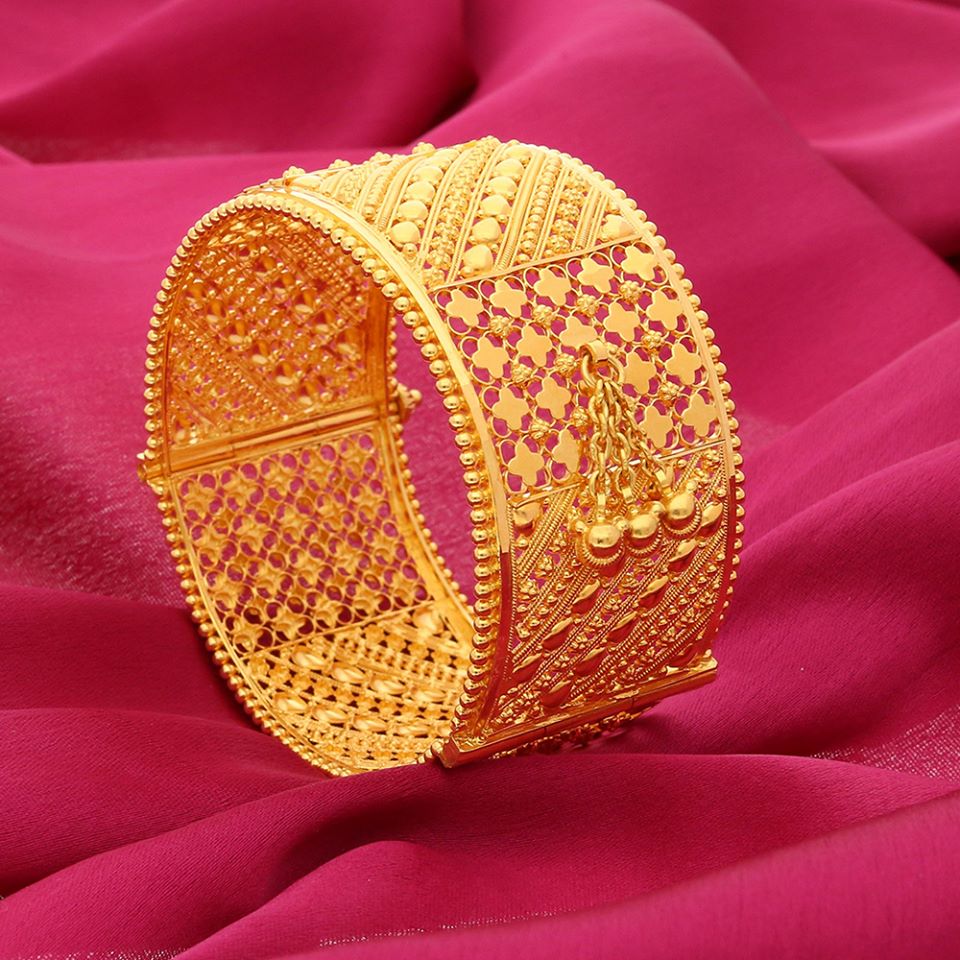 13) Broad bangle
If you think bangles can only be worn Indian attire then you are mistaken. Bangle like this can be worn with western attire like dresses also.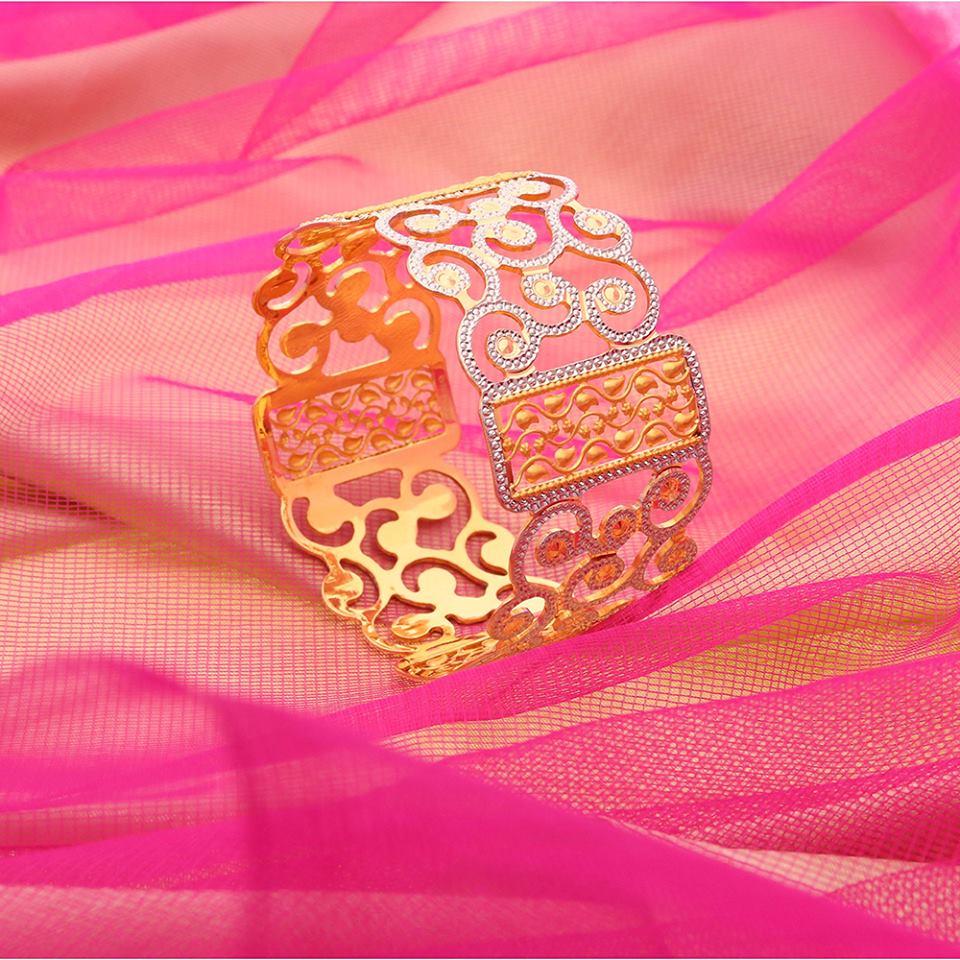 14) Traditional bangle
If you are looking for something every traditional yet trendy, then this one is a perfect match of your choice. It hardly has stones and golden beads are arranged just next to each other form a floral pattern.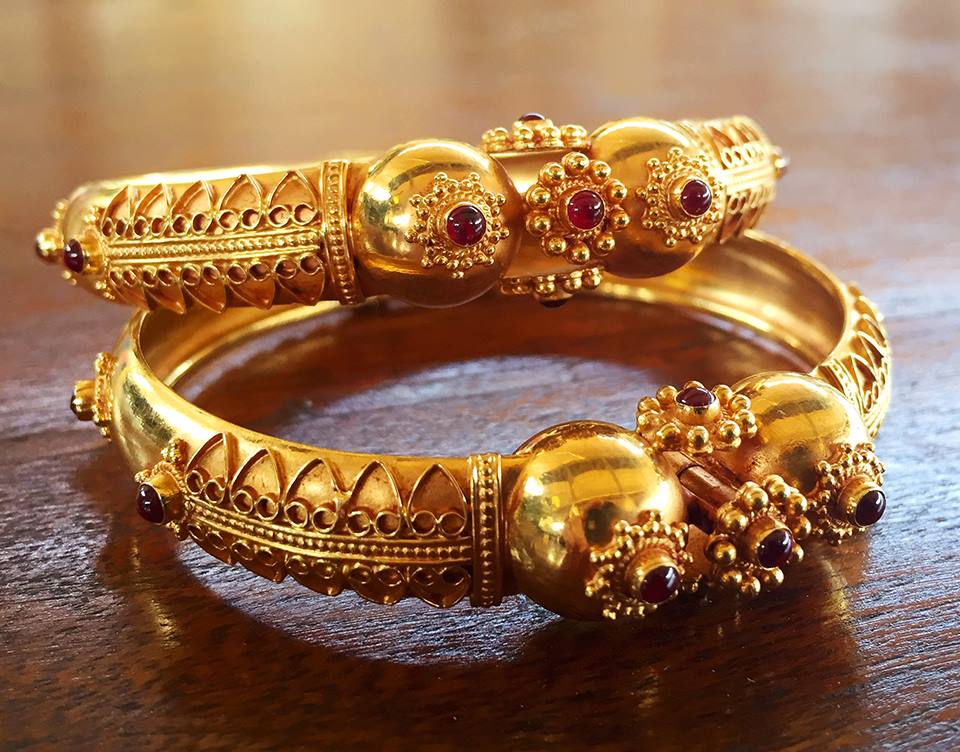 15) Bangle set
Sometimes just one or two bangles don't make you feel happy. All you need is a set of bangles which just complement each other and looks perfect on your attire.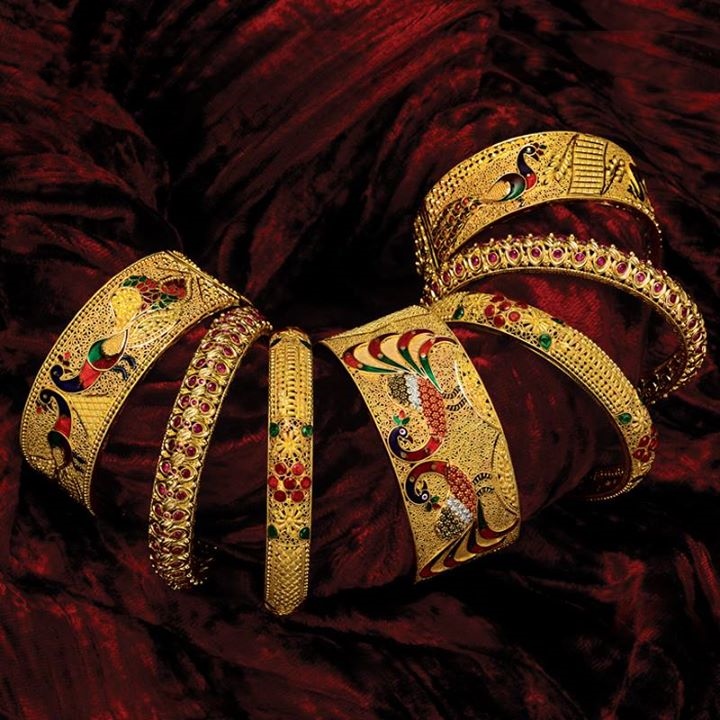 16) All gold
Bangles are part of traditional Indian jewellery. Most Indian women prefer wearing heavy gold bangles. These bangles are purely made up of gold so if you are planning to gift someone something really special you can opt for this one.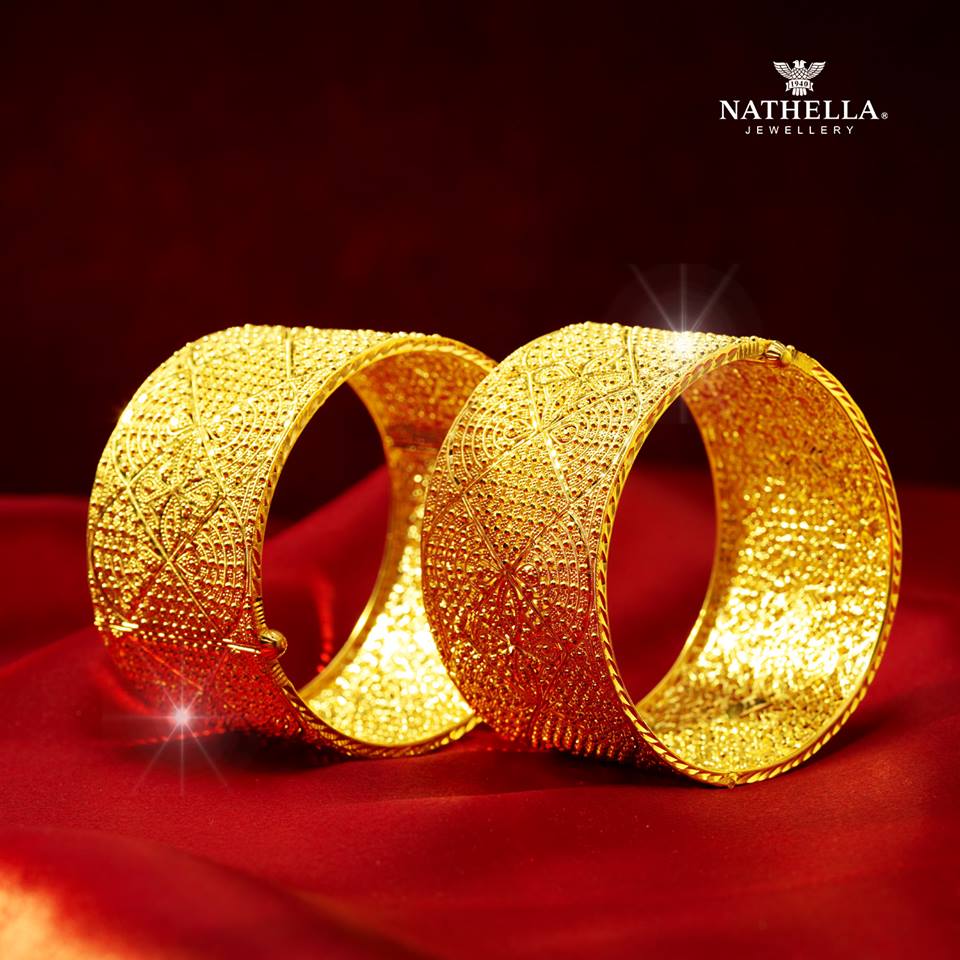 17) Royal Bangle
There is nothing like these beautifully engraved gold bangles which can be easily worn for a wedding ceremony or can be gifted to your beloved one. These floral motif bangles are super feminine and super sexy.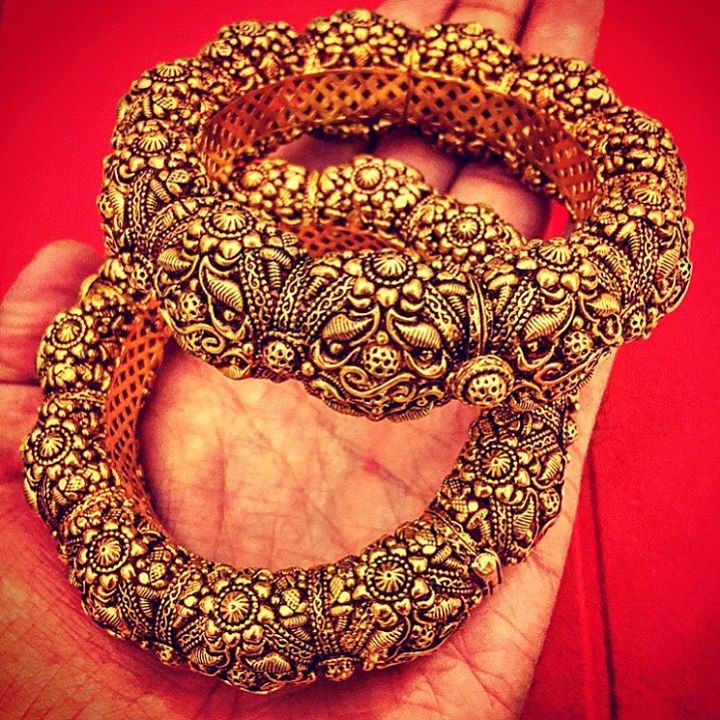 18) Coin Bangle
When did we ever forget the classy coin patterns on our jewellery? Coins can not only adorn your neck piece or earrings, even bangles can be a welcoming change to incorporate coin designs!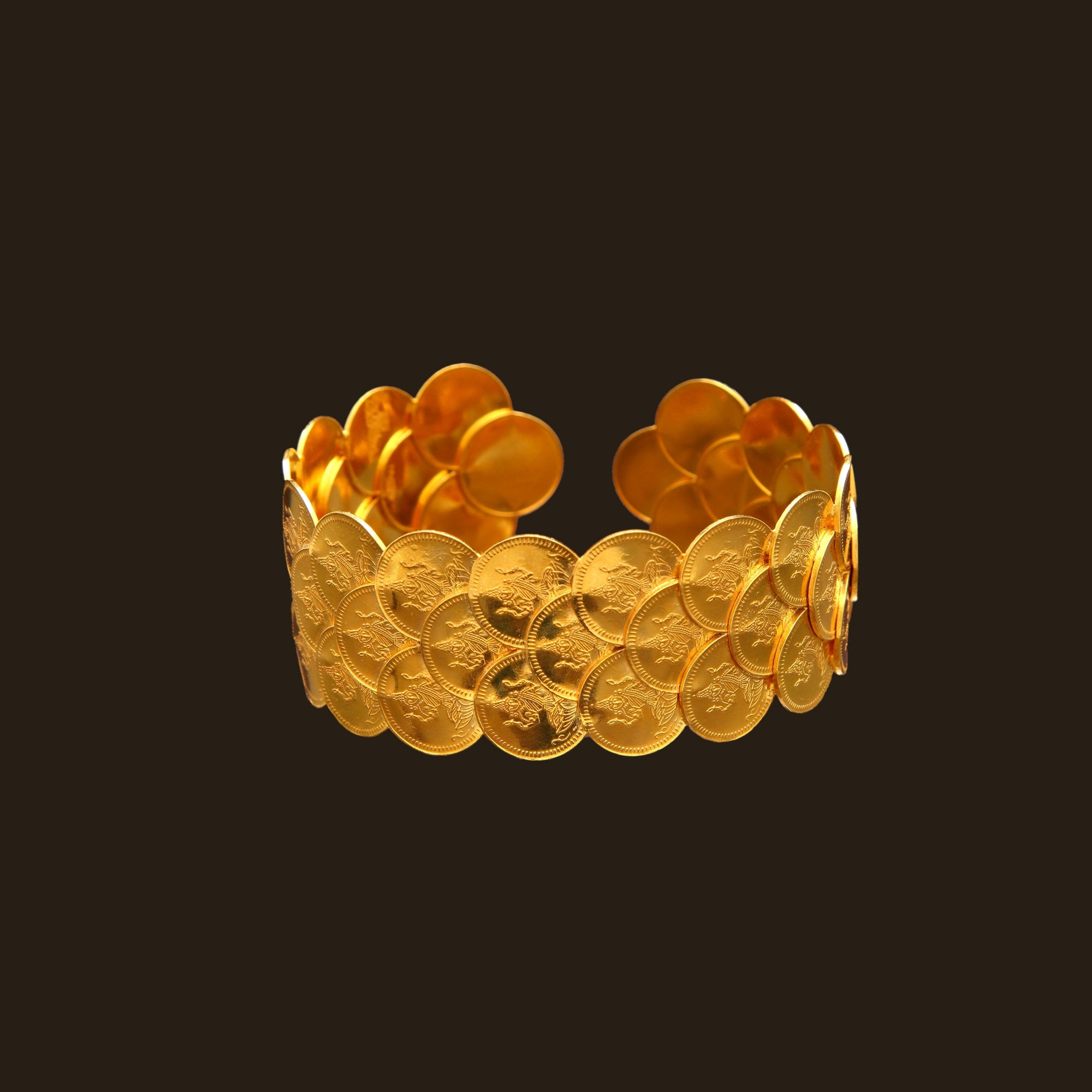 19) Meenakari Bangle
Have you ever heard of "laak" bangles which are traditional hand made in few parts of Rajasthan? This is the same kind with crystals embedded in it and the emerald green body is the prime beauty of it. Those gold beads attached add an extra drama to it.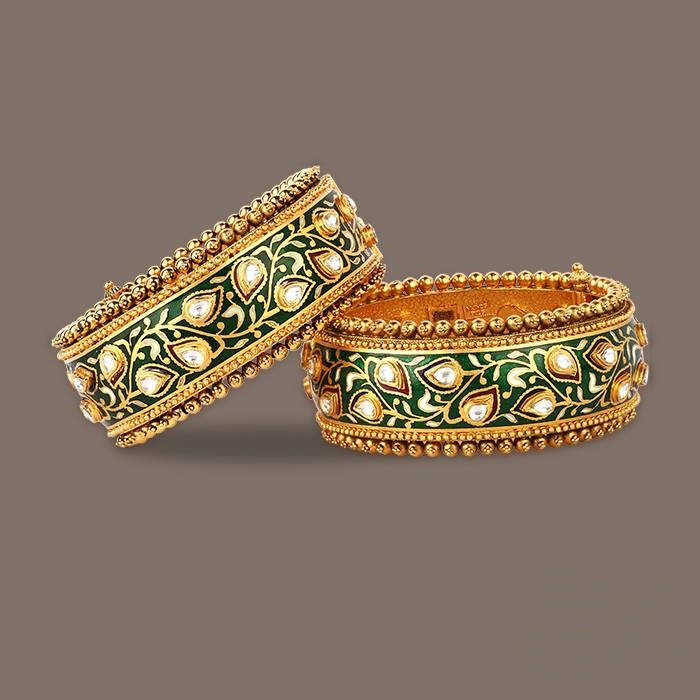 20) Light Gold Bangle
From traditional heavy gold bangles, to lighter pieces for everyday wear, but there is something very special about bangles. This light bangle can be worn with an embroidered or sequinned lehenga which is inspired from a peacock.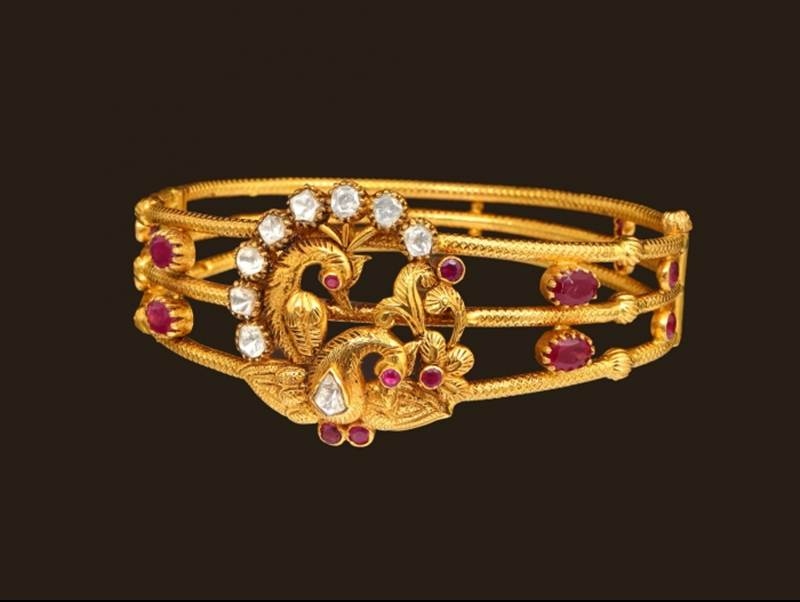 21) Pearl Bangle
Bangles come with a special dazzle like no other! A staple of Indian jewellery, no look is complete without bangles. This traditional heavy gold bangle with a pearl at the centre and gold beads around it is just so stunning. This is appropriate for a typical South Indian wedding.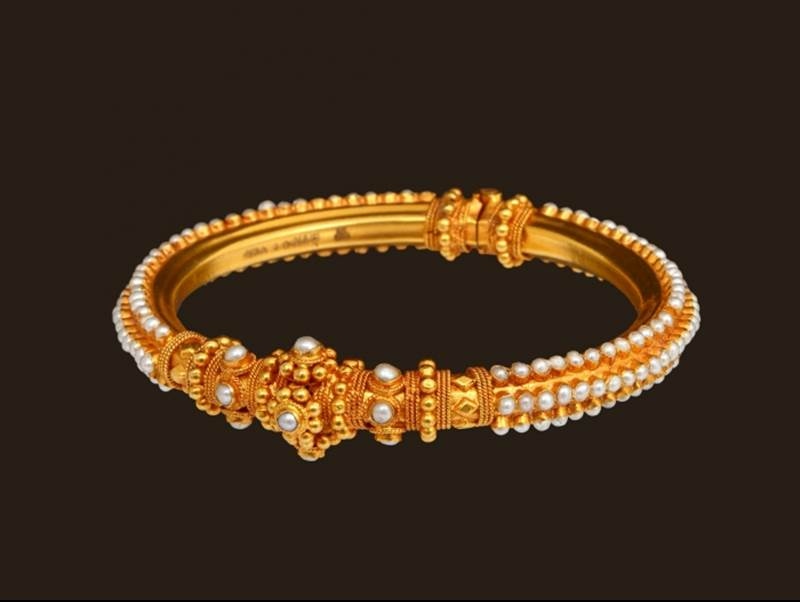 These are some of the few coveted models we spotted off late. We understand that you want to inquiries about these models. If so, please do find the seller contact details below so you can check if these mind-blowing designs are still available!
Seller Name : Karpagam Jewellers
Contact No : 0422 – 4506001 / 2 / 3
Email : ka***************@ya***.in
Website : http://www.karpagamjewellers.com/
Seller Name: Bandhan
Instagram: https://instagram.com/bandhanemporio
Facebook:www.facebook.com/bandhansemporio/
Contact: Bandhan +91-9963713989 or +1-647-472-9097
Email: ba************@gm***.com
Seller Name : BCOS – Its Silver
Contact No: +91 90941 38036.
Email :ar***************@gm***.com
Website: https://www.bcositssilver.com/
Instagram : https://www.instagram.com/bcos_its_silver/
Facebook: https://www.facebook.com/BCOSITSSILVER/
Address : Shop #1, Plot #102, 17th Cross Street, 6th sector, near MK Ahmed bazar, opp to ICICI bank, HSR Layout, Bengaluru 560 102.
Seller Name : Manubhai Jewellers
Contact No : 022 28992042 / 8 lines
Website : www.manubhai.in
Facebook : https://www.facebook.com/Manubhai.Jewelers
Instagram :https://www.instagram.com/manubhaijewels/
Products : One stop destination for all bridal jewellery..Jadau and kundan collections to elegant diamond wear and pure gold jewellery. From gifting a bride to adorning a bride on her D-Day, Manubhai Jewellers has an eclectic collections.
Seller Name : GRT Jewellers
Website : http://grtjewels.com/
Contact : 044 2346 1551
Facebook: https://www.facebook.com/grtjewels/
Seller Name : Nathella Jewellery
Website : http://nathella.net/
Contact No : 044 – 24342925, 044 – 26267600, 044 – 22592500
Seller Name : Amrapali
Website : http://www.amrapalijewels.com
Email : in**@am************.com
Contact No : +91 141 5191100
Seller Name : Vummidi Bangaru Jewellers
Address : AB 149, 3rd Main Road, Anna Nagar, Chennai, Tamil Nadu 600040
Rani Seethai Hall, First Floor, 603, Anna Salai,Chennai – 600 006.
Contact No : 044 – 2829 2003, 2829 2004, 044 – 49033355
Website : http://www.vummidi.com/
More Details : VBJ (Vummidi Bangaru Jewellers) are creators and retailers of exquisite gold and diamond jewellery since 1900, in India. Their range includes traditional Kundan, Nakshi and antique finished jewellery, as well as modern 18k gold and trendy diamond jewellery.
Seller Name : TBZ
Website : http://www.tbztheoriginal.com/
Also Read: