Jewellery is something which can bring excitement on any woman's face and when it is pocket friendly its cherry on top. So we have stunning 30 gold necklace designs under 30 grams and scroll down to know more.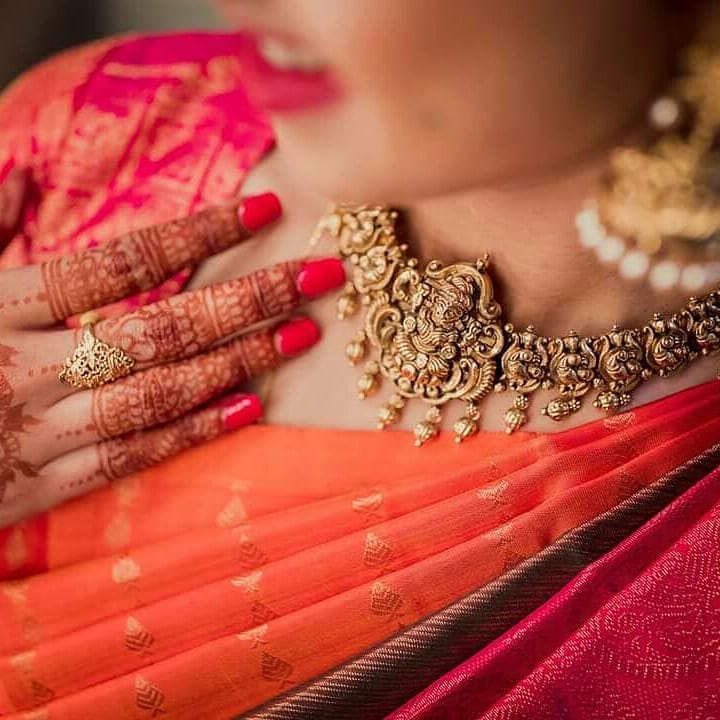 1) Bold Gold Necklace Design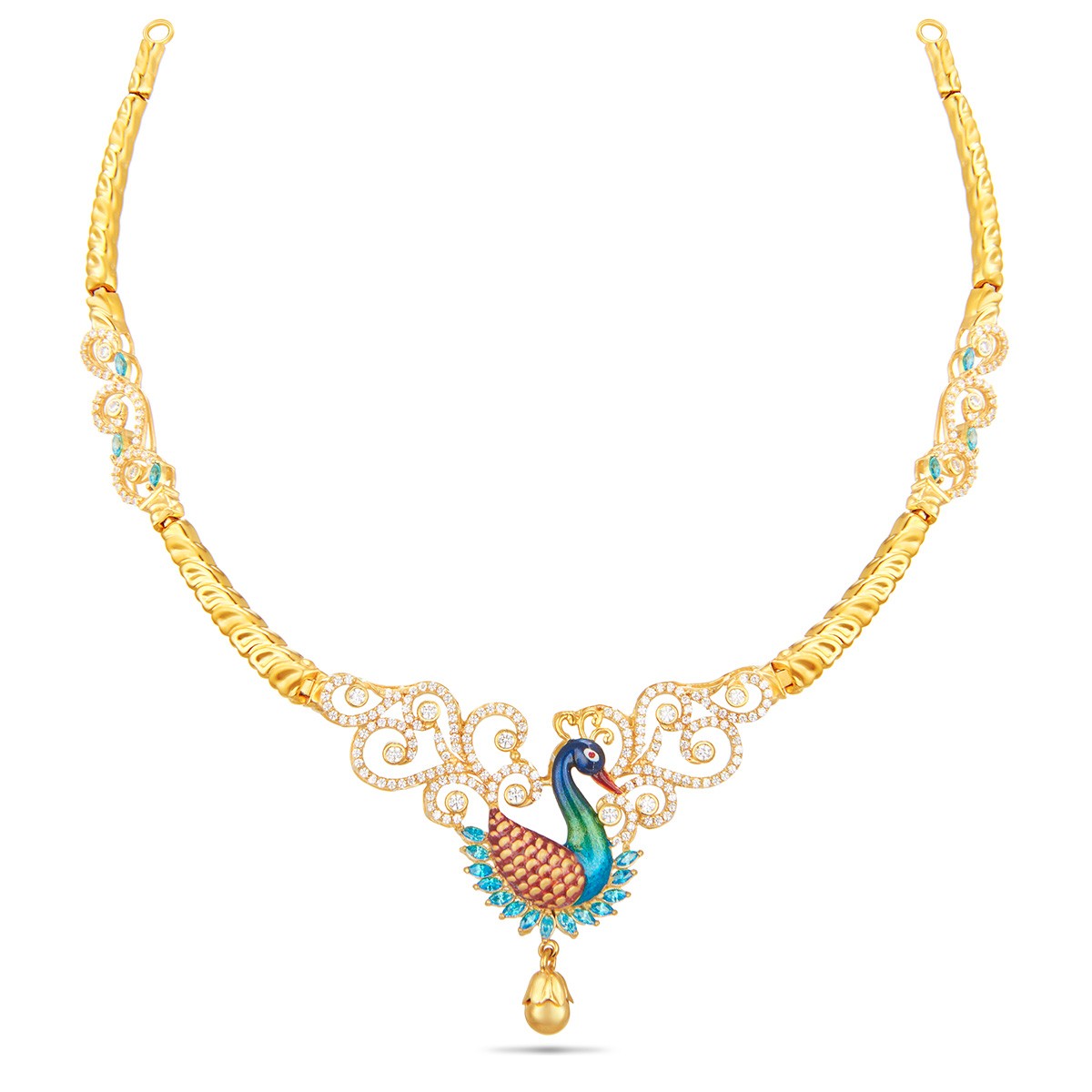 Gold necklaces are popular and most sought-after precious gemstone. Ladies love to wear gold necklace and enjoy a delicate and ethnic look. The holistic appearance of gold makes it a choice to wear as a single strand necklace.
2) Gorgeous gold necklace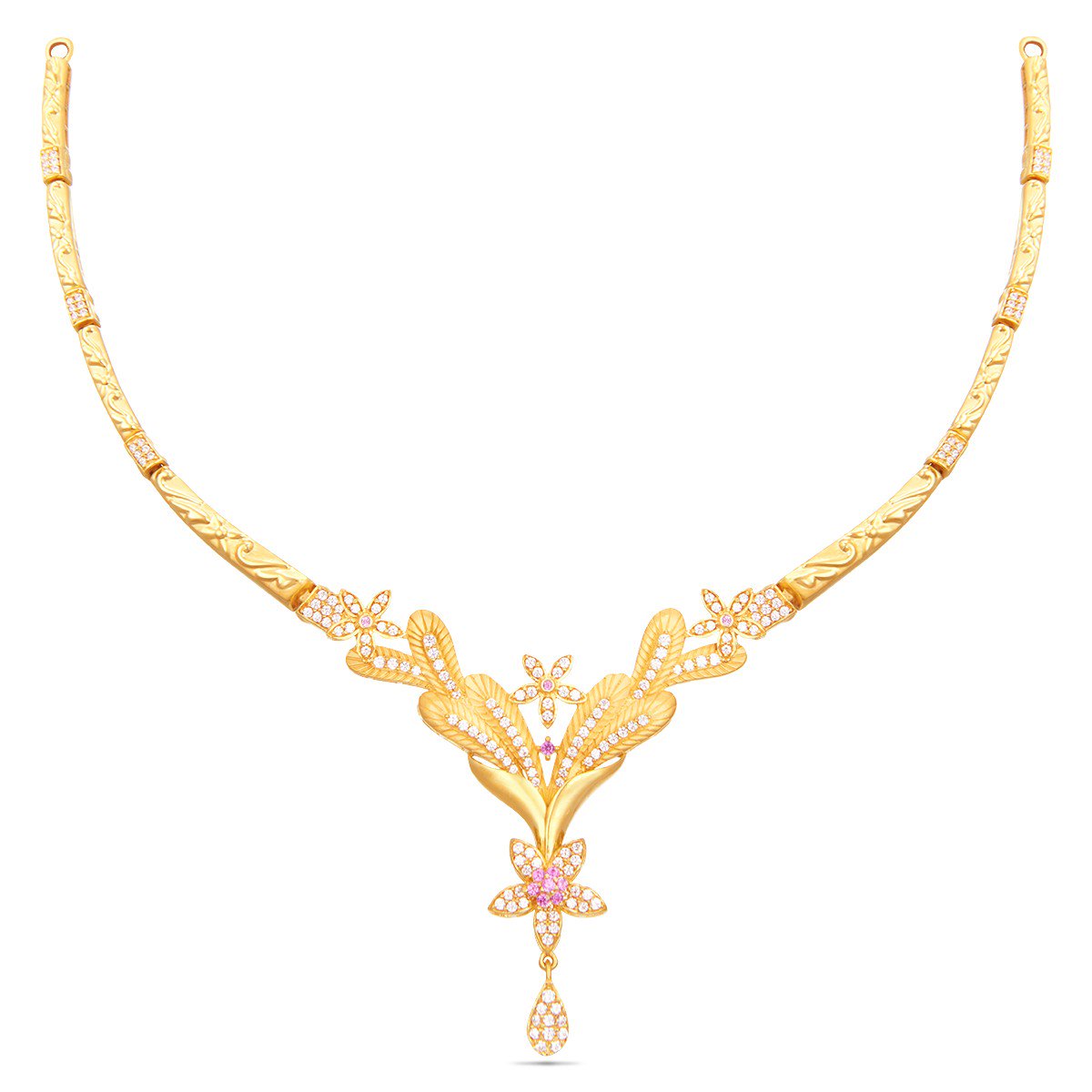 Make every moment precious and full of glow radiating around you with this gorgeous gold necklace.
3) Multi-stone Necklace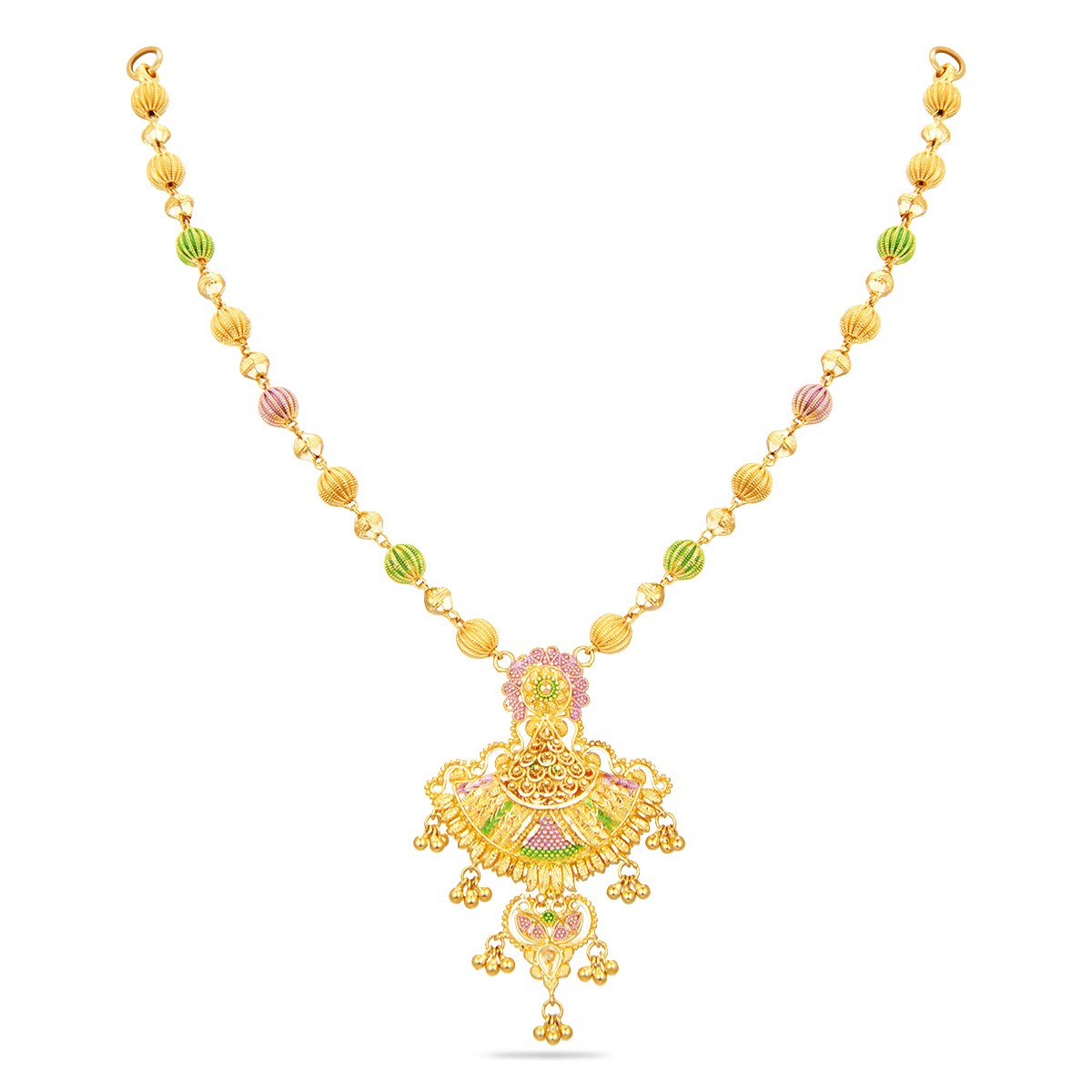 This is one of its kind. This multi-stone gold necklace with gold beads on the strands on both the side of it will add a aura of grandness to any outfit you choose to wear.
4) Creative Design Gold Necklace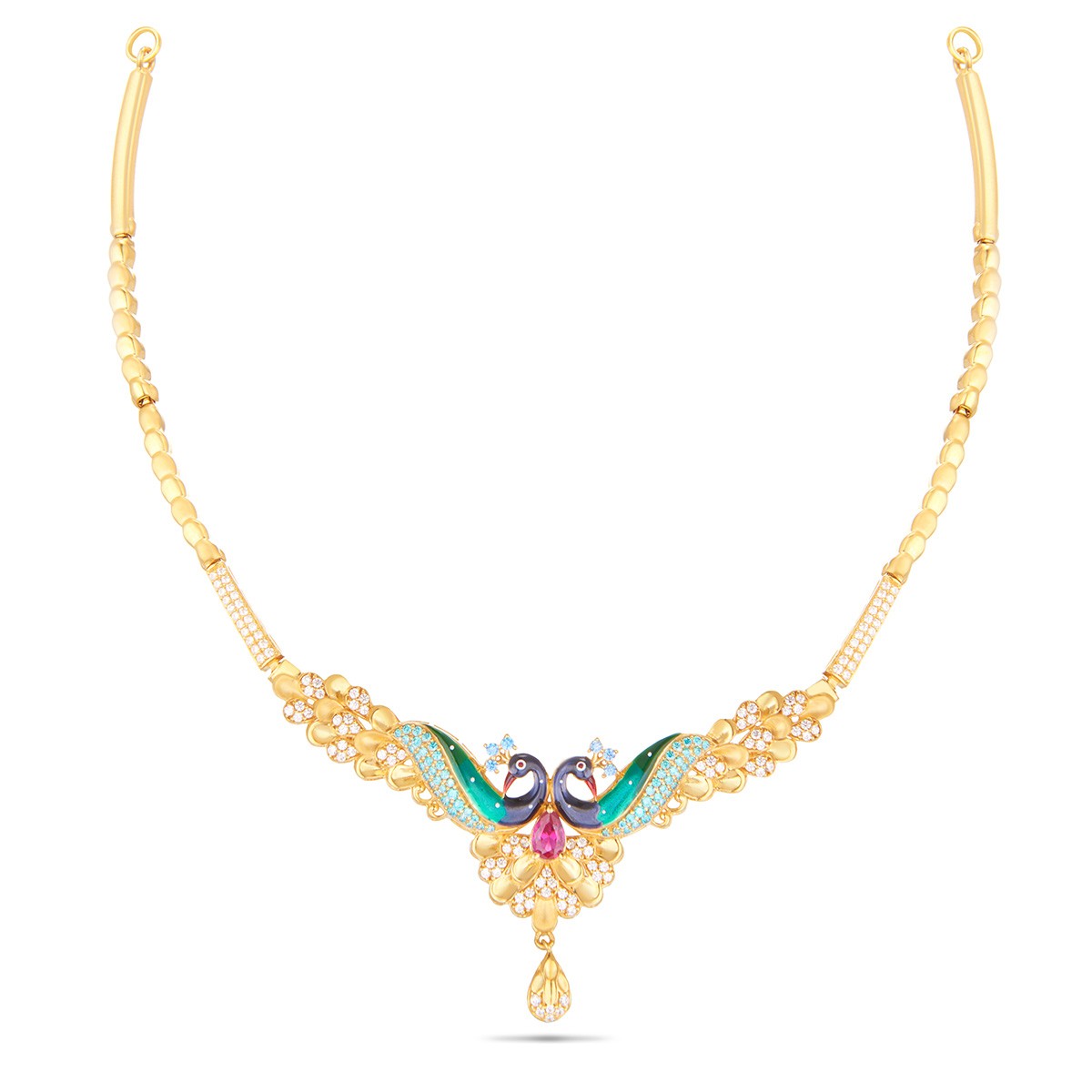 This gold light weight necklace with marvellous contemporary peacock design is a master piece to try.
5) Glamorous Bold Gold Necklace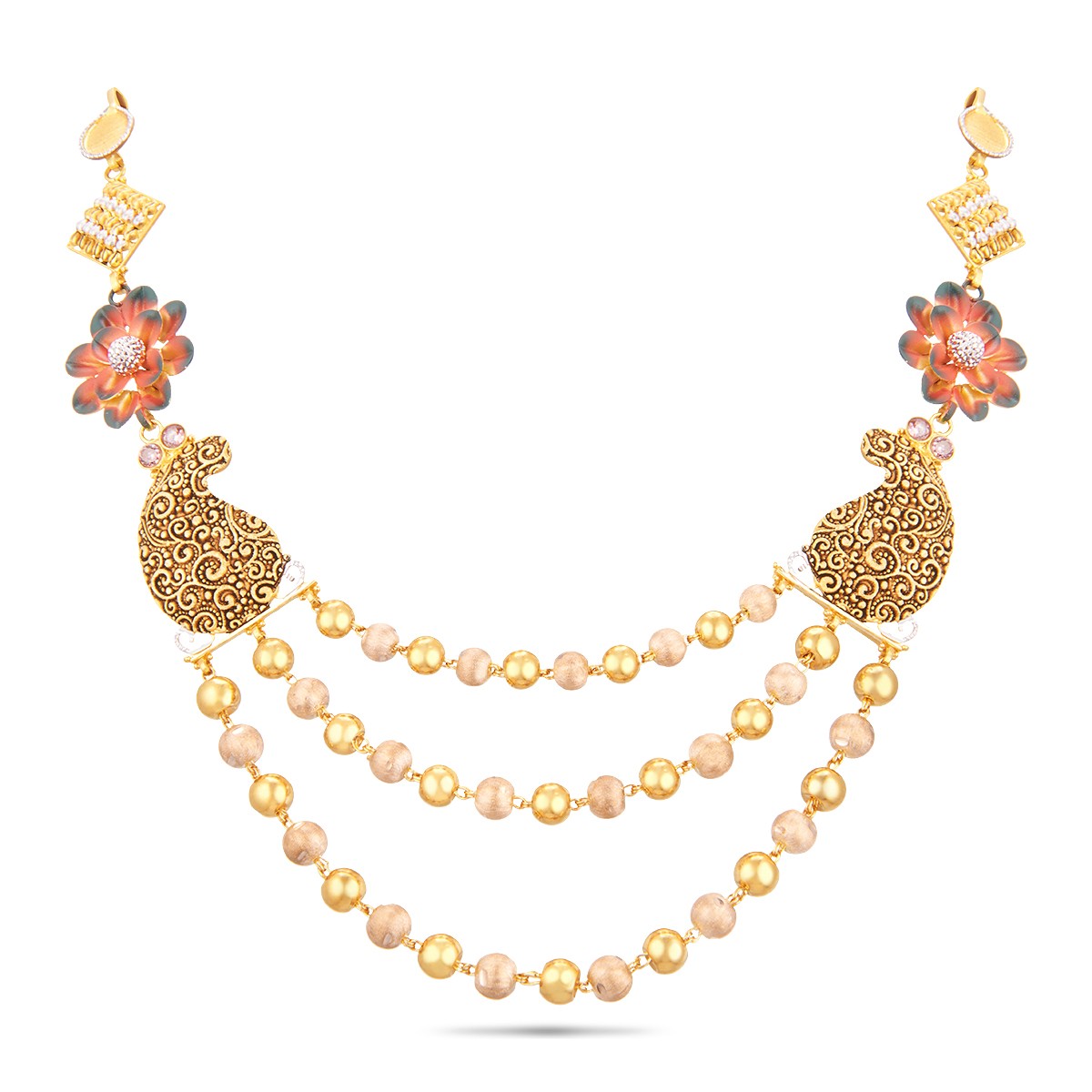 Give yourself a stylish, wonderful and unique look with the layered necklace with this gold and pearl multi layered necklace.
6) Exotic Heart Gold Necklace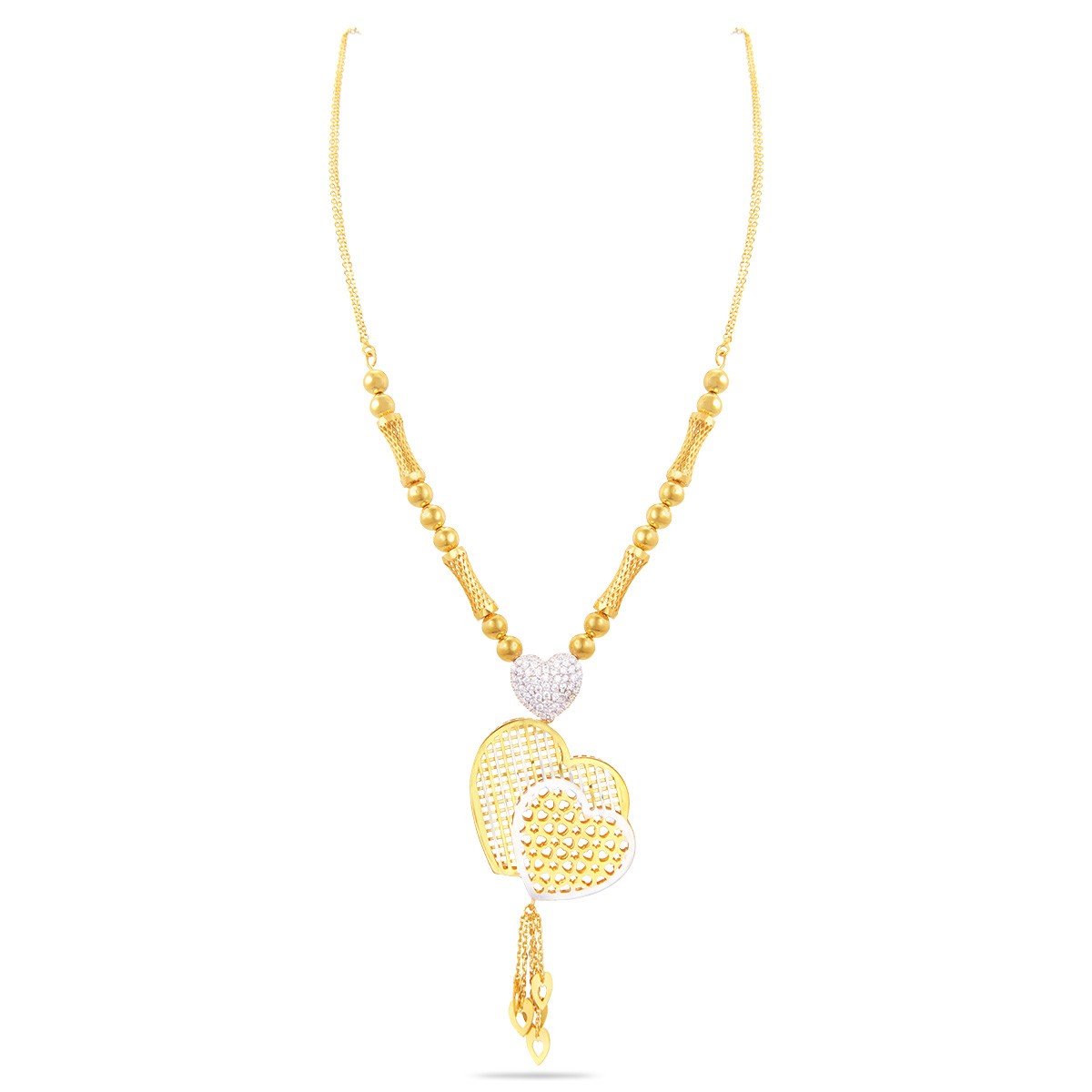 This one is a very unique and exotic piece which is appropriate for a wedding ceremony.
7) Traditional Floral Necklace Design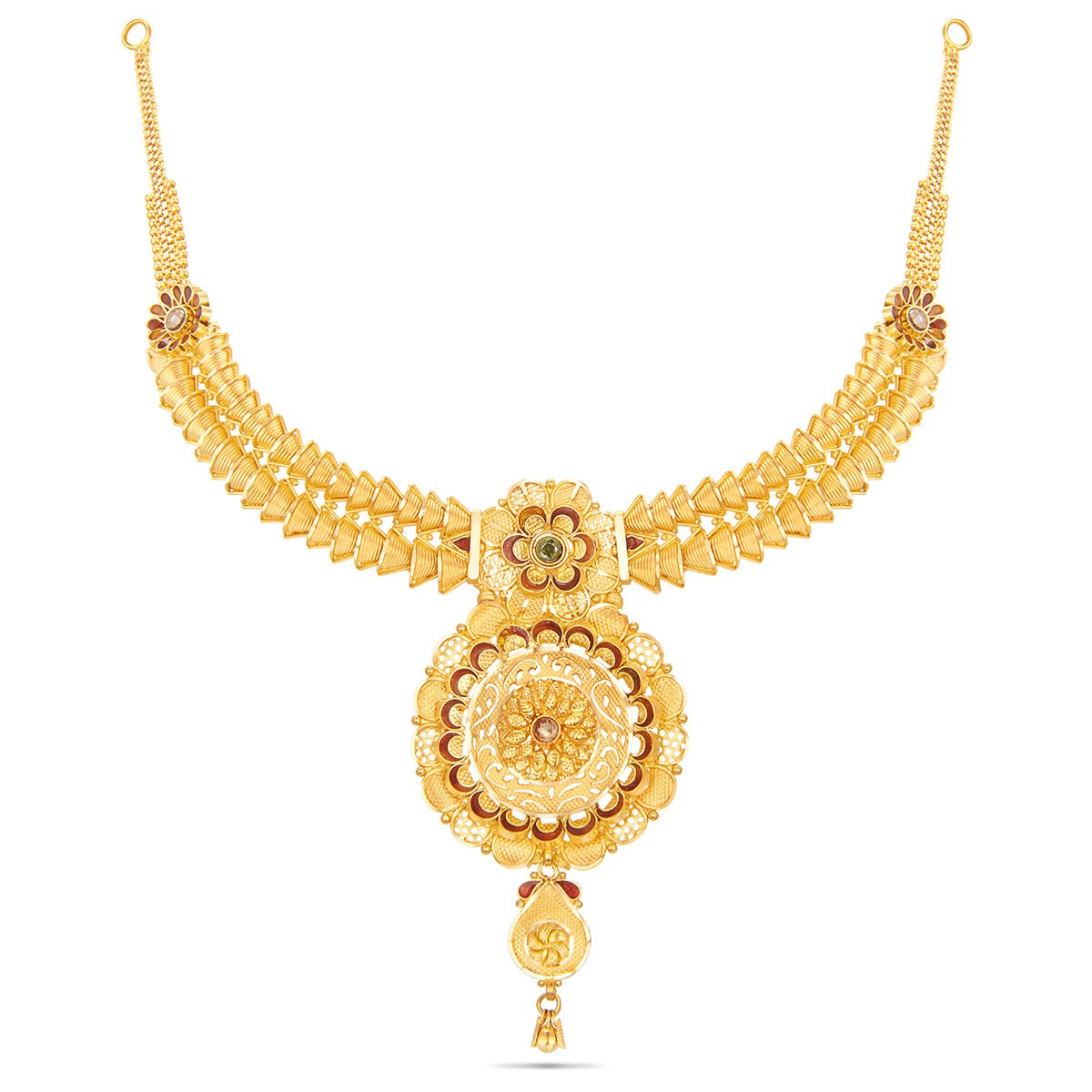 This one is truly inspired from a flower which is a symbol of holiness. Pick this if you like to look traditional and chic.
8) Peacock Necklace Design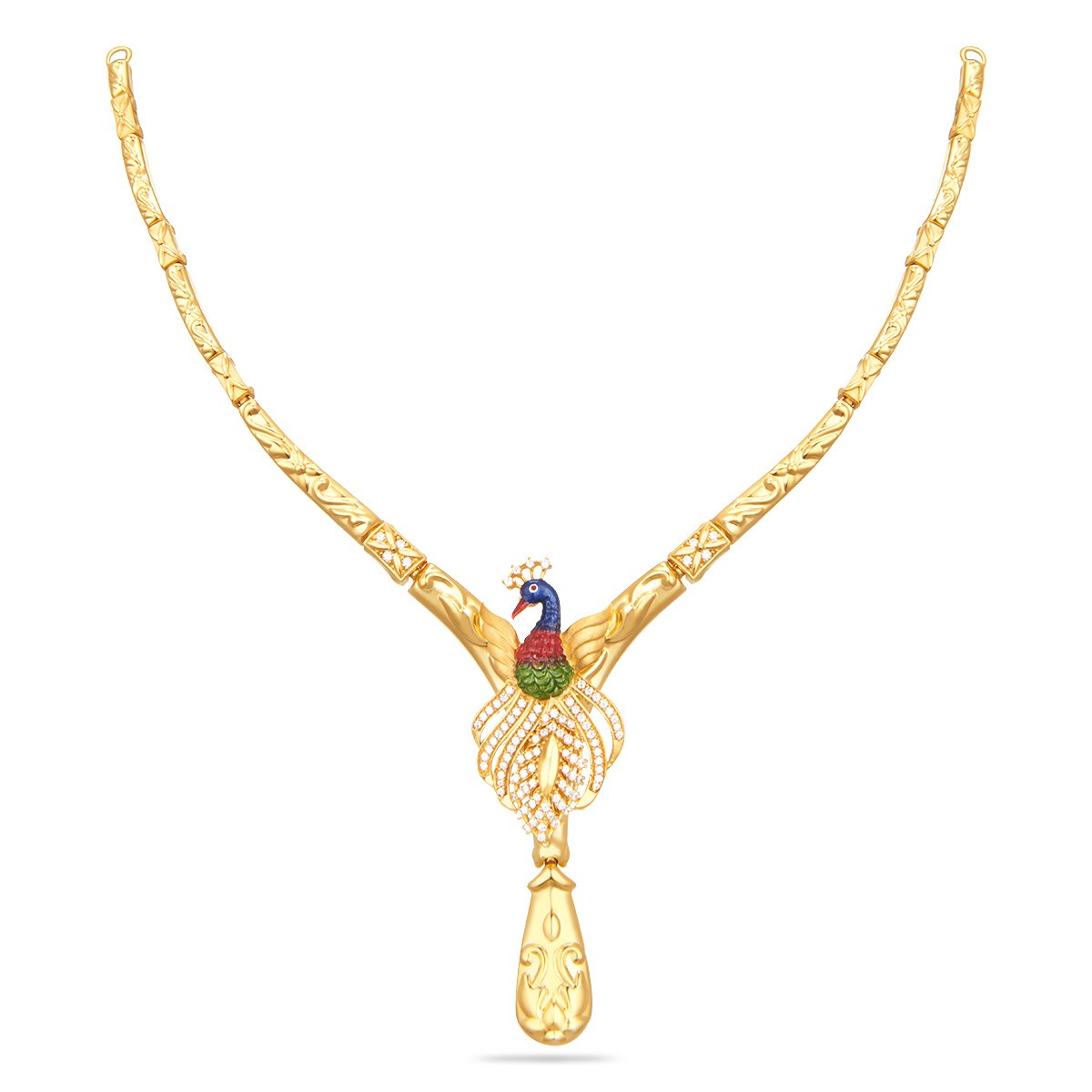 A necklace with such a unique design is something which every woman needs to avoid "I have something of same design" comment.
9) Double Strand Necklace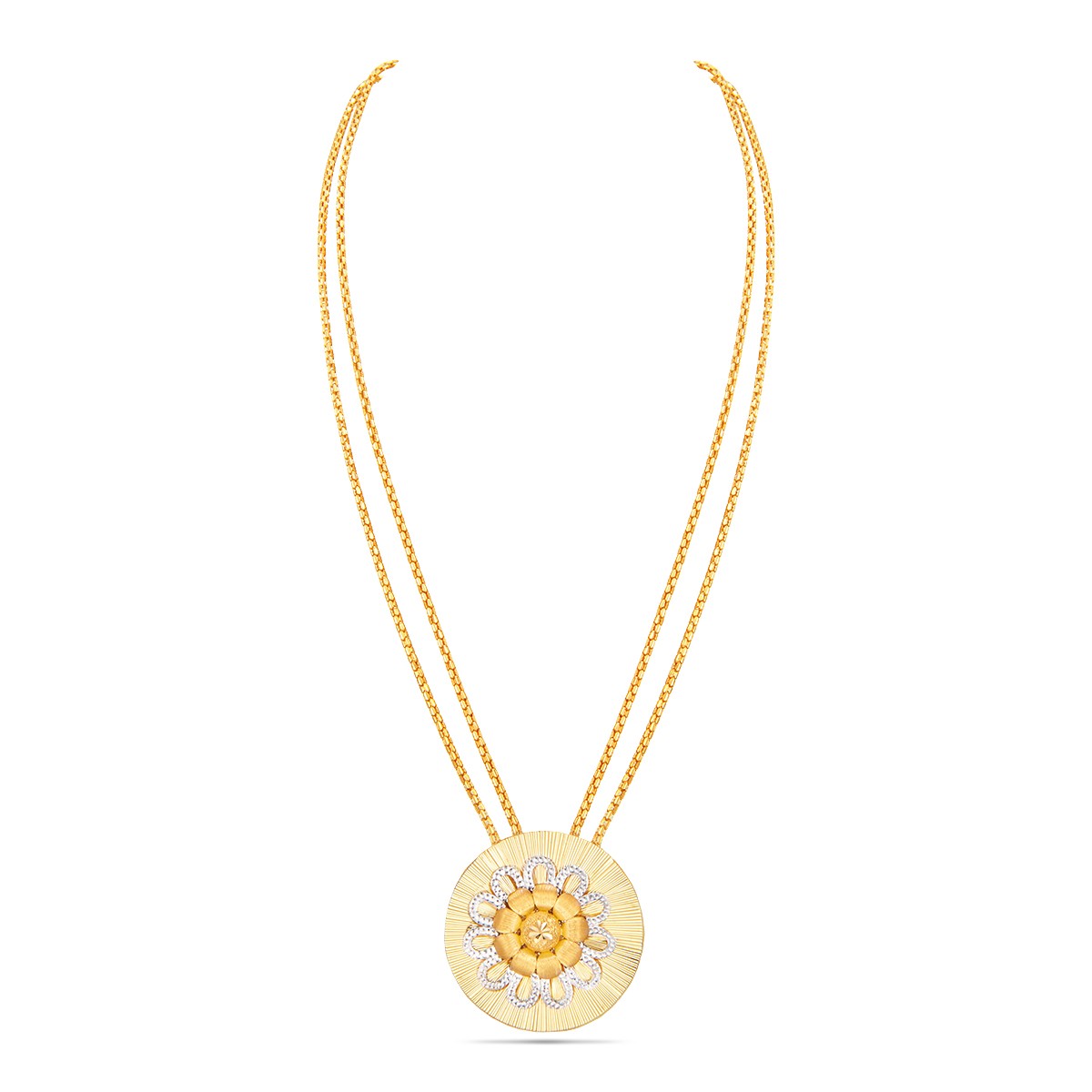 This double strand with floral pattern motif is the prime beauty of this gold necklace under 30 grams.
10) Drop Necklace Design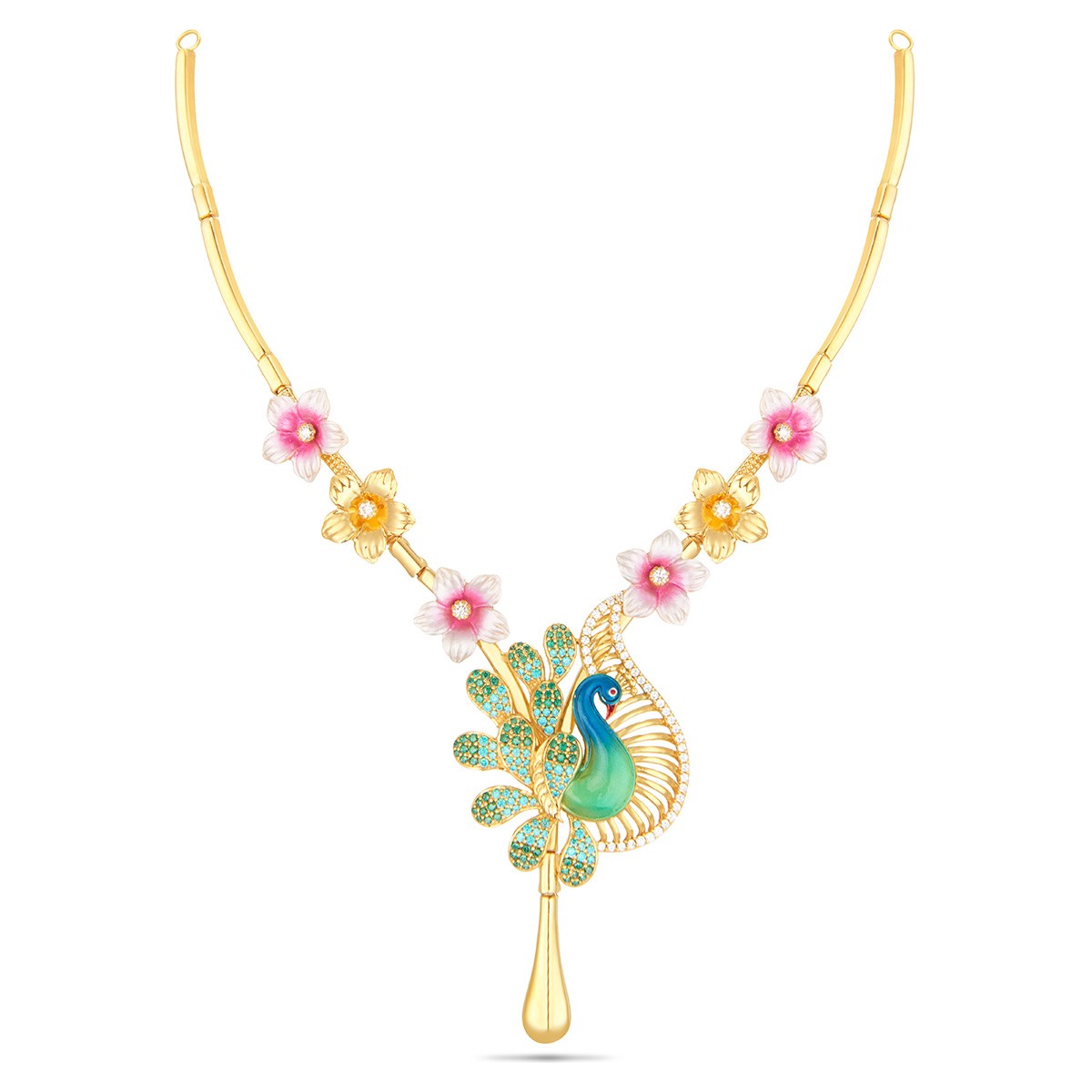 There are some unique jewellery pieces; you just can get enough of them. This is one of its kinds. Totally unique and modern.
11) Boxy Necklace Design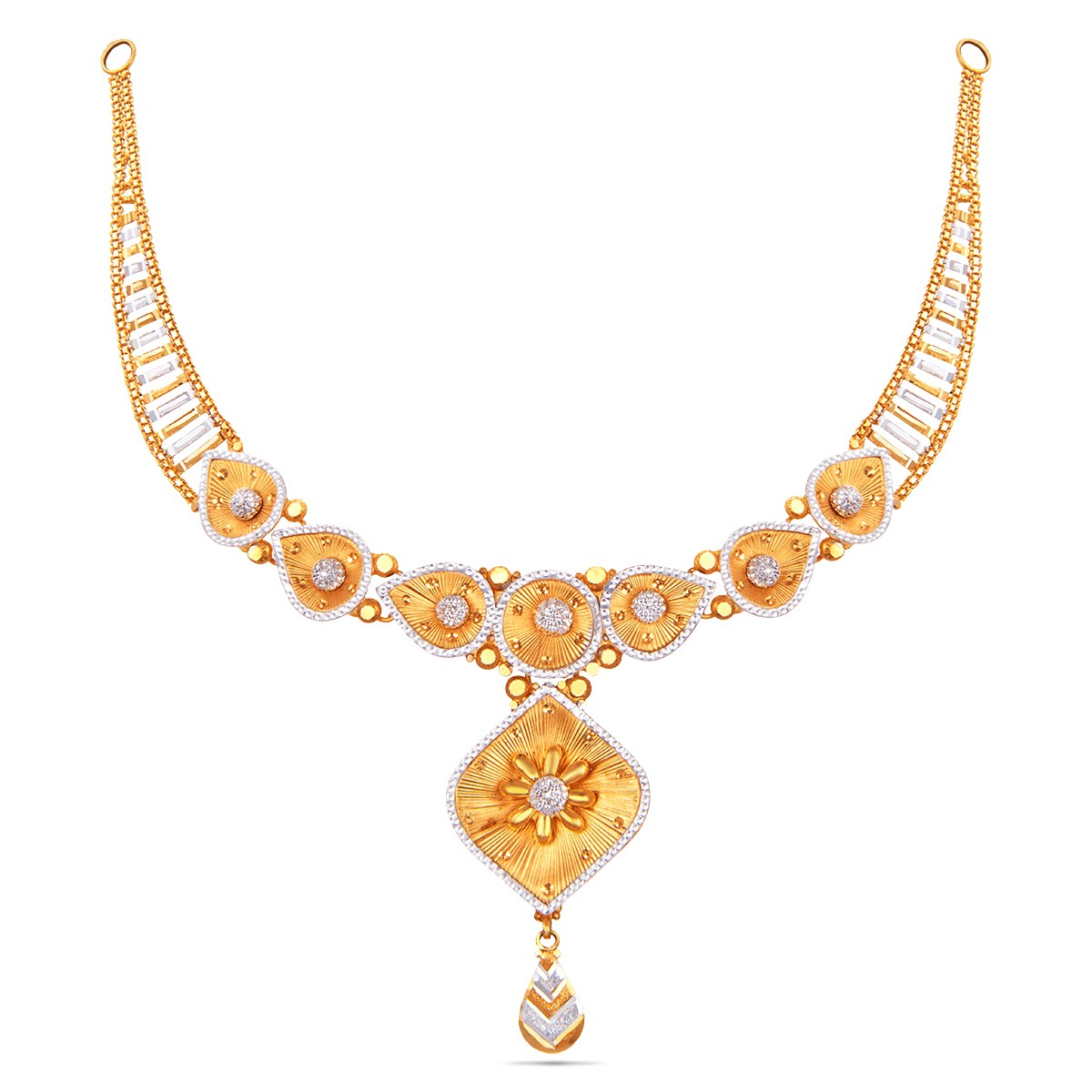 If you are someone who doesn't like those super light necklaces and looking for something simple yet smart, then you can opt for this one.
12) Gungaroo Necklace Design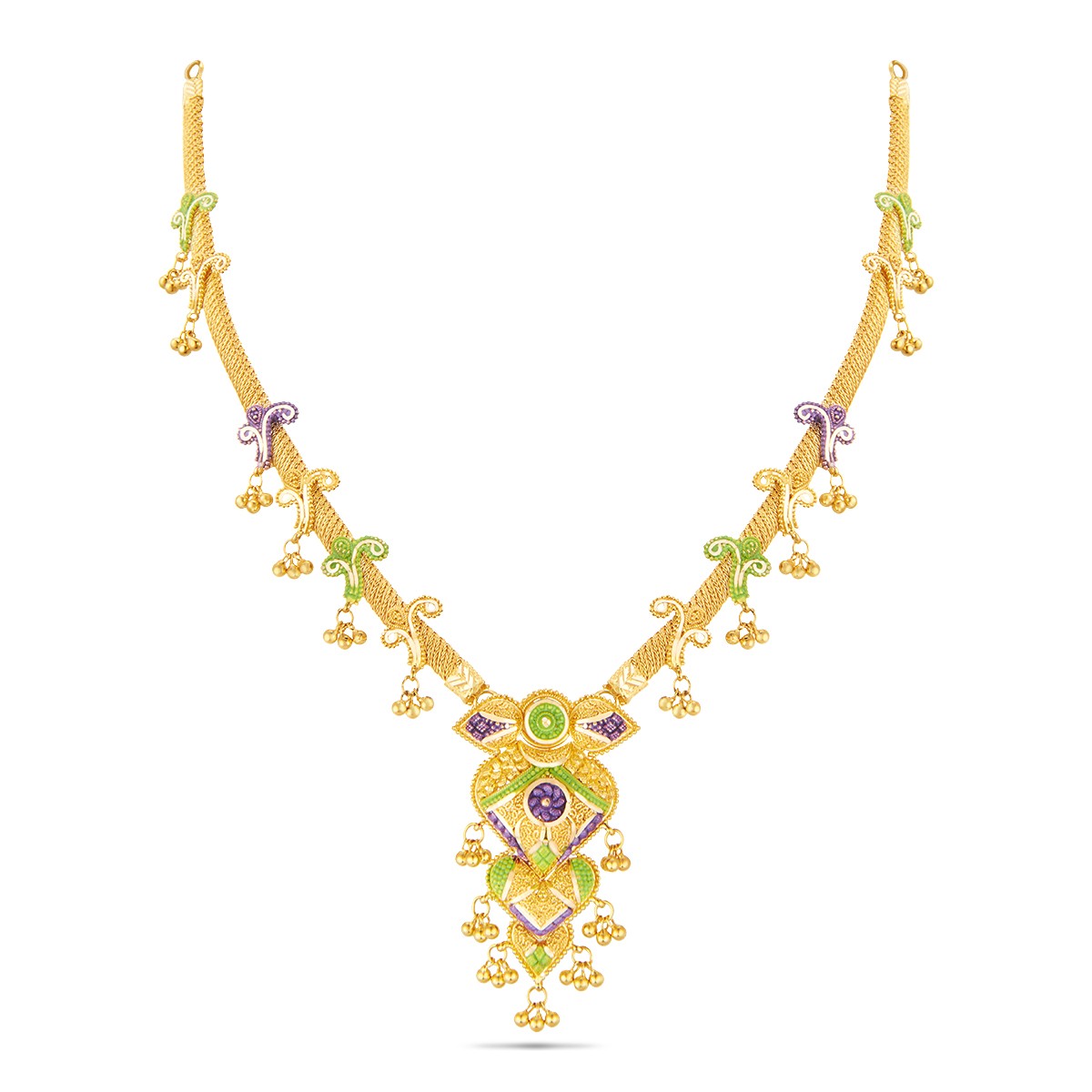 This chain with a perfect gungaroo and a perfect locket and equally amazing design add up to a great set altogether.
13) Short Flower Necklace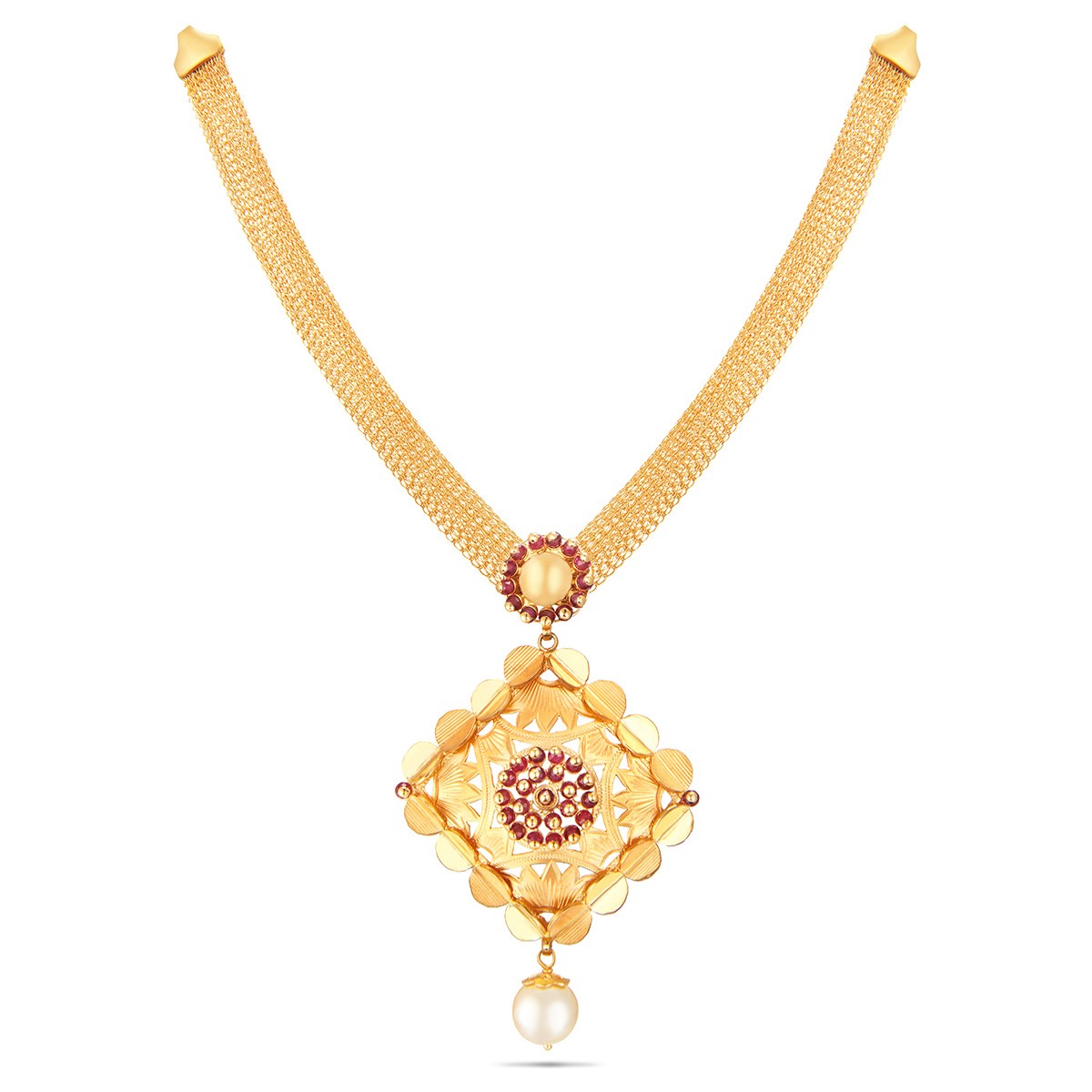 This boxy gold necklace design is a great choice to wear if you are looking for light weight simple model.
14) Grand Ruby Necklace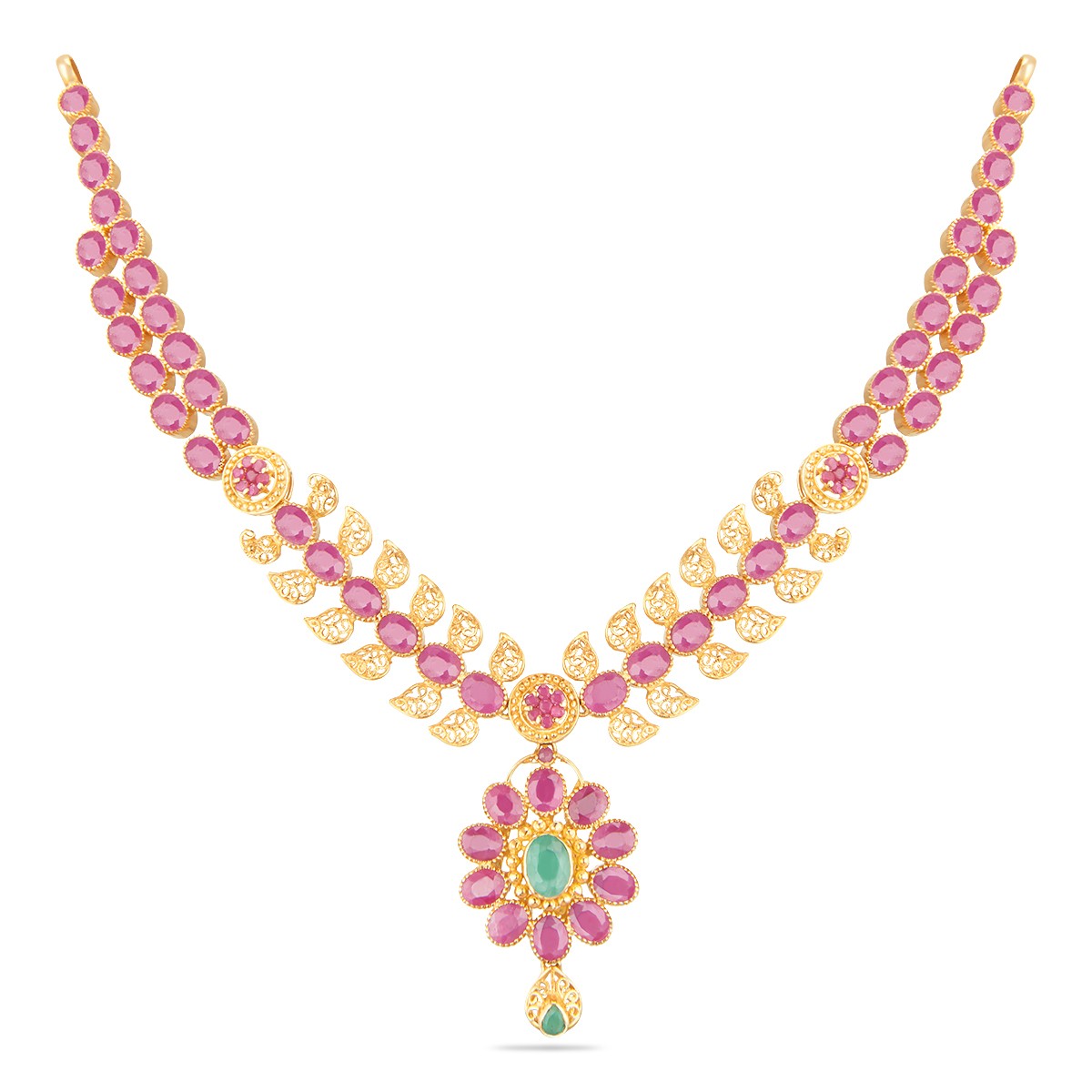 Who wouldn't like the beauty of elegant and royal looking rubies? Ruby lovers can't afford to miss this.
15) Stylish CZ Stone Gold Necklace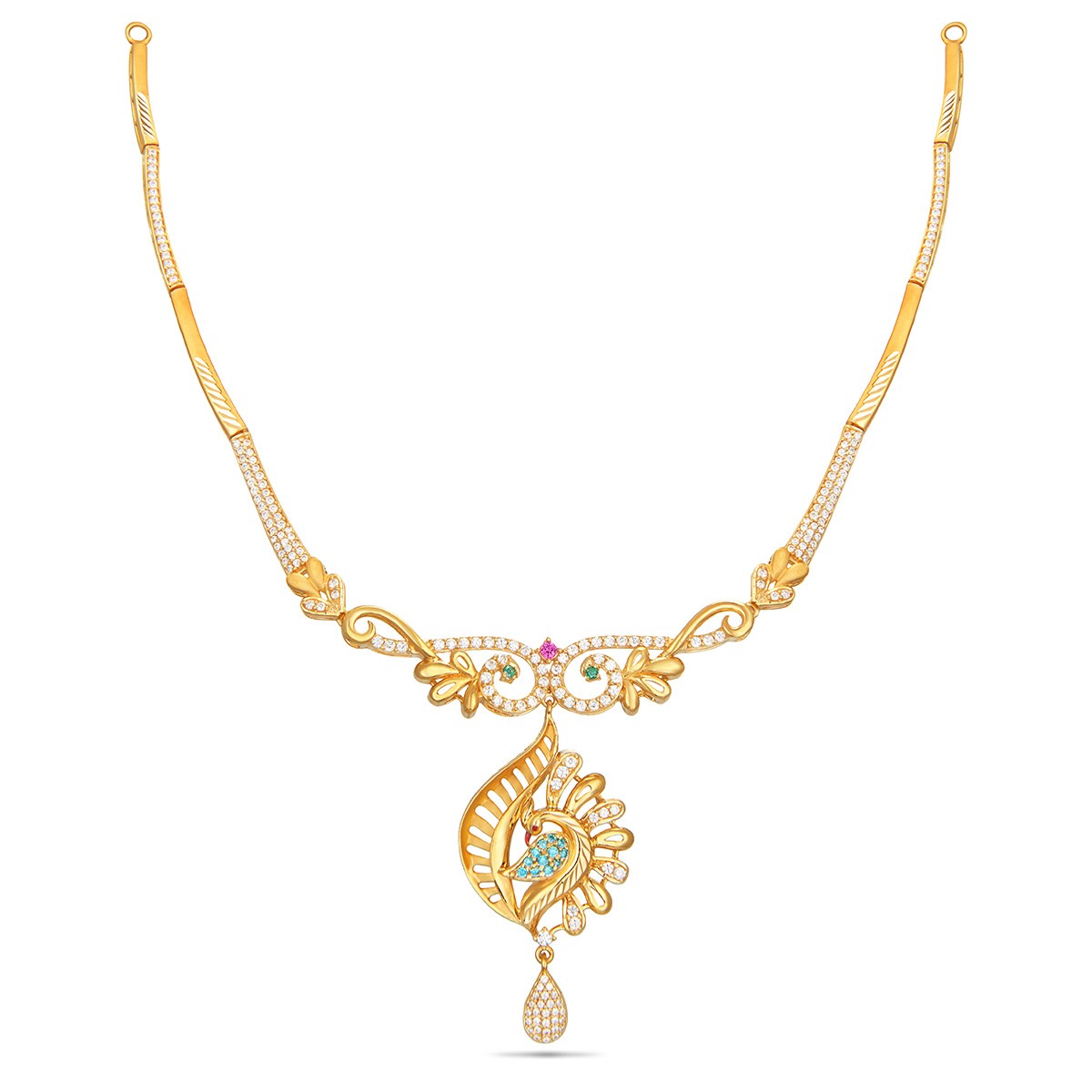 Here is the wonderful and outstanding gold necklace design that will give you a nice look on your outfits. You can try out different combinations of dresses with this necklace and obtain a different look every time you wear it.
16) Grand Rhodium Plated Necklace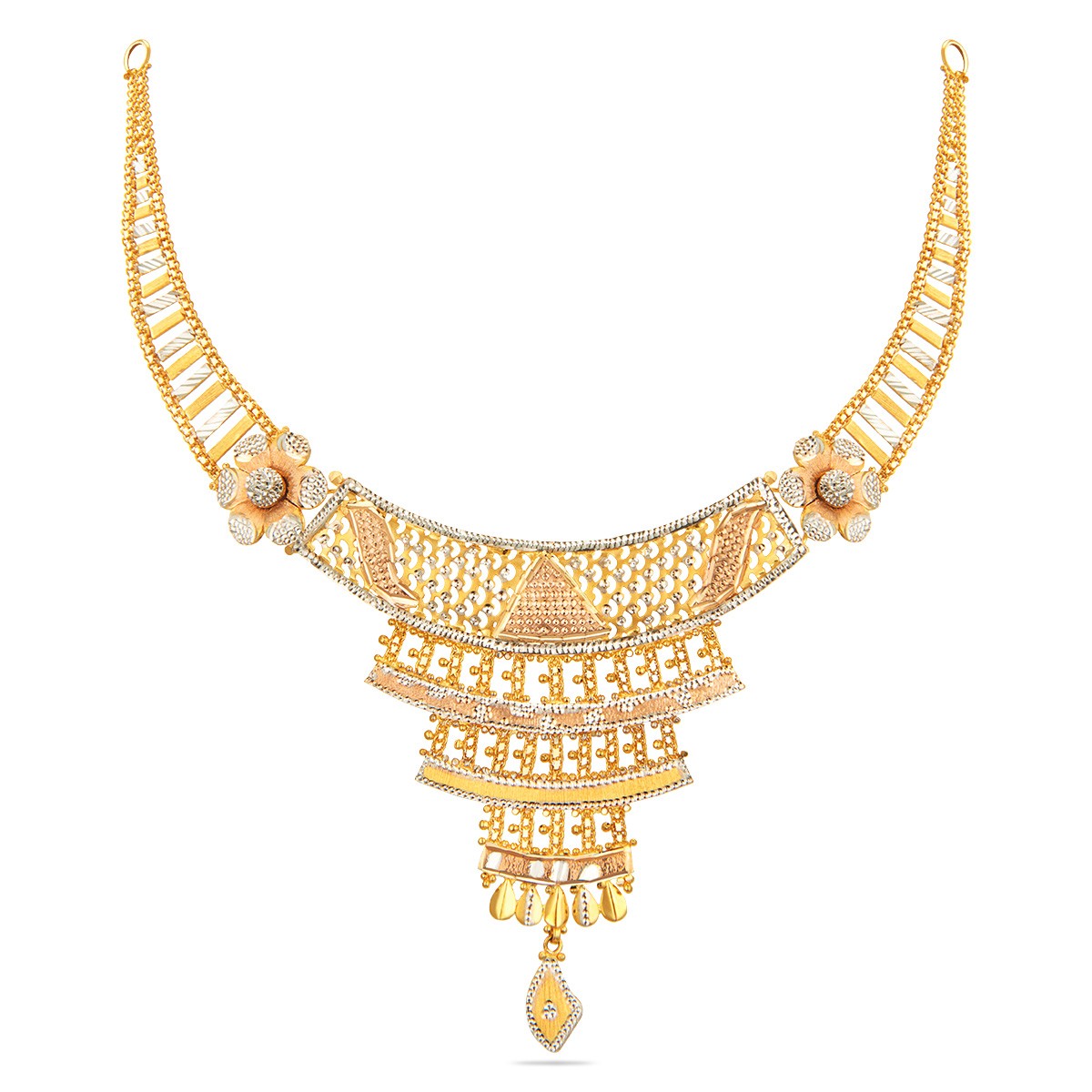 Gold necklaces are part of traditional Indian jewellery. Most Indian women prefer wearing heavy gold necklace. This trendy yet classy necklace with is perfect for a bold look. It is unique from every other general necklace and the glittering rhodium plating adds a great sense of serenity.
17) Royal Gold Necklace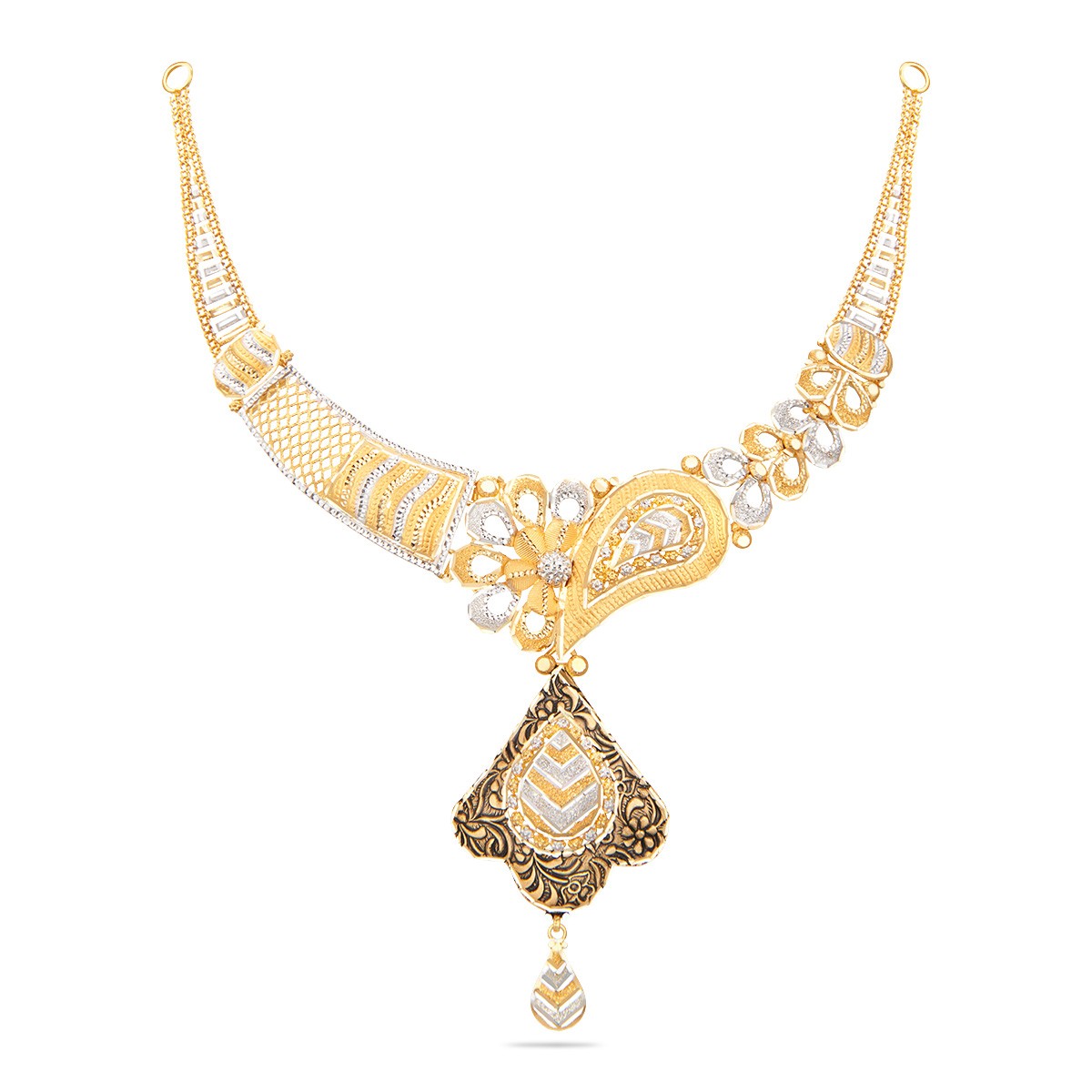 This beautiful gold necklace, which gives the illusion of being heavy but it is just under 30 grams goes well with a churidar or a saree. If you are looking for a simple necklace which can be worn for a simple event occasion, this is the best choice.
18) Simple Daily Wear Necklace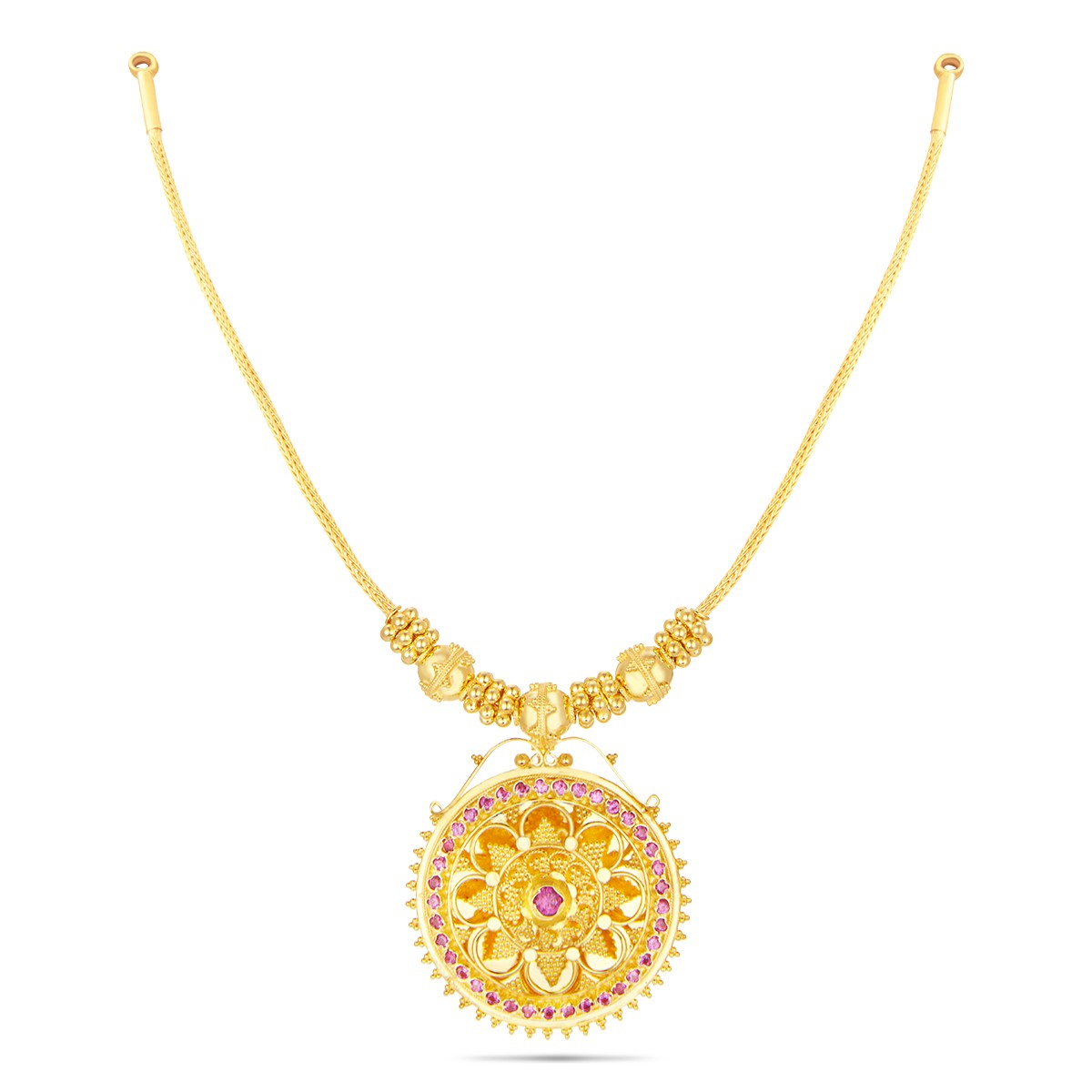 This simple gold necklace with flower motif set with purple stones and few gold beads is beautiful to look at. If you are looking for a necklace that is simple yet rich, then this is the right one.
19) Matt Finish Designer Gold Necklace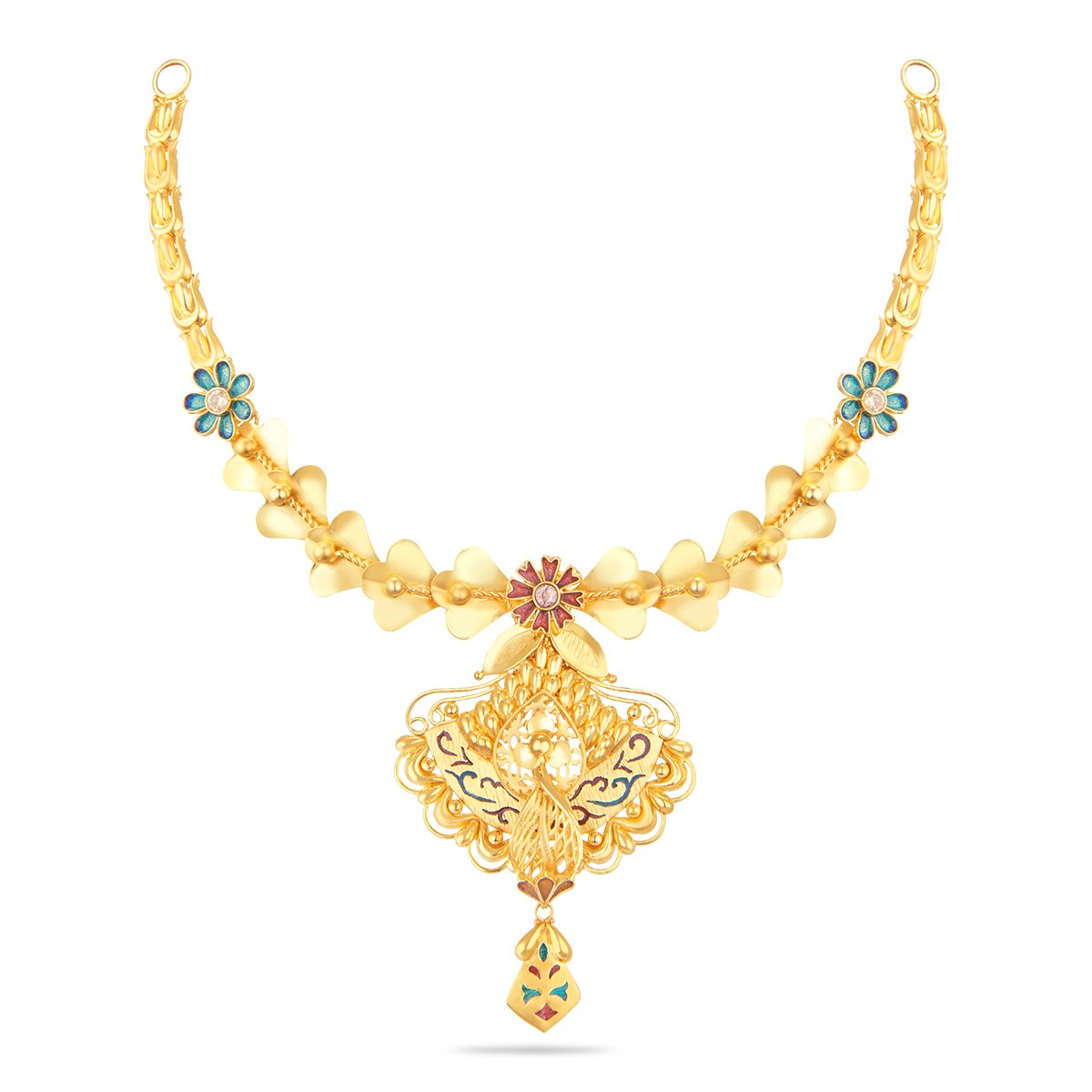 This is yet another minimally designed gold necklace which looks just stunning and that too under 30 grams that can be perfect for an evening parties and friends together. The pairing up of gold with different colour stones makes it stand out despite being common.
20) Festivel White Stone Necklace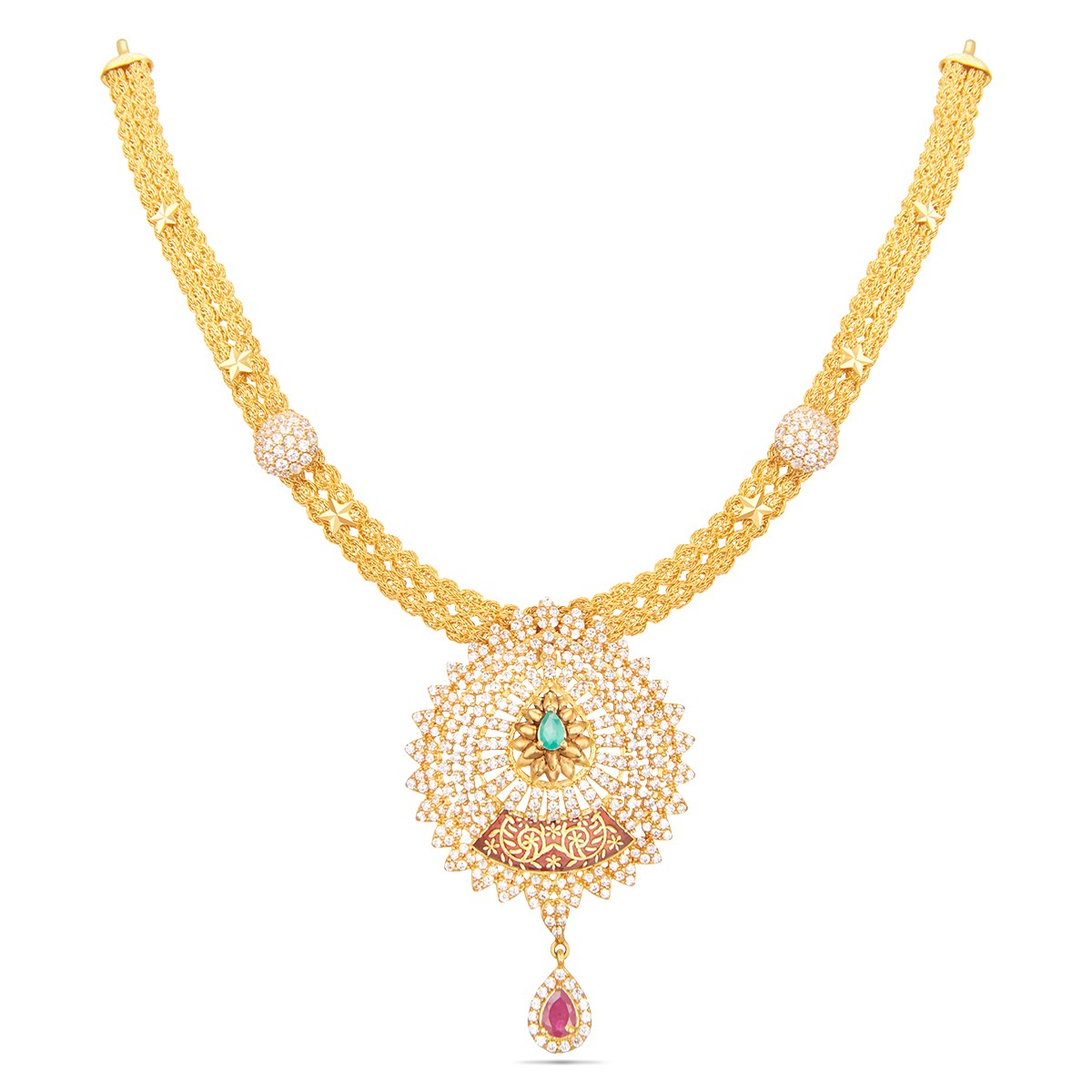 This traditional design gold necklace is a very delicate and light weighted jewellery piece for ladies to wear. You can wear it more frequently if you want during festivals, at home and any other place.
21) Glittering Gold Necklace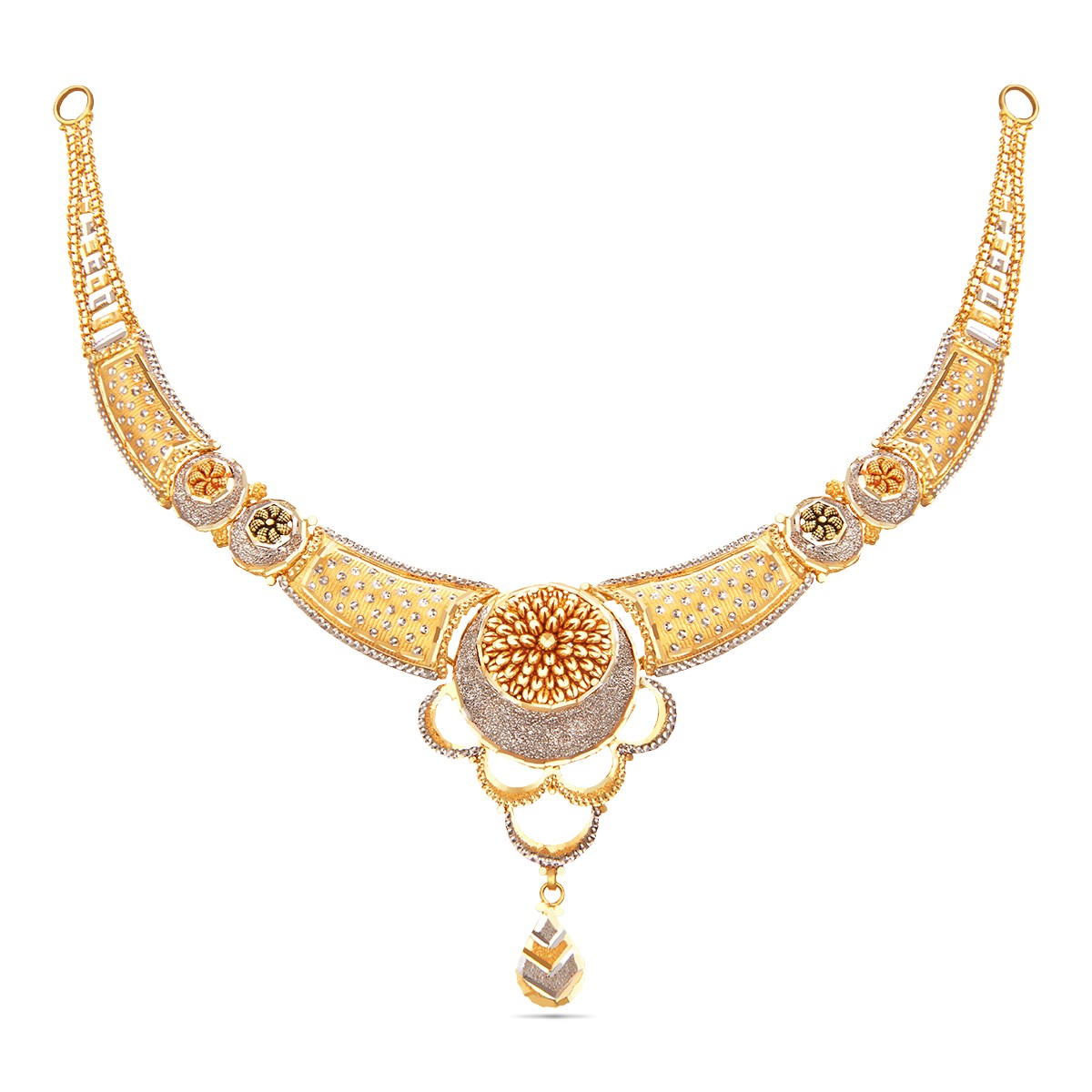 This beautiful gold necklace with white stone looks unique and ethnic. This traditional look necklace goes well with any ethnic dress and can be worn as an occasional wear or for a party.
22) Stylish Stone Necklace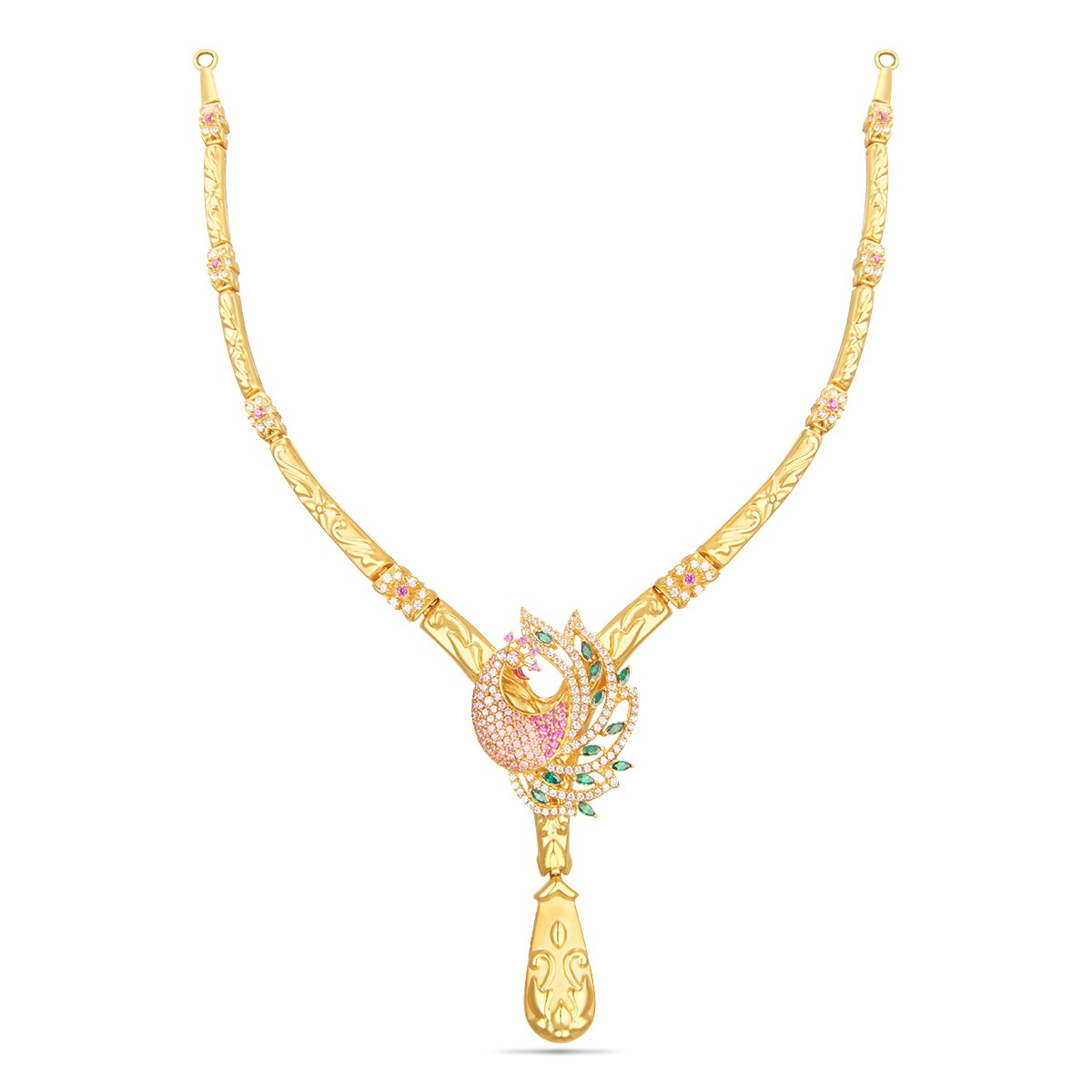 This stylish peacock inspired gold necklace which is just under 30 grams is a must try. A peacock motif is a lot more in trend now than ever. Pink stone along with light green stones adds a completely new sense of fashion to the gold necklace which is so pocket friendly. They could be a perfect accessory for occasion where you like to look catchy with your effortless dressing style.
23) Sleek Gold Necklace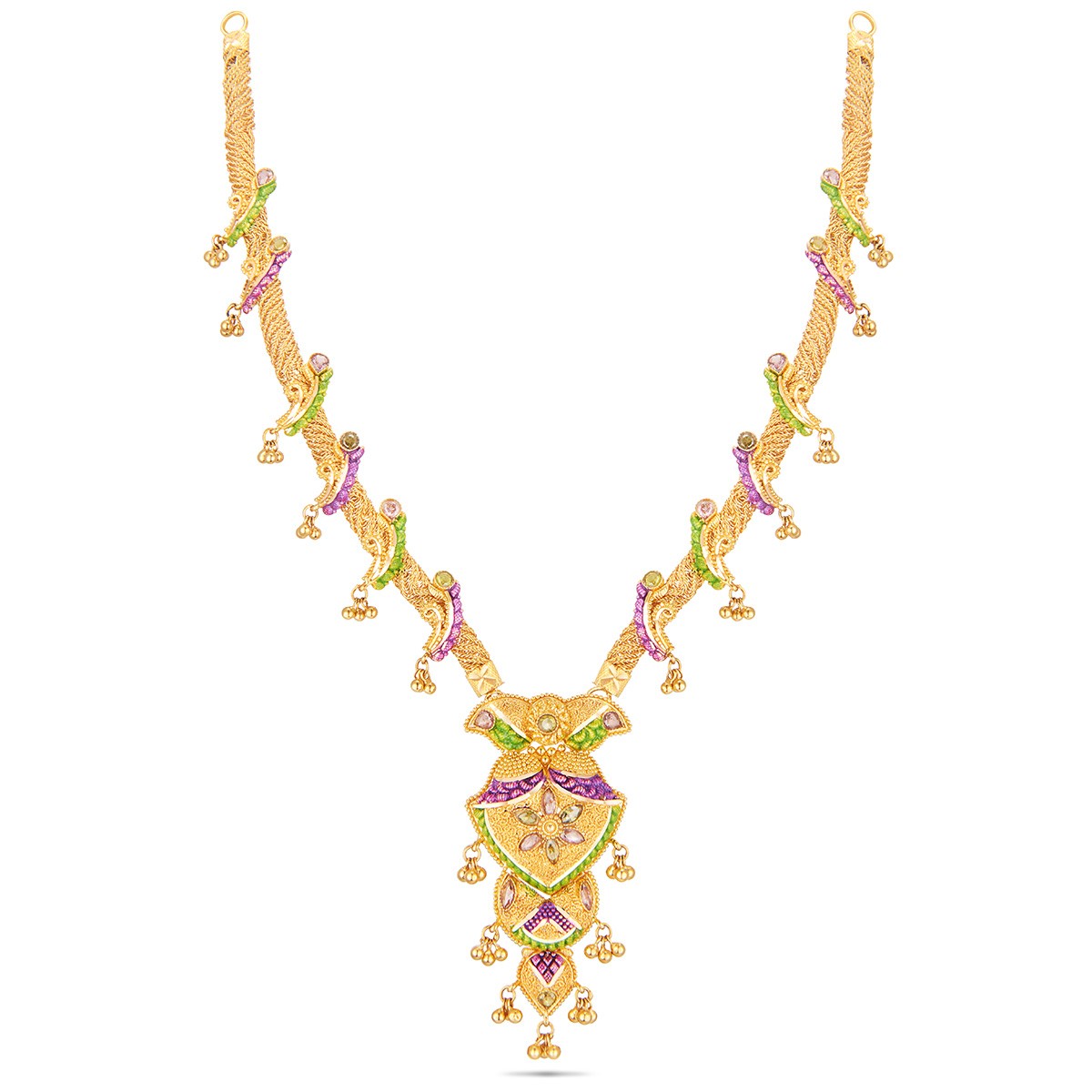 This beautiful purple stone necklace with a similar motif on both the strand is simple and elegant. This goes well with chiffon sarees, crepe sarees, silk sarees etc.
24) Modern Leaf Necklace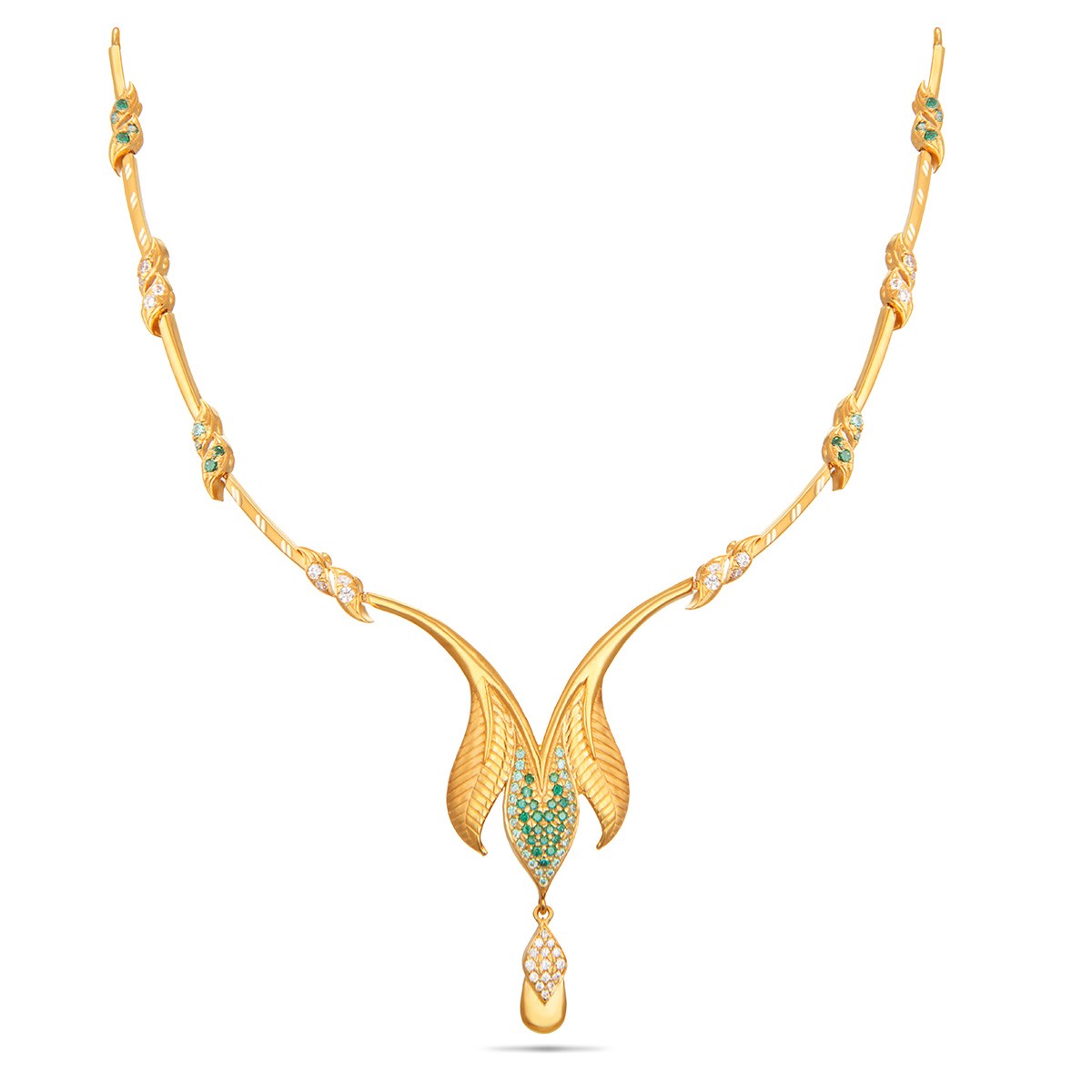 Gold and green are a terrific combination and this beautiful simple gold necklace which is inspired from leaf is a classy piece of art. This goes well with almost outfit of any colour.
25) Light Weight Stone Necklace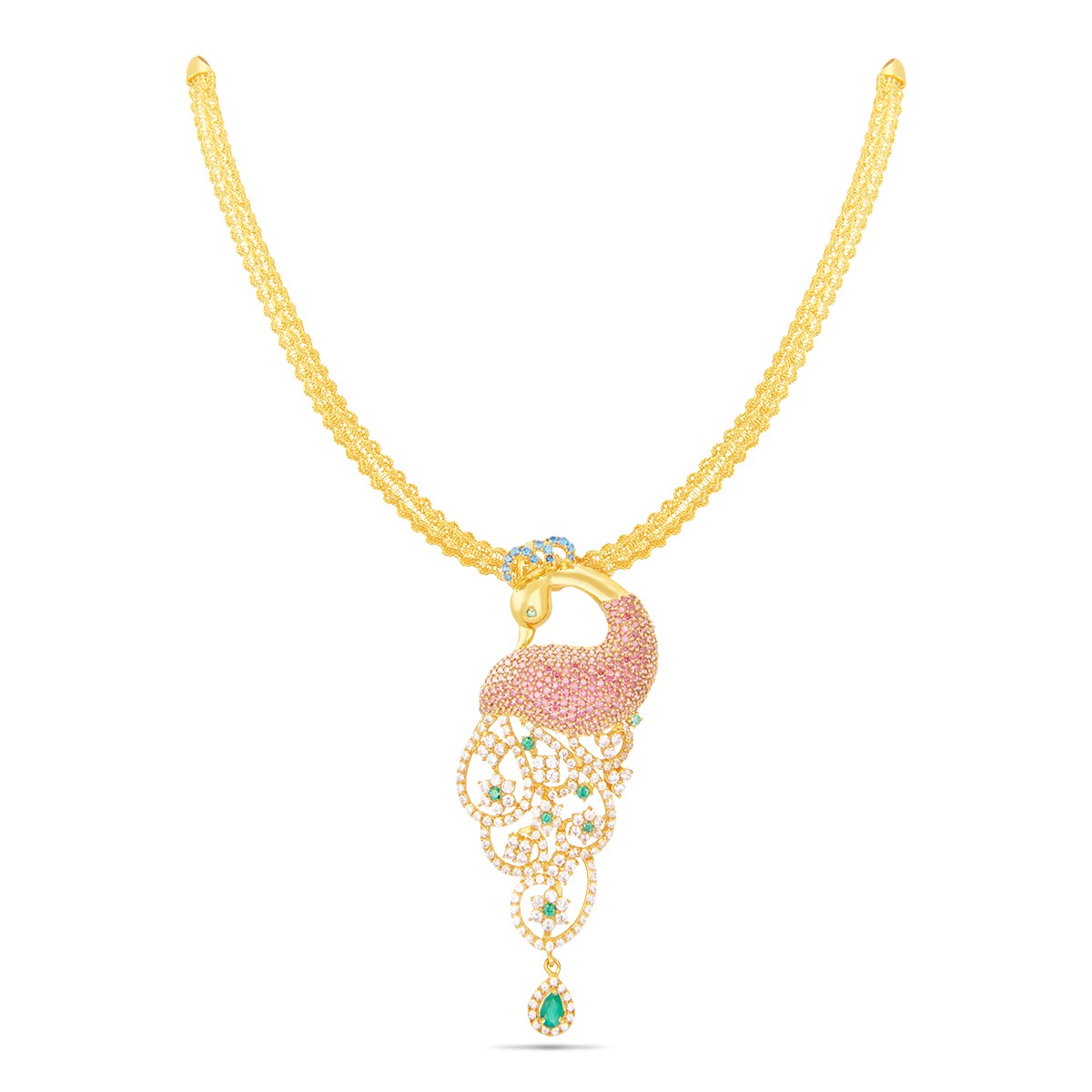 One of the most classic designs, fitted with an emerald and pink stones. The intricate detailing around at the bottom of the necklace set is sure to take your breath away. They are perfect for grand occasions.
26) Classic White Stone Necklace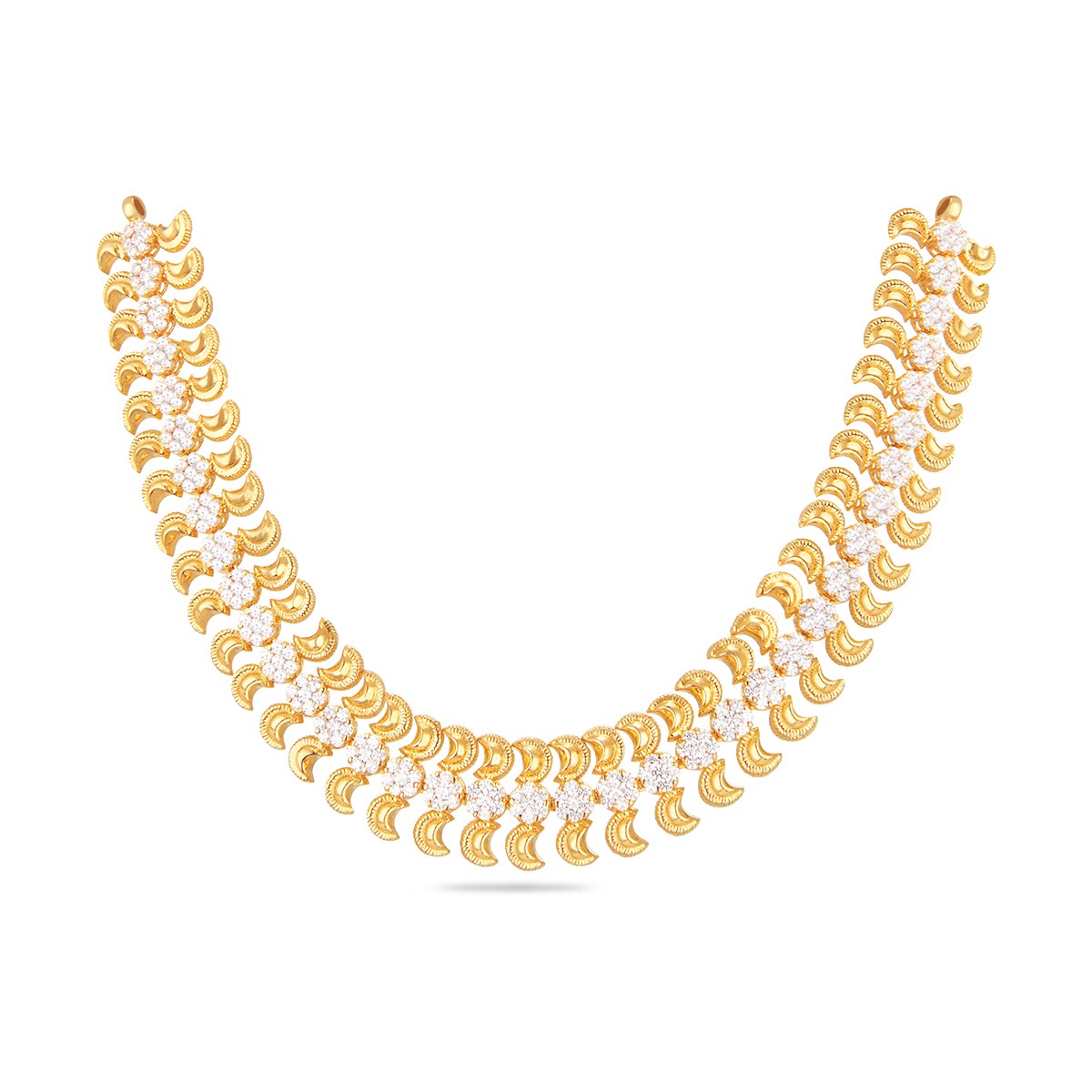 The design of this set is quite different than the usual ones. Each separate unit adds a new charm to the overall look of the attire. It gives a royal and sophisticated aspect. This gold necklace design is just 30 grams, so if you are planning to gift someone something really special you can opt for this one.
27) Royal Mesh Chain Necklace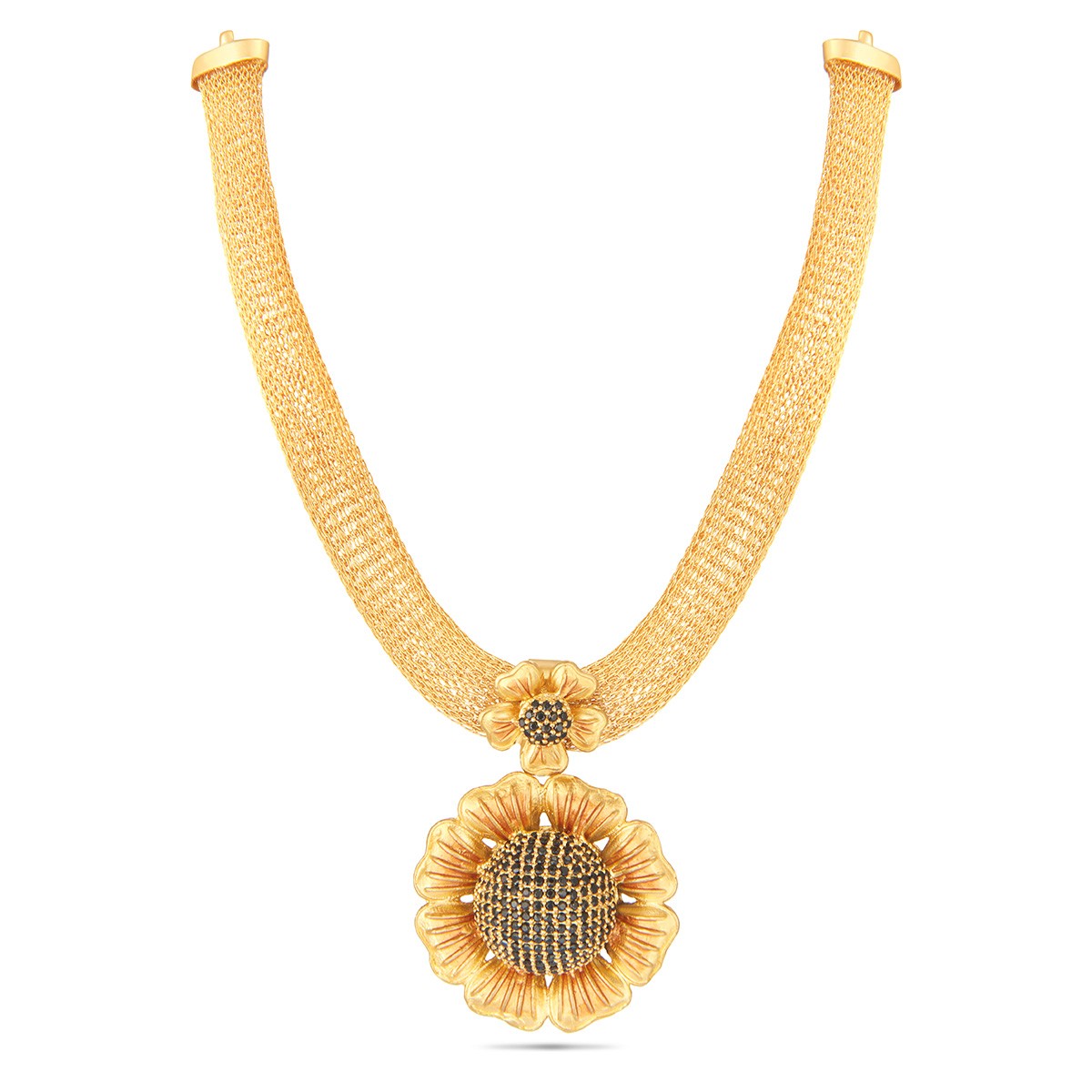 This beautiful gold necklace with a broad designer chain comes with a big beautiful flower pendant making it a simple yet elegant necklace. This necklace goes well with ethnic wear as well as modern wear.
28) Light Weight Simple Gold Necklace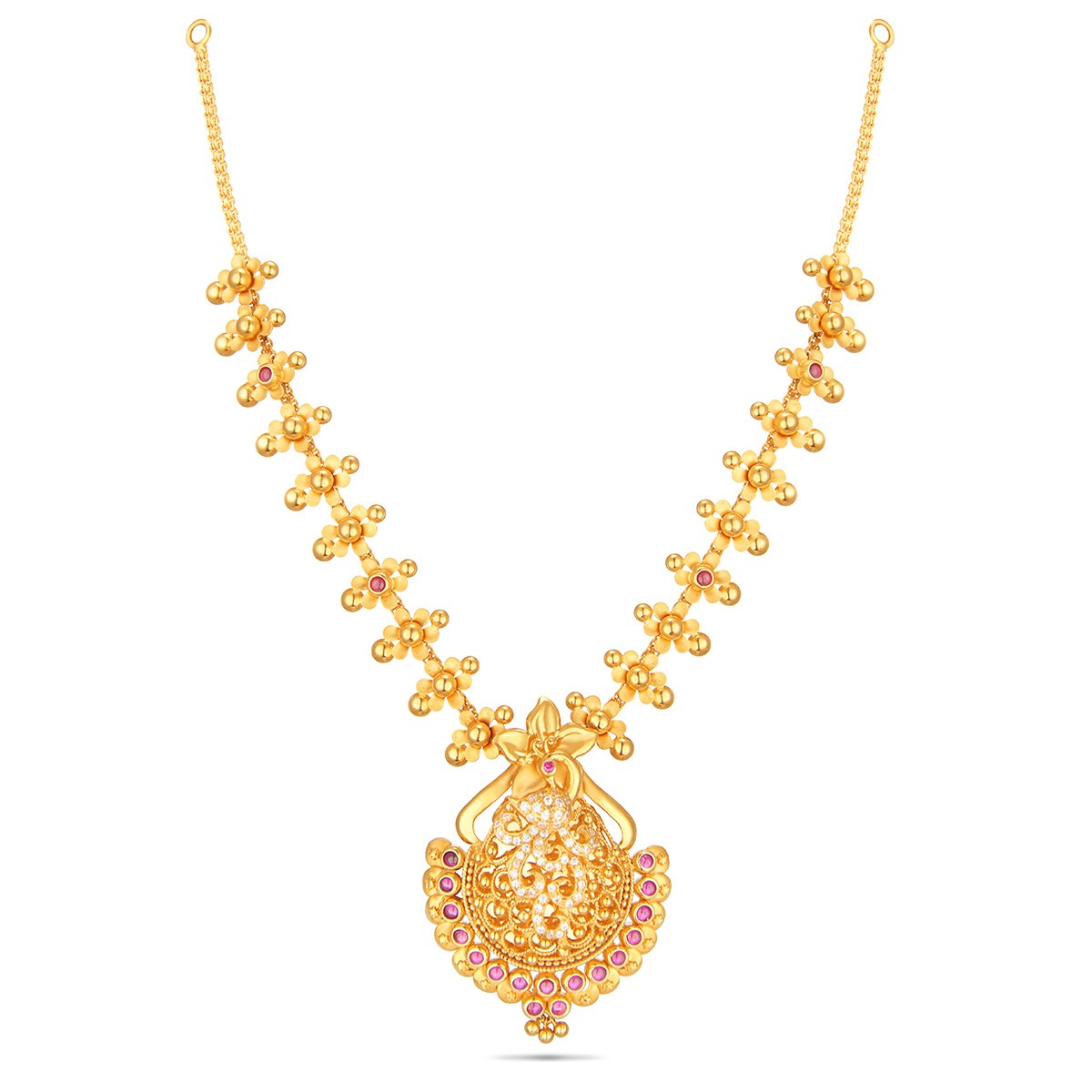 This gold necklace, which is pocket friendly, looks simple and elegant. The small white stones in this necklace add an attraction to this necklace. This simple necklace comes with intricate traditional design which goes well with a saree or churidar.
29) Pearl Chain Necklace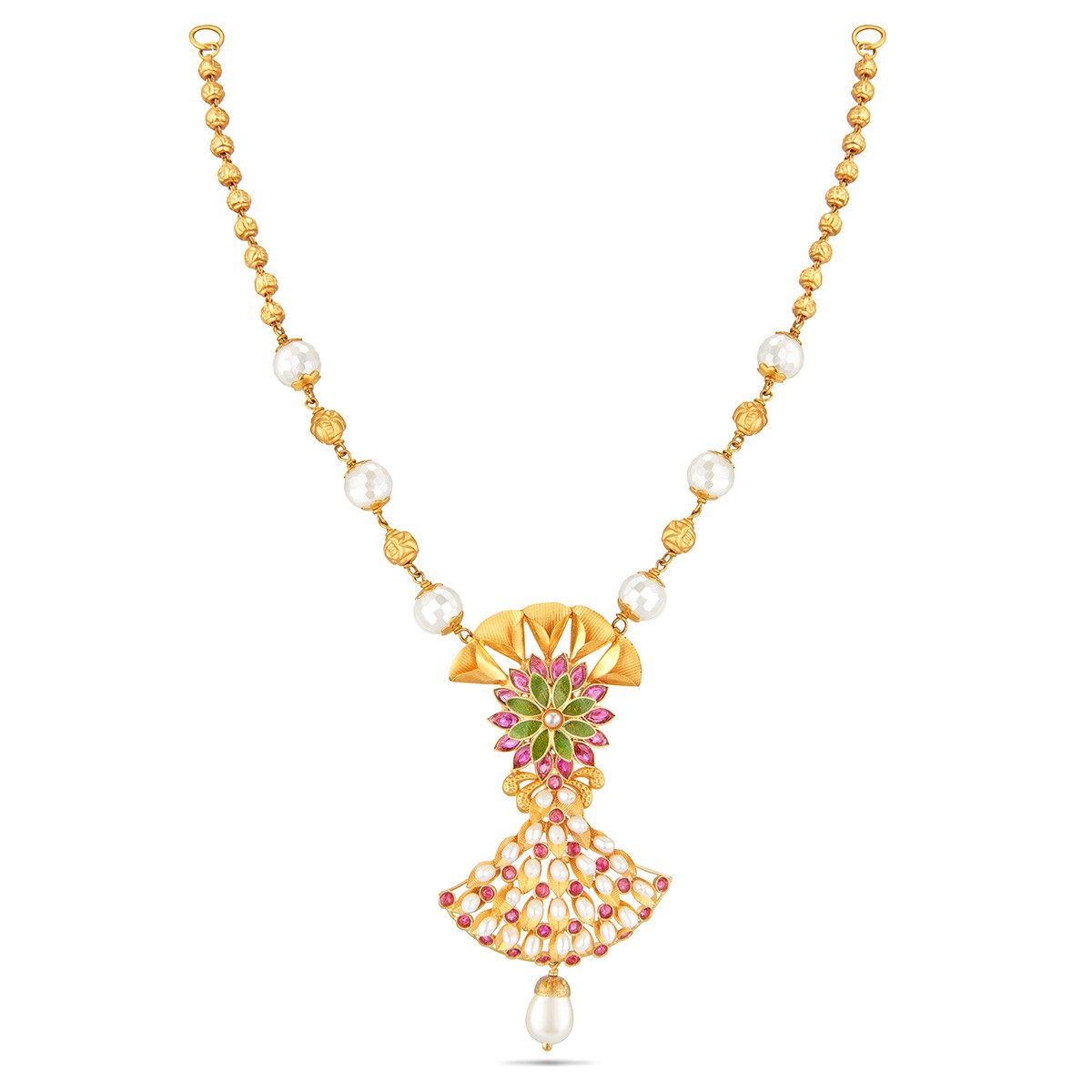 This gold bead necklace looks elegant with pearl placed next to each other which makes great combination together and are beautiful to look at. A beautiful floral pendant is attached at the bottom of it makes it look just marvellous.
30) Traditional Mango Design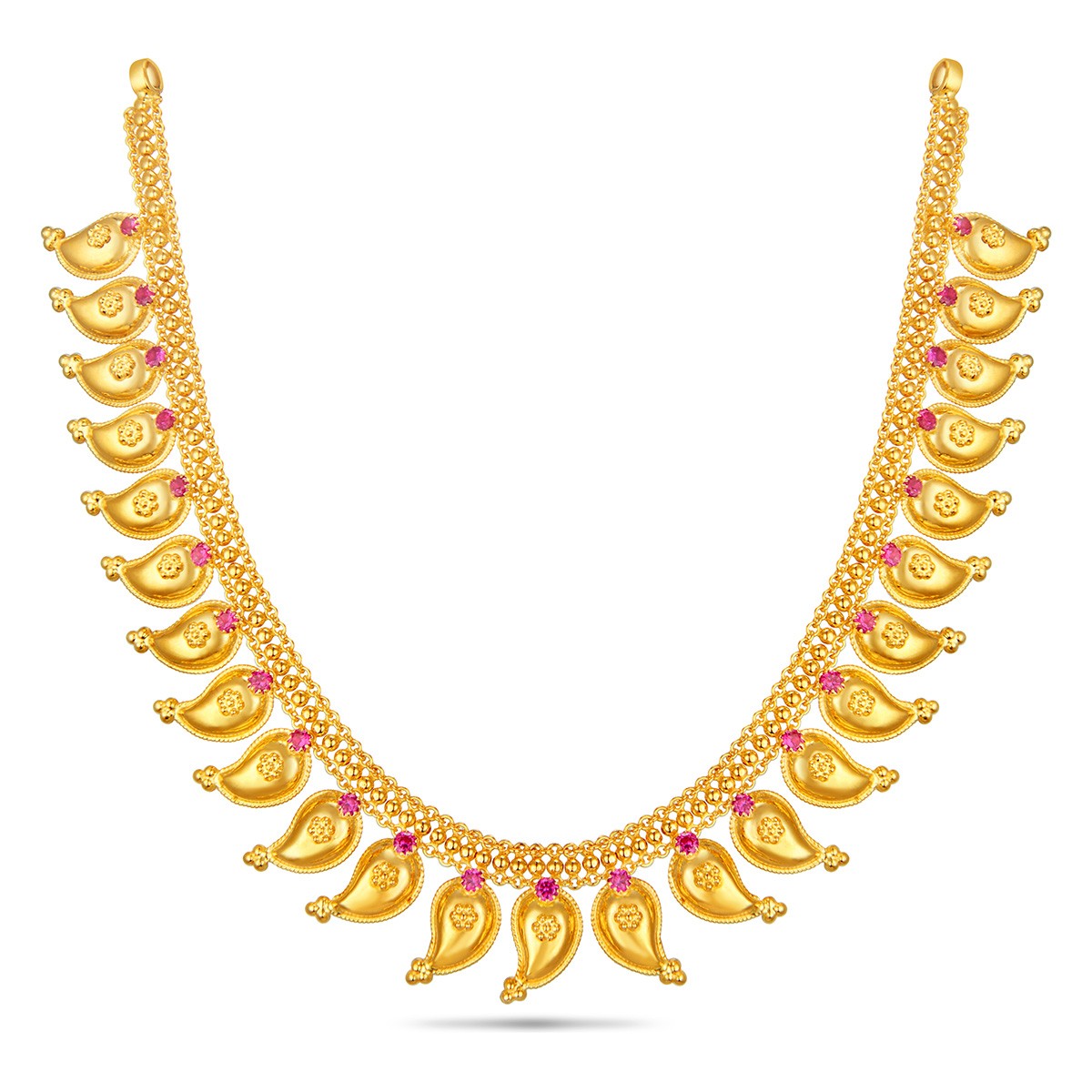 This beautiful gold mango necklace comes in just 30 grams with just a pink stone which makes this necklace even more beautiful. This gold necklace looks ethnic and elegant and goes well with any ethnic wear.
Within 30 grams you can shop some of the best looking gold ncklace designs of this year! If you like to buy the necklace models featured on this post, then
Also Read :