A swishy explosion of vibrant stones: heavy diamond sets are the new fashion trend this wedding season. A necklace plays a very crucial role in every woman's accessories collections.
There's something special about a bold diamond necklace, the sort of emotional accessory one picks up for wedding and other important occasions of life. Statement collars and precious gems may come and go, but a deeply personal diamond jewellery piece stays with you.
If you have been in hunt for such aesthetic diamond necklace pieces for your collection, then here are 26 stunning diamond set designs to try this season. Go ahead to check the complete collections and don't forget to check the end of the post on where you can shop them!
1) Classy Diamond Design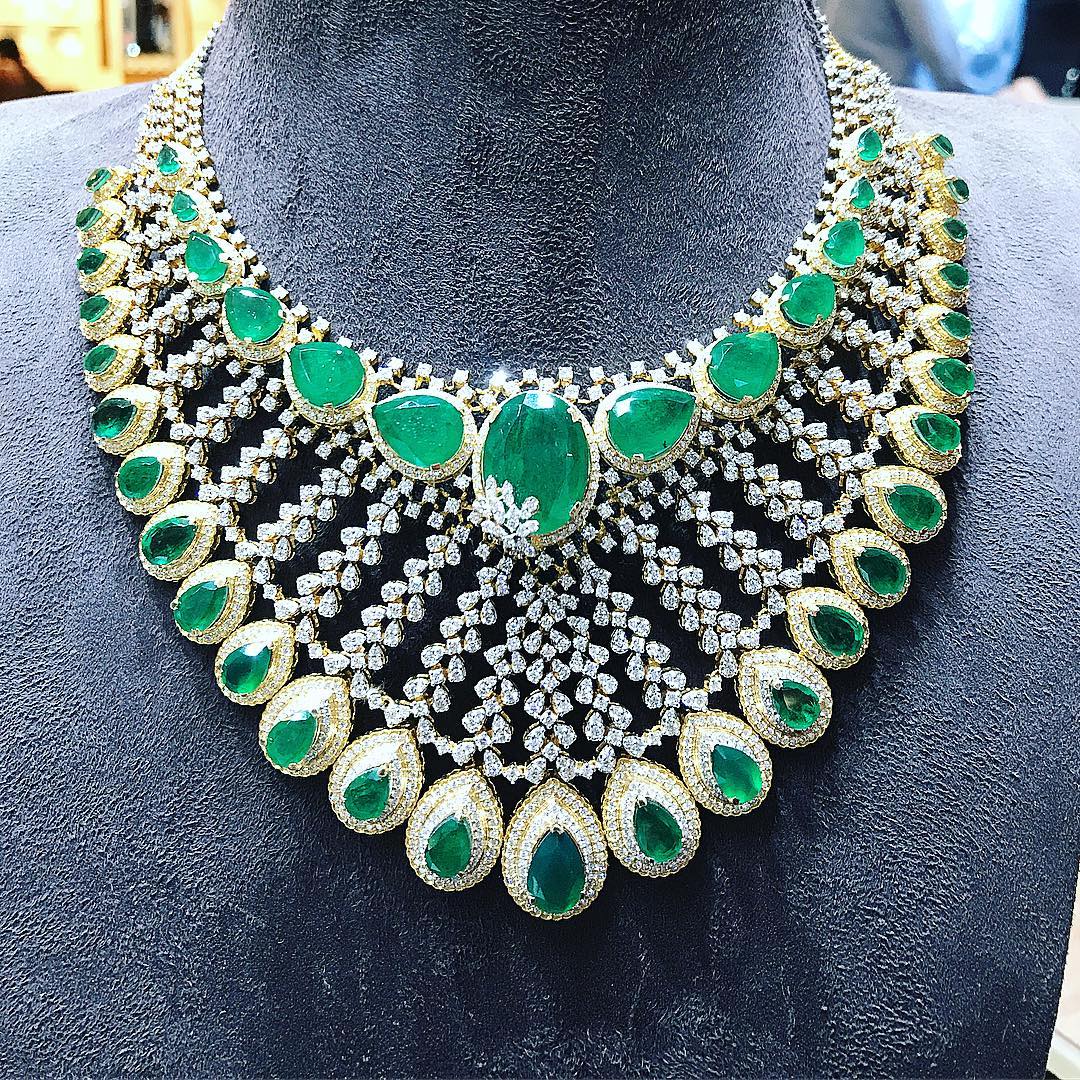 There is something special about the delightful mix of diamonds and emeralds, and that too when they are crafted exquisitely in a bold accessory, it is a treat for jewellery lovers. This is one such design. You can pair this with your gorgeous lehenga choli or with your zari embroidered kurta.
2) Intricate Design Diamond Necklace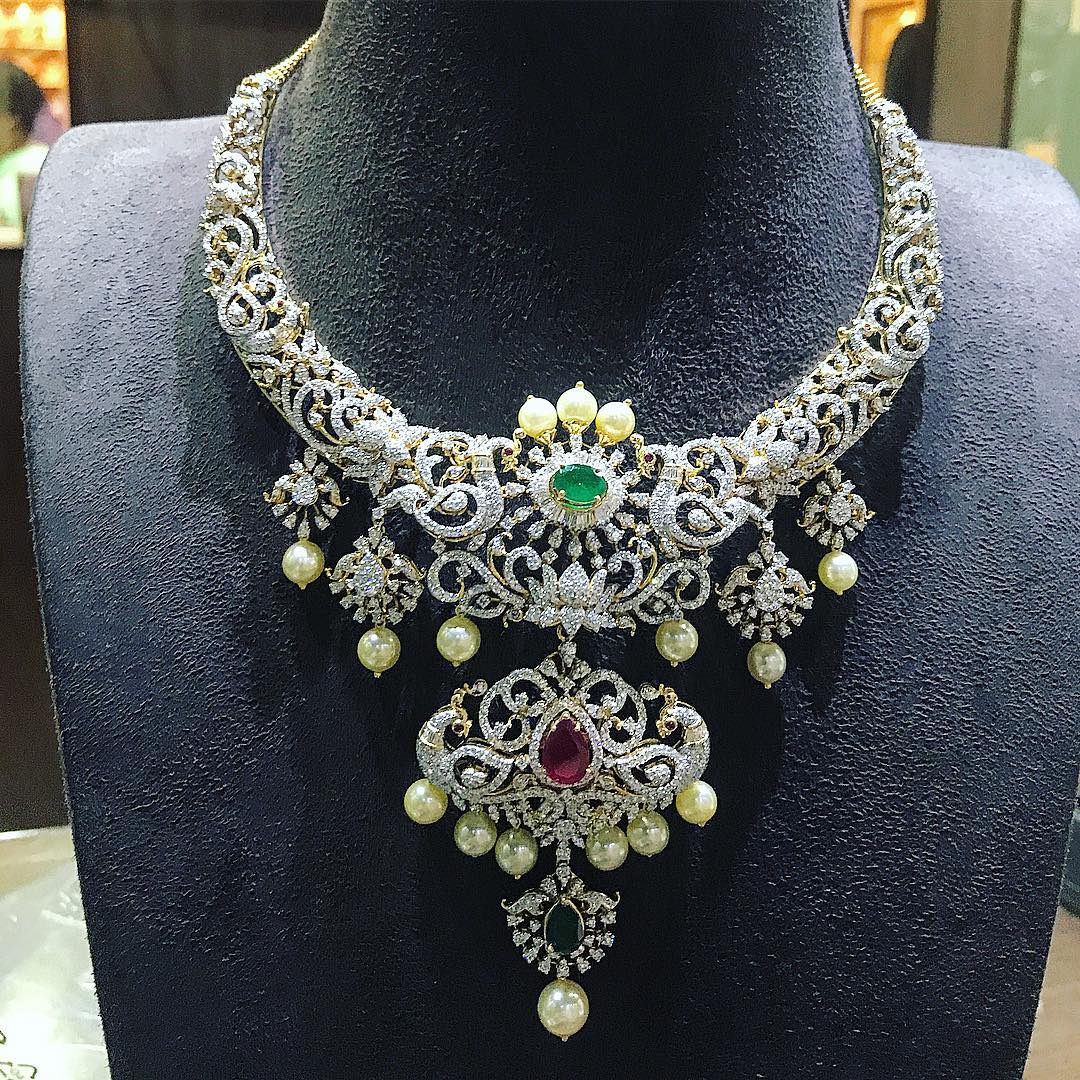 If you are looking for something smart and trendy, then this one is surely for you. This necklace design is just mind blowing and stunning. You can wear these for a family get together or even for your upcoming friend's wedding.
3) Cool Necklace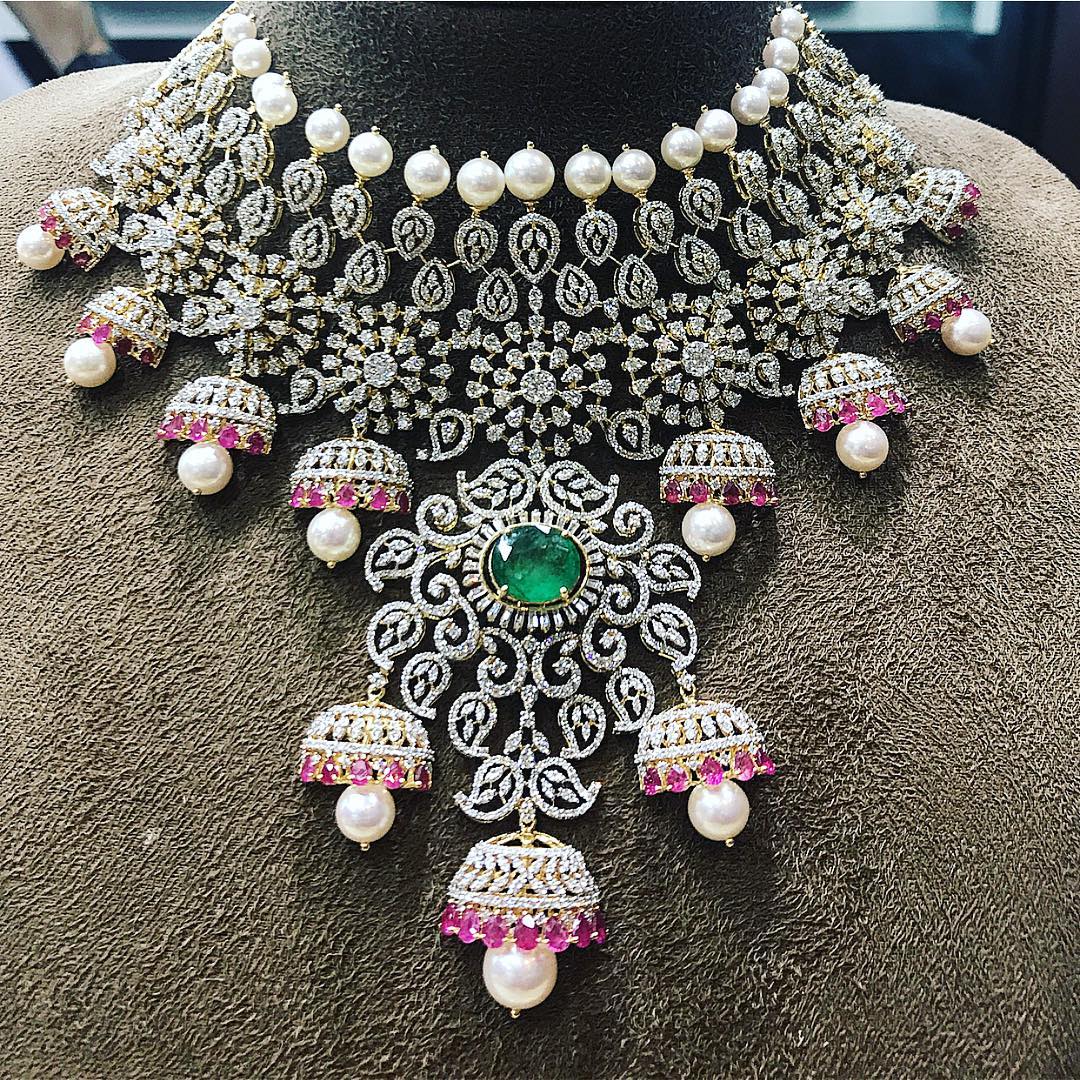 This is one of its kinds. This one is inspired from a flower with two different colour stone studded. Those planning to buy a present for their better halves can look at this amazing diamond necklace design.
4) Creative Necklace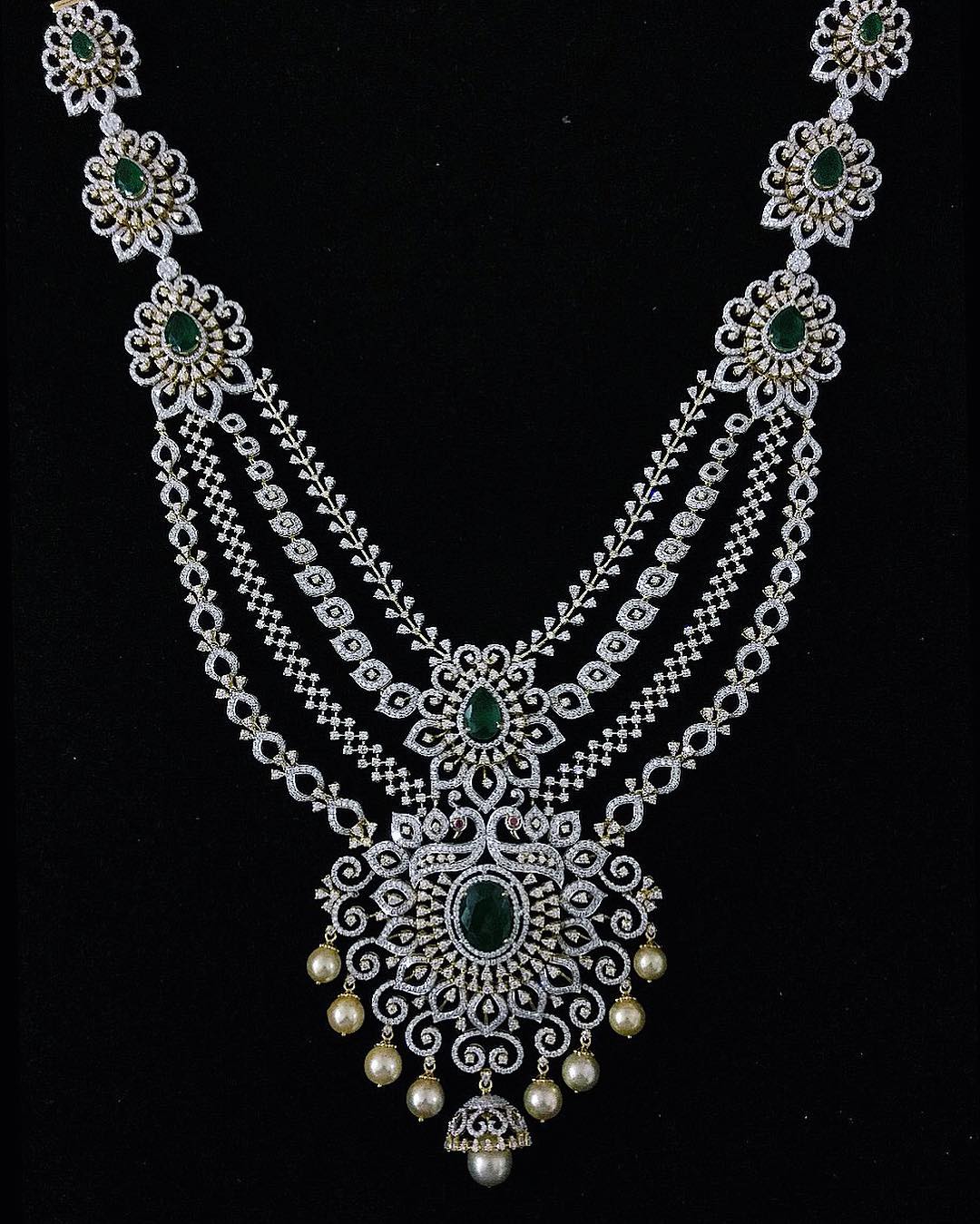 This diamond necklace with marvellous design has an emerald stone which are placed just next to each other which add an extra drama to it.
5) Traditional Design Necklace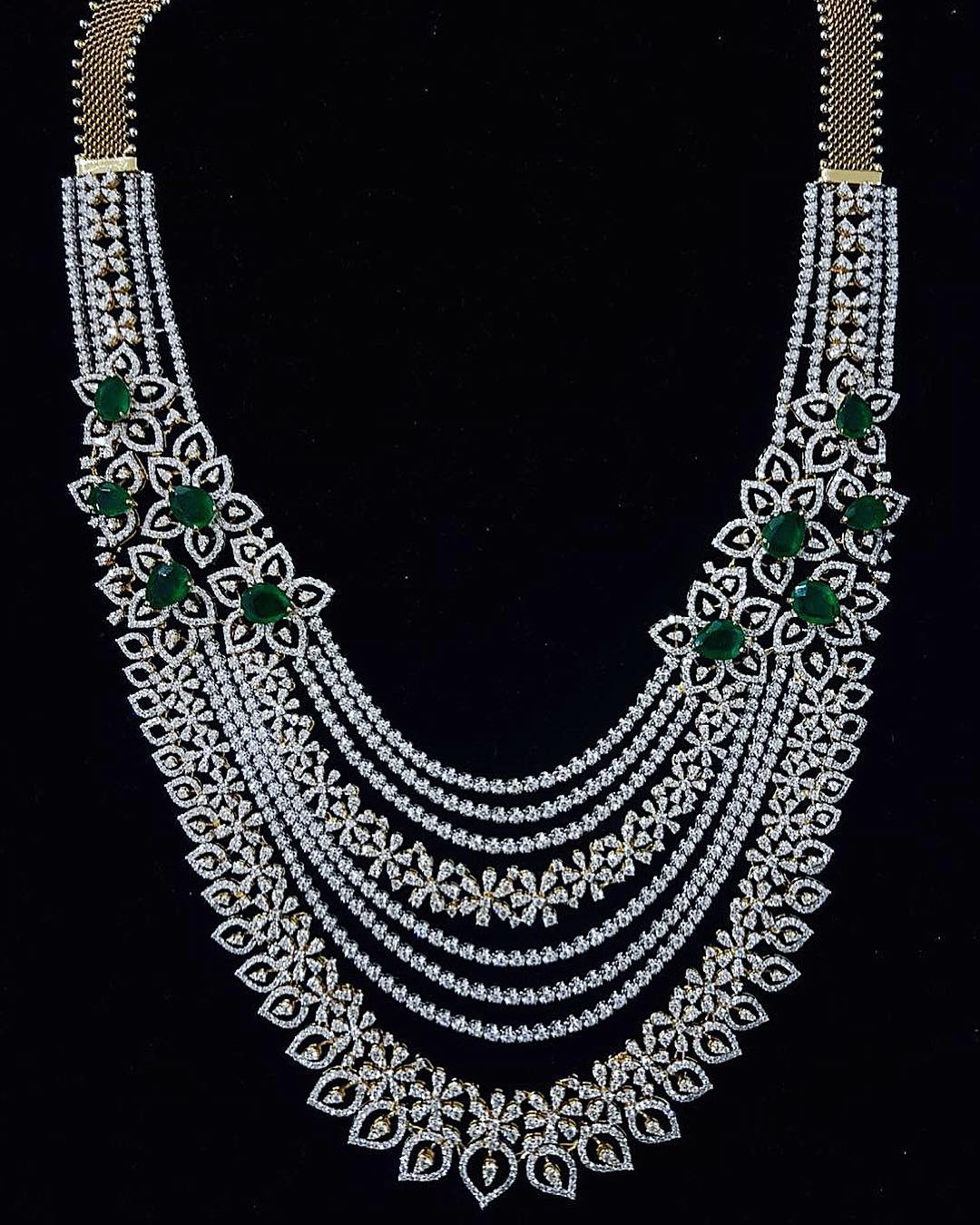 Nothing like the festive season to use as an excuse to shop of more!!! This one is perfect for a grand celebration and other traditional events when you want your jewellery to be the center of attraction.
6) Diamond And Pearl necklace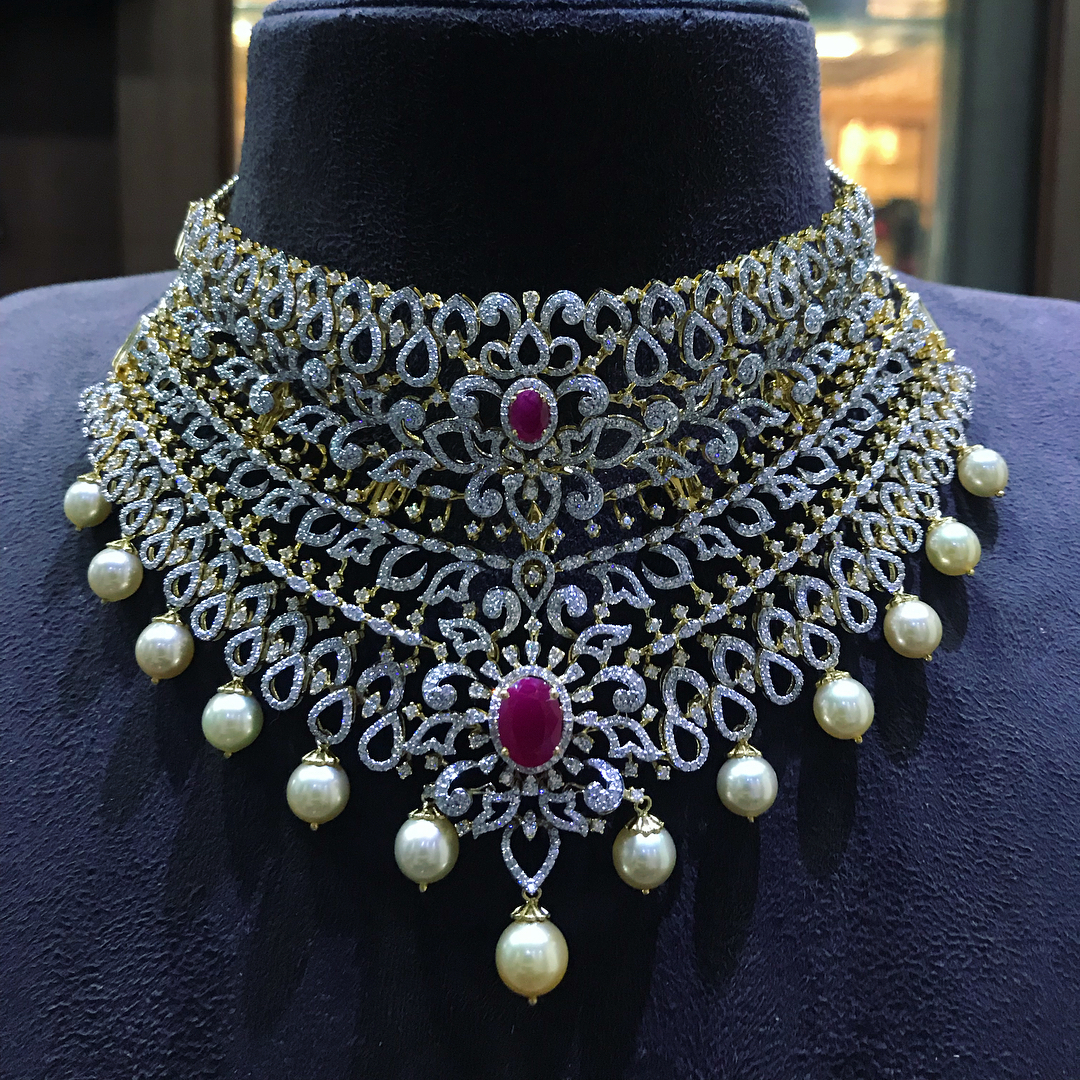 This one is just beautiful which you can't stop staring for its fine finishing and intricate detailing. This is a very unique and exotic piece which is appropriate for a wedding ceremony. So wear this marvellous diamond necklace, when stepping out for an evening soirée.
7) Diamond Kundan Necklace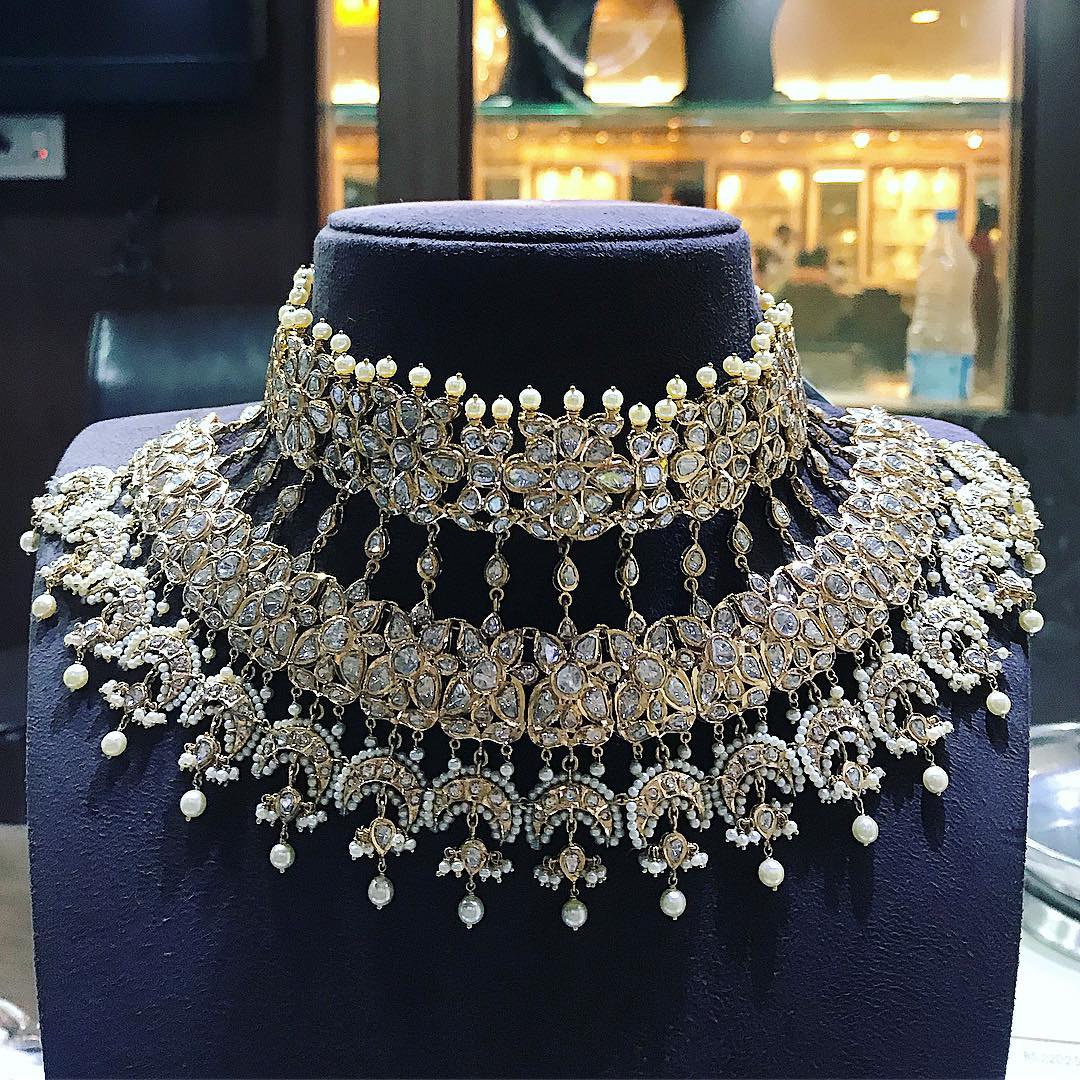 Amp up your formal look with nothing but a grand kundan choker of this sort to instantly elevate your look!!!!  Pieces like these are surely take your outfit for a show stopper look.
8) Amazing Peacock Design Necklace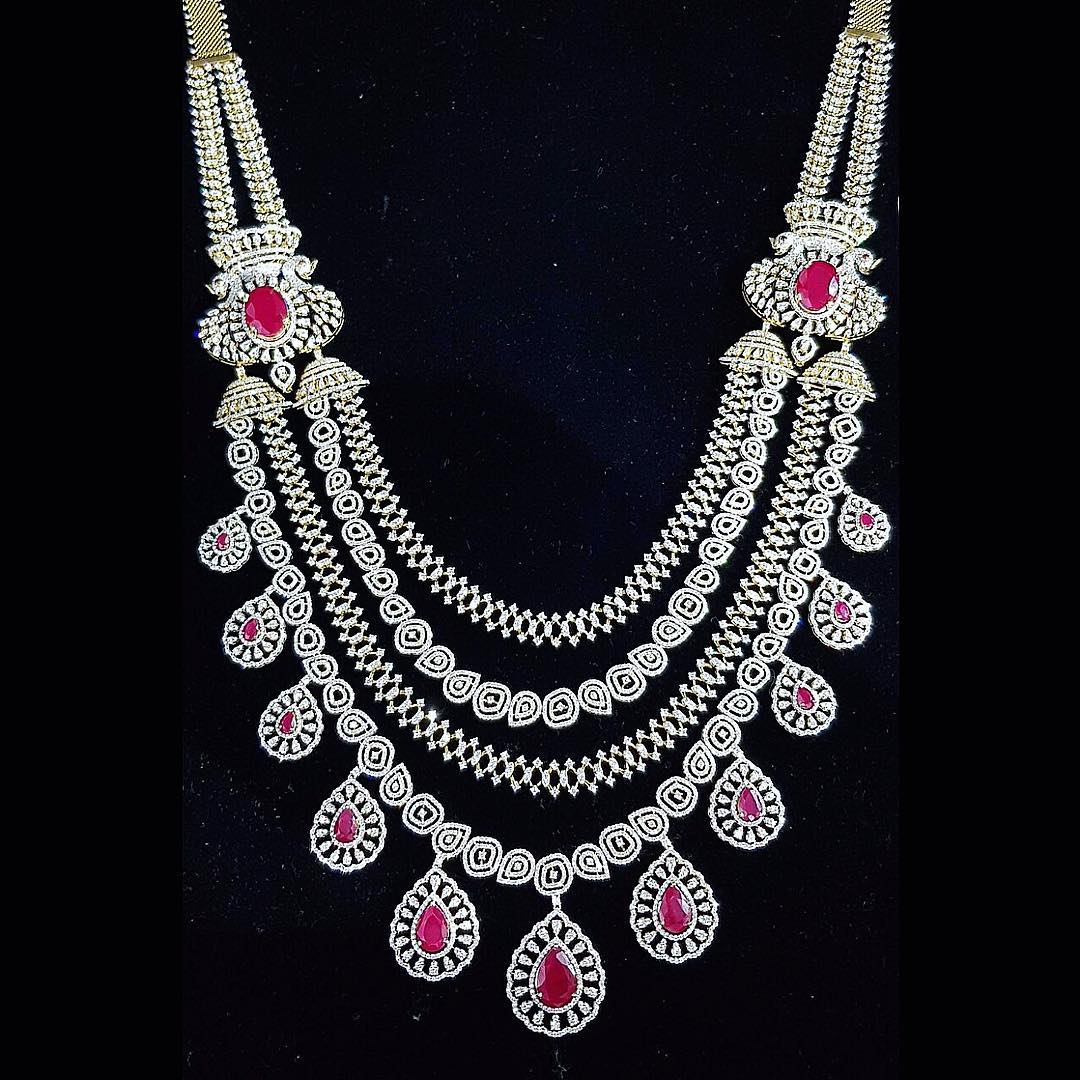 Take your evening look from simple to scene-stealing with this peacock inspired diamond necklace, which can be worn either with a dress or even with your simple salwar suit to add a little drama to your look.
9) Marvelous Pattern Necklace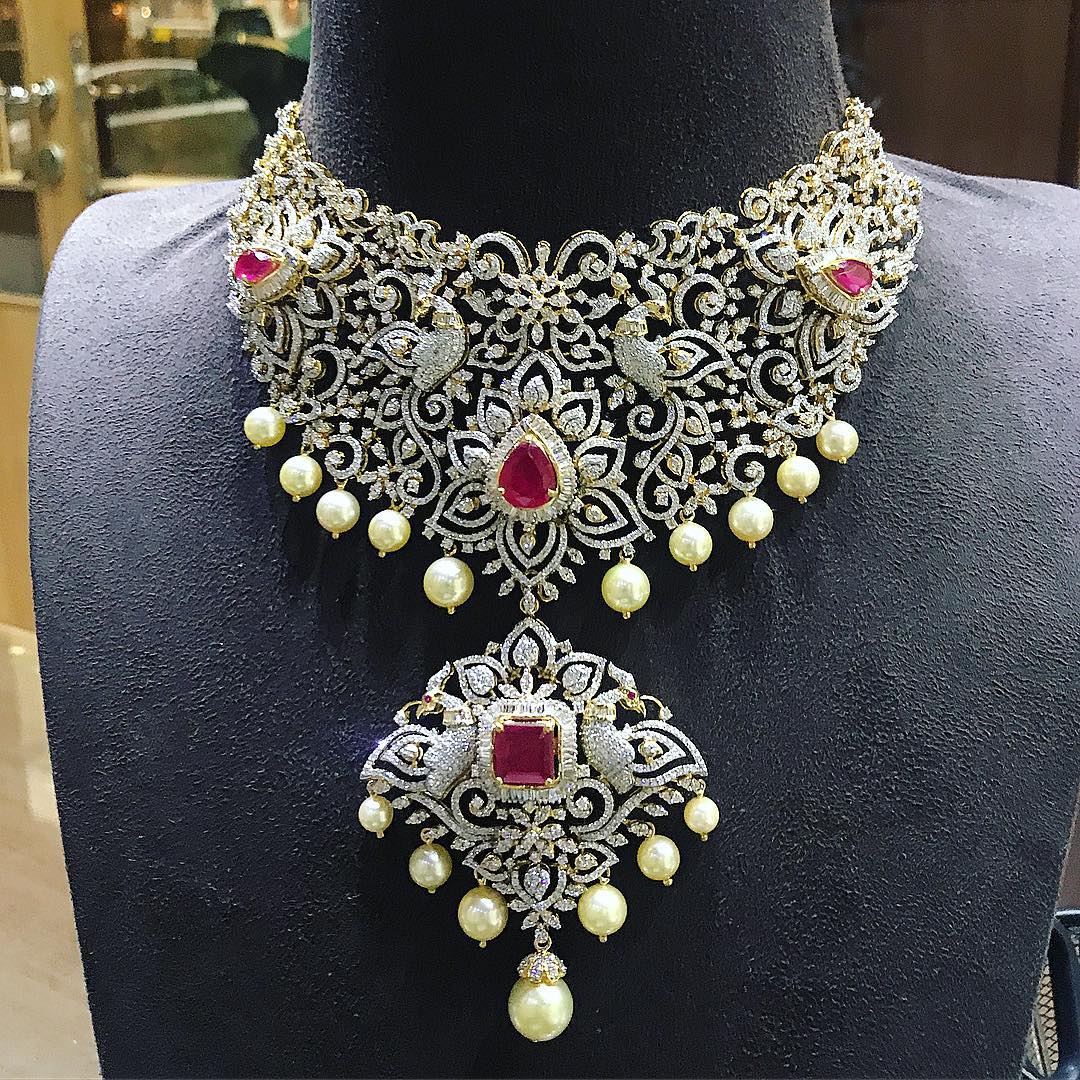 Retire your signature heavy gold necklace this wedding season and go for something heavy but unique like this gorgeous diamond necklace. So brides, here is a fantastic design waiting for you!
10) Ruby Emerald Diamond Necklace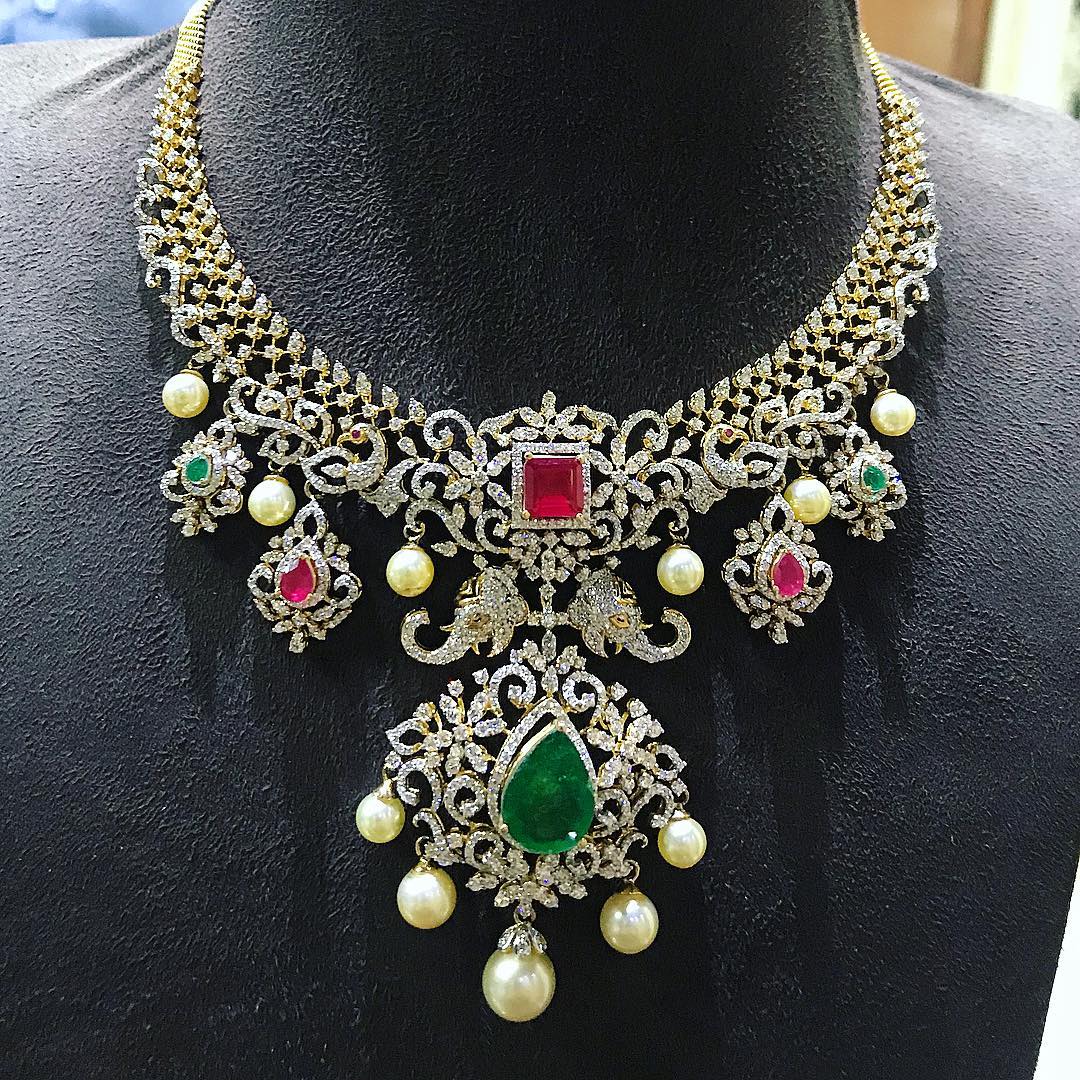 There are some unique jewellery pieces; you just can get enough of them. This is one of its kinds which possess unique and modern touch. This one will be perfect if sported with your traditional benarasi saree.
11) Princess Diamond Necklace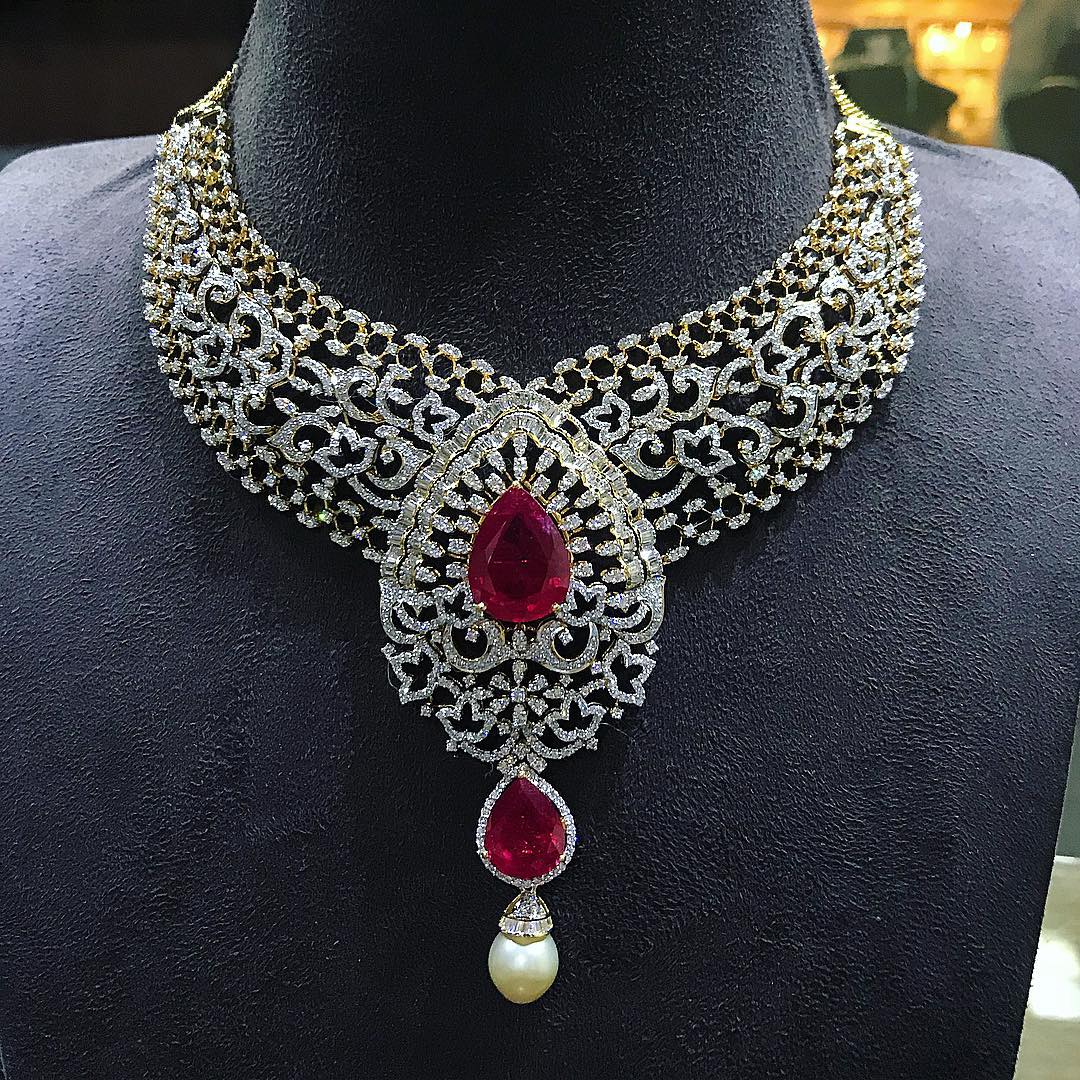 This one is simple but beautiful. If you are someone who doesn't like those string pendants and looking for something simple yet smart, then you can opt for this one. This intricate design diamond necklace is something you can look forward to this wedding season.
12) Stylish Diamond Necklace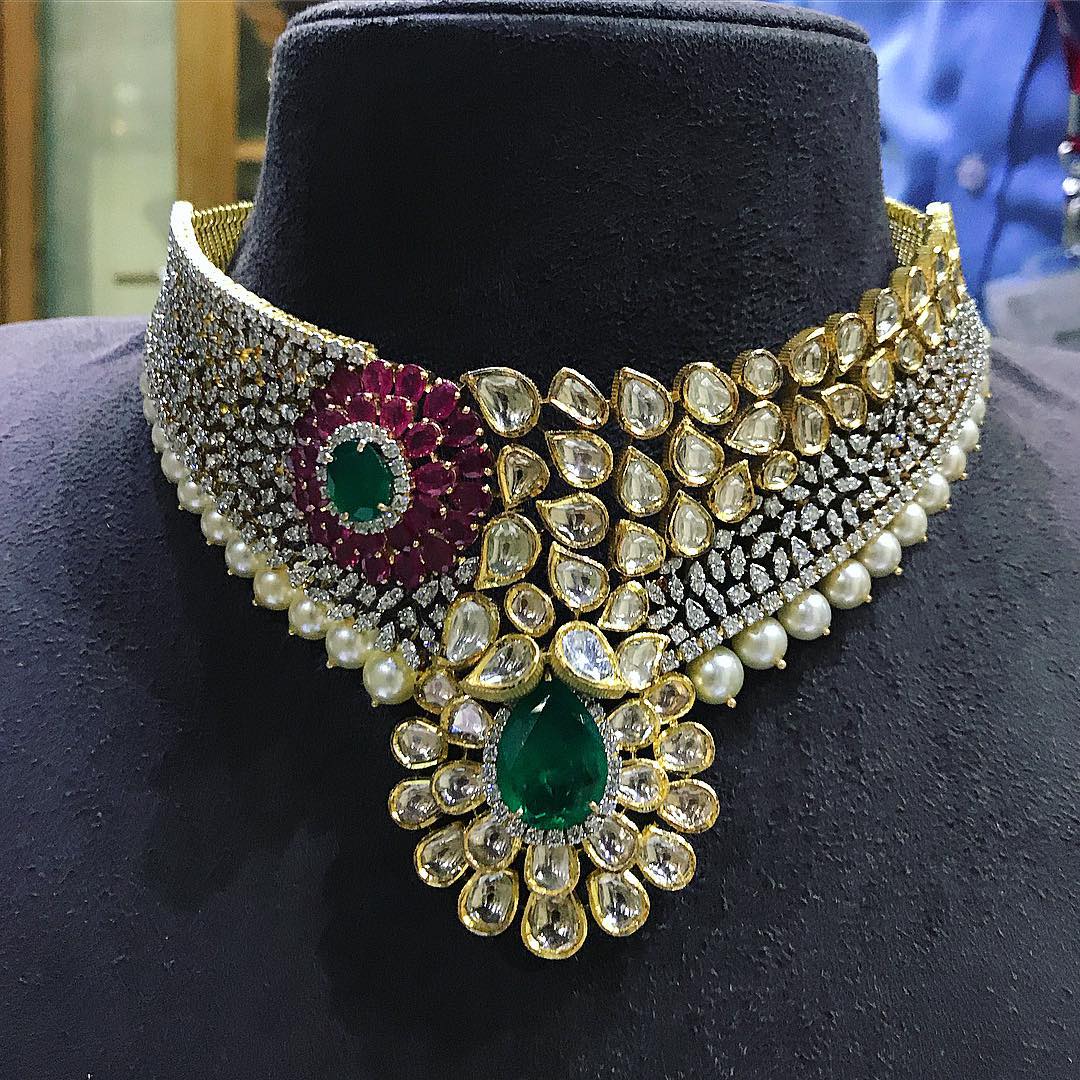 This stylish diamond necklace is a must try. We are bound to our customs and we make sure that we follow them properly. This is perfect for such occasion which demands your authentic looks.
13) Stunning Choker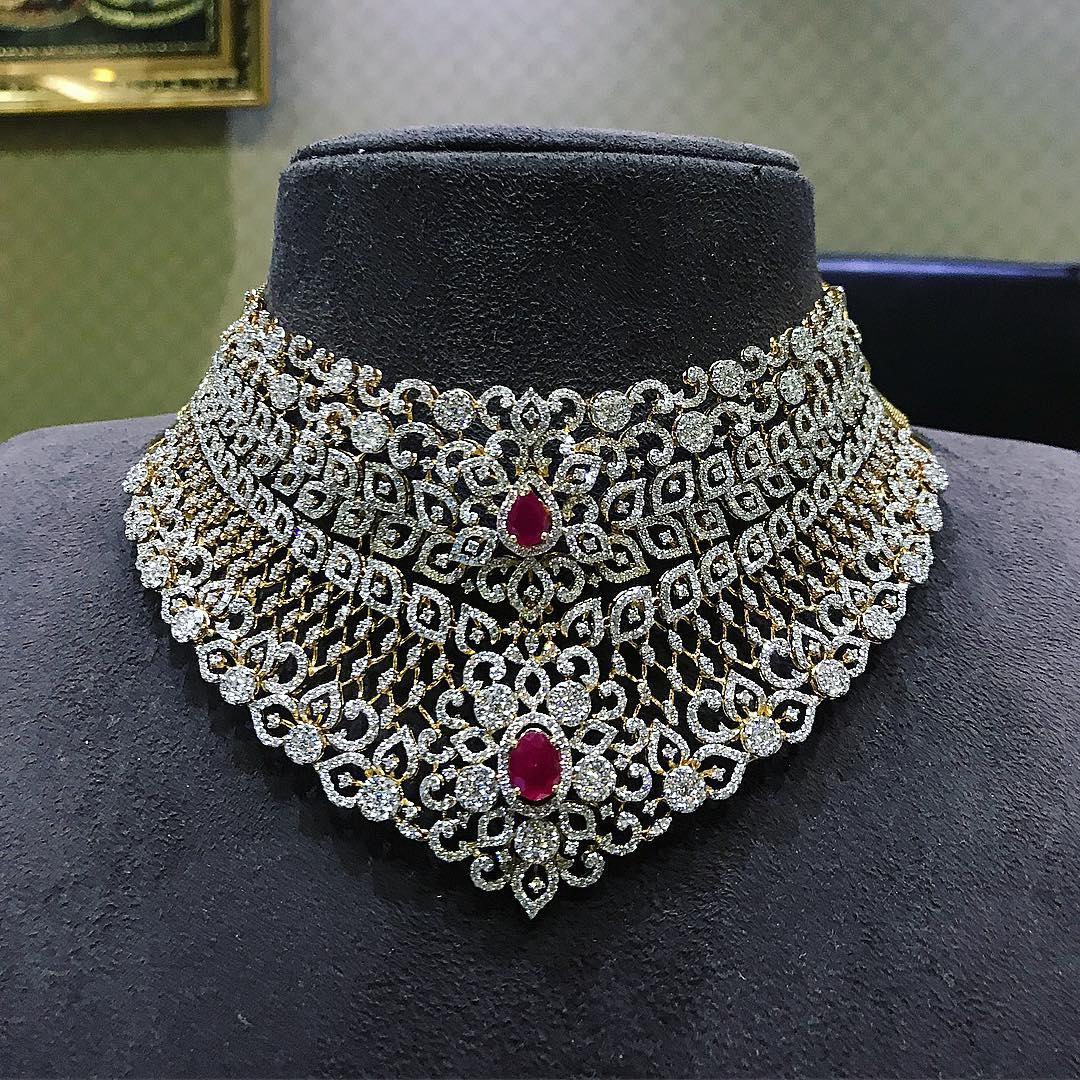 If you are someone who is looking for something grand and stylish then this is for you. This is great for those who love to stay ahead of the trends, but also love a classic, elegant aesthetic.
 14) Trendy Diamond Necklace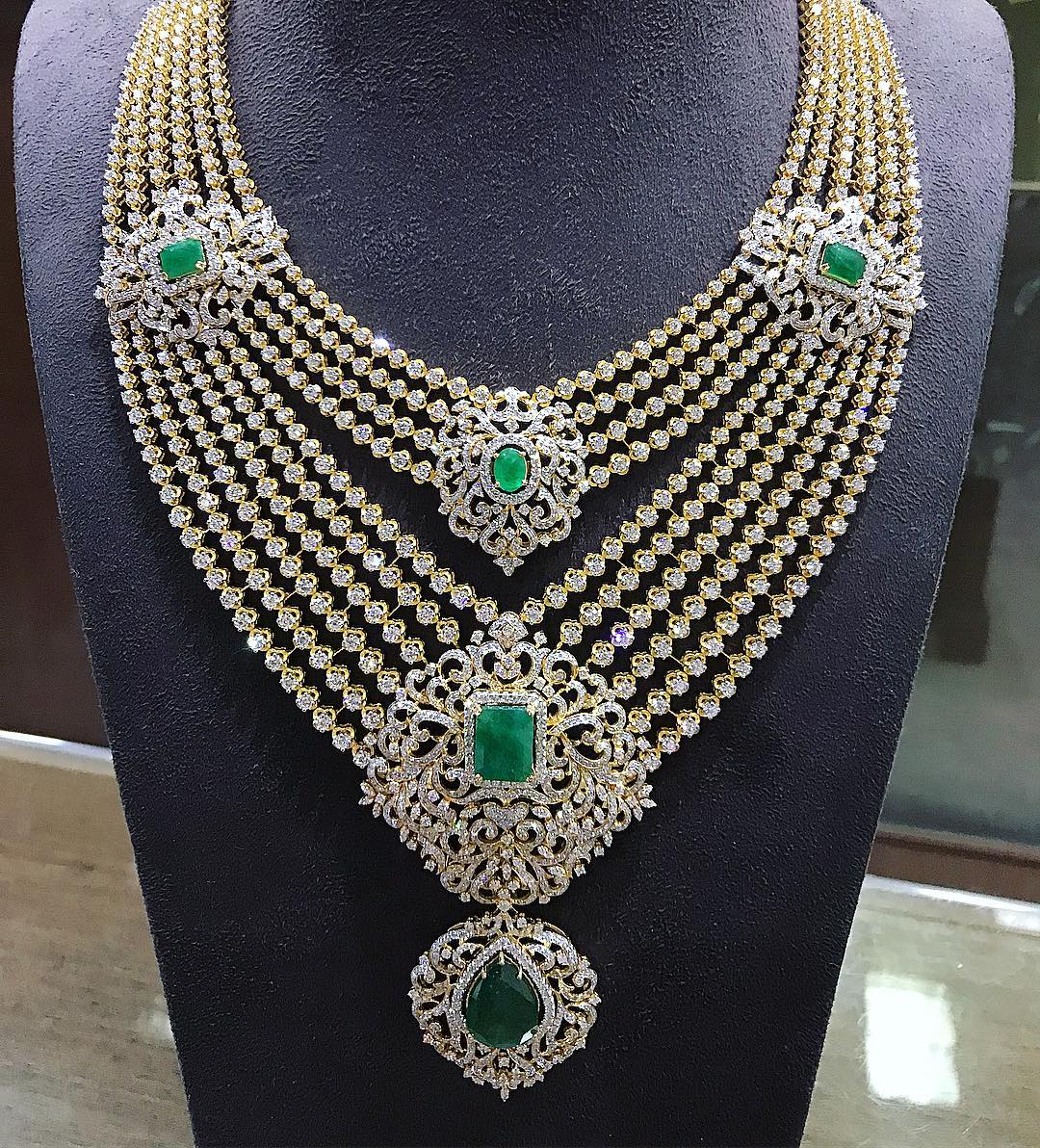 If you are looking for something very chic yet trendy, then this one is a perfect match of your choice.
15) Pachi Diamond Necklace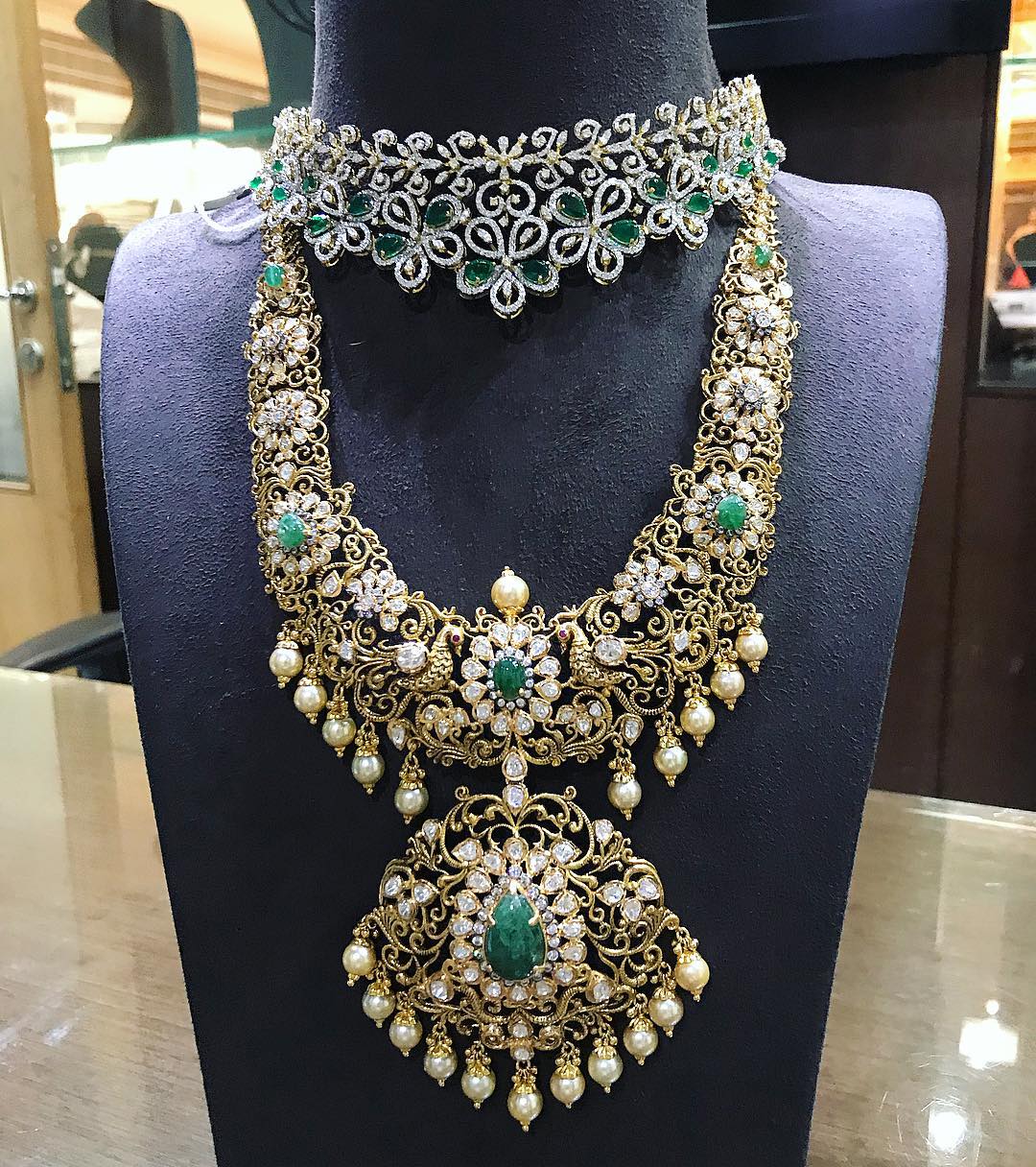 There are some designs which are just extraordinary like this classy piece. Buy this amazing diamond necklace which look perfect for a sangeet.
16) Stunning Diamond Design
A necklace is part of traditional Indian jewellery. This adorable necklace is purely a masterpiece so if you are planning to gift someone something really special you can opt for this one.
17) Royal Design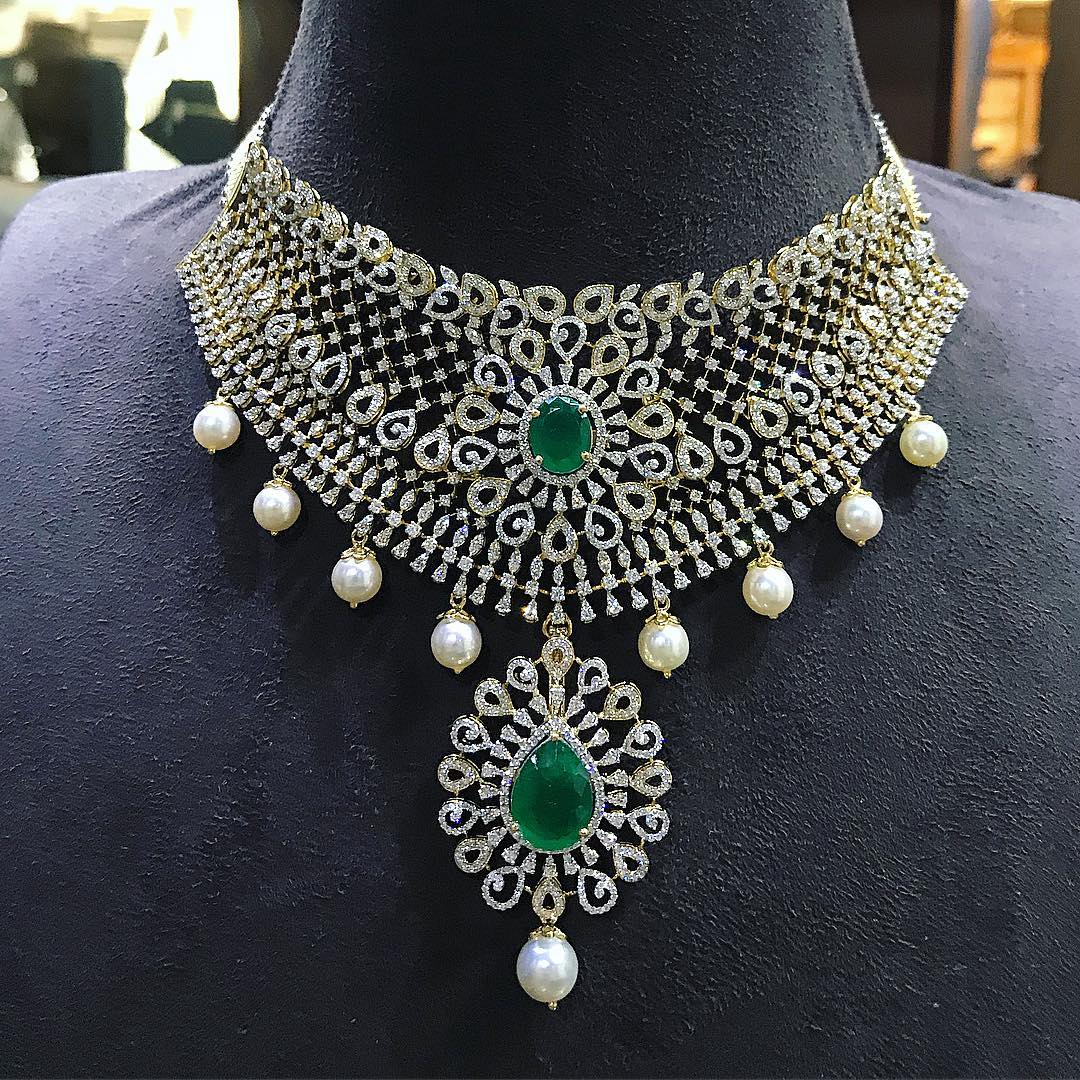 There is nothing like this beautiful diamond necklace. Its intricate motif necklace is just super feminine and super sexy.
18) Elephant Diamond necklace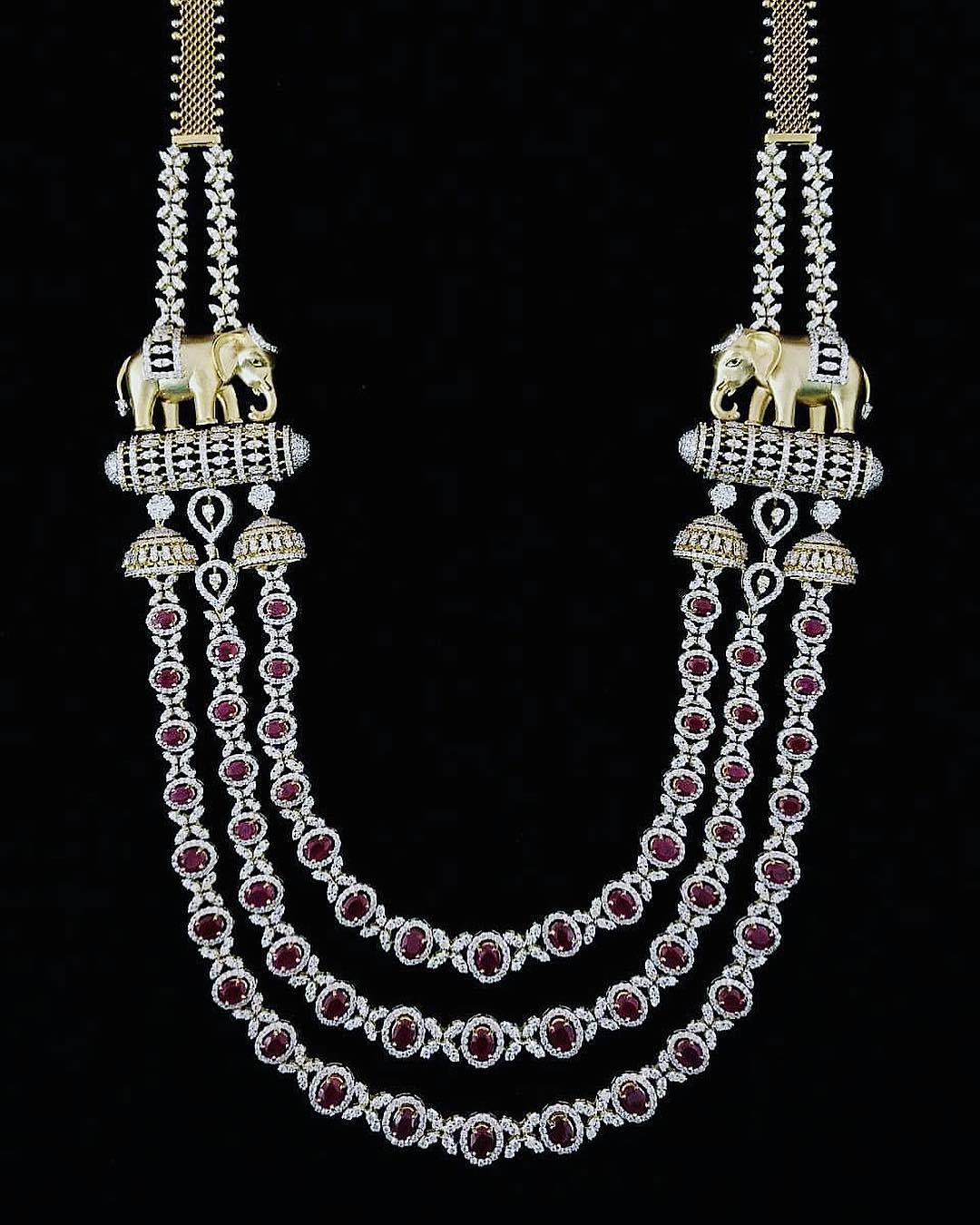 This Stylish elephant diamond necklace is just mind blowing and appropriate for a wedding celebration and even for a family get together. This can be worn with Indian attire and with western attire as well.
19) Grand Diamond Necklace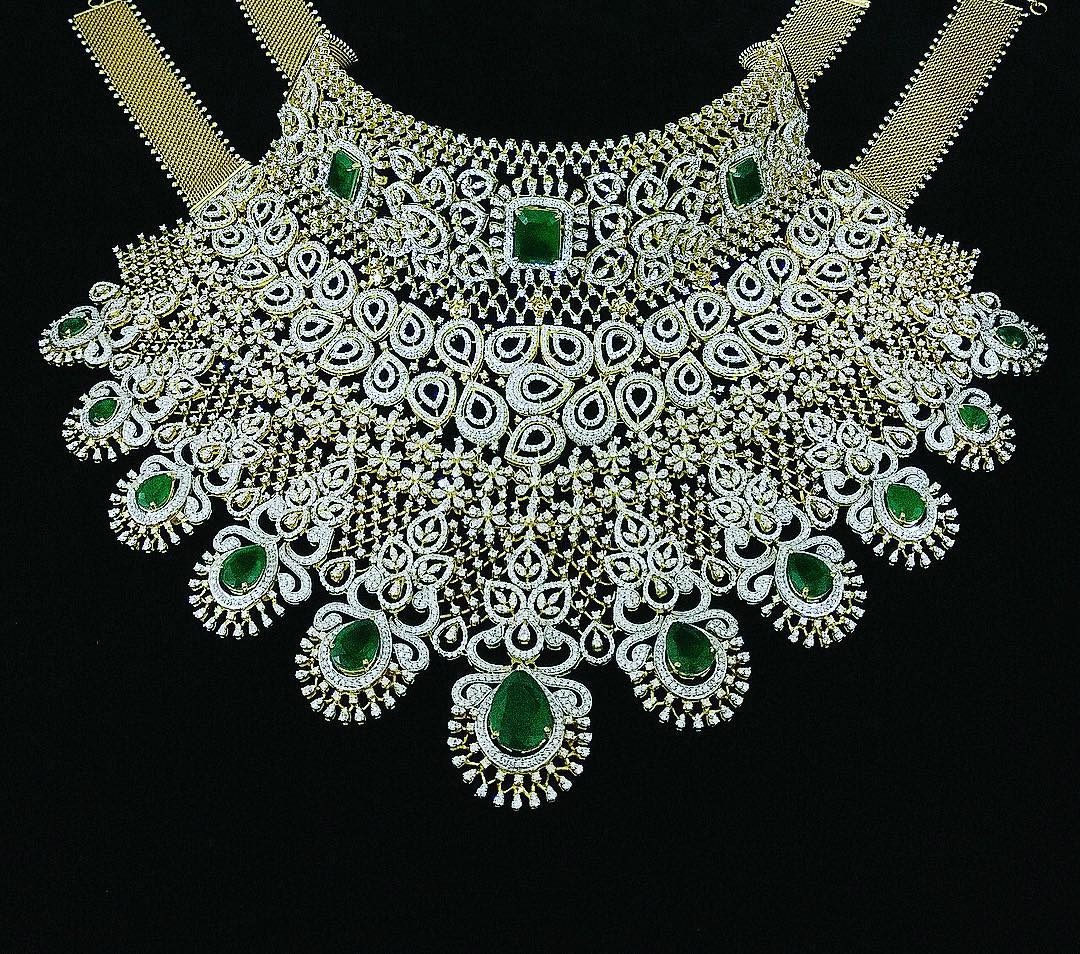 This one is a must have. Grand diamond designs are very much in trend and the intricate design is the prime beauty of it.
20) Contemporary Diamond Necklace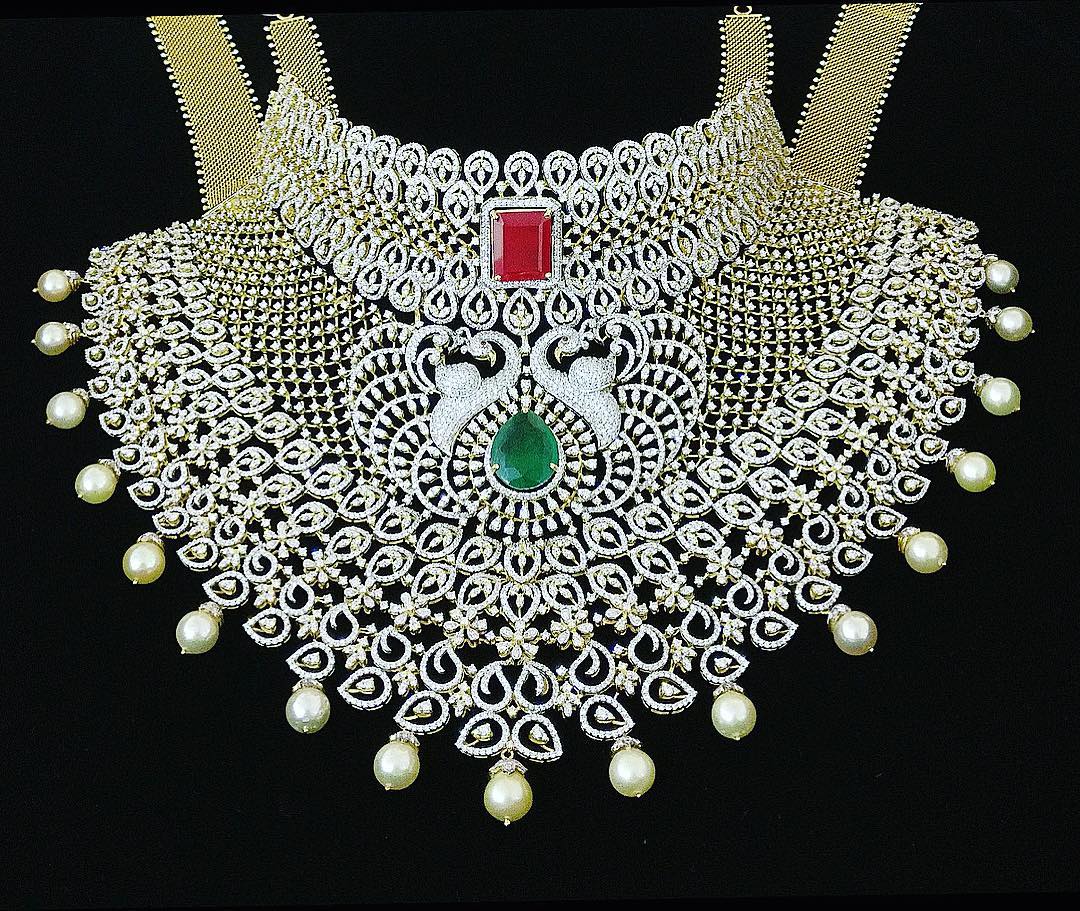 From traditional light weight necklace, to heavier diamond for occasional use, there is something very special about necklace. This contemporary diamond necklace can be worn with an embroidered or sequinned lehenga depending on your choice!
21) Layered Diamond Necklace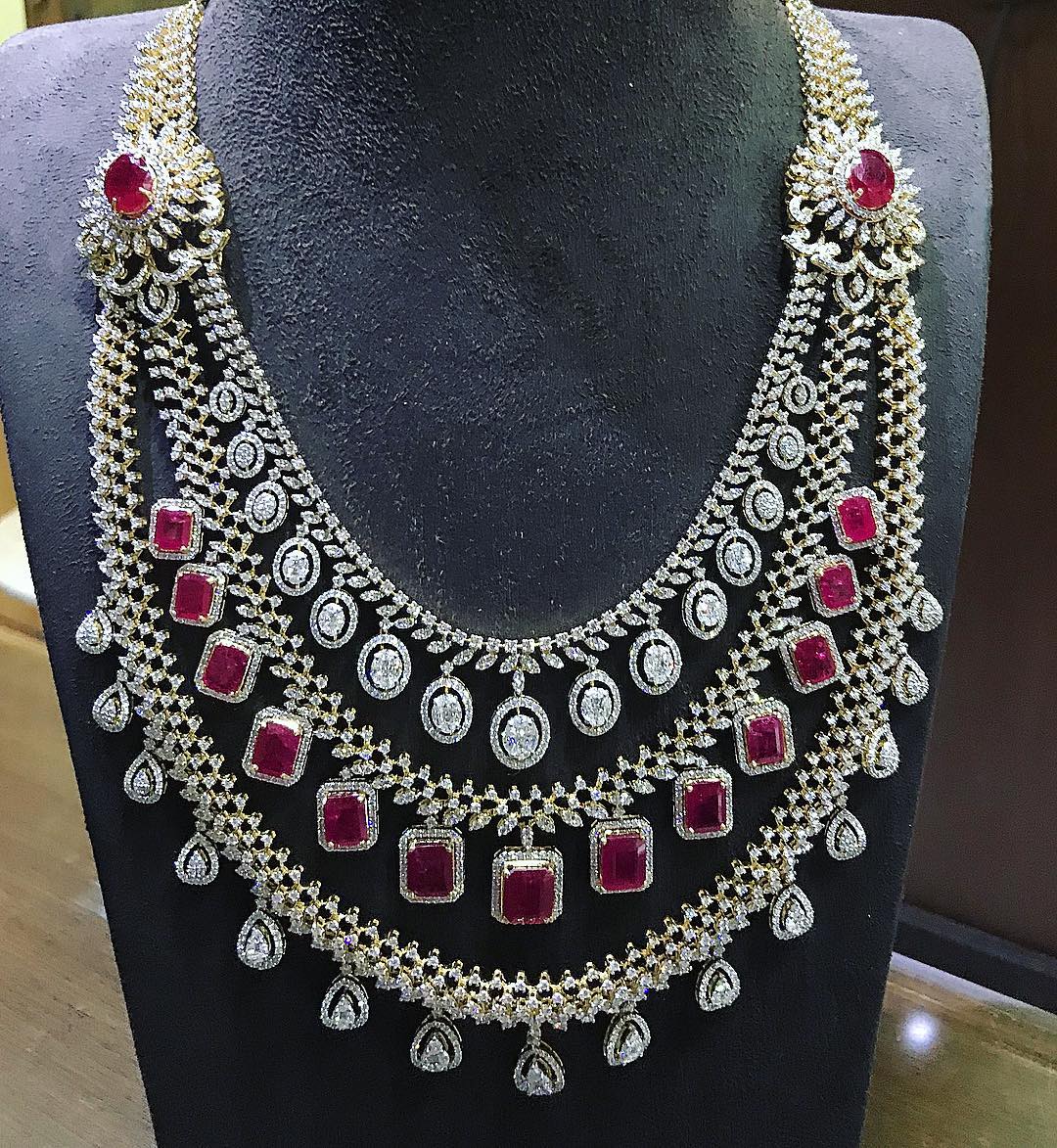 This traditional light weight necklace is with sparkling diamonds with strands of pink stone at the centre. This is appropriate for a typical Indian wedding.
22) Goddess Lakshmi Diamond Necklace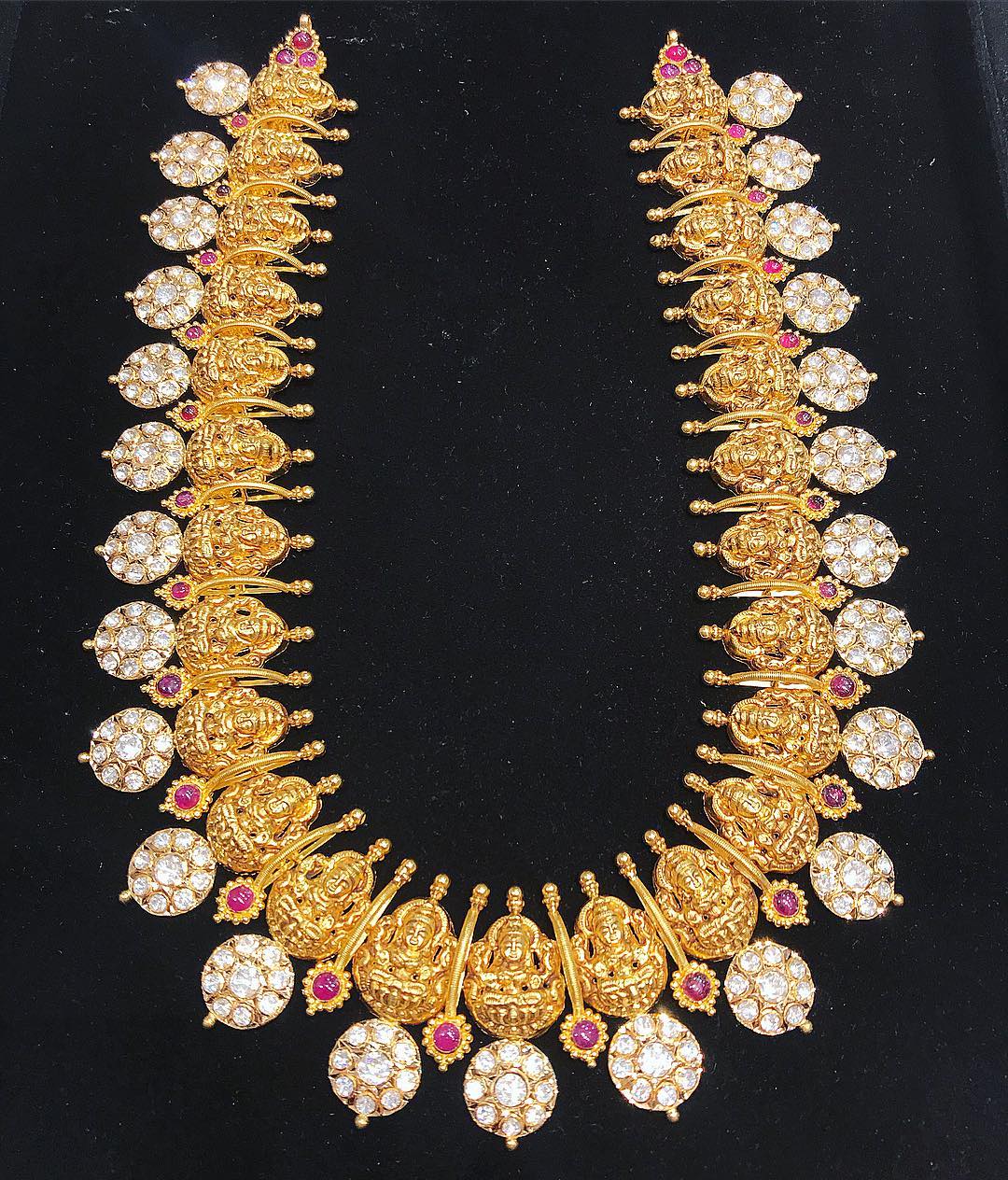 The miracle of a goddess Lakshmi inspired diamond necklace is just amazing. This one is appropriate for a puja celebration.
23) Peacock Design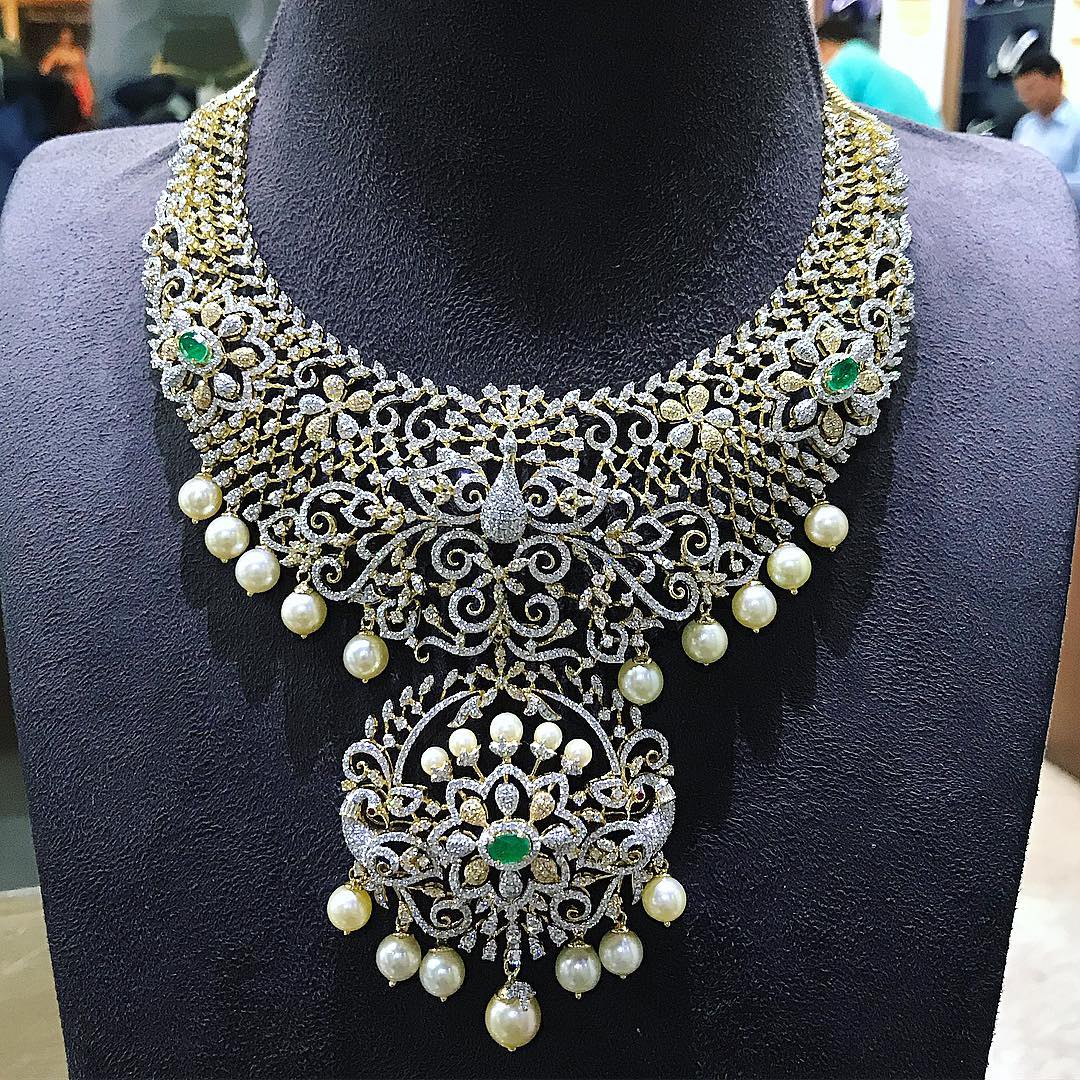 This is one of its kind. This peacock inspired diamond necklace with peacock motif on both the sides is just amazing to pick if you are into artistic designs!
24) Sparkling Diamond Necklace
This sparkling diamond necklace with pink stone beautifully embedded in it is just marvellous which adds an extra drama to it. Pearls attached to it just elevate the whole look of this stunning necklace.
25) Astonishing Design
This one is perfect for a wedding and three strings with an emerald attached to it is just amazing. So reserve this one for an upcoming festive season.
26) Charming Diamond Necklace
This one is just beautiful and even it is so light weight and comfortable, this is the design anyone can go for. This is a very unique and exotic piece which is appropriate for a wedding ceremony.
Okay these are out picks of extraordinary heavy diamond necklace set designs for this season. If you like to shop or inquiries about the models featured in this post, then please do find the seller contact details below.
Seller Name : P.Satyanarayan & Sons Jewellers
Website : http://www.psatyanarayanandsons.com/
Contact : 098490 44450
Also Read: