You can check out these ruby necklace pieces if charming and lovely ruby necklaces are your weakness. Somehow, you feel like you just can't hold the urge to buy them when you like one.
Let's check out these latest ruby necklace designs and, maybe, you might find that one necklace of your choice. Possibly, it can also give you the look you want whether it is a great, stylish, simple, fashionable and elegant appearance on your outfit.
Don't hold back the hidden fashion pro inside you. Go through each and every option available for you. Make your own mind after considering them all before buying one of these ruby necklace designs. If you like to shop the necklace featured here,  please do check the seller details provided at the end of this post.
Ruby Mango Mala
This ruby mango mala will give you a pretty and wonderful appearance. If you are interested in bringing this jewelry home and make it a part of your own jewelry collection, then, you can find and buy this lovely jewelry piece at the jeweler.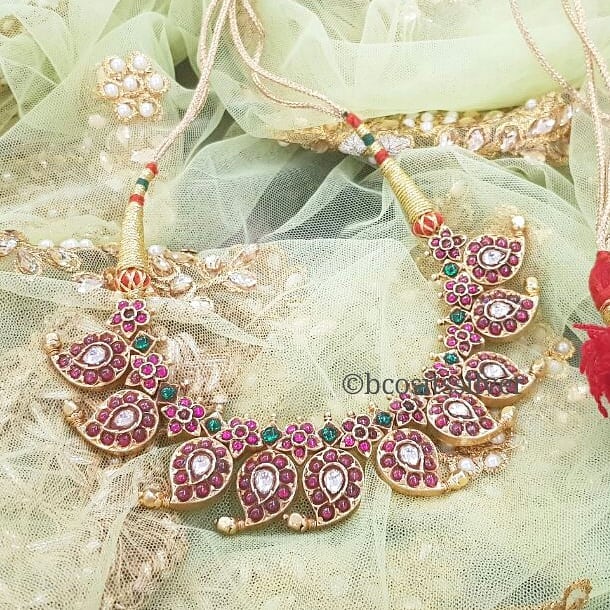 Ruby Kundan Mango Mala
Enjoy the look and feel of the jewelry that has to offer to you. This marvelous ruby Kundan mango mala jewelry can be a great choice for you to wear it on any traditional dress you have in your wardrobe. You can buy it and wear it to experience the amazing and charming look.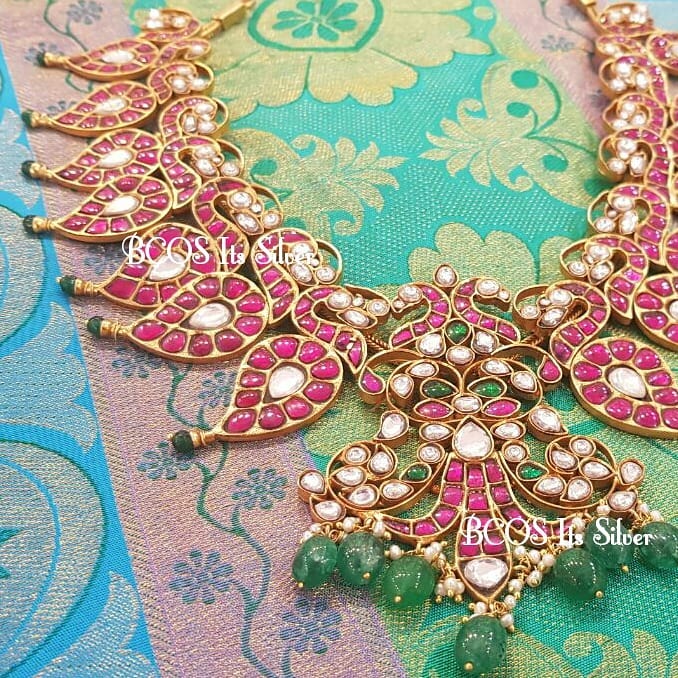 Ruby Peacock Necklace Set
The peacock designs on this ruby necklace set make it look delightful and elegant. The exquisite ruby set can be a great addition to your necklace collection. You can wear it in your own stylish way and look fashionable.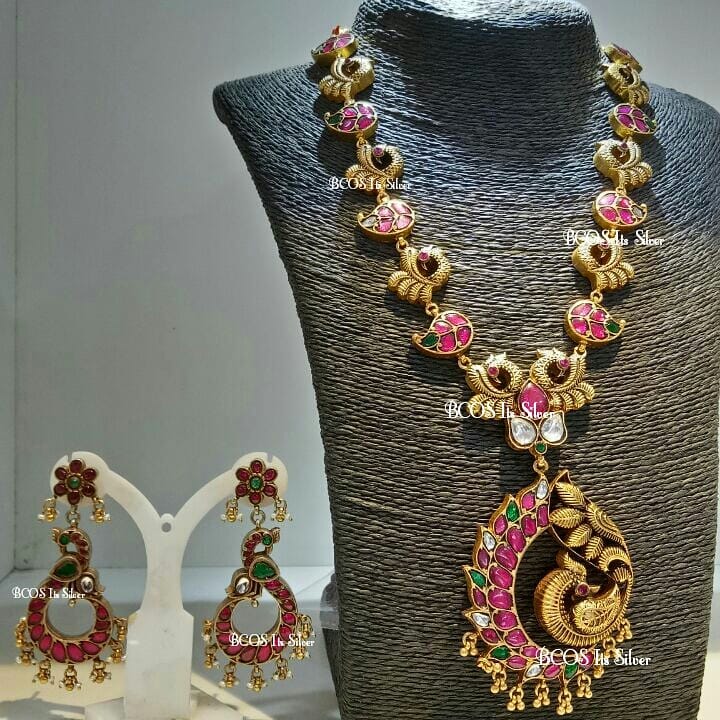 Grand Ruby Guttapusalu
Enhance your beauty, style, and fashion with grand ruby guttapusalu necklace. Get an amazing and dashing appearance and enjoy the experience wearing this necklace jewelry.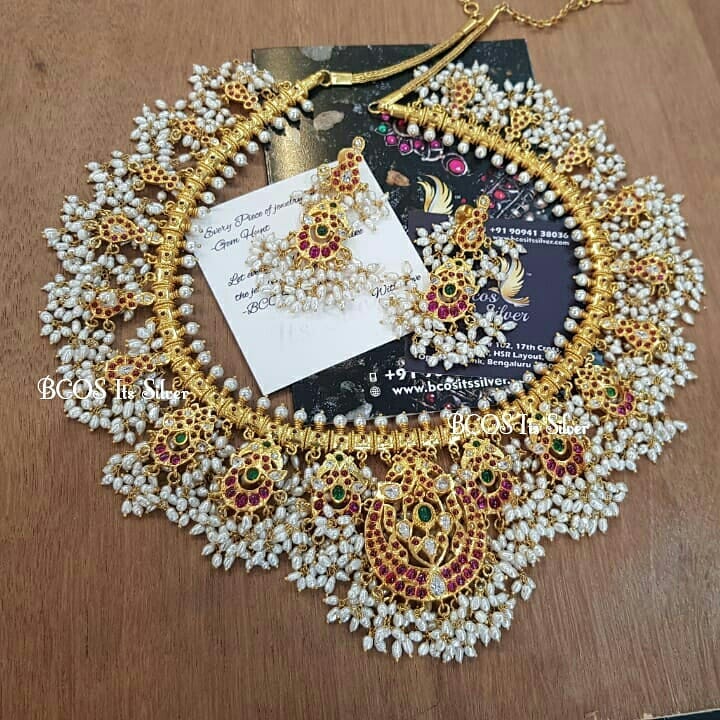 Long Ruby Mango Haram
If you are into long and lengthy necklaces, then, you will definitely like this outstanding long ruby mango haram necklace.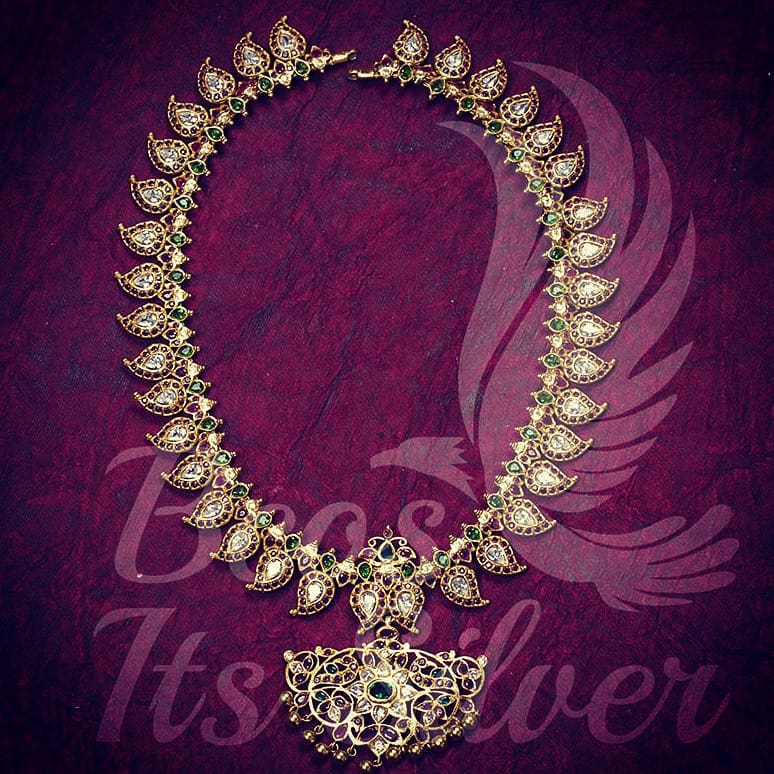 It covers a long length that goes well with traditional salwar suit dresses. It's elegant, shiny, and delightful look make it a nice choice for ladies and girls to wear it.
Guttapusalu With Bold Ruby Pendant
The guttapusalu with bold ruby pendant necklace can blow your mind away with its captivating and charming look. The ruby pendant offers this necklace an eye-catchy and wonderful appearance on any lady and girl.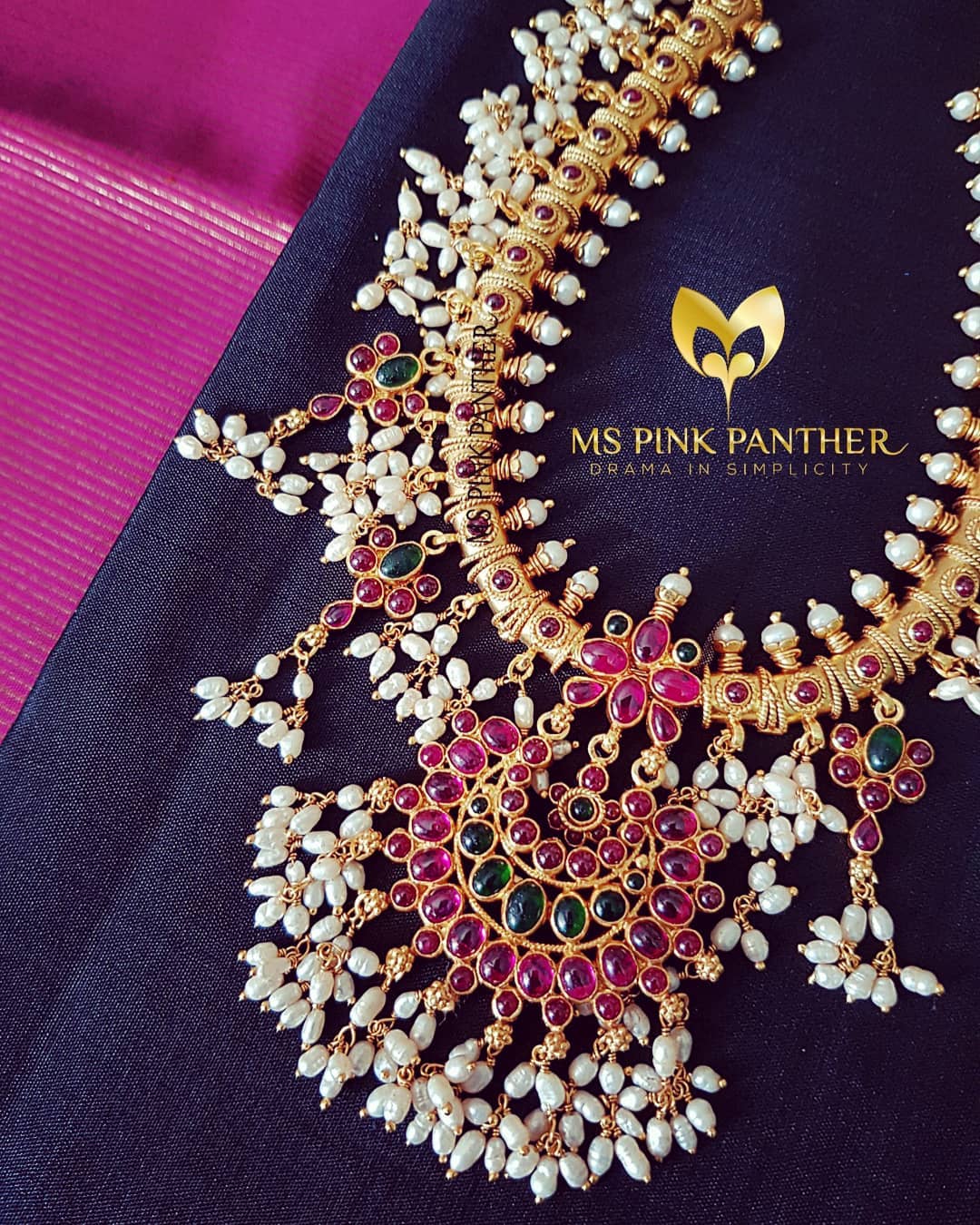 Ruby Pearl Choker
The shiny and delicate look of this ruby pearl choker makes it a lovely jewelry piece to be considered for buying. The pearl attached to this choker necklace give it an angelic appearance. Interestingly, the gemstone pearl is known to be popular among people and is obtained from under the deep water.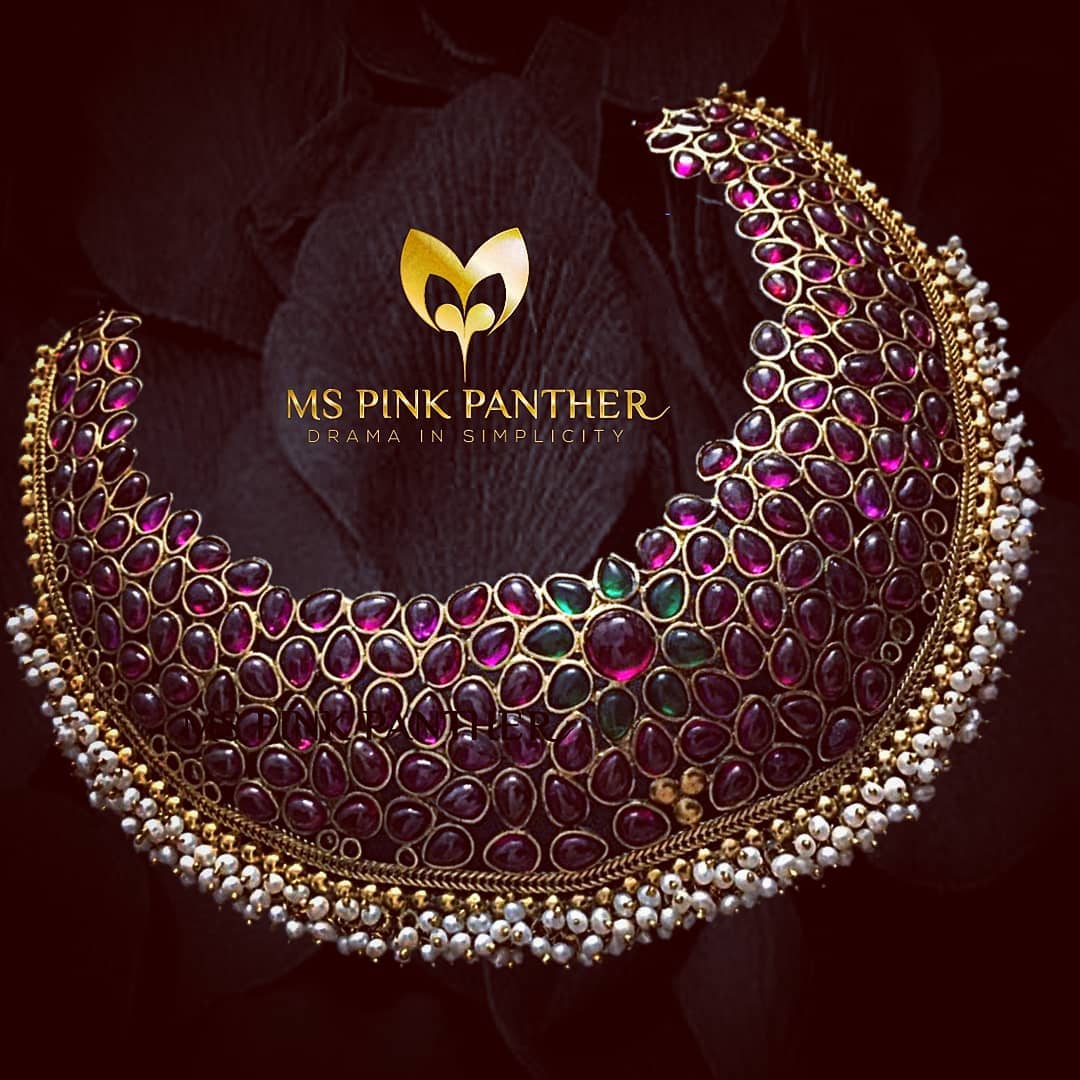 Sleek Antique Mango Necklace
The simple, shining and sober look of the sleek antique mango necklace adds a dignified appearance to the personality of an individual wearing it on any occasion.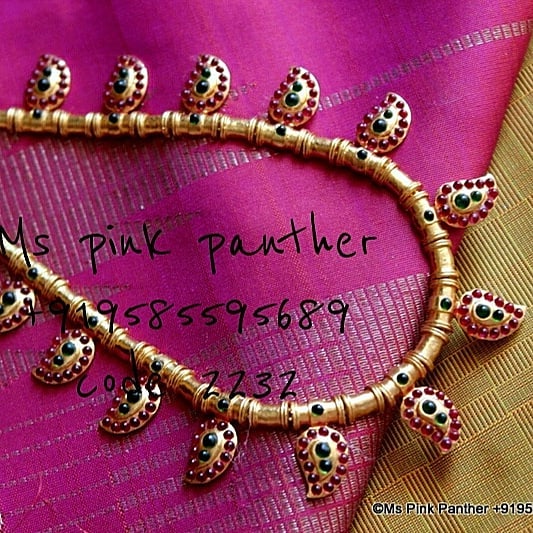 Pearl Choker With Ruby Pendant
If you fond of wearing pearls, then, this pearl choker with a ruby pendant will get your attention for sure. The marvelous, adorable and wonderful looking necklace will enhance the style and beauty of your overall outfit wherever you plan to go.
Antique Ruby Attigai
Antique ruby attigai necklace is one of the attigai necklaces that have big uncut stones in a classic design. It is a pretty, beautiful and nice necklace jewelry piece for you.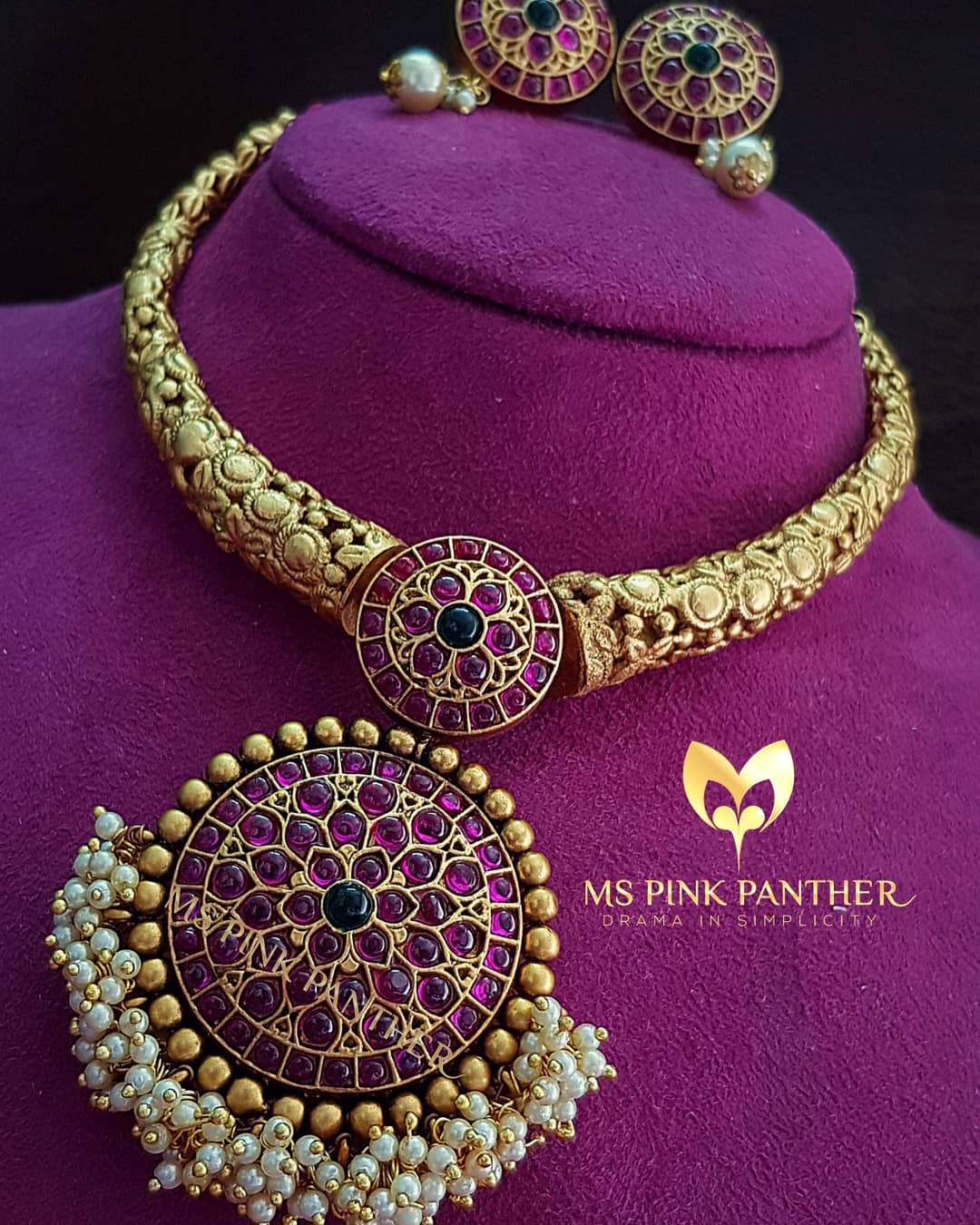 Silver Ruby Necklace
There is a shining, different and unique look to this silver ruby necklace. On wearing this necklace, you will look gorgeous and stylish.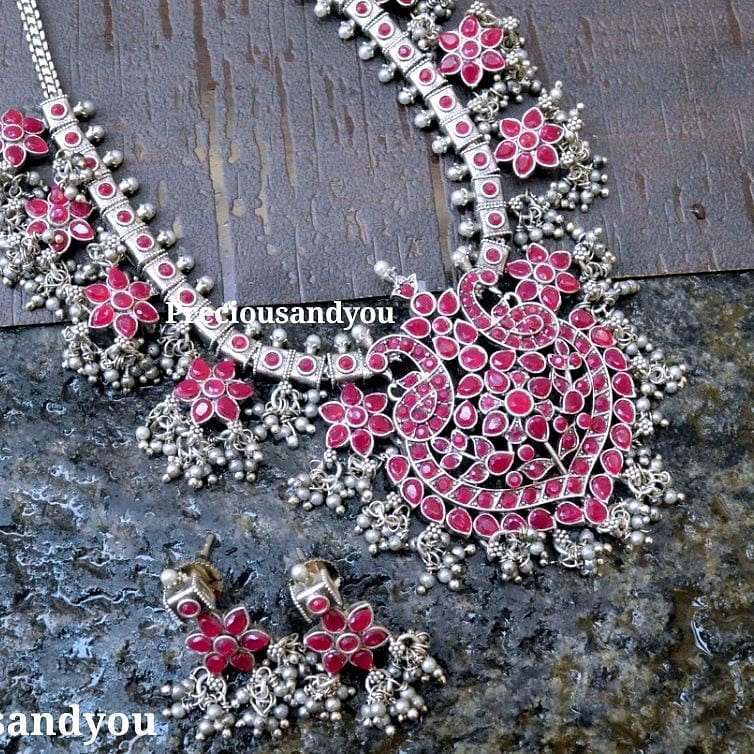 Temple Ruby Necklace
Surprisingly, this temple ruby necklace is the best ruby necklace choice for ladies who love to wear temple jewelry and accessories along with gemstone rubies for their designer dresses.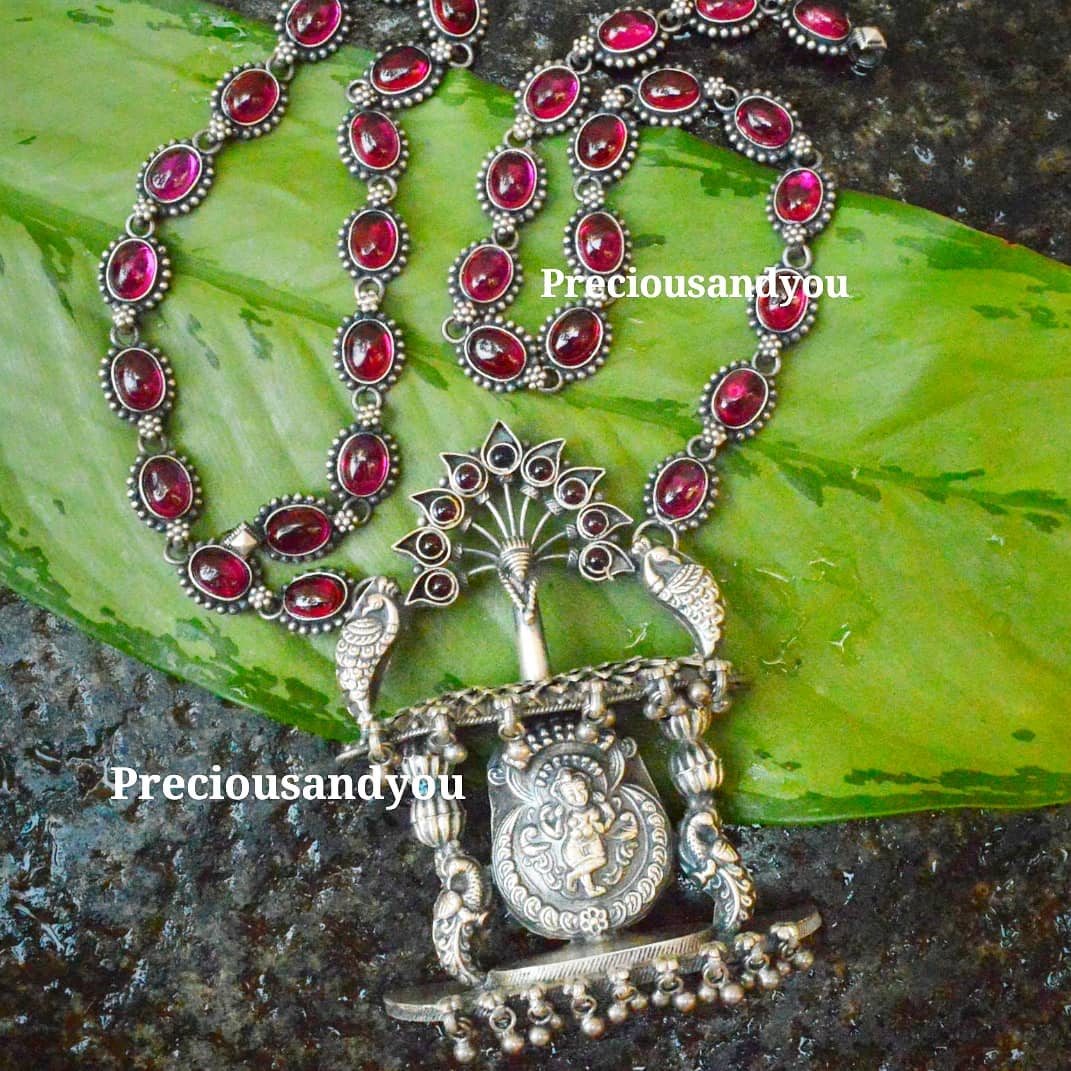 Antique Temple Choker
This is what you should get home if you are looking for a combination of antique and temple jewelry as a choker necklace. This antique temple choker will give you the desired look with the auspicious designs of God and Goddess on this neck piece.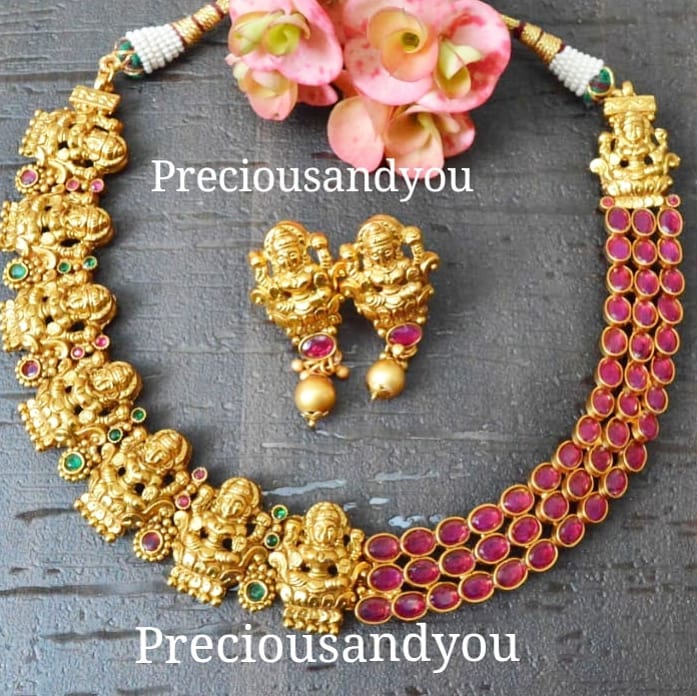 Traditional Lakshmi Necklace
Obtain this traditional Laxmi necklace to wear it on an auspicious and brilliant occasion where the blessing of Goddess Laxmi can make your day luckier for you. No matter what you are planning to do, make this traditional necklace a part of to ensure that Goddess Laxmi can turn the events more auspicious for you and your family.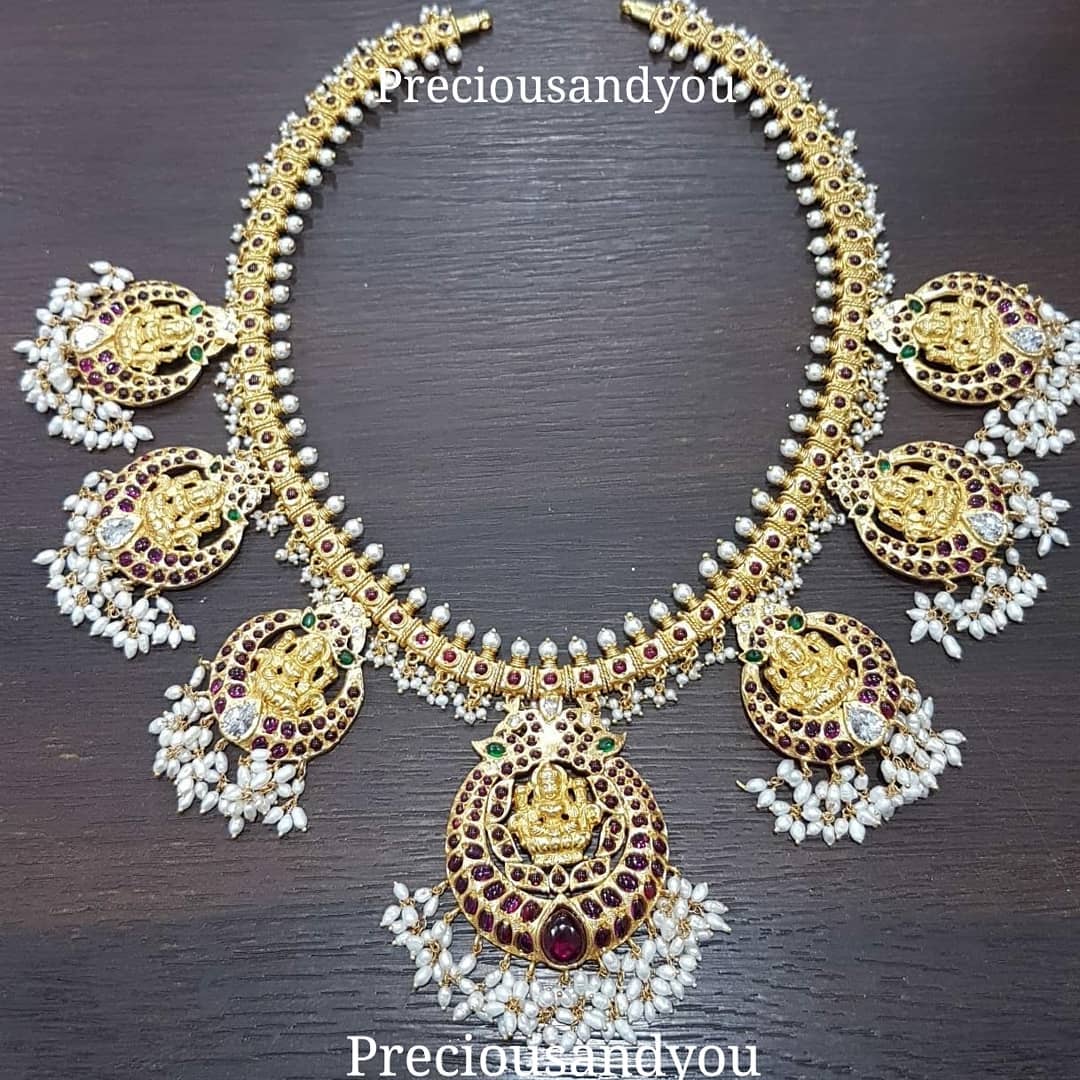 Black Thread Necklace With Ruby Motifs
A creative and artistic piece of jewelry can be your thing if you like artistic taste while you buy jewelry for your collection at home. This black thread necklace with ruby motifs is an example of a creative and artistic jewelry for you to consider before making the final decision of buying any jewelry.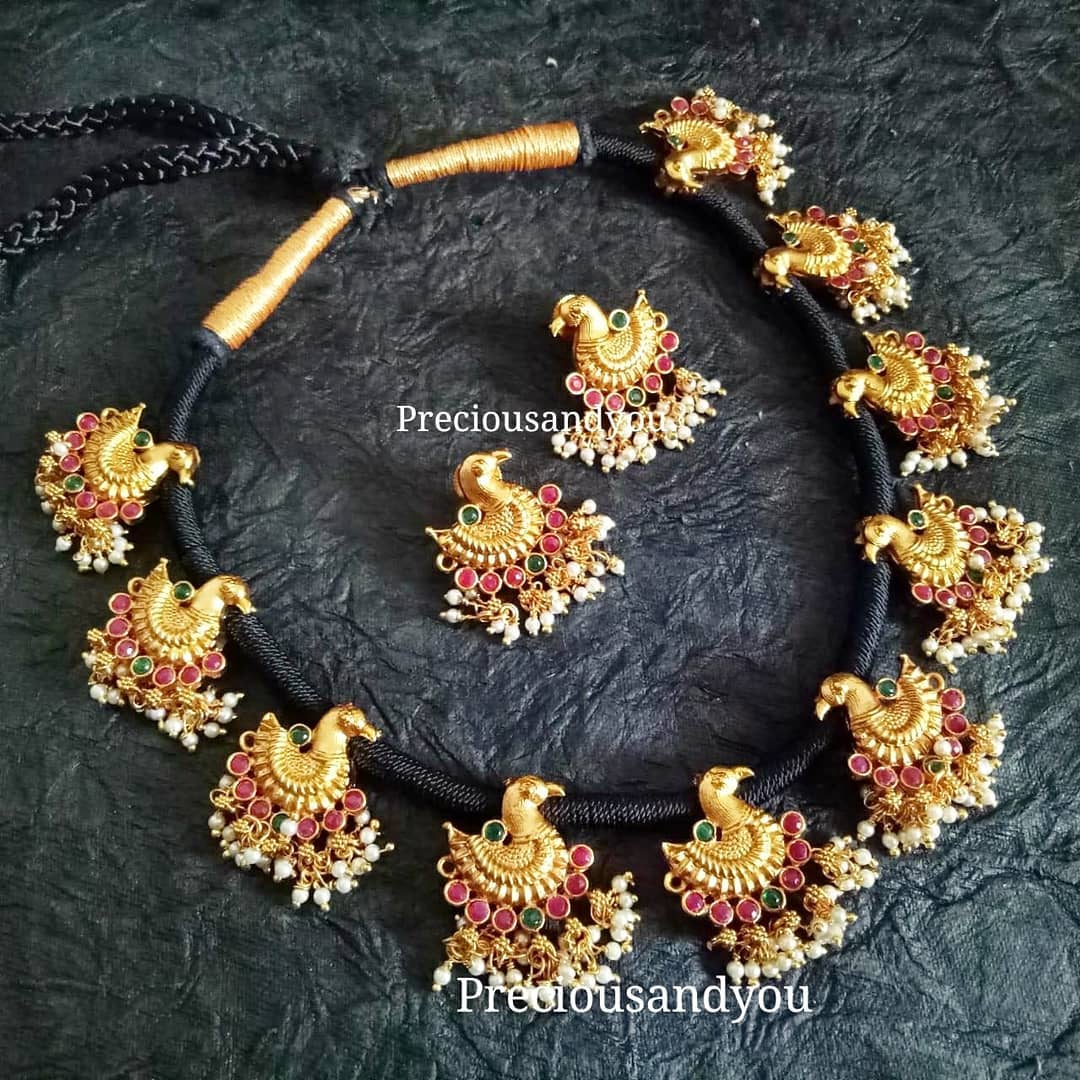 Matt Finish Ruby Necklace
Selecting a suitable ruby necklace that blends and complements well with your dress is what you need. Here is this matt finish ruby necklace that can give a rough and simple look. It can be mix matched with your dresses from the wardrobe and be worn at certain events.
Floral Necklace With Rubies & Pearls
It is the selection of the necklace jewelry that makes a difference to your whole look and attire. No matter what the occasion is the floral necklace with rubies and pearls can be a nice choice to wear.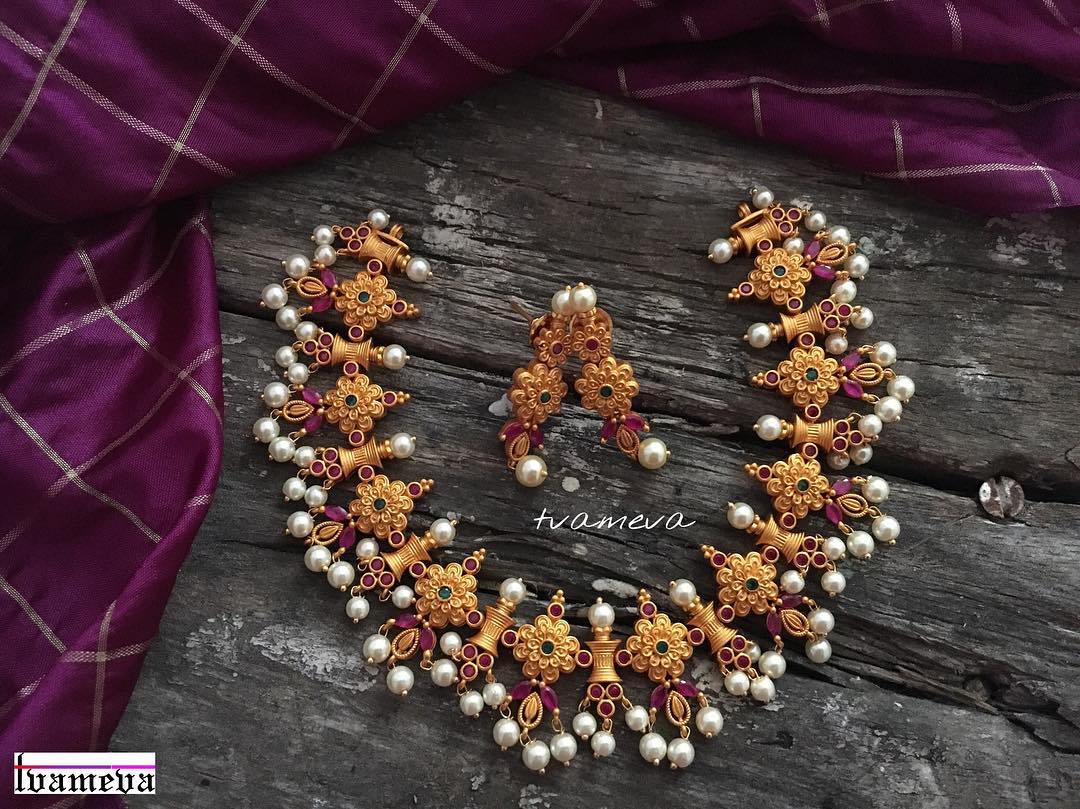 Kemp Ruby Choker
Kemp ruby choker jewelry includes an exclusive collection of good quality kemp stones for designing it. It makes this latest ruby necklace jewelry eye-catchy, charming and a good choice for you.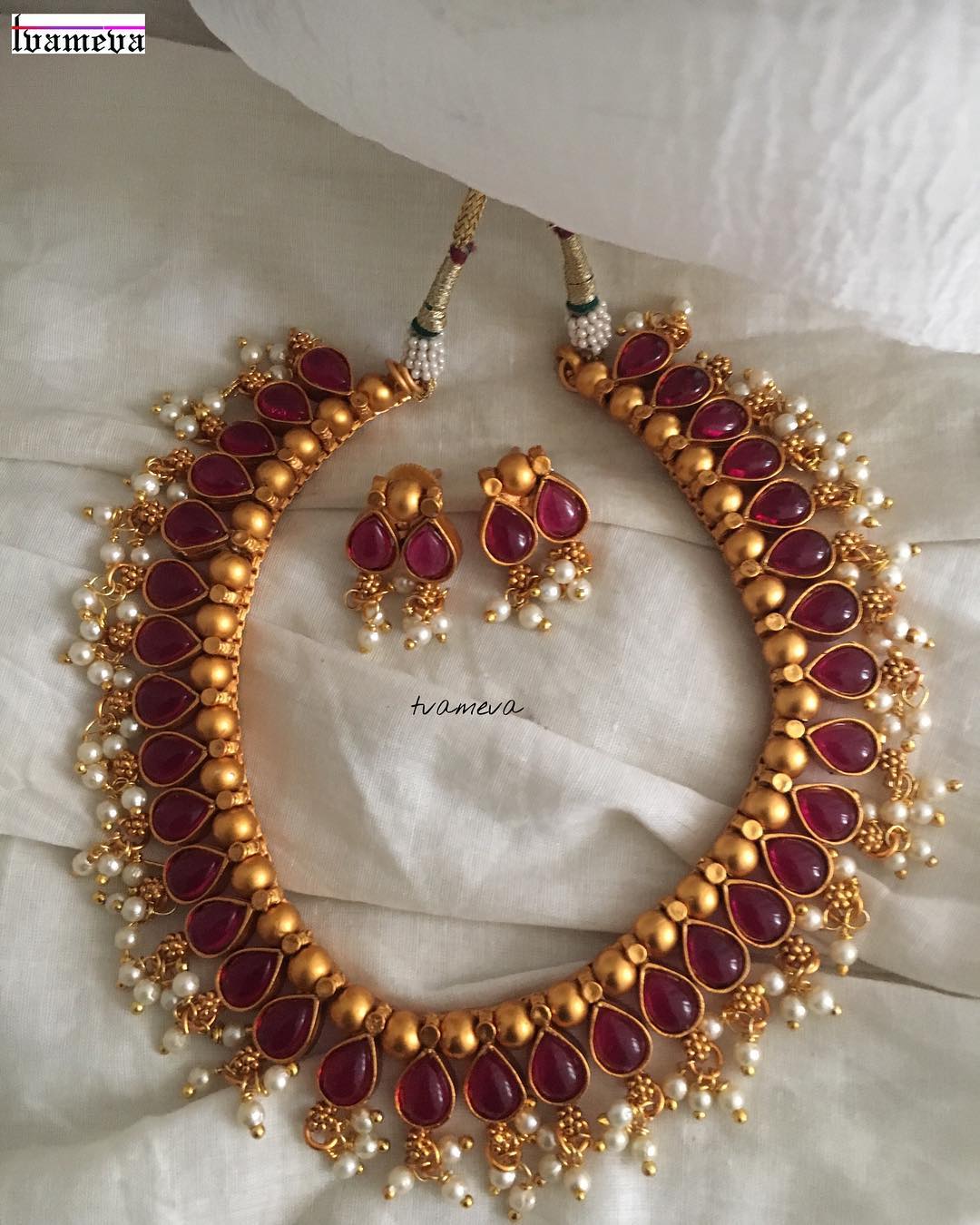 Simple Ruby Chain Necklace
The simple ruby chain necklace is a good choice for any girl and lady to wear who are looking for simplicity, sober yet stylish and fashionable jewelry pieces.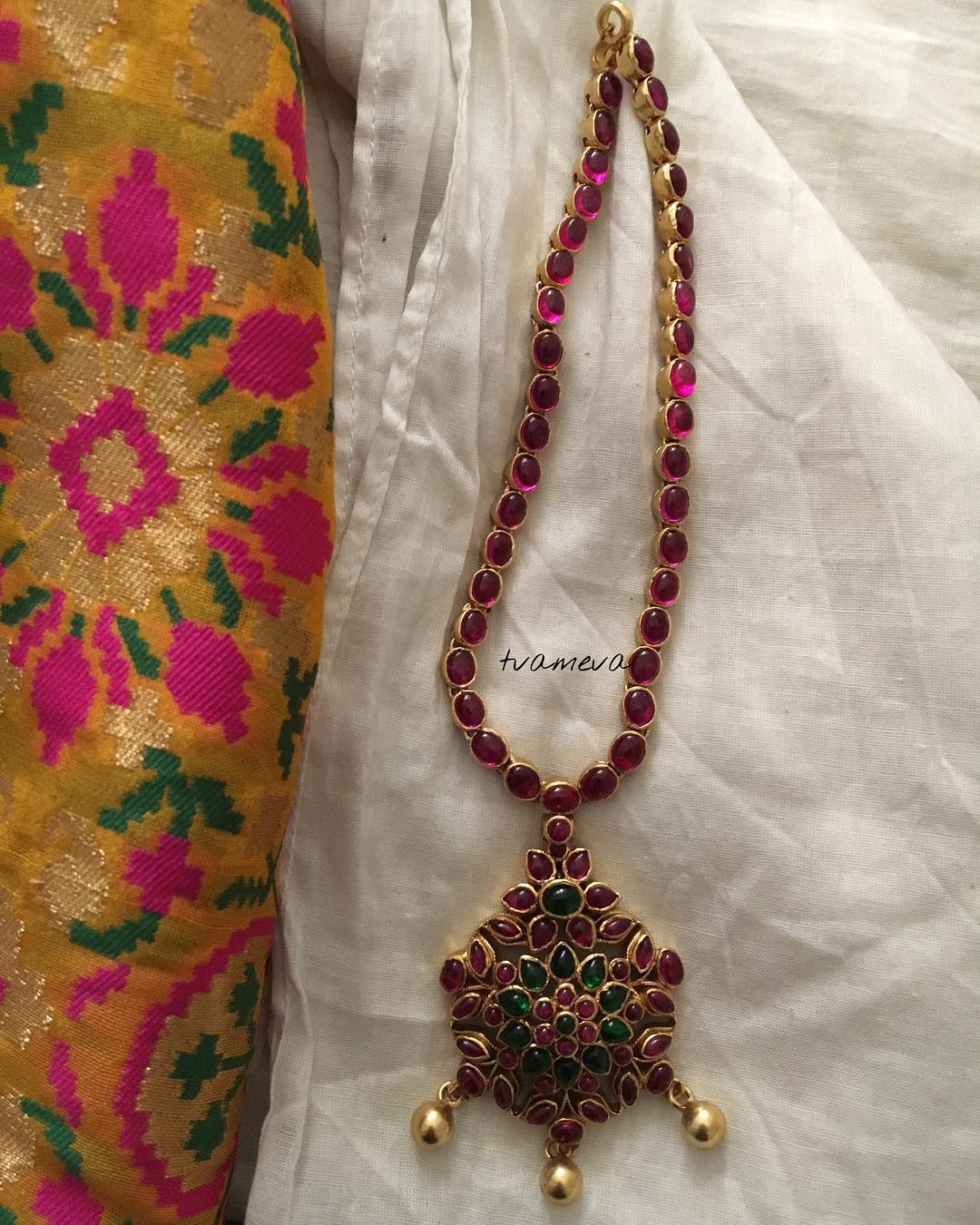 Ruby Coin Necklace
With the wonderful and marvelous look and feel of the ruby coin necklace, it makes it popular among women and girls. Get an exquisite, graceful, dignified and elegant look with this ruby coin necklace piece.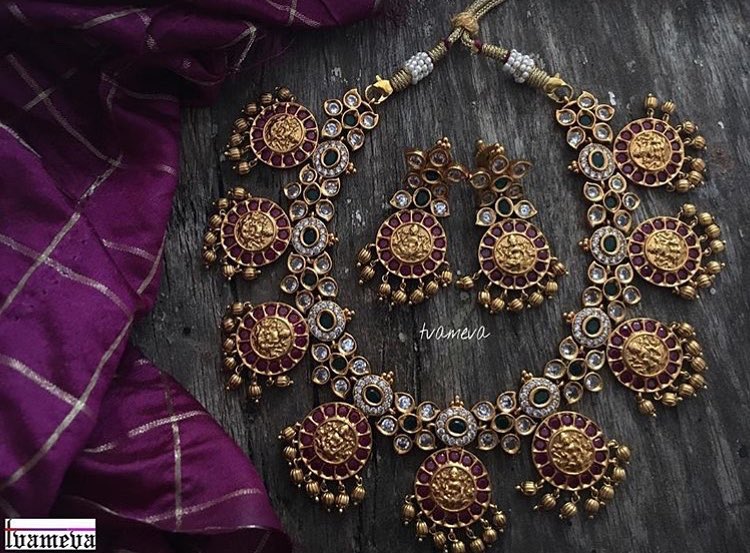 These latest ruby necklace designs can be a great, wonderful and lovely addition to your necklace jewelry collection. Now go ahead and check out the sellers for the availability of these amazing pieces.
Seller Name : BCOS – Its Silver
Contact No: +91 90941 38036.
Email :ar***************@gm***.com
Website: https://www.bcositssilver.com/
Instagram : https://www.instagram.com/bcos_its_silver/
Facebook: https://www.facebook.com/BCOSITSSILVER/
Address : Shop #1, Plot #102, 17th Cross Street, 6th sector, near MK Ahmed bazar, opp to ICICI bank, HSR Layout, Bengaluru 560 102.
Seller Name : Ms Pink Panther
Facebook : https://www.facebook.com/MISSPINKPANTHERJEWELLERY/
Contact : +91 95855 95689
Instagram : https://www.instagram.com/mspinkpantherjewel/
Website : http://www.mspinkpanther.com/
Seller Name : Precious and You
Instagram : https://www.instagram.com/preciousandyou/
Contact : +917094196623
Website : http://www.preciousandyou.com/
Facebook : https://www.facebook.com/preciousandyou/
Seller Name : Tvameva
Instagram : https://www.instagram.com/tvameva/
Contact : 9994767370
Also Read: