Nose pins have become a part of fashion statement and there are some trendy nosepins available in the market which can add to your style. Macs jewelry has an unique collection of jewelry ranging from nose pins to necklaces made in pure silver.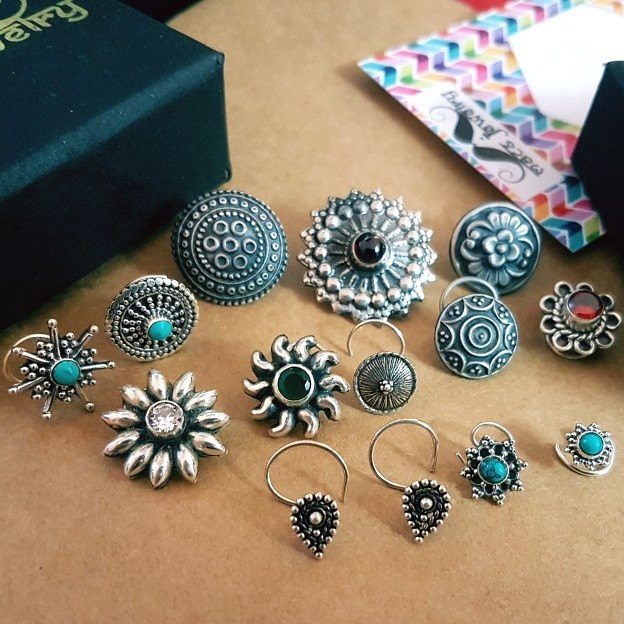 The designer collection of nose pins are available at affordable prices. Let us check out some of the  beautiful and trendy nosepins which are irresistibility tempting!
1. Swirl nose pins
Nose pins are designed in various shapes and sizes which are trendy and which can be worn with any outfit. The swirl nose pins have a subtle design and they come with red, blue, black, pearl beads which make them pretty and trendy.
2. Meenakari nose pins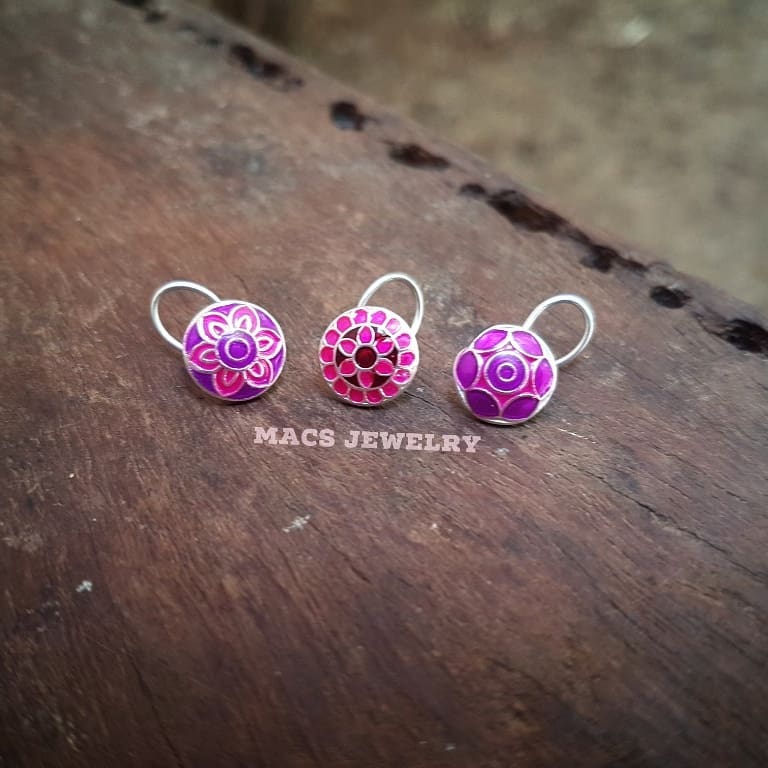 Meenakari jewellery is trending these days due to the bright colors and beautiful patterns. The meenakari silver nose pins match well with ethnic wear as well modern outfits.
3. Antique nose pins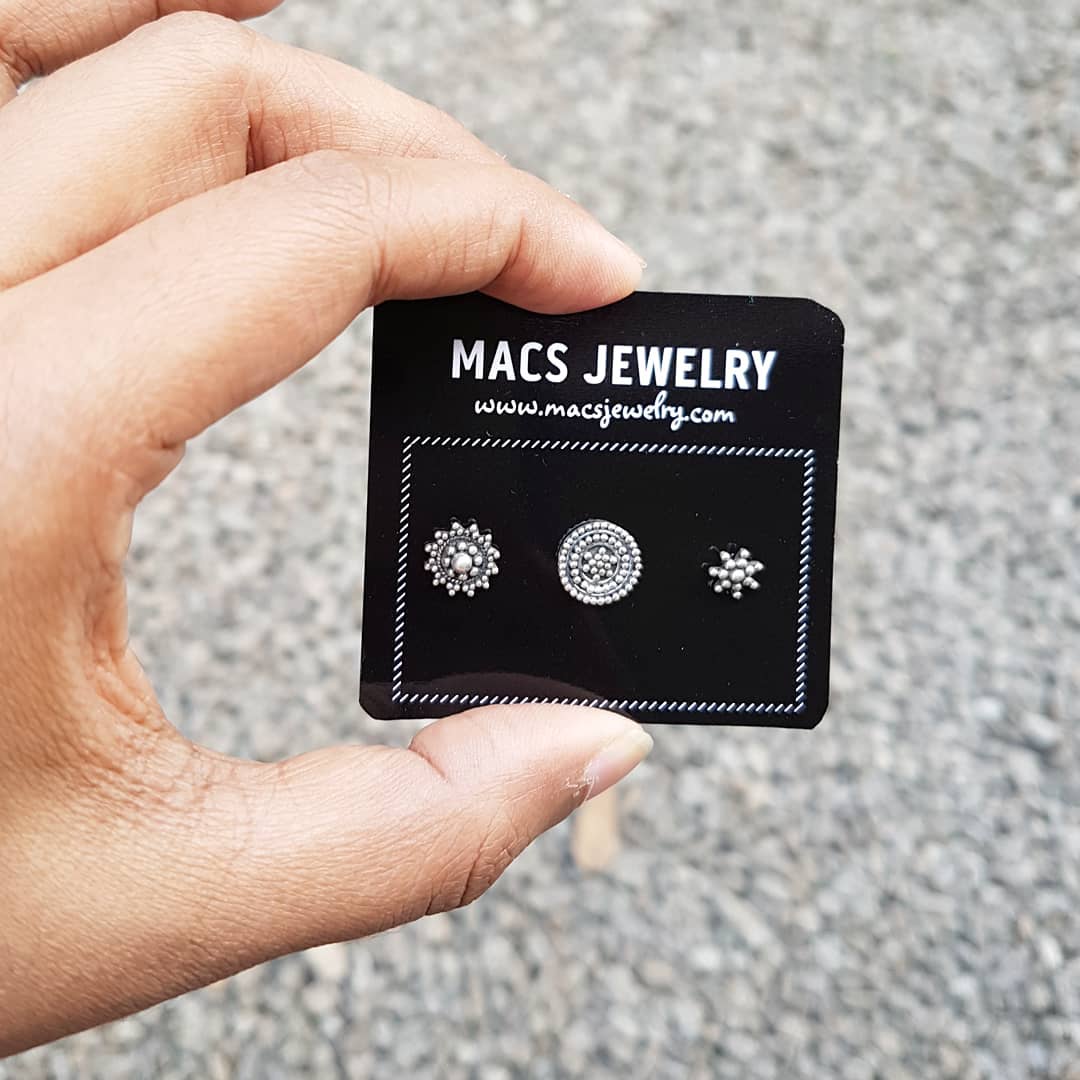 Antique patterns and motifs are back in both jewelry and clothing. The traditional designs with flower and round pattern silver nose pins can add up to the beauty of any woman.
4. Pearl studded nose pin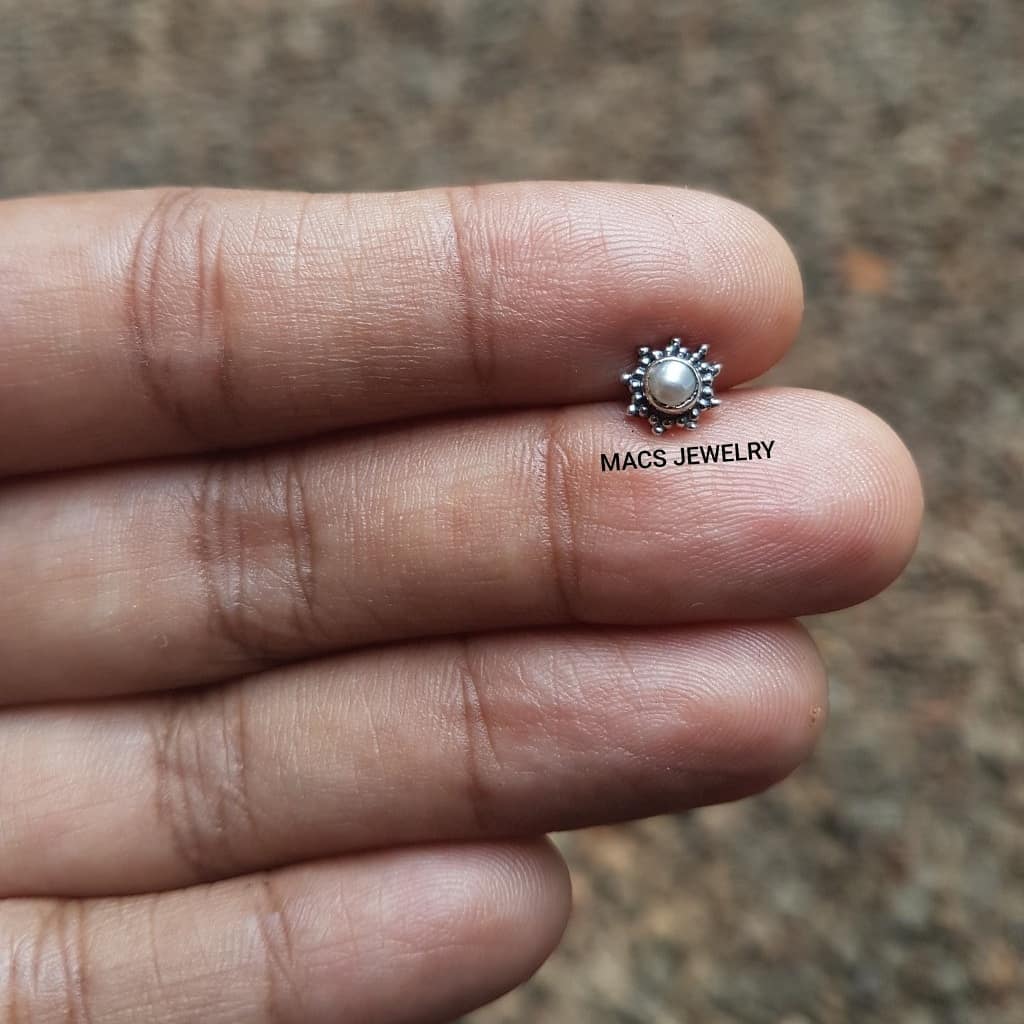 Pearl is a symbol of elegance and a combination of silver and pearl is a classic one. A simple round pattern nose pin with pearl can speak volumes about your elegance and style.
5. Nose pins with stones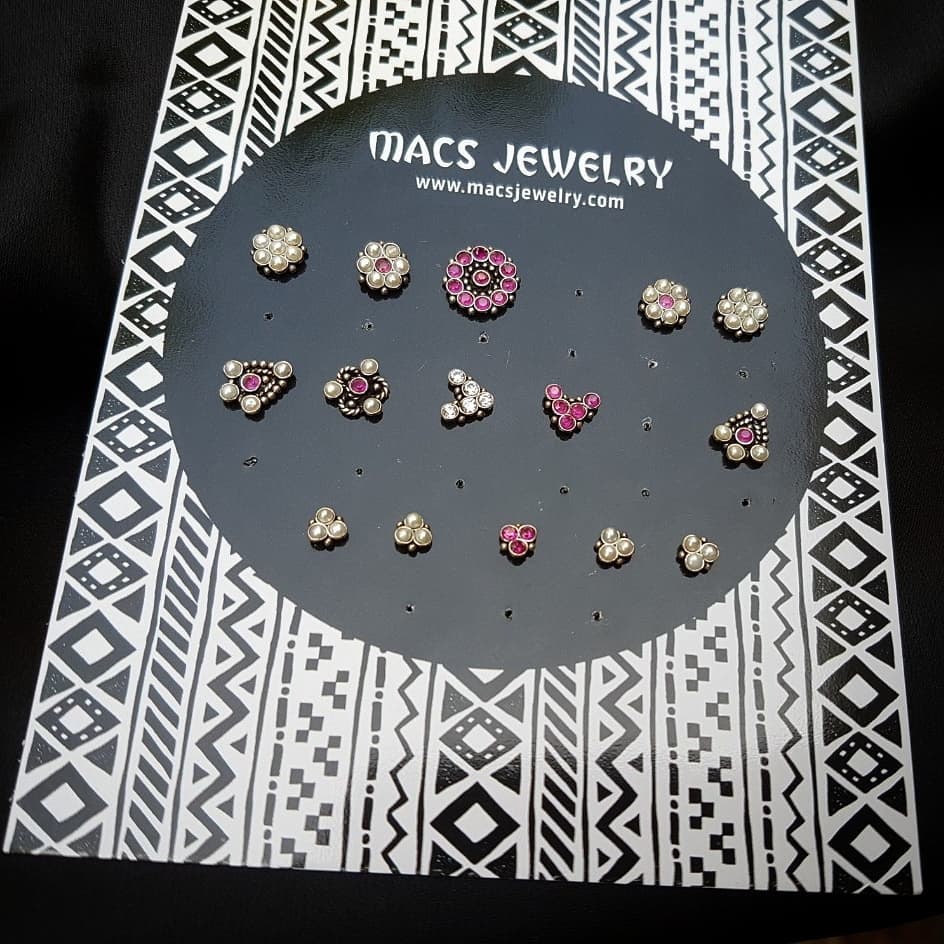 Nose pins come in different patterns and designs. If ethnicity is what you are looking for then nose pins studded with red, white stones etc. can do the job for you.
6. Star nose pins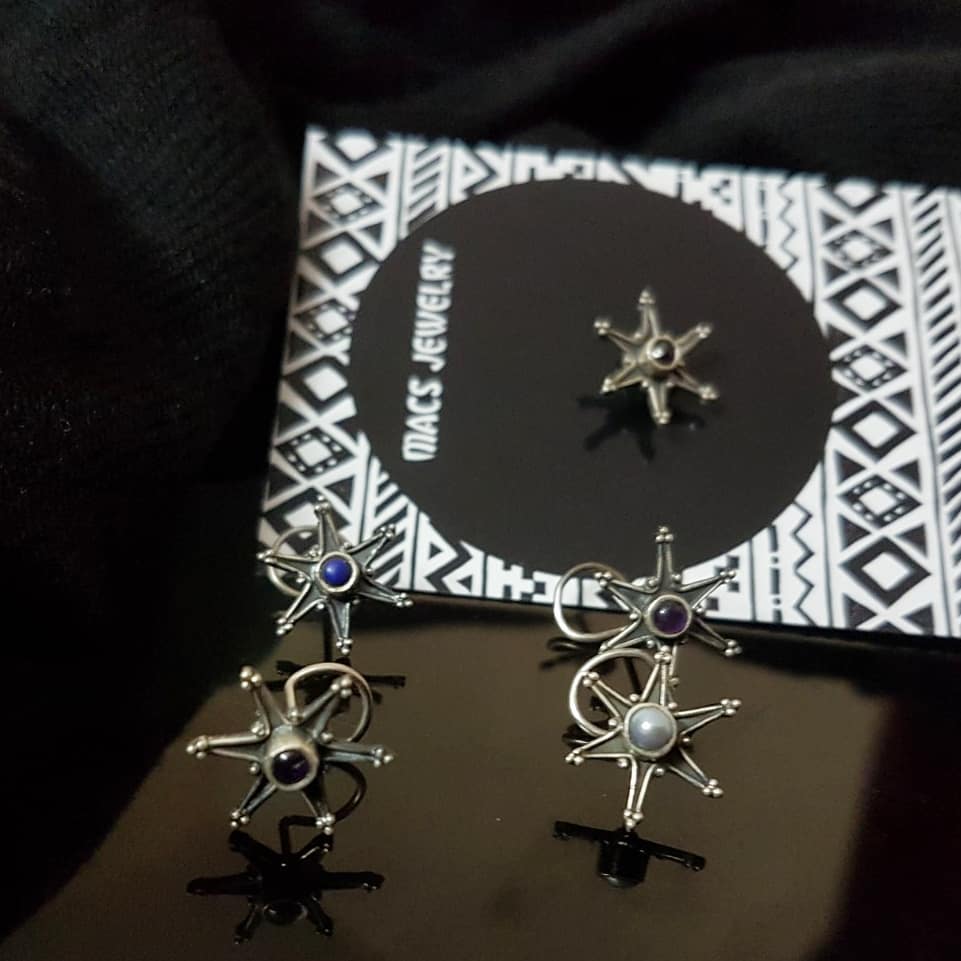 Star shape is one of the most fascinating shapes in jewlery. The simple star shape nose pins with a variety of beads in the middle  such as pearls, blue beads etc. can bring a huge change in the appearance.
7. Nose pins with single colored stones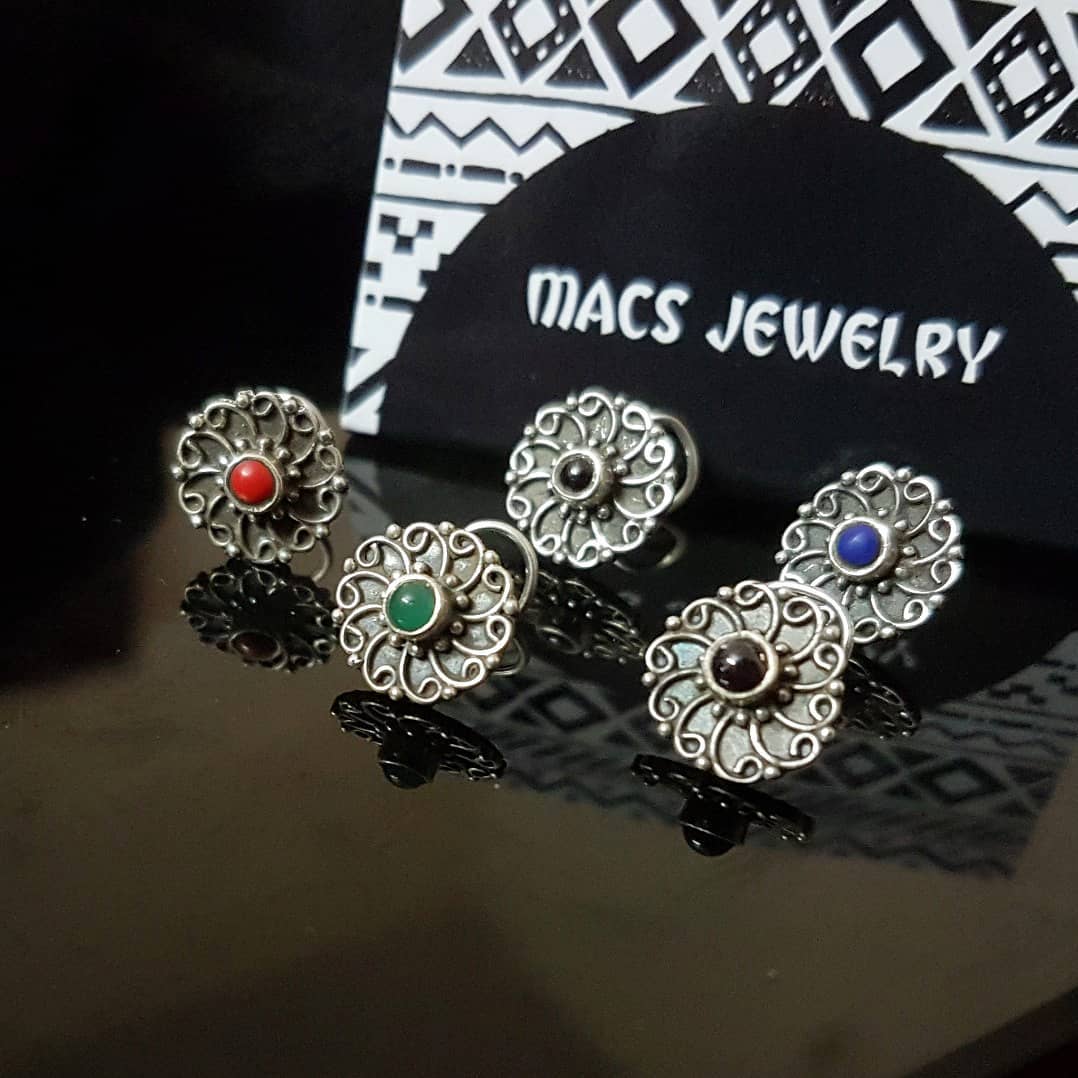 Flower pattern silver nose pins look beautiful and attractive. These nose pins when studded with a simple bead stone such as red, green, black, blue stone beads will give an unique charm to the face.
8. Turquoise nose pins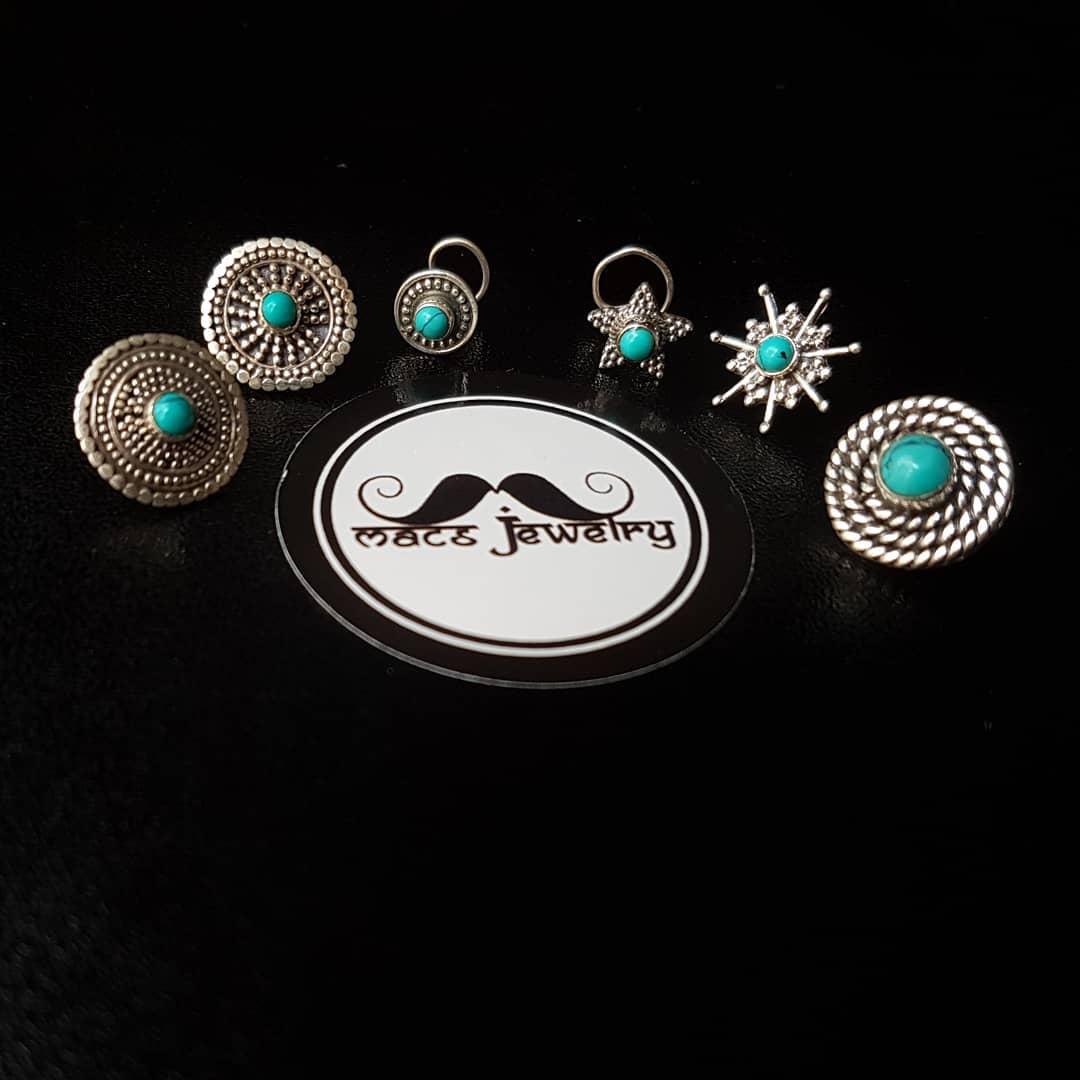 Turquoise beads have a special attraction and when different patterns of silver nose pins like swirl, flower,star pattern nose pin etc. are studded with turquoise beads they create a subtle look. These nose pins go well with any outfit.
9. Ring nose pins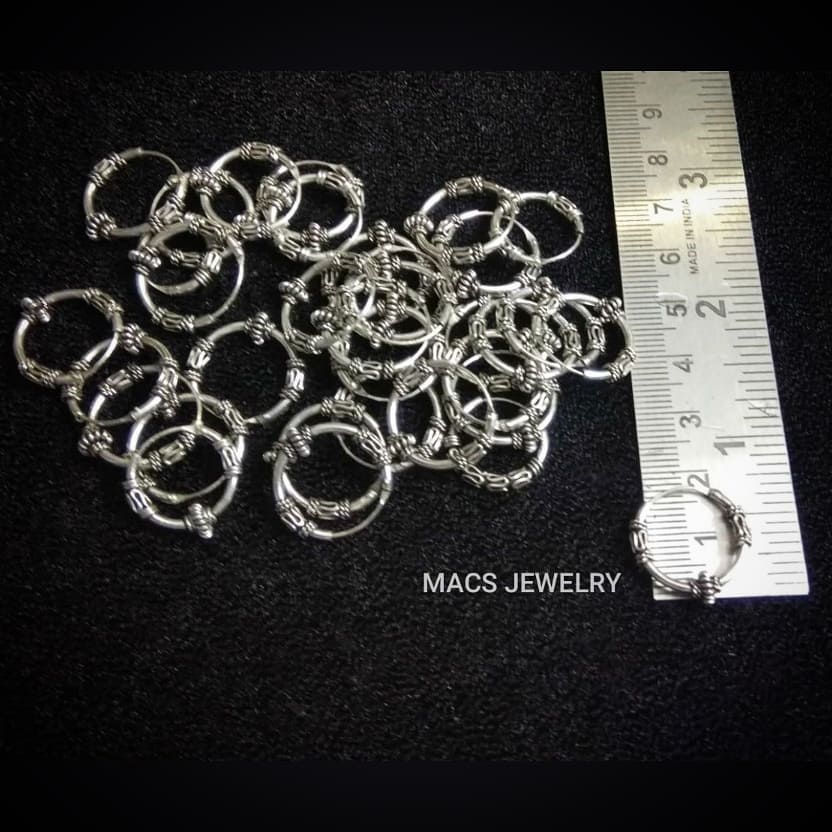 Ring nose pins designed in silver give a chic look to any woman. If you are bored of your look wearing traditional jewelry and want to look different then try these ring nose pins to make you look chic and different.
10. Floral nose pins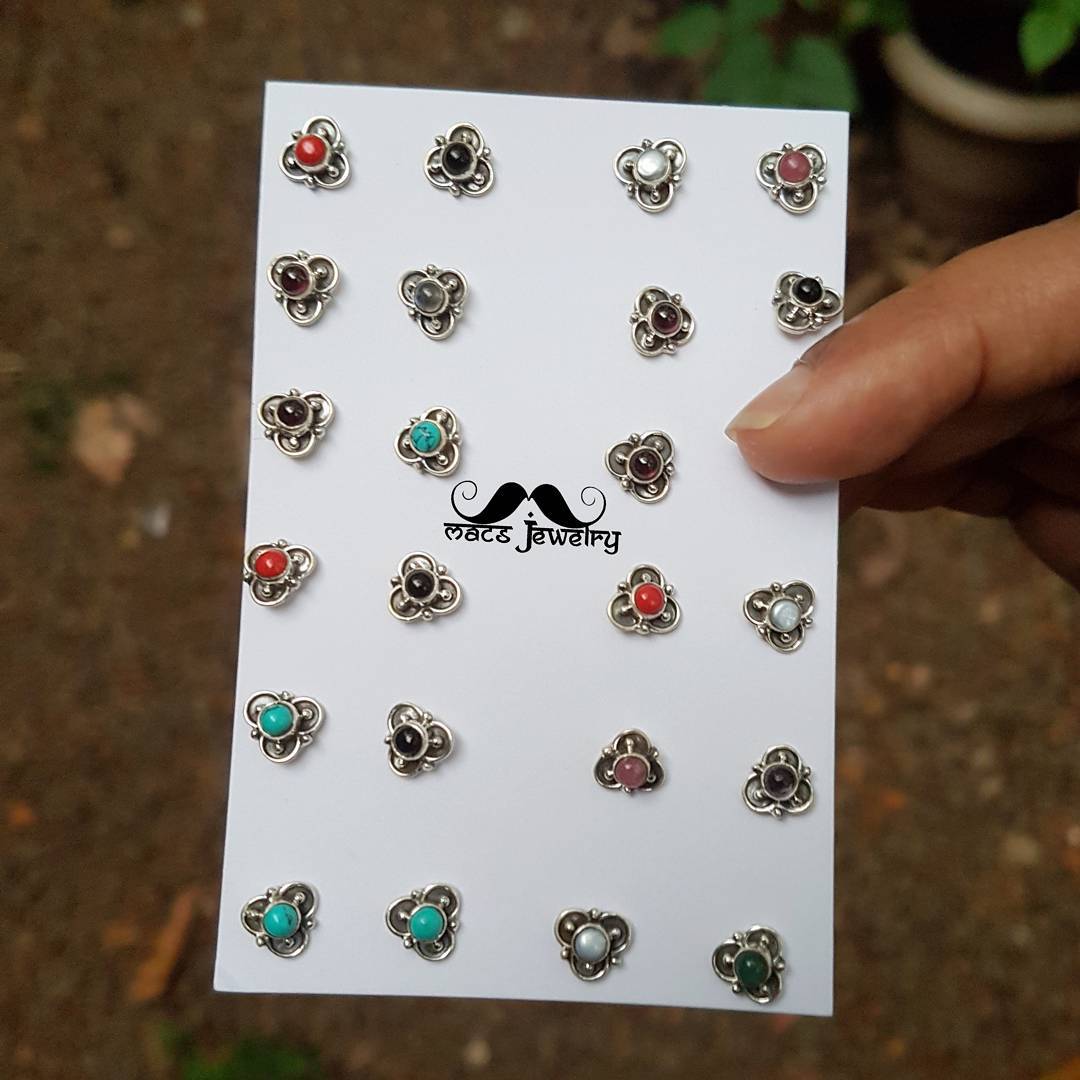 If you are searching for nose pins that are not too big and in a moderate size then the three petal flower nose pins are the one for you! The beauty of these flower nose pins is that they are studded with different coloured bead stones such as red, turquoise, pearl, pink, black etc. Choose the colour according to your dress to shine anywhere!
11. Tiny zircon nose pins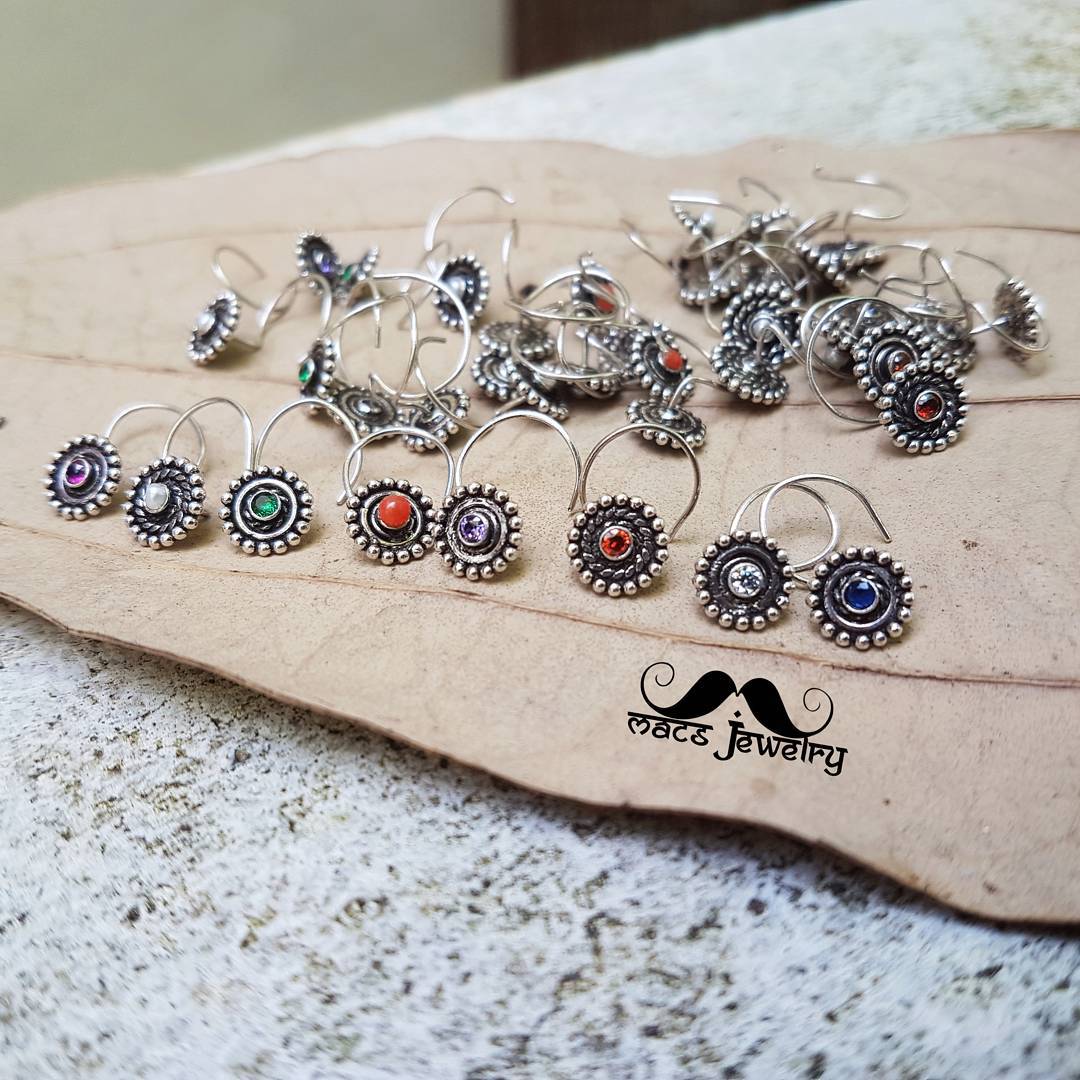 Tiny silver nose pins in a simple round pattern with subtle design looks really cute when studded with different coloured zircon stones such as red, blue, the white, purple etc.
12. Nose pins for non-pierced noses
The changing trends have brought many changes in jewellery and in nose pins too. The small flower pattern motifs in different sizes are designed so that they can be worn by any one with out a pierced nose. Are not they stunning!
13. Septum ring nose pins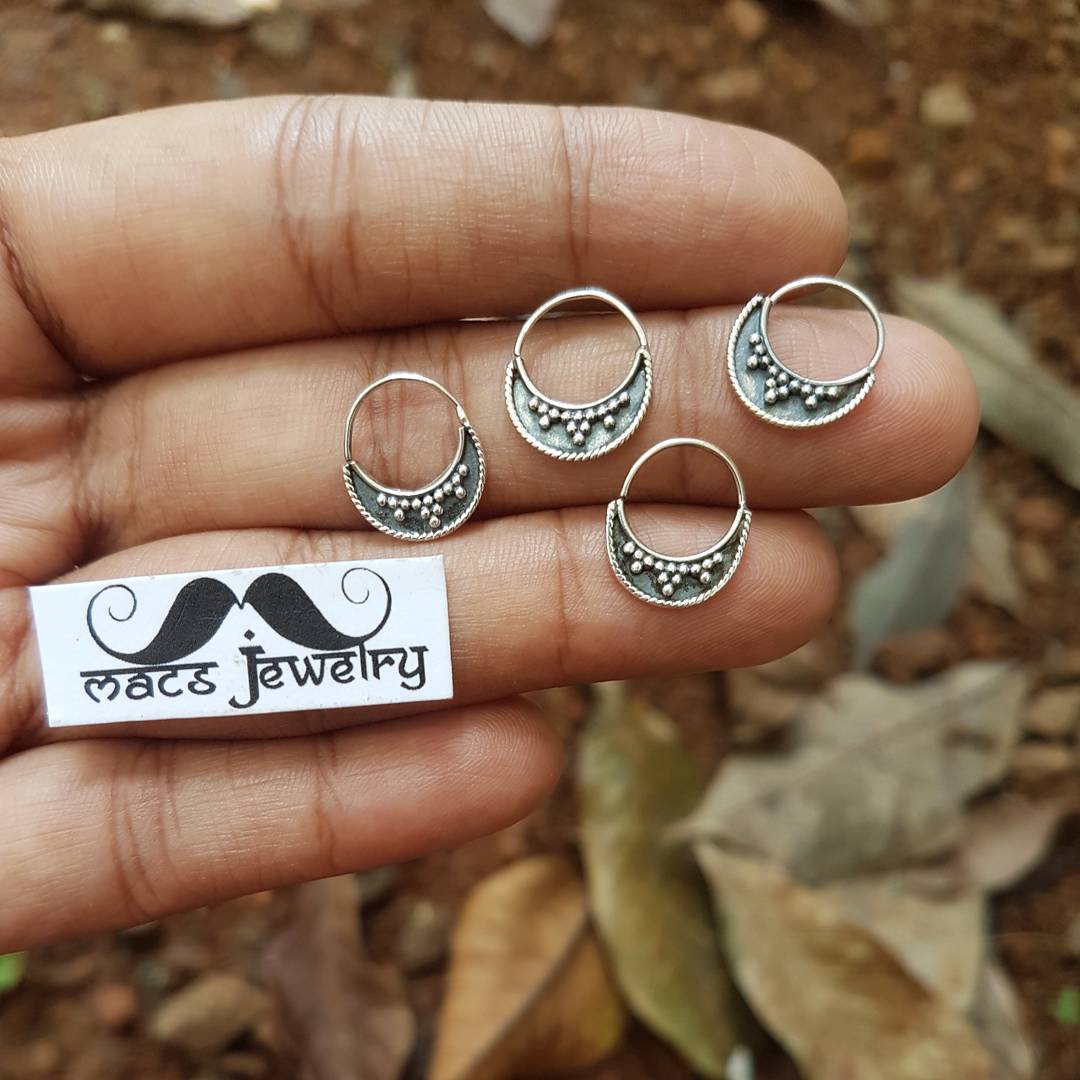 Septum rings are in trend these days which are trendy and are loved by going girls and young women. The simple design septum ring nose pins change the look completely into a more modern one.
14. Delicated beaded nose rings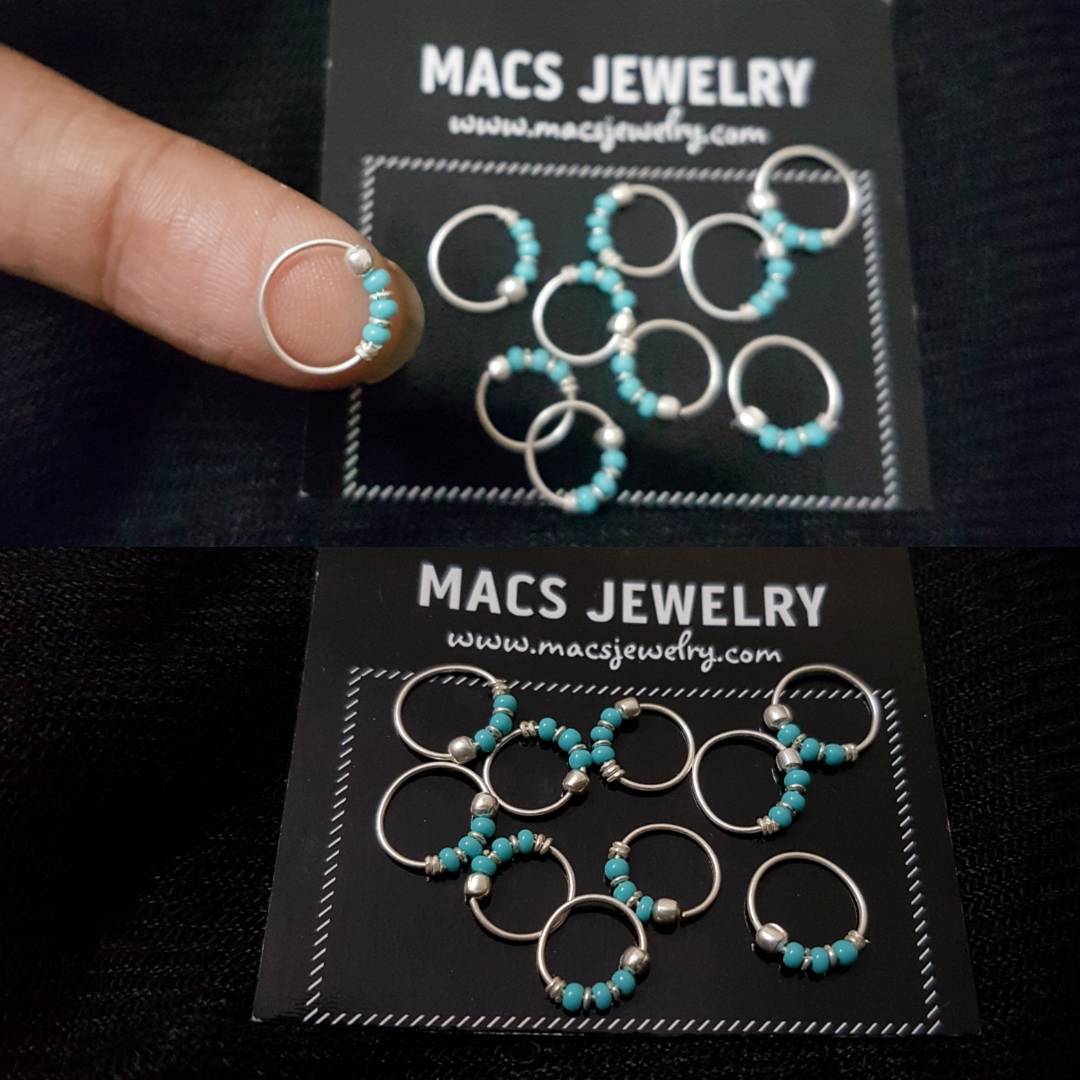 For women who like to keep it simple when wearing nose rings, the delicate looking small nose pins with small blue beads are apt. They enhance the appearance of any look whether it is ethnic or modern.
15. Silver ring nose pins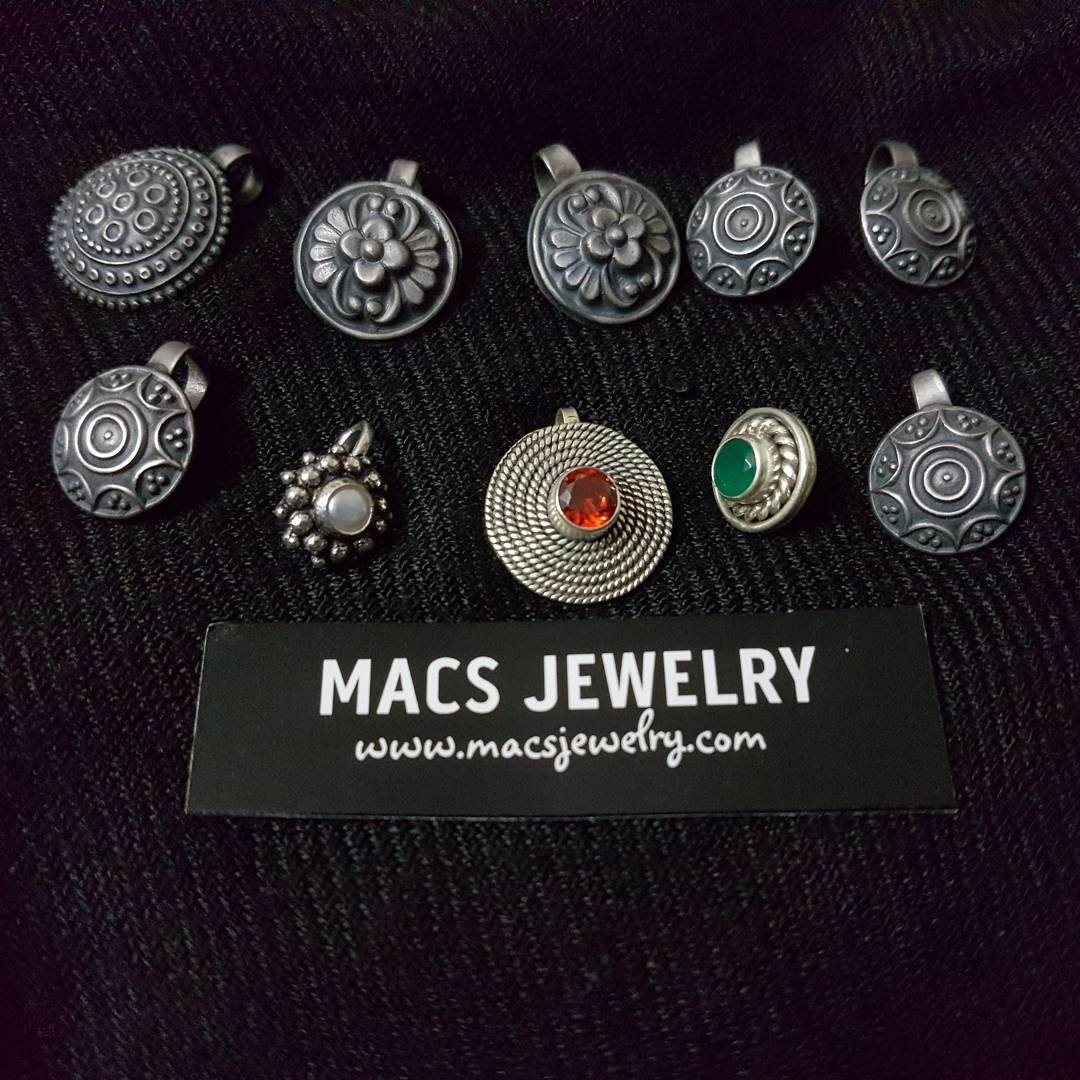 Many of us like silver rings with beautiful patterns and intricate designs.  But what if these beautiful rings are converted to nose pins. Yes these are the nose pins with exquisite designs and patterns that can just take your breath away!
16. Glass nose pins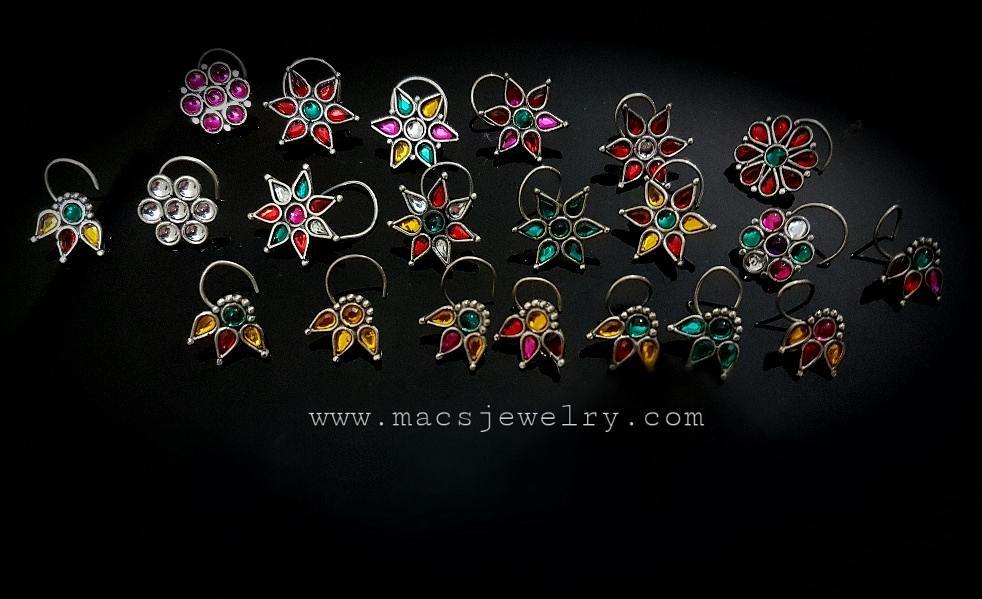 Want to try something interesting in nose pins? The glass nose pins in various colours ranging from green, yellow, red etc.  and patterns are tempting! These colourful and bright silver nose pins are statement nose pins when worn there won't be need to wear any other jewellery.
The beautiful nose pins collection from Mac's jewellery is a combination of ethnicity and modern looks. Ladies, hope you liked the collection as much as I like.
Then, what are you waiting for, choose the ones you like the most. As these are affordable, they are very good gifting options too. To shop the designs featured on this post, please do reach the seller below.
Seller: MACS Jewelry
Contact: 08655486206
Website: www.macsjewelry.com
Email: ma********@gm***.com
Facebook: www.facebook.com/macsjewellery
Instagram: www.instagram.com/macsjewelry
Also Read: