When it comes to accessories, there are those born of necessity and those born of frivolity. This year's necklace designs have been a mix of both. Here are cool gold antic piece necklace designs that are worth trying this year. To shop these products, please check the end of the posts.
 5 Strands Necklace Design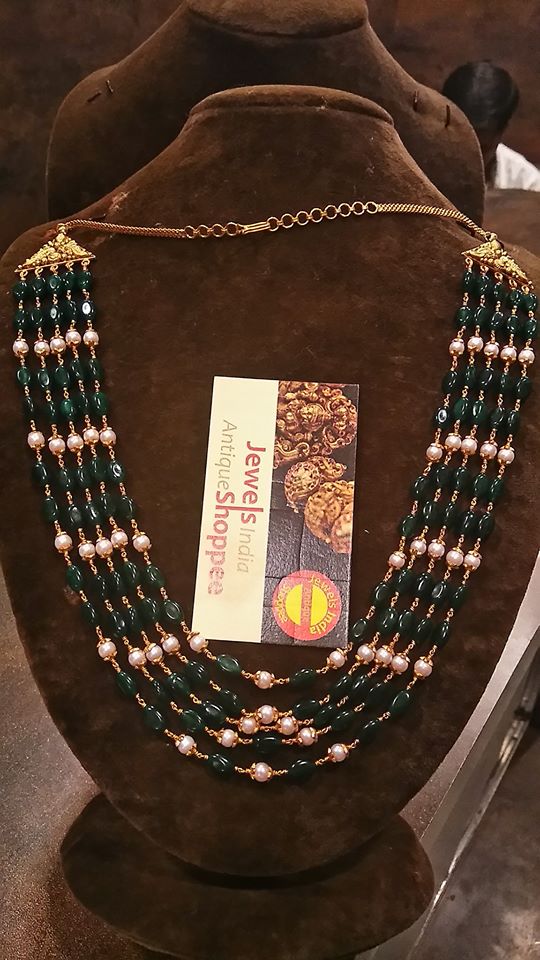 This 5 strands necklace design has its own essence and richness. These 5 strands with emerald and pearl both making it an amazing combo.
Gold Bead Design Necklace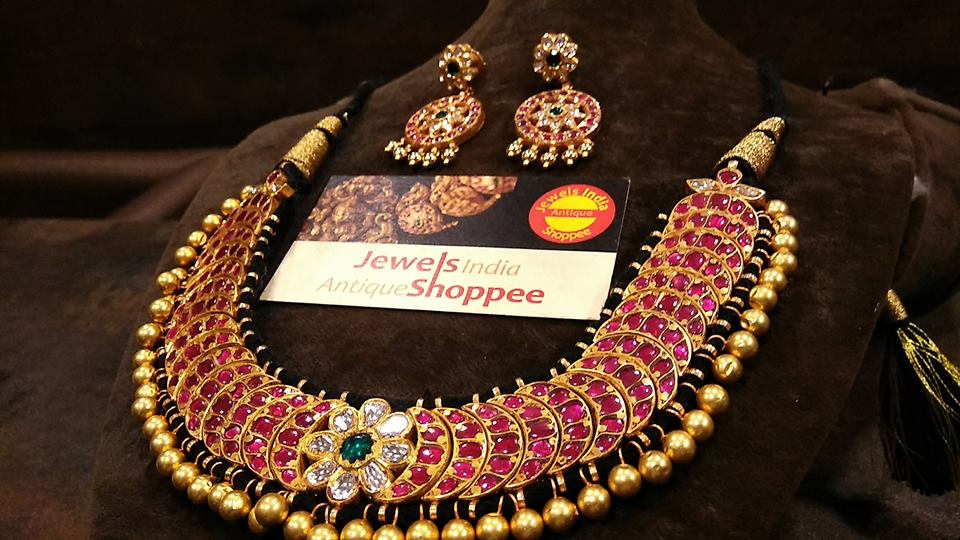 If you are looking for something not so common design then this gold beads necklace is what you are looking for.
Cool necklace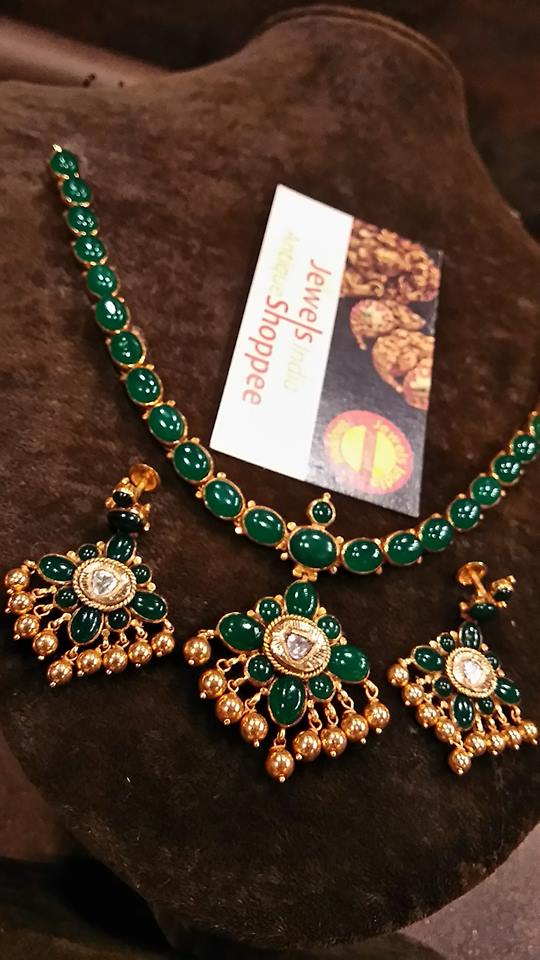 Stones are always in trend and this necklace with a giant pendant along with beautiful earrings makes perfect for a family get together.
Pearl necklace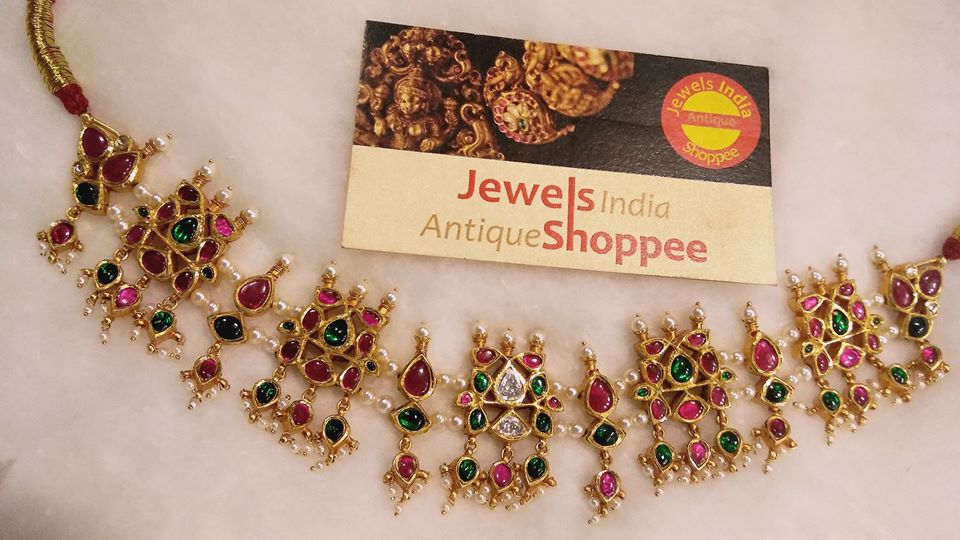 This pink and green stones necklace with small beads beautifully arranged around the stones is a head turner for sue. The additional attraction of sparkling stones in between just makes this necklace a class apart.
Boxy necklace Design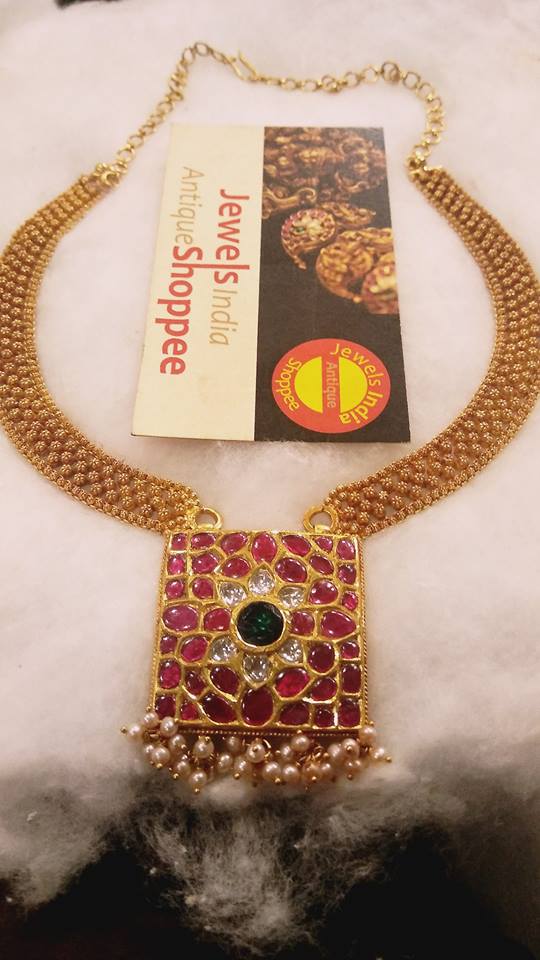 The beauty of this necklace is box shaped pendant with flower motif with a touch of red, green and white stones are out of the world.
Long Necklace Design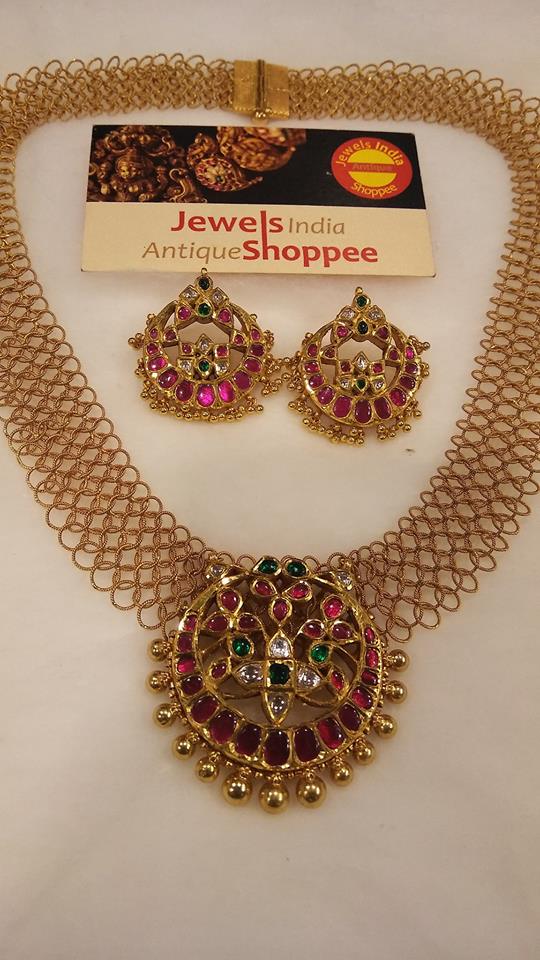 This gold necklace with a fancy design is just marvellous. To give it a modern touch, the necklace is designed with a radiant bold stone pendant. The matching earrings are an added attraction.
Grand Necklace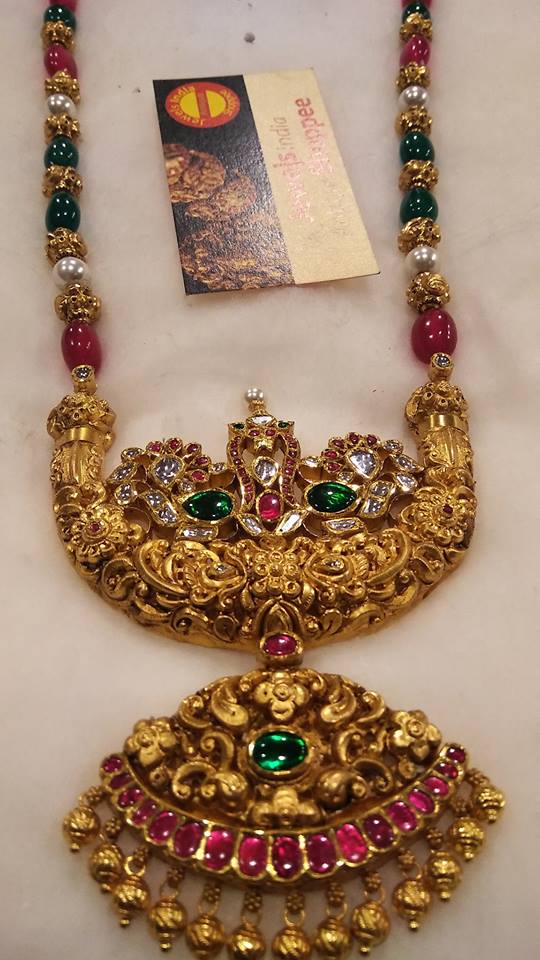 Amp up your festive look with nothing but this grand necklace which will instantly elevate your look.
Three Strands Necklace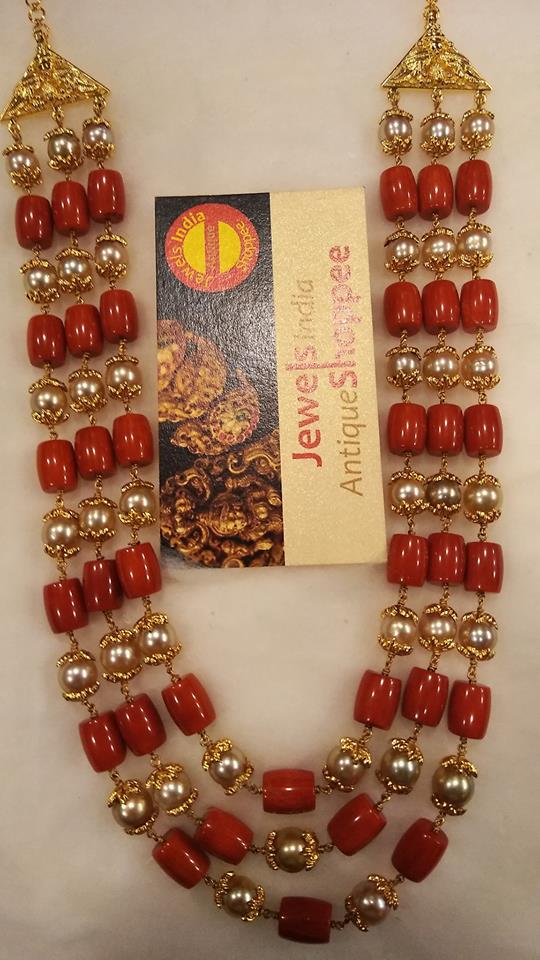 Retire your boring necklace design this year and opt for something interesting like this three strands necklace with red beads and pearls which are arranged alternately in a beautiful pattern.
Amazing Design Necklace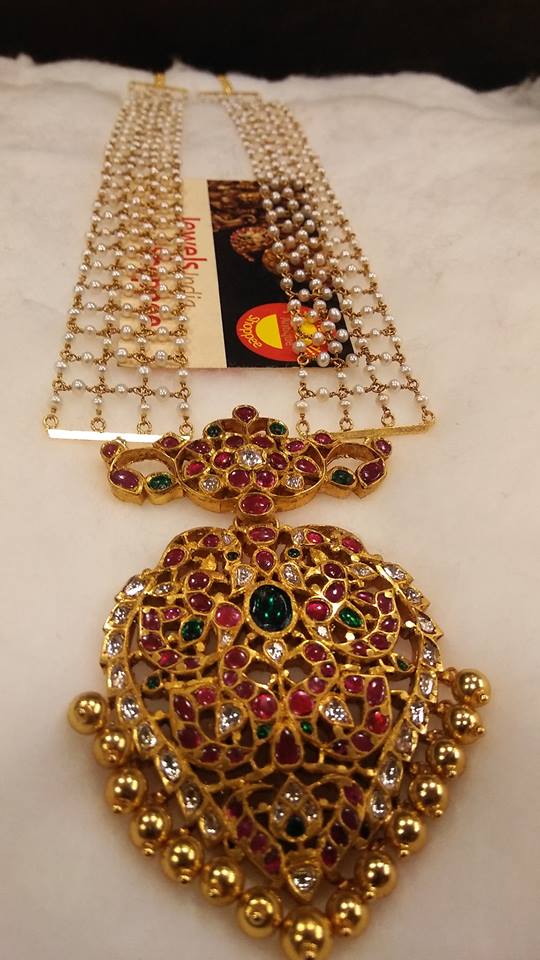 Giant pendant necklace designs are back in this season. This necklace with stunning pendant is a mind-blowing masterpiece.
Classic Necklace Design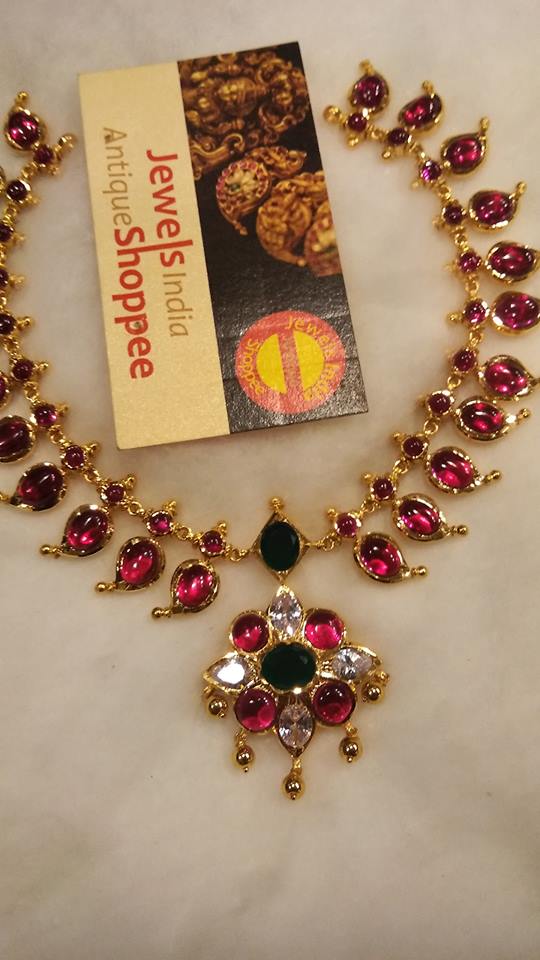 This unique pink stone necklace with white and pink stone arranged in a floral pattern is a classic piece of jewellery. The emerald at the middle of the necklace is the prime beauty of this necklace.
Traditional Necklace Design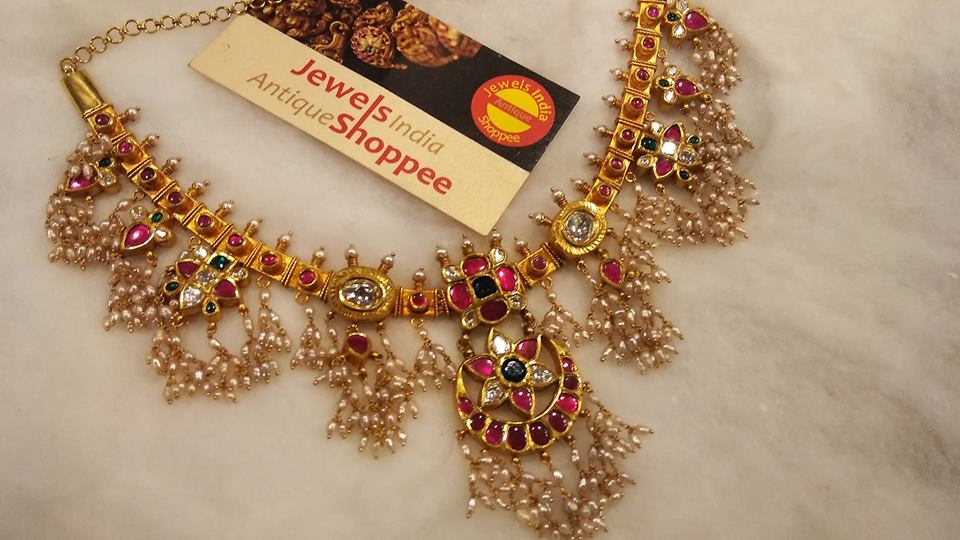 This gold square box necklace with pink stone beautifully embedded in gold with a pendant studded with pink and green stones make it a best traditional jewellery to wear on any auspicious day.
Gold Pearl Necklace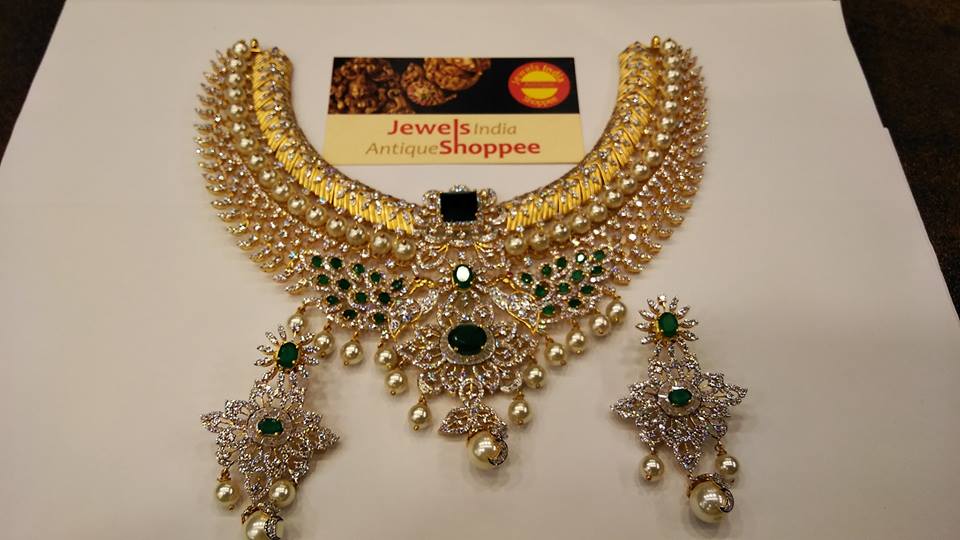 This season the biggest jewellery trends happening for a while is statement necklace. So this gold pearl necklace is one of its kinds.
Contemporary Necklace Design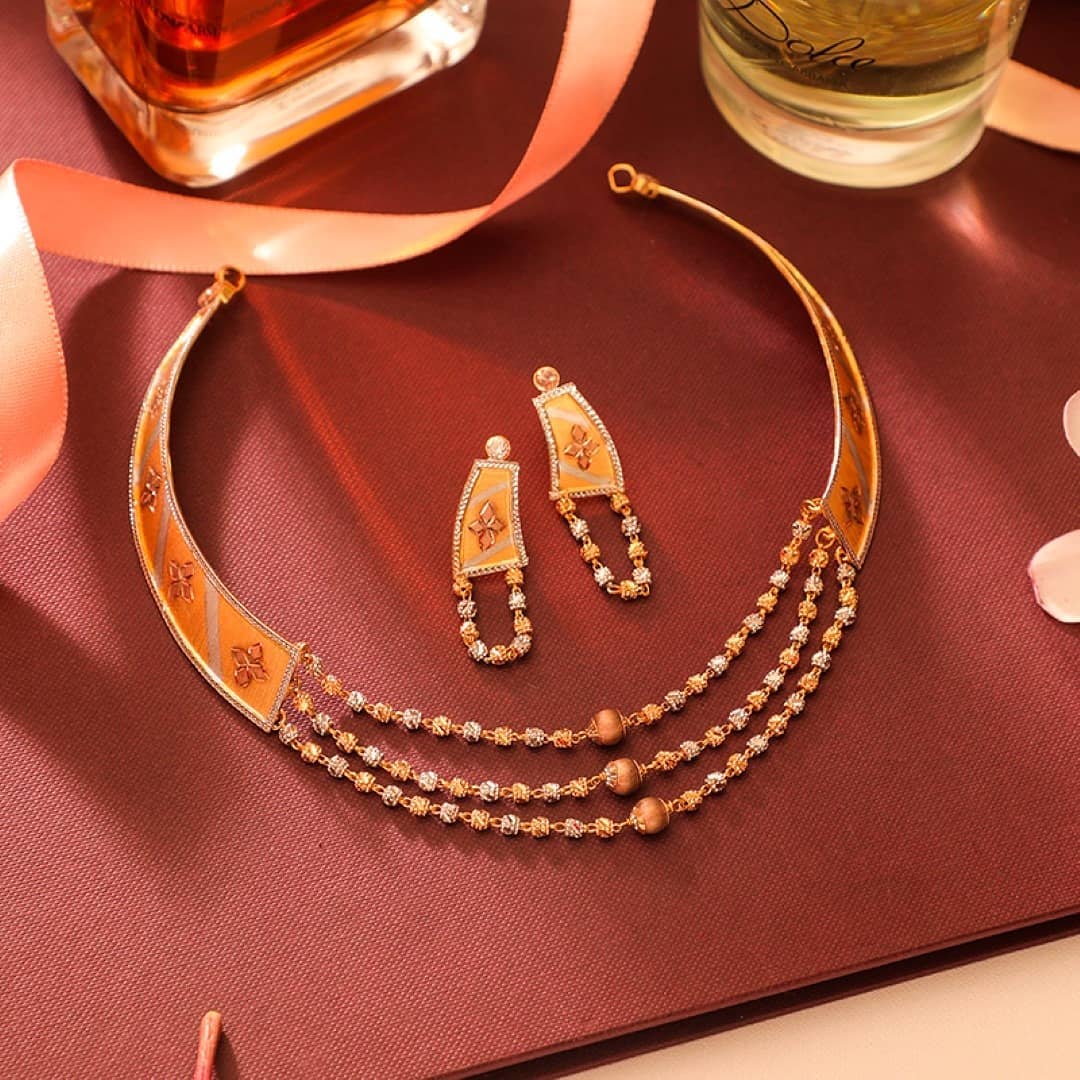 If your taste in jewellery is neither experimental nor maximal, go the minimal route with this fancy design necklace with matching earrings. This necklace with intricate design is stunning, and looks appropriate for a sangeet or an after party.
Trendy pearl Necklace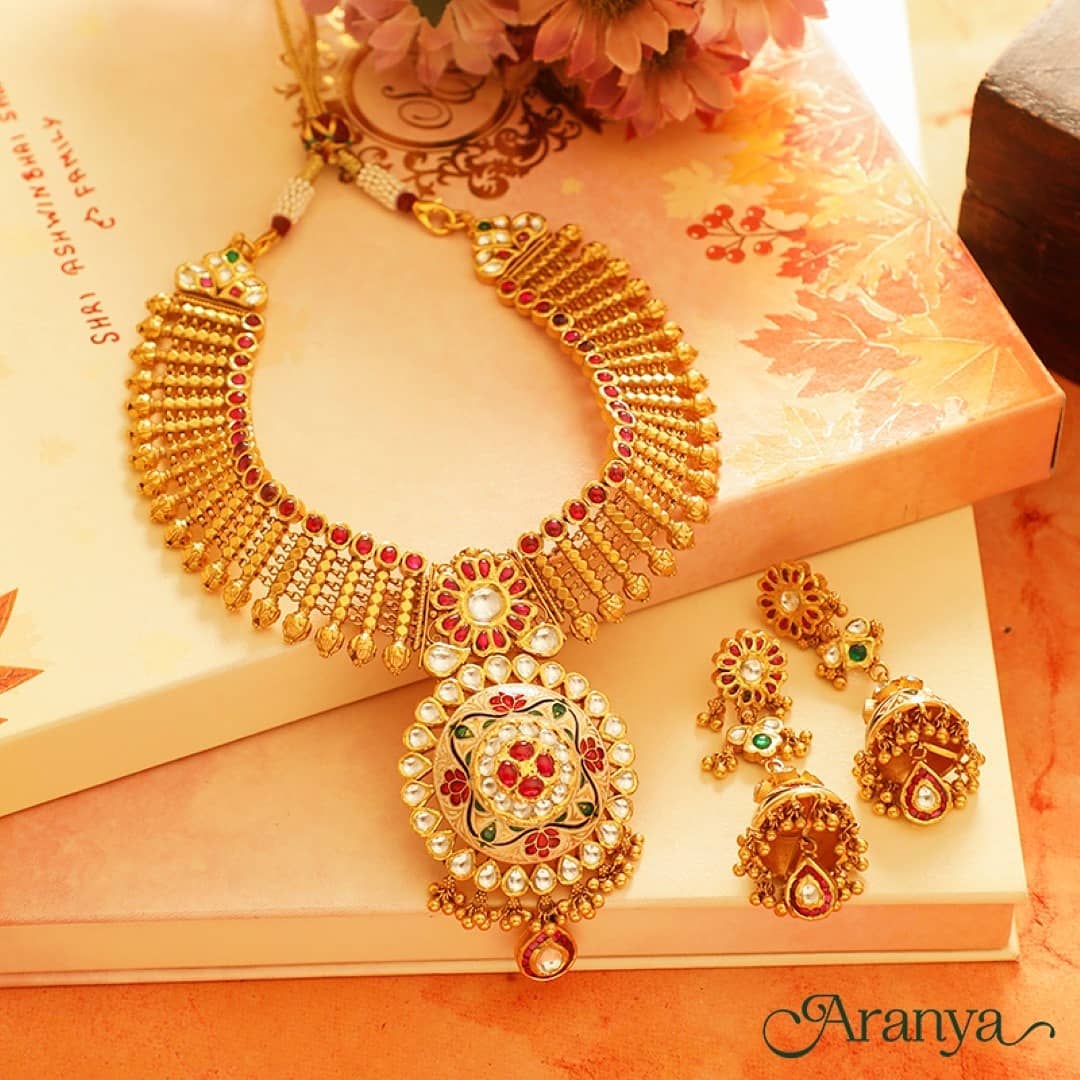 If you are looking for something very chic yet trendy, then this one is a perfect match of your choice.
Antique Necklace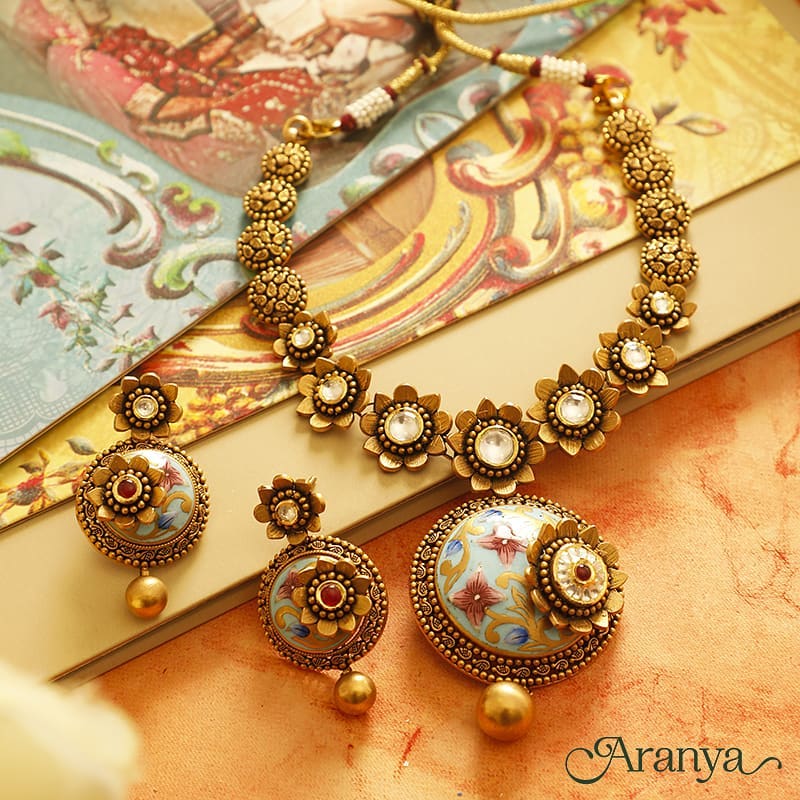 There are some designs which are just as extraordinary as this antique necklace.
Stunning Gold Necklace Design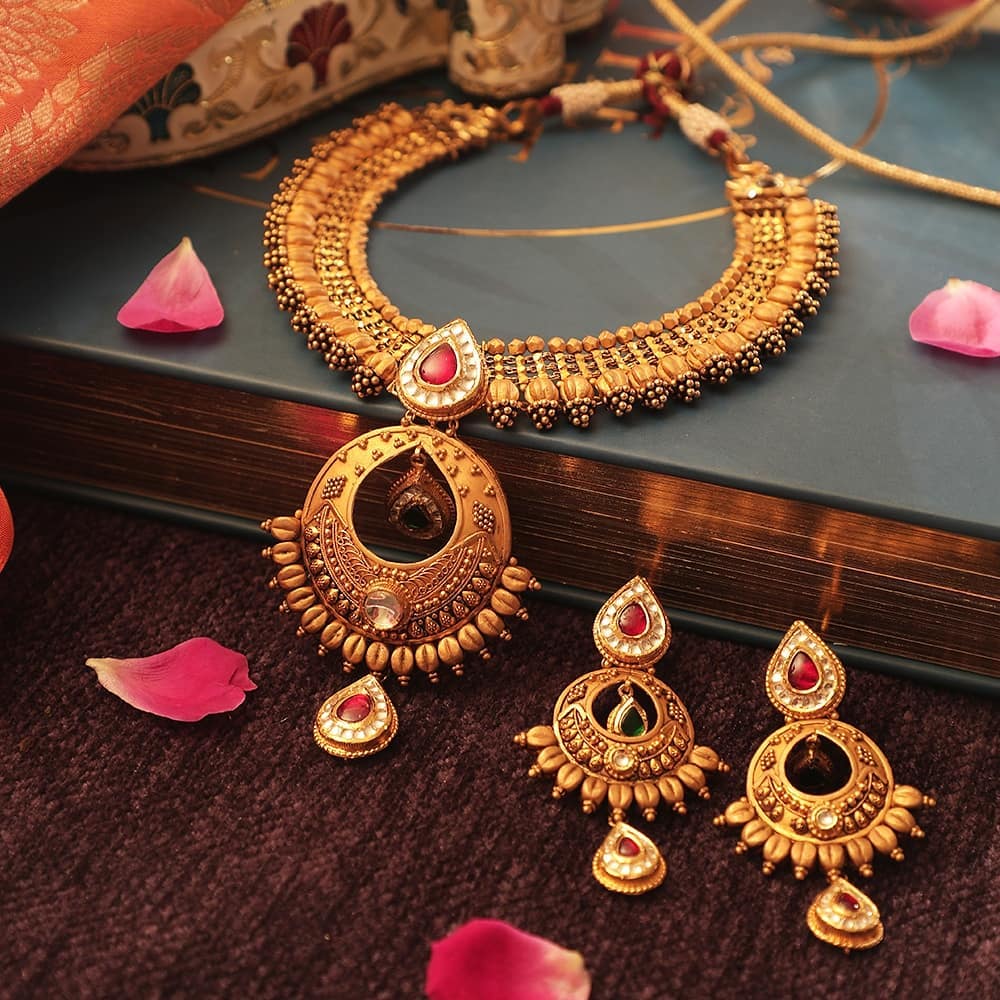 This Necklace is undeniably pretty. These are for everyone as they are not so simple and not very dramatic as well.
Must have Necklace Design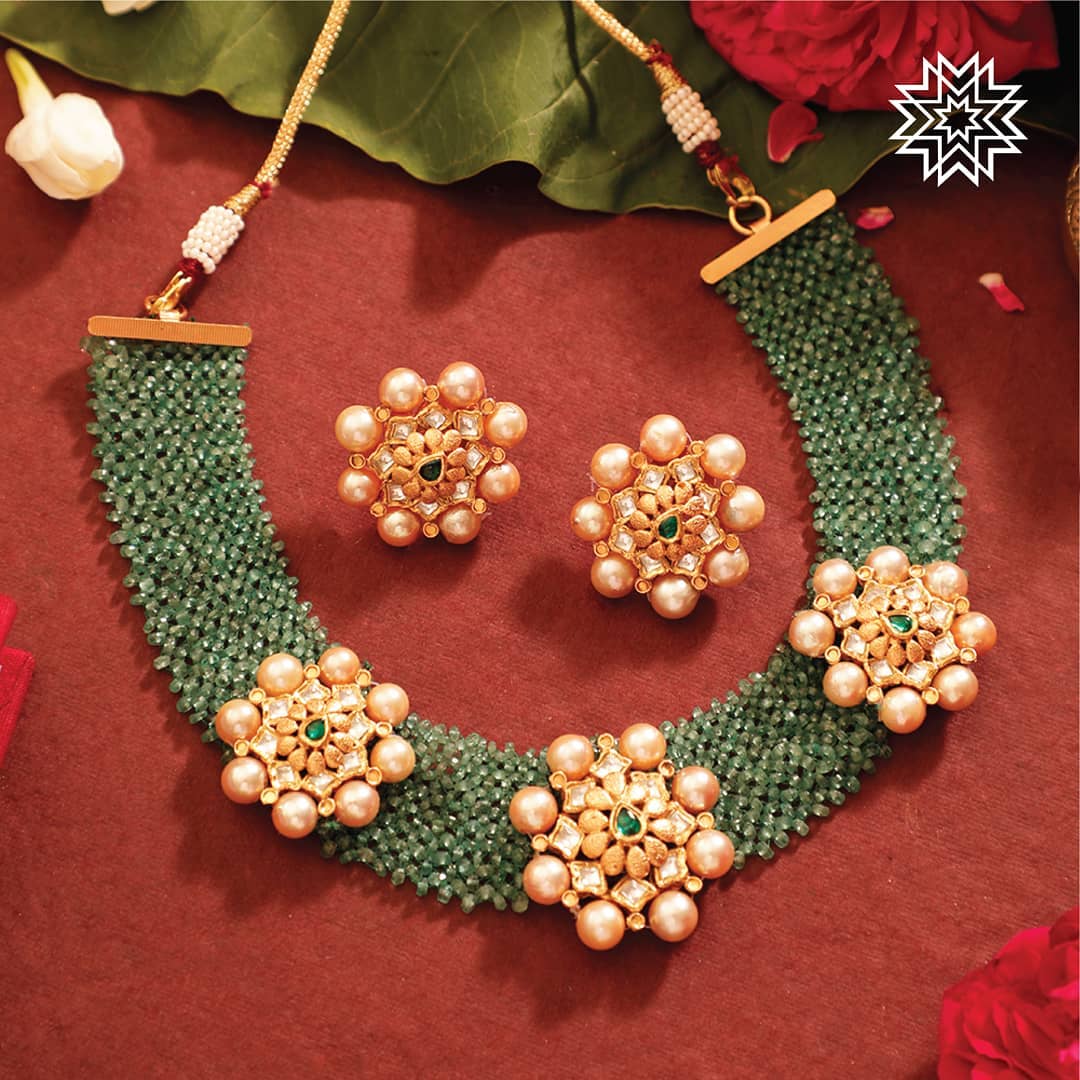 This Stylish gold necklace is just mind-blowing and appropriate for a wedding celebration and even for a family get together.
Ghungahruu Necklace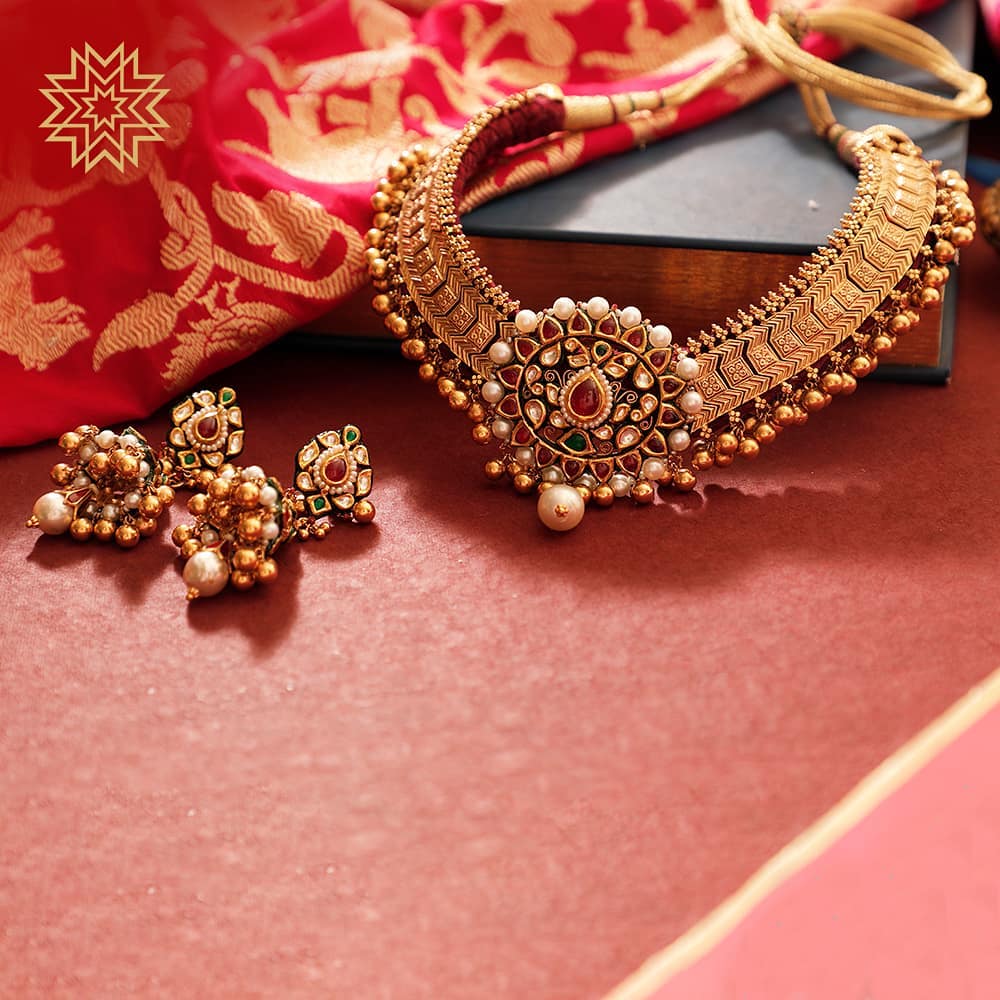 This one is a must-have. Wear this with something solid that will bring out the whole look of the necklace.
Contemporary Gold Necklace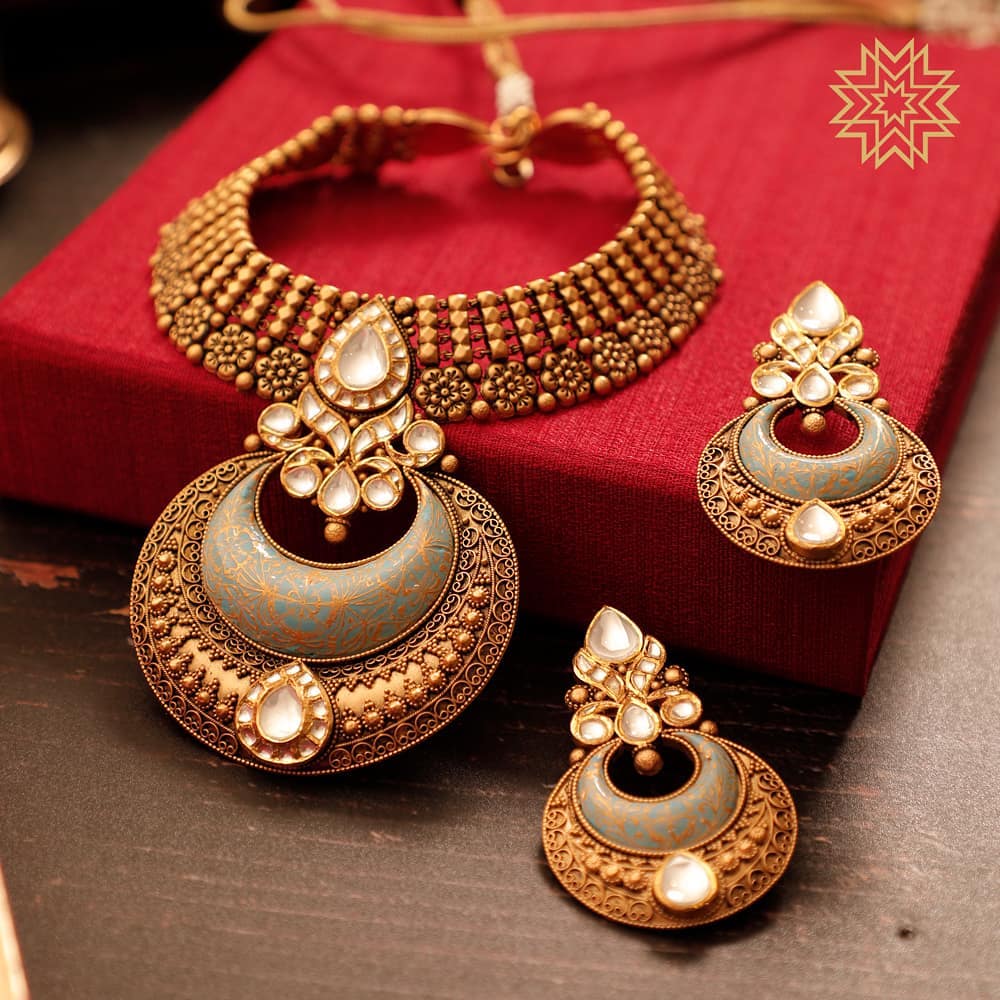 If you like standing out, then opt for something very extraordinary like this contemporary necklace as it is sure going to make you look just mind-blowing.
Intricate Design Necklace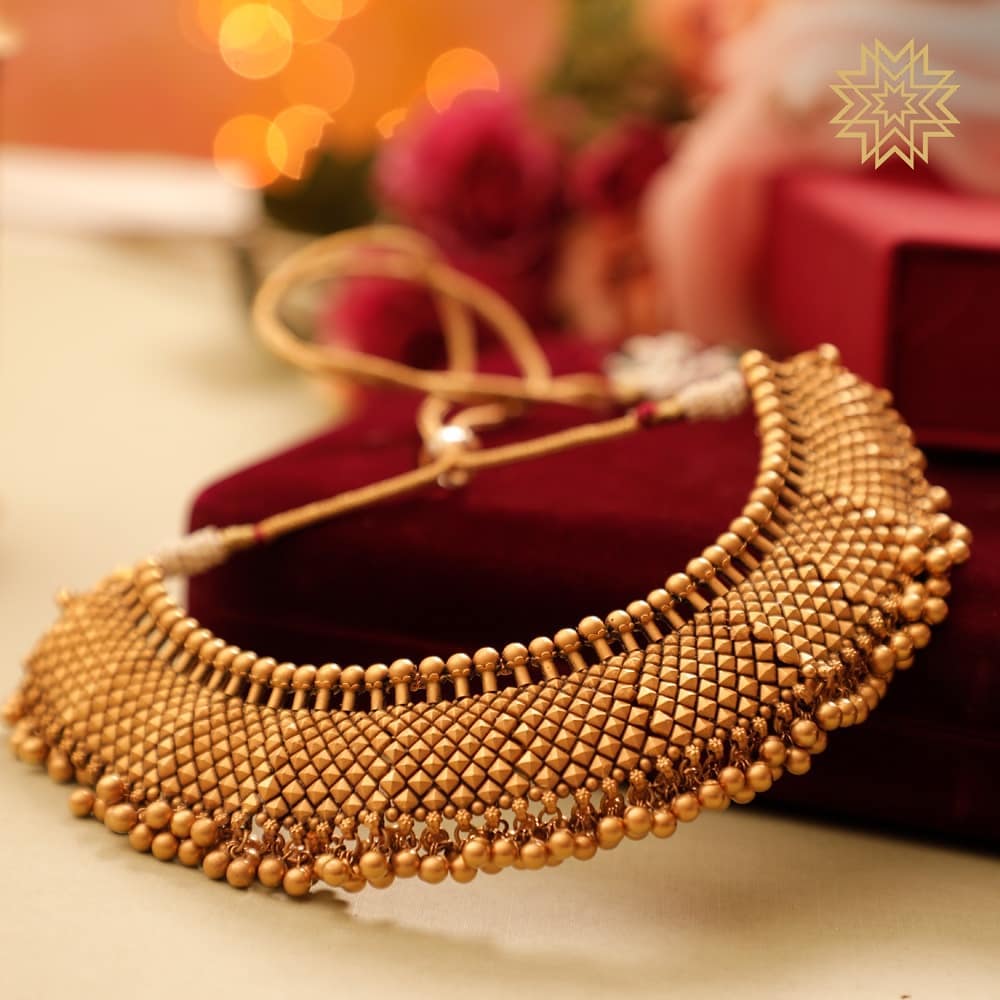 Sometimes simplicity is just as stunning as intricacy. The intricate design detail of this necklace is the main emphasis which grabs the attention of the viewers.
Cut-out Necklace Design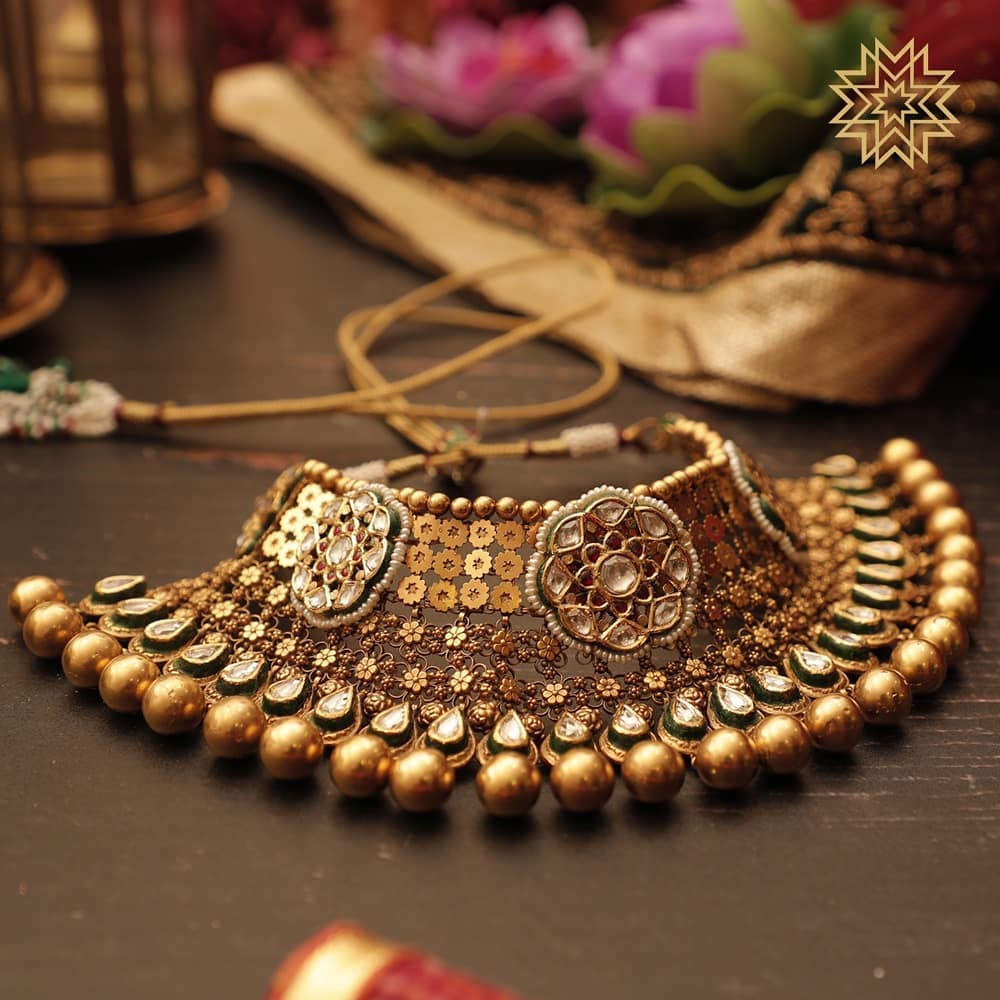 Here is the wonderful and outstanding gold necklace design that will give you a nice look on your outfits.
Tiny Beads Gold Necklace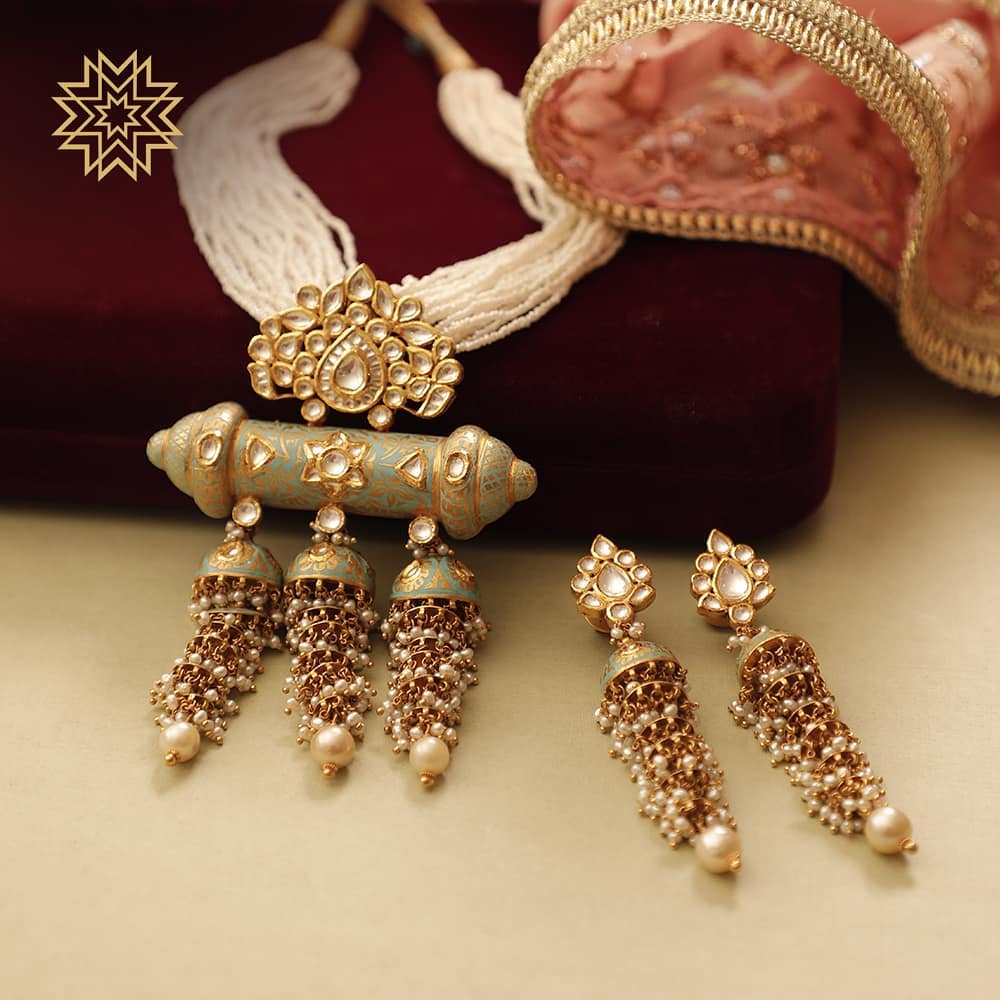 This tiny beads hanging gold necklace with white stone beautifully embedded in it is just marvellous which adds an extra drama to it.
Uncut Diamond Gold Necklace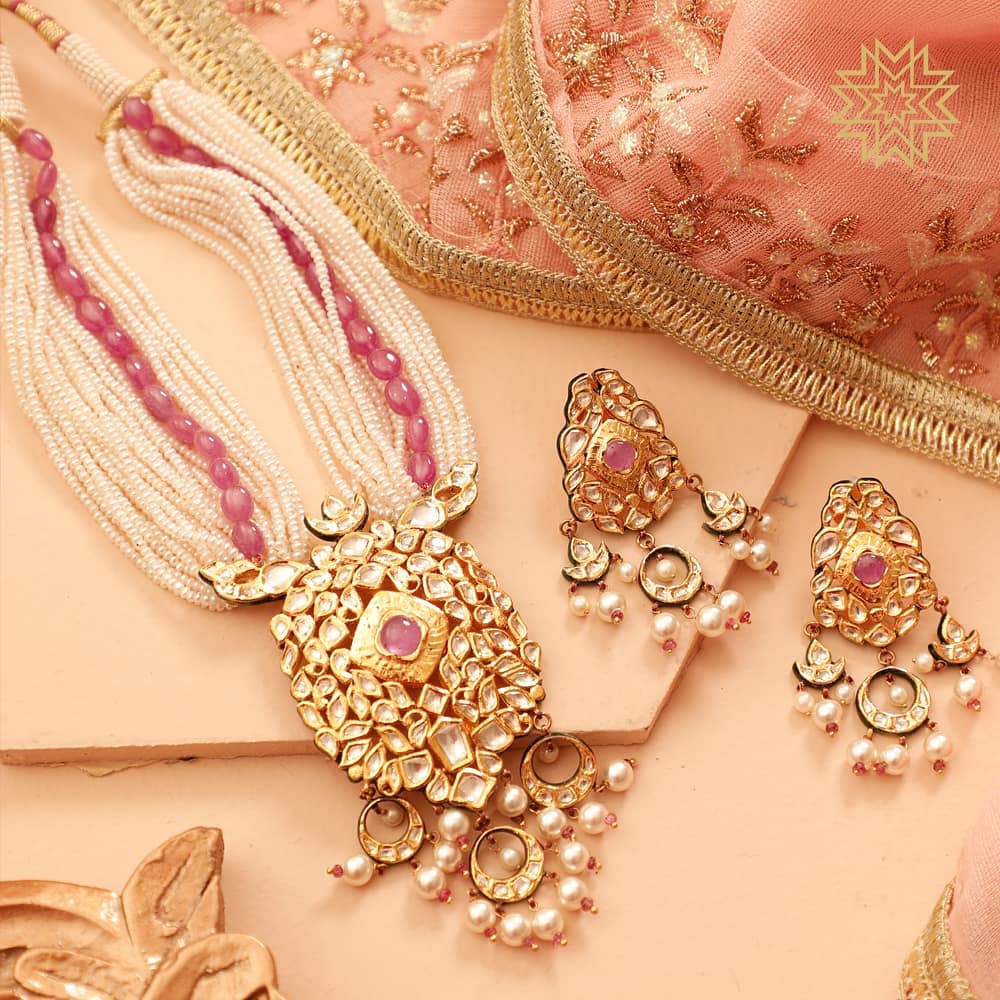 This one is perfect for a wedding and multi strands necklace is just amazing. So reserve this one for an upcoming festive season.
Light weight Necklace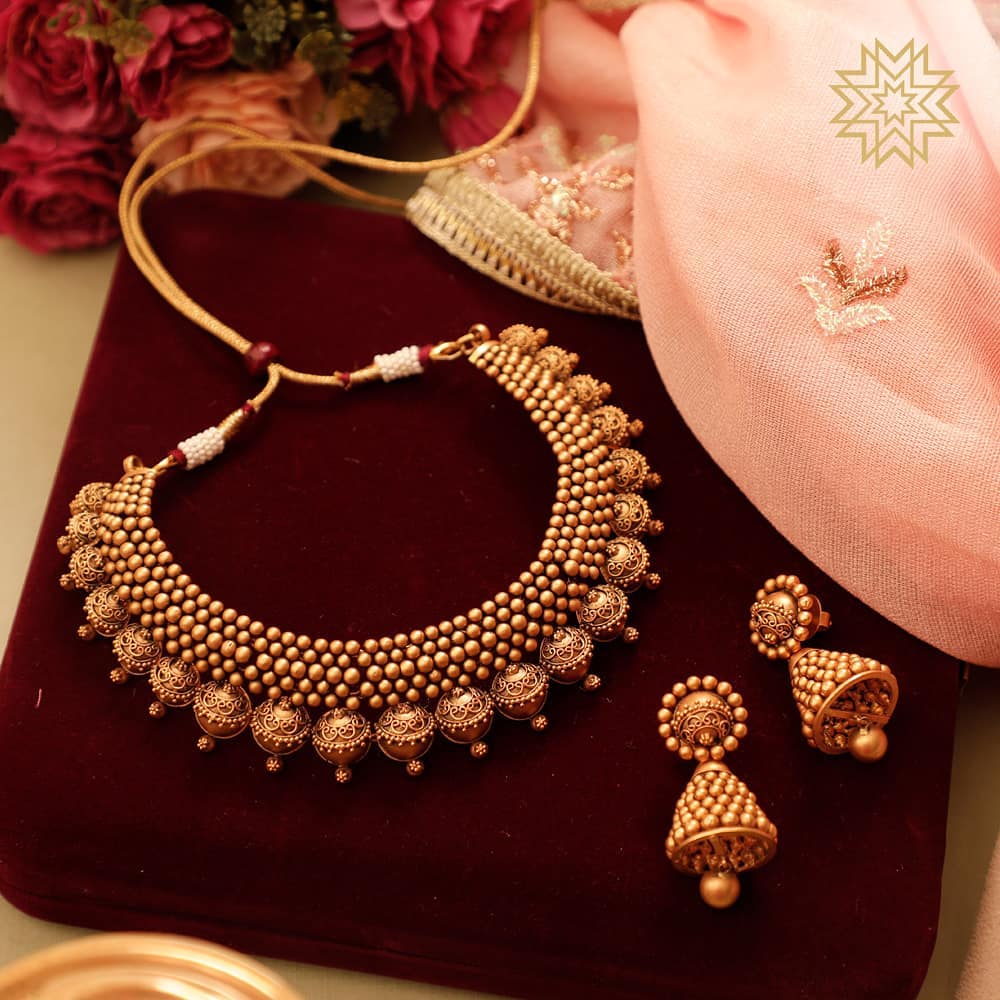 This is a piece which is light yet grand. Dare to step outside your comfort zone with this ultra-cool necklace.
Elegant Necklace Design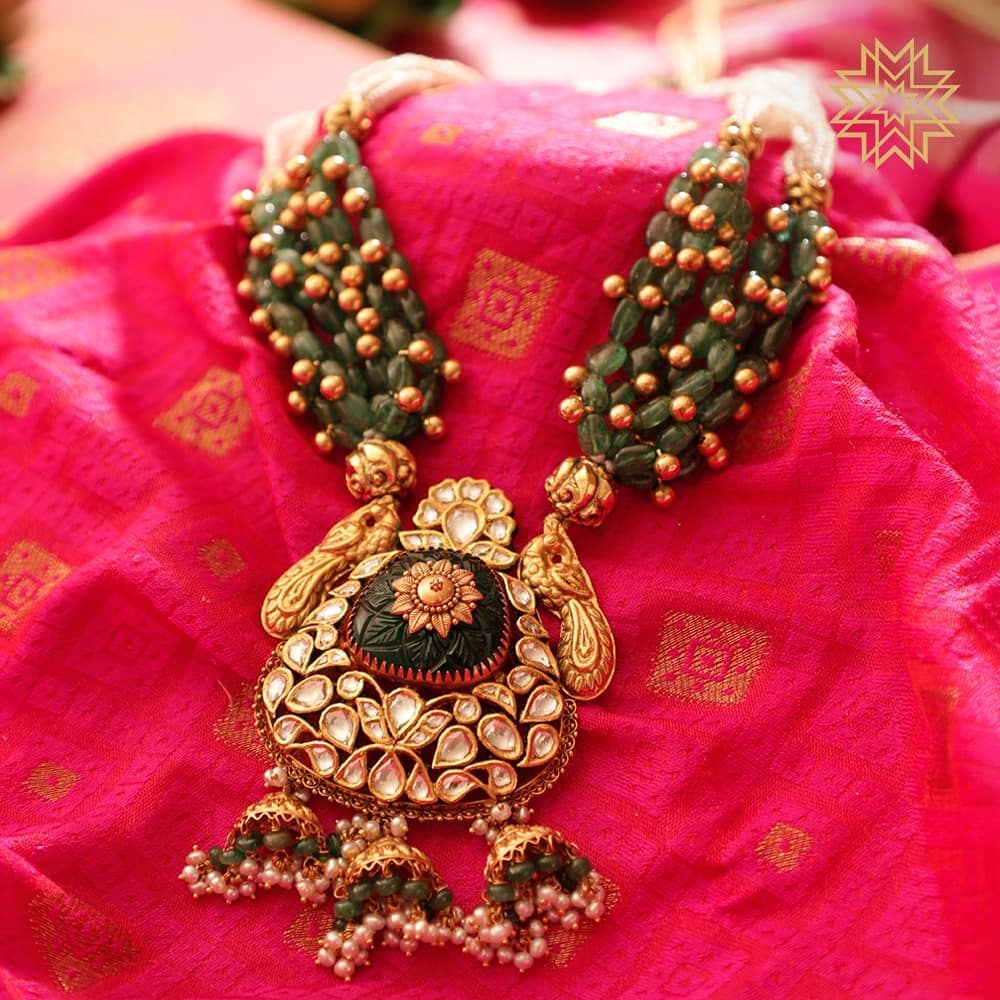 This is a beautiful and stunning gold necklace which looks elegant and royal.
Strands Necklace Design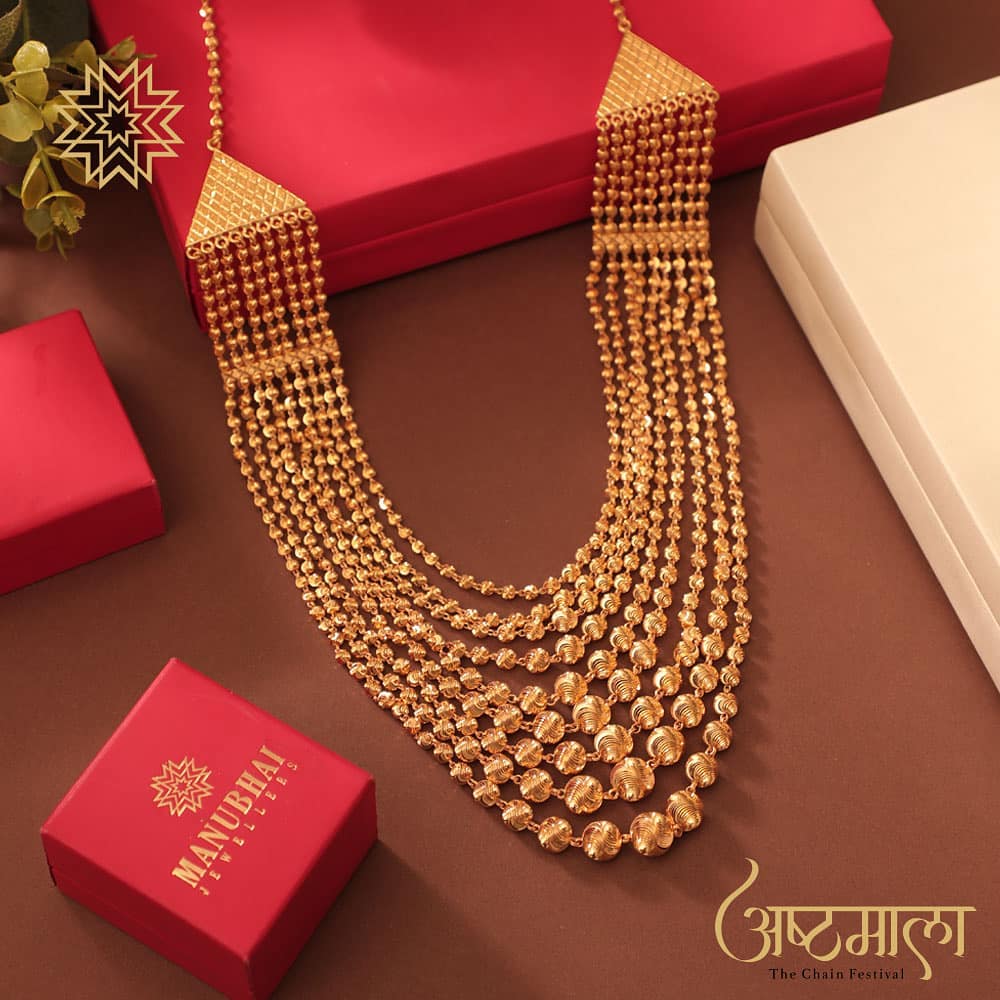 This is the one which you can easily wear with any of your Indian attire.
Carved Beads Necklace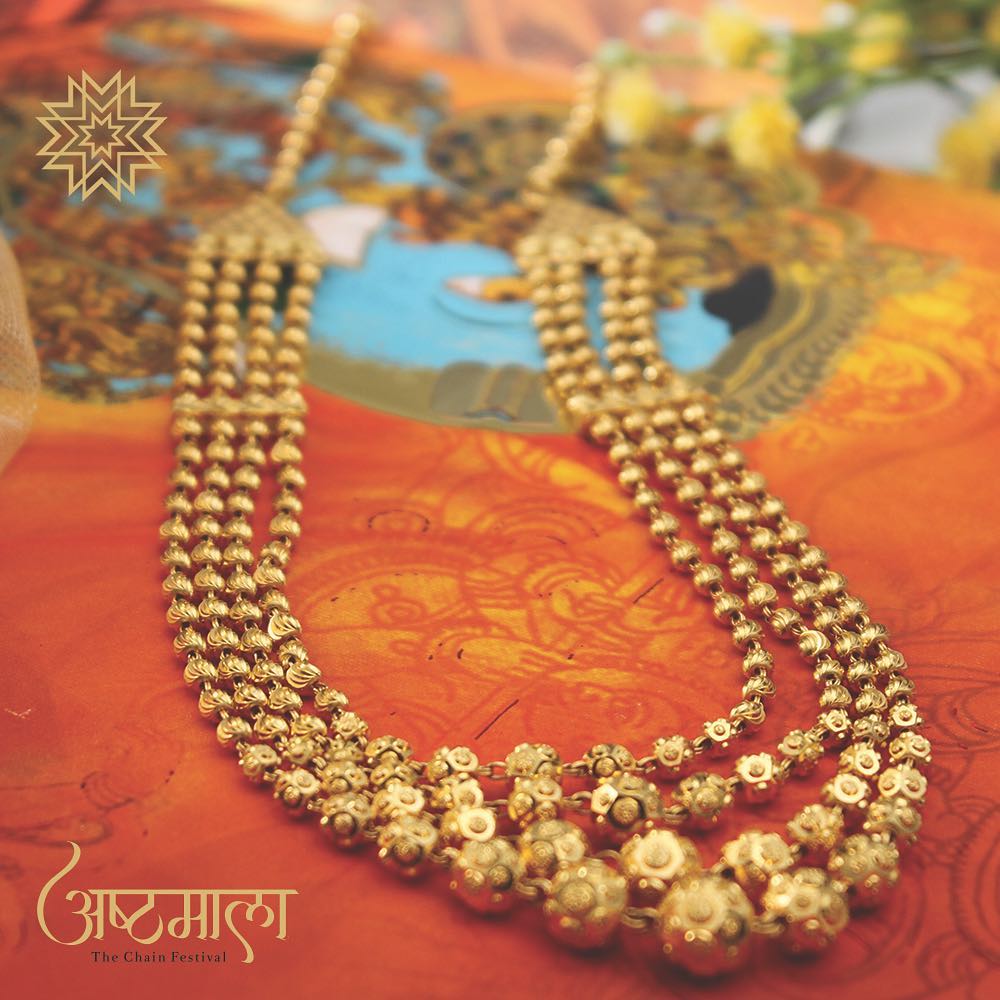 Give yourself a stylish, unique and wonderful look with this gold carved necklace.
Chic Design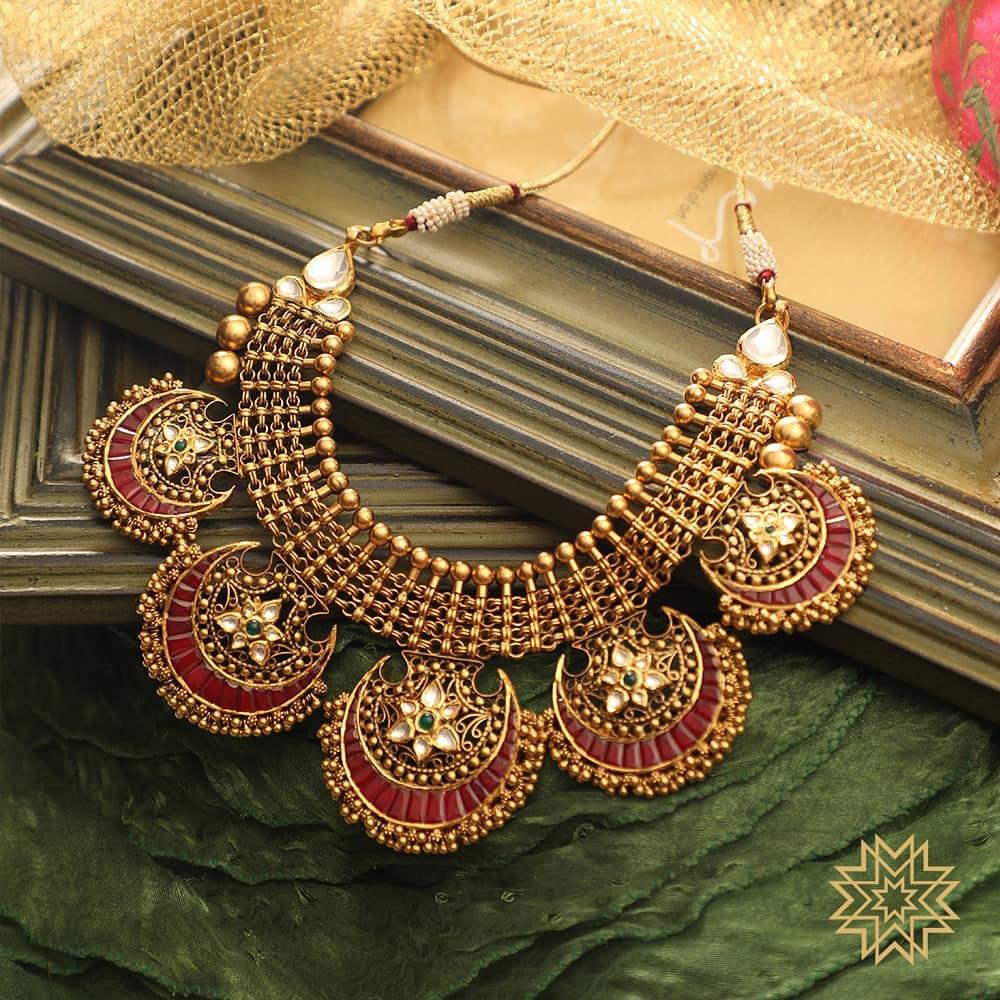 This half moon necklace makes life easier you just have to wear it and you can hop from sangeet to your friends after party.
Green Stone Necklace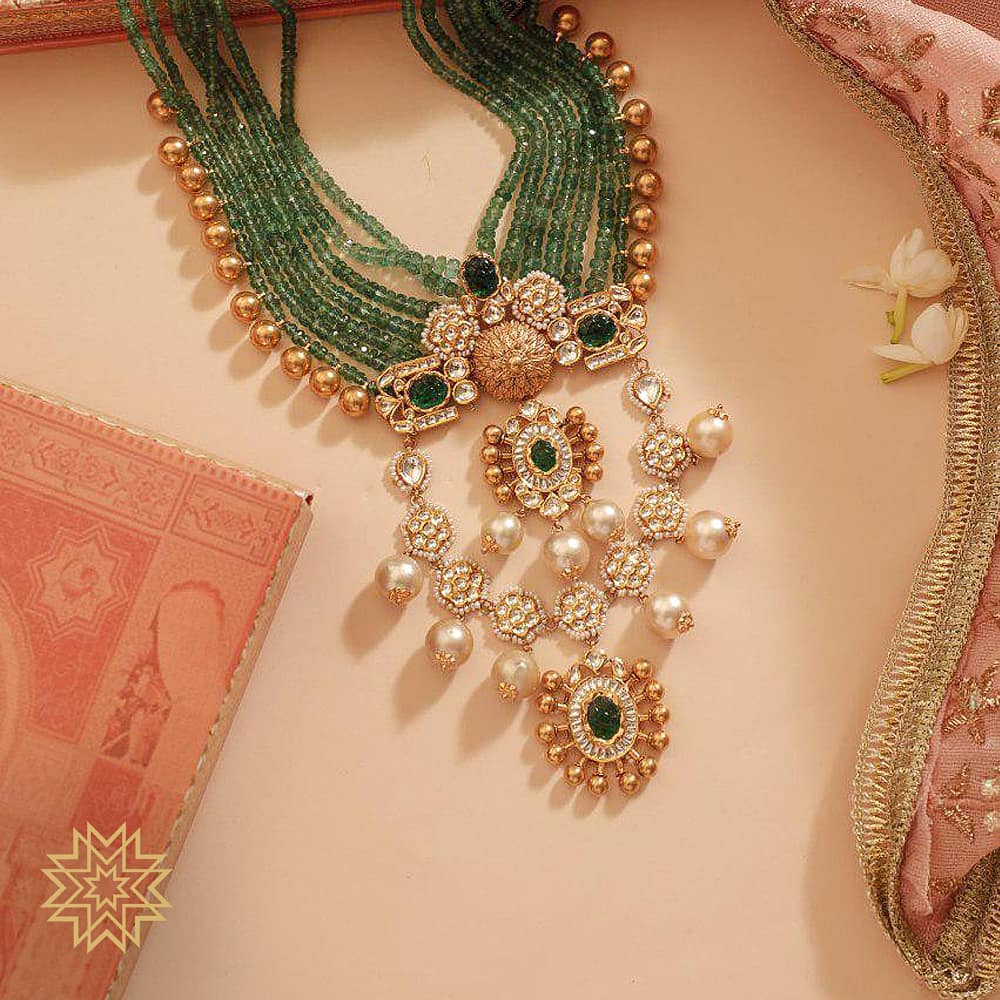 The combination of gold bead, emerald and white stones altogether set in a traditional pattern is a feast for the eyes. This necklace with multi strands necklace adds up to the magic.
Trendy Necklace design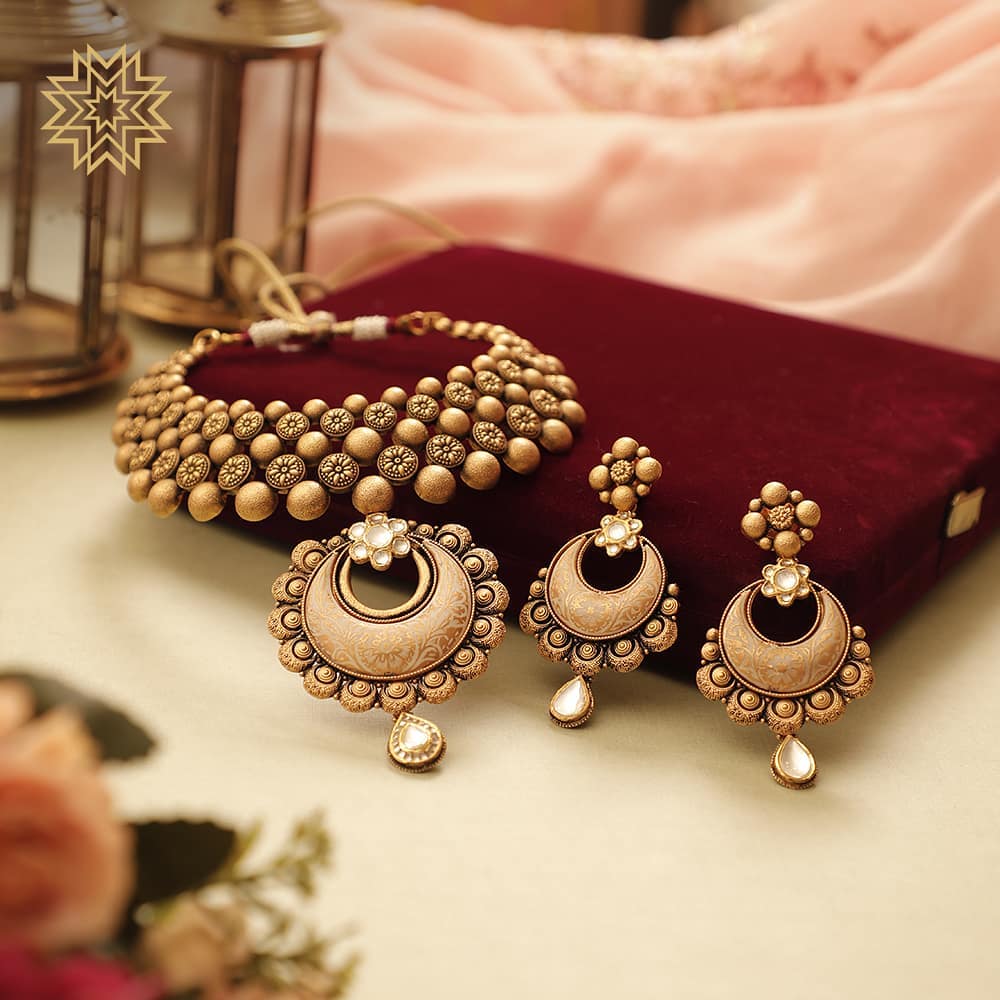 Dare to be different with one delicate, beads necklace. Beads are perfectly complimenting the whole body of gold and adding an extra charm to it. They will make you look trendy and smart.
Peacock Necklace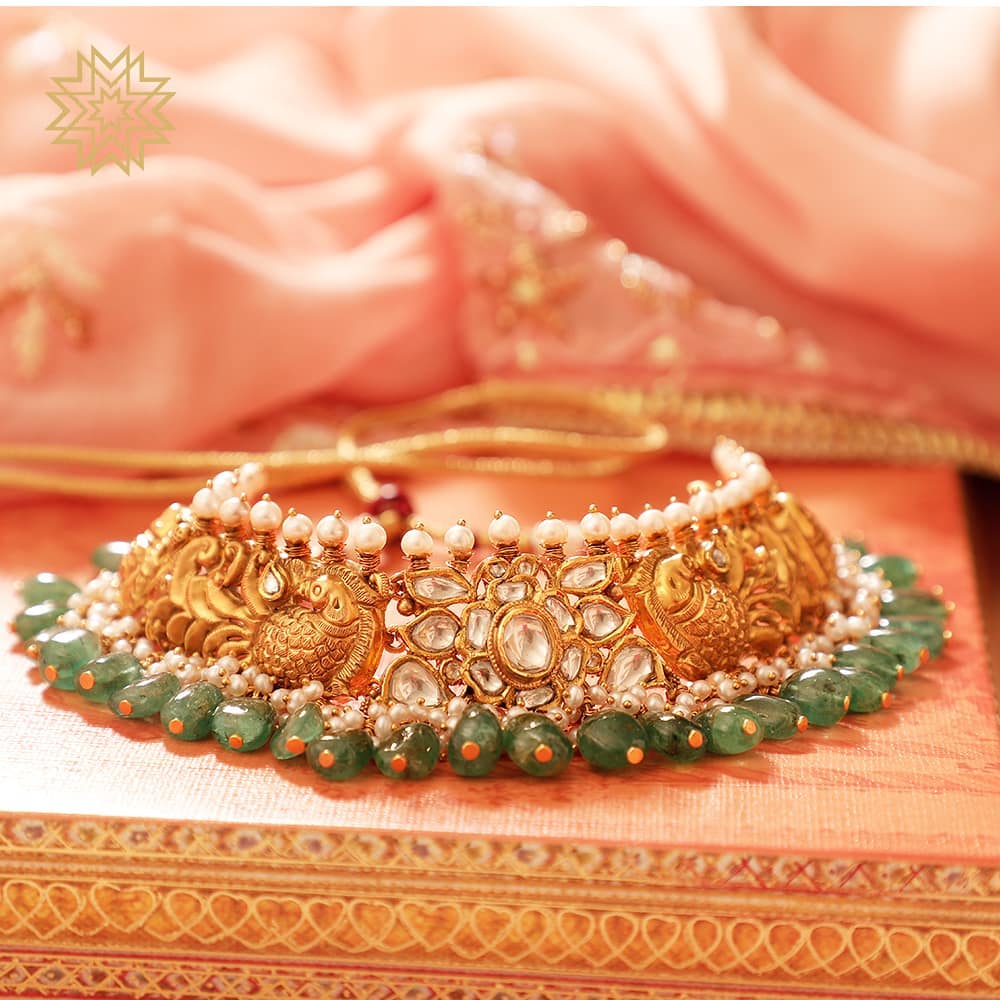 Size most definitely matters or least it does when it comes to a necklace. This is truly inspired from our national bird no other peacock.
Extra-ordinary Necklace Design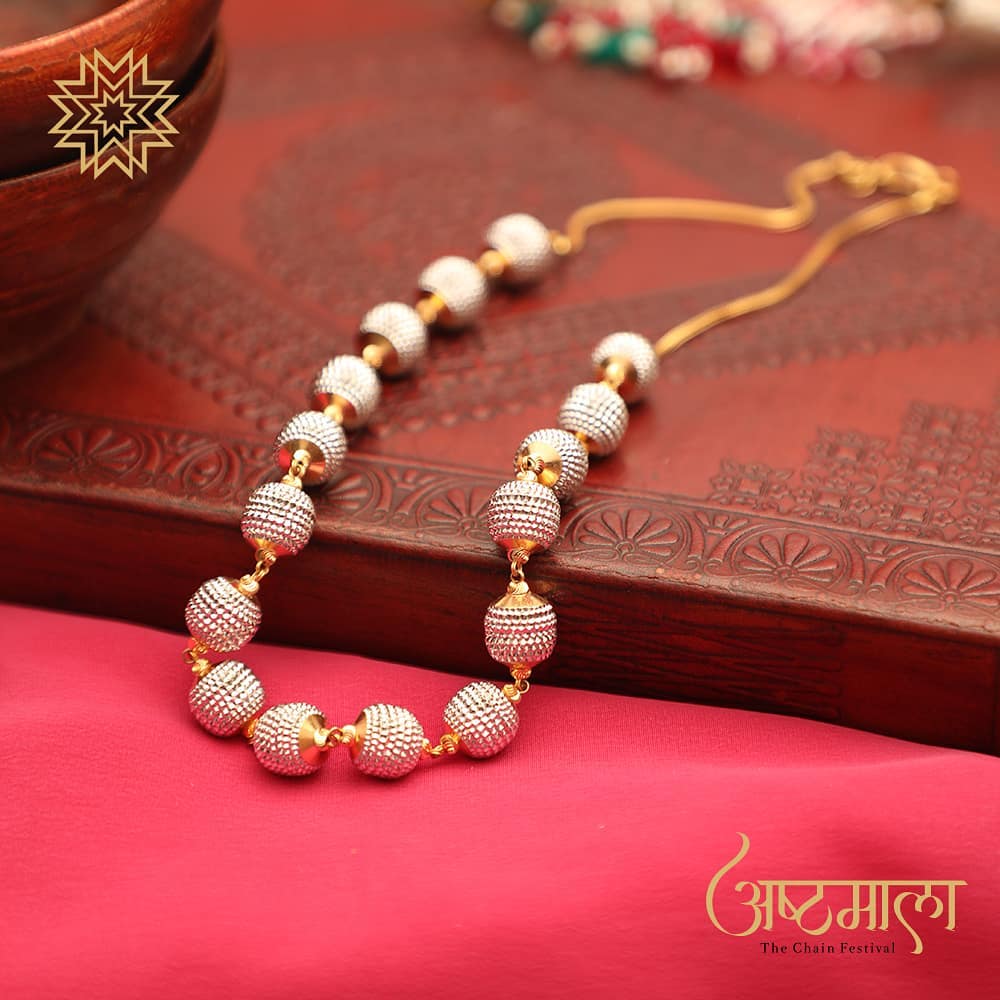 Give your accessory a fresh update with this extraordinary necklace with diamonds embedded in them. But remember balance is the key don't over do it.
Kundan Choker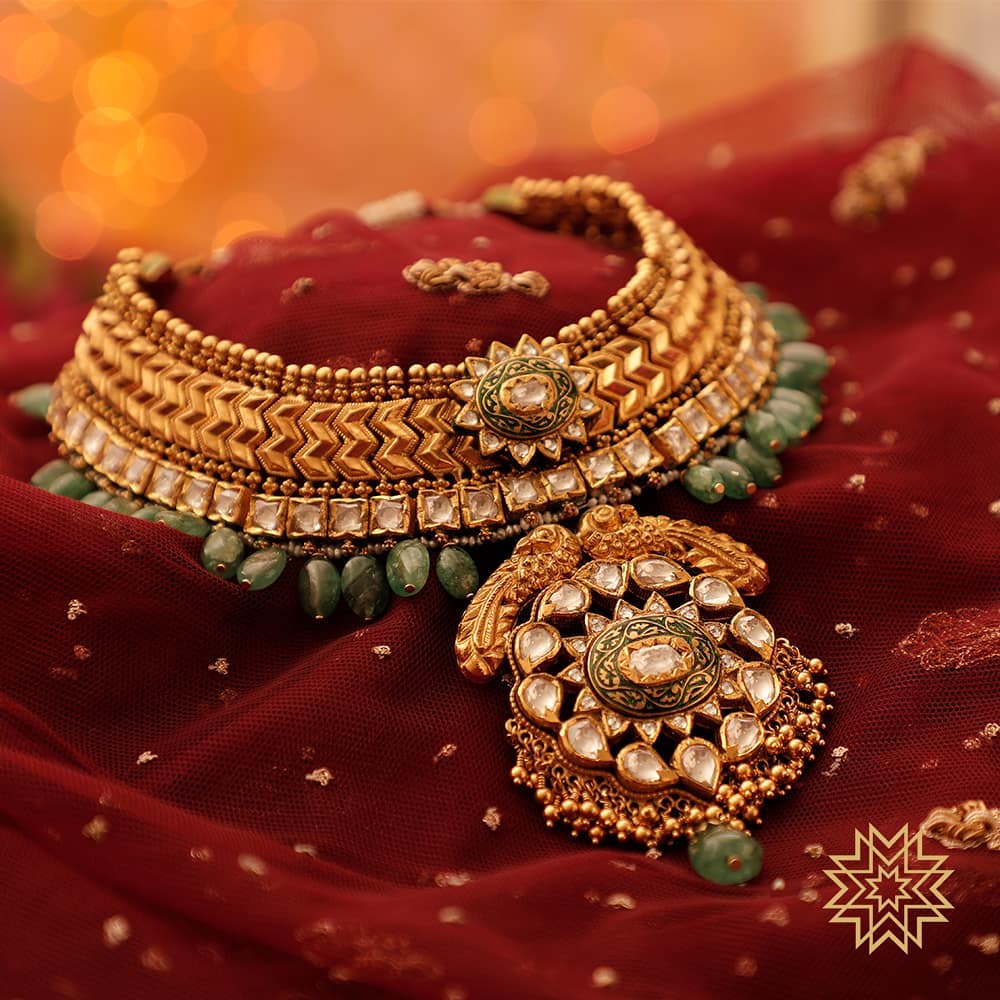 Lotus is considered as an auspicious flower in India so we have this lotus flower design choker with green stones hanging from the necklace.
4 Strands Pearl Necklace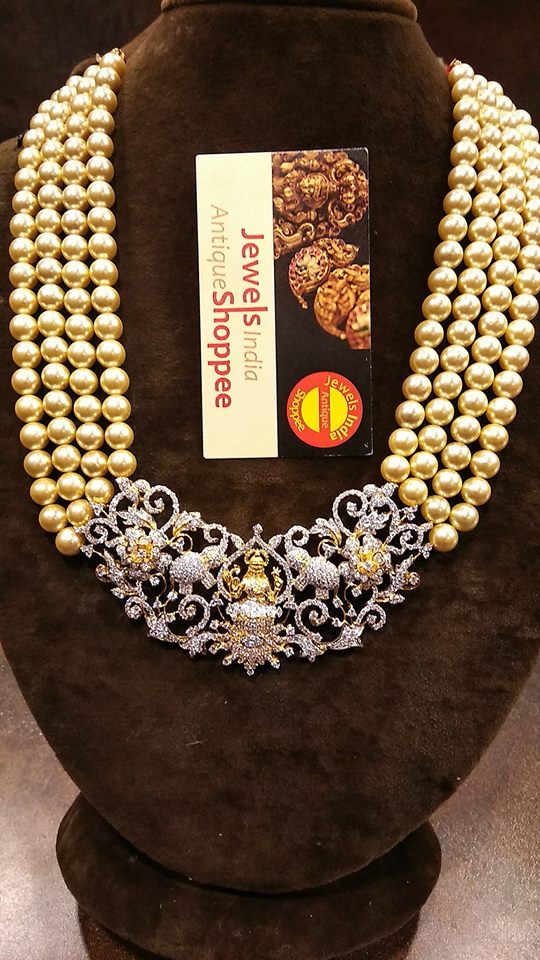 Now a day's pearl jewellery is something which is rocking the fashion industry. So try these Goddess Lakshmi inspired design which is perfect for a south Indian wedding or even for a reception. This one is just beautiful and perfect for a sangeet or a family get together.
Hope you have been making note of the gold necklace designs that are stealing limelight this year. In case if you like to shop the necklace models featured in this post, then do reach the seller below.
Seller Name : Jewels Indian Antique
Contact : +91 80 4125 2333, 9980965091
Email : je***********************@gm***.com
Facebook : https://www.facebook.com/jewelsindiaantique/
Seller Name : Manubhai Jewellers
Contact No : 022 28992042 / 8 lines
Website : www.manubhai.in
Facebook : https://www.facebook.com/Manubhai.Jewelers
Instagram :https://www.instagram.com/manubhaijewels/
Products : One stop destination for all bridal jewellery..Jadau and kundan collections to elegant diamond wear and pure gold jewellery. From gifting a bride to adorning a bride on her D-Day, Manubhai Jewellers has an eclectic collections.
Also Read: