A swishy explosion of colours and material: heavy necklaces are the new fashion trend this wedding season. A Necklace plays a very crucial role in every woman's accessories collections. Here are some 30+ latest necklace design that are trending this year.
1)   Classy Design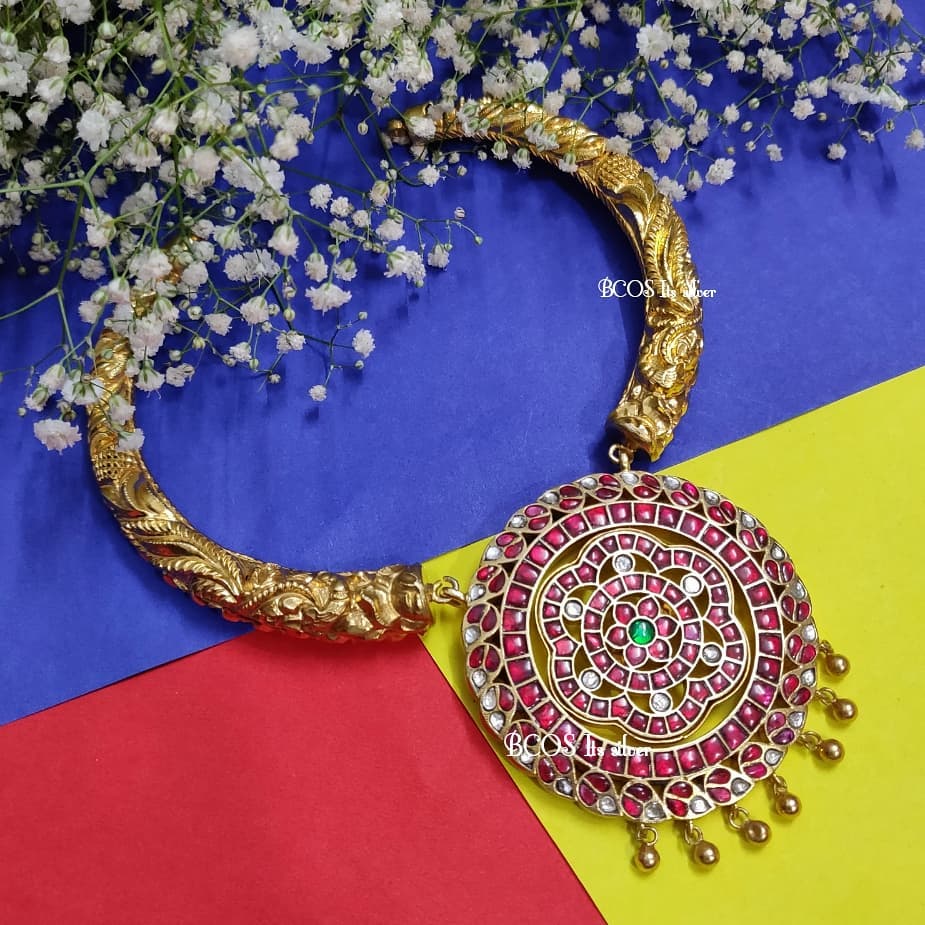 There is something special about a charming necklace, the sort of emotional trinket one picks are just mind-blowing. You can wear these for a family get together or even for your upcoming friend's wedding.
2) Intricate Design Necklace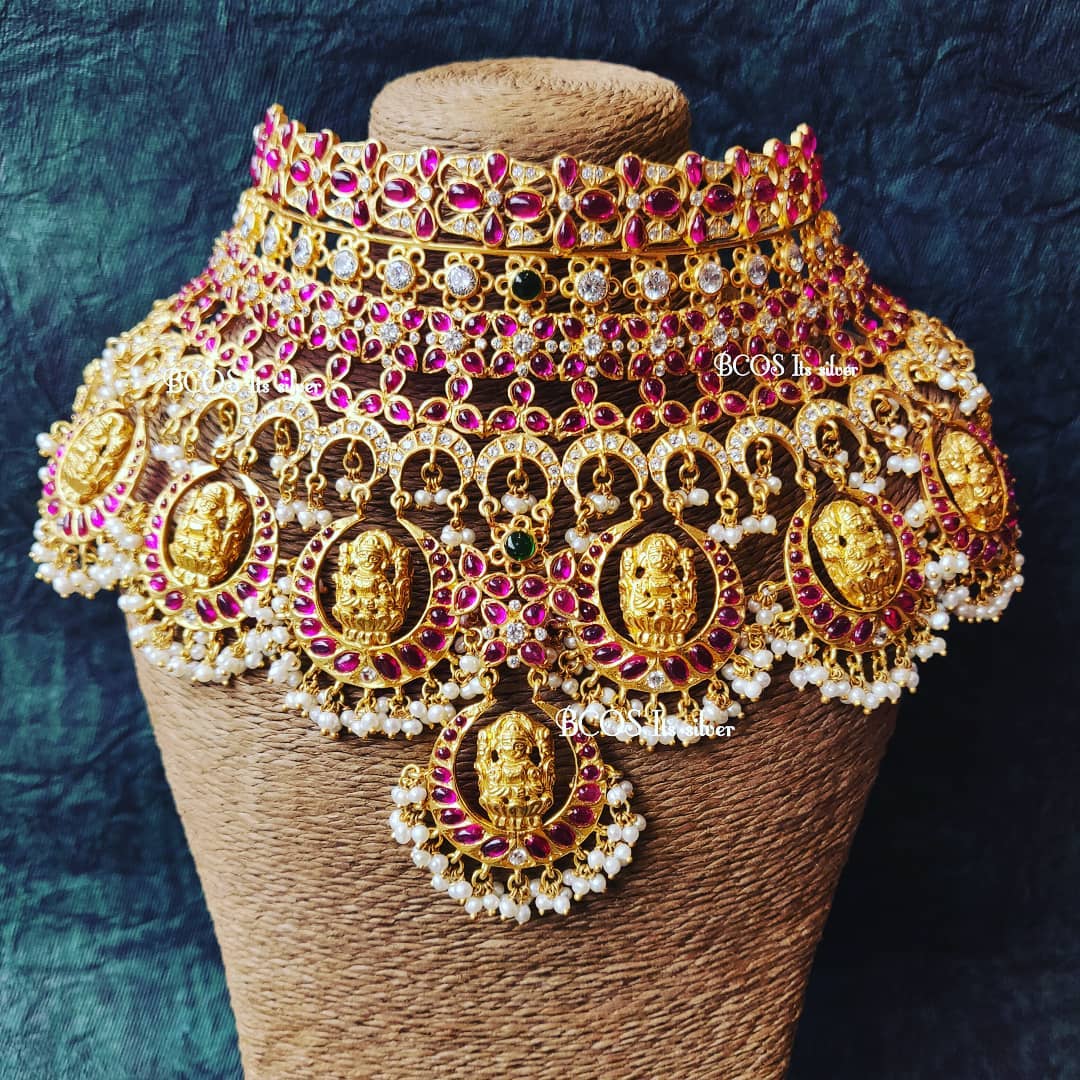 If you are looking for something smart and trendy, then this one is surely for you. This necklace design is just amazing. Those pink stones are the prime beauty of this necklace.
3) Cool necklace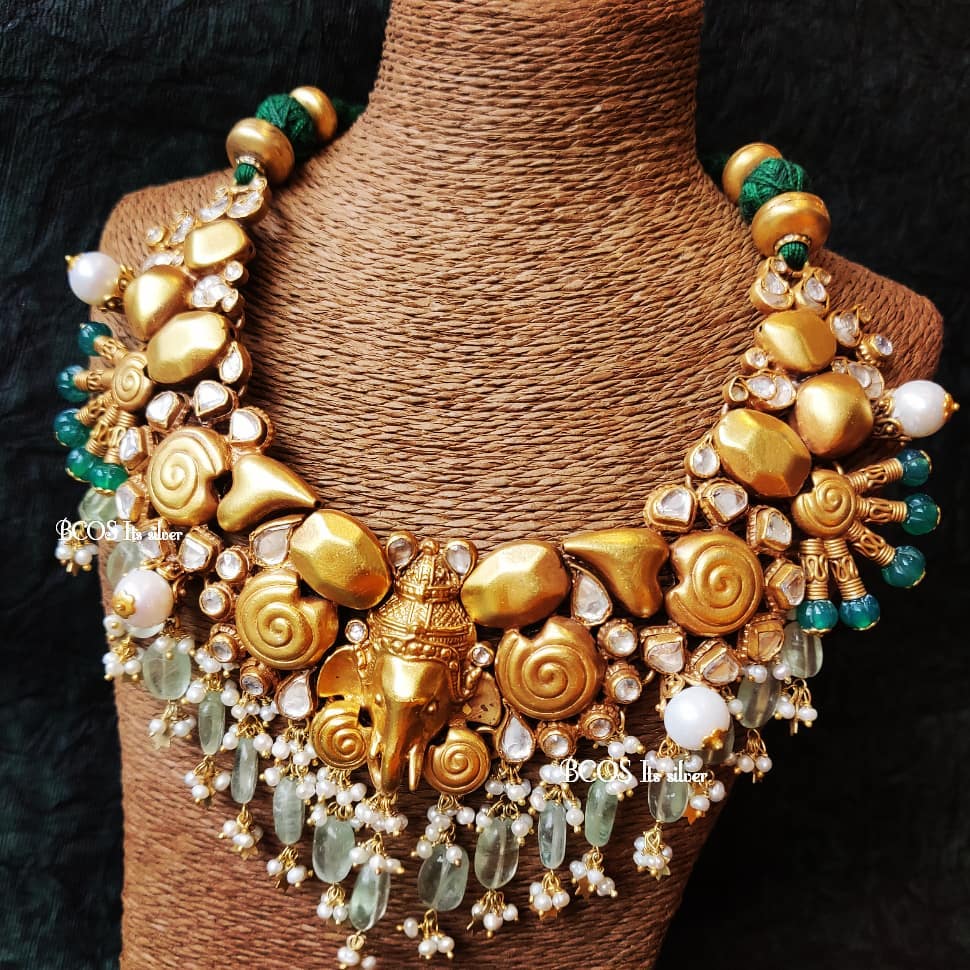 This is one of its kind. The design is truly contemporary and not so common. Those planning to buy a present for their better halves can gift this amazing necklace.
4) Creative necklace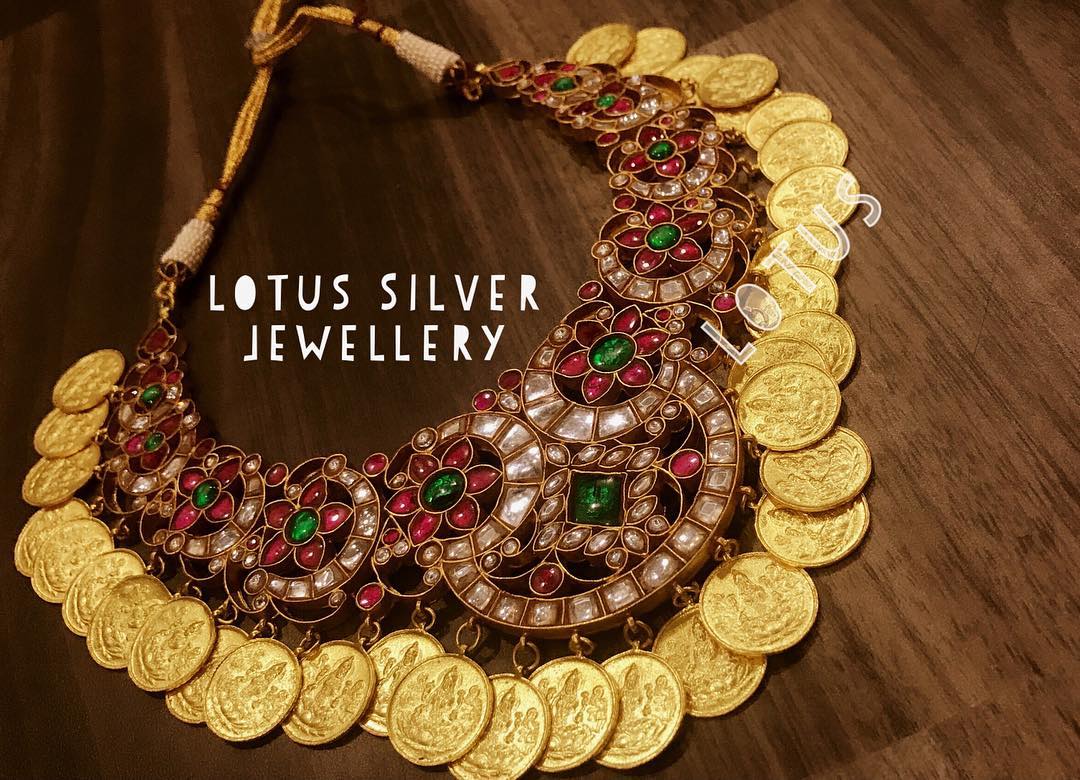 This coins necklace with marvellous design has different stones which are placed in a floral pattern just next to each other which add an extra drama to it.
5) Traditional Design necklace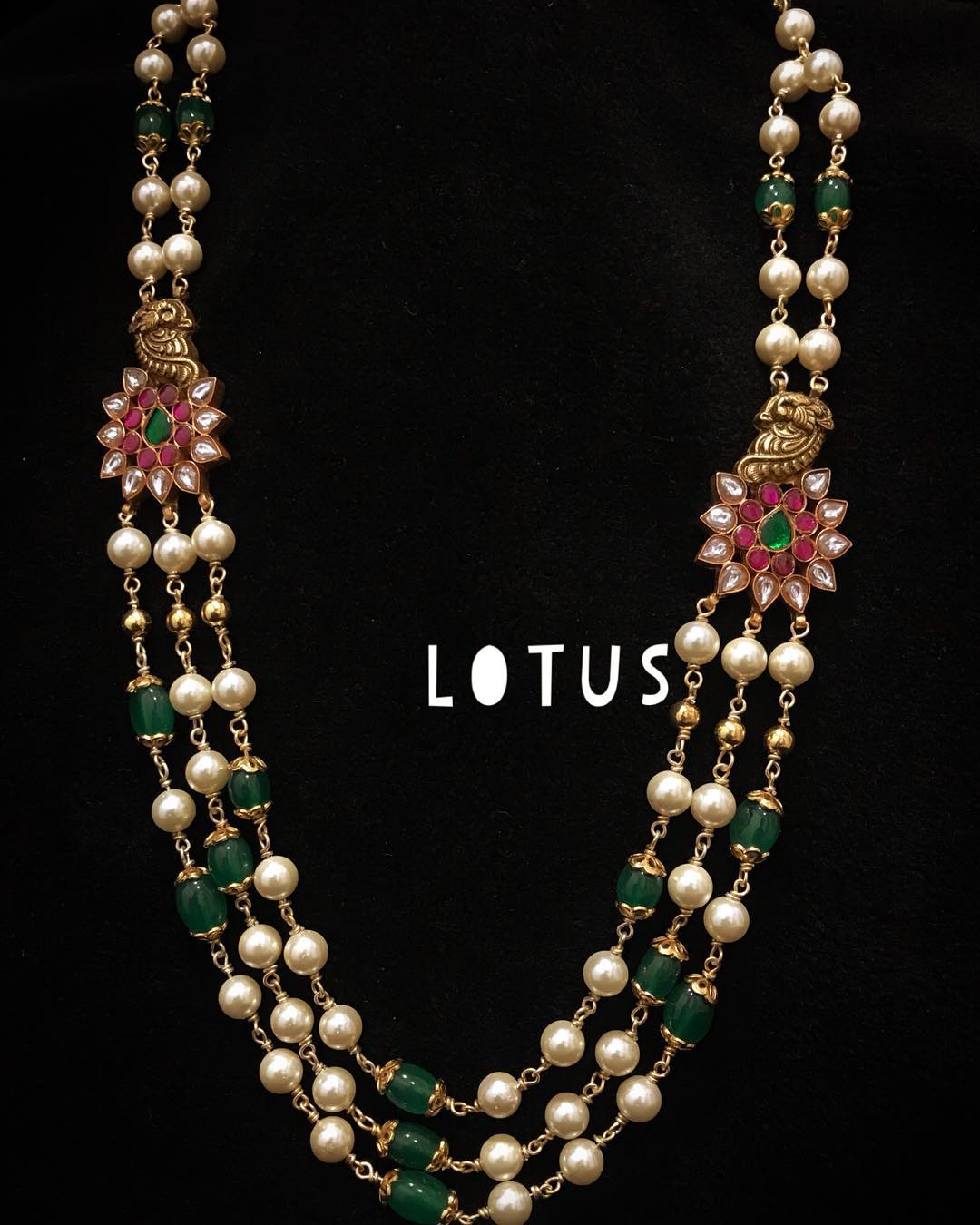 Nothing like the festive season to use as an excuse to shop of more. This one is perfect for a puja celebration as it has an intricate floral motif in it. This three strand necklace can be easily worn with lehenga.
6) Lakshmi necklace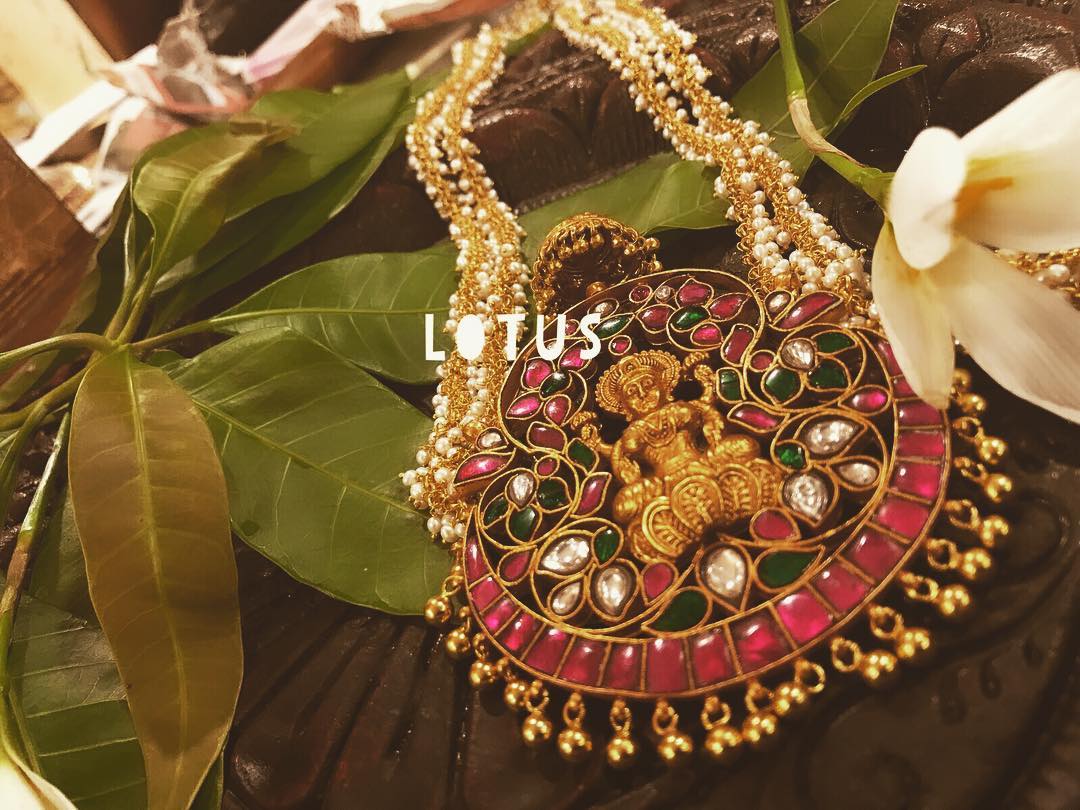 This one is just beautiful, and the design is just stunning. This is a very unique and exotic piece which is appropriate for a wedding ceremony. So wear this gorgeous necklace, when stepping out for an evening soirée.
7) Grand Necklace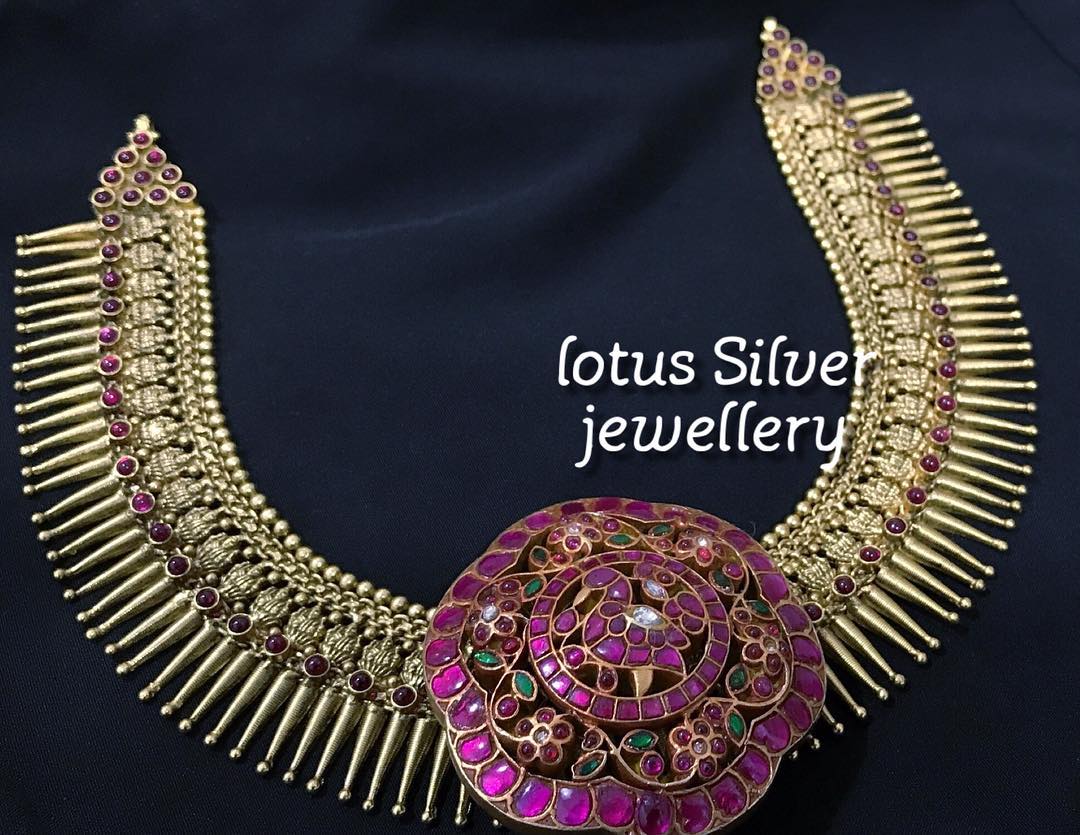 Amp up your festive look with nothing but a grand necklace which will instantly elevate your look.
8) Marvelous pattern Necklace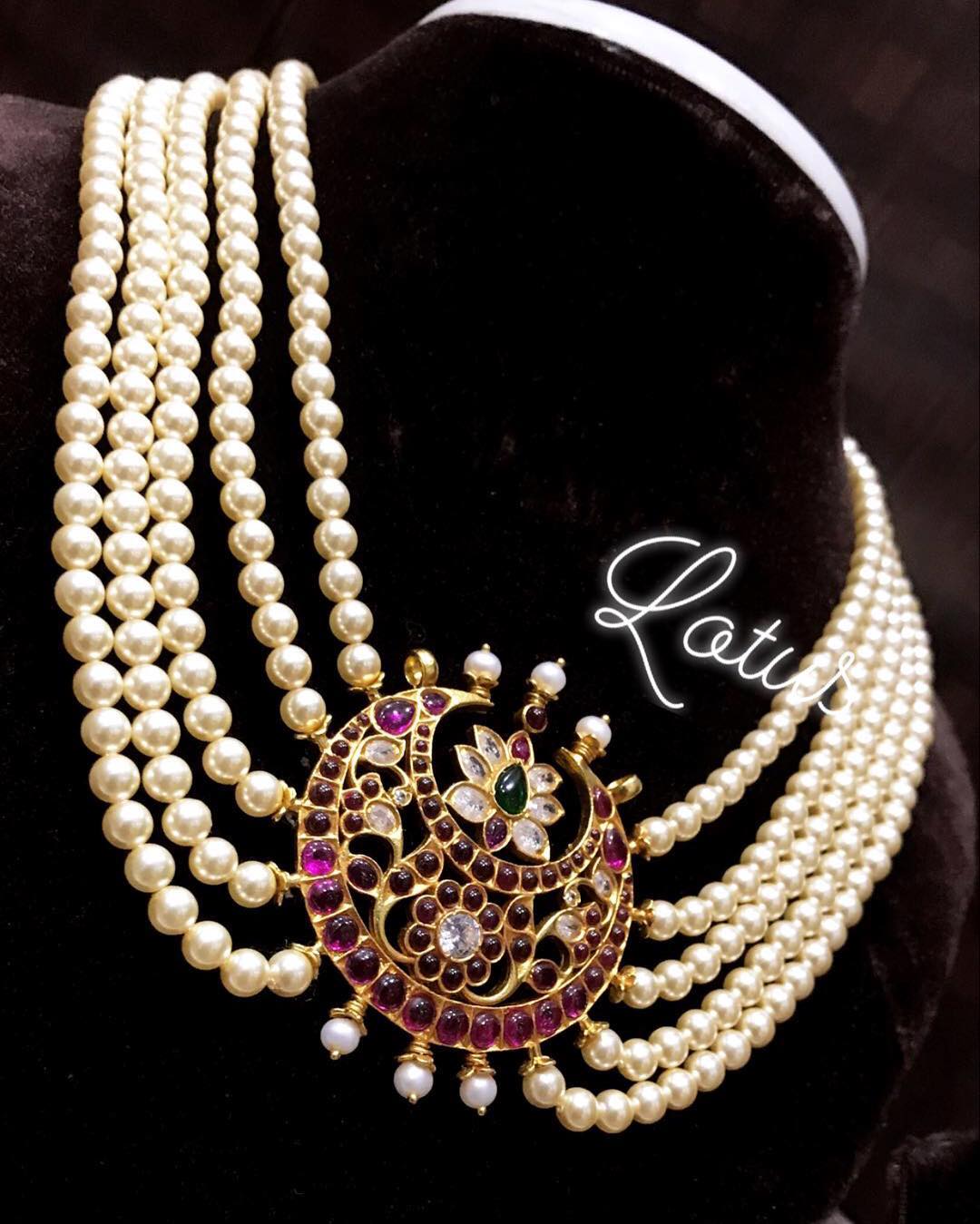 Retire your signature light necklace this wedding season and go for something heavy but unique like this gorgeous pearl necklace. This wedding season invest in this.
9) Amazing Design Necklace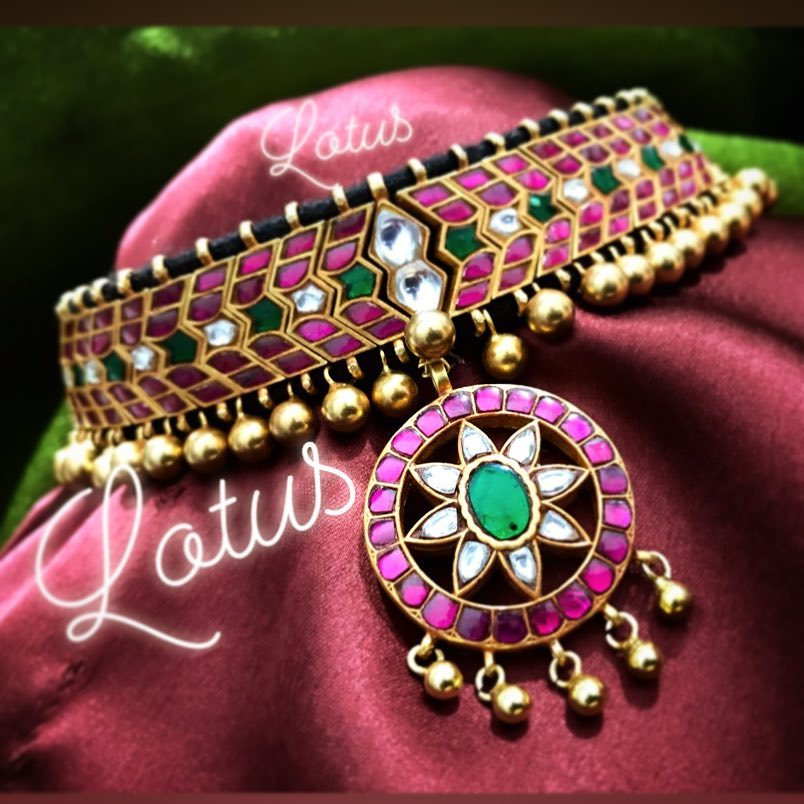 Take your evening look from simple to scene-stealing with this lotus inspired kundan necklace, which can be worn either with a dress or even with your simple salwar suit to add a little drama to your look.
10) Smart Necklace Design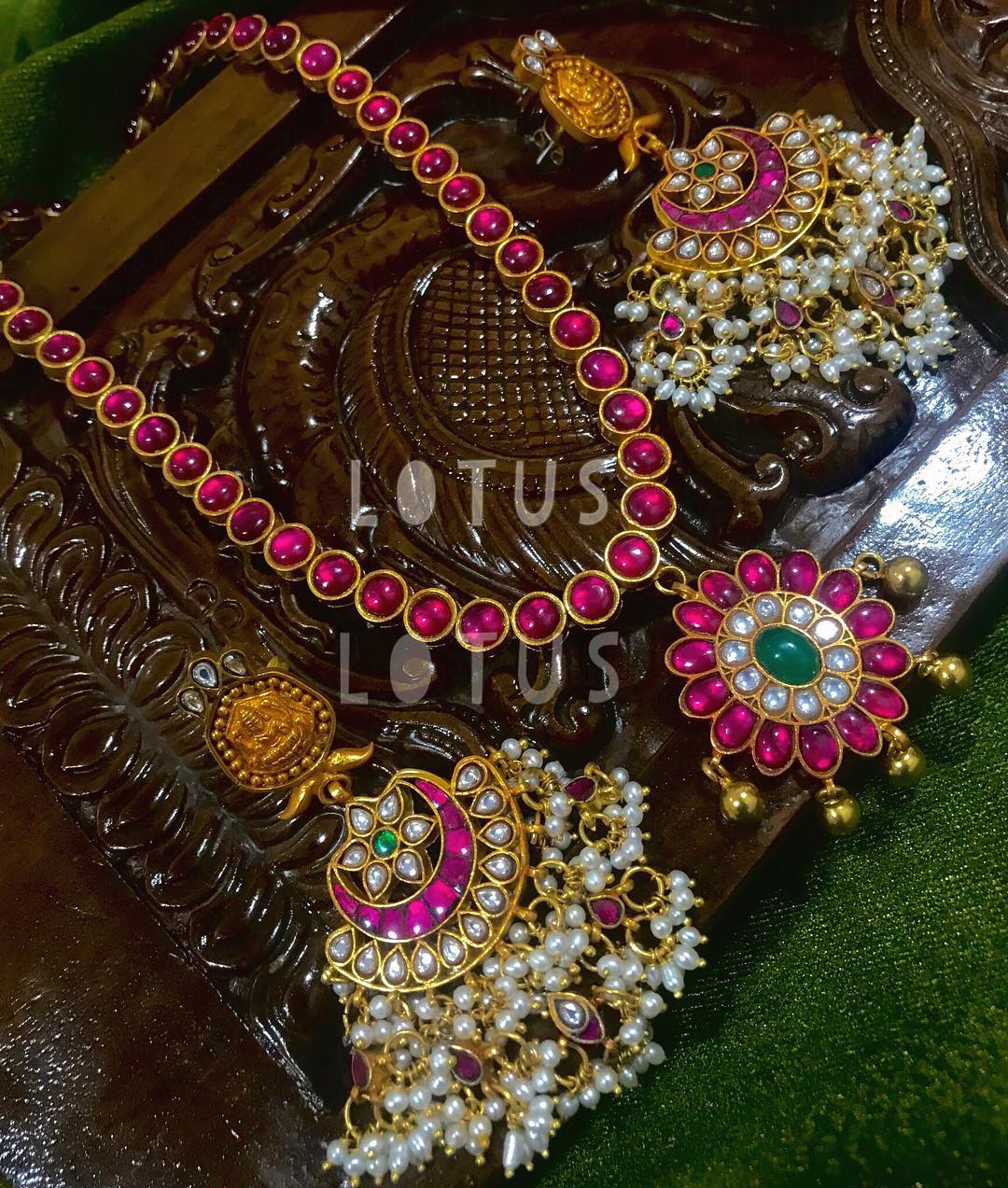 There are some unique jewellery pieces; you just can get enough of them. This is one of its kind unique and modern. Pink stones are beautifully embedded in strands which is the prime beauty of this necklace.
11) Princess Necklace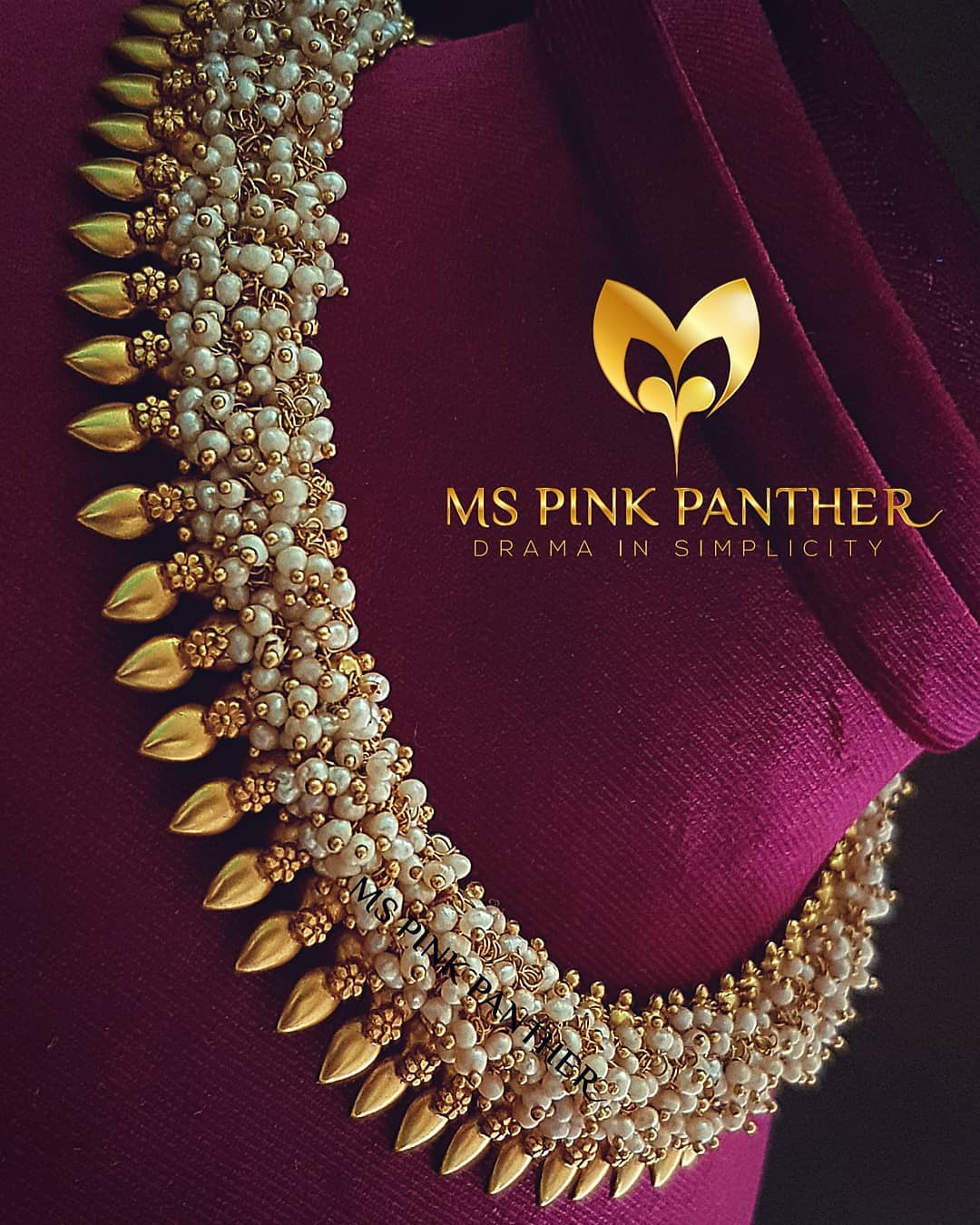 This one is simple but beautiful. If you are someone who doesn't like those string pendants and looking for something unique yet smart, then you can opt for this one.
12) Stylish Diamond Necklace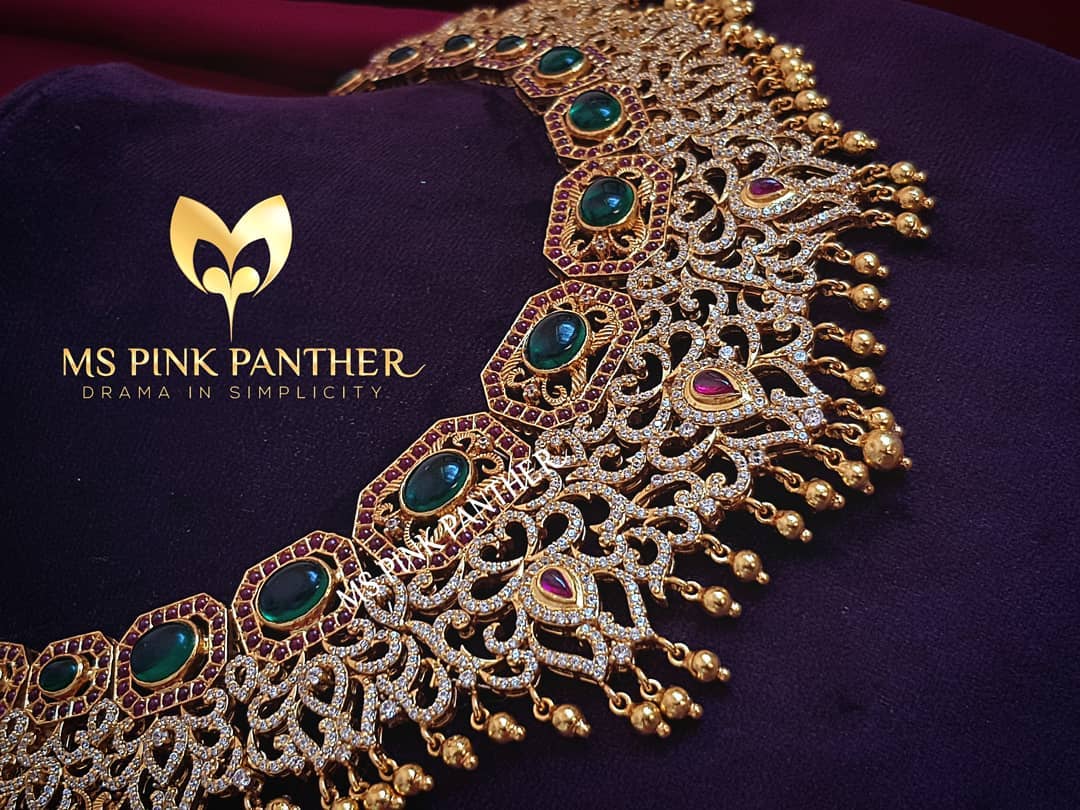 This stylish diamond necklace is a must try. We are bound to our customs and we make sure that we follow them properly. This design is the one which never gets out of fashion.
13) Glamorous Necklace Design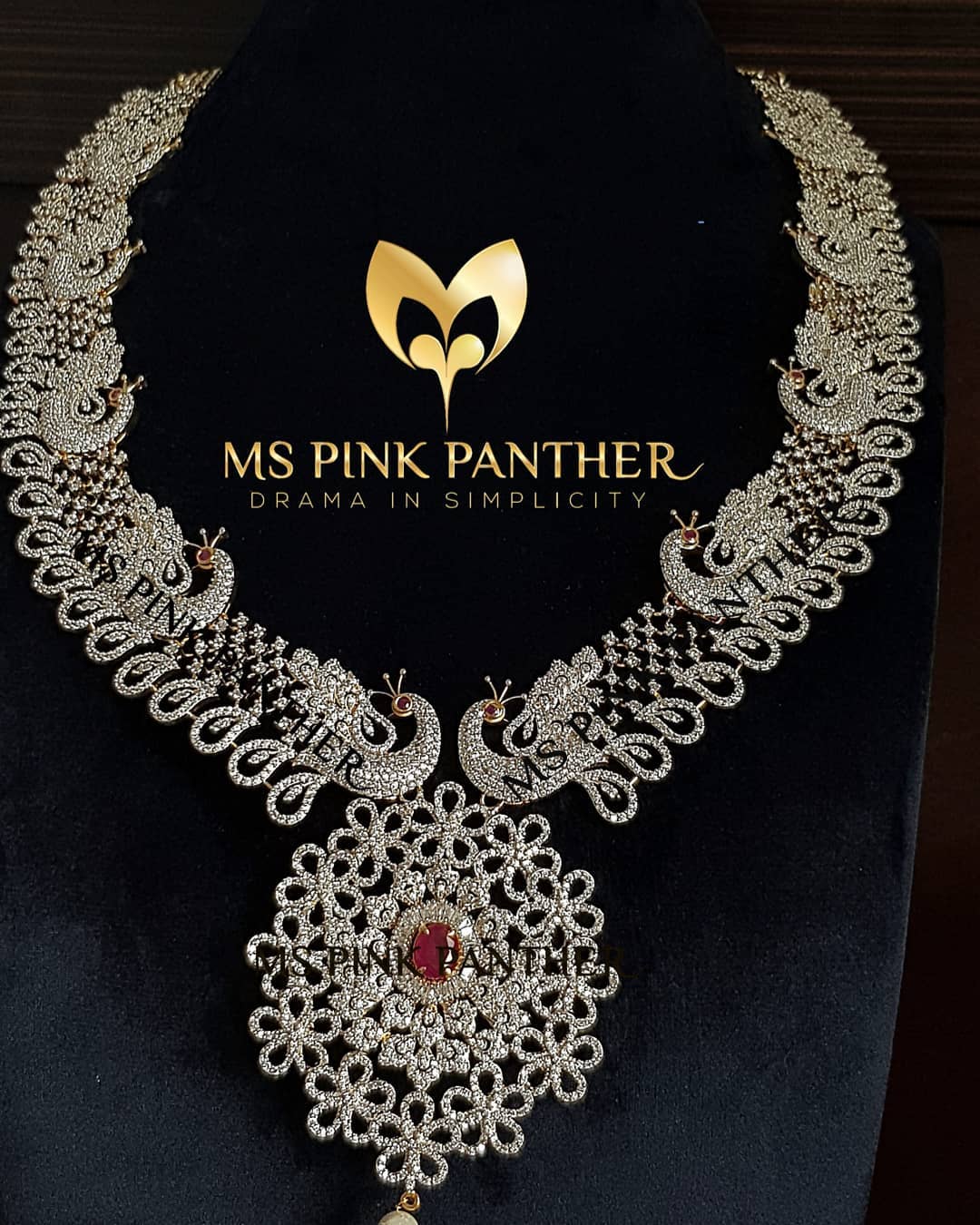 If you are someone who is looking for something grand and stylish then this is for you. This is great for those who love to stay ahead of the trends, but also love a classic, elegant aesthetic necklace.
14) Trendy pearl Necklace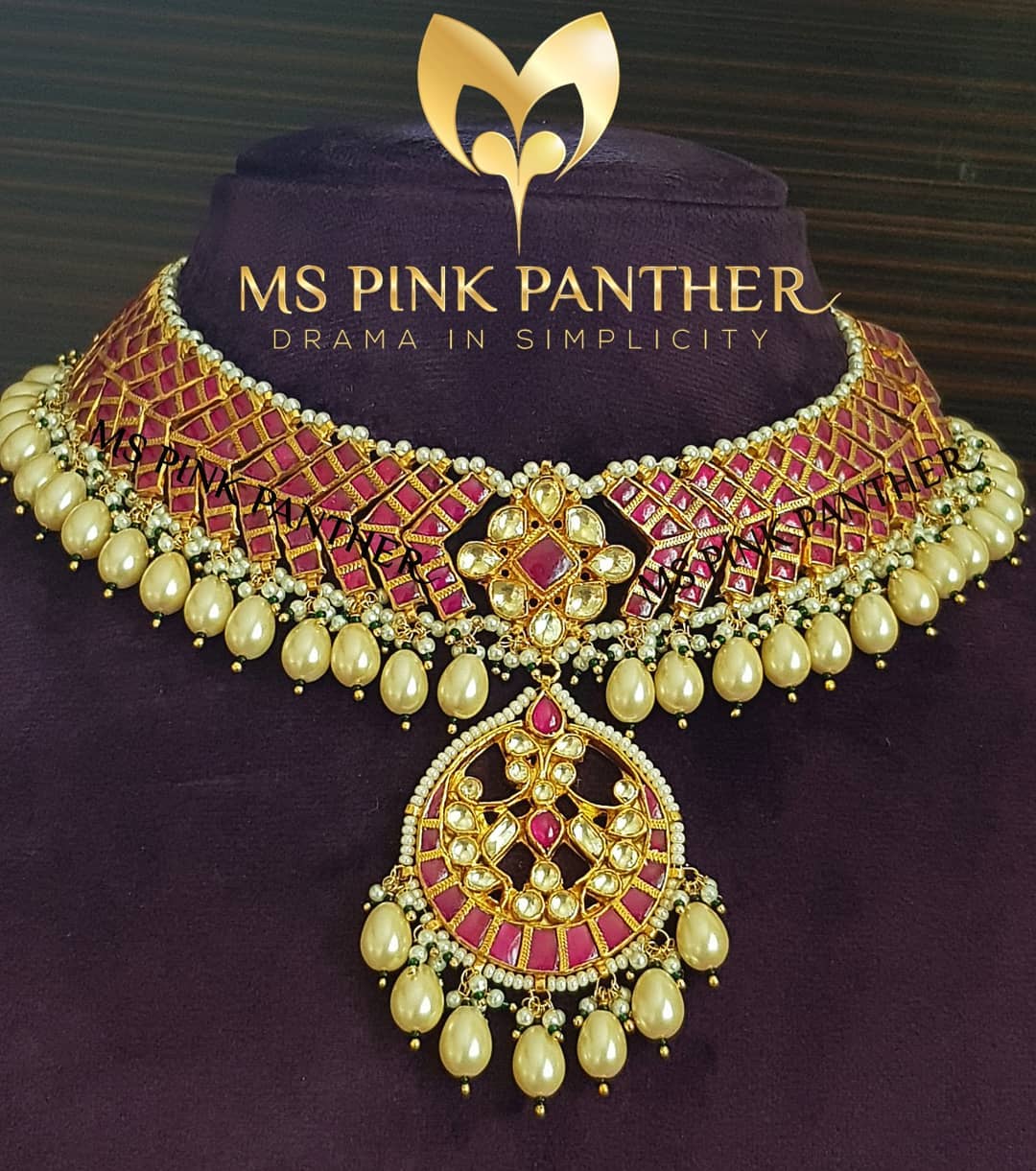 If you are looking for something very chic yet trendy, then this one is a perfect match of your choice.
15) Classy necklace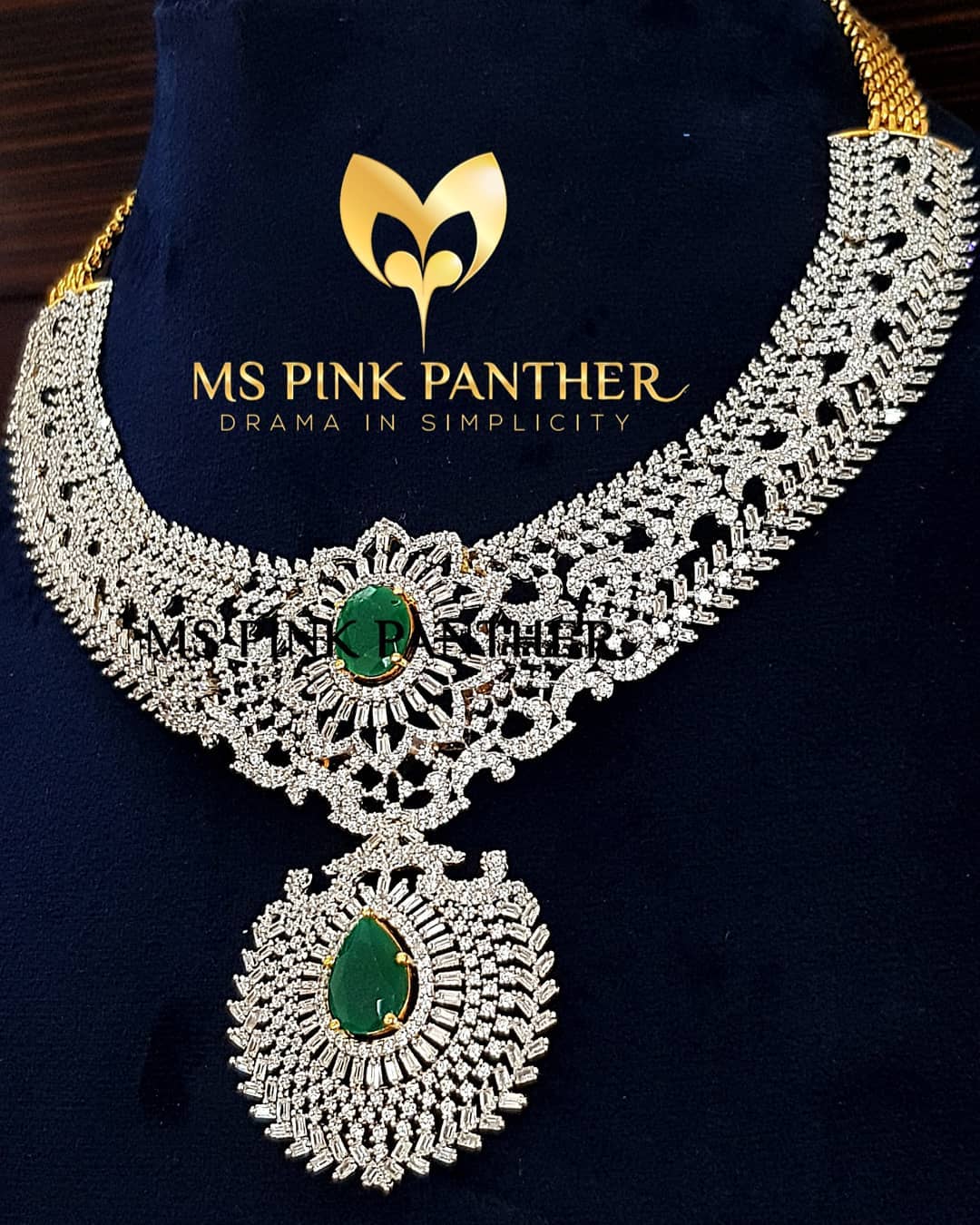 There are some designs which are just as extraordinary as this classy necklace. Buy this amazing diamond necklace which looks perfect for a sangeet.
16) Stunning Gold Necklace Design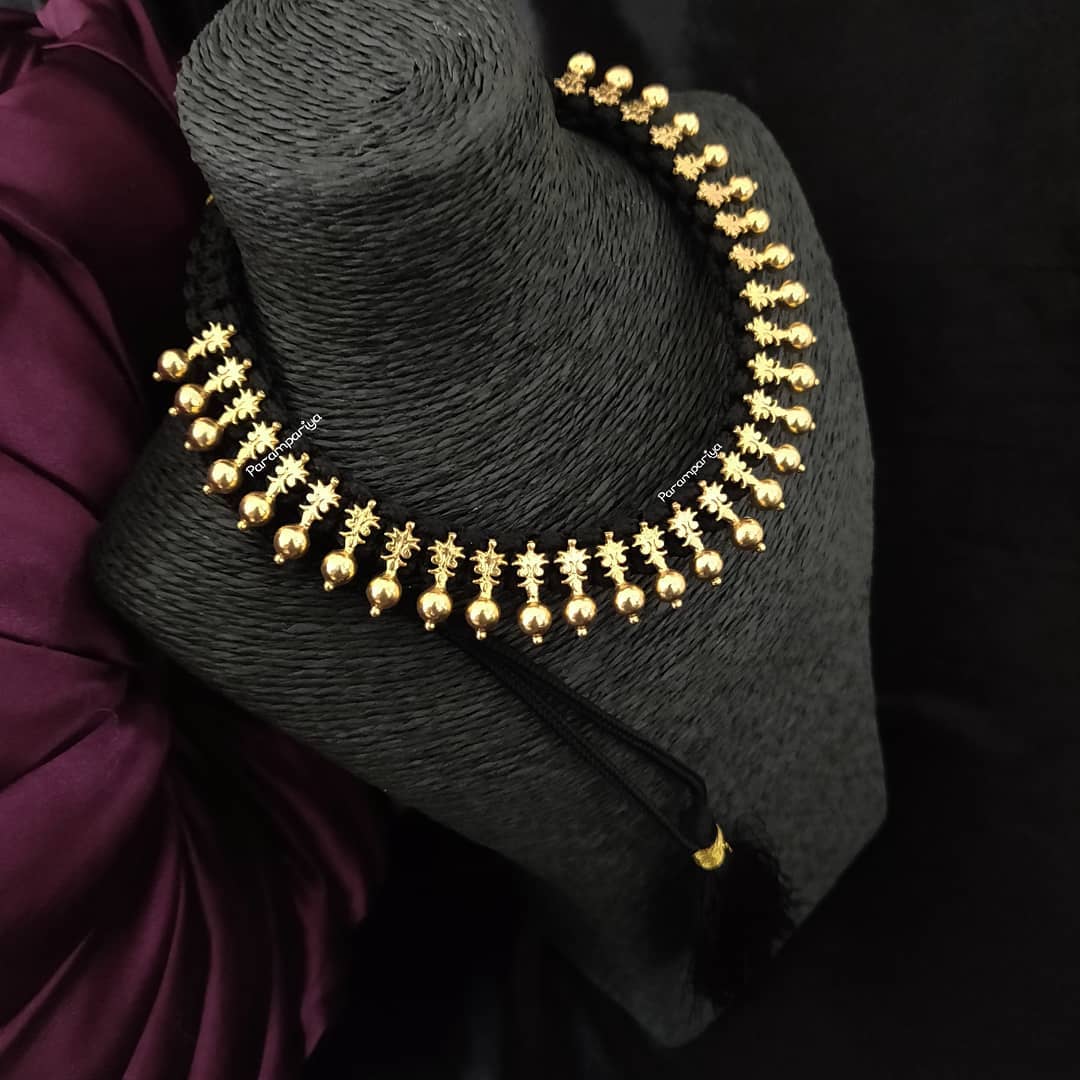 A necklace is part of traditional Indian jewellery. This classy necklace is purely a masterpiece so if you are planning to gift someone something really special you can opt for this one.
17) Royal Design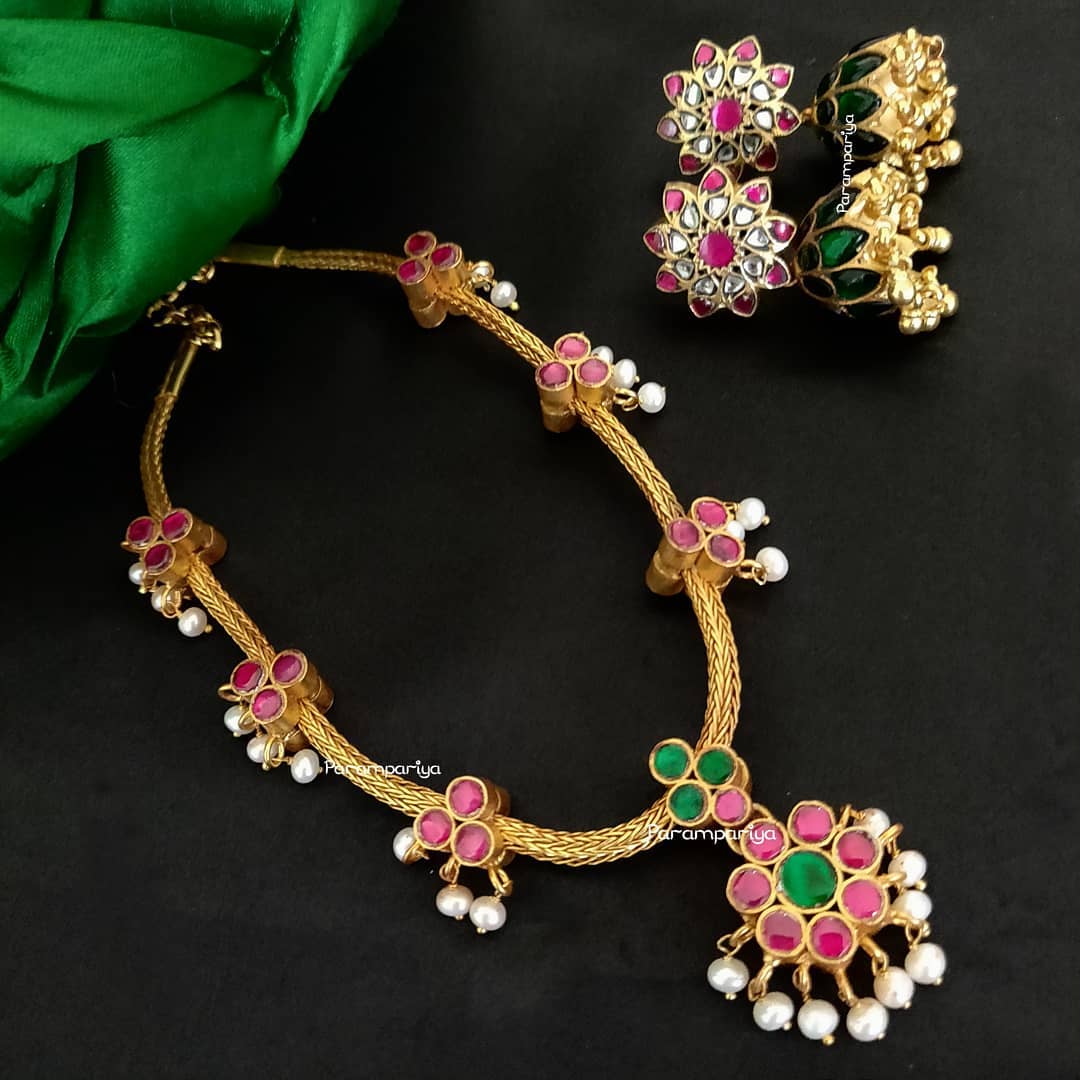 There is nothing like this beautiful gold necklace. Its bold motif is just super feminine and super sexy.
18) Guttapusalu Necklace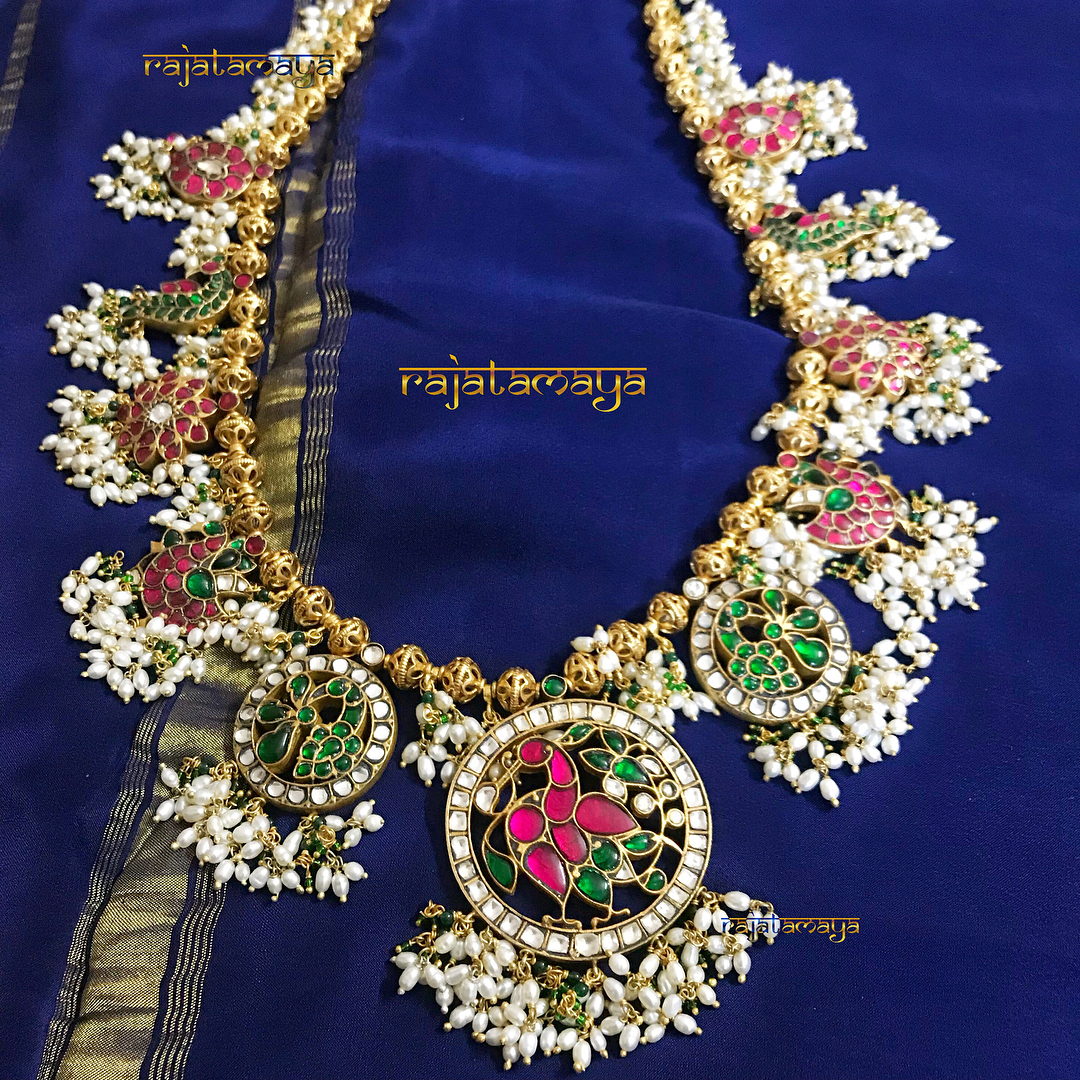 This traditional guttapusalu necklace is just mind-blowing and appropriate for a wedding celebration and even for a family get together. This can be worn with Indian attire and with western attire as well.
19) Kundan Necklace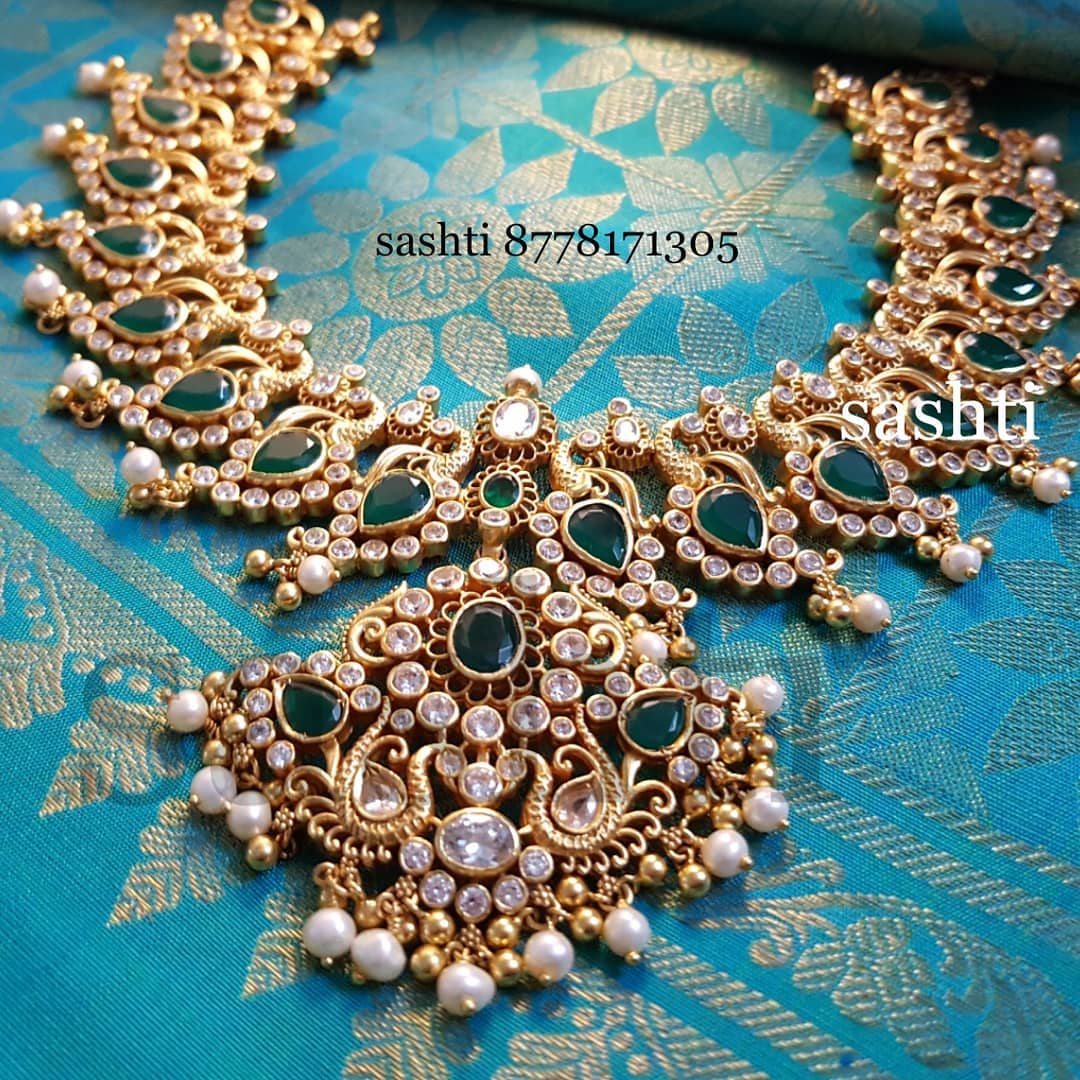 This one is a must-have. Kundan necklace designs are very much in trend and the intricate design is the prime beauty of it. The royal combination of emerald and pearl is just marvellous.
20) Contemporary Gold Necklace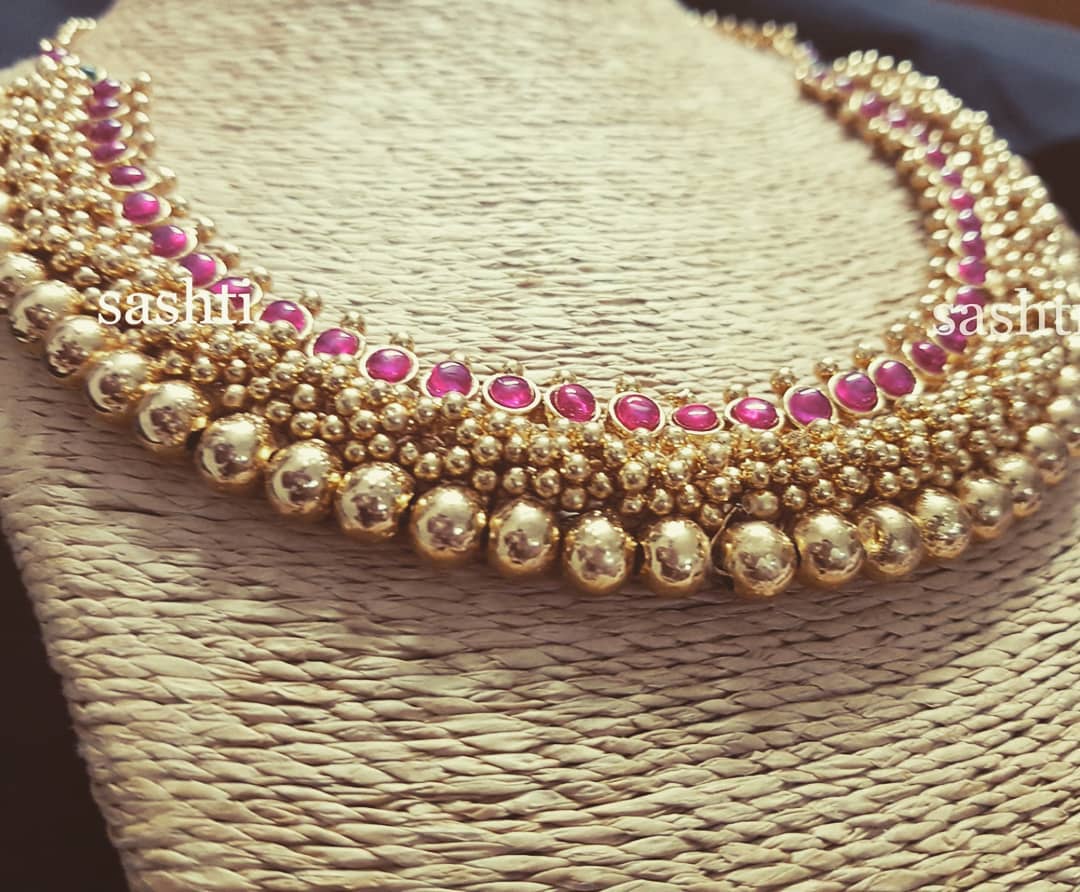 There is something very special about this heavy necklace. This contemporary necklace can be worn with an embroidered or sequinned lehenga which is one big emerald which is the prime beauty of it.
21) Paisley Design Necklace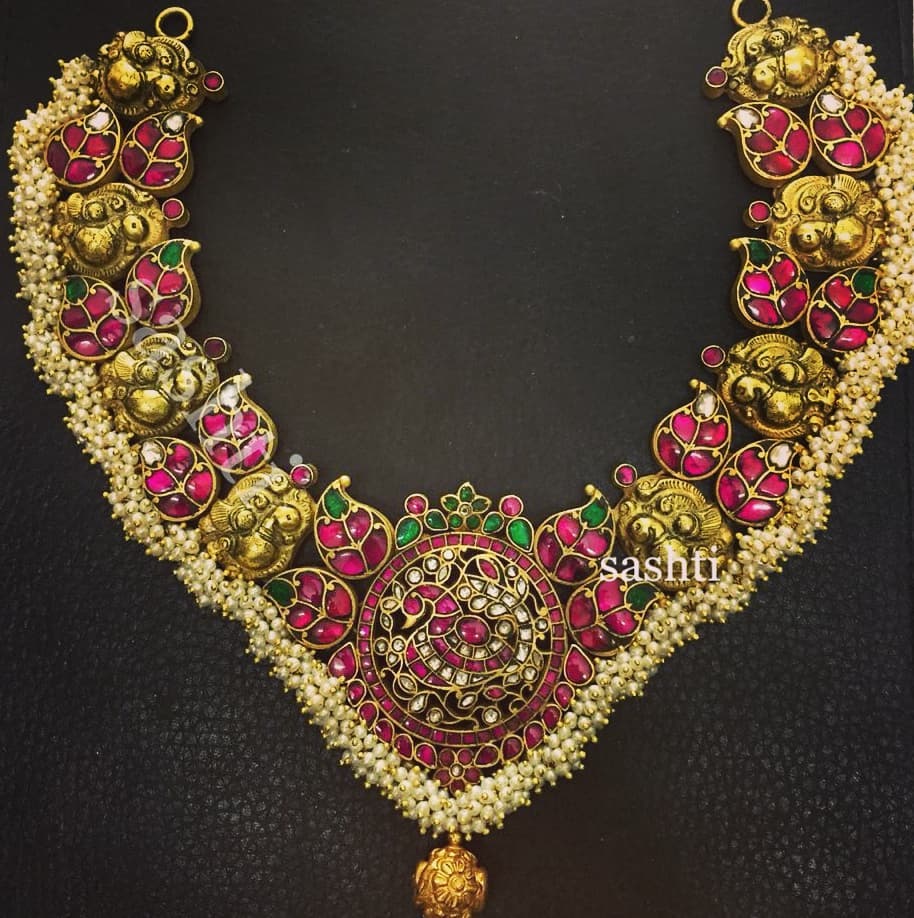 This traditional lightweight necklace is with a paisley motif on gold beads with a giant peacock design pink stone at the centre. This is appropriate for a typical Indian wedding.
22) Beads Necklace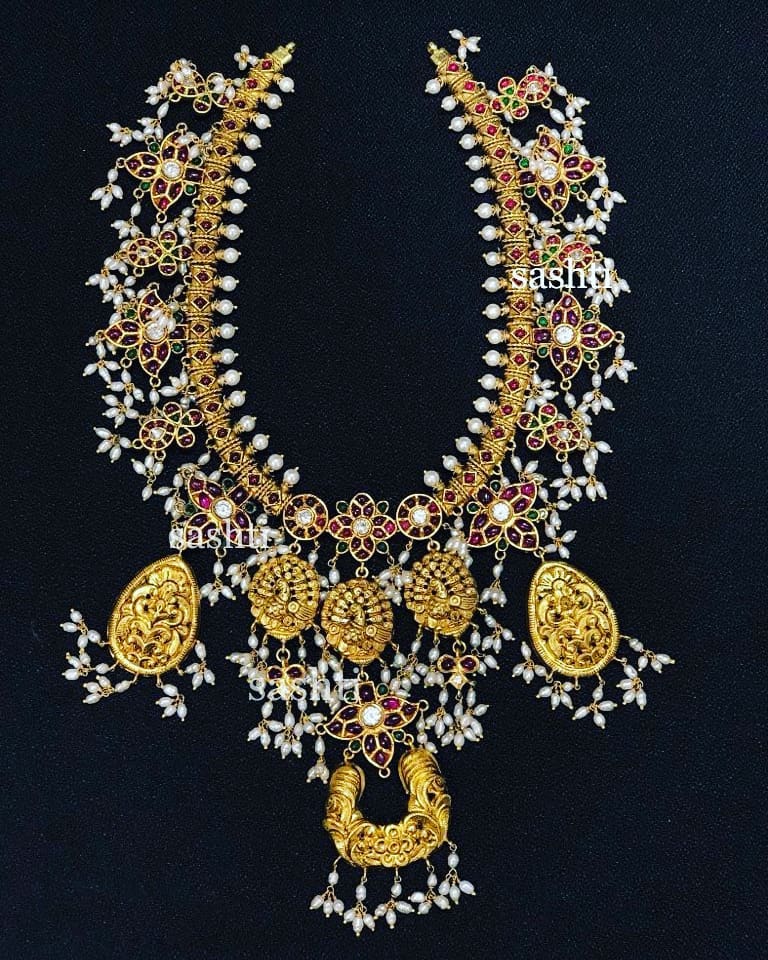 The miracle of a goddess Lakshmi inspired bead necklace is just amazing. This one is appropriate for a puja celebration.
23) Smart Design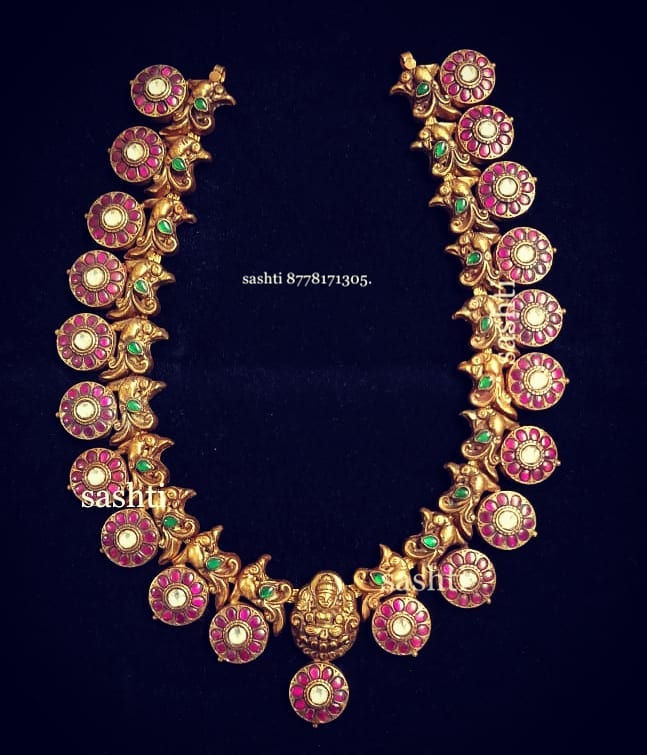 Here is the wonderful and outstanding gold necklace design that will give you a nice look on your outfits.
24) Sparkling Stone Necklace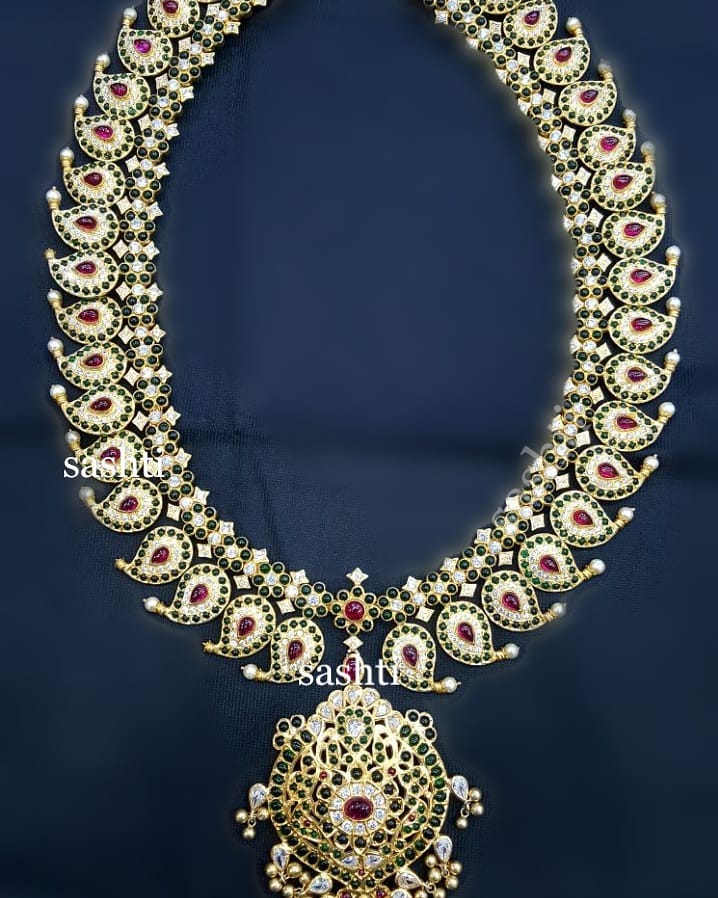 This sparkling stone necklace with pink stone beautifully embedded in it is just marvellous which adds an extra drama to it.
25) Blooming Design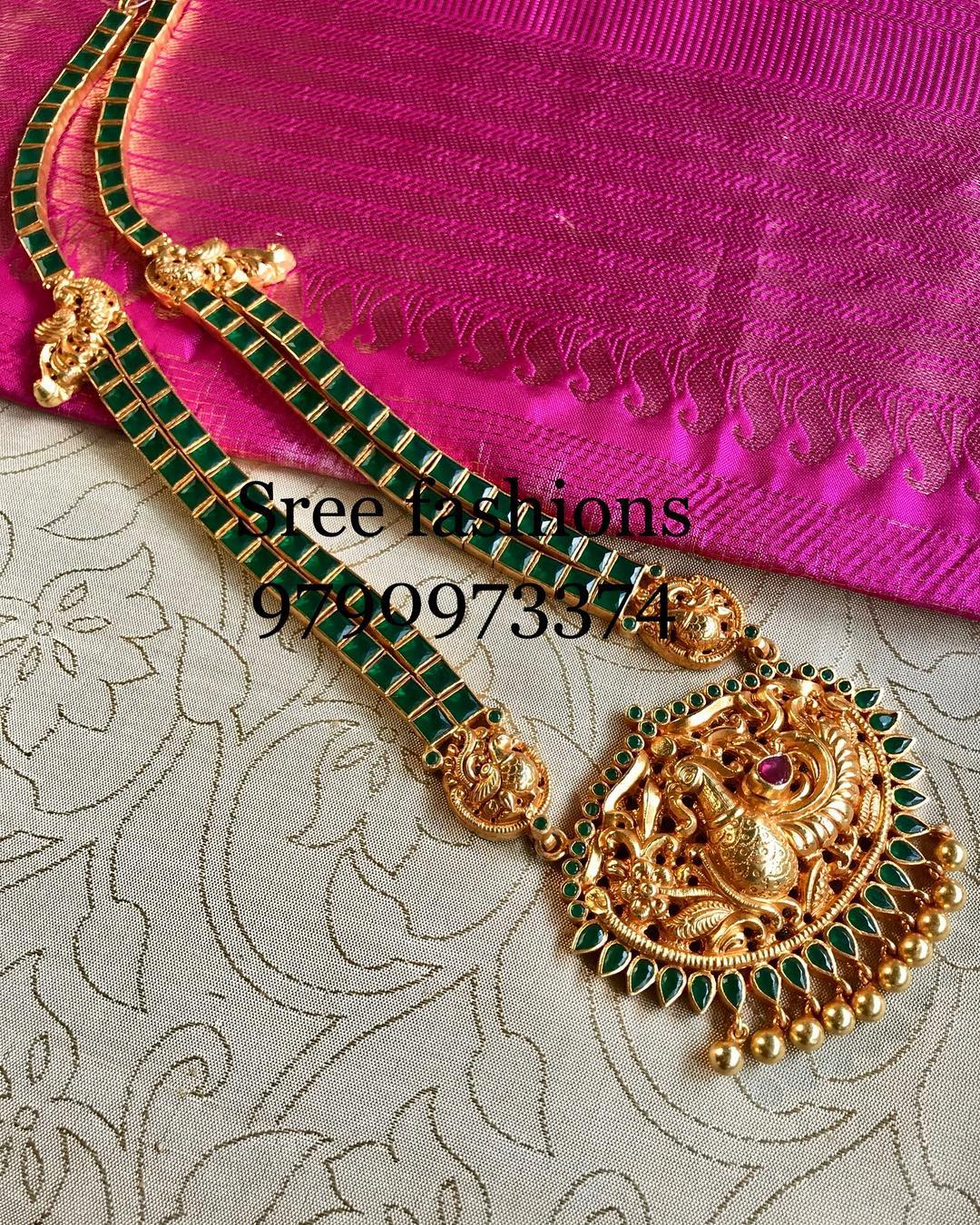 This one is perfect for a wedding and two strands necklace is just amazing. So reserve this one for an upcoming festive season.
26) Elegant Necklace Design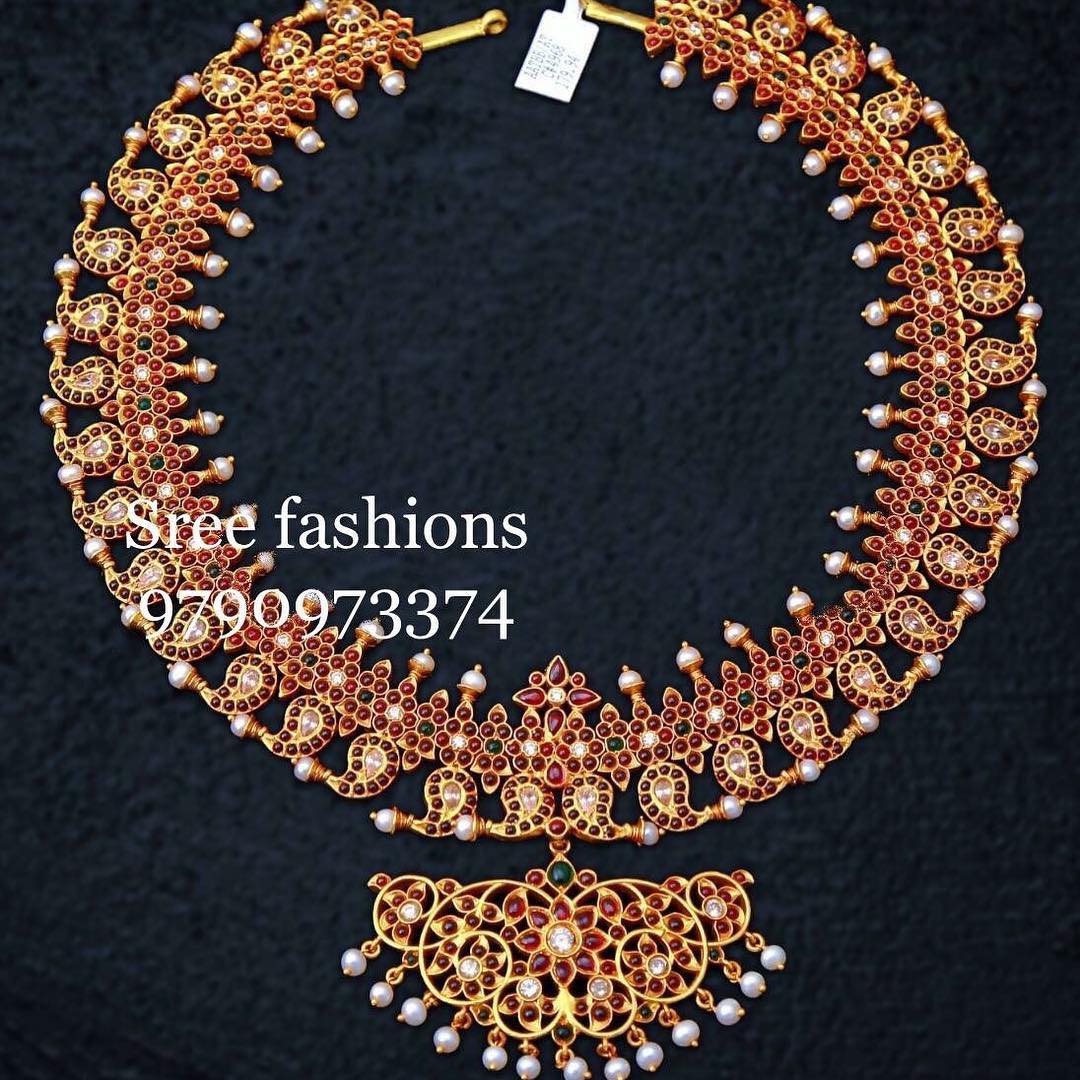 This is a beautiful and stunning gold necklace which looks elegant and royal.
27) Chic Necklace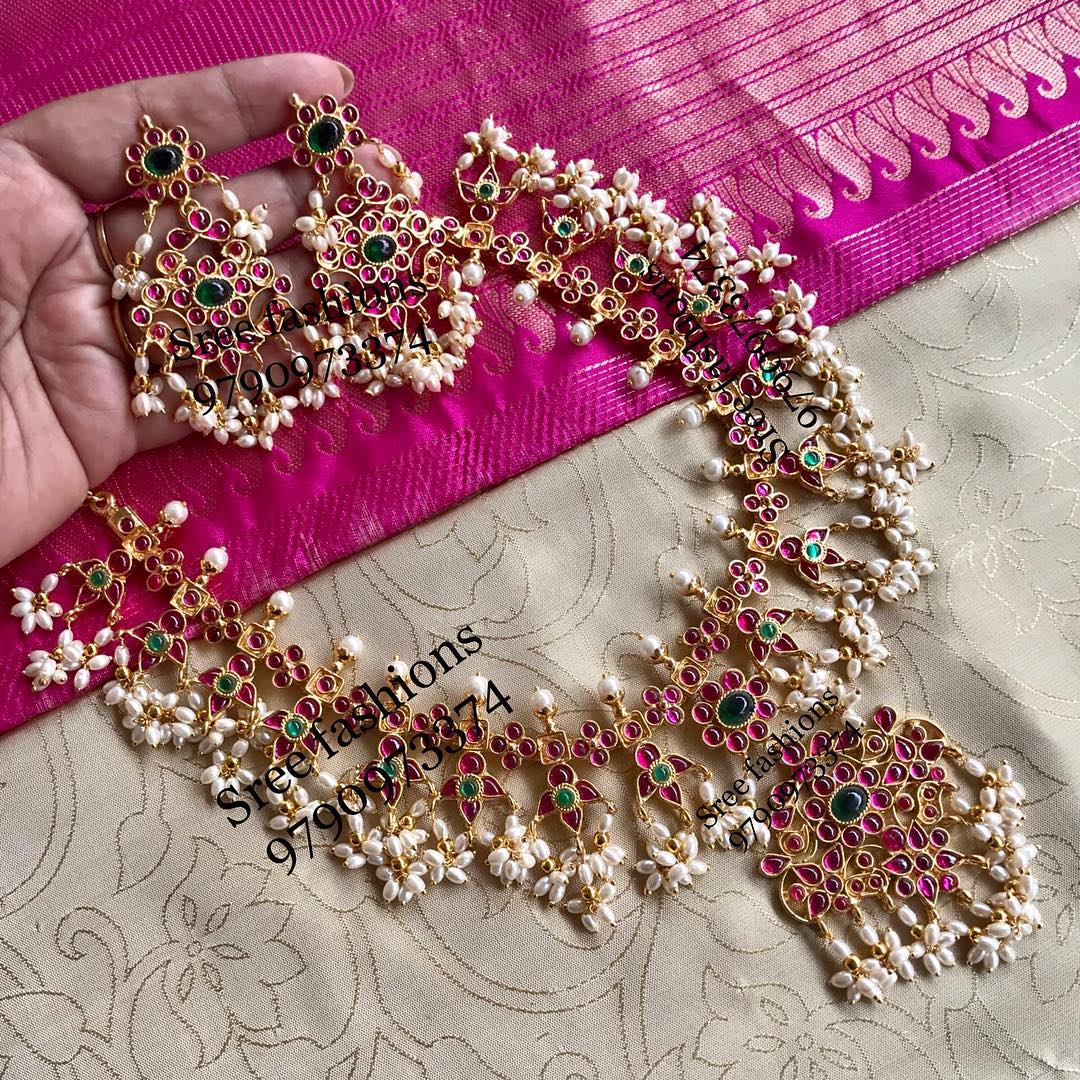 This one is truly inspired by a flower is a symbol of holiness on other is so traditional and chic.
28) Stylish Necklace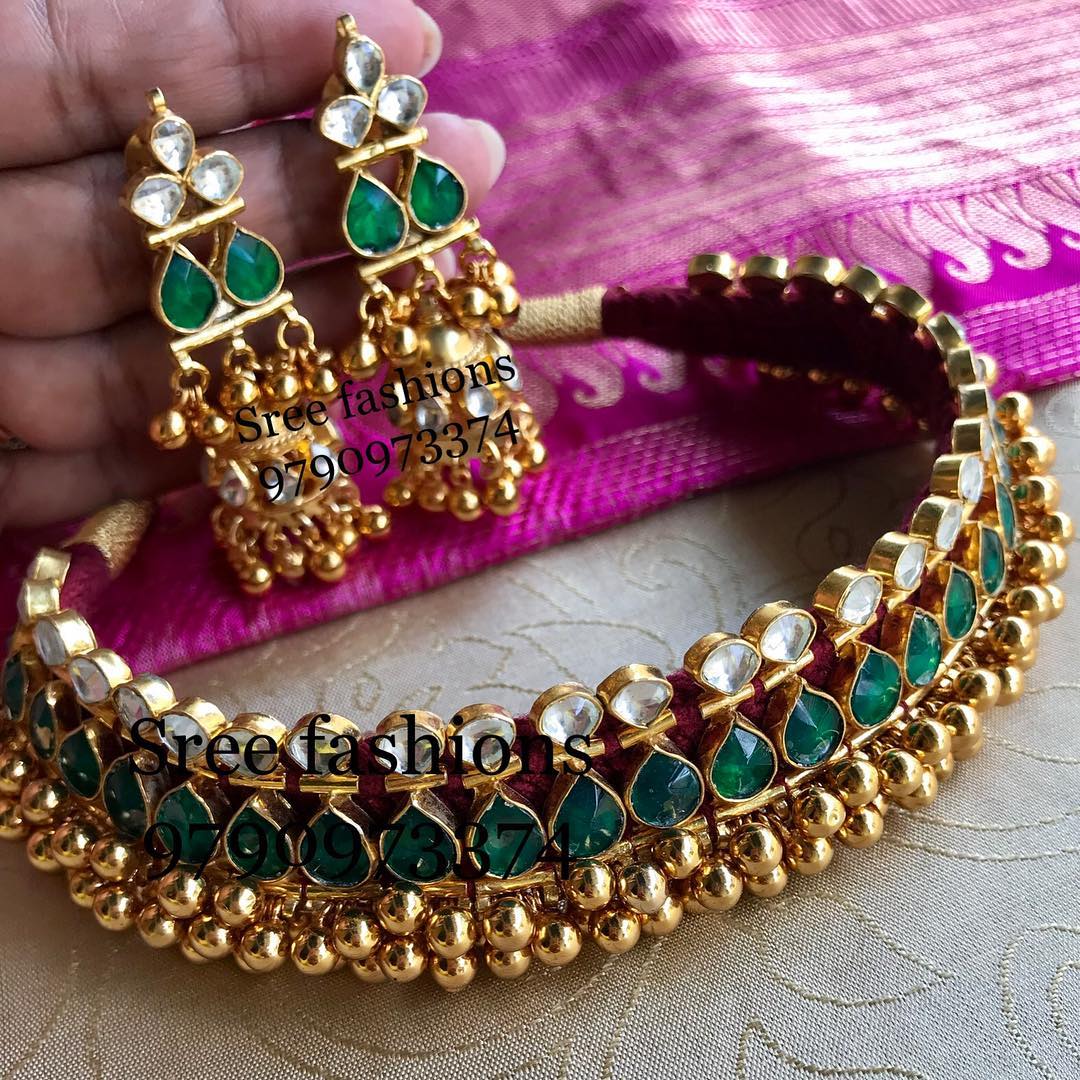 Give yourself a stylish, wonderful and unique look with this necklace.
29) Strand Design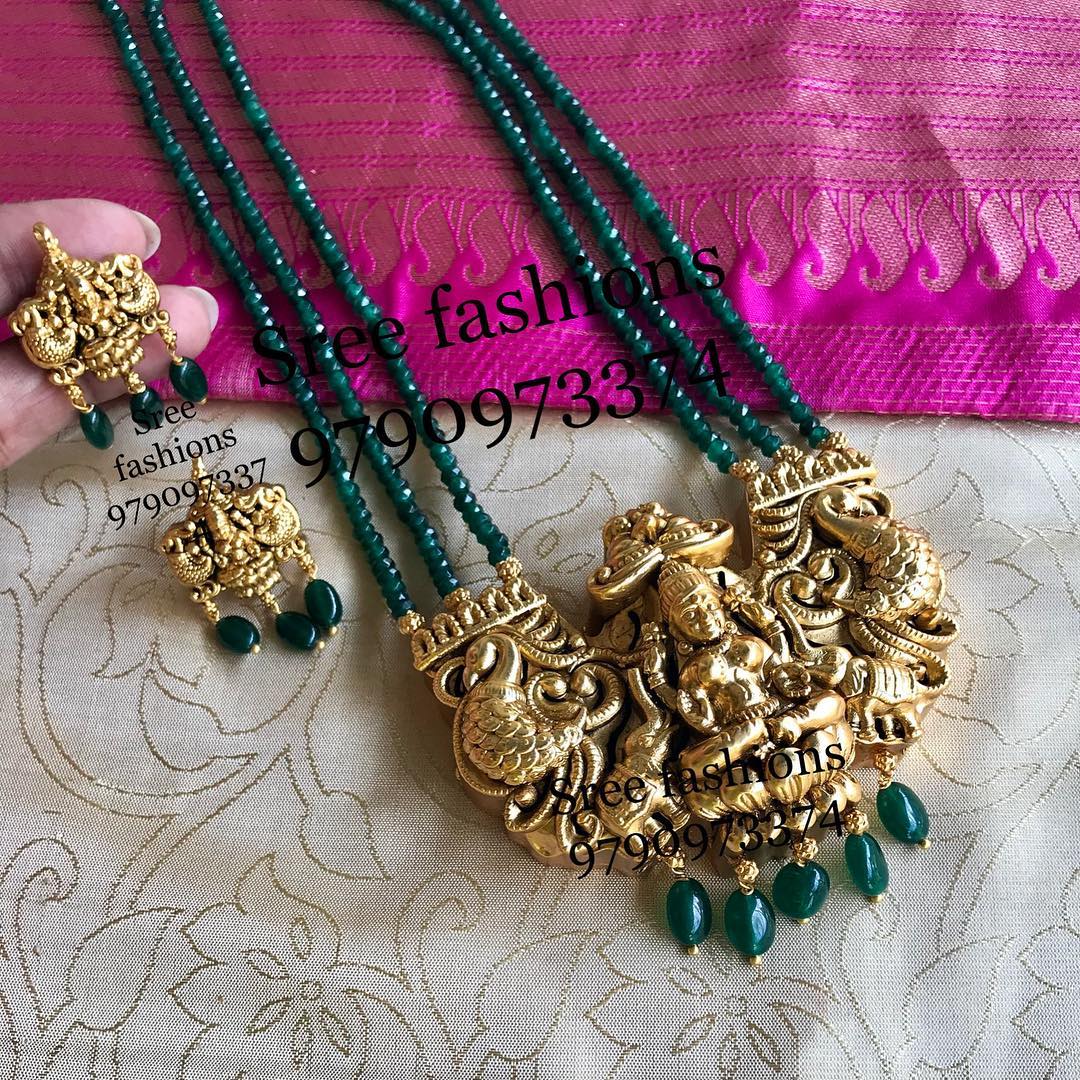 Make every moment precious and full of glow radiating around you with this gorgeous gold necklace.
30) Colour Stone Necklace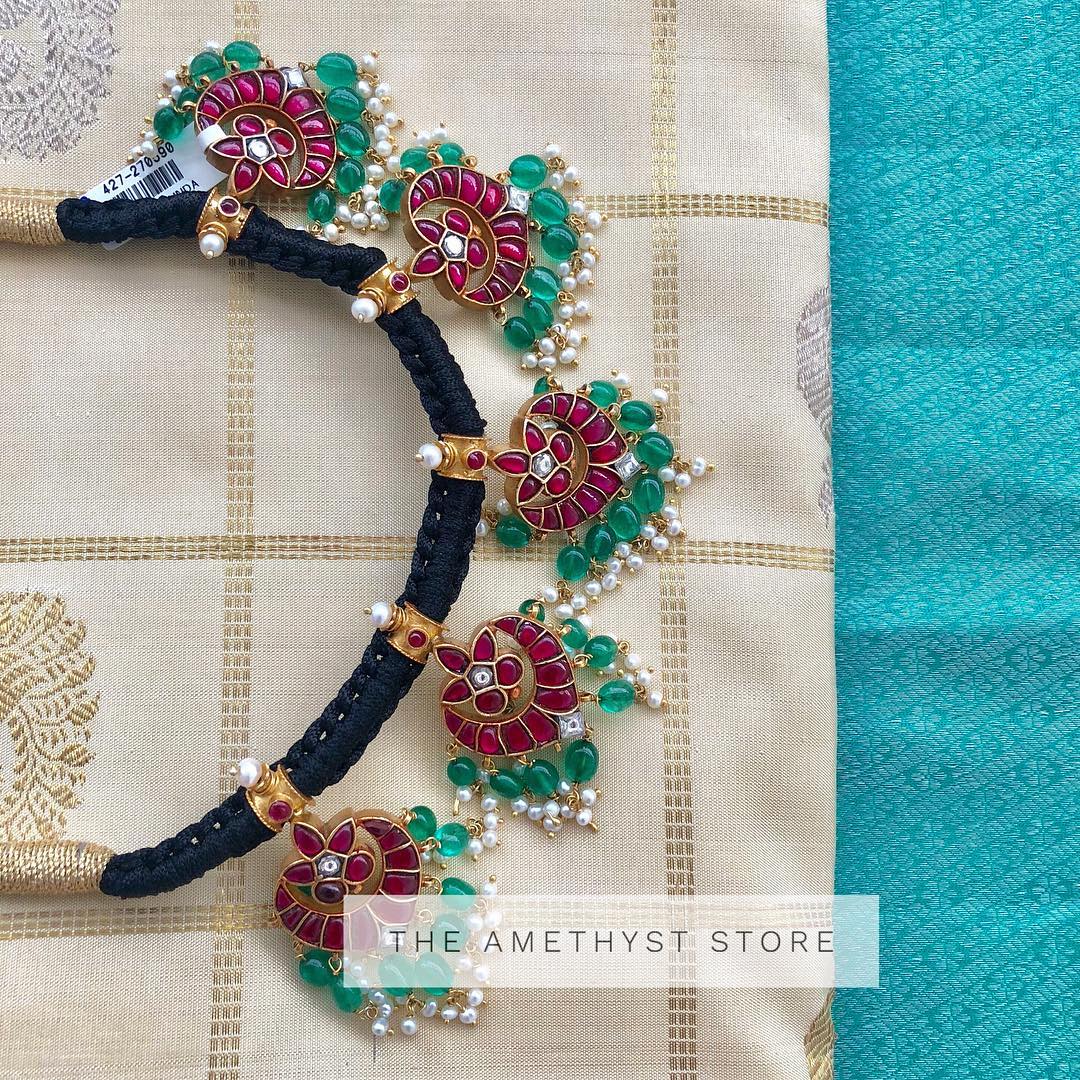 Ladies love to wear a colorful necklace and enjoy a delicate and ethnic look. The holistic appearance of gold along with emerald makes it a perfect choice to wear as a single strand necklace.
31) Outstanding design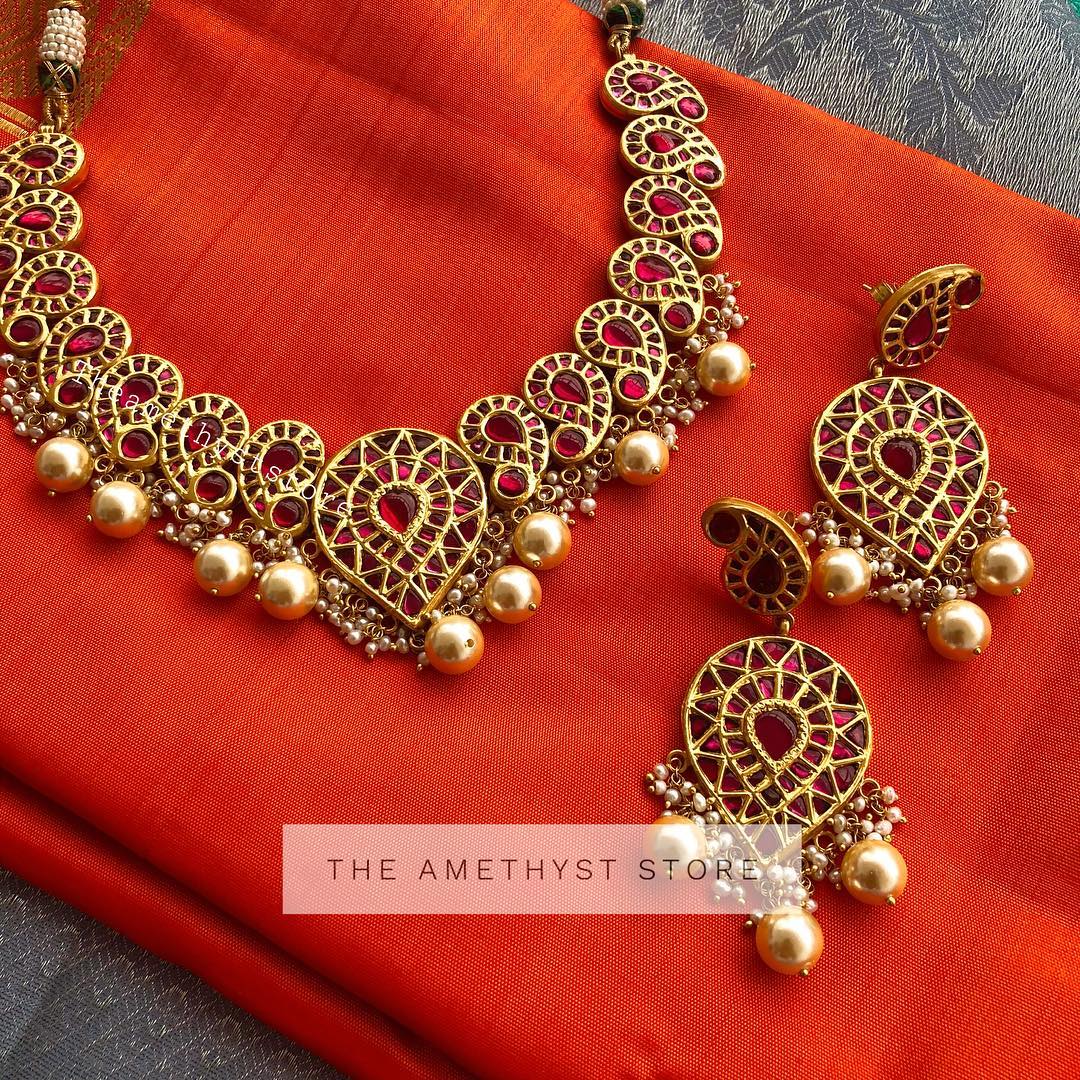 This one is perfect for a wedding, with those pearls attached to it is just amazing. So reserve this one for an upcoming festive season.
32) Goddess Lakshmi Necklace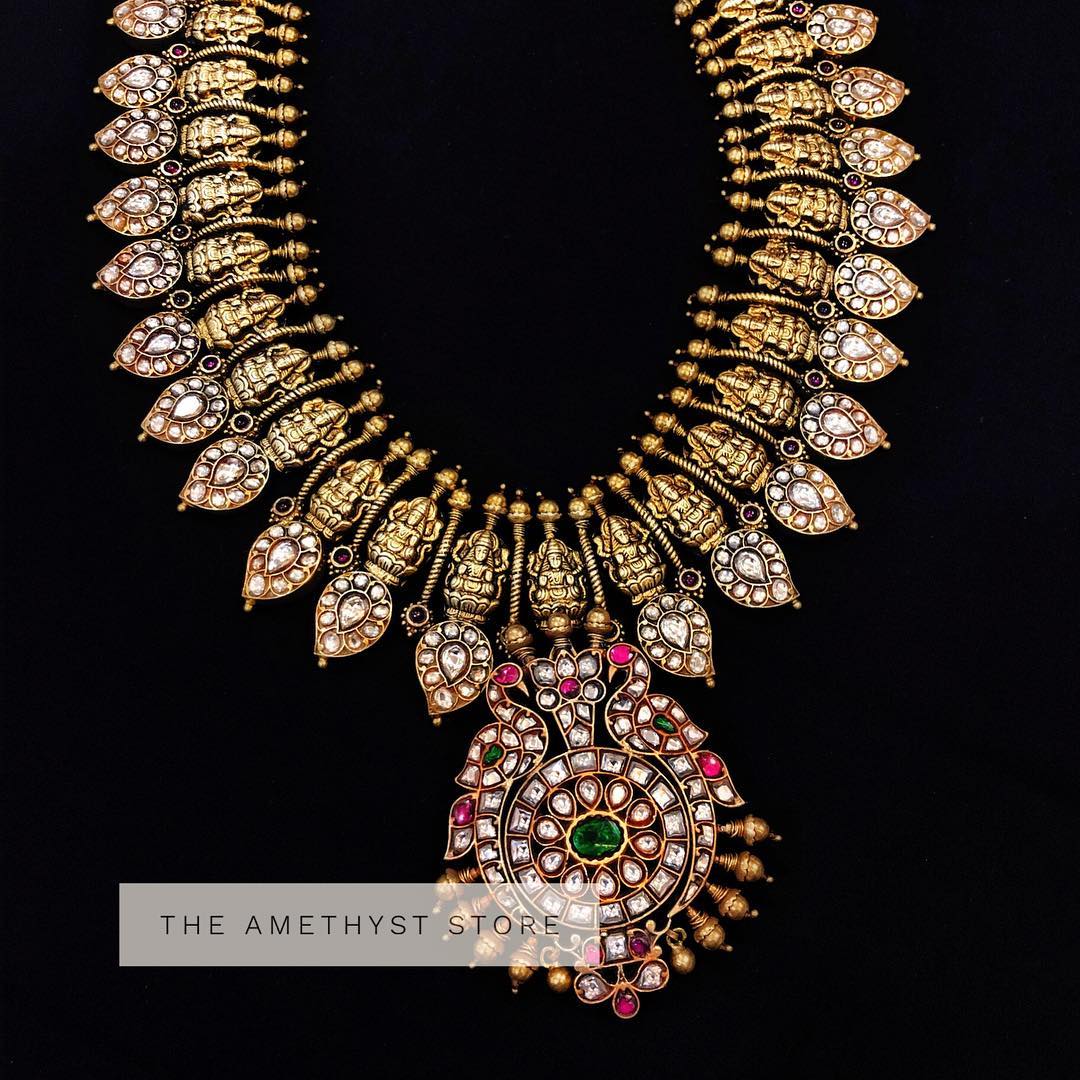 This one is truly inspired from goddess Lakshmi and perfect for a wedding occasion.
33) Peacock Necklace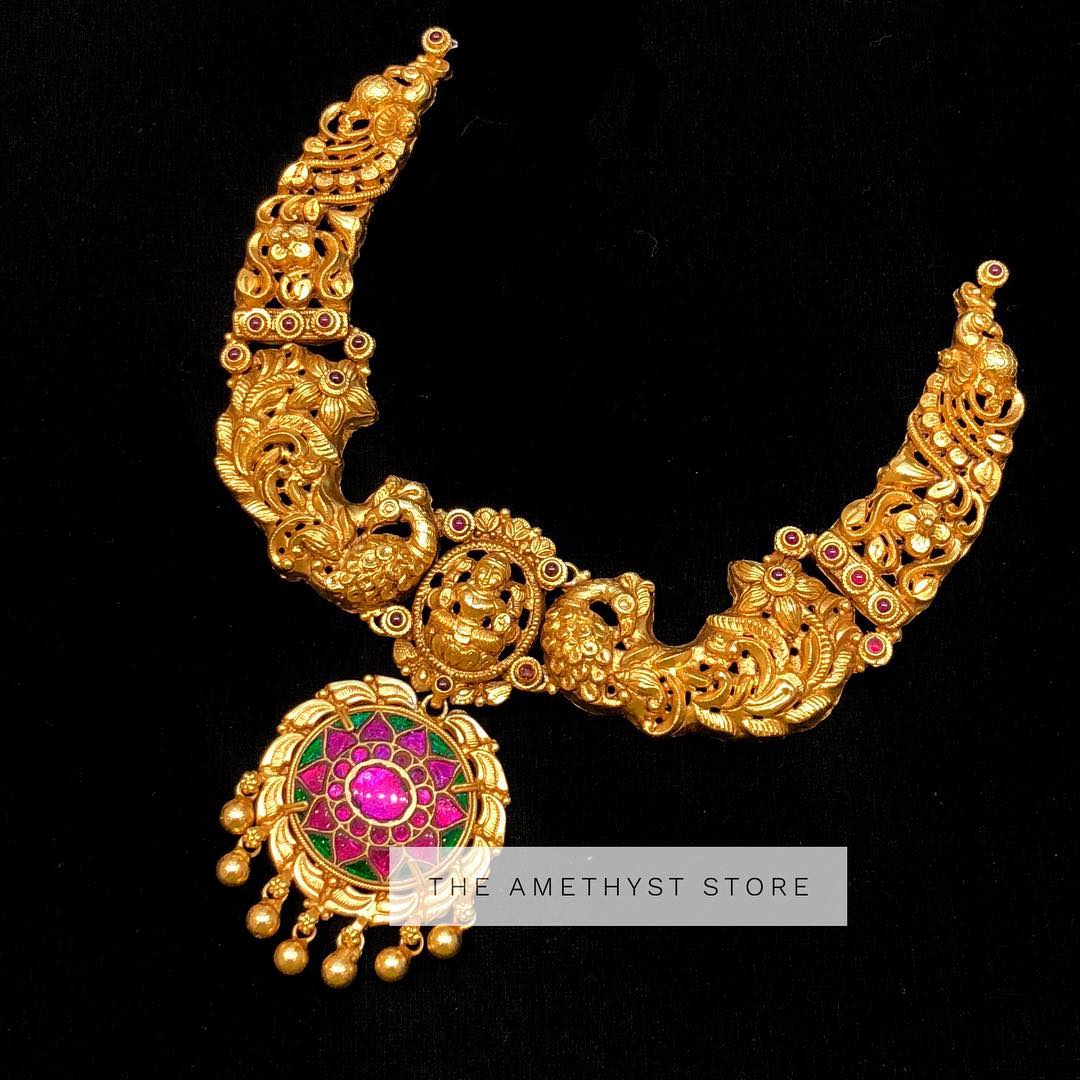 This one is just beautiful and perfect for a sangeet or a family get together.
Well friends, these are some the latest necklace designs that are selling hot among the jewellery lovers. In case if you like to check the availability of these gorgeous pieces, then do reach out the respective sellers below.
Seller Name : BCOS – Its Silver
Contact No: +91 90941 38036.
Email :artee.manifattura@gmail.com
Website: https://www.bcositssilver.com/
Instagram : https://www.instagram.com/bcos_its_silver/
Facebook: https://www.facebook.com/BCOSITSSILVER/
Address : Shop #1, Plot #102, 17th Cross Street, 6th sector, near MK Ahmed bazar, opp to ICICI bank, HSR Layout, Bengaluru 560 102.
Seller Name: Lotus Silver Jewellery
Instagram: https://www.instagram.com/lotus_silver_jewellery/
Whats App :+91 7975662981
FaceBook : www.facebook.com/silverjewellery92.5exculsive
Seller Name : Ms Pink Panther
Facebook : https://www.facebook.com/MISSPINKPANTHERJEWELLERY/
Contact : +91 95855 95689
Instagram : https://www.instagram.com/mspinkpantherjewel/
Website : http://www.mspinkpanther.com/
Seller Name : Parampariya
Instagram : https://www.instagram.com/parampariya/
Facebook : https://www.facebook.com/parampariya/
Whatsapp : 9486708504
Seller Name : Rajatamaya
Facebook : https://www.facebook.com/Rajatamaya/
https://www.instagram.com/rajatamaya/
Contact : +91 97865 22555
Seller Name : Silver Cravings Jewellery
Whatsapp : 9443890773
Instagram : https://www.instagram.com/silvercravingsjewellery/ Facebook : www.facebook.com/SilverCravingsJewellery
Seller Name : Sree Exotic Silver Jewelleries
Whatsapp : +919790973374
Instagram : https://www.instagram.com/sree_exotic_silver_jewelleries/
Seller Name : The Amethyst Store
Instagram : https://www.instagram.com/theamethyststore/
Whatsapp Number : 7397543434
Also Read:
adsense