Weddings are the time while spending lavishly is not calculated so much. It is once in a lifetime thing and therefore every girl dreams to have a wonderful wedding.
From rituals to decor, everything is truly important in all kinds of Indian weddings. Brides in South India love to wear heavy and colorful gold jewelry, hence one can a particular type of jewelry in their collection.
A bride's love for her traditional south Indian jewellery is eternal and you will get to know the reason in this article. Let's look for some really demanding Indian traditional jewellery trend of this year:
1. Matte Antique Jewellery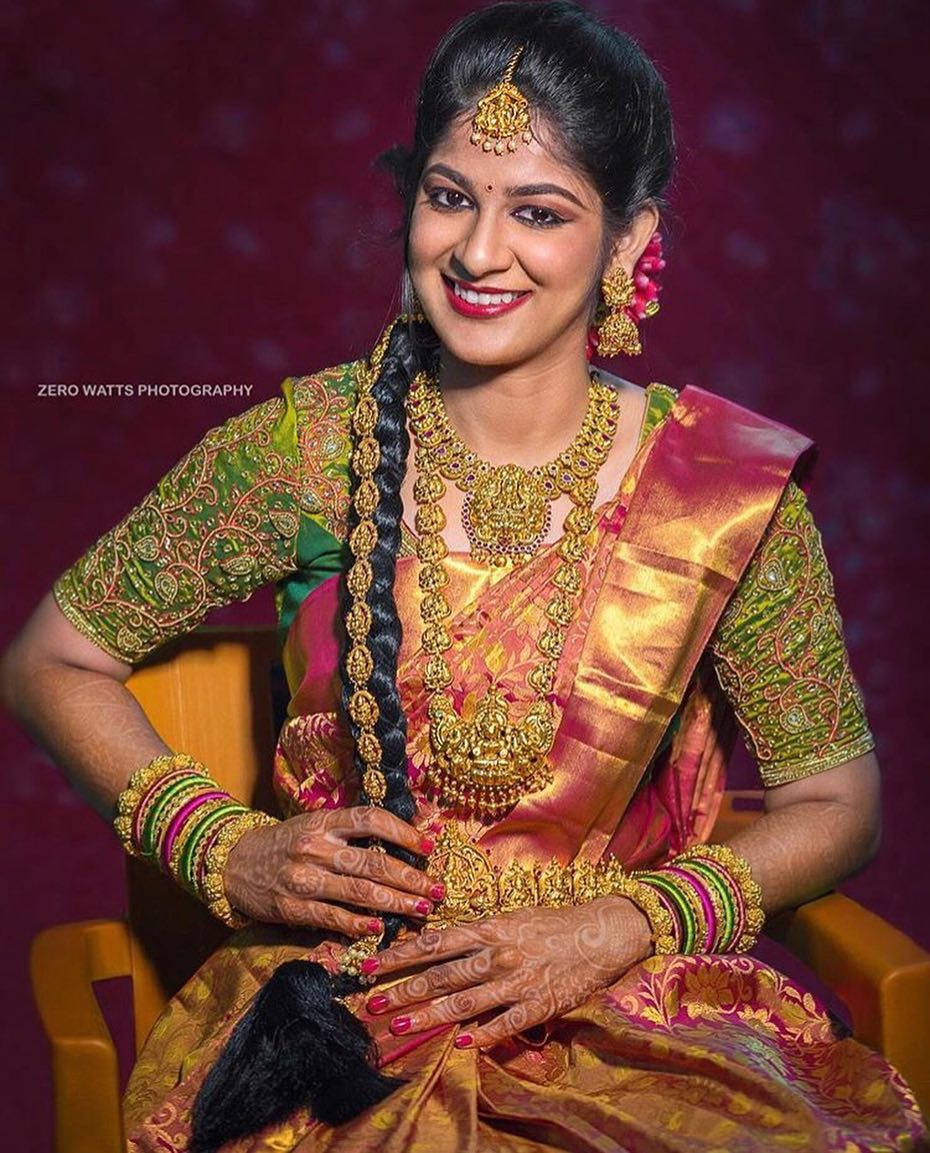 An antique piece of jewelry can add charisma and appeal to anyone's look. Donning a piece of matte antique jewelry like this one can certainly make you the talk of the town. But these pieces demand a certain amount of self-confidence and grace to be carried it well. Antique jewelry is totally worthy of the hype and price because you will feel like a diva wearing this remarkable adornment!
2. Diamond Jewellery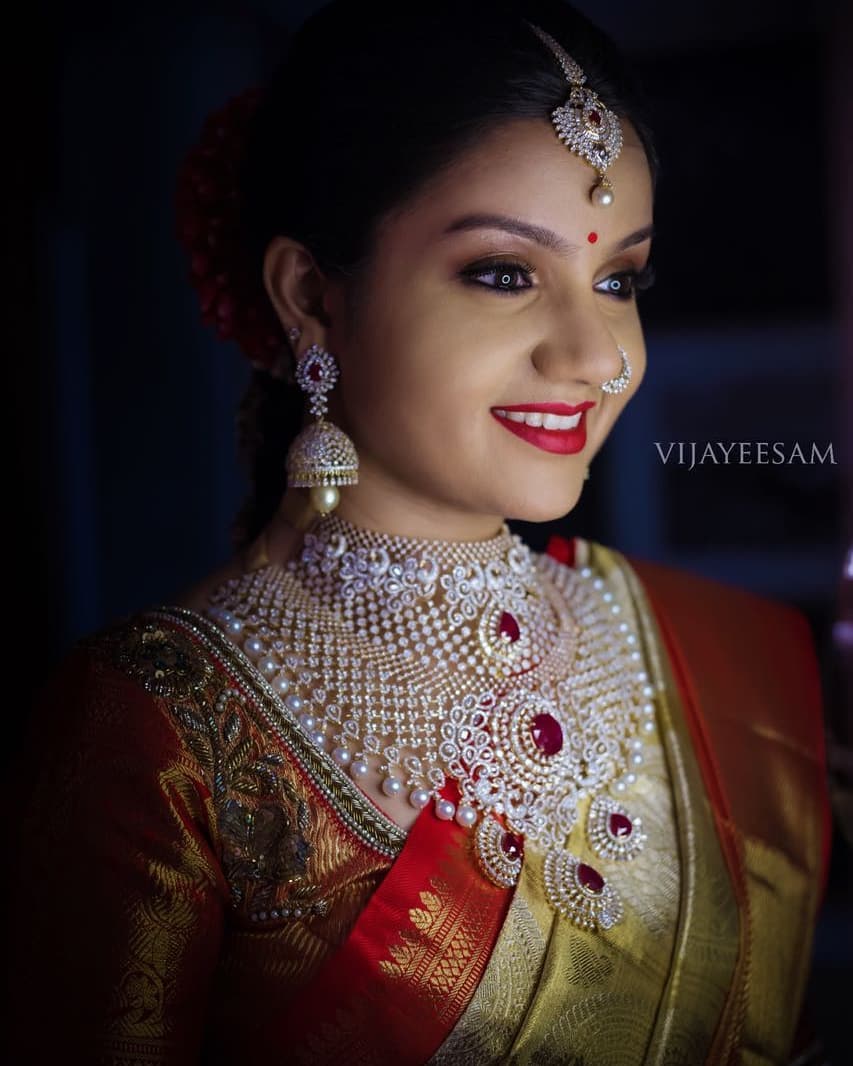 Nothing can be more genuine than the prominent saying which goes that jewels are a young lady's closest companions. These valuable stones can make any lady fall in love with them. The beauty and elegance of a diamond is unmatchable. Be it a wedding, anniversary, birthday – diamond can be worn at each event. So, whatever you decide to buy for your wedding, you can wear it any special event later.
3. Kundan Jewellery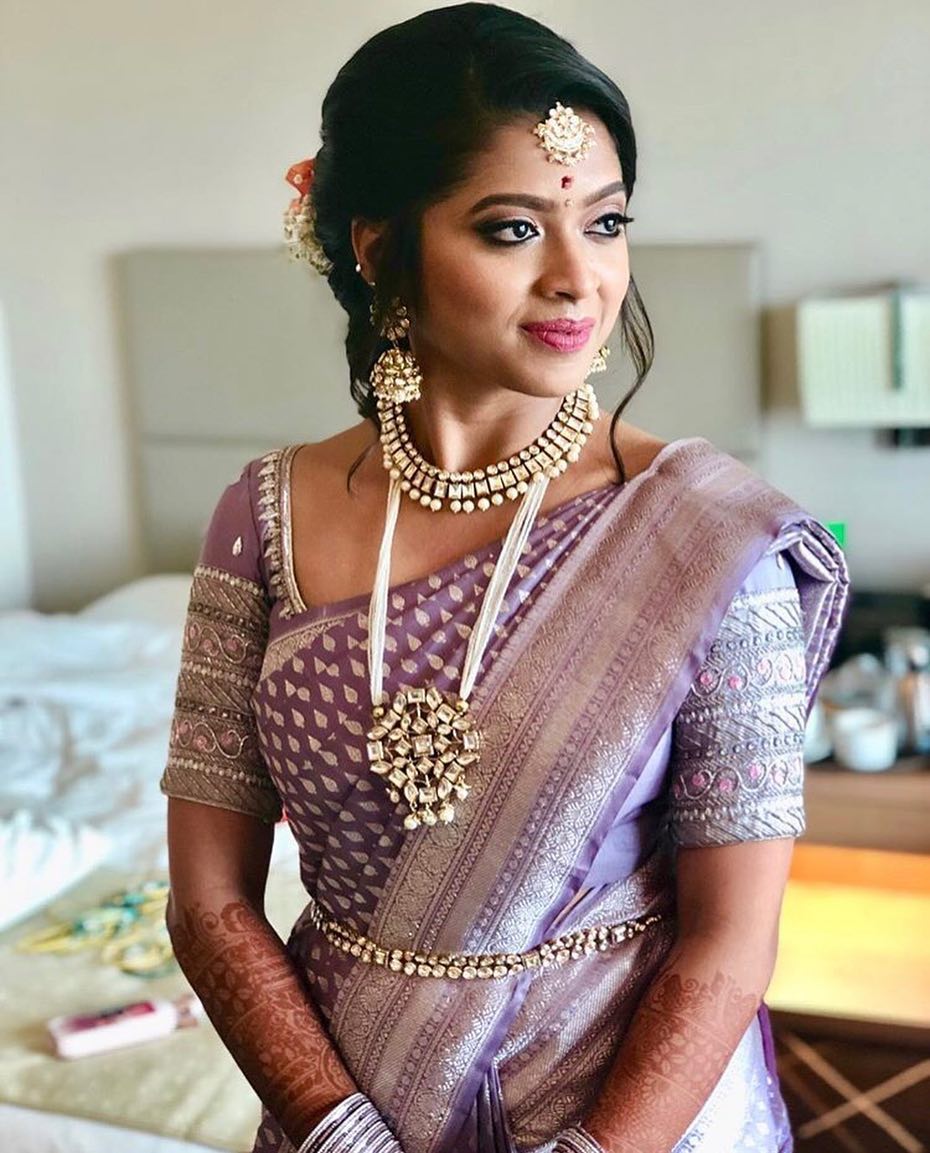 Even many years later, the love for Kundan jewellery is still the same.  There are new designs that give a complete makeover the traditional designs. These are essentially made in gold or silver alongside valuable stones like emerald, ruby, etc. The sheer elegance of Kundan adornments lies in the manner in which the stones are set to the piece.
5. Kemp Jewellery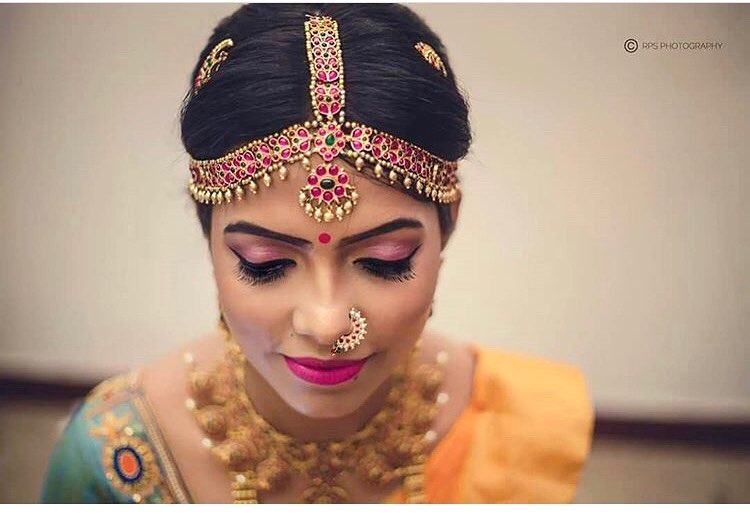 Weaving ethnicity and style, this beautiful kemp jewelry revives one's love for gold and colors. Indian jewelry is excellent for their elaborate designs, intricate detailing and use of colorful gemstones. And this design is a perfect example of that.
6. Kundan Ruby Jewellery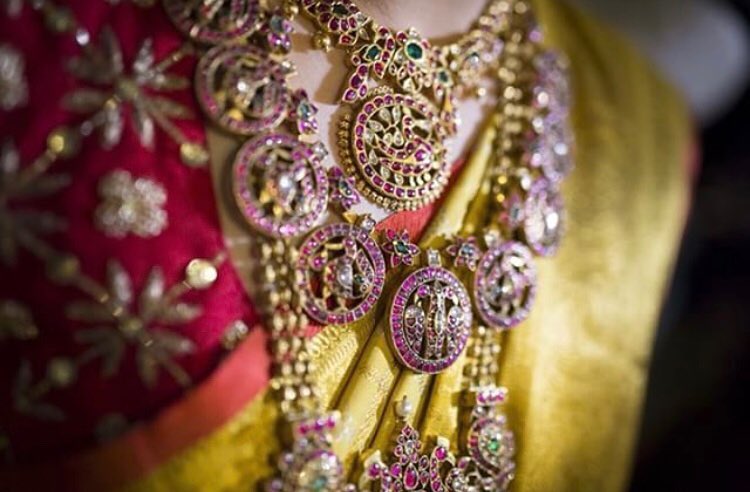 Kundan ruby jewelry is a traditional jewelry which is worn by ladies on their big day. These are quite in trend nowadays and are essentially worn in south India. The design is quite bold and has irregular kind of shape. These look awesome when paired with designer lehengas, bridal sarees or suits.
7. Temple Jewellery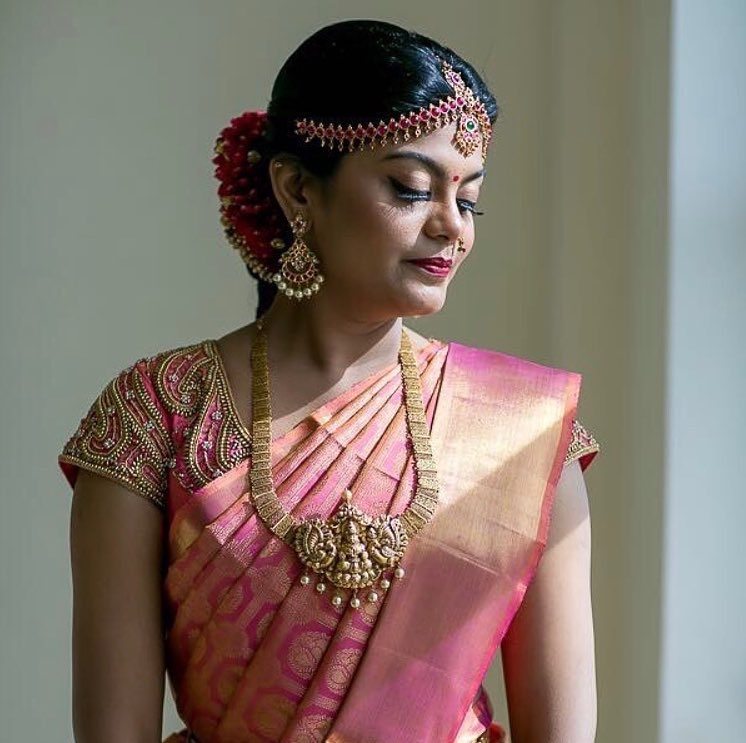 A specialty of the Nagercoil region, Temple jewelry has intricate designs that are distinctive and ooze magnificence. Sometimes embellished with other gemstones, these type of jewelry is made of pure gold along with an image of any Hindu god.
8. Flower Jewellery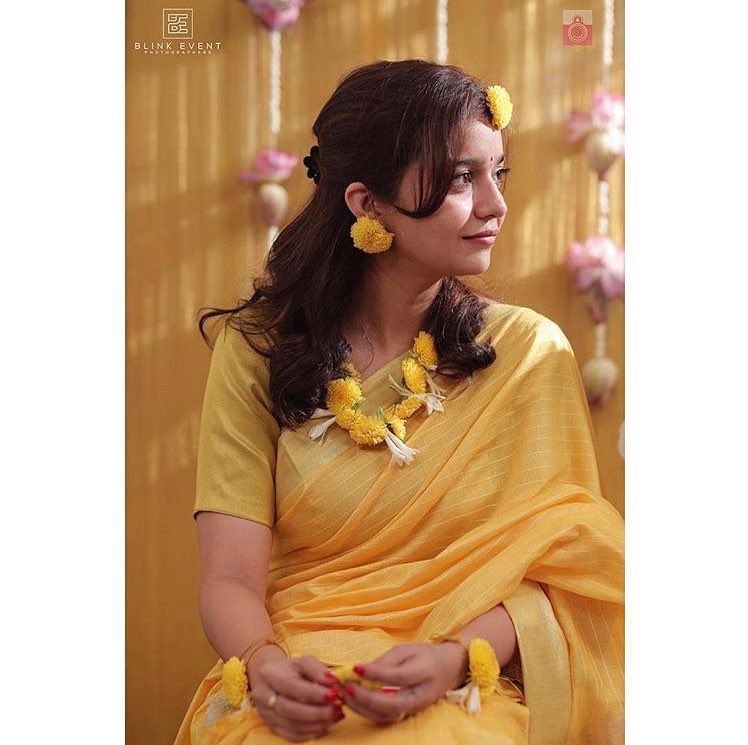 Although gold adornments in India are really popular, there is something extraordinary about Flower jewellery, which is more popular during haldi and mehendi ceremonies. Floral jewelry brings some fresh styles and looks really stunning.
9. Coin And Spike Necklaces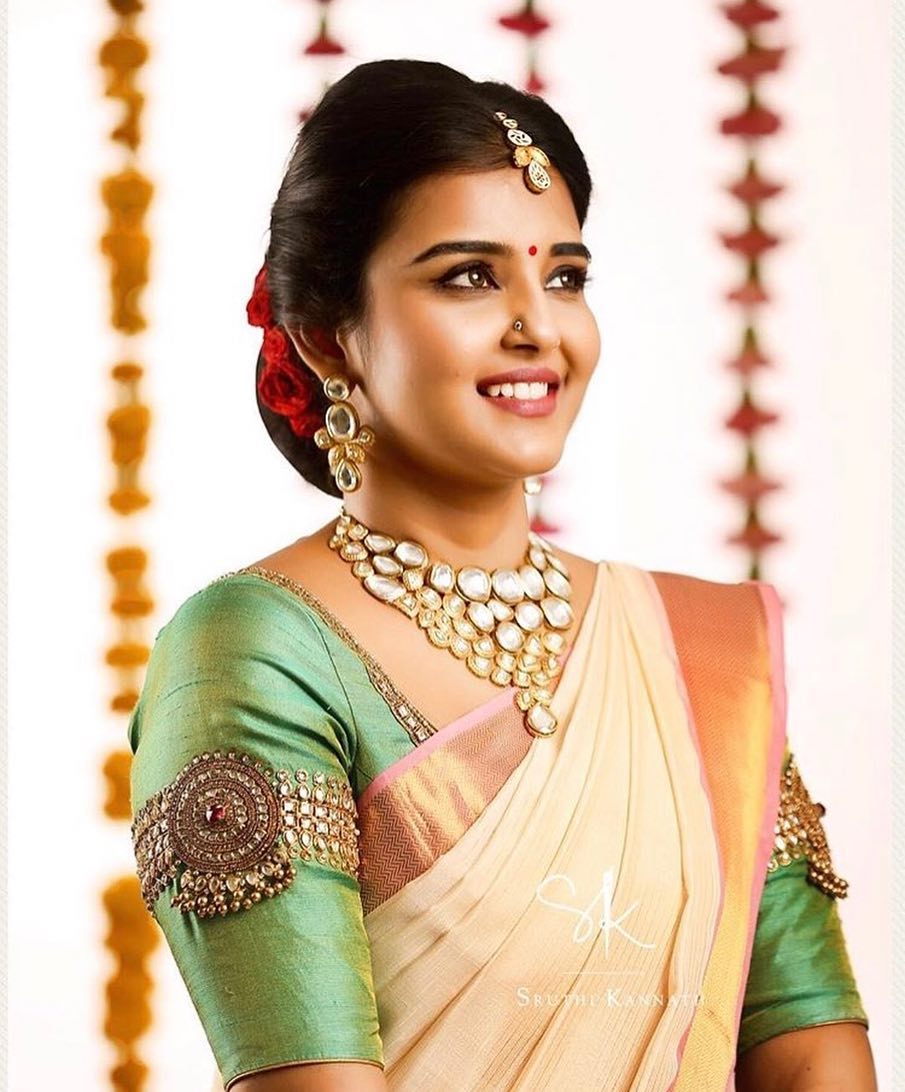 This trendy jewelry has little coin design n in layers. The necklace also has spikes dangling at the end which gives it a contemporary look. This stylish necklace is perfect to be worn with sarees, lehenga other ethnic attires.
10. Gold Polki Chokers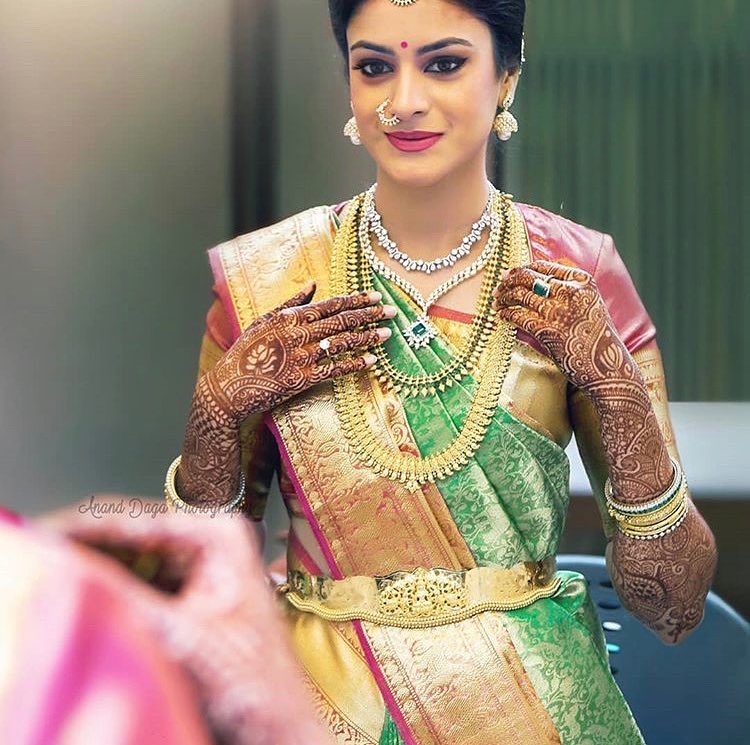 A gold choker studded with polki stones not just brings a rich touch to your clothing yet additionally looks marvelous with your outfit. The irregular shapes of stones make the set more exquisite and amazing. A beautiful saree or lehenga is all you need to melt innumerable hearts.
11. Stone Jewellery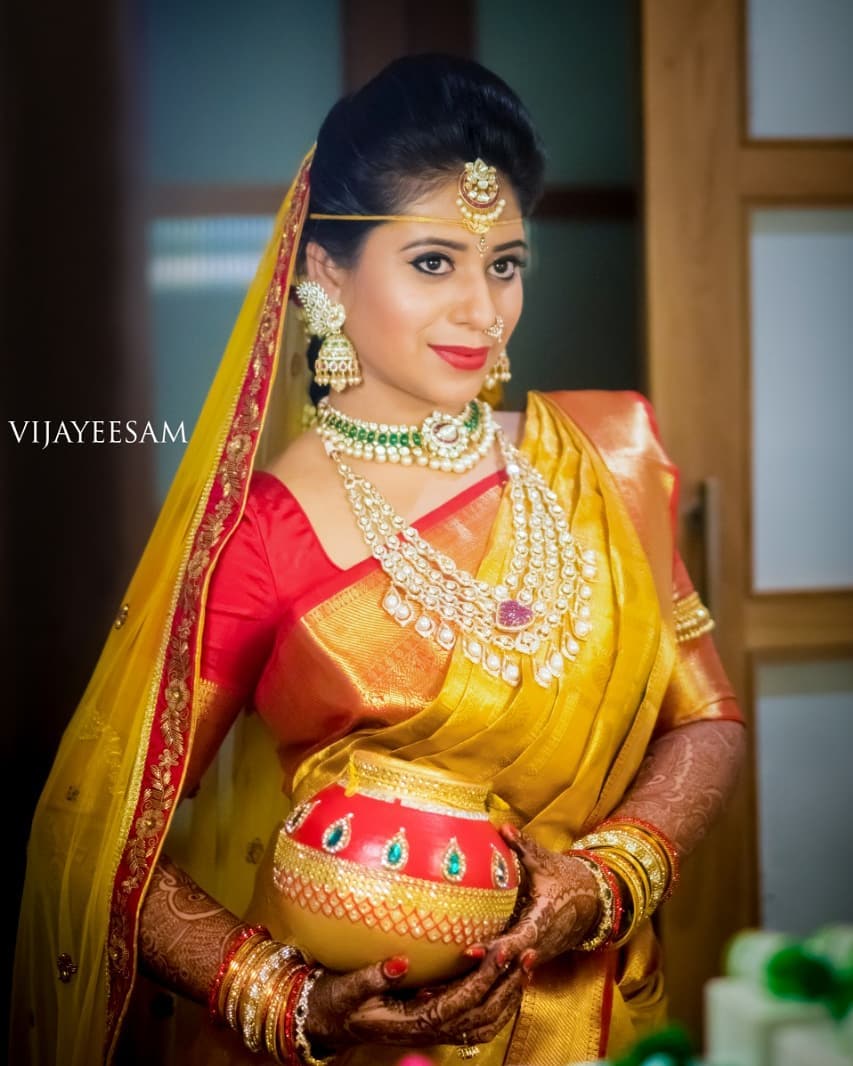 A stone necklace is one of the treasured jewelry any lady would love to have in her closet. The delicate stones add to the feminine exquisiteness as well. This statement jewelry with the stones can just make you incredibly gorgeous.
Any woman will look terrific in a bridal outfit particularly a designer saree when she pairs this stunning necklace with it.
12. Grand Multilayer Harams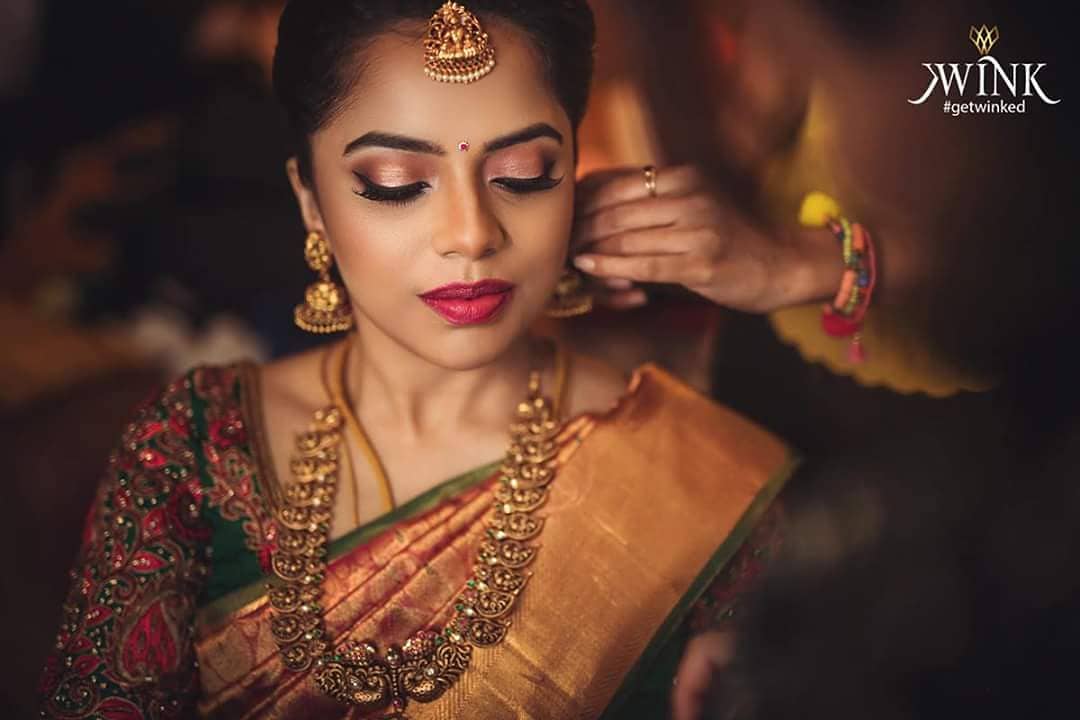 This grand multilayer haram is a royal embellishment for your neck. This multilayer haram will add the much needed glam to your bridal look. Wear it with a beautiful saree to exude a classy look. The beauty of the violet and white stones adorning your beautiful neck will look remarkably awesome.
13. Classic Mango Necklace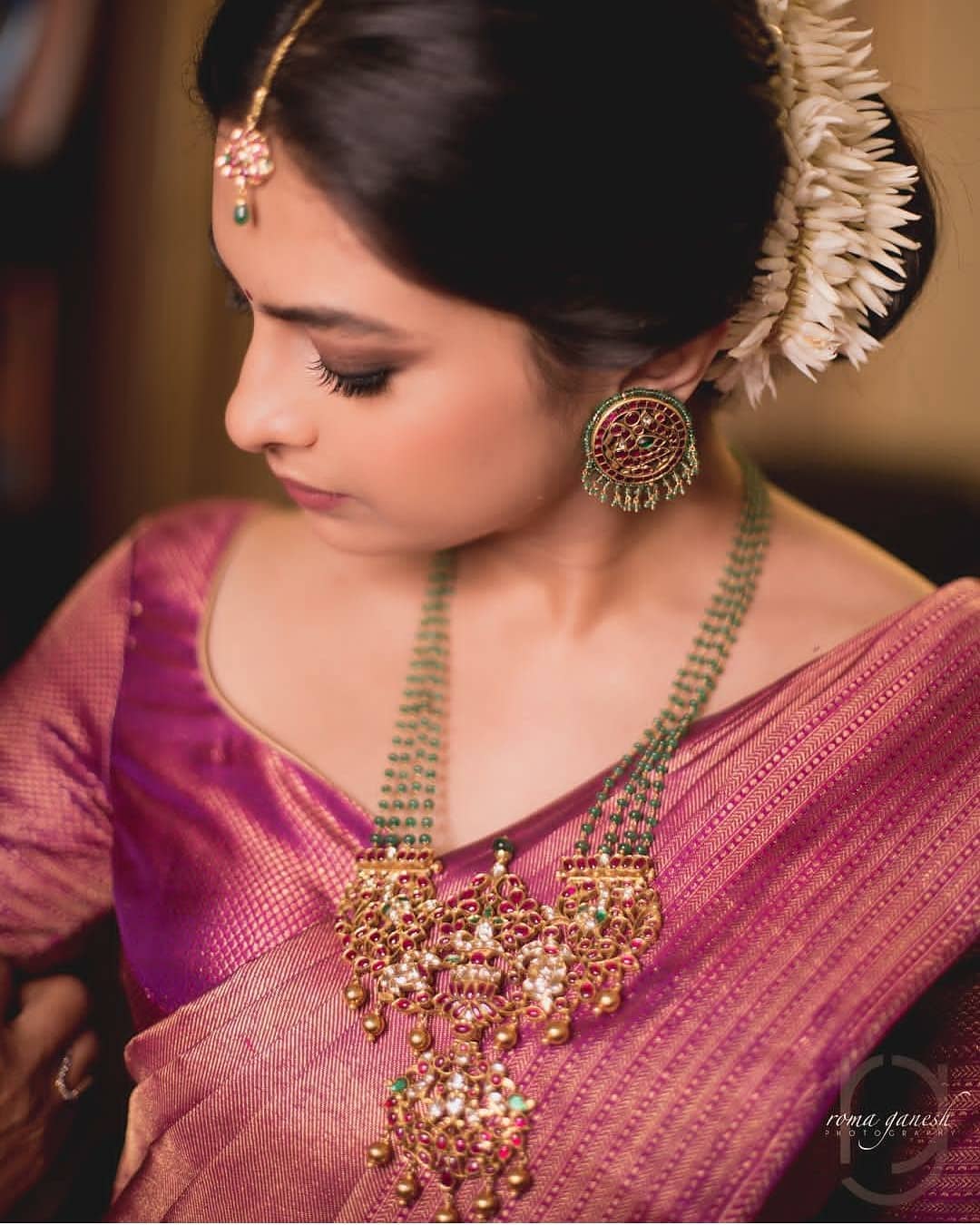 Mango shaped parts in this classic necklace is just a breathtaking piece to wear on your special day.
A very elegant looking vintage mango necklace looks totally classy and can make your look stand out which is truly desired by a woman on her D-day. Keep your makeup dewy and fresh looking.
14 Ruby Emerald Combinations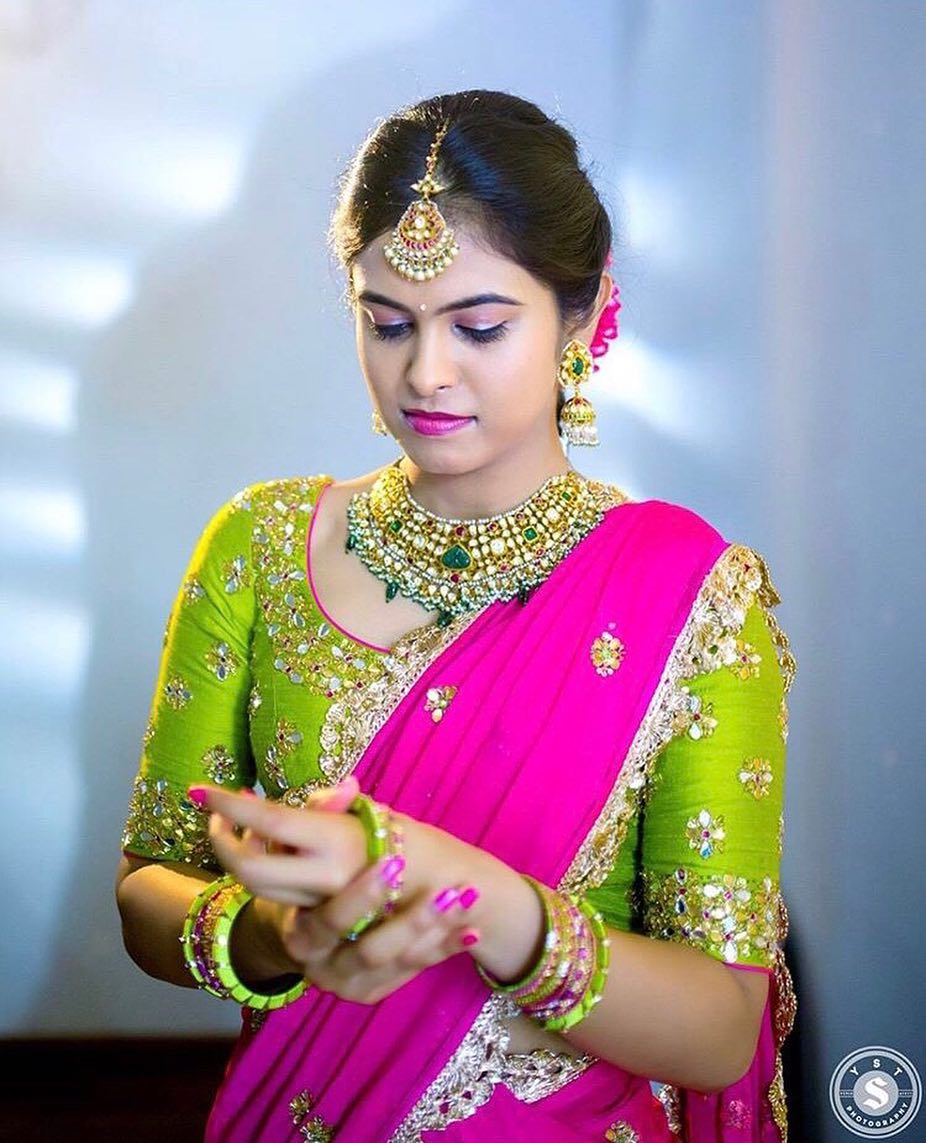 When we talk about stones, the names of emeralds and rubies come to the mind first. The mix of emeralds, rubies can make an incredible combination. The beautiful red and green colors are enough to enhance the clothing.
A necklace made with rubies, emerald stones and gold is an impeccable neck piece any woman can wear on her wedding day.
15. Jewellery With Gems And Beads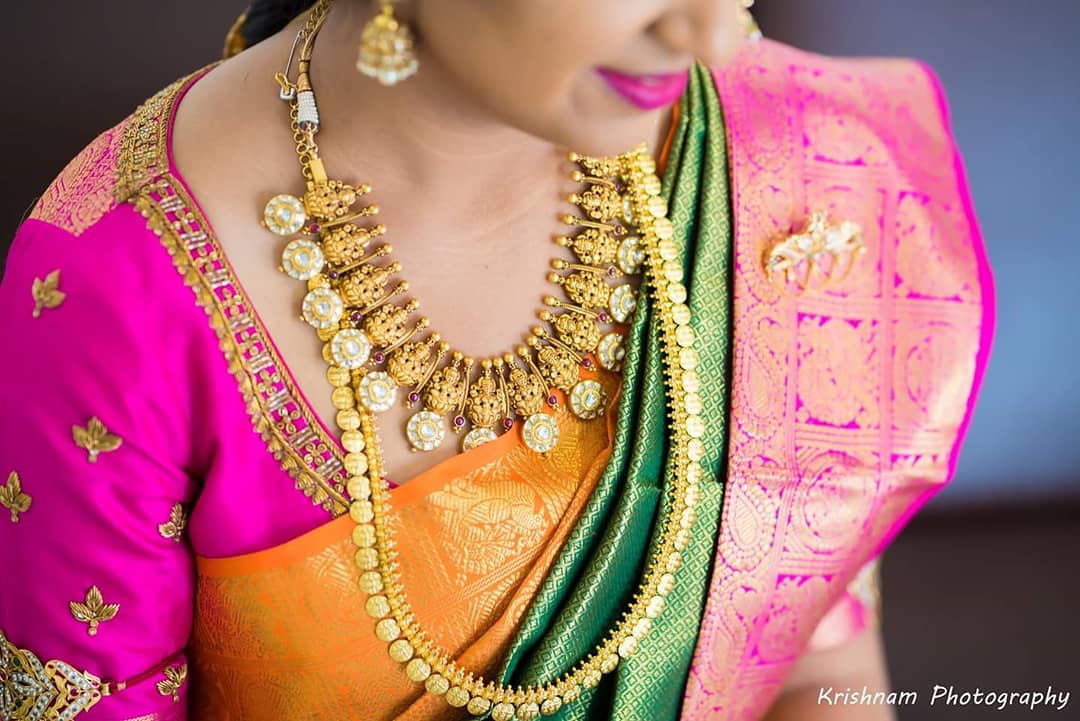 When it is about to her wedding trousseau, every to-be-bride wants everything to be flawless and accurate. And how can her neckpiece shopping be done perfect without a choker neckpiece like this one?
As its name suggests, these pieces are closely fitted to the neck. Bridal chokers are intricately detailed and befitted with stunning gems and beads, hence just one piece is just enough if you don't like too much jewelry.
These are just some of the popular jewelry trends for this year. There are tons of designs to choose from which will make your wedding day really special.
For the busy to-be-brides out there, there are different sorts of online websites which offer high quality and jewelry shopping services with the intention to fulfill the needs of each lady from the ease and comfort of their sofa.
With heavy discounts and a huge range of jewelry, you can buy precious and artificial jewelry online for yourself. So, pamper yourself with these beautiful pieces and display your stylish best on your special day.
Also Read: