A nallapusalu, commonly known as mangalsutra is one of the most important jewelry for every woman. People spend a lot of time on looking for the ideal nallapusalu. There are tons of different designs, sizes and models available that could be quite confusing. This string of black beads is a treasured ornament for all married ladies.
All through India, there are various types of nallapusalu that are being worn. The ones found in south India are typically long and have a crafted pendant. Since a lot of time is consumed in finding the right nallapusalu, we've made your work a lot simpler. Below is a list of 18 short and simple nallapusalu models that will surely be a good pick for the modern girl.
With Precious Gemstones
This nallapusalu is a great pick to keep the look simple and elegant. It has precious gemstones like emerald, ruby and white stones. The string has only black beads which is quite unique from the traditional gold and black string of beads.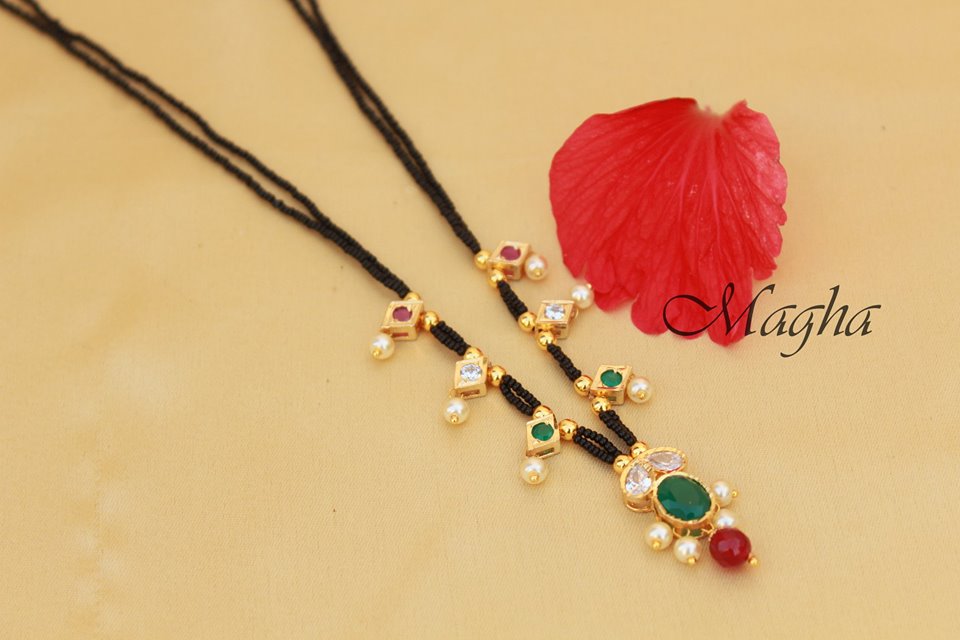 Stone Pendant
If you're looking to buy or gift a nallapusalu that can be worn on a daily basis, this model is surely the one. It has a simple stone pendant with white pearls that can go perfectly well with any regular outfit. This model would blend in smoothly and can be worn every day.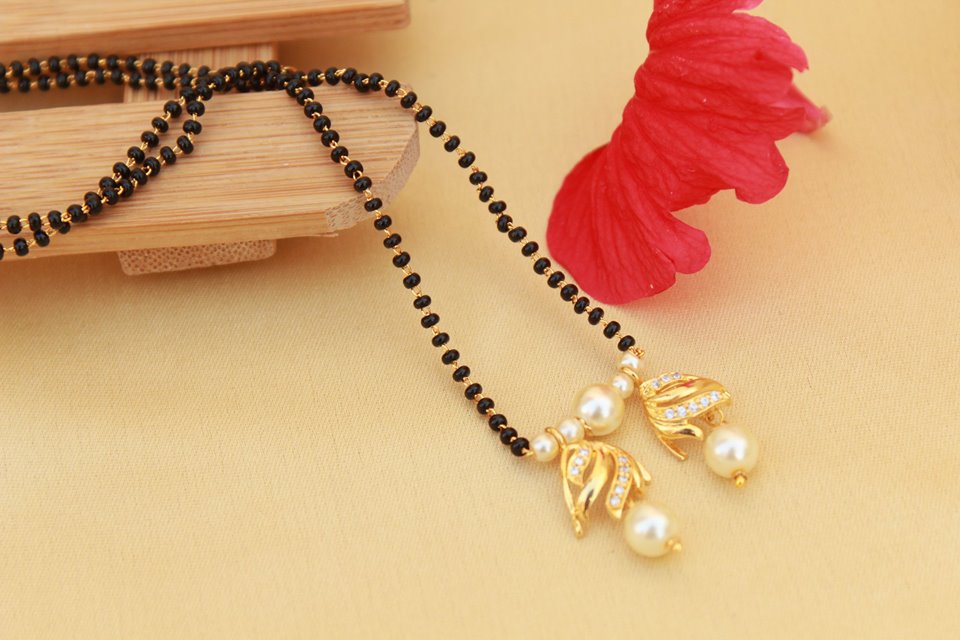 Symmetric String Of Beads
A nallapusalu with the right assortment of golden and black beads is always a good catch. The pendant too is quite unusual and unique. The overall detailing here is very astounding and can surely turn many heads.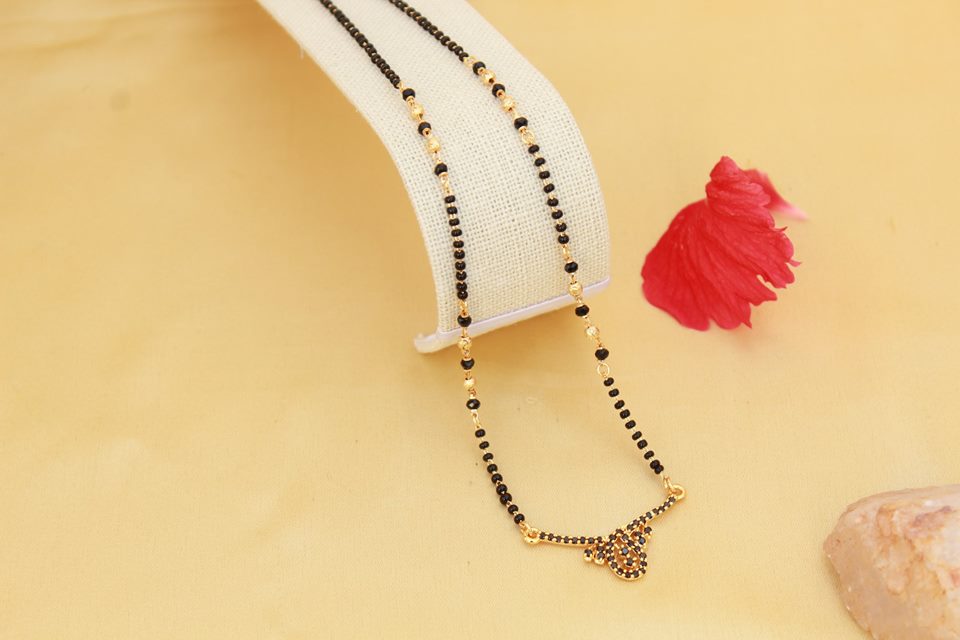 Peacock Shaped Pendant
We all know that peacocks are a huge part of the Indian tradition and hence, a peacock pendant on a nallapusalu is definitely a great pick. It can be worn with any outfit and can make the attire quite mesmerizing. The pearl beads complement the emerald and ruby stones along with the gold and diamond cut outs.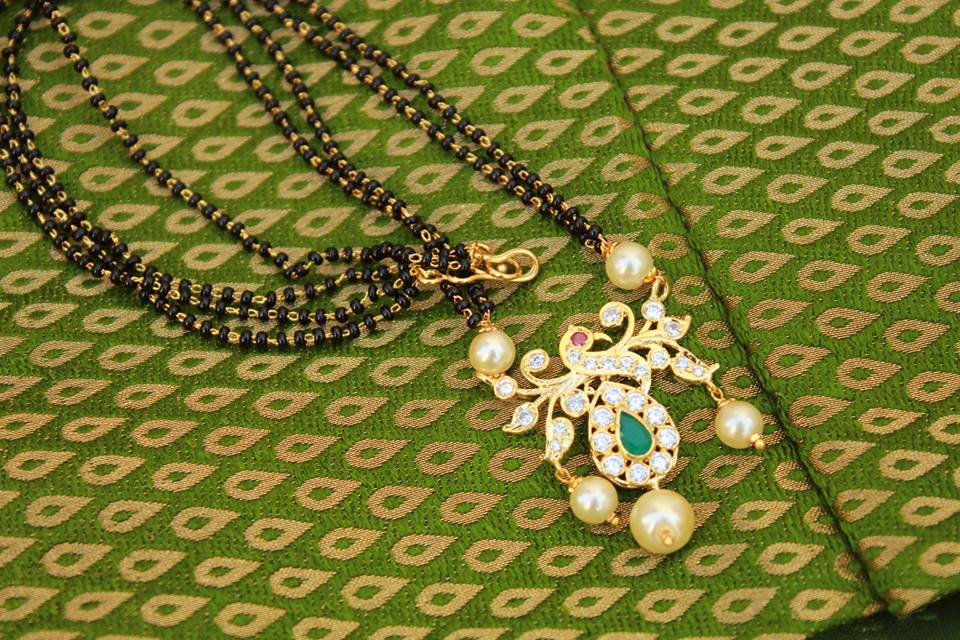 Modern Look and Feel
This model is the perfect one to be worn with modern outfits. The look is very elegant and can go perfectly well with a gown. It can bring out the neck area and is a perfect choice for off shoulder outfits.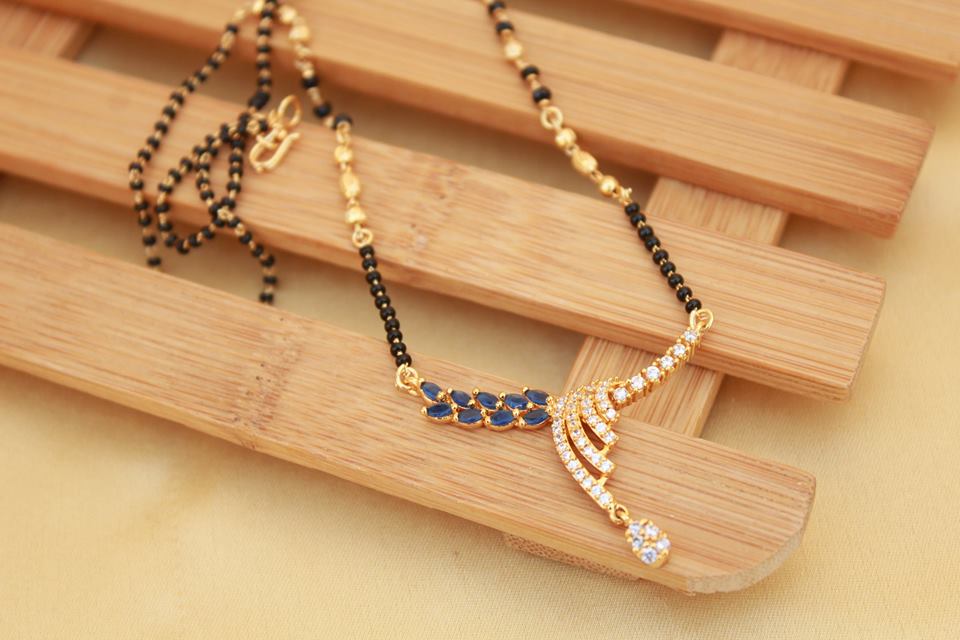 Tiny Pendant
In today's world less is definitely more. This minimalistic design fits in with every outfit and can be worn on every day. The design of gold and diamond on the pendant tagged along with pearl dangling is completed by the blue stone in the center.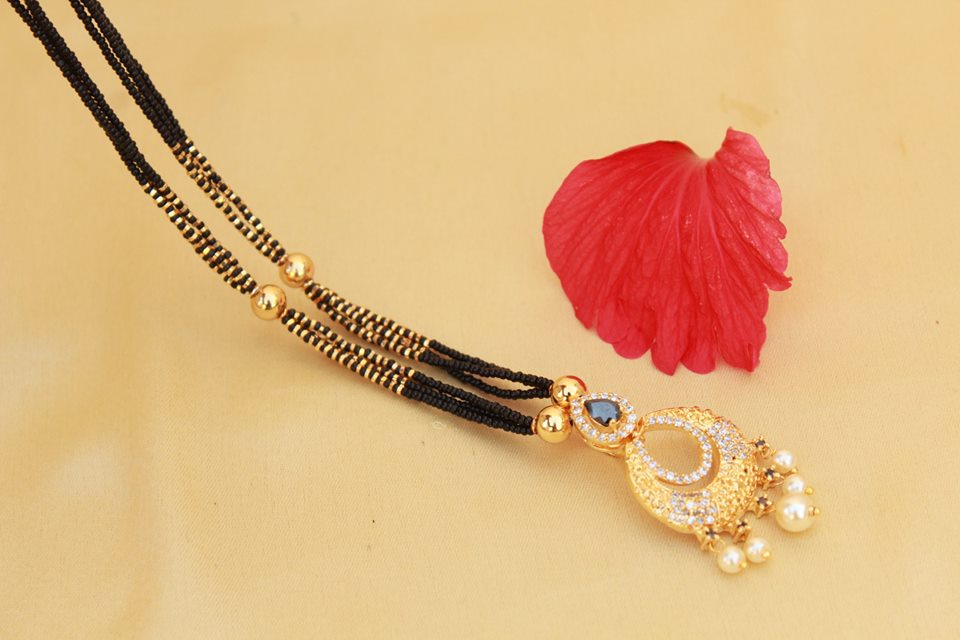 The Grand Design
If you are looking to show off your nallapusalu then, this is surely the one for you. The look is enhanced by the white stones and the tiny ruby flowers in the center add to the essence. The double string of gold and black beads is quite appealing to the eye and goes perfectly well with the overly shiny diamond pendant.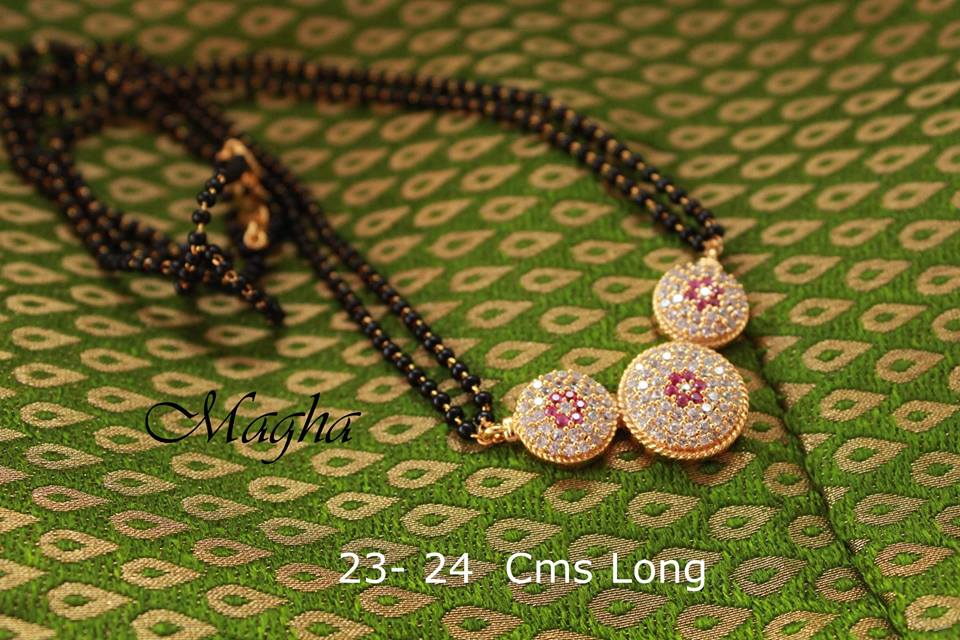 Whitestone With Pearls
This model is perfect to wear with traditional attires. The pendant is quite grand and its design is very amusing. Gold and white stones are always a complementing combination. This added with pearl and gold bead dangling makes the look complete.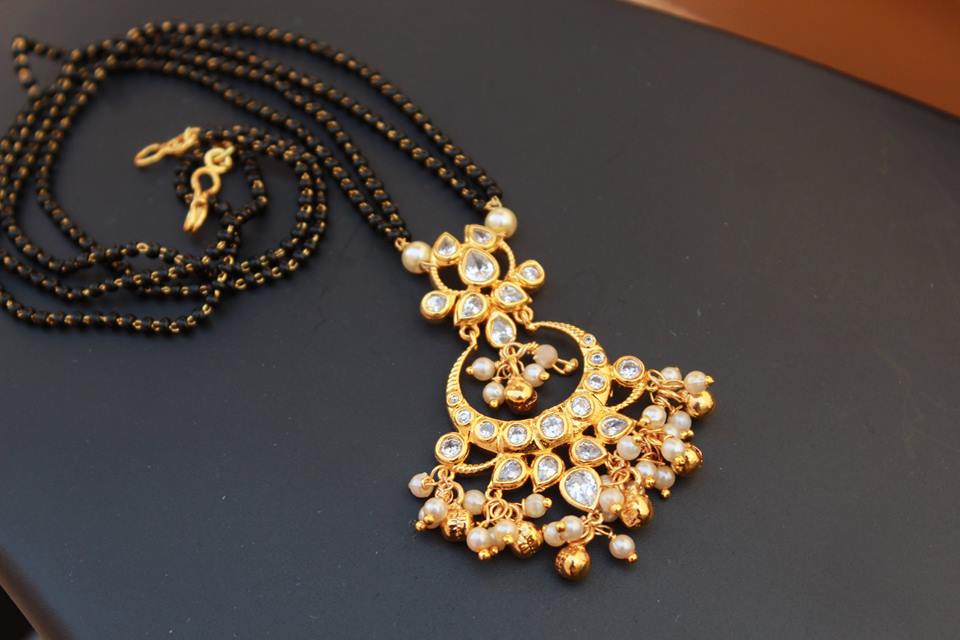 Small Locket
Locket embellished with rubies and emerald stone is very appealing to the eye. This nallapusalu is a perfect attention seeker and can even be worn on a regular basis. The chain is very simple and hence, it is easy to manage.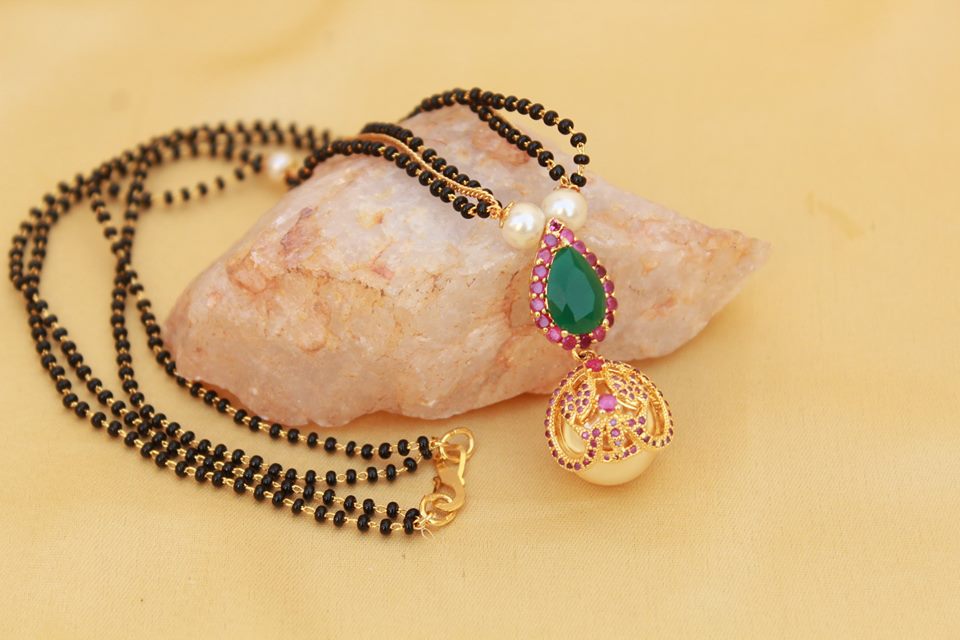 Spherical Pendant
If you are not really a fan of the black breads, this is the one for you. The presence of black beads is minimal and yet, just enough. The spherical pendant adds to the look of the model. The symmetry of the diamonds is very satisfying and this nallapusalu can be worn regularly.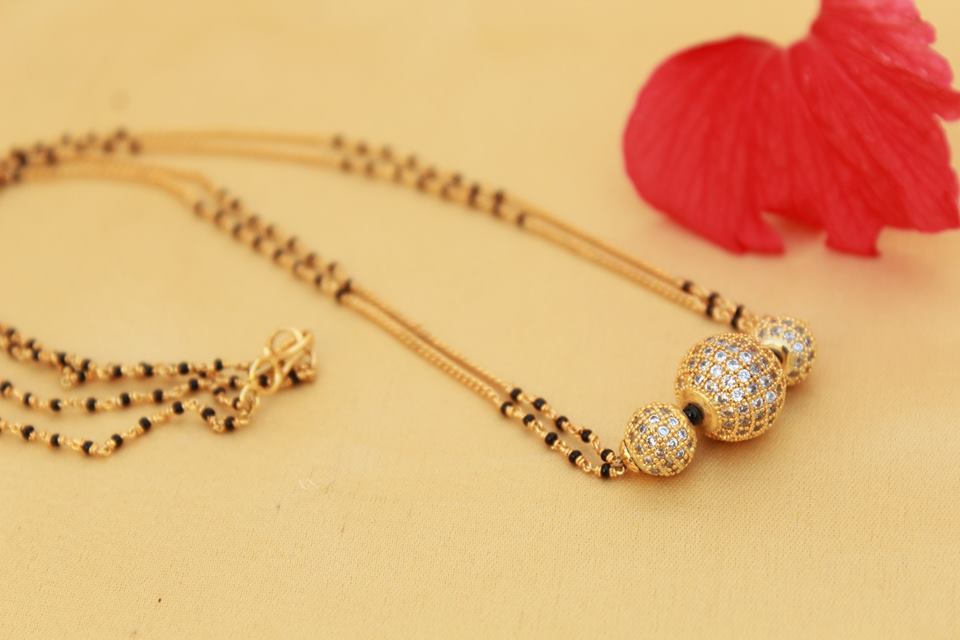 Traditional Double Pendant
Double locket nallapusalu are a sign that the two families have joined together. This design is perfect for the loving families and the black beads are great even in the locket. The classic diamond and gold combination is always a great pick.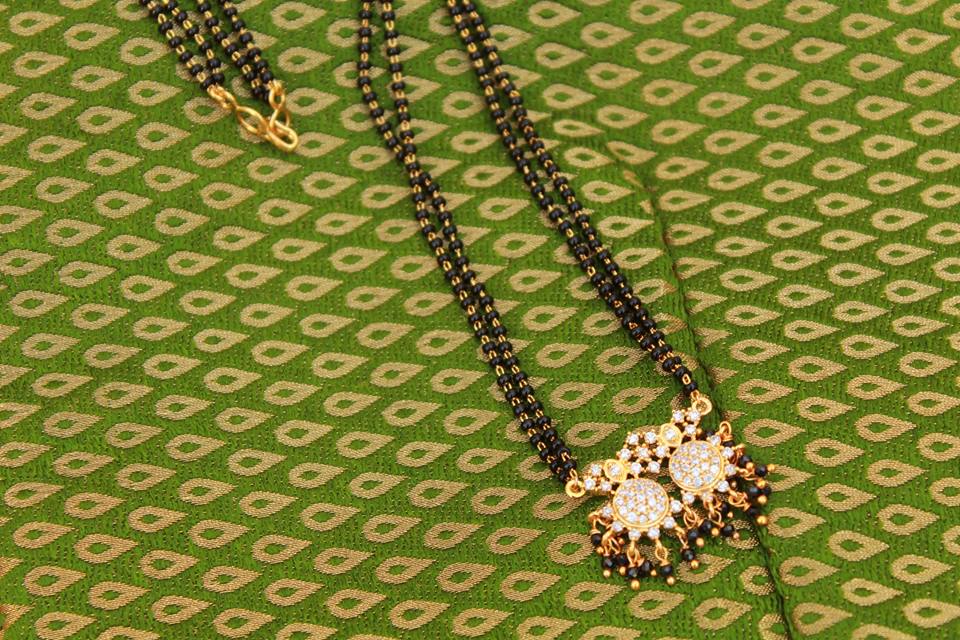 Mango-shaped
This is one of the most simple and known designs ever. It is perfect for a regular basis and the gold and black beaded string is quite enthralling. The locket is assorted with gemstones which brings the overall look together.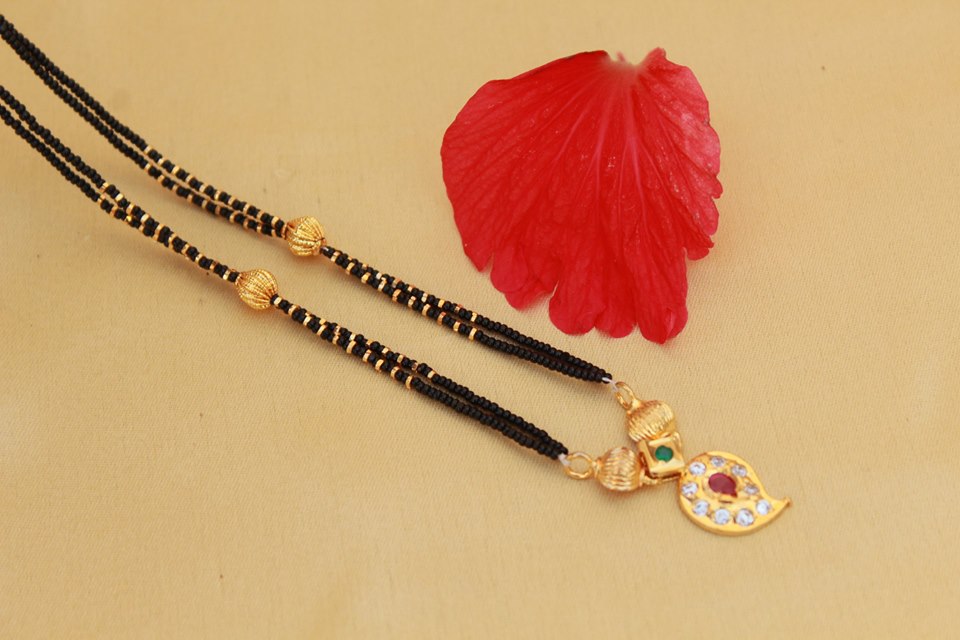 Emerald Filled
A typical nallapusalu does not have many gemstones. However, following the trend, this model is filled with emeralds and has rubies to their compliment. Although unusual, this is a great pick for any traditional attire.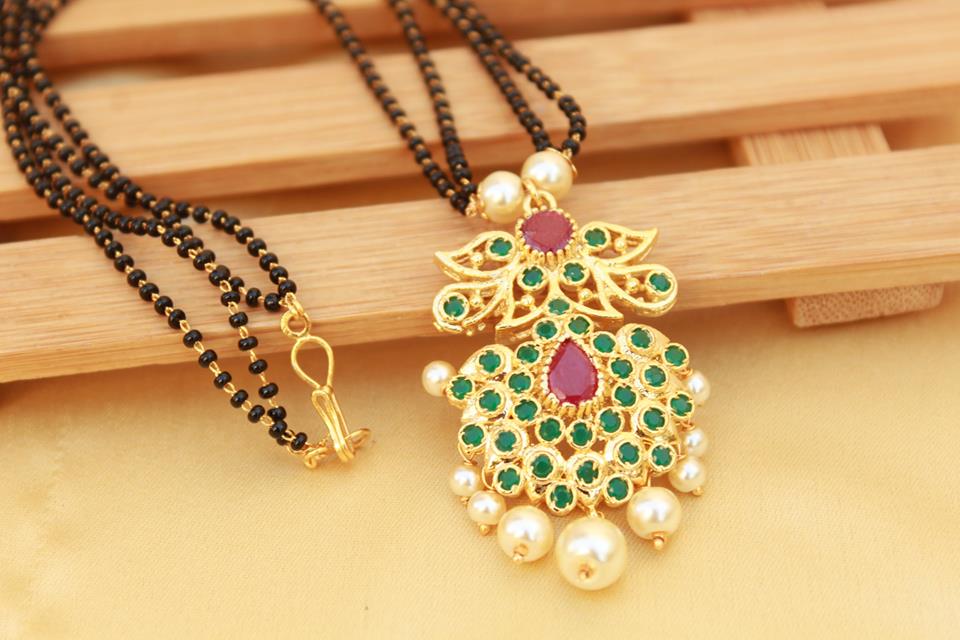 Gold Chain
Rather than string of gold and black beads, this model has a gold chain with black beads. The pendant is quite modern and hence, this design is great for western outfits. The pearl beads enhance the beauty of the pendant.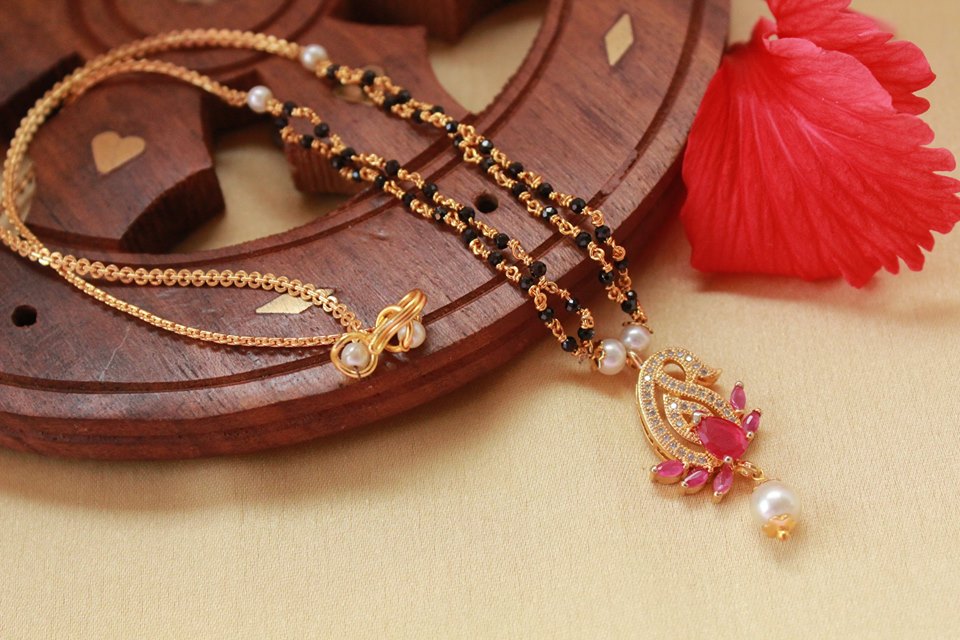 For The Traditional Outfit
Since this model is embellished with gemstones, it is perfect to accessorize any traditional attire. It works as both a neckpiece as well as a nallapusalu. The double string of black beads blends in entirely and lifts the outfit.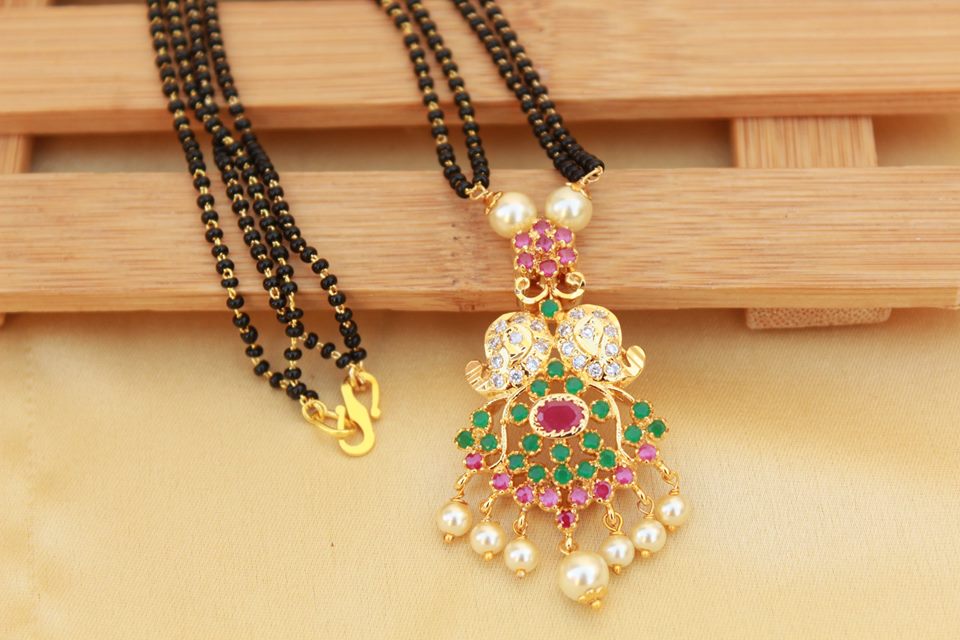 Pink Diva
This model is quite modern and gives a royal look. The pink locket goes great with a gown and the string of beads is surely a stunner. It has different sizes of black beads which are rare and unique.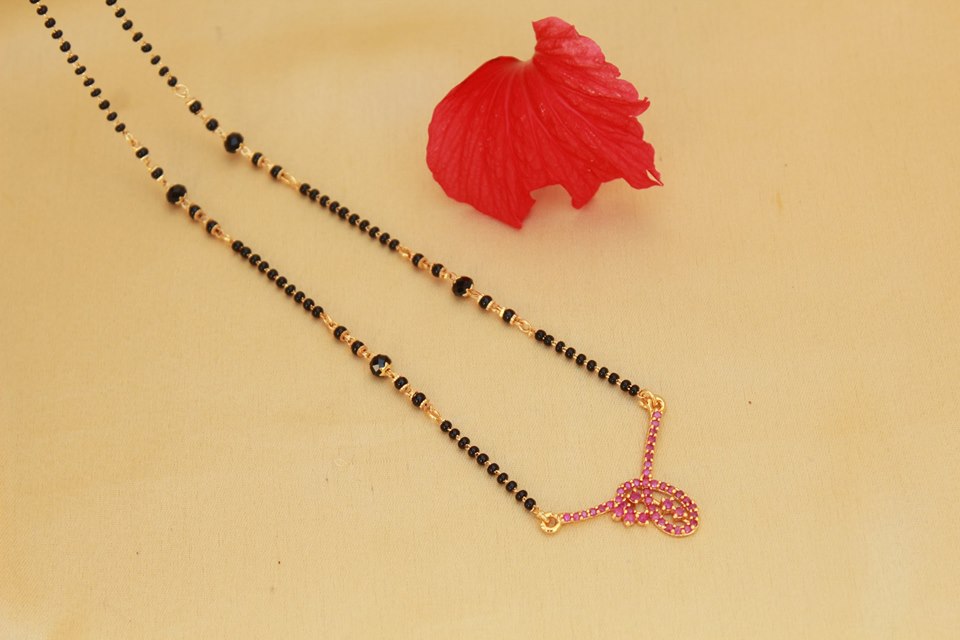 Minimalistic Design
If you love minimalism, this model is perfect for you. It is neither too pompous nor too dull. It is perfect for regular wear and goes great with the string of black beads. The gold, white and black combination is a perfect trio and can uplift your attire.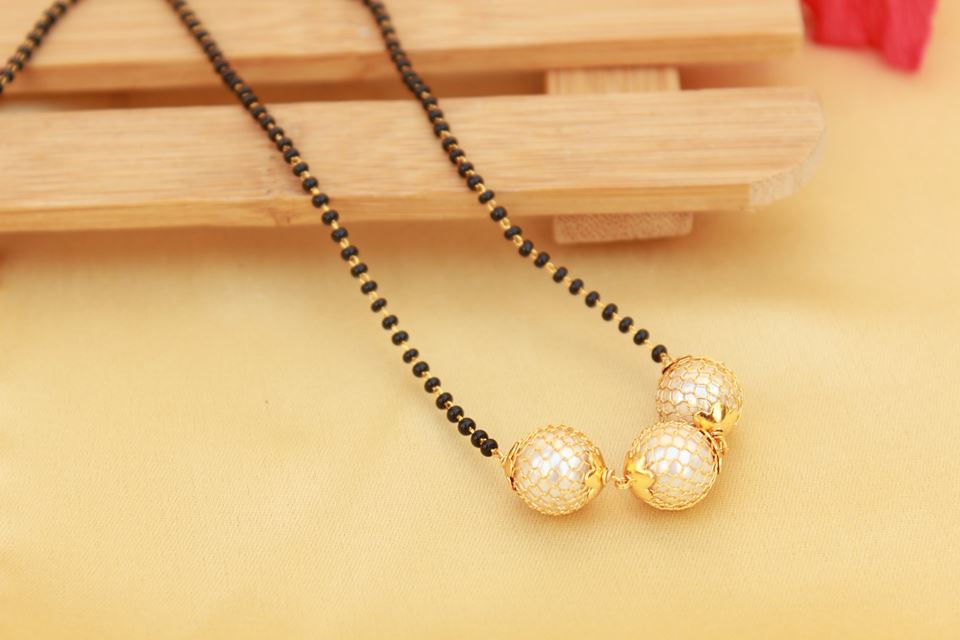 Small Beads with Design
This nallapusalu is perfect if you are looking for something that is a little heavy. Although it is simple, it is quite appealing to the eye and can turn many heads towards you.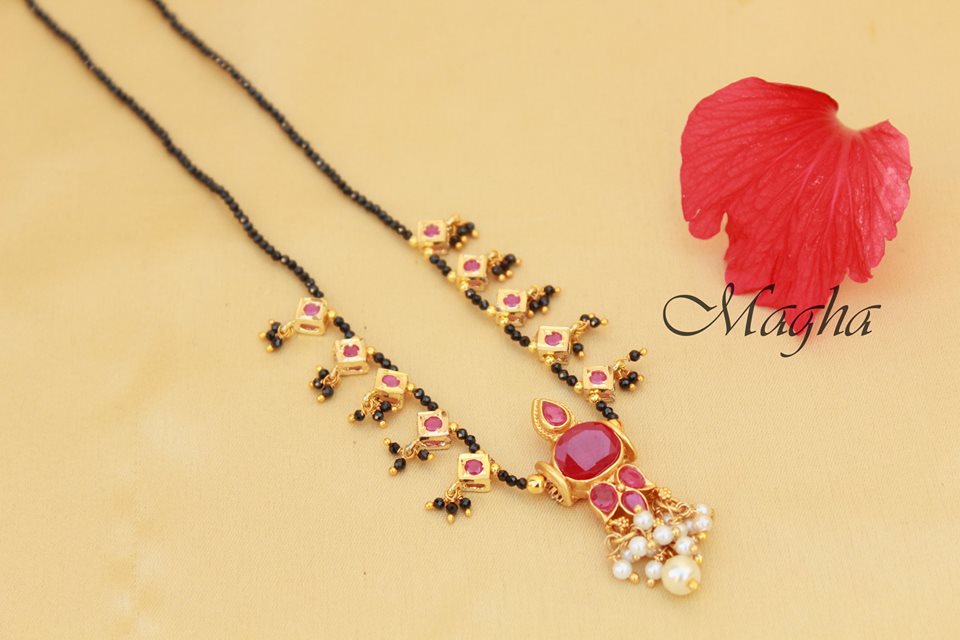 We all know that nallapusalu is one of the most important jewellery for a woman. Hence, buying one should be done with extreme care. You can go along with the above models to find your perfect match. In case if you like to check the availability of the designs featured in this post, please find the seller details below.
Seller Name : Magha Store
Facebook : https://www.facebook.com/magha.store/
Contact : 9000265678
Also Read :