Women love wear earrings to spruce up their look. This is why it's really important to choose earrings that you get your own unique look. Here are 31 chandbali earrings designs that you will like:
1) Antique Lakshmi Chandbali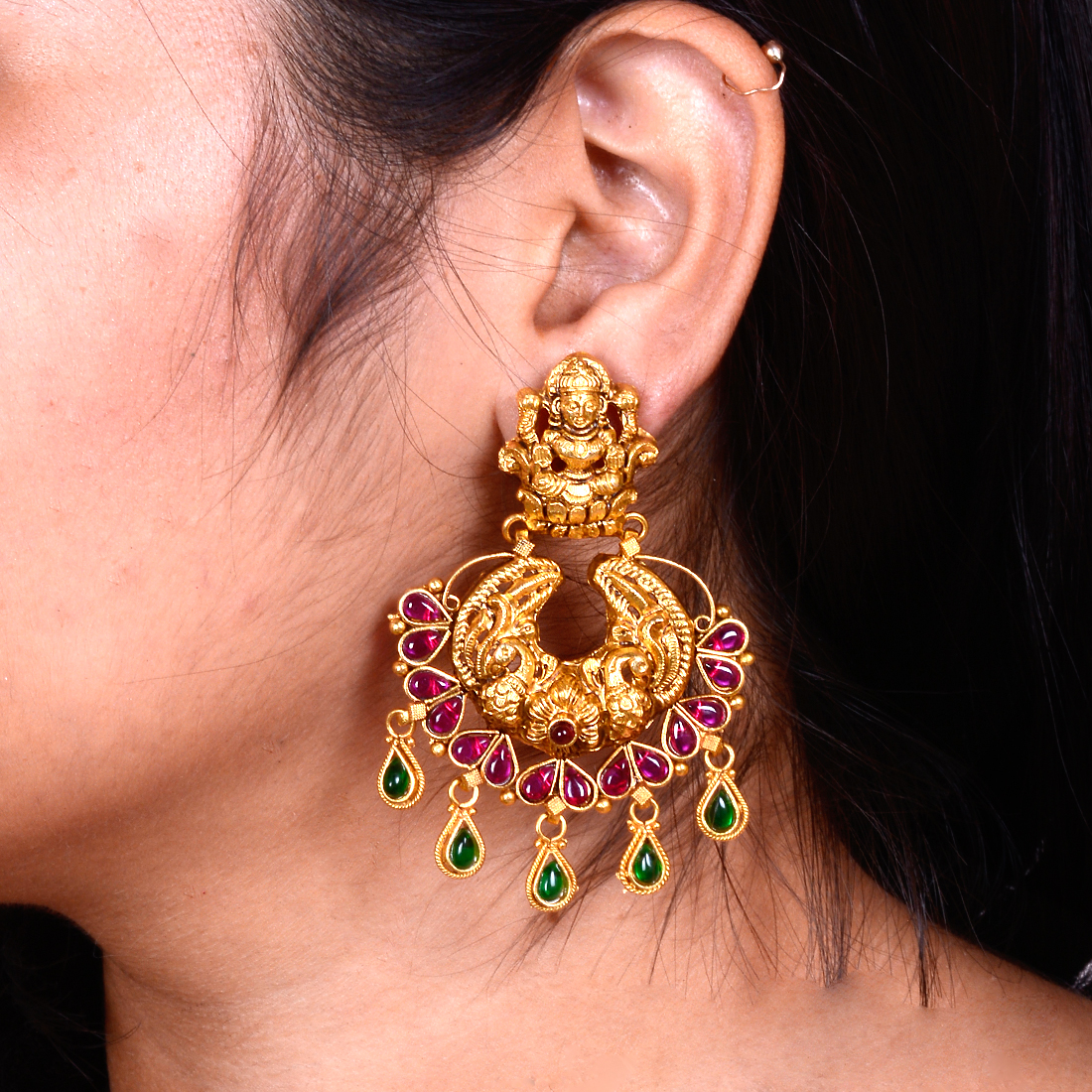 This Lakshmi chandbali is antique yet fashionable. They mix well with old and contemporary clothing. Antiques like these are interesting pieces.
2) Oxidized Turquoise Chandbali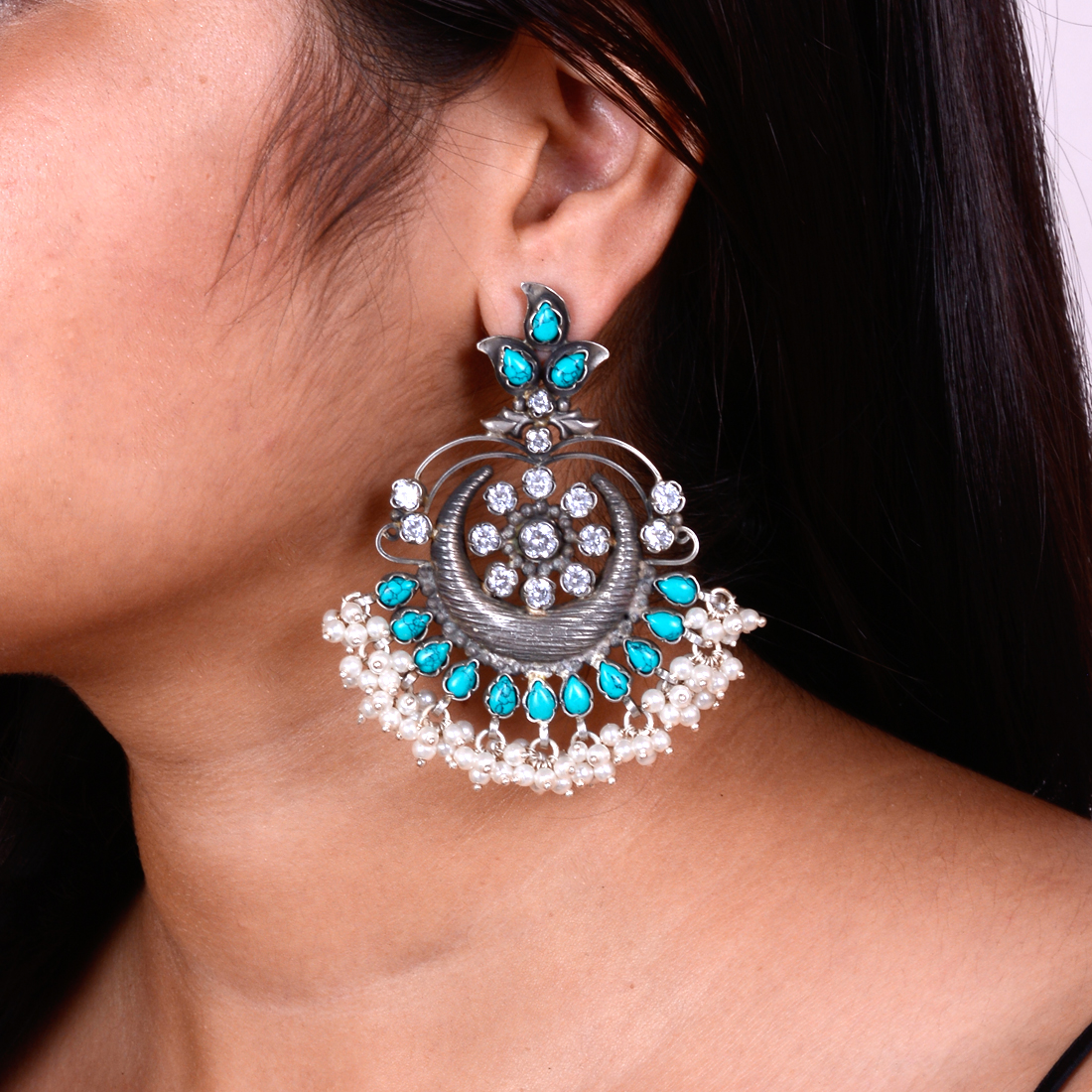 Oxidized jewelry has struck a chord with the trend-obsessed youth of today. Modern oxidized turquoise chandbali offers a stylish look within an affordable price range.
3) Peacock Stone Chandbali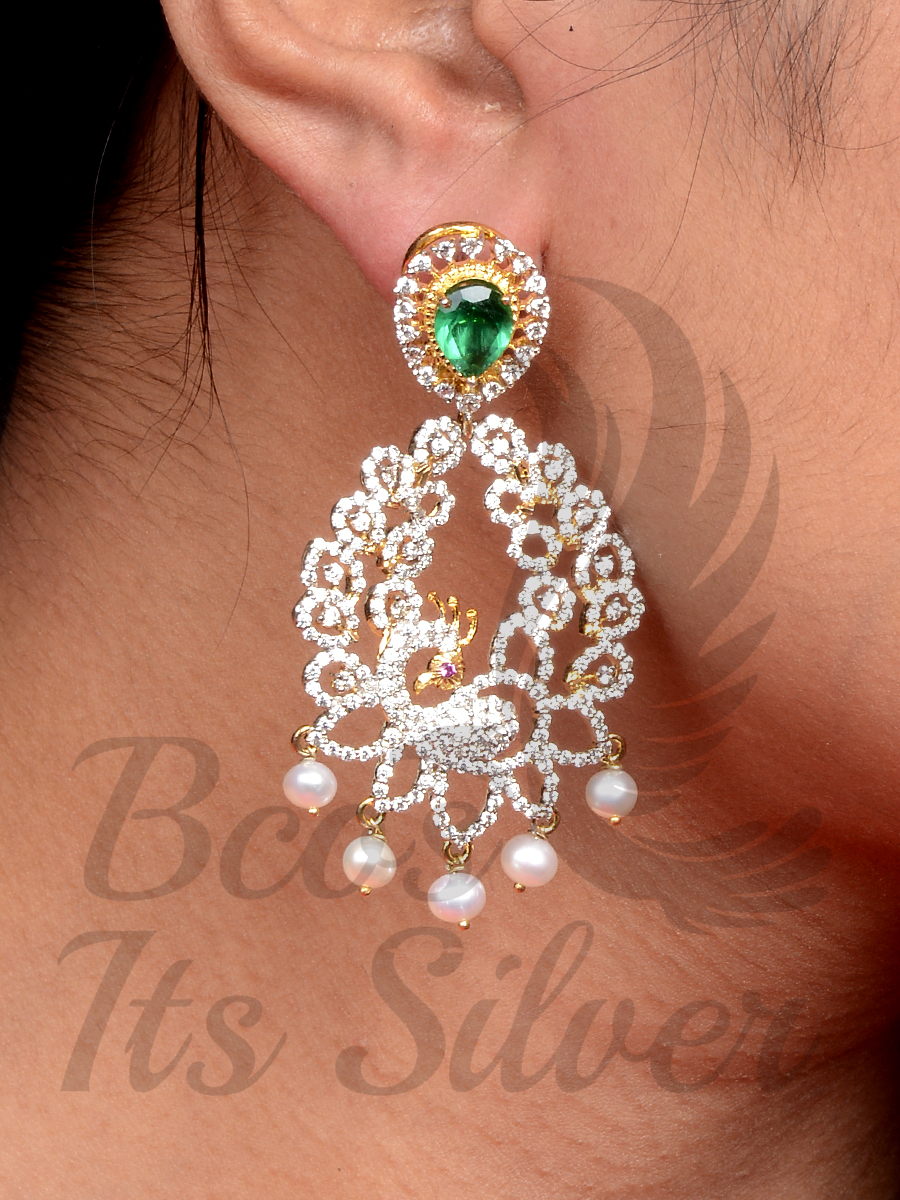 Peacock stone earrings are one step ahead; it allows women to not only express their feeling and define who they are but they get to wear colors.
4) Gold Plated Floral Chandbali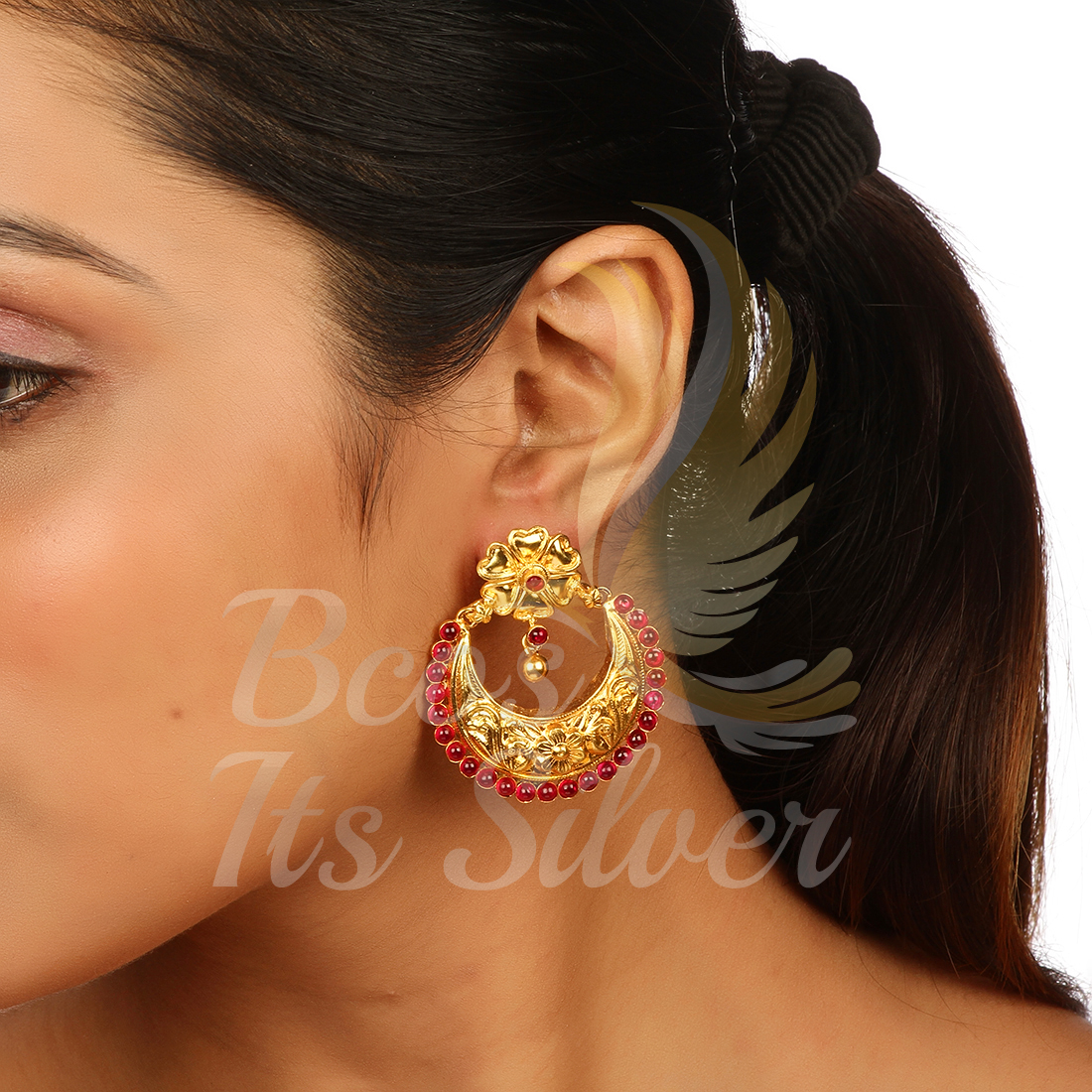 For many years gold plated jewelry has ruled the world of reasonably priced jewelry. This gold plated floral chandbali is undoubtedly the most exquisite jewelry piece that a girl can adorn.
5) Bold Kundan Chandbali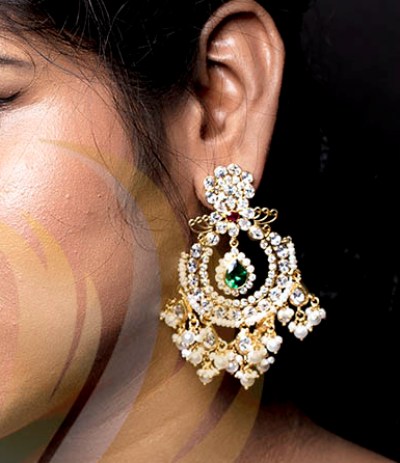 Even after numerous years, the essence of Kundan jewelry is still unchanged with the modern and bold chandbali designs coming up.
6) AD Stone Chandbali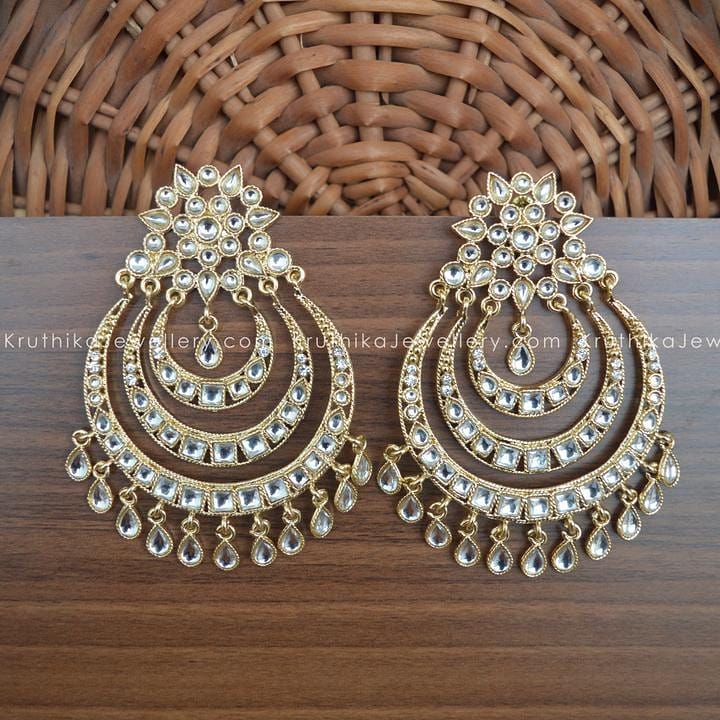 American Diamond earrings are now a style statement. In modern world, AD stone earrings define a woman's personality and her desire to look more stylish and beautiful.
7) Fancy Pearl Chandbali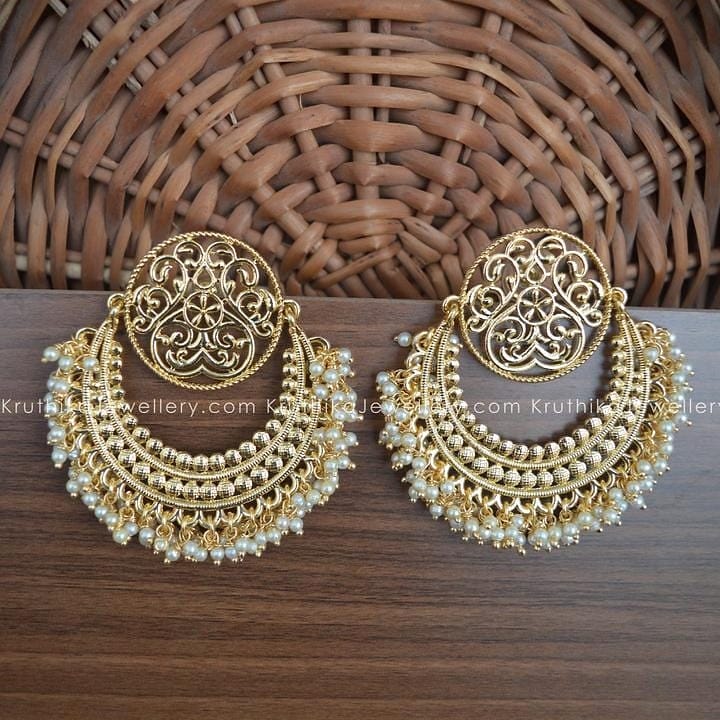 Pearls make magnificent earrings and have been worn by women all the way through the ages. What more delicate and attractive adornment is there than that fancy pearl chandbali on the earlobe?
8) Simple Silver Ruby Chandbali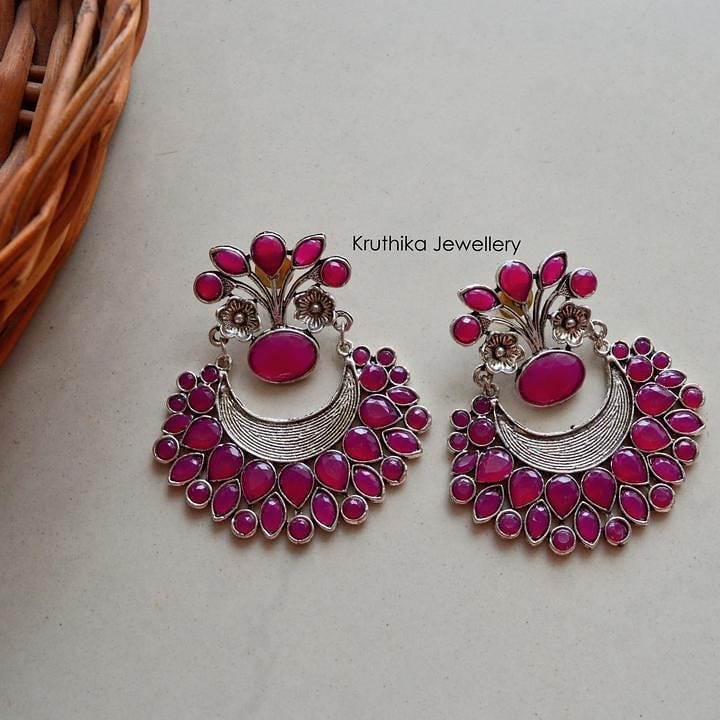 Your desire to look gorgeous will be fulfilled with a pair of simple silver ruby chandbali earrings. Any woman would love to have a pair of stylish earrings with rubies in them.
9) Dual Toned Ruby Chandbali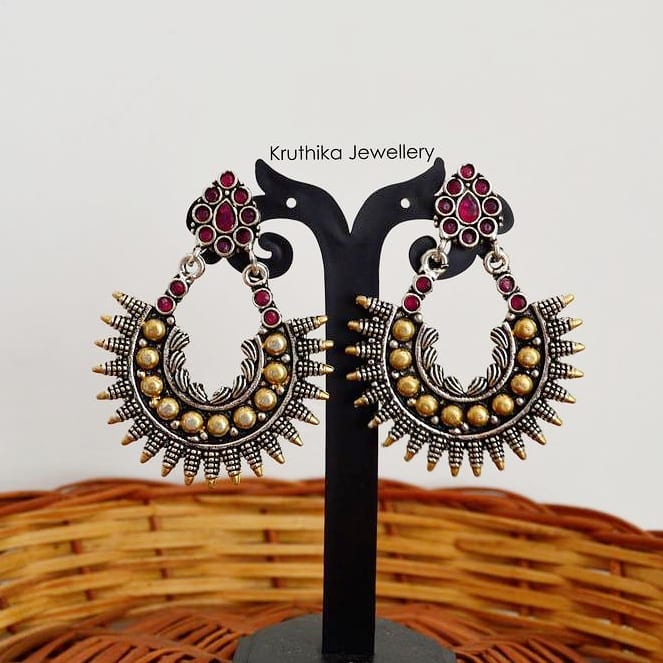 Grandeur, splendor and glamour of the lady could be reflected by wearing ruby embedded in her earrings.
10) Oxidized Emerald Chandbali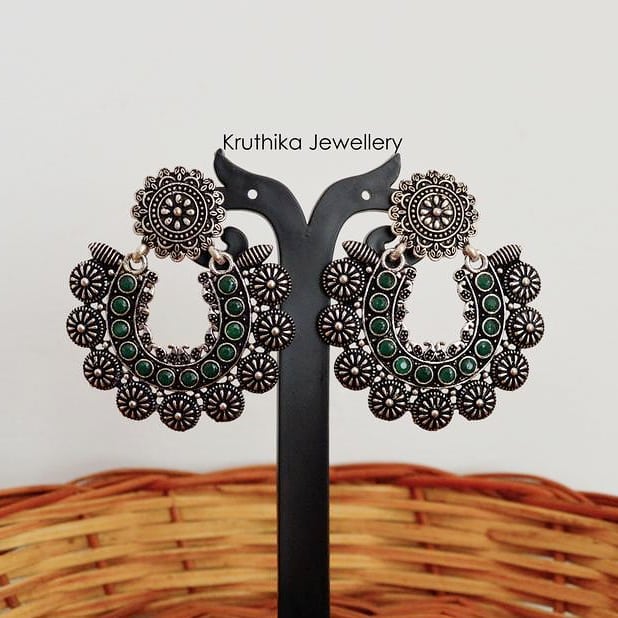 A pair of oxidized earrings embedded with the beautiful emerald adds an exceptional appeal to the persona.
11) Chandbali With Black Stones & Pearls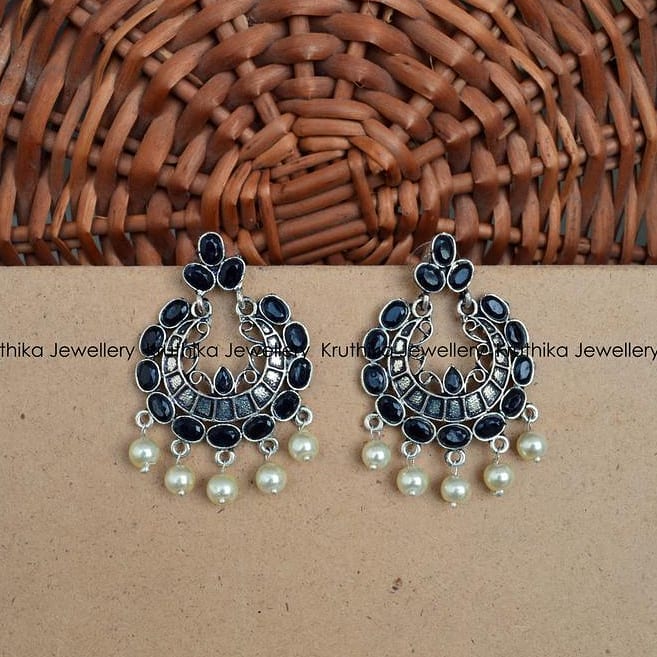 When you are talking about Black stones and Pearl chandbali earrings, you can just imagine the interest and extravagance that one of these sets of earrings can fetch to a lady with these particular earrings.
12) Designer Silver Chandbali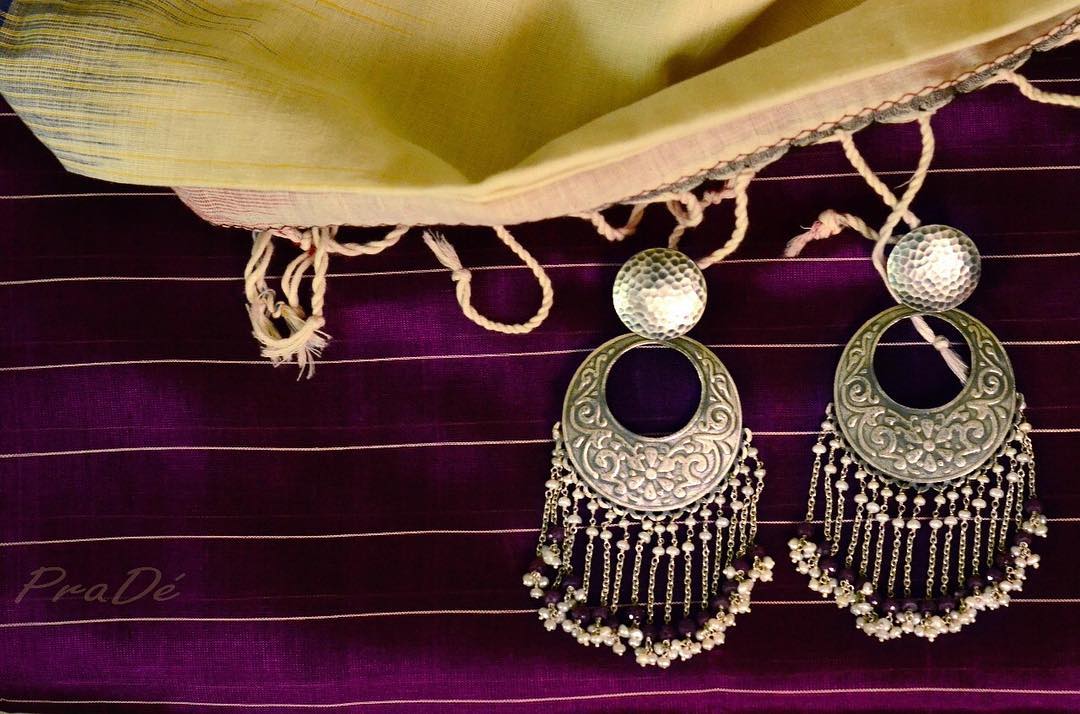 Carefully chosen jewelry pieces like earrings are a great way to look amazing and add a little something to your attire, even if you are going for a simple look.
13) Chandbali With Kemp Kundan Stones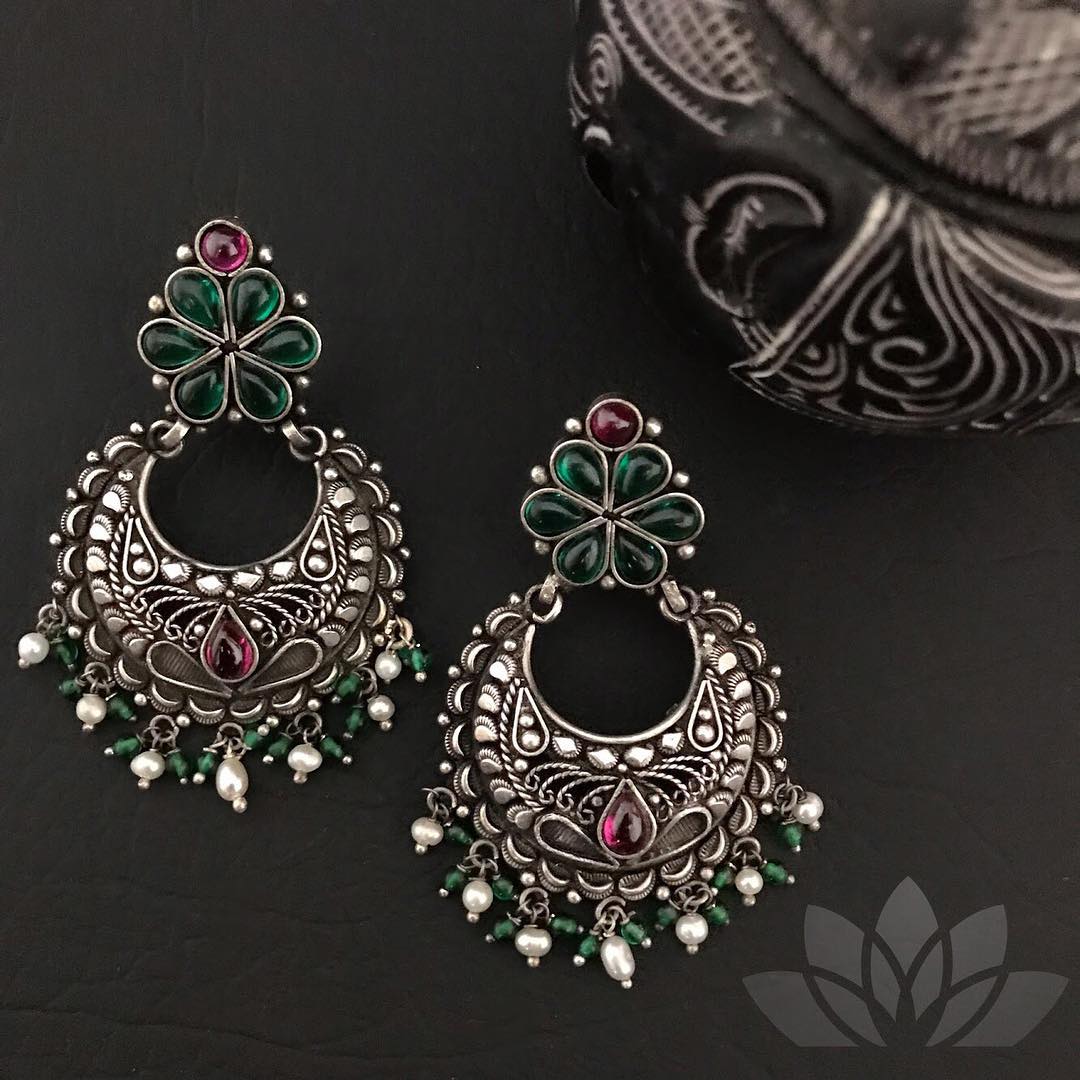 Kundan chandbali earrings are highly favored since they are not only stunning but give off an authentic and ethnic Indian look.
14) Traditional Peacock Chandbali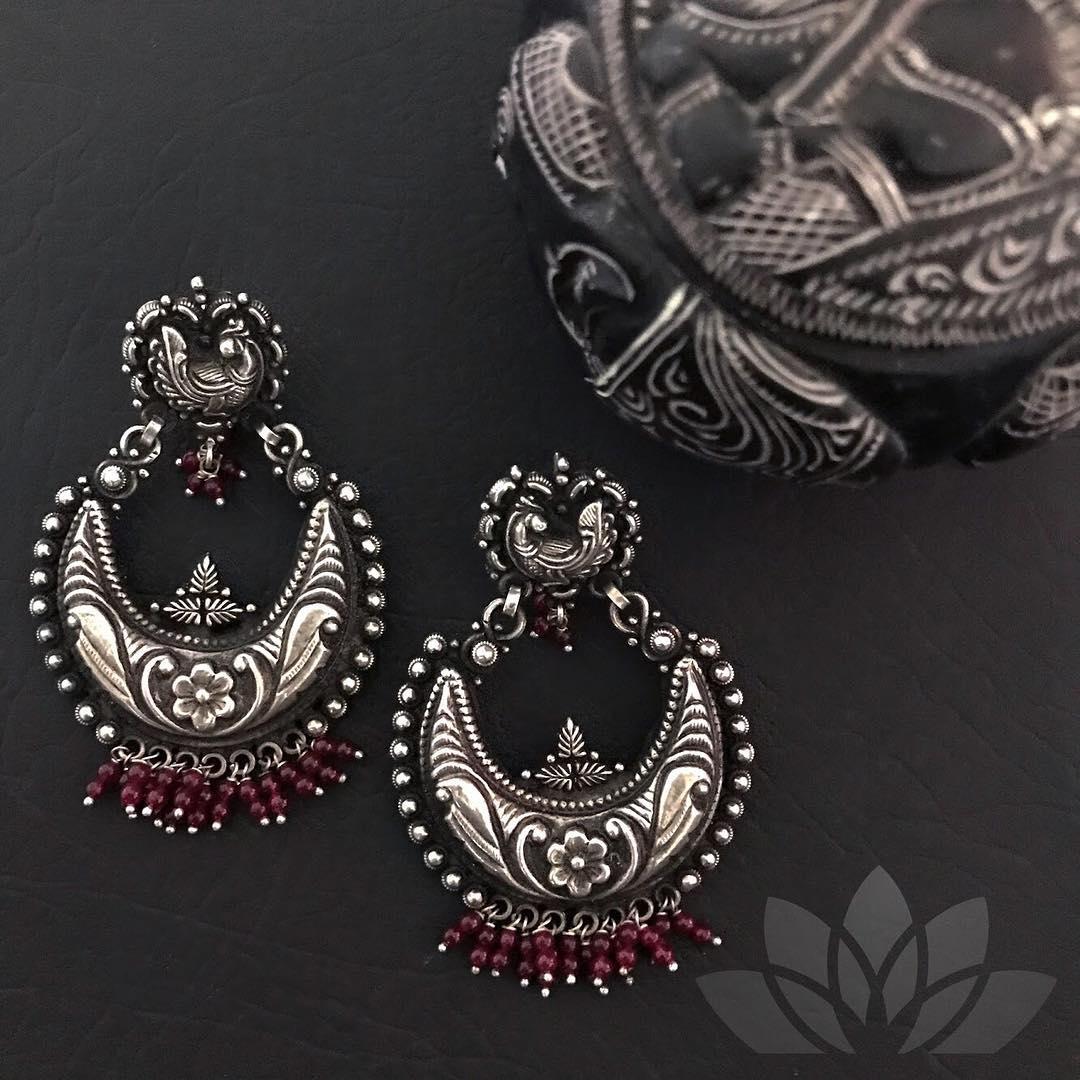 And no matter how times change, and fashions change, a pair of traditional peacock chandbali earrings adds a classy touch.
15) Plain Antique Chandbali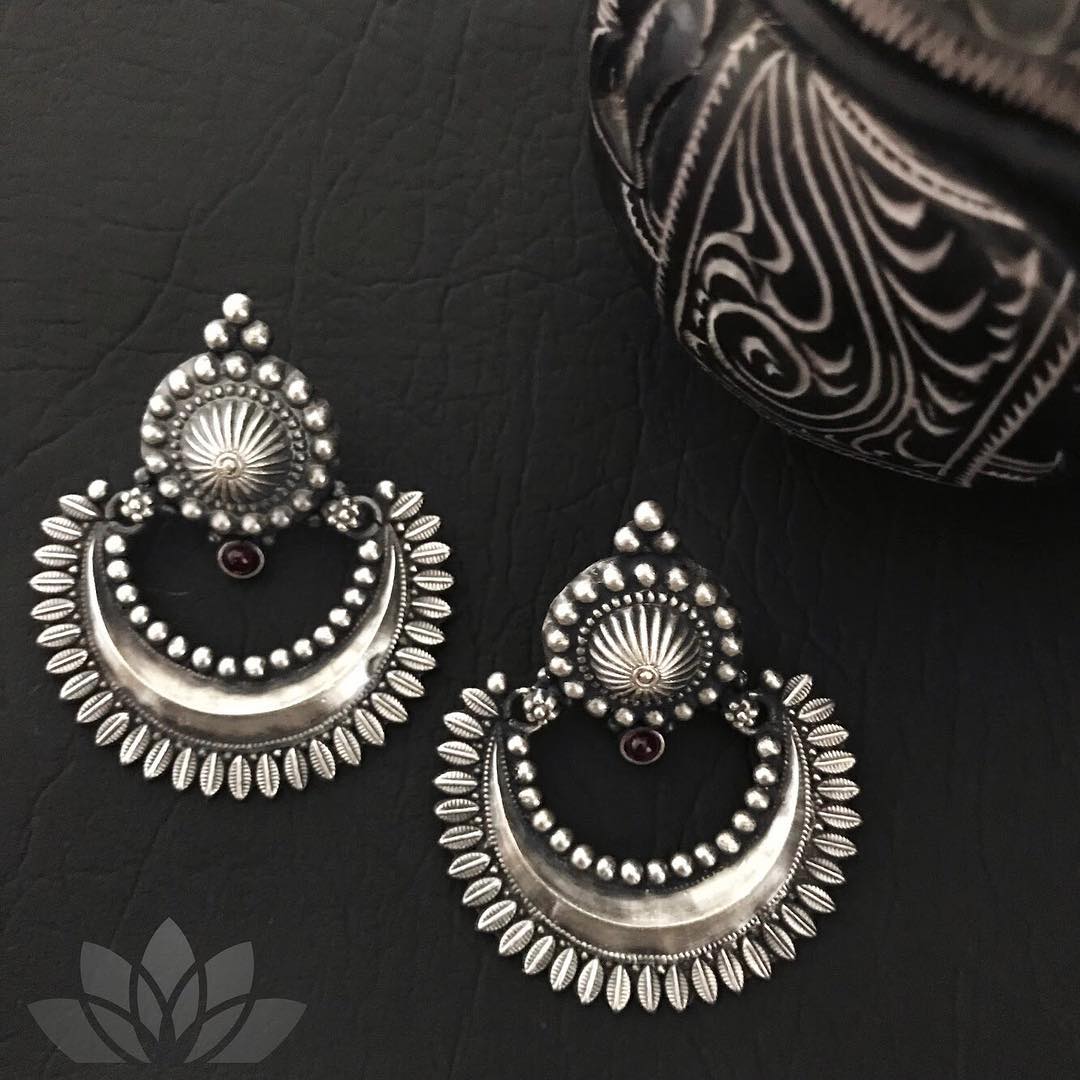 Finding a rare set of antique chandbali earrings can be amazing. It is one of the most stunning items one can buy.
16) Statement Designer Chandbali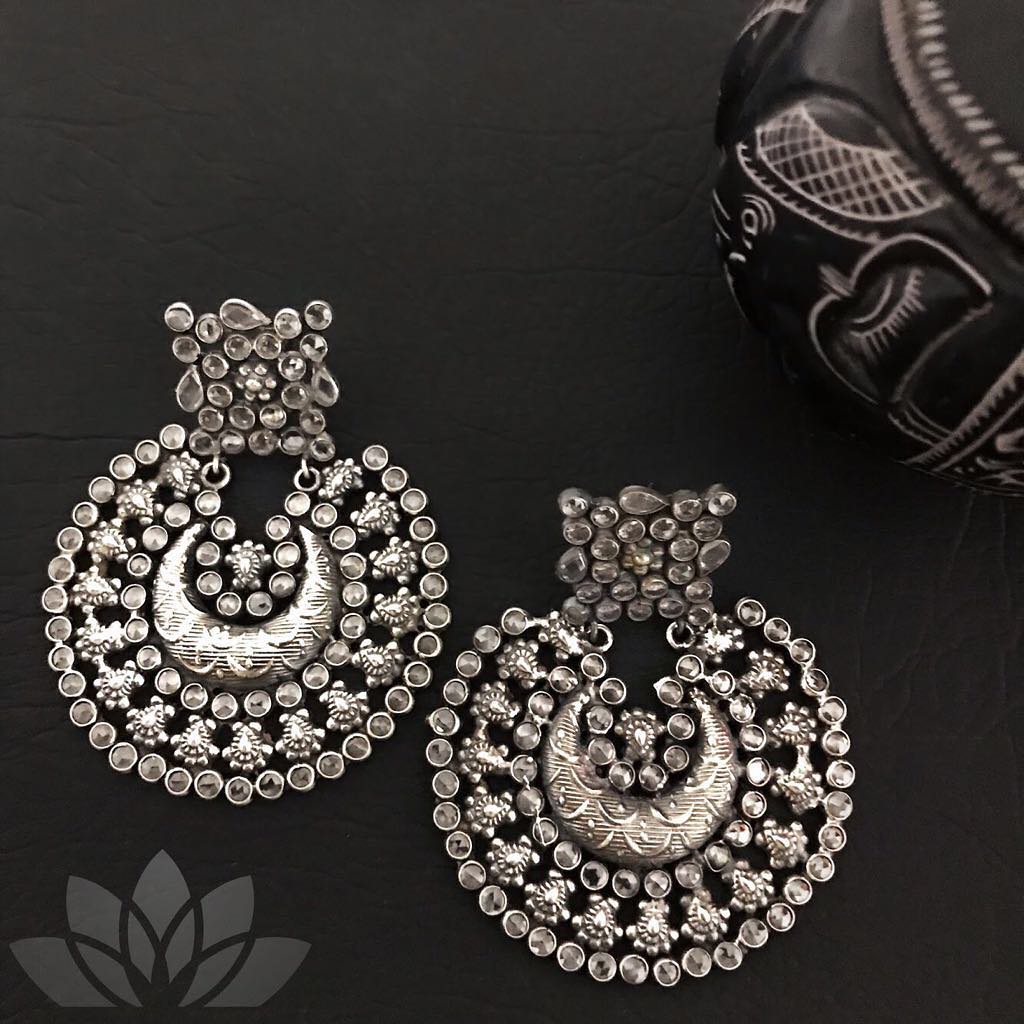 Many people like to include statement designer earrings into their jewelry wardrobe. A nice pair of designer statement designer chandbali may be the just the right choice for special occasions.
17) Clustered Pearl Chandbali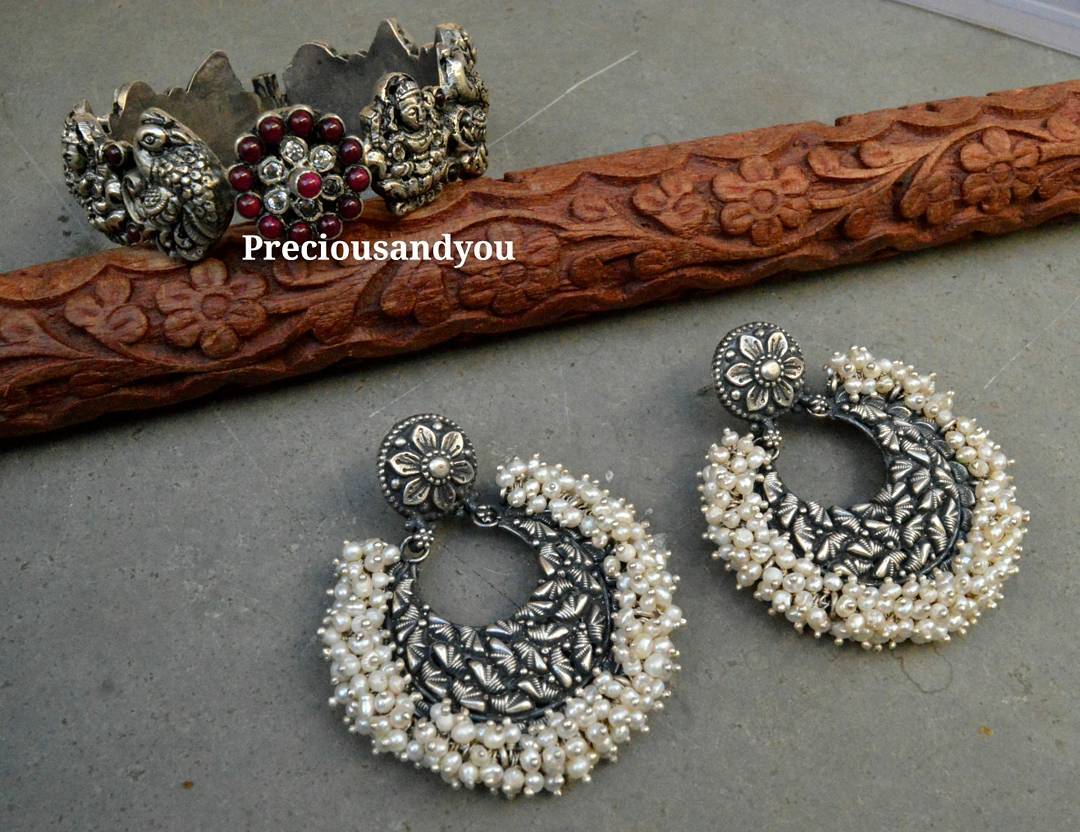 Clustered pearl chandbali earrings combine the elegance of the pearl with the charm of the design. It is perfect for a casual get up and also looks amazing with the most formal dresses.
18) Gold Plated Ruby Chandbali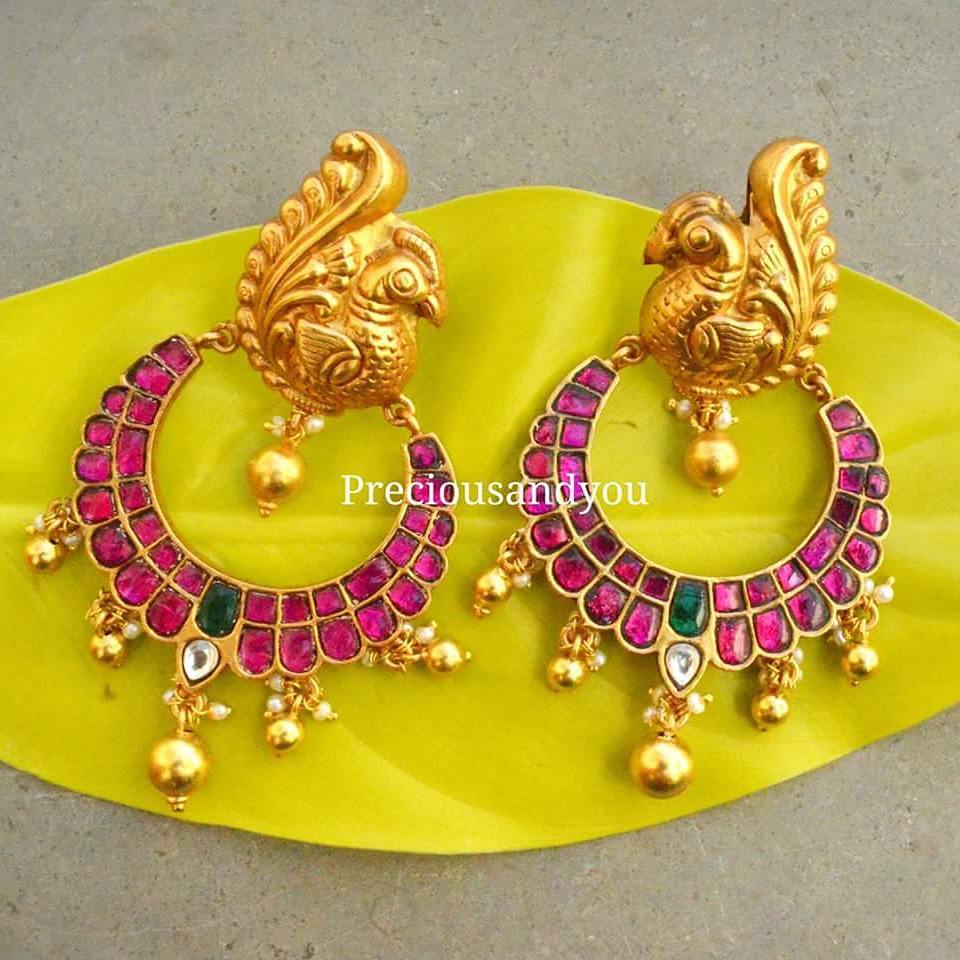 Ruby when used in gold plated chandbali earrings makes the piece suitable for all occasions and outfit. It could be worn with your favorite outfits bought for special events to flaunt your style.
19) Classic Kemp Ruby Chandbali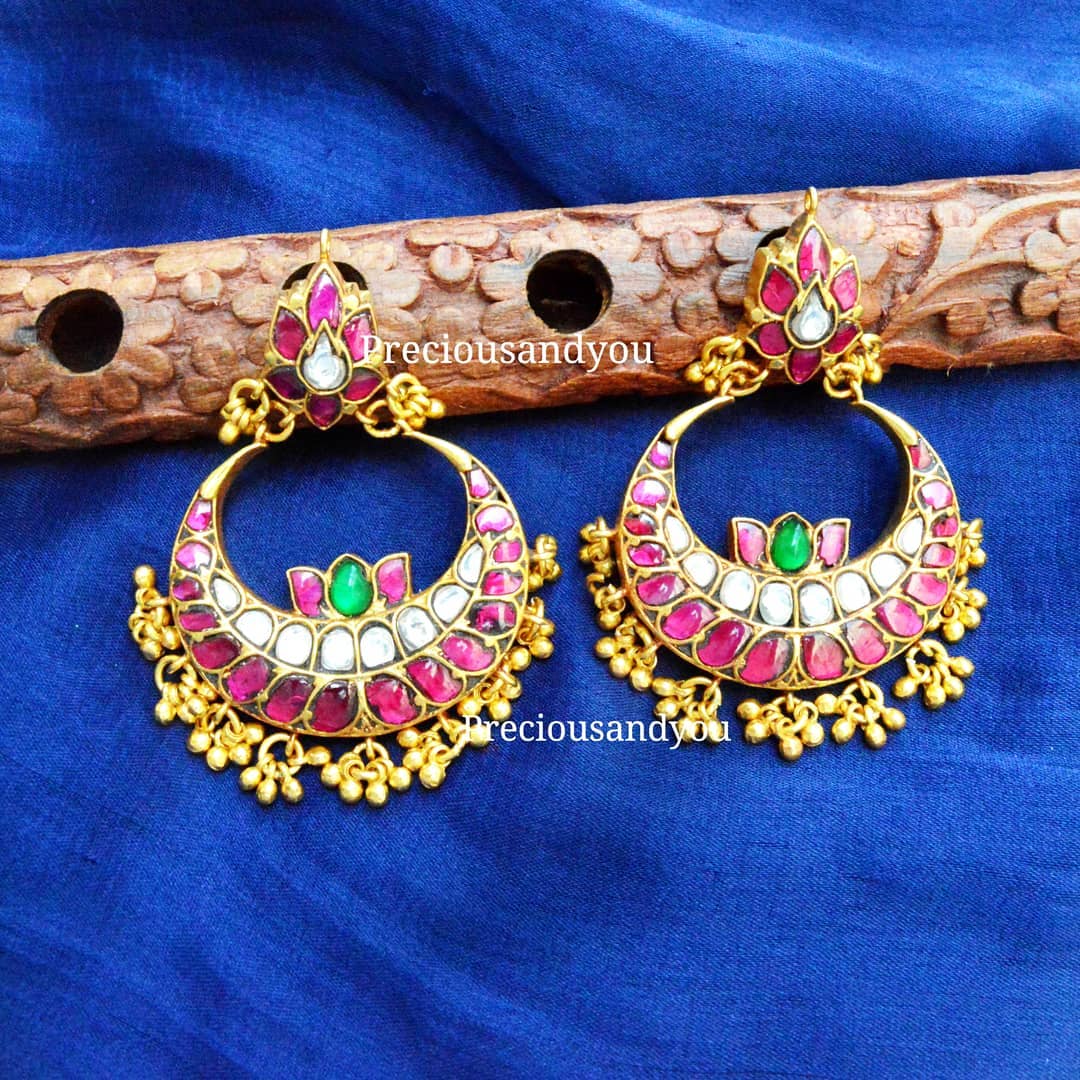 Wearing classic kemp ruby chanbali earrings to those high-end parties would save words to show off your own style statement.
20) Gold Plated Kundan Chandbali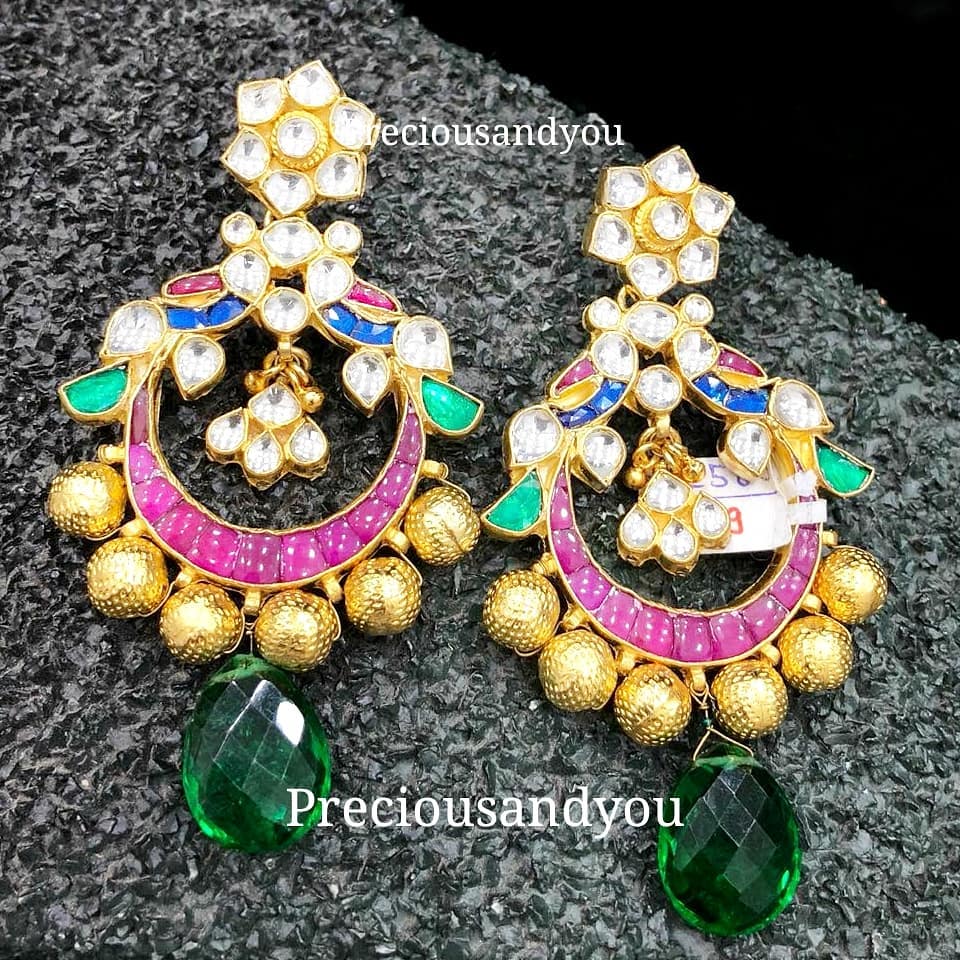 Thanks to the design of the gold plated chandbali and the kundans that it's studded with, it indeed makes them look like stunning.
21) Chandbali With Antique Balls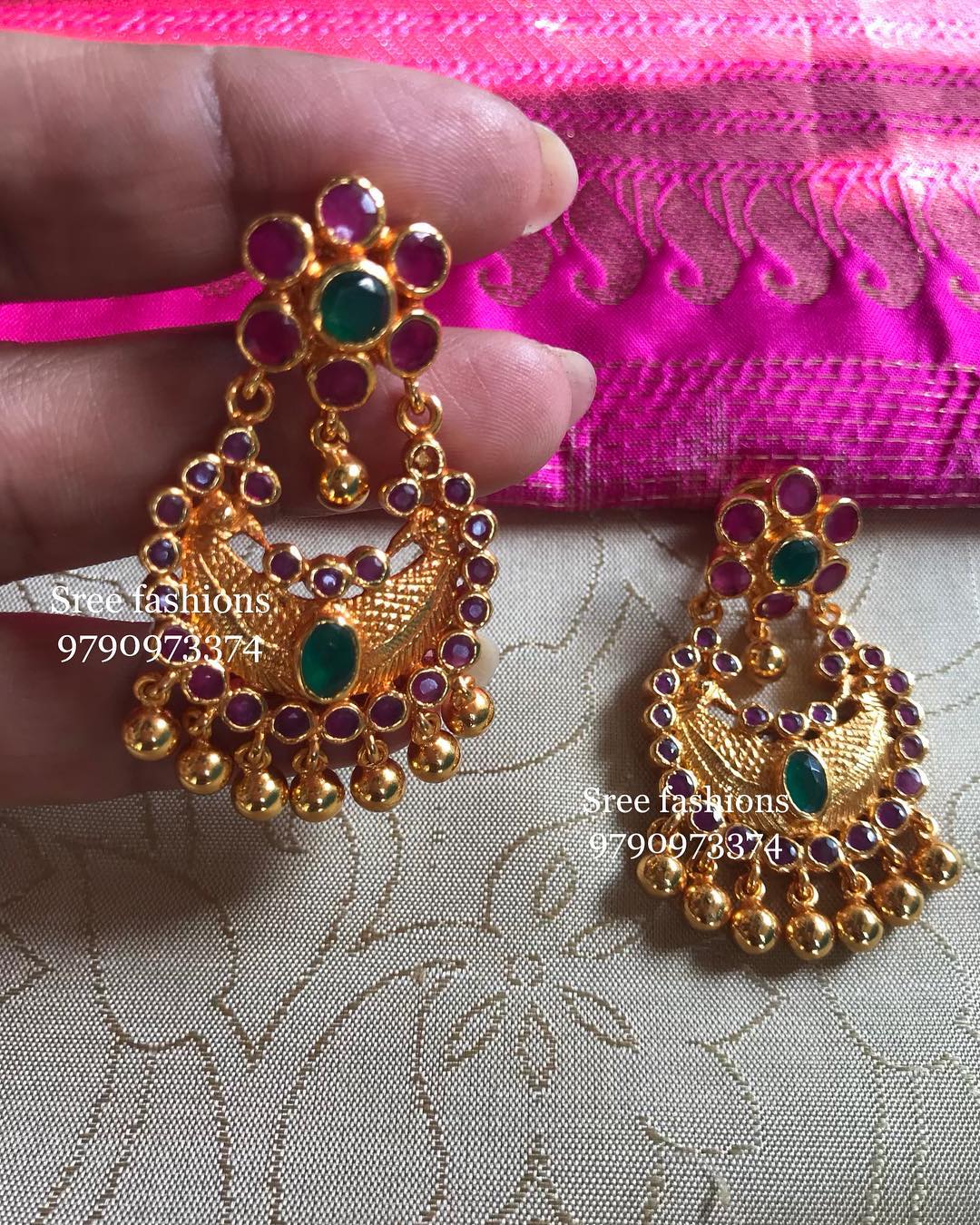 If you prefer antique jewelry, this pair of chandbali with antique balls would something that you are going to love.
22) Antique Pearl Chandbali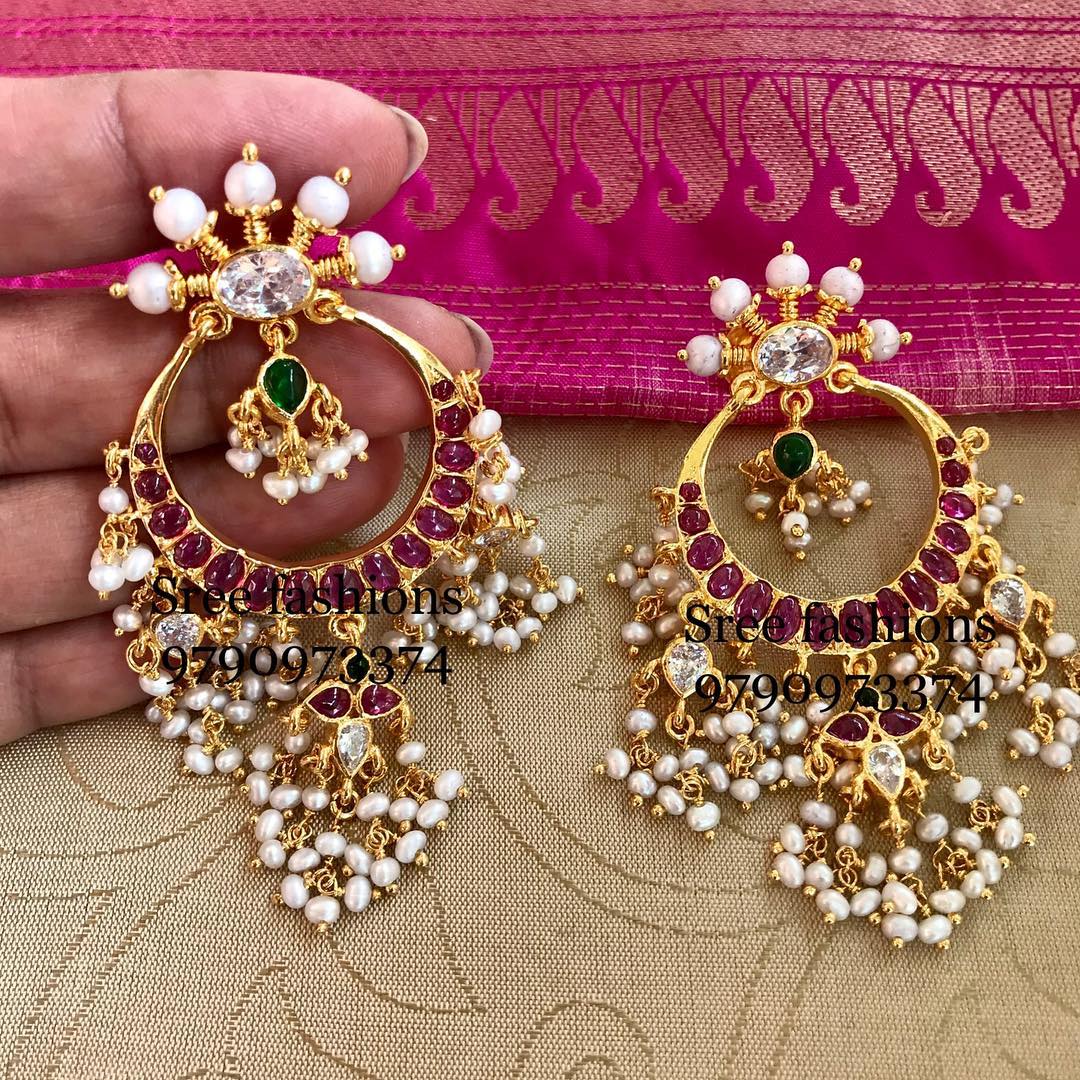 Pearl earrings offer an elegant and fashionable look to your outfit. This pair of antique pearl chandbali earrings will definitely catch your fancy and look good on you as well.
23) Hoop Chandbali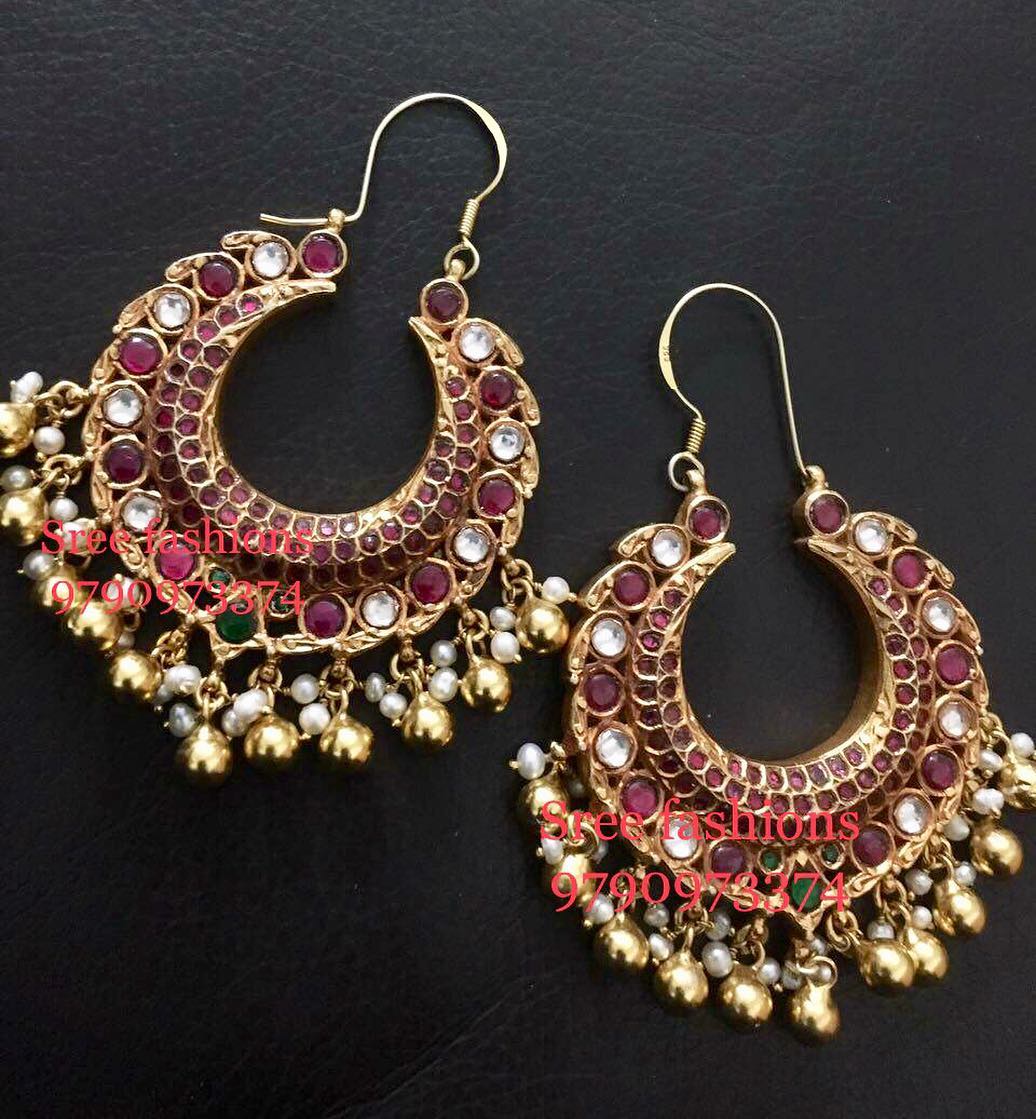 Hoop earrings have circular structures which draw attention to the features of the face. Hoop chandbali earrings are admired by all undoubtedly.
24) Bridal Ruby Chandbali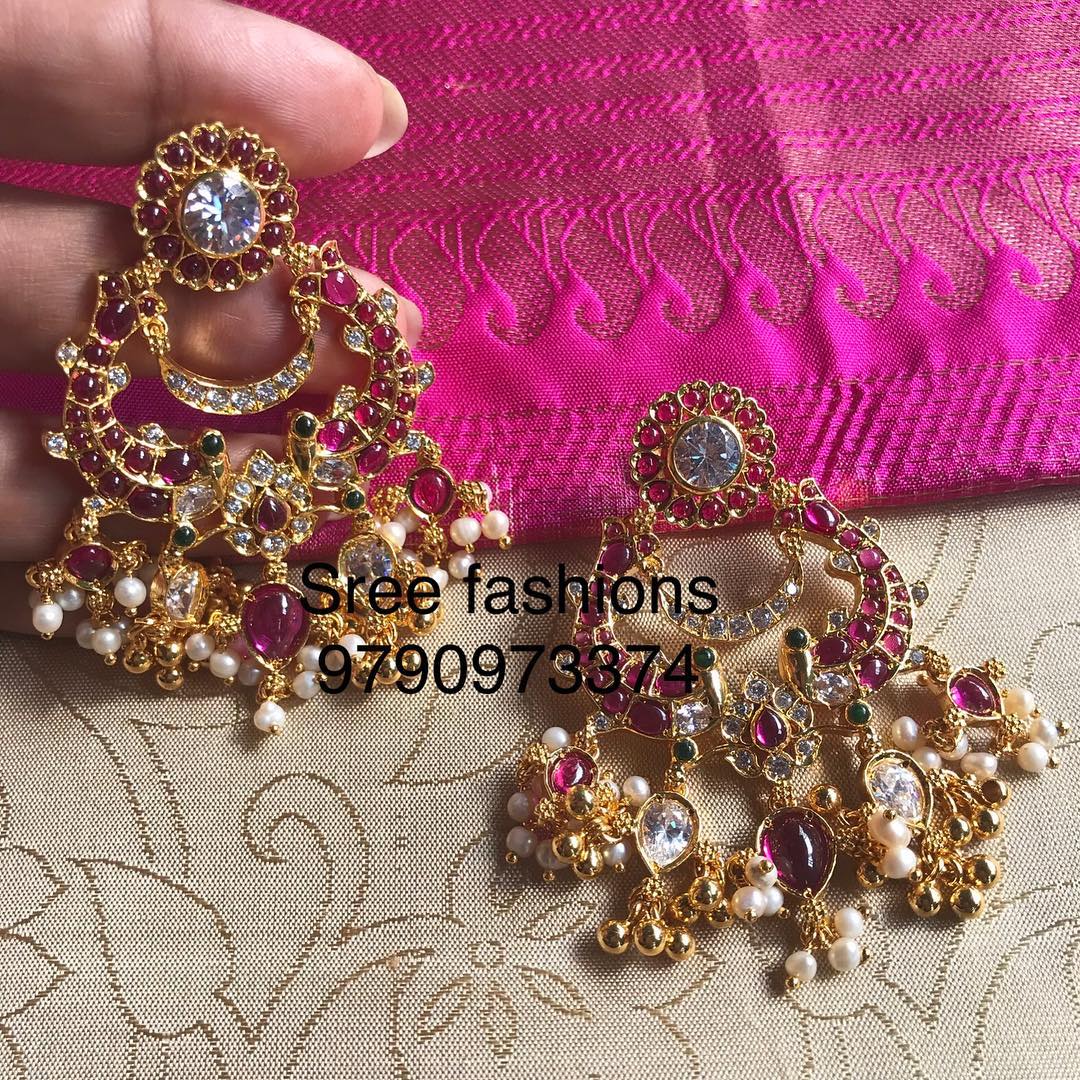 This bridal ruby chandbali completes the look of your bridal attire. From your wedding to a special event, this jewel will liberate you of all style worries.
25) Trendy Chandbali Jhumka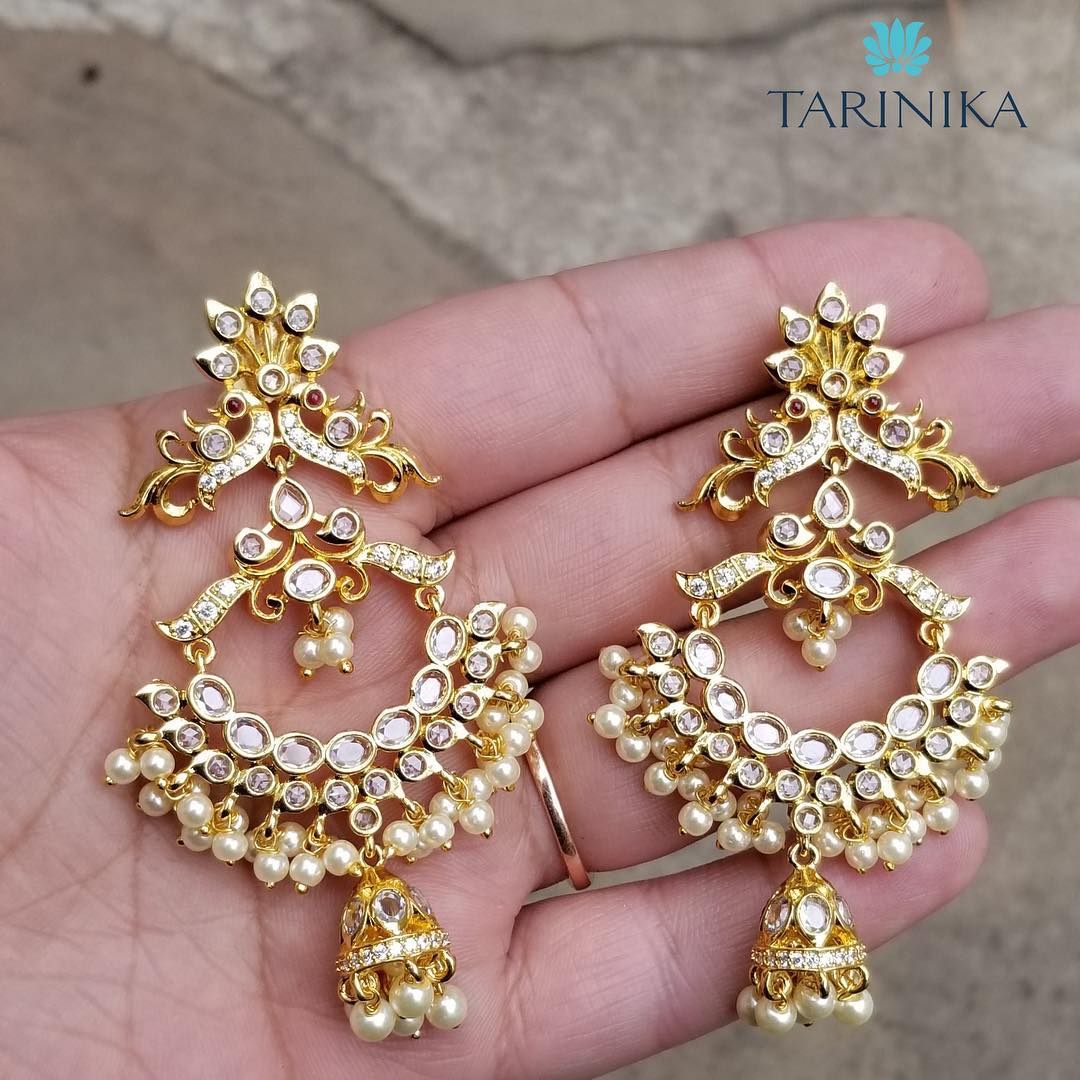 These trendy chandbali jhumka look stunning when worn with a traditional Indian wear but now-a-days the trend says that they can also be paired with western outfits.
26) Pearl Stone Chandbali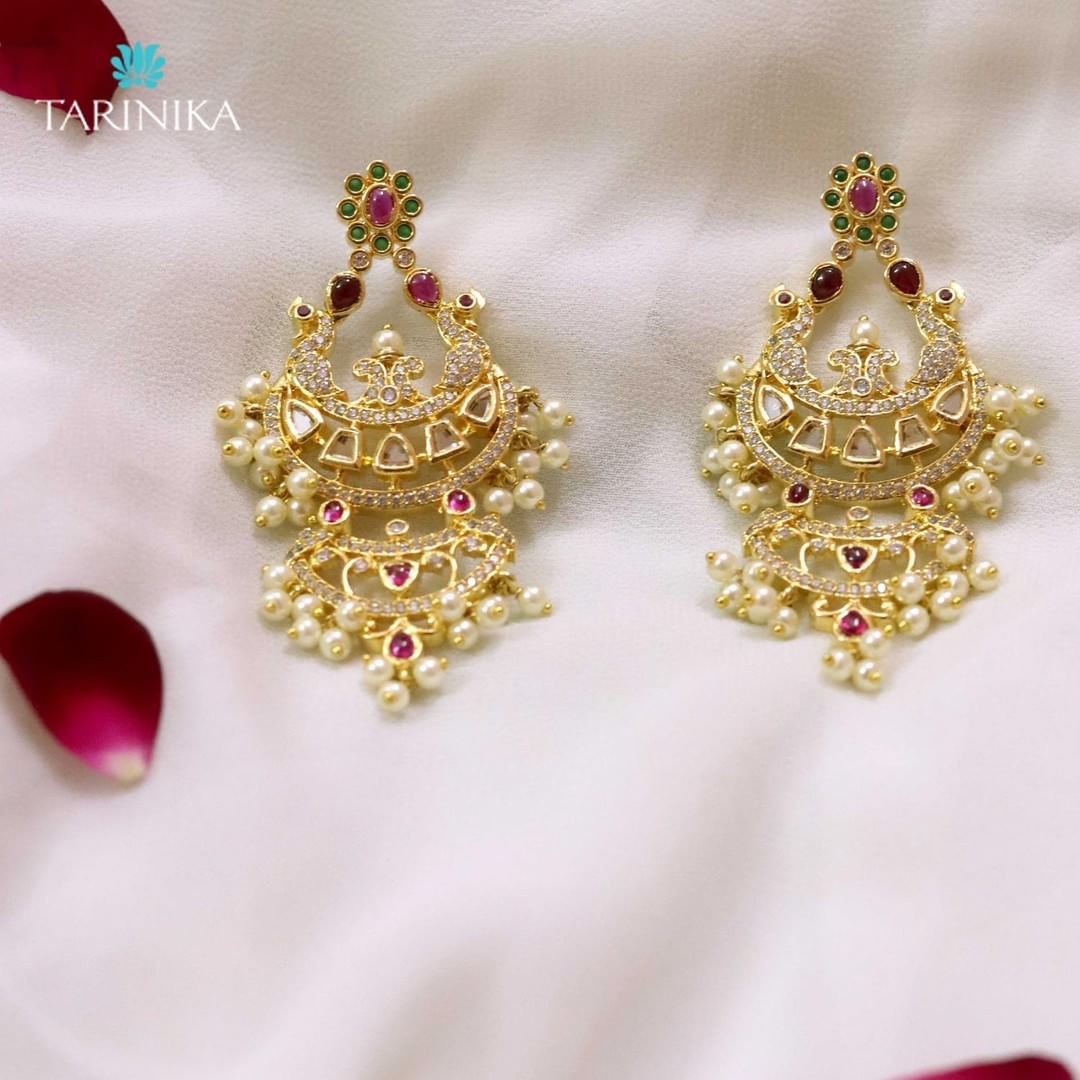 These Pearl Stone Chandbali earrings will help you make a big fashion statement at your next important event.
27) Dull Finish Antique Chandbali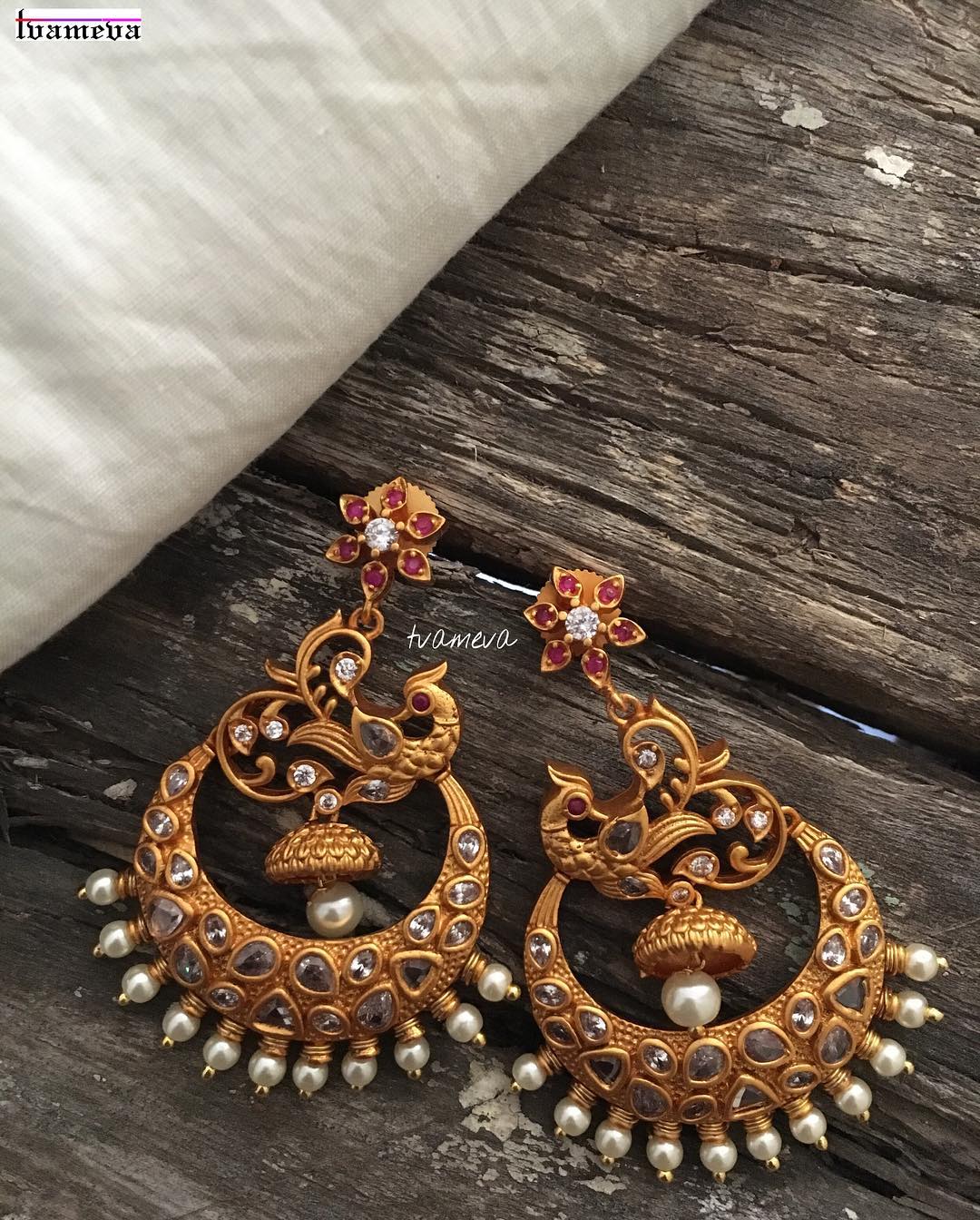 Antique earrings have always been some of the most popular jewelry items.  They are so popular because they are very unique. This dull finish antique chandbali is just spectacular.
28) Antique Coin Chandbali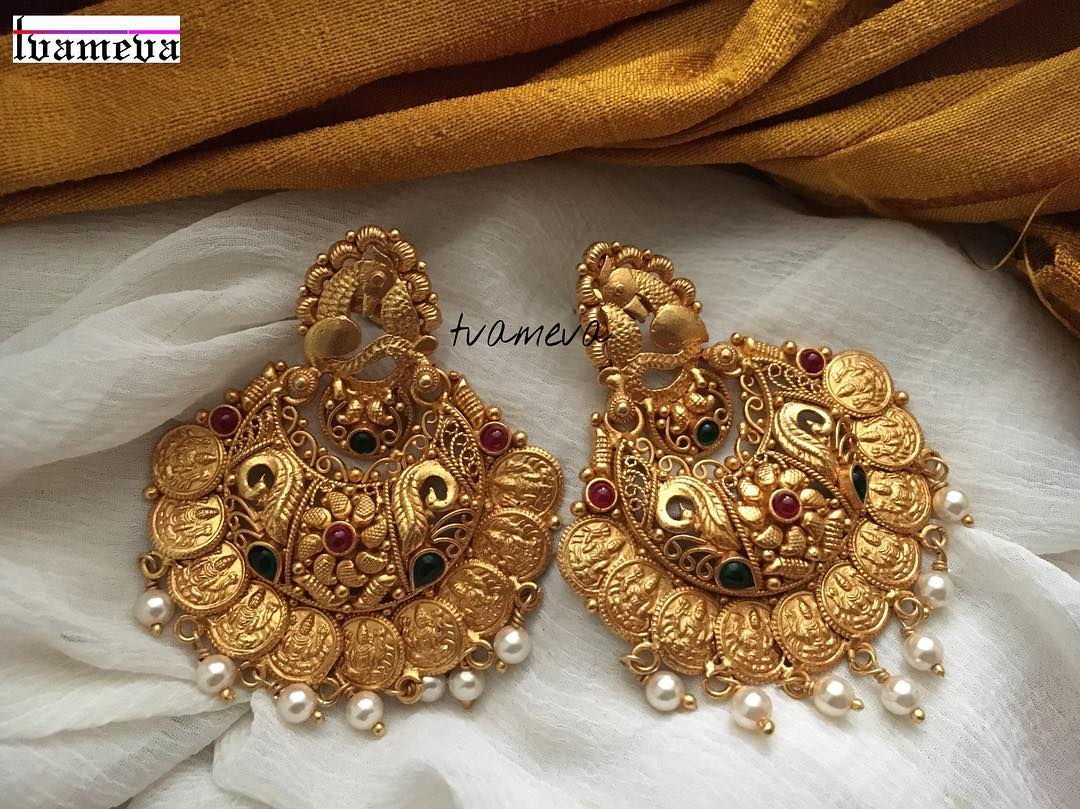 These types of antique coin chandbali can appeal to nearly anyone. Coin jewelry can be simple enough to wear with jeans and a pullover and also dramatic enough for evening wear.
29) Matt Finish Temple Chandbali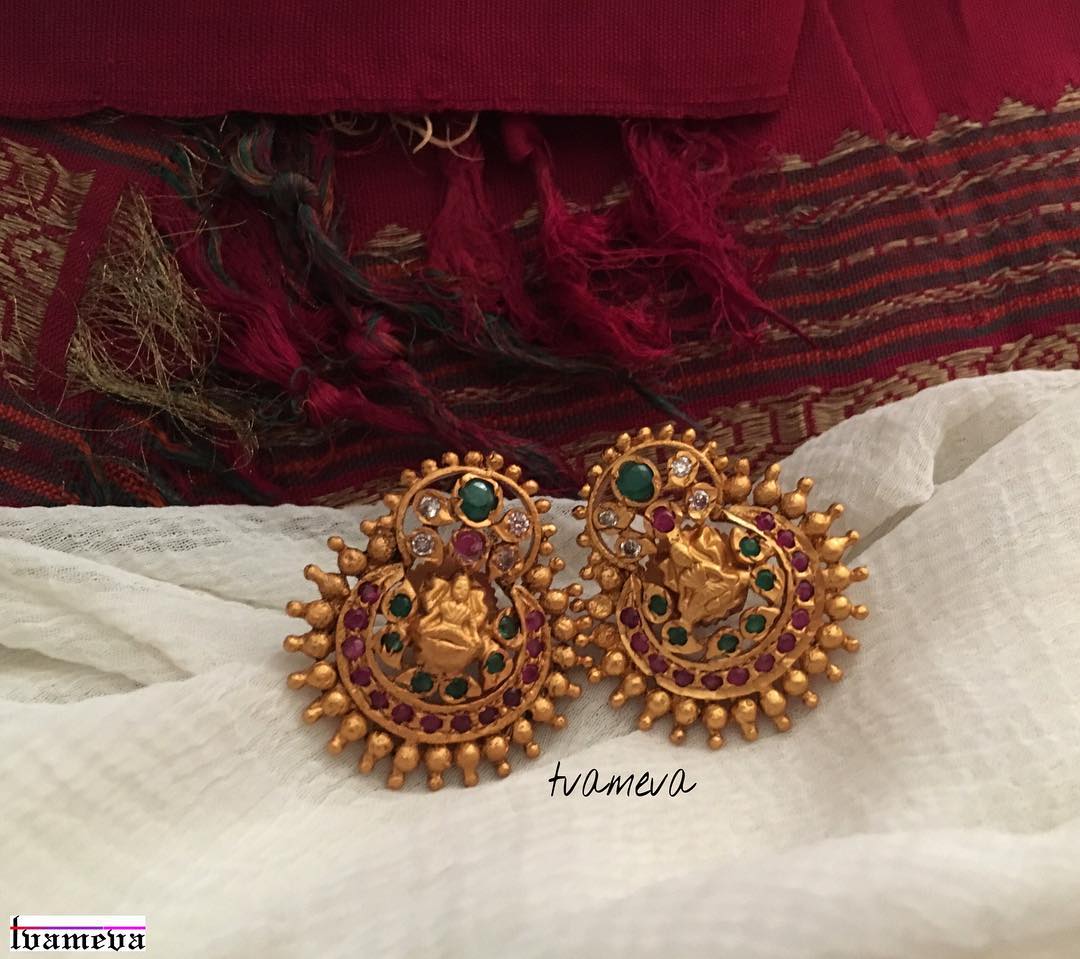 These matt finish temple chandbali earrings can be mixed and matched in many different ways for a wonderful look that will make any outfit stand out.
30) Antique Clustered Pearl Chandbali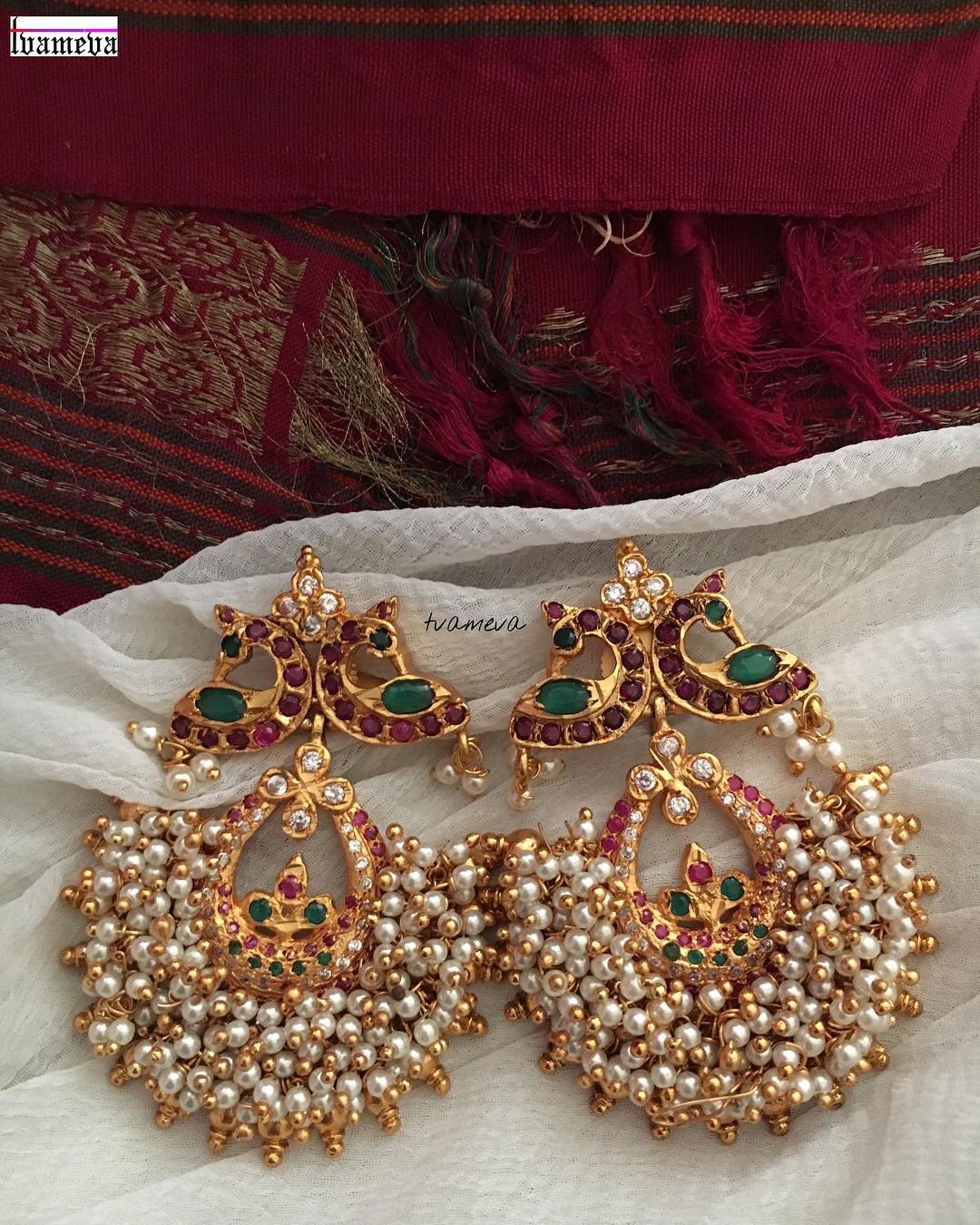 If there is one piece of jewelry that never goes out of style, it is antique clustered pearl chandbali earrings. This piece has long been a favorite of women all around the world.
31) Gold Plated Chandbali Jhumka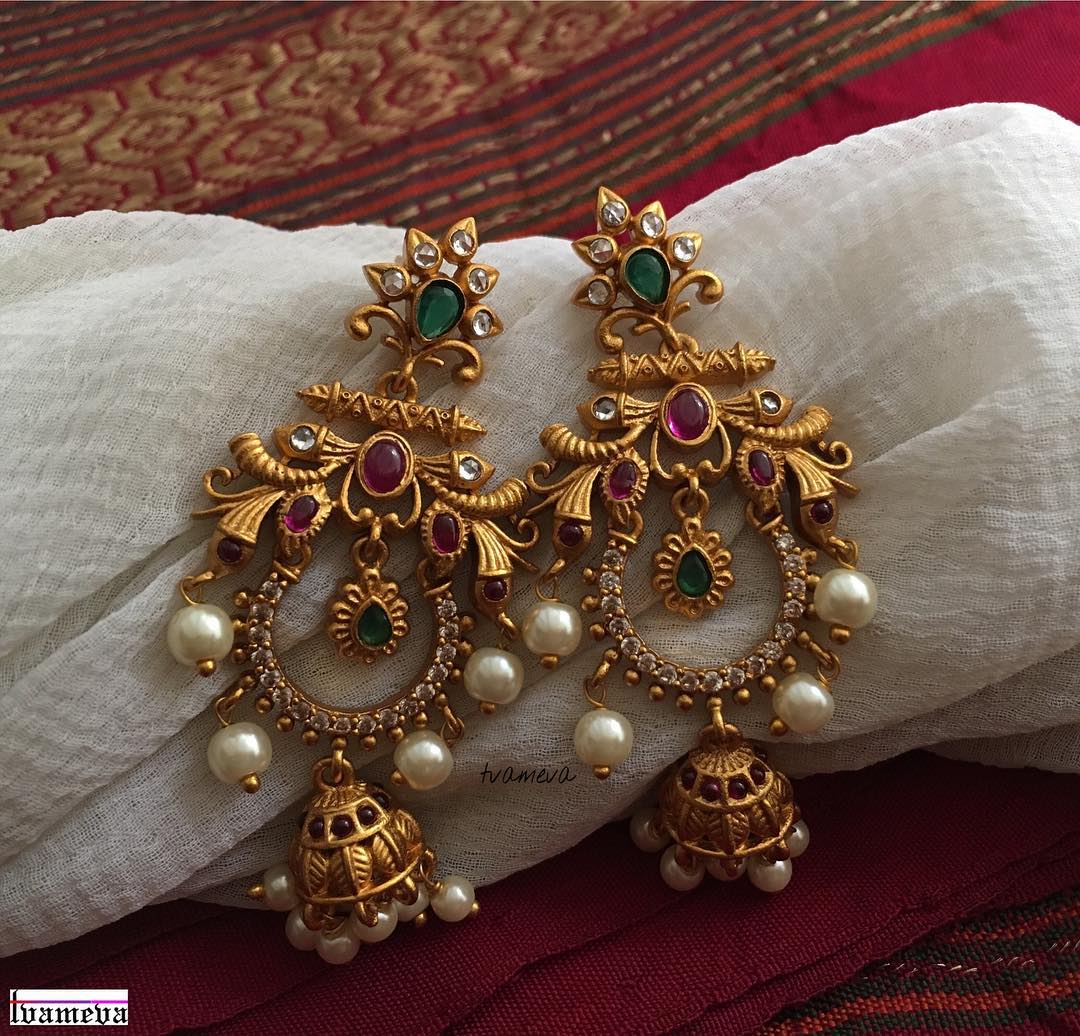 Gold plated chandbali jhumkas have revived the season again. These earrings definitely add some amount of extravagance to the persona of the wearer.
So, that's it. You can really get the most out of your money to just by going with one of these amazing designs.
Seller Name : BCOS – Its Silver
Contact No: +91 90941 38036.
Email :artee.manifattura@gmail.com
Website: https://www.bcositssilver.com/
Instagram : https://www.instagram.com/bcos_its_silver/
Facebook: https://www.facebook.com/BCOSITSSILVER/
Address : Shop #1, Plot #102, 17th Cross Street, 6th sector, near MK Ahmed bazar, opp to ICICI bank, HSR Layout, Bengaluru 560 102.
Seller Name : Kruthika Jewellery
Instagram : https://www.instagram.com/kruthika_jewellery/
Contact : +91 9849207645
Seller Name : Prade Jewels
Instagram : https://www.instagram.com/pradejewels/
Website : https://tamarachennai.com/collections/silver-jewellery
Seller Name : Precious and You
Instagram : https://www.instagram.com/preciousandyou/
Contact : +917094196623
Website : http://www.preciousandyou.com/
Facebook : https://www.facebook.com/preciousandyou/
Seller Name : Sree Exotic Silver Jewelleries
Whatsapp : +919790973374
Instagram : https://www.instagram.com/sree_exotic_silver_jewelleries/
Seller Name : Tarinika
Instagram : https://www.instagram.com/shoptarinika/
Facebook : https://www.facebook.com/ShopTarinika/
Website : https://www.tarinika.com
Whatsapp : +918621034913
Email : support@tarinika.com
Contact : +1 (832) 559-0132 (US)
Seller Name : Tvameva
Instagram : https://www.instagram.com/tvameva/
Contact : 9994767370
Also Read: