Your search for the best quality, splendid and exceptional haram designs ends here as you explore the 31 beautiful haram designs you will only find on this brand, Tarinika.
Expand your jewelry collection by exploring the trending and astounding necklace pieces from this brand right now. Eventually, you will connect with these haram necklace designs wholeheartedly and will end up buying them with excitement and a smile on your face.
Floral Stone Haram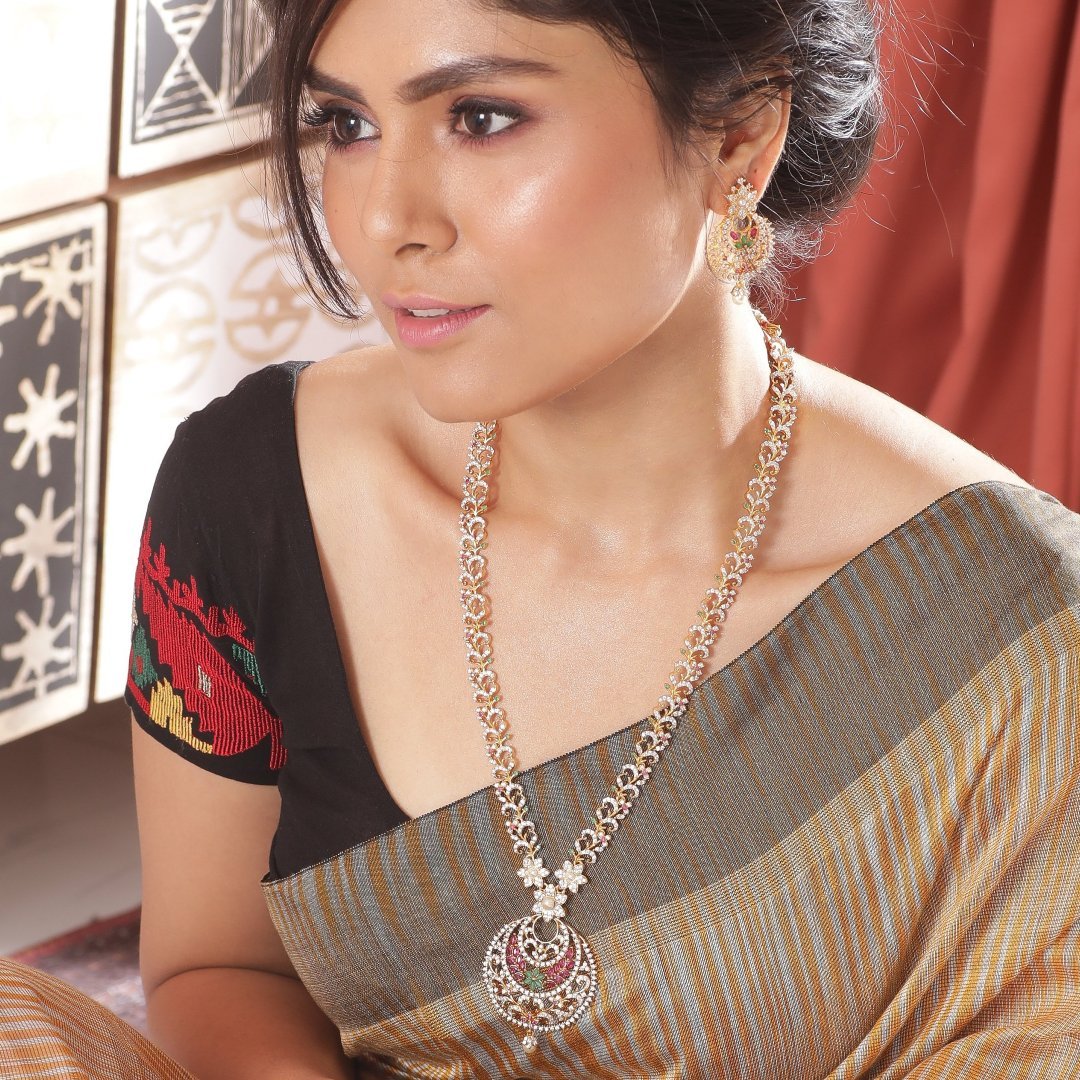 The gorgeous and exquisite floral stone haram will blow your mind. The white and green flowers on the colorful necklaces along with the interesting designs on it make it a wonderful choice for a girl and women.
Four Layered Ball Haram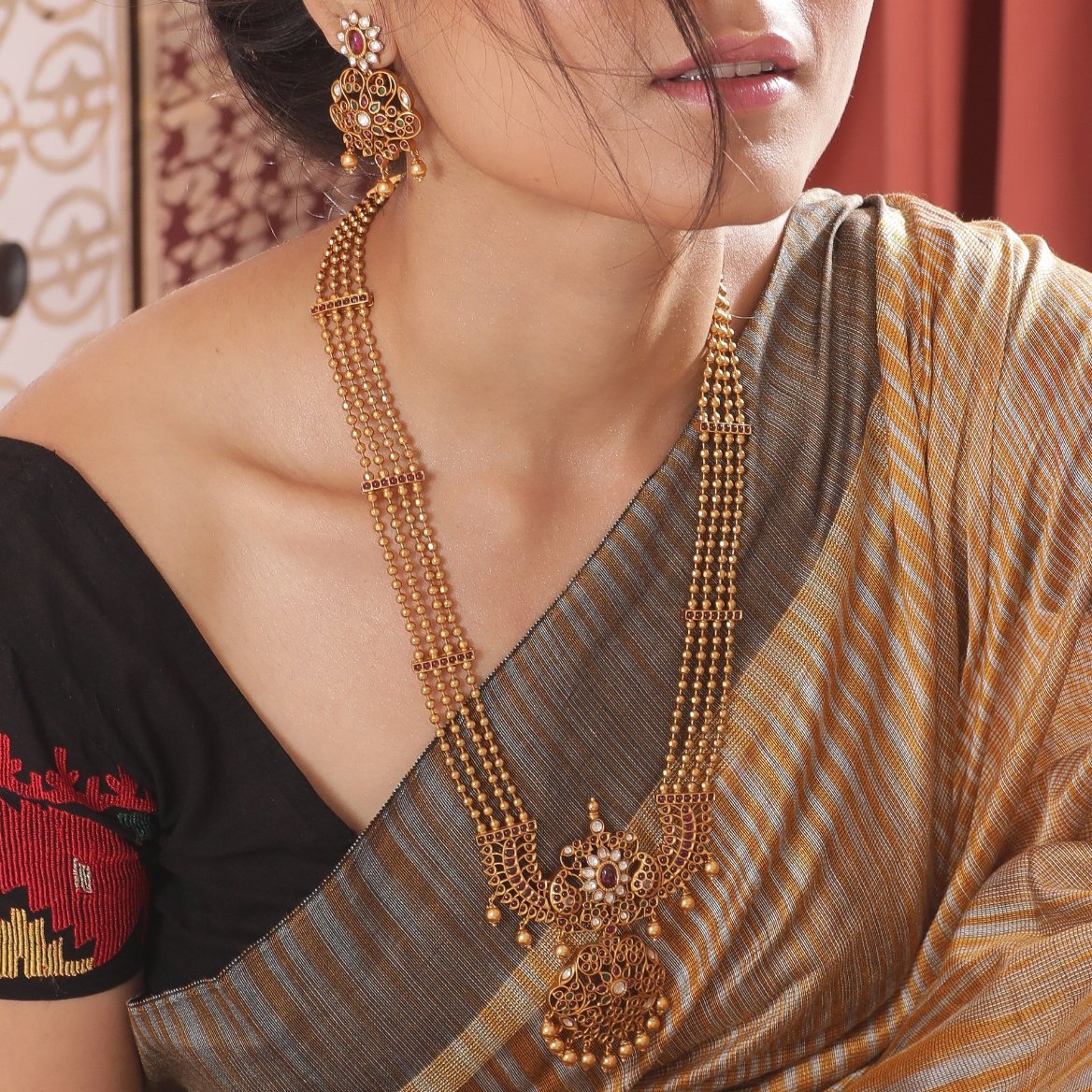 The golden four layered ball haram will make its way to your heart. You will feel yourself falling in love with this necklace. Don't hesitate and hold back yourself while buying it if you really like it.
Three Layered Ruby Stone Haram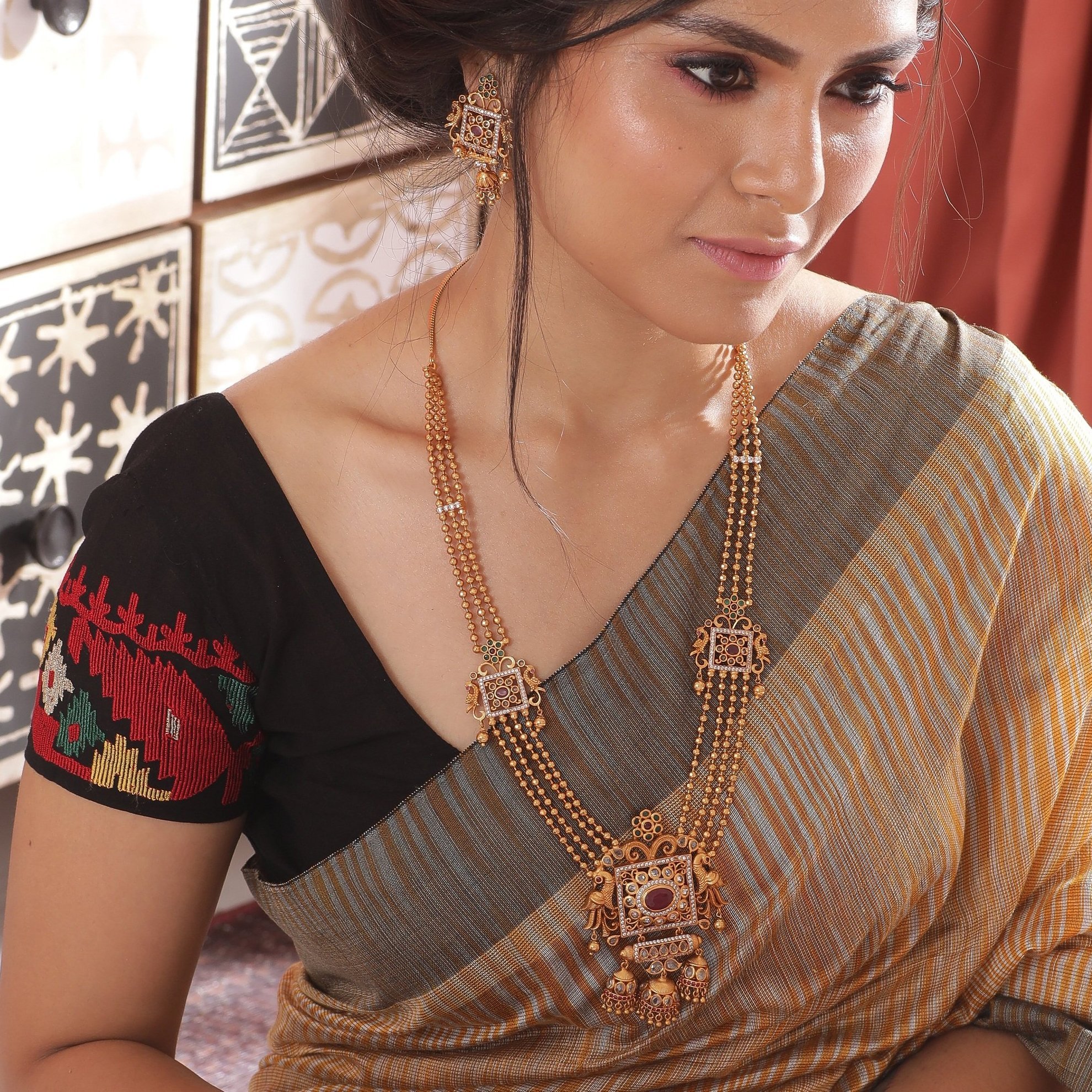 Three layered ruby stone haram will elevate your beauty and style to a higher level. Be amazed by the beauty, dignified and lovely look of the ruby stones on the necklace.
Lakshmi Stone Haram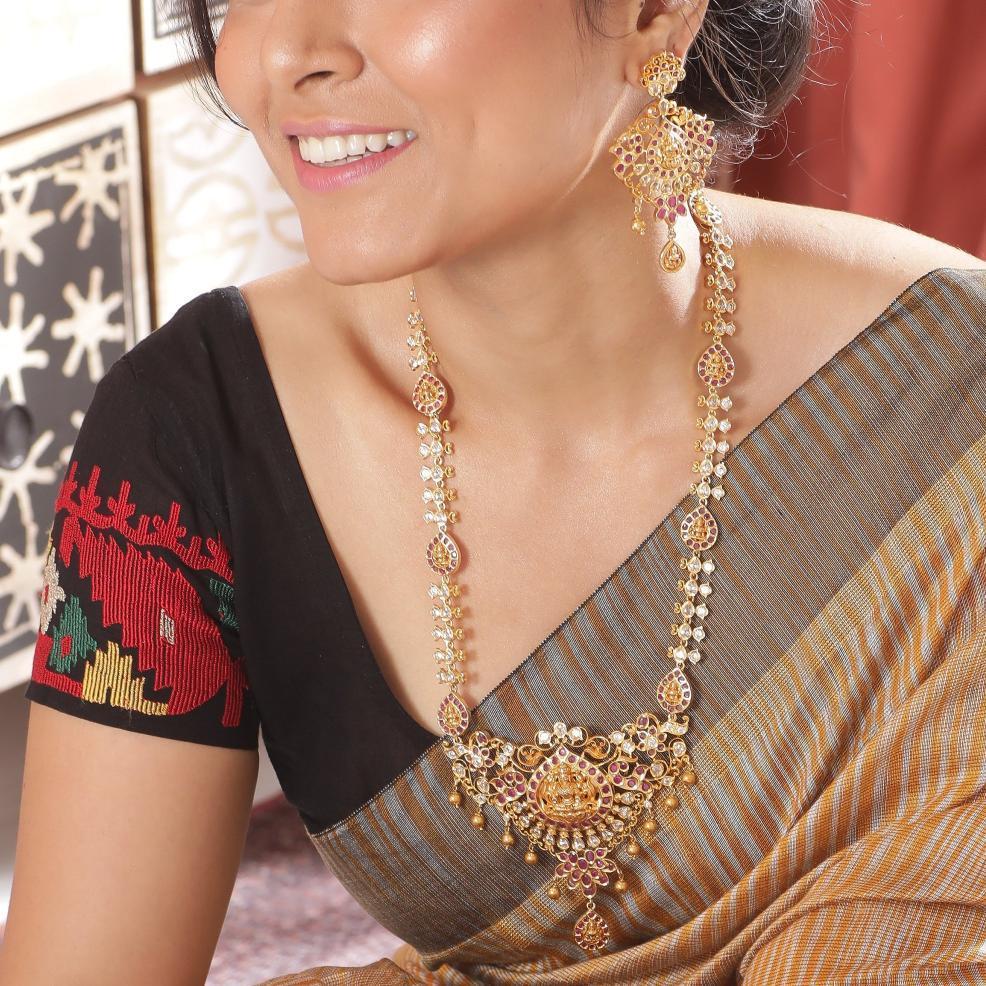 The enthralling white, gold and purple color on this Lakshmi stone haram is a delightful jewelry piece for ladies and girls who are looking for a stunning appearance.
Floral Ruby Stone Haram With Pendant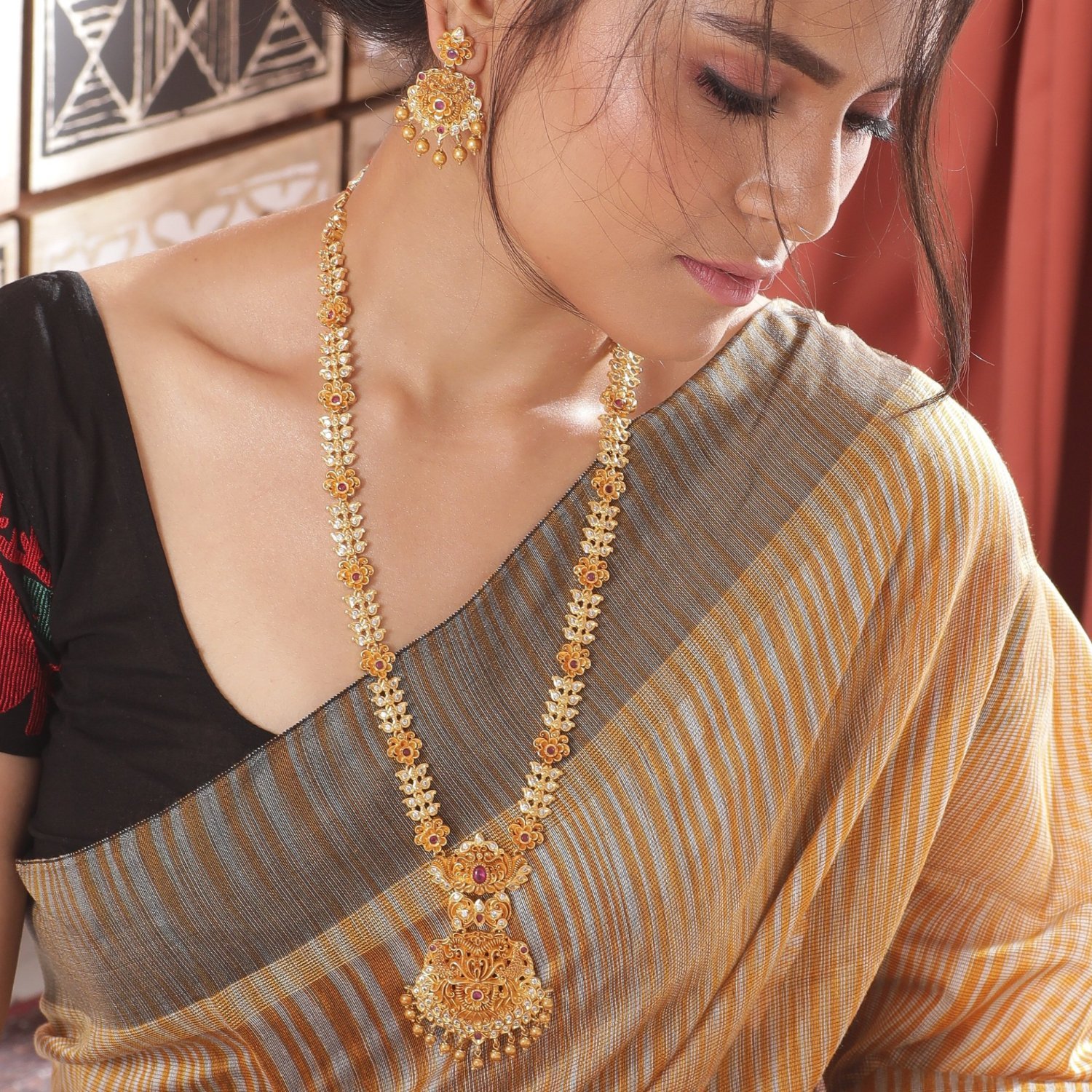 Don't miss out on the opportunity to buy this floral ruby stone haram with pendant and obtain this piece of jewelry into your jewelry box.
Kemp Peacock Haram
The confusion and indecisiveness of what to wear on parties and gatherings with your friends end here with this Kemp peacock haram.
Peacock White Stone Haram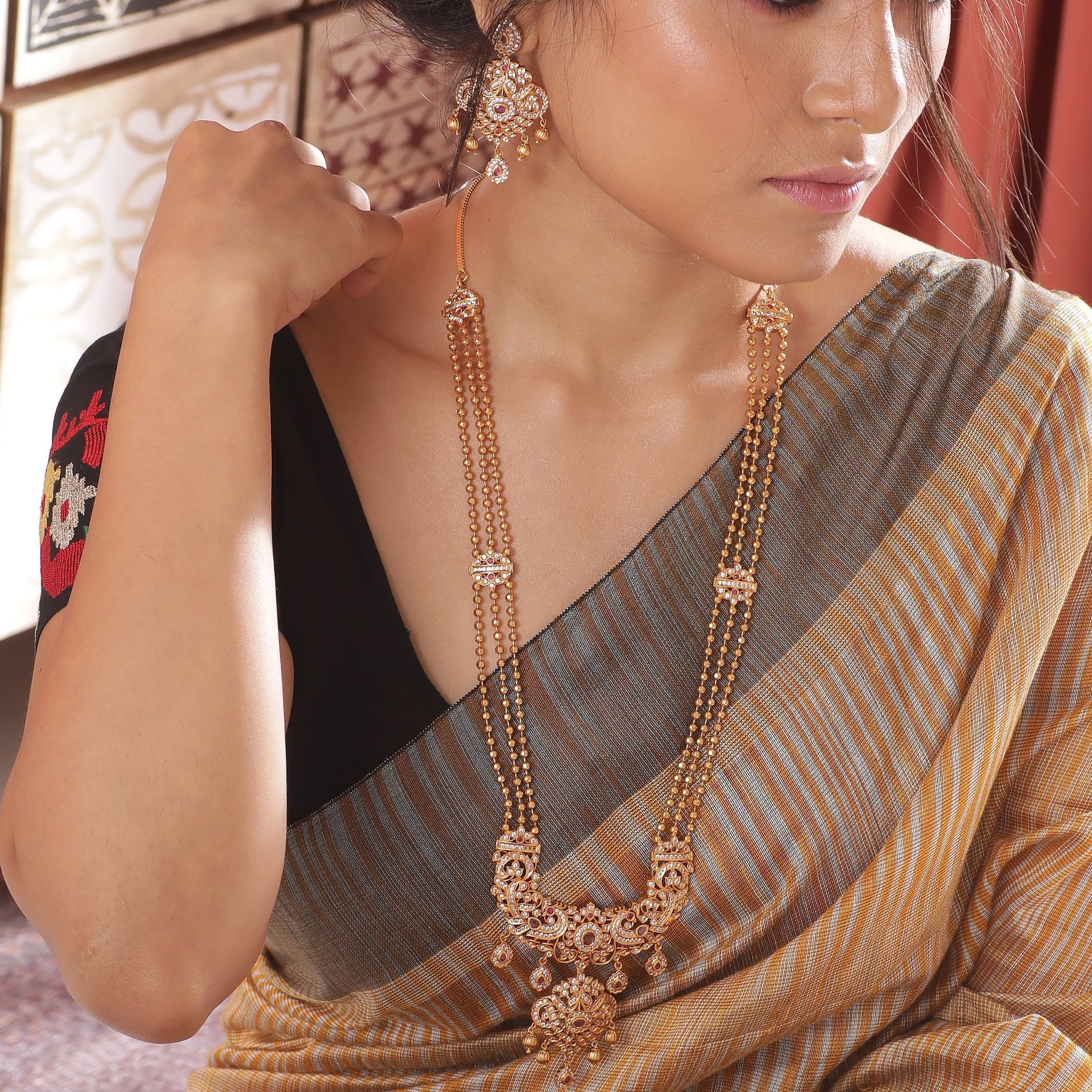 The enchanting and distinctive peacock white stone haram can make you look and feel good. This necklace offers a perfect blend of white and golden color along with a striking and stylish look.
Long Kemp Haram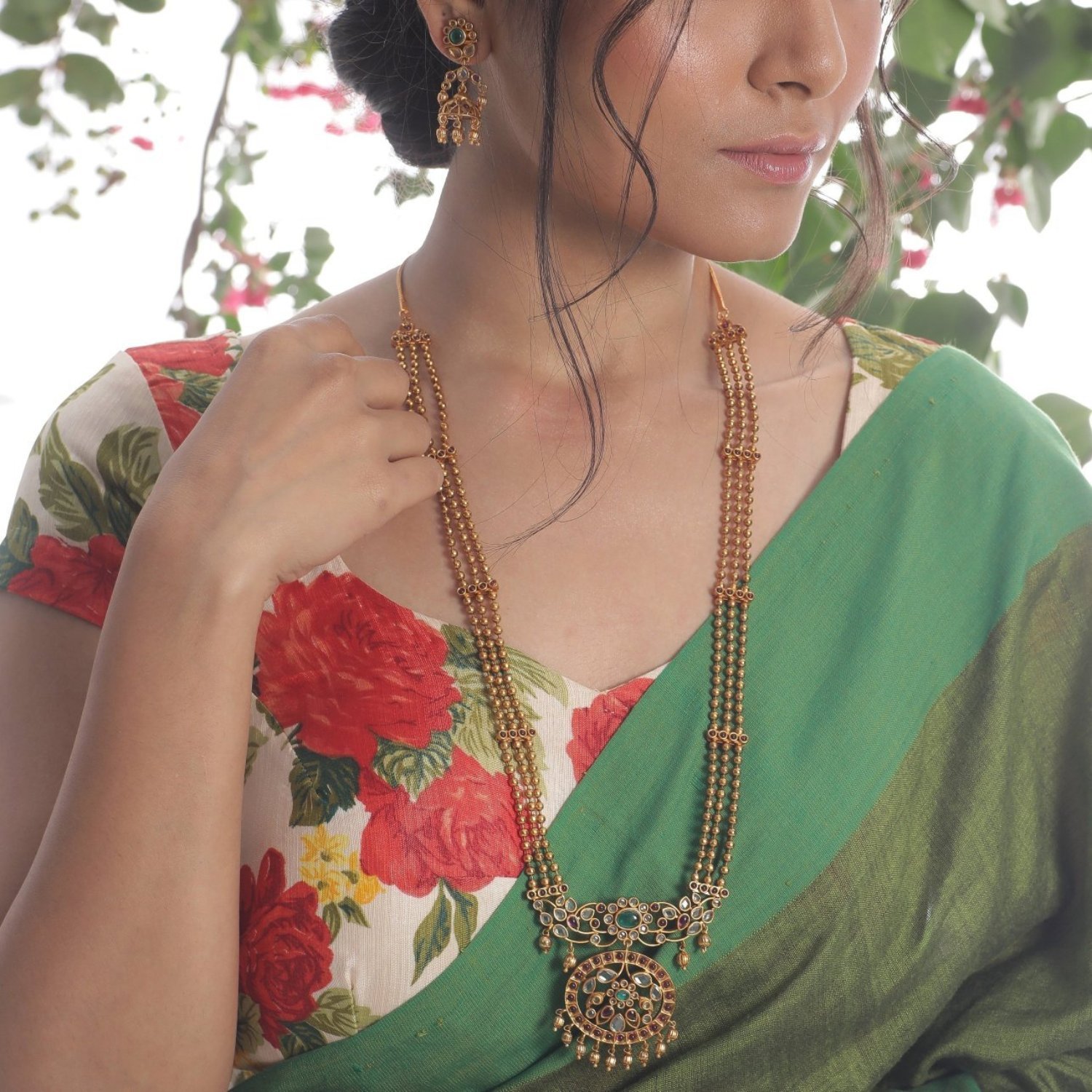 The white and green stones look remarkable and outstanding on this long Kemp haram. You can certainly wear this long necklace with your traditional attire whenever you want.
Long Antique Spike Haram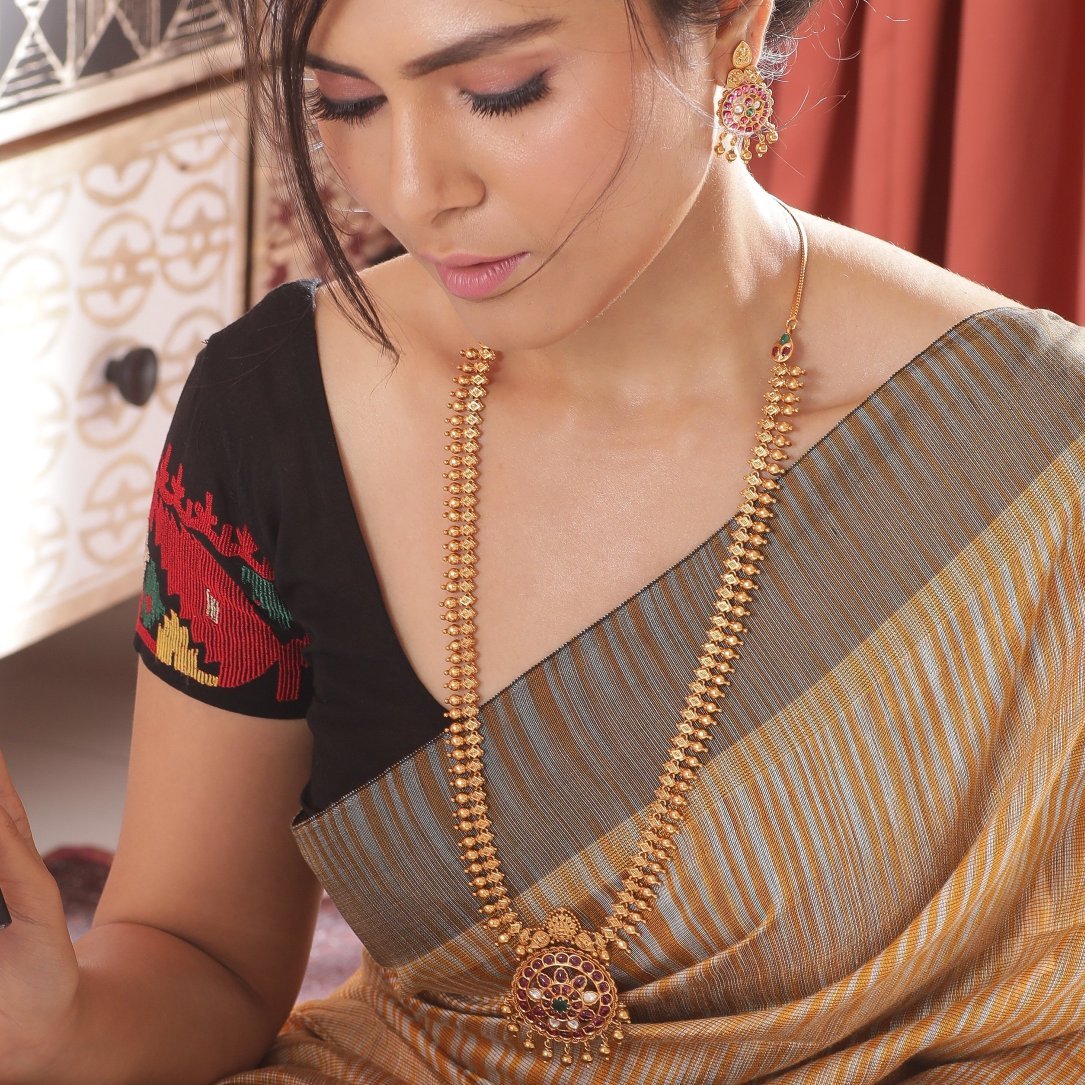 No need to spend minutes or hours on thinking on what to dress in with your favorite traditional outfits from the wardrobe when you will have this long antique spike haram necklace with you.
Peacock Temple Haram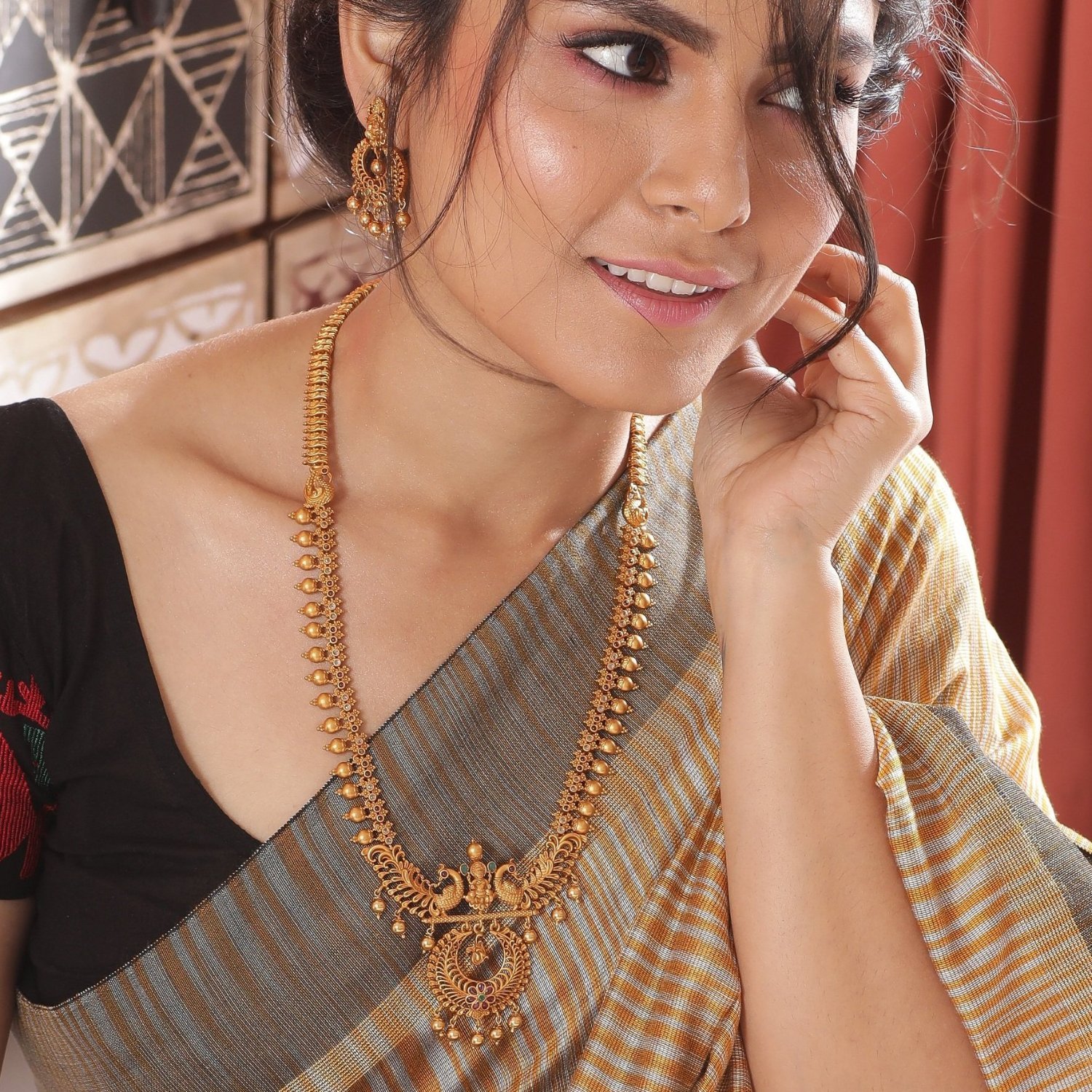 Complete your dazzling and fantastic overall look with the peacock temple haram that you can buy now. It is a good pick to add to your temple necklace collection at home
Peacock Mango Mala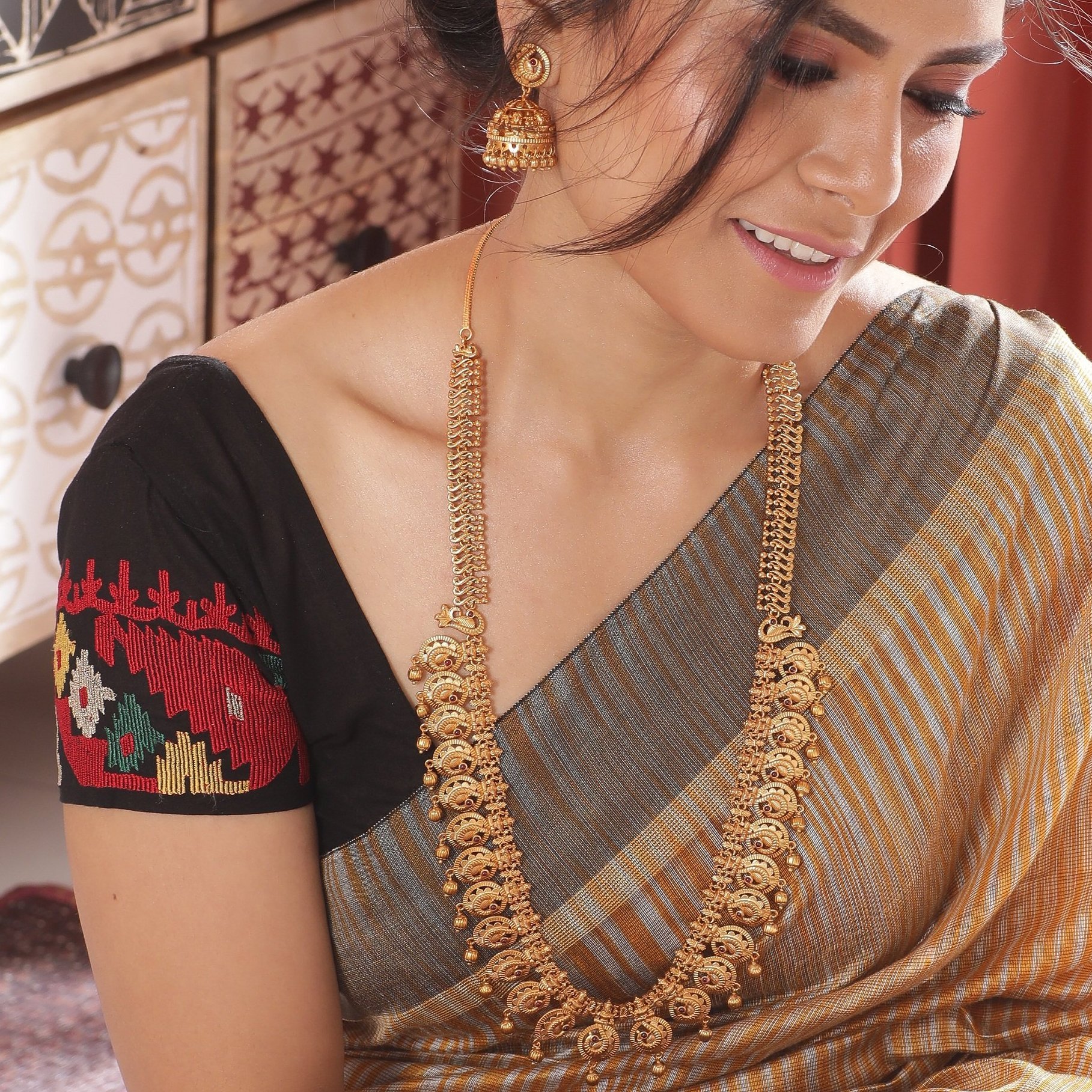 Allow yourself the look you always wanted on yourself with this golden peacock mango mala. The exciting and original designs of peacocks on this mango mala make it a good selection for you!
 Emerald And Pearls Necklace Set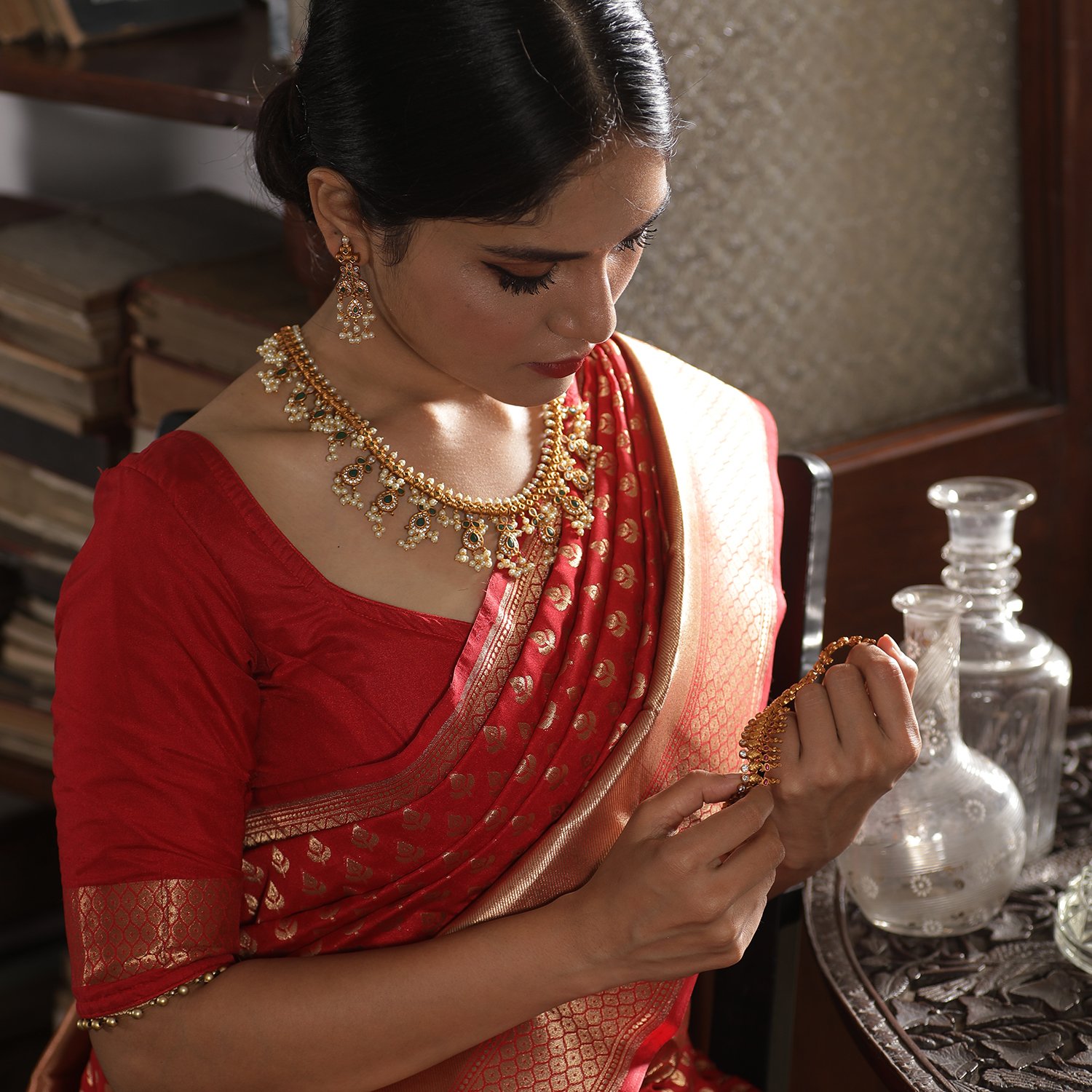 Get a unique, brilliant and absorbing look with this emerald and pearls necklace set. The divine appearance of pearls adds on to the green look of studded emerald precious stones of the necklace.
 Long Stone Haram With Pendant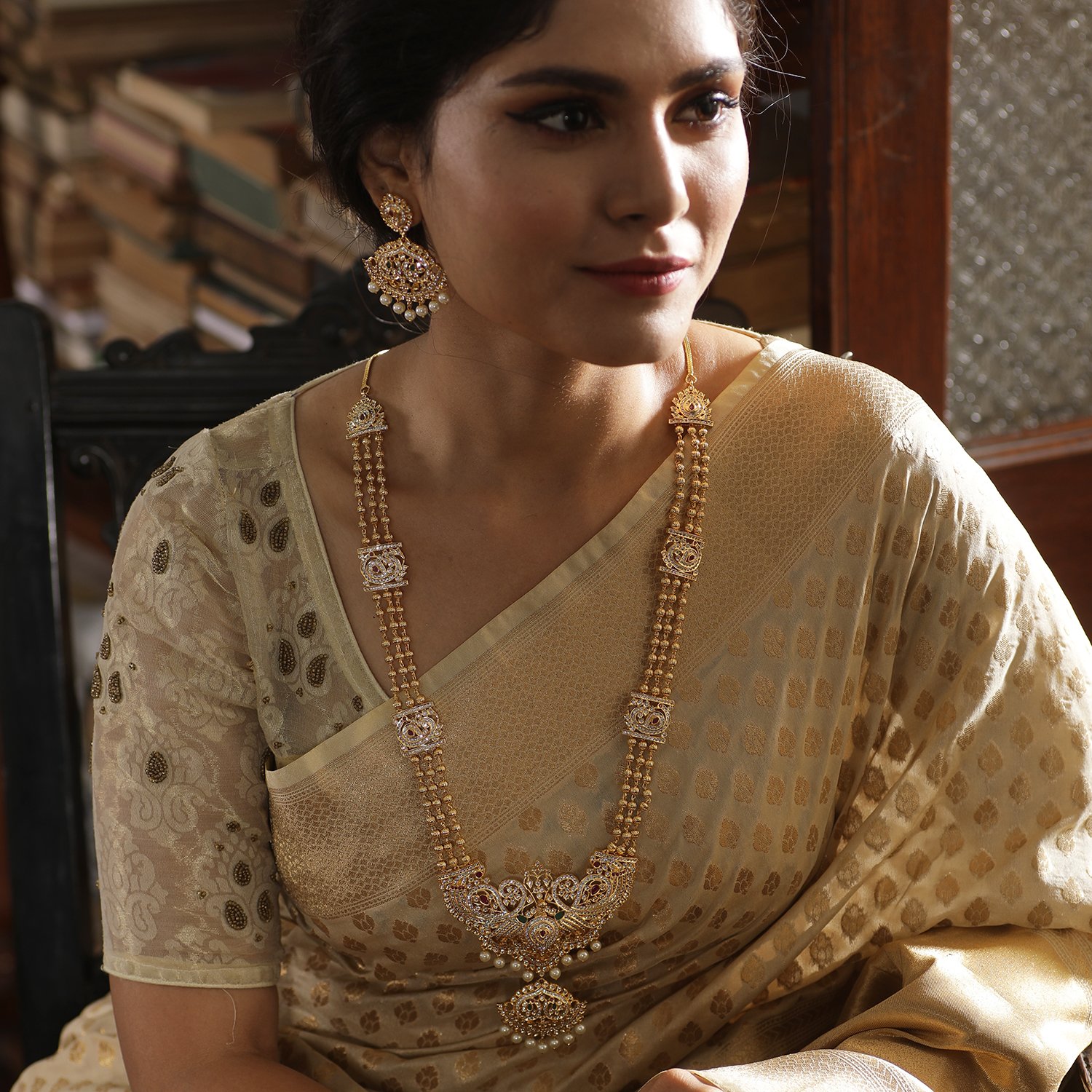 The dual color of gold and silver shades on the long stone haram with pendant can be paired with your gold, white, and silver dresses.
Pearl Haram With Stones
You can style up your look and wardrobe with this pearl haram with stones to get a stunning, nice and charming appearance on you wherever you go.
Temple Mango Haram With Studded Stones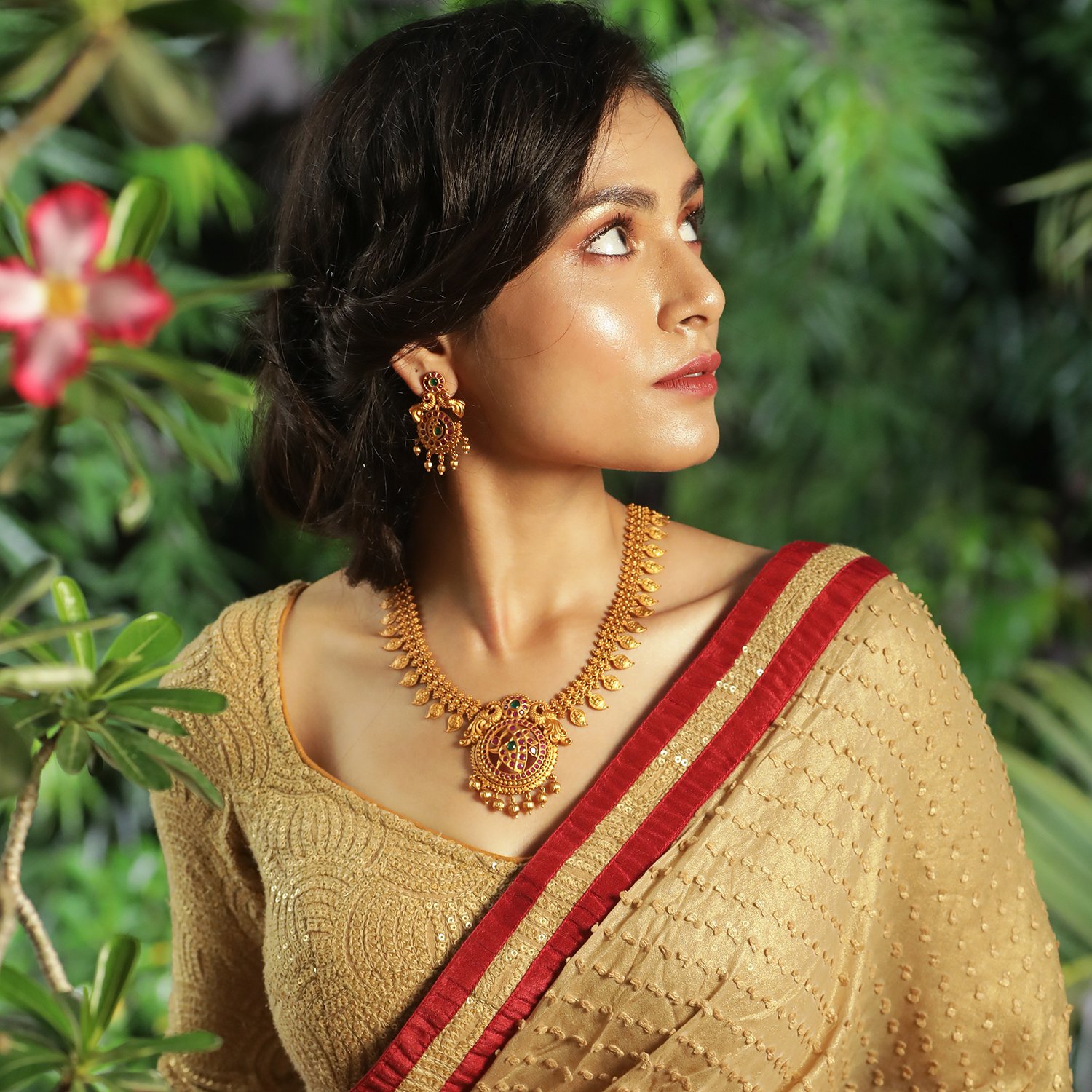 Opt for the elegance, style, and beauty presented by the temple mango haram with studded stones.
Ruby And Emerald Studded Stone Haram With Pearls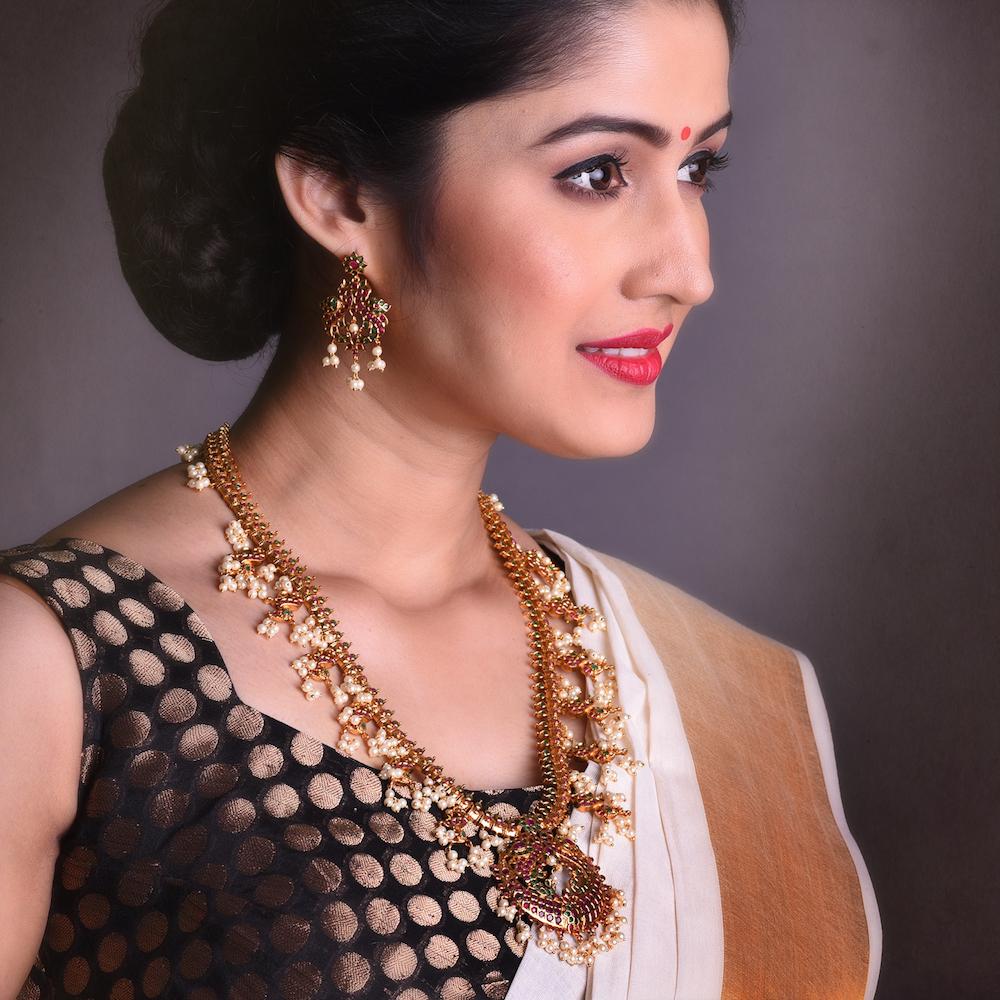 Enjoy a nice time and have fun with your family, friends, relatives and other people you know wearing this ruby and emerald studded stone haram with pearls.
Emerald And White Stone Haram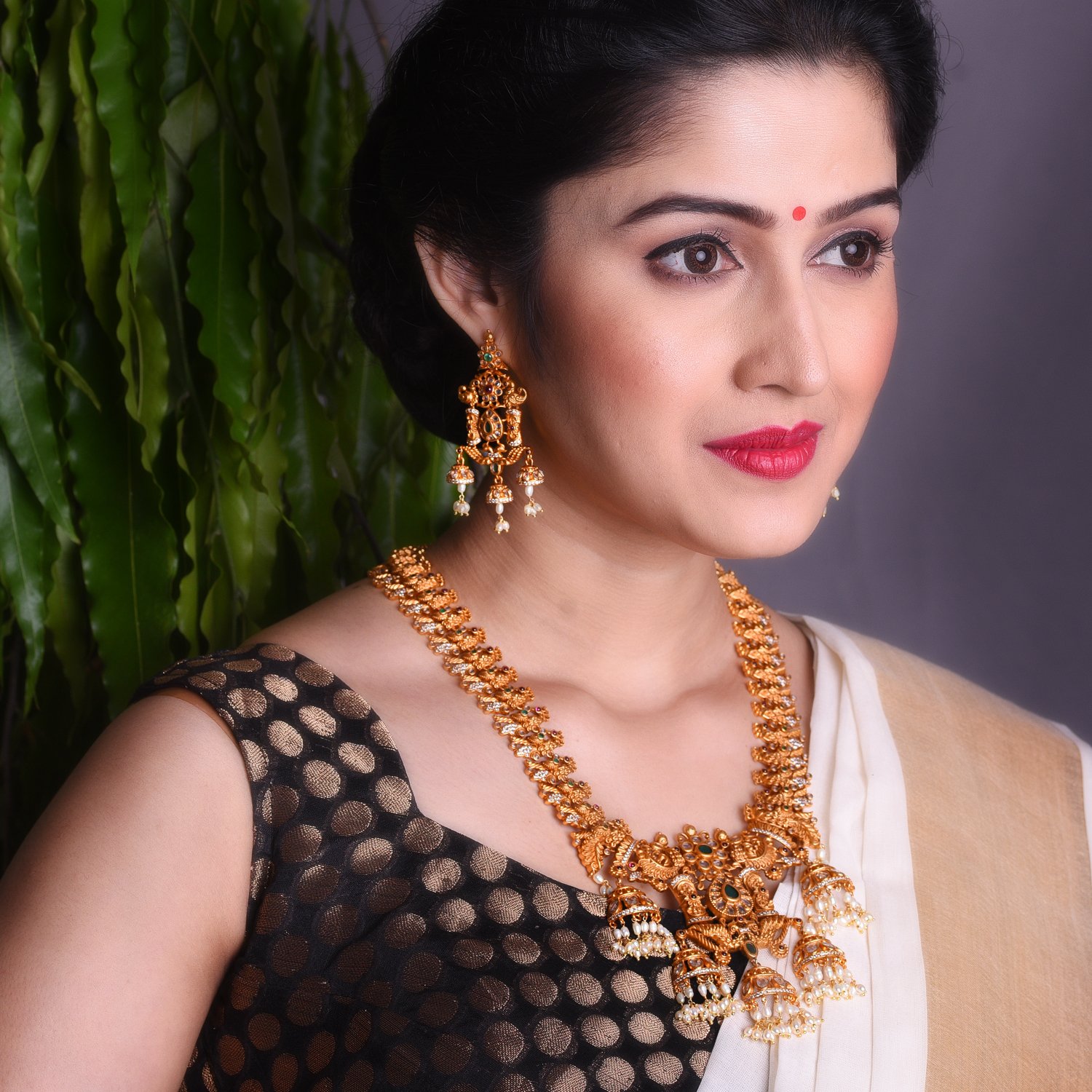 Buy this emerald and white stone haram now and watch your fashion and beauty increase as you attend various parties and events by every passing moment.
Ganesha Haram With Stones Set
With the blessings of Lord Ganesha, your every time wearing this Ganesha haram with stones set will be auspicious. The designs of Lord Ganesha on the necklace look luminous and eye-catching on you.
Temple Haram With Studded Stones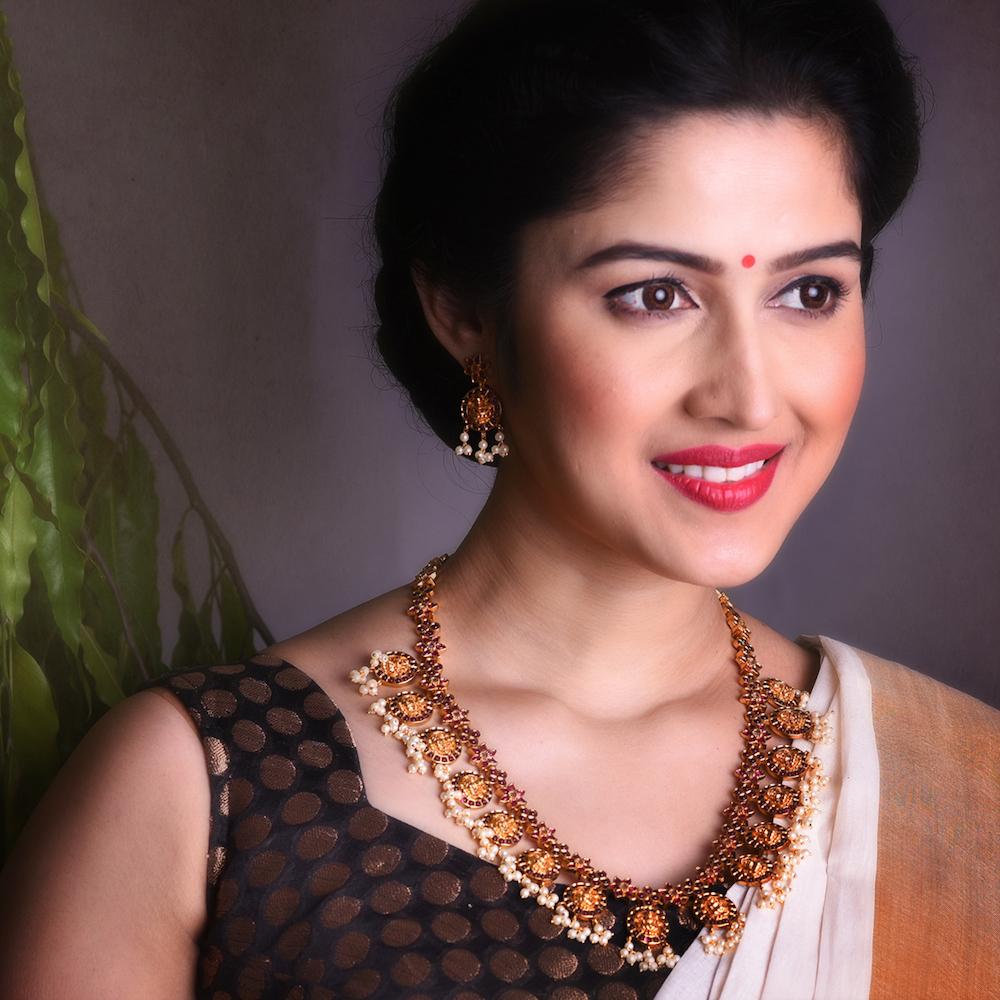 Your temple necklace jewelry collection will be fullfilled if this necklace, temple haram with studded stones are, added to the jewelry box.
Layered Coin Haram With Stones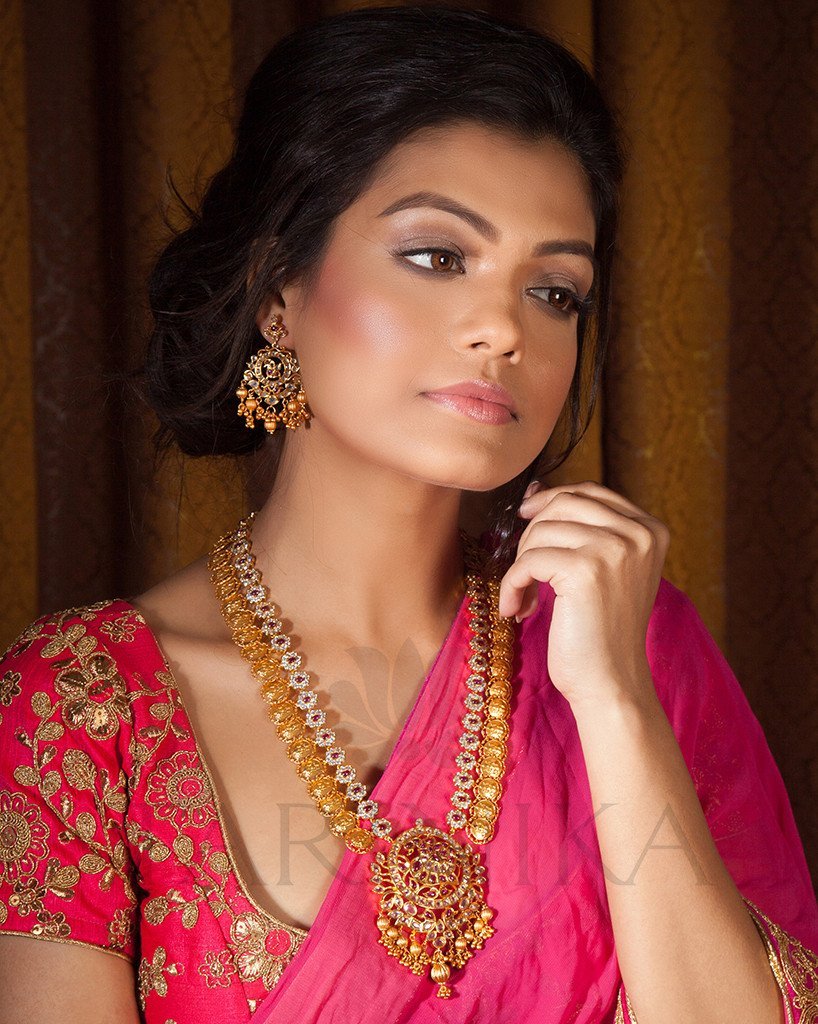 This necklace, layered coin haram with stones offered by this brand will give you a smile whenever you wear it on your dresses.
Pearl Kemp Haram
The gleaming and shimmering look of this pearl Kemp haram with the green, white and purple shades on this jewelry make it one of a great selection for you.
Pearl Haram With Studded Rubies Pendant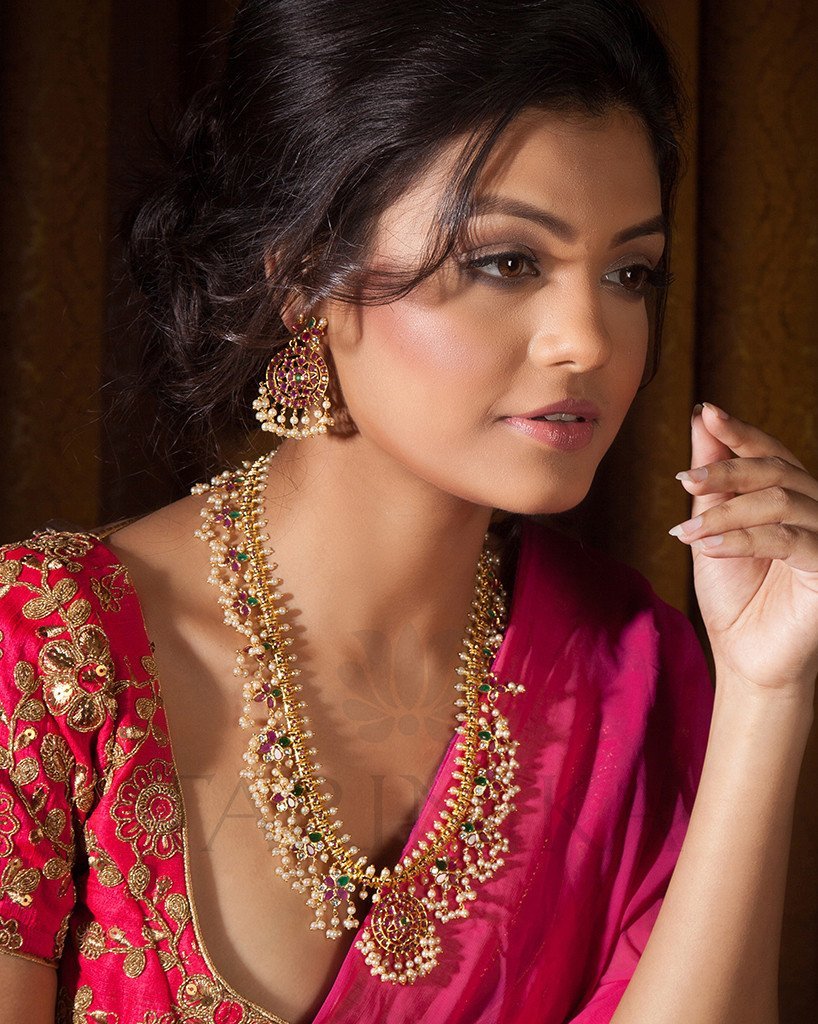 Get onto an adventure and journey of creativity of pairing many outfits with the superb and delicate pearl haram with studded rubies pendant to get the kind of appearance you were looking for.
Oxidized Peacock Haram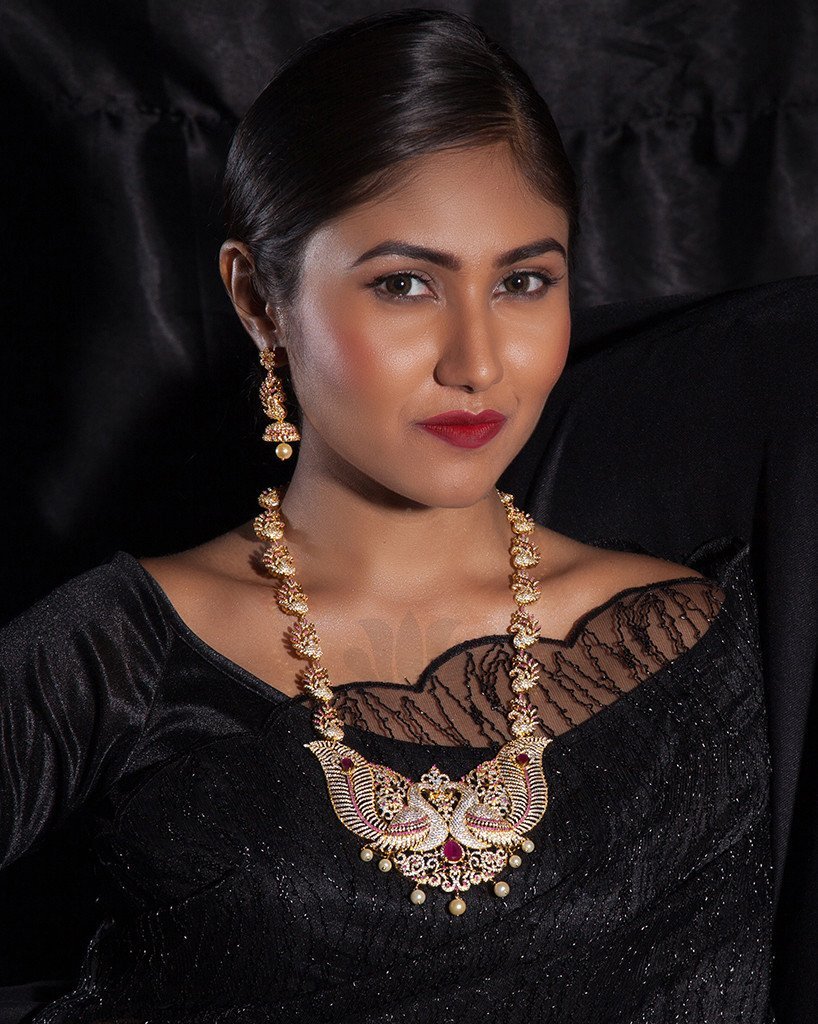 Make your own style and fashion statement with the oxidized peacock haram and unlock the hidden fashion pro from inside you.
Beautiful Ruby Haram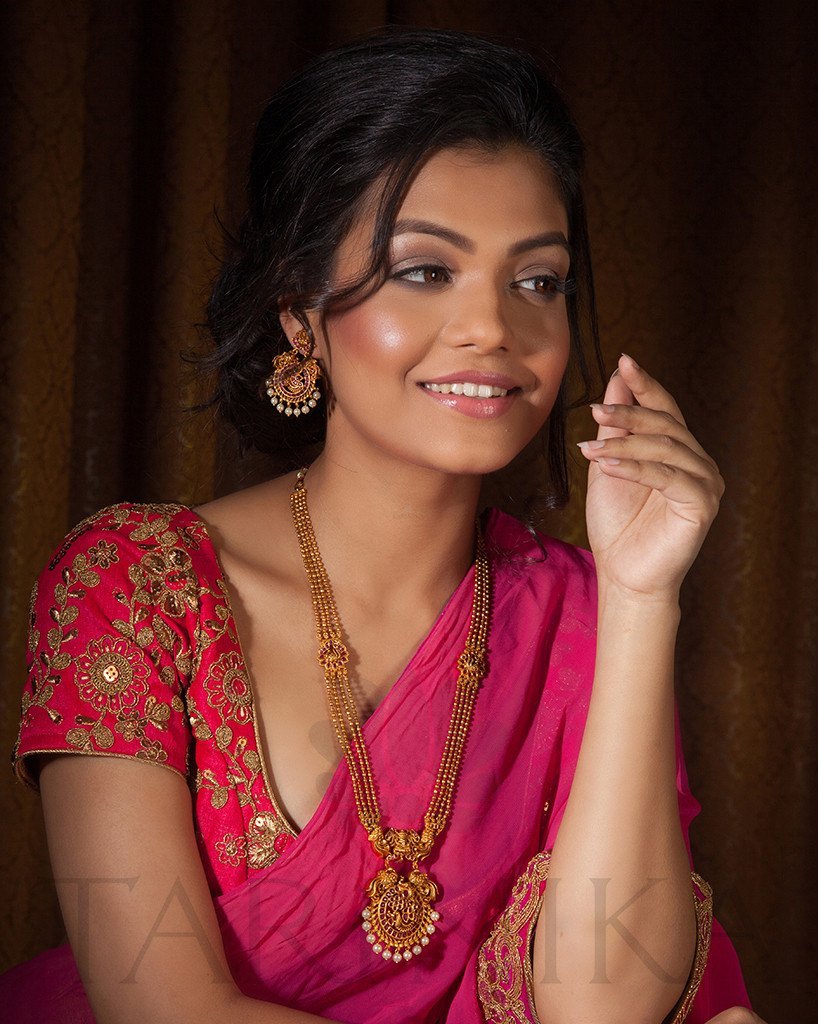 Enhance your fashion, overall look and style with this beautiful ruby haram jewelry piece and admire its beauty when you look at it.
Short Ball Haram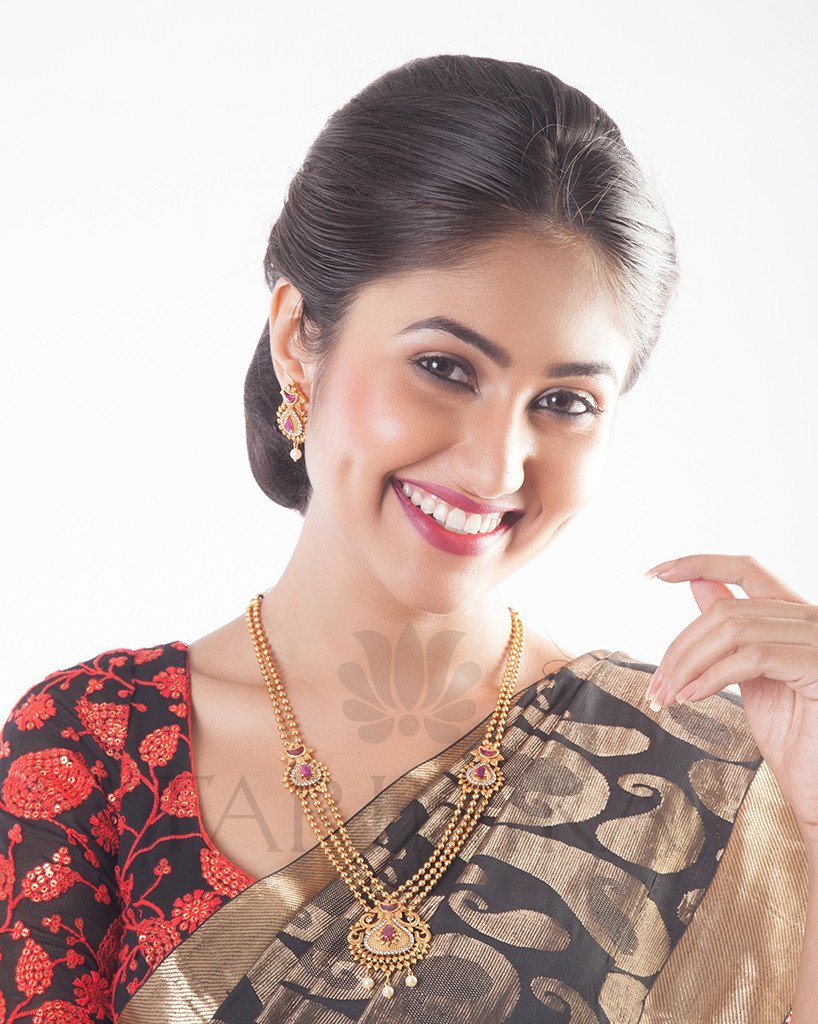 The fabulous and astonishing short ball haram can be a lovely gold haram necklace for you and someone else you truly love and care for to buy this for as a gift or a token of love.
Multi Layered Haram With Glossy Stones Pendant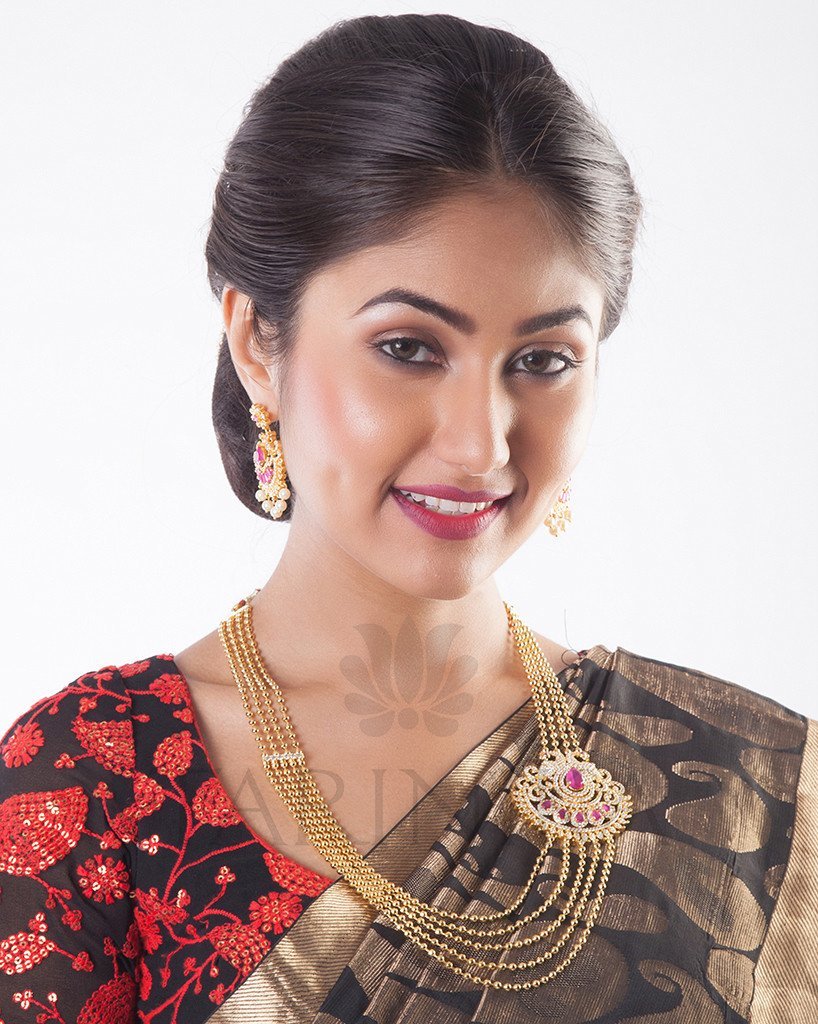 Give yourself the much-loved look with this marvelous, burnished, polished and sparkly multi-layered haram with glossy stones pendant necklace jewelry piece.
Glorious Lakshmi Haram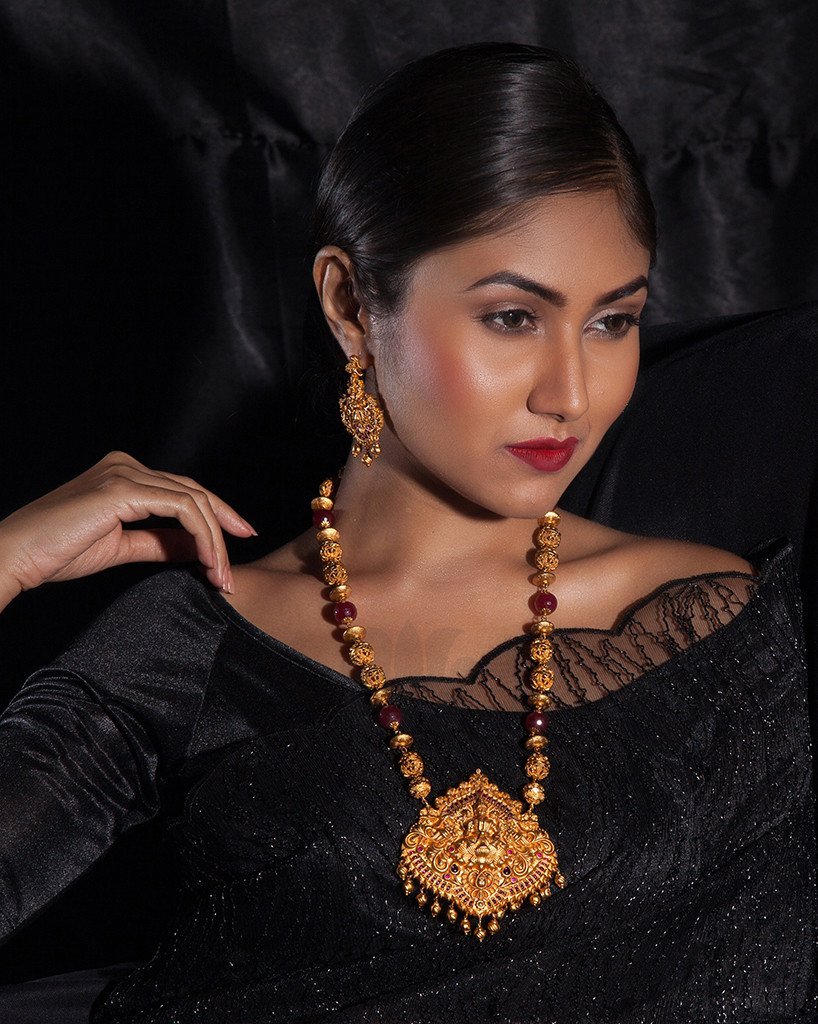 If you find this glorious Lakshmi haram making a soft spot in your mind, heart, and soul, then, don't forget to purchase it for sure. This necklace is hard to miss out when your eyes fall on it once.
Peacock Haram with Side Locket
Experience the touch, feel and look of the peacock haram with side locket as you hold it in your hand. This necklace will, without doubt, amplify your whole look whenever you put it on.
We hope you are as fascinated as we are with these beautiful haram designs. In case, if you like to shop these designs, then please find the seller details below.
Seller Name : Tarinika
Instagram : https://www.instagram.com/shoptarinika/
Facebook : https://www.facebook.com/ShopTarinika/
Website : https://www.tarinika.com
Whatsapp : +918621034913
Email : support@tarinika.com
Contact : +1 (832) 559-0132 (US)
Also Read: