Antique silver necklaces are certainly special and always a top favorite. Silver jewelry is long-lasting and beautiful, making it an appealing choice. Here, we've decided to compile a list of 25 wonderful antique silver necklaces to complete your look.
1) Silver Lord Ganesh Necklace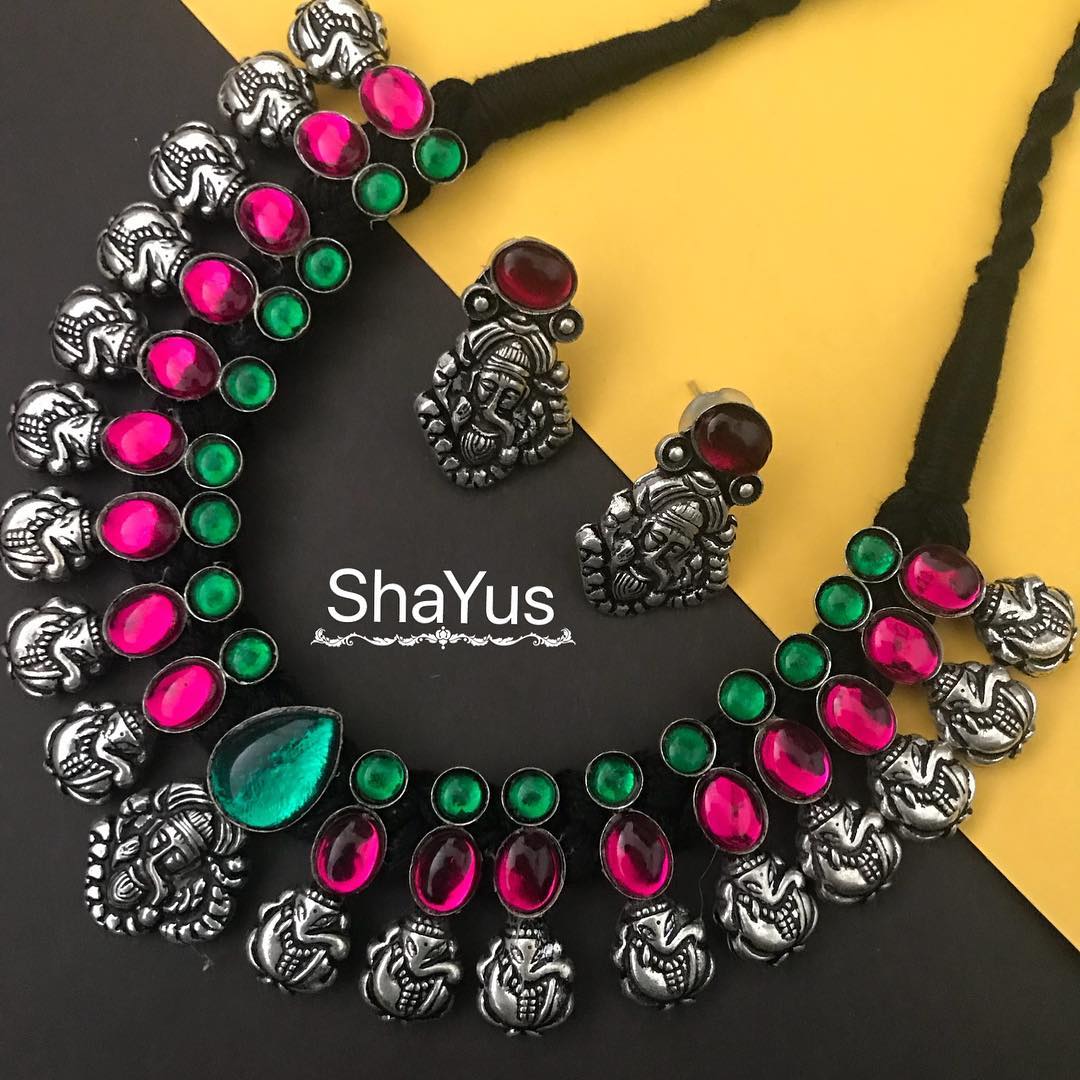 If you are wearing a dress that is created to have a traditional appeal, then it best to go for ethnic pieces like silver lord Ganesh necklace to complete the look.
2) Antique Tribal Choker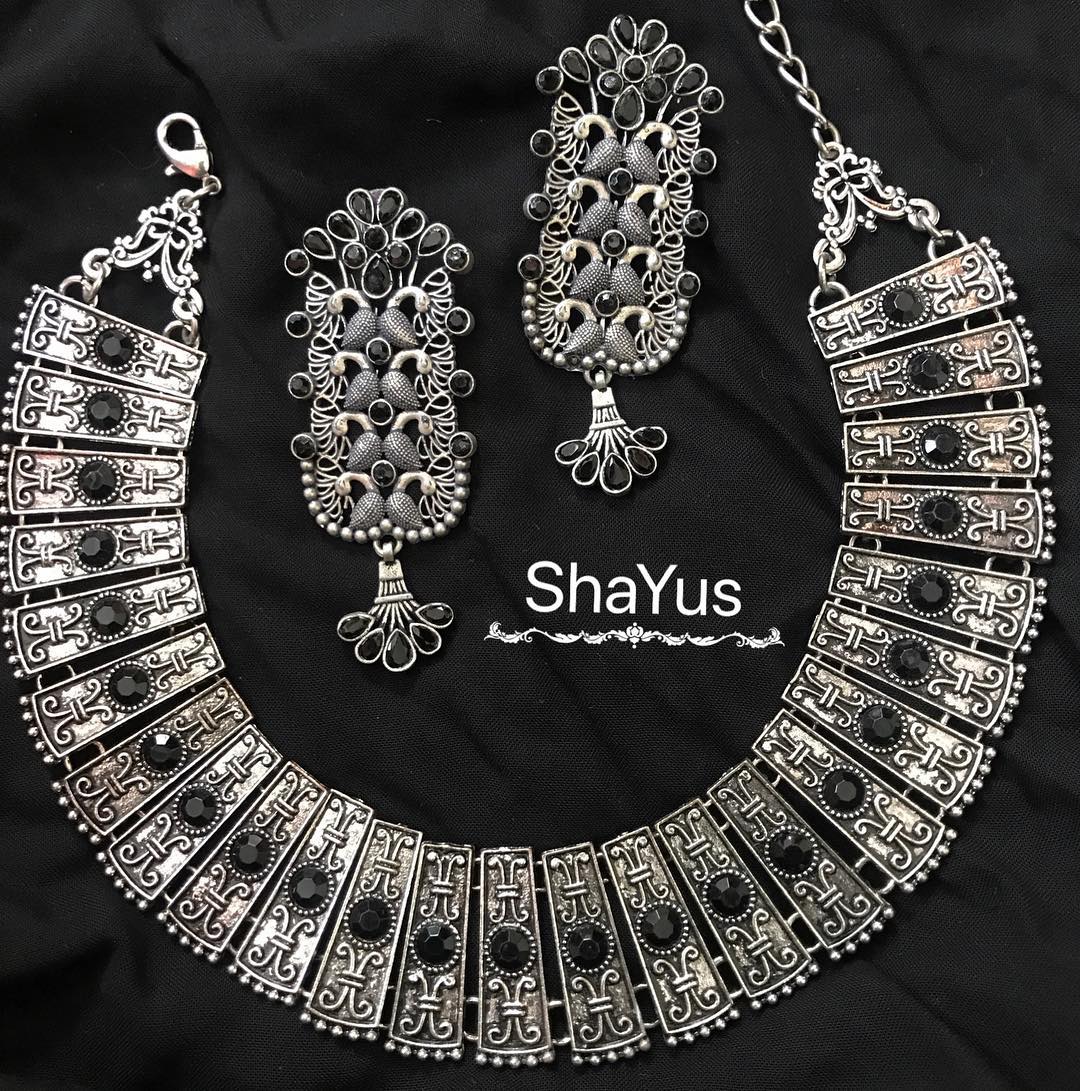 Tribal jewelry has been really popular of recent times, as antique chic with a twist of elegance has taken the fashion world by storm.
3) Antique Leaf Necklace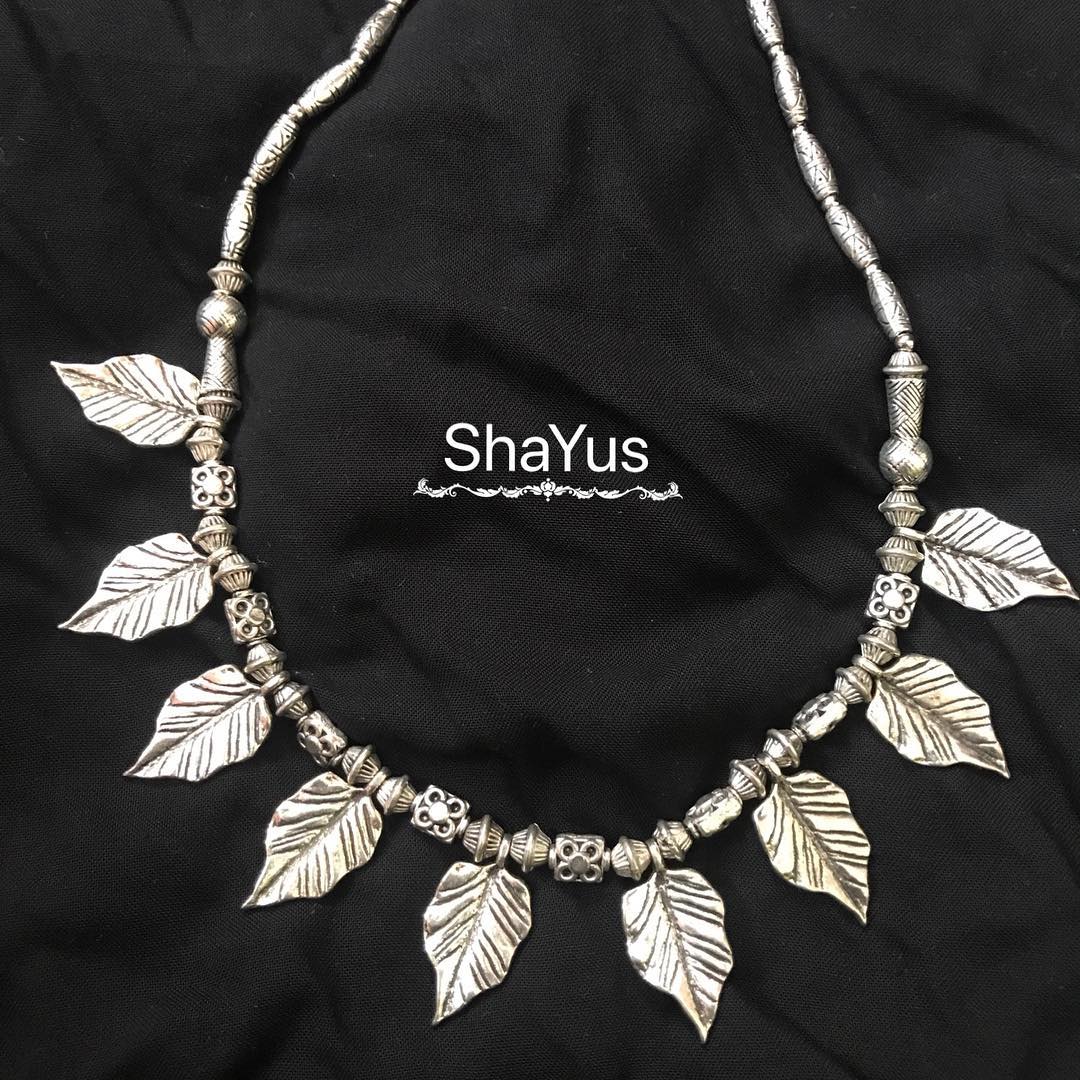 Antique jewelry can be the best choice as it is still very popular. Women of any age and any taste would love to wear an antique leaf necklace with stylish outfits to suit their persona.
4) Oxidized Lakshmi Necklace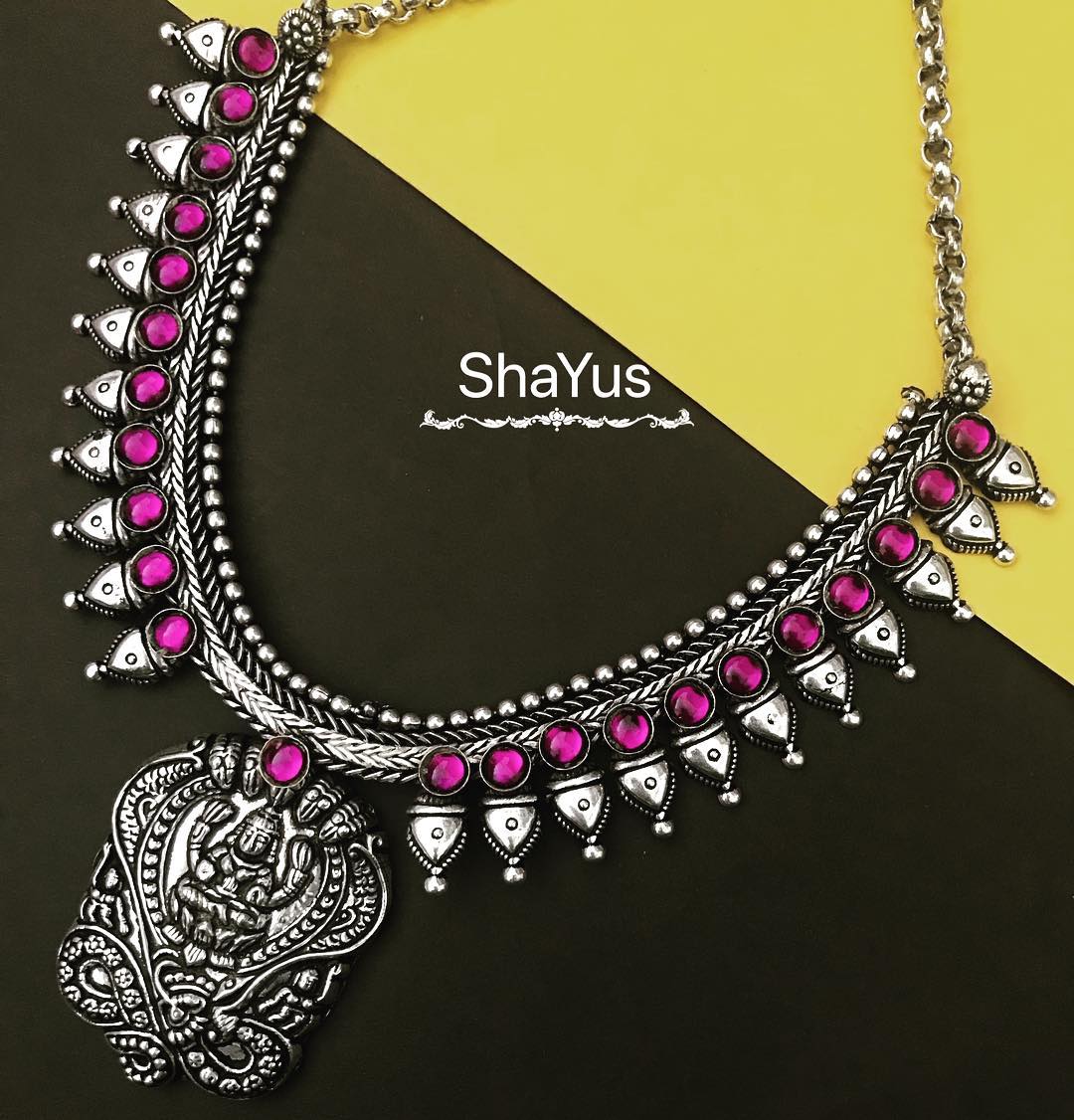 Oxidized jewelry has become the hottest craze among fashionistas these days. Silver Lakshmi is very versatile and can be worn to create different kinds of look this season as the latest trend is to add ethnic pieces to a modern outfit.
5) Simple Ruby Emerald Necklace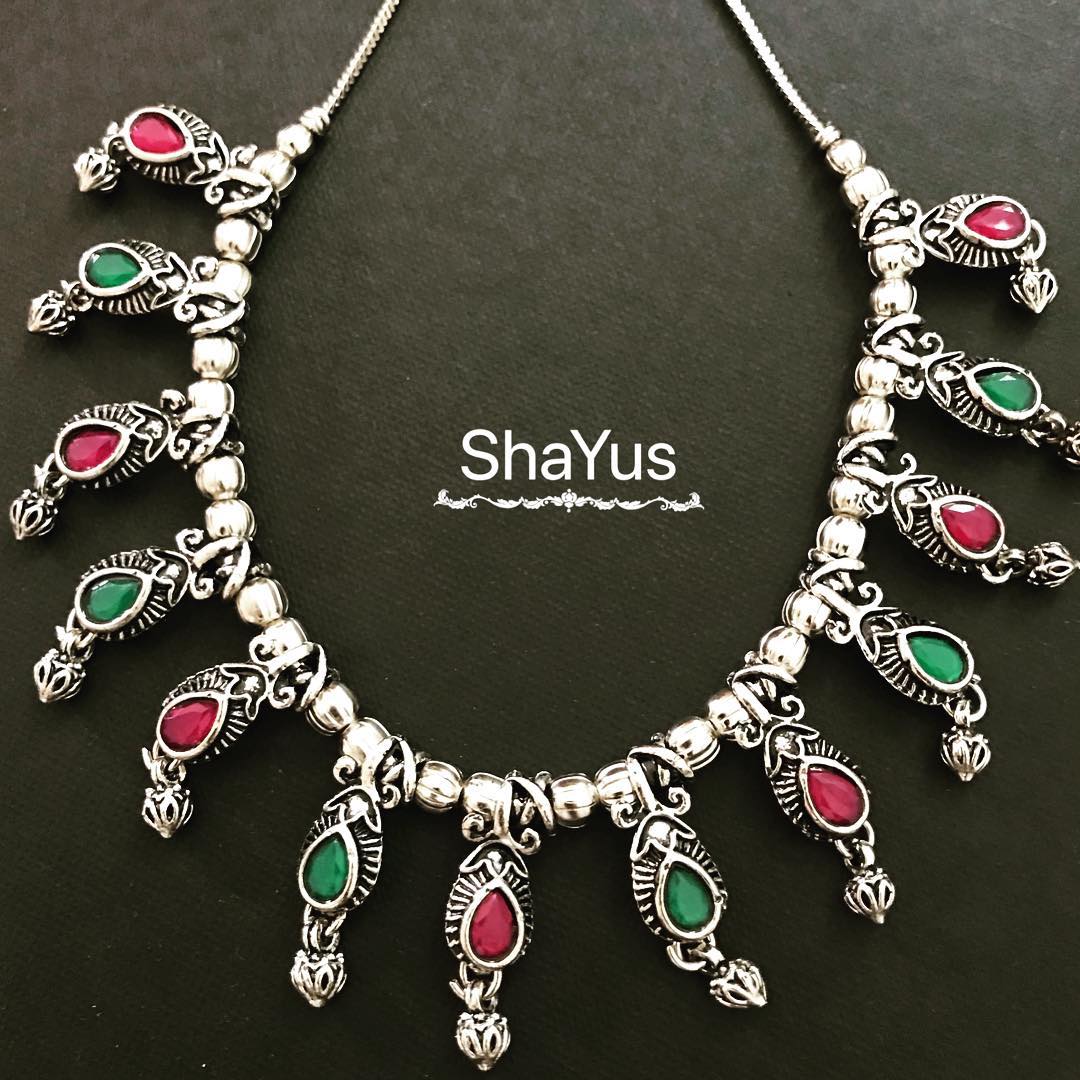 This simple ruby emerald necklace can complete any look with its charming and spectacular color. This design also beams with the exceptional presence of ruby. It's a magnificent piece to make any outfit pop!
6) Temple Necklace Set With Jhumka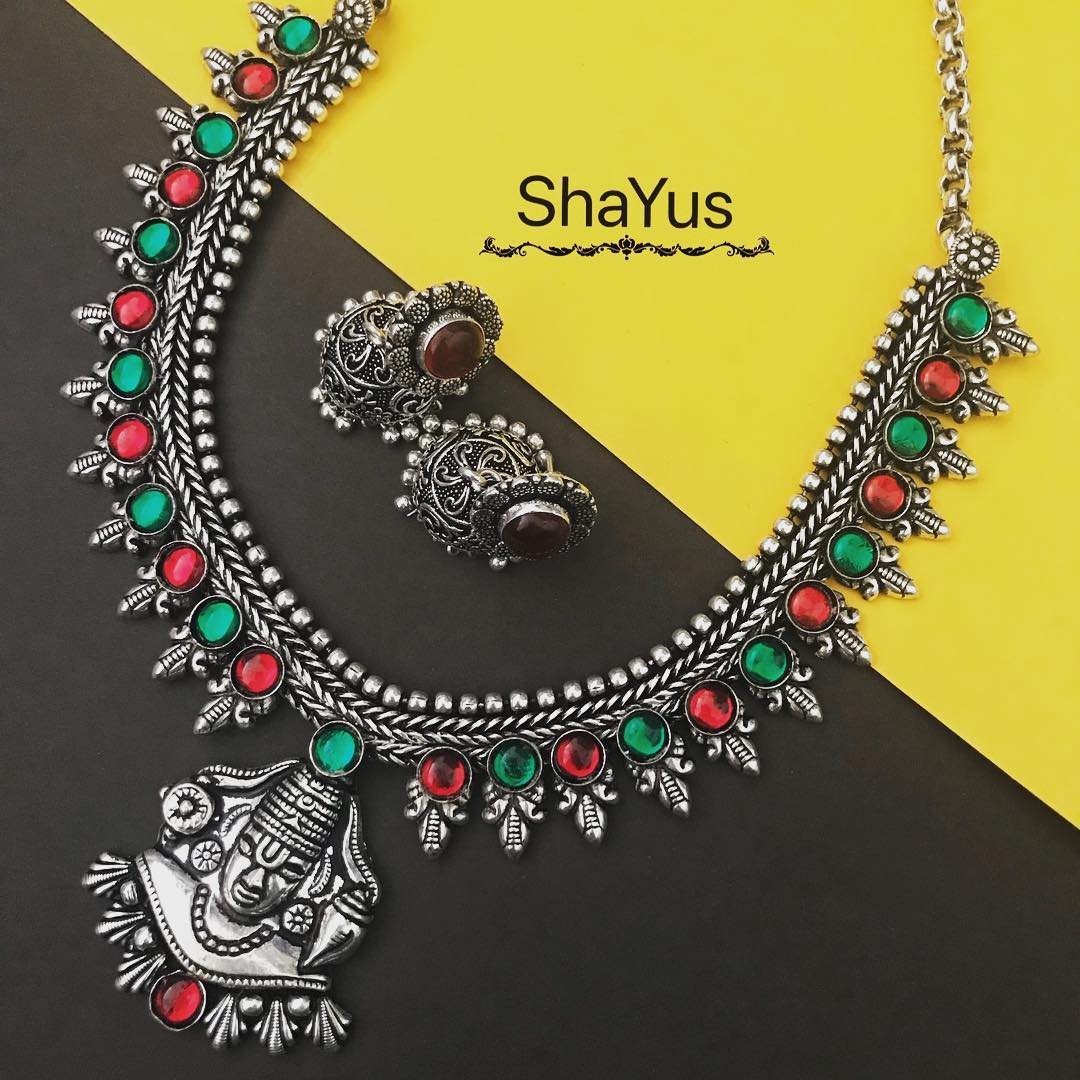 This temple necklace set with jhumka is a great way to create an impressive look for a gathering or a function. It would be sensible to invest in this precious piece if you are thinking of buying antique jewelry that is inexpensive and yet very fashionable.
7) Classic Goddess Lakshmi Choker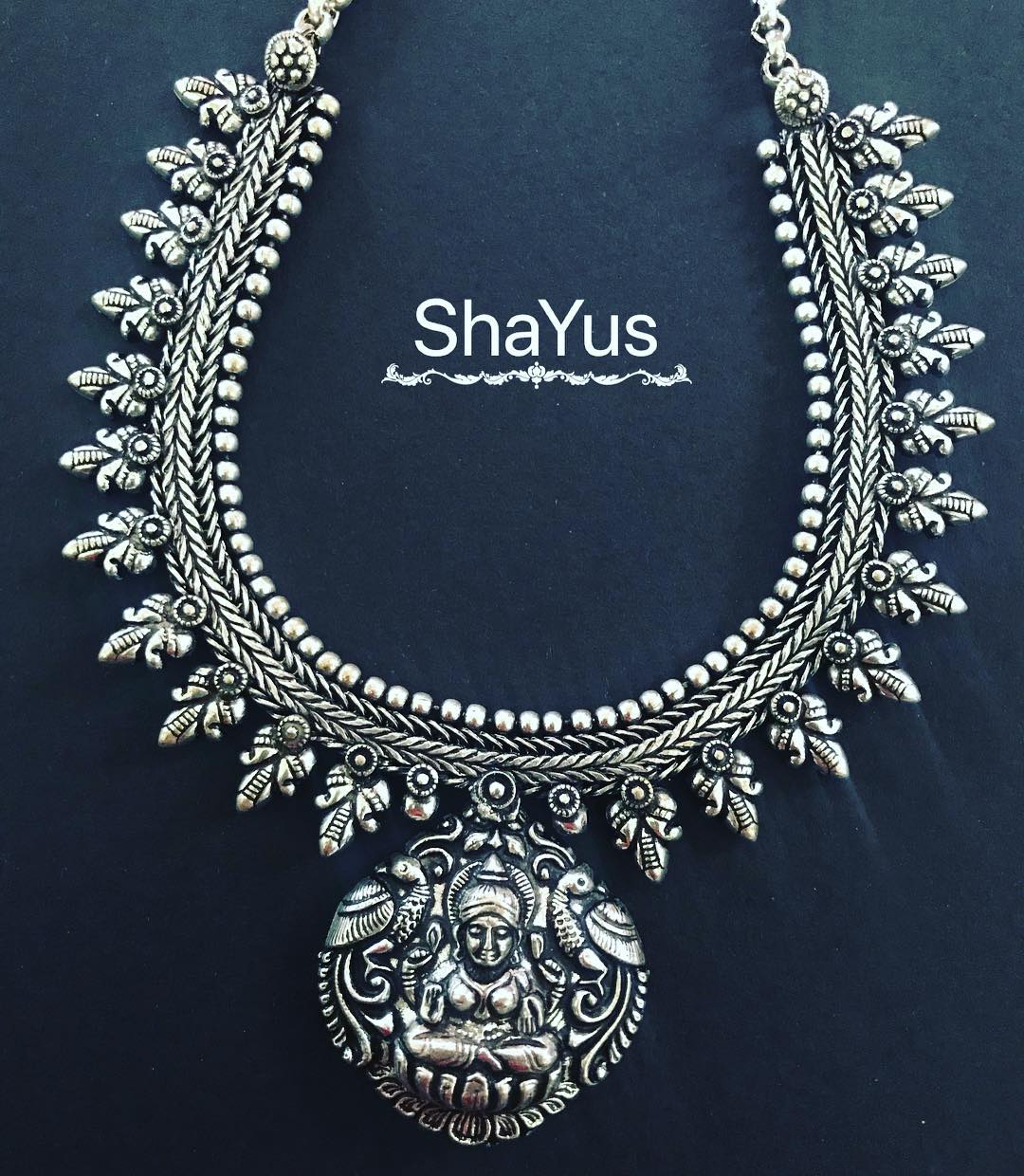 Choker lovers will love this classic goddess Lakshmi choker. This one is an elegant and sophisticated piece.
8) Dual Toned Coin Necklace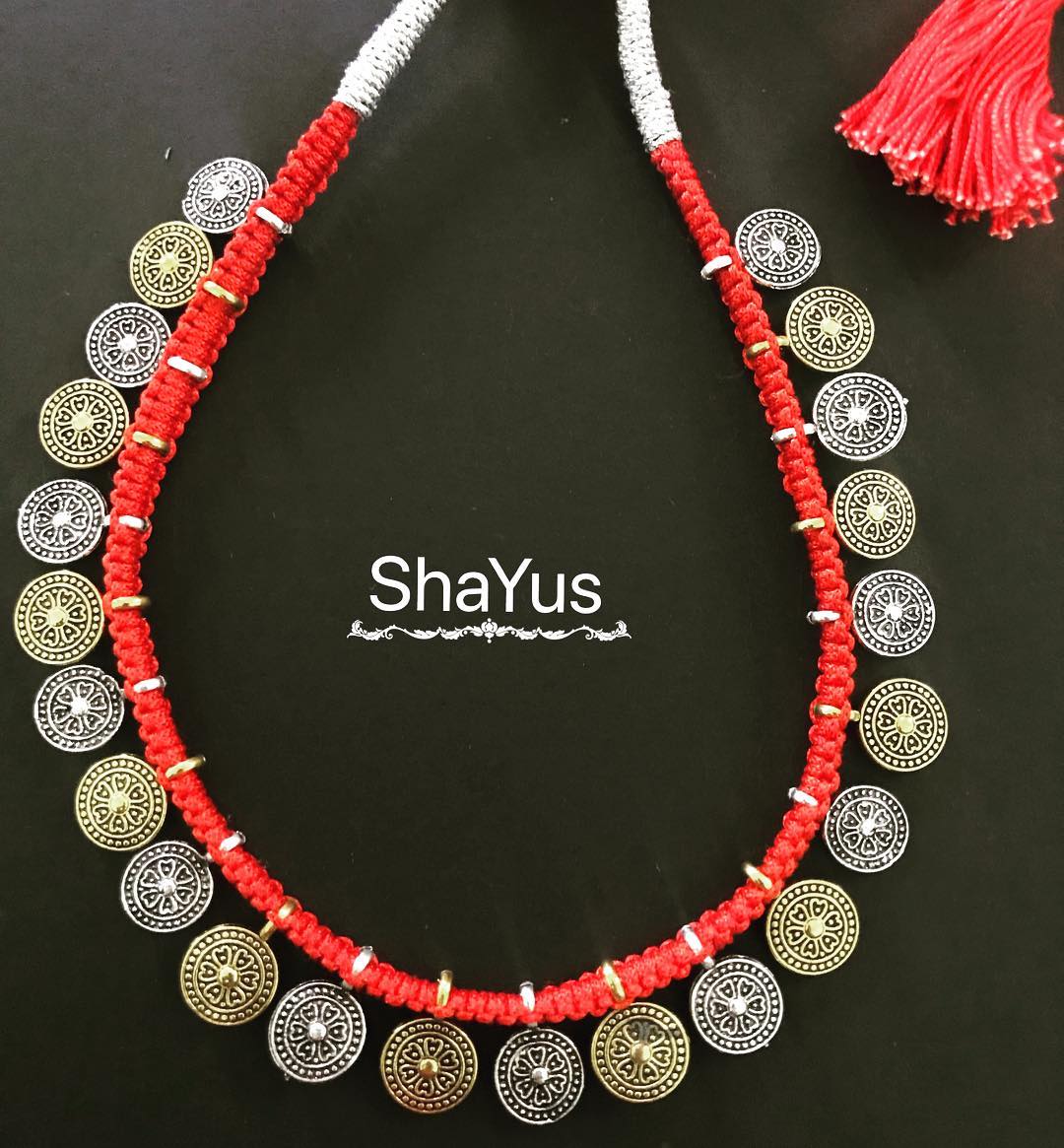 The use of coins in jewelry has been done for many centuries. Dual toned coin necklaces have become very trendy in fashion over the last few years because of its artistic appeal.
9) Long Ball Necklace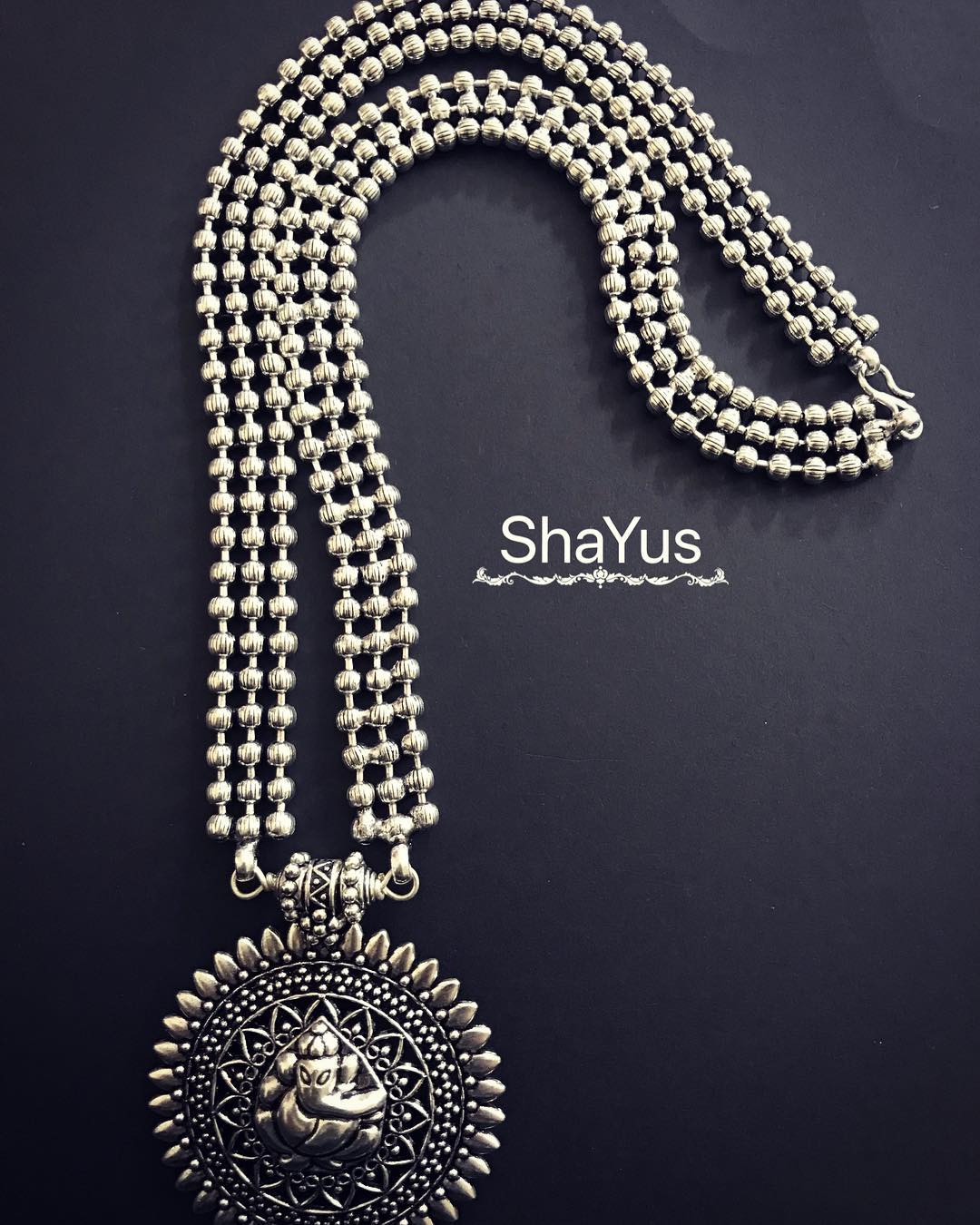 Perhaps, this is the most enchanting and classic necklace. This wonderful necklace has a sleek design and you can wear this long or doubled up to finish off your look.
10) Silver Thread Choker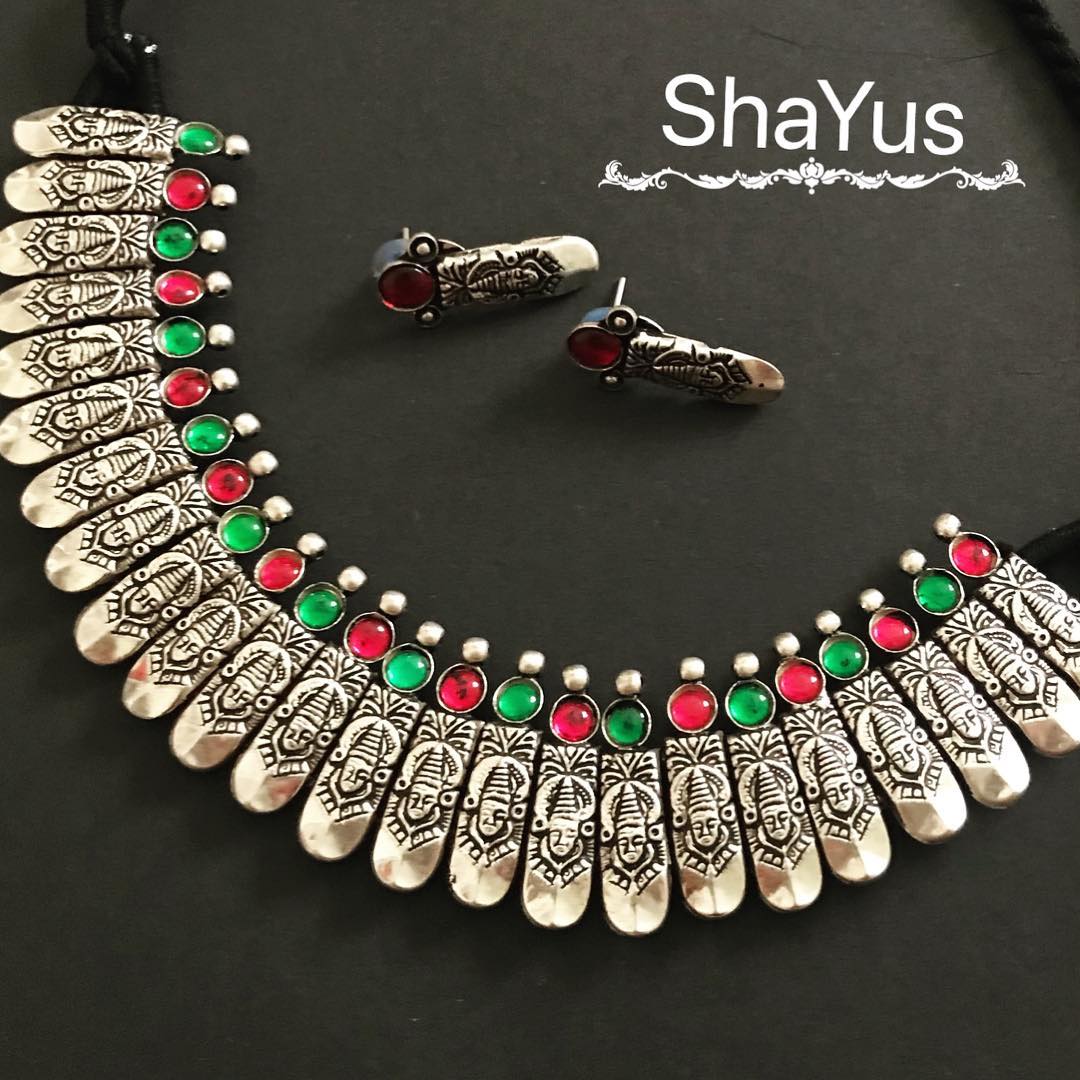 Gone are the days when you would have worn an Indian choker with a sari or choli; the modern woman has gone adventurous and would team up such a piece with a long flowing gown
11) Layered Ball Choker
Layered necklaces have this quality of giving you a classy look. The elegant ball choker enhances a woman's gorgeousness with its timeless appeal.
12) Ruby Emerald Guttapusalu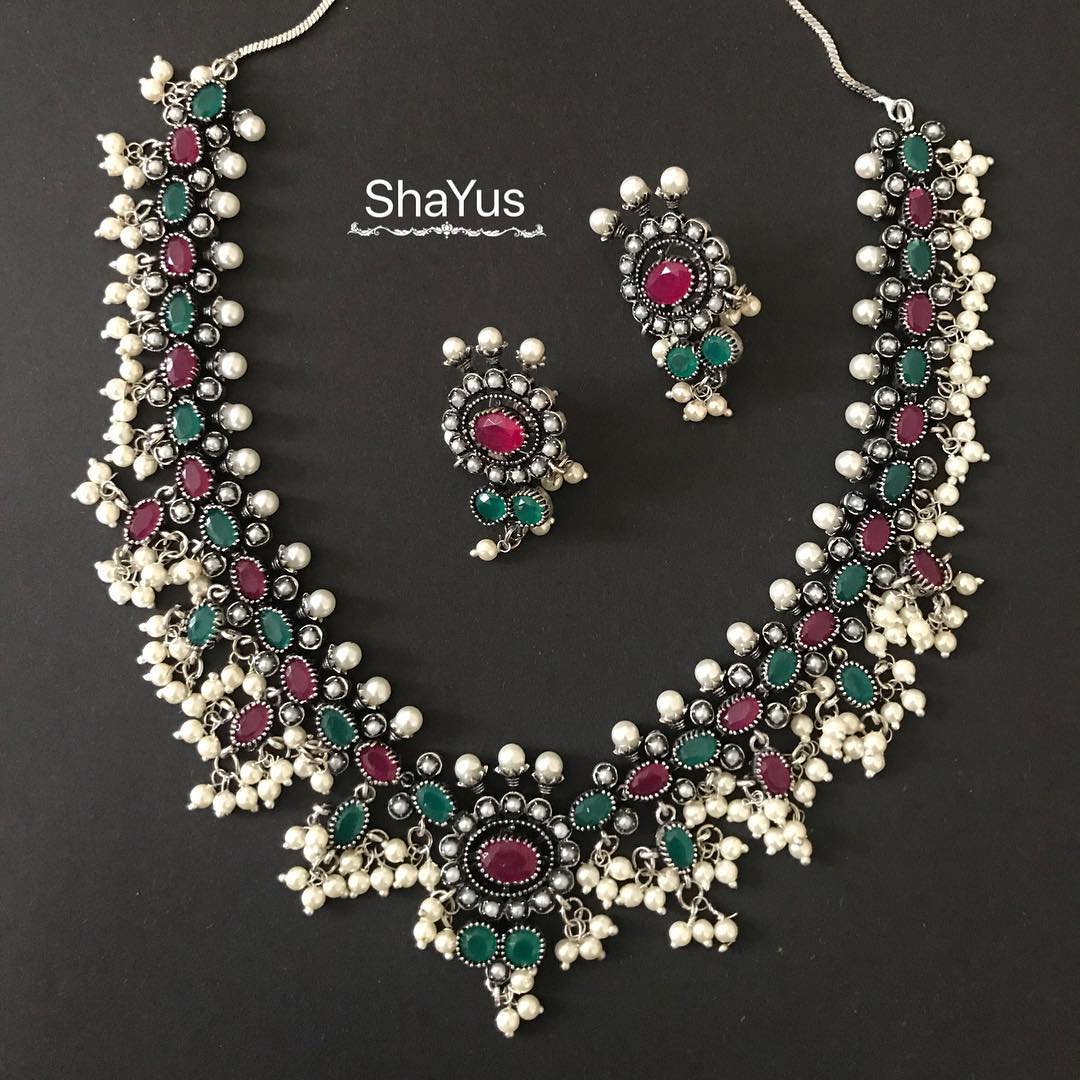 Ruby necklaces particularly are one of the most fascinating among all other jewelry. Ruby enhances the necklace in a more fascinating way.
13) Oxidized Ruby Guttapusalu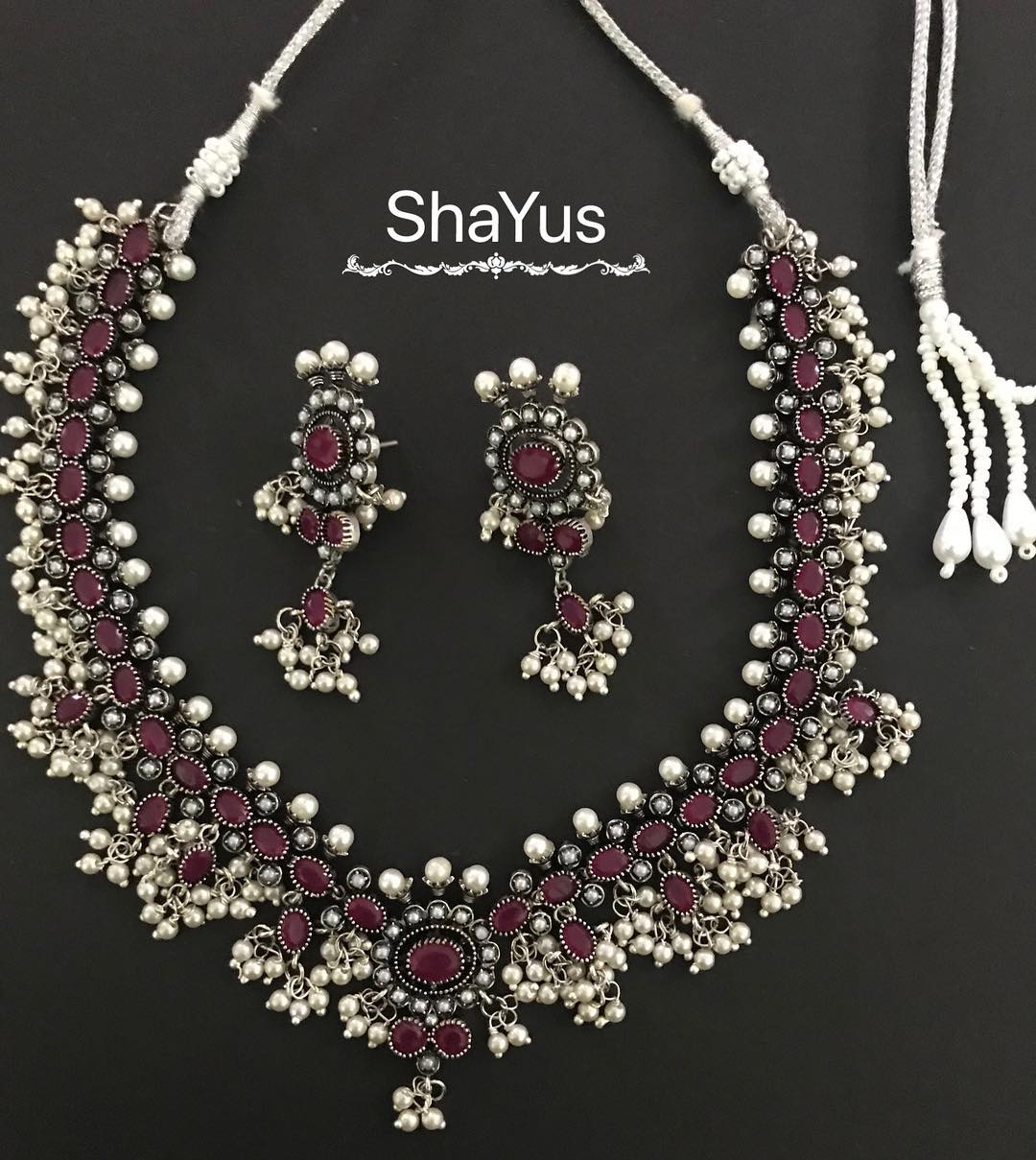 Oxidized necklaces are considered to be one of the most popular types of necklace. You can wear oxidized ruby guttapusalu to parties, or simply when you want to go out with your friends.
14) Two Layer Stone Necklace Set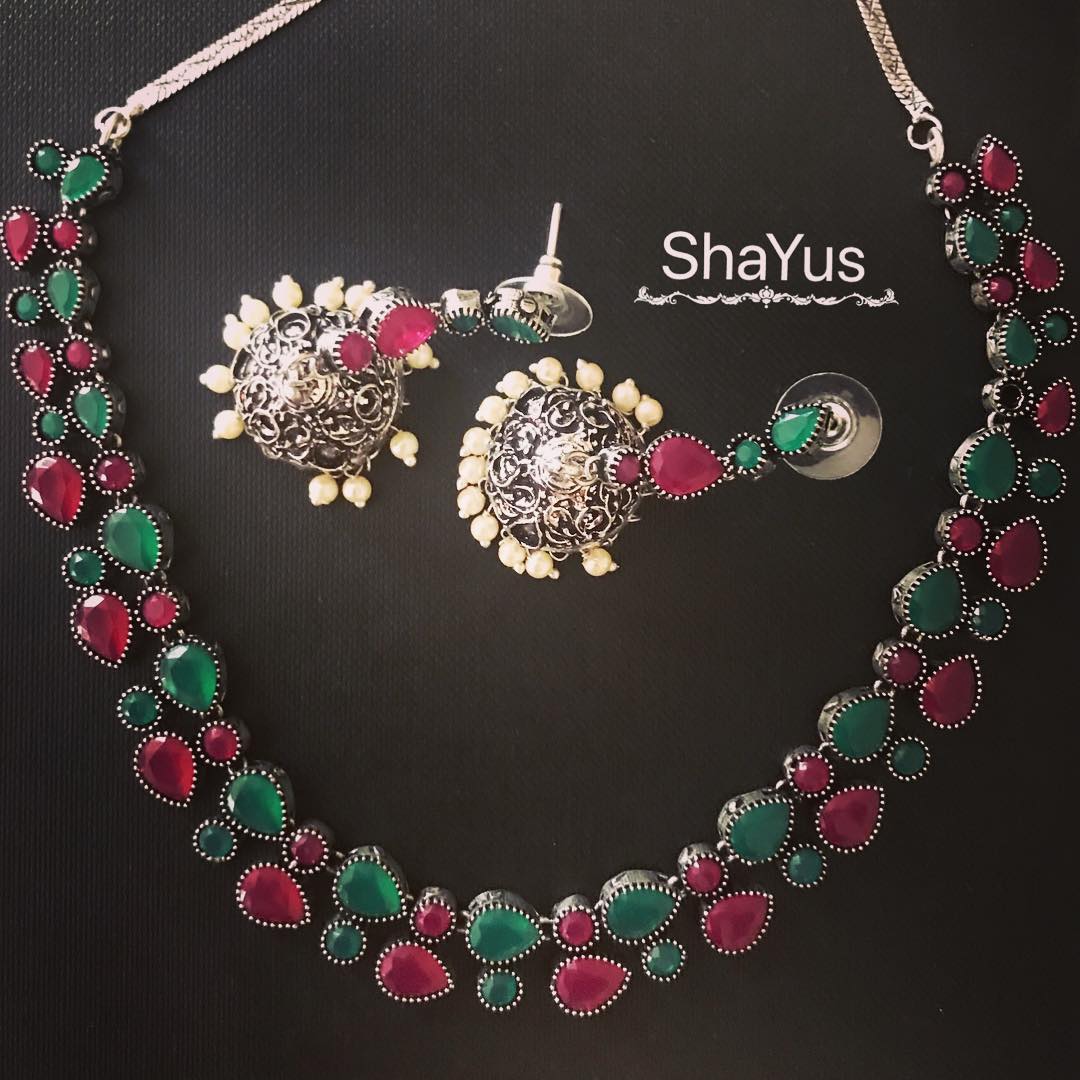 This necklace will catch the eye of everyone you meet with its interesting hints of stone mixed into a stunning necklace. What makes this necklace so striking is the layered look.
15) Fancy Ruby Emerald Set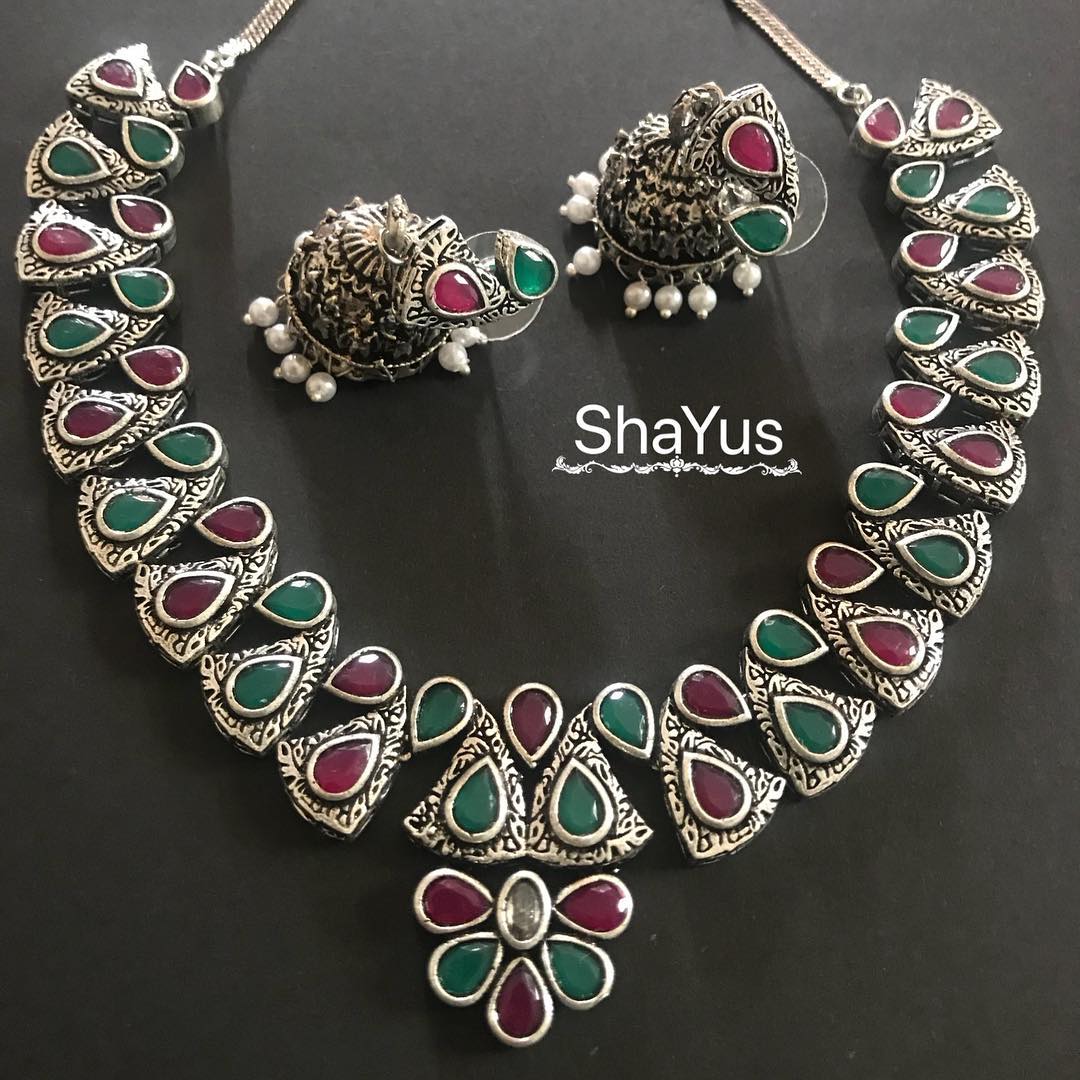 Ruby is typically embedded on woman's jewelry to give them an outstanding finish. There is nothing that makes a woman look more beautiful than wearing jewelry that has ruby on it.
16) Vintage Silver Choker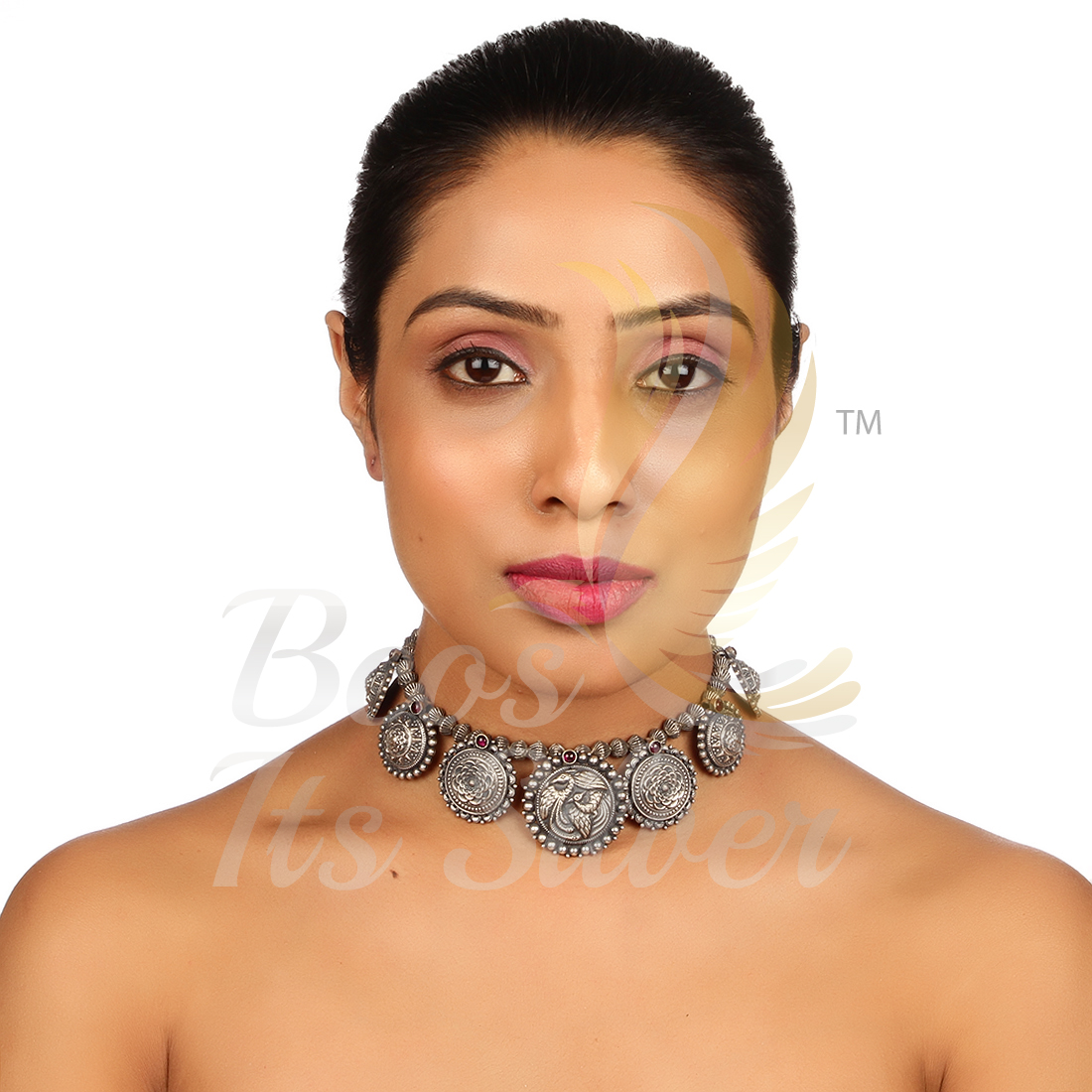 Vintage chokers are now in the jewelry trends for a long time and these are regarded as stunning pieces of jewelry that instantly jazz up outfits.
17) Kanti Style Necklace Set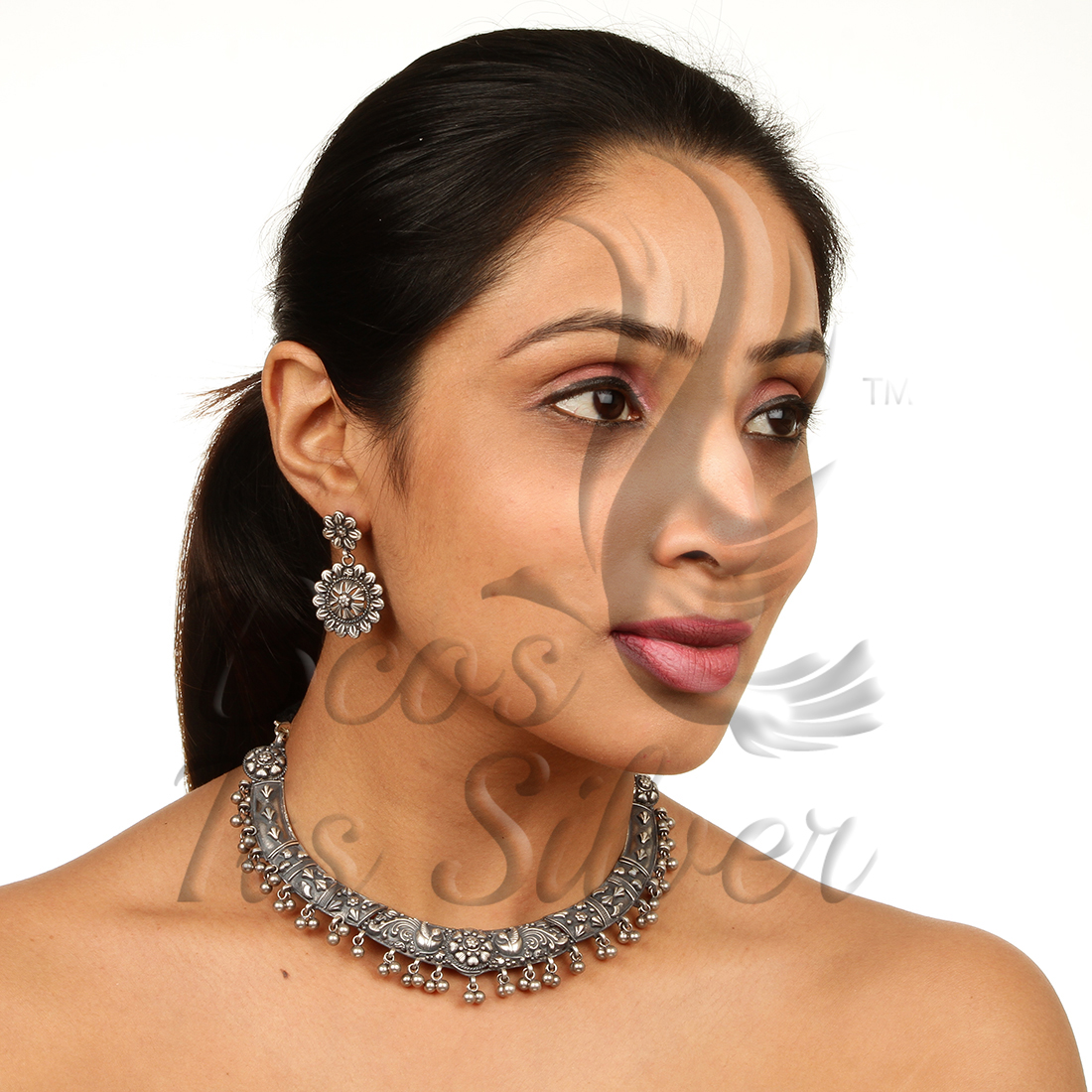 The timeless elegance of this set completes any look and is one of the most stunning necklaces on the market. Designed in Kanti style, this necklace is certain to leave an impression.
18) Necklace With Side Locket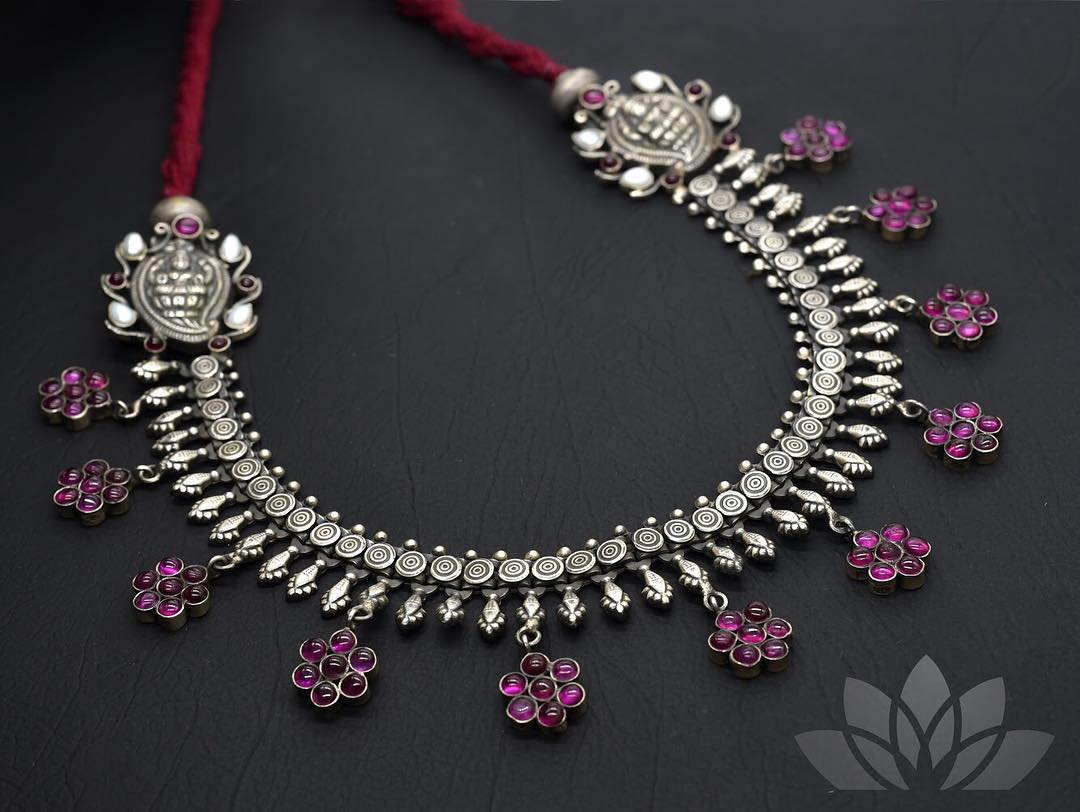 Lockets are really popular among women. Sometimes there are dramatic designs like side lockets, but it doesn't stop lockets to persist its place as most preferred.
19) Colorful Spike Necklace Set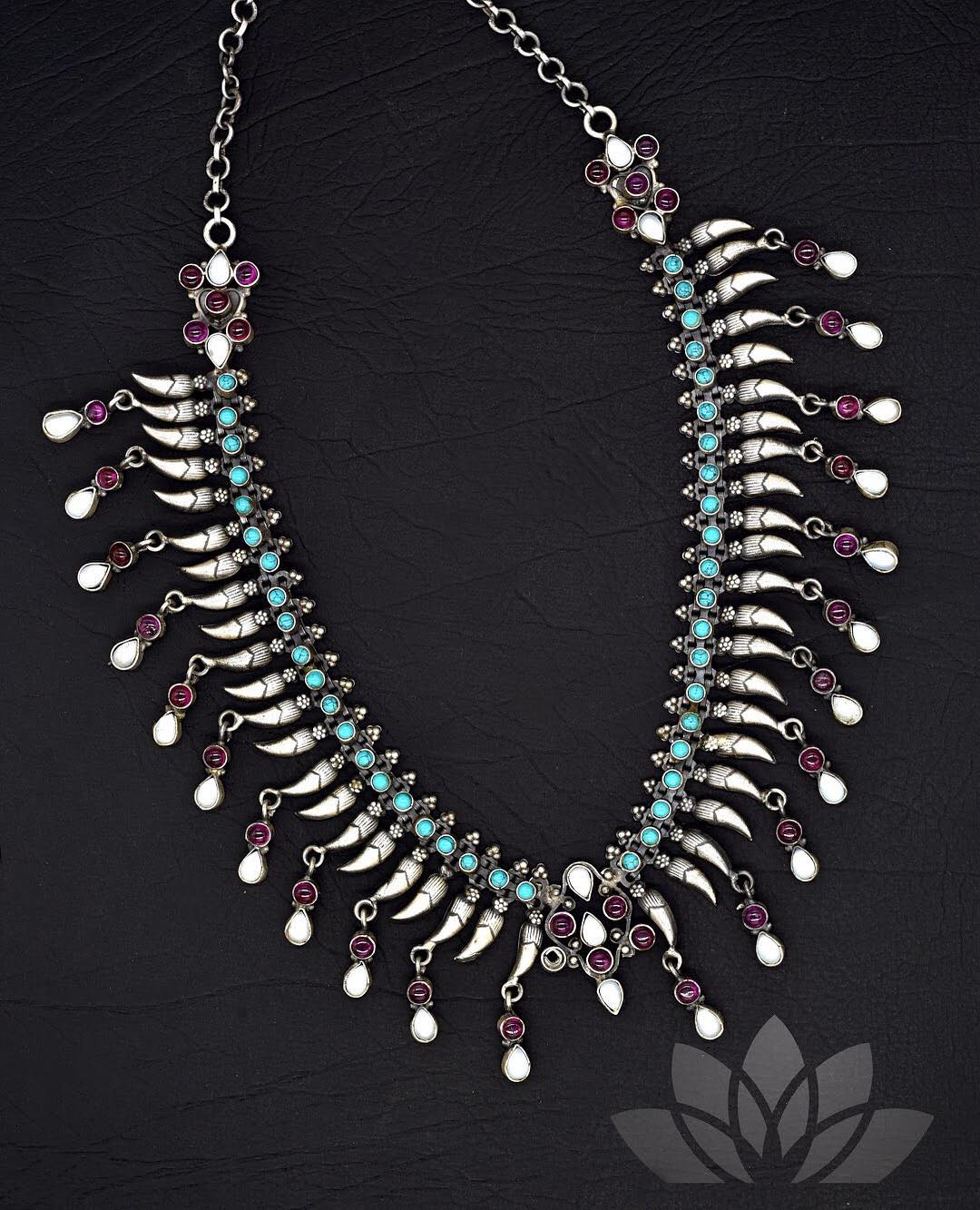 Do you have penchant for something quirky? This colorful spike necklace set grabs attention through its bold design with spikes.
20) Evergreen Mango Necklace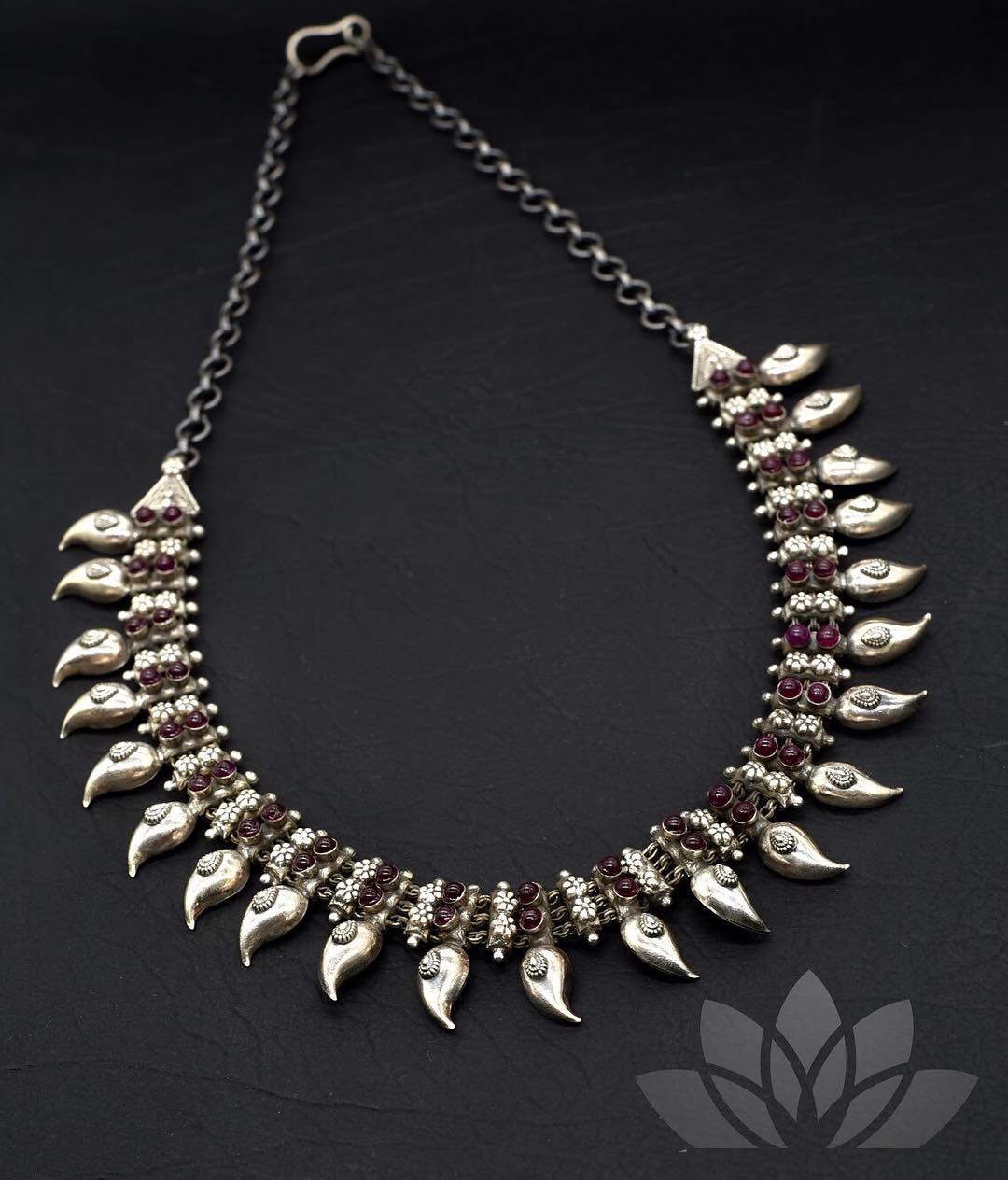 This evergreen mango necklace follows the latest trends in jewelry and offers a high-end, extravagant look at an affordable price.
21) Silver Kemp Choker Necklace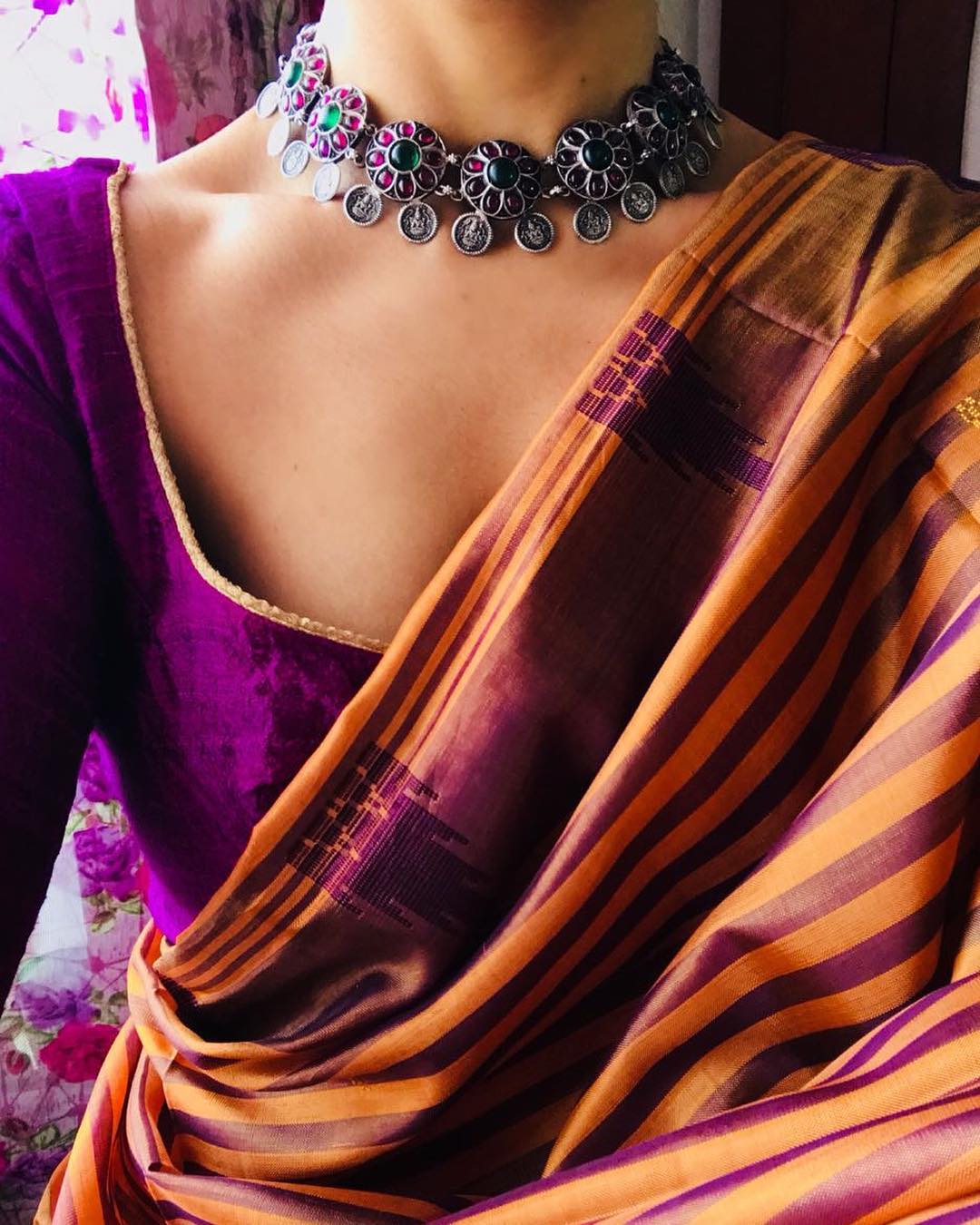 Featuring kemp, this choker is designed to exude sophistication and elegance, the lady who wears this silver kemp choker necklace will certainly get noticed.
22) Kemp Mango Necklace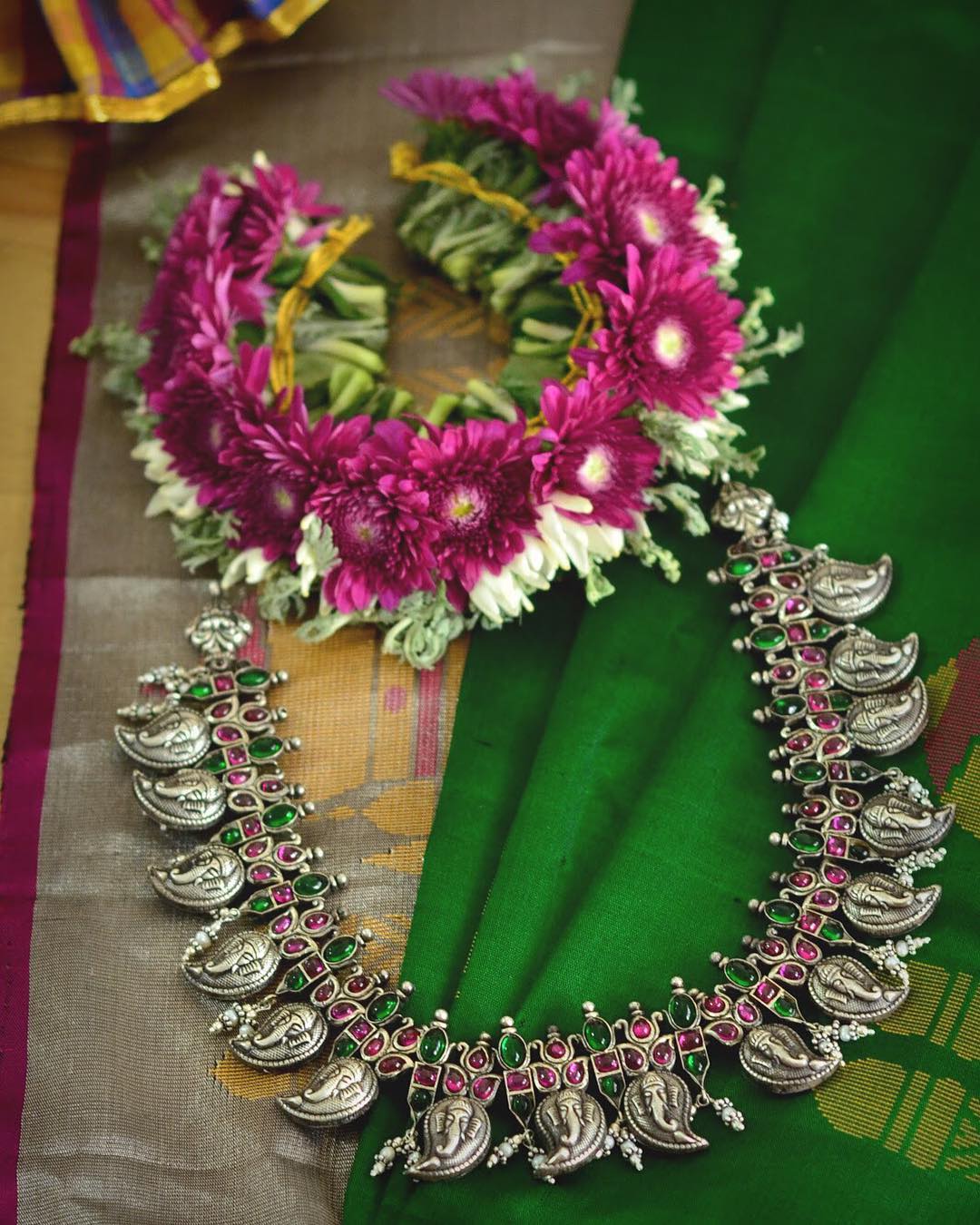 This kemp mango necklace has a brilliant style. Simple yet full of elegance, this wonderful necklace is a versatile pick.
23) Fancy Bird Necklace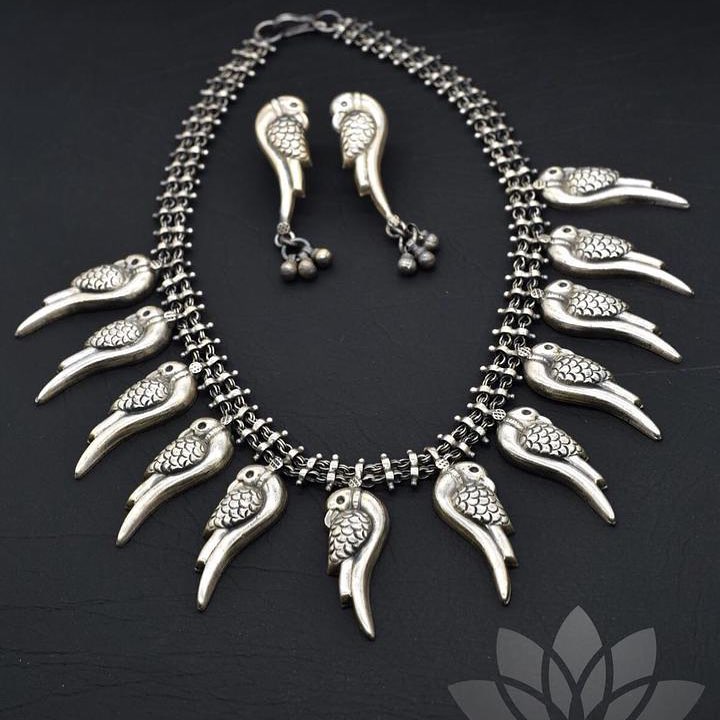 Another must-have antique silver necklace, this fancy bird necklace promises to add style and sophistication to any look. This remarkable necklace is loved for its fancy bird design.
24) Simple Emerald Necklace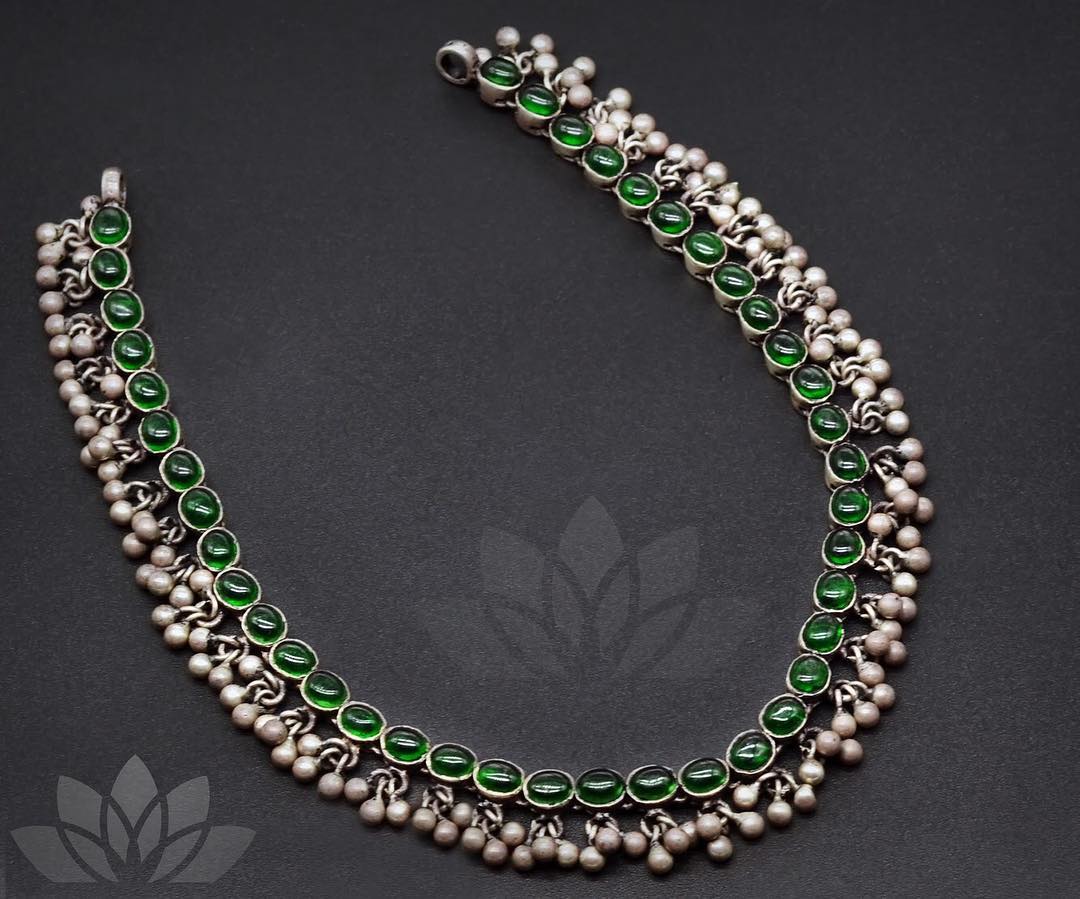 Emerald color looks gorgeous on all skin colors. A simple silver necklace in emerald green can add punch to any attire!
25) Kemp Ruby Choker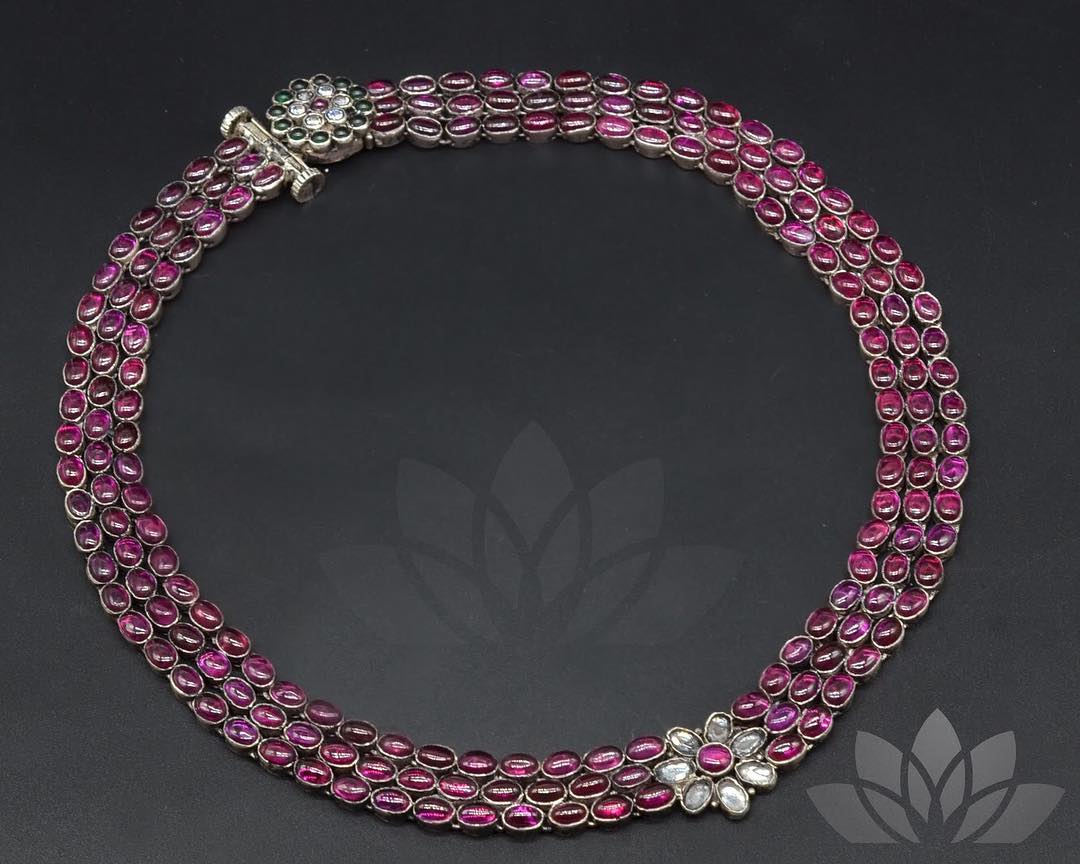 The chokers can be worn with any type of outfit. In fact, even traditional dresses look good when chokers are added and are the most excellent trend suitable to any wearer.
The most vital thing when selecting the types of necklaces is to match them with your outfits and the entire look. All in all, pick the ones that you love the most. Despite the fact that you can never go wrong with antique silver necklaces, as long as you know how to mix and match the necklaces with your outfit.
These 25 wonderful necklaces are certain to spruce up your look! They are the cream of the crop, so get your favorites!
Trying to find these perfect antique silver necklace? You can shop for these necklaces online from the comfort of your home.
You can find these necklaces in the below-mentioned Instagram handles:
Seller Name: Shayus
Instagram: https://www.instagram.com/_shayus_/
Contact: 919962741707
Seller Name : BCOS – Its Silver
Contact No: +91 90941 38036.
Email :ar***************@gm***.com
Website: https://www.bcositssilver.com/
Instagram : https://www.instagram.com/bcos_its_silver/
Facebook: https://www.facebook.com/BCOSITSSILVER/
Address : Shop #1, Plot #102, 17th Cross Street, 6th sector, near MK Ahmed bazar, opp to ICICI bank, HSR Layout, Bengaluru 560 102.
Seller Name : Prade Jewels
Instagram : https://www.instagram.com/pradejewels/
Website : https://tamarachennai.com/collections/silver-jewellery
Also Read: