Temple jewellery is a classic style of jewellery which has designs from age old times. The classic Lakshmi pendant, Tasha Krishna pendant, Paisley necklace etc. are some of the temple jewellery designs which are passed on from one generation to another.
Let us look at some of the gold temple jewellery designs from one of our favourite brand NAJ who never fail to impress us with their unique work!
1. Gold Beads Necklace With Siva, Parvathi Pendant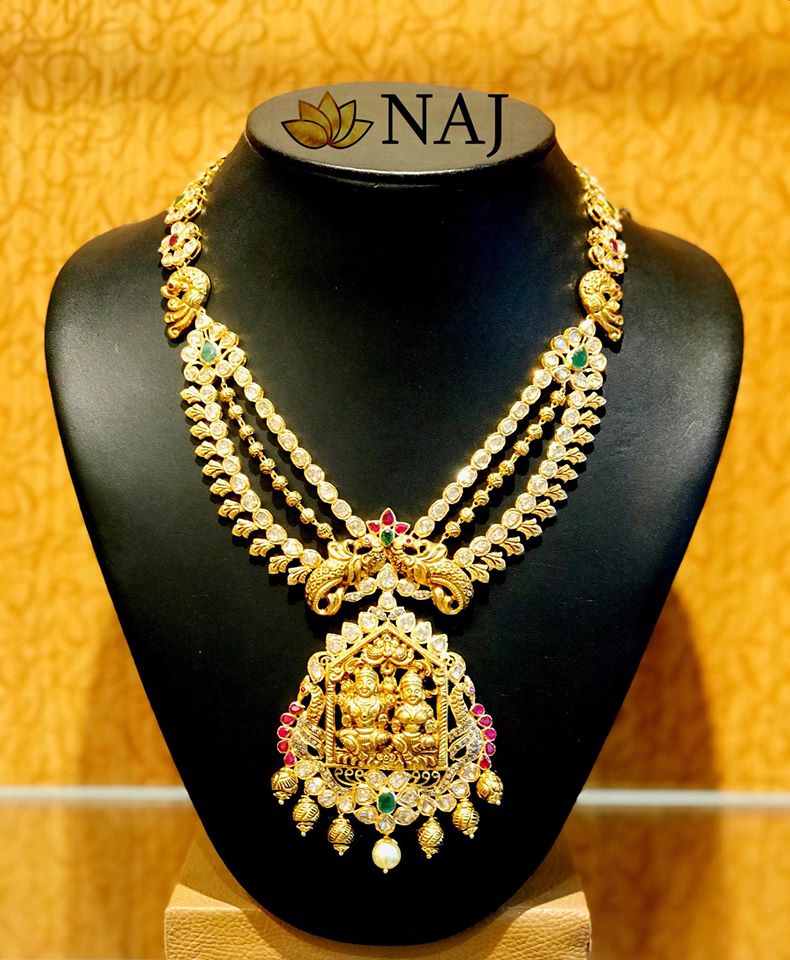 Stones are always in trend and this necklace with two lines of vibrant stones and a line of gold balls in between has a grand look. The additional attraction of Siva parvathi gold pendant just makes this necklace a class apart.
2. Gold Kasumala And Diamond Peacocks Long Haram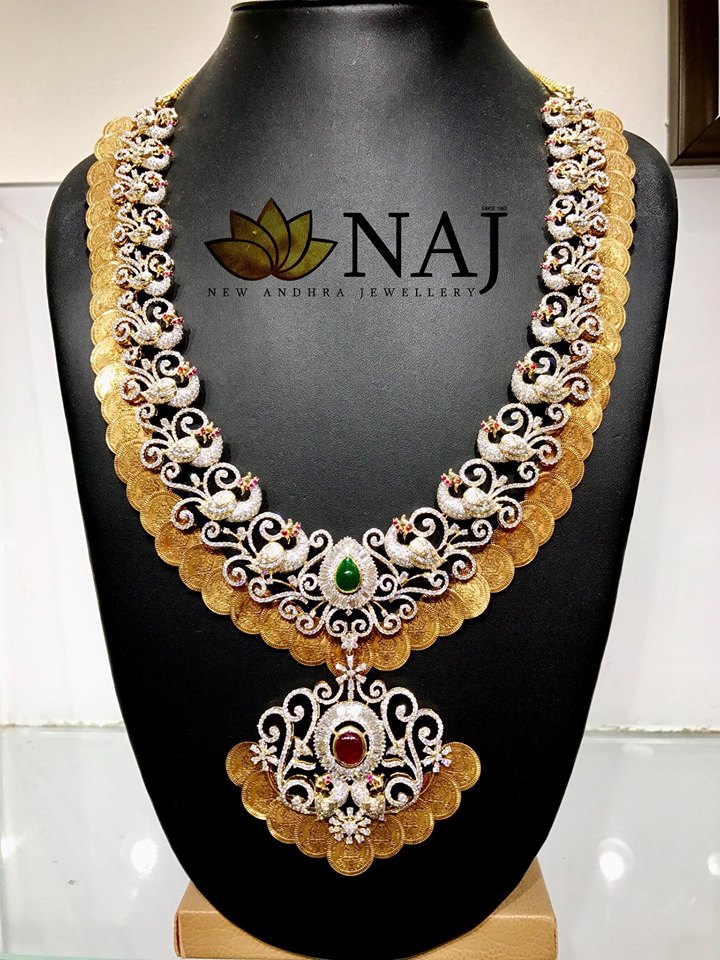 Gold kasumala is a a traditional haram which does not need any introduction. To give it a modern touch, the kasumala is designed with diamond peacocks all over the haram with a radiant bold coin pendant.
3. Flower Motif Kasumala And Short Necklace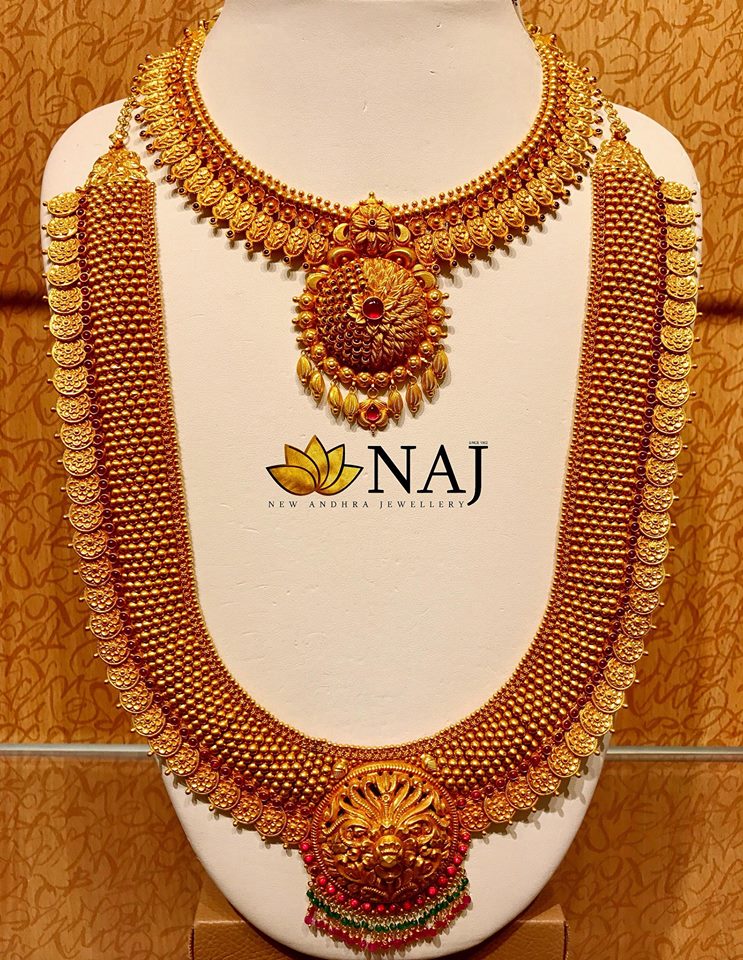 The flower motifs on the gold coins attached to a wide designed chain comes with a gold pendant embellished with Ruby and emerald beads. This bridal jewellery set comes with a short flower motif gold coin necklace with a good pendant.
4. Designer Gold Kasumala With Rubies & Emeralds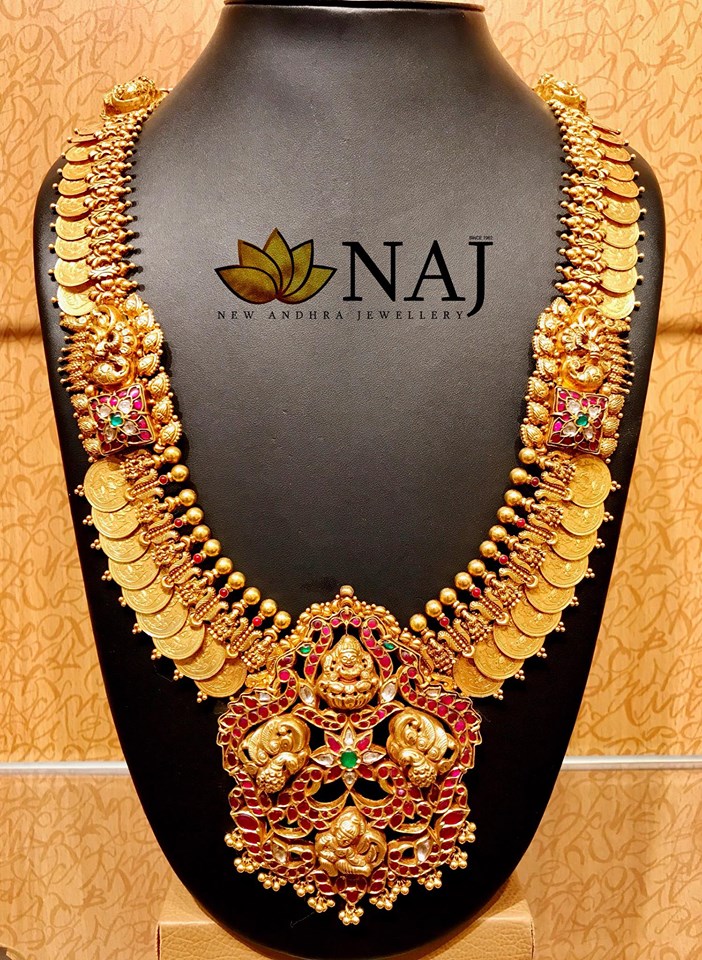 A gold lakshmi kasumala designed uniquely with lakshmi gold coins that come with intricate gold designs and peacock side pendants is just a piece of art. The side pendants are studded with rubies and emeralds that amplify the beauty of it.
The pendant in the middle is designed with peacocks and an adorable Lakshmi motif embellished with rubies and emeralds.
5. Peacock Motif Gold Temple Necklace With Devi Pendant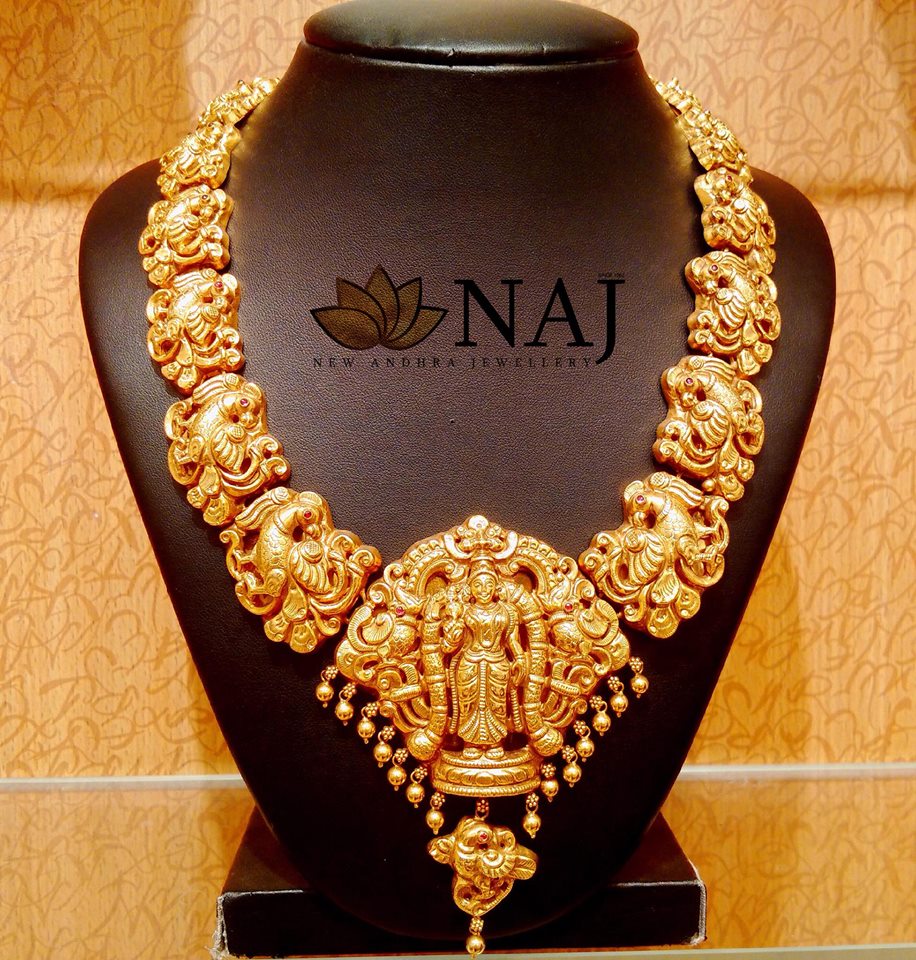 Peacock motifs are very popular and a necklace with them is just an adorable way to bring a classic ethnicity to your jewellery!
6. Lakshmi And Flower Motif Necklace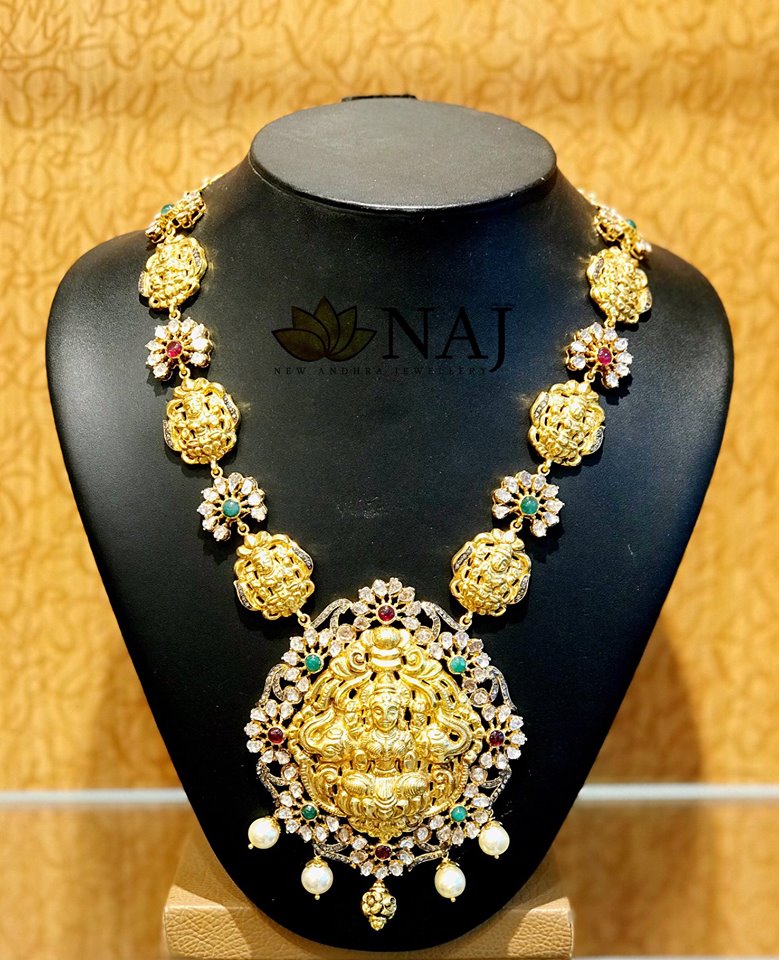 Lakshmi motifs are beautiful to look and a necklace with the Lakshmi motifs and flower motifs studded with stones can steal any woman's heart. The added attraction is the Lakshmi and flower motif combination pendant with pearls hanging from it.
7. Antique Kanti Gold Necklace With Kaliya Krishna Pendant
Kanti necklace which is an antique necklace design is back now! The necklace is made unique with a kaliya krishna pendant with intricate work and some precious stones.
8. Peacock Motif Long Necklace With Lakshmi Pendant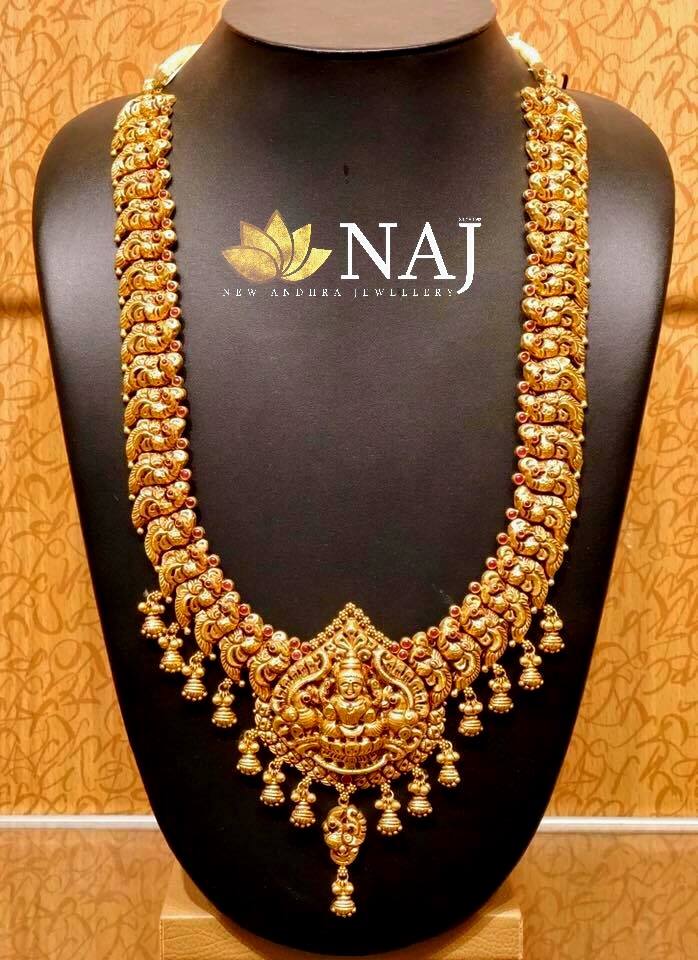 Peacock motifs come in various designs and this long chain comes with Ruby beads and Lakshmi pendant. The interesting part is the small jhumka hanging from the pendant and on the sides of the necklace.
9. Twsited Huge Antique Gold Necklace With Various Deities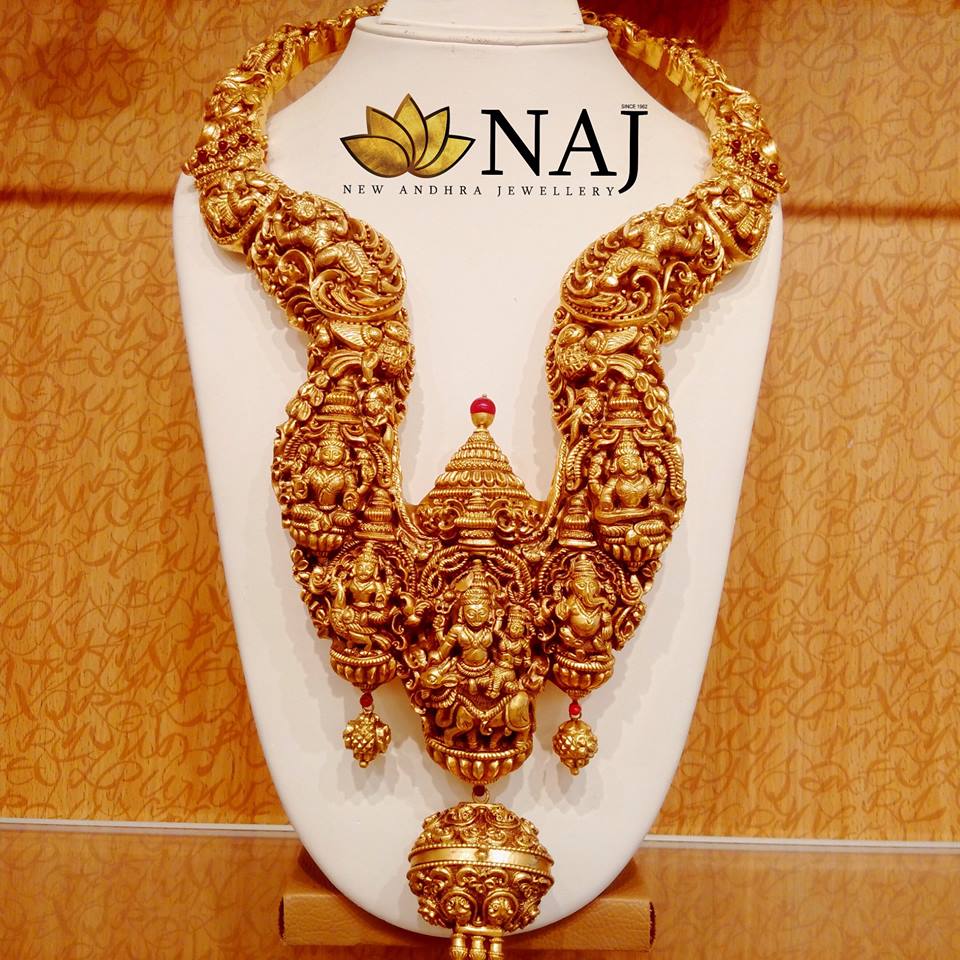 When you are looking for a huge necklace with various deities like vinayaka, Lakshmi, Vishnumurthy etc. to be incorporated into the necklace, then this is the right one for you!
10. Lakshmi and peacock ruby stone kasumala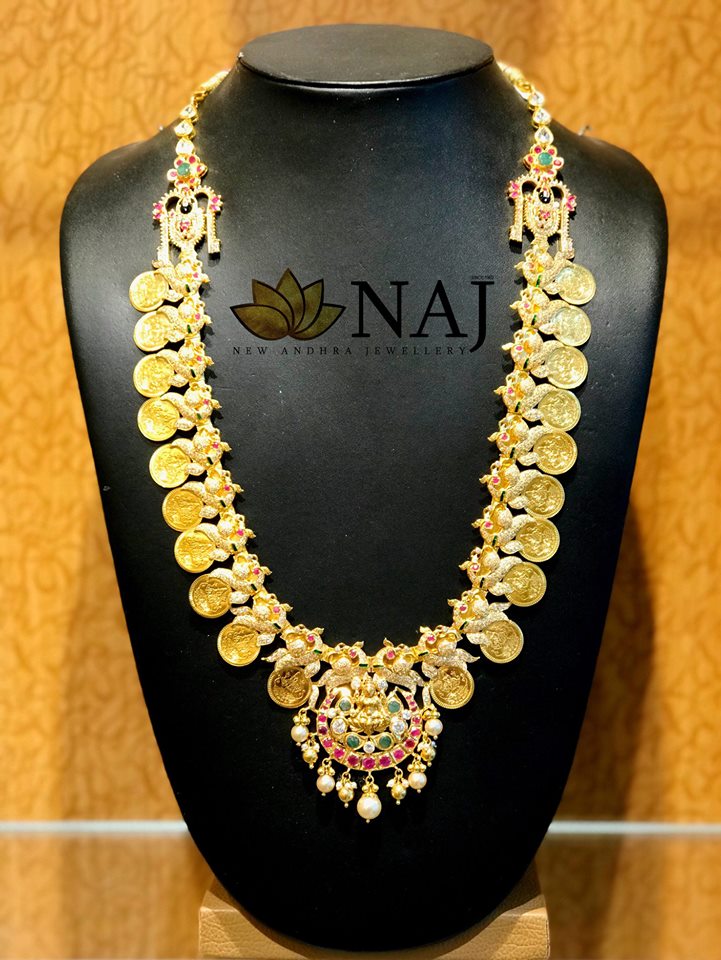 Kasumala can be designed in many ways. This gold temple design kasumala is designed with Lakshmi gold coins and peacocks with a touch of ruby and emerald stones.
The unique laskmi pendant studded with rubies, emeralds, stones with pearls hanging from it adds a special touch to the kasumala.
11. Paisley, Flower Motifs And Gold Balls Necklace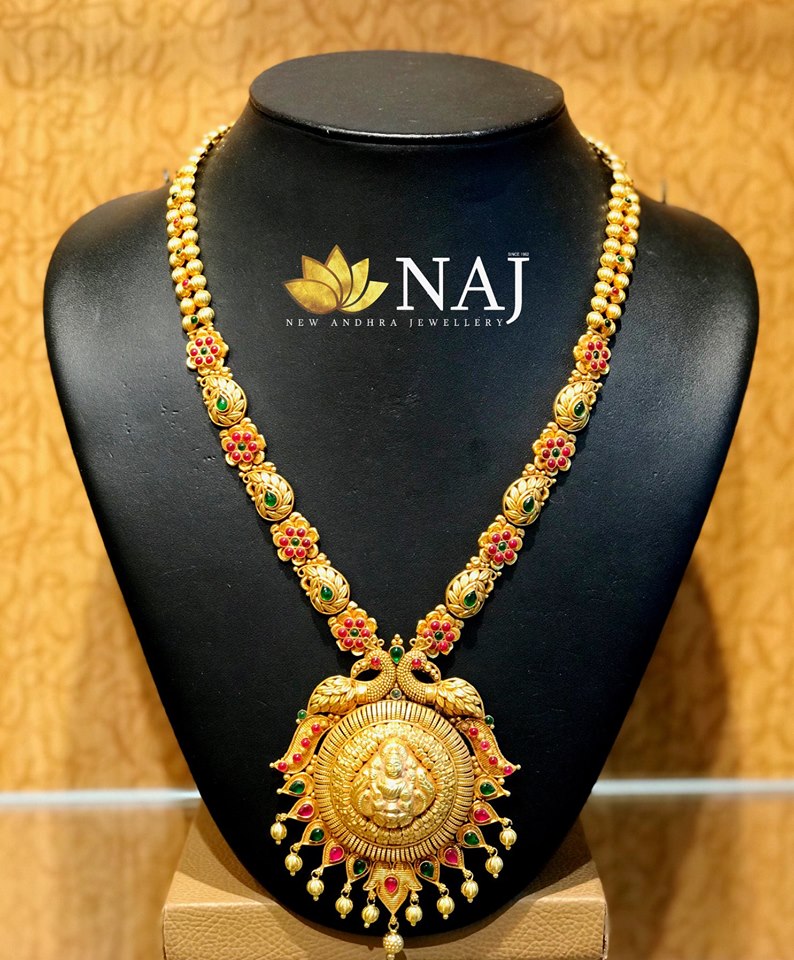 A combination of paisleys or mango motifs, flower motifs studded with ruby beads, gold balls form this fantastic necklace can just grab everyone's attention. The peacock and Lakshmi pendant with stones and gold balls is an added attraction!
12. Flower Motifs With Paisleys And A Lakshmi Pendant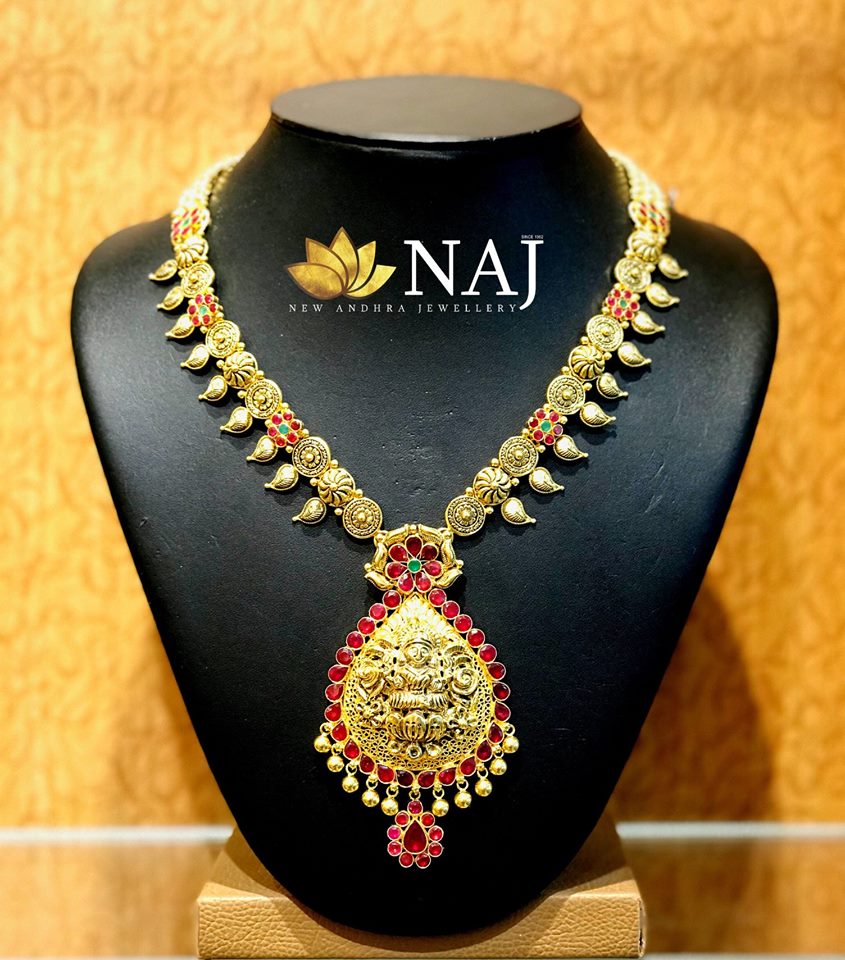 Different types of flower motifs arranged together in a beautiful pattern with paisley's attached to them is amazing to behold in this necklace The Lakshmi pendant as a touch of ruby, emerald stones which make this antique necklace even more special.
13. Laksmhi Motif Necklace With Rubies, Emeralds And Pearls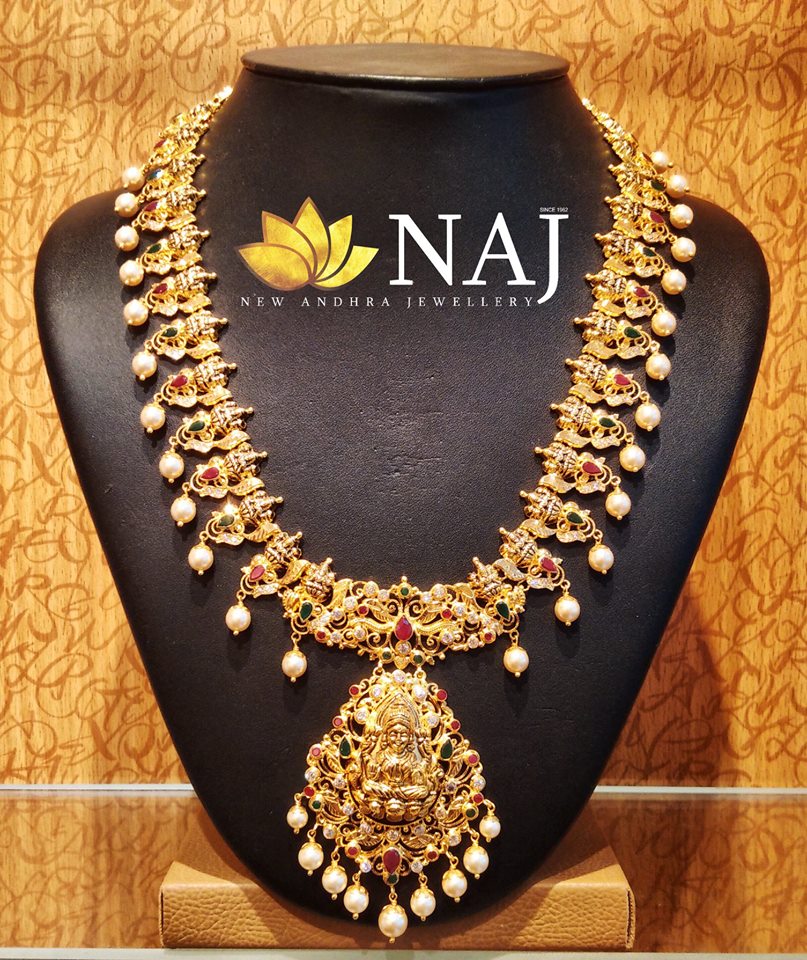 Lakshmi motif necklace is popular the days. The necklace with added design and studded with rubies, emeralds, white stones and dangling pearls looks just amazing on this jewellery!
14. Gold Balls Necklace With Lakshmi Pendant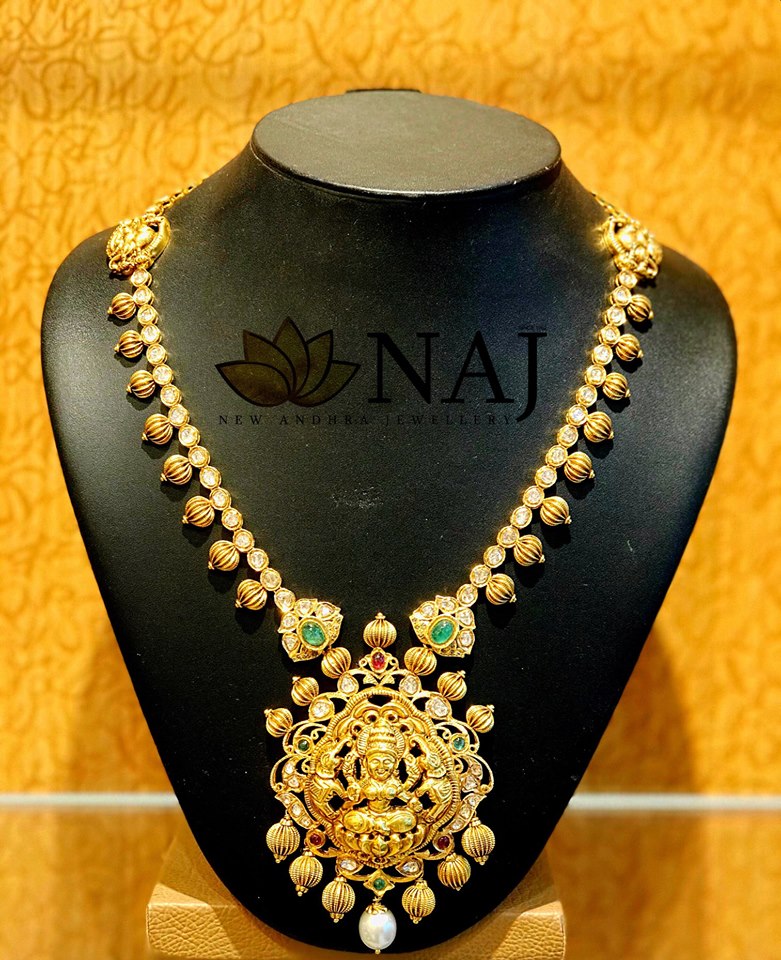 A unique design of one line stones with gold balls attached to each stone is really attractive here. The Lakshmi pendant with polling stones and gold balls adds up to the look!
15. Lakshmi Gold Coins And Peacocks Short Necklace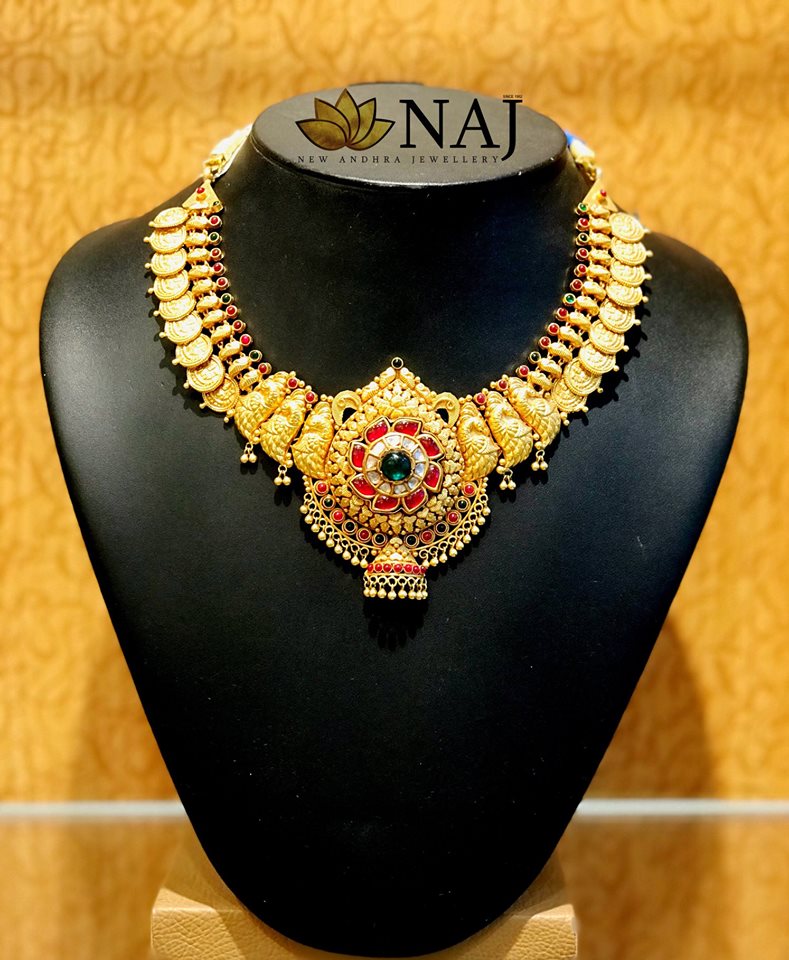 Lakshmi gold coins with small peacocks set on top of them and three peacock motifs designed on either side of the pendant is a fascinating piece! The ruby, emerald beads all over the necklace add extra charm!
16. Lakshmi Gold Coins And Gold Beads Long Chain
A long chain with Lakshmi gold coins with gold beads attached to them is a unique design. The necklace comes with Lakshmi pendant and gungroo too. The added attraction is the ruby beads and black beads in between the Lakshmi coins which make it a designer antique long chain.
17. Antique Kanti Necklace With Kaliya Krishna Pendant And Gungroo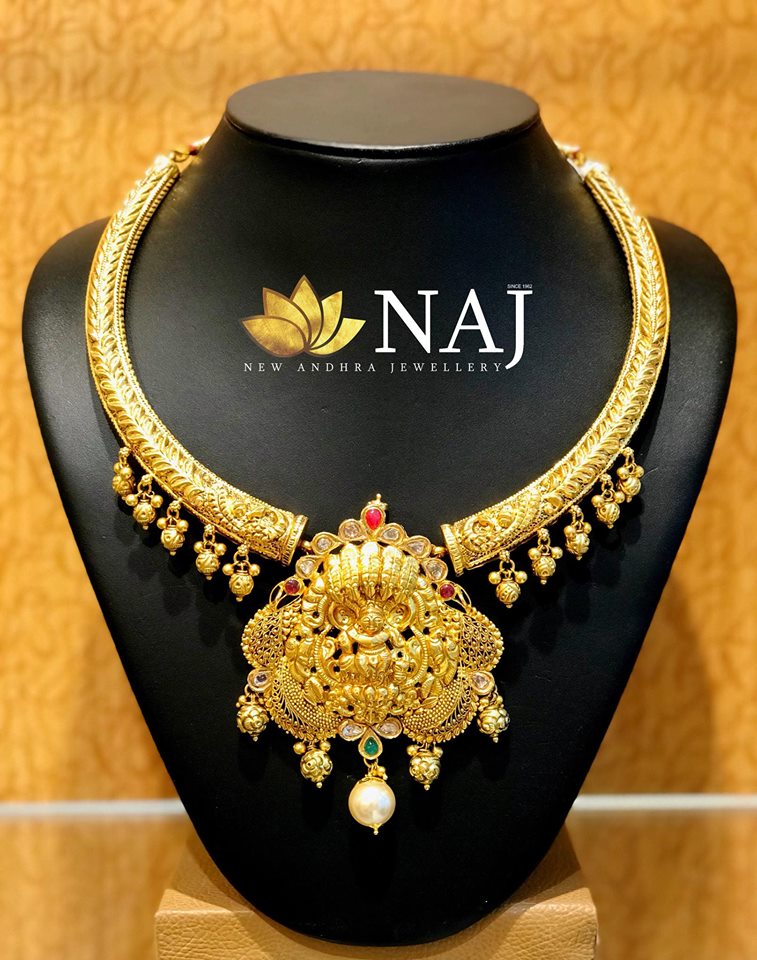 Kanti necklace is an age old design in necklaces and they are back with a modern twist. The intricate designs on the kanti necklace along with a kaliya Krishna pendant and gungroo make it a special one. The touch of precious stones in the pendant is an added attraction.
18. Antique Gold Beads Necklace With Balaji Pendant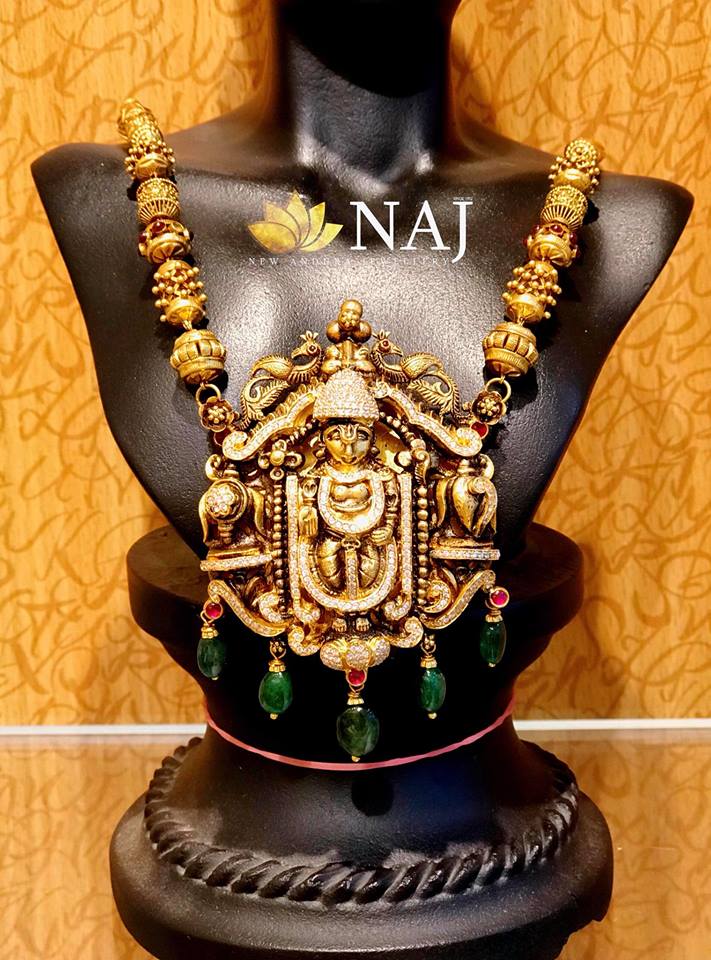 An antique necklace made from gold beads with intricate work and a balaji pendant can just melt anyone's heart. The dangling ruby, emerald beads from the pendant and a touch of ruby beads all over the necklace makes it a designer necklace.
19. Necklace With A Lakshmi Mandir Pendant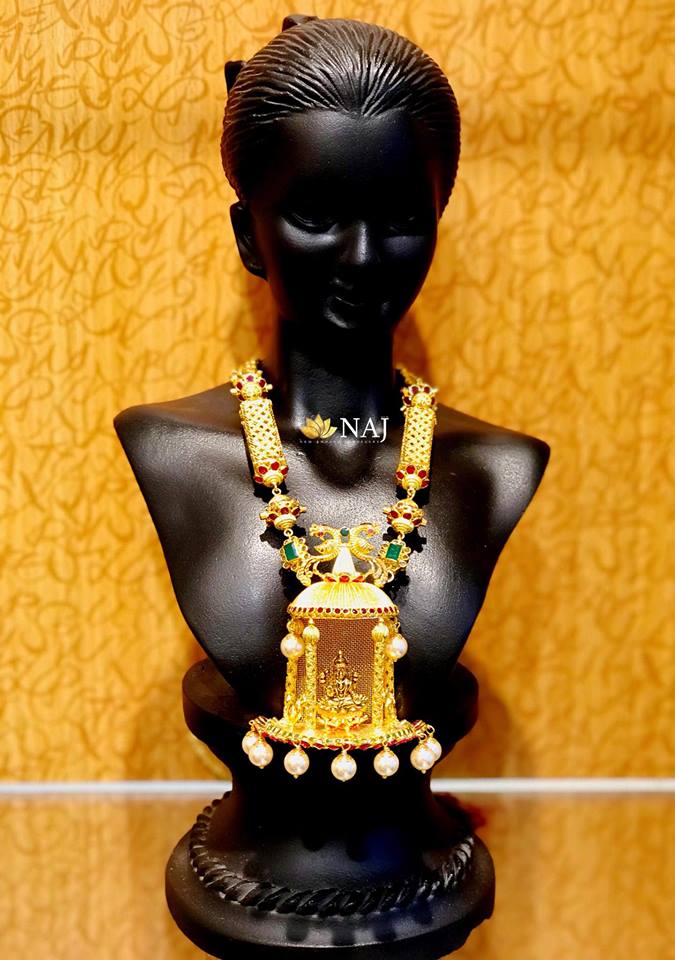 There are many designs of Lakshmi pendant but this one is unique. The Lakshmi Devi in a mandir is the pendant which has designer beads attached to it. The necklace has a touch of red and green stones and pearls dangling from the pendant.
20. Kanti Antique Necklace With Gopala Krishna Pendant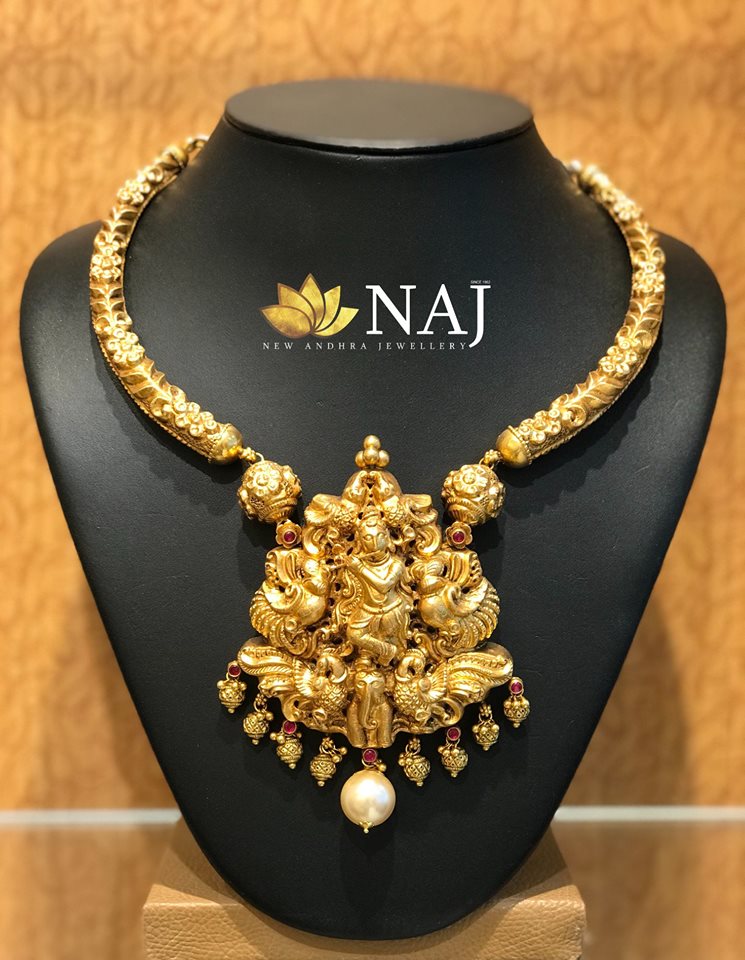 The kanti necklace with intricate designs and Gopala Krishna pendant is sure to grab your heart. The peacocks and elephant in the pendant with a touch of ruby beads make this necklace a designer one.
21.Emerald Stones And Lakshmi Motif Necklace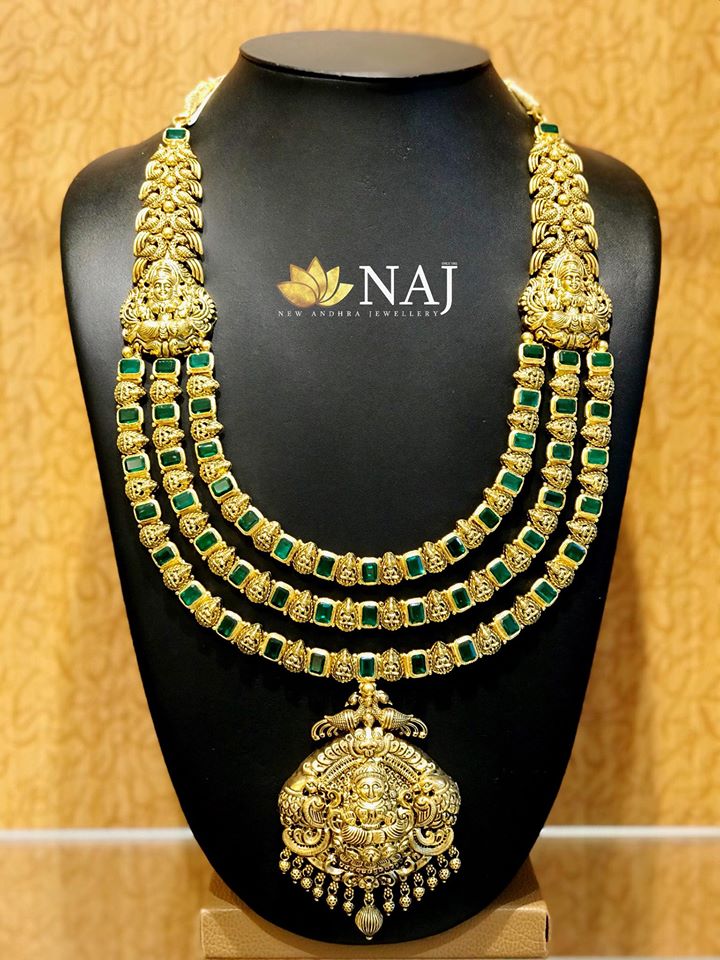 Looking for a heavy haram? This designer long chain comes with framed emeralds and Lakshmi motif in three layers till half. The double peacoks, laskmi side pendants and in the middle makes it a statement long chain.
22. Gold Beads, Pearls Necklace With A Peacock Pendant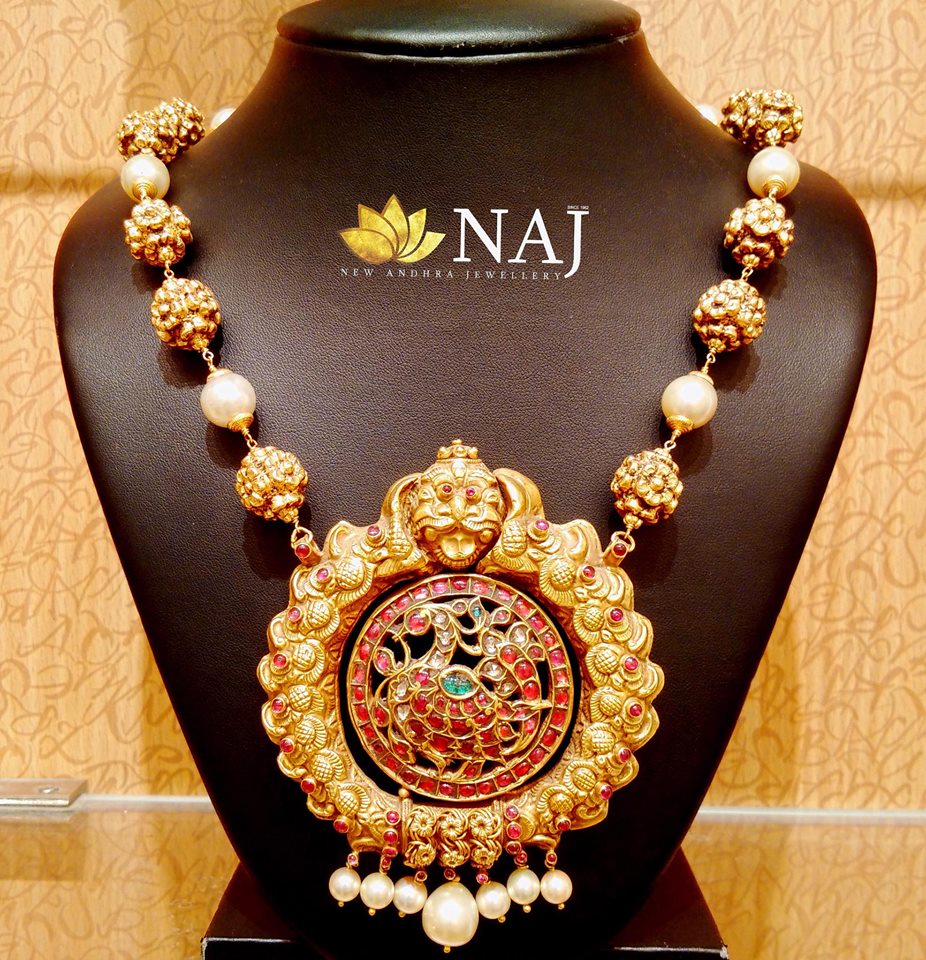 A necklace with gold beads and pearls is a favorite for every woman. The peacock pendant with rubies, polki stones and dangling pearls is the best part of this necklace.
23. Heavy Multilayer Haram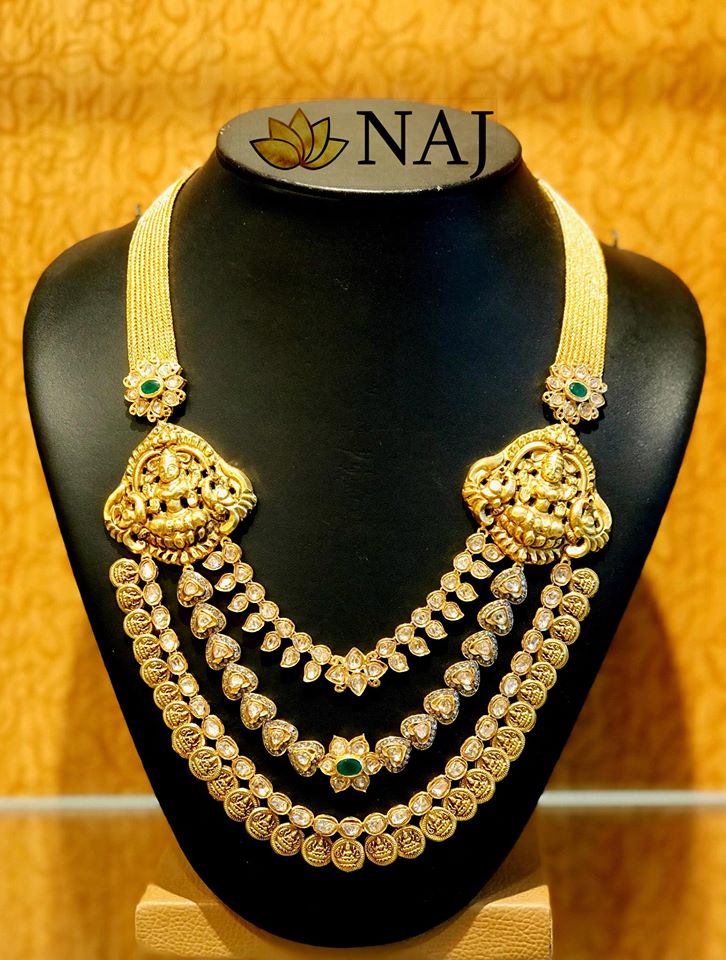 The three layers of polki set in various designs till half of the long chain with Lakshmi gold coins attached to the last layer is a master piece. The side Lakshmi pendants, looking studded motifs attached to the broad chain makes this a heavy designer long chain.
These are some of the gold temple jewellery that got us glued to the fabulous temple jewellery collections from NAJ!!! Choose the one you love the most with our delaying. For inquiries, please find below the seller contact details below.
Seller Name : NAJ Jewellery
Address : 957, Jewel Junction, Achari Street, Nellore 524003.
Contact No : +91-861- 2331123 I 2331323
Email : mynaj@najindia.com
Website : http://www.najindia.com/
Facebook : https://www.facebook.com/najjewellery
Whatsapp :9032041323
More Details : NAJ offers the finest jewellery crafted in Gold and Diamonds and Silver Utensils & Gift articles.
All their jewellery are 100% BIS Hallmarked and diamonds are certified by IGI and GIA. Their designs are contemporary but still traditional from the heart.They have fusions that are vivid & exotic along with some luxurious & alluring jewellery that defines a divine status of sophistication.Naj assures you walkout with something that enhances & add glamour to your personality.
Also Read: