Finding the best jewelry for your wedding, one that looks great in your wedding dress is no easy thing. Based on the look you are going for, your wedding jewelry, you may see an awesome necklace, just to realize that you have hideous earrings that won't look good with it.
The fix for this issue is to purchase a best jewelry set. Getting them as a set will give you pieces that are bound to look good together, and in harmony with one another.
After your big day, you can split the set up and wear pieces alone whenever you wish, without worrying about wearing the set together. Below are 25+ never seen before jewellery set designs to shop now:
1) Grand Lakshmi Haram Set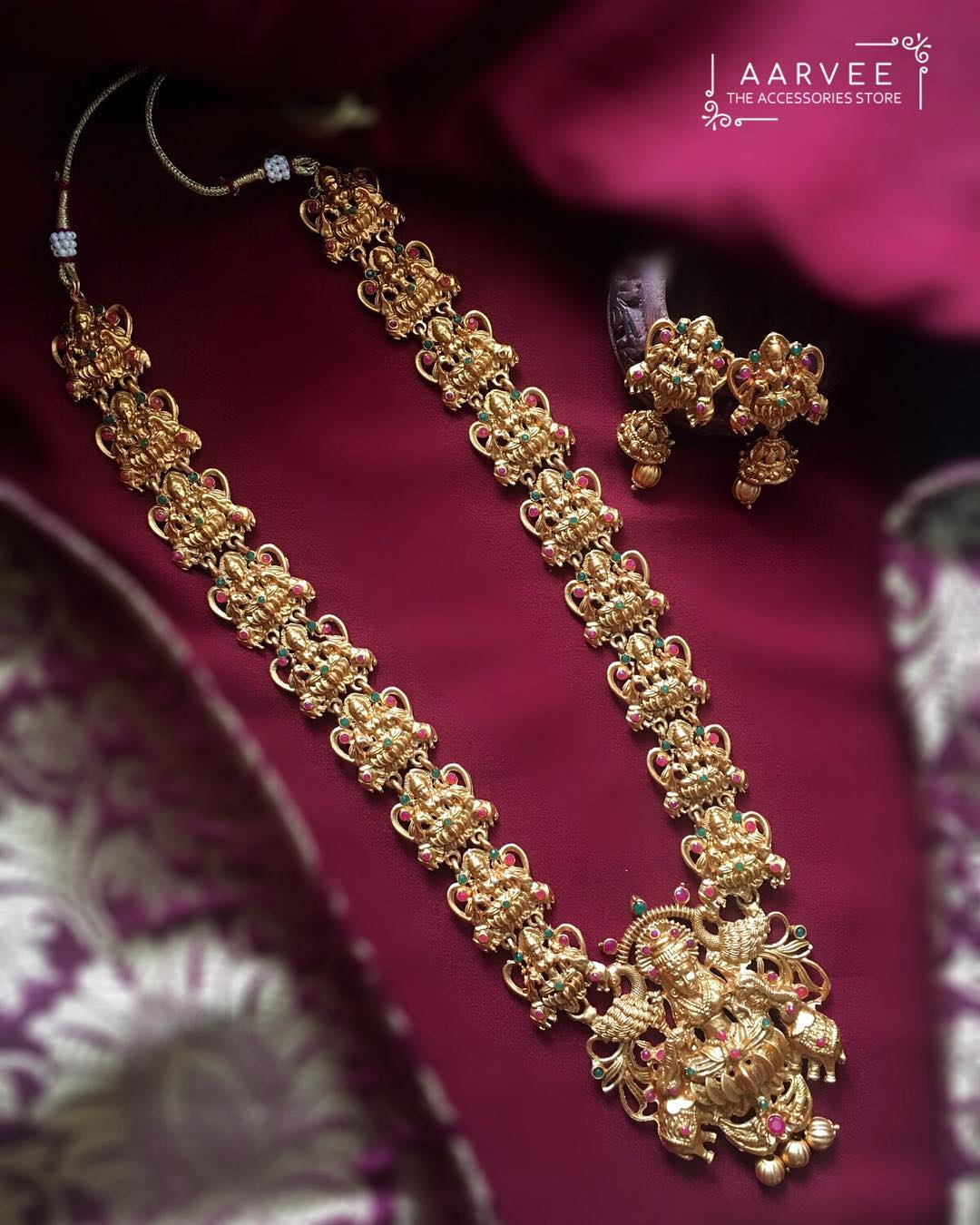 Goddess Lakshmi embossed haram set looks very stunning and gives a traditional flavor. Women wearing this set will look elegant thereby getting a better look.
2) Stone Peacock Set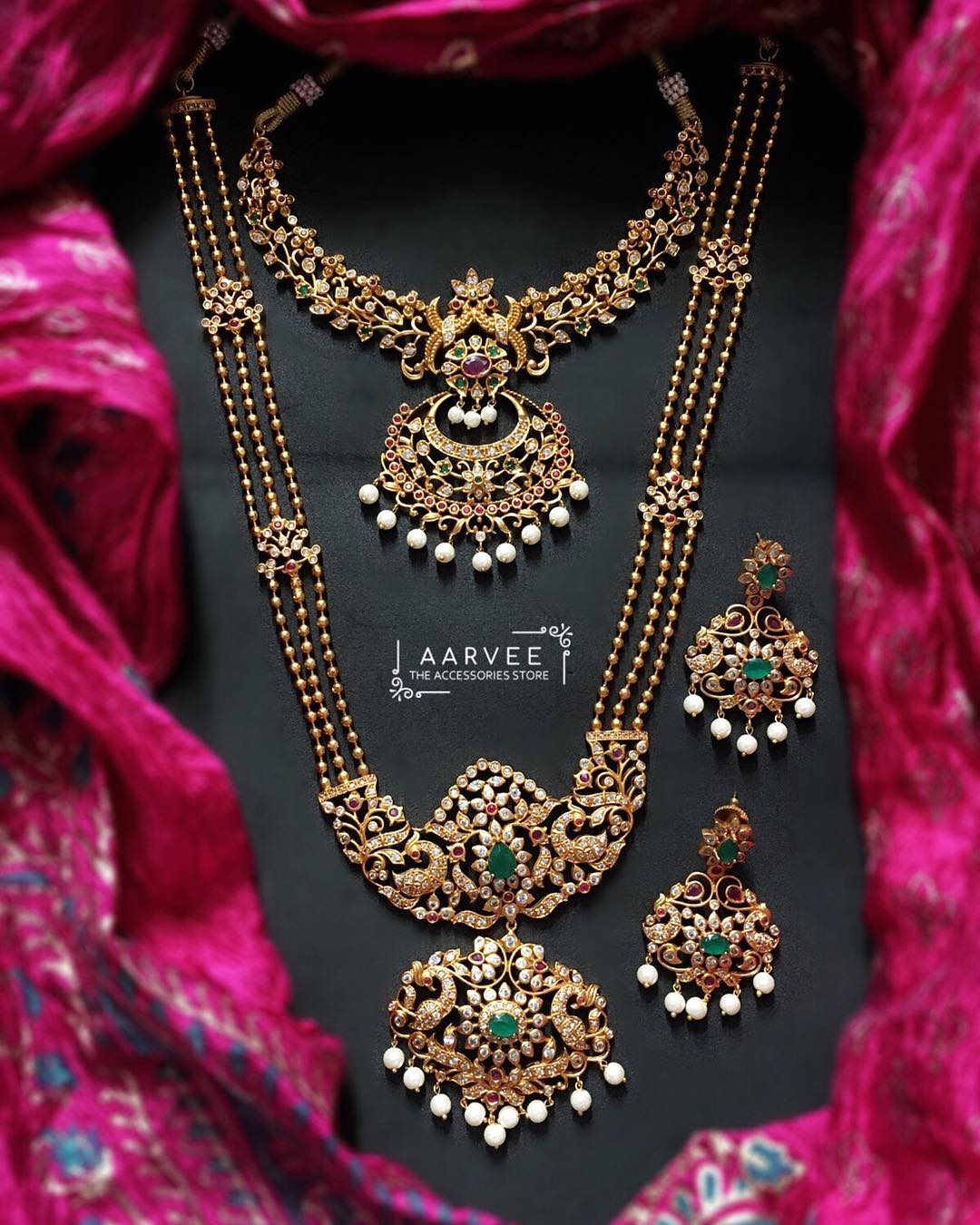 Stone jewellery is wonderfully designed and gives an astounding look to the wearer. This stone peacock set is fantastic designs of wedding jewellery.
3) Classic Ruby Choker Set
Adorn yourself and your neck with this classic ruby choker necklace that stunning hanging across the necklace with rubies.
4) Kundan Ruby Emerald Necklace Set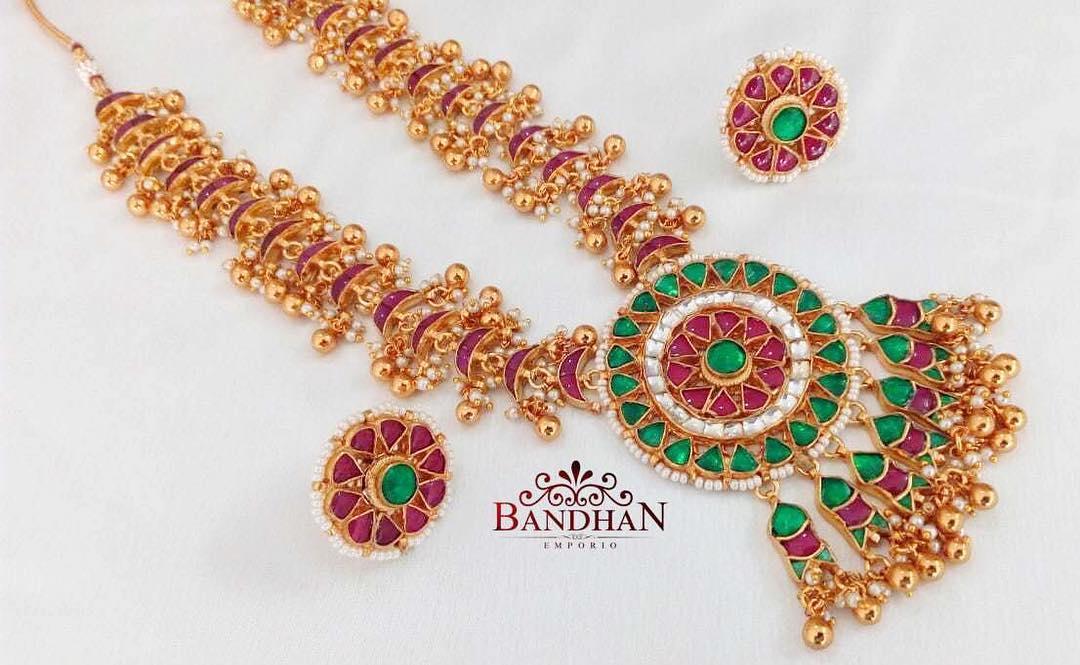 Kundan in itself gives a one of a kind look and when it has ruby and emerald, it certainly looks in vogue and its wearer would look the most stunning chic of the gathering.
5) Antique Matt Finish Set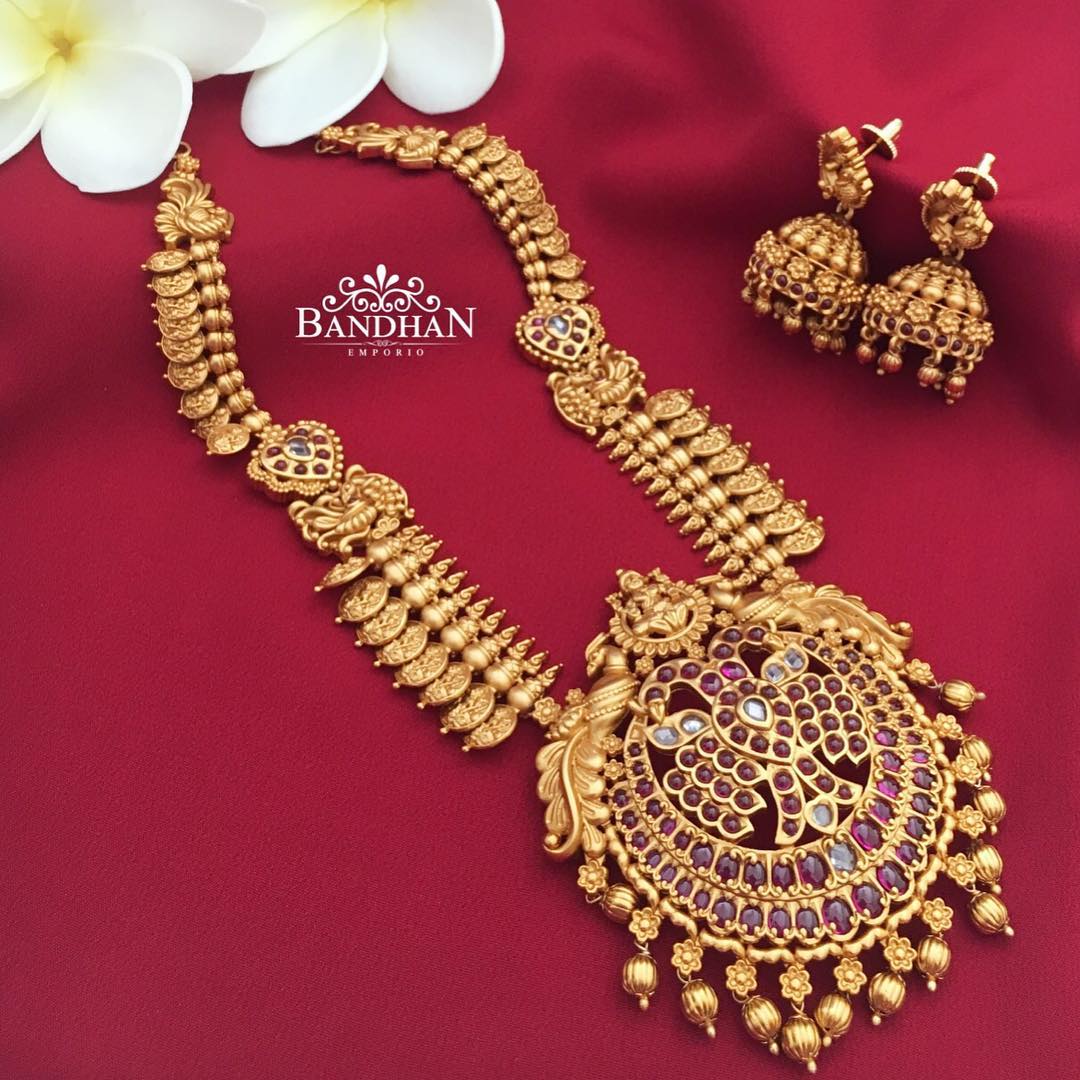 Antique matt finish set is something which people can never go wrong with and it is an all time favorite set.
6) Evergreen Coin Necklace Set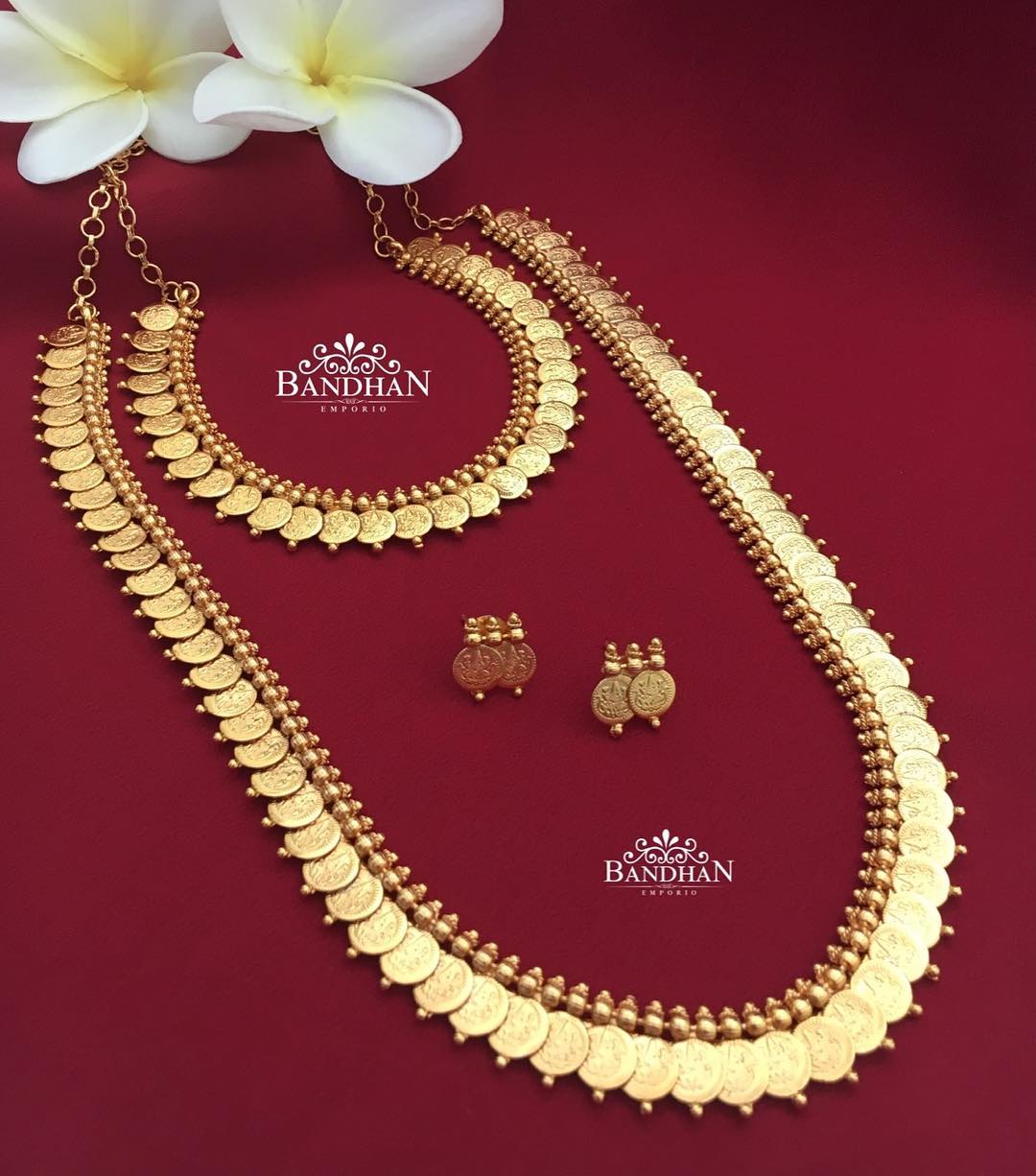 Coin jewelry can give you a look of being traditional as well as fashionable. It looks simple but definitely leaves a fashion statement.
7) Ruby Set With Chandbalis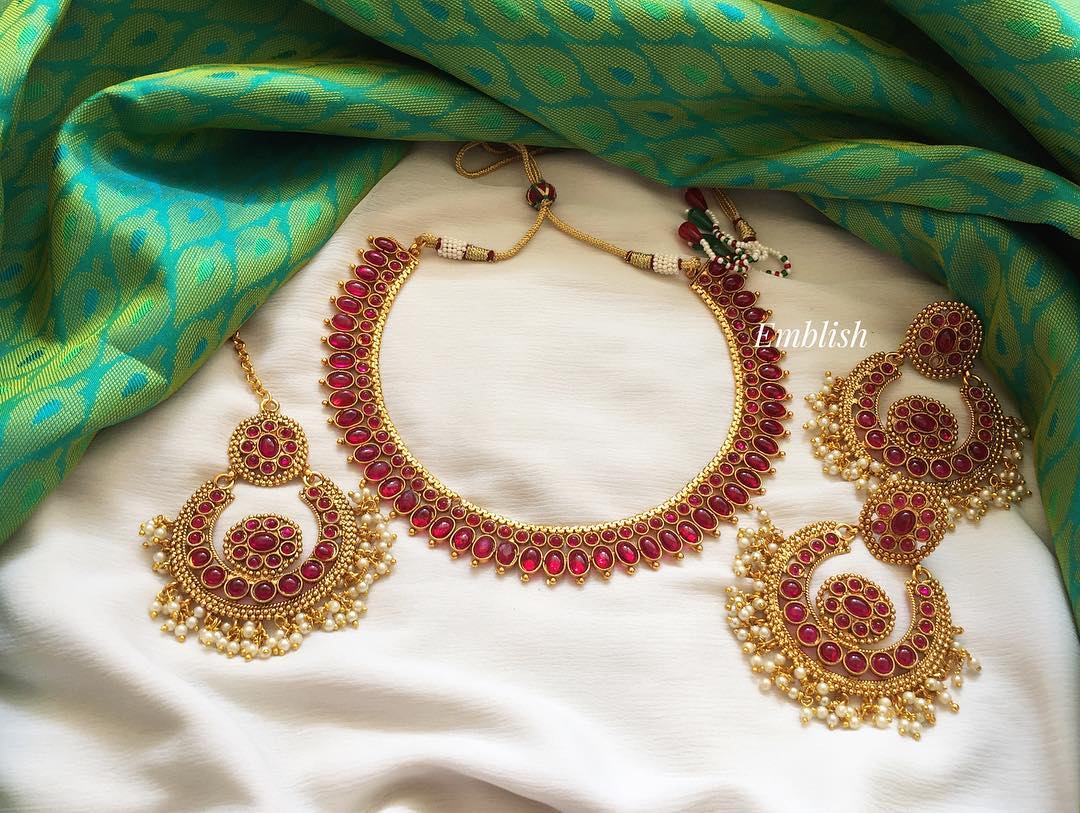 Get yourself a set of traditional ruby set with chandbalis. The attractiveness and creativeness make it look more eye-catching and unique and makes you stand out from the crowd.
8) Green Choker Set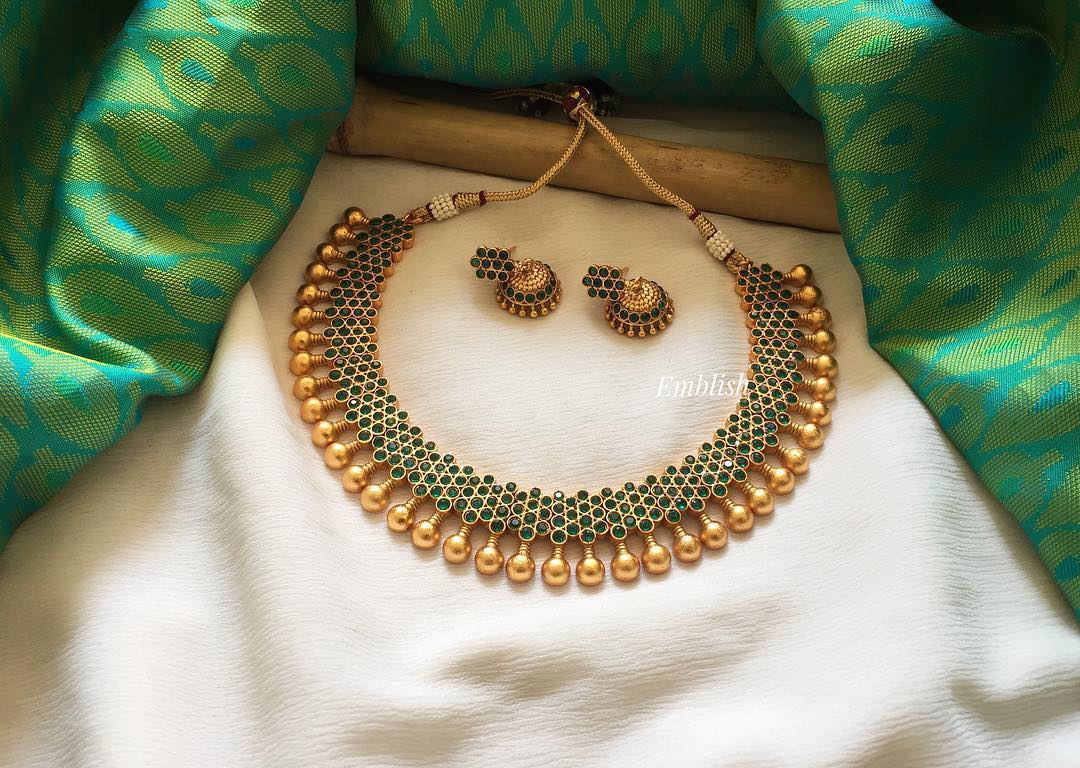 The choker is something which helps in providing your personality a special look and with that, you can create your own style statement.
9) Simple Ruby Guttapuslau Set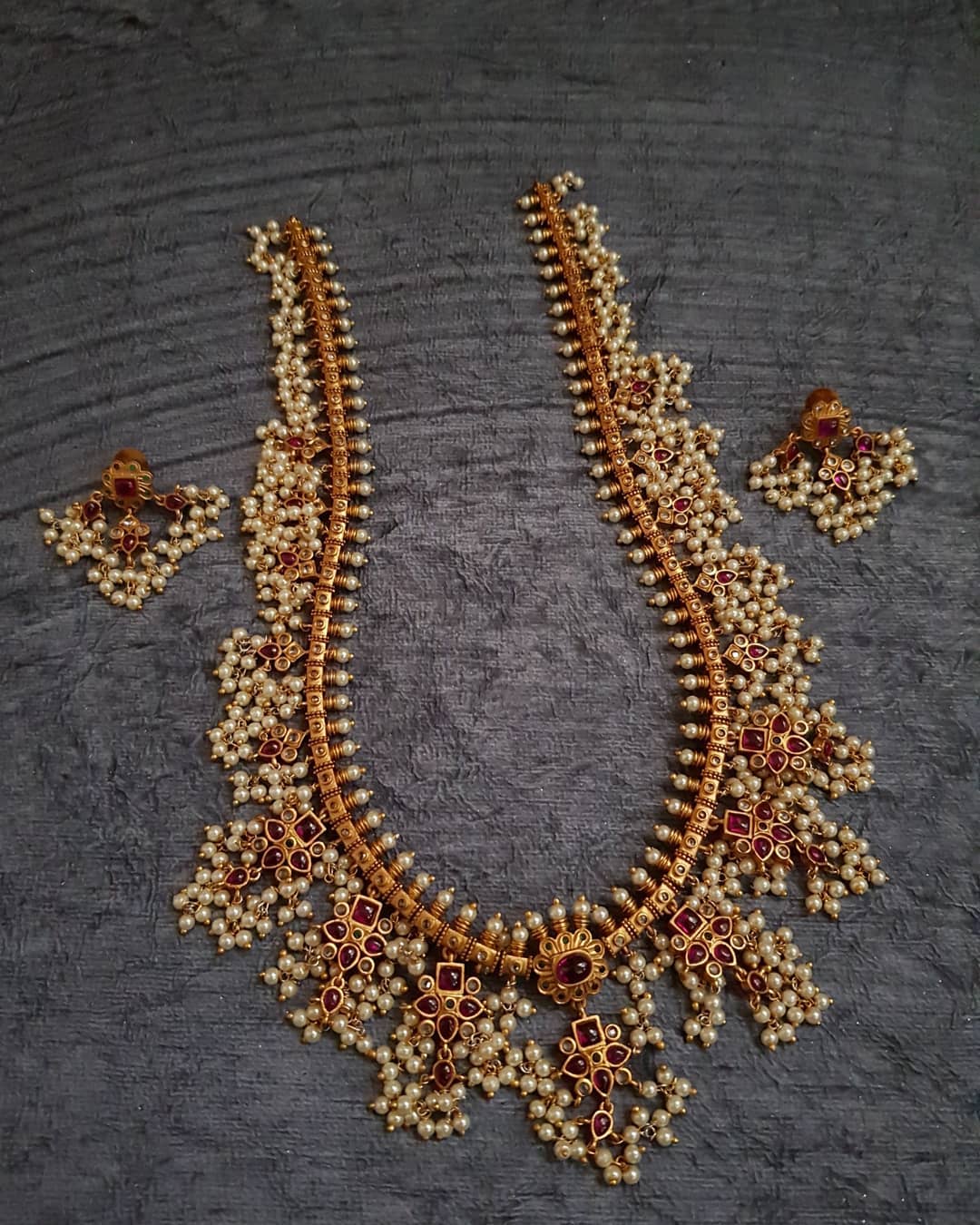 Are you someone who loves simple jewelry designs? Then this ruby guttapuslau set will certainly grab your eye immediately. This is simple but will definitely fetch you some compliments on your great choice.
10) Layered Ball Haram Set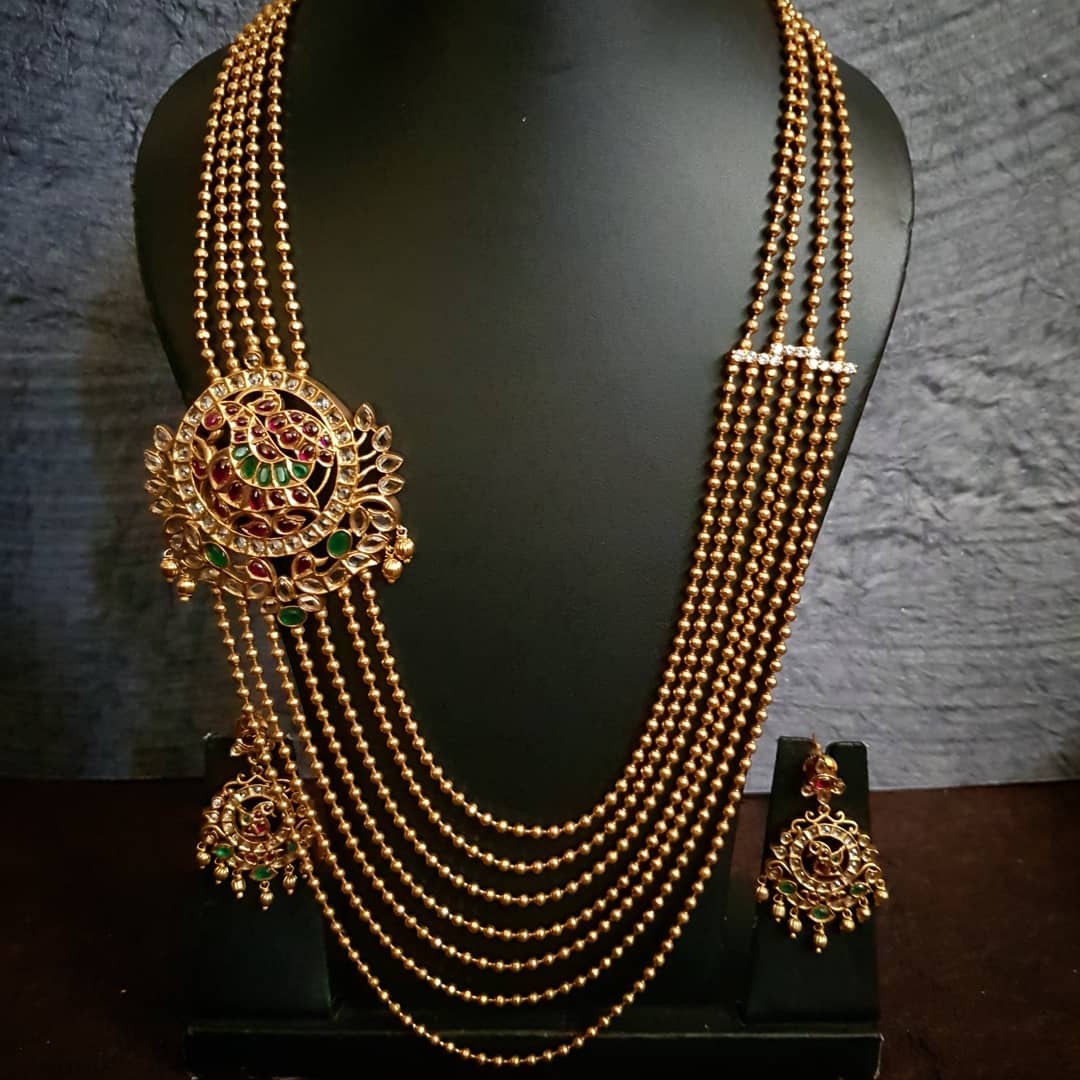 Long chains are commonly known as harams in South India and some of the designs used to enhance the beauty of the chains include strings of layered balls like this one.
11) Stone Lakshmi Necklace Set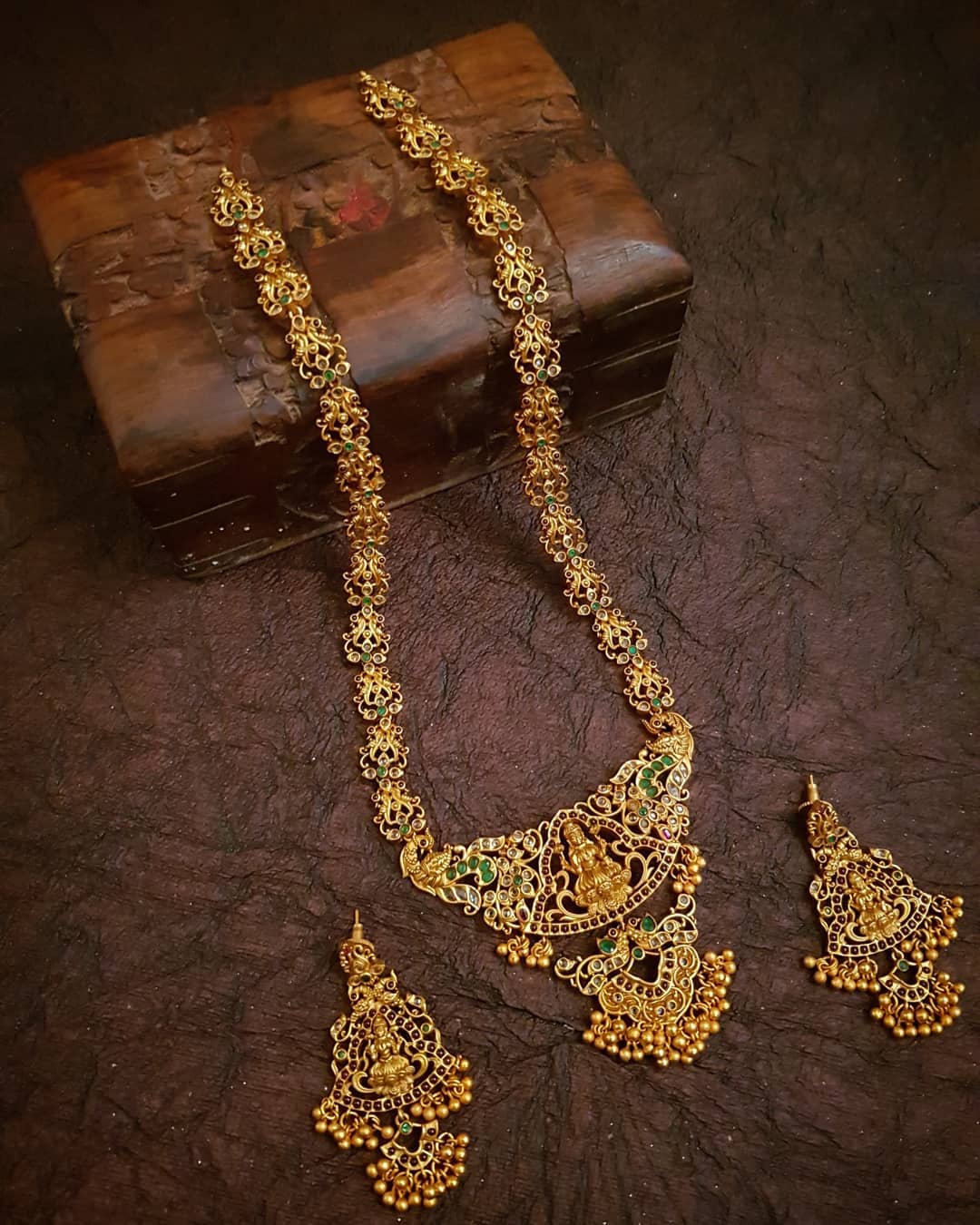 Stone Lakshmi set designs are wonderful to look at and it can be worn on any and every occasion you want and it looks extremely well with ethnic wear.
12) Two Layer Antique Set
This antique set with two layer design looks amazing on the person who wears this and attracts people easily.
13) Ruby Coin Set With Jhumkas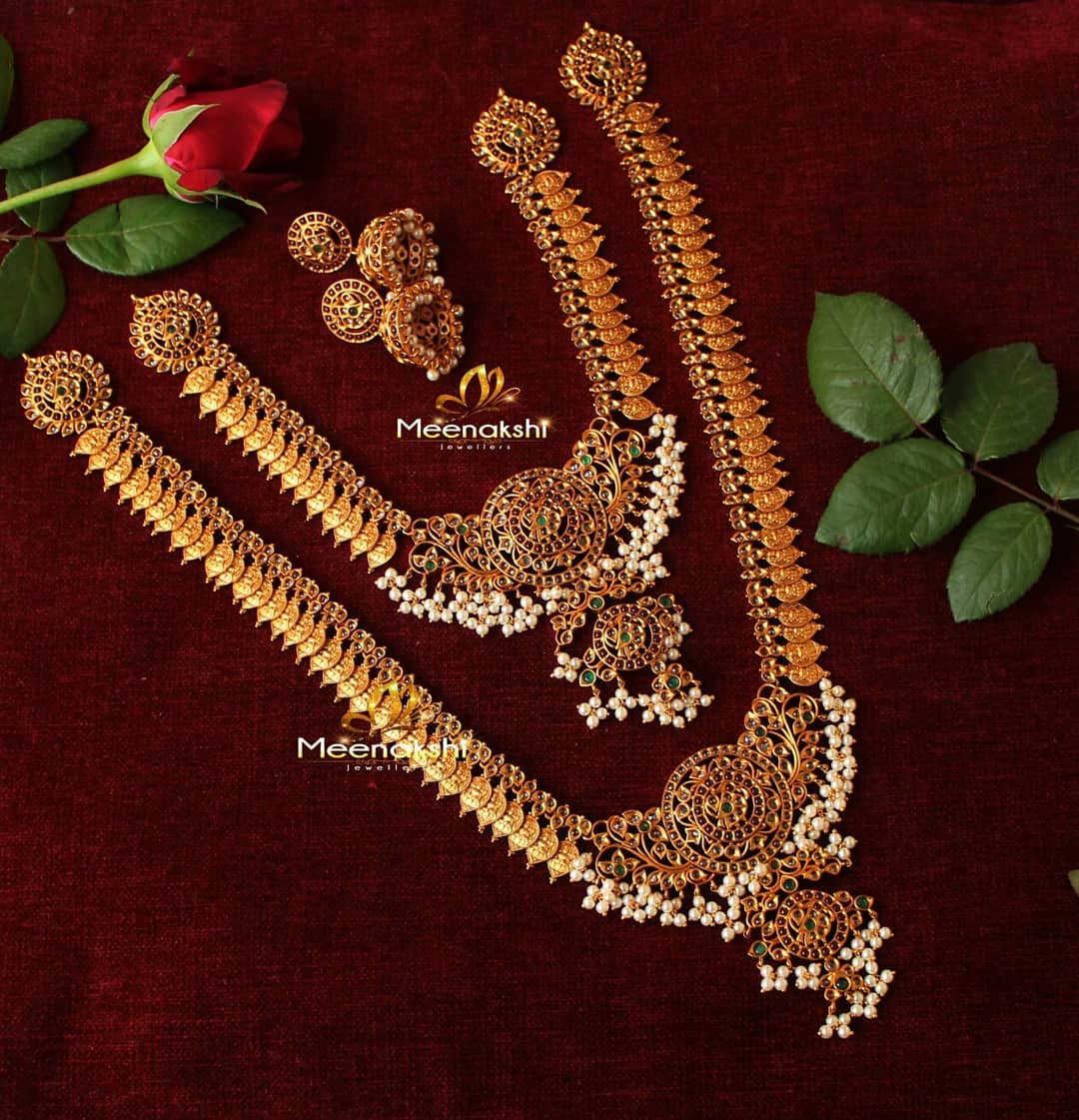 Getting the coin jewelry sets with rubies will be perfectly matching for any type of occasions as it exudes trendy look.
14) Matt Finish Kanti Set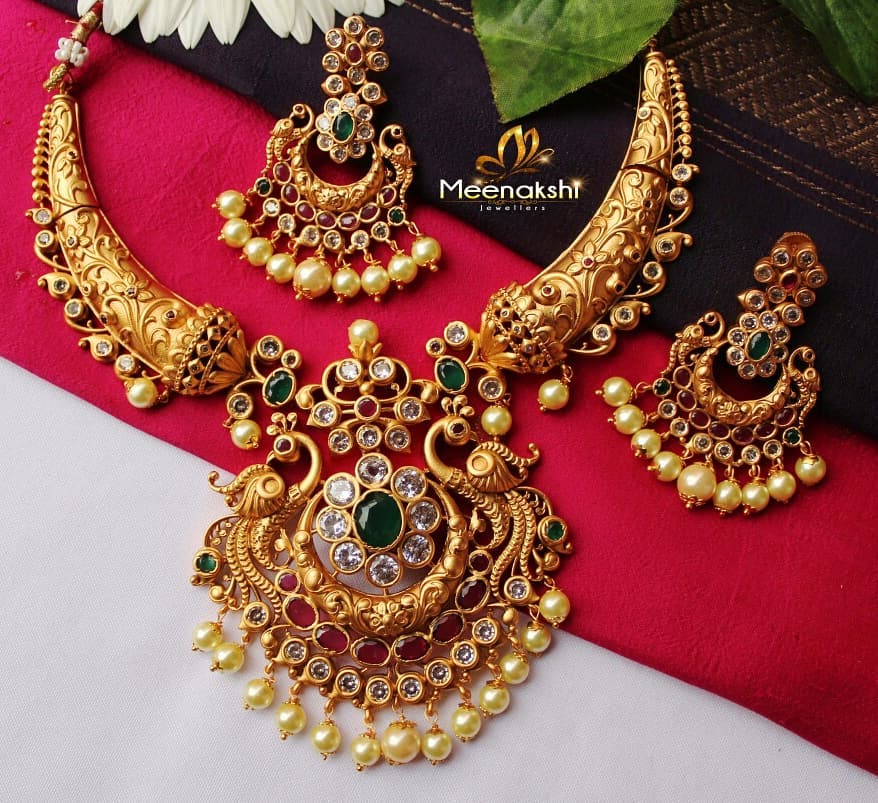 This Matte finish Kanti set is very attractive and unique. This can be worn along with any other jewelry pieces easily and will make you look trendy.
15) Short Necklace With Bold Ear Studs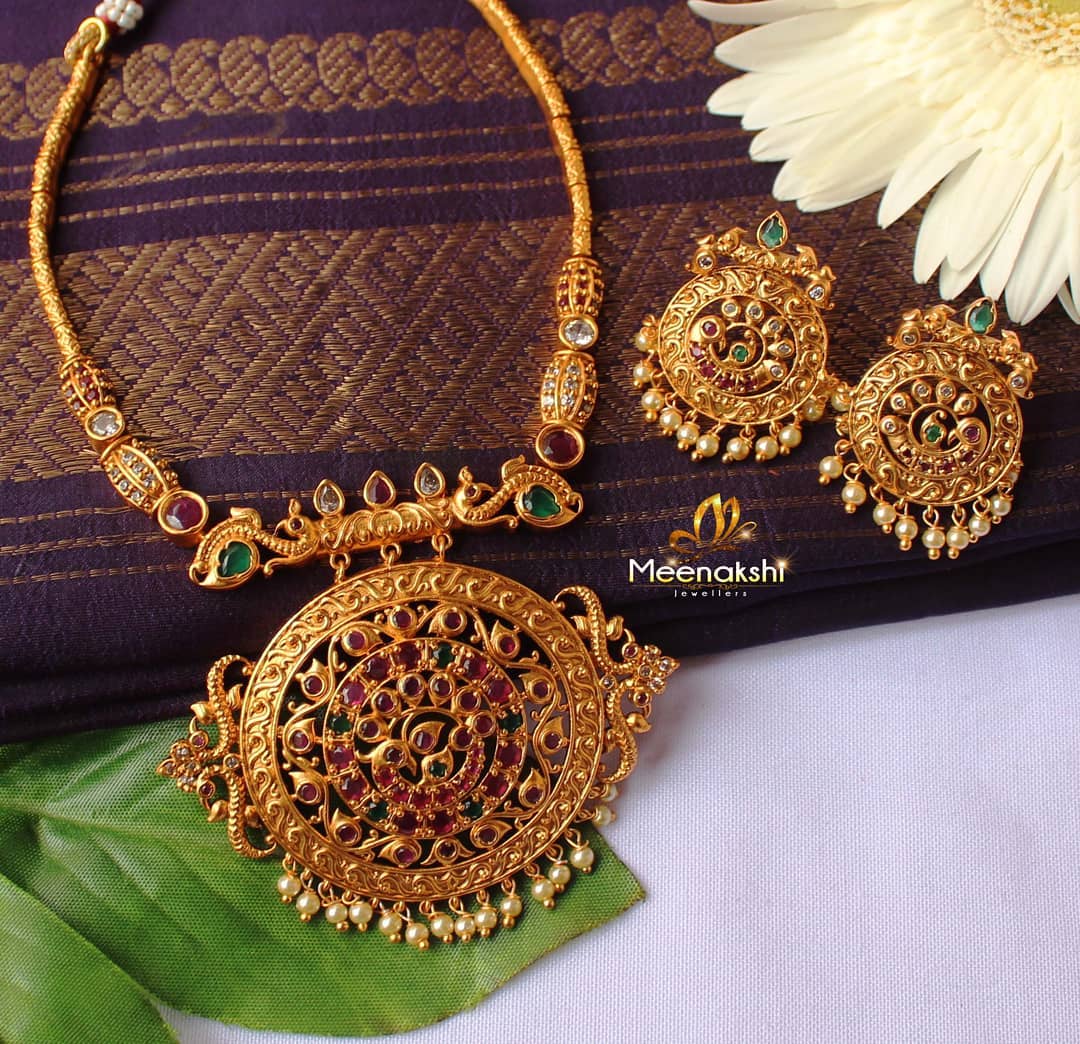 Short Necklaces hold a stylish look and stand ahead in the competition due to the fact that it represents the new trend.
16) Beaded Temple Jewellery Set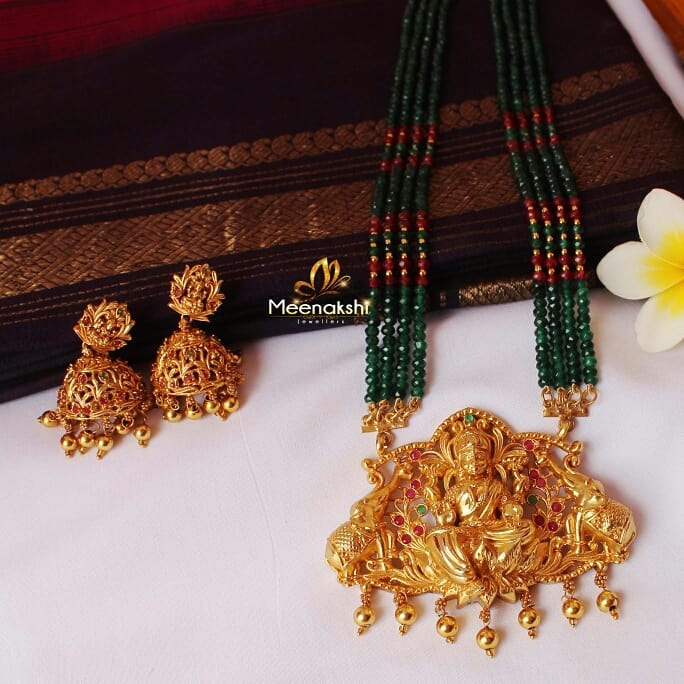 Beaded temple design jewelry set is an essential part of woman's jewelry closet. It is one of the wonderful gold temple jewelry sets for ladies.
17) Blue Kemp Set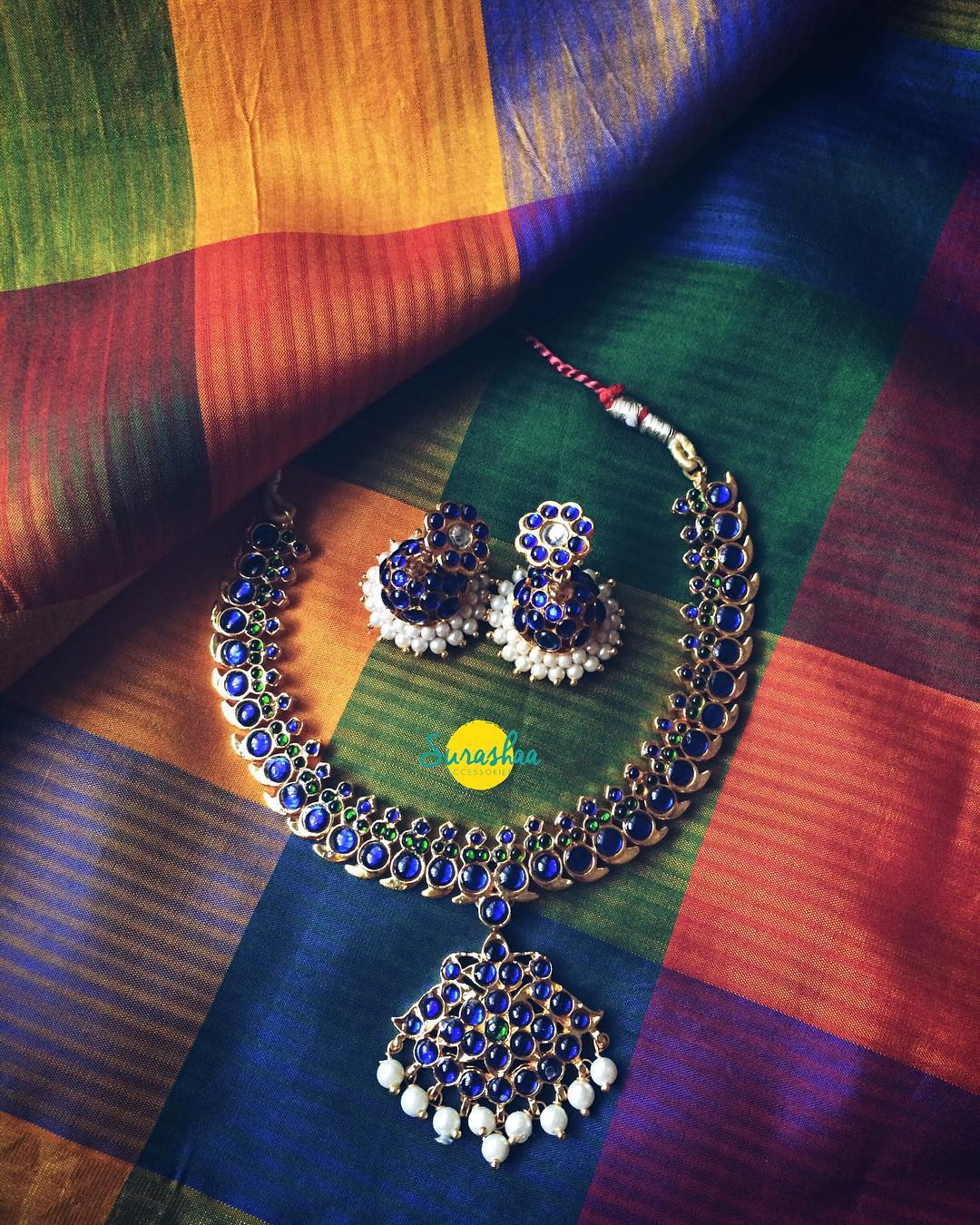 The design is mainly created with blue kemp stones with pearls hanging at the end. The blue and white color combination just looks stunning.
18) Classic Pearl Guttapusalu Set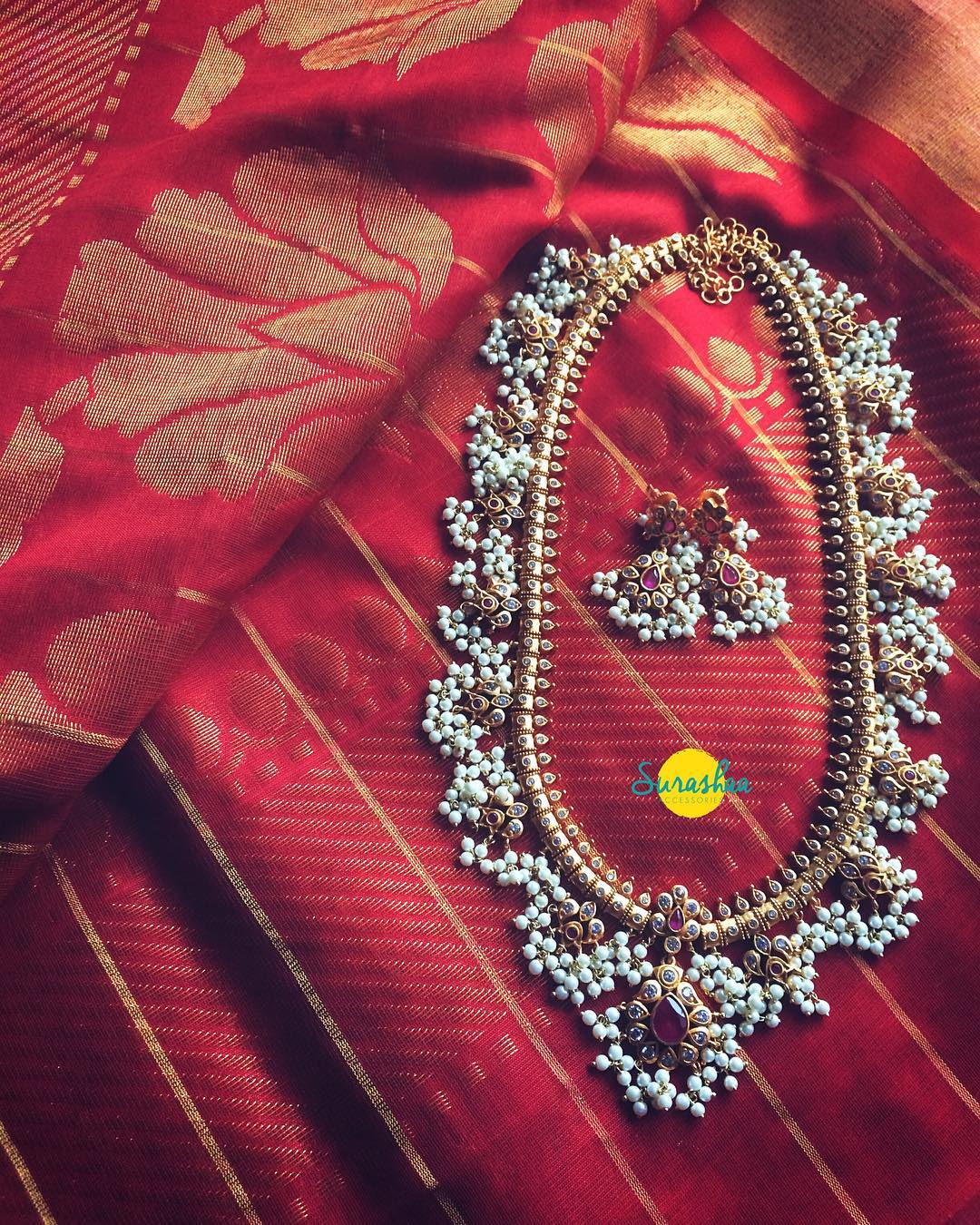 The classic pearl set is very ethnic in look and having intricate designs that are made out of gold on them which makes them look really special.
19) Short Beaded Kemp Choker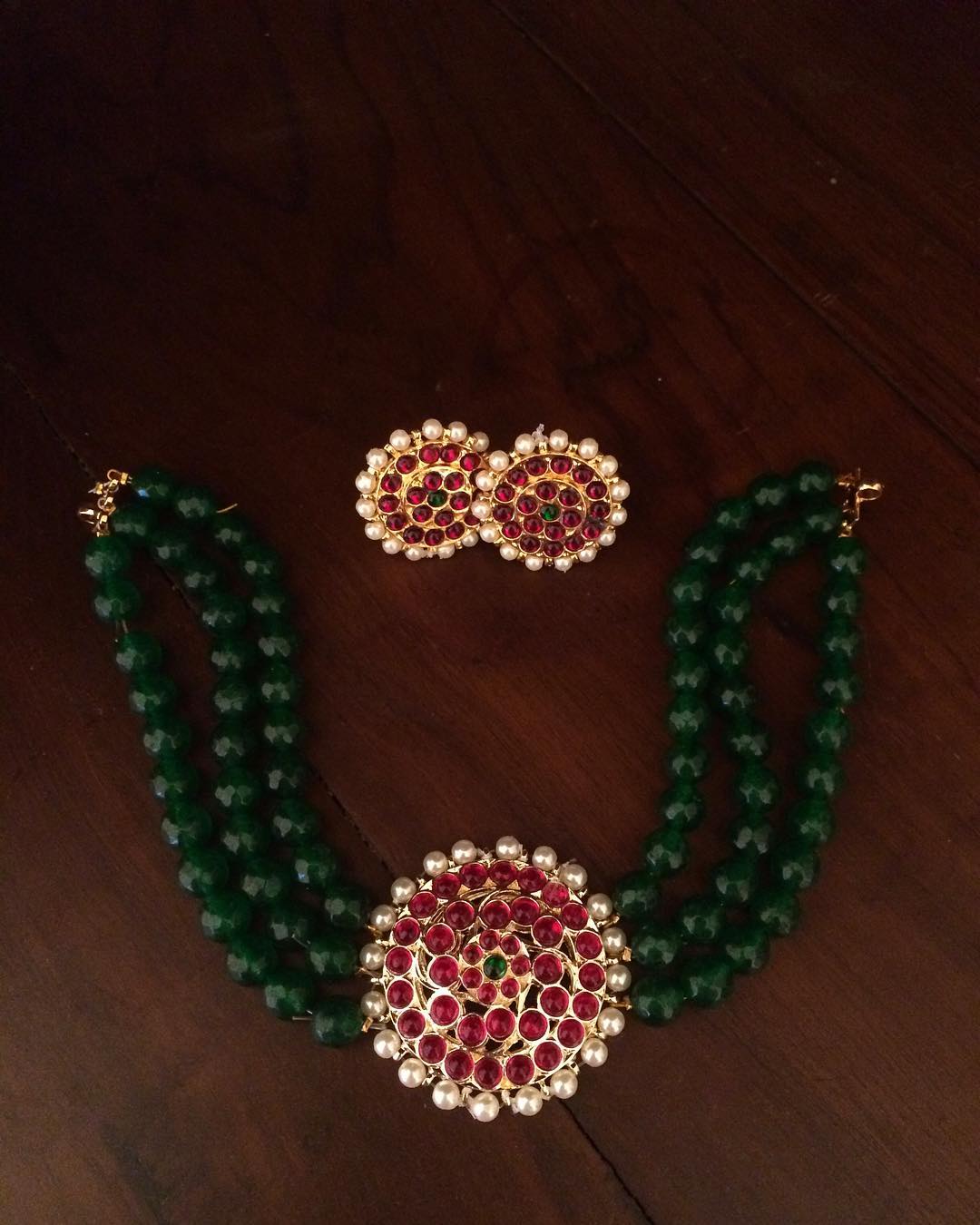 Kemp chokers are a significant type of ornaments worn by ladies to enhance the beauty of their necks and add magnificence to the special wedding day.
20) Pearl Choker Set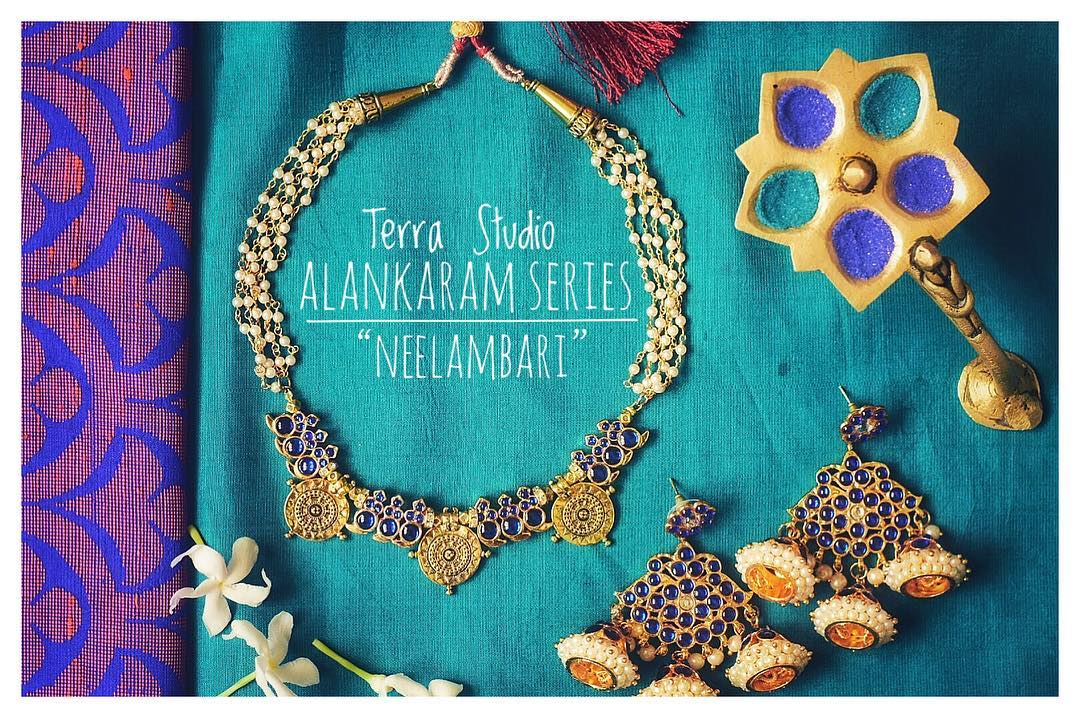 Usage of pearls give luster to the chokers and this Pearl Choker Set is nothing but stunning and classy.
21) Green Kemp Set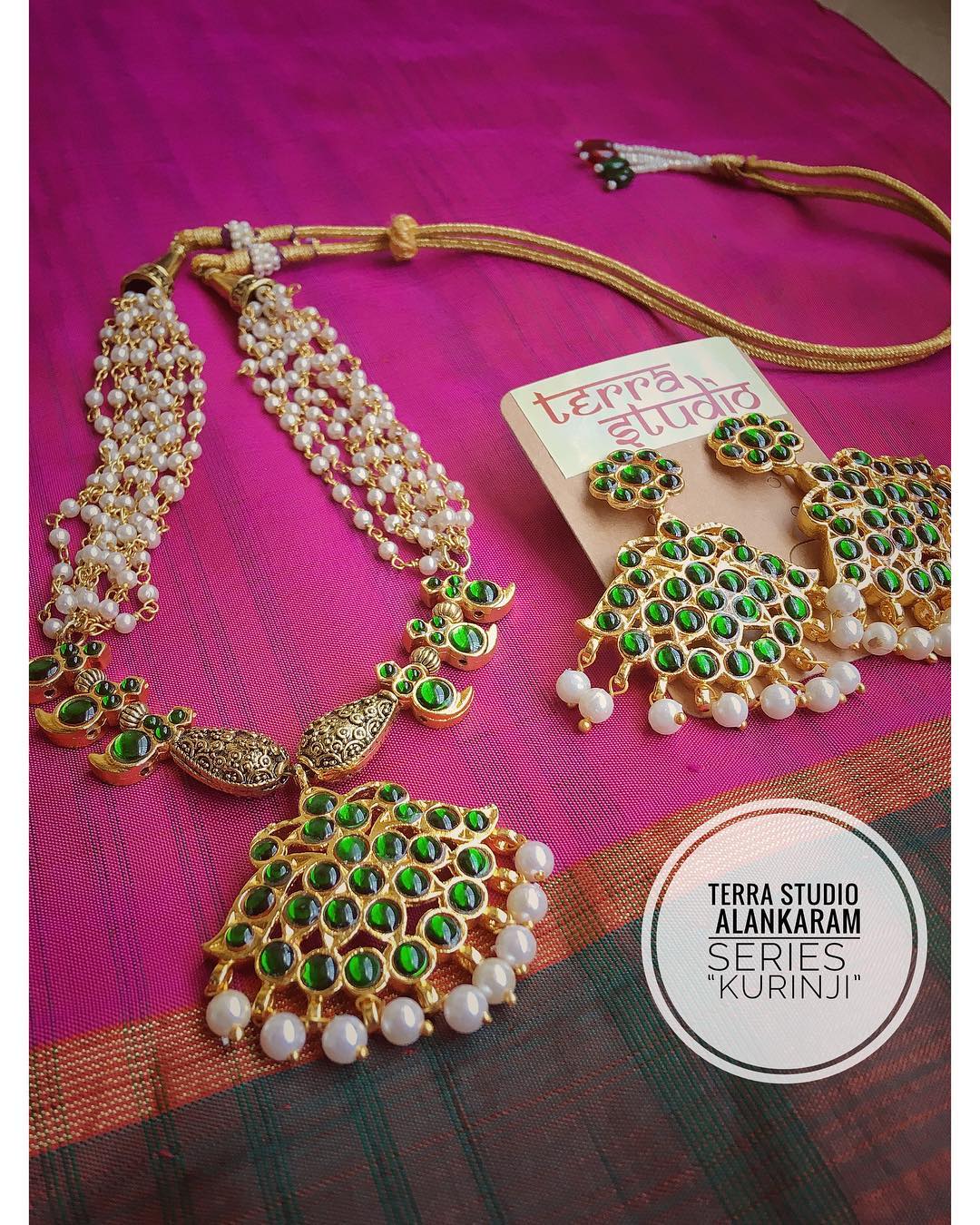 Kemp sets are the most popular types of temple jewelry which are largely adorned by women to add an exquisite look to her beauty. The green color makes it look even better.
22) Red Threaded Necklace Set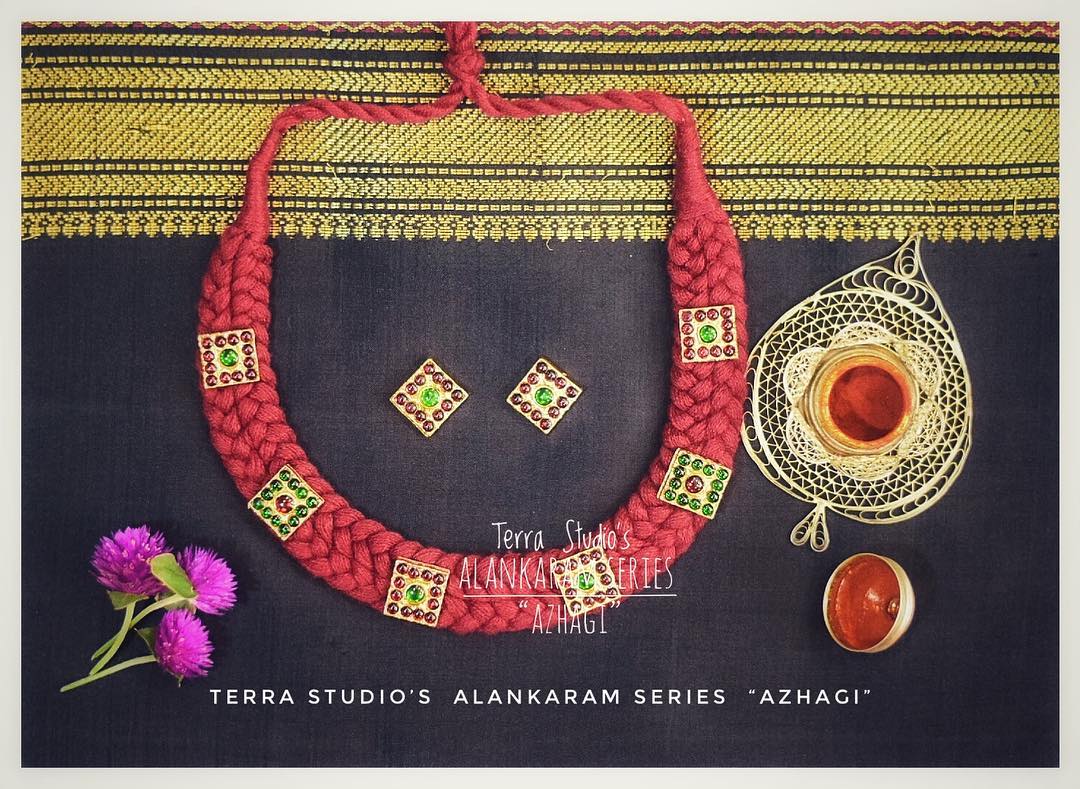 This necklace set is nothing like you've seen before. The red thread gives a traditional attractiveness and adds an exceptional grace to the wearer.
23) Simple Short Pearl Cum Coin Set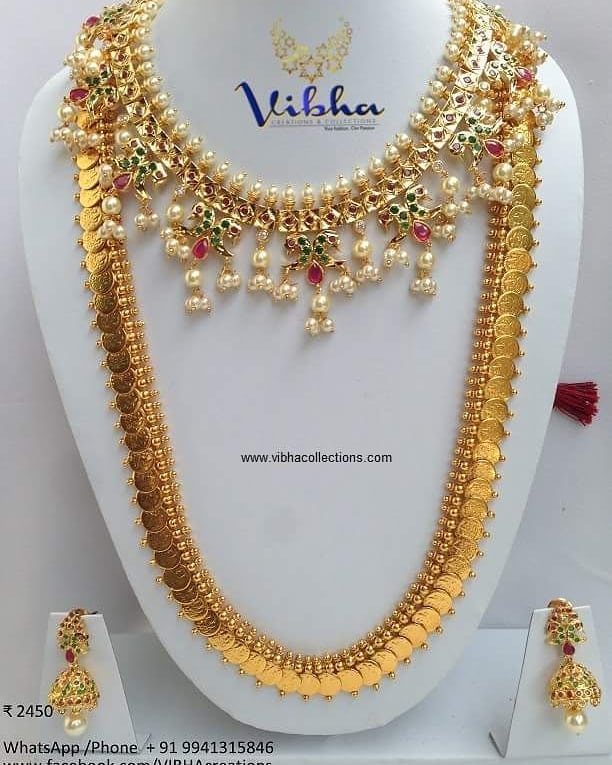 This simple short pearl cum coin set will complement the beauty of the brides and give a delightful look to their appearance.
24) Lord Krishna Set
Keeping in mind its traditional value, this set has Lord Krishna placed in the centre of the necklace and earrings to give a wonderful look to the design.
25) Grand Stone Studded Coin Set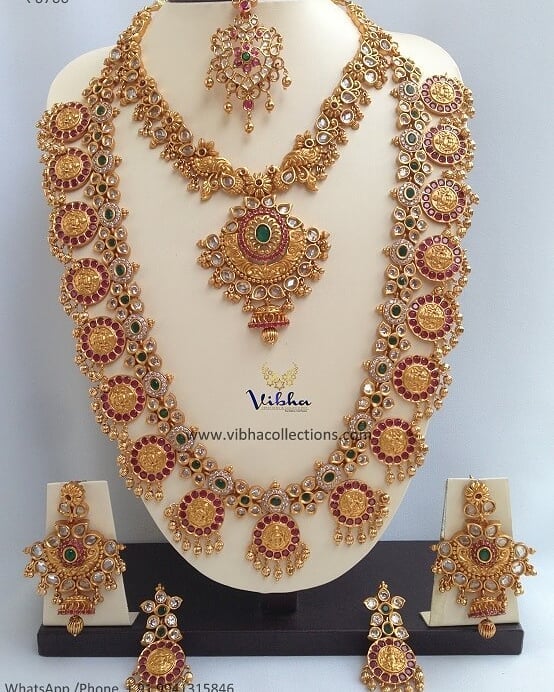 Nothing beats a set made of coins especially when they are studded with colorful stones and it makes them more beautiful.
26) Short Ruby Emerald Stone Set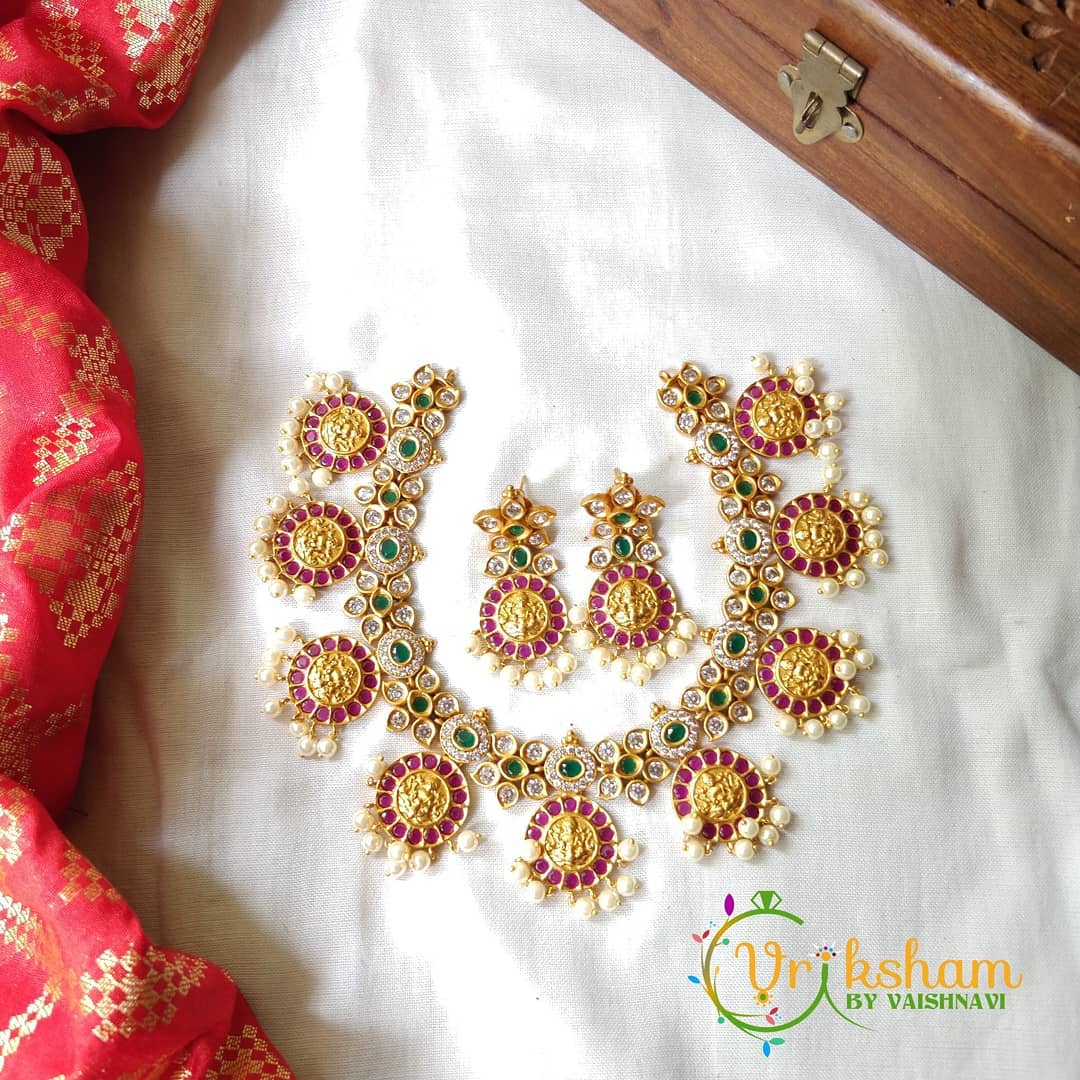 This Short ruby emerald stone set will not only be exquisite but also very much eye-catching too.
27) Simple Pearl Set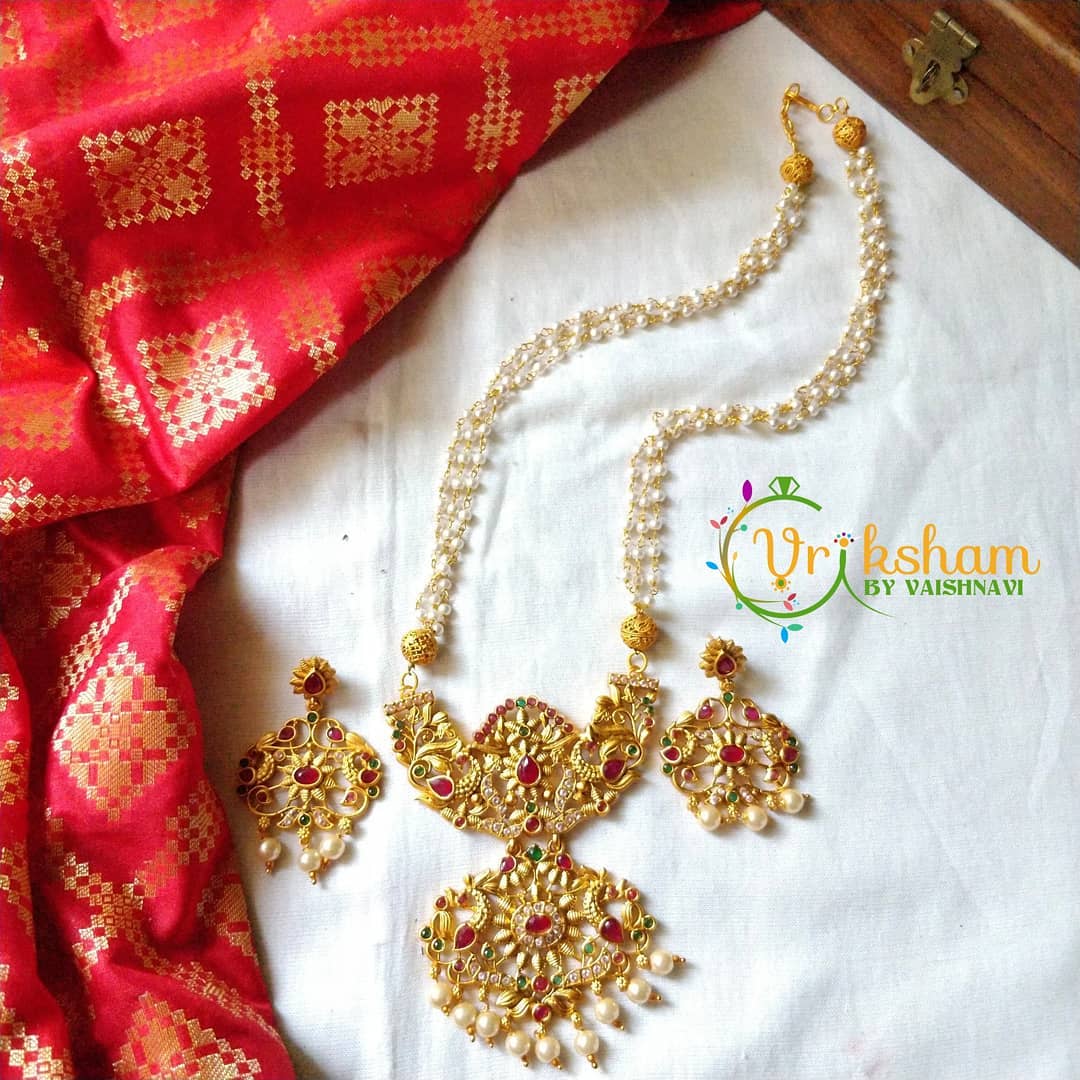 For brides who are looking for a fashionable and classy set, this simple pearl set will be your best choice.
28) Bold Coin Set
If you are planning to buy something different to add with your existing temple jewellery collection, getting this bold Coin set will be a smart idea.
Purchasing  grand jewelry sets is a huge time saver as well as a money saver. Jewelry sets are generally sold at a lower price as compared to single pieces, which is a tremendous draw for those watching their wedding budget closely.
So, go ahead and pick the ones that you are lusting over. To shop the above sets, please reach out the respective brands below.
Seller Name : Aarvee
Instagram : https://www.instagram.com/aarvee.chennai/
Facebook : https://www.facebook.com/aarvee.accessories
Email : aa***************@gm***.com
Seller Name: Bandhan
Instagram: https://instagram.com/bandhanemporio
Facebook:www.facebook.com/bandhansemporio/
Contact: Bandhan +91-9963713989 or +1-647-472-9097
Email: ba************@gm***.com
Seller Name : Emblish
Instagram : https://www.instagram.com/emblishcoimbatore/
Facebook : https://www.facebook.com/emblishcoimbatore
Contact : +91-9994644041
Seller Name : Happy Pique
Instagram : https://www.instagram.com/happypique/
Website : www.happypique.in
Email : he**@ha********.in/ha********@gm***.com
Seller Name : Meenakshi Jewellers
Instagram : https://www.instagram.com/meenakshi_jewellers/
Facebook : https://www.facebook.com/Meenakshijewelers/
Whatsapp : 7730804088
Seller Name : Surasha
Instagram : https://www.instagram.com/surashaa/
Contact : +91 90-03-342471
Vibha Creations
Facebook : https://www.facebook.com/VIBHAcreations/
Instagram : https://www.instagram.com/vibha_creations_collections/
Website : https://www.vibhacollections.com/
Contact : + 91 9941315846
Seller Name : Vriksham
Instagram : https://www.instagram.com/vriksham/
Whatsapp : 91-9962979994
Also Read: