Providing a rich yellow color and an alluring shine, gold necklaces are the style-savvy woman's top pick. Regardless of the event, you can totally rely on premium neck pieces with glowing style to complete your look.
If you want to buy a 16 gram gold necklace as an addition to your jewelry collection, you must look into the myriad options in order for you to buy the one that will suit your needs.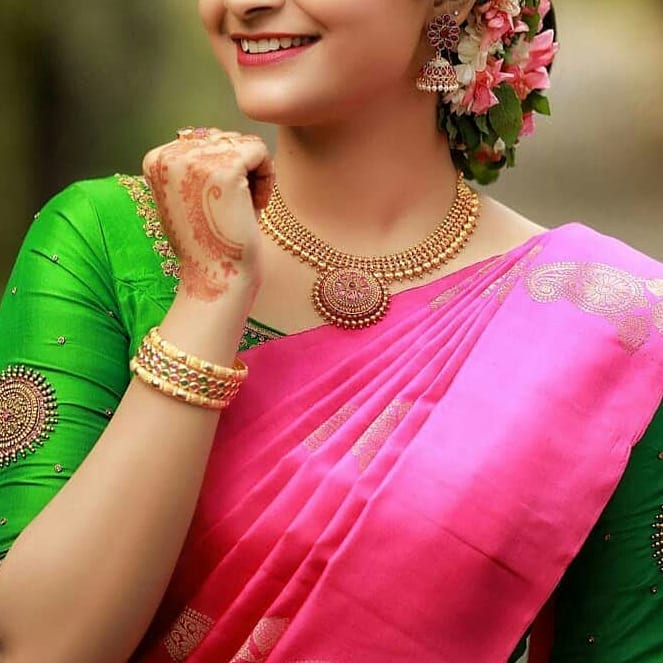 A gold necklace can be worn at a party, wedding, or any other event. We have put together 23 designs that you will absolutely love. Below are 16 gram gold necklace collections & where to shop for them:
1) Traditional Peacock Necklace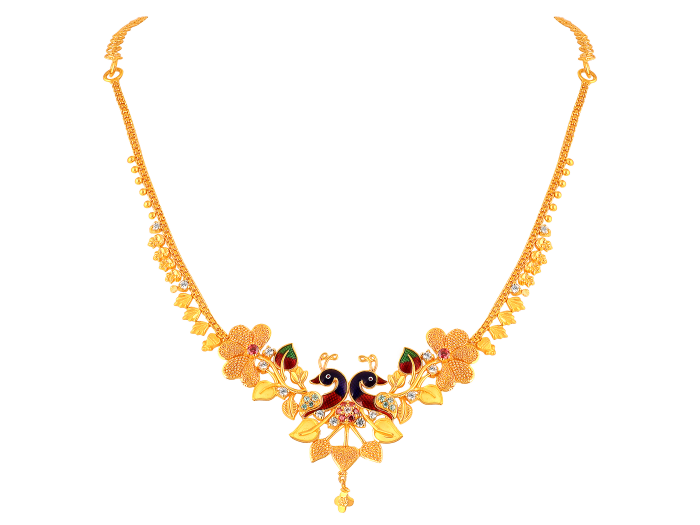 To truly set off the tone of a beautiful outfit, pick a traditional peacock gold necklace that will complement what you are wearing while adding a cool element of style to the look.
2) Short Enamel Necklace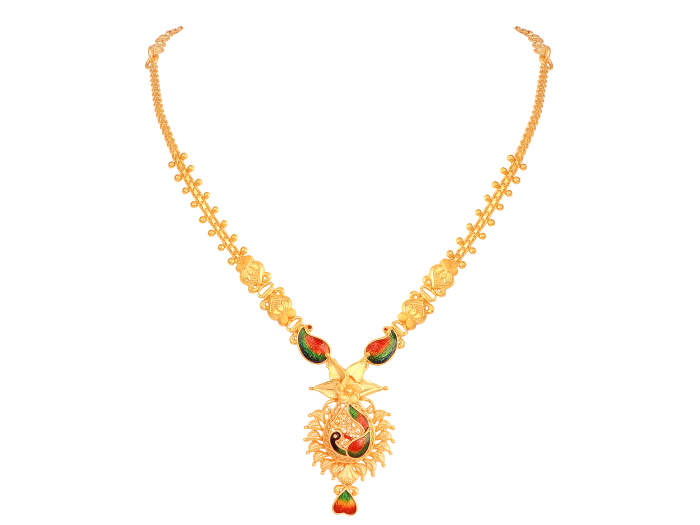 This enamel necklace will bring a charming sparkle to your ensemble and will serve as a pleasant complement to the dress.
3) Light Weight Floral Enamel Necklace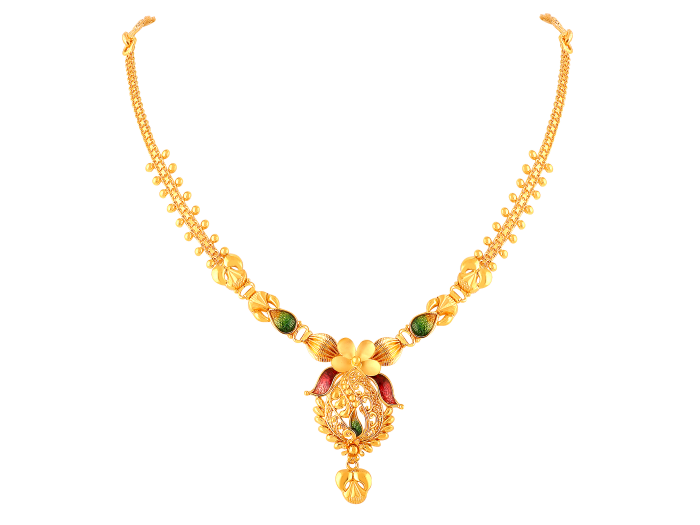 This light weight floral enamel necklace design will pair spectacularly with your outfits and make you the talk of the town.
4) Classic Enamel Necklace With Short Pendant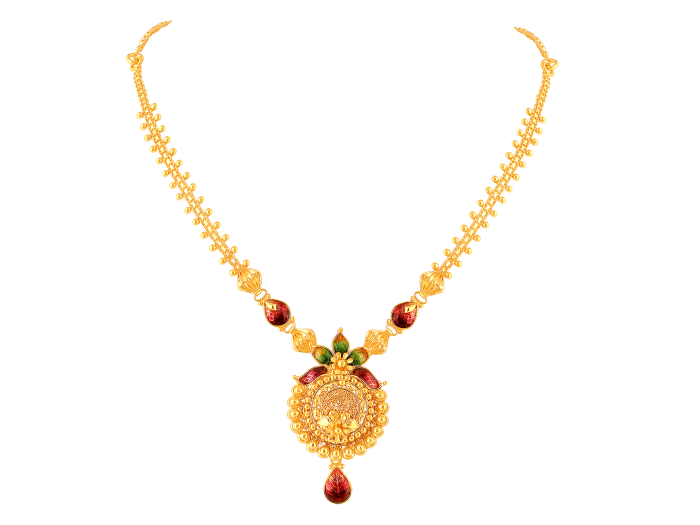 The classic enamel necklace with short pendant is a good example of classy necklace designs, with its beautiful short pendant that would catch anyone's attention.
5) Short Floral Necklace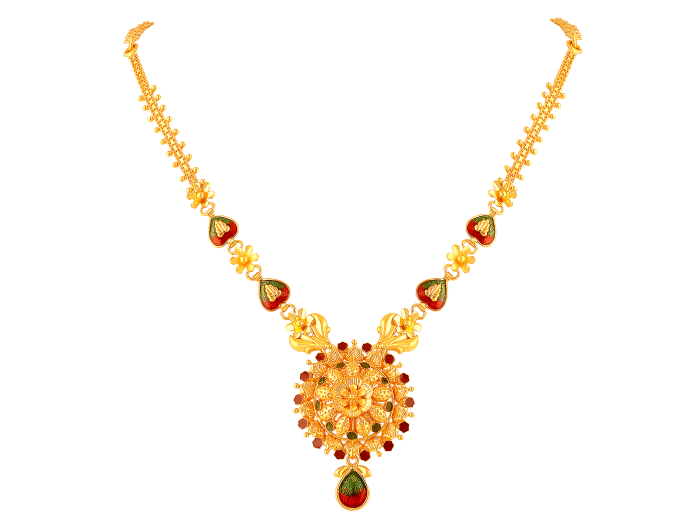 The unique design of this short floral necklace is perfect for enriching the style of your look. For ladies who love modern gold jewelry with stunning textures, the short floral necklace is a keeper.
6) Fancy Light Weight Necklace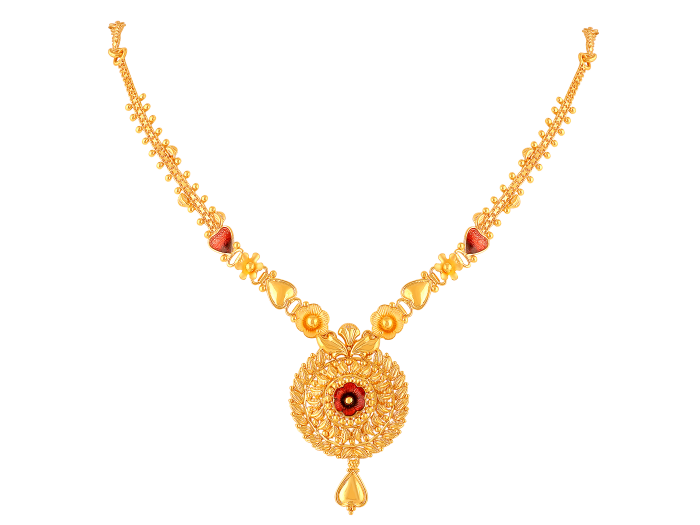 The specialty of light weight necklaces is that they look eye-catching and carry the sophisticated & modern look in their looks, yet at the same time, they are super light and can be carried off easily in any occasion by women of all age.
7) Short Traditional Necklace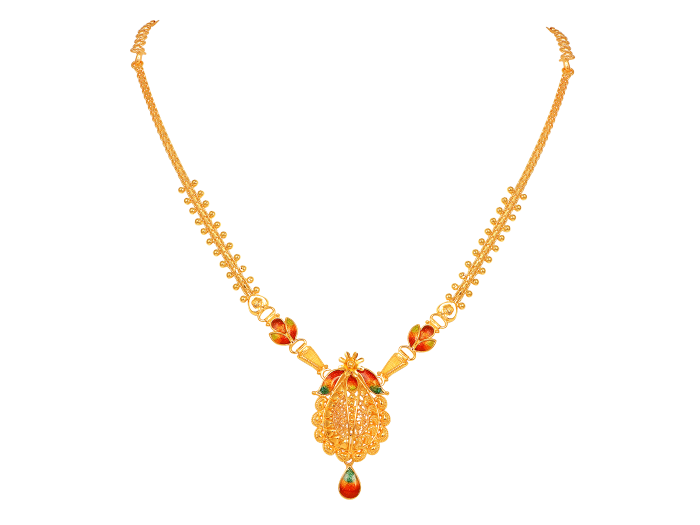 Short and traditional, this gold necklace has a dazzling shine when hit by the light and displays what it is that makes this necklace so special. It would surely make you stand apart in a crowd.
8) Matt Finish Flower Necklace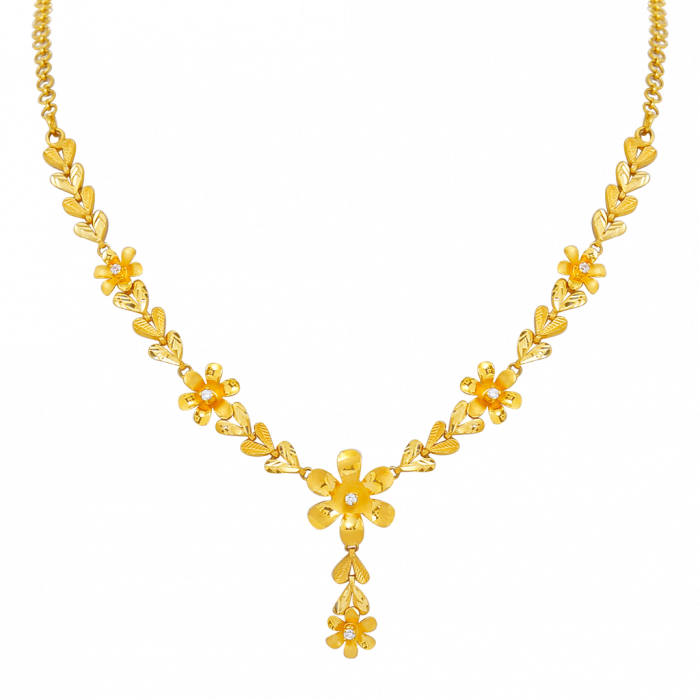 Don't like shiny gold necklaces? Well, this matt finish necklace is just perfect for your taste. Never underestimate the worth of a striking matt finish flower gold necklace for the modern woman on the go.
9) Light Weight Designer Necklace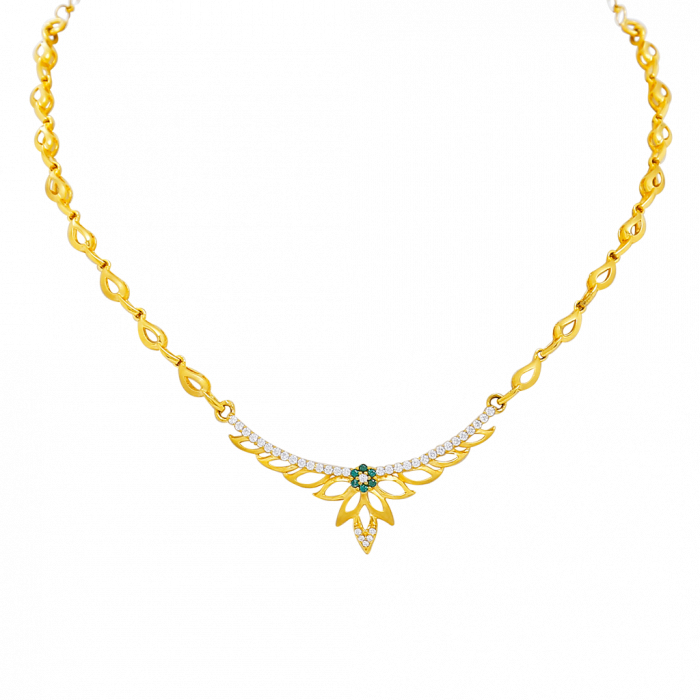 Simply ravishing in both casual and formal occasions, this light weight designer gold necklace will be a great investment for your jewelry collection. So, what are you waiting for?
10) Plain Necklace With Fancy Pendant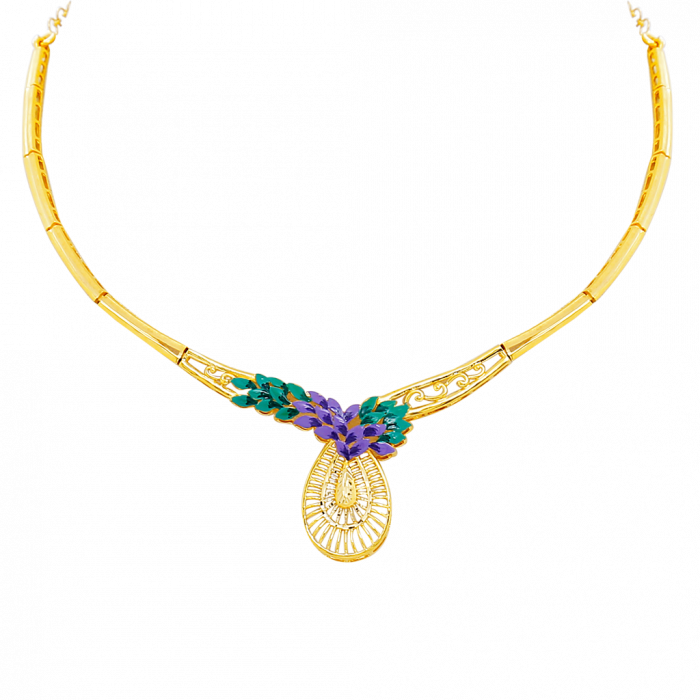 Creating a new take on traditional necklace designs, this plain necklace with fancy pendant is a must-have piece. They will look perfectly well with all kind of dresses whether it is a classic salwar kameez, traditional saree, or trendy gown.
11) Chain Necklace With Flower Pendant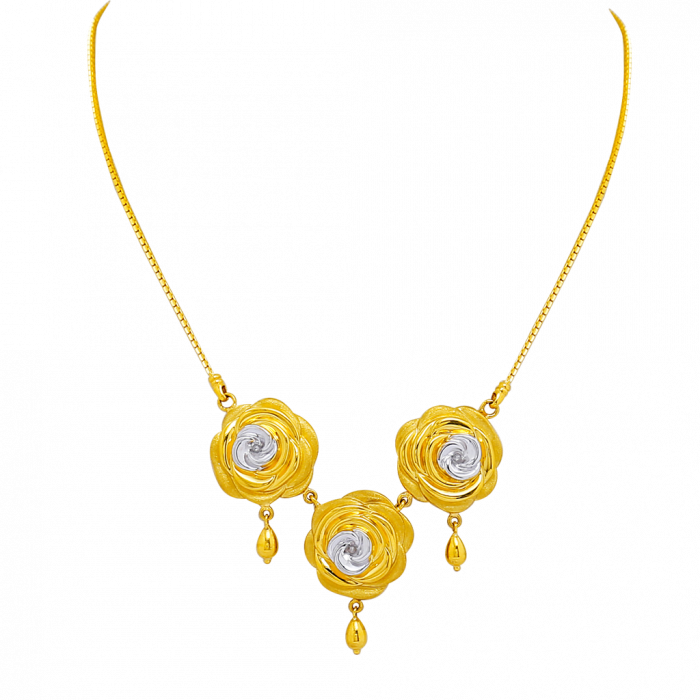 Make a style statement that can be noticed by friends, family and even coworkers and alike with this appealing chain necklace with flower pendant.
12) Short CZ Stone Necklace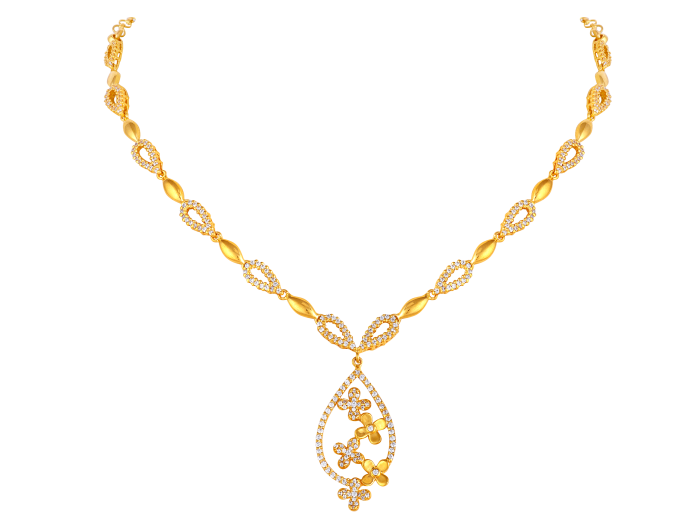 16 gram yellow gold with CZ stone offers this necklace a refreshing style that is really something different. It will make you look like a diva when adorned n your beautiful neck.
13) Matt Finish Chain Necklace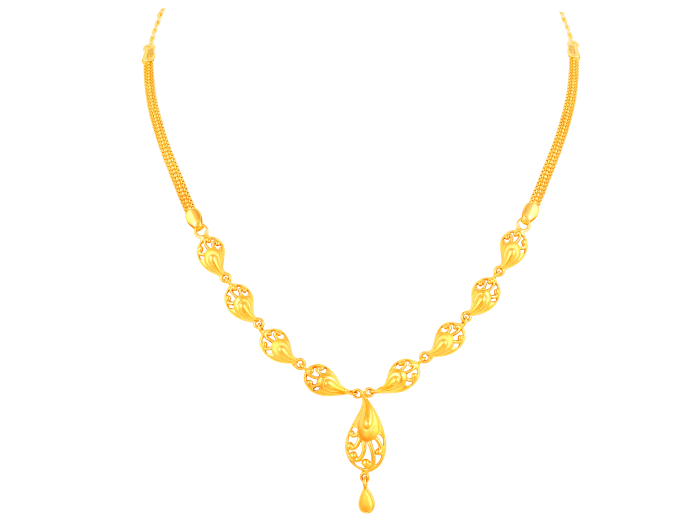 From the matt finish to the appealing design, this matte finish gold chain neckpiece will take your sense of personal style to a whole new level.
14) Ball Necklace With Stylish Pendant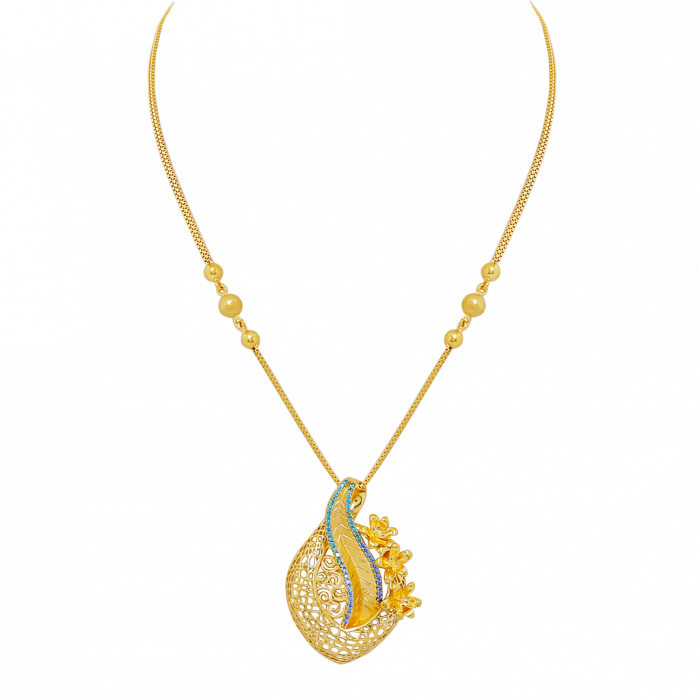 Bring a mesmerizing style to your attire and revive your taste in fashion with this simply stunning ball necklace with stylish pendant. This is just the right piece to add style to your look.
15) Light Weight Designer Floral Necklace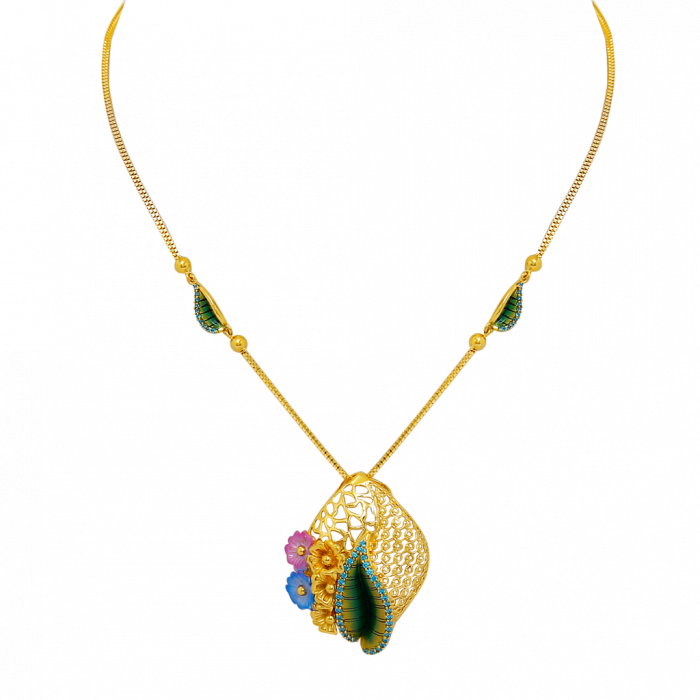 With chic design and incredible craftsmanship, the light weight designer floral necklace is a popular choice. The feature that makes this necklace unique is its light weight nature for which it can be easily worn whenever you want.
16) Modern Gold Stone Necklace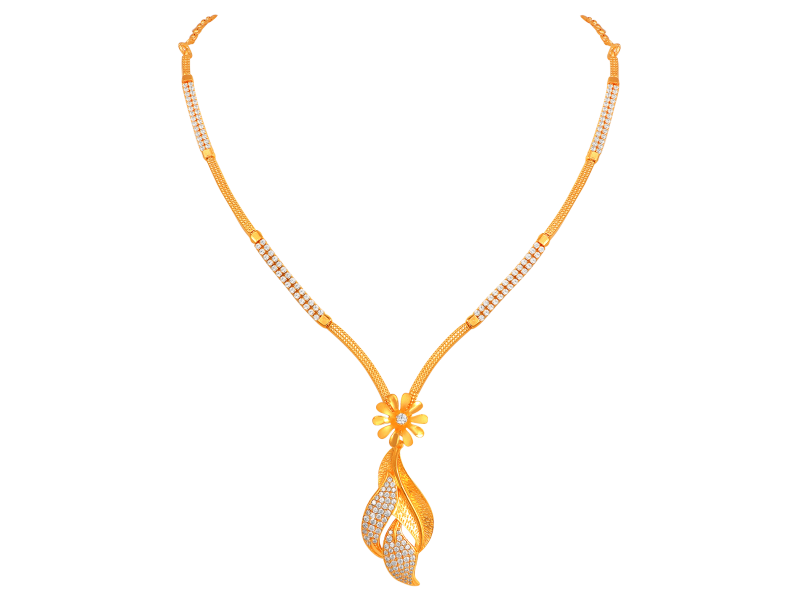 This modern gold stone necklace is the perfect example for this a charming neck piece.
17) Gold Necklace With White & Red Stones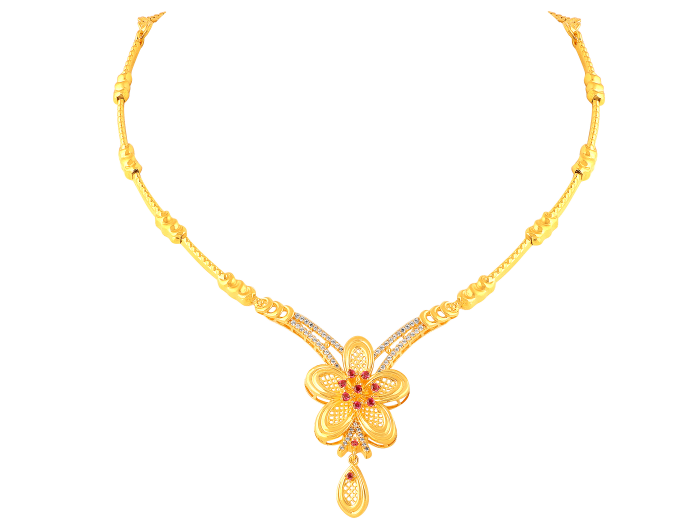 This gold necklace with white & red stones will make people look twice, while the design is elegant enough to glam up any outfit.
18) Simple Chain Necklace With Small Pendant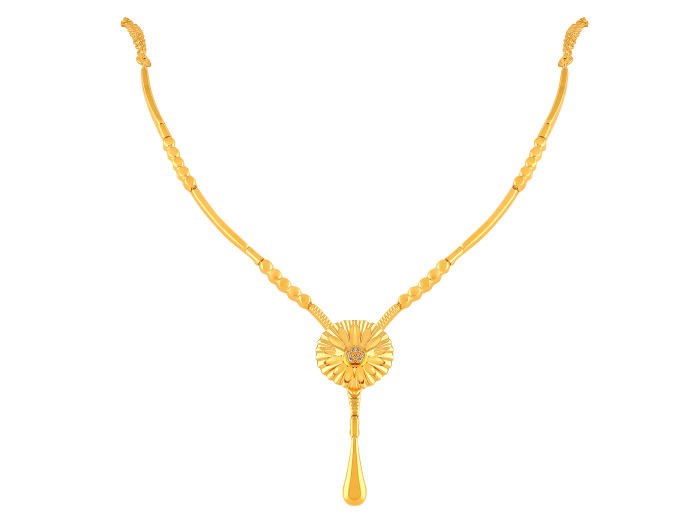 Buy this simple chain necklace with small pendant that will look eye-catching as you move to offer a contemporary fashion statement.
19) Fancy Artin Necklace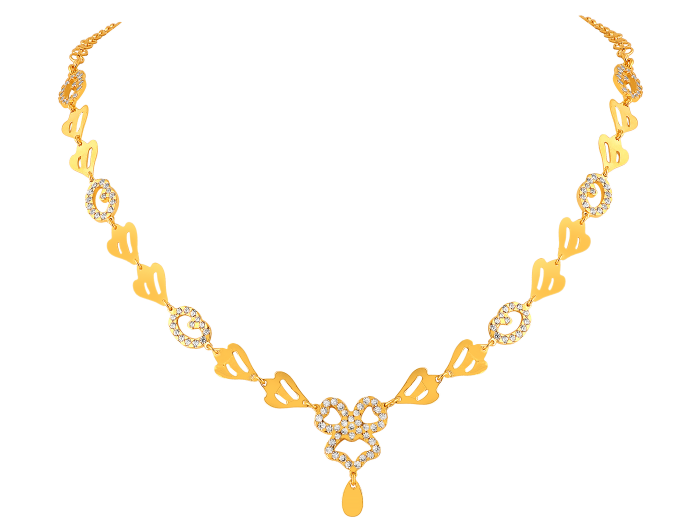 Stunning in so many ways, the fancy artin gold necklace is another winner. Your neck will get the regal treatment when wrapped in this elegant 16 gram yellow gold necklace.
20) Simple Necklace With Stone Pendant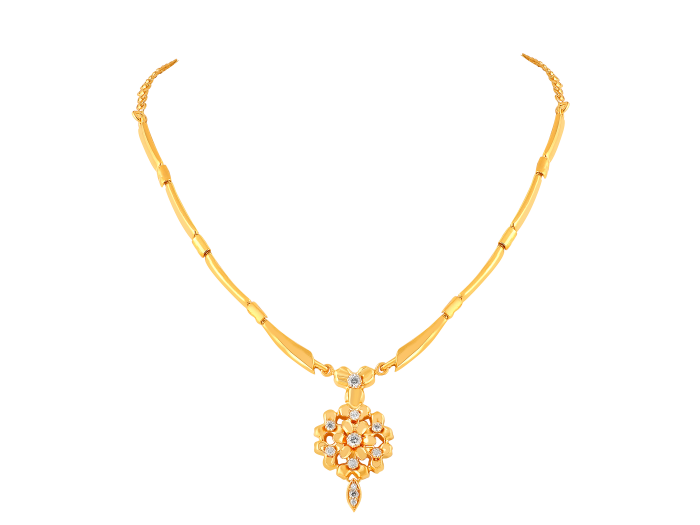 Perfect for day to day wear or special occasions, this fascinating yet simple necklace with stone pendant will become an essential piece in your jewelry collection.
21) Designer Floral Necklace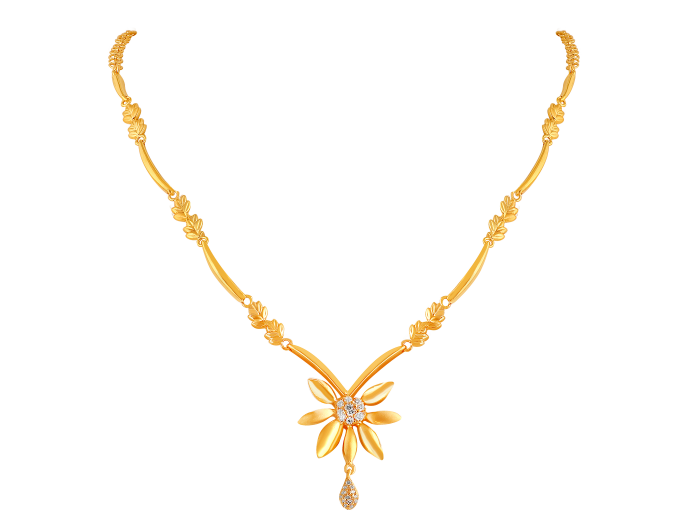 The style of an outfit can be easily accented by an appealing and exquisite designer floral gold necklace. This necklace can be worn in casual ceremonies, office parties, festive occasions and any other occasions.
22) Peacock Chain Necklace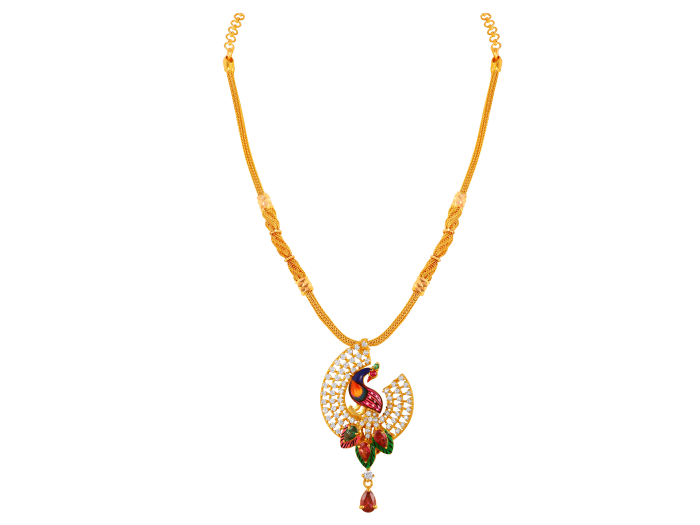 The latest trend in fashion jewelry is to wear jewelry pieces that are a mix and match of tradition with modern. This peacock chain necklace is a perfect example of this.
23) Ball Necklace With Enamel Pendant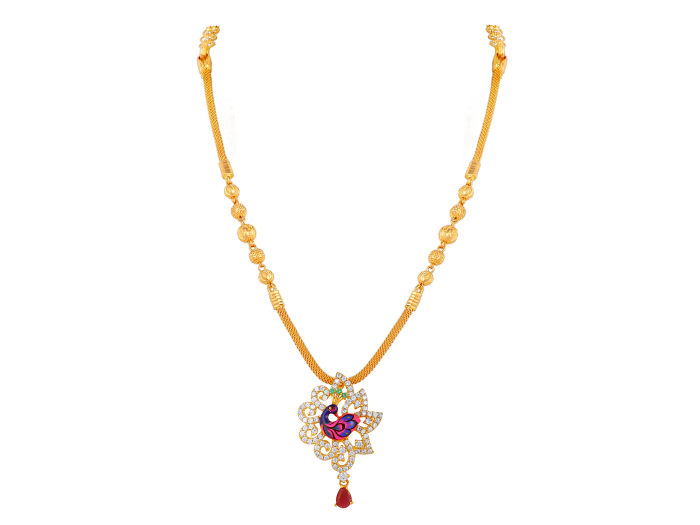 One can wear a ball necklace with enamel pendant to office or can also sport them when attending a family get together or even an after office party. Add shine to any look with this beautiful necklace.
With lots of gold necklace choices available to you, you can find the one that will fit your fashion taste and preference. It's high time for you to pamper yourself with a beautiful gold necklace.
Gold necklaces are one of the sought after jewelry items from Oriana. Modern jewelry designing house, Oriana strives to make gold necklaces that are worth wearing.  In order to check out their whole collections, you can visit here.
Also Read: