Antique Pendant Designs are truly popular in the fashion industry. Women love wearing pendants. Pendants are an integral part of jewelry since the ancient civilizations. Wearing antique pendants gives women a regal feel.
Some of the most popular varieties of irresistible traditional antique pendant designs are mentioned below:
1) Kundan Lakshmi Pendant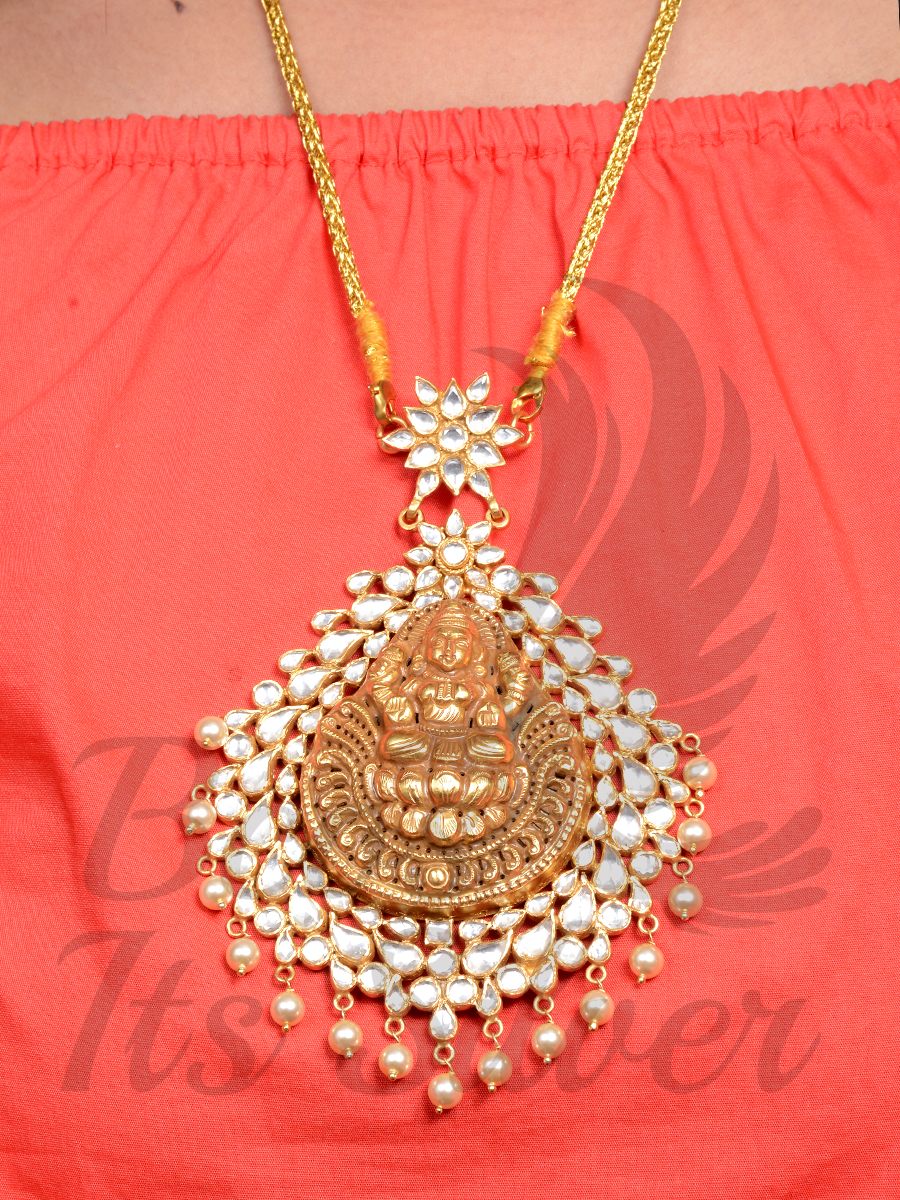 The classy and unique kundan pendant is a traditional design that can even accentuate modern dressing. This kundan pendant is inspired by the ancient traditions and techniques.
2) Matte Finish Antique Lakshmi Pendant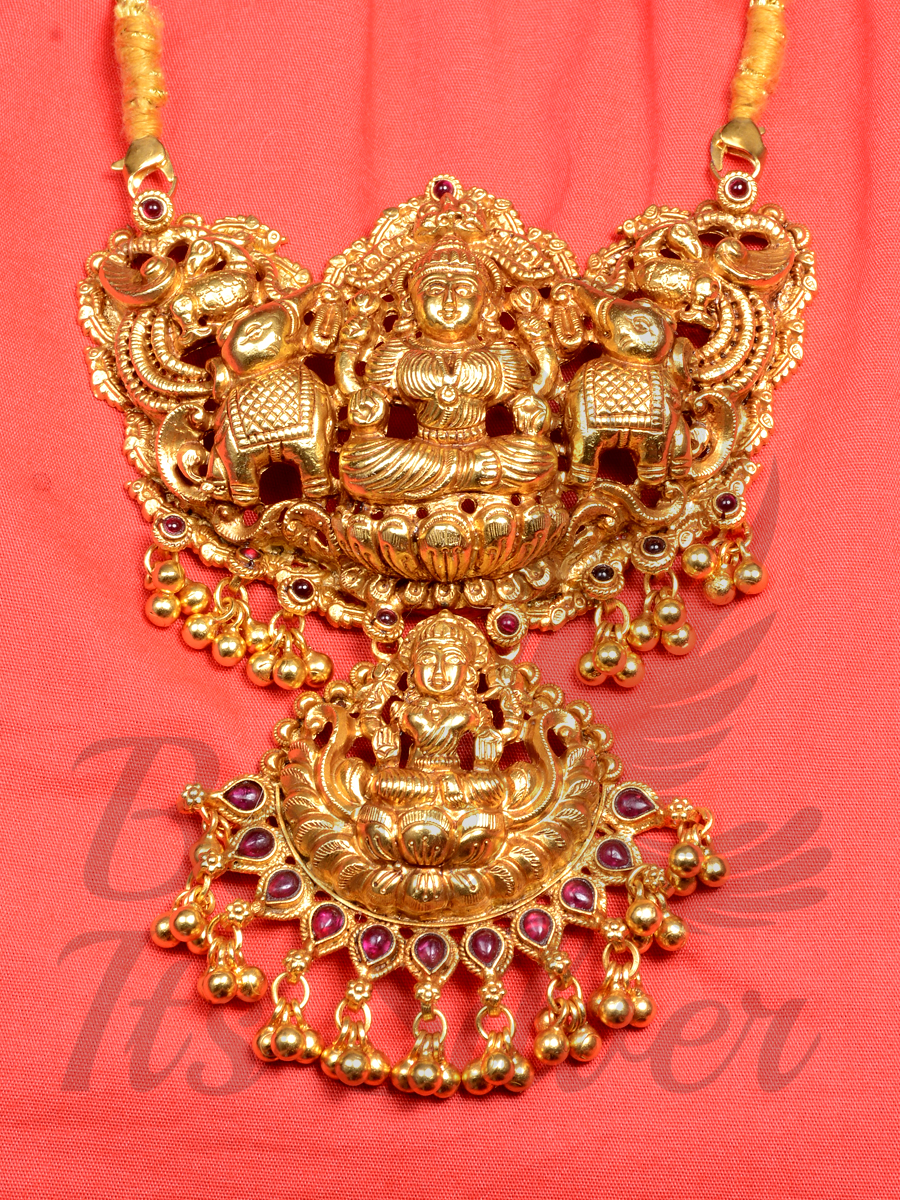 Matte finish antique Lakshmi pendant is the latest in antique jewelry designs and these wonderful looking jewelry pieces are just outstanding.
3) Antique Peacock Pendant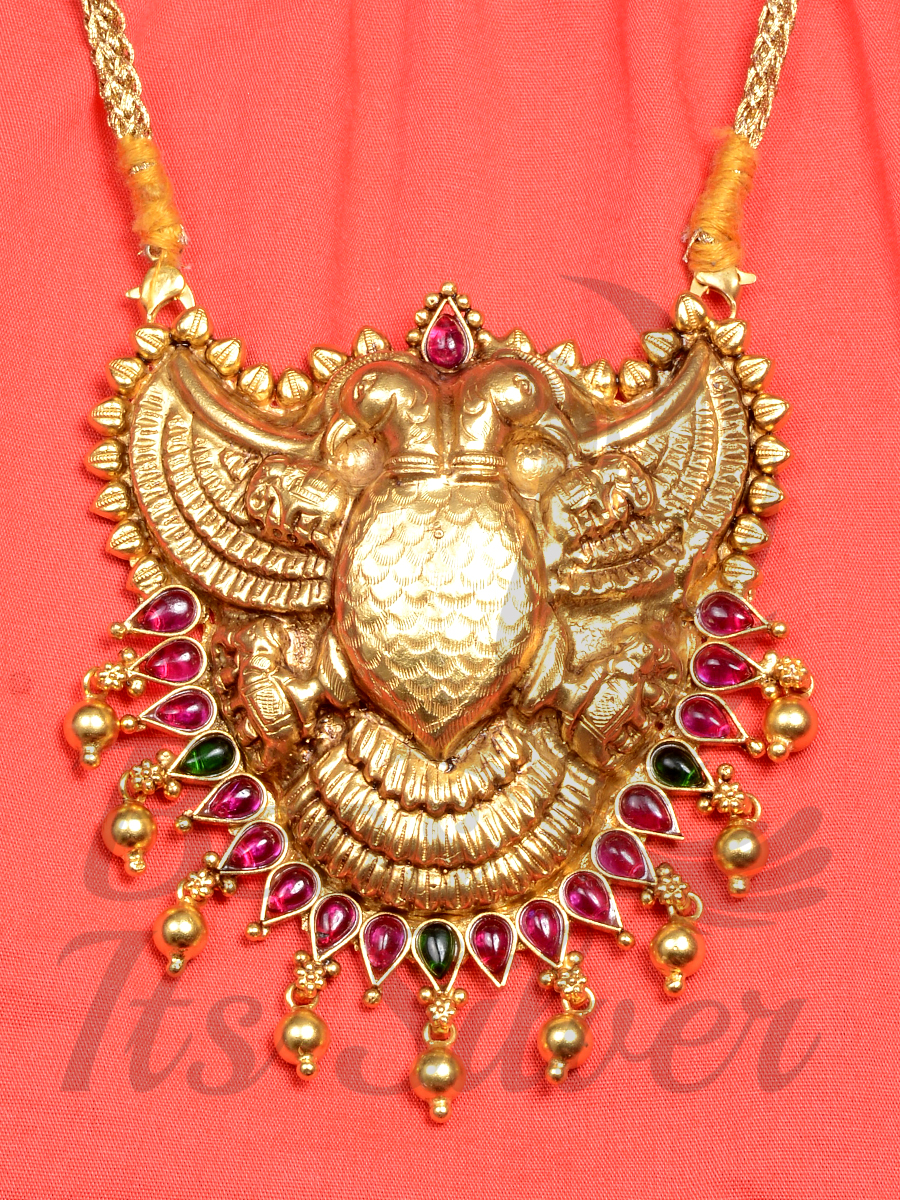 These kinds of antique peacock pendant can be worn in weddings or on any special event, enabling you to look like a stunner who has a unique style.
4) Lord Krishna Pendant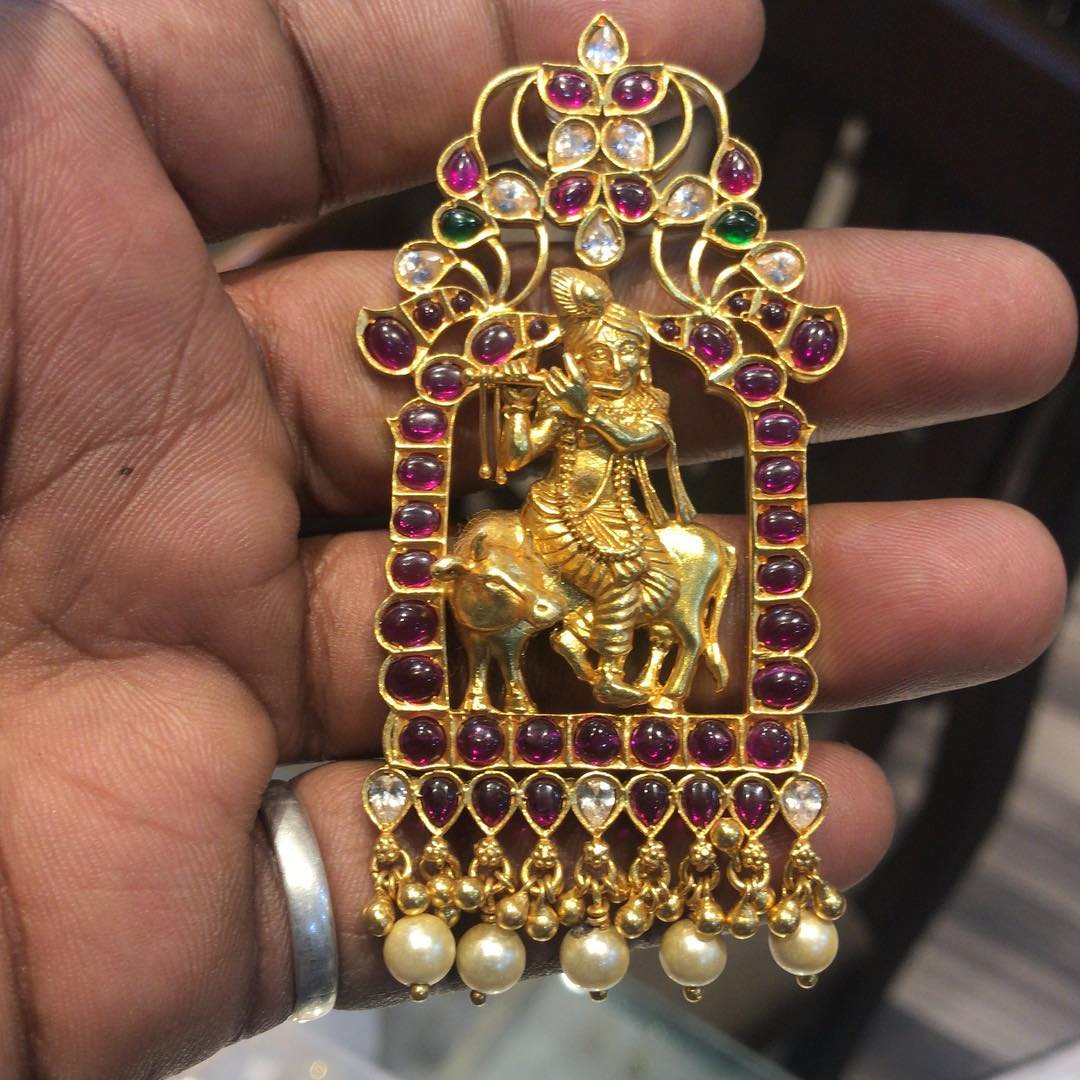 Women love flaunting lord Krishna pendant. They are skillfully crafted with precision for that stunning look in each lady.
5) Bold Antique Temple Pendant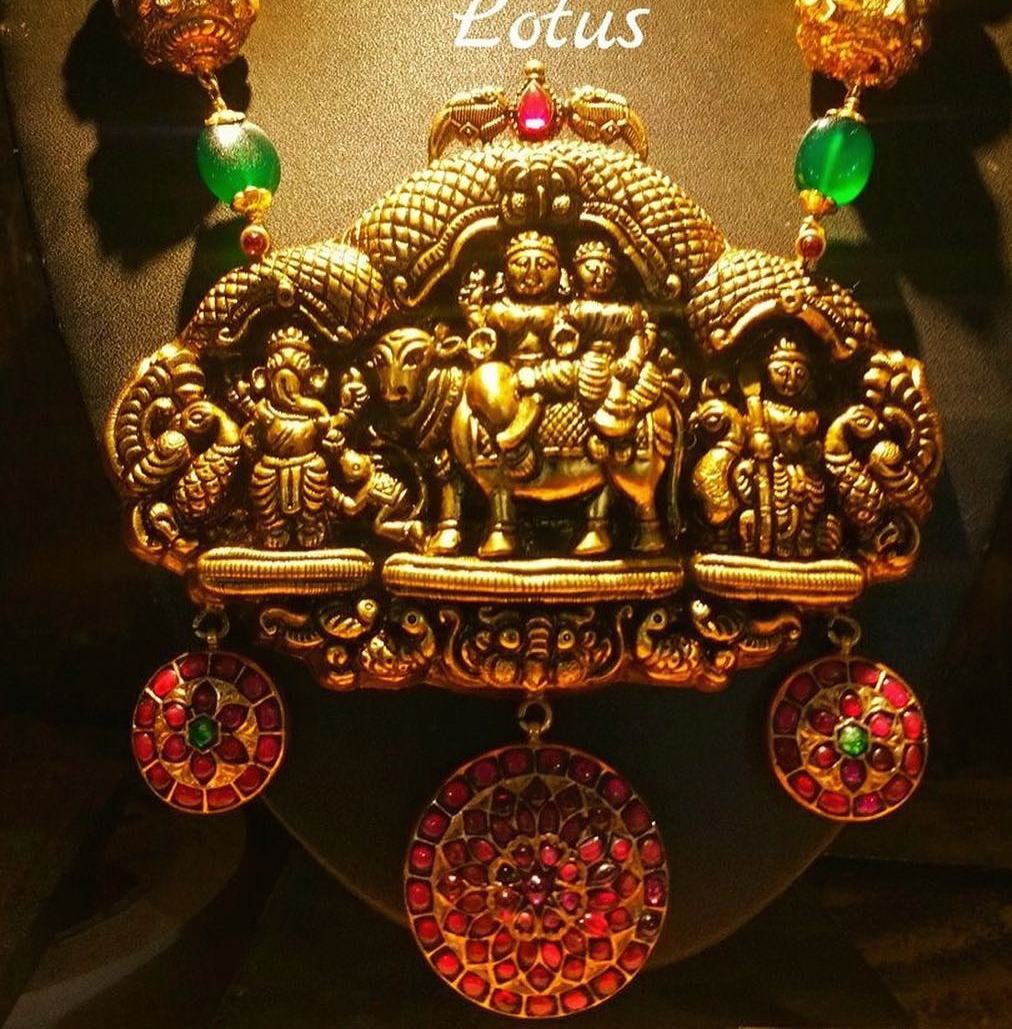 This bold antique temple pendant on the neck as they are elegant and hence look good when worn with traditional wear.
6) Antique Pendant With Rubies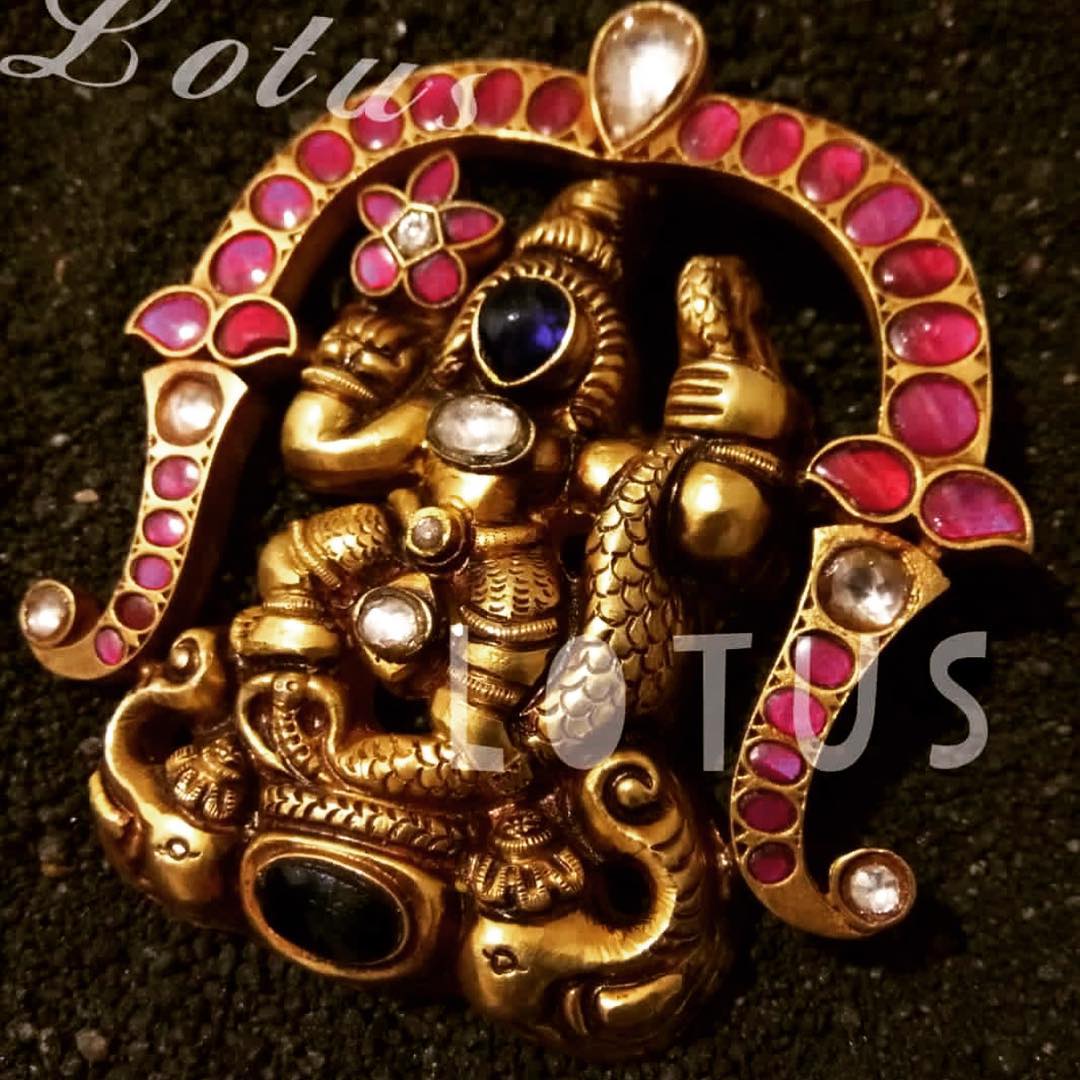 Ruby stones have been utilized considerably well in making antique jewelry. The red colored ruby gives that ethereal feel to your pendant.
7) Traditional Kemp Pendant
One glance at this traditional kemp pendant will make you want to buy it and you won't be able to stop admiring the pendant.
8) Grand Lakshmi Pendant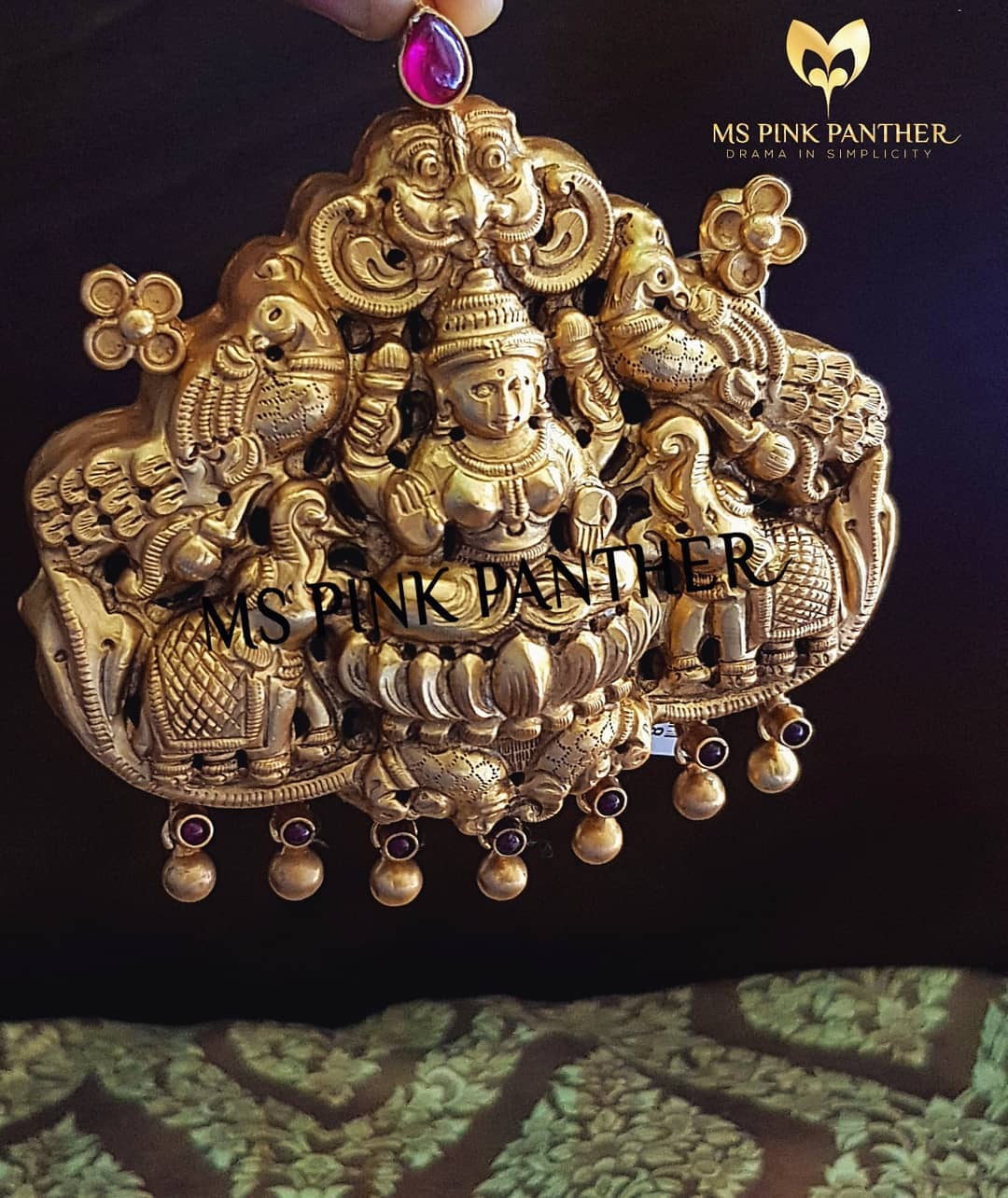 Pendants with embossed goddess Lakshmi or the Goddess of wealth figure is the top favorite among antique jewelry.
9) Short Ruby Pendant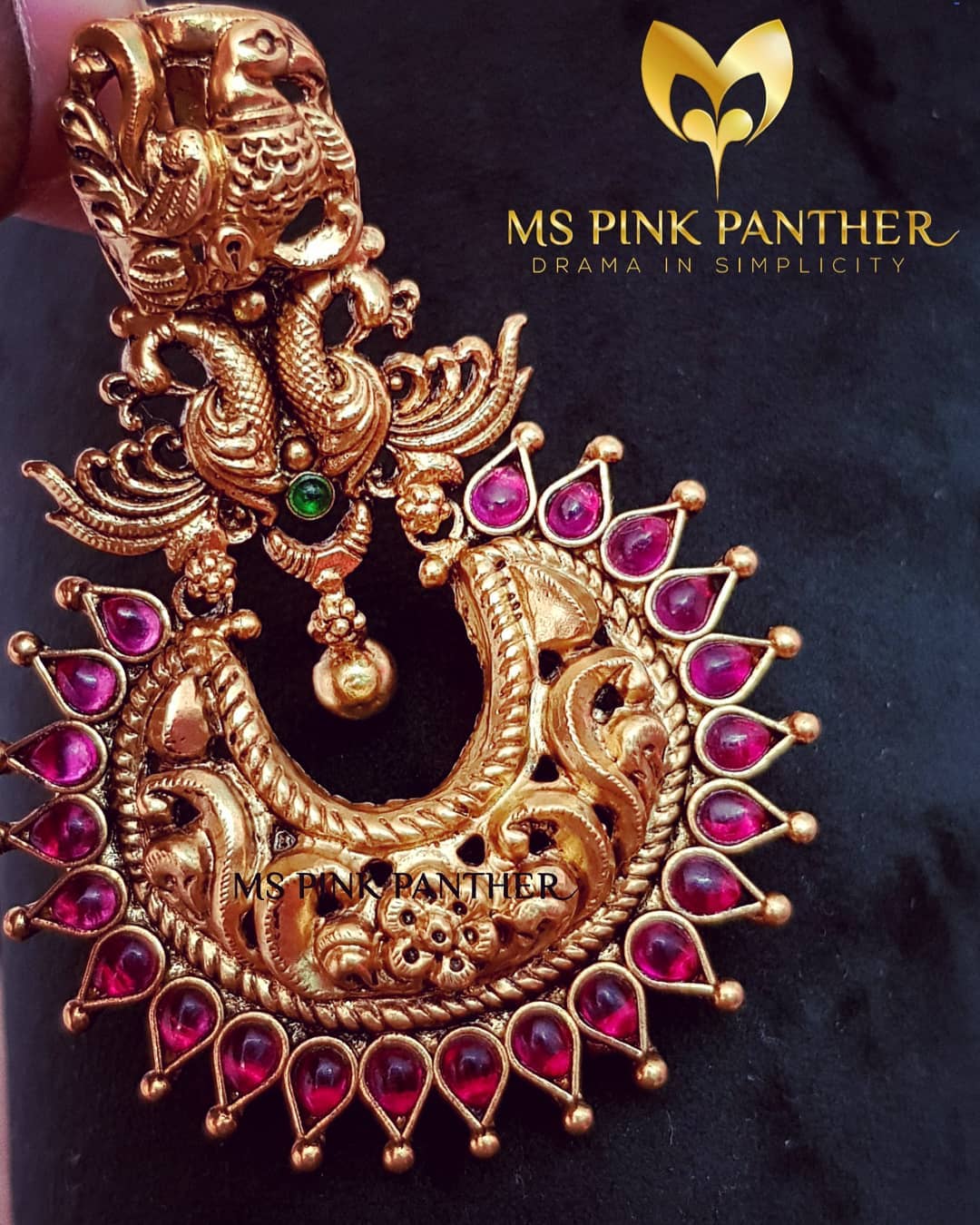 Ruby pendants are very popular among ladies. They look traditional yet fashionable at the same time.
10) Pendant With Antique Balls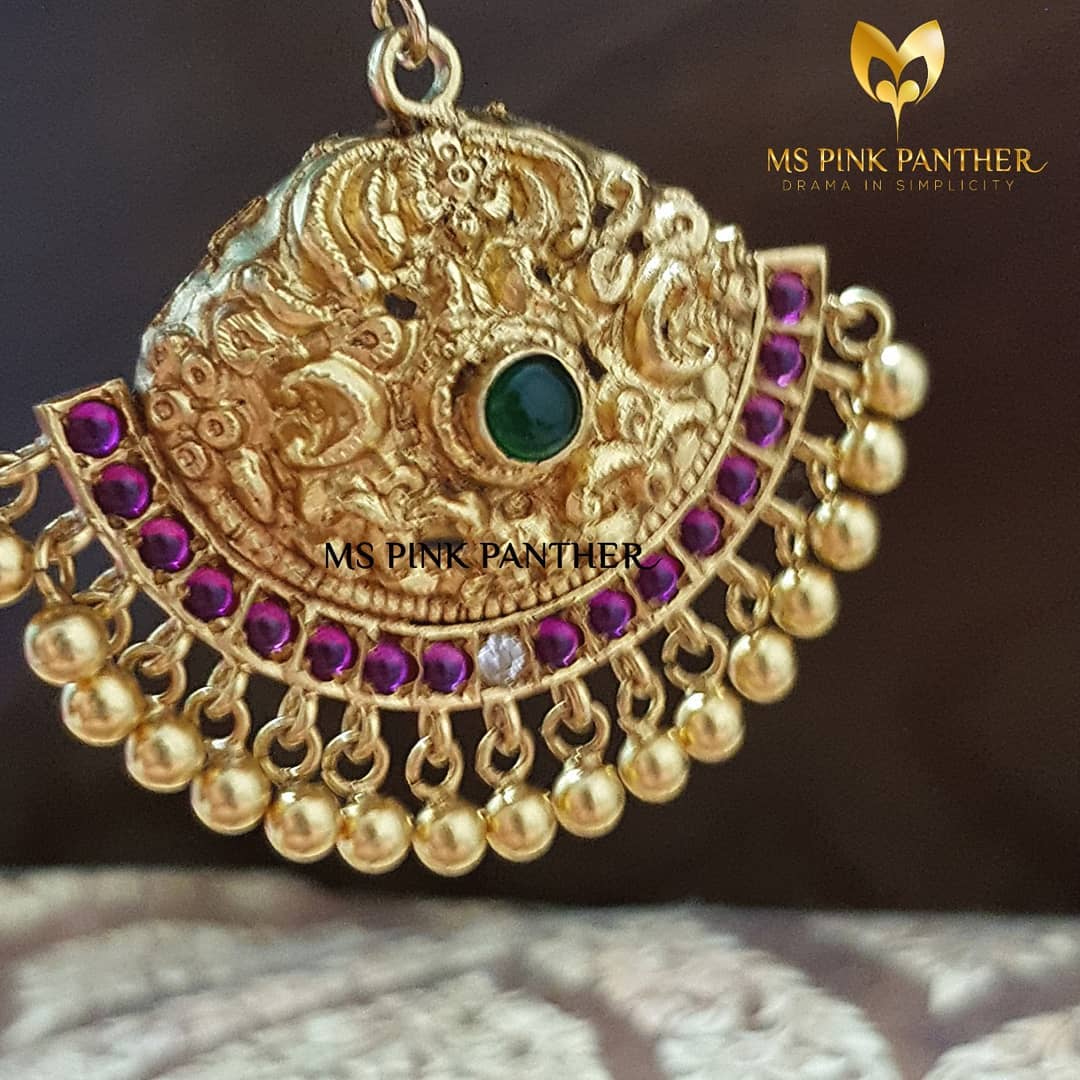 This pendant is one of the most outstanding and stylish in antique jewelry. You can wear them standalone or even with matching earrings.
11) Vibrant Pendant With Rubies & Emeralds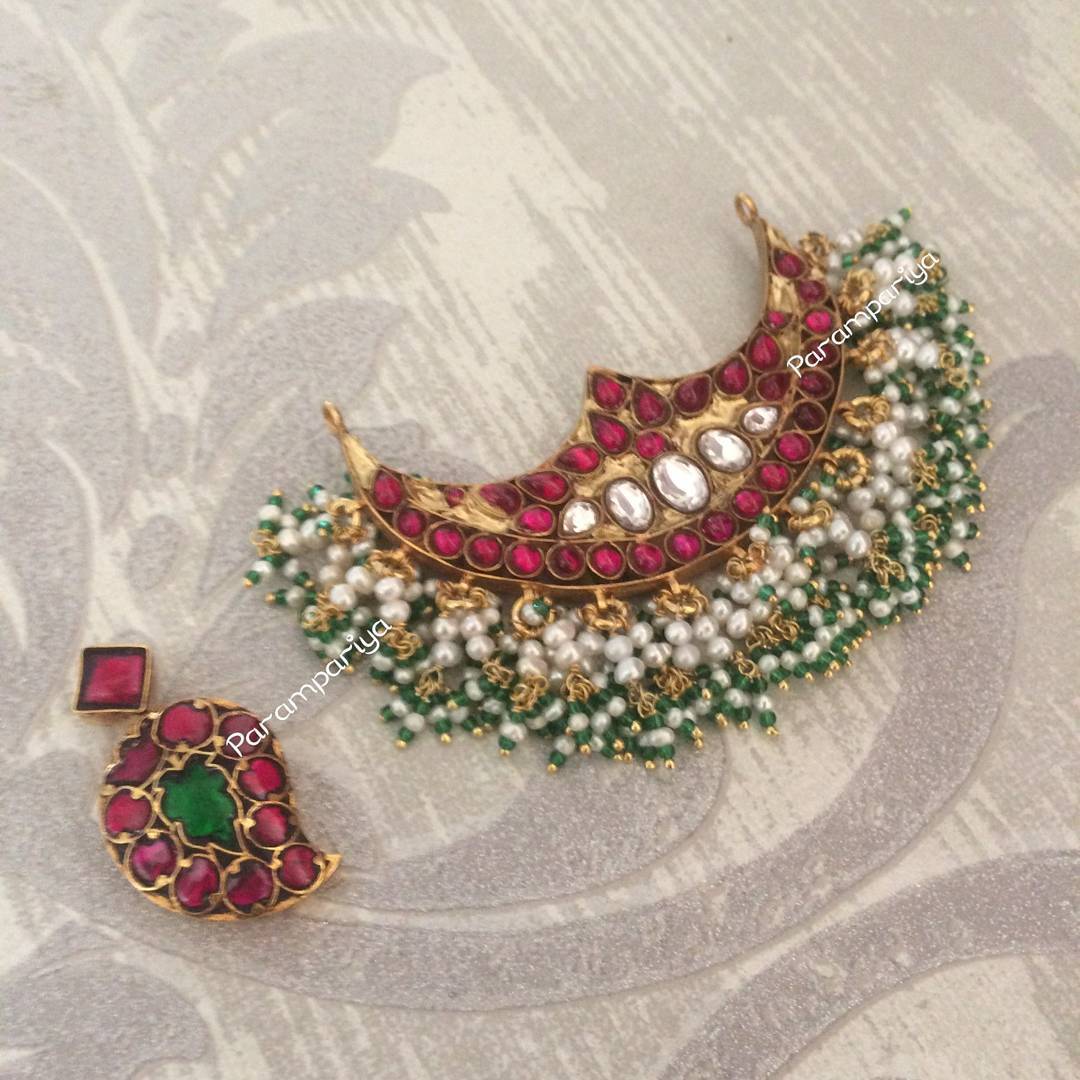 Pendants with rubies & emeralds are perfect for that stylish and antique look. They are a must-have in a lady's jewelry collection and these gemstones will never go out of style. Team it up with any traditional wear and you are sure to dazzle.
12) Simple Antique Pendant For Chains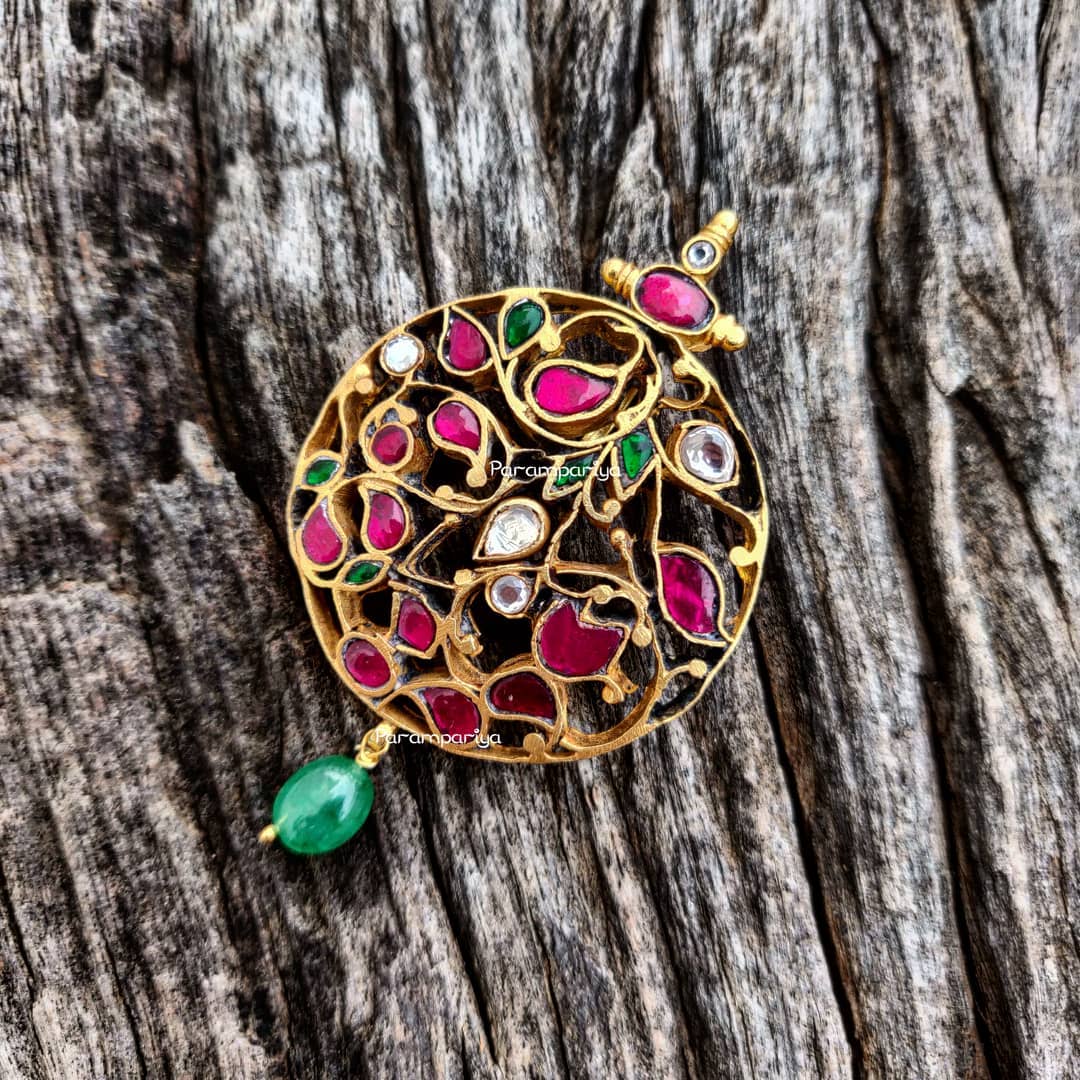 Simple pendants are popular in antique jewelry. These are key contributors in minimalistic fashion.
13) Temple Pendant With Kundan Stones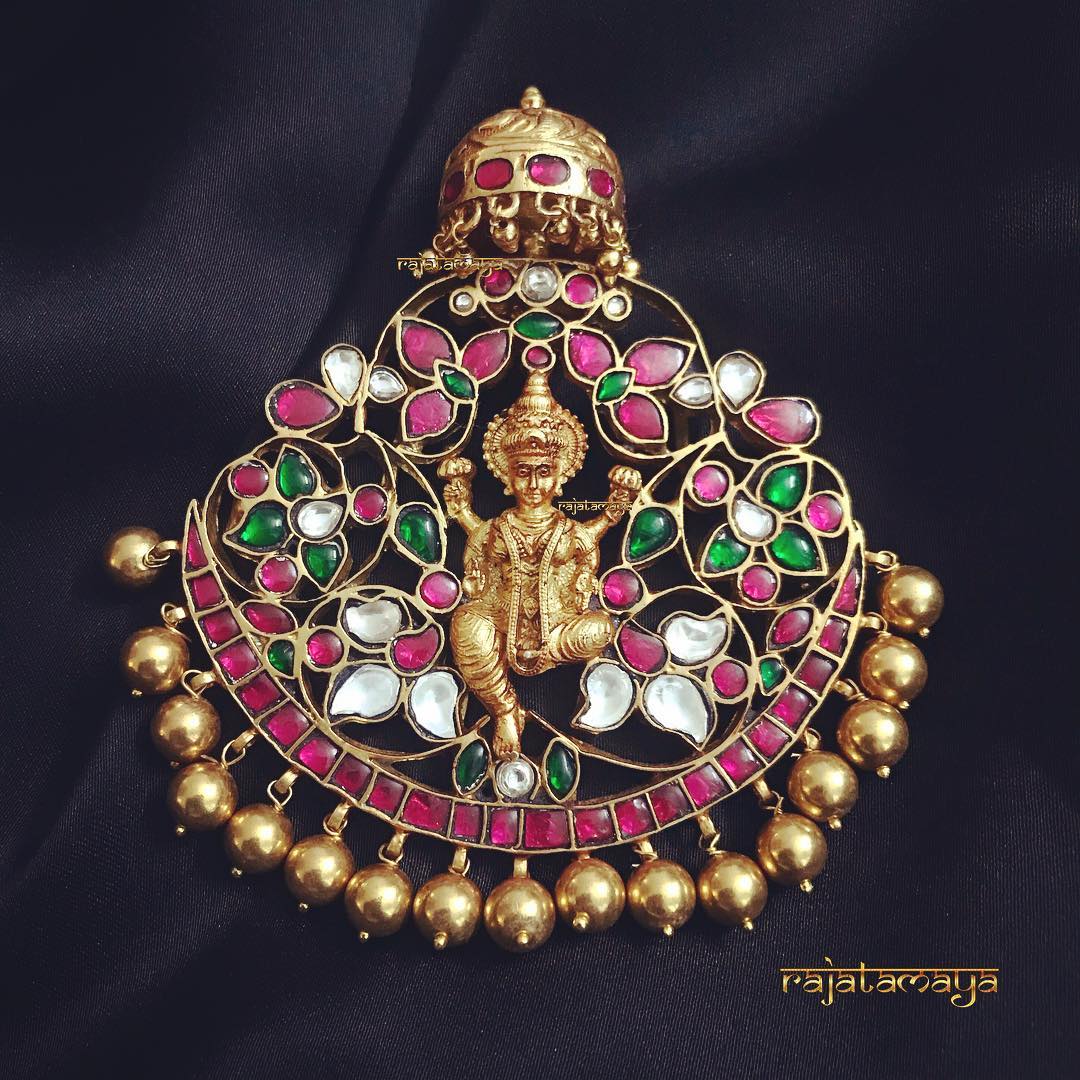 Temple pendants are a major part of antique jewelry. Temple pendant with Kundan stones can be beautifully teamed with ethnic wear.
14) Krishna Pendant With Stones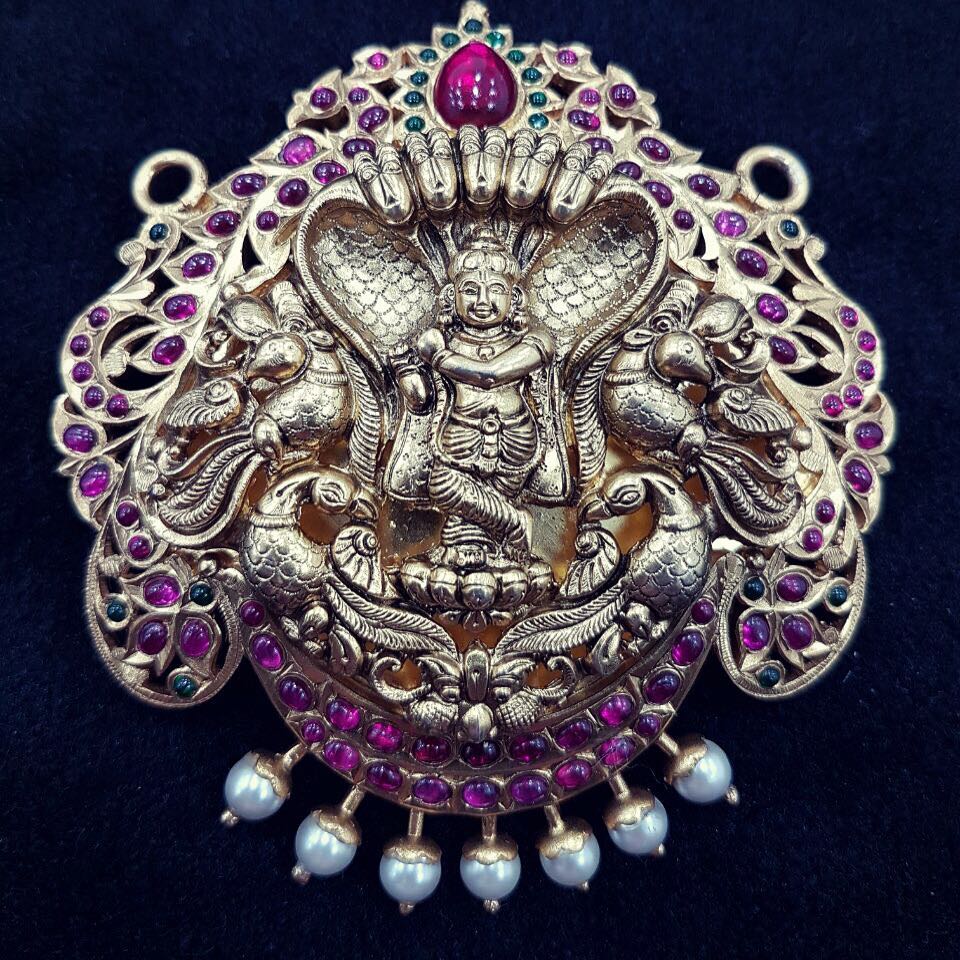 Temple jewelry is preferred by believers. One of the most favored pendant designs of all times can be this Krishna pendant.
15) Bold Plain Krishna Pendant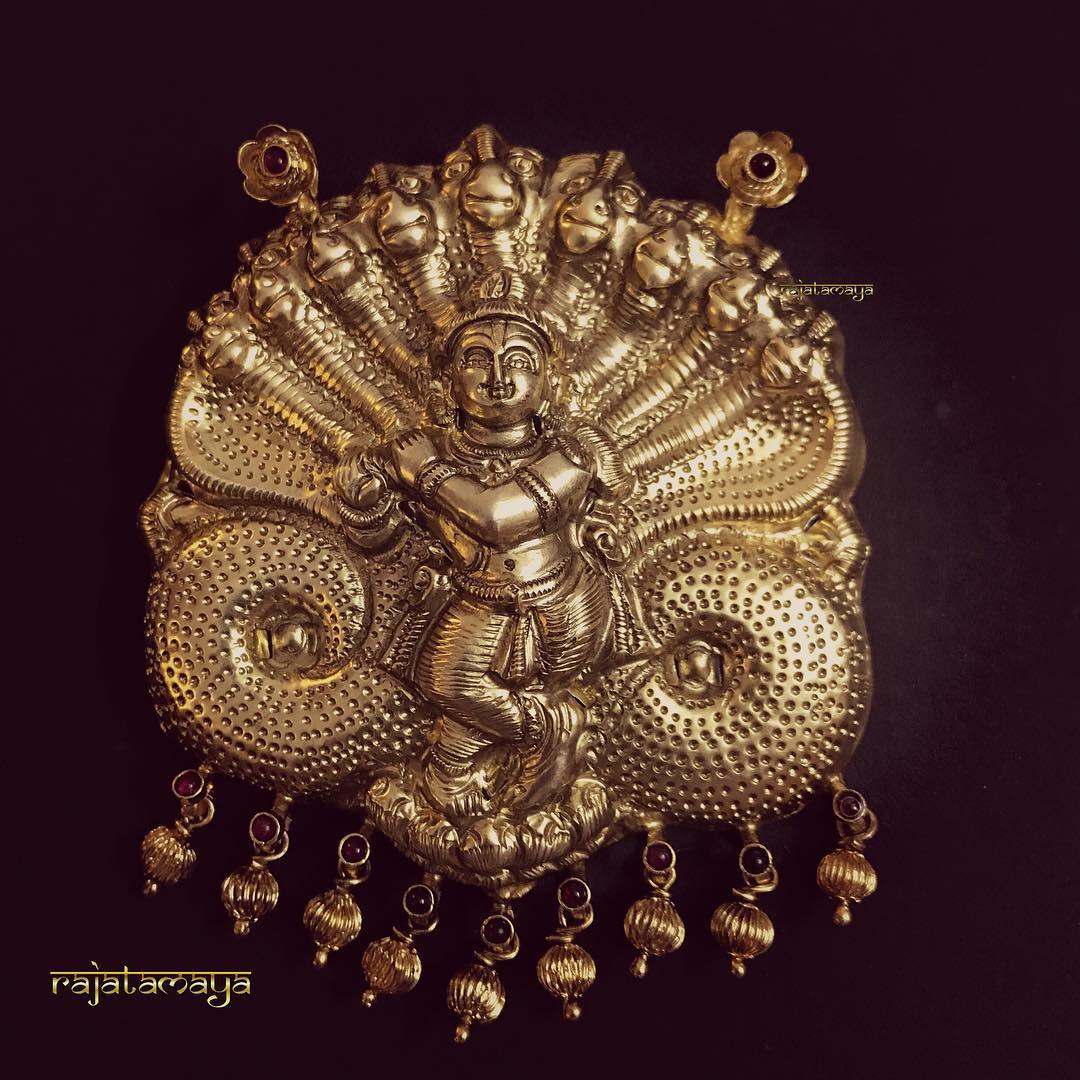 This bold plain Krishna pendant is a beautiful antique piece. The design really gives that wonderful look when worn.
16) Lord Ganesh Pendant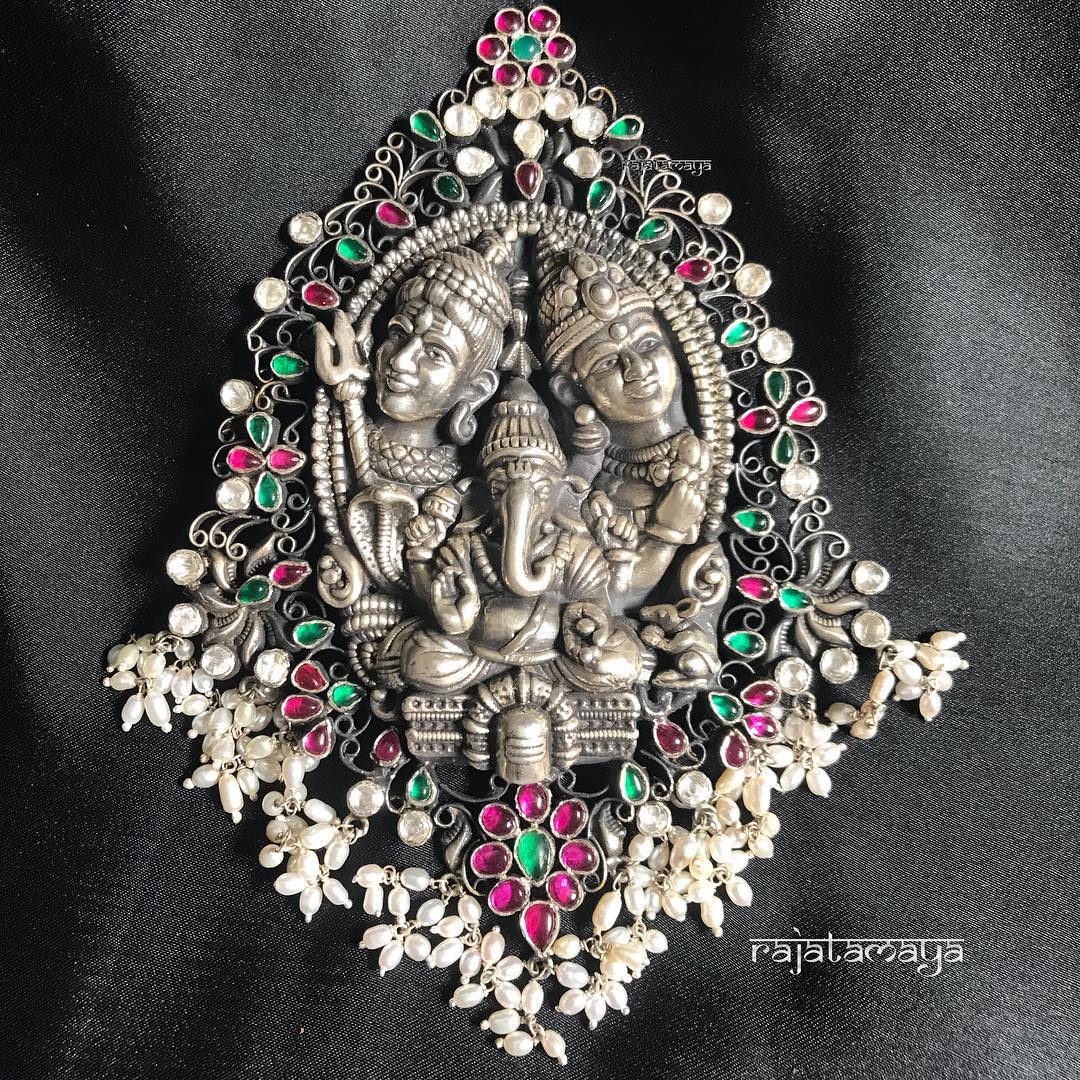 Especially prominent nowadays, traditional jewelry has been popular since ancient times as well. This antique lord Ganesh pendant has intricate traditional design for that antique feel.
17) Classic Lakshmi Pendant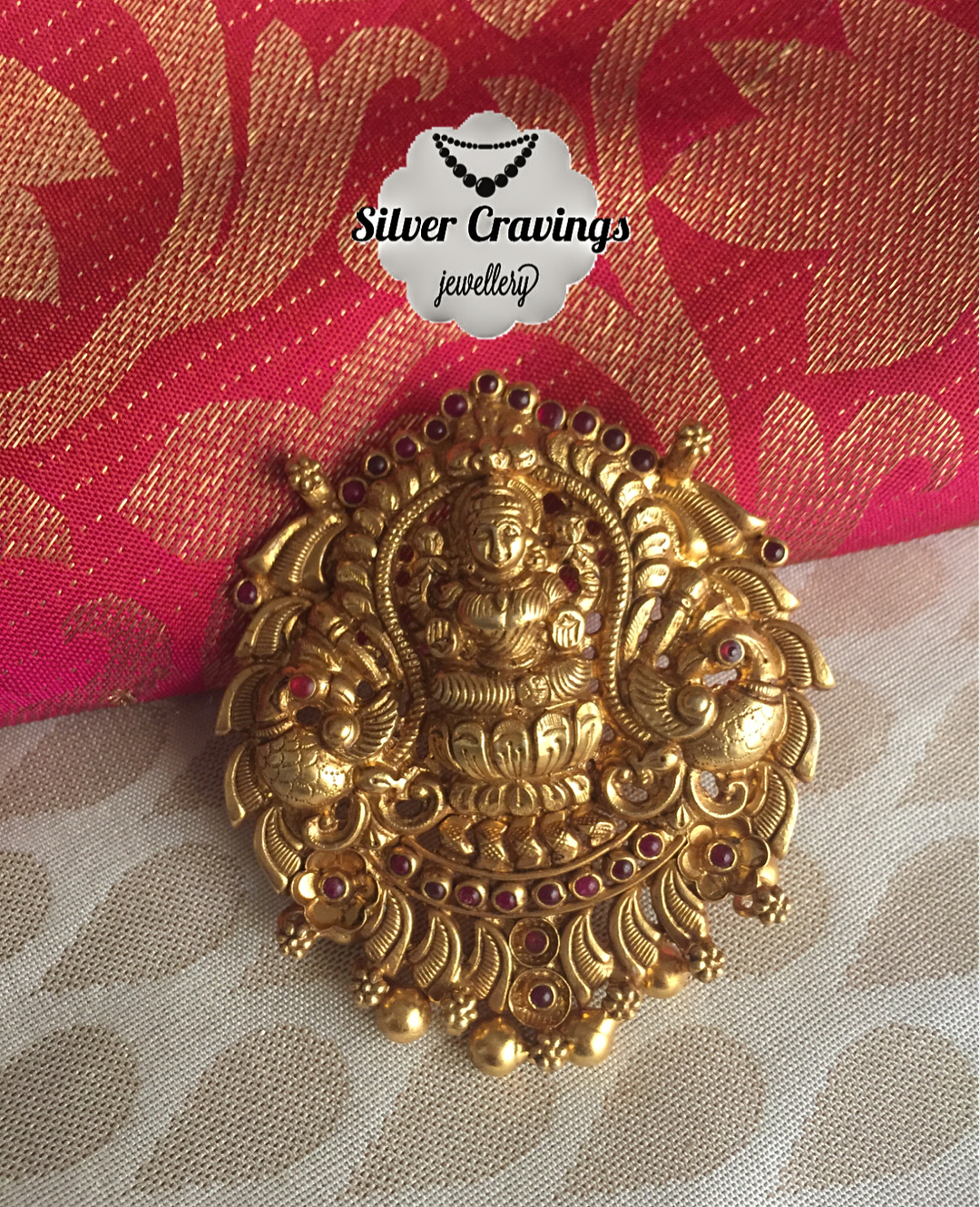 This classic Lakshmi Pendant gives a flawless look to the neck. These antique pendants look extremely beautiful with ethnic wear, festive wear and so on.
18) Silver Ganapathy Pendant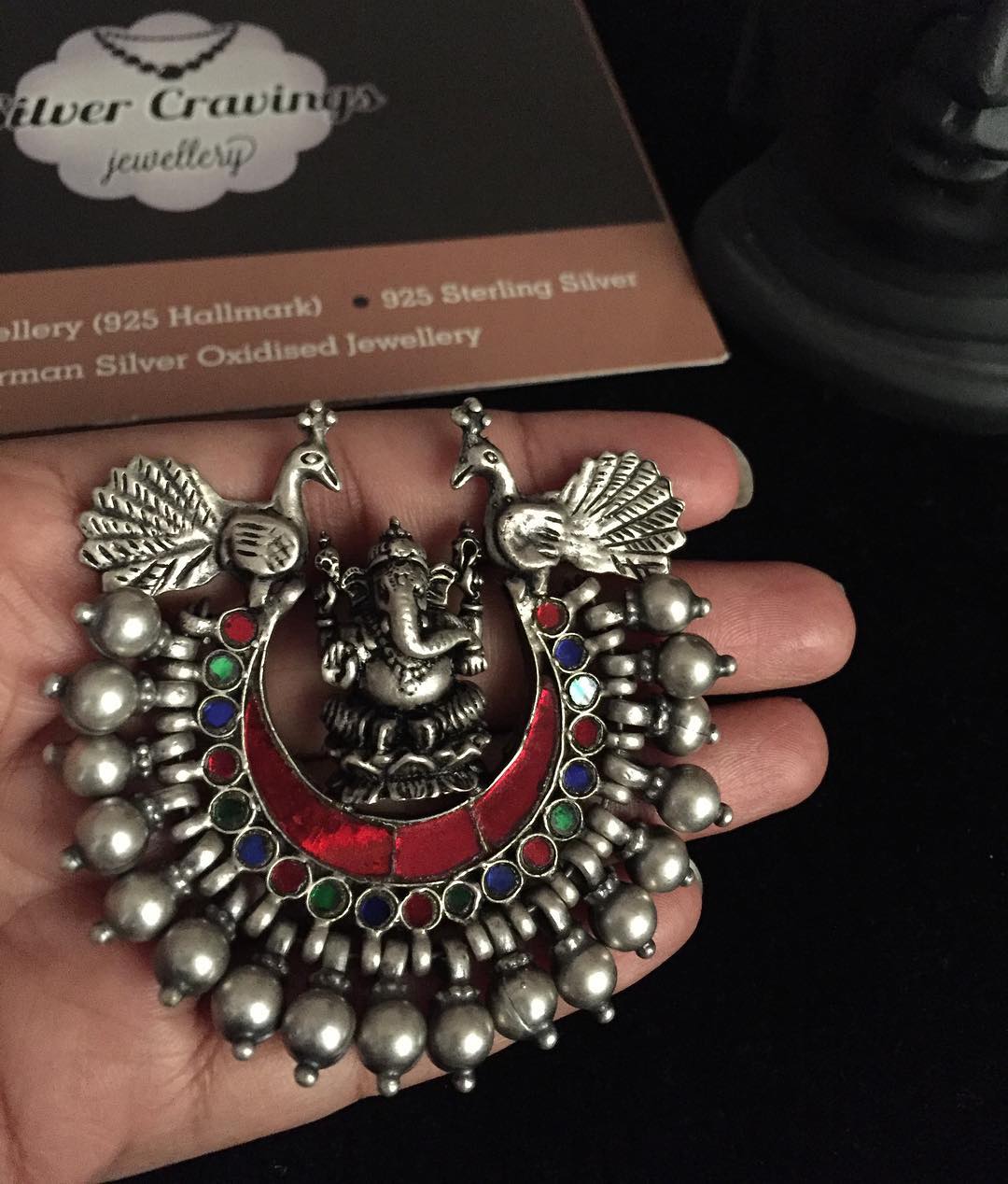 This Silver Ganapathy Pendant would look wonderful on any lady regardless of color, age and so on. Silver is an absolute favorite among women when it comes to antique jewelry. Wearing antique pendant like this in itself is evidence of one's stylish persona.
19) Antique Stone Pendant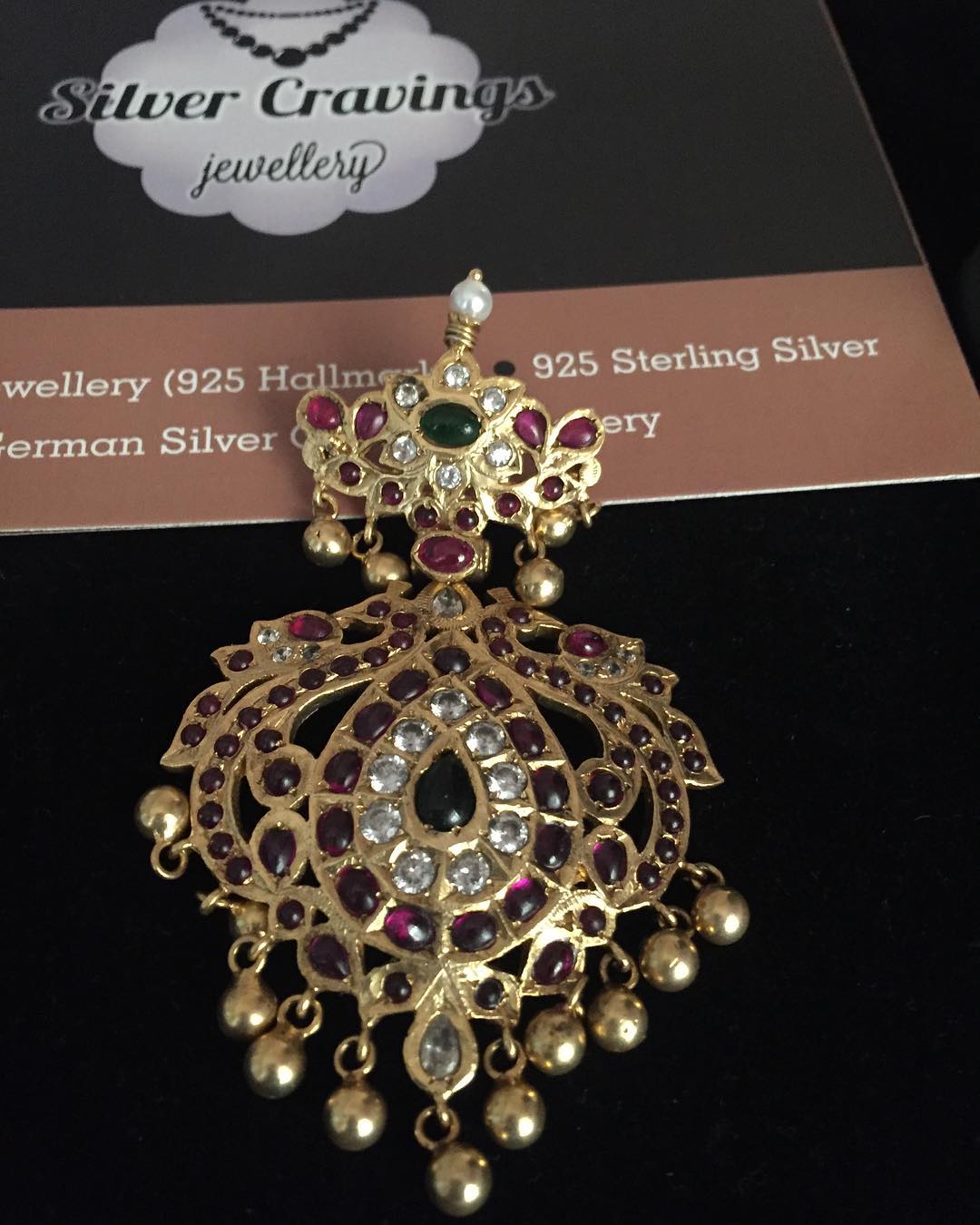 This exquisite and precious stone pendant has been loved by women everywhere. If you are looking for a beautiful piece to accentuate your neck, this is something you must try.
20) Light Weight Bold Temple Peacock Pendant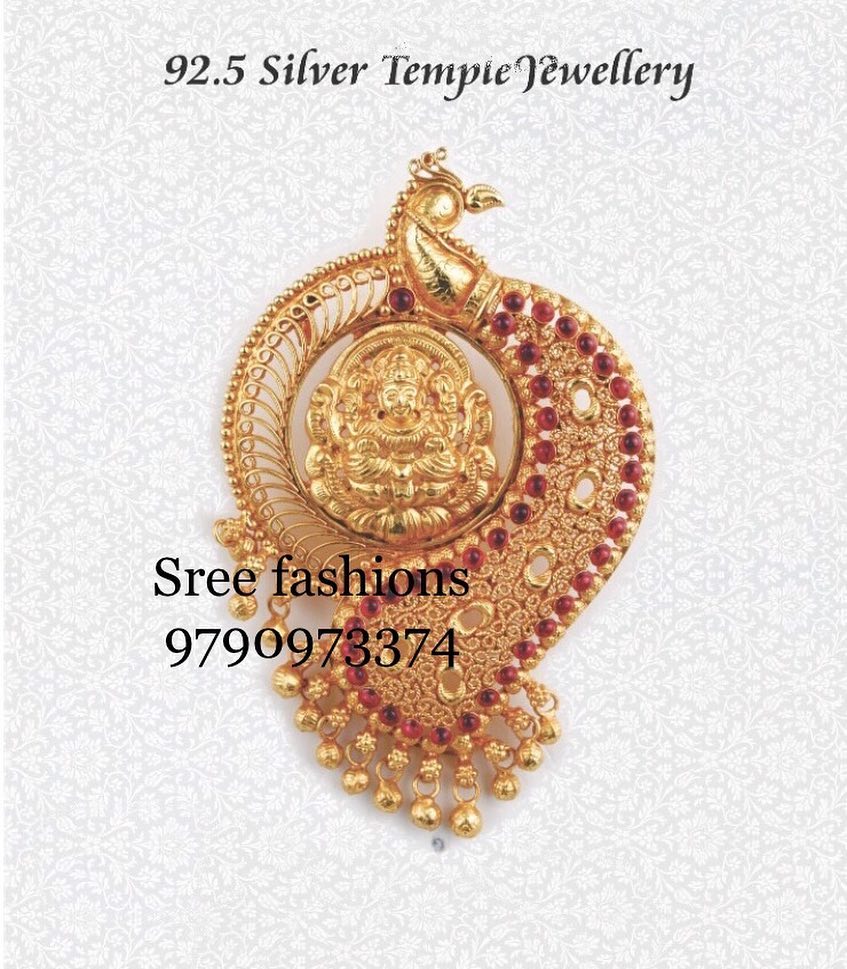 Anybody with this exemplary antique light weight bold temple peacock pendant is a really lucky soul. The beautiful design of the peacock design says a lot about the great craftsmanship of the piece.
21) Lord Shiva & Parvathy Pendant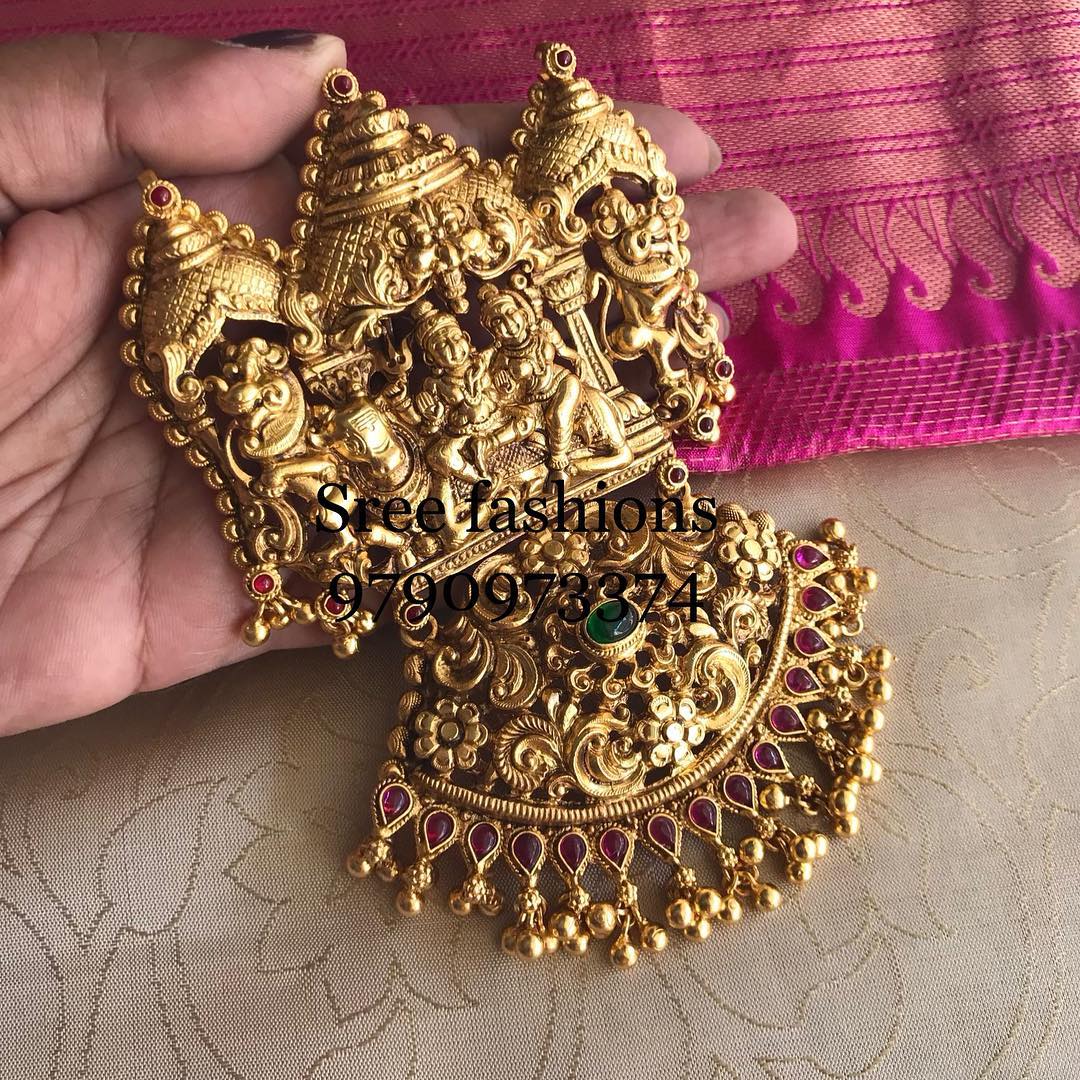 This antique lord shiva & Parvathy pendant design is so stunning that you won't be able to stop yourself from getting one in your jewelry closet.
22) Plain Temple Pendant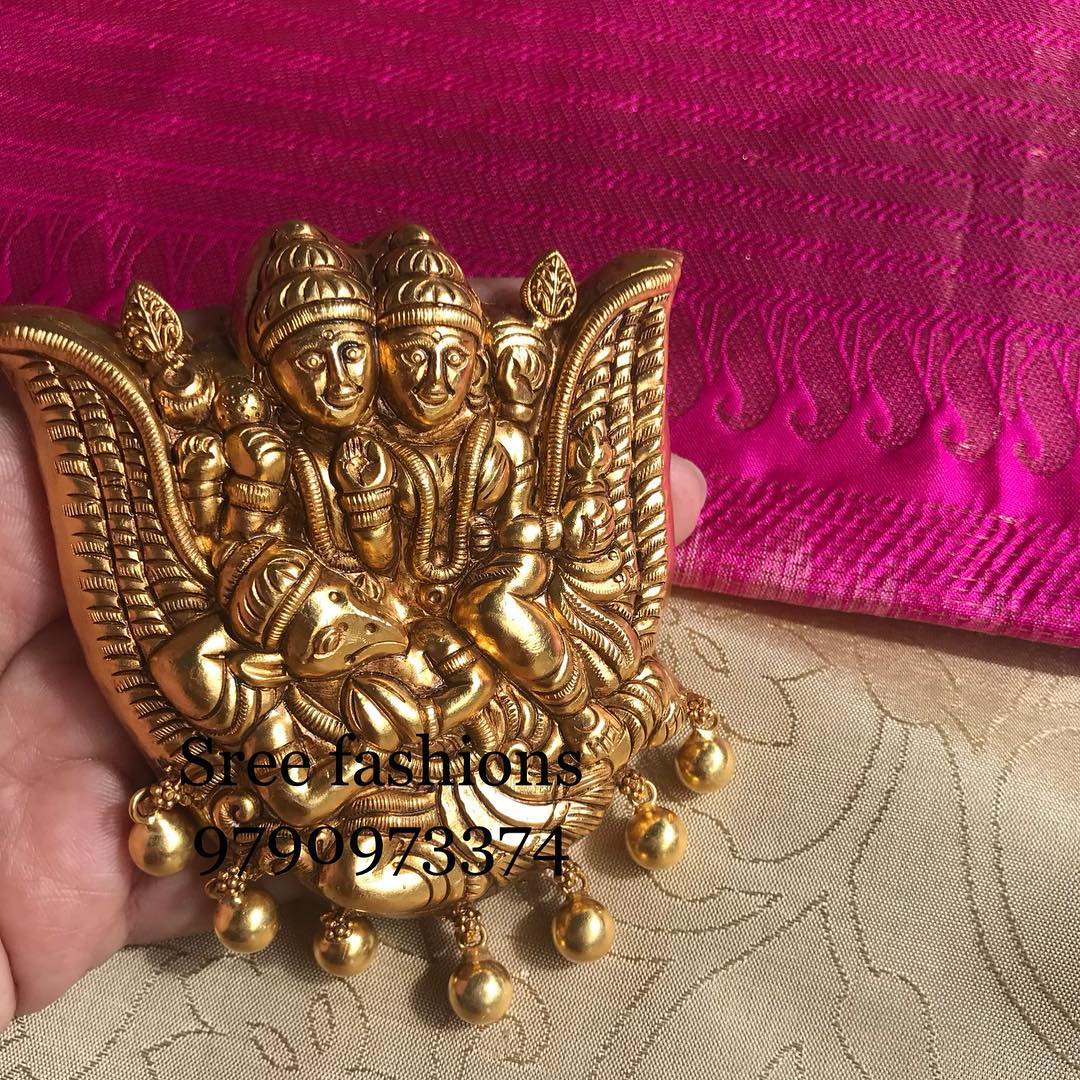 This Plain Temple Pendant is something that you'll love if you love minimal jewelry. Temple jewelry has a ton of significant value linked to it.
23) Stone Peacock Pendant Set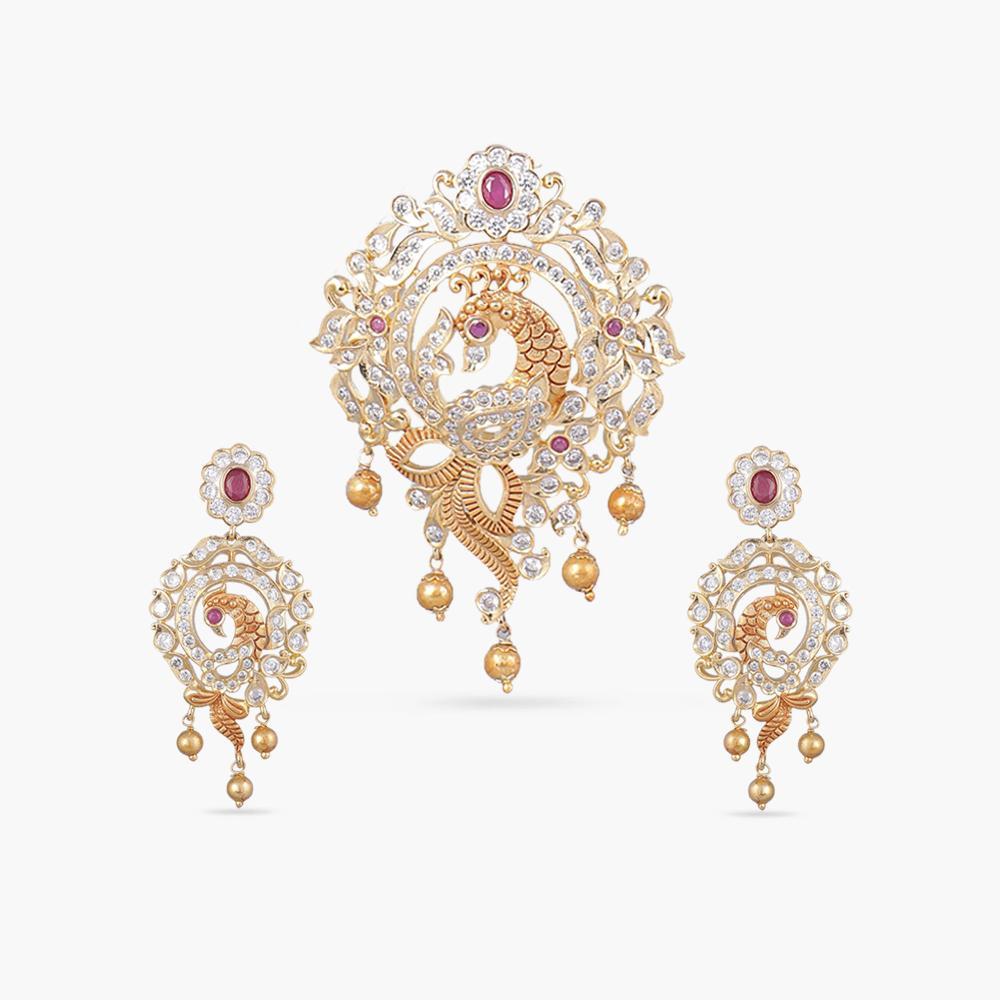 The make and design of this Stone Peacock Pendant Set are exceptionally meticulous and astounding and one gets spellbound just by taking a gander at this beautiful piece.
24) Pendant With Matching Jhumka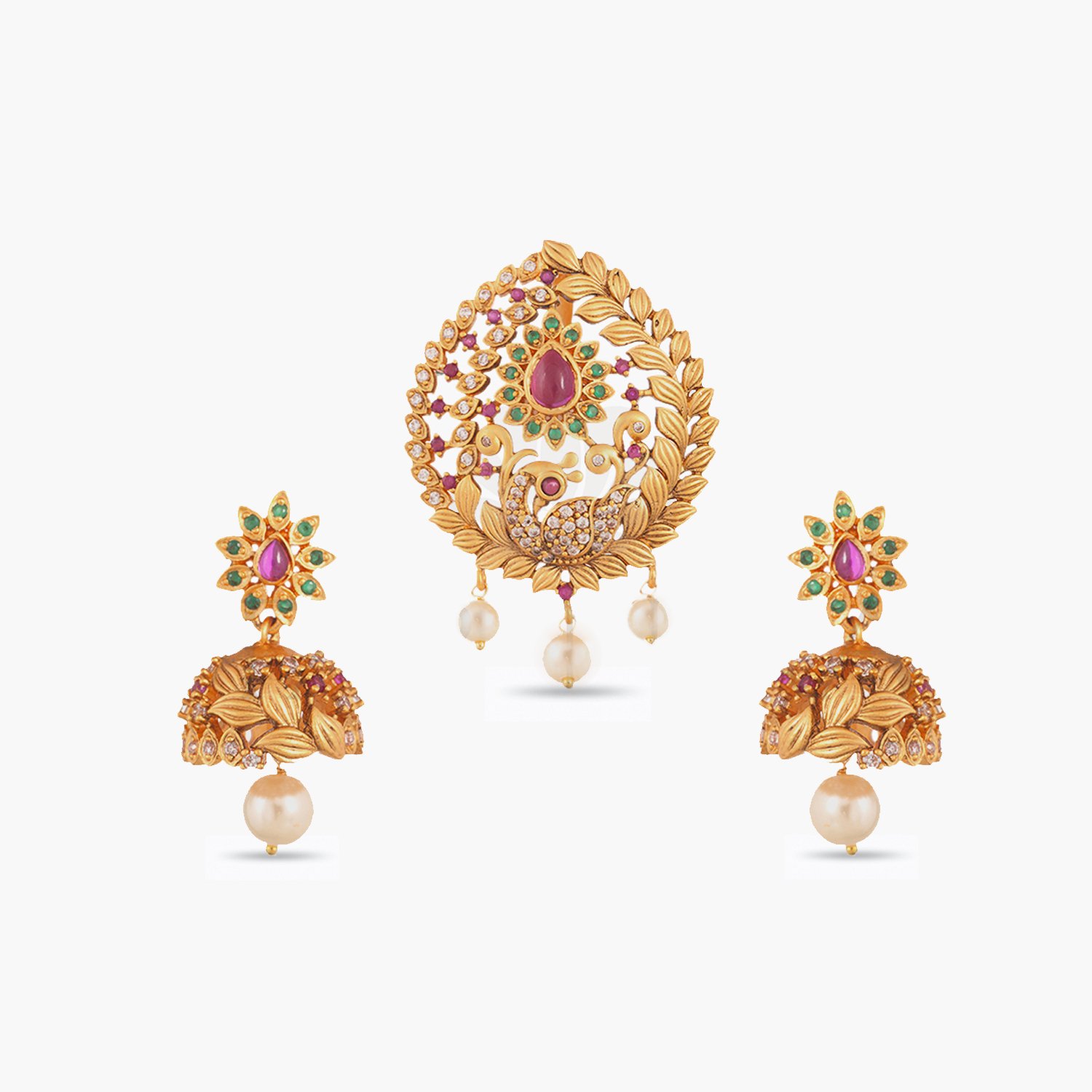 The intricate designing of this Pendant is proof that the bangle is worth to be classified as an antique design. This pendant comes with a beautiful matching jhumka and jhumkas are an absolute favourite among women of all ages.
25) Stone Lakshmi Pendant With Matching Earrings
The quality of stones, luster, shine and the make of the set, are just magnificent and the lady wearing this jewelry set will just look dazzling. This also comes with matching earrings.
So these are some of the stunning designs of antique jewelry. Are you wondering where you could buy them from? Well, worry not. We will make your worries disappear. These beautiful pieces can be yours just by going online.
Online jewelry shopping is so convenient that you can find almost anything with the click of a mouse. A major advantage of purchasing antique jewelry online is the large selection of styles, and designs – all available for less than at a brick-and-mortar jewelry store. And you can find the best bargains when shopping for traditional antique jewelry online! Why waste time driving around town when you can save money right from your computer?
Above mentioned designs can be bought from the below sellers:
Seller Name : BCOS – Its Silver
Contact No: +91 90941 38036.
Email :ar***************@gm***.com
Website: https://www.bcositssilver.com/
Instagram : https://www.instagram.com/bcos_its_silver/
Facebook: https://www.facebook.com/BCOSITSSILVER/
Address : Shop #1, Plot #102, 17th Cross Street, 6th sector, near MK Ahmed bazar, opp to ICICI bank, HSR Layout, Bengaluru 560 102.
Seller Name: Lotus Silver Jewellery
Instagram: https://www.instagram.com/lotus_silver_jewellery/
Whats App :+91 7975662981
FaceBook : www.facebook.com/silverjewellery92.5exculsive
Seller Name : Ms Pink Panther
Facebook : https://www.facebook.com/MISSPINKPANTHERJEWELLERY/
Contact : +91 95855 95689
Instagram : https://www.instagram.com/mspinkpantherjewel/
Website : http://www.mspinkpanther.com/
Seller Name : Parampariya
Instagram : https://www.instagram.com/parampariya/
Facebook : https://www.facebook.com/parampariya/
Whatsapp : 9486708504
Seller Name : Rajatamaya
Facebook : https://www.facebook.com/Rajatamaya/
https://www.instagram.com/rajatamaya/
Contact : +91 97865 22555
Seller Name : Silver Cravings Jewellery
Whatsapp : 9443890773
Instagram : https://www.instagram.com/silvercravingsjewellery/ Facebook : www.facebook.com/SilverCravingsJewellery
Seller Name : Sree Exotic Silver Jewelleries
Whatsapp : +919790973374
Instagram : https://www.instagram.com/sree_exotic_silver_jewelleries/
Seller Name : Tarinika
Instagram : https://www.instagram.com/shoptarinika/
Facebook : https://www.facebook.com/ShopTarinika/
Website : https://www.tarinika.com
Whatsapp : +918621034913
Email : su*****@ta******.com
Contact : +1 (832) 559-0132 (US)
Also Read :