King of all the gemstones, the diamond is always in fashion among all the jewelry lovers around the world. Any piece of jewelry that is studded with diamonds requires no justification about its exquisiteness, grace, and opulence because the sparkling gemstone displays it all.
Diamond signifies love, passion and royalty and the same reflects in diamond jewelry. We have put together 28 fabulous diamond jewelry sets that will leave you awestruck:
1) Diamond Temple Set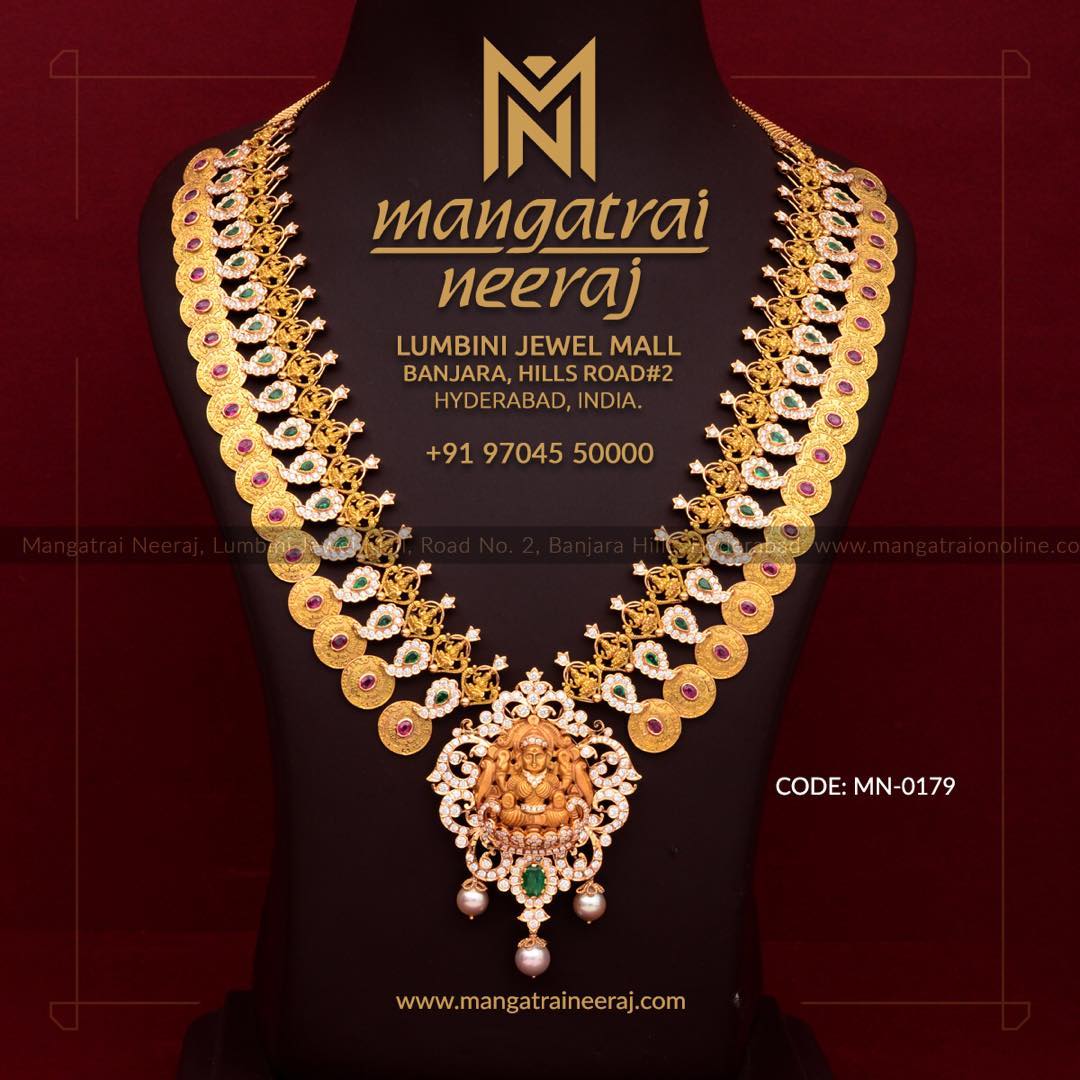 With this stunning diamond temple set, one can never go wrong and diamonds will never go out of the fashion.
2) Diamond Navaratna Choker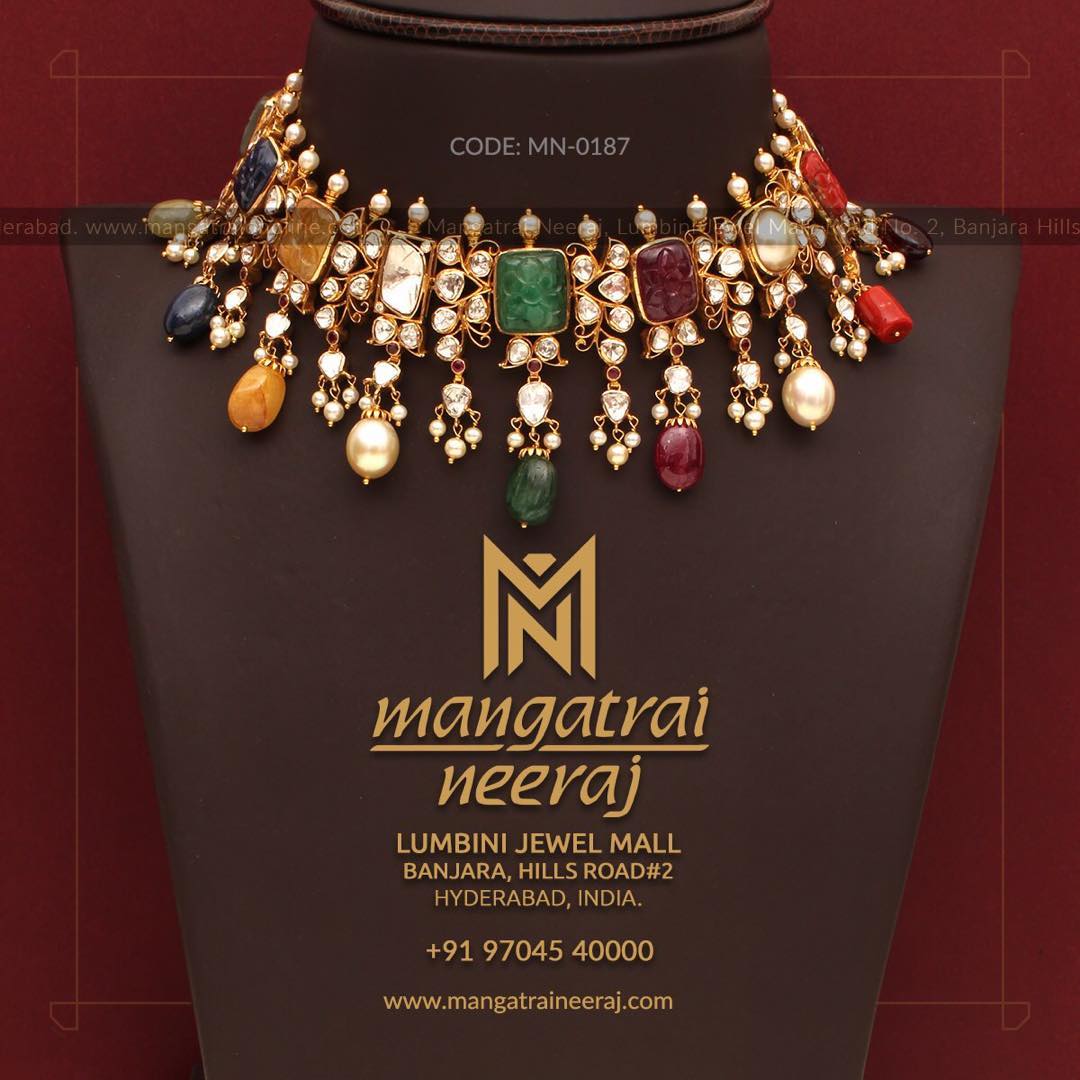 The sophistication and the luster of diamonds have been flawlessly captured in this diamond navaratna necklace.
3) Classic Diamond Pearl Necklace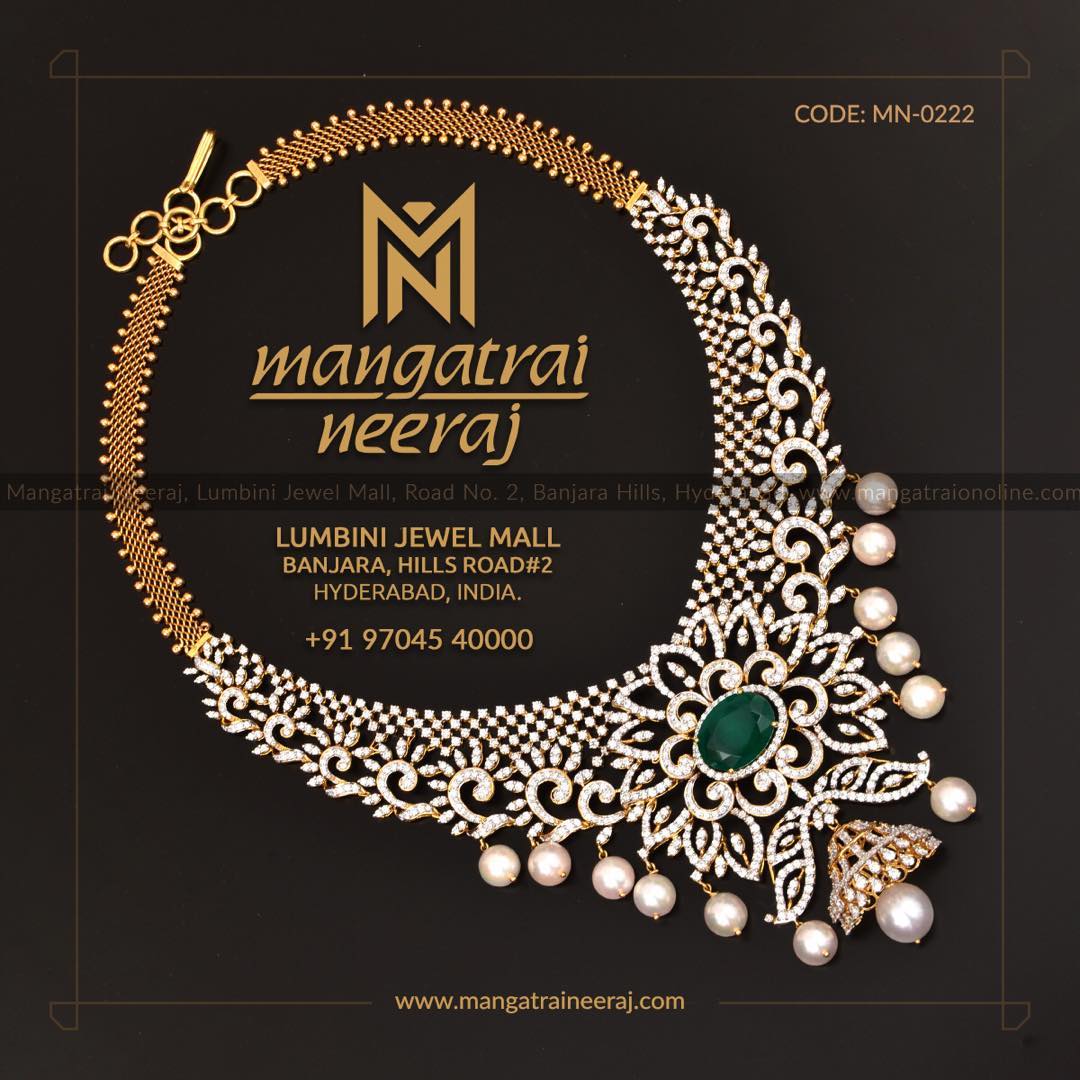 A diamond necklace doesn't have to be very elaborately designed. This classic diamond pearl necklace is pretty simple yet stunning in appearance.
4) Stylish Diamond Necklace With Peacock Side Locket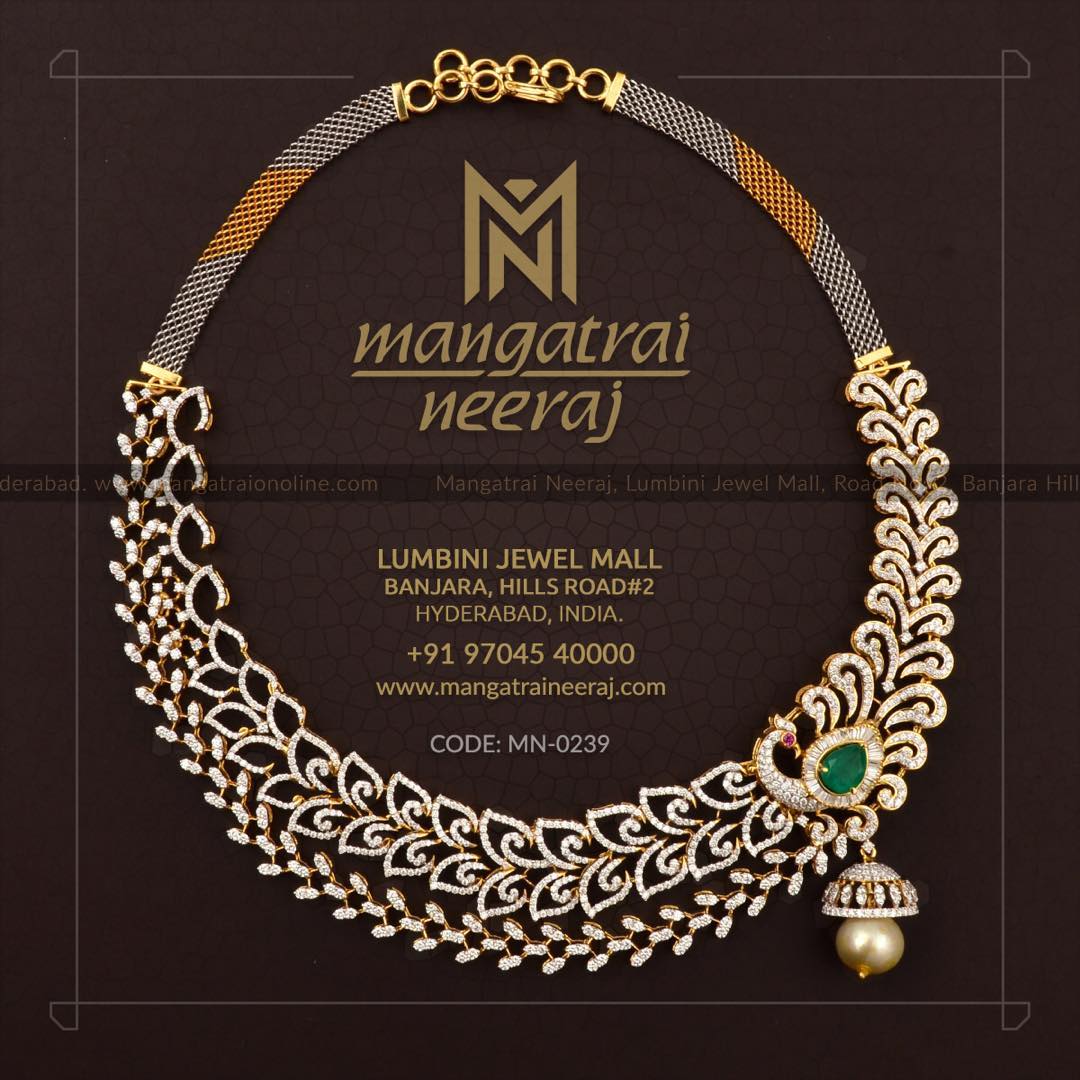 Just a stylish diamond necklace with peacock side locket can do wonders in transforming your look for a party. Diamond jewelry always in trend and you can see it in this piece.
5) Designer Beaded Diamond Set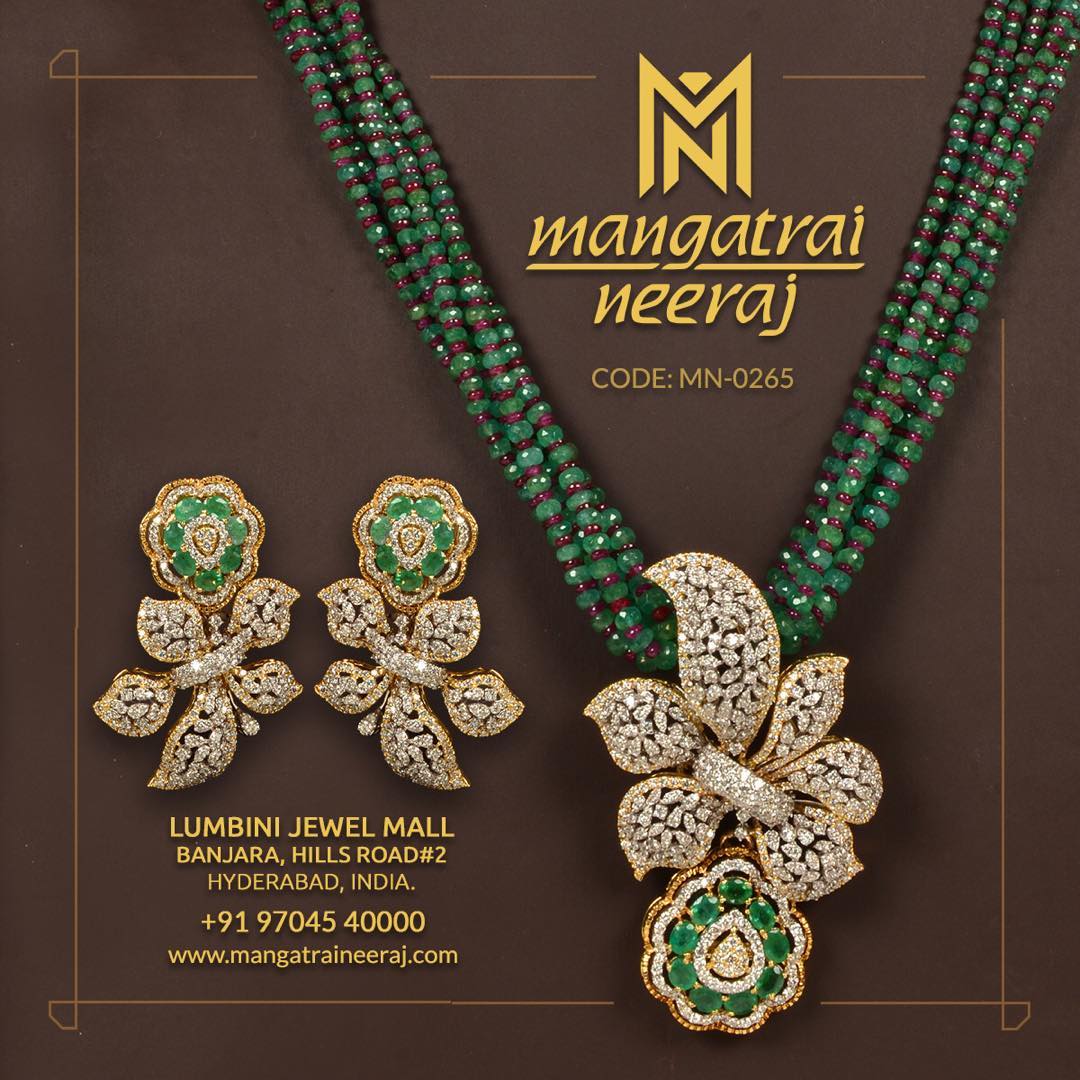 Diamonds studded magnificently in a captivating pattern captures anyone's eyes. This designer beaded diamond set does the same. This beautiful set will go almost with any type of dress.
6) Grand Ruby Diamond Set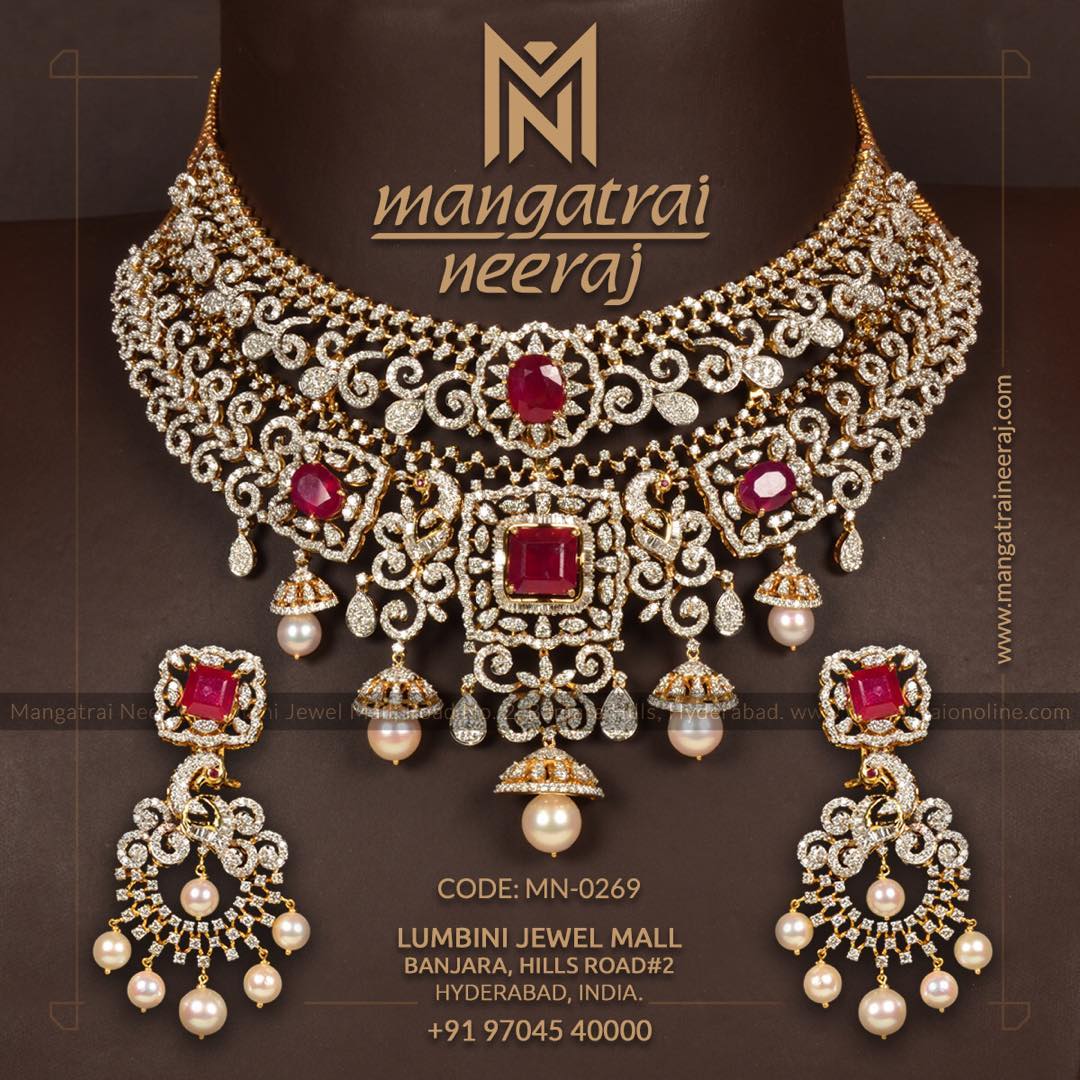 Just sport a striking ruby diamond necklace with matching heavy earrings and you don't need to deck up more. The complete look is just flawless.
7) Beautiful Polki Choker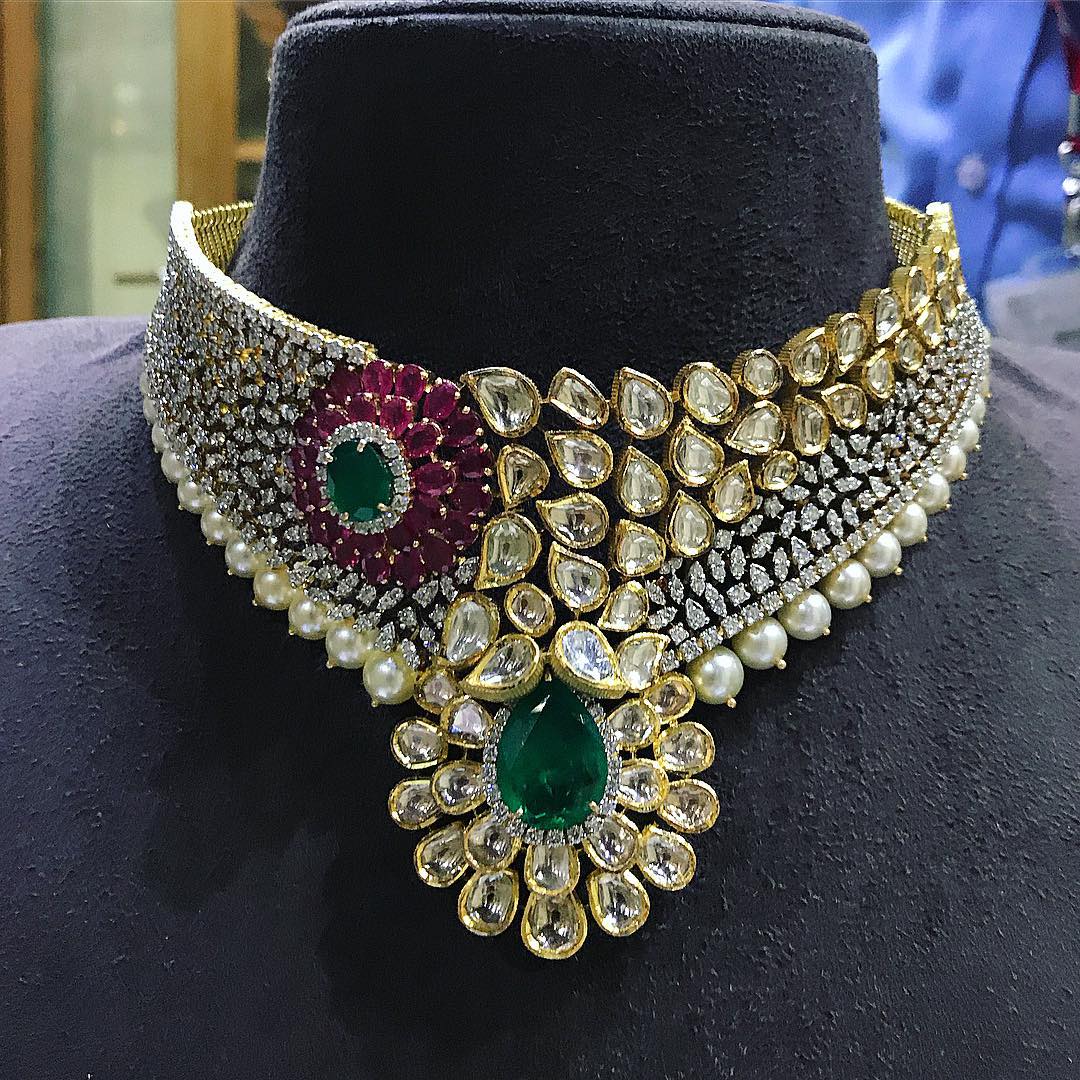 Spectacular, finely crafted, this beautiful polki choker can be worn separately. You can wear this with a designer Saree, ethnic wear, flowy evening gown, show off at a party and you don't need to accessorize further.
8) Grand Layered Diamond Haram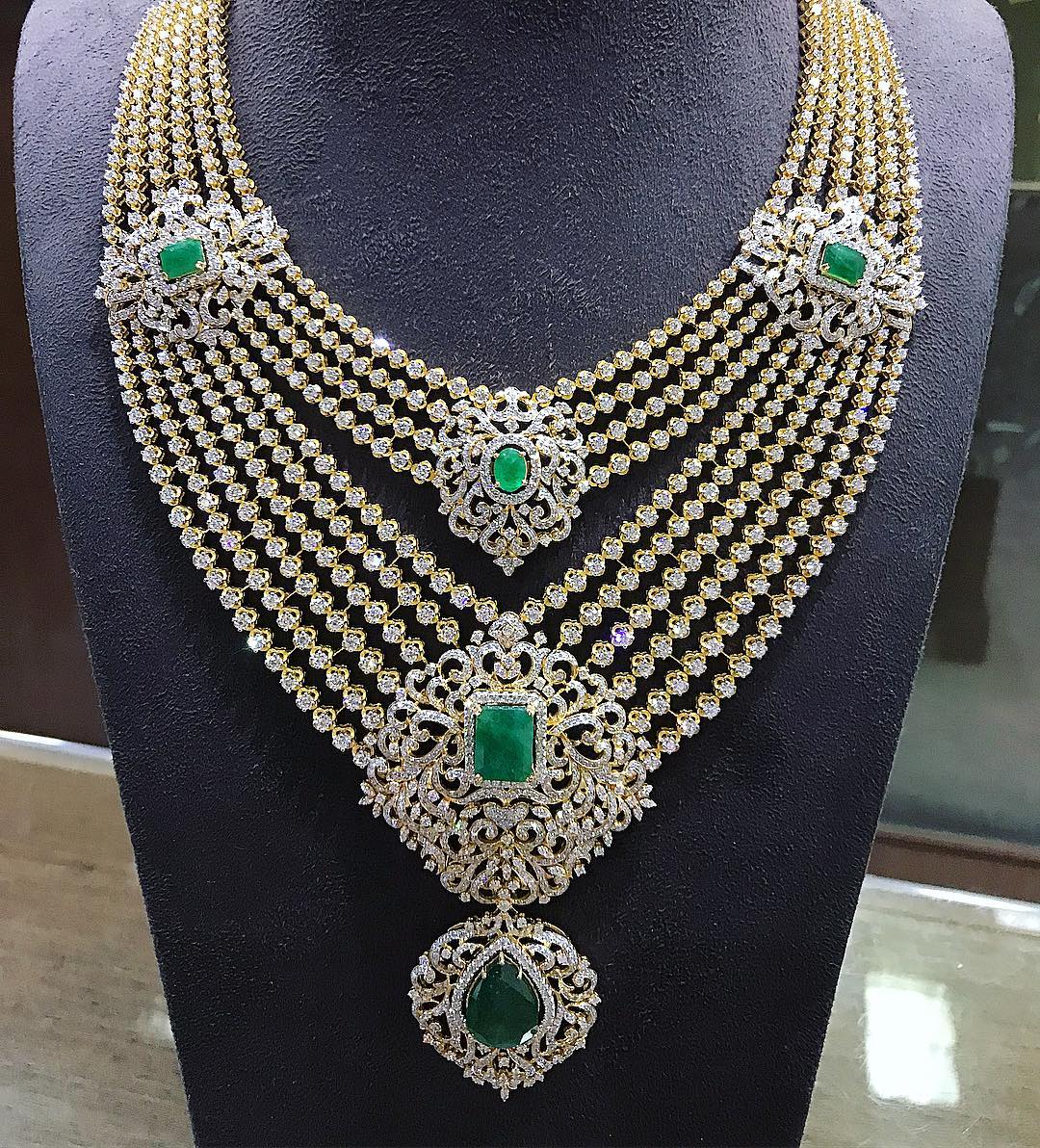 One single necklace does it all! Harams are one of the most gorgeous and graceful in jewelry. Diamond harams are perfect for that ethnic look. They are a must-have in a lady's jewelry collection and layered harams will never go out of style.
9) Three Layer Diamond Elephant Set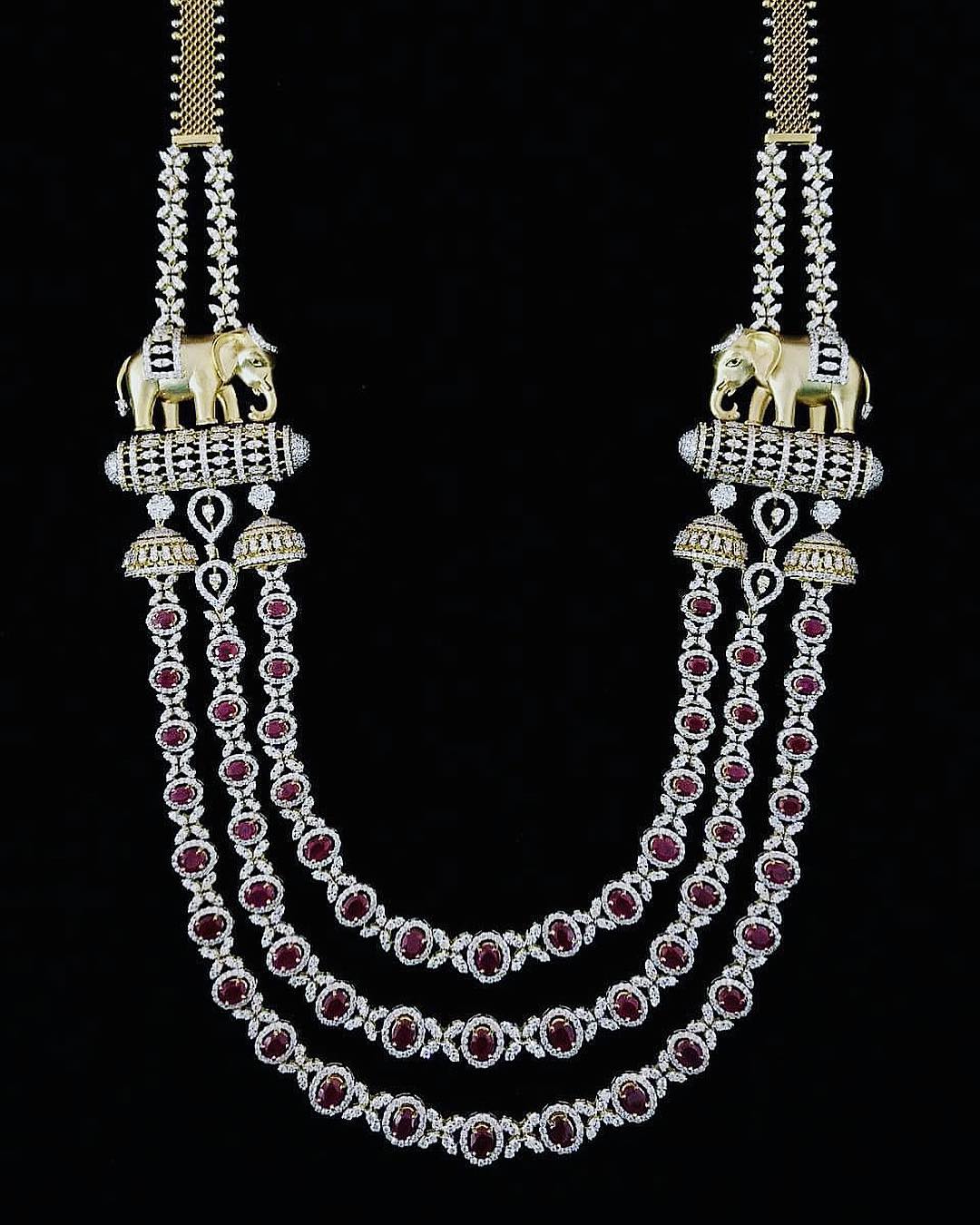 Since it has diamonds, this set will stand out even if you team it up with a simple Saree or casual wear.
10) Big & Bold Bridal Diamond Choker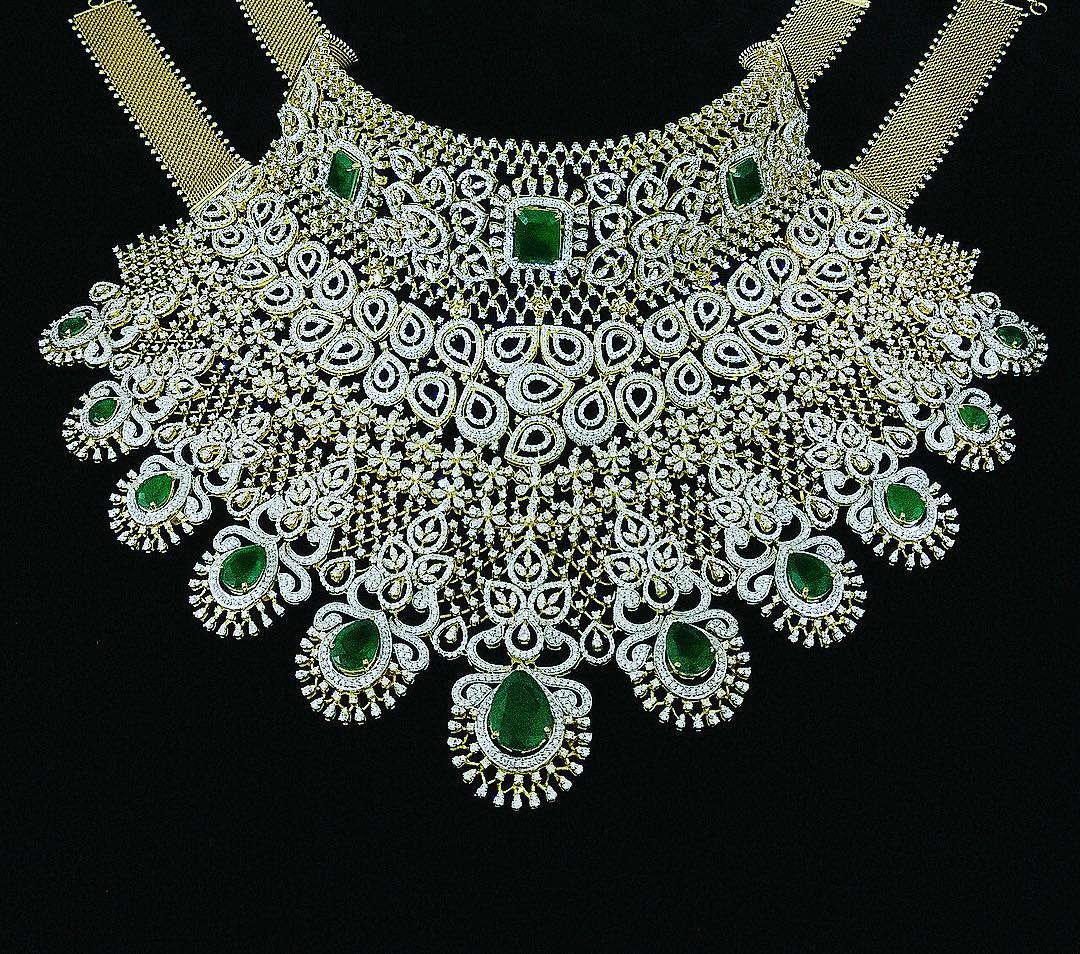 Big & bold bridal diamond chokers are also very popular. They have a regal look because of the diamonds placed in that perfect manner. The shine will get reflected when you will these perfect diamond necklace.
11) Diamond Ruby Step Haram
Ruby and diamond necklace is a symbol of royalty. It will give you that princess-like feeling when you wear it.
12) Beaded Multilayer Diamond Haram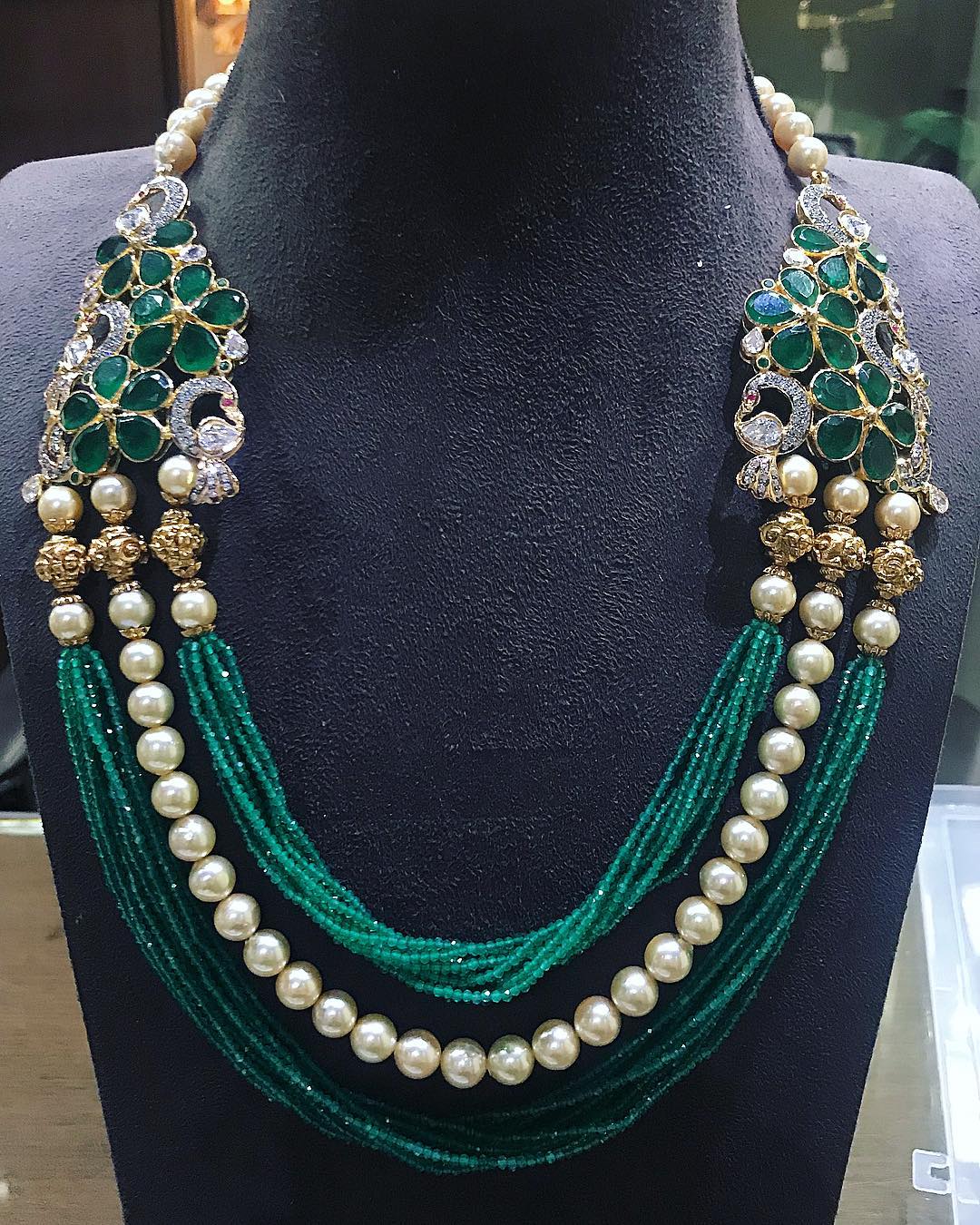 The classic blend of green and white have been quite popular. This beaded multilayer diamond haram set is wonderfully magical.
13) Floral Diamond Necklace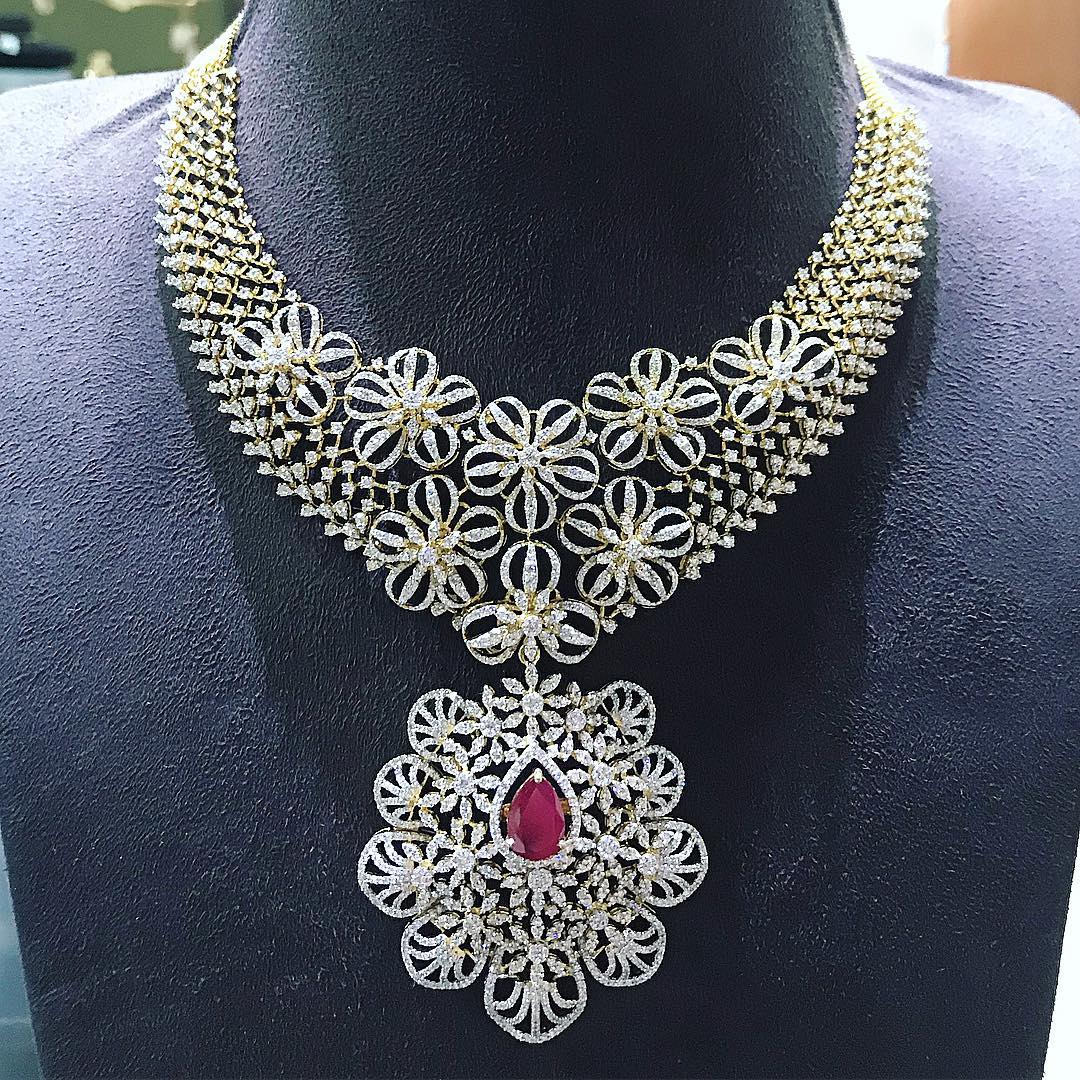 Floral diamond necklaces are a delight to look at with those intricate details and that perfectly cut diamonds.
14) Layered Diamond Emerald Necklace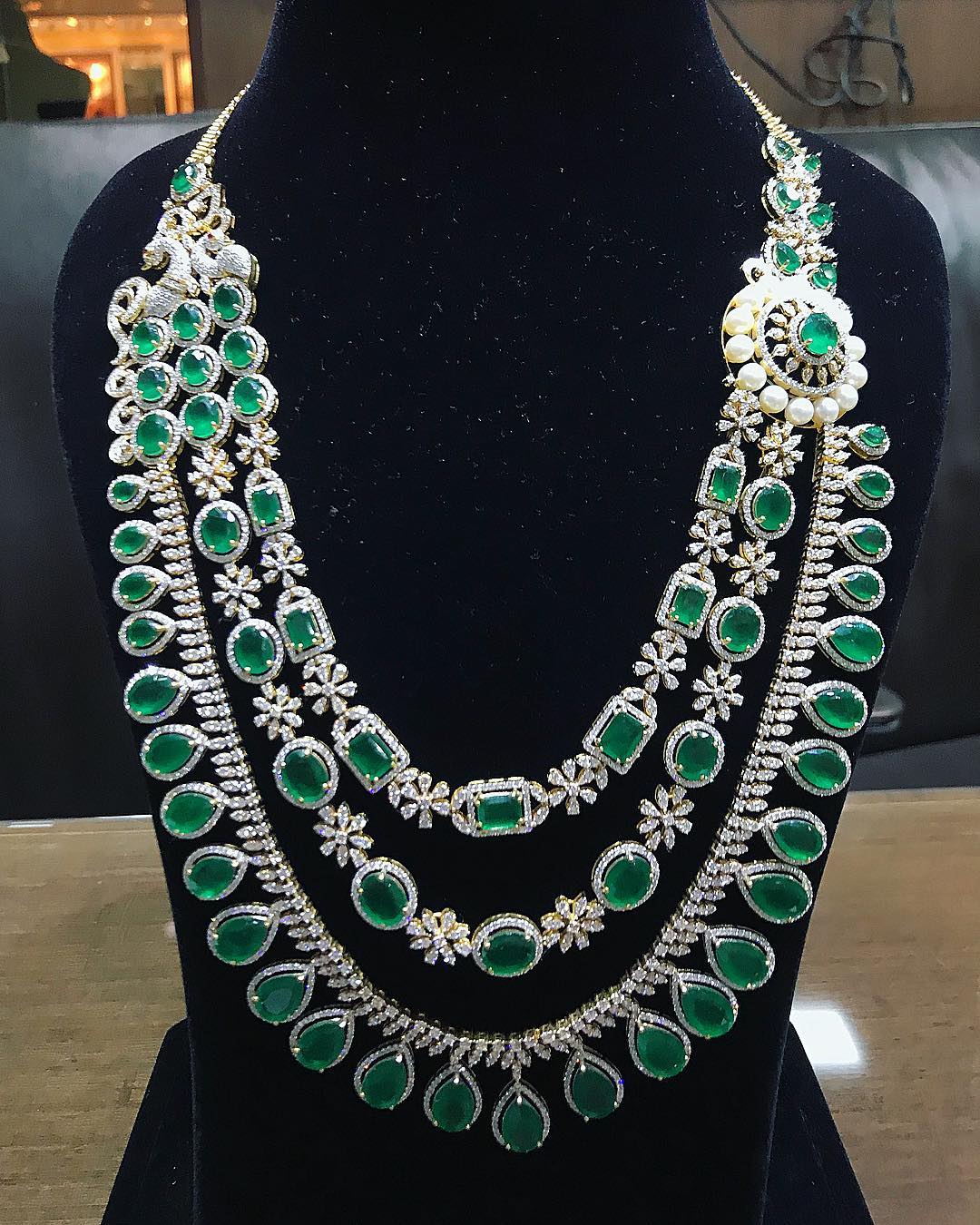 This layered diamond necklace with emerald looks much grander in look. When worn, it suits you with perfection.
15) Antique Diamond Krishna Necklace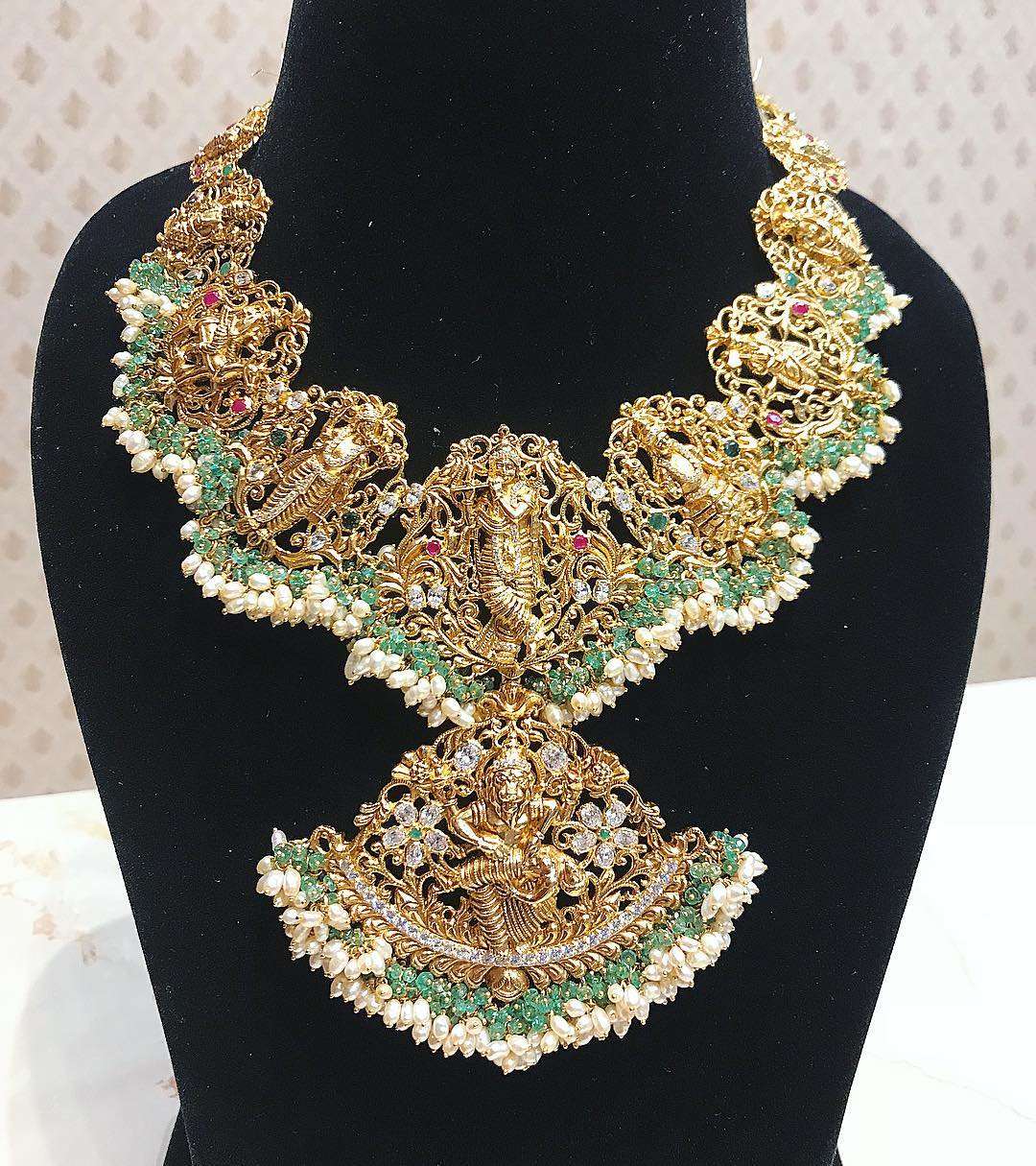 Diamonds and antique designs are stunning two things coming together in a necklace. This necklace has Lord Krishna on it.
16) Diamond Peacock Necklace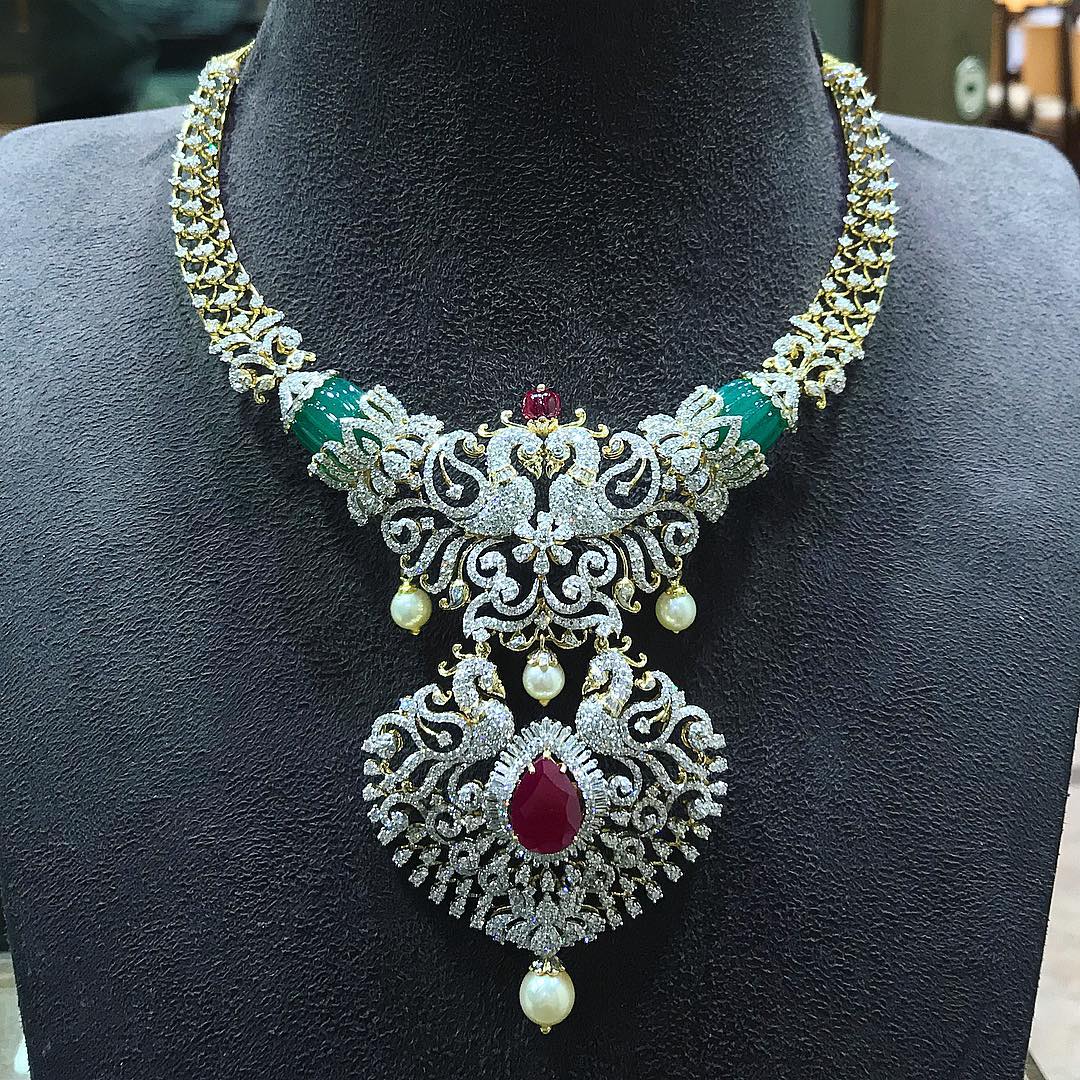 This is one of the most intricate designs in jewelry. This diamond peacock necklace looks impressive and astounding on anyone wearing.
17) Layered Diamond Set With Rubies & Emeralds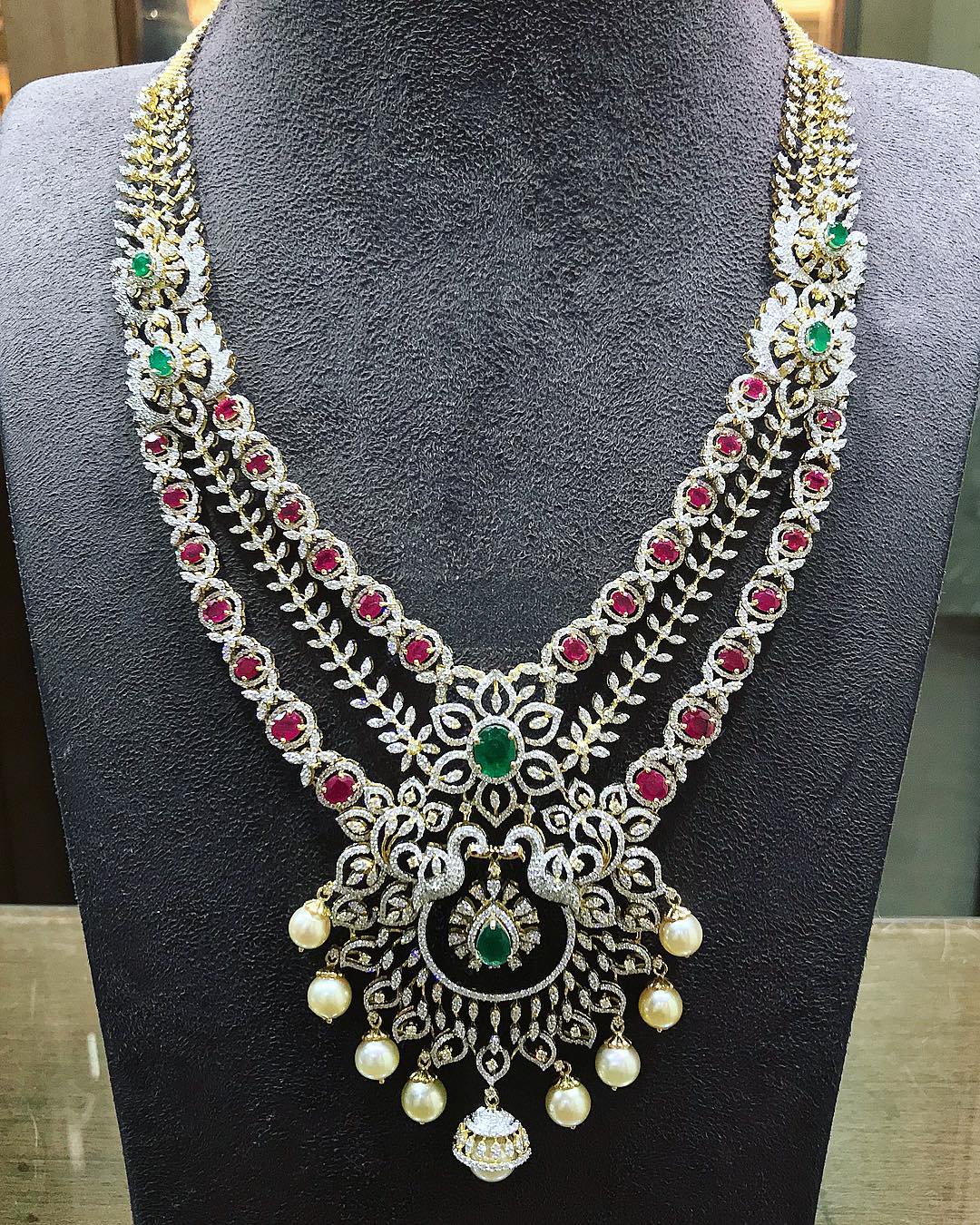 This diamond set is also studded with rubies & emeralds for added grace. This set will look excellent on brides on their big day. One doesn't need more.
18) Diamond Mango Haram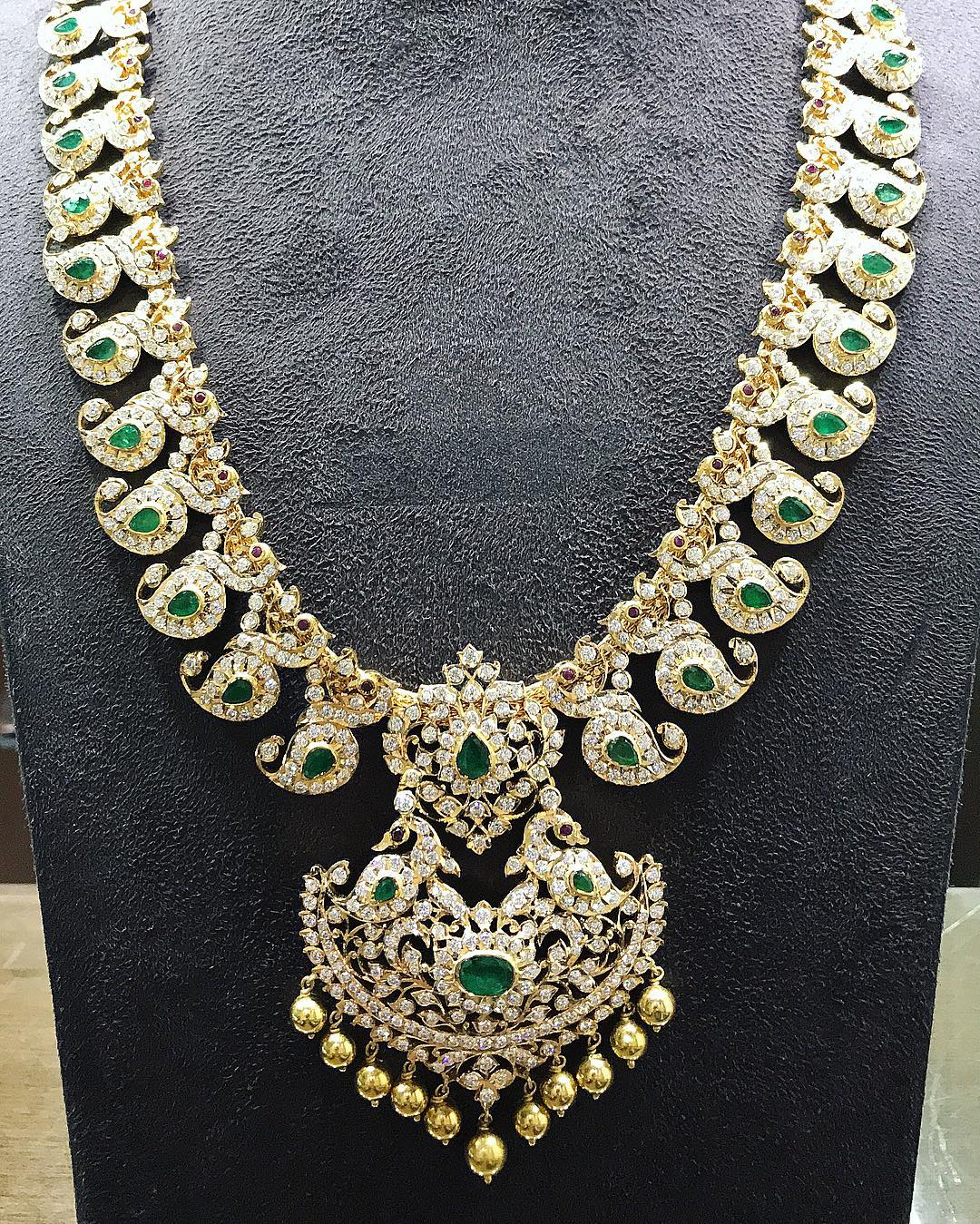 Harams are one of the trendiest and prettiest in jewelry designs. The design is just out of this world and the person wearing this jewelry piece will look gorgeous.
19) Diamond Emerald Layered Set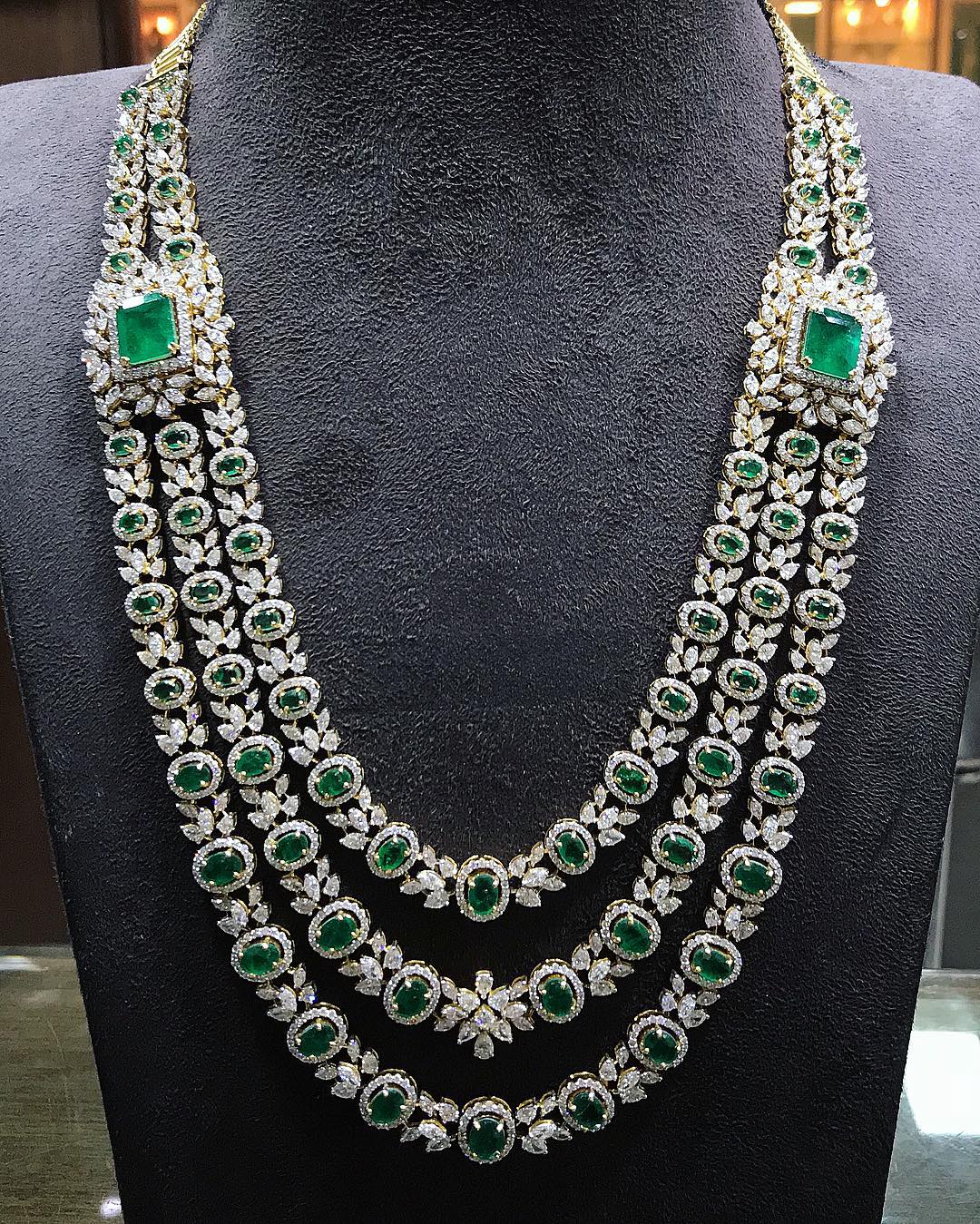 This set is one of the most elegant jewelry. This diamond emerald layered set reflects pure sophistication and charm.
20) Beautiful Diamond Gemstone Necklace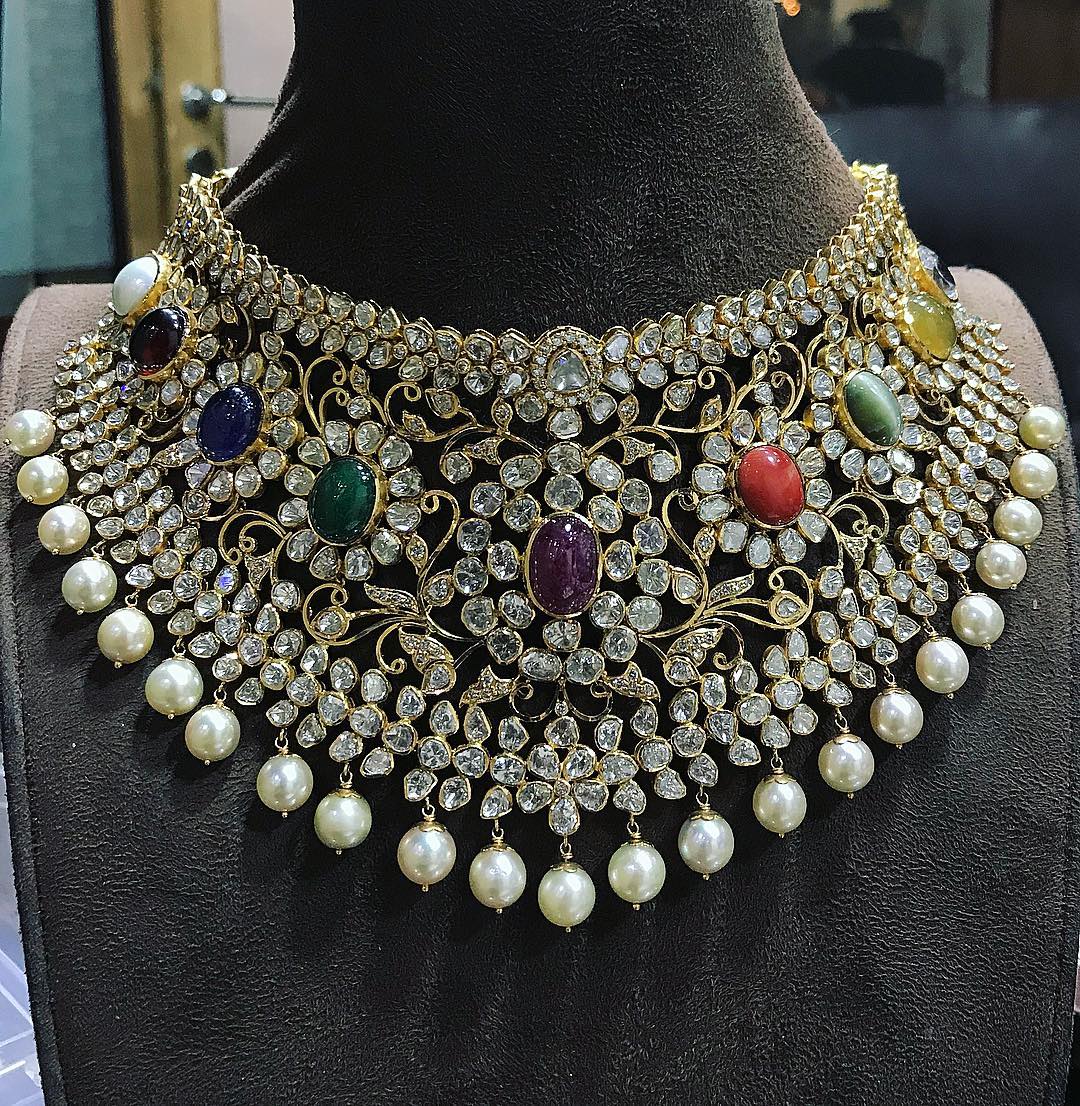 This beautiful diamond gemstone necklace is unique when it comes to diamond jewelry. These necklaces are heavy and usually have modern designs.
21) Temple Polki Choker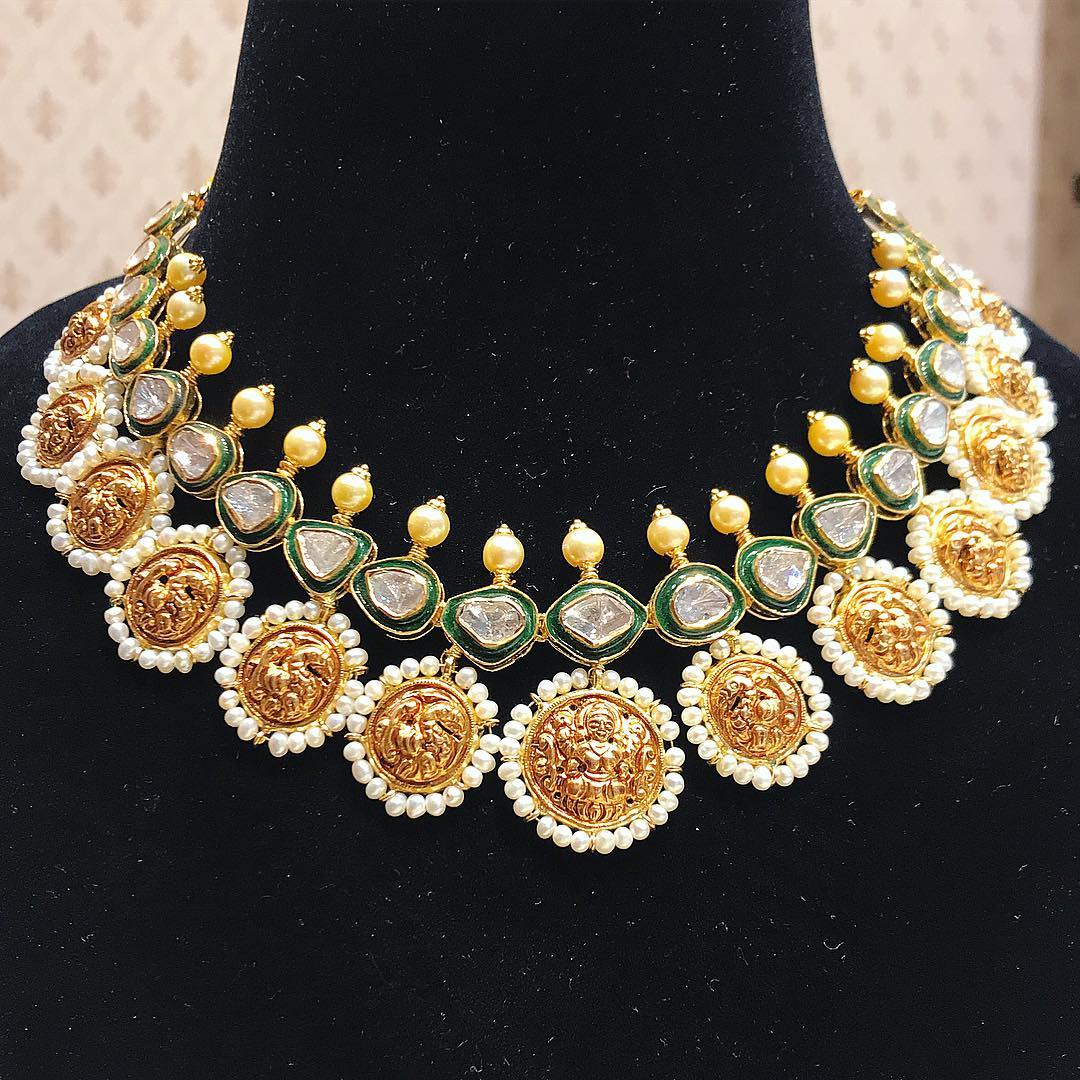 Diamonds chokers look picture perfect on a lady's neck. The design of this temple polki choker completes the diva look.
22) Colorful Ruby Emerald Haram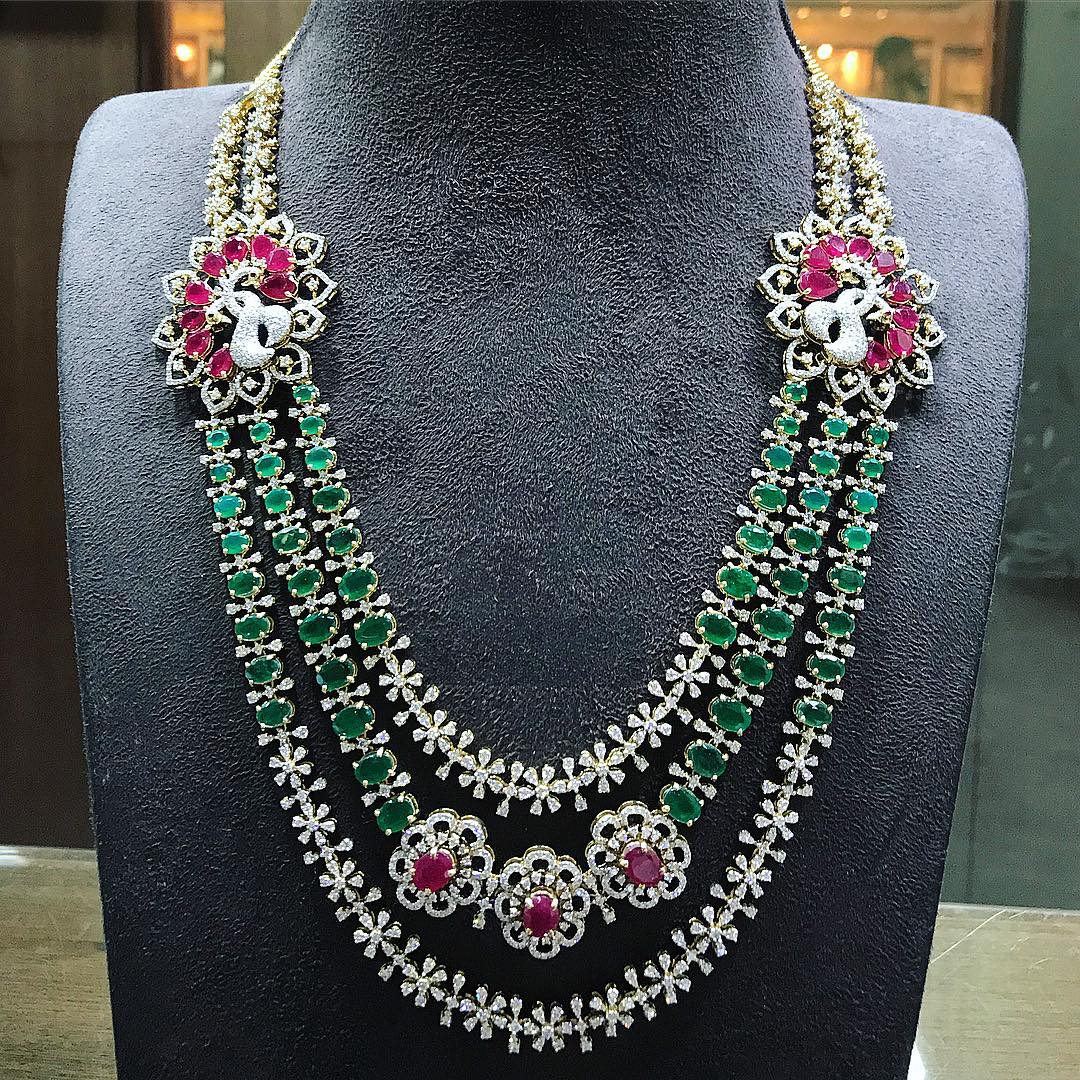 Colorful ruby emerald harams are tremendously classy and look wonderful when worn. Some of the diamonds are plain with luster and others are colored. It can be teamed up with all your ethnic outfits.
23) Vibrant Diamond Necklace with Temple Pendant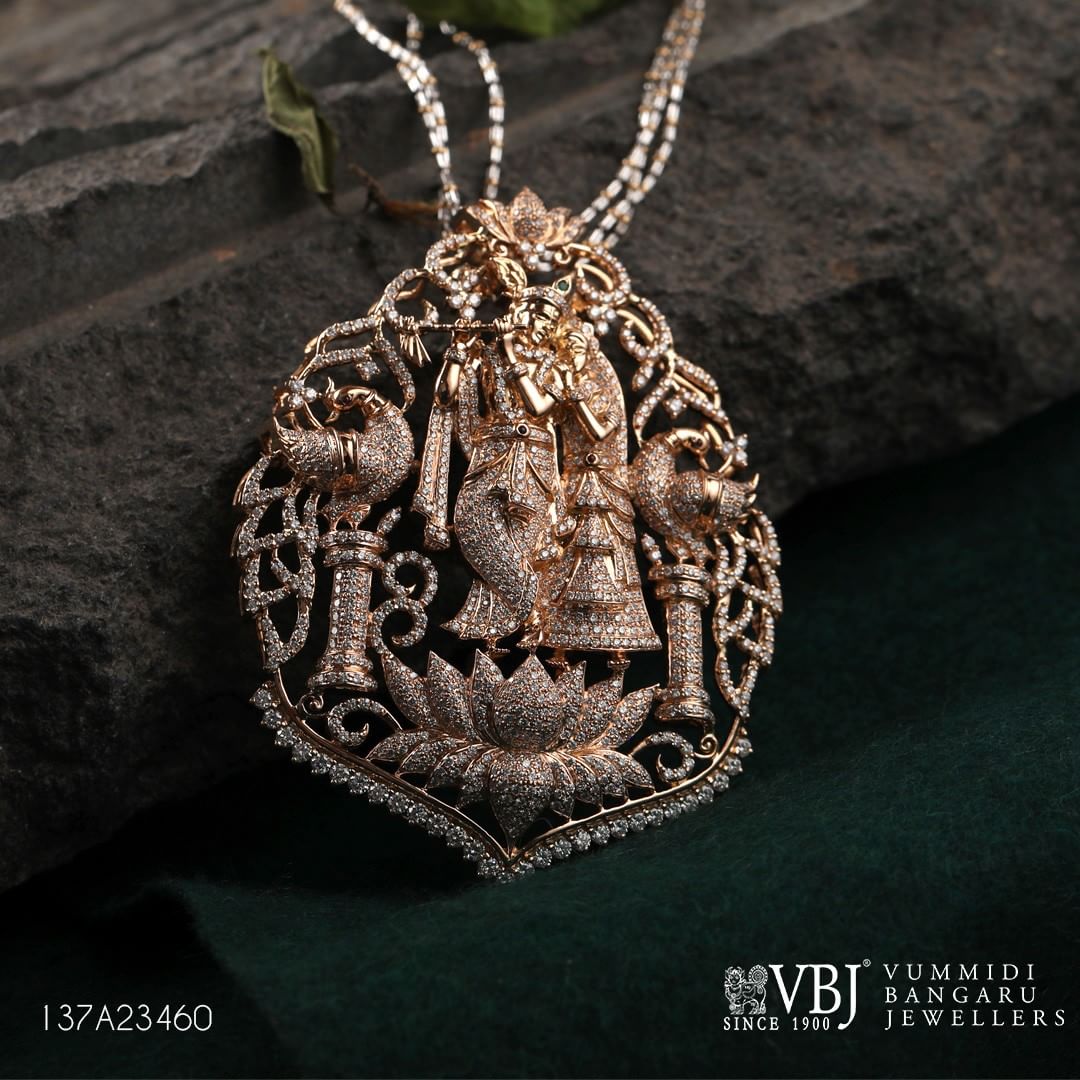 Vibrant Diamond Necklace with Temple Pendant looks really attractive adorning the neck and highlights it with perfection.
24) Simple Pearl Necklace With Diamond Pendant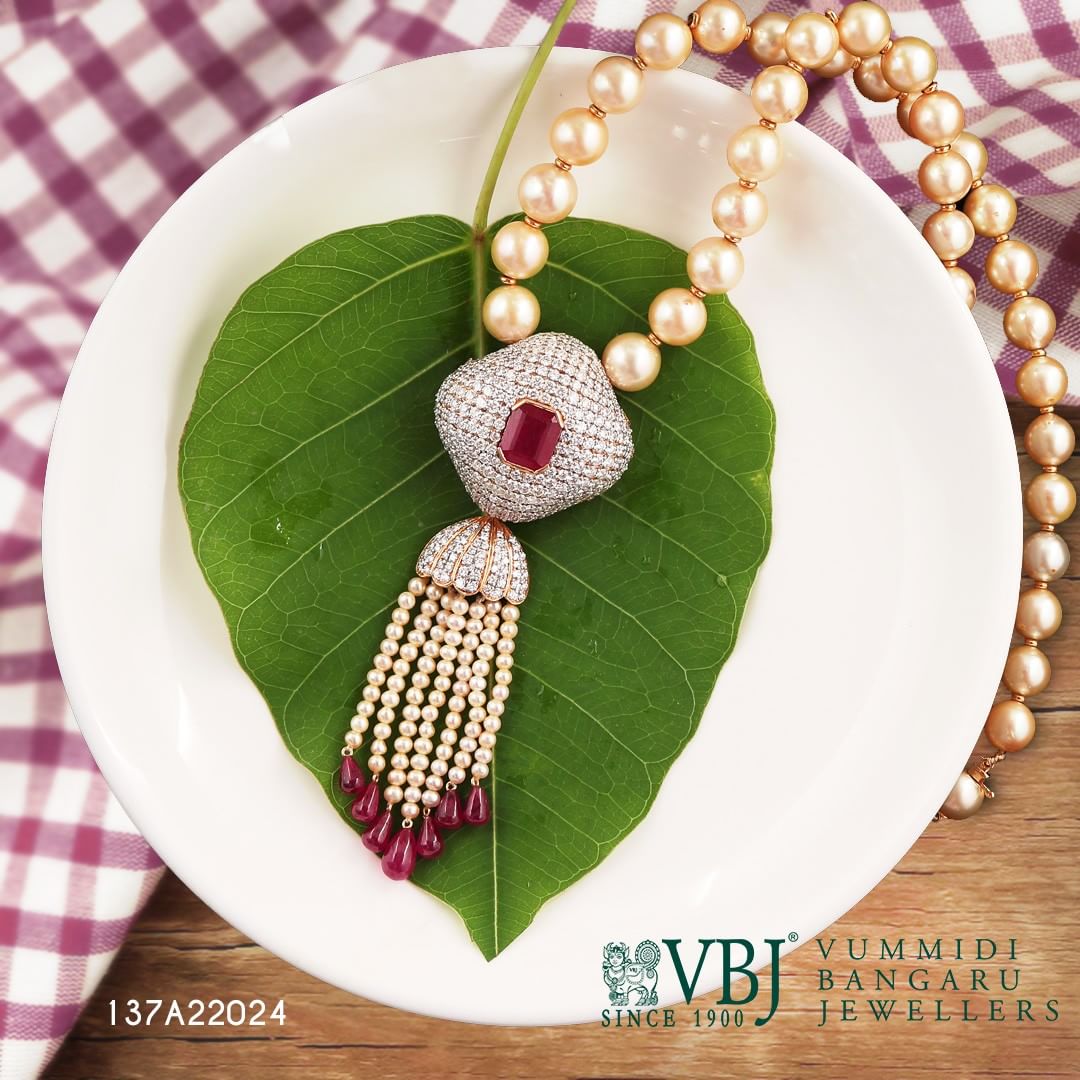 Pearls look gorgeous on any woman with any skin tone. Pearls combined with diamonds in jewelry are emblematic to royalty, opulence and beauty. This pearl necklace with diamond pendant also has various red colored stones.
25) Designer Diamond Choker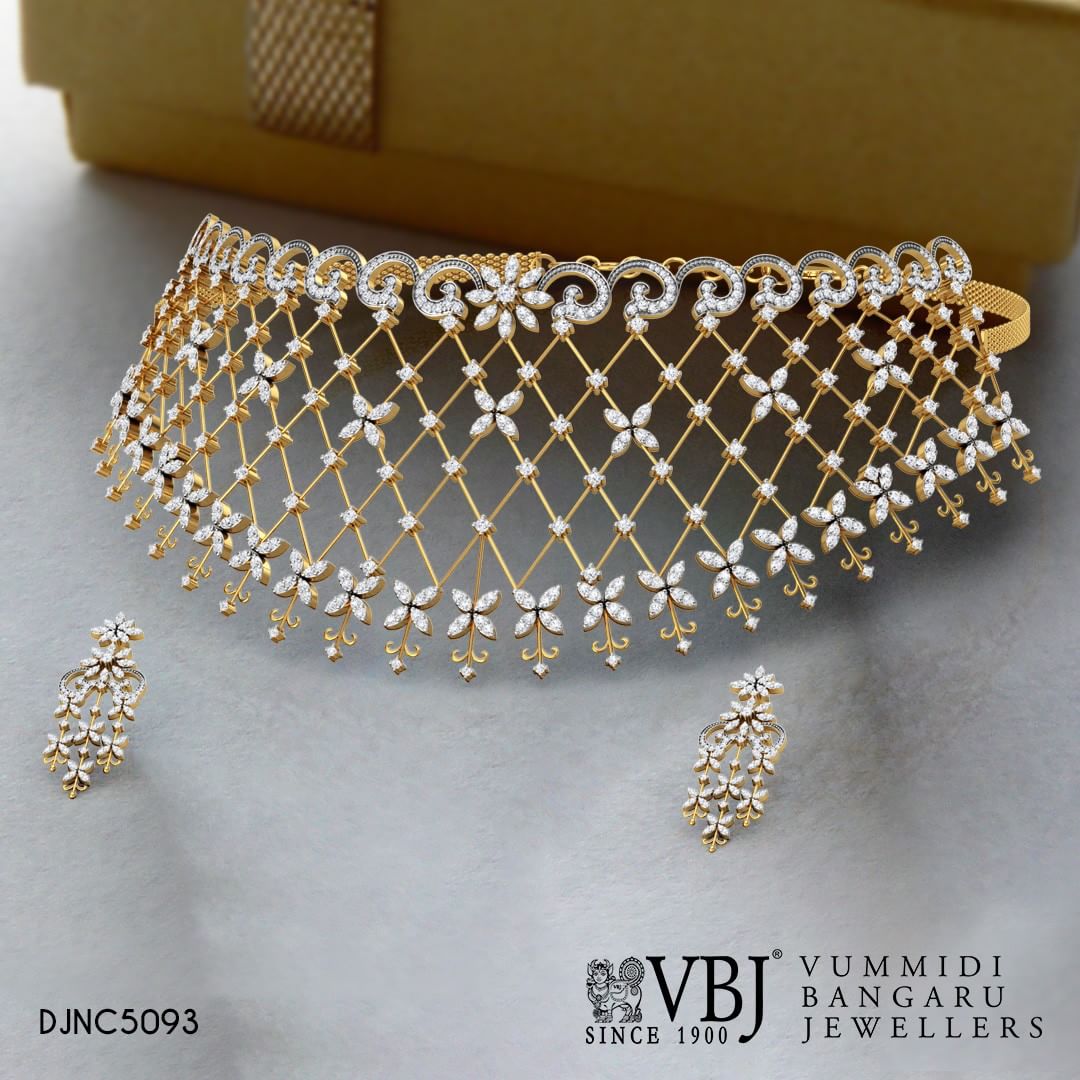 Chokers are absolutely in style with ethnic wear, traditional wear and also evening gowns. This designer diamond choker is just perfect.
26) Trendy Diamond Pearl Set
A gorgeous bride adorned with the perfect dress will need a trendy diamond pearl set for that perfect bridal look. It looks extremely eye-catching and one cannot resist flaunting this exceptional diamond jewelry piece.
27) Diamond Attigai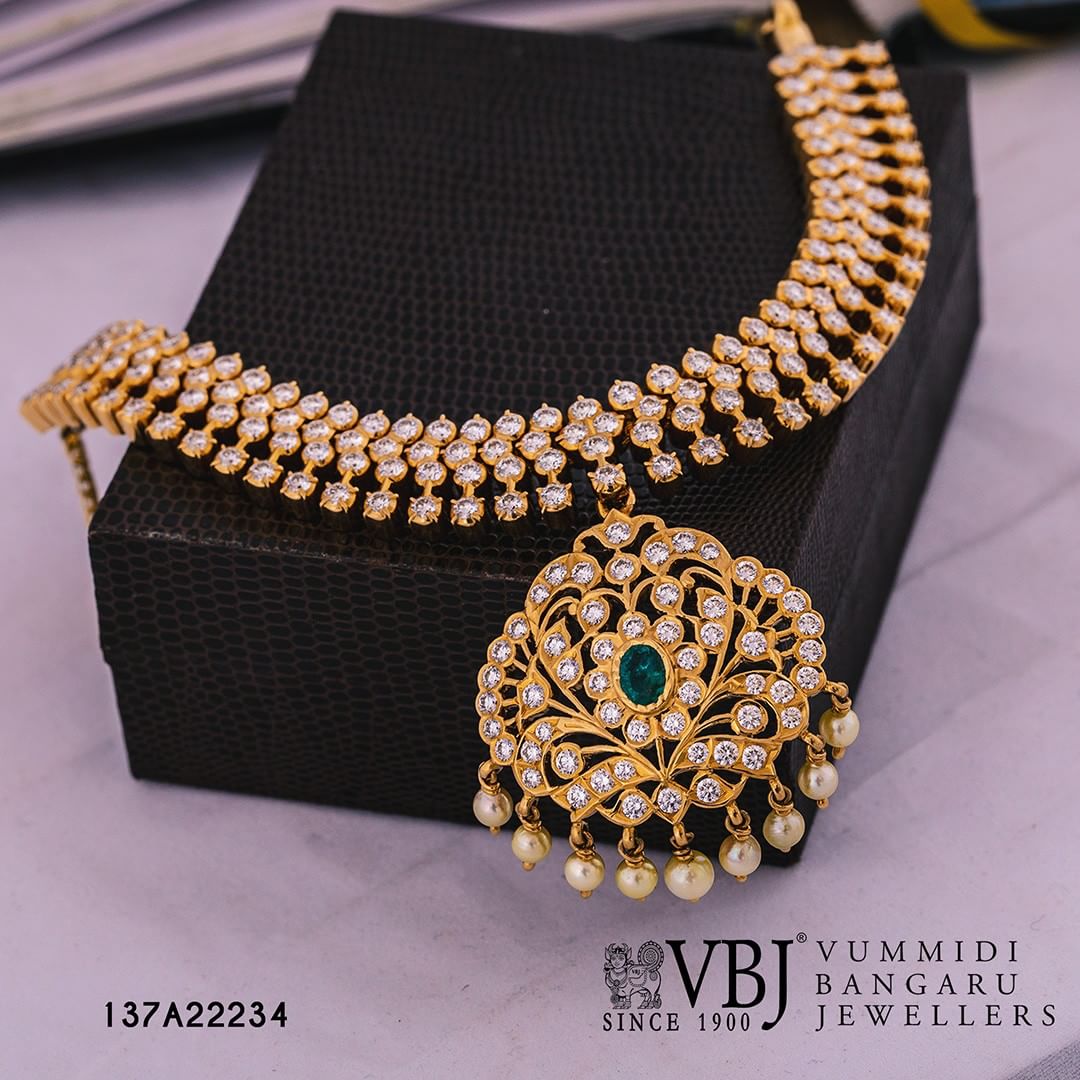 Diamond Attigai can be a masterpiece in a lady's jewelry compilation and will always be the highlight of your appearance when you wear it.
28) Classic Diamond Black Bead Set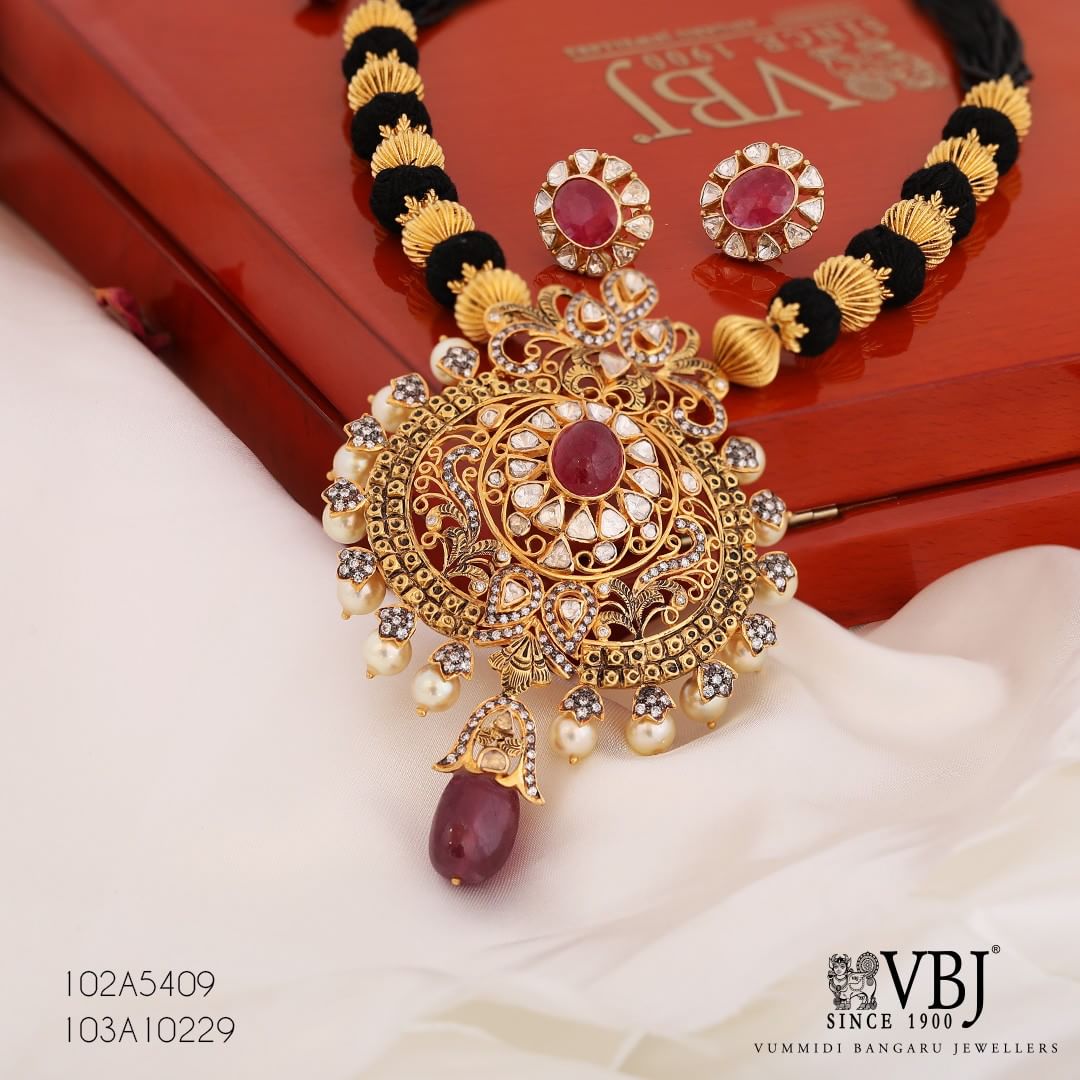 Diamonds cannot be matched for their shine, cuts and luster to any other gemstones. This classic diamond black bead set is a league in itself and unmatched.
Whichever you choose, you are sure to find some stunning pieces that will make you look like a diva wherever and whenever you wear it. There are pieces for women of all ages. The price ranges from least to the largest amount which well serves every one of the society.
Diamonds are forever, so are diamond jewelry collections. Celebrate diamond with your dear ones and see the sparkles wherever around you. If you like to shop any of the jewellery mentioned on this post, then please do reach the respective sellers.
Seller Name : Mangatarai Neeraj
Instagram : https://www.instagram.com/mangatraineeraj/
Whatsapp : 97045 50000
Seller Name : P. Satyanarayan & Sons Jewellers
Website : http://www.psatyanarayanandsons.com/
Contact: 076809 44450
Email : psatyanarayansons@gmail.com
Seller Name : Vummidi Bangaru Jewellers
Address : AB 149, 3rd Main Road, Anna Nagar, Chennai, Tamil Nadu 600040
Rani Seethai Hall, First Floor, 603, Anna Salai,Chennai – 600 006.
Contact No : 044 – 2829 2003, 2829 2004, 044 – 49033355
Website : http://www.vummidi.com/
More Details : VBJ (Vummidi Bangaru Jewellers) are creators and retailers of exquisite gold and diamond jewellery since 1900, in India. Their range includes traditional Kundan, Nakshi and antique finished jewellery, as well as modern 18k gold and trendy diamond jewellery.
Also Read: