Jewelry increases the attractiveness and adds elegance to the outfit as well as the wearer. The designs of ornaments give perfection to the outfits and give the wearer an excellent look. If you love wearing sarees and are wondering what the trending jewelry is, we have put together a list of 17 jewelry pieces you must own if you love sarees: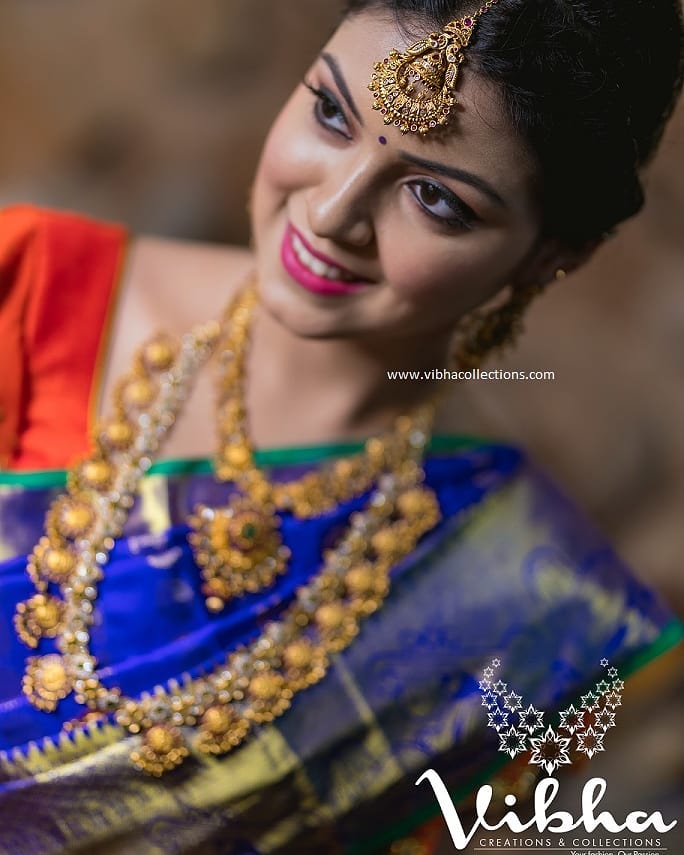 1) Ruby Kanti Necklace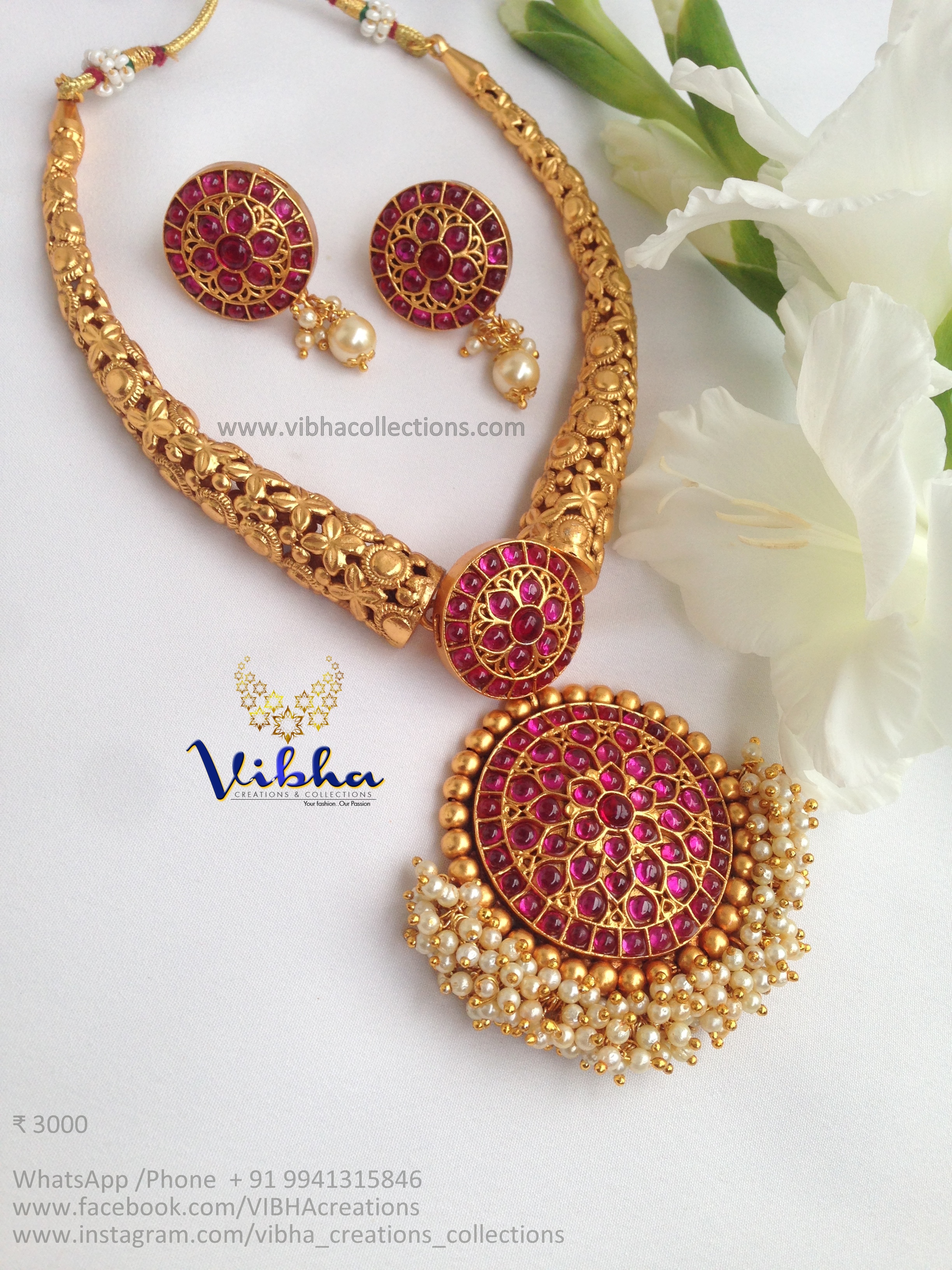 A gold ruby Kanti necklace is one of the finest pieces any lady would love to have. The red color of rubies turns out to be a plus of the feminine exquisiteness as well.
Finely cut rubies placed in circular shapes are studded in dull yellow gold with pearls hanging down at the end looks simply dazzling. Also, not to overlook the ruby earrings makes for an ideal piece to wear with saree.
2) Matt Ruby Attigai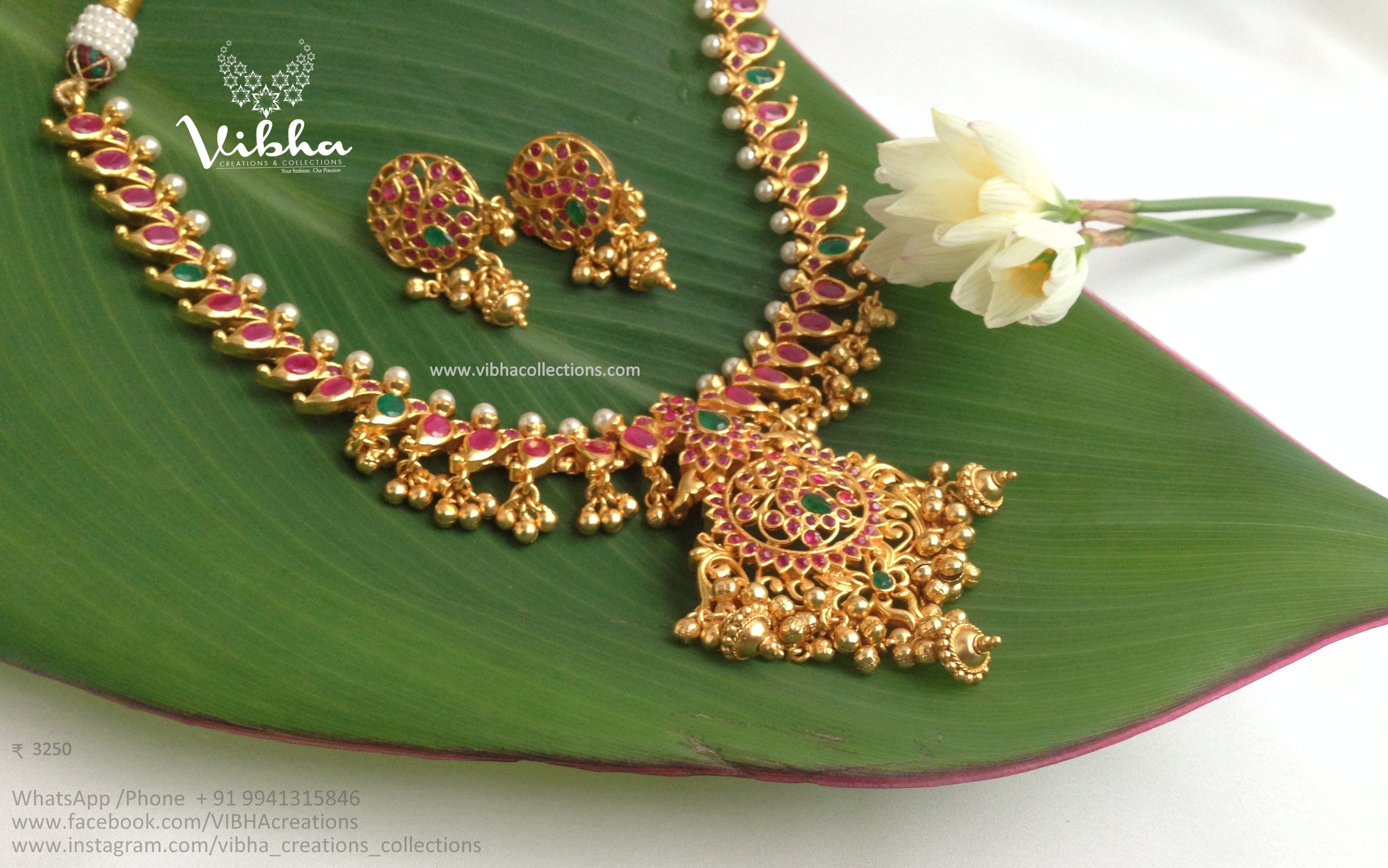 Classic Attigai with the beautiful ruby stone can simply make you look exquisite. Ruby stones are beautifully designed and placed in gold to create this perfect necklace.
A matte necklace with studded level ruby stones does not just convey a rich touch to your clothing yet in addition looks amazing with your outfit. Matte finish adds to the beauty of this stunning Attigai.
3) Classic Coin Necklace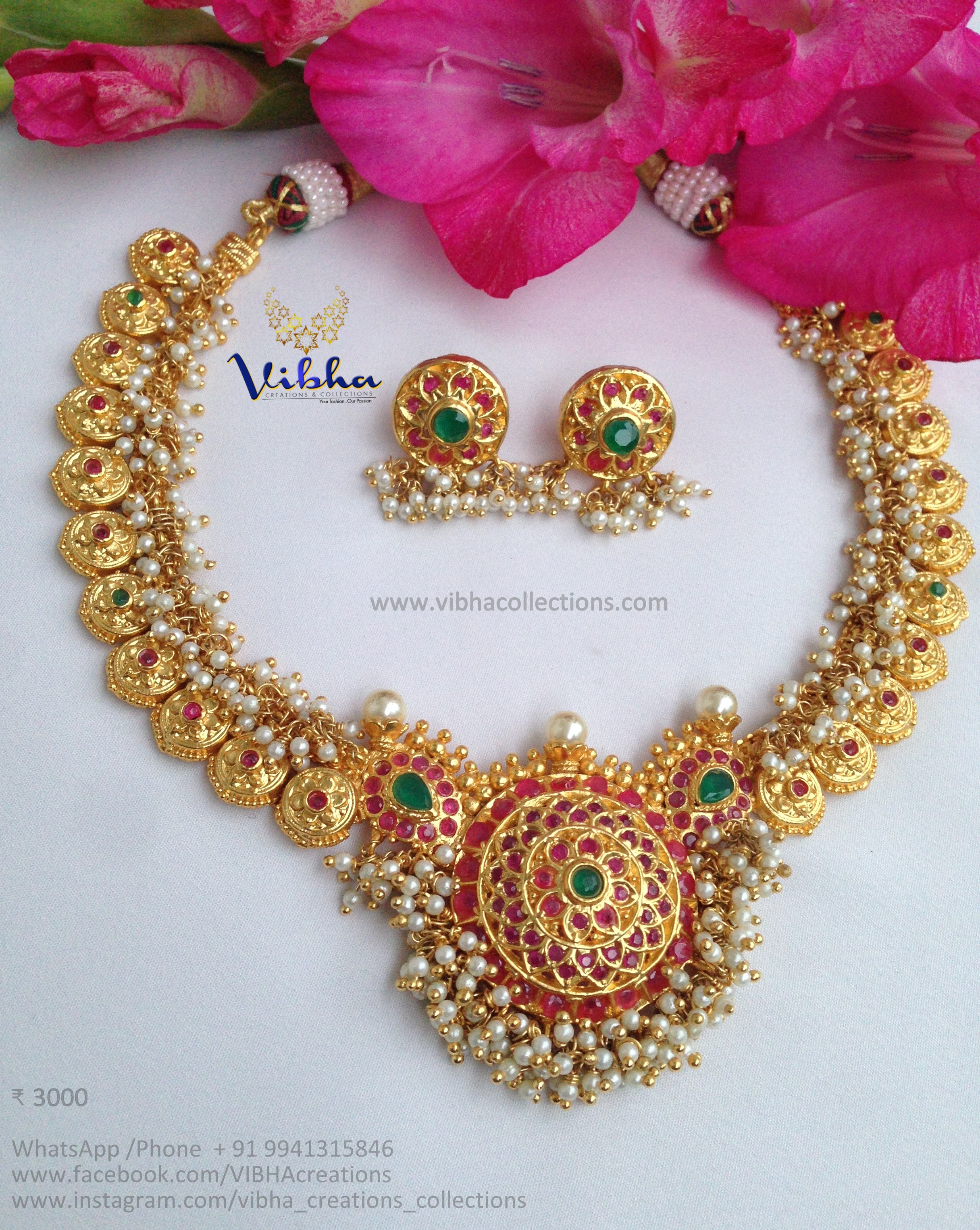 Amp up your traditional look with this classic coin necklace of this kind and instantly elevate your look. Pieces like these certainly give your attire a show-stopper look. Coin necklaces are one of a kind and are a must-have piece for jewelry lovers.
4) Vibrant Stone Necklace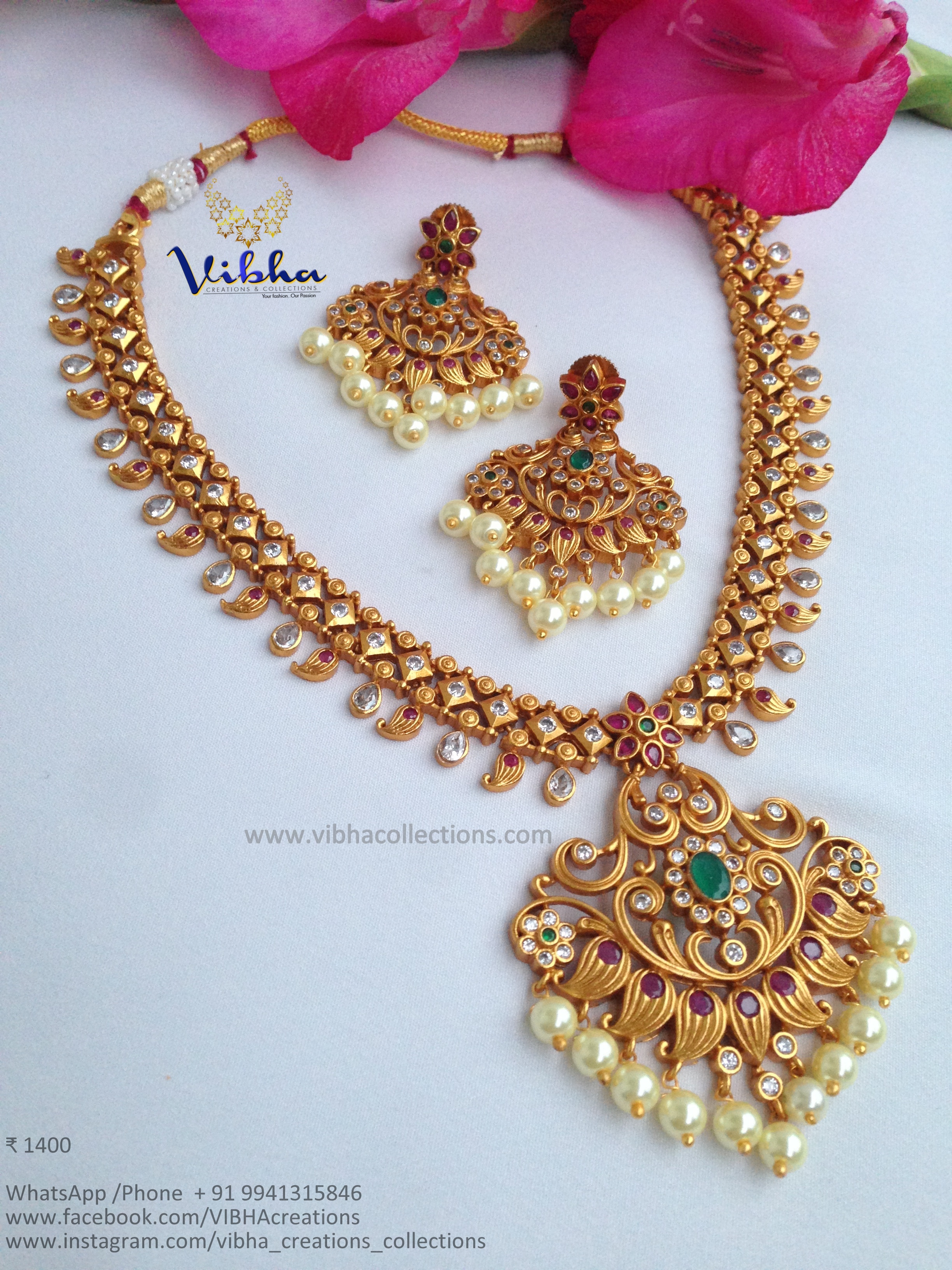 There is something unique about the wonderful blend of colorful stones and emeralds, and that too when they are combined together to create dazzlingly beautiful necklace, it is a treat for jewelry lovers. This is one such piece. You can combine this with your beautiful saree.
5) Bold Matt Finish Jhumka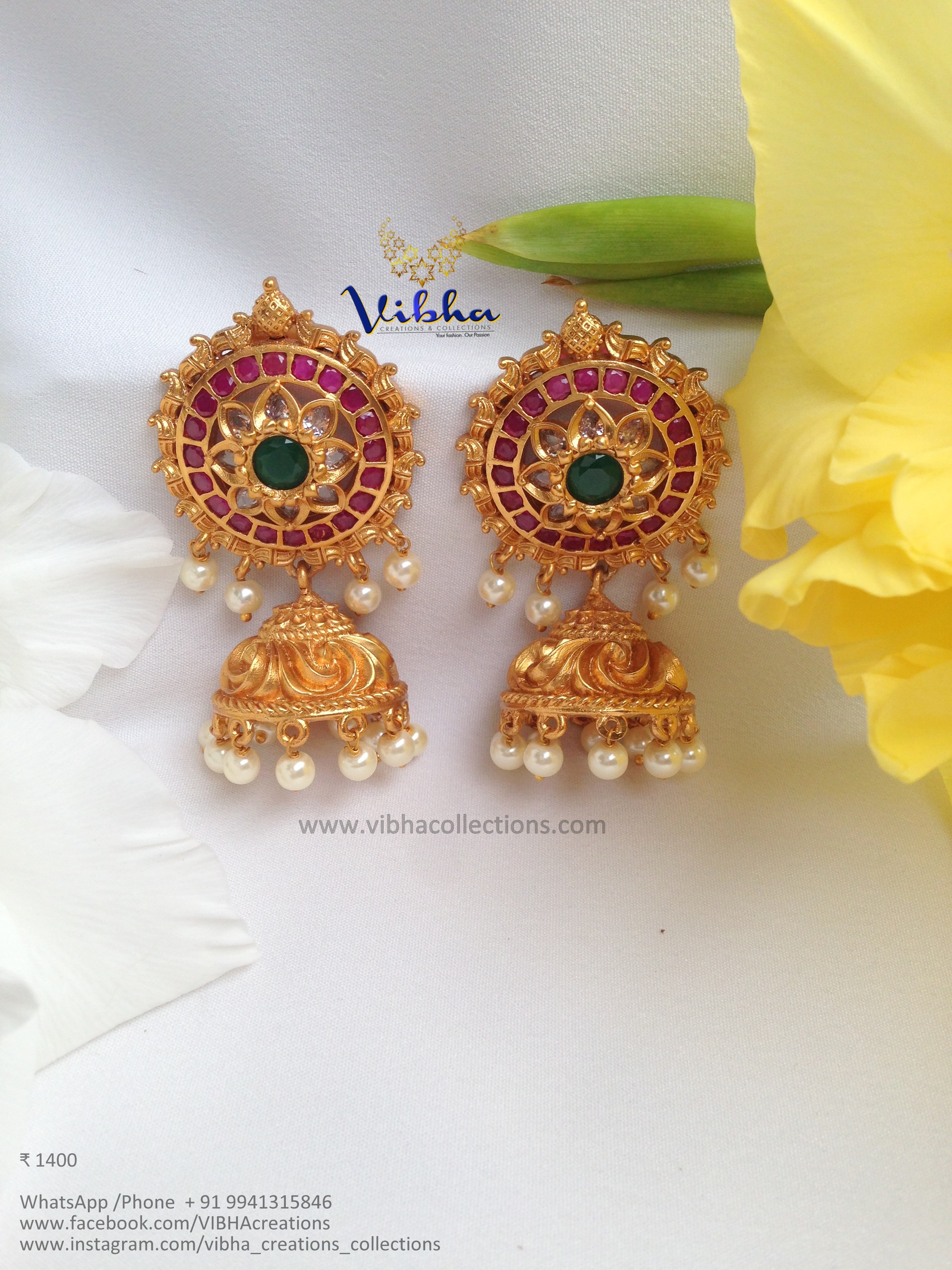 These bold matte finish Jhumkas are best worn with sarees. The vibrant stones and pearls utilized to give the Jhumkas an astounding look. The emerald and ruby stones are worth noticing because of their charming color and sparkle.
6) Traditional Temple Jhumka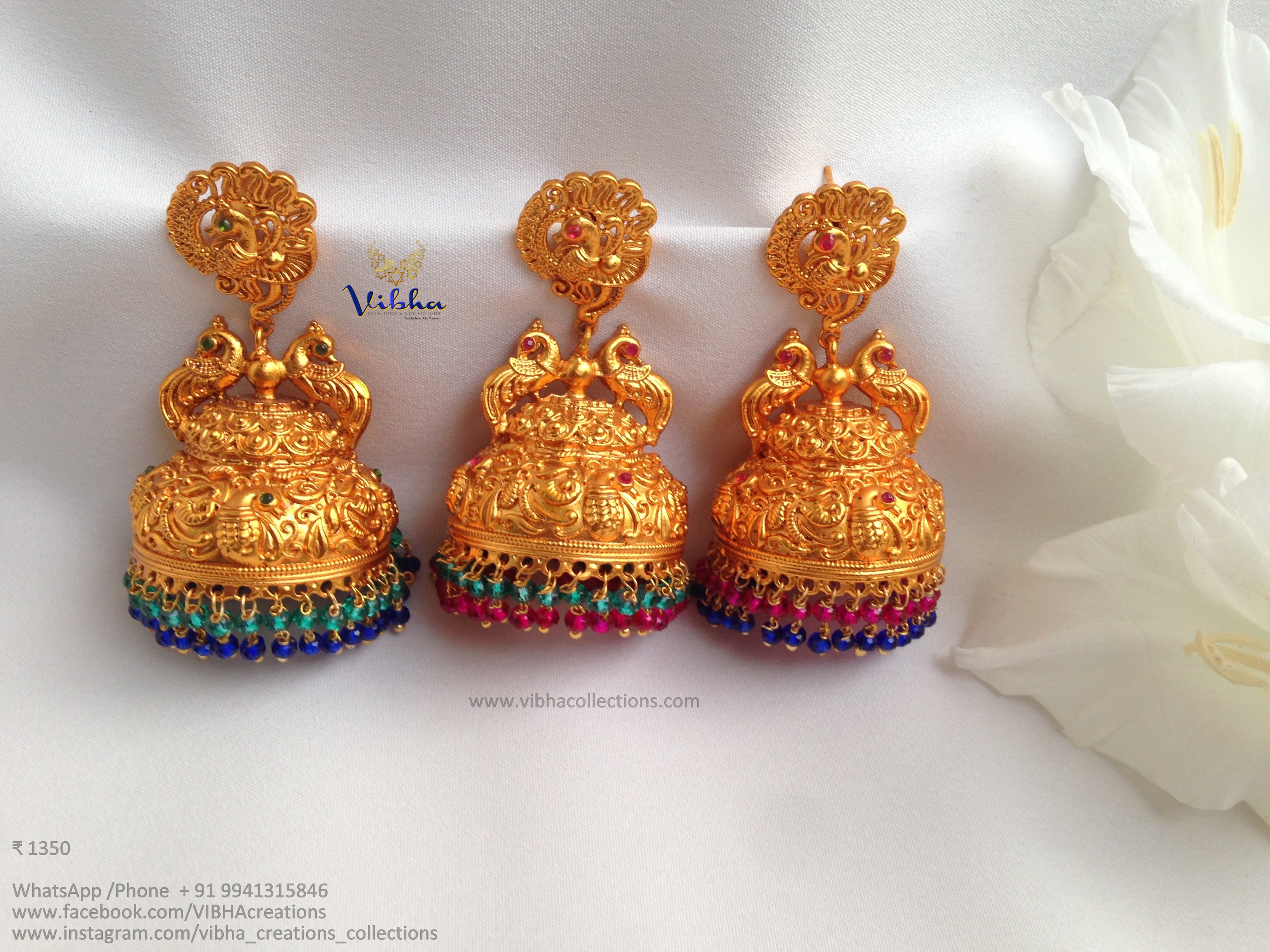 These Traditional Temple Jhumkas are best paired with sarees. These magnificent Jhumkas can give any subtle outfit an elite look. The beautiful peacock design is enhanced with colorful beads and stones. This design gives the wearer a favorably fitting look.
7) Party Wear Stone Necklace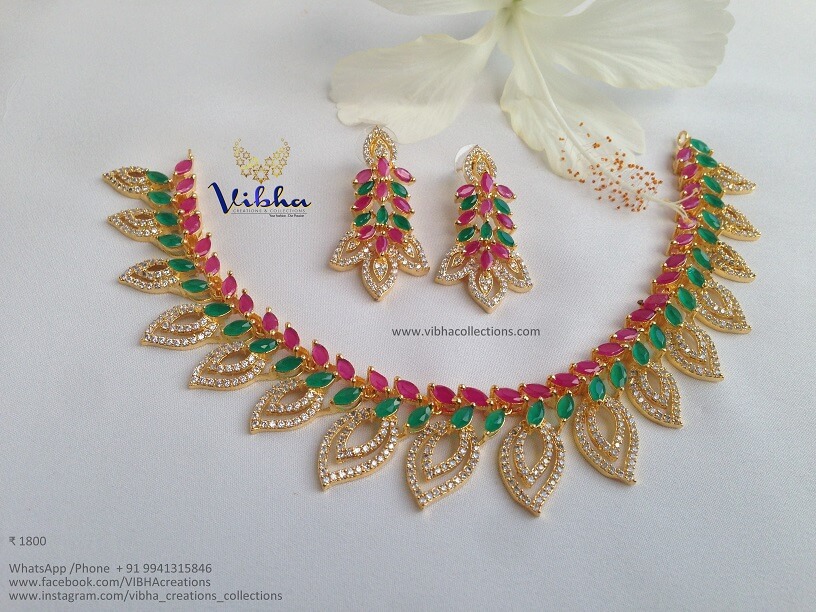 In the event that you are searching for something stylish and popular, this party wear stone necklace is clearly for you. This necklace design is simply mind-blowing and stunning. You can wear these for a family get-together or for your upcoming friend's wedding.
8) Ball Long Harams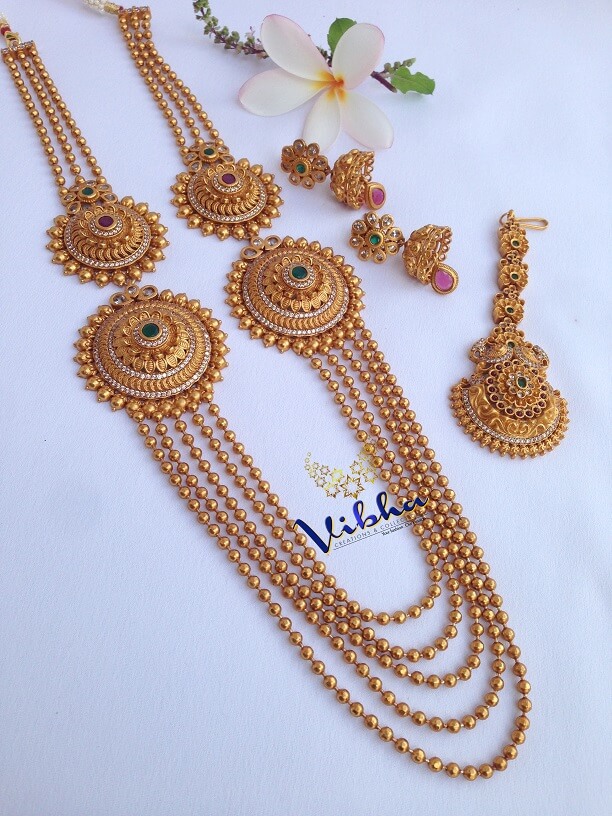 Long ball harams are really popular among ladies in India. Festive season is a great reason to shop of something beautiful. This one is ideal for an extraordinary event and other traditional occasions when you need your jewelry to be the center of attraction.
9) Long Stone Necklace Set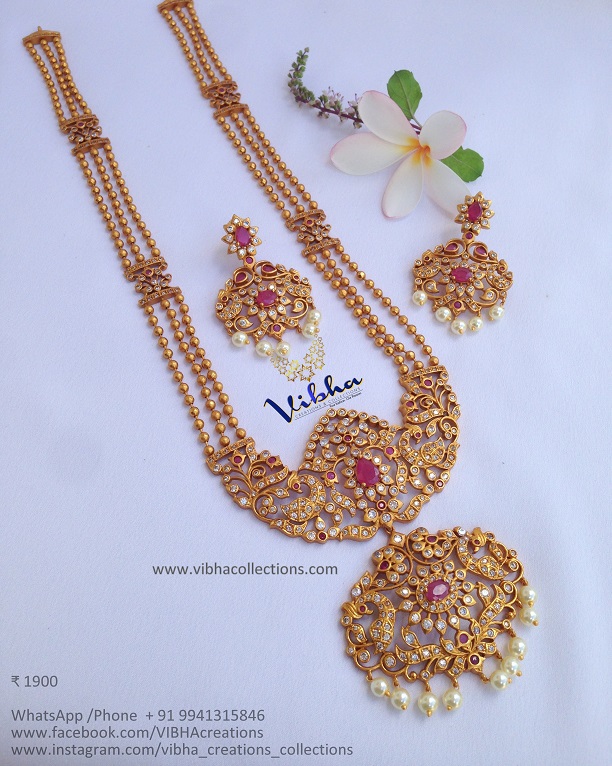 This is one of its kinds. This one has two different colored stone studded. Those planning to buy a gift for their wife can consider buying this long stone necklace set design. Long necklaces are loved by women of all ages.
10) Traditional Tikkas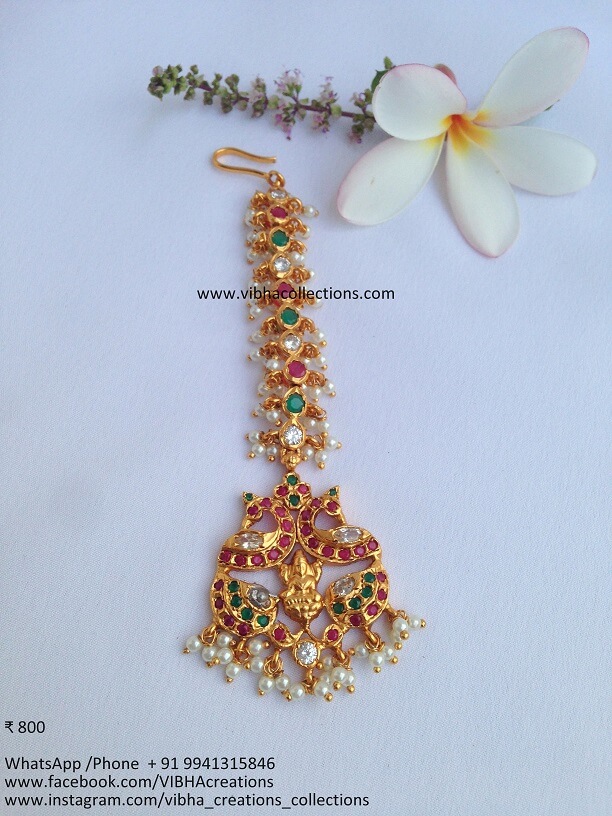 Tikkas also have an ancient traditional tale to tell. With colorful stone studded design, this traditional maang tikka is just amazing.
Admired as the stylish jewel piece to ornament your hair and forehead, maang tikkas are available in market with various price ranges.
11) Floral Jhumkas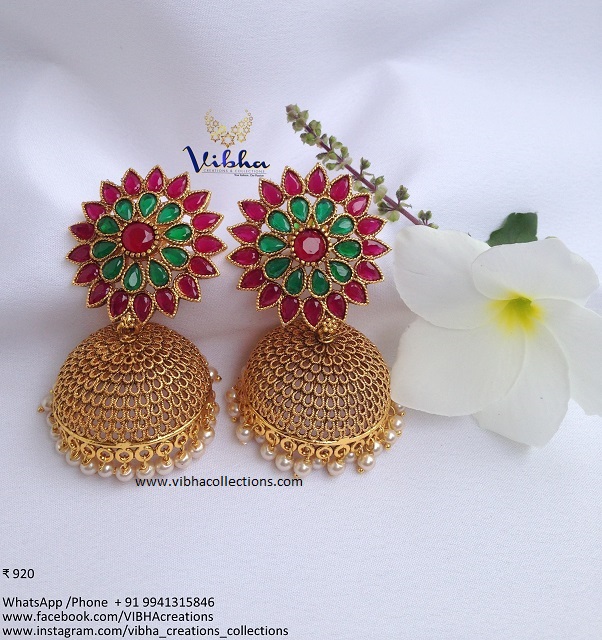 These pair of Floral Jhumkas guarantees the wearer a lot of stylishness. This pair of Jhumkas design is uniquely inspired from a flower. This design in itself is unique. The rubies and emeralds embedded on gold base looks thoroughly beautiful.
12) Pearl Earrings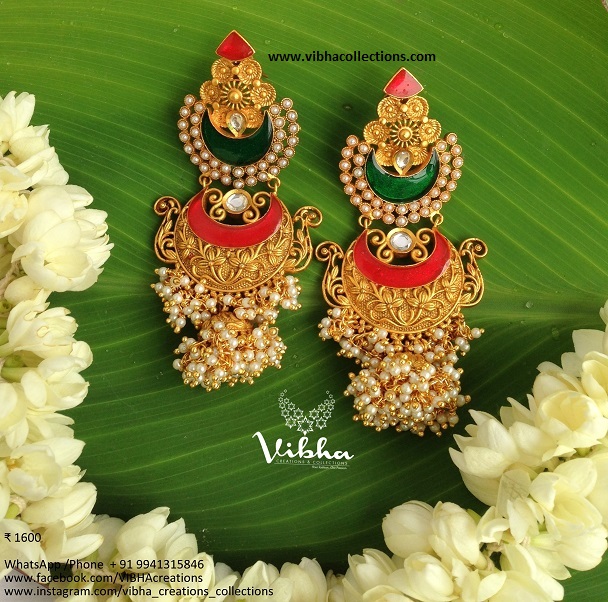 Earrings with pearl always look very chic and stylish. In addition, you can wear these earrings with your beautiful saree for special occasions. These earrings will softly sway back and forth as you walk and give your look an extra appeal.
13) Antique Pearl Neckpiece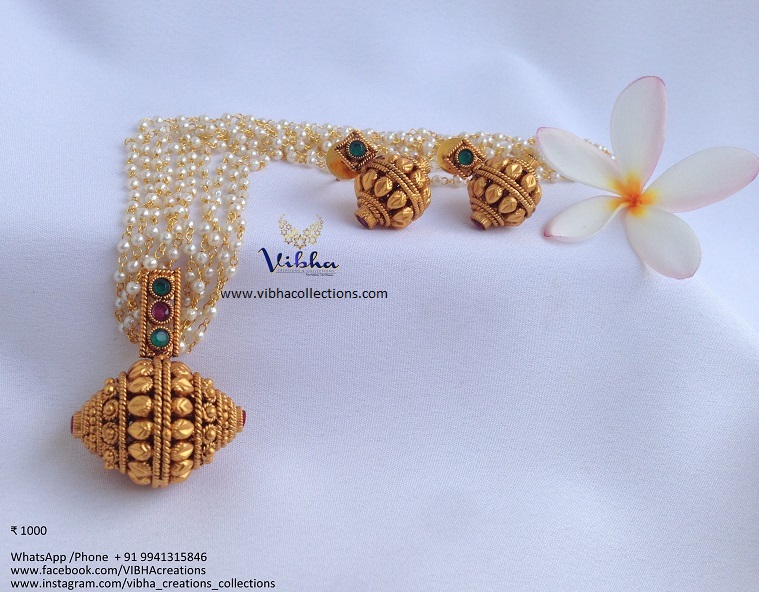 Whenever you wish to feel elegant, confident, classy, yet fresh – wear antique pearl neckpiece.
They look so glam, but still suitable for casual looks. Furthermore, you can wear them to your most extraordinary events like your friend's wedding day or anniversary. These earrings are extremely versatile and gorgeous.
14) Ruby Emerald Haram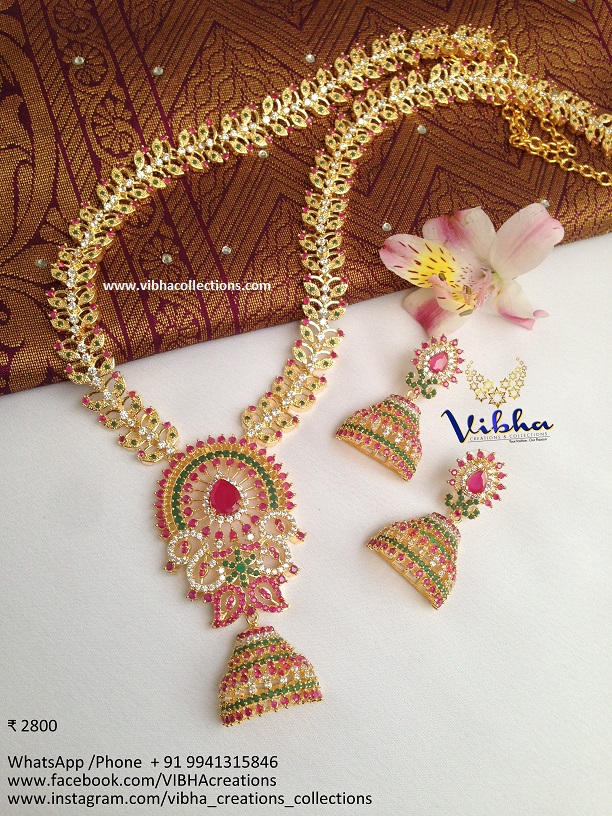 When we chat about beautiful stones, the names of rubies and emeralds often comes the first. The amalgamation of emeralds, rubies and white stones always make for an incredible pair.
A haram made with emeralds, rubies and studded with gold is just a wonderful neck piece any woman would love to highlight on a party. The asymmetrical shapes of rubies and emeralds make the set more exquisite and magnificent.
15) Evergreen Mango Necklace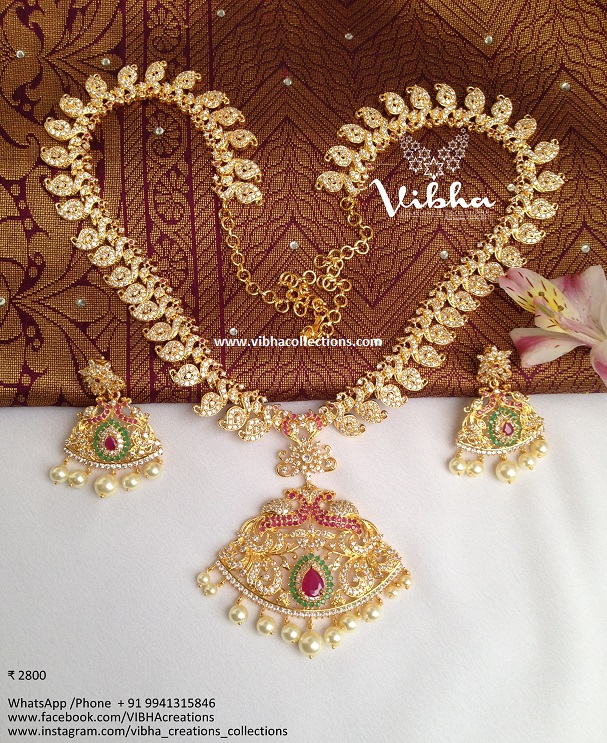 This evergreen mango necklace with wonderful design has an emerald stone at the centre which adds additional drama to it.
16) Black Beaded Temple Set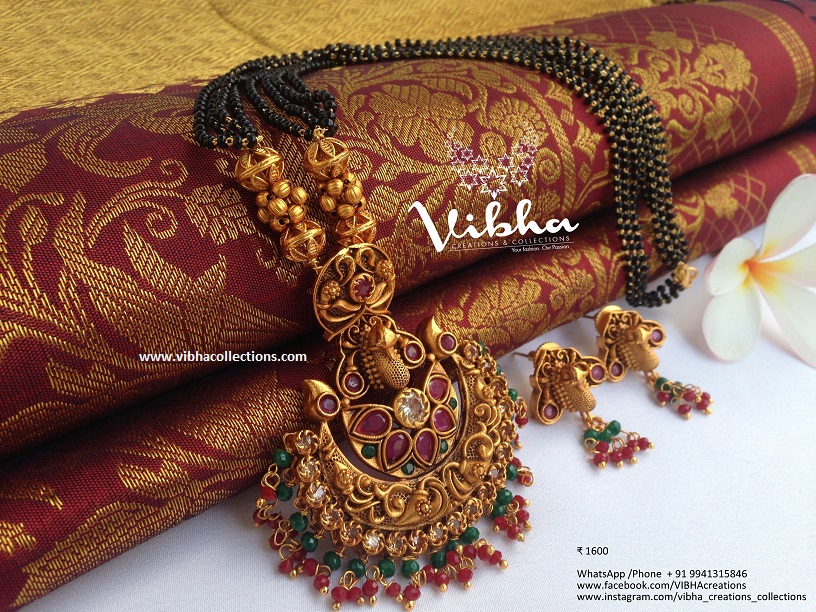 Temple set is a standout amongst the most loved gems worn in any event. They give the wearer a feeling of superiority. Temple design is considered as an evergreen pattern in India. This design has won the hearts of millions by its elegance and beauty.
17) Temple Lakshmi Set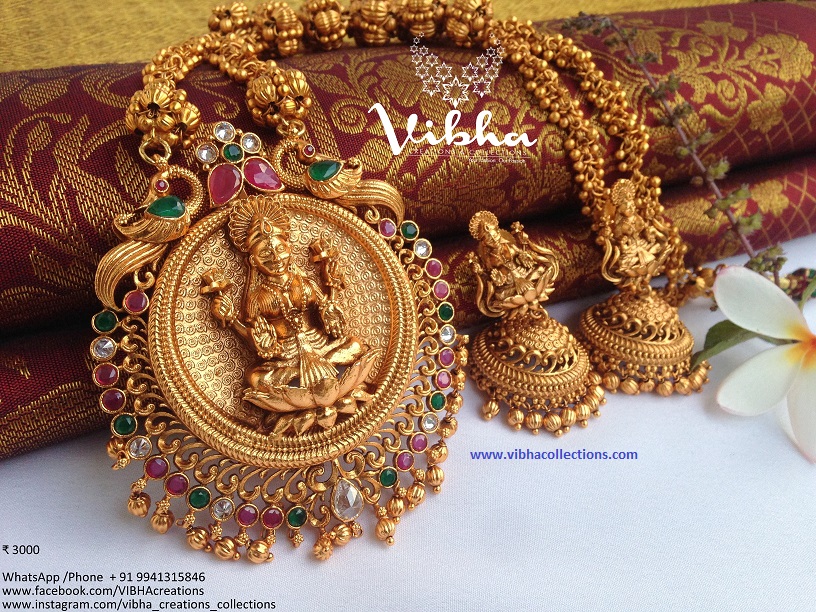 This design gives the wearer a beautiful look due to its main attraction, the Goddess Laxmi design at the centre. The emerald and rubies are also excellently embedded. The design is regal and is one of the auspicious designs to wear during important events.
Ladies deserve all the adoration and spoiling. It's an ideal opportunity to flaunt your style by wearing with these delightful accessories along with your saree.
There are thousands of jewelry designs in the market yet these above-mentioned pieces, without a doubt, are an absolute necessity in your jewelry closet if you are someone who enjoys wearing jewelry and saree a lot. This list will help you when you intend to look for traditional adornments that will pair well with sarees.
To own these beautiful pieces, Shop here
Also Read :